The Intel and AMD rivalry has always been spicy. With the release of newer and better processors, consumers enjoy the battle. AMD has developed the new Zen3 processor's lineup featuring the 5000 series Ryzen processors. However, Intel has also released its all-new Alder Lake processors to take over the market.Users have been debating which CPU to buy with the release of new processors from both of the market's major giants. Gamers, in particular, have found it difficult to pick amongst the top CPUs. Today, we'll test Core i9-12900K vs Ryzen 9 5900X, two behemoths from the new Alder Lake and Zen3 Ryzen 5000 series lineups. These CPUs are absolute beasts in terms of performance, but how much do they differ, and is the price difference worth the performance boost? To have this question answered we have to test both the CPUs in many different scenarios but before we go into Benchmarks, we need to grasp the fundamentals.
Motherboard Compatibility
Motherboard Compatibility
Last update on 2023-09-22
Specifications
Before we get into the Gaming and Performance benchmarks for both CPUs, we should know a few things. Starting with the specifications will help us comprehend both CPUs much better.
Related Reads: i9-12900k vs i7-12700k
Intel Core i9-12900K Specifications
Cores : 16
Threads : 24
Base Frequency : 3.2Ghz
Turbo Boost Frequency : 5.2Ghz
L1 Cache : 64K (per core)
L2 Cache : 14MB (shared)
L3 Cache : 30MB (shared)
TDP : 125W
Max Temp : 100 Degree (Celcius)
Integrated Graphics : Intel UHD Graphics 770
AMD Ryzen 9 5900X Specifications
Cores : 12
Threads : 24
Base Frequency : 3.7Ghz
Turbo Boost Frequency : 4.8Ghz
L1 Cache : 64K (per core)
L2 Cache : 512K (per core)
L3 Cache : 64MB (shared)
TDP : 105W
Max Temp : 90 Degree (Celcius)
Integrated Graphics : N/A
The Intel Core i9-12900K has 12 cores, including 8 Performance (P) Cores and 4 Efficient (E) Cores. The Ryzen 9 5900X, on the other hand, has a total of 12 cores and 24 threads; the number of threads on both CPUs is the same. With four more cores than the Ryzen 9 5900X, the i9-12900K is one of the most powerful CPUs available.
The Core i9-12900K has a TDP of roughly 125W and a CPU temperature limit of 100 degrees Celsius, whereas the Ryzen 9 5900X has a low TDP of 105 and a temperature limit of 90 degrees Celsius. The new hybrid technology allows the i9-12900K to achieve a Turbo Boost frequency of 5.2GHz, compared to the 4.8GHz Turbo Boost frequency of the Ryzen 9 5900X, while Ryzen does take the lead in the Base frequency, being over 0.5GHz faster.
One of the most significant advantages of Intel CPUs is integrated graphics. The Intel i9-12900K comes with the newest Intel UHD 770 Graphics, which are more than enough for most users, although not the greatest. However, all Ryzen CPUs are available without integrated graphics, necessitating the usage of a Graphics Card. In terms of cache, the Ryzen 9 5900X maintains its advantage, but when considering the Hybrid technology of E and P cores, the Intel i9-12900K is difficult to surpass.
Architecture
What's new in the Alder Lake Processors?
Intel has been talking about the Alder Lake CPUs for over a year before they were released; the buzz was high, as were the expectations. The new generation of Intel CPUs brings not just a significant increase in performance but also some significant architectural improvements.
The new 12th Generation Alder Lake CPUs offer a wide range of processors, from the low-end 2 core Celeron G6900T to the high-end 16 core Intel Core i9-12900K. The true game-changer, though, is the new hybrid technology. Intel has introduced Performance (P) Cores and Efficient (E) Cores in the new Alder Lake processor range. However, keep in mind that not all Alder Lake CPUs use hybrid technology. The new hybrid technology is expected to enhance Intel CPUs' hyperthreading department.
The major focus of Intel's Alder Lake CPUs has been gaming. The latest Alder Lake CPUs improve gaming performance by 28% in titles like Hitman 3. Along with gaming, Intel has worked on multitasking performance. The new Alder Lake CPUs' multitasking performance is outstanding, especially for Streamers who frequently run intensive games alongside other apps. To summarise, the new Alder Lake processors are intended for everyone, including editors, gamers, and streamers.
Intel has also switched to the new Z690 chipset, which uses the LGA 1700 socket. The new 10nm manufacturing method has proven to be extremely effective, concentrating on high-frequency, single-threaded performance. Other features included the latest Gen PCIe technology, as well as DDR5. Making the new Alder Lake series a serious contender for the Ryzen 5000 CPUs.
What's new in the Zen3 Architechture?
AMD announced their all-new 5000 series CPUs based on the Zen3 architecture two years ago; AMD introduced the initial Zen architecture in 2017. AMD's new 5000 series CPUs are a successor to the existing 3000 series; however, with the 5000 series' improved performance and efficiency, the Ryzen 3000 series would be left out with no pals. Even Intel fanatics will be thrilled with their top-tier Ryzen 9 5950X CPU, which has 16 cores, 32 threads, and a TDP rating of just 105 watts.
AMD's new Zen3 architecture aims to bring the 5000 series CPUs ahead of Intel. Multitasking performance on the new 5000 series processors is far superior to its competitors, owing to the scalability capabilities of the Zen3 architecture, which allows for the placement of many cores in small spaces. The new Zen3 architecture is also expected to be less expensive than the Intel Alder Lake line-up, cementing AMD's position as a fan favorite.
The new Zen3 architecture improves single-core performance while also improving power efficiency and core-to-core latency. AMD has long been recognized for superior single-threaded performance, thanks to its many cores. With the Ryzen 9 5950X in the team, AMD is undoubtedly able to overtake Intel.
Memory Specifications and Expansion Options
In terms of connectivity, the Intel i9-12900K offers a significant advantage. Both CPUs handle up to 128GB of memory, but when Intel introduces DDR5, the game changes. The Intel i9-12900K supports DDR4-3200 or DDR5 up to 4800Mhz, superior to the Ryzen 9 5900X, which only supports DDR4-3200.
In terms of memory lanes and PCIe, the Alder Lake CPU unlocks 16 PCIe 5.0 lanes in addition to 4 PCIe 4.0 lanes, outperforming the Ryzen 9 5900X in M.2 storage, which only supports PCIe 4.0. Editing and rendering times are drastically decreased by PCIe 5.0, which can achieve rates of up to 64GB/s, providing Intel users with a significant performance improvement. With PCIe 5.0, you'll be able to meet the new Z690 chipset for Alder Lake CPUs; the board is pricey, but given the expansion choices, it's worth it.
When it comes to the new Intel LGA socket, the LGA 1700, customers using earlier chipset motherboards will not upgrade to the Alder Lake CPUs. On the other hand, AMD consumers have access to a wide choice of Ryzen CPUs via a single chipset. Cooling choices for Intel users will change as socket versions update. Purchasing the new Intel i9-12900K might be costly because earlier coolers may not be compatible with the new socket; however, manufacturers such as Noctua and Corsair have introduced upgrade kits for prior coolers allowing users to use older coolers with the new LGA 1700 sockets. Here you can check our list for the Best LGA 1700 CPU Coolers.
Intel Core i9-12900K Memory and Expansion Specs:
Max Memory Size: 128 GB
Memory Support: DDR4 and DDR5
Memory Transfer Rates: DDR5-4800MT/s, DDR4-3200MT/s
Number of Memory Channels: 2 (dual channel)
DMI (Direct Media Interface) Version: 4.0
Maximum Number of DMI Lanes: 8
PCI Express Revision: 4.0 and 5.0
PCI Express Configurations: Up to 1×16+4, 2×8+4
Maximum Number of PCI Express Lanes: 20
AMD Ryzen 9 5900X Memory and Expansion Specs:
Max Memory Size: 128 GB
Memory Support: DDR4
Memory Transfer Rates: DDR4-3200
Number of Memory Channels: 2 (dual channel)
DMI (Direct Media Interface) Version:
Maximum Number of DMI Lanes:
Maximum Number of PCI Express Lanes: 24
Gaming Benchmarks
Below, we compare Ryzen 9 5900X vs Core i9-12900K vs to see which processor performs better in gaming and application benchmarks. Other factors, such as electricity use and expenses, are also compared. Let's see how these chips stack up. We put the CPUs through their paces with an AMD Radeon RX 6900 XT GPU, G.Skill Trident Z5 DDR5-6000 CL36 RAM and an MSI Z690 Unify motherboard.
Test Rig:
CPU: Intel Core i9-12900K, AMD R9 5900X
Motherboard: MSI Z690 Unify
RAM: G.Skill Trident Z5 DDR5-6000
GPU: AMD Radeon RX 6900 XT
Gaming can be very useful in finding the best performer in a rigorous performance review. These CPUs are extremely powerful, with just a little difference in gaming performance. We'll now look at several benchmarks from other games.
Tom Clancy's Rainbow Six Siege: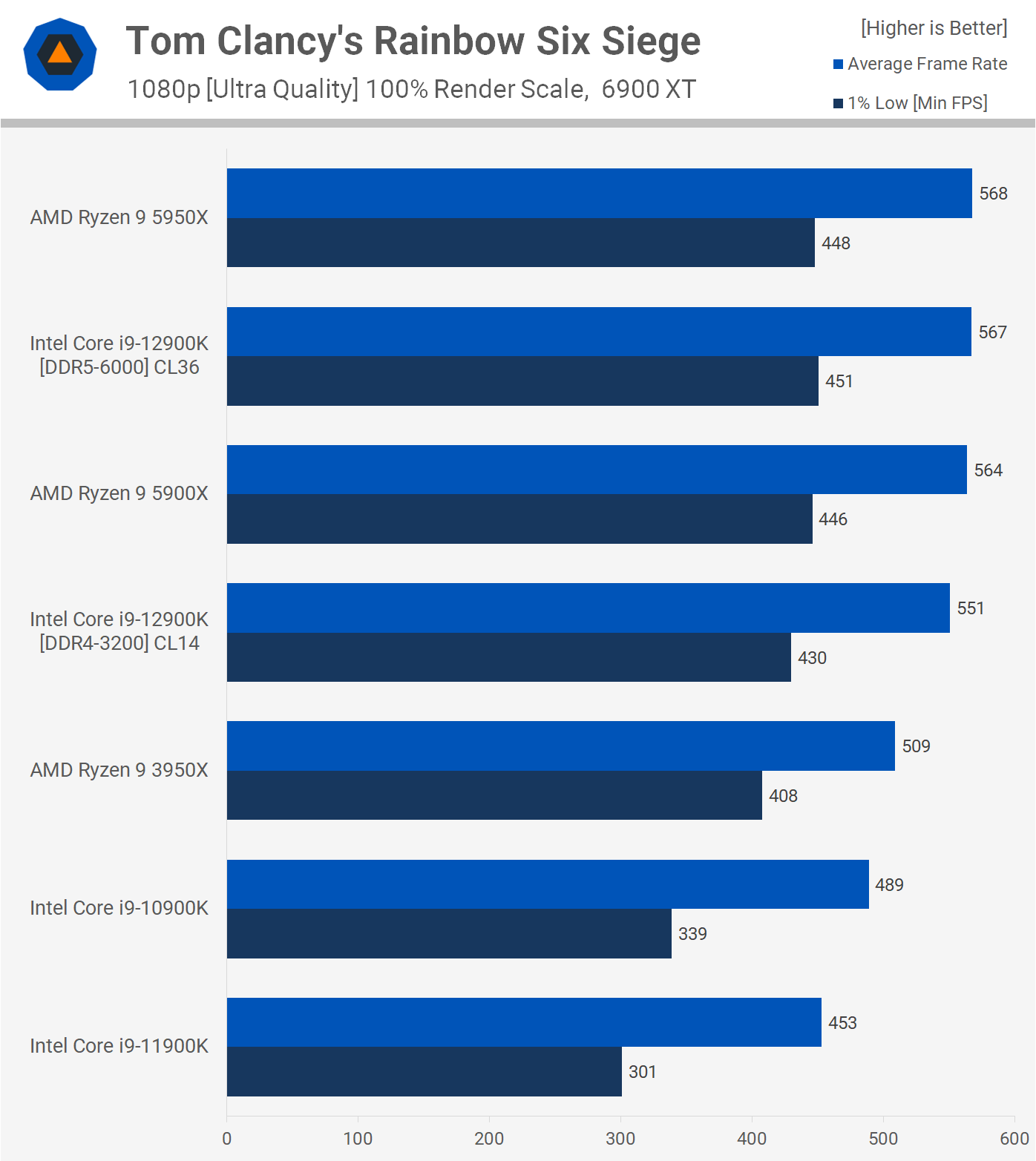 The graphics settings are set to Ultra, starting with Tom Clancy's Rainbow Six Siege. As can be seen, the 12900K with the latest DDR5 RAM leads AMD Ryzen 9 5900X. With DDR4 RAM, the Core i9-12900K falls behind Ryzen 9 5900X. The margins aren't very noticeable, though.
Age of Empires IV: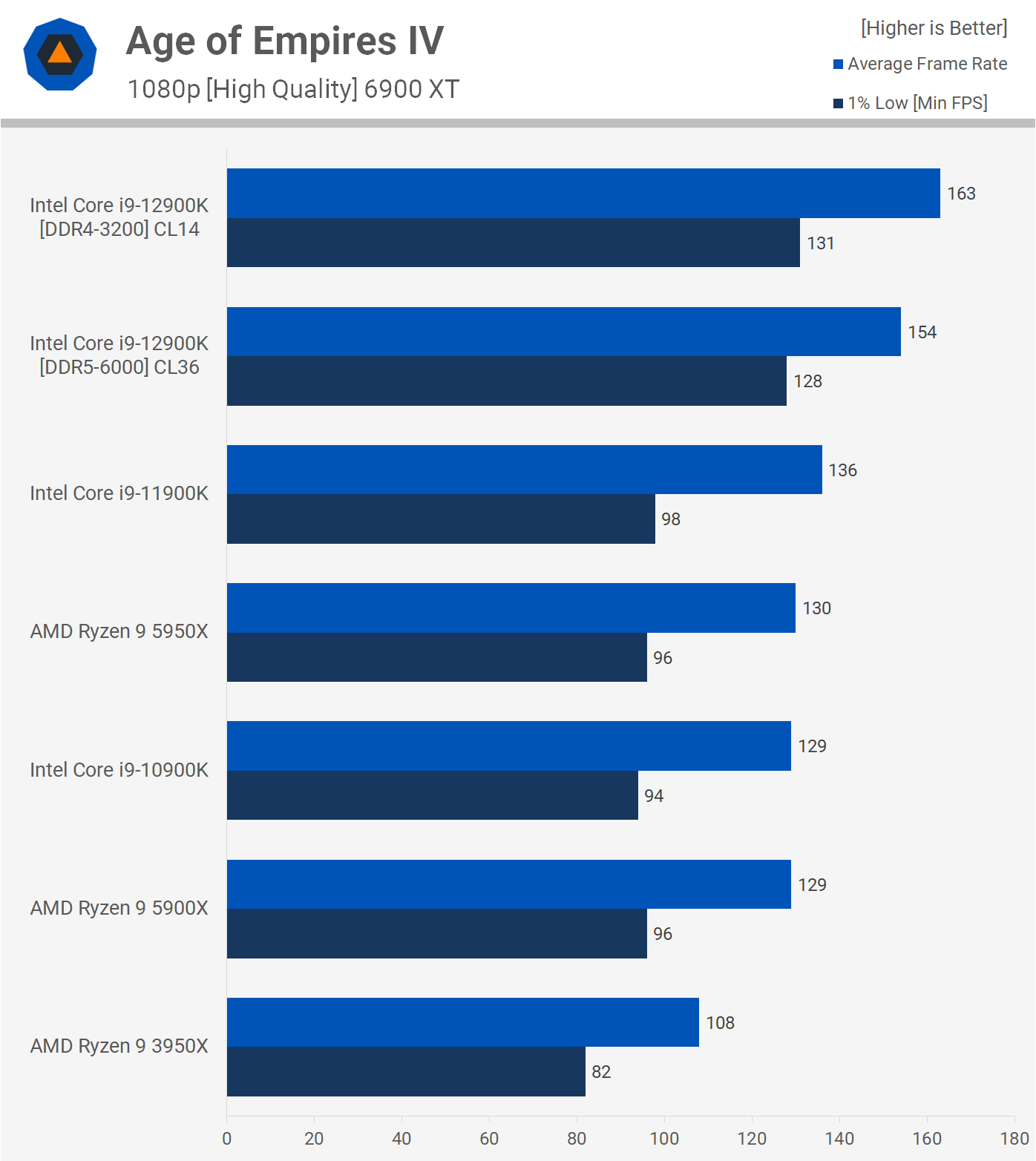 Next up is Age of Empires 4, where we noticed a significant performance boost from the Core i9-12900K over the AMD Ryzen 9 5900X. This translates to an almost 25% improvement in performance. The i9-12900K performed better with DDR4 RAM than with DDR5 RAM, with a 6% gain.
Marvel's Guardian of the Galaxy: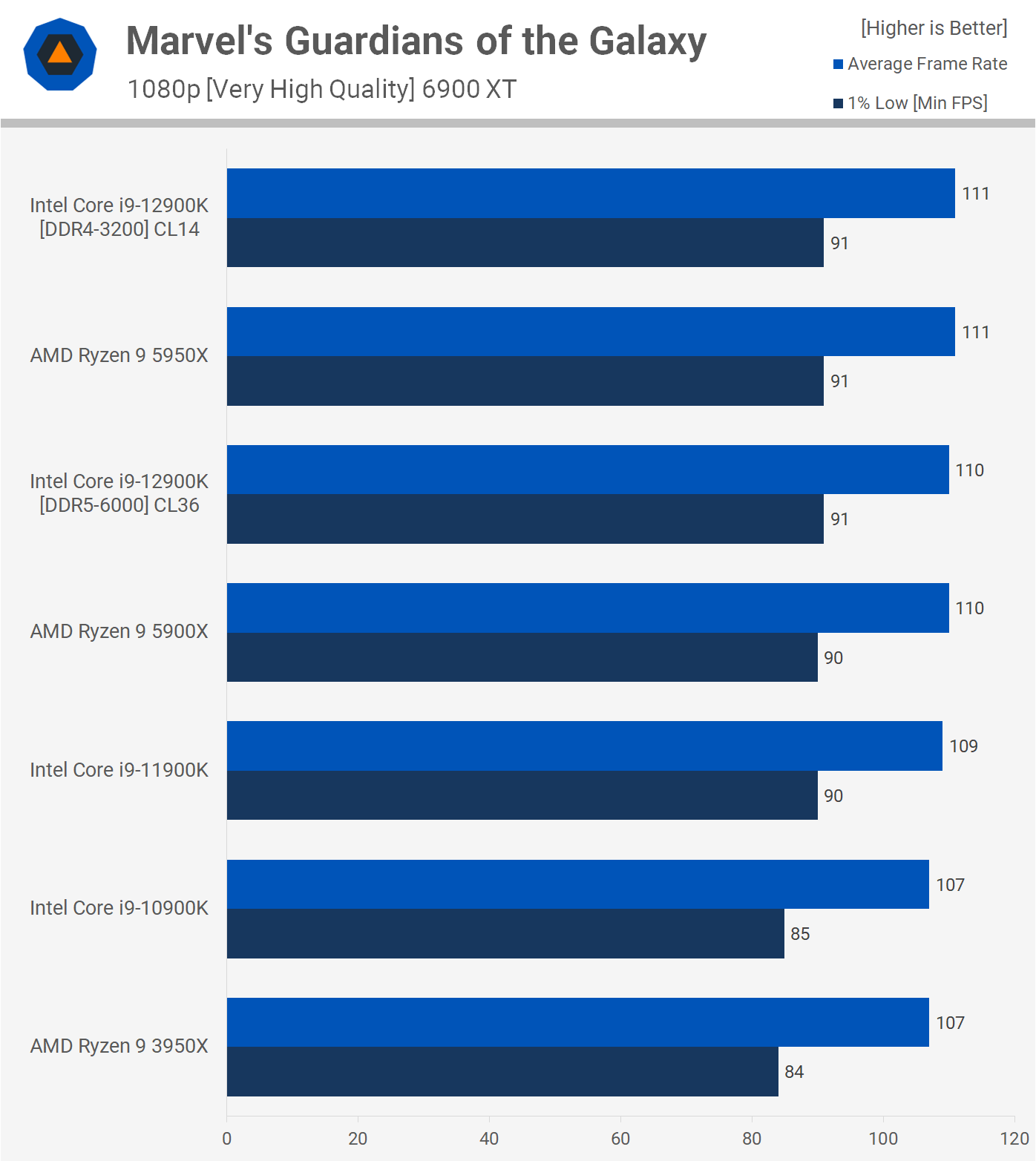 With Marvel's Guardian of the Galaxy, a GPU-bound result is obtained across the upper end of the board. This type of benchmark was included since it gives a realistic depiction of the bulk of today's games. Even though the resolution was reduced to 1080p, the GPU is a limiting factor when dealing with high-end CPUs.
Watch Dogs Legion: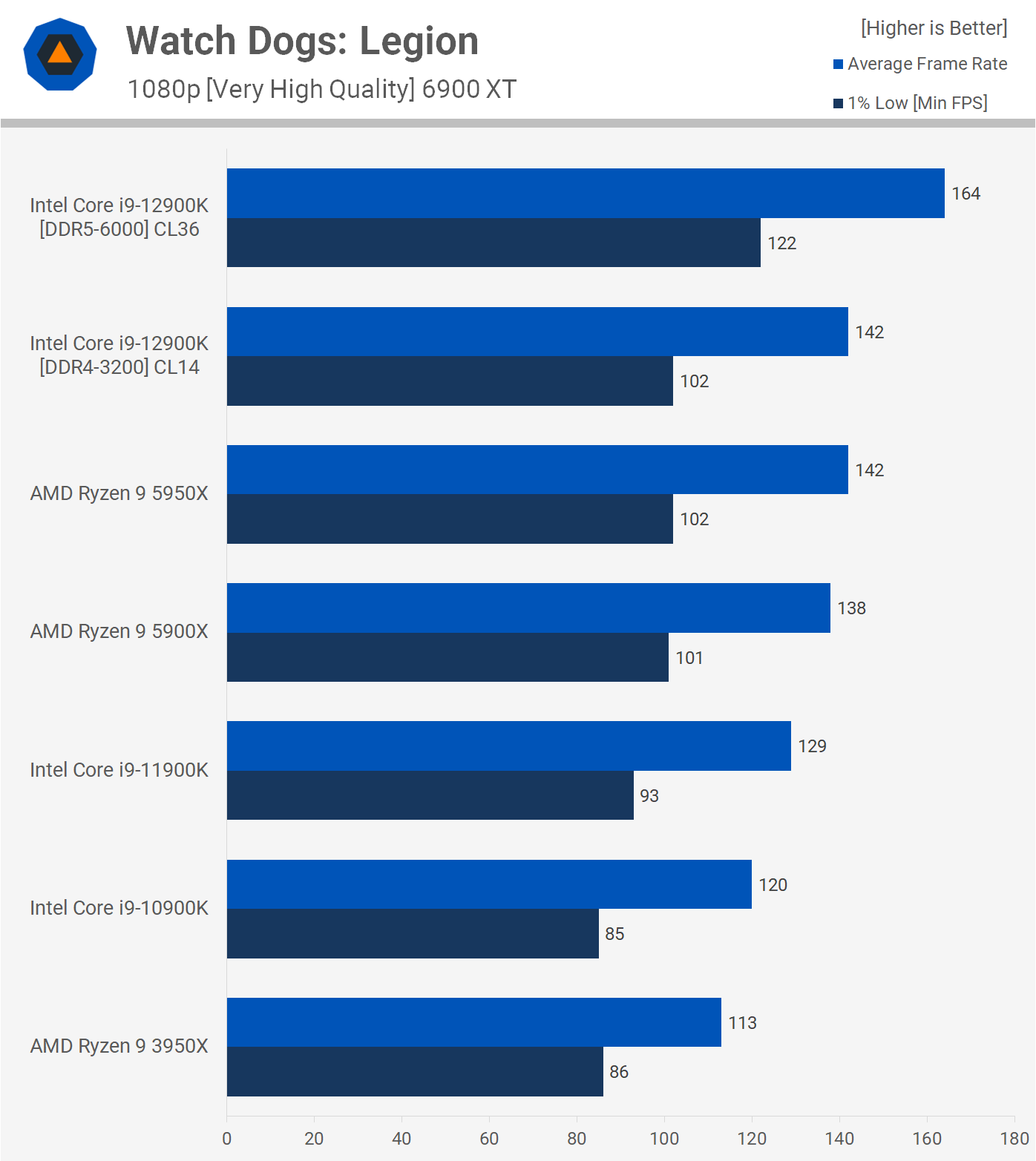 Finally, we have Watch Dogs: Legion, which produced some notable outcomes. This is the first instance where DDR5 performed admirably. The Core i9-12900K outperformed the Ryzen 9 5900X by 15%.
Although the 5900X performed similarly to the 12900K with DDR4 RAM, the margin widened to over 15% with DDR5 RAM, with the 12900K outperforming the 5900X.
Application Benchmarks
After we finish with the gaming benchmarks, we will look at the application benchmarks because a major fraction of these chips is used in professional occupations that need a range of software. These apps are performance-hungry, and they test the limits of these high-end CPUs while providing us with meaningful data.
Corona 1.3: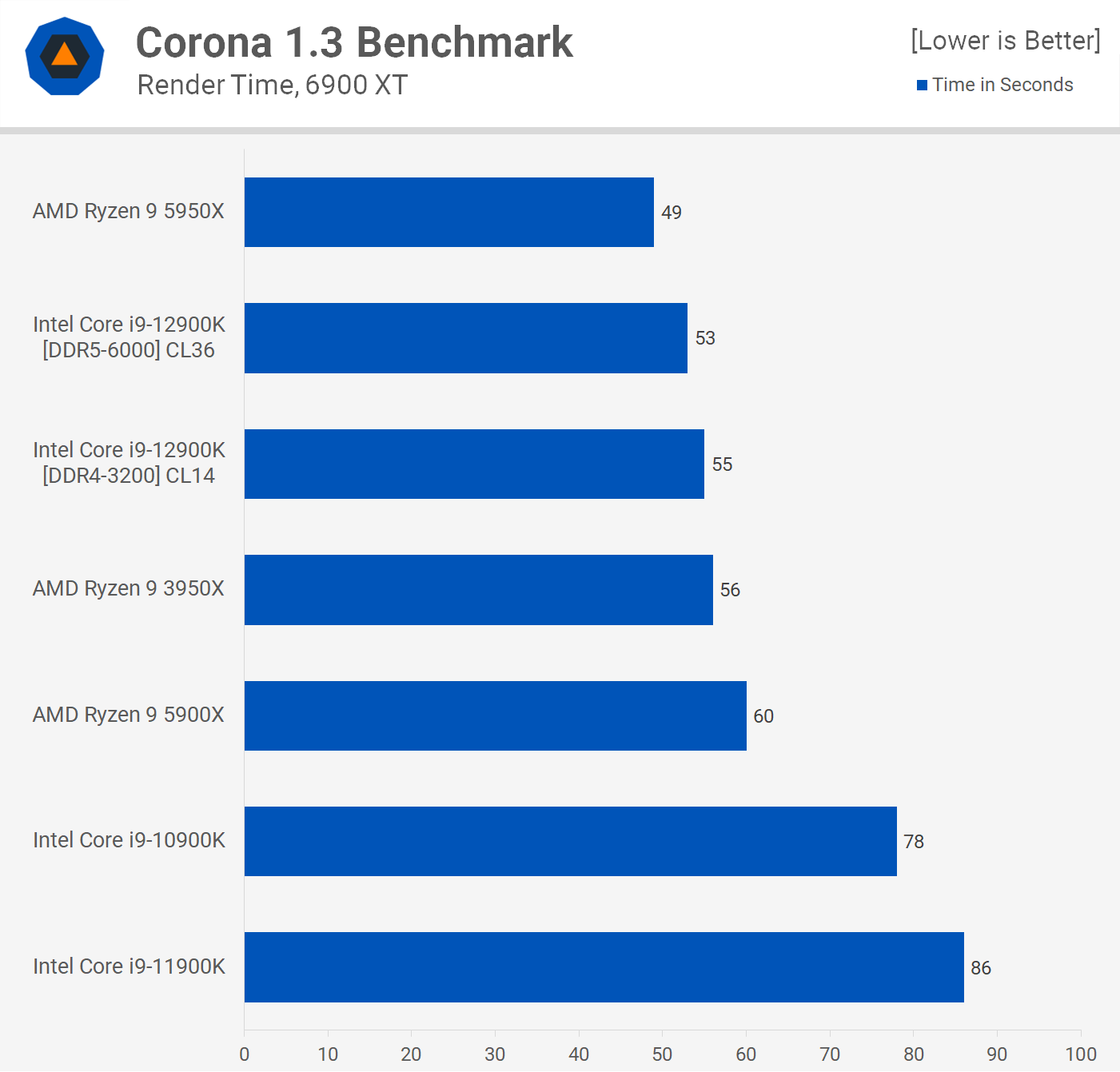 Starting with Corona Renderer, a high-performance photorealistic renderer that may be used with Autodesk 3ds Max, MAXON Cinema 4D, or as a standalone tool.
The 12900K is approximately 8% quicker than the 5900X, i.e., the render time of the 12900K is approximately 8% less than that of the 5900X. Moreover, we can see that the 12900K with the DDR5 RAM is about 4% faster than with DDR4 RAM.
Adobe Premiere Pro 2021: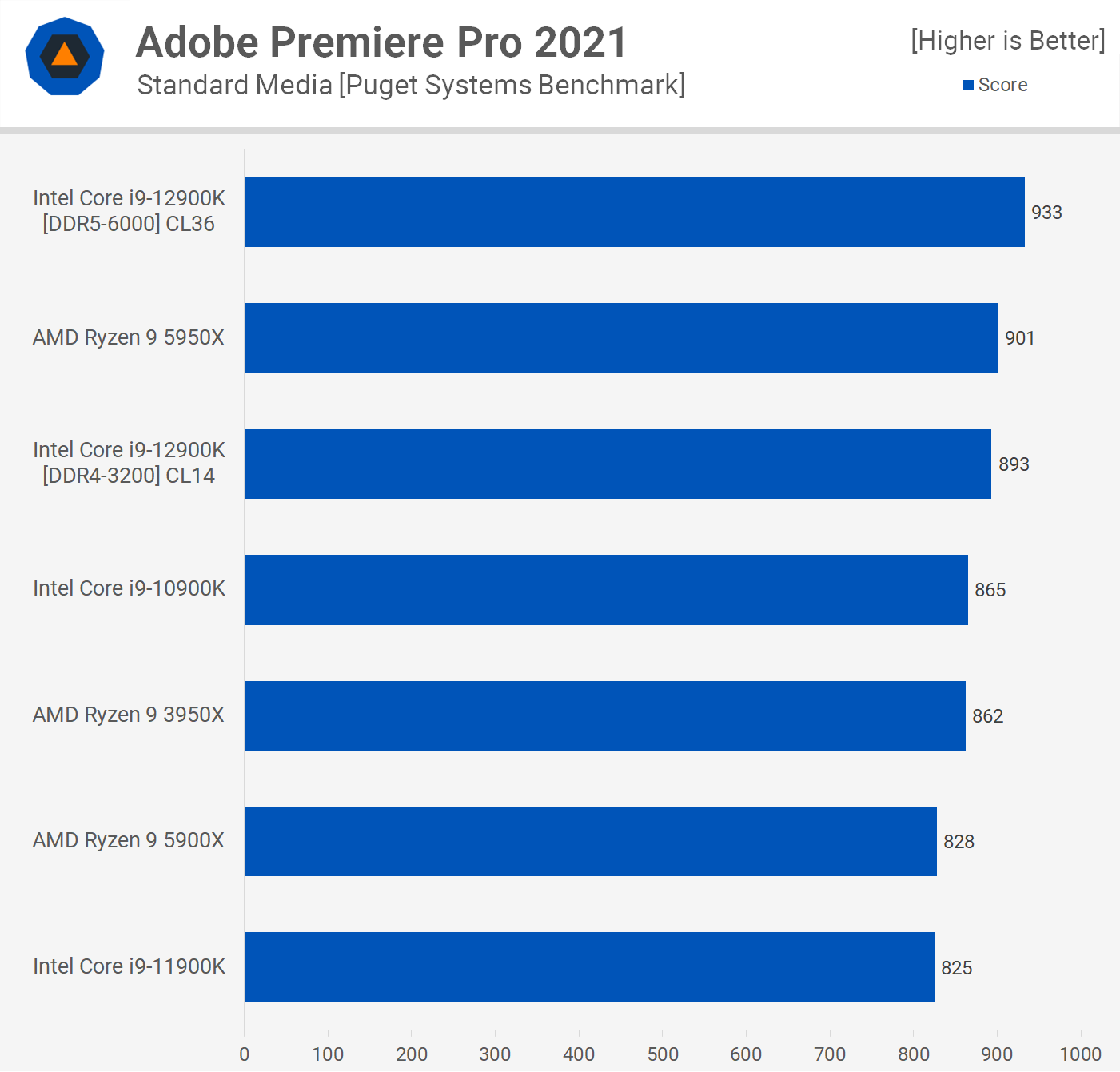 Adobe Premiere Pro is a comprehensive video editing software package used to edit films, commercials, and other cinema, television, and web video projects.
As can be seen from the graph, the 12900K leads the 5900X with both the DDR5 and DDR4 RAMs. The 12900K performed about 7 to 11% faster than the 5900X depending on the type of RAM paired with the chip. Using the DDR5 RAM allows for about a 4% increase over the DDR4 RAM.
Adobe Photoshop 2022: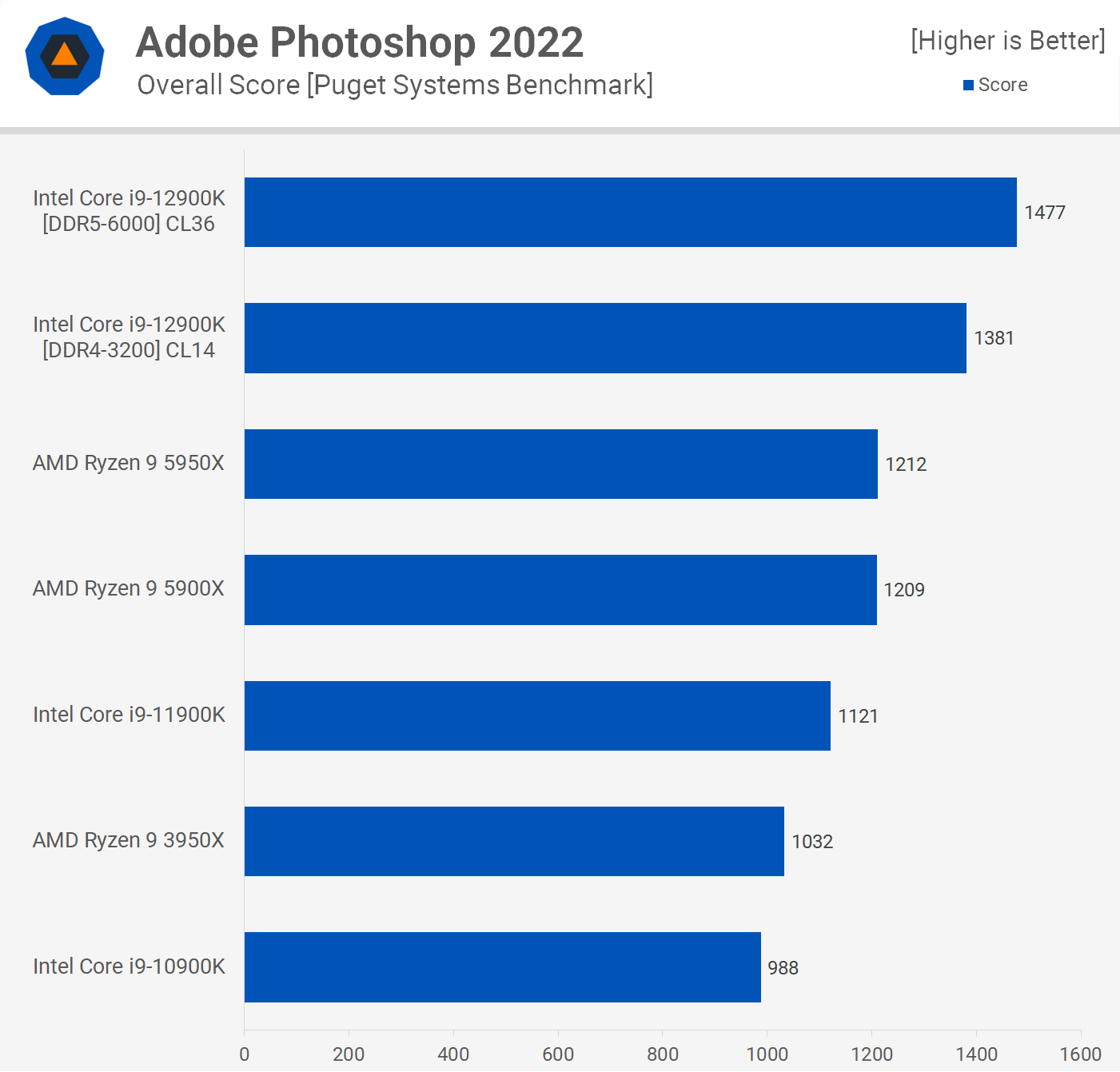 Next up, we have Adobe Photoshop, which is a popular piece of software for raster image manipulation. It employs layering to create depth and versatility in the design and editing processes and powerful editing tools that, when paired, are capable of almost anything.
The same pattern follows here as well; the 12900K outperforms the 5900X and is about 12 to 18% faster depending on the type of RAM paired. With DDR5, the 12900K performs about 6% faster as compared to DDR4
Adobe After Effects 2022: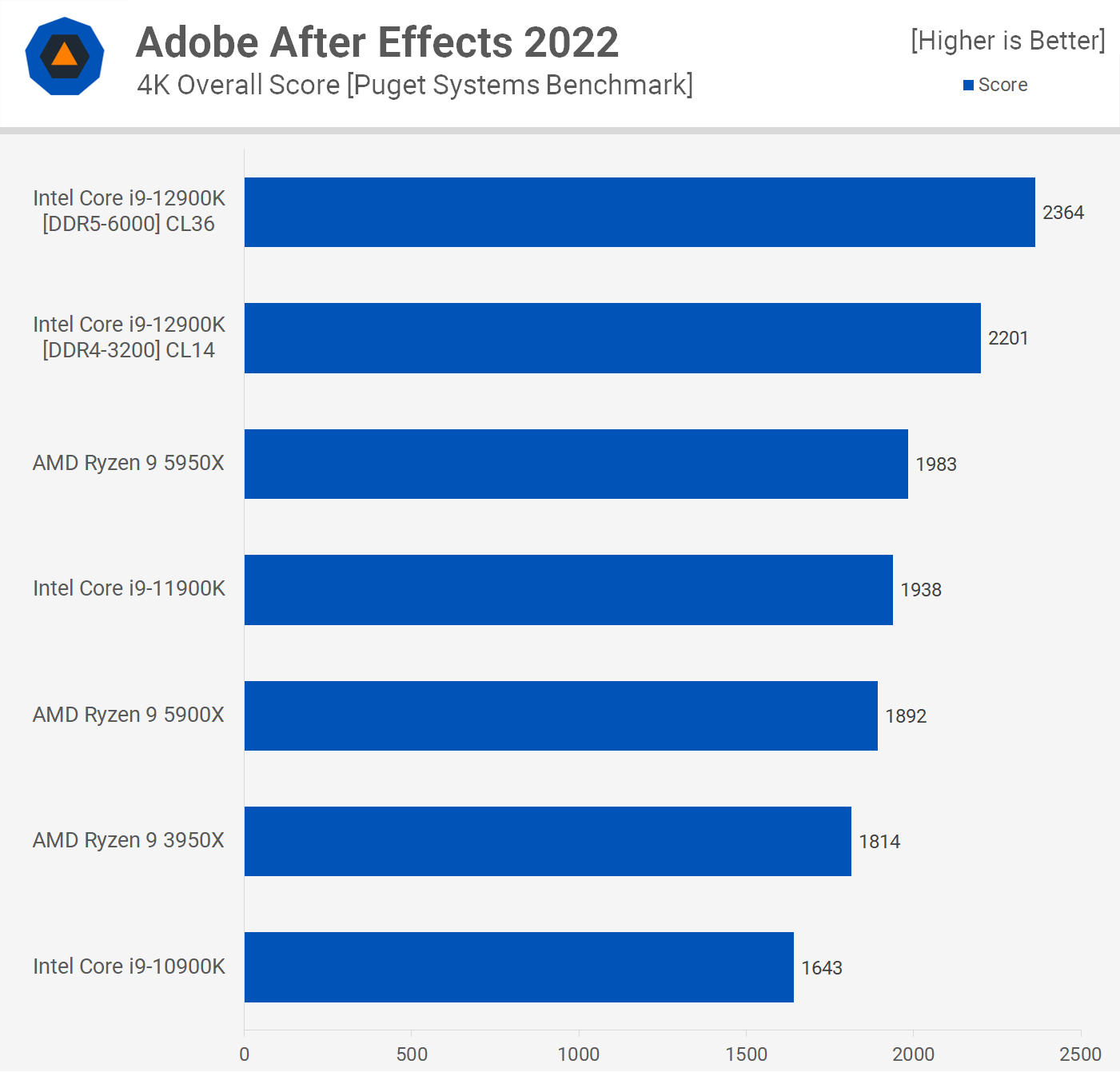 Moving on to Adobe After Effects, a piece of animation software used for animation, visual effects, and film compositing.
The 12900K performs exceptionally well here and outperforms the 5900X by a margin of around 14 to 20%, depending on whether DDR4 or DDR5 RAM is used. DDR5 RAM paired with 12900K is about 6% faster than DDR4 RAM. This is by far the largest performance leap we have seen since the previous application benchmarks.
Similar Comparisons: i7-12700k vs i5-12600k
Factorio: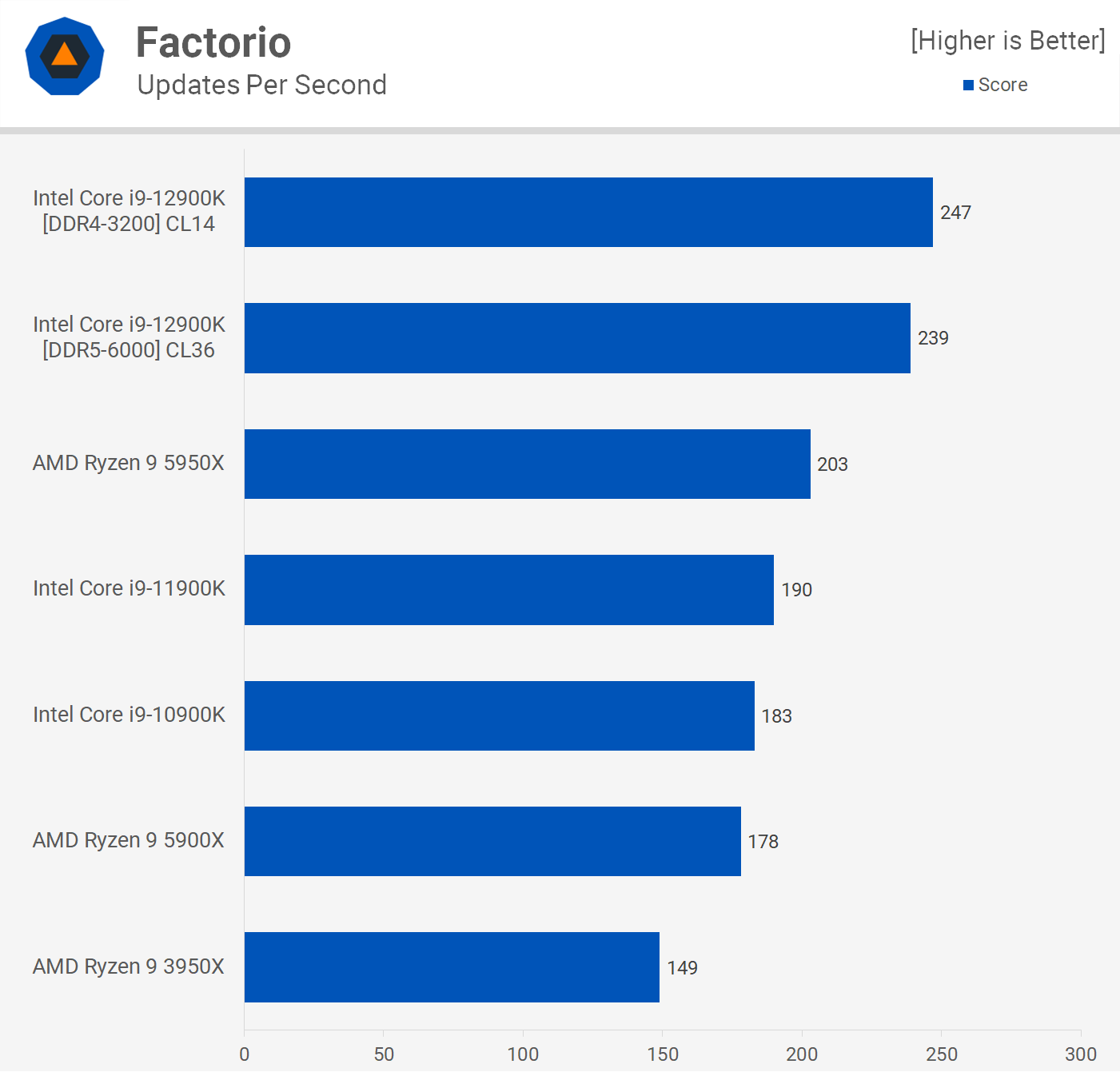 Next up is a game named Factorio, which is a construction and management simulation game. You'll be wondering why a game is included among the application benchmarks. We will be looking at the time taken per 1000 updates instead of the frames per second. This is a single-thread test that is driven by cache capacity.
12900K outperforms the 5900X by a considerable margin of about 26 to 28% depending on the type of RAM paired with it. With DDR5 RAM, the 12900K sees a 2% increase in performance compared to DDR4.
Blender Open Data: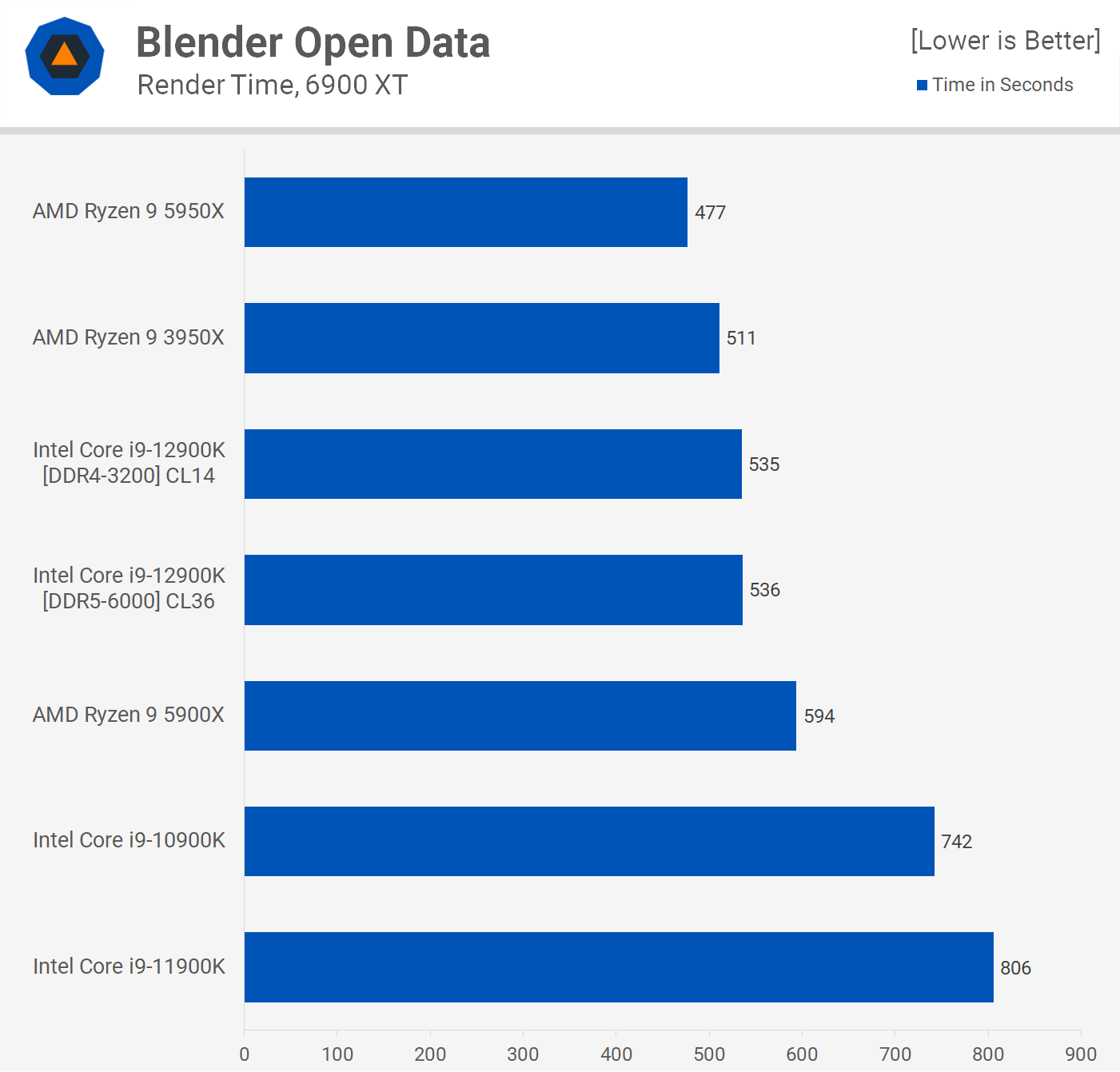 Finally, we have Blender, a free and open-source 3D modeling and animation program. It covers the complete 3D production, including modeling, animation, simulation, rendering, compositing, motion tracking, video editing, and game development.
When coupled with either DDR4 or DDR5 RAM, we can see that the 5900X is around 10% slower than the 12900K. This is the only game in which the 12900K performs practically identically when coupled with DDR5 RAM.
Gaming Performance Summary
There's no doubt about the fact that the Intel Core i9-12900K trumps the AMD Ryzen 9 5900X as far as pure gaming performance is concerned. That being said, the Ryzen 9 5900X maintains a very respectable performance trail of about 5-10%, assuming that you're gaming at 1080p (1920 x 1080 – Full HD) and using the Core i9-12900K with DDR4 RAM. Upping the resolution to 1440p (2560 x 1440 – QHD) and pairing the Core i9-12900K with DDR5 RAM will drastically reduce the performance gulf to about 2-3% at most, or, in simpler words, essentially negligible, thanks to reduced bottleneck on the CPUs.
As such, you should only splurge for the i9-12900K if you're an absolute power user (for e.g., an eSports competitor) where every single frame matters to you, especially if your gaming PC is accompanied by a high refresh-rate monitor (120 Hz and above). Otherwise, the Ryzen 9 5900X will perfectly suffice for casual or even competitive gaming to a reasonable extent. Nevertheless, it's pertinent to remember that the 5900X doesn't come with an integrated GPU, as opposed to the Core i9-12900K with integrated UHD 770 Graphics. This factor could potentially influence your purchase decision, dependent upon whether you already have an adequate discrete GPU or plan to buy one in the near future, considering that prices are sharply coming down, globally speaking, thanks to increased supply, as an effect of cut-down mining and thus, lower demand.
Power and Thermal Efficiency
Intel's Core i9-12900K arrived with a massive leap forward in terms of generational improvement as far as performance is concerned, but all of those extra frames come at the cost of a compromise; a priority on performance with all thoughts of efficiency pushed out the window. Admittedly, Alder Lake CPUs, as a whole, consume less power than their preceding 11th Generation Rocket Lake processors. Still, the i9-12900K operates at a baseline TDP of 125W, which ramps up to 241W on stock turbo parameters, with the potential to go up to an insane 400W if enthusiasts are daring enough to try their hand at Custom Overclocking.
On the contrary, AMD"s Ryzen 9 5900X appears relatively tame, sipping 105W of power, even when being stressed under CPU-intensive workflows, reaching a maximum of 140W if gamers manage to eke out all of the 5900X's manual overclocking potential. Obviously, higher TDPs equate to higher heat dissipation, which, in turn, facilitates the induction of thermal throttling in the event that your CPU Cooler is unable to maintain satisfactory silicon temperatures. Our analytics comply with this trend, showcasing a 10-degree Celsius imbalance between maximum temperatures for the Ryzen 9 5900X and the Core i9-12900K, with the latter topping out at above 80 degrees on default settings. As a result, potential buyers will realize they need to factor in the cost of a beefy 280mm or 360mm AIO, should they choose to opt for the i9-12900K.
On the other hand, AMD fans will be able to get along much more easily since even the Best CPU Coolers for the Ryzen 9 5900X will require lesser capital, as the 5900X runs relatively cool and, therefore, doesn't necessarily require a larger radiator or cooler to sustain optimal operating temperatures. All in all, AMD downright blitzed Intel with regards to Power and Thermal Efficiency.
Intel Core i9-12900K vs. AMD Ryzen 9 5900X: Which One Comes Out On Top?
Intel seemingly ticked all of the boxes with the Core i9-12900K. Offering almost Ryzen 9 5950X-like performance for an initial price tag of $590 vs. $800 for the 5950X and $550 for the 5900X, Intel's aggressive pricing strategy, coupled with the fact that the i9-12900K also offered UHD 770 integrated graphics, worked wonders for the brand, at first. Even Alder Lake's generally high power consumption was forgivable considering the $200-250 difference between the i9-12900K and the Ryzen 9 5950X, cannibalizing AMD's CPU sales for a brief period, resultantly.
That being said, times have changed. With AMD having just launched its brand-new lineup of AMD Ryzen 7000 Series Processors, the now previous-generation Ryzen 5000 Series CPUs such as the Ryzen 9 5900X and Ryzen 9 5950X are readily available for under $380 and $550, respectively speaking. Keeping in mind the Core i9-12900K's nearly 70-130% higher power draw, Intel's product now seems like an expensive and illogical choice from all aspects, including but not limited to Power and Thermal Efficiency as well as the cost of a high-performance CPU Cooler (because of the excess heat production/higher TDP).
Gamers also can't re-use their older 500-Series Chipsets since all Alder Lake processors use the new, proprietary LGA 1700 socketing mechanism (in comparison to LGA 1200 for Intel's 11th Generation Rocket Lake CPUs). As a result, users pondering over the 12th Gen Core i9 will also have to contend with their decision regarding whether to choose DDR4 memory (currently better performing, cheaper, but less future-proof) or make the jump to DDR5 RAM (inferior performance for now, expensive, but future-proof). It'll come as no surprise that DDR5-compatible 600-Series based Intel chipsets and, thus, motherboards are at least $30-75 more expensive than their DDR4-based counterparts. DDR5 RAM itself, at the moment, performs worse or equal to DDR4 memory in real-world gaming and productivity-related workflows due to higher CAS Latencies and inferior RAM Timings.
On the other side, gamers will be able to pick up the Best Motherboards for Ryzen 9 5900X at comparatively cheaper price points. That's because AMD's entire Zen 3 Series of CPUs, including the 5900X, are based on the now 6-year-old AMD AM4 CPU Mounting Platform, so manufacturers can consistently churn out premium AM4-based motherboards at reasonable prices thanks to thoroughly refined and voluminous production scales. However, potential buyers eying the Ryzen 5900X should remember that AMD doesn't include an integrated graphics solution out of the box, forcing users to purchase a discrete GPU for their gaming rig. In contrast, Intel users will be able to get along with the i9-12900K's UHD 770 iGPU for casual 1080p gaming at Low to Medium settings, at the very least.
Unfortunately, an iGPU isn't enough to save the i9-12900K from its untimely death. Even though there's a Core i9-12900KF available for $550 ($20 less than the standard 'K' model), the Ryzen 9 5900X single-handedly thrashes the i9-12900K from a buyer's prospect. Available for $380 compared to $570 for the Core i9-12900K, the Ryzen 9 5900X evinces incredible thermal efficiency, featuring a 100W lower power draw, in extreme cases, determined to cut your electricity bill by up to 55% while enabling budget-conscious gamers to utilize their older AM4 motherboards, in addition to requiring a relatively cheap CPU Cooler, all for a maximal performance differential of 10% and that too, only if you're gaming at resolutions lower than QHD (1440p). With that, we conclude the Ryzen 9 5900X to be the superior CPU choice, regardless of whether you intend to pursue productive tasks or eSports/competitive gaming.
Related: Ryzen 5 5600x vs i5-12600k
Intel Core i9-12900 vs. AMD Ryzen 9 5900X
The vanilla Core i9-12900 significantly resembles the i9-12900K, save for a few vital differentiating factors. To begin with, the Core i9-12900 does not have an unlocked multiplier out of the box, which will act as a deterrent to enthusiastic overclockers and propel them to spend the extra dough on the 'K' variant. Moving on, the i9-12900 features ever so slightly lower CPU clock speeds, with the Efficiency and Performance Cores running at stock defaults of 1.80 GHz and 2.40 GHz, ramping up to 3.80 GHz and 5.00 GHz, respectively speaking, with the CPU pushing till 5.10 GHz at its hardest (for selective Performance Cores). Like the 'K' model, the plain i9-12900 also sports 30 MB of L3 Cache but drastically drops baseline and maximum TDPs (Thermal Design Process) to 65W and 202W, much to our delight.
Furthermore, the i9-12900 still retains the UHD 770 iGPU, although there is an i9-12900F, which eliminates the presence of these integrated graphics, with the CPU available for about $20 less than the former version. The i9-12900 also replicates the i9-12900K as far as the Core and Thread Count are concerned (16x and 24x). The odd number of threads is due to the Core i9-12900's Hybrid Architecture, where the 8x P-Cores are hyper-threaded (16x threads), but the 8x E-Cores remain single-threaded (8x threads).
Unfortunately for Intel, the i9-12900, according to our in-depth research and virtual testing, revealed performance levels that were on par with that of the Ryzen 9 5900X, with differences ranging between negligible levels of a few frames either way, but especially when pairing the 12th Gen Core i9 with DDR5 RAM, since the newer memory standard performs relatively worse to DDR4 RAM because of latency and stability issues. As such, for 1080p competitive gaming and even productive workloads, we can safely announce the Ryzen 9 5900X as the logical winner, thanks to a lower price tag of $380 vs. $530 approximately (up from an MSRP of $490) for the i9-12900, in addition to superior efficiency as far as Power Consumption and Thermal Dissipation is concerned, alongside comparatively lower prices for both AMD AM4 motherboards and DDR4 RAM. The Ryzen 9 5900X also supports overclocking out of the box for the speed fanatics out there willing to manually tinker with CPU clocks and voltage levels.
Sidenote: Die-hard Intel fans might want to consider the i9-12900 or i9-12900F over the Core i9-12900K since the former two variants can be purchased for around $500-530 nowadays, as compared to $570 for the overclockable 'K' model. The vanilla Core i9-12900 performs almost equally to the i9-12900K with about a 1-10 FPS imbalance at most, but the latter advantageously uses far lesser power and maintains satisfactory CPU temperatures much more easily.
Why Should You Trust Our Judgement
With over twelve years of experience in the tech and gaming industry, our dedicated team has been refined consistently to produce a potent group of knowledgeable individuals who are known to relay the most accurate information to our valued consumers, thanks to the extensive research and reviewing we conduct before we publish every piece of journalism.
In addition to this, we have been explicitly featured on a majority of the top-notch gaming and tech brands, such as Gigabyte, MSI, Asus, and DeepCool, just to name a few, as reliable and trusted sources for Hardware and Technology. These and other renowned manufacturers such as Noctua, Thermaltake, Xigmatek, and several others routinely send samples to us, based on which we formulate unbiased reviews to provide our readers with a genuine perspective of the particular product from an objective standpoint.
Subsequently, we instill confidence in our esteemed consumers, who may rely on us to give them the best advice for building, customizing, and modifying their personal gaming computers.

Frequently Asked Questions
What is the difference between the Core i9-12900K and the Ryzen 9 5900X
The Core i9-12900K represents the upper-end segment of Intel's 12th Generation lineup of CPUs codenamed Alder Lake. The Core i9-12900K bears 16x cores (8x P-Cores, 8x E-Cores) with a total thread count of 24x and 30 MB of L3 Cache, promoting a maximum turbo frequency of 5.20 GHz, running down all the way to 2.40 and 3.20 GHz (For Efficiency and Performance Cores, respectively speaking), maintaining a minimum power draw of 125W, which shoots up to 241W when being put through its paces. In addition to accompanying Alder Lake processors, the Core i9-12900K supports DDR5 as well as DDR4 along with PCIe Gen 5.0, with the i9-12900K specifically sporting an iGPU (integrated GPU) in the form of Intel's UHD 770 Graphics, the brand's top-of-the-line iGPU as of yet. Similarly, the Ryzen 9 5900X showcases AMD's stronghold on top-notch, consumer-grade workstation-class processors as part of the manufacturer's Zen 3 lineup of CPUs codenamed Vermeer, based on the tried-and-tested AM4 CPU mounting socket. The Ryzen 9 5900X features 12x cores and 24x threads with 64 MB of L3 Cache, showcasing Base and Turbo frequencies of 3.7 GHz and 4.8 GHz accordingly, with a base TDP of 105W and a now-discounted price tag of $380, undercutting the Core i9-12900K's power draw by nearly 20-100W, with an approximate price differential of $190-200 in AMD's favour. Both processors come with unlocked multipliers (for overclocking) out of the box. However, unlike the Core i9-12900K, the Ryzen 9 5900X does not possess an integrated GPU, nor does it enable support for DDR5 memory and PCIe Gen 5.0.
Is the Core i9-12900K superior to the Ryzen 9 5900X?
From a pure performance standpoint, yes. Regardless with respect to whether you intend on using DDR4 or DDR5 memory, the Core i9-12900K will yield performance gains relative to the Ryzen 9 5900X, be it for gaming-focused workloads or even productivity tasks. However, the performance deficit is minor, varying from 2.5% to 10% in best-case scenarios for Intel. The i9-12900K also consumes up to 70% more power to attain its superiority. As such, users will need to invest in a High-Performance CPU Cooler (which doesn't come cheap). Paired with the highly disparate price tag of the Core i9-12900K in sharp contrast to the Ryzen 5900X, it just doesn't make any logical sense to buy Intel's overpriced Core i9 offering, at this stage, in spite of the fact that Intel also bundles an integrated GPU.
Was our article helpful? 👨‍💻
Thank you! Please share your positive feedback. 🔋
How could we improve this post? Please Help us. 😔