Finally, Intel officially release its 12 Generation on November 4th, 2021. The code name of this generation is Alder Lake.
Alder lake chips are based on hybrid architecture exploit Golden Cove (P-cores), video processing and Gracemont (E-cores) uses for manage background tasks like Sleep Mode, waking from sleep which combines high-performance and power-efficient cores. Every P-core has two threads while E-core has one. These are highly efficient for x86 PC's but these chips are only the beginning Intel is planning for laptops, mobile Chips featured with (six P-Cores and eight E-Cores) and for many other portable devices. It will also support DDR5 Ram and DDR4.
The Alder Lake chips utilize the same old Intel 7th gen 10nm (enhanced) before Intel as of late renamed its interaction hubs during its most recent gen. Deeply, while the more ordinary Gracemont cores turn out to be single-threaded which indicates a few CPUs from this generation could exhibit an odd set of threads and cores. We recently compared i5 12600k vs Ryzen 5 5600x, so that should also get you some perspective on how it works against AMD.
This chip work with both fresher and more established editions of Windows however Windows 11 gets the best of Alder Lake since it upholds Intel's new Thread Director. The automation gives the working framework data that helps with allocating work to the cores and the performance in Windows 10 is still much better, however, you may experience unpredictable execution and speeds as well as inconstancy, which means a few applications will be slower on occasion due to unoptimized thread handling.
Alder Lake Specs
Architecture: Hybrid' architecture
Chip featuring: P-cores and E-cores
RAM support: DDR4 and DDR5
SSD: PCIe 5
Wi-Fi: Wi-Fi 6E
Misc: Thunderbolt 4 support
What are Core i5 and Core i7
A core is a heart small component within the processor that receives instructions and is responsible for performing specific tasks and performing calculations. Intel Core i5 and Core i7 have a dissimilar number of cores which makes them different in price and performance. So, it can be said that Core i5 is a mid-tier CPU lineup from Intel, and Core i7 is the high-end CPU lineup from Intel.
Core i5
Core i5 has the potential to perform with a good set of core/threads that enhances the performance of applications. They are reliable for home users, internet browsing or for office work, and for regular gaming. Core i5 processors have the capability to perform well with an integrated GPU, which helps to accelerate the performance of the applications and images. These processors have Turbo technology that also boosts up working speed. The potential performance rate of i5 can go up to 4.9 GHz nowadays. Core i5 processors were usually dual-core or quad-core with 64-bit architecture now they are available with up to 10 cores.
Core i7
Core i7 has the supercomputing power to perform faster than Core i5 allows multi-threading that results in multitasking and high-end gaming. It is a costly processor with very fast performance. They are reliable for gaming enthusiasts and high-end applications users. Core i7 processors help to accelerate the performance in the processing of any smaller or bigger task. These processors also have Turbo technology that boosts up working speed. The Potential Performance rate of the Core i7 can be up to 5GHz. A core i7 processor used to be Dual-core or Quad-core or Hex-core and also supports DDR3 with x86 and 64-bit architecture, and uses QPI bus type with a Clock speed of 1.3-3.5GHz, now the Core i7 processors have 12 cores with 20 threads and a boosted clock speed of 5GHz. There is a huge contribution of high-end gaming, production, and data visualization in Core i7 processors.
Core i7-12700K vs. Core i5-12600K
Last update on 2023-09-24
One of the most powerful processors of all time with the latest features of Alder lake and boldly this time Intel's attain more attention and praise than AMD processors due to its amazing performance both in gaming and multi-tasking. Let's compare some specs of Core i7-12700K and Core i5-12600K modern generation processors.
Architecture
Although both the processors have the ability to work with integrated video memory, Both processors support Alder Lake S architecture with the segment of desktop/server but there is a lot of difference in CPU cores and frequency. The Core architecture of both processors is Hybrid while hyperthreading and overclocking are also similar and both processors have the Intel Turbo Boost technology that boosts up working speed.
CPU Cores and Base Frequency
Core i5 possesses a frequency of 3.70 GHz and 16 threads with 10 cores. The single-core Turbo is 4.90 GHz and all-cores Turbo is noted @ 4.50 GHz while Core i7 has 12 cores and 20 threads with the frequency of 3.60 GHz. The single-core Turbo is 5 GHz and the all-cores Turbo is noted @ 4.70 GHz. The frequency of i7 is slightly lower than i5 but in all other specs, Core i7 is a step ahead of core i5. The remarkable thing is that there is no difference found among internal graphics of Core i5 and Core i7. The GPU frequency is 0.35 GHz, Turbo frequency is 1.45 GHz, and supports the same 11th Gen's Intel Iris XE GPU with the technology of 10nm.
Core i5-12600K Specs
Cores: 10
Threads: 16
Frequency: 3.70 GHz
Turbo (single-core): 4.90 GHz
Turbo (All Cores): 4.90 GHz
Core architecture: Hybrid
Hyperthreading: Available
Overclocking: Available
Core i7-12700K Specs
Cores: 12
Threads: 20
Frequency: 3.60 GHz
Turbo (single-core): 5.0 GHz
Turbo (All Cores): 4.90 GHz
Core architecture: Hybrid
Hyperthreading: Available
Overclocking: Available
Memory & PCIe
Core i5 and Core i7 both Support DDR4-3200, DDR5-4800 with 2 memory channels. Apparently, Intel will classify its RAM support into some cheaper Z690 DDR4 motherboards, portable frameworks, and H and B series models, and the DDR5 RAM support will just present in the top-tier Z-series motherboards. Alder Lake additionally upholds the PCIe 5.0 with 64GB/s of bandwidth on the x16 interface. The workstation PC processors are compatible with an x16 PCIe 5.0 interface with an extra x4 PCIe Gen 4 interface (it still is blurred if this x4 interface is utilized by the motherboard or presented to the consumers), while low-end models support an x12 PCIe Gen 4 confer combined with an x16 PCIe Gen 3 interface. The L2 cache of Core i5 is 9.50 MB on the other hand L2 cache of Core i7 provides 2.50MB memory extra which is 12MB. The L3 cache memory of Core i7 is a bit higher than core i5 has 20MB while Core i7 has 25MB of cache and the PCIe version and PCI lanes are the same in both processors.
Related: Best Motherboards For i5-12600k
Core i5-12600K
Memory: DDR4-3200, DDR5-4800 (Check Ram For i5-12600k)
Memory Channels: 2
L2 Cache: 50 MB
L3 Cache: 20MB
PCIe version: 5.0
PCIe lanes: 20
Core i7-12700K
Memory: DDR4-3200, DDR5-4800 (Check Ram for i7 12700k)
Memory Channels: 2
L2 Cache: 12 MB
L3 Cache: 25MB
PCIe version: 5.0
PCIe lanes: 20
Alder Lake upholds up to 16 bus/lanes of PCIe 5.0 (actually for larger bandwidths of the GPUs just) and four extra paths of PCIe 4. That gives an aggregate of 28 PCIe stage paths for Alder Lake frameworks. Intel likewise multiplied the throughput of the DMI association between the chip and chipset from an x8 DMI 3.0 line, which times in at 7.88 GB/s, to an x8 DMI 4.0 association that carries 15.66 GB/s. Intel likewise added support for the Volume Management Device highlight that empowers PCIe SSD the processing and the capacity to make bootable RAID measures.
Related: Best CPU Coolers For i7 12700k
Since the LGA1700 CPU socket size is ridiculously bigger than that of the socket sizes we saw in the LGA1200 and LGA 1151 motherboards, existing coolers might be contradicting, yet cooler upgrade bundles, which cooler companies will accommodate separately for existing clients, and will add free in the new batch of CPU coolers. The CPU Coolers that are compatible with both LGA11xx and LGA2066 as of now are available, so in the middle of choice, it is actually somehow easy to pick the CPU Cooler for 12th Gen processors. Those pins are expected to promote the latest interfaces i.e PCIe 5.0 and DDR5.
Related: Best CPU Coolers for i5 12600k
DDR5 and PCIe 5.0 in the arsenal give Intel a huge winning over the AMD processors, yet there are plenty of observations associated with such notable innovation advances. As we observed with the transition from PCIe 3.0 to 4.0, this puts an urge to have a better PCIe interface that requires good PCB motherboards (motherboards with more layers) that can sustain more extensive path dividing, more withstanding circuit, and logical controllers because of abundant data processing constraints and these elements plot to expand cost.
Core i7-12700K VS Core i5-12600K In Gaming
The gaming performance presented by Intel's most Latest CPUs is incredible. The Core i5 12600K is the title-holding processor for gamers since it not just offers extraordinary gaming execution in all cases, but it is also cheaper in cost. Alder Lake upholds DDR5 just as DDR4. That implies the causal cost might be somewhat more than you arranged, however, the results are still worth it, the fantastic Gaming performance of Core i5-12600K supports all high-end games of this time. Keep in mind, while doing these benchmarks, the tester was using the Best Motherboards For i7 12700k.
Core i5 has the ability to handle games smoothly like Need for speed Heat, Tekken 7, and Cyberpunk 2077 While the performance of Core i7-12700K is ultimately much better in games and the cache size of L3 is 5MB bonus of plus two extra cores and higher turbo frequency than Core i5-12600K but you cannot deny the value of Core i5-12600 because the performance is a little bit different in gaming while the price of Core i5-12600K is much cheaper than Core i7-12700K.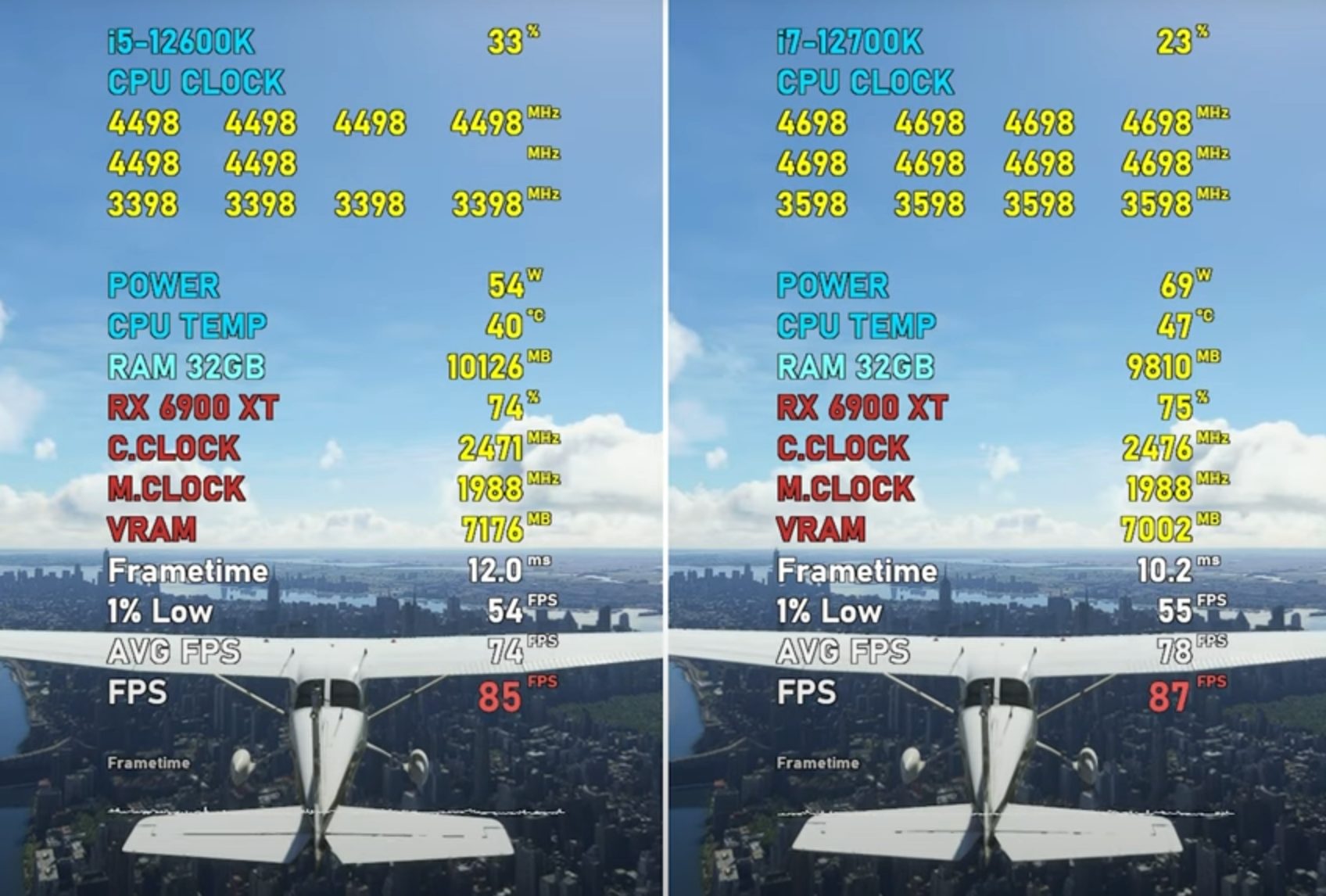 All in all, the Core i5 12600K is the new value processor for gaming providing great cost-per-frame results with all the necessary horsepower to boost your gaming experience. On the other hand, if you have diverse plans with the CPU like rendering and production alongside gaming, then we recommend that you buy 12700K in certain cases.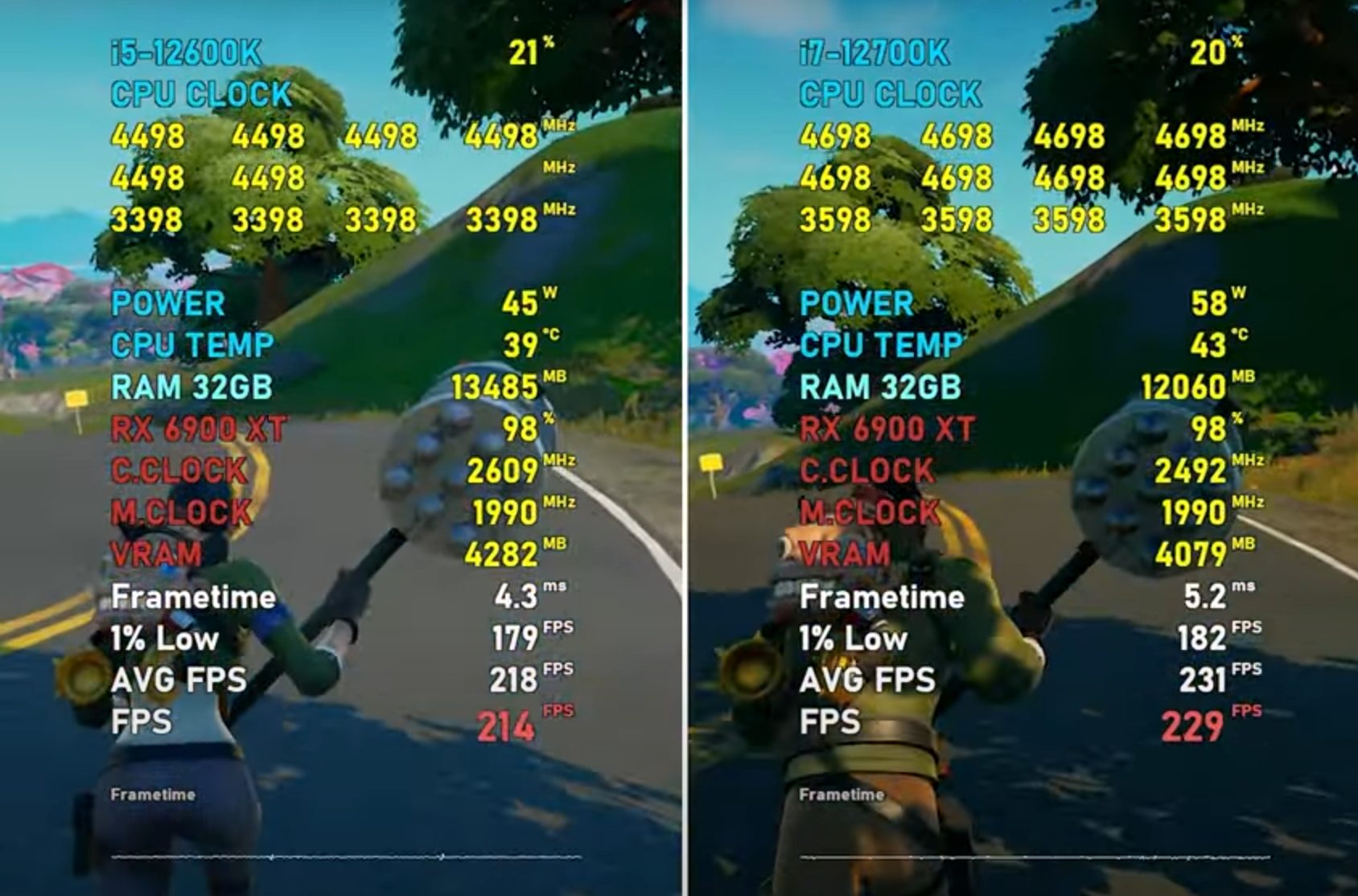 The Benchmark Performance of Core i7-12700K is 5% greater than Core i5-12600K. The Gaming response of Core i7-12700K is just 3% more than Core i5-12600K. Core i7-12700K has an average of 3 times much better overall performance and 11% higher scores due to more core and thread count than the Core i5 12600K.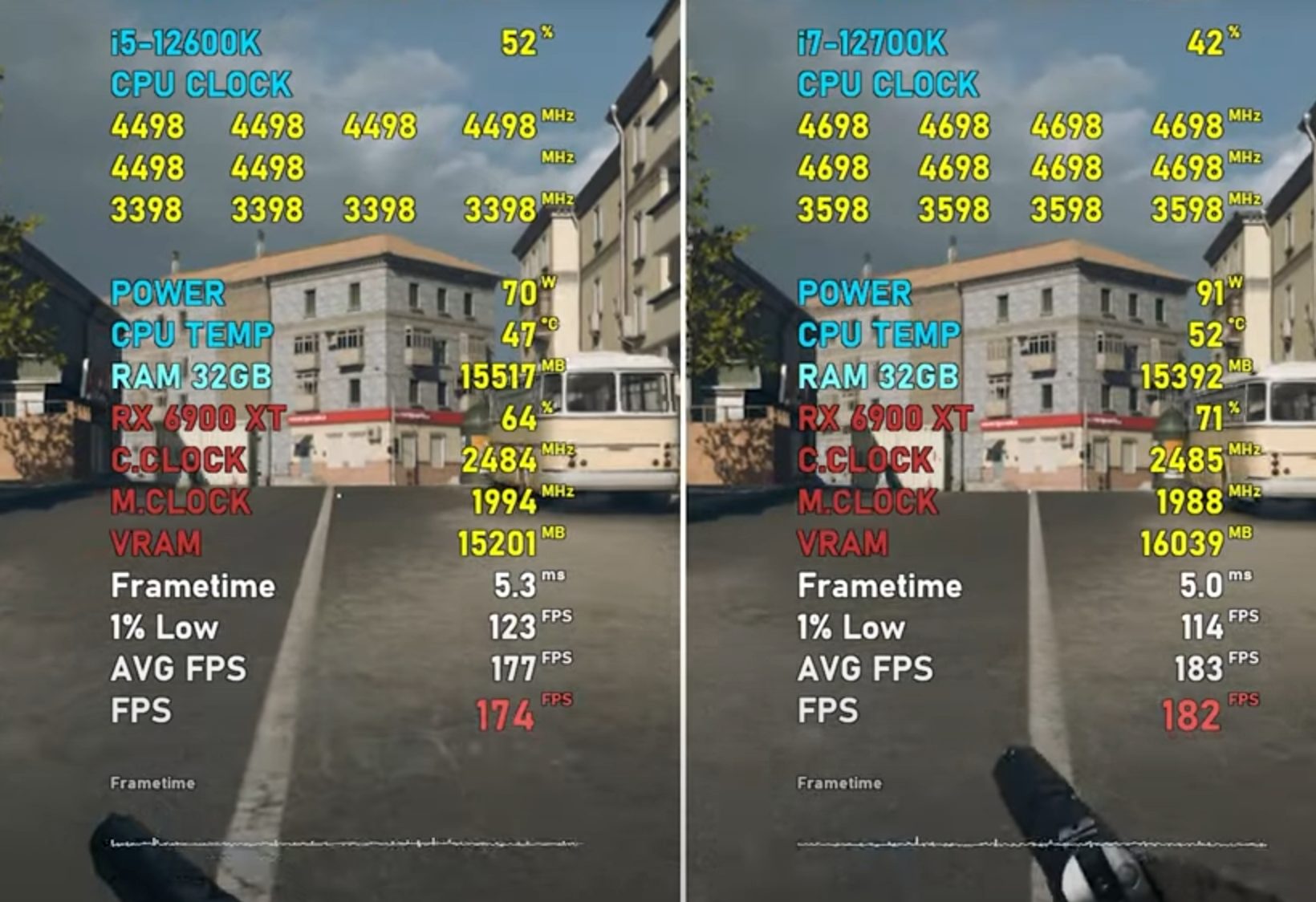 i7-12700k vs i5-12600k Power Consumption
Power consumption is an important factor you should always consider before purchasing a processor. In this case, both the i5-12600k and the i7-12700k have the same TDP of 125W.
Furthermore, since both of these processors make use of the same integrated GPU, the iGPU also has the same TGP of 15W.

Even with the better performance that the 12700k provides, it still consumes roughly the same amount of power as the 12600k in most scenarios, making it a much more efficient processor compared to the i5-12600k.
While they both have the same base power, the same cannot be said for their maximum turbo power; with the i5 12600k having a maximum turbo power of 150W, it is exactly 40W less than the 12700k's maximum power output of 190W.
i7-12700k vs i5-12600k 1440p & 4K
Switching over to higher resolutions, such as 1440p and 4K increases the GPU bottleneck. As a result, the difference in the frame rates between the two processors also decreases. Both of these CPUs never fail to impress when it comes to gaming performance; that is also the case with these higher resolutions.
Since the CPU does not affect the performance negatively when it comes to higher resolutions, the difference between the performance of the two processors becomes even less noticeable.
That said, the i7-12700k still maintains its lead over the i5-12600k in most titles.
i7-12700k vs i5-12600k Streaming
Both of these processors are a great choice for gaming and streaming; however, the i7-12700k performs a bit better in both tasks.
That said, the i5-12600k is by no means a weak processor. It is perfectly capable of streaming thanks to its performance cores. Going with the 12600k will provide better value because of its lower price; the processor is also capable of delivering a flawless experience when it comes to streaming.

If you wish to get a better-performing processor, then the i7-12700k is the obvious choice; however, the i5-12600k provides a better price-to-performance ratio for gaming and streaming.
Which One Is Better?
Picking one from these two efficient processors of the date is quite a head-scratching deal. So let us make it more crystal clear for you to choose one from these.
The Core I7-12700K is a decent choice where you are not only focussing on gaming. The Core I7 series is originally designed to deal with high-end gaming as well as high-end tasks like rendering graphics and doing intense algorithm work. The headstart of greater core & thread count makes the Core I7 a perfect CPU for power users.
In simple words, if you have a 165Hz or better gaming monitor with native QHD resolution powered by an RTX 3070 or RX 6700XT, the Core I7-12700K will play along nice and give paralleled performance.
The Core I5-12600K is also a value processor but putting it up on the comparison with 12700K makes it more convenient for other purposes like gaming other mediocre-tier production stuff like Streaming, multimedia, documents, and also it can handle rendering but not better than the Core i7-12700K. So if you are a gamer, then Core i5-12600K is the right choice for you.
In simple words, if you have a 144Hz gaming monitor with native FHD resolution powered by an RTX 3060 or RX 6600, the Core I5-12600K will go along great and give paralleled performance.
Frequently Asked Questions
Is Core i7 12700K an overkill for gaming?
Core i7 12700K is surely an overkill for gaming due to its price compared to the Core i5 12600K which is entitled as a fit processor mainly for gaming. If you have diverse plans with the CPU like rendering and production alongside gaming, then we recommend you to buy the 12700K CPU in certain cases
How many Cores and Threads Does Core i5 12600K have?
Intel 12th Gen Core I5 12600K has 10 cores and 16 threads.
How many cores and threads do Core i7 12700K have?
Intel 12th Gen Core I7 12700K has 12 cores and 20 threads.
Was our article helpful? 👨‍💻
Thank you! Please share your positive feedback. 🔋
How could we improve this post? Please Help us. 😔