As you probably know from the announcement of the launch of 12th Generation Alder Lake processors, Intel has released two models from the new series for the premiere. In this comparative analysis, we focused on the Core i5 12600K, which represents the mid-range performance segment and currently available at a fairly acceptable price. However, if you are interested in the flagship segment and also able to allocate a good budget, we will be covering the gaming performance test of the flagship Core i9-12900K model very soon. However, today our subject is comparing I5-12600k vs Ryzen 5 5600x, two very strong processors, and almost in the same price bracket.
However, to find the winner, we need to test i5-12600k and Ryzen 5 5600x, thus, our enthusiast reviewers have compiled Benchmarks of Both Processors in New Games like Cyberpunk 2077, Watch Dogs Legion, Wolfenstein Young Blood, and Popular Games like CSGO. However, before we do that, let's take a look at i5-12600k technology, and why its becoming increasingly popular.
What's new in Intel Alder Lake processors?
The 12th generation Intel Core systems (Alder Lake-S) replace the still quite fresh 11th generation Core models (Rocket Lake-S). However, there is no question of refreshing the old architecture like before. This time we are dealing with a completely new architecture that introduces a lot of new features. This time processors are using a hybrid design, and their production will be based on Intel 7 technology.
What does hybrid design mean? Basically, we will find two types of cores based on the x86 architecture in one processor: efficient Efficient-core (formerly known as Gracemont) and efficient Performance-core (formerly known as Golden Cove). The Efficient-core (Gracemont) architecture is designed with efficiency in mind, offering scalable multi-threaded performance for modern, more thread-intensive tasks.
The cores are equipped with a number of improvements that are to translate into better parameters – the engineers focused their efforts primarily on low voltage and low energy demand, thanks to which they also gained a power reserve to work at higher clocks.
How does this translate into performance? The manufacturer also boasts that the Efficient-core provides 40% better performance with the same power consumption (or the same performance with a 40% reduction in power consumption) compared to Skylake cores.
Some high-level improvements in Intel Alder Lake processors:
hybrid architecture combining two types of cores: efficient P-Core and effective E-Core
Intel Thread Director technology supporting the cooperation of cores under Windows 11
new structure of the second (L2) and third level (L3) caches
DDR4 and DDR5 RAM support (Read Best Ram For i5 12600k)
PCI-Express 5.0 support
Intel 7 lower lithographic process (10 nm Enhanced SuperFin)
But that's not all, because the processors also require new i5 12600k motherboards with the LGA 1700 socket and 600 series chipsets – the systems communicate with the faster DMI 4.0 x8 bus, and offer better functionality (including up to 12 PCIe 4.0 lines, port controller USB 3.2 Gen2x2 and 2.5G LAN). There's also an Intel Volume Management Device (VMD) feature that lets you manage NVMe SSDs without additional RAID controllers or other hardware adapters.
Intel Core i5 12600K Processor Specifications
The Core i5 12600K is a mid-range model that is aimed mainly at gamers and enthusiasts who additionally want to tweak/overclock their setup. The processor offers 10 cores and 16 threads in total, but it's worth paying attention to the details. The manufacturer used a combination of 6 cores / 12 P-Core threads (base frequency 3.7 GHz, but in Turbo mode they can accelerate to a maximum of 4.9 GHz) and 4 cores / 4 threads E-Core (the base clock is 2.8 GHz and the turbo clock is 3.6 GHz).
The more efficient cores have 1.25 MB of the second level cache (L2), while for the power-efficient cores there is a shared 4 MB of the second level cache. In addition, 20 MB of shared third-level cache (L3) is available – for P-Cores, E-Cores and integrated graphics.
Additionally, in the Core i5 12600K model, the UHD Graphics 770 graphics chip has been integrated – the graphics have 32 execution units (EU) based on the Xe LP architecture. The Core i5 12600KF model without integrated graphics will also be available for sale in the future (it needs to be coupled with a PCI-Express graphics card for display).
It is also worth paying attention to the power consumption. It is true that the TDP factor is set here at 125 W, but in fact it only defines the power limit for the Processor Base Power. In Turbo (Maximum Turbo Power) mode, this value can go up to 150 W.
Intel Core i5 12600K vs AMD Ryzen 5 5600X
Model
Intel Core i5 12600K
AMD Ryzen 5 5600X
Generation
Alder Lake-S
Vermeer
Architecture
Golden Cove + Gracemont
Zen 3
Process node
Intel 7
TSMC 7 nm
Socket
LGA 1700
AM4
Cores / threads
10/16
6/12
(6/12 P-Core + 4/4 E-Core)
Base / Turbo frequency
3.7 / 4.9 GHz + 2.8 / 3.6 GHz
3.7 / 4.6 GHz
L2 memory
6x 1.25 MB + 2 MB
6x 512 KB
L3 memory
20 MB
32 MB
RAM controller
DDR4-3200 / DDR5-4800
DDR4-3200
(dual channel)
(dual channel)
Integrated graphics
UHD Graphics 770
–
32 EU (300 – 1450 MHz)
PCI-Express controller
16x PCI-Express 5.0
24x PCI-Express 4.0
4x PCI-Express 4.0
Unlocked multiplier
YES
YES
TDP
125W
65W
(Maximum Power Limit)
(150W)
(65W)
Price
$320
$299
Apart from processors, in practice, the cost of the entire platform must also be taken into account – here the blue camp proposal is much more expensive. People interested in overclocking must buy a Z690 motherboard – the prices of such models start from $199 – $349, though for better design with lots of extra features you may also spend about $499. For comparison, good models for AMD AM4 with the X570 chipset cost about $199 – $299. The price further increases when we add newer DDR5 memory, because the price of 2x 16 GB kit starts from about $249 (though you can always add pair it with DDR4, if your motherboard support it).

Testing Platform
We have tested the Intel Core i5 12600K processor on a platform that should not limit the hardware capabilities. We decided to use the configuration with DDR5 RAM – for the purposes of regular tests, the modules worked with the stock clock speed of the memory controller – 4800 MHz CL38-40-40. The AMD Ryzen 5 5600X platform paired with DDR4-3200 CL16-18-18-36 memory.
Processor: Intel Core i5 12600K (MTP 150 W)
CPU cooler: Arctic Liquid Freezer II 420 (See Our Complete Test of Best CPU Cooler for i5 12600k)
Motherboard: ASUS ROG Maximus Z690 Extreme (BIOS 0702)
RAM: Corsair Dominator Platinum RGB DDR5 2x 16 GB 5200 MHz CL38
Graphics Card: Nvidia GeForce RTX 3080 FE
SSD: Corsair MP600 1 TB
PSU: be quiet! Dark Power 12 750W
Gaming Performance Test
Finally, lets come to the main topic, how does the Intel Core i5 12600K perform in games We decided to test new processor in several newer & popular titles in 1080p resolution, where the processor plays an important role in terms of performance.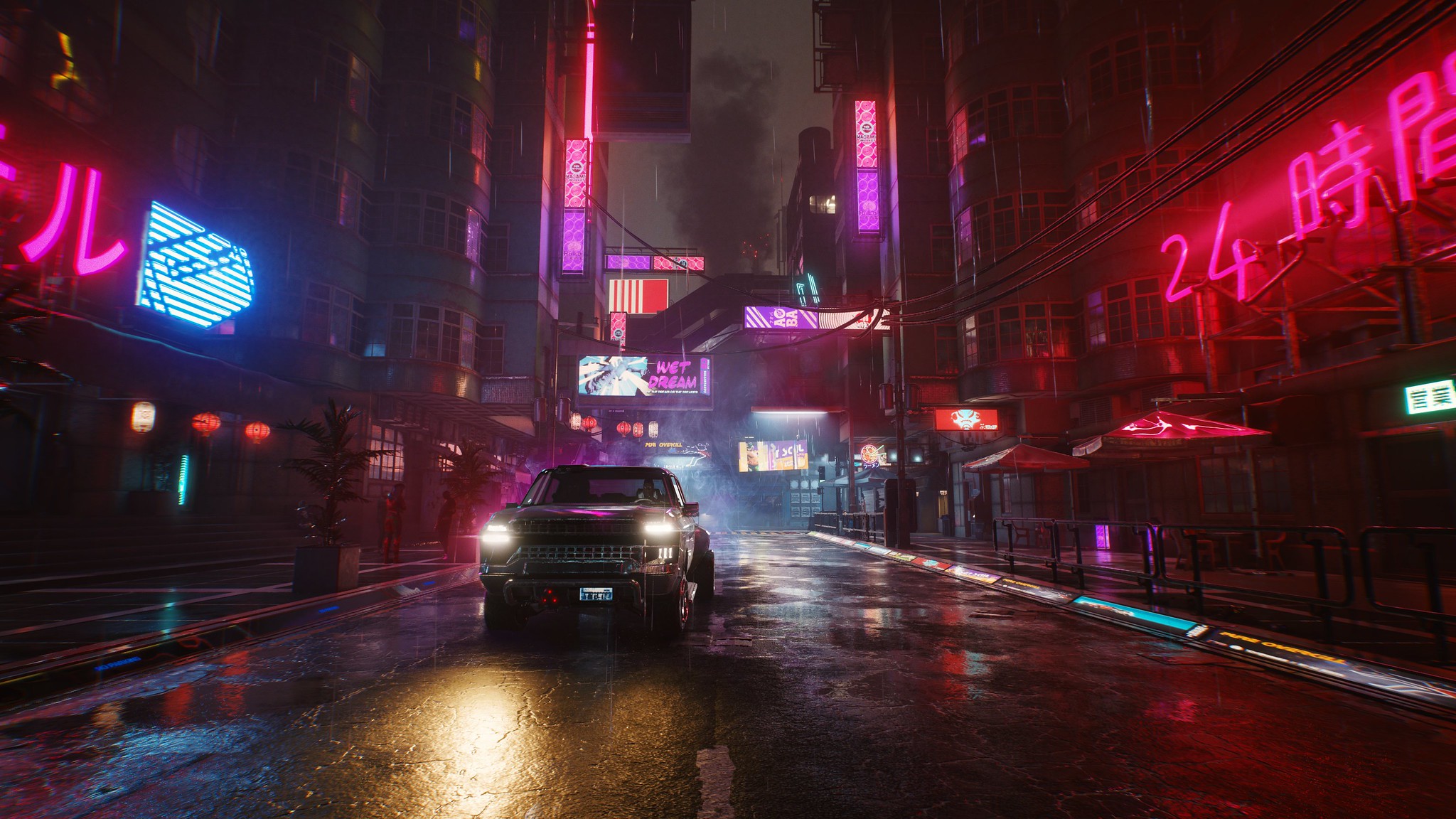 Cyberpunk 2077 (1080p, Ultra, RT Ultra, DLSS Quality, DirectX 12)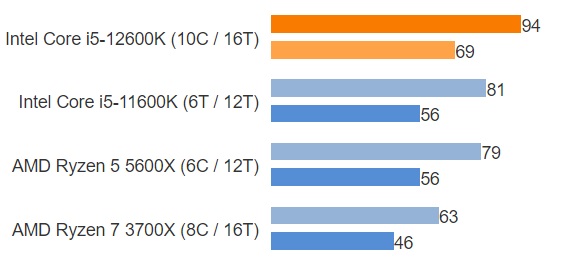 Counter-Strike: Global Offensive (1080p, Medium, DirectX 9)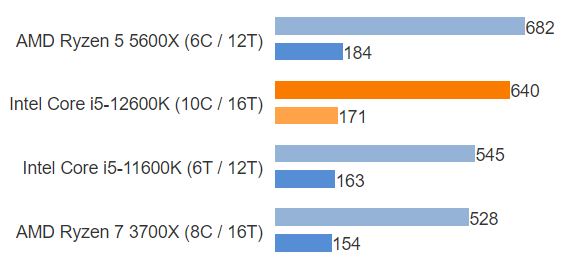 Wolfenstein: Youngblood (1080p, Uber, RT, DLSS Quality, Vulkan)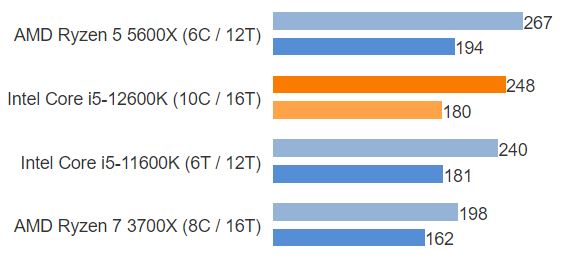 Watch Dogs: Legion – (1080p, Ultra, DirectX 12)


Horizon Zero Dawn – Benchmark (1080p, Ultimate, DirectX 12)

There is a little surprise in the games – while in Cyberpunk 2077, Watch Dogs: Legion, and Horizon Zero Dawn (titles using DirectX 12), the Intel Core i5 12600K is clearly faster than its competitor from the Red camp, but CS: GO (DirectX 9) and Wolfenstein: Youngblood (Vulkan) turns out to be better for AMD Ryzen 5600x.
Power Consumption
Finally, we checked the CPU power consumption – an issue that evoked a lot of emotions even before the premiere of the new processors from blue camp. We tested power consumption in demanding game (Cyberpunk 2077), without tweaking any power limits, although in the new CPUs the maximum power limit (Maximum Turbo Power) can be kept for a longer period of time.

Well, as you can see above, power consumption is not a strong point of the new Intel processor. Though when it comes to the progress in energy efficiency over the previous generation, the jump is also not that big.
Overclocked
Intel Core i5 12600K Performance
Apart from testing CPU on stock frequencies, we have also overclocked Core i5 12600k to see how it performs in games. As with the standard settings, we tested in 1080p resolution. At higher resolutions, you should expect smaller differences between individual models.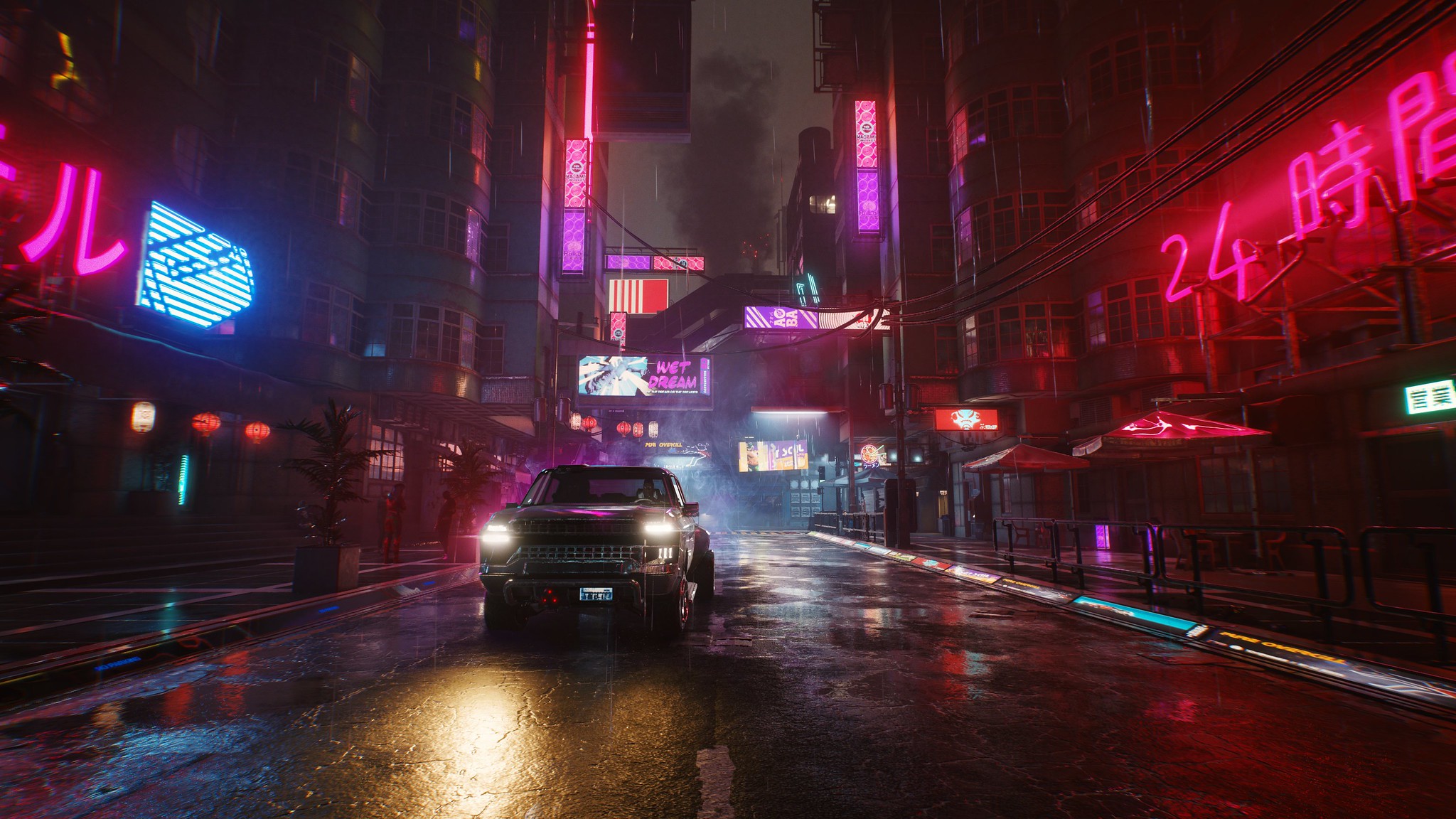 Cyberpunk 2077 (1080p, Ultra, RT Ultra, DLSS Quality, DirectX 12)


Counter-Strike: Global Offensive (1080p, Medium, DirectX 9)


Wolfenstein: Youngblood (1080p, Uber, RT, DLSS Quality, Vulkan)


Watch Dogs: Legion – Benchmark (1080p, Ultra, DirectX 12)


Horizon Zero Dawn (1080p, Ultimate, DirectX 12)

After overclocking of Intel Core i5 12600K vs AMD Ryzen 5 5600X, the situation is very similar to the standard CPU settings – Intel's model leads Cyberpunk 2077, Watch Dogs: Legion and Horizon Zero Dawn, but gives way to Ryzen in CS: GO and the new Wolfenstein running under Vulkan.
Intel Core i5 12600K Power Consumption
How does overclocking the Core i5 12600K translate into power consumption? This time again we have tested the power consumption of CPU under most demanding game (Cyberpunk 2077).

Well, overclocking the Core i5 12600K is associated with a significant increase in energy appetite – the platform with the Core i5 12600K processor drew 70 W more power here than the platform with the Ryzen 5 5600X.
Is Buying I5-12600k Worth It?
The Core i5 12600K is a mid-range processor, which, however, offers very good performance – the use of hybrid architecture has translated into great performance not only in single-thread, but also in multi-threaded applications. It also offers an advantage of several dozen percent compared to the competing Ryzen 5 5600X model in applications/benchmarks like Blender Classroom, Cinebench R23 (1915 – single core score vs 1557 scored by Ryzen 5600x), Cinebench R23 (19284 – multi-core score vs 12223 scored by Ryzen 5600x), so the difference is really big.
In Intel Core i5 12600K vs AMD Ryzen 5 5600X gaming performance, it may not look so spectacular, but the Core i5 12600K in most titles offer a significant advantage over its competitor AMD. Of course, we are talking about the popular 1080p resolution, where the processor has a significant impact on the performance of the PC. Though Intel platform is a lot expensive at this point of time considering high demand and low supply of DDR5 ram and new Z690 chipset motherboard.
An additional advantage for Intel processor is the possibility of better overclocking, but we should not expect a large increase in performance here – in favorable scenarios it is at most a few percent. However, we must take into account a significant increase in the demand for electricity, and thus also a large amount of generated heat (decent AiO water cooling will be useful here). The profit from overclocking will be appreciated rather by performance freaks.
The Core i5 12600K seems to be A quite viable proposition, but its attractiveness is ruined by the high cost of the entire platform.
Intel Core i5 12600K Pros and Cons:
Pros
Better gaming performance
Great multi-threaded performance
Great single-thread performance
Support for DDR4 and DDR5 RAM
PCI-Express 5.0 support
Cons:
Low overclocking potential
Higher power consumption compared to the competitor
High cost of the platform
Related Reads: Coolers For i9-12900k