Intel's 12th Generation Lineup of Alder Lake CPUs, based on the modern LGA 1700 Socket and a 10nm node (branded Intel 7 for marketing motives), are designed to rival AMD's entire Series of Ryzen 5000 Processors (which are still utilizing the 6-year old AM4 CPU Platform), as part of Intel's attempt to regain its lost market share, with the help of an aggressive pricing strategy and the brand-new Hybrid Core Architecture. For the purpose of this article, we'll be investigating the comparative performance of the Core i5-12600K vs. Ryzen 5 5600X, both midrange CPUs with (initially) similar price points.
The Core i5-12600K introduces cutting-edge technology to the world, including, but not limited to, DDR5 RAM and PCIe Gen 5.0 connectivity, even though these features add little value in terms of real-world performance at the time of writing due to their relatively recent releases. Meanwhile, AMD soldiers on with its tried-and-tested AM4 Socket and a retaliatory pricing algorithm to rival Intel's 12th Generation Processors despite lacking with respect to overall performance since the Zen 3 (Vermeer) 7nm CPUs are almost two years old, collectively speaking.
What's new in Intel Alder Lake processors?
The 12th generation Intel Core systems (Alder Lake-S) replace the still quite fresh 11th generation Core models (Rocket Lake-S). However, there is no question of refreshing the old architecture like before. This time we are dealing with a completely new architecture that introduces a lot of new features. This time processors are using a hybrid design, and their production will be based on Intel 7 technology.
What does hybrid design mean? Basically, we will find two types of cores based on the x86 architecture in one processor: efficient Efficient-core (formerly known as Gracemont) and efficient Performance-core (formerly known as Golden Cove). The Efficient-core (Gracemont) architecture is designed with efficiency in mind, offering scalable multi-threaded performance for modern, more thread-intensive tasks.
The cores are equipped with a number of improvements that are to translate into better parameters – the engineers focused their efforts primarily on low voltage and low energy demand, thanks to which they also gained a power reserve to work at higher clocks.
How does this translate into performance? The manufacturer also boasts that the Efficient-core provides 40% better performance with the same power consumption (or the same performance with a 40% reduction in power consumption) compared to Skylake cores.
Some high-level improvements in Intel Alder Lake processors:
hybrid architecture combining two types of cores: efficient P-Core and effective E-Core
Intel Thread Director technology supporting the cooperation of cores under Windows 11
new structure of the second (L2) and third level (L3) caches
DDR4 and DDR5 RAM support (Read Best Ram For i5 12600k)
PCI-Express 5.0 support
Intel 7 lower lithographic process (10 nm Enhanced SuperFin)
But that's not all, because the processors also require new i5 12600k motherboards with the LGA 1700 socket and 600 series chipsets – the systems communicate with the faster DMI 4.0 x8 bus, and offer better functionality (including up to 12 PCIe 4.0 lines, port controller USB 3.2 Gen2x2 and 2.5G LAN). There's also an Intel Volume Management Device (VMD) feature that lets you manage NVMe SSDs without additional RAID controllers or other hardware adapters.
Intel Core i5 12600K Processor Specifications
The Core i5 12600K is a mid-range model that is aimed mainly at gamers and enthusiasts who additionally want to tweak/overclock their setup. The processor offers 10 cores and 16 threads in total, but it's worth paying attention to the details. The manufacturer used a combination of 6 cores / 12 P-Core threads (base frequency 3.7 GHz, but in Turbo mode they can accelerate to a maximum of 4.9 GHz) and 4 cores / 4 threads E-Core (the base clock is 2.8 GHz and the turbo clock is 3.6 GHz).
The more efficient cores have 1.25 MB of the second level cache (L2), while for the power-efficient cores there is a shared 4 MB of the second level cache. In addition, 20 MB of shared third-level cache (L3) is available – for P-Cores, E-Cores and integrated graphics.
Additionally, in the Core i5 12600K model, the UHD Graphics 770 graphics chip has been integrated – the graphics have 32 execution units (EU) based on the Xe LP architecture. The Core i5 12600KF model without integrated graphics will also be available for sale in the future (it needs to be coupled with a PCI-Express graphics card for display).
It is also worth paying attention to the power consumption. It is true that the TDP factor is set here at 125 W, but in fact it only defines the power limit for the Processor Base Power. In Turbo (Maximum Turbo Power) mode, this value can go up to 150 W.
Intel Core i5 12600K vs AMD Ryzen 5 5600X
Model
Intel Core i5 12600K
AMD Ryzen 5 5600X
Generation
Alder Lake-S
Vermeer
Architecture
Golden Cove + Gracemont
Zen 3
Process node
Intel 7
TSMC 7 nm
Socket
LGA 1700
AM4
Cores / threads
10/16
6/12
(6/12 P-Core + 4/4 E-Core)
Base / Turbo frequency
3.7 / 4.9 GHz + 2.8 / 3.6 GHz
3.7 / 4.6 GHz
L2 memory
6x 1.25 MB + 2 MB
6x 512 KB
L3 memory
20 MB
32 MB
RAM controller
DDR4-3200 / DDR5-4800
DDR4-3200
(dual channel)
(dual channel)
Integrated graphics
UHD Graphics 770
–
32 EU (300 – 1450 MHz)
PCI-Express controller
16x PCI-Express 5.0
24x PCI-Express 4.0
4x PCI-Express 4.0
Unlocked multiplier
YES
YES
TDP
125W
65W
(Maximum Power Limit)
(150W)
(65W)
Price
$320
$299
Apart from processors, in practice, the cost of the entire platform must also be taken into account – here the blue camp proposal is much more expensive. People interested in overclocking must buy a Z690 motherboard – the prices of such models start from $199 – $349, though for better design with lots of extra features you may also spend about $499. For comparison, good models for AMD AM4 with the X570 chipset cost about $199 – $299. The price further increases when we add newer DDR5 memory, because the price of 2x 16 GB kit starts from about $249 (though you can always add pair it with DDR4, if your motherboard support it).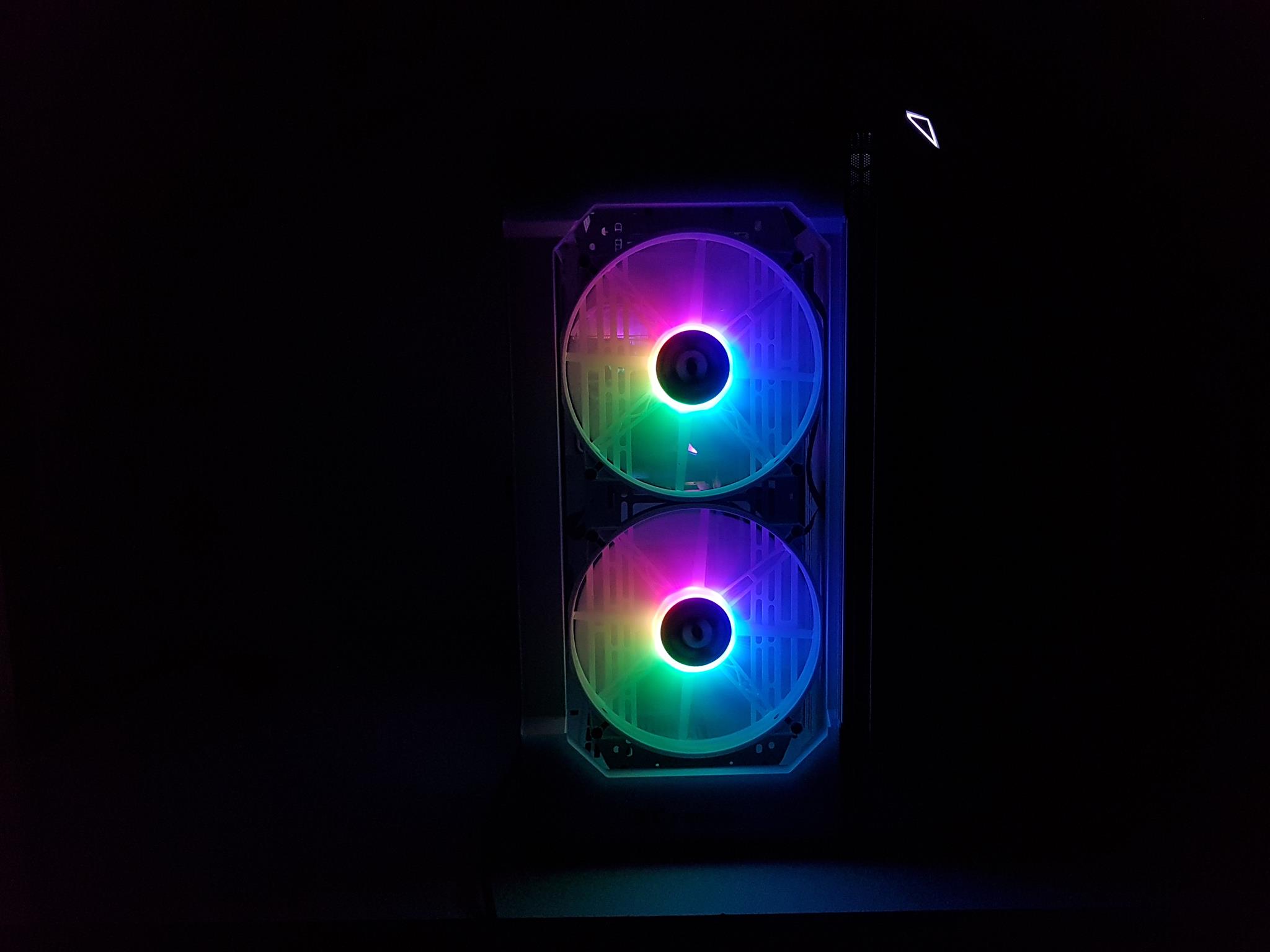 Testing Platform
We have tested the Intel Core i5 12600K processor on a platform that should not limit the hardware capabilities. We decided to use the configuration with DDR5 RAM – for the purposes of regular tests, the modules worked with the stock clock speed of the memory controller – 4800 MHz CL38-40-40. The AMD Ryzen 5 5600X platform paired with DDR4-3200 CL16-18-18-36 memory.
Processor: Intel Core i5 12600K (MTP 150 W)
CPU cooler: Arctic Liquid Freezer II 420 (See Our Complete Test of Best CPU Cooler for i5 12600k)
Motherboard: ASUS ROG Maximus Z690 Extreme (BIOS 0702)
RAM: Corsair Dominator Platinum RGB DDR5 2x 16 GB 5200 MHz CL38
Graphics Card: Nvidia GeForce RTX 3080 FE
SSD: Corsair MP600 1 TB
PSU: be quiet! Dark Power 12 750W
Gaming Performance Test
Finally, lets come to the main topic, how does the Intel Core i5 12600K perform in games We decided to test new processor in several newer & popular titles in 1080p resolution, where the processor plays an important role in terms of performance.
In terms of gaming performance, the 12600k goes head to head with the Ryzen 5 5600x both in modern triple-A titles and competitive games like CSGO. However, as seen in most benchmarks, it is clear that the i5-12600k has a lead over the Ryzen 5 5600x in most games.
As mentioned before, there are a few exceptions to this, with the Ryzen 5 5600x performing better in a few games such as "Wolfenstein: Youngblood", and "Horizon Zero Down"; however, the performance difference is close to none.
Intel's newer 10nm manufacturing process and the addition of a few E-cores definitely seem to help out in terms of gaming performance. Another thing to note is that the i5-12600k draws a lot more power compared to the Ryzen 5 5600x.
One percent lows also show a similar pattern in terms of performance, with the Intel Core i5-12600k maintaining a lead in most titles.
In conclusion, the Ryzen 5 5600x puts up a decent fight against the 12600k; however, the Core i5 12600k is the better processor when it comes to gaming performance, consistently beating it in most games.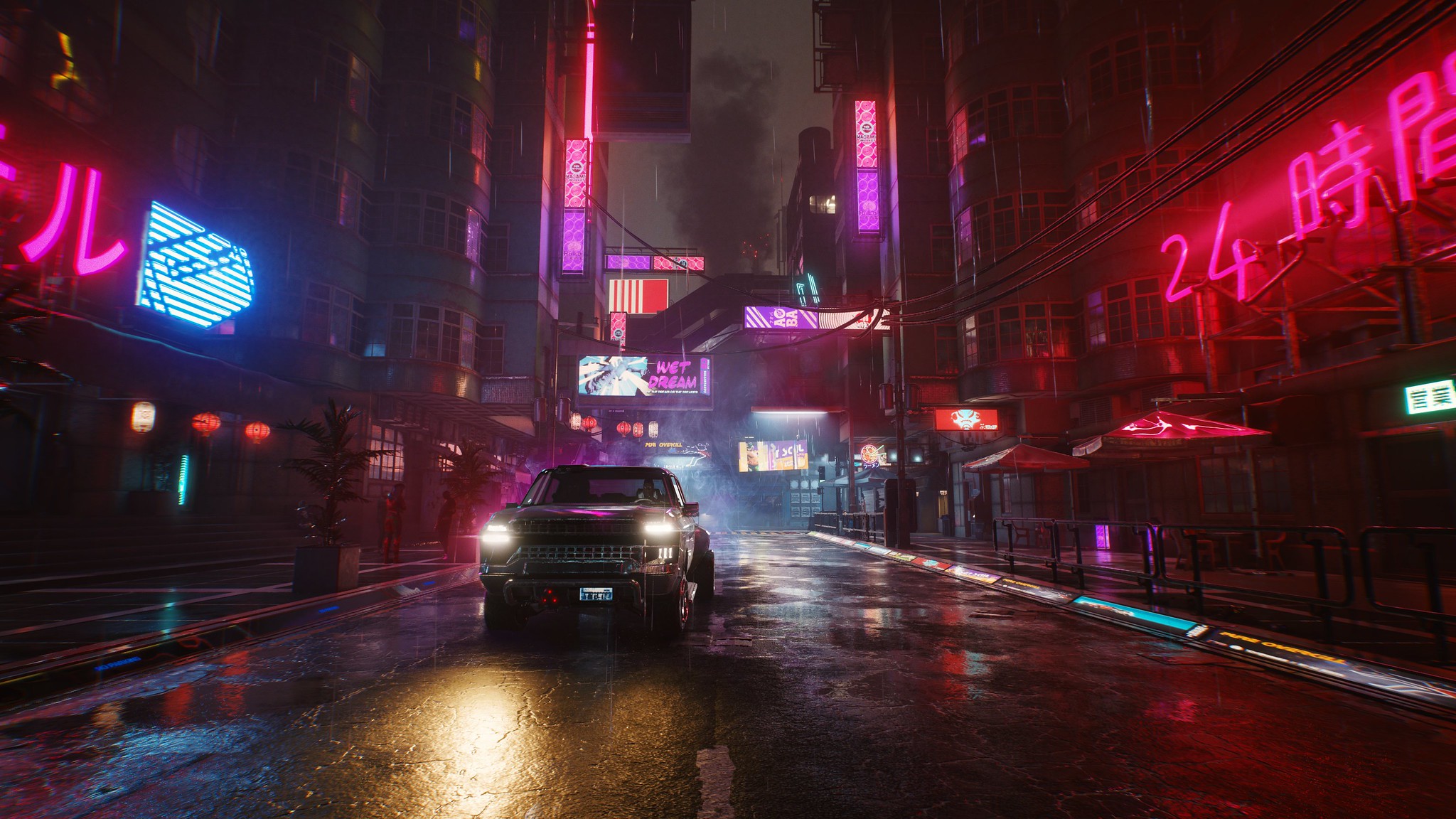 Cyberpunk 2077 (1080p, Ultra, RT Ultra, DLSS Quality, DirectX 12)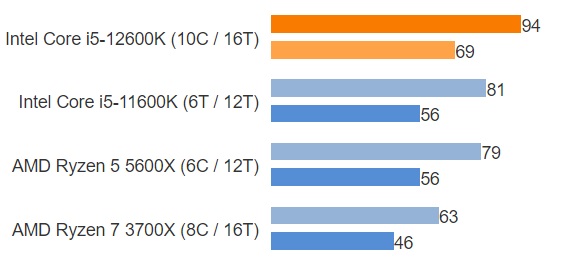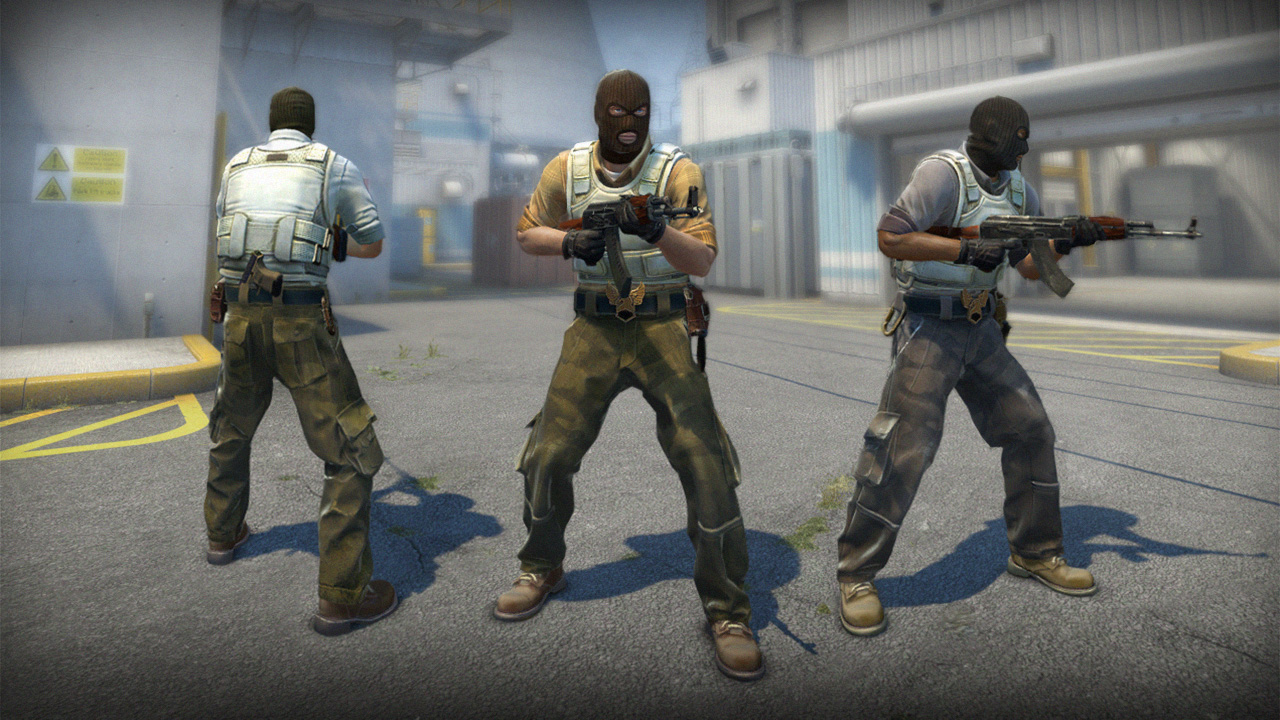 Counter-Strike: Global Offensive (1080p, Medium, DirectX 9)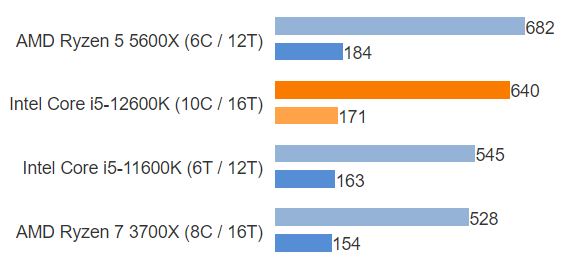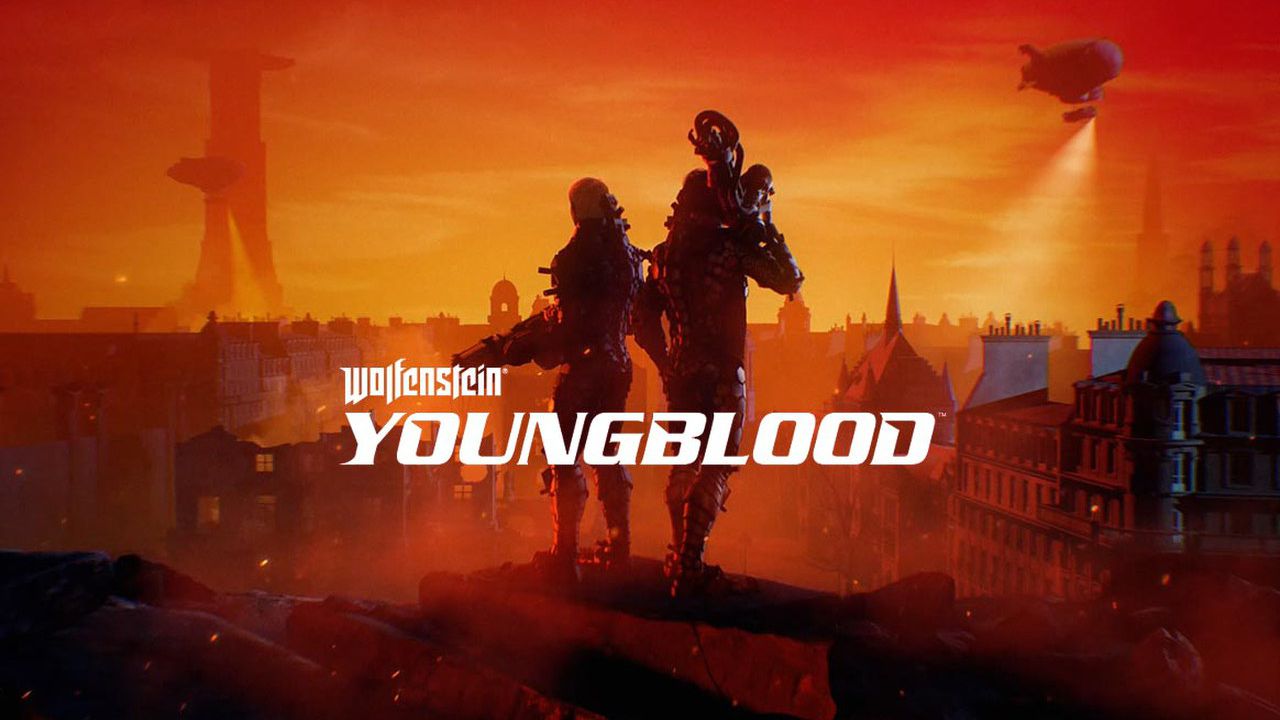 Wolfenstein: Youngblood (1080p, Uber, RT, DLSS Quality, Vulkan)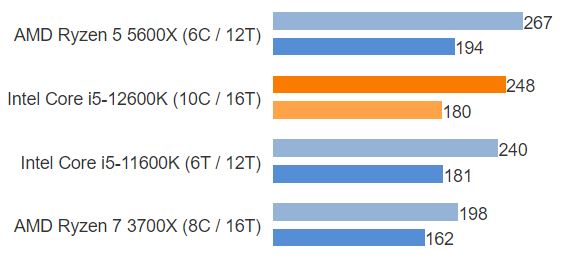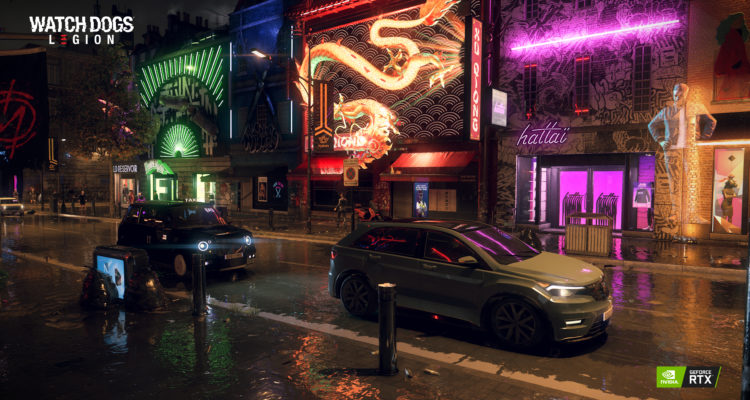 Watch Dogs: Legion – (1080p, Ultra, DirectX 12)

Horizon Zero Dawn – Benchmark (1080p, Ultimate, DirectX 12)

There is a little surprise in the games – while in Cyberpunk 2077, Watch Dogs: Legion, and Horizon Zero Dawn (titles using DirectX 12), the Intel Core i5 12600K is clearly faster than its competitor from the Red camp, but CS: GO (DirectX 9) and Wolfenstein: Youngblood (Vulkan) turns out to be better for AMD Ryzen 5600x.
Overclocked
Intel Core i5 12600K Performance
Apart from testing CPU on stock frequencies, we have also overclocked Core i5 12600k to see how it performs in games. As with the standard settings, we tested in 1080p resolution. At higher resolutions, you should expect smaller differences between individual models.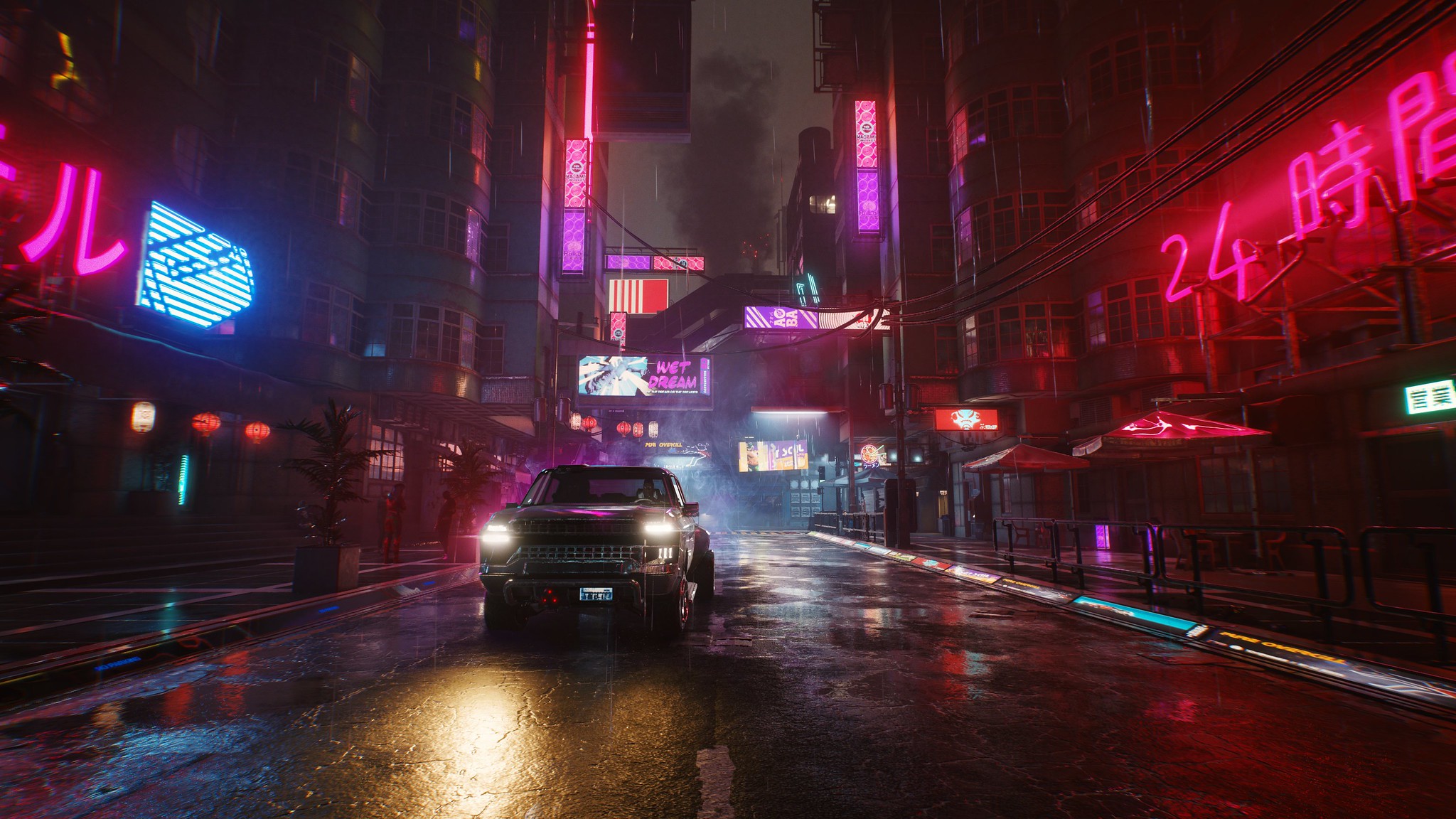 Cyberpunk 2077 (1080p, Ultra, RT Ultra, DLSS Quality, DirectX 12)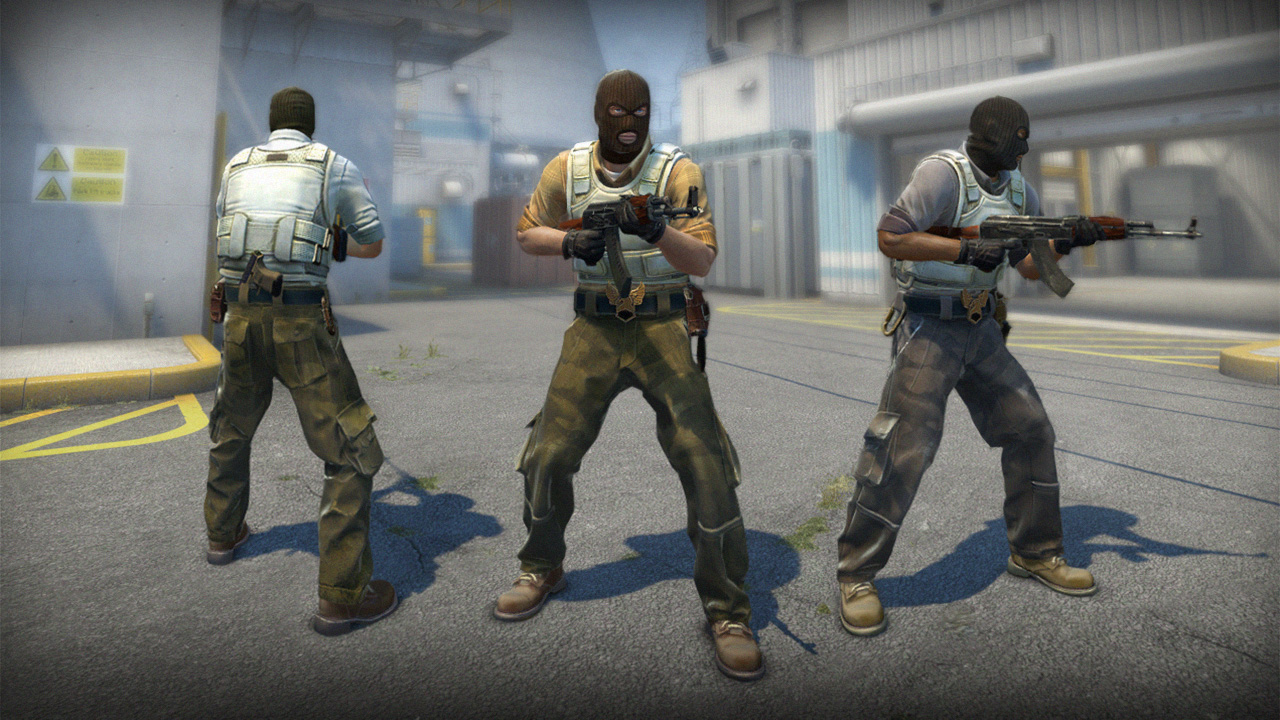 Counter-Strike: Global Offensive (1080p, Medium, DirectX 9)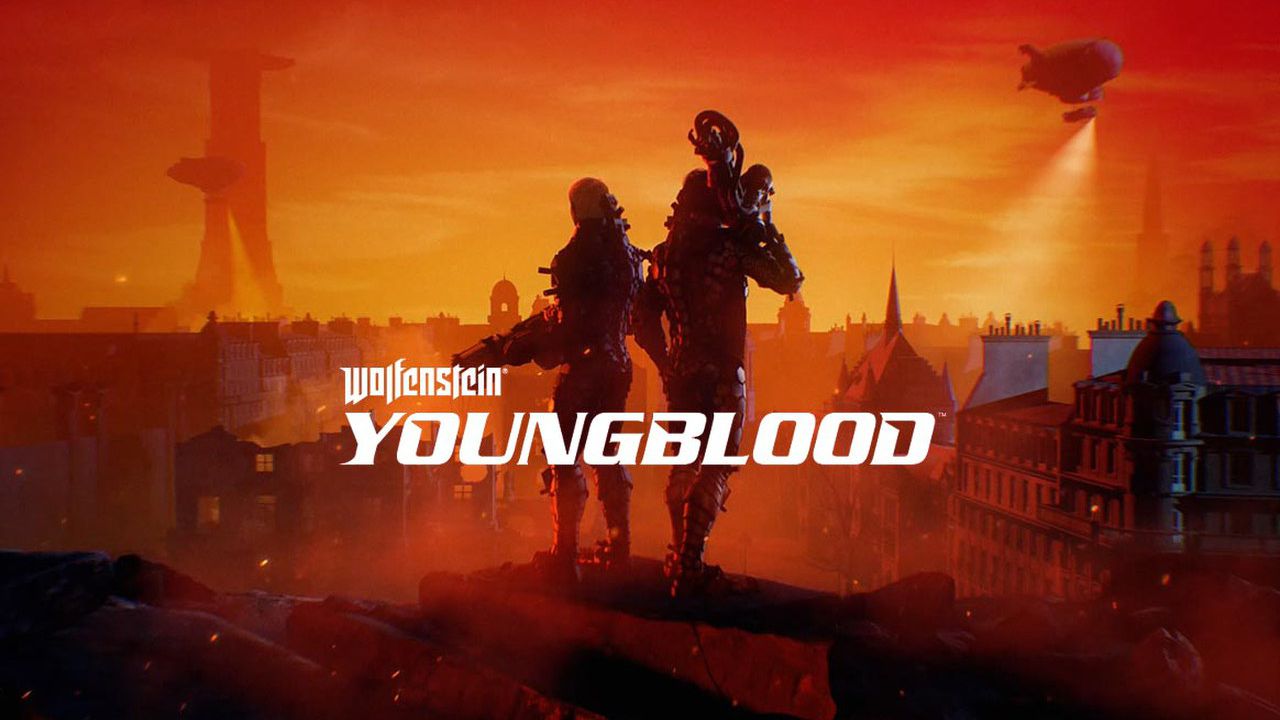 Wolfenstein: Youngblood (1080p, Uber, RT, DLSS Quality, Vulkan)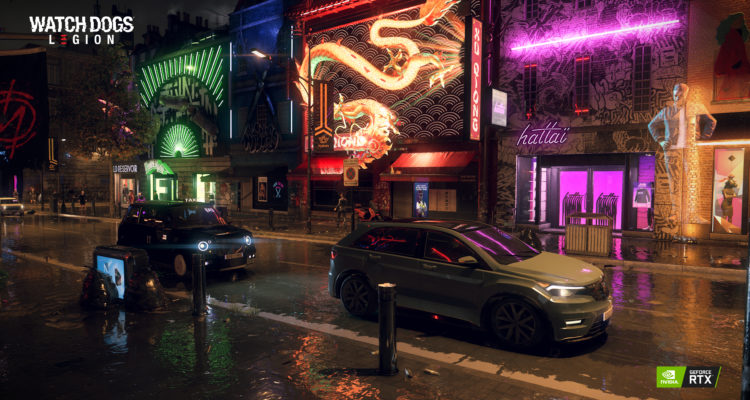 Watch Dogs: Legion – Benchmark (1080p, Ultra, DirectX 12)

Horizon Zero Dawn (1080p, Ultimate, DirectX 12)

After overclocking of Intel Core i5 12600K vs AMD Ryzen 5 5600X, the situation is very similar to the standard CPU settings – Intel's model leads Cyberpunk 2077, Watch Dogs: Legion and Horizon Zero Dawn, but gives way to Ryzen in CS: GO and the new Wolfenstein running under Vulkan.
1440p
Moving things up to 1440p increases the load on the GPU, making things more GPU-bound in most games. As a result, the fps also decreases; however, the fps difference in most games also decreases in the shift from 1080p to 1440p.
That said, even with the small performance gap between the two processors, the 12600k continues to maintain a lead in most games tested. The Ryzen 5 5600x falls behind the 12600k by just a couple of frames.
Overall Gaming Performance Summary
Courtesy of AMD graciously packing in 32 MB of L3 Cache (with low latency access thanks to Zen 3's design) onboard the Ryzen 5 5600X in comparison to the Core i5-12600K's relatively meagre 20 MB of L3 Cache, the Ryzen 5600X is able to hold its own against Intel's newer CPU, despite the latter's obvious Hybrid Core advantage.
Generally speaking, the Core i5-12600K yields a maximum performance gain of up to 5-12% in best-case scenarios at FHD (1920 x 1080) resolution, assuming you're using faster/lower-latency DDR4 Memory. That performance differential quickly narrows to less than 5% if you plan on using the newer but (effectively) slower DDR5 RAM standard.
Pushing higher resolutions up to QHD (2560 x 1440) and UHD (3840 x 2160) will completely obliterate the performance gulf, with the Ryzen 5 5600X actually snatching a few wins here and there, thanks to reduced CPU bottlenecking, especially in games that are partial to a higher amount of L3 Cache and rely upon the Vulkan API (Application Programming Interface) in contrast to DirectX 12 (DX12).
Overclocking Potential
Both the Core i5-12600K and Ryzen 5 5600X integrate unlocked multipliers for overclocking out of the box. That being said, Intel has restricted CPU overclocking to its top-of-the-line Z690 chipset, which doesn't come cheap, varying between at least $200-500, climbing up to astronomical prices above the $800 threshold! On the contrary, AMD is relatively lenient, allowing users to overclock the Ryzen 5 5600X with all 300, 400, and 500-Series Chipsets except the budget-oriented/entry-level A320 and A520 motherboards.
Moving on to the actual overclocking, Intel showcases its proprietary XTU (Extreme Tuning Utility) software while AMD parades Ryzen Master, which can be used to access AMD's PBO2 (Precision Boost Overdrive 2) utility; a feature that automatically overclocks your Ryzen 5 5600X with the help of a set of pre-specified thresholds and parameters for voltage levels, Base and Turbo Clock Speeds, and TJMax (the temperature at which your CPU will automatically throttle to maintain adequate thermal efficiency). That being said, PBO2 typically forces the CPU to stay at default Boost Clocks for an extended period of time in an effort to enhance multi-threaded performance rather than actually altering and increasing the stock frequencies.
As for Intel, the Core i5-12600K and accompanying Alder Lake CPUs exhibit the manufacturer's exclusive Dynamic Memory Boost technology as part of its XMP (Extreme Memory Profile) 3.0 RAM overclocking utility, which will automatically switch between different pre-configured XMP profiles in real-time without requiring a system restart to run your DDR4/DDR5 memory at appropriate speeds, depending upon whether your PC is trying to optimize efficiency or deliver utmost performance. Nonetheless, prospective buyers should be wary that they'll require a B660, H670, or Z690 chipset to unlock Memory Overclocking.
With regards to CPU overclocking, the Core i5-12600K's Performance and Efficiency Cores can be pushed past the 5.0 GHz and 4.0 GHz gateway to eke out up to a theoretical 10-12% performance enhancement as far as productivity workflows are concerned. As far as gaming is concerned, the Performance Cores' frequency will have more influence on real-world performance. Since the P-Cores have comparatively lower clearance for manual overclocking, you might see up to a 2-3% differential at most, i.e., essentially negligible.
Power Consumption and Thermal Efficiency
Despite boasting a relatively massive generational leap in terms of Power Efficiency, the Core i5-12600K still consumes more than double the power, with its Base and Turbo TDP (Thermal Design Process) being specified at 125W and 150W, respectively. On the other hand, the Ryzen 5 5600X exhibits simply marvellous specs, touting a comparatively meagre power draw of 65W at default frequencies. It's worth noting that manually overclocking the i5-12600K will easily push power consumption in excess of 200W. In contrast, the 5600X will always stay below 100W, no matter how crazily you fine-tune your overclocking settings.
Higher TDPs promote excess heat production, which necessitates the requirement for high-performance CPU Cooling. The Core i5-12600K, as such, will need a beefier CPU cooler which is why Intel didn't bother to include a Stock Cooler since they realized users would opt for an aftermarket cooler regardless to sustain optimal thermal efficiency.
Conversely, AMD included their Wraith Stealth CPU Cooler within the Ryzen 5 5600X's packaging. While the Wraith Stealth may signify the most inferior Stock Cooler for AMD's lineup of proprietary cooling solutions, the Ryzen 5 5600X's insubstantial 65W TDP certification means that potential buyers won't necessarily have to purchase an aftermarket cooler for the 5600X, provided they're not planning to undertake overclocking sessions.
Pricing and Availability
The Core i5-12600K went head-to-head with the Ryzen 5 5600X at the former's launch, in terms of price points, with the i5-12600K (with UHD 770 Graphics) being accompanied by a $290 MSRP while the 5600X featured a $300 MSRP, $10 more expensive, but with the Wraith Stealth Cooler, which helped to compensate the price delta between the two processors at that time.
However, with AMD announcing their Zen 4 lineup of Ryzen 7000 Series CPUs based on the recently unveiled AM5 Mounting Platform, Ryzen 5000 Series Processors, and subsequently, related AM4 components such as 500-Series and older chipsets, DDR4 Memory (thanks to the introduction of DDR5 RAM), and AM4-based CPU Coolers have witnessed a steep decline as far as pricing is concerned.
The Ryzen 5 5600X is now readily available for under $200, whereas the Core i5-12600K is still going strong for $270 (just $20 off its MSRP). That said, another variant, i.e., the Core i5-12600KF, drops the UHD 770 iGPU and is currently available for roughly the same price of $270, up from its MSRP of $265 thanks to artificial inflation. It's also pertinent to remember that the i5-12600K and i5-12600KF are only compatible with Intel's 600-Series Chipsets due to the latest LGA 1700 Mounting Socket, which includes the H610, B660, H670, and Z690.
Presuming that you're considering buying the i5-12600K, i.e., the overclockable variant, we'll assume you're going with a Z690 Motherboard since that's the only chipset with CPU overclocking support. Factoring in the premium cost of a decent Z690 Motherboard, coupled with DDR5 RAM (since top-tier Z690 Motherboards only come in DDR5 variants) and one of the Best CPU Coolers (since Intel doesn't include a stock cooling solution), a Core i5-12600K setup is bound to cost up to double or even triple that of a similarly specced Ryzen 5 5600X gaming rig with DDR4 Memory, thanks to incredulous pricing for Intel's new CPU platform and associated components.
Intel Core i5-12600K vs. AMD Ryzen 5 5600X: The Race for Superiority
Long story short, the Core i5-12600K exhibits greater performance compared to the Ryzen 5 5600X. However, the performance deficit for the latter is comparably minor, as the Ryzen 5600X trails behind a maximum of 12% in 1080p gaming, assuming that the 12th Generation Core i5 is being used with DDR4 RAM. Pairing the i5-12600K with DDR5 Memory swiftly reduces the FPS differential to under 5%. Regardless of whether you use DDR4 or DDR5 RAM, gaming at higher resolutions such as 1440p (2K) and 2160p (4K) will effectively render the performance gulf null and void thanks to the reduced CPU/increased GPU bottleneck.
Therefore, the Core i5-12600K's significant advantage arrives with respect to productive workloads, where the i5-12600K evinces up to more than 20% and 35% in single-threaded/multi-threaded dependent tasks accordingly. Nevertheless, the i5-12600K also uses more than double the power at 125-150W if users stick with default parameters, in sharp contrast to the Ryzen 5600X's 65W power draw. Thanks to Alder Lake's generally scandalous power consumption, Intel fails to include a stock cooler for the i5-12600K, compelling potential buyers to consider the separate cost of a high-performance CPU Cooler as well.
The $100 price disparity between the two CPUs in favour of the 5600X doesn't help the i5-12600K's sales figures either. Courtesy of the exorbitant price points for Intel's Alder Lake/12th Generation/LGA 1700 CPU Platform, the Ryzen 5 5600X, in our humble opinion, steals the spotlight thanks to drastically lower prices for a complete AM4-based PC setup including, but not limited to compatible motherboards for the 5600X, DDR4 Memory, and even inexpensive aftermarket CPU Coolers should enthusiasts want to try their luck at overclocking the 5600X.
Henceforth, despite the significant performance divergence (for productive tasks) in favour of the i5-12600K, we hereby conclude the AMD Ryzen 5 5600X to be the Best Budget CPU for Gaming in 2022. The Core i5-12600K may be ever-so-slightly faster in games as well (alongside bearing the UHD 770 iGPU as a bonus), but that, in no way, warrants the minimum $200-400 monetary inequality compared to the two-year-old yet, sturdy Ryzen 5 5600X.
Why Should You Trust Our Judgement
With over twelve years of experience in the tech and gaming industry, our dedicated team has been refined consistently to produce a potent group of knowledgeable individuals who are known to relay the most accurate information to our valued consumers, thanks to the extensive research and reviewing we conduct before we publish every piece of journalism.
In addition to this, we have been explicitly featured on a majority of the top-notch gaming and tech brands, such as Gigabyte, MSI, Asus, and DeepCool, just to name a few, as reliable and trusted sources for Hardware and Technology. These and other renowned manufacturers such as Noctua, Thermaltake, Xigmatek, and several others routinely send samples to us, based on which we formulate unbiased reviews to provide our readers with a genuine perspective of the particular product from an objective standpoint.
Subsequently, we instill confidence in our esteemed consumers, who may rely on us to give them the best advice for building, customizing, and modifying their personal gaming computers.
Frequently Asked Questions
What's the main difference between the Core i5-12600K and the Ryzen 5 5600X?
The Core i5-12600K features 10x Cores (6x P-Cores & 4x E-Cores) and 16x Threads, with Base Frequencies outlined at 2.80 GHz and 3.70 GHz (For Efficiency and Performance Cores, respectively), with Turbo up to 3.60 GHz and 4.90 GHz accordingly, alongside 30 MB of L3 Cache, a TDP between 125-150W, the UHD 770 iGPU, and DDR5/PCIe 5.0 support. In contrast, the Ryzen 5 5600X sports 6x Cores and 12x Threads with Base and Turbo Clocks of 3.7 GHz and 4.6 GHz, paired with 32 MB of L3 Cache and a 65W TDP Rating.
Is there a significant performance gulf between the Core i5-12600K and Ryzen 5 5600X?
Thanks to Alder Lake's Hybrid Core Architecture, the Core i5-12600K boasts up to 20-35% faster performance, on average, in single-threaded and multi-threaded workloads for productivity tasks. However, as far as gaming is concerned, depending on whether you use DDR4 or DDR5 Memory, the i5-12600K will yield up to 5-10% faster performance in a handful of games at 1080p in the best-case scenario. Bumping up the resolution to 1440p will reduce this performance disparity to a negligible magnitude.
What chipsets is the Ryzen 5 5600X compatible with?
The Ryzen 5 5600X supports various motherboards, ranging from the B450 and X470 to the entry-level A520 chipset, as well as the B550 and X570, in addition to the relatively ancient A320, B350, and X370 chipsets (via proprietary BIOS updates).
Do these processors come with Stock CPU Coolers?
AMD is kind enough to bundle its baseline Wraith Stealth Air Cooler with the Ryzen 5 5600X. Unfortunately, Intel does not include a proprietary CPU Cooler in the box, as far as the Core i5-12600K is concerned.
Related Reads: Coolers For i9-12900k
Was our article helpful? 👨‍💻
Thank you! Please share your positive feedback. 🔋
How could we improve this post? Please Help us. 😔
[Comparisons Specialist]
I'm a passionate computer hardware expert specializing in CPUs and GPUs. With a lifelong curiosity for hardware and extensive hands-on experience, I provide valuable insights, practical advice, and in-depth analysis on these components. Engaging with the hardware community, I exchange knowledge and stay at the forefront of technological advancements.
Get In Touch: [email protected]