With AMD's release of the Ryzen processors, there have been numerous variants under the Ryzen name with different architectures. Today, we're going to make a comparison between the Ryzen 5 5600x vs Ryzen 7 3700x. The Ryzen 5 5600x is a great Zen 3 mid-range processor, but can its fewer yet faster 6 cores and 12 threads manage to beat the 3700x's Zen 2 cores in overall performance? The reason for this comparison is to help you decide which Ryzen CPU is a better value for your gaming requirements. Before getting into the benchmarks, let's discuss the key differences in the specs of each variant. We previously did Ryzen 7 3700x vs Ryzen 5 3600, make sure to check that if you have slightly lower budget. Likewise, Intel Core i7-8700k vs Ryzen 7 3700x is another logical comparison – read our article and you might find it helpful.
Specifications
Let's discuss the specifications of each Ryzen CPU. The entire point of specs is to provide a detailed overview of the capabilities of the product.
Similar Reads: Intel Core i9-12900k-vs-Ryzen 9 5900x
Ryzen 5 5600x Specifications
Ryzen 7 3700x Specifications
Number of CPU Cores :

8

Number of Threads :

16

Max. Boost Clock :

Up to 4.4GHz

Base Clock :

3.6GHz

Total L2 Cache :

4MB

Total L3 Cache :

32MB

Default TDP:

65W
Differences in Specifications
To begin with, the Ryzen 5 5600x has 6 cores and 12 threads compared to Ryzen 7 3700x which has 8 cores and 16 threads, so the Ryzen 7 3700x is ahead in total core and thread counts. With 2 more cores and 4 more threads than the Ryzen 5 5600x, the Ryzen 7 3700x offers extremely powerful performance, but that's not to say it completely outclasses the 5600x. On the other hand, the 5600x runs on the newer Zen 3 architecture compared to the 3700x's Zen 2 architecture. This means that individually, the Ryzen 5 5600x has faster cores and threads compared to 3700x making this a tough comparison.
When talking about clock speeds, the 5600x has a base clock of 3.7GHz and turbo clock is 4.6GHz whereas the 3700x has a base clock of 3.6GHz which can go up to 4.4GHz on boosting. There's enough room for overclocking and boosting your performance in both processors. Moreover, the 5600x has slightly better clock speeds on both bases and boost clocks as compared to 3700x. Both CPUs have the same default TDP at 65W, though it may vary when boosted.
Also, the 3700x has a slightly more L2 cache at 4MB compared to the 5600x's 3MB. However, the L3 cache is the same for both CPUs at 32MB. Both CPUs also come with their stock coolers although 3700x has the better Wraith Prism cooler. Furthermore, both chips run on the same AM4 socket so they can be run on motherboards such as X570 and B550.
Read our B550 vs X570 comparison: B550 vs X570
Architecture Differences
Zen 2 Architecture
Zen 2 Architecture was introduced in AMD's 3000 series processors. It was a successor to AMD's previous Zen architecture including Zen+. This 7nm microarchitecture from 2019 allowed the 3000 series Ryzen processors to make incredible leaps in performance. It completely dominated the market with its Ryzen 7 3700x and Ryzen 9 3900x processors which are still mainstream as of writing. The expansion on individual performance, as well as the cores and thread count completely propelled multitasking and gaming to new heights.
On launch, AMD offered up to 12 cores and 24 threads in the Zen 3 architecture. Along with a 15% increase in IPC compared to Zen architecture, they've also improved efficiency in latency to memory and increased the general clock speed for both base and boost clocks.
Related: Best Ram For Ryzen 5 5600x
There are also significant changes in the cache area. The L3 cache has been doubled to 32MB with each core complex having 4 cores accessing 16MB L3 cache compared to the Zen architecture which had 4 cores accessing 8MB L3 cache. This trend of doubling down the cache will continue for the next architecture as well.
All these factors involving improvements in single-core performance, overall core and thread counts, cache, and IPC enhanced the capabilities of Zen 2 chips. This boosted AMD's reputation a lot putting them toe to toe with Intel at the time. Though it was a significant improvement from the Zen architecture, the Zen 2 would soon be surpassed by the Zen 3 bringing even more attention towards AMD.
Zen 3 Architecture
Zen came out in 2018 offering a great price to value and was surpassed by Zen 2 in 2019 making giant leaps in performance. And then a year later, AMD dwarfed itself again with the release of 5000 series Ryzen processors under the Zen 3 architecture. Ever since the release of Zen, AMD has delivered exactly what they've marketed and this is what keeps people coming back to them.
The Zen 3 architecture is based on the 7nm manufacturing process just like Zen 2. This means that instead of just increasing the number of transistors in the chip, AMD has made key improvements in the actual architecture. One of those improvements is in the branch prediction, which allows the processor to predict which instructions are going to be executed, ahead of time. They worked on making the rewriting process faster in case the CPU made an incorrect prediction.
Another factor in increasing the performance of Zen 3 from its predecessor is the cache. Zen 2 had 4 cores accessing a 16MB L3 cache whereas Zen 3 increases those numbers by two-fold. Zen 3 has 8 cores accessing 32MB L3 cache in each core complex making both core-to-core and core-to-cache communication much faster.
Simple design improvements took these new Zen 3 chips to an entirely new level. To the point, they surpassed Intel in performance. With AMD themselves boasting a 19% increase in performance compared to the previous Zen 2 architecture. With that said, AMD's upcoming Zen 4 architecture may very well replace the Zen 3 in terms of performance, and so this trend continues.
Gaming Performance
: Ryzen 5 5600x vs Ryzen 7 3700x
When comparing Ryzen 7 3700x vs Ryzen 7 3700x, the most important aspect to consider is the actual gaming performance. For that, we need to test 5600x vs 3700x in multiple games. We've discussed before how the Zen 3 architecture implemented in the Ryzen 5 5600x, overtakes the Ryzen 7 3700x's Zen 2 architecture in terms of single-core performance. But can the higher core and thread count of 3700x put up a decent fight? Let's find out.
Test Benches
The following components with the Ryzen 7 3700x and Ryzen 7 3700x were used to test them out with as little bottleneck as possible. Both processors run on the same AM4 socket so we used the same computer for both CPUs. Credits for this go Jared Tech.
PC Specifications
MOBO

: ASRock X570 Taichi

Memory

: 32 GB DDR4 3200MHz Dual Channel

Graphics Card

: MSI GeForce RTX 3090

Cooler

: Fractal S36 AIO
Shadow of the Tomb Raider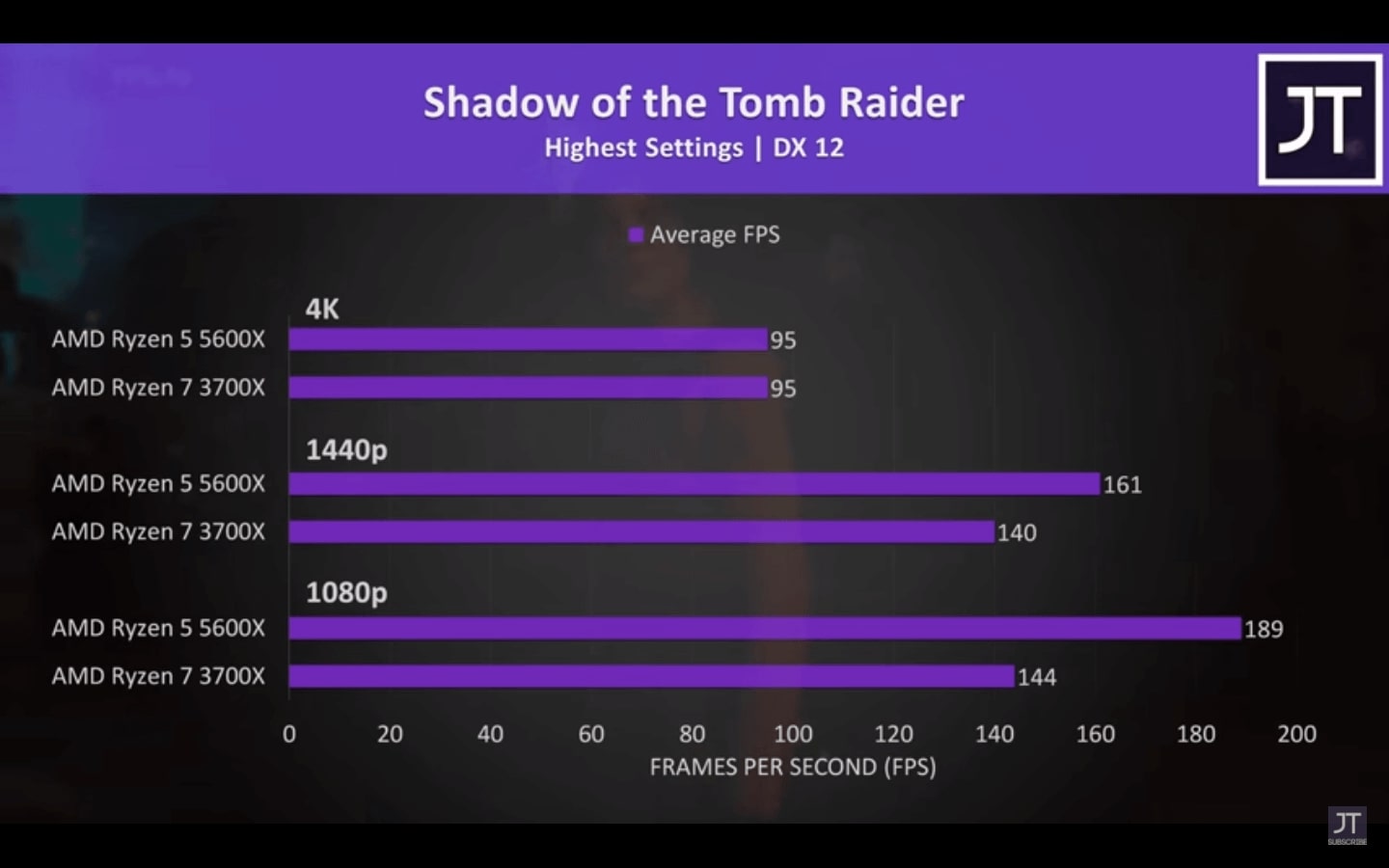 In Shadow of the Tomb Raider, the test proves to be advantageous for the Ryzen 5 5600x with almost a 30% increase in average FPS at 1080p compared with the Ryzen 7 3700x. Although, with the 4K settings, both perform equally with no difference in the FPS. For 1440p resolution, the 5600x is still 15% faster than 3700x. This test showed the most accurate results in all benchmarks.
Microsoft Flight Simulator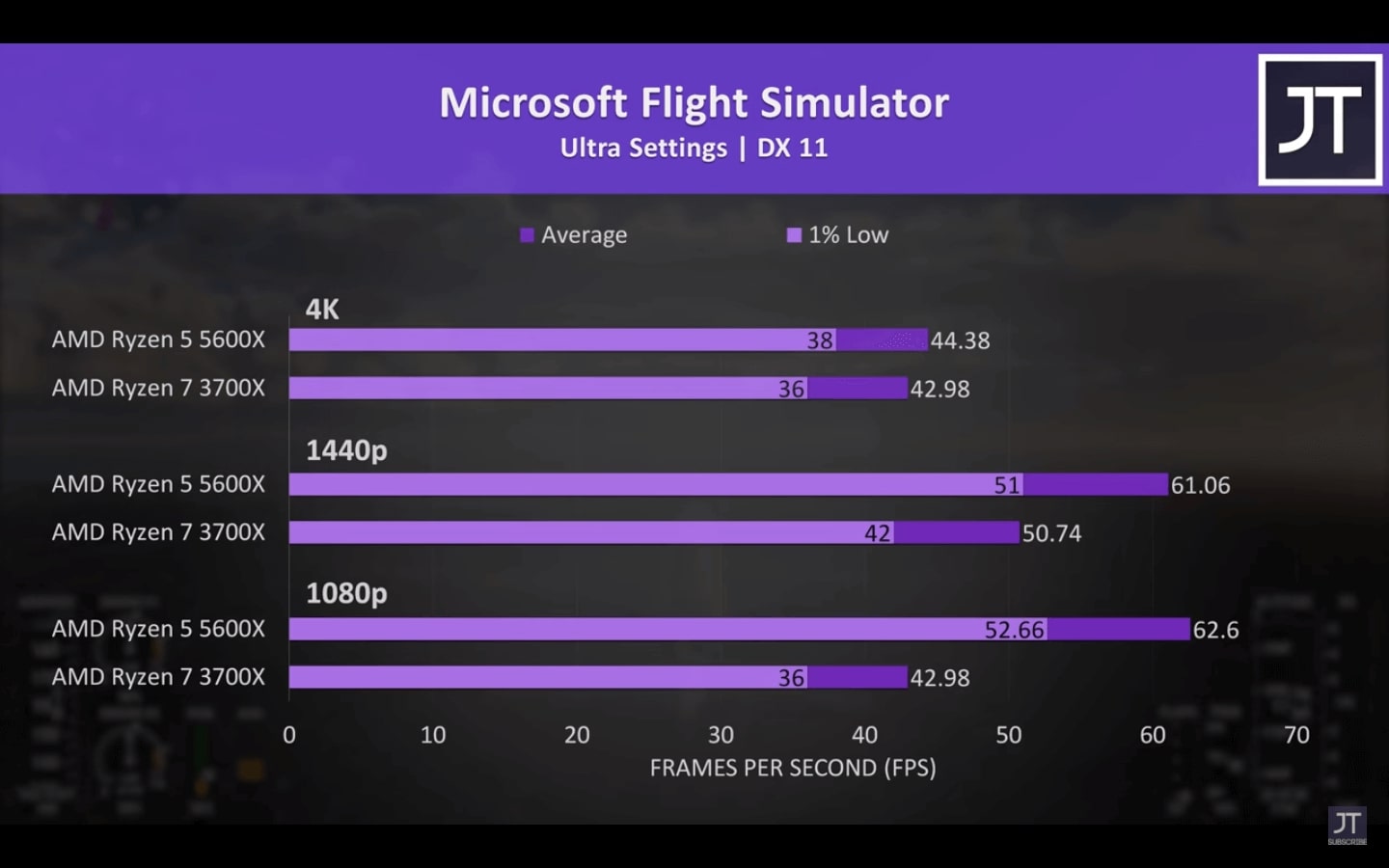 Microsoft Flight Simulator saw the biggest gains in 5600x over 3700x. In all resolution settings but the 4K one, the 5600x beats the 3700x by a landslide. Even the lowest 1% FPS drops far surpass the 3700x's in both the 1440p and 1080p resolutions. Although, with the 4K resolution the results are pretty much the same with 3700x coming slightly shorter.
Assassin's Creed Odyssey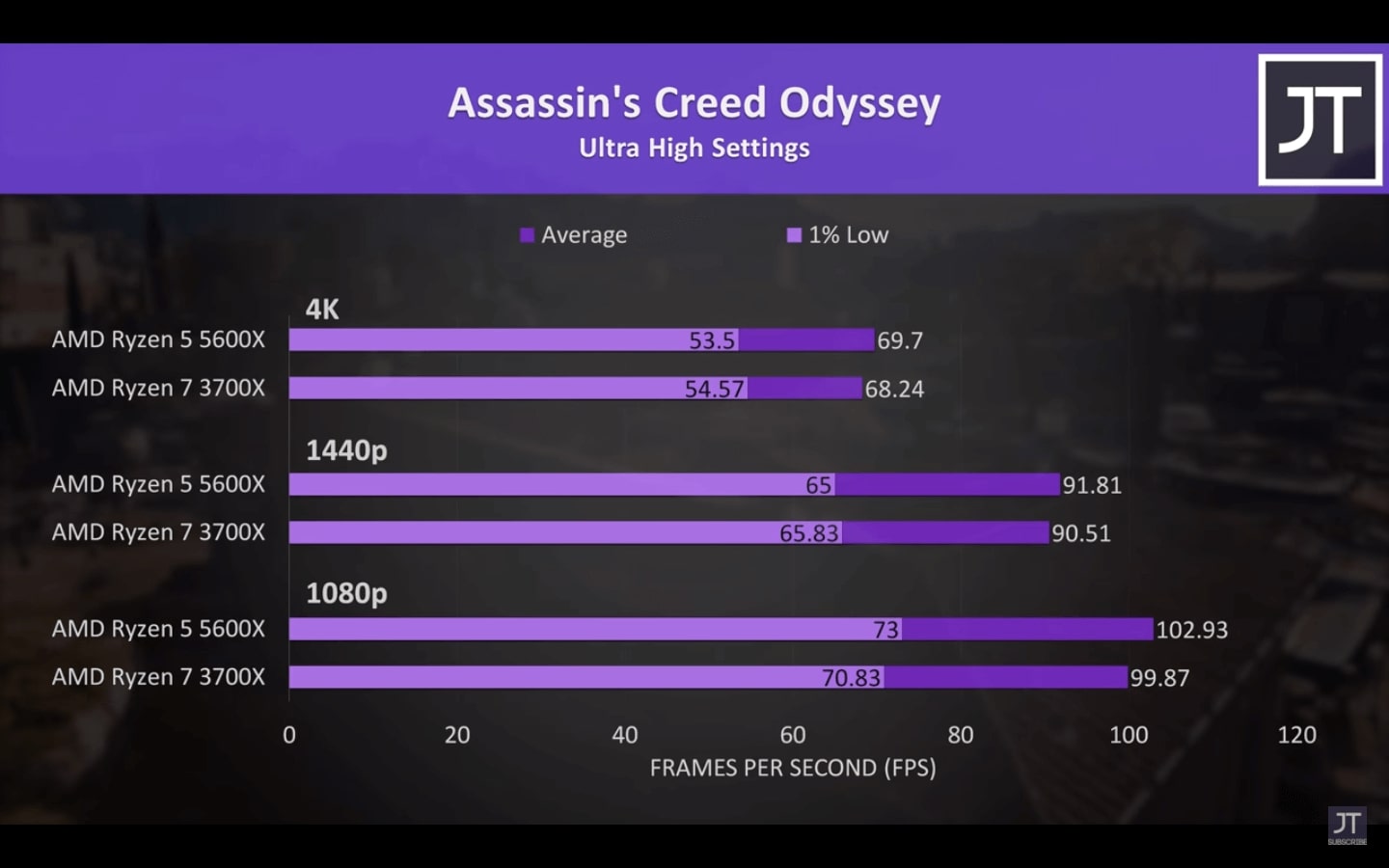 Ubisoft's trend of pushing out badly optimized titles continues with Assassins Creed Odyssey making it a perfect place to test how 3700x and 5700x perform on poorly optimized games. Zen 3 doesn't help the 3700x much here. The results show very small margins of difference in the test with the 5600x being ahead by just a few frames both on average and lowest FPS on all 1080p, 1440p, and 4K resolutions.
Death Stranding
Like previous benchmarks, Death Stranding's test one shows similar results. Almost no differences in 4K settings at just a 1% increase for the 5600x. A 9% increase in 1440p and a larger 22% increase in 1080p resolution for 5600x over 3700x.
Battlefield V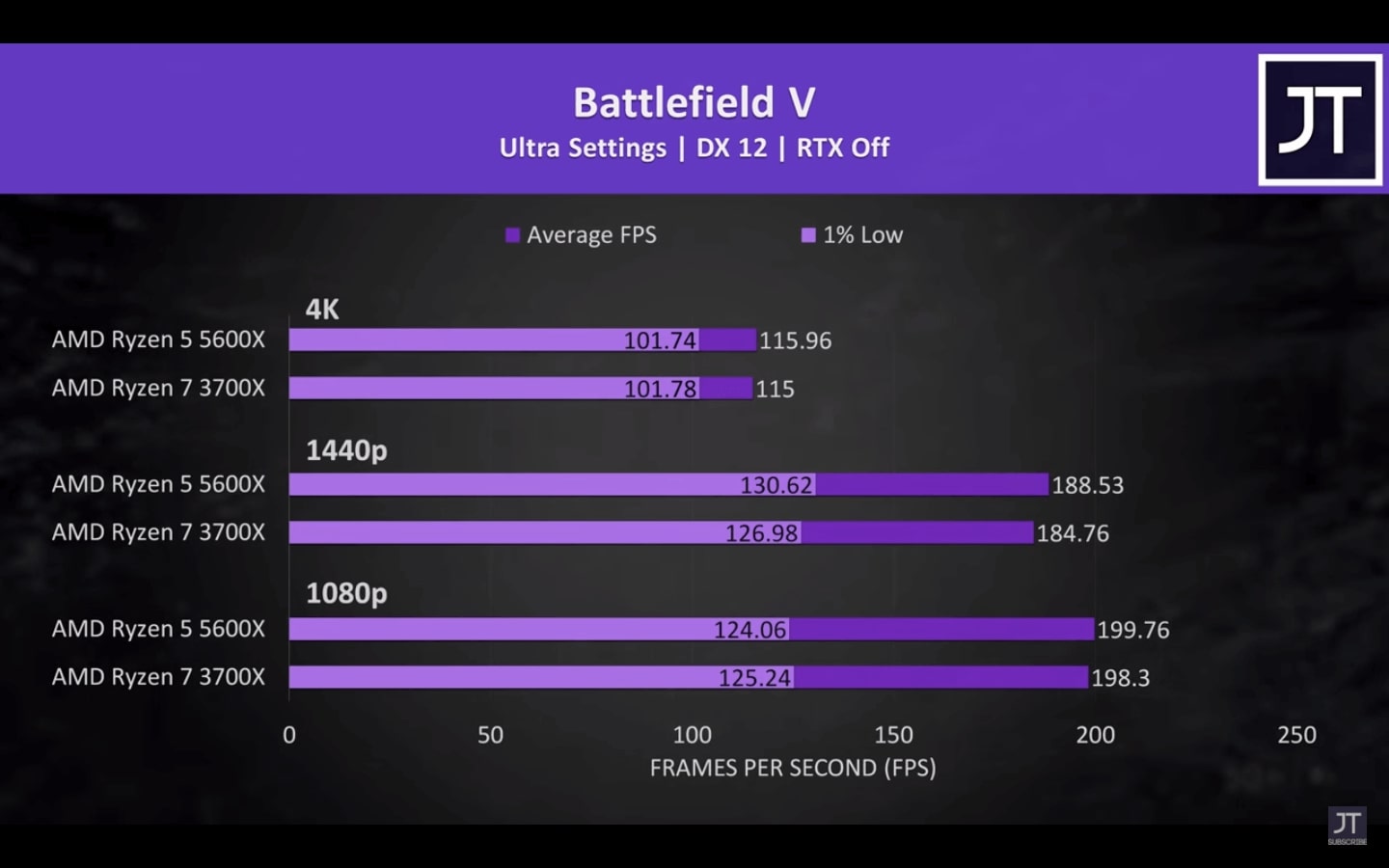 Subsequently, the Battlefield V test showed very close results in both processors with not a lot of overwhelming marginal differences. Like before, the 5600x is still ahead in every resolution setting and both processors missing the 200 FPS mark on 1080p by a hair due to the 200 FPS lock on Battlefield V. If there was no FPS cap then we could've potentially seen even bigger margins of difference on 1080p. As can be observed, there were no big changes regardless of resolution settings on 1440p and 4K either.
CS:GO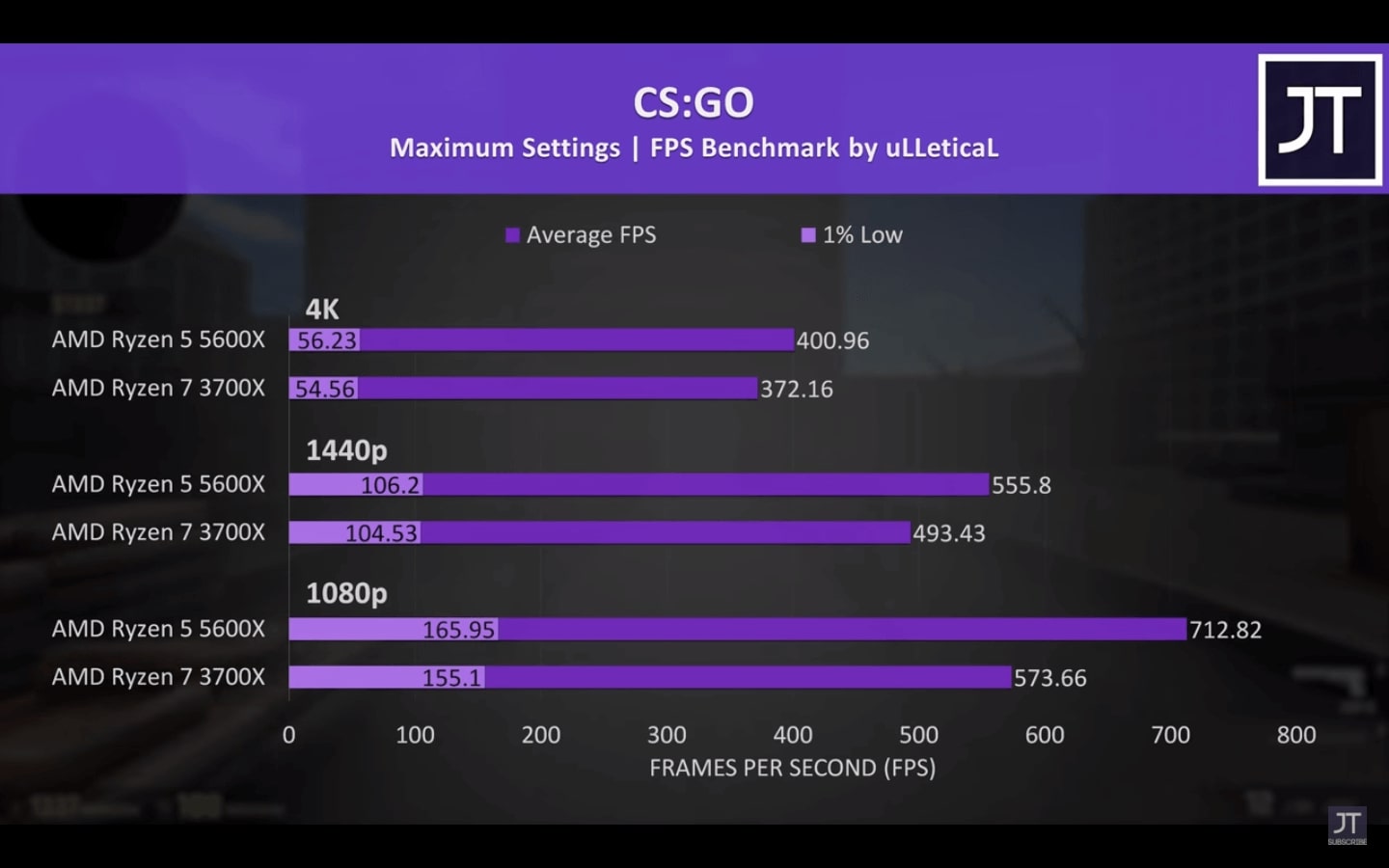 AMD claimed to have marginal increases in CS:GO's FPS with their Zen 3 architecture and the test shows how right they were. There was a 24% higher average FPS from the 5600x at 1080p resolution, with a 13% increase in 1440p resolution. Comparatively, there was even a 4% increase in 4K resolution for 5600x vs 3700x.
Red Dead Redemption 2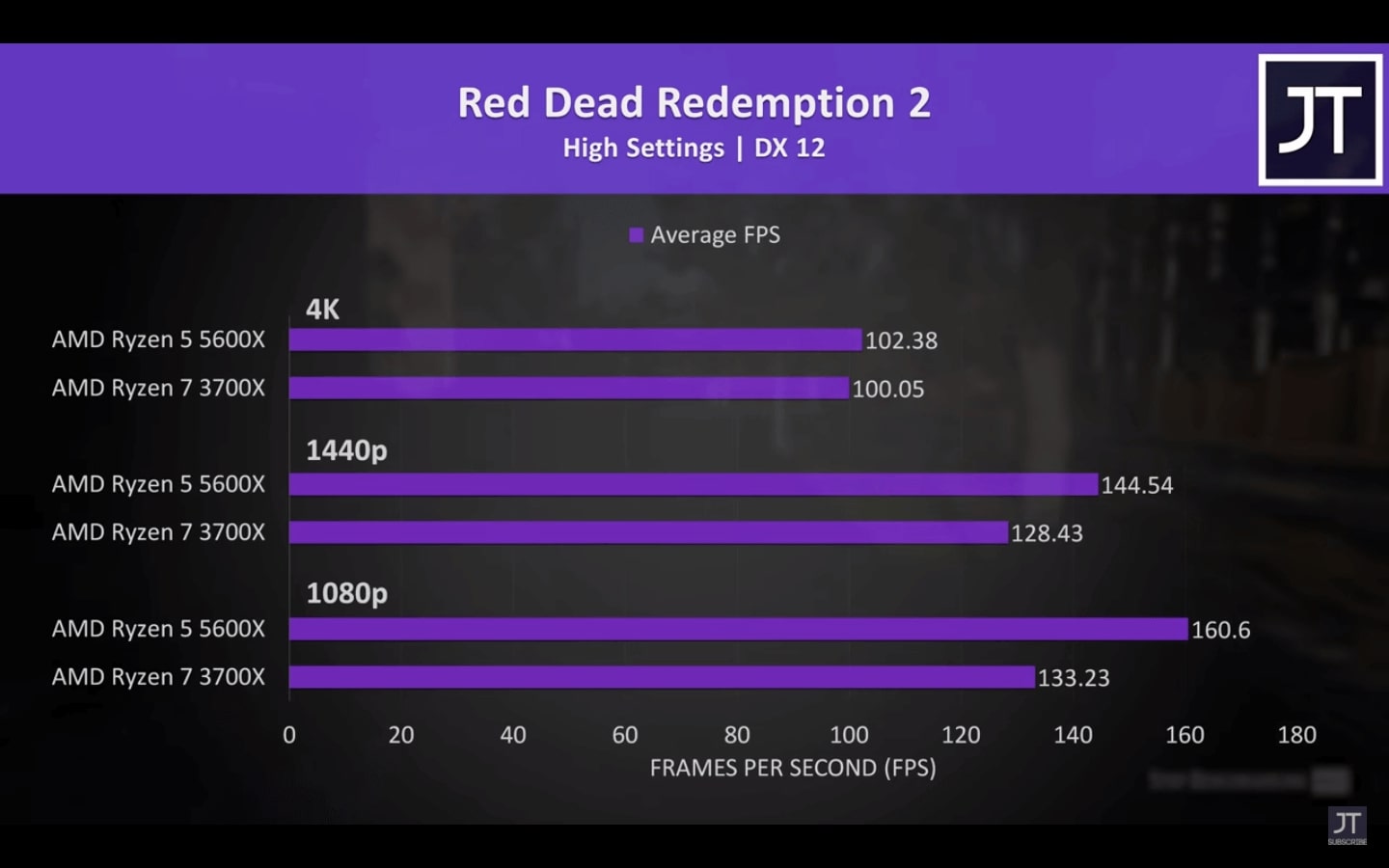 Once again, the Red Dead Redemption 2 test shows a big boost for 5600x over 3700x on lower resolutions. The 5600x again beats the 3700x in all resolution settings. There's only a couple of frames' difference for the 4K test but that increases for 1440p resolution with an average FPS boost of 13% and a 21% increase for 1080p.
Rainbow Six Siege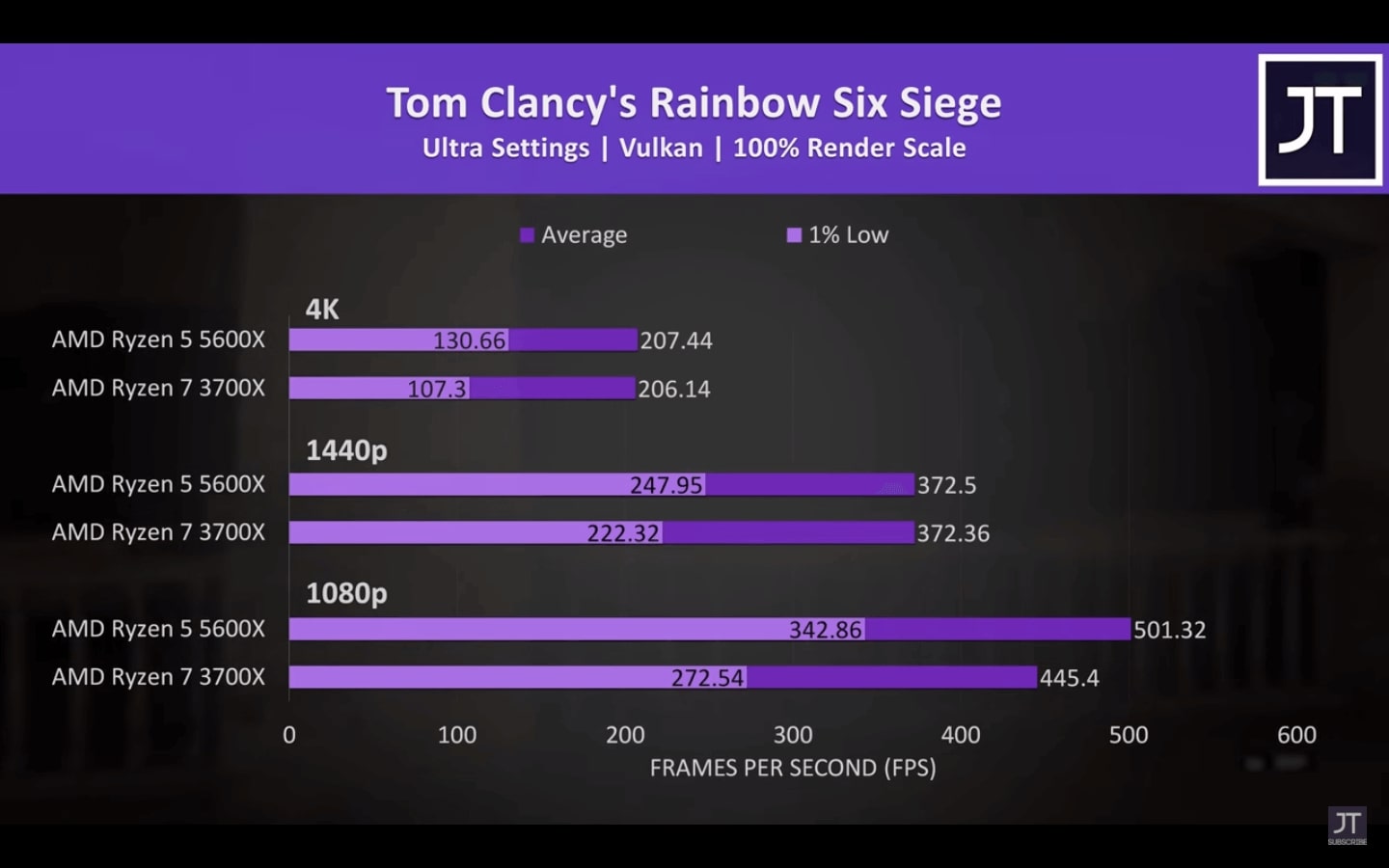 On Tom Clancy's Rainbow Six Siege test, we saw very little margins of difference between 5600x vs 3700x like before. There was once again, basically no difference in the 4K resolution for both products. The 3700x comes short in 1080p resolution though with the 5600x giving 13% more FPS. Unexpectedly, the 1440p resolution has both CPUs going neck and neck for the FPS much like the 4K settings. Lastly, the 5600x was also ahead in every 1% FPS drop in all resolutions.
Far Cry New Dawn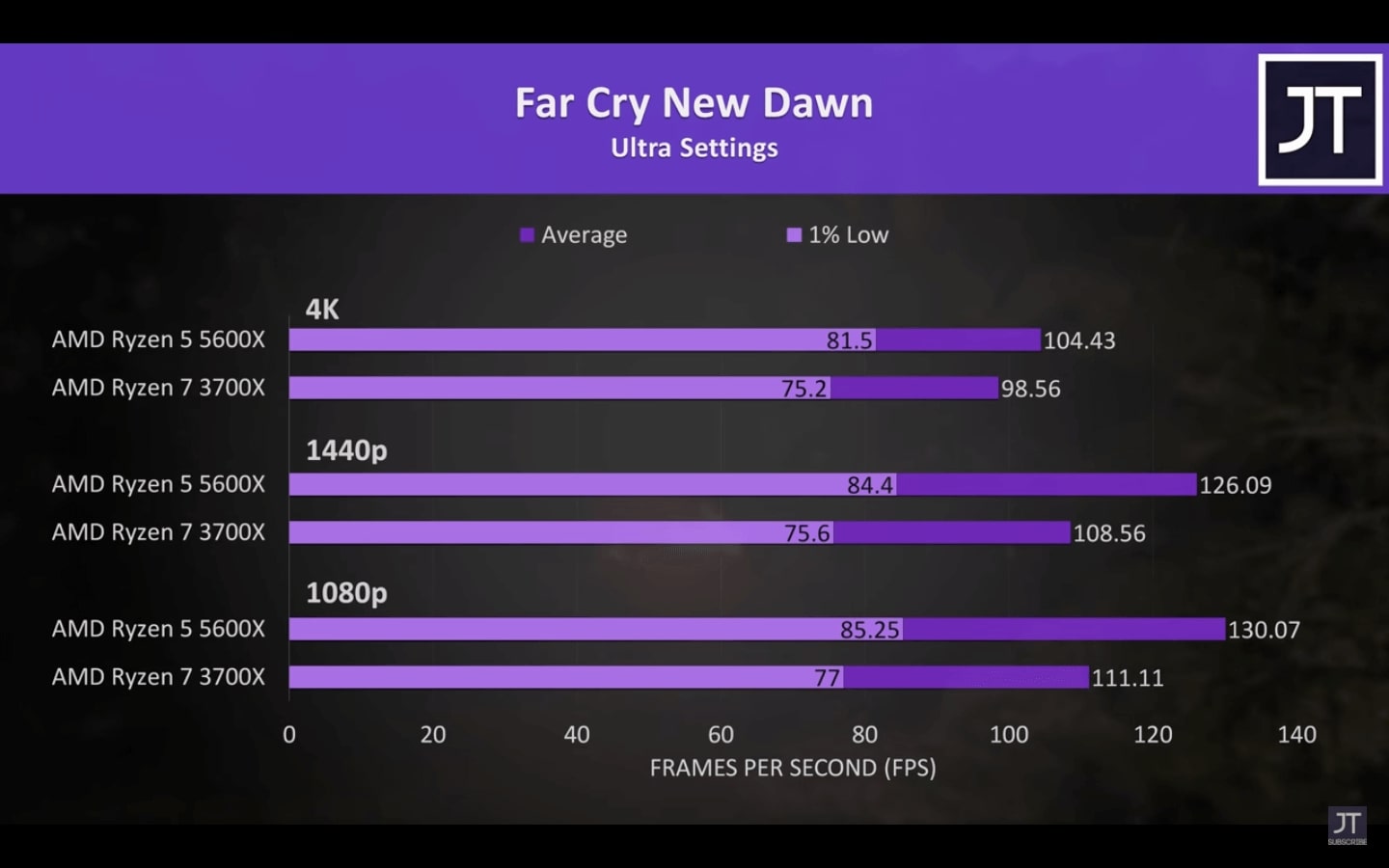 Far Cry New Dawn utilizes a higher percentage of CPU usage compared with other games hence the results. There was a comparatively larger difference in even the 4K resolution with 5600x having a 6% higher average FPS. This was the second-highest difference in the 4k resolution behind CS:GO.
Average FPS Across 9 Tested Games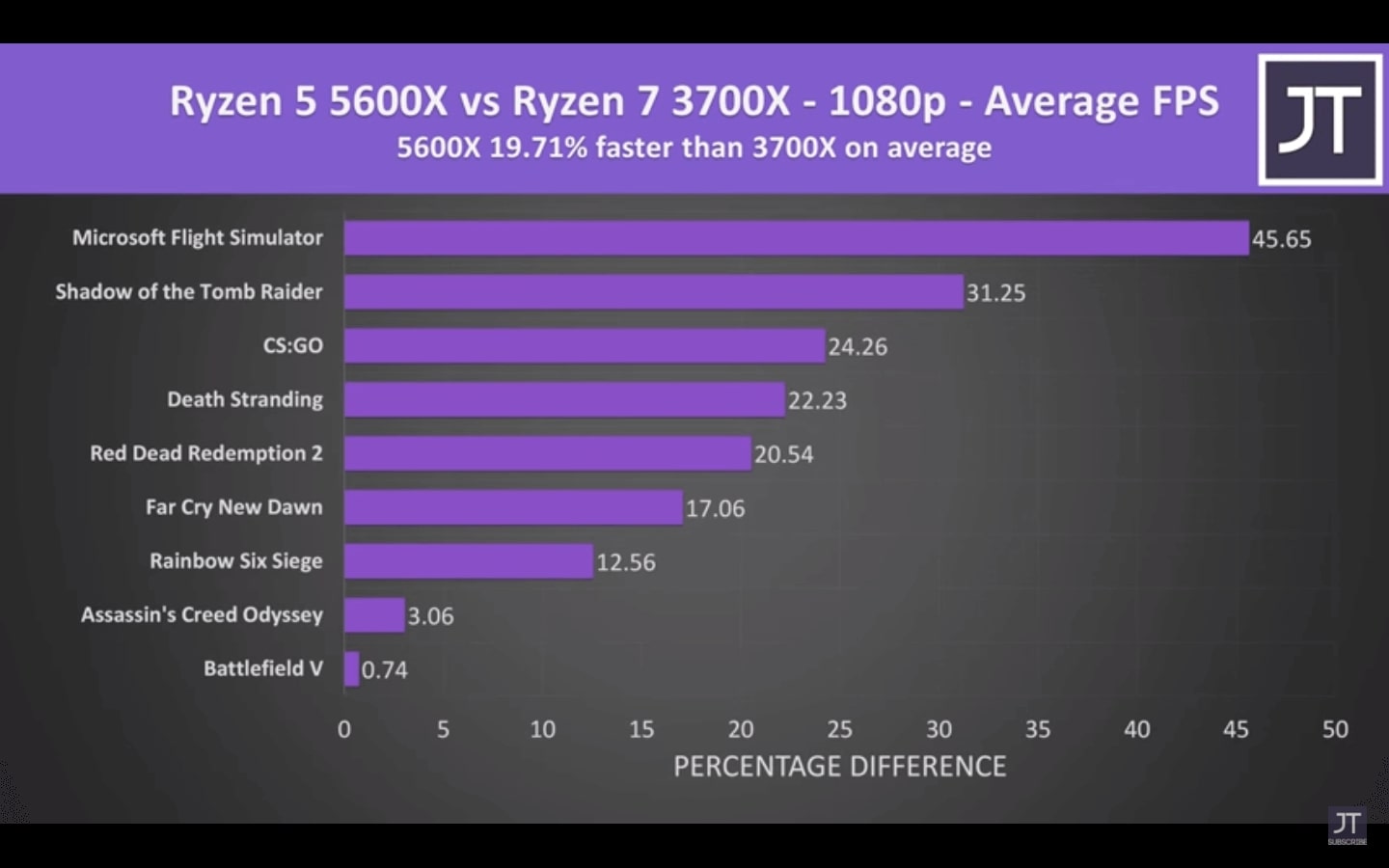 With 1080p, the 5600x vs 3700x gaming benchmarks show that the Ryzen 7 3700x was almost 20% faster in performance compared to Ryzen 7 3700x. The largest difference is the Microsoft Flight Simulator with a difference of 45.65% higher average FPS and the lowest being the Battlefield 5 with just a 0.74% higher average FPS difference.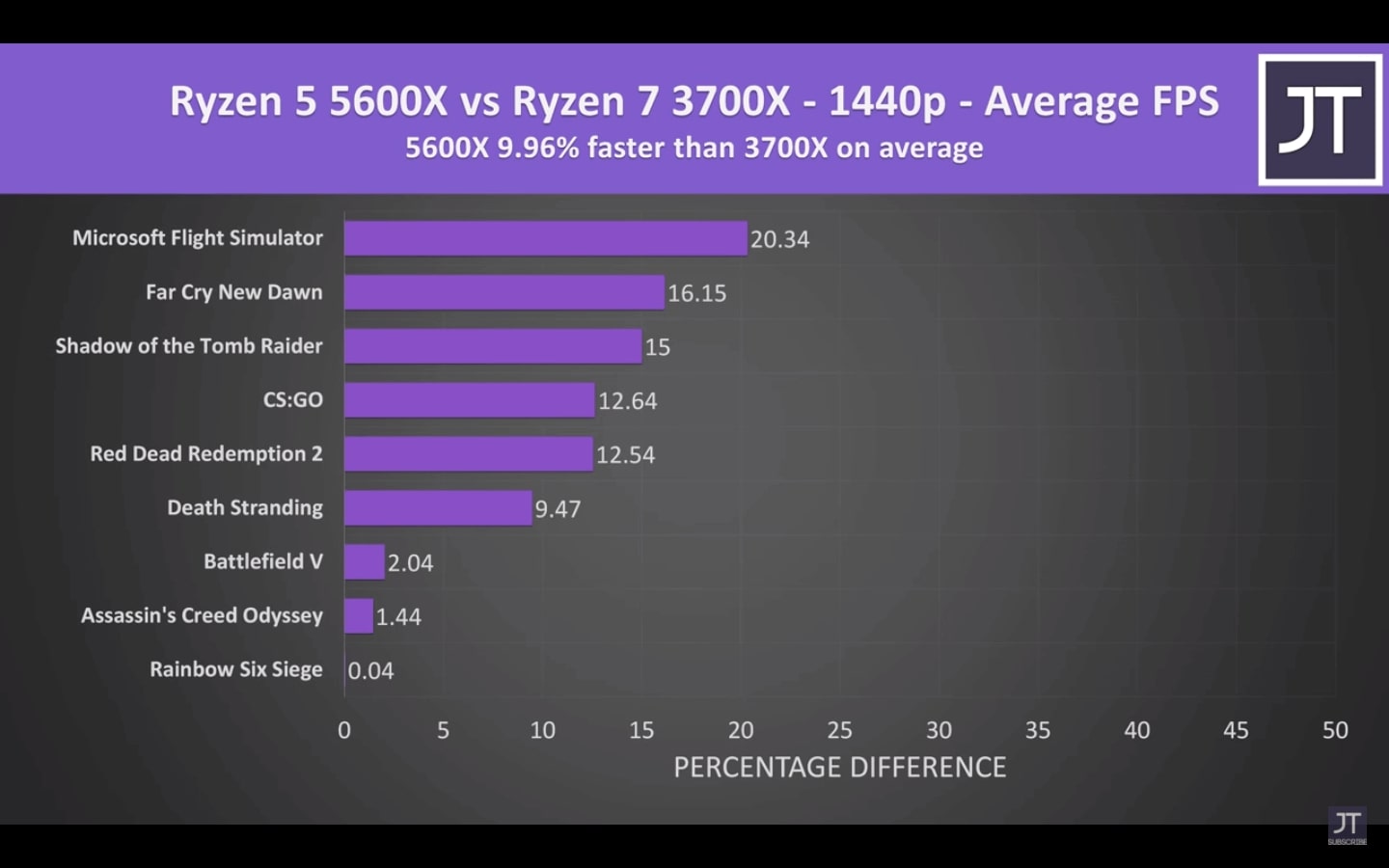 For 1440p, the overall difference between the 5600x vs 3700x declines as it's a higher resolution than 1080p. With the 5600x being only half as efficient in 1440p compared to 1080p. Ryzen 5 5600x still gave 10% more FPS over Ryzen 7 3700x. The highest difference in performance comes from Microsoft Flight Simulator at 20.34% higher FPS same as before, and the lowest difference comes from the Rainbow Six Siege at just 0.04%.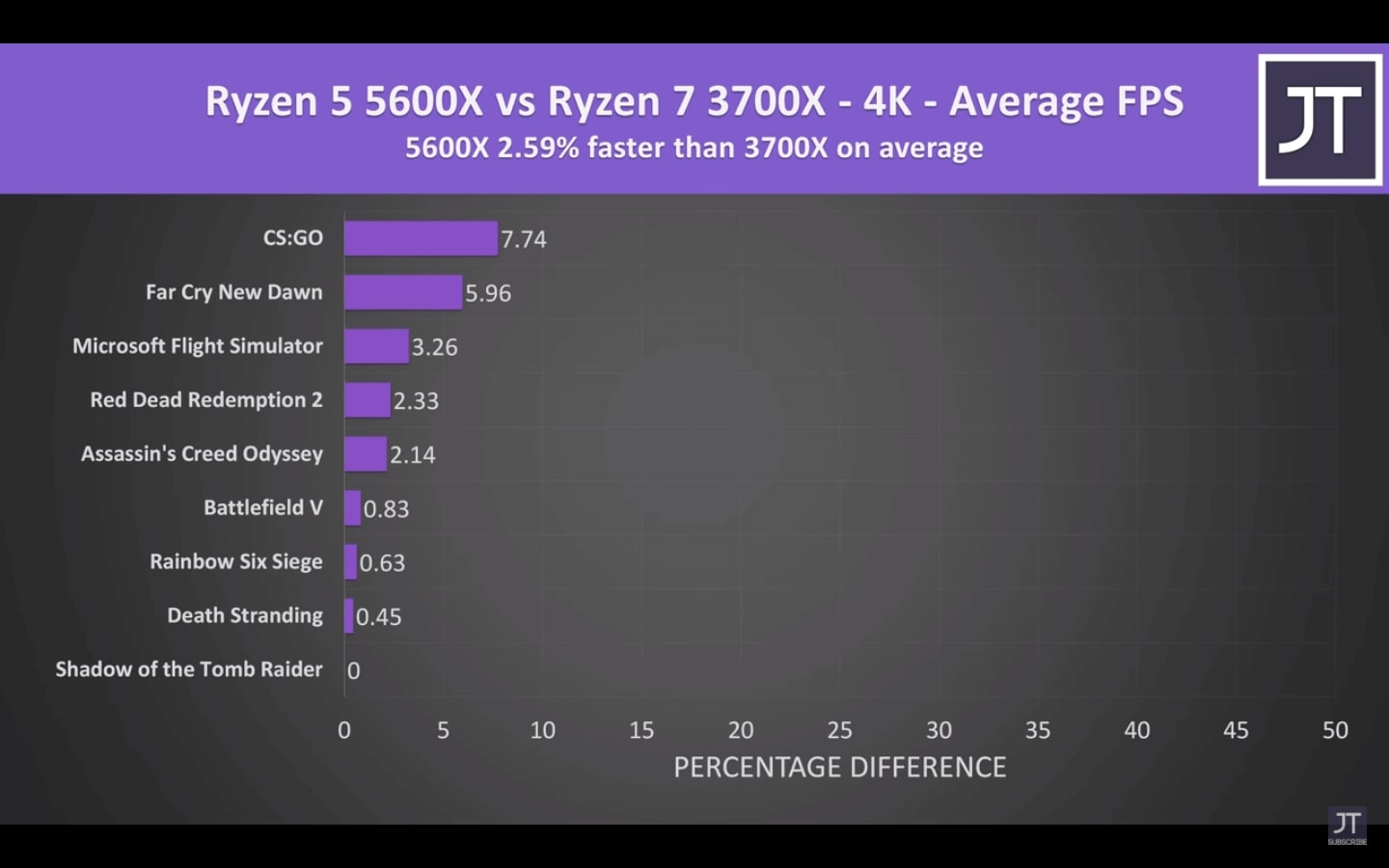 Finally, with 4K we have Ryzen 7 3700x again beating the Ryzen 7 3700x with just a 3% higher average FPS. To clarify, the change only remains consistently low in all games thanks to the increased GPU usage on higher resolutions. The highest difference comes from CS:GO with a 7.74% higher average FPS with the lowest difference coming from Shadow of the Tomb Raider at 0%.
Ryzen 5 5600x vs Ryzen 7 3700x: Rendering
We conducted the application tests with stock, as well as overclocked settings. The Ryzen 5 5600x had all cores at an overclocked speed of 4.7 GHz while Ryzen 7 3700x had all cores at 4.3 GHz. While Ryzen 5 5600x achieves a higher clock speed with a difference of 400 MHz, the Ryzen 7 3700x does have more cores to overclock which might make a big difference. That's what we'd like to see in the tests.
Cinebench R20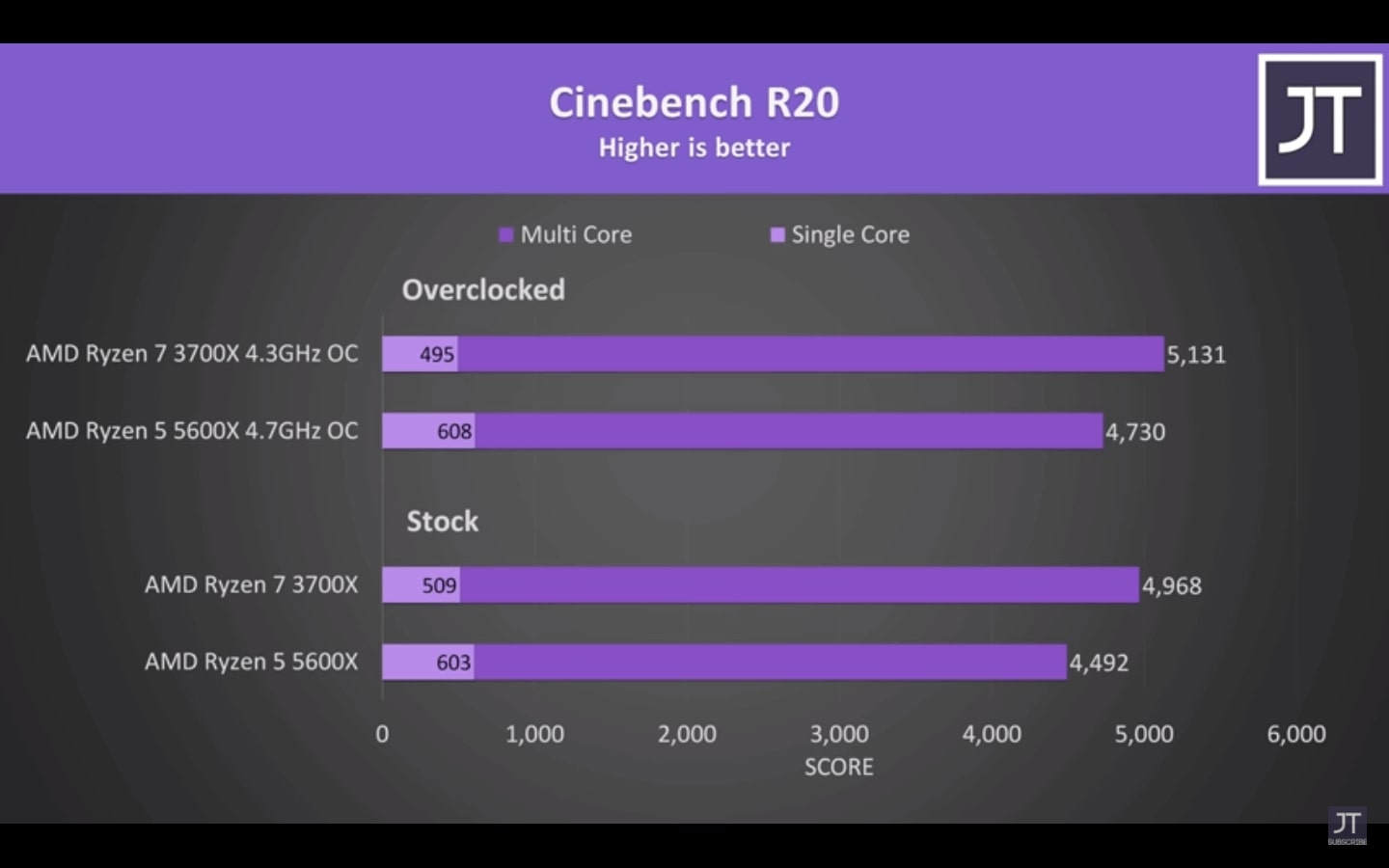 For the Cinebench R20 test, we can observe that the 3700x performs much better in both stock and overclocked speeds in multi-core performance. With, overclocked speeds on multiple cores, the 3700x performed 8% better than 5600x although it's not a huge margin considering it contains 33% more cores over 5600x. Although, due to the improved Zen 3 architecture of the 5600x, there was better 18% performance on a single core.
Blender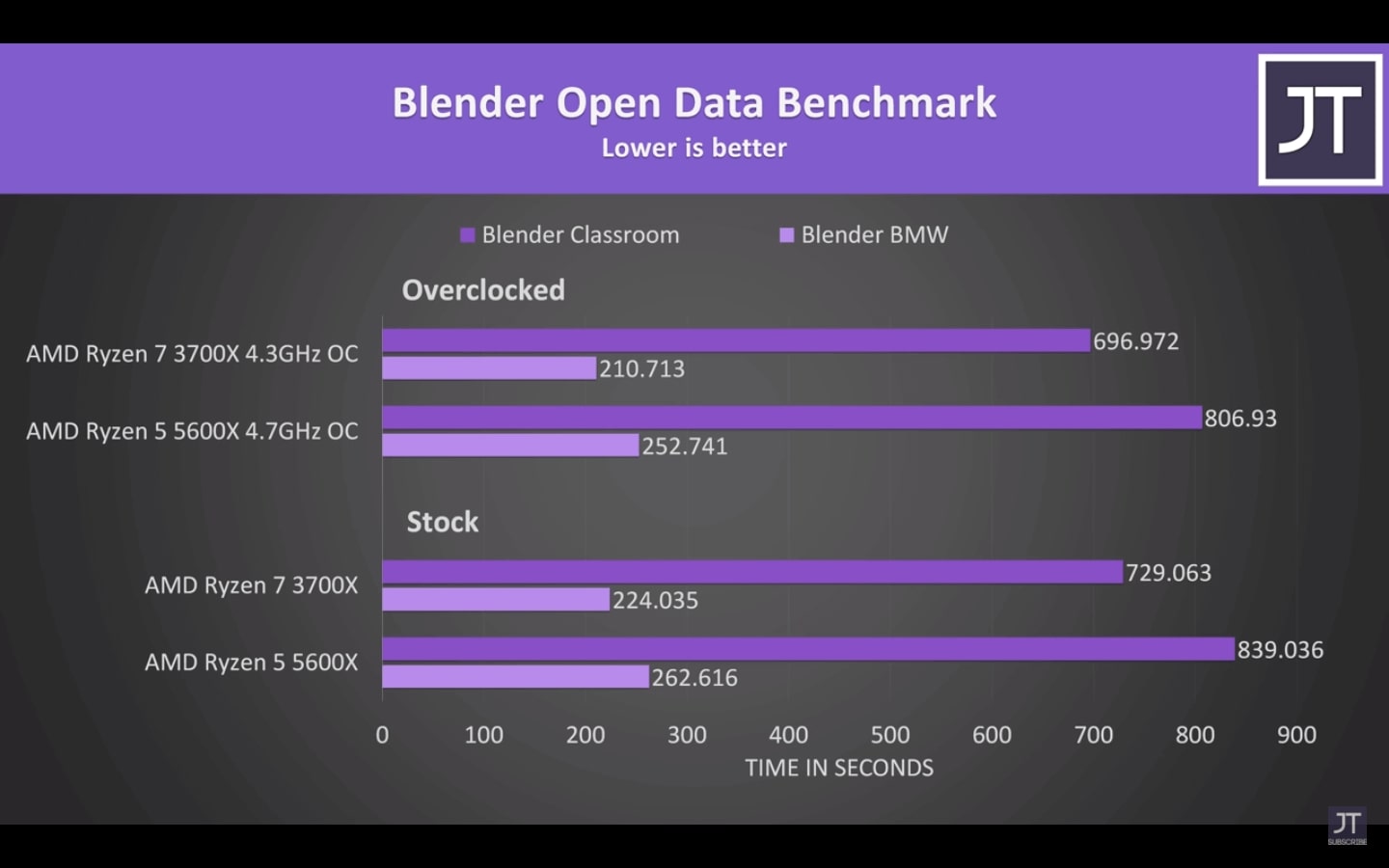 The Blender test again favors the Ryzen 7 3700x vs Ryzen 5 5600x on both OC and stock clocks due to the higher core count. We can see the 3700x being 15% faster in performing all tasks in the OC test with a similar margin in stock clocks. It's still beating the 5600x in all areas because of those extra cores.
V-Ray Benchmark 4.10.07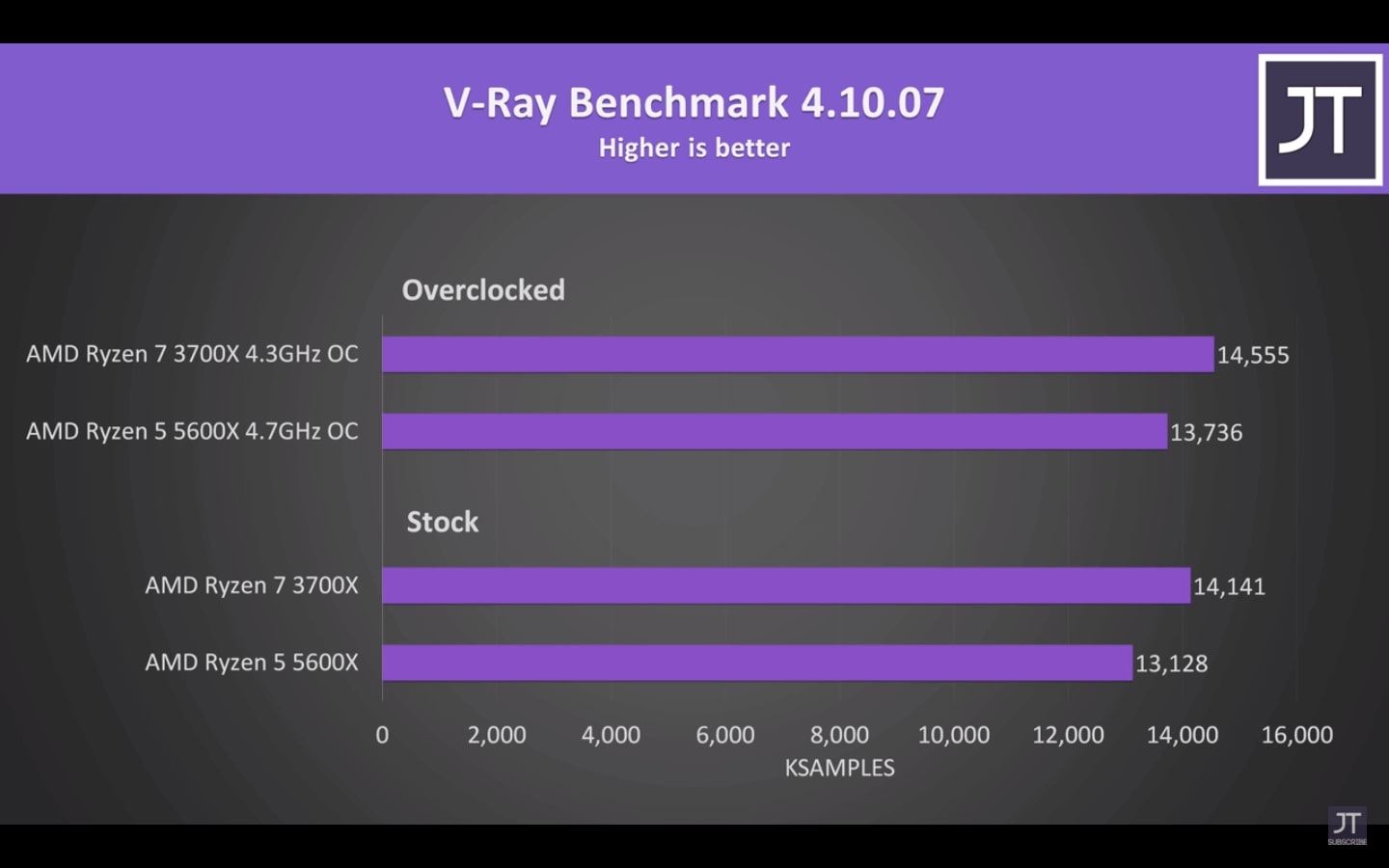 At stock, the V-Ray benchmarks show 5600x having an 8% faster rate of performing all tasks compared with 3700x. The OC tests show an even smaller marginal difference with 5600x being just 6% faster than 3700x. These are good results for the 5600x considering the 5600x has a smaller number of cores. This is especially potent for the V-Ray test since it pumps out a high rendering workload on the cores of a processor.
Corona Benchmark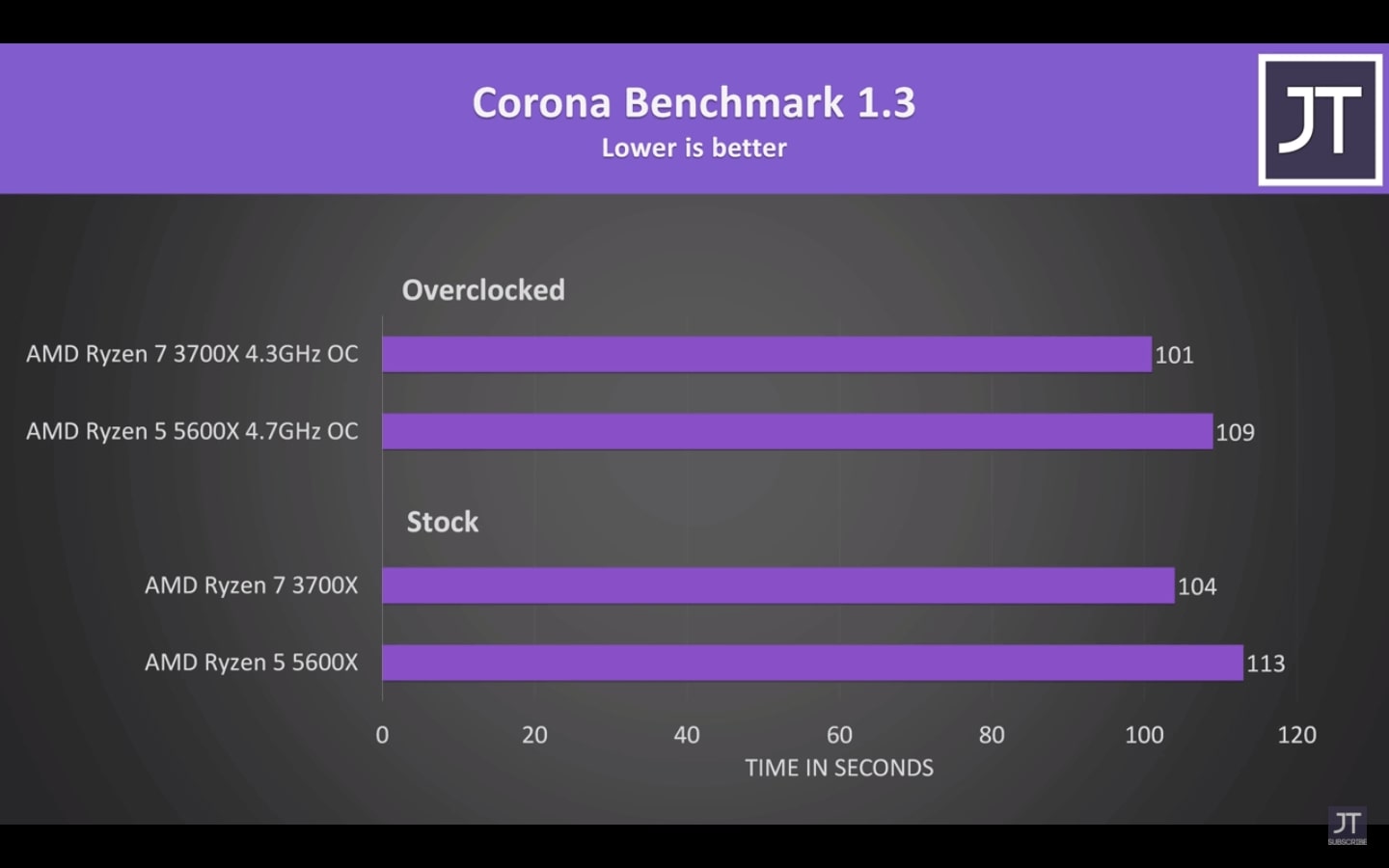 Corona Benchmark relies on processors for rendering a scene. This test showed even more promising results for 5600x with the 3700x being less than 9% faster at stock operations and 8% faster on OC. This is a great result for 5600x since the test relies on multiple-core performance.
Handbrake 1.3.3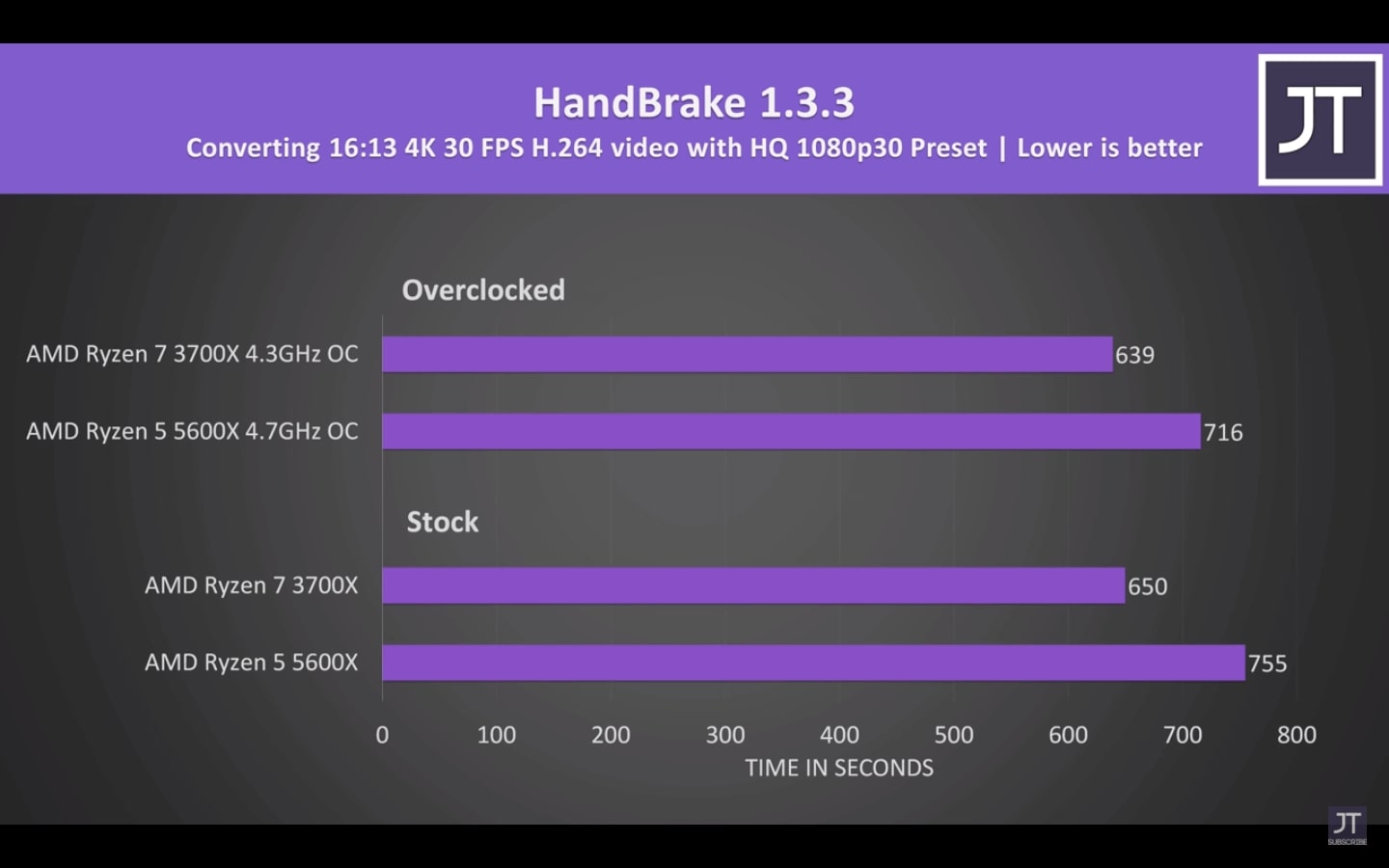 Handbrake is mostly used for scaling and rendering video files that rely heavily on a processor's capabilities. The Handbrake test shows us an above-average difference with the 3700x being 16% faster at stock and 12% faster at overclocks. For the Handbrake test, we converted a native 4K video to 1080p.
Adobe Premiere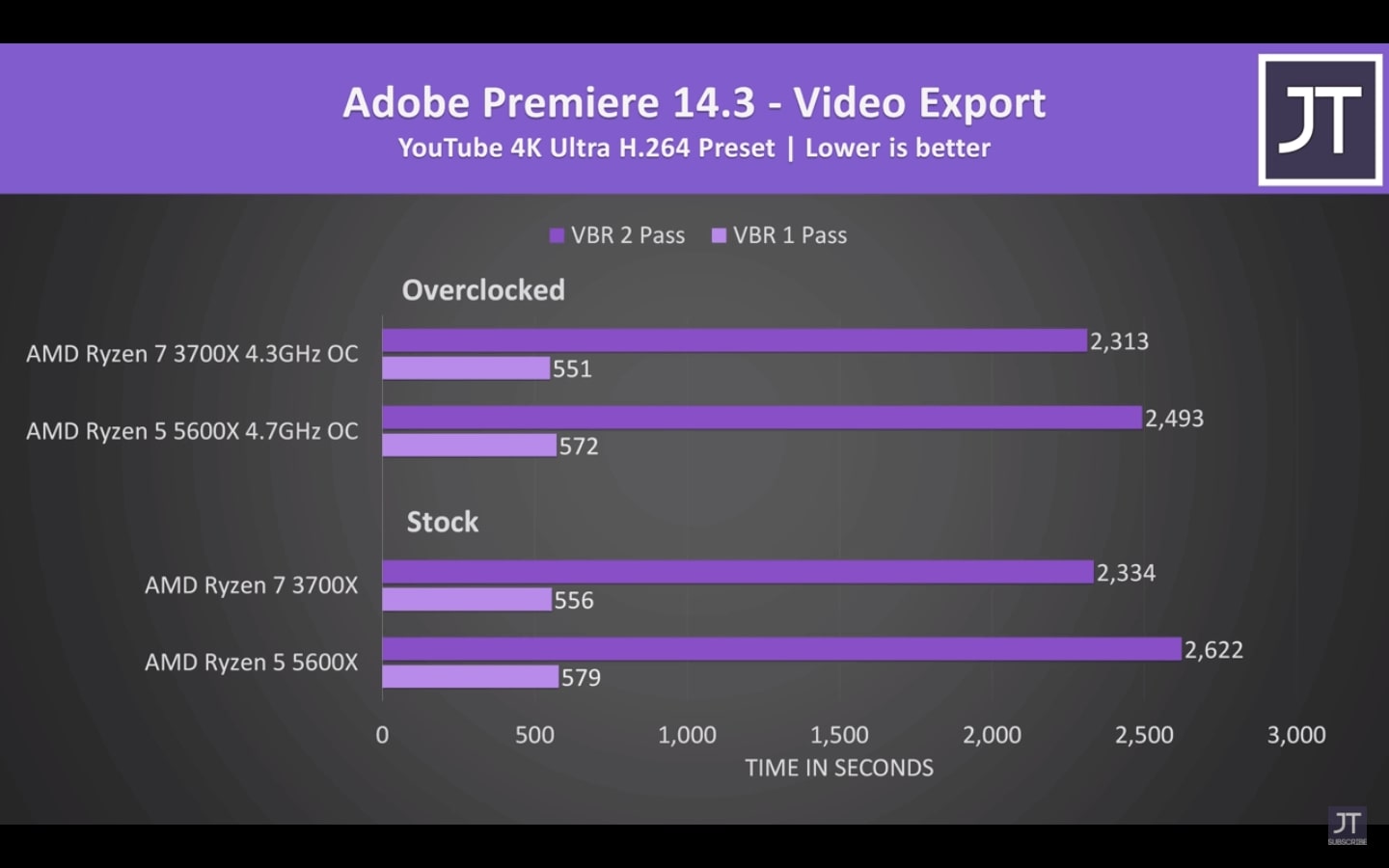 Adobe Premiere eats up a lot of CPU performance when exporting and rendering edited videos. We exported a 4K resolution video with the software to find the results. The VBR 1 Pass uses advanced hardware acceleration to make the process faster and showed very little difference with 3700x being just 4% faster on both OC and stock tests. The benchmarks on VBR 2 pass show a 13% faster-rendering rate for the 3700x on stock clocks and 12% on the OC test.
Adobe Photoshop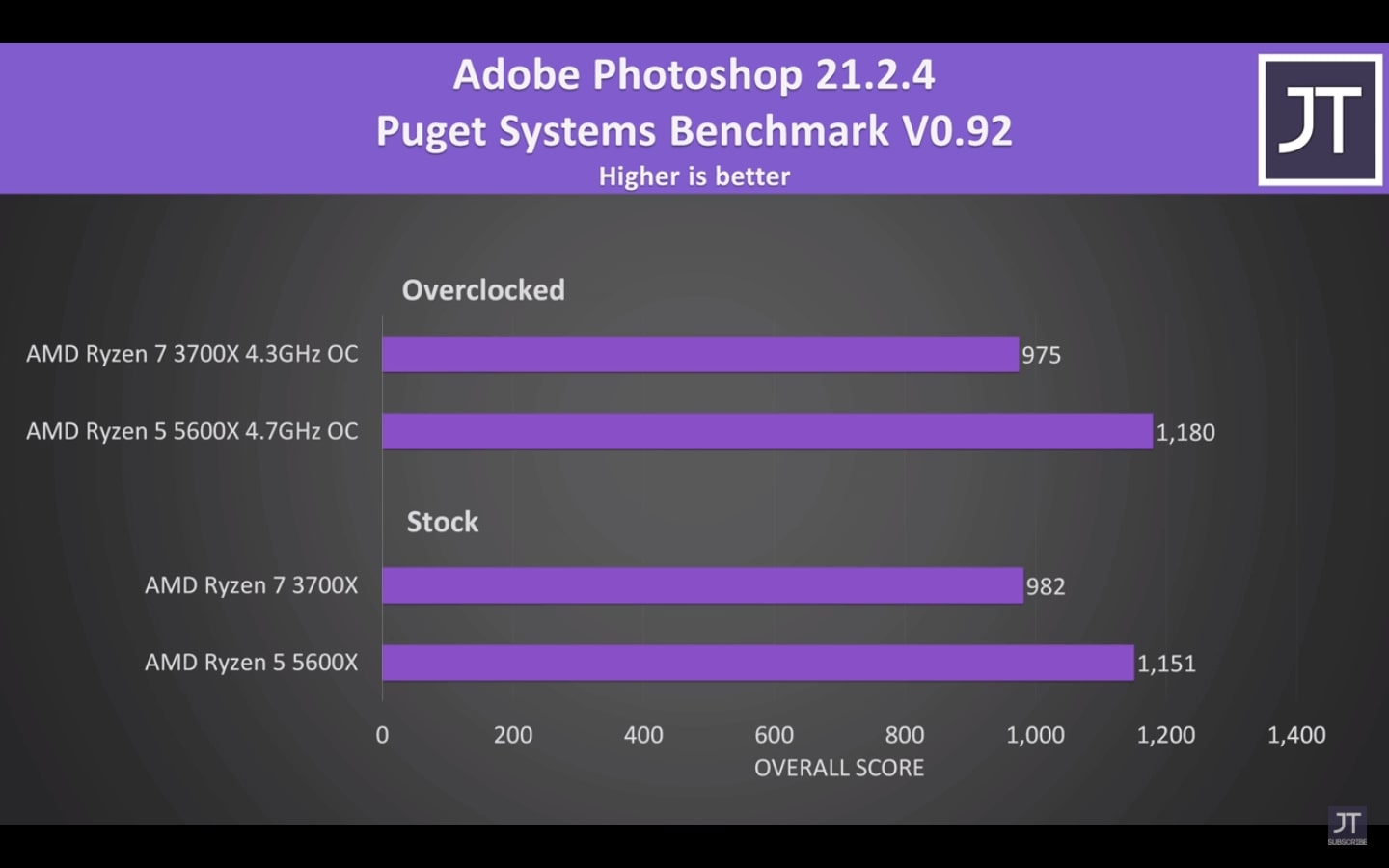 Adobe Photoshop is used for exporting and editing image files. The Photoshop test seems to favor single-core performance and, in that regard, the 5600x finally outperforms the 3700x with its faster Zen 3 architecture. The 5600x reached a 17% faster rate than 3700x on stock and a similar margin on overclocked speeds.
7-Zip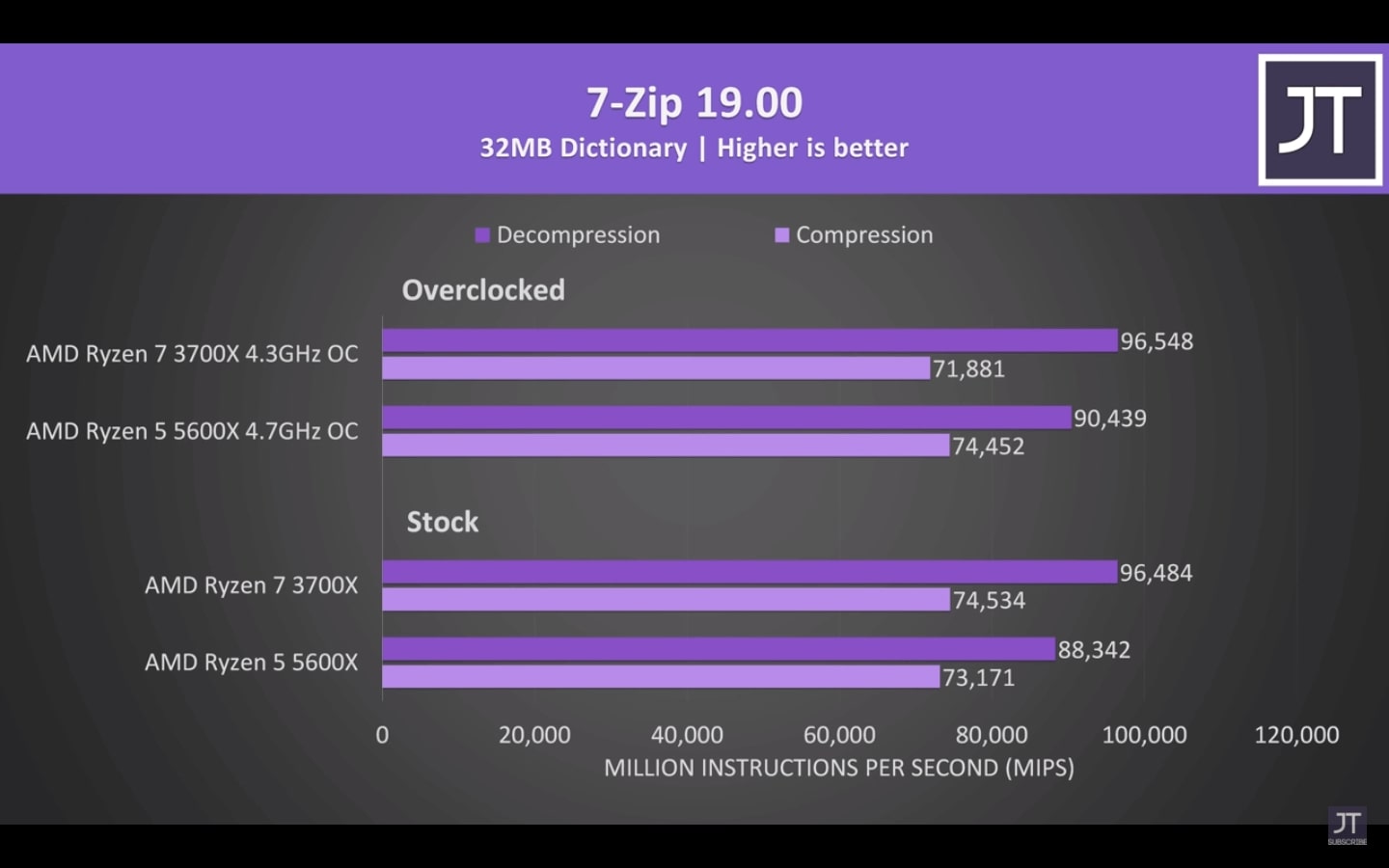 We conducted the 7-Zip test by measuring the time it takes for compressing and decompressing files. On our benchmark, the 3700x was faster in both base and overclock speeds for the decompression process. On the other hand, the 5600x managed to beat 3700x on OC with the compression process though the same couldn't be said about the stock clocks. Overall, the 3700x was 9% faster in base clocks and 7% faster on overclocks for decompression.
VeraCrypt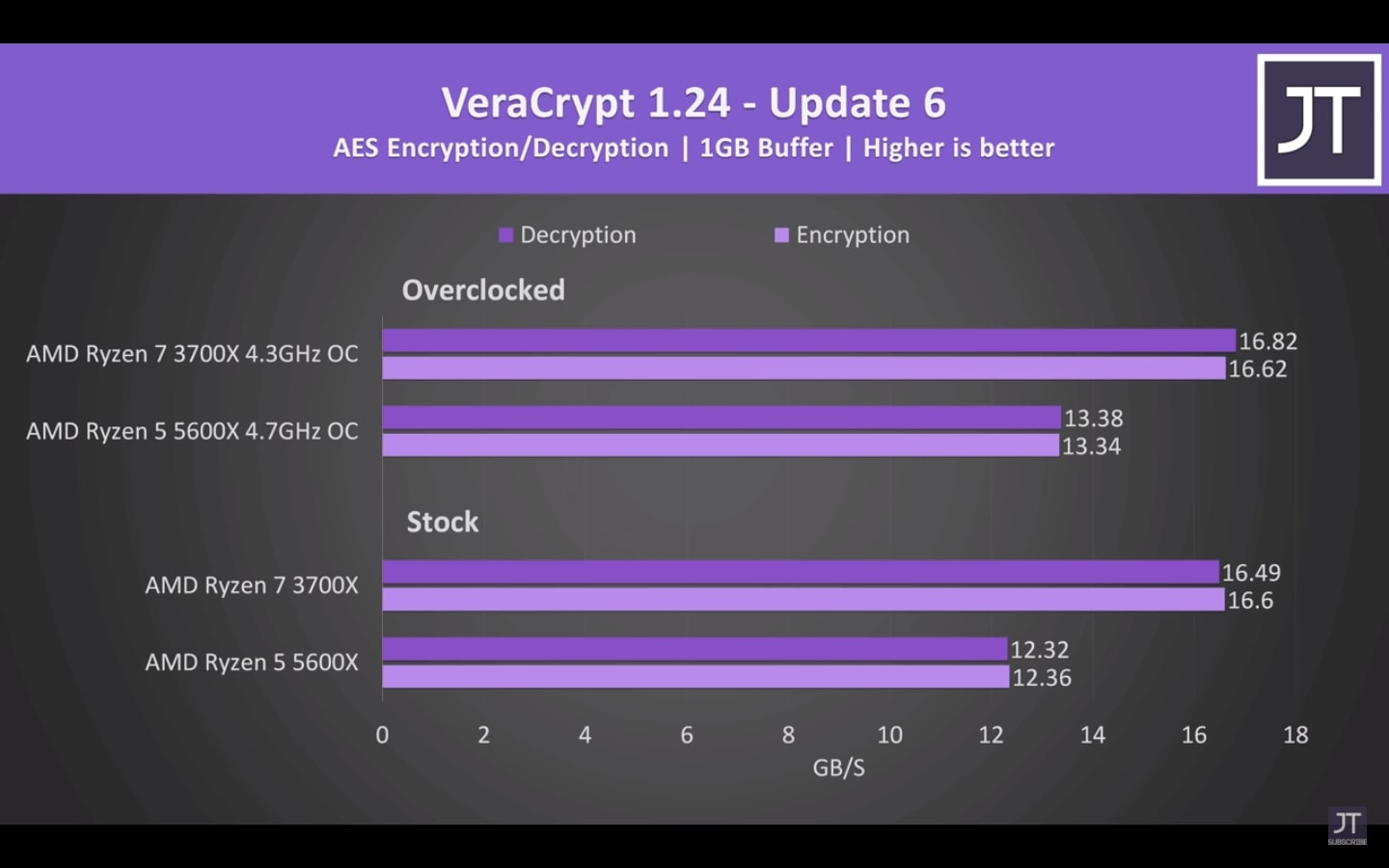 For the VeraCrypt test, we used the 5600x vs 3700x for encrypting and decrypting processes. This test showed the greatest margins of difference in all tests conducted, putting the tide firmly in 3700x's hands. At overclock, the 3700x was 25% faster, and on the stock that difference increased up to 33%. A huge win for 3700x but the better overclocking on 5600x allows it to close the gap by a good margin.
Microsoft Excel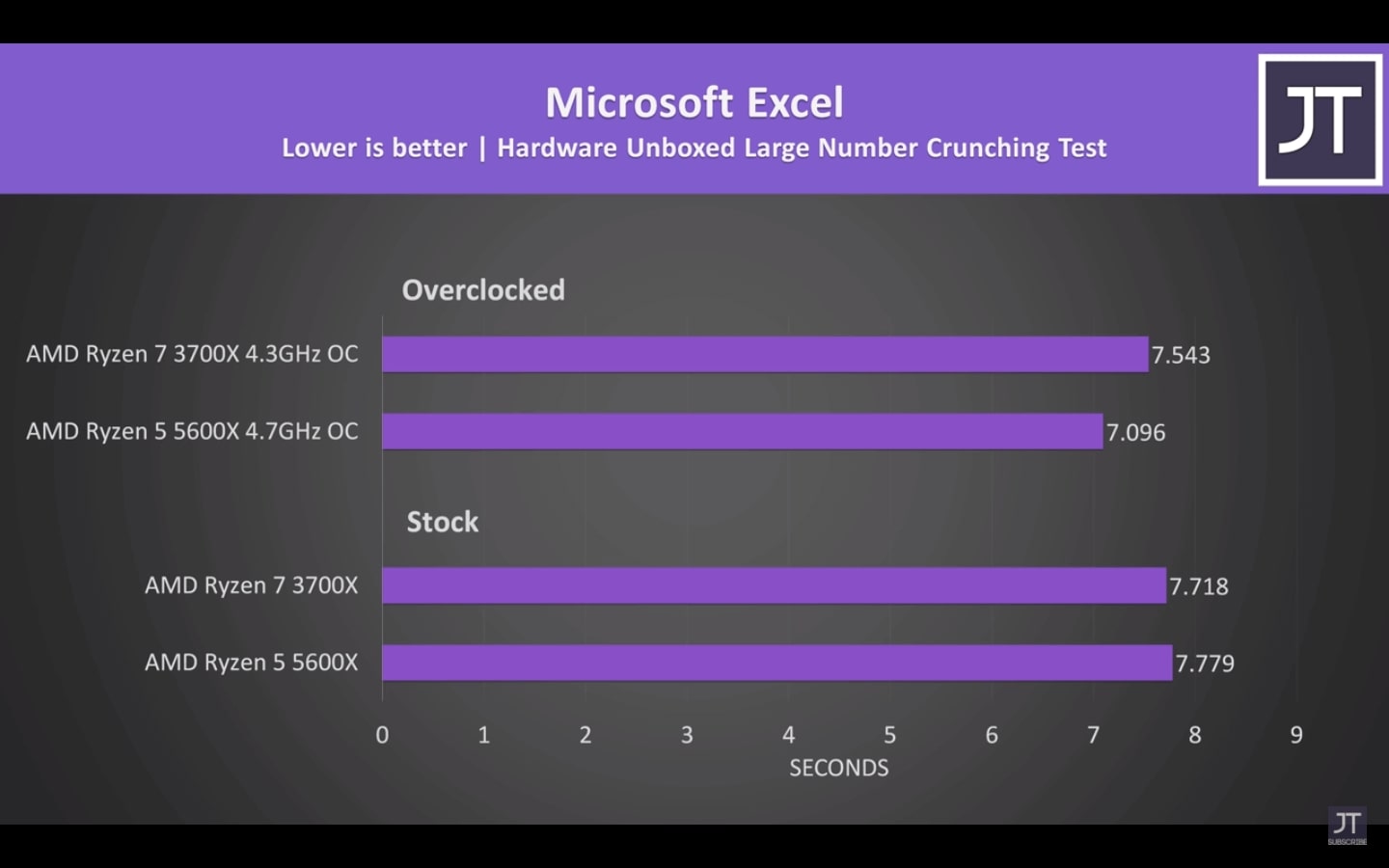 In Microsoft Excel, the 3700x and 5600x were mostly even for stock clocks. However, the 3700x had more cores to OC proving to be advantageous as can be observed from the greater marginal difference compared to stock clocks.
Geekbench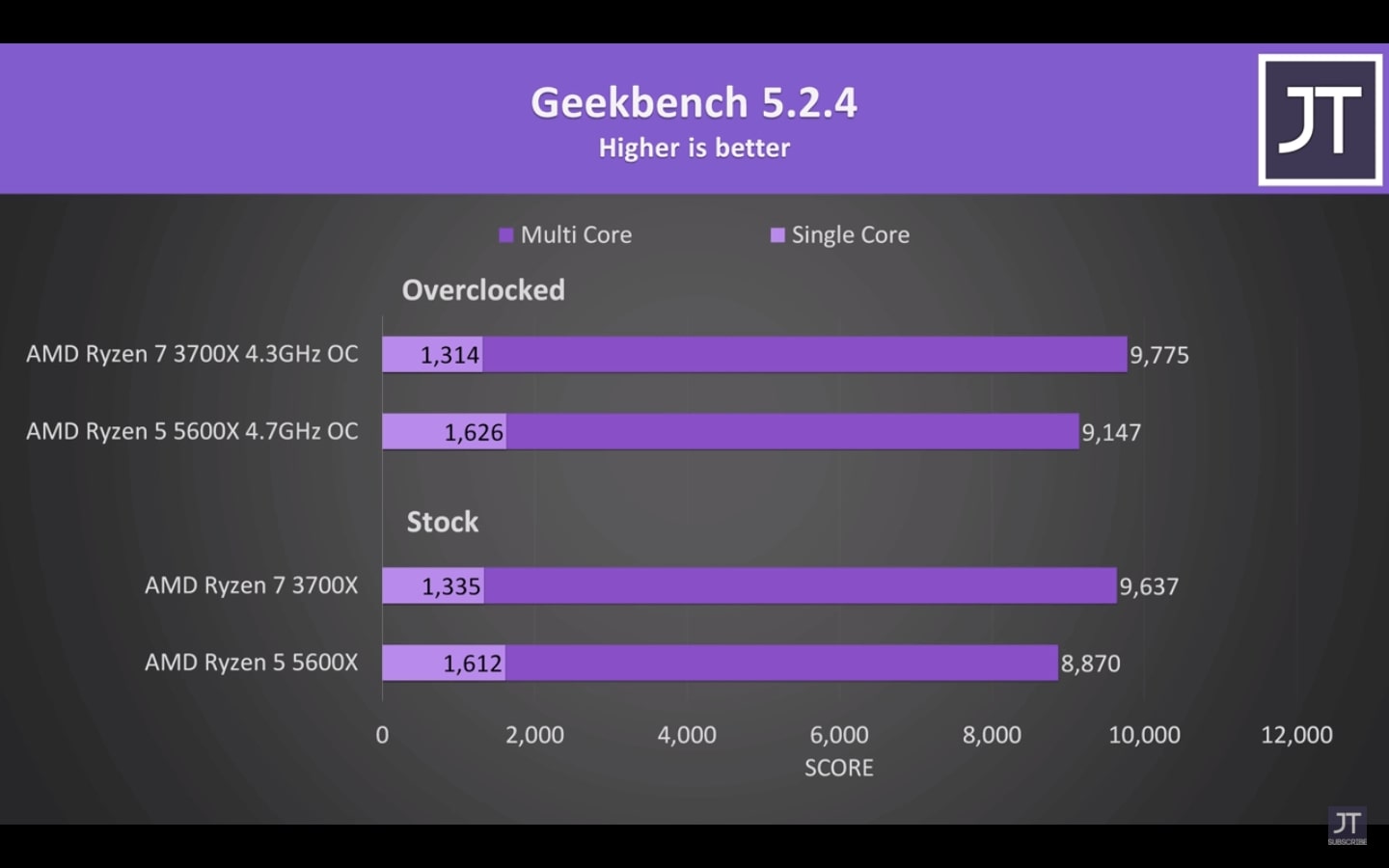 Similar to previous single-core tests, the Geekbench test favors the 5600x with very close margins of difference in terms of single-core performance. Ultimately, the 3700x was faster in both OC and stock clocks on multi-core performance. However, the 5600x always beat the 3700x's slower cores with a 20% difference on stock and nearly 24% better at both overclocked.
Productivity Test Conclusion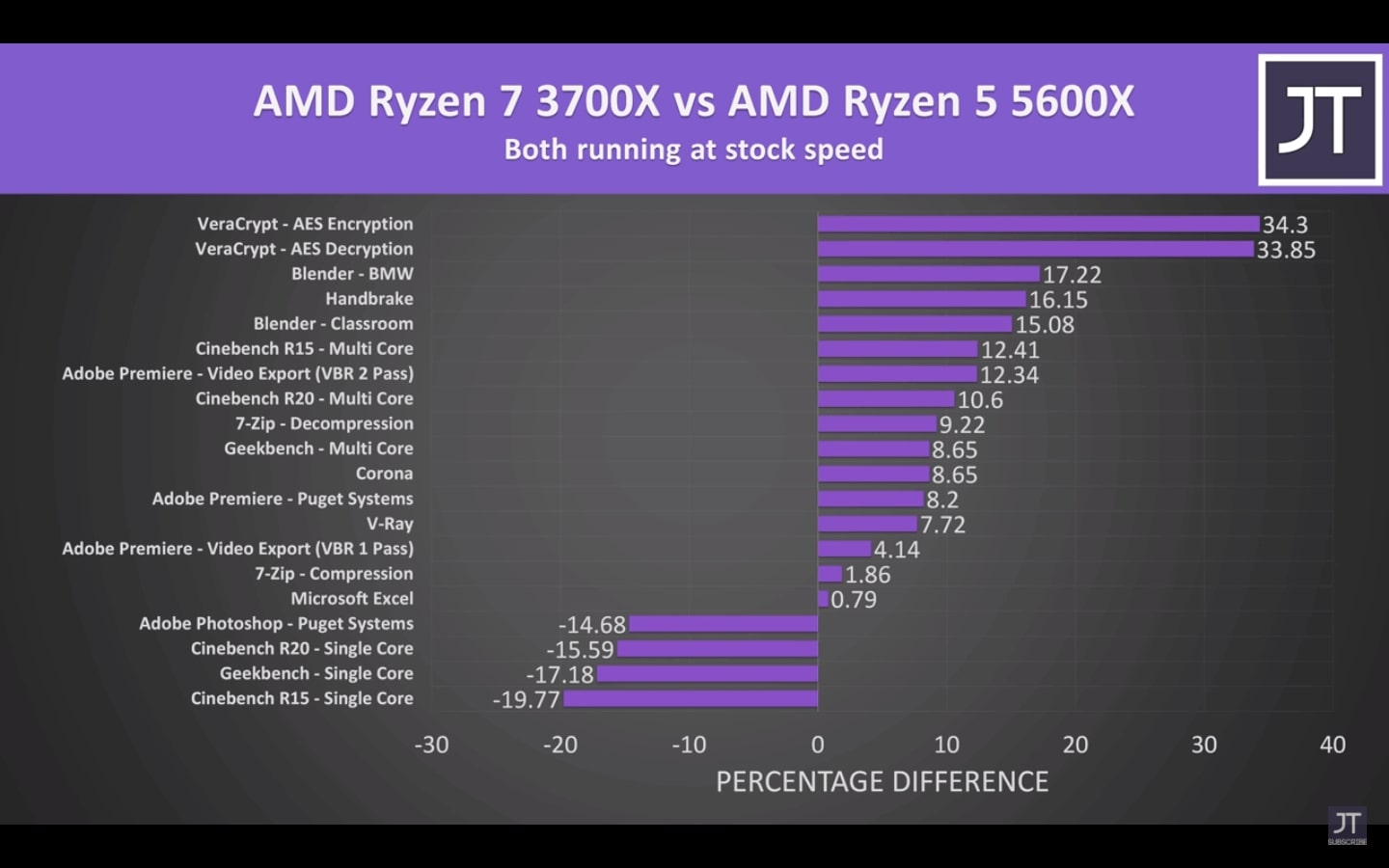 For stock speeds across all applications, the 3700x scored better than 5600x in almost all cases. As can be observed, the highest difference in favor of 3700x came from the Veracrypt Encryption test with a percentage difference of 34.3% and the lowest coming from the Cinebench single-core test at –19.77%. Overall, these benchmarks were mostly consisted of multi-core tests and favored a higher core count. Although, the 5600x does significantly better in every single-core test across all applications.
Moving on to the overclocking tests, the 5600x does significantly better thanks to Zen 3 architecture allowing for better overclocking. As for the 3700x, it still beats the 5600x across every multi-core test. 3700x's largest difference comes from the 25.71% faster VeraCrypt Decryption test and the lowest one from Cinebench single-core test at –22.39%. Compared to the stock tests, the OC tests favored the 5600x more thanks to higher clock speeds of the cores of 5600x.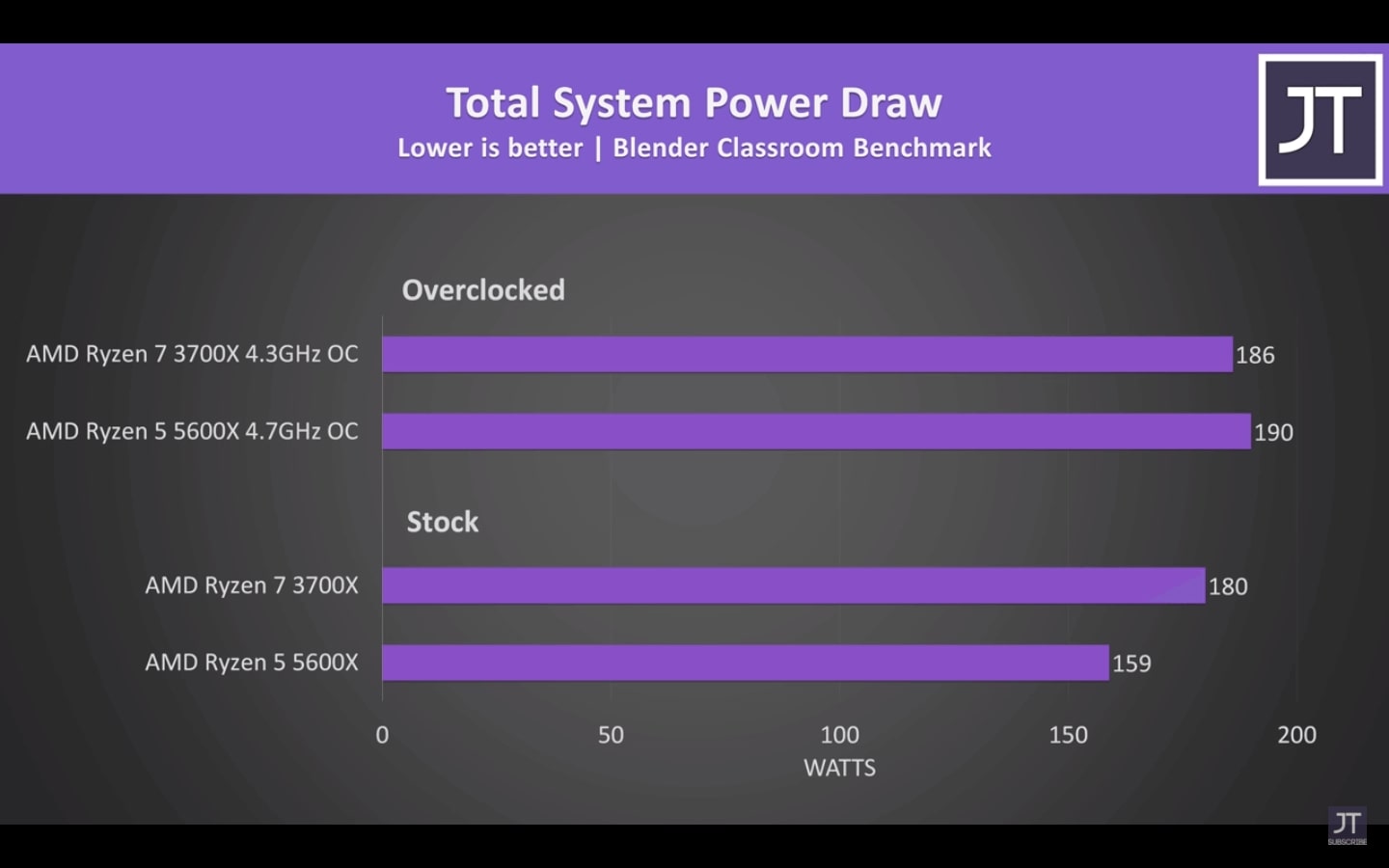 Moving on to the statistics about the power consumption from both processors, each was compared with the Blender rendering test. For stock, the 3700x was using 13% more power and delivered 15% faster performance compared to 5600x. However, at both overclocked, the 5600x was consuming more power because of higher overclocking speeds than 3700x.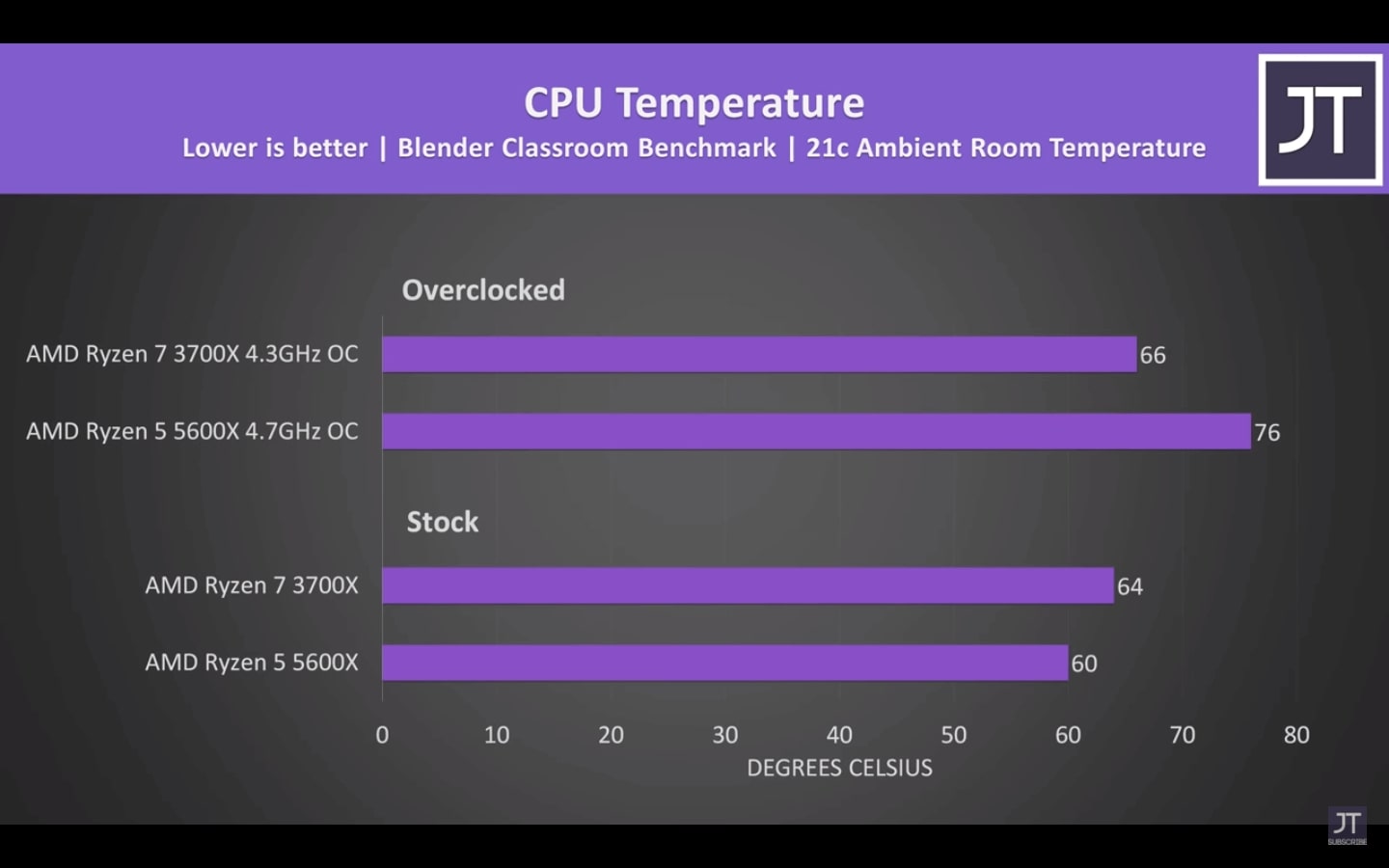 CPU Temperature varies accordingly with the power draw and the graph shows very similar results to the TDP graph. On stock, the 3700x is only a little warmer by a few degrees but also consumes less power while outputting better performance thanks to its higher core count. In that regard, it beats the 5600x on all fronts. Even bitter news for 5600x is on the overclocked speeds with it reaching more than 10 degrees higher temperatures than the 3700x. We recommend these CPU Coolers for both processors.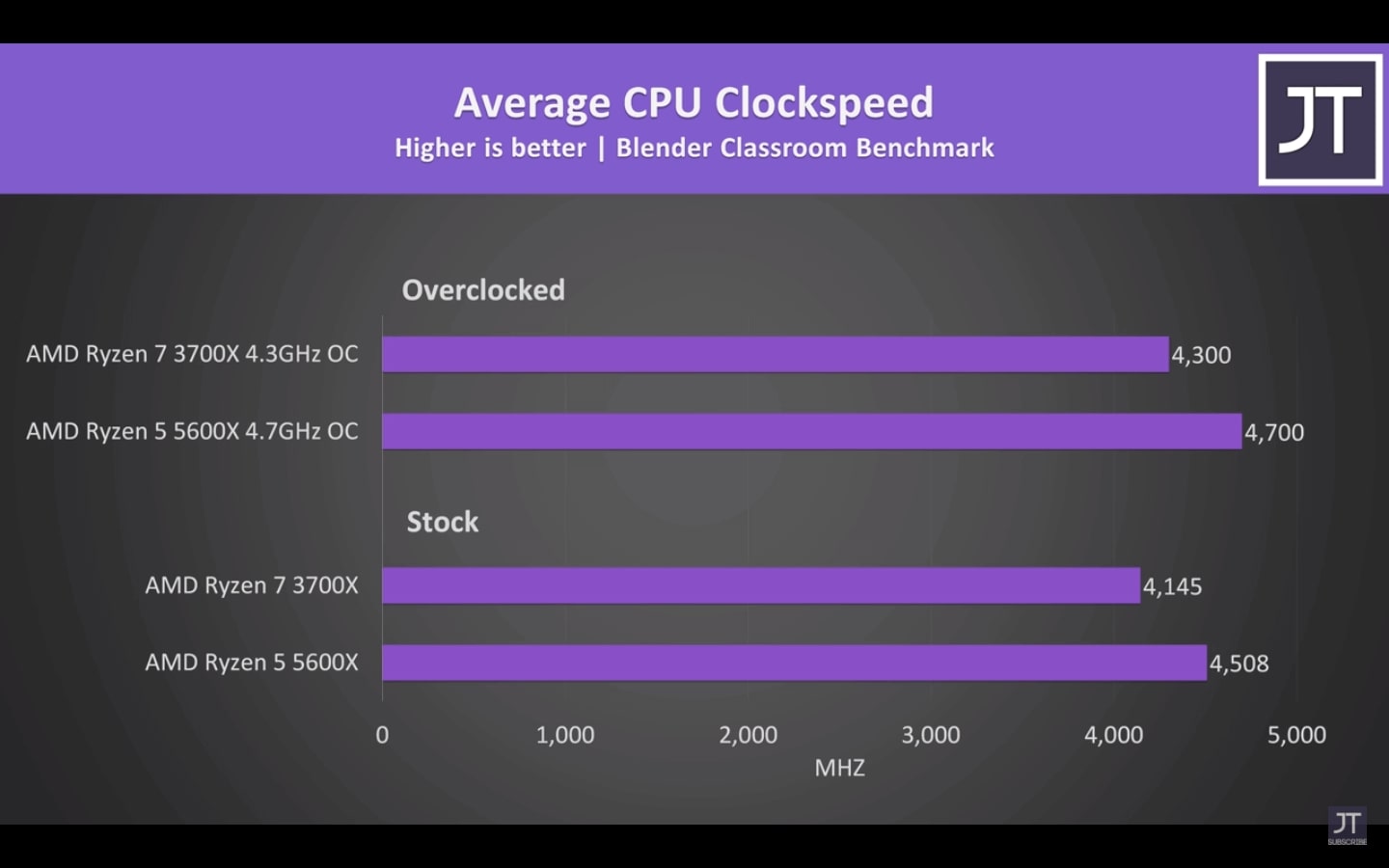 As discussed before, the 5600x thanks to its Zen 3 architecture, allows for better clock speeds on its individual cores. For both stock and overclocks, the 5600x can achieve faster speeds than the 3700x thanks to numerous improvements in the newer architecture.
Which One Should You Get?
Comparing Ryzen 5 5600x vs Ryzen 7 3700x – these two generationally different AMD CPUs wasn't the easiest task, to say the least. Both of them are extremely powerful and cost-efficient processors that have pioneered the gaming market in providing consumers with better and improved hardware. One great thing that we glossed over in the article is how they both run on the same AM4 socket.
For this reason, they both are highly compatible with all kinds of motherboards and you don't really need to buy another one to upgrade from the 3rd generation to the 5000 series. They both come with different architectures and specifications that make great starting points when comparing the two. However, the gaming and productivity tests are really what enable us to help you in making your purchase. If you to know more on motherboards compatibility, read these two articles.
Undoubtedly, the Ryzen 5 5600x is the more powerful processor in terms of gaming and single-core performance. AMD has created an absolute beast of a CPU with improved architecture over the previous generation. The Zen 3 architecture allows its lower core and thread counts to be ignored in favor of a better single-core experience. In every single game we tested, it never lost to the Ryzen 7 3700x in providing higher FPS. It is an enthusiast-grade processor made for high-end gaming that will surely last for years to come. There's also better overclocking thanks to IPC improvements of the Zen 3 architecture which helps in gaming.
However, we wouldn't recommend it for software-based processing, since its 3700x counterpart is more than enough for rendering, exporting, encrypting, editing and all other similar types of processing. With excessive overclocking, the TDP and temperatures are also a few factors to keep in mind when upgrading.
Ryzen 7 3700x is also a very powerful processor that has the edge over the 5600x with its higher core and thread count. With a lead of 2 extra cores over the 5600x, the 3700x strikes brutally with multi-core performance. That's the main advantage it's Zen 2 cores really have over the faster single-core performance of Zen 3. The Ryzen 7 3700x is also an elite choice for gaming but is overshadowed by its faster Zen 3 counterpart. In application tests though, it performs the best it can according to its hardware's capabilities actually giving better performance than the 5600x. Lastly, the CPU also consumes less power and overall has lower temperatures than the 5600x. It's still a cheaper yet efficient processor for gaming and productivity performance.
To sum it up, the Ryzen 5 5600x is the better processor for gaming. It's cost-efficient and delivers extremely fast processing speeds. For gaming, you can't go wrong with the 5600x. However, if you aren't a hardcore gamer and would use the processing for more productive uses, then you should honestly stick with the 3700x. If you're on a budget, spending more money on a whole new processor for just 15-20% increased performance in gaming only is honestly not worth it. On a side note, make sure to also read Core i5 12600k vs Ryzen 5 5600x.
Was our article helpful? 👨‍💻
Thank you! Please share your positive feedback. 🔋
How could we improve this post? Please Help us. 😔
[Comparisons Expert]
Abdemanaf is a skilled creative writer who has been honing his craft since 2011. While initially working in different fields, he found a passion for technology and has been exploring the tech world since early 2015. Over the years, he has developed an in-depth knowledge of the latest tech trends and product offerings by various companies.
Abdemanaf's writing reflects his analytical mindset and ability to think critically. He has a knack for breaking down complex technical information into easily digestible pieces, making his articles engaging and accessible to readers from all backgrounds. In February 2022, he joined Tech4Gamers as a blog and product comparison writer, where he has been able to hone his skills further.
As a writer, Abdemanaf is dedicated to staying up-to-date with the latest technological advancements and trends, enabling him to provide readers with the most relevant and accurate information. He is always eager to learn more and is constantly seeking new challenges to improve his skills.
Get In Touch: [email protected]