Is It Really That Good?
Review Summary
Fractal Design Lumen S36 RGB is one fine and well-balanced liquid cooler that users can buy for their cooling requirements, particularly on new platforms. Its adequate performance, good warranty period, and friendly pricing make it among candidates for your buck.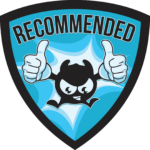 Build Quality -

9/10

Design -

9/10

Performance -

8.5/10

Features -

9/10

Value -

9/10
Pros
Adequate Thermal Performance
Duality Design
Integrated Pump into the radiator
Digital RGB Lighting
Easy Cable Management
AMD AM5 socket support
Intel LGA1700 socket support [Not out of the box]
Easy Installation
Warranty
Price
Fractal Design needs no introduction. They are highly popular among PC enthusiasts and are well known for their PSUs, PC Cases, Coolers, and accessories. Based in Sweden, Fractal Design has good coverage all over the world. Some of their popular PC Case series are Define, Meshify, and Torrent, to name a few. Today, I'll be taking a look at the Fractal Design Lumen S36 RGB.
---
Key Takeaways
The Fractal Design Lumen S36 RGB is for users looking for an excellent-performing 360mm cooler that does not break the bank while also providing stunning RGB.
The Fractal Design Lumen S36 RGB is not for anyone who prefers an utterly silent cooler.
The Fractal Design Lumen S36 RGB provides solid performance, maintaining temperatures of 81°C on a Ryzen 7 7700X at an ambient of 21°C.
---
Specifications
| Product | Fractal Design Lumen S36 RGB Cooler |
| --- | --- |
| Sockets supported (Intel) | LGA 1700*/1150/1151/1155/1156/1200 LGA 1366/2011/2011-3/2066 |
| Sockets supported (AMD) | AM5 / AM4/FM2+/FM2/ FM1/AM3+/AM3/AM2+/AM2 |
| Thermal paste | Pre-applied |
| Tube length | 400mm |
| Tube material | Low-permeability rubber with braided nylon sleeve |
| Fittings, block side | Articulating 90-degree Elbow |
| Fittings, radiator side | Barbed fitting |
| Block height | 43mm |
| Block measurements (with fittings) | 79 x 67 mm |
| Block diameter (main block body) | 67 mm |
| Fan type | Aspect 12 RGB PWM |
| Fan Rotational speed | 500–2000 RPM |
| Fan bearing | Rifle bearings |
| Fan PWM control | Yes |
| Fan acoustical noise | <10–33.2 dBA |
| Fan maximum air flow | 13-56 CFM |
| Fan maximum static pressure | 0.230–2.34 mm H2O |
| Fan input voltage | 12V |
| Fan maximum input current | 0.37A |
| Fan MTTF | 90,000 hours |
| Rotational speed | 4000 ± 10% RPM |
| Bearing type | Ceramic |
| PWM control | No |
| Acoustical noise (full speed) | 22 dBA |
| Maximum pressure | 1.8 mm H2O/ 17.6 kPa / 2.5 PSI |
| Input voltage | 12V DC |
| Input current (without fans) | 0.34 A |
| MTTF | 50 000 hours |
| Radiator dimensions | 392 x 120 x 27 mm |
| Radiator housing material | Aluminum |
| Radiator fin material | Aluminum |
| Radiator fan screw threads | 6-32 |
Packing Box
The unboxing experience.
Contents
It is time to take a look at what Fractal Design has provided in accessories.
Closer Look
Let's take a closer look at the Fractal Design Lument S36 RGB.
Design
Starting with the design, this liquid cooler features a 27mm thick aluminum radiator measuring 392 x 120mm. With standard 25mm fans, the total thickness is 53mm. The fins are densely stacked with a 20 FPI count, requiring high-air-pressure fans.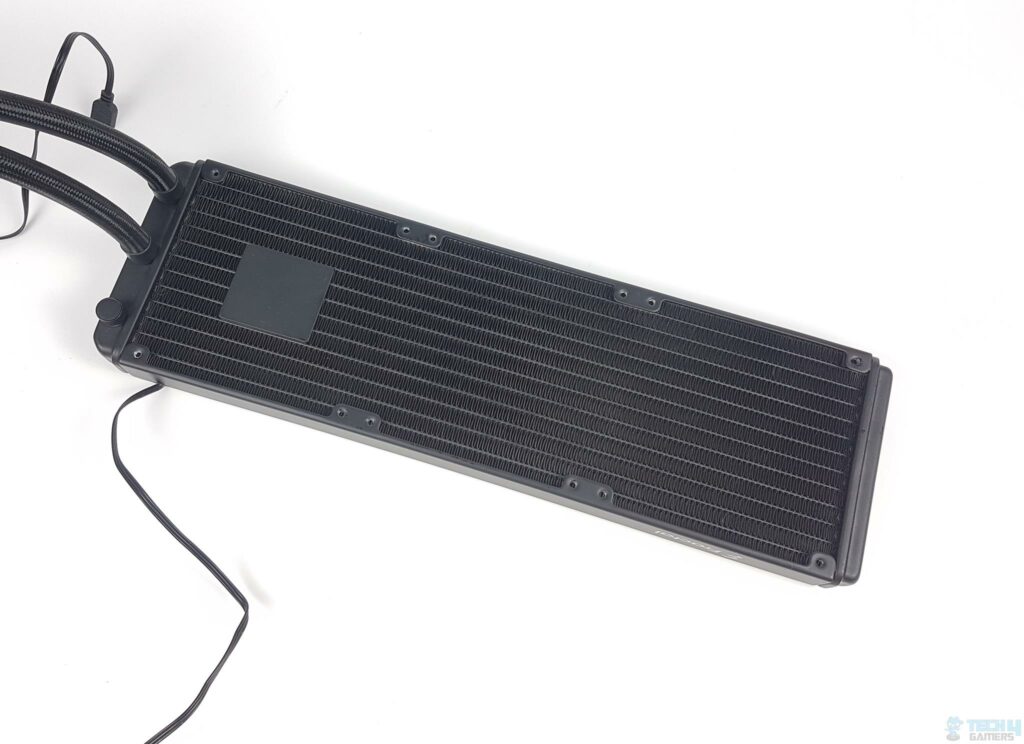 The radiator has 12 coolant flow channels, a 105mm gap between opposite mounting holes, and a 15mm gap between adjacent holes. Additionally, there's an aluminum shell near the block. The pump housing of this cooler is integrated into the radiator, similar to the SilverStone VIDA 240 SLIM AIO. The Lumen series lacks protective plating under the mounting holes, possibly reflecting an OEM change with limited customization.
The block on one end of the radiator has a slim, rounded design. Unlike most AIOs, the tube ends are positioned towards the left side, attached with barbed fittings and concealed couplings. A serial number sticker is present, and there's a drain port for factory use; opening it may lead to vacuum pressure loss. Unlike Celcius+ coolers, the Lumen series lacks an integrated fan hub in the radiator frame, contributing to a slightly shorter length. Avoid opening the drain port to maintain loop integrity.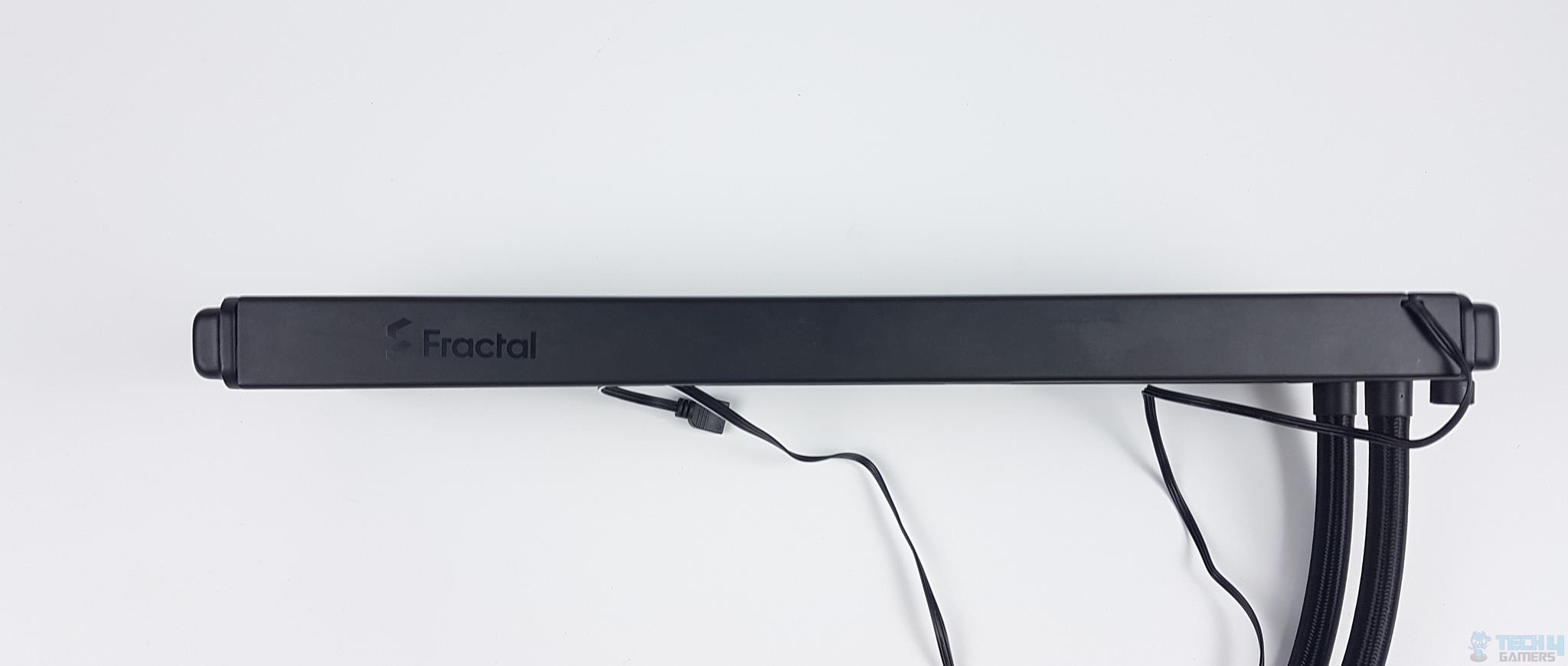 Both sides of the aluminum frame have a Fractal Design branding.
Fractal Design employs Low-Permeability rubber tubes, approximately 400mm in length, adorned with nylon braided sleeves for aesthetics. The pump has a 3-pin cable, 775mm long, with cutouts on both sides of the frame for easy routing within the case.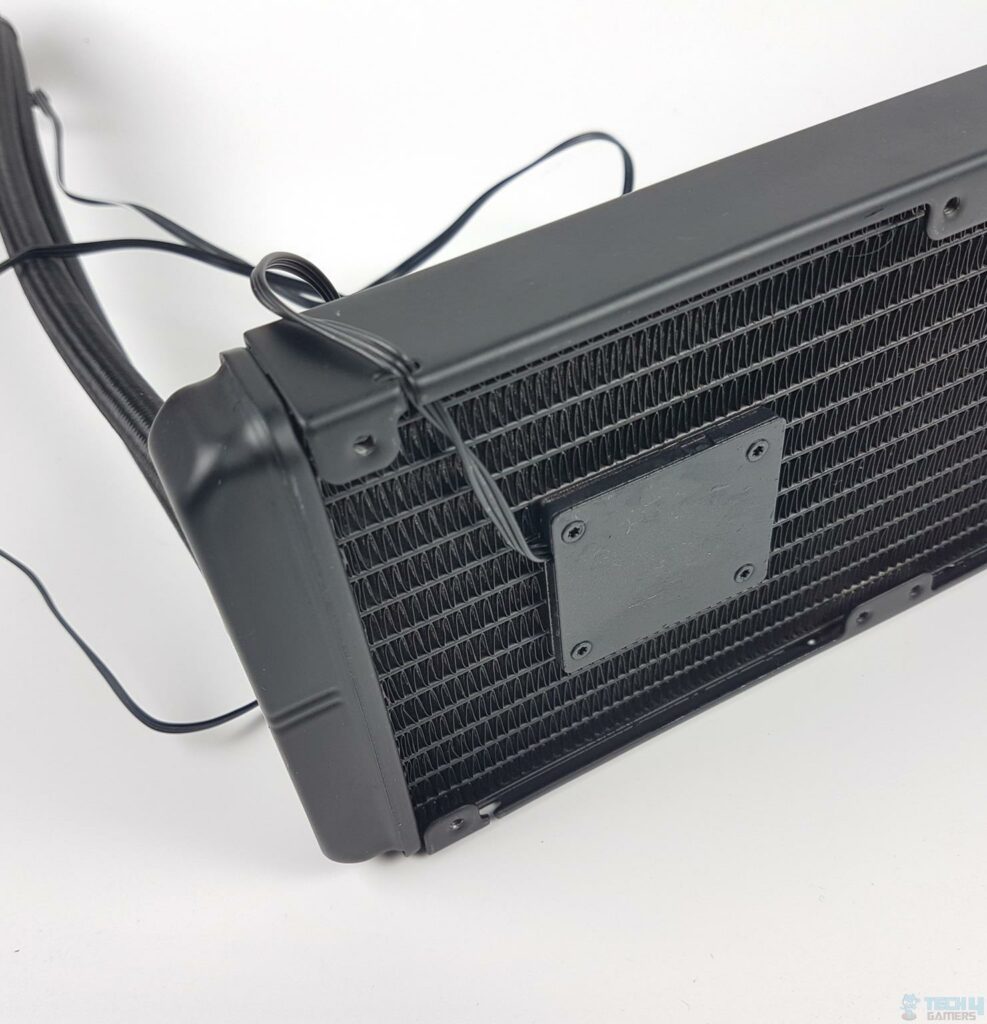 The Pump in Lumen series coolers is integrated into the radiator instead. Specifications of this pump include:
| | |
| --- | --- |
| Rotational Speed | 4000 ±10% RPM |
| Bearing | Ceramic |
| PWM Control | No |
| Noise at full speed | 22 dBA |
| Maximum pressure, 50°C | 2.5 PSI |
| Rated Voltage | 12VDC |
| Rated Input Current | 0.34A |
| Rated Input Power | 4.08W |
| MTTF | 50,000 Hours |
| ARGB Cable Length | 500mm |
With the pump now in the radiator, the low-profile block of this cooler weighs little and measures 79x67x43mm. The circular design has a diameter of 67mm and a height of 43mm. The translucent top cover, featuring a removable Fractal Design logo, adds to the aesthetic appeal.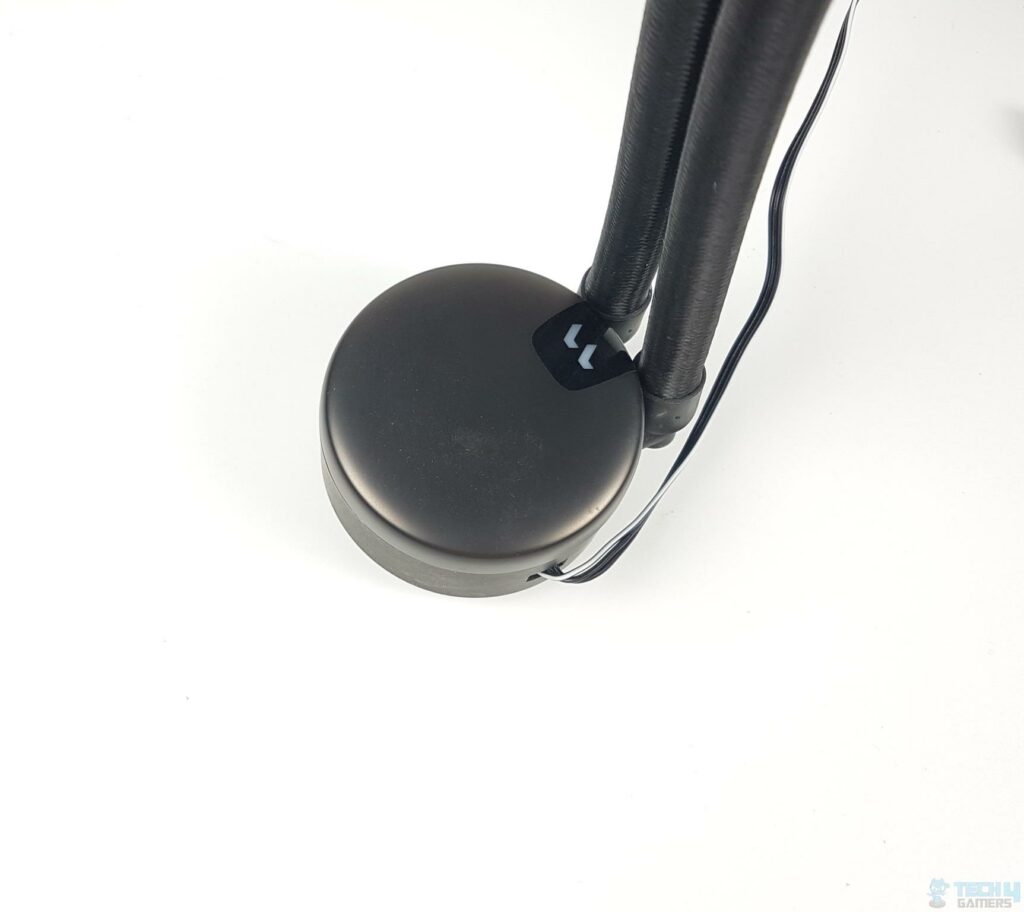 We removed this top cover and can see that there is a white color PCB with 6x digital RGB LEDs. This PCB is removable as well. I like this modular design. We have already connected the digital RGB cable to the block, as can be seen in the picture.
The top cover features a white color diffuser for uniform lighting across its entire area. It's worth noting that the top cover can be installed in 4 orientations. This is a helpful design that allows users to install this cooler in any orientation regardless of the position of the Fractal Design brand logo. The logo can be adjusted in a horizontal logotype after the installation.
We removed the thermal paste from the base. Sticky hands did some marking of that paste on the frame. Need to be more careful! Anyhow, this unit has a black color housing which seems to be made of ABS material. Above the base, an inset houses the mounting brackets, while a 3-pin port on one side connects to the bundled digital RGB cable.
Fractal Design employs articulating 90° elbow fittings on the block, easing tube rotation and reducing pump tension. Cleaning was required to remove thermal paste marks.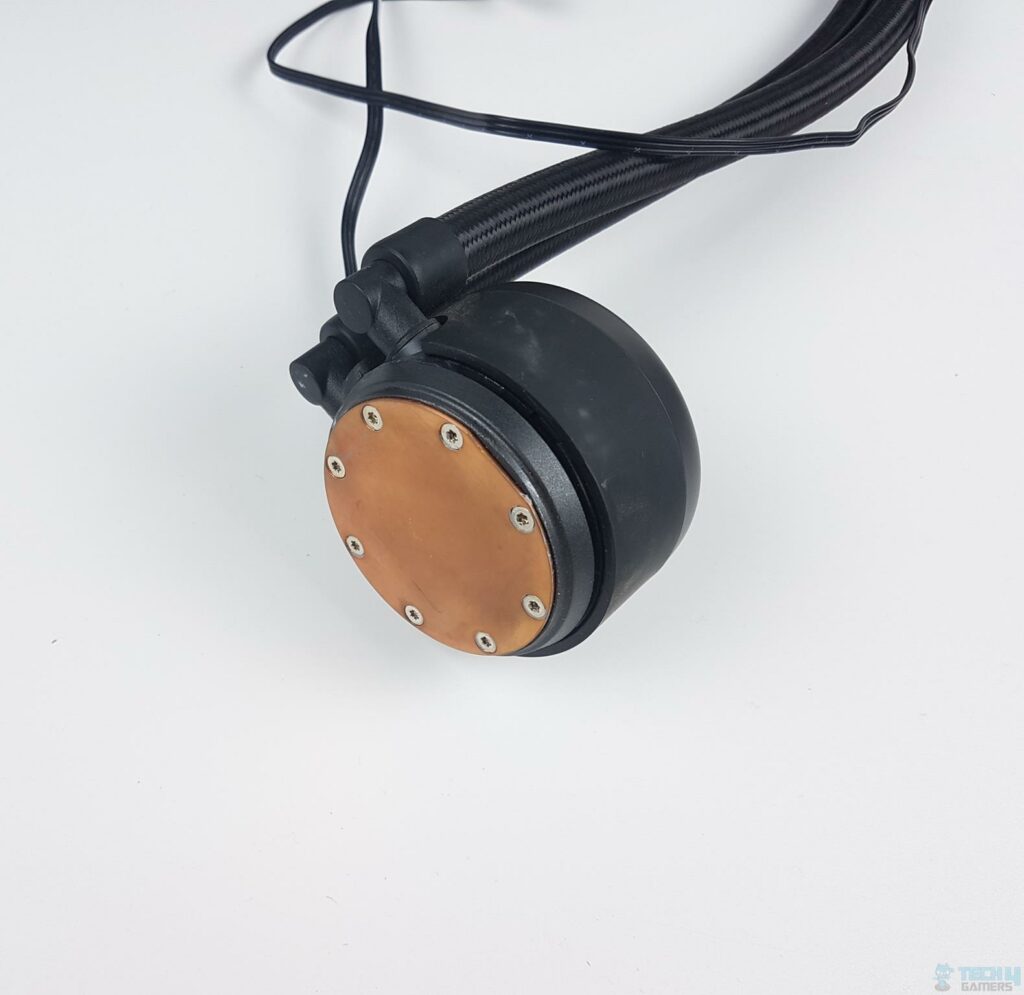 This unit comes with a pre-applied thermal paste. We removed that paste to take this picture.
The Lumen S36 RGB cooler includes 3 Aspect 12 PWM RGB fans with 7 frosted white designs for even and vivid lighting. The black Fractal Design-branded sticker is at the center of the circular frame, with a noticeable gap between the inner frame and blade tips. No anti-vibration pads are present on the fan's mounting corners.
There is Fractal Design branding on one side of the frame. This frame is well-built, and there is a scanning label on the inside corner. One mounting corner has an arrow marking inside. This shows the direction of airflow through the fan.
The fan's backside features a 4-arm assembly with one arm having an inset to manage wires. The center sticker bears Fractal Design branding. With a rated speed of 2000 RPM using 12VDC at 0.37A, each of the three fans includes a 4-pin PWM connector and socket, enabling daisy-chaining for centralized speed control.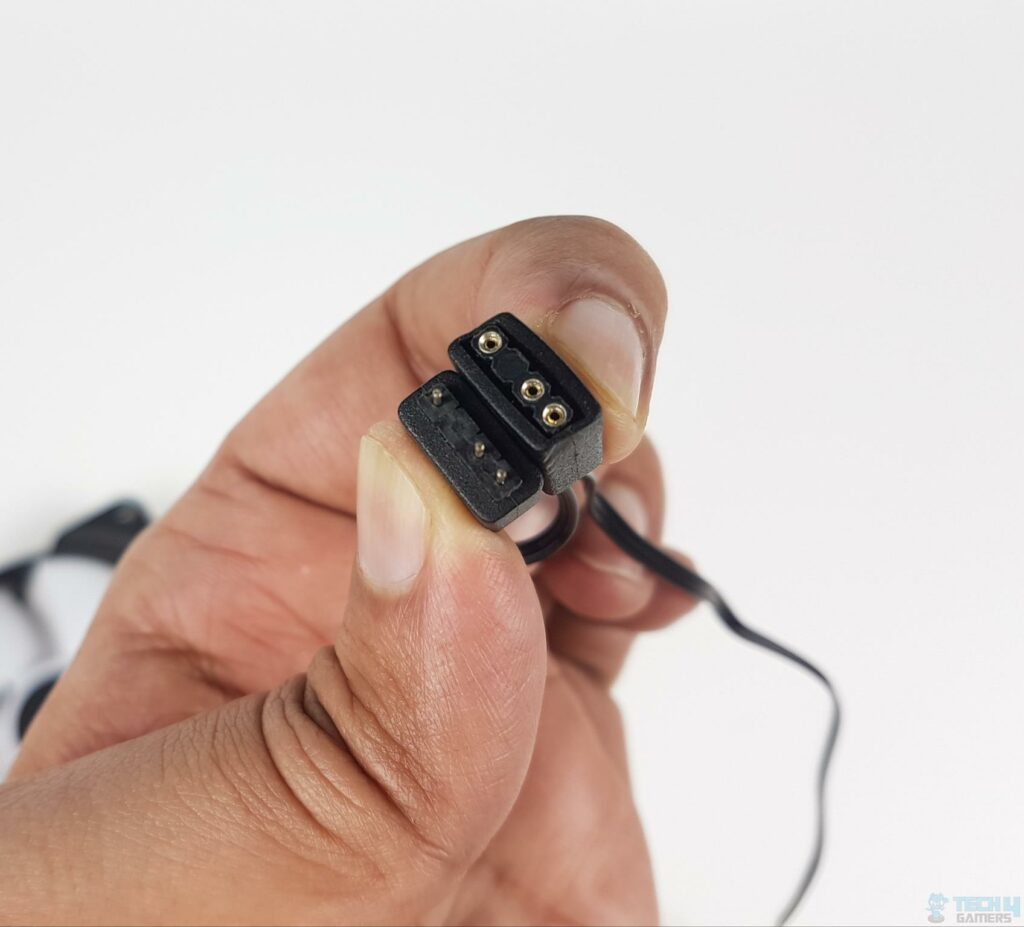 Each fan has a standard 3-pin, 5V RGB connector and socket, enabling easy daisy-chaining for centralized RGB control. As there's no dedicated controller, compatibility with a supported motherboard is necessary for digital RGB lighting.
The specification of Aspect 12 PWM RGB fans is:
| | |
| --- | --- |
| Dimension | 120x120x25mm |
| Type | 4-pin PWM Connector |
| Speed | 500-2000 RPM |
| Airflow | 13~56 CFM |
| Air Pressure | 0.23~2.34 mmH₂O |
| Noise | Up to 32.2 dB(A) |
| Bearing Type | Rifle |
| Lifespan | 90000 hours |
| Input Voltage | 12VDC |
| Input Current | 0.37A |
| Starting Voltage | 7V |
| LED Input Power | 1.50W |
| LED Input Current | 0.30A |
| LED Input Voltage | 5V |
| Cables Length | 500mm |
We took some key features from the Fractal Design website. These include:
Installation
We have tested the Fractal Design Lumen S36 RGB cooler on the AMD AM5 platform using GIGABYTE X670E AORUS MASTER and AMD Ryzen 7 7700X. Installation on AM5 is straightforward and convenient. Fractal Design has provided two AMD clips. These clips and two thumb nuts are required for installation.
Installation on the AM5 platform is as follows:
Remove Intel Mounting Bracket from the block.
Install fans on the radiator.
Install digital RGB Cable to the block.
Install the AMD Mounting bracket on the block.
Place clips or pins through holes on AMD Mounting Bracket.
Use Thumbnuts to hold AMD pins on the mounting bracket.
Keep these connections loose.
Clean the CPU surface and apply thermal paste or use pre-applied thermal paste.
Make sure AMD stock mounting brackets are on the motherboard.
Carefully place the block on the CPU and pass the cutout area of clips on the catchers of the AMD stock bracket on the motherboard.
Start torquing thumb nuts till they run out of threads.
Install the radiator and connect cables. You are good to go.
Clearance
This cooler has a dimension of 392 x 120 x 27mm without fans. With fans, this size is 392 x 120 x 53mm. We did not observe any clearance issue with this cooler. You would need to check that your PC Case has clearance for this size radiator.
Digital RGB Lighting
This cooler does not have a dedicated RGB controller. Users would need a supporting motherboard.
We have tested the lighting using RGB FUSION 2.0 and found it working flawlessly. Here are a few pictures.
Thermal Test
We have used below mentioned configuration to test the performance of this cooler: –
Here is the settings table for testing:
| | |
| --- | --- |
| All Cores | 5200MHz All Cores |
| VCore (V) | Auto |
| Thermal Paste | Alphacool Sub-Zero |
| Test Run Time | 30 minutes CINEBENCH R23.2 |
| Idle Time | 10 minutes |
| Fan/Pump Speed | 100% PWM Duty Cycle |
| Monitoring Software | HWInfo64 |
Result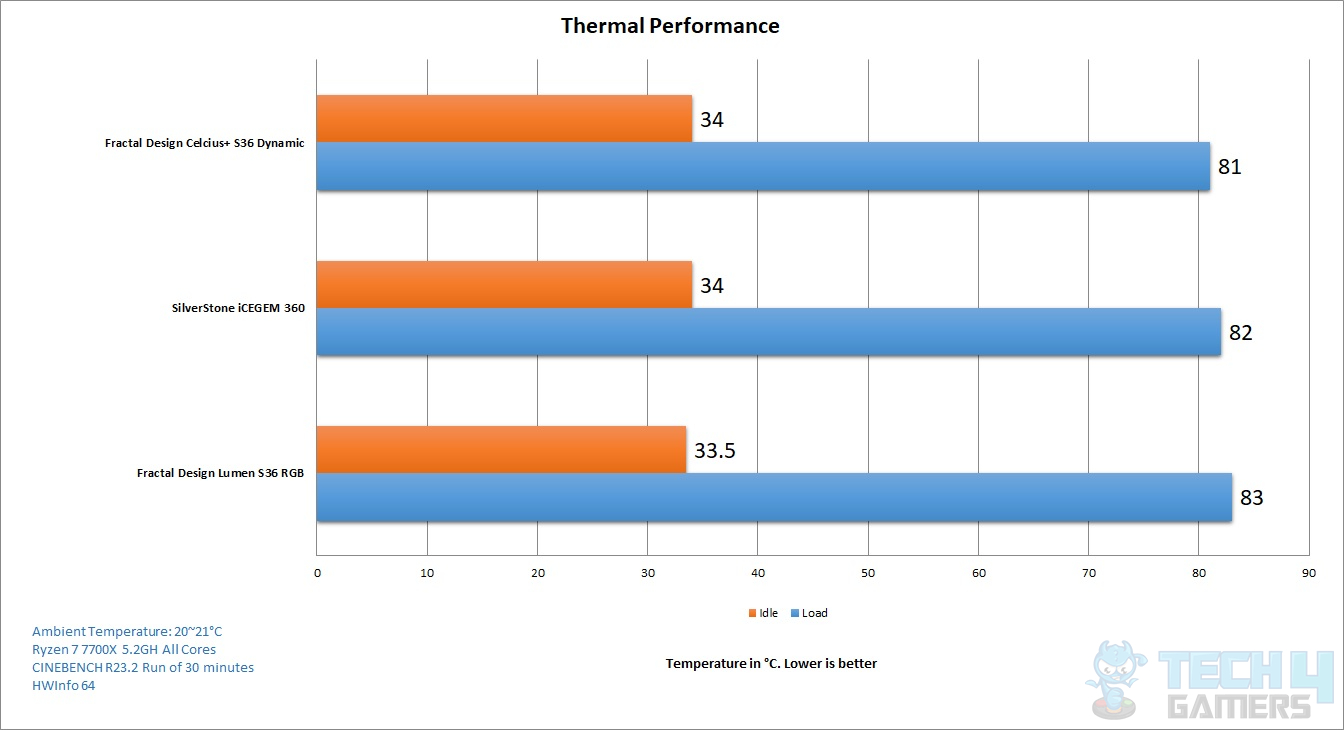 We are a bit surprised to see that Fractal Design Celcius+ S36 Dynamic is offering a better thermal performance over the Lumen S36 RGB. This difference is 2°C. We repeated the test, but we came to the same conclusion. It is what it is. Another interesting observation is that all these 360mm coolers are in a difference of 1°C against each other.
Noise
Fans and pumps at full speed are making a noise of 52dB(A) approximately. This is at an ambient noise level of 32~33dB(A). A custom fan curve would be beneficial for the fans.
Should You Buy It?
After extensive testing of the Fractal Design Lumen S36 RGB, I've concluded a few points that should help ease your buying decision.
Buy It If:
You want a value-for-money 360mm cooler: Unlike other 360mm AIO coolers, the Fractal Design Lumen S36 RGB comes in at an attractive price-point.
You prefer an easy-to-install cooler: Requiring 5 components for a complete installation, putting together the Fractal Design Lumen S36 RGB was extremely simple in our experience.
You want an uncluttered visual appearance: The cooler's excellent cable management system makes its appearance extremely uncluttered, which might be inline with some user's requirements.
Don't Buy It If:
You are looking for a silent experience: While noise levels are reasonable for the Fractal Design Lumen S36 RGB, anyone searching for a near-silent experience might be bothered by them.
Conclusion
In our last take, we tested the Fractal Design Celcius+ S36 Dynamic cooler. Now, we have tested the Lumen S36 RGB cooler from Fractal Design. Unlike Celcius+ S36 Dynamic, there's no fan hub on this radiator. The pump is integrated into the radiator, powered by a 3-pin flat cable with ample length for easy cable management.
We have tested this cooler on the AMD AM5 platform and installation was convenient, requiring only 5 components. The Fractal Design Lumen S36 RGB boasts a versatile design with a removable top cover that can be installed in any orientation, simplifying cooler installation. Furthermore, we have also tested digital RGB Lighting using GIGABYTE RGB FUSION 2.0, and synced lighting elements were working fine.
The Fractal Design Lumen S36 RGB, priced at $129.99 with a 5-year warranty, demonstrates manufacturer confidence. Despite reported malfunctions, responsive customer service reflects commitment. Performance is solid but trails slightly behind the Celcius+ S36 Dynamic. As the flagship, the Lumen should ideally match or surpass the Celcius+. Full-speed fan noise requires a custom curve for optimal management.
Recent Updates
---
November 11, 2023: Few text changes to improve readability. Added Galleries.
---
Was our article helpful? 👨‍💻
Thank you! Please share your positive feedback. 🔋
How could we improve this post? Please Help us. 😔
[CPU Coolers & RAM Expert]
Hayyan Serwer is a tech enthusiast, with a love for PC building and article writing. Hayyan specializes in writing about CPU coolers and RAM kits. Hayyan has been familiar with the tech industry for over half a decade now, and has now stepped into providing quality reviews for the latest and greatest tech.