Is It Still Good?
Review Summary
Fractal Design Celsius+ S36 Dynamic is still a potent performer even on today's platforms. This is a feature-rich cooling solution from Fractal Design using Asetek design. I would say it is a kick-ass cooler that offers a nice blend of features, an extended warranty, and good thermal performance, and it can still hold its ground.
Build Quality -

9.5/10

Design -

9.5/10

Performance -

9/10

Features -

9/10

Value -

8.5/10
Pros
Good Performance
Tinted glass pump face
Flick Switch to change the thermal mode
Digital RGB Lighting on the pump's top plate
Integrated Fan Hub
Easy Cable Management
Integrated coolant's temperature sensor
Single Cable Connection with a motherboard
AMD AM5 socket support
TR4 socket support
Easy Installation
Warranty
Cons
Loud Fans at full speed
Auto Mode loses full cooling potential in favor of silent operations
Not compatible with Intel LGA1700
Price
Fractal Design needs no introduction. They are highly popular among PC enthusiasts and are well known for their PSUs, PC Cases, Coolers, and accessories. Based in Sweden, Fractal Design has good coverage all over the world. Some of their popular PC Case series are Define, Meshify, and Torrent, to name a few. Fractal Design is a symbol of superb build quality with highly practical designs. Their customer support service is equally effective and efficient.
We are testing Fractal Design Celsius+ S36 Dynamic liquid cooler in this content. Quite a long name but not as long as on ALPHACOOL's products. This cooler is based on Asetek's 6th-generation pump design. This cooler is also available in RGB lighting as well. We are taking a look at the non-RGB coolers. This cooler has some distinct features up its sleeves. There is an ARGB-accented pump face on the pump's housing, and then there is an integrated fan hub on the radiator.
This reminds me of ARCTIC Liquid Freezer – II design though ARCTIC coolers don't have an integrated fan hub. The idea is simple; there is a single cable-based control on this cooler. Fans and digital RGB elements are connected to a Fan hub on the radiator, and there is a single 4-pin PWM cable coming from the pump's housing. This single cable will drive all fans and motors. The same idea applies to the RGB version of these coolers.
This unit is compatible with Intel 115x, 1200, 1366, 2011, and 2066 sockets. It is compatible with AMD AM4, AM3+, AM3, AM2+, AM2, FM2+, FM2, and FM1 sockets. Fractal Design has mentioned that this unit is also compatible with the AMD TR4 sockets using AMD brackets in the Ryzen ThreadRipper box. However, note that this unit will not provide full block coverage on that socket, unlike a SilverStone iCEGEM 360, which we have tested as well.
Some of the highlights from Fractal Design are:
Tinted glass pump face with backlit logo and ARGB LED effects
Smart auto control mode dynamically adjusts fan and pump speeds for the ideal balance of silence and cooling performance
Twist the pump face to change from auto to PWM mode for full user control
ARGB-enabled PWM hub places all fan connections directly on the radiator for a clutter-free installation
Sleeved tubing with concealed wiring connects power and ARGB for the entire system at the pump
ASUS AURA, Gigabyte Fusion, MSI Mystic Light, Razer Chroma, and ASRock Polychrome support
Pre-applied thermal paste guarantees optimal application with even coverage
Low-permeability rubber tubing with nylon-braided sleeves for extra durability and an added touch of style
Articulating elbow fittings make tubes easier to route while reducing tension on the pump
High-performance Dynamic X2 PWM fans provide excellent airflow with minimal noise (Dynamic versions only)
Optimized fan geometry balances airflow with extra emphasis on static pressure
Strategic blade notches diffuse noise from blade/stator interaction (Dynamic versions only)
Trip Wire technology reduces blade turbulence
LLS (Long Life Sleeve) fan bearings provide silent operation with a long lifespan
Backed by a 5-year warranty for extended peace of mind
Specifications
| Product | Fractal Design Celsius+ S36 Dynamic Cooler |
| --- | --- |
| Supported sockets (Intel) | 1150, 1151, 1155, 1156, 1366, 2011, 2011-3, 2066 |
| Supported sockets (AMD) | AM2, AM2+, AM3, AM3+, AM4, FM1, FM2, FM2+, TR4 (via included bracket in AMD Threadripper box) |
| Coldplate material | Copper |
| Thermal paste | Pre-applied |
| Block height | 45 mm |
| Block measurements (with fittings) | 86 x 75 mm |
| Block diameter (main block body) | 62 mm |
| Pump rotational speed | 800-2800 RPM in normal use, 3500 RPM during thermal protection mode that activates if liquid temperature is over 60°C |
| Pump bearing type | Ceramic bearing and shaft |
| Pump PWM control | Yes |
| Pump acoustical noise (full speed) | 20 dBA |
| Pump maximum pressure, 50°C | 1.46 mm H2O |
| Pump input voltage | 12V DC |
| Pump input current (without fans) | 0.36A |
| Pump MTTF | 50,000 hours |
| Tube length | 400 mm |
| Tube material | Low-permeability rubber with braided nylon sleeve |
| Fittings, block side | Articulating 90-degree elbow |
| Fittings, radiator side | Straight rotary |
| Fan control | Dual mode (Auto/PWM) |
| Warranty | 5 years |
| Fan type | Dynamic X2 GP-12 PWM |
| Rotational speed | 500 – 2000 RPM |
| Bearing | LLS |
| PWM | Yes |
| Acoustical noise (max) | 32.2 dBA |
| Airflow (max) | 87.6 CFM |
| Static pressure (max) | 2.3 mm H2O |
| Input voltage | 12V DC |
| Input current (max) | 0.2A |
| MTBF | 100,000 hours |
| Radiator dimensions | 123 x 30 x 403 mm |
| Radiator housing material | Aluminum |
| Radiator fin material | Aluminum |
| Radiator fan screw threads | 6-32 |
Packaging Box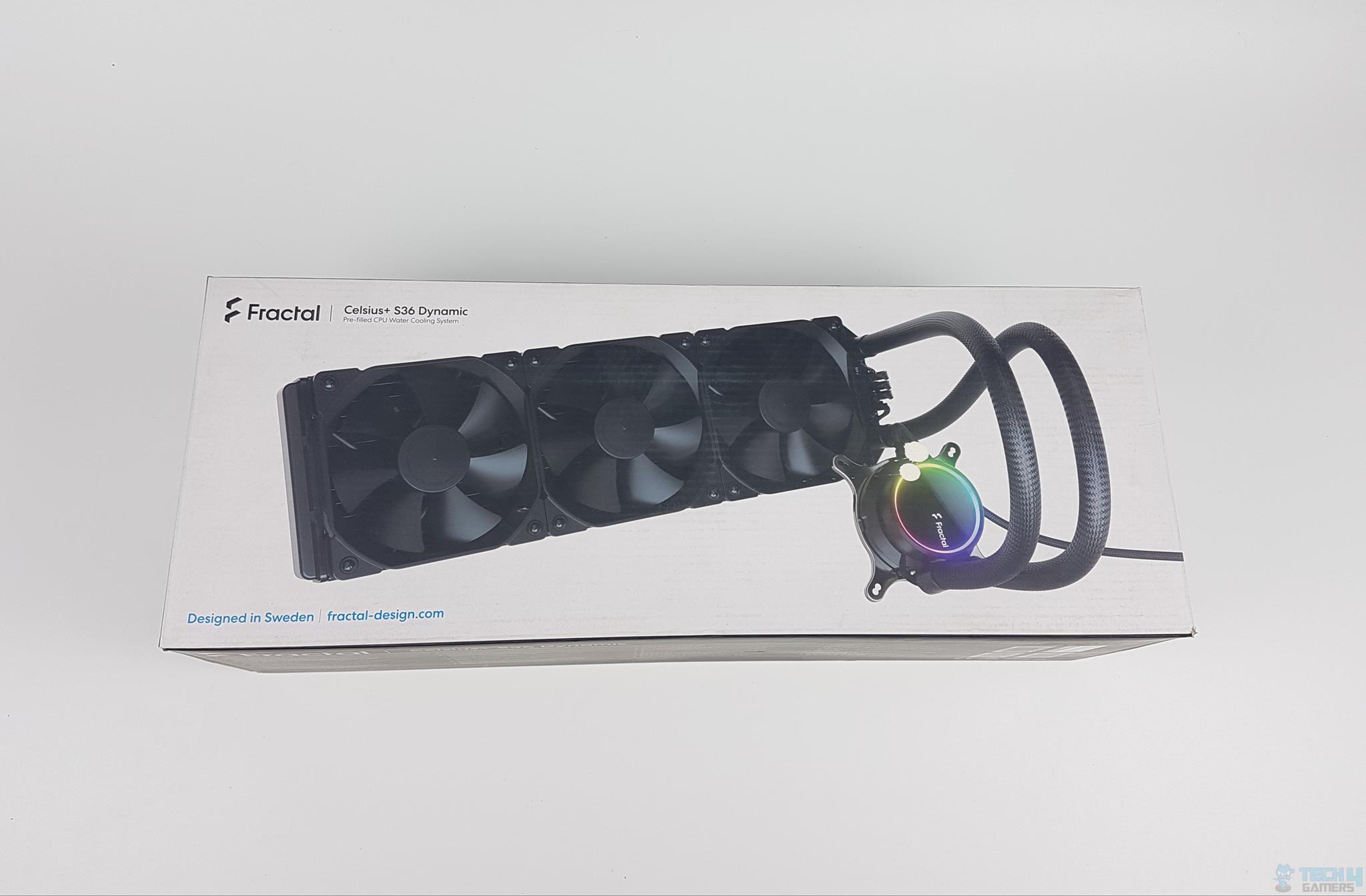 This cooler is shipped inside a cardboard box. There is nothing particular on this side except that it is designed in Sweden.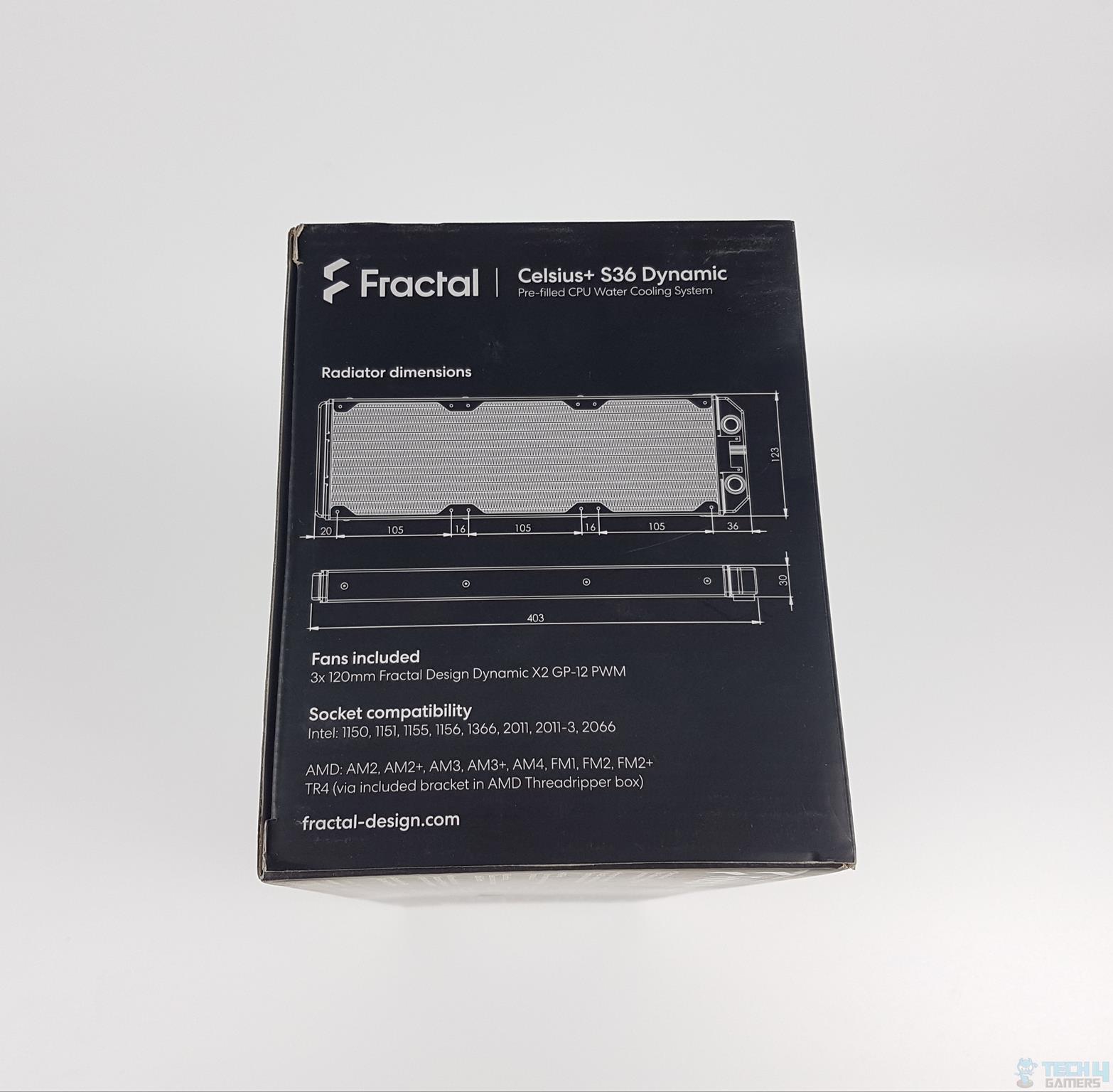 One of the sides of the packing box show dimension of this cooler on diagrams. Socket compatibility is also listed here. This cooler is not compatible with Intel LGA 1700 socket since it was released before this new socket. Since it uses an AMD stock backplate and clips design for mounting on an AM4 socket, it is also compatible with an AM5 socket.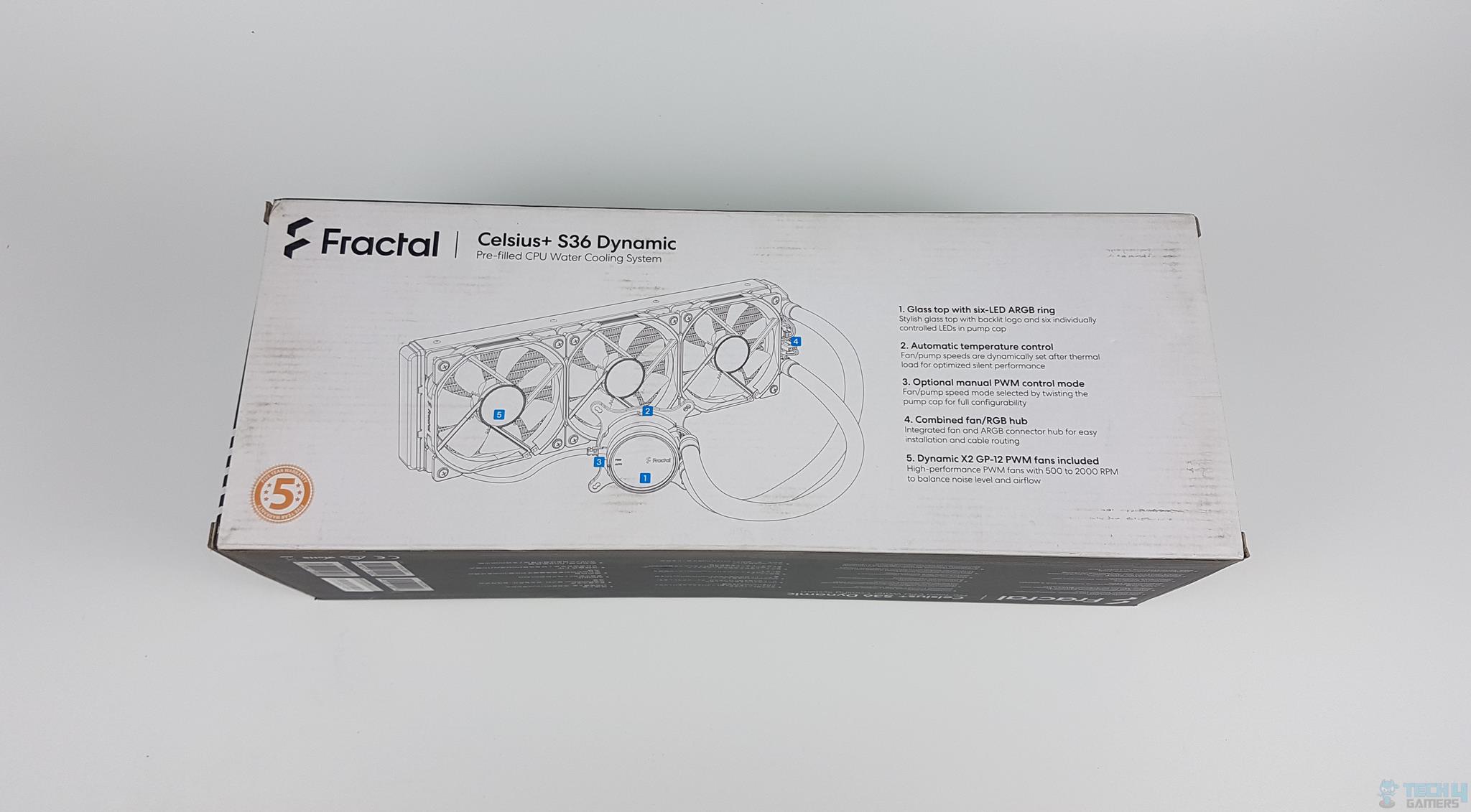 Fractal Design has highlighted a few salient features like this cooler has a Glass Top, which is RGB backlit. It also has a switch for Auto and PWM profiles for the fans and pump. Fractal Design has provided Dynamic X2 GP-12 PWM fans with this cooler.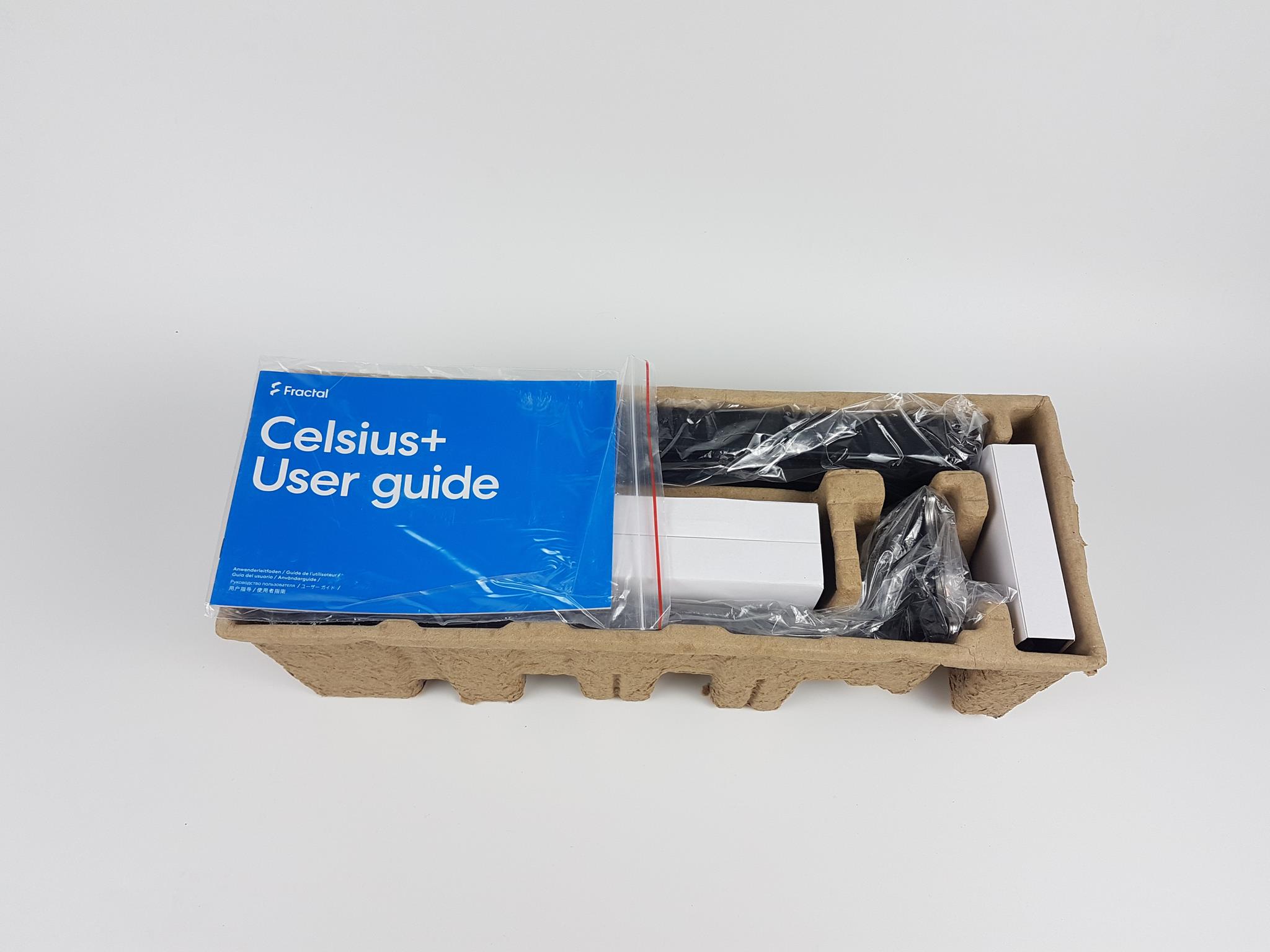 The contents of this cooler are nicely placed inside an egged carton. A user manual is placed over the top. Each fan is placed inside a white color paperboard box.
Contents
It is time to take a look at mounting hardware.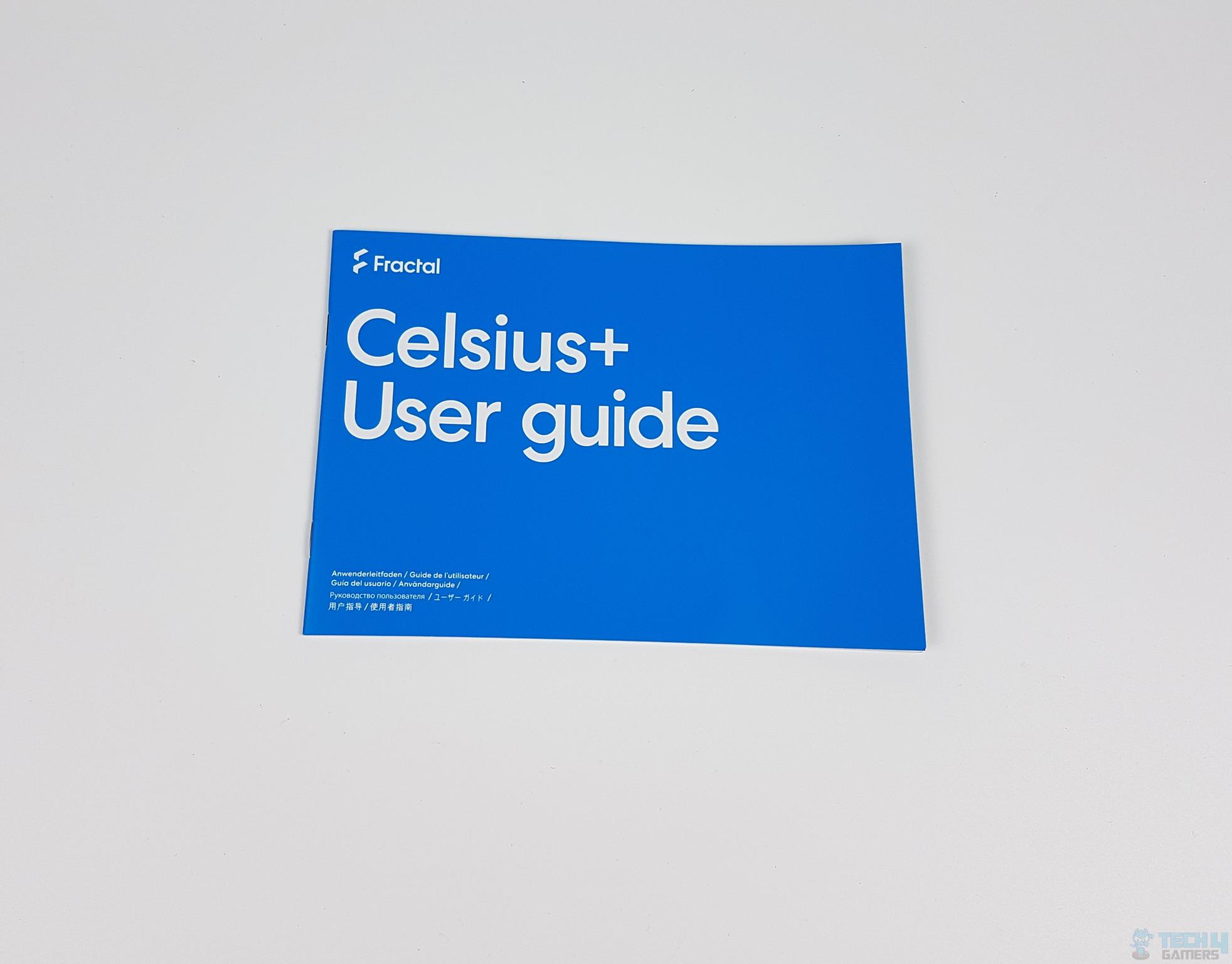 Fractal Design has provided a comprehensive user manual for this cooler. I must say this is even more extensive than the ones on EK Water Blocks' products.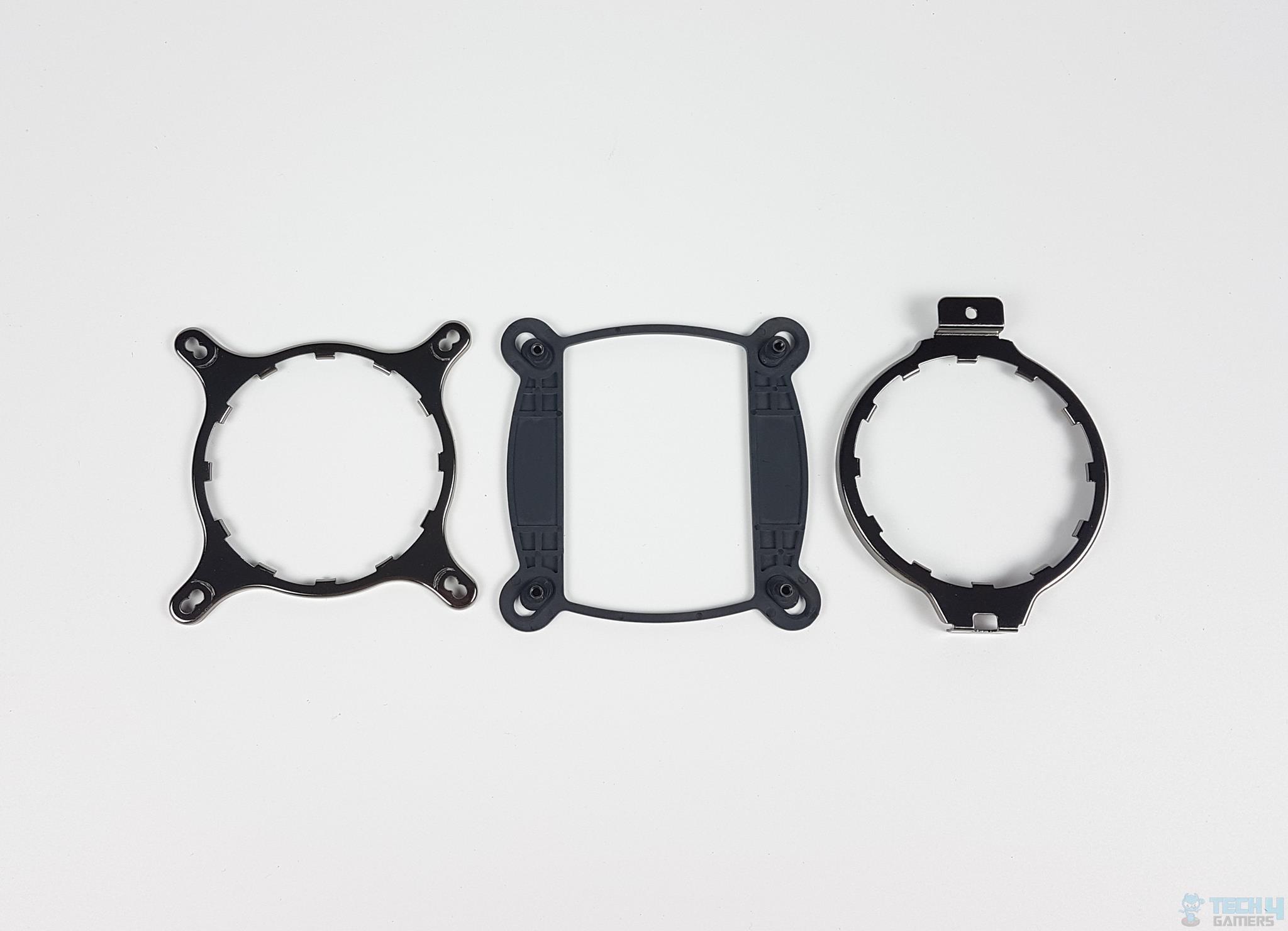 1x Intel Backplate
1x AMD Ring Bracket
1x Intel Ring Bracket
The Intel mounting ring is pre-installed on the block. We took it off to include in this picture.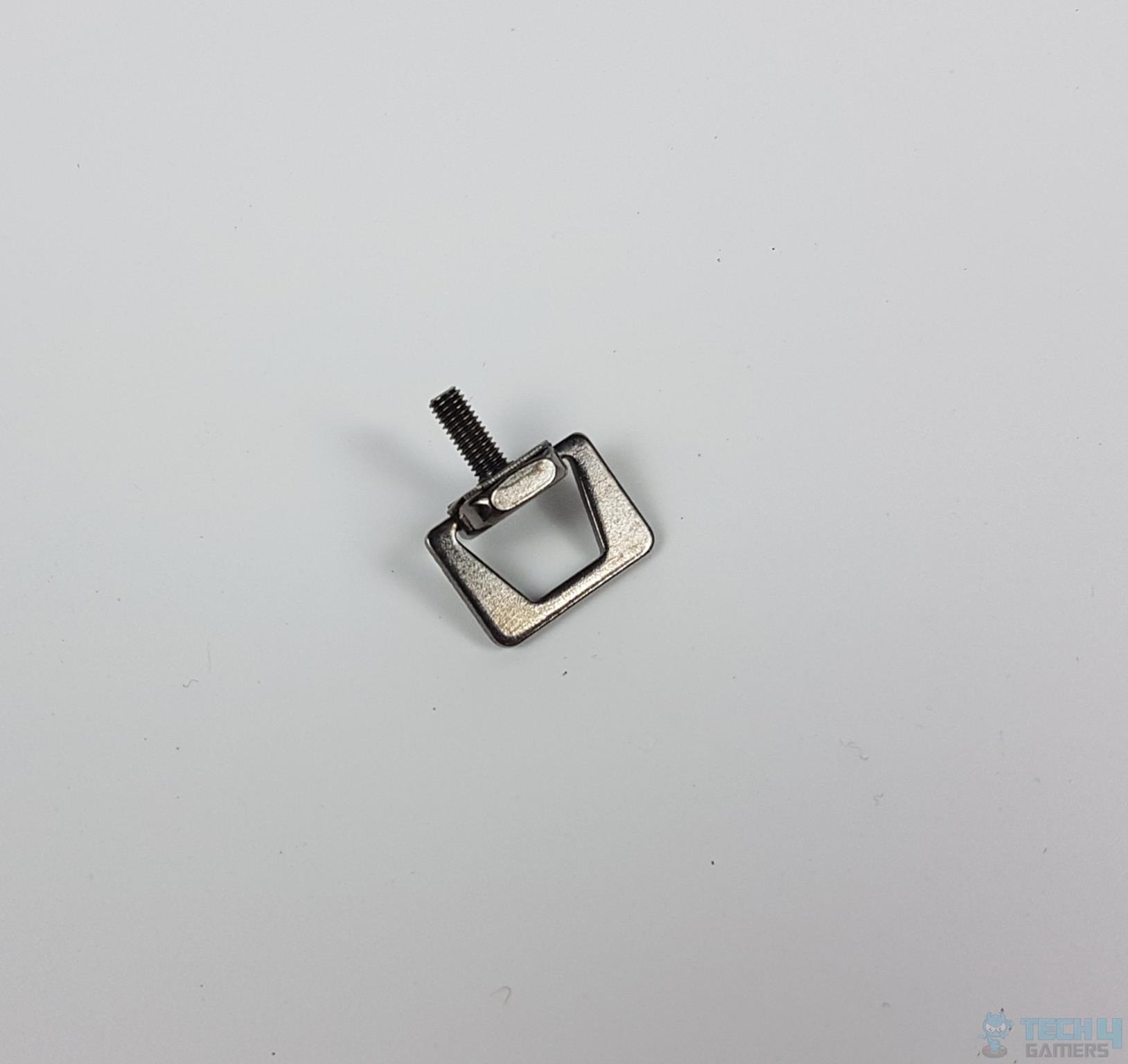 1x AMD pin is provided for AMD socket installation.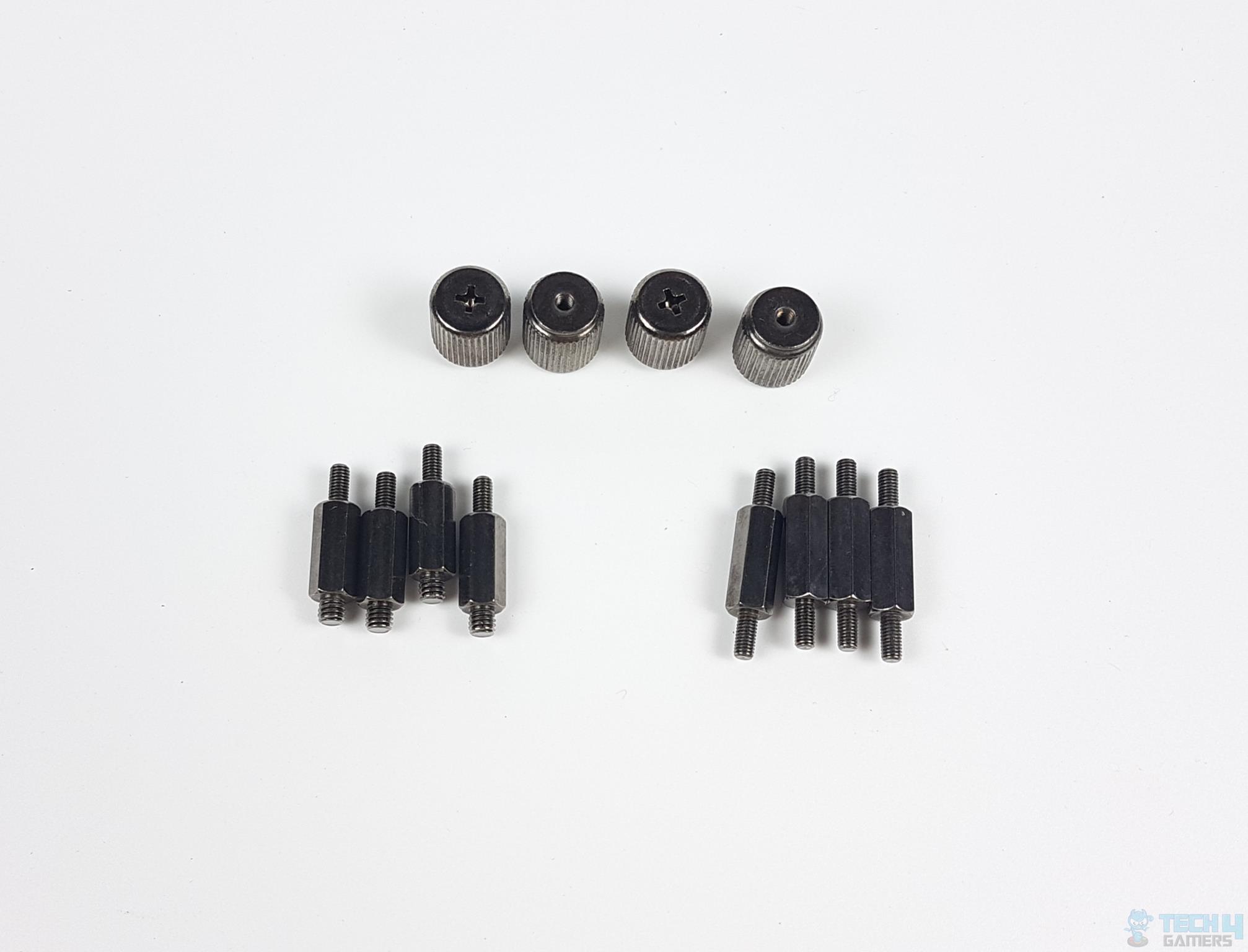 4x Thumb Nuts
4x Intel LGA20xx Standoffs
4x Intel other sockets Standoffs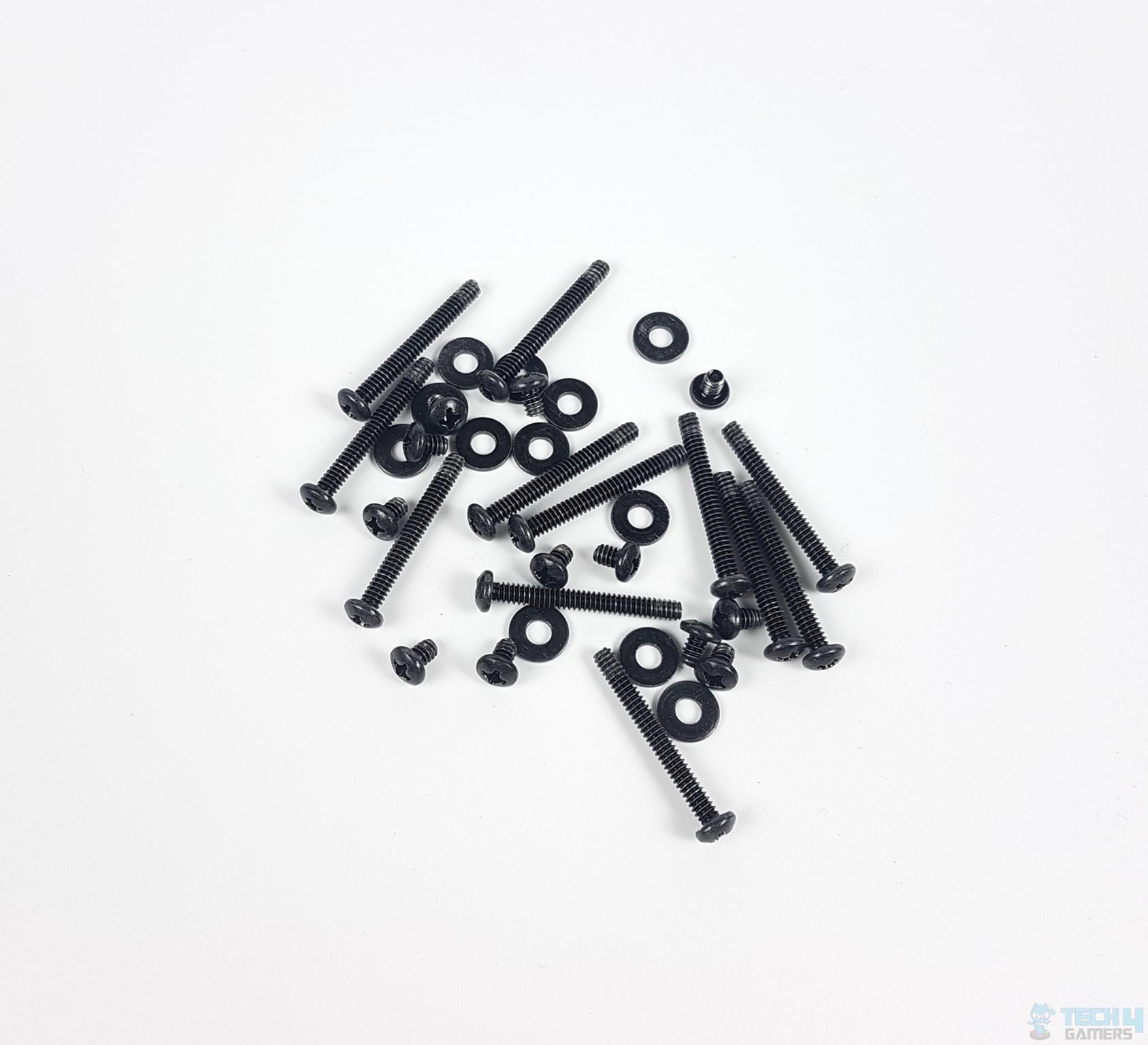 12x Long Philips Screws
12x Short Philips Screws
12x Washers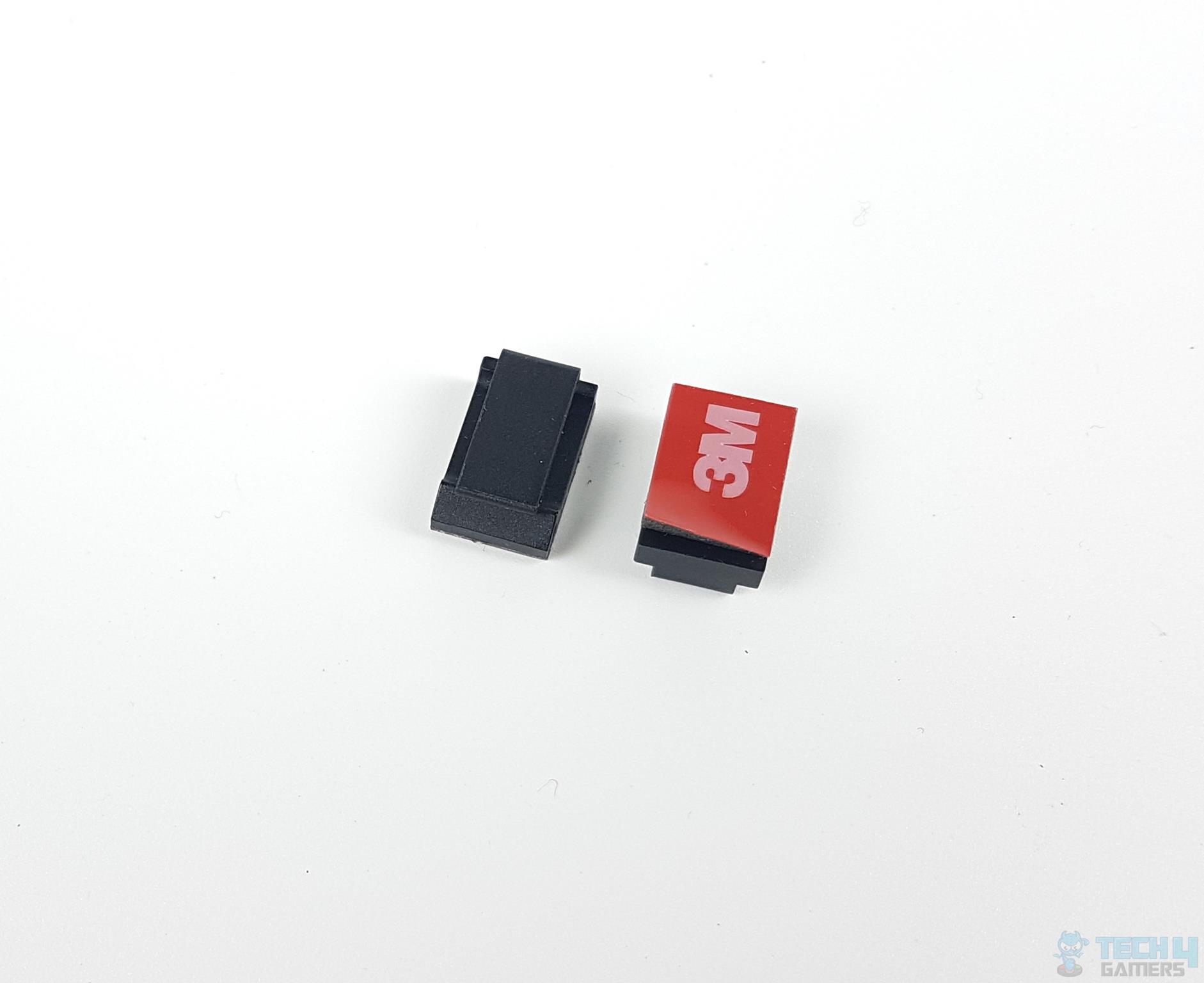 Fractal Design has provided 2x self-adhesive clips for cable management. Since the idea is to route the cables of the provided fans from the radiator side toward the fan hub, these clips may secure those cables. We came up with another idea and used the fans' position on the radiator to provide a neat outlook without using these clips.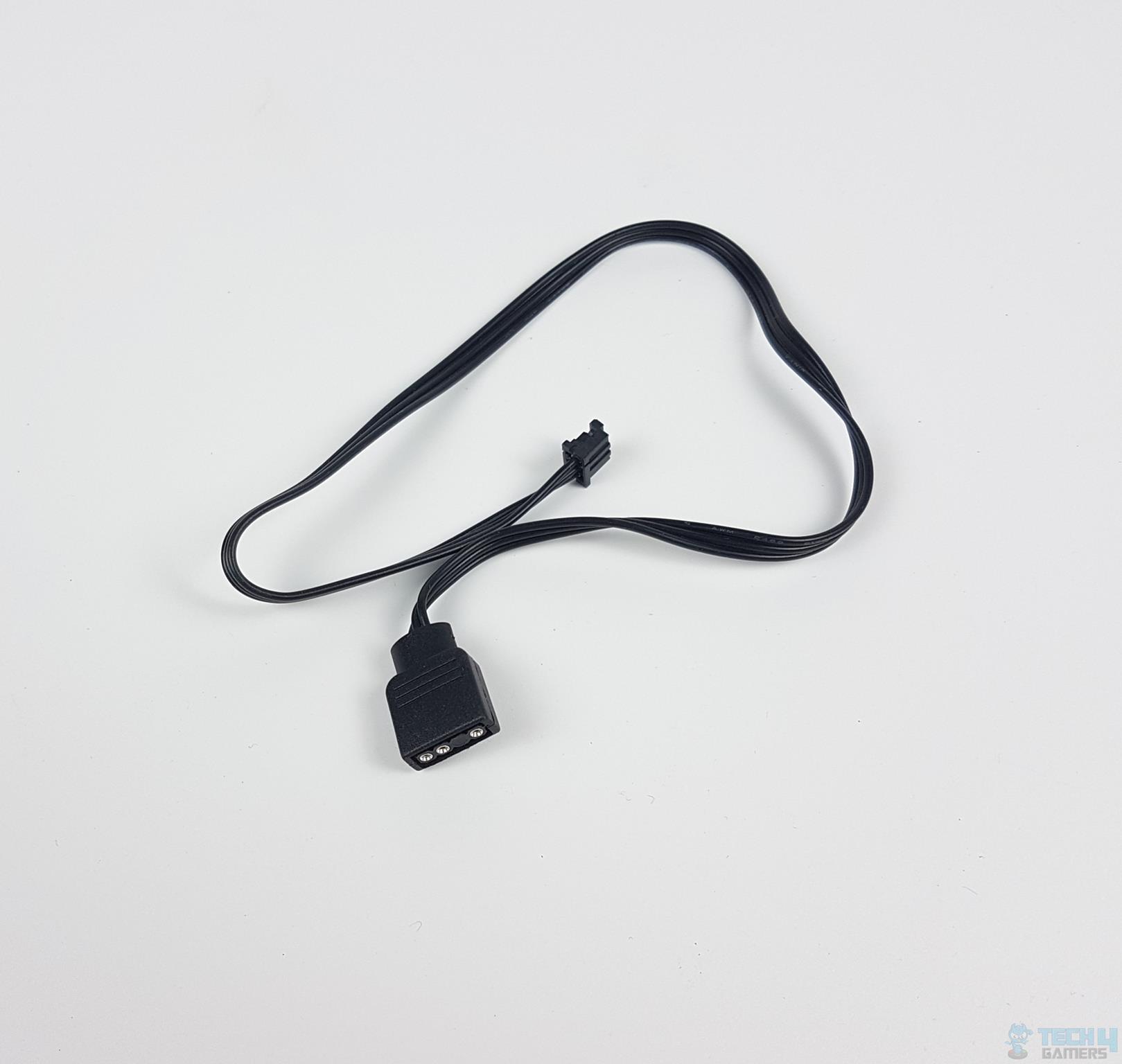 There is a digital RGB cable that is to be connected to a pump's housing using a proprietary connector. The other end of this cable has a standard 3-pin, 5V RGB connector.
Design
Let's take a look at the design of this cooler, starting with a statement from Fractal Design. "Celsius+ takes AIO water cooling to a new level with an ARGB-accented pump face, a fully redesigned block, and an upgraded on-radiator PWM fan hub with ARGB support. Cleverly concealed wiring in the Celsius' braided sleeve tubing cleanly connects both power and RGB for the entire system at the pump, and selectable auto/PWM modes offer smart, dynamically optimized performance with the choice of full user control for expert fine-tuning. Available sizes include 240 mm, 280 mm, and 360 mm, each with a choice of Dynamic X2 or Dynamic ARGB fans pre-installed."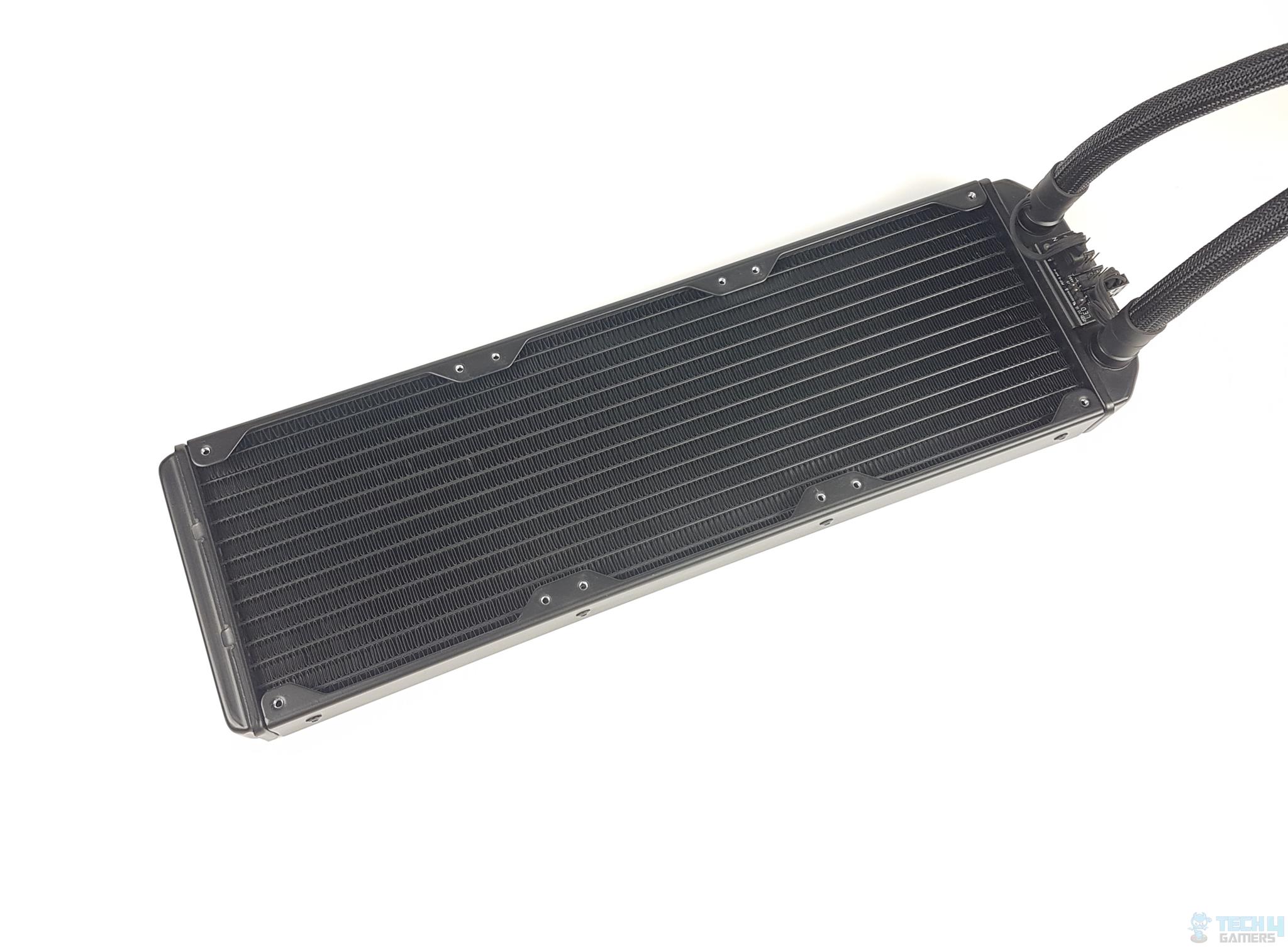 This cooler is entirely made of aluminum material, including its housing. This is a standard design for AIOs. This unit has a dimension of 403 x 123 x 30mm. As usual, our focus is on the thickness, which is 30mm. Adding a 25mm thick fan over would give an overall height of 56mm, including heads of screws. This is a dense fin stack, and Fractal Design has done a good job here. The FPI count is 20, so high static pressure fans would be needed. There is a distance of 105mm between any two mounting holes on opposite sides. There is a gap of 15mm between two adjacent mounting holes on a side. This radiator has 12 channels for coolant flow. Fractal Design has used 6032 threading on mounting holes.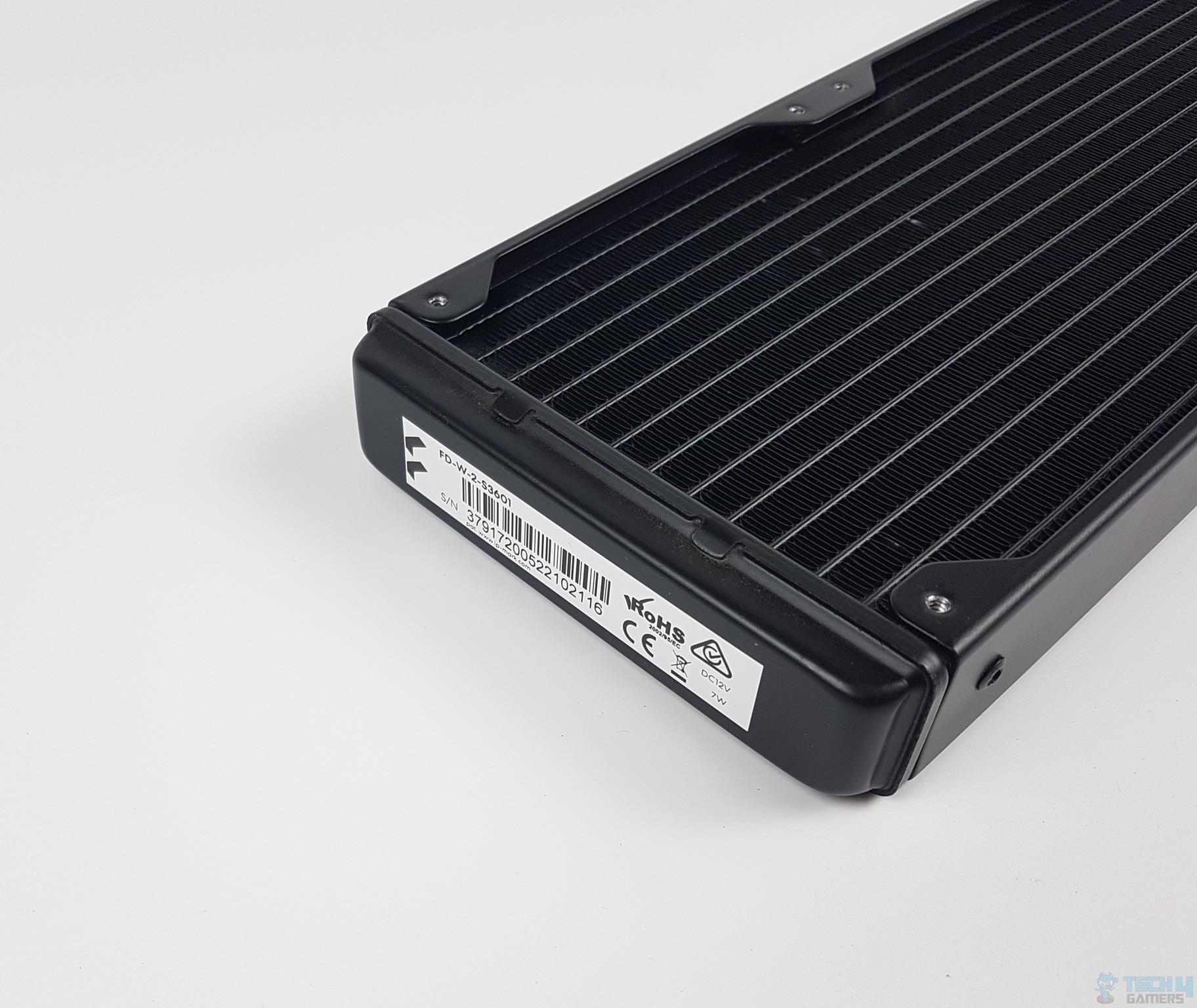 Both blocks of this radiator are rounded on corners and have a slim outlook. We have mentioned that this is Asetek's design based on their 6th generation. We can see a serial number sticker along with a power rating which is probably of the pump unit. It is 7W using 12VDC.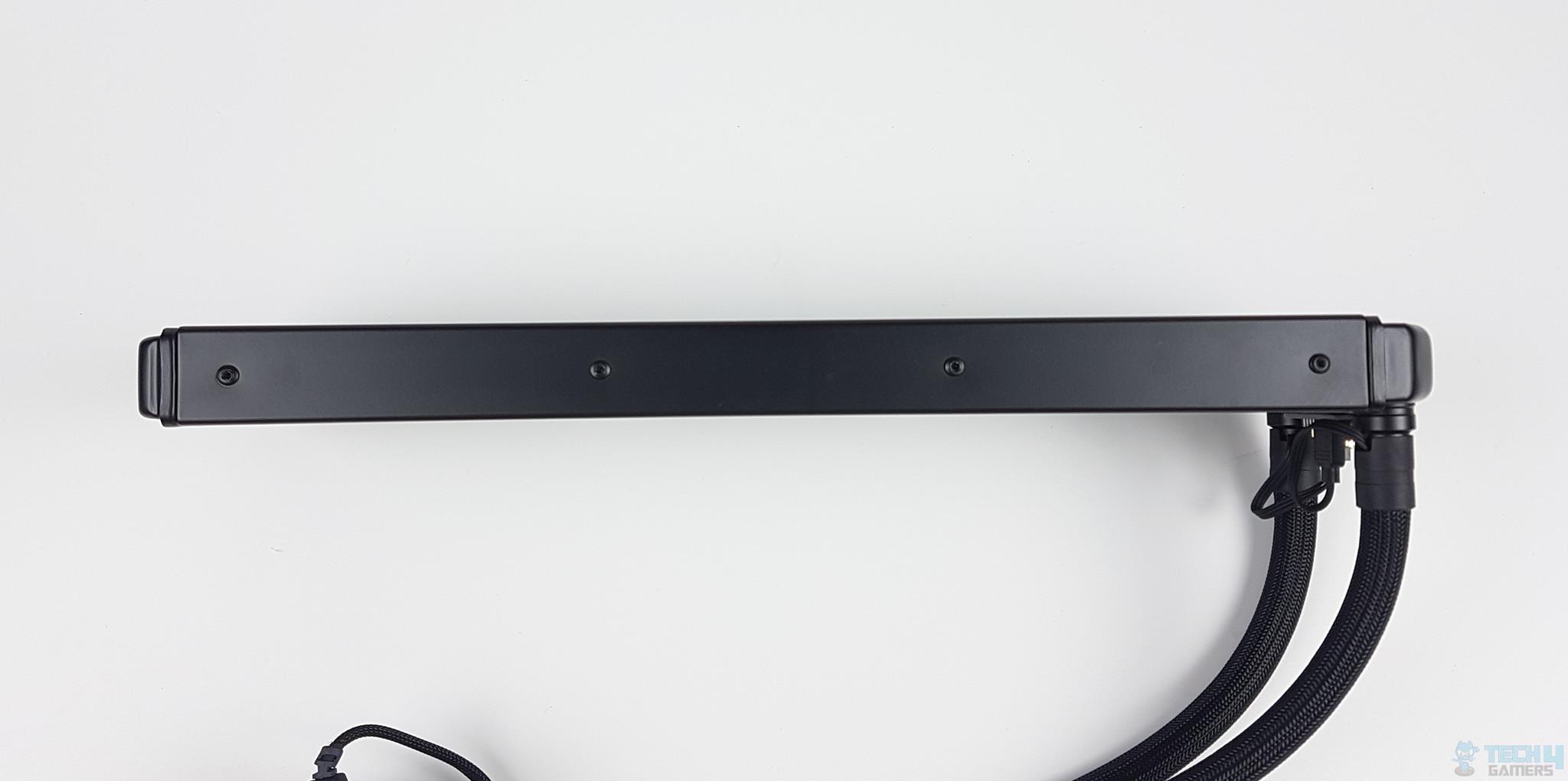 Each side of the radiator has a protective frame that seems to be riveted. There is no branding of any sort on either of these sides.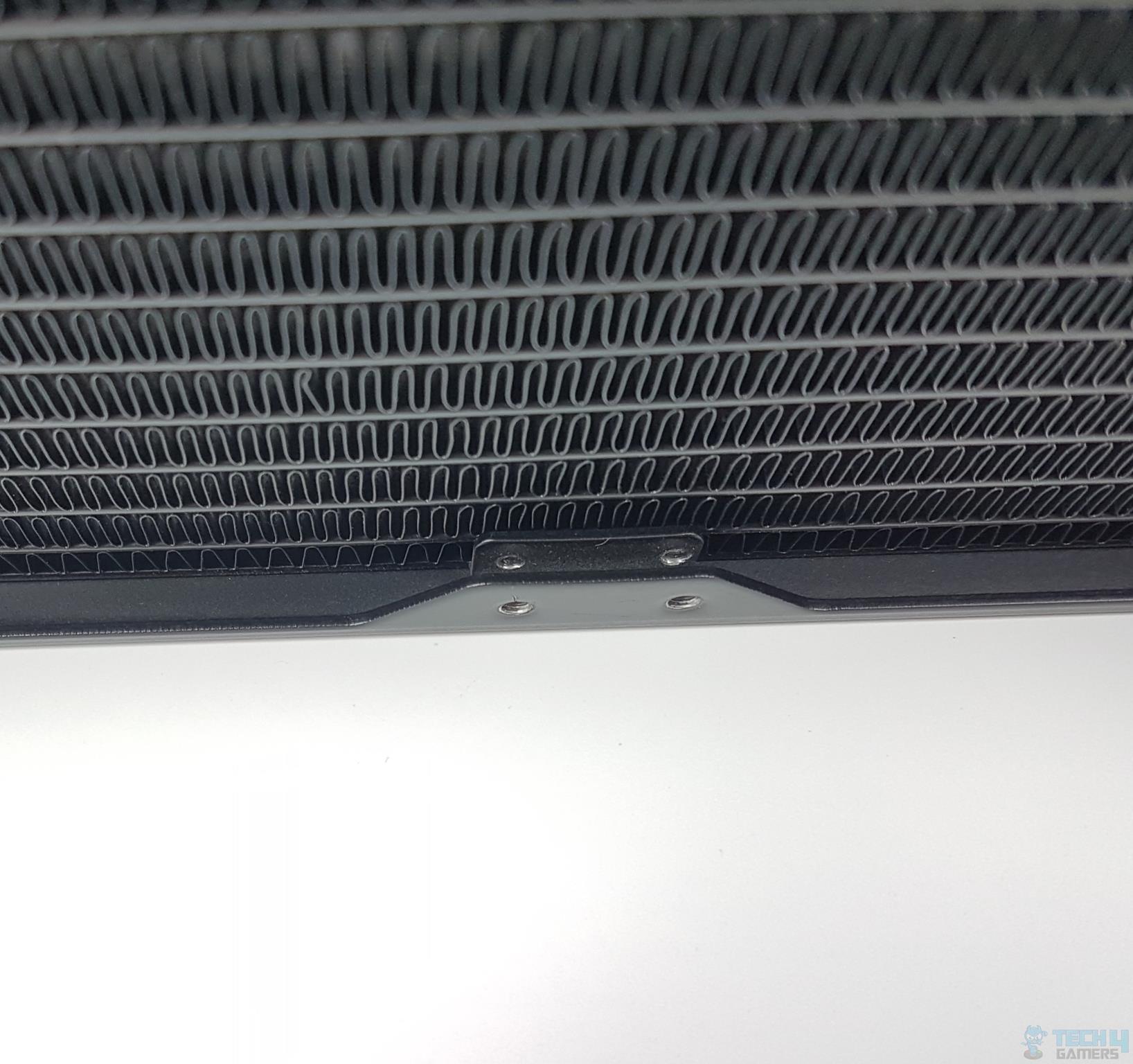 Unlike the majority of the AIOs in the market, this cooler has protective plating right below the mounting holes. This is there to prevent any damage to fins from excessive screwing.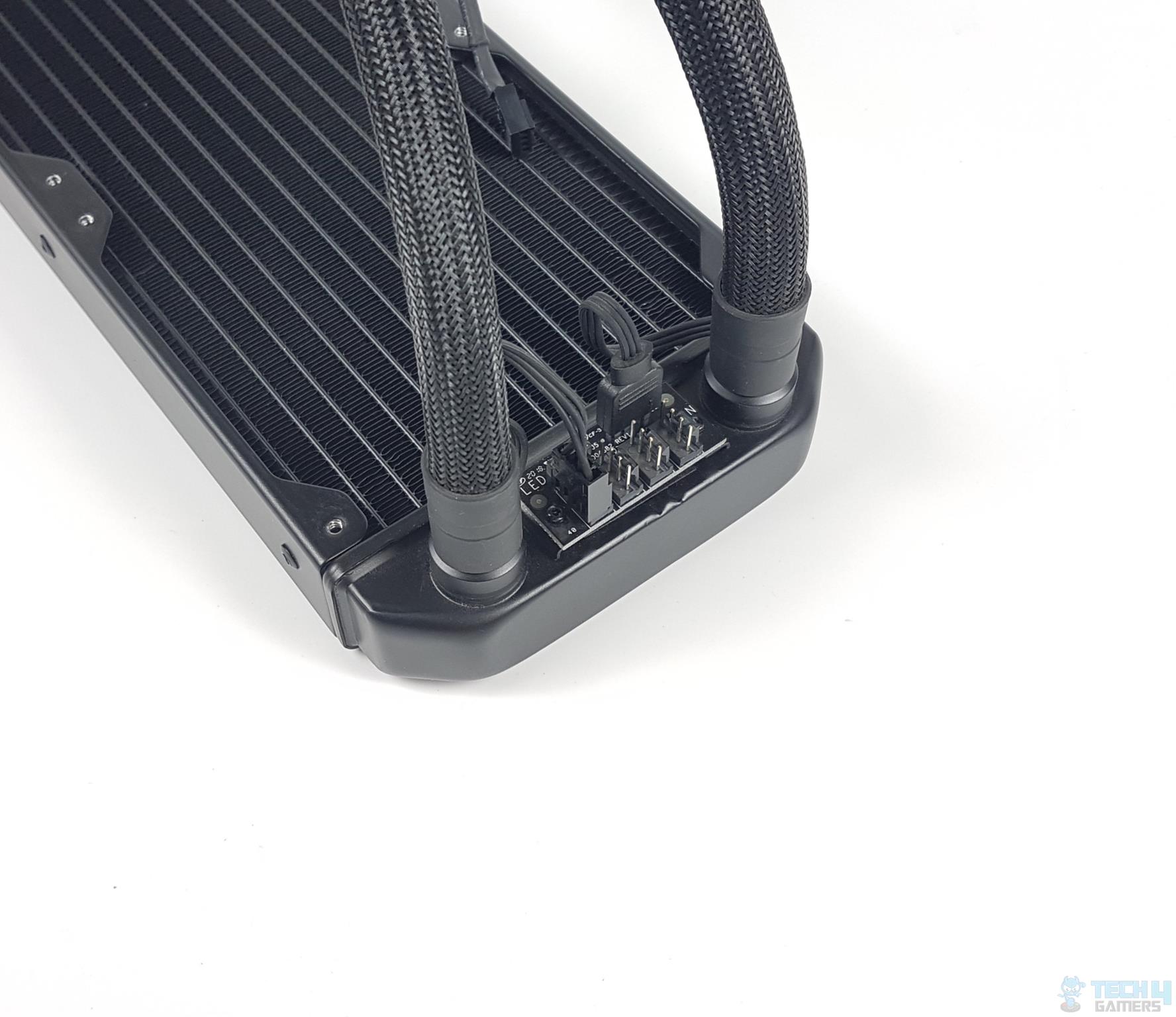 One thing that I really appreciate about this design is that it is well-planned and equally well-executed. Fractal Design uses straight rotary fittings on the radiator with large-size couplings. This large size could increase the overall thickness of the assembled cooler. Take a look at that! There is a 4-port PWM and 2-port digital RGB lighting hub integrated into this radiator. It has a black color PCB. The ports detail is as under:
2x digital RGB LED headers using a standard 3-pin and 5V interface
4x 4-pin PWM headers for fans
A closer look will indicate that a port of each type is already taken up. This would leave us with 1x digital RGB header and 3x 4-pin PWM headers. The reason is simple. The two occupied ports are connected via pre-routed cables under the sleeve tubes towards the block. Since we can house 3x fans in a standard configuration on this radiator, so we have 3x ports on this hub. The RGB elements are required to be daisy-chained and then connected to a single header on this hub. The PCB of this hub is well labeled, showing which header is for which category.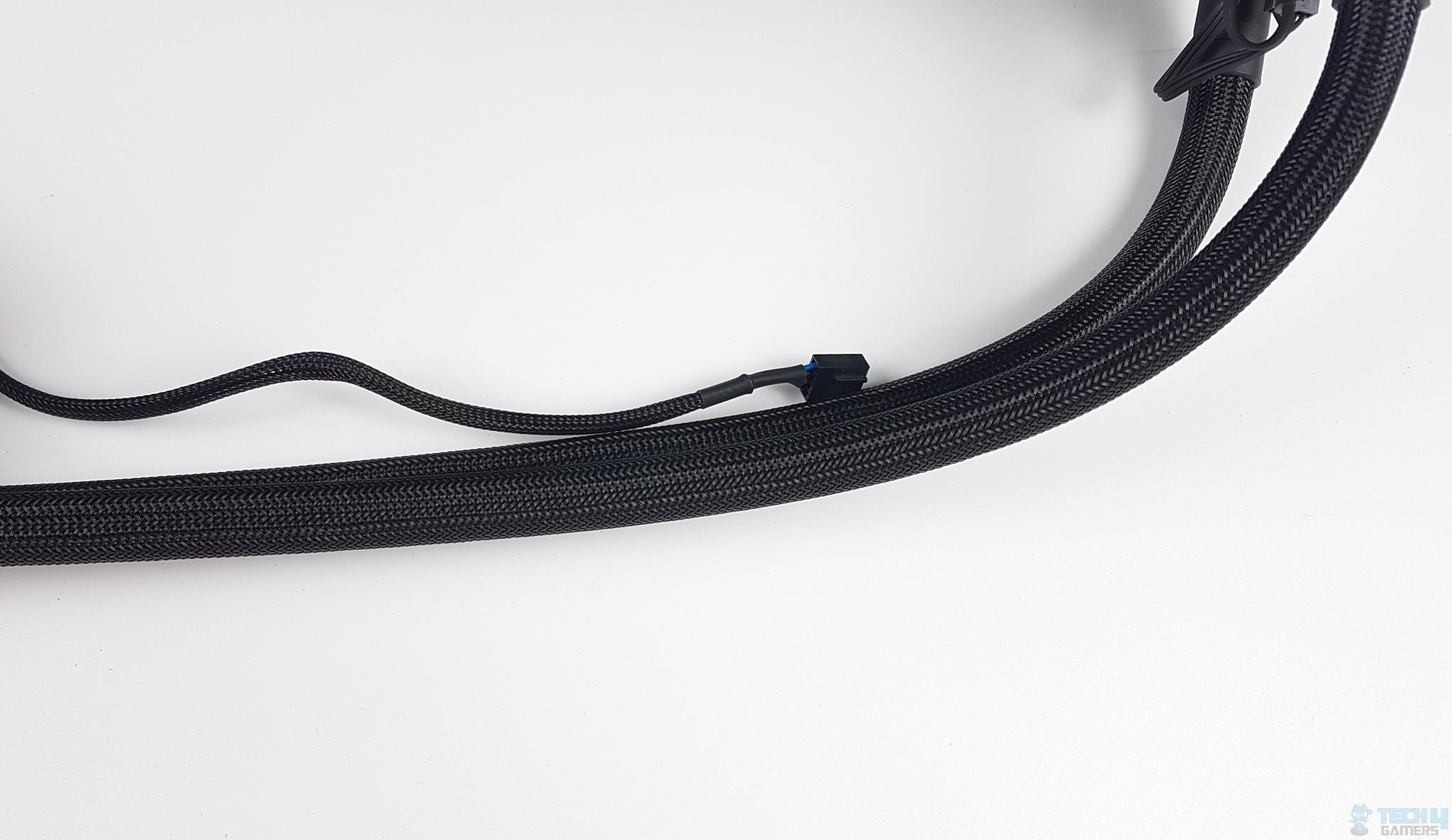 Fractal Design has used a Low-Permeability rubber tube on this cooler. These tubes have a length of approximately 400mm. They have a nylon braiding sleeve which also hides two flat cables. One cable is routed under one tube. This is another well-thought-out execution.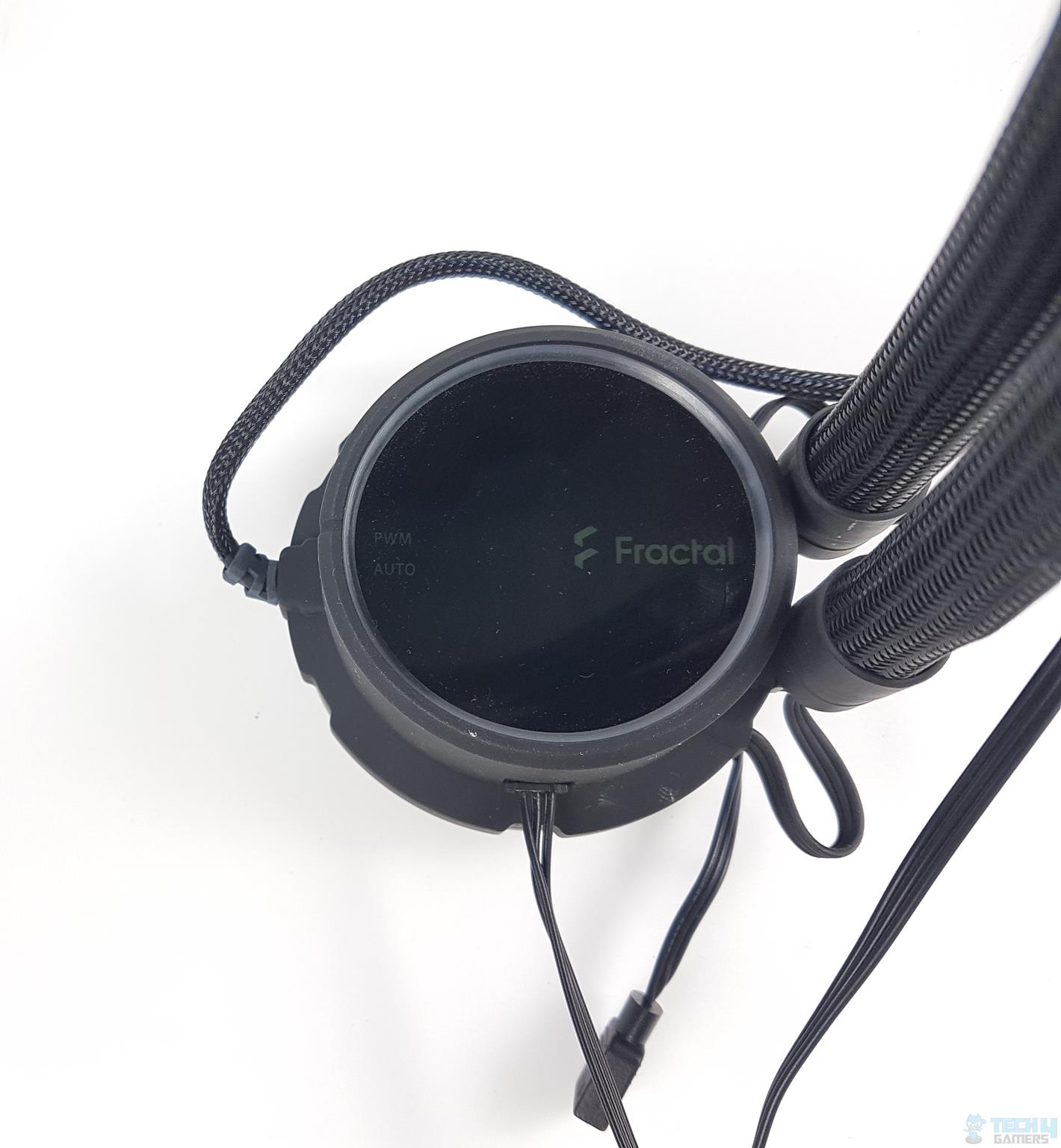 Let's take a look at the pump housing and see what magic Fractal Design has done here in terms of customization on top of the Asetek pump. This is a low-profile design standing at 86x75x45mm with fittings. It is circular in shape and made of ABS material. The main body has a diameter of 62mm. There is a tinted glass pump face over the top. It has a backlit Fractal Design logo and a digital RGB ring using 6x LEDs. We can also see Auto and PWM text there as well. The top frame acts like a switch. It can be rotated to switch from Auto to PWM and vice versa. This will change the profiles of the fans and pump. These texts are white color backlit. We can spot a diffuser running on the border up top. It is not in a white frosted like many other solutions carry.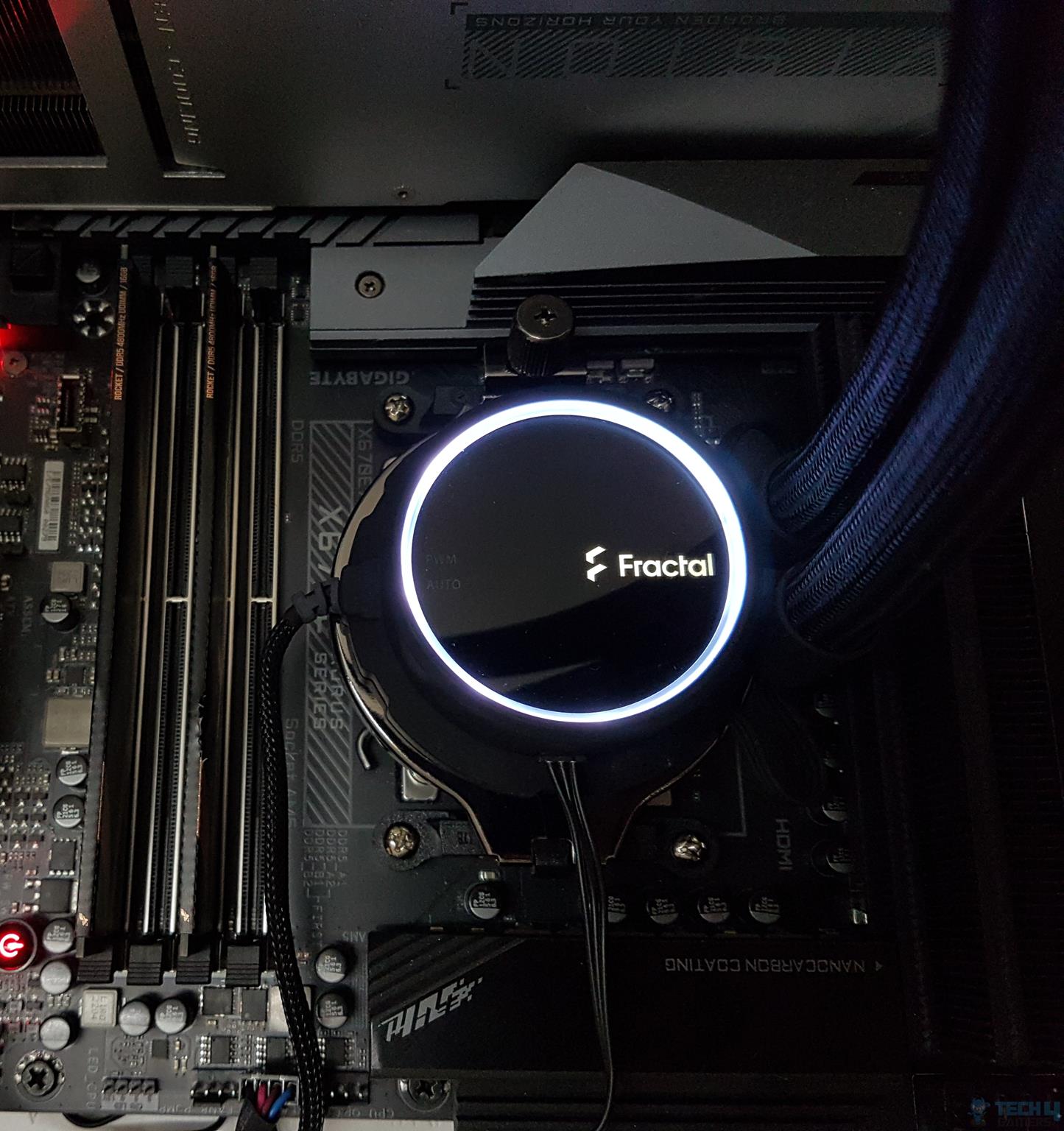 The above picture shows white color backlighting on Fractal text. White color lighting is on the ring as well.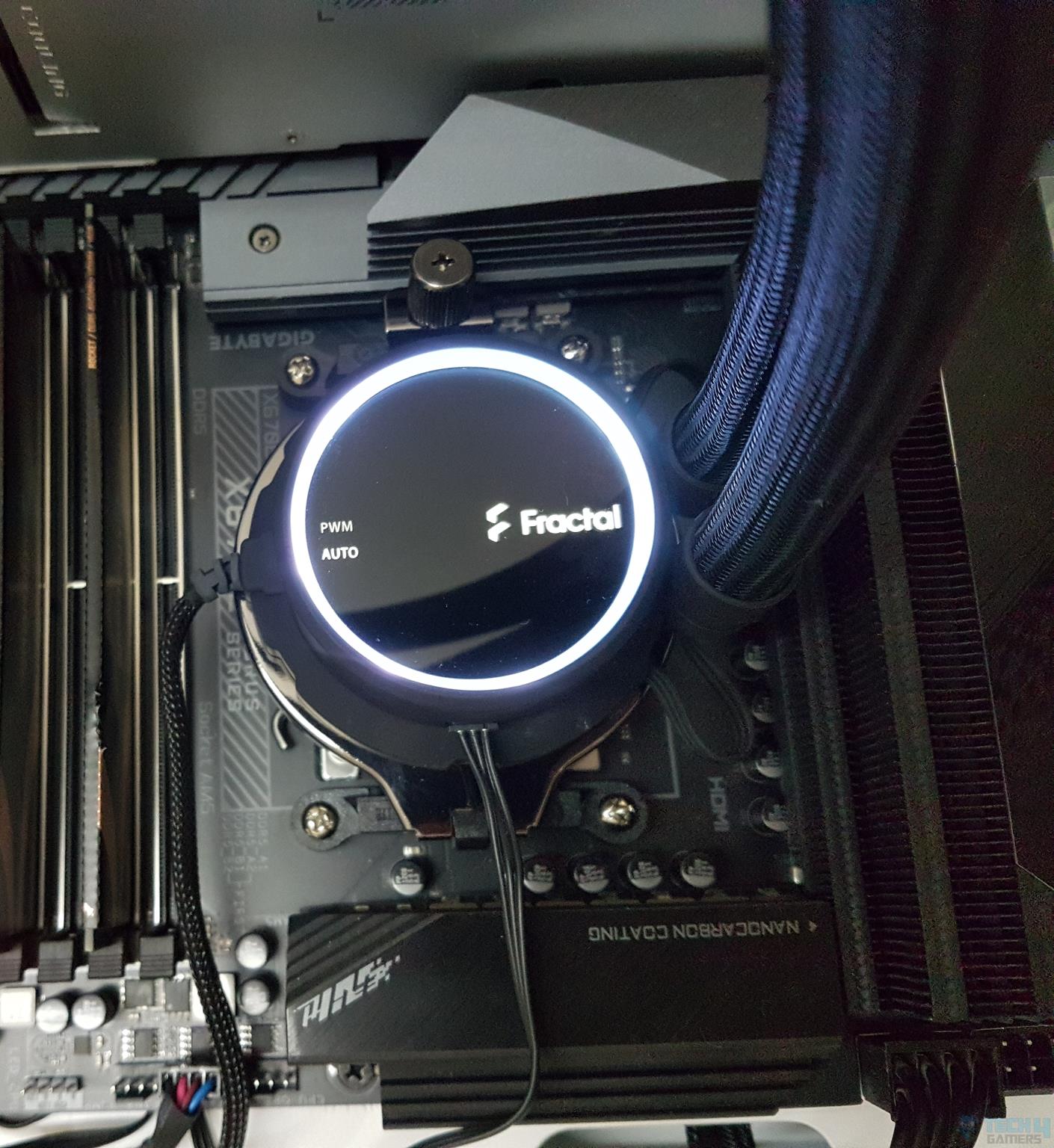 When the switch is activated, Auto and PWM text remain backlit for a few seconds. This shot was taken during this time. Sorry for the poor quality.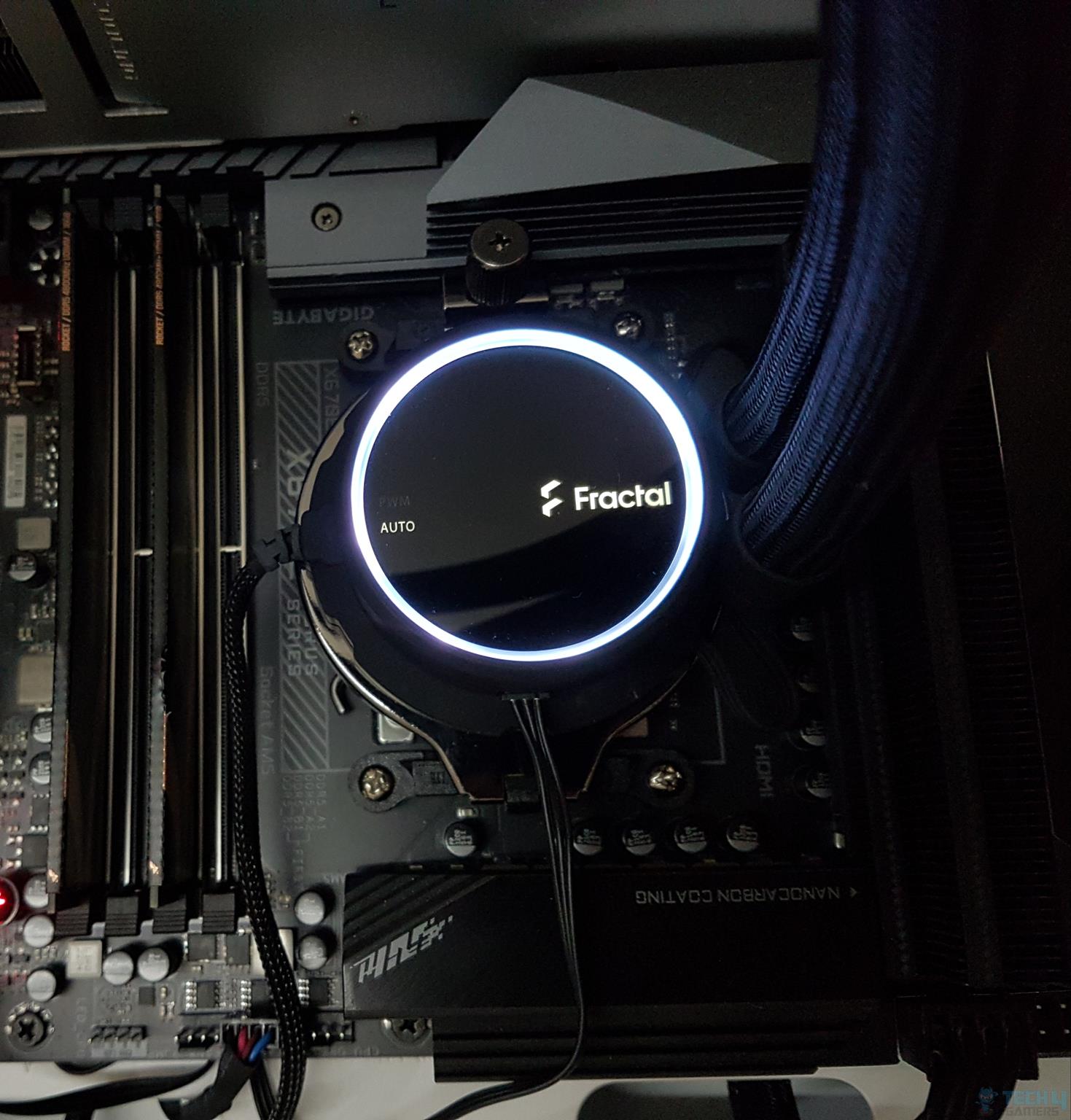 Here we are activating the Auto function, which would immediately the loud noise from fans.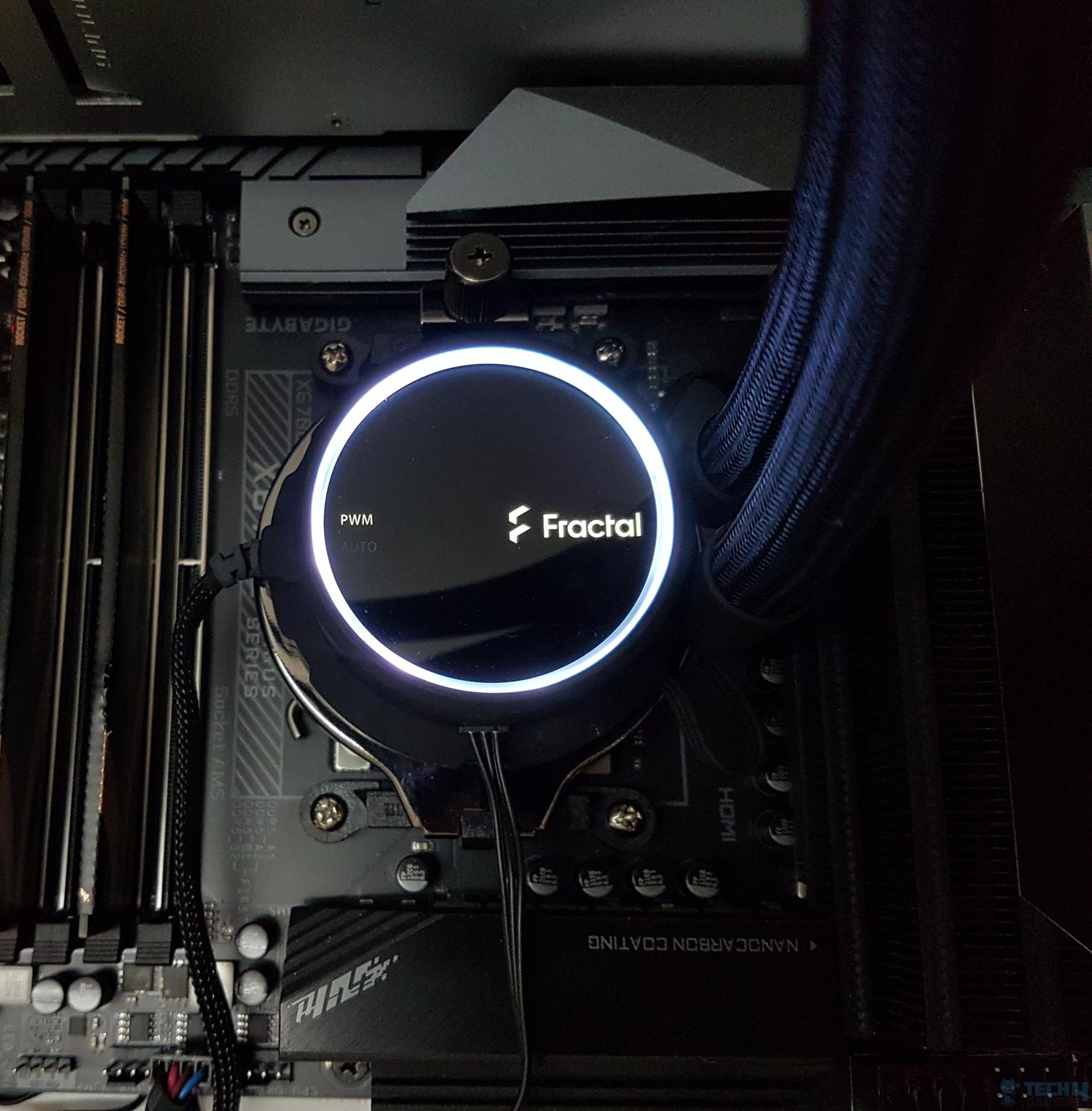 Here we are activating the PWM function, which is a default function. This mode will keep fans and pump running at full speed.
Since we are at it, let's briefly see what does each mode do? In a standard configuration, users are expected to connect all three fans to the integrated fan hub, and there is only one cable that would be connected to a motherboard's fan header. That cable is coming from the pump's housing.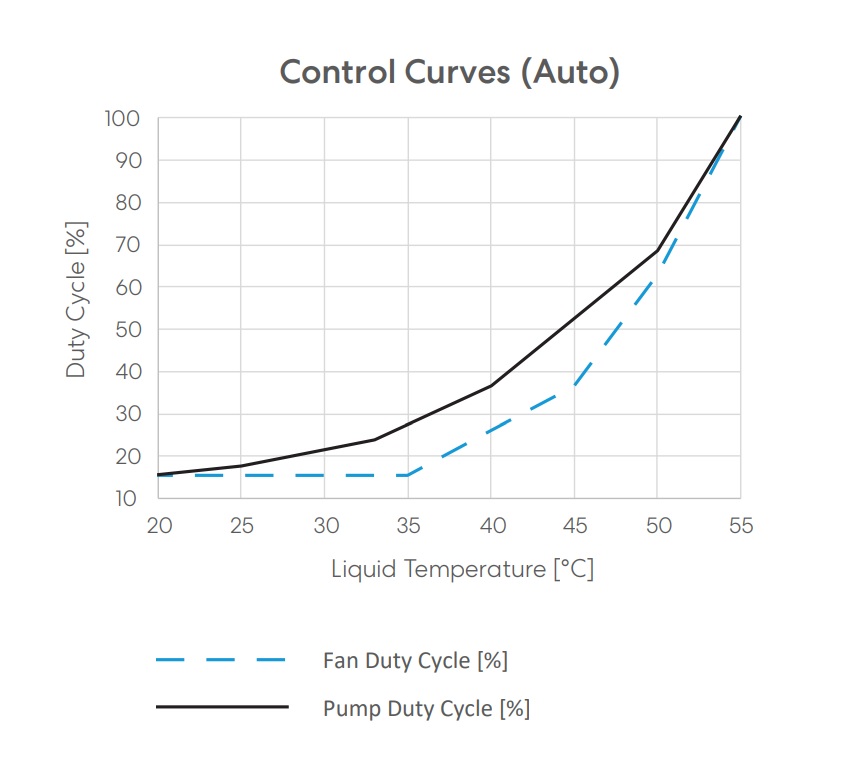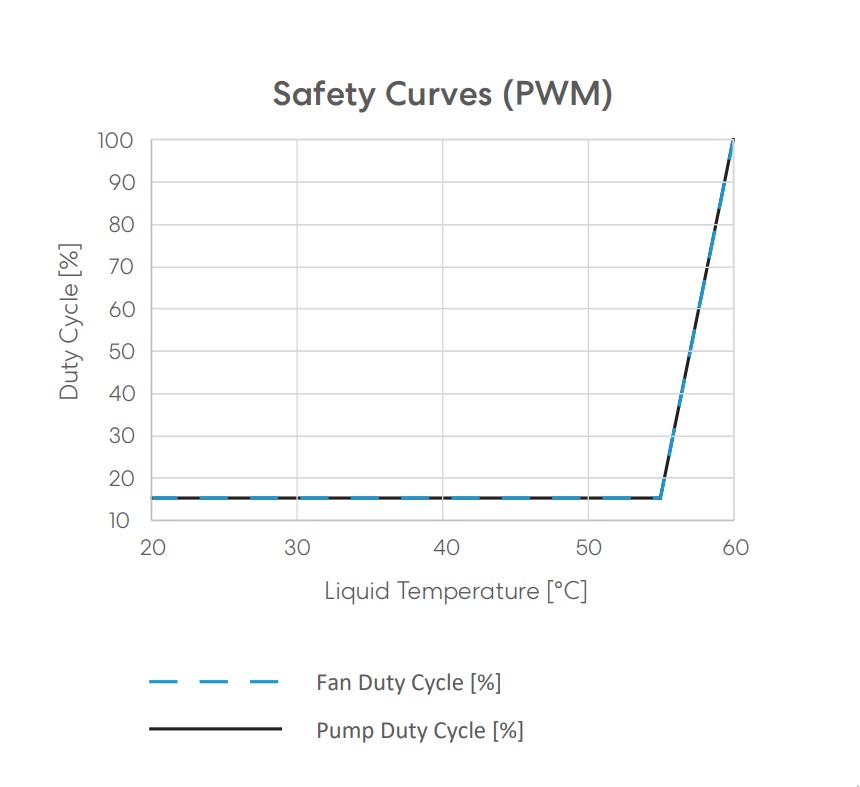 Fractal Design has focused on silent operations in Auto mode. There are pre-defined or pre-programmed fan curves for both modes. The firmware of this cooler will make the switch after the user engages it using a physical switch on the housing. In this mode, the firmware will keep the pump's noise at or below the fans' noise. The pump is rated for 20 dB(A). This would mean we are asking the complete unit to operate at 20 dB(A) or below. Practically, this is not desirable as we are losing fans' performance throttle. This would also mean that the coolant will run hotter than it would otherwise since the complete unit is below its true cooling potential. All this is done to produce almost no noise, and literally, it does that.
In PWM mode, the user has control via the motherboard's BIOS settings. But keep in mind that there is a condition of coolant temperature not crossing over 60°C. Whatever setting on that fan header is, the same will be applied to the fans and pump. Yes, we now have another restriction. Since this is a synchronized operation, so the fan will also be operating at a lower speed, and there is no way to control the speed of the pump independently in a standard configuration. The only way is to connect fans directly to the motherboard and bypass the integrated hub. This way, we can control fans and pump separately. Though this would kill the very functionality of the hub, and it has contributed to a total overall cost as well.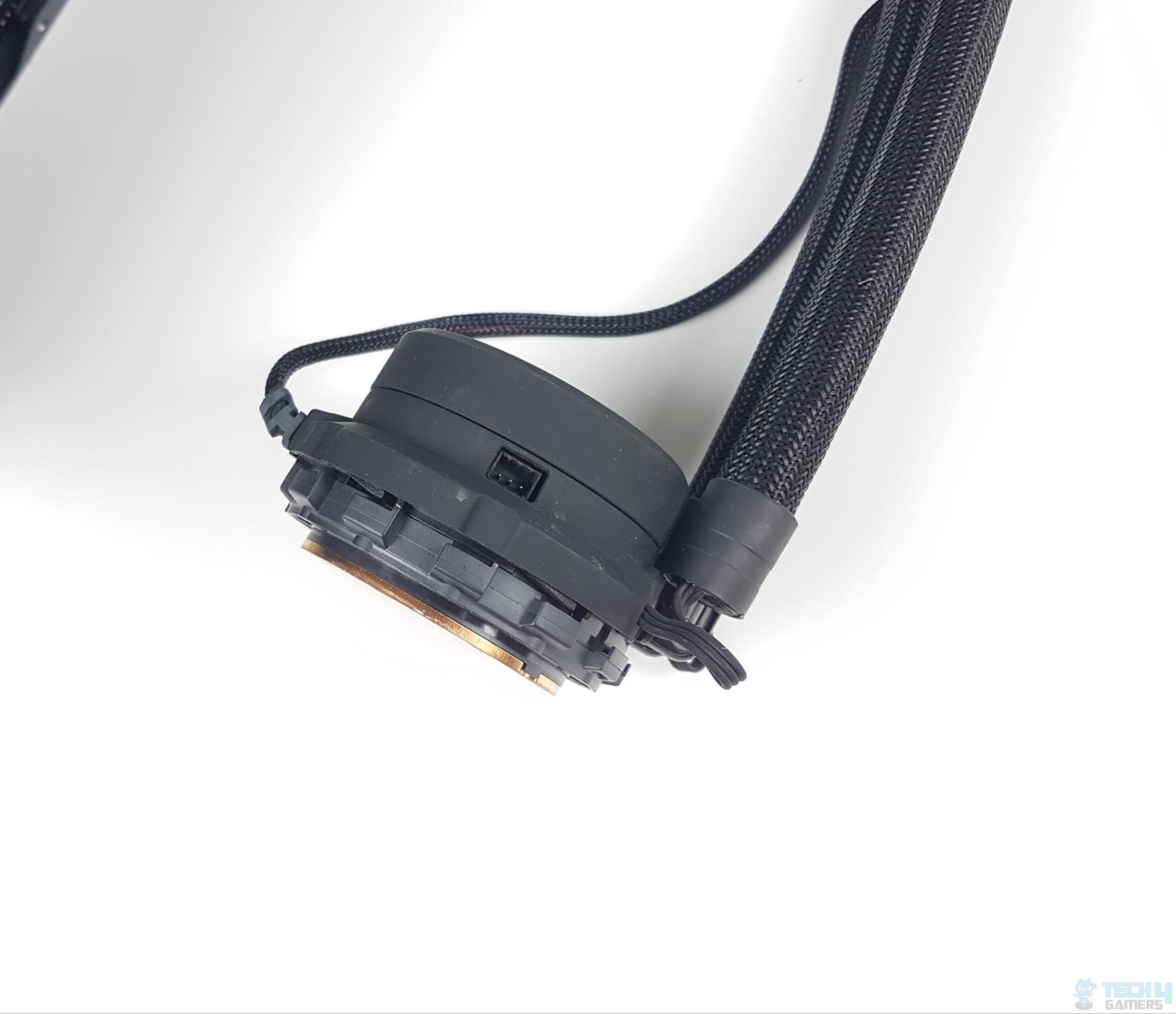 There is a 3-pin header on the side of the housing. The provided digital RGB cable is to be connected to this port. This angle better shows a design. There is a line between the top and base portion, segregating both so that top can be used as a switch. The other or opposite side of the housing has a plain surface. The base below the main housing has latched. Anyone familiar with Asetek will immediately notice it. The mounting rings are attached to these catchers.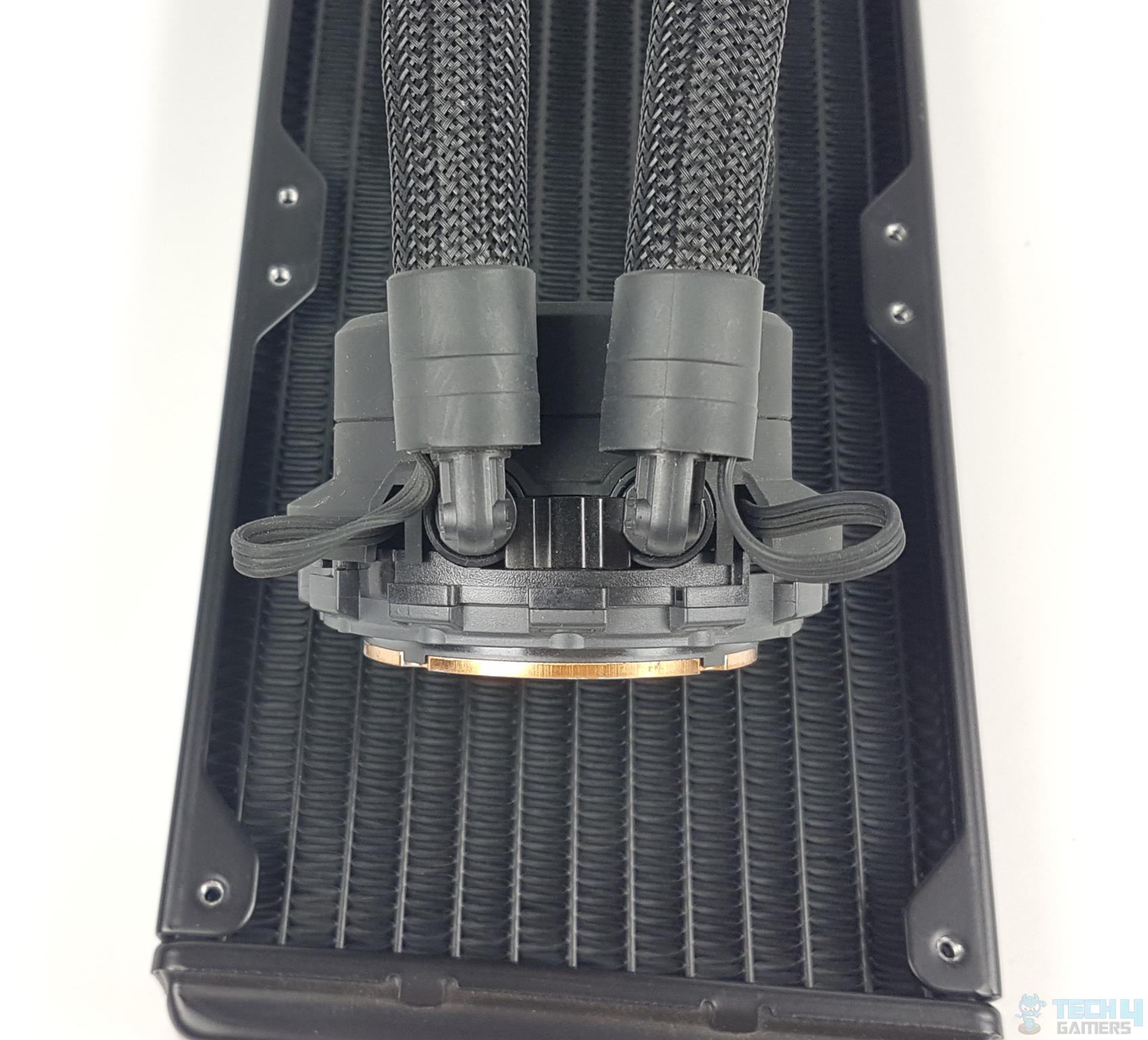 Fractal Design has implemented articulating 90° elbow fittings on the pump's housing. This would reduce tension on the pump and makes the rotation of tubes easier. Overall build quality is top-notch. We can see two cables coming out from both tubes and going inside the housing. This is a smart design.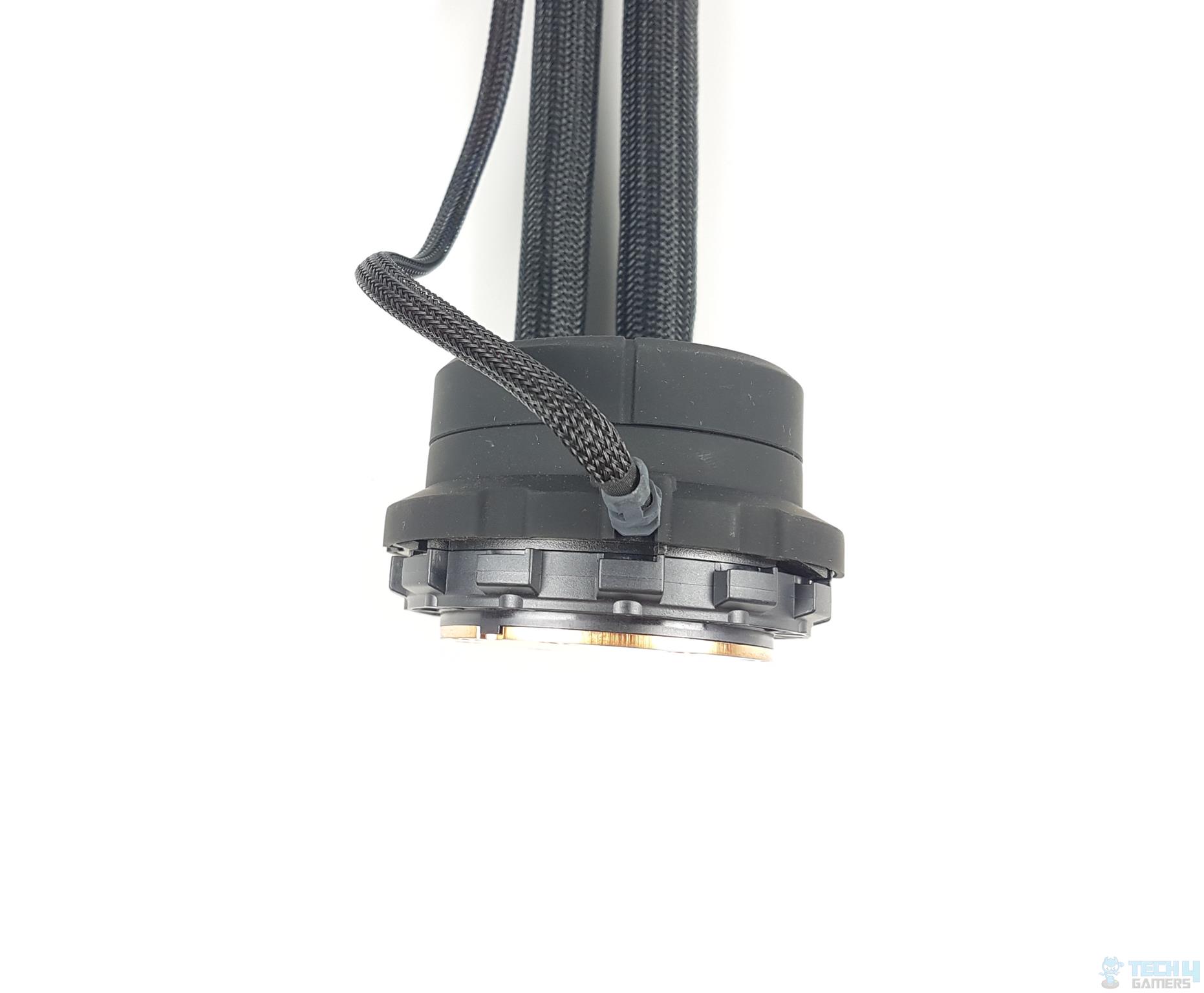 Looking at the front side of the housing, we can see a well-sleeved cable coming out from here. This is a 4-pin PWM cable that connects the pump to the power source. Flat cables make cable management and concealment easier.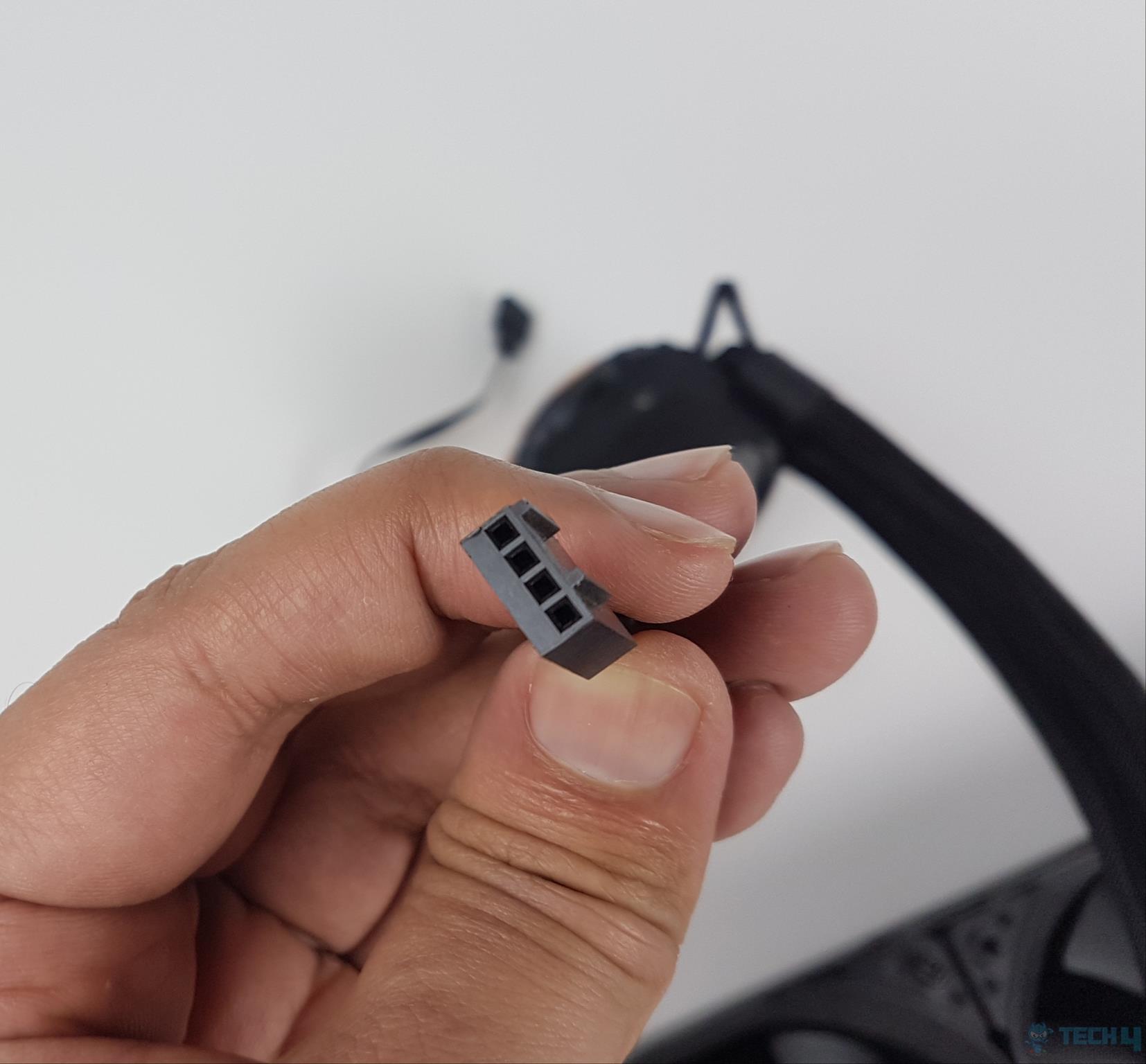 The cable has a 4-pin PWM connector.
The Fractal Design Celsius+ S36 Dynamic is based on Asetek's 6th generation pump. Here are some technical data about the pump:
| | |
| --- | --- |
| Speed | 800~2800 RPM in Normal Mode. 3500 RPM in Thermal Protection Mode when the temperature of the coolant crosses 60°C. |
| Bearing | Ceramic Bearing and Shaft |
| Acoustical Noise | 20 dBA at full speed |
| Pressure at 50°C | 14.4 KPa / 1.46 mmH₂O / 2.0 PSI |
| Input Voltage | 12VDC |
| Input Current | 0.36A |
| MTTF | 50,000 hours (permeation life at typical use) |
| PWM Control | Yes |
It seems like this unit has a sensor to monitor the coolant's temperature; otherwise, there is no way for it to know if the temperature has crossed 60°C to engage 3500 RPM mode.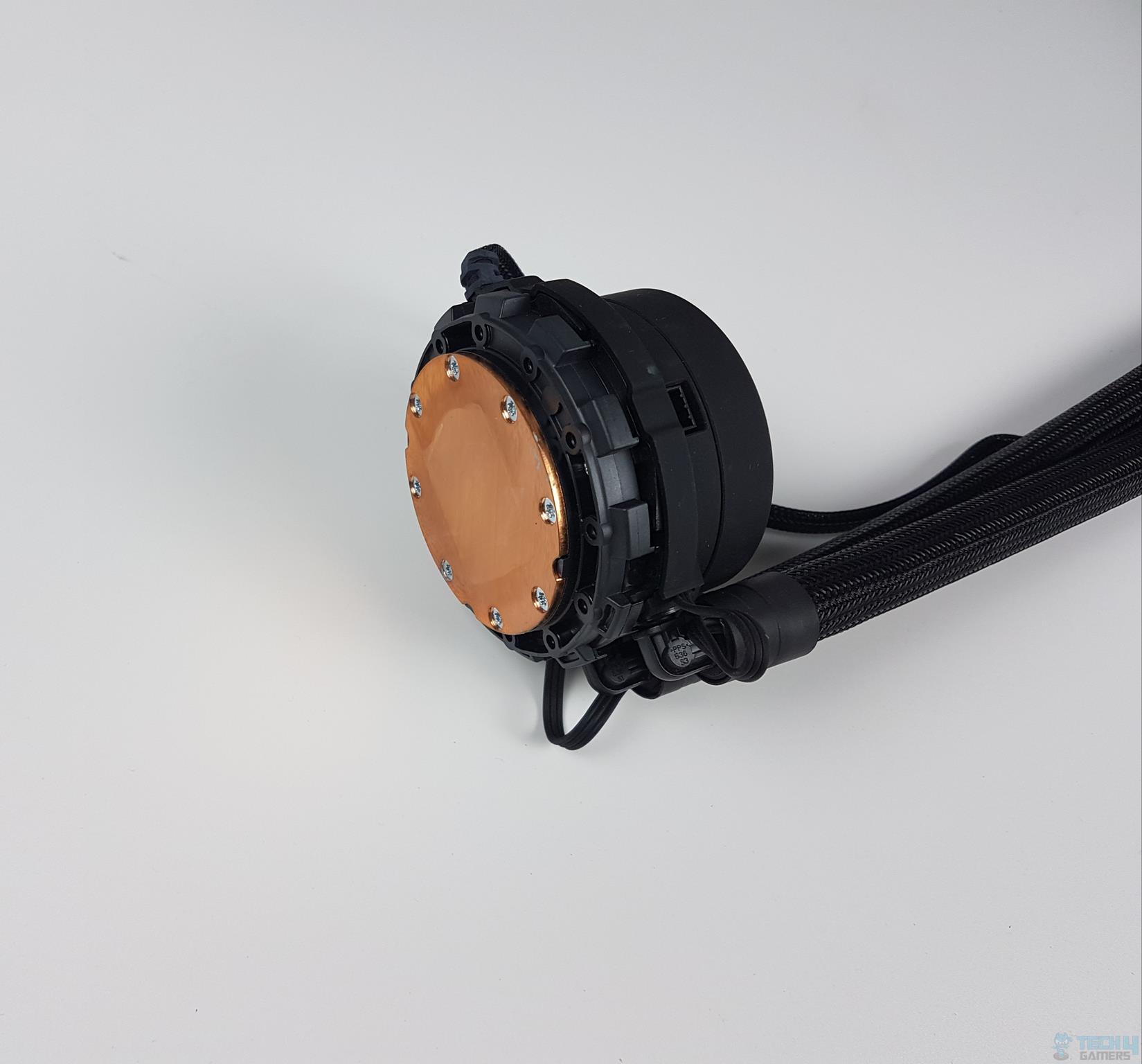 This cooler comes with a pre-applied thermal paste which is another Asetek design feature. We wiped that paste to take this picture.
Fractal Design has provided 3x X2 GP-12 PWM Dynamic fans. These are non-RGB versions. They are high-performance editions. Each fan has 7x blades in black color. Each blade has notches to diffuse noise from blade/stator interaction, as mentioned by Fractal Design. There is no branded sticker on the center.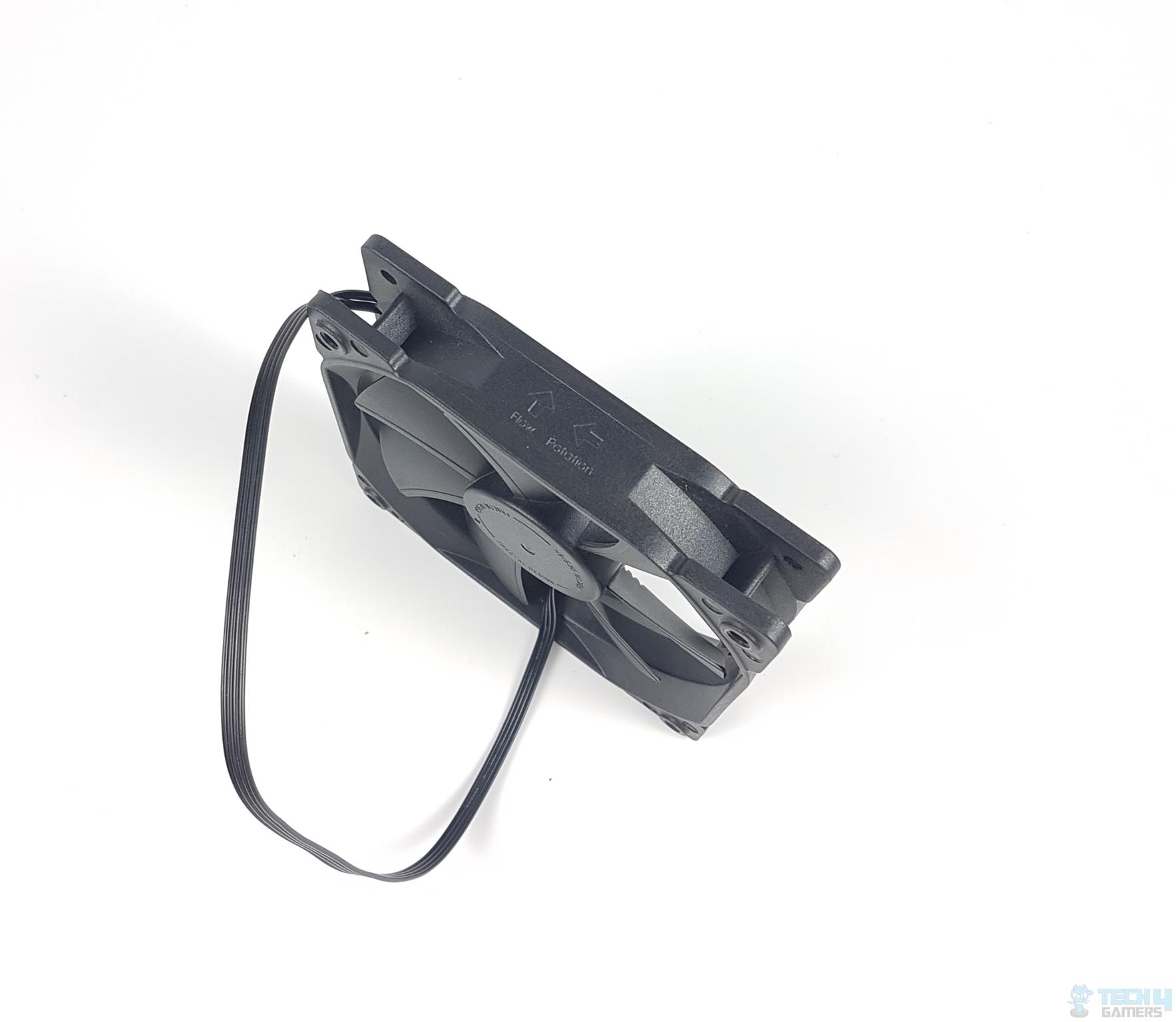 One side of the frame has two arrow symbols. These help the user identify the direction of airflow and the blades' spin direction. These are clearly labeled as well.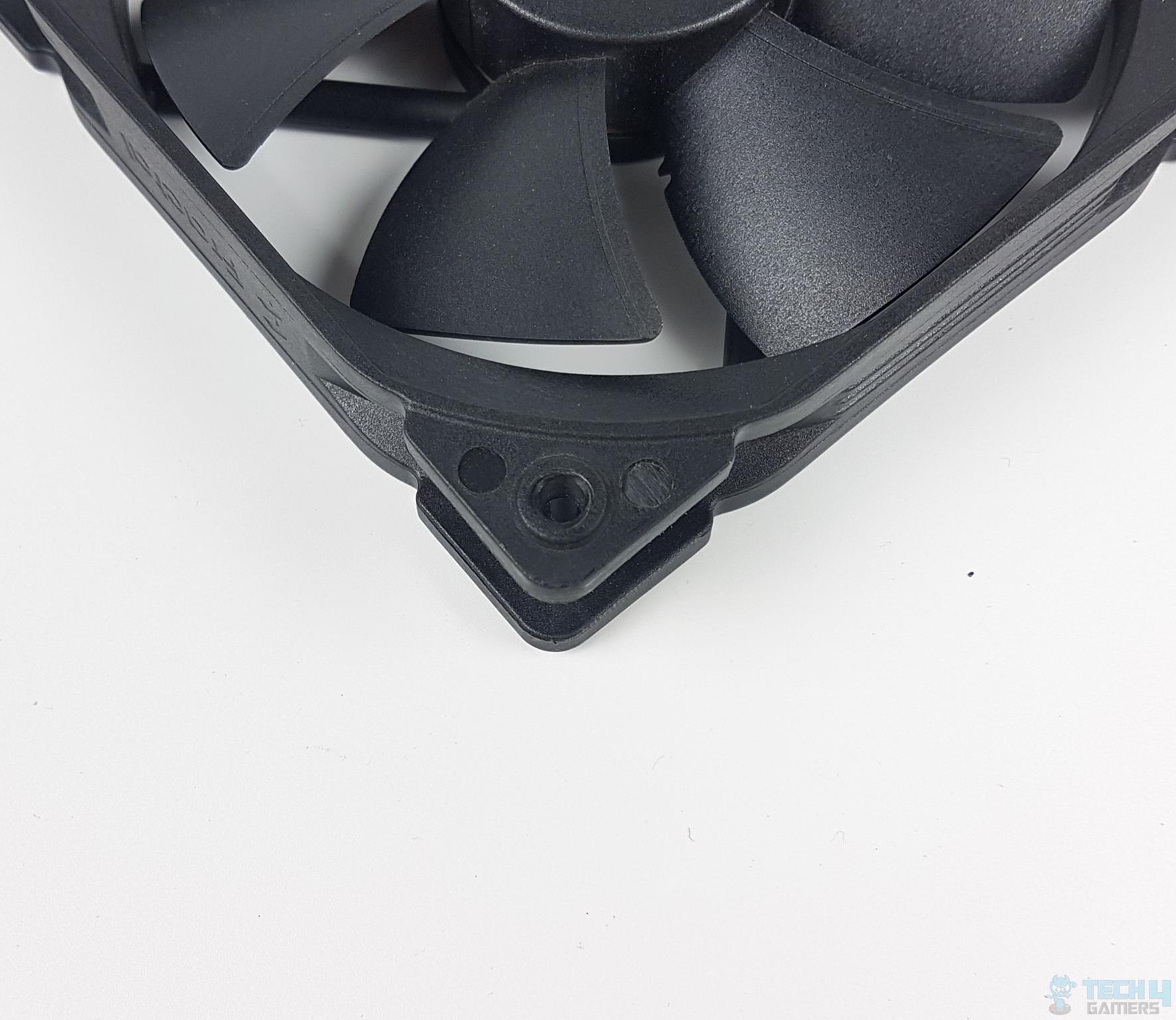 Each mounting corner has a circular-shaped thin layered anti-vibration pad.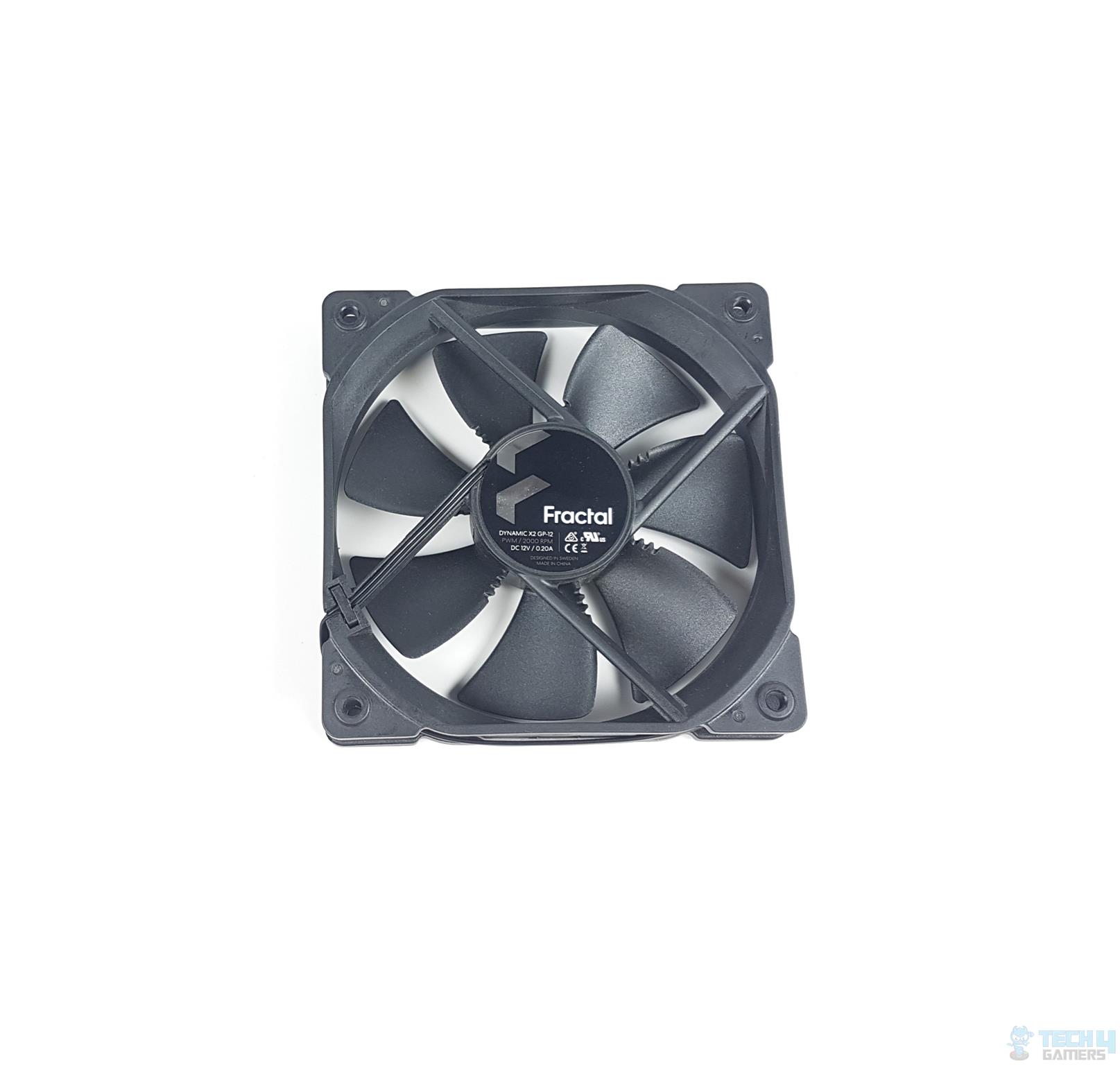 The backside of the fan shows the 4-arms assembly. One arm catches the wires coming from the center. This side of the fan has a Fractal Design branded sticker.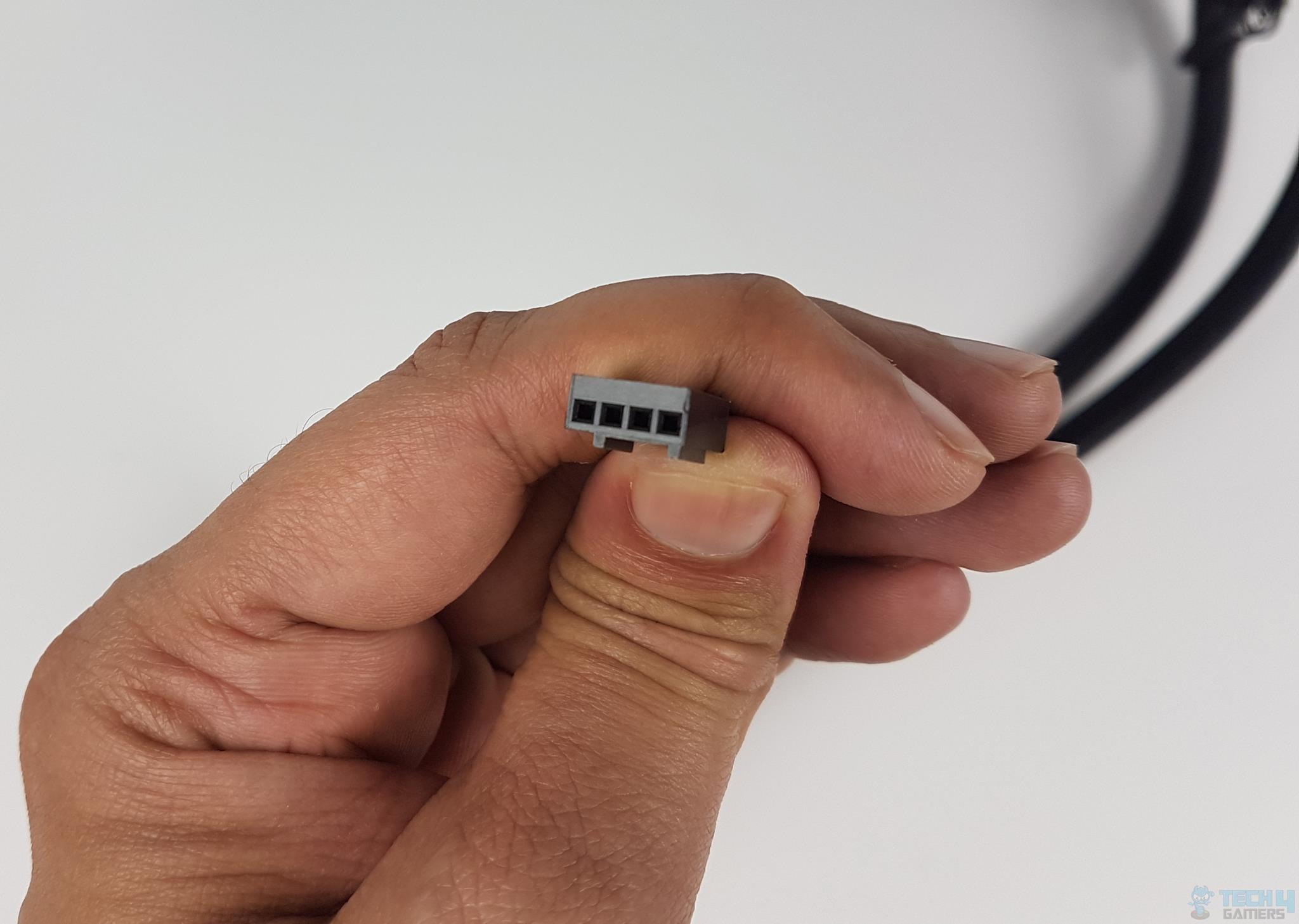 Each fan has a 4-pin PWM connector on a flat cable.
Fan's specification includes:
| | |
| --- | --- |
| Dimension | 120x120x25mm |
| Type | 4-pin PWM Connector |
| Speed | 500-2000 RPM |
| Airflow | 87.6 CFM |
| Air Pressure | 2.3 mmH₂O |
| Noise | 32.2 dB(A) |
| Bearing Type | LLS |
| Lifespan | 100000 hours |
| Input Voltage | 12VDC |
| Input Current | 0.20A |
Installation
We have tested the cooler on AMD AM5 on GIGABYTE X670E AORUS MASTER using AMD Ryzen 7 7700X. Installation on AM5 is straightforward and convenient. We have to use the clip method on this socket. The AMD ring has one side with a catcher, so we have to prepare the other side only. Take a clip and pass it through the hole on the mounting ring's arm. Hold it using a thumbnut. Keep this connection loose so that you can easily press it on the stock mounting brackets. Clean the surface of the CPU. Carefully place the block on the CPU, starting with a fixed portion of the mounting ring attached to one holder or catcher of a mounting bracket. Now, apply some pressure so that the clip's hollow space snuggles on the other mounting bracket's catcher. Start torquing the thumb nuts till it runs out of threading. Cooler is installed.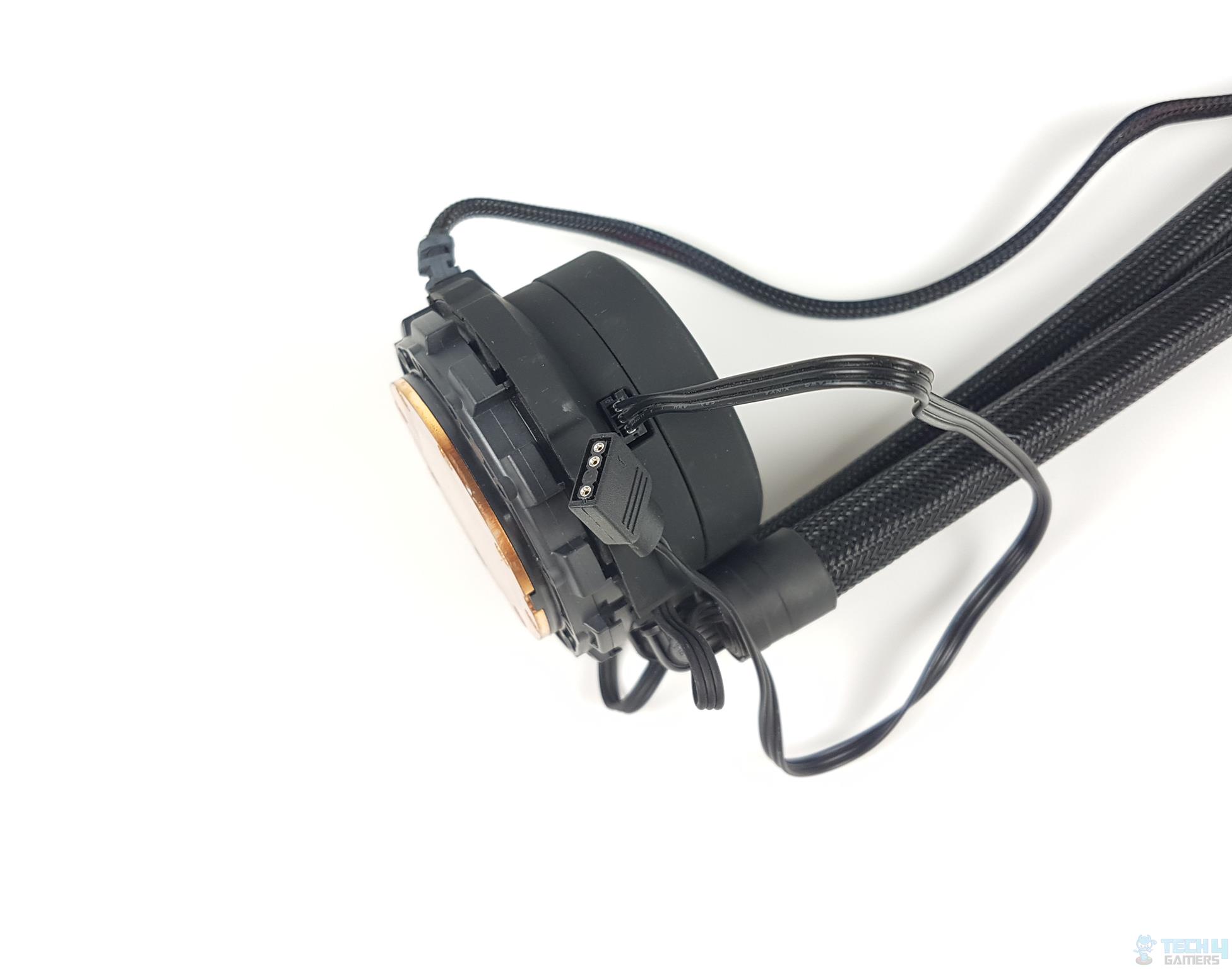 We connected the RGB cable to the pump's housing before the installation.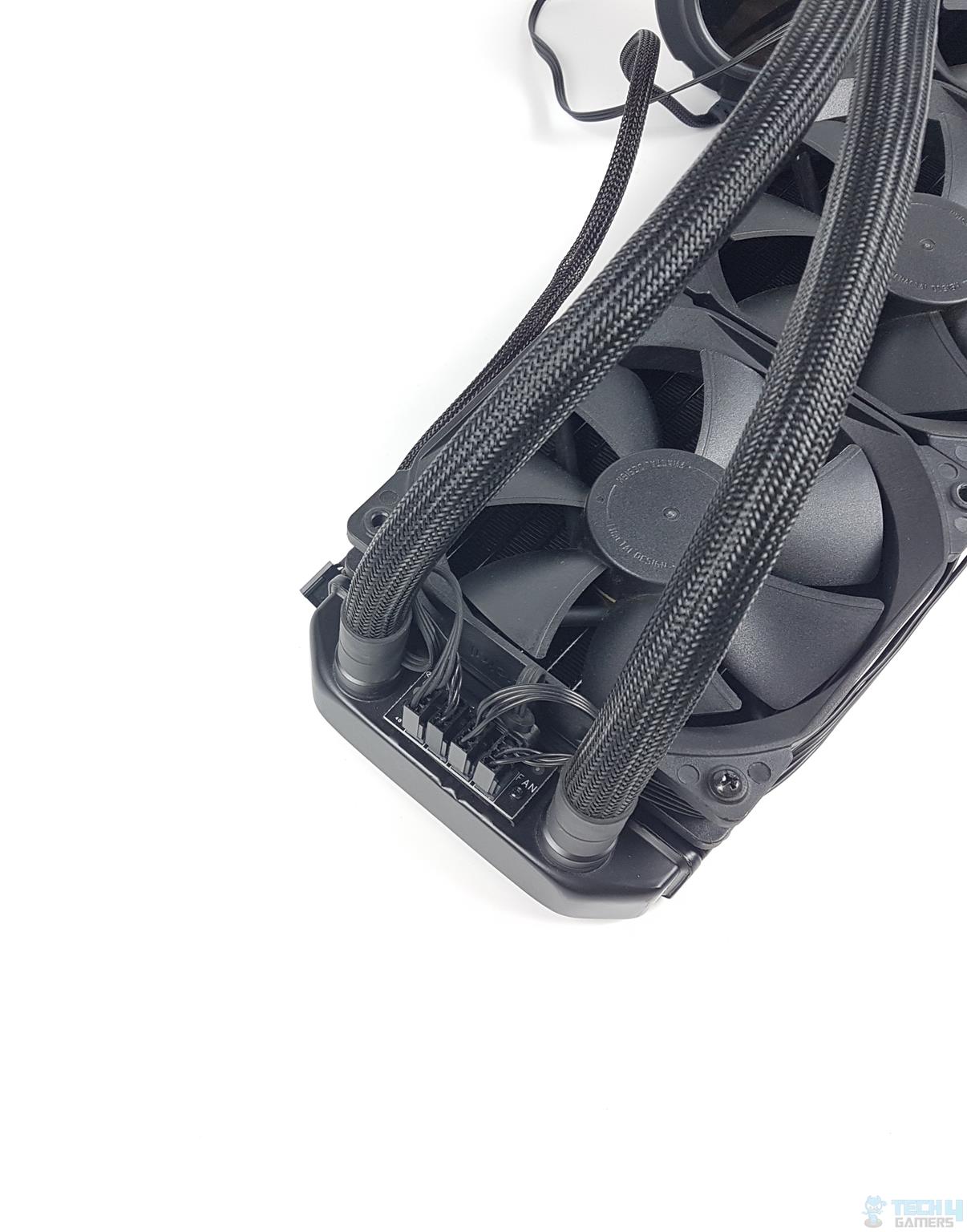 We installed the fans on the radiator and routed the cables for connection to an integrated fan hub.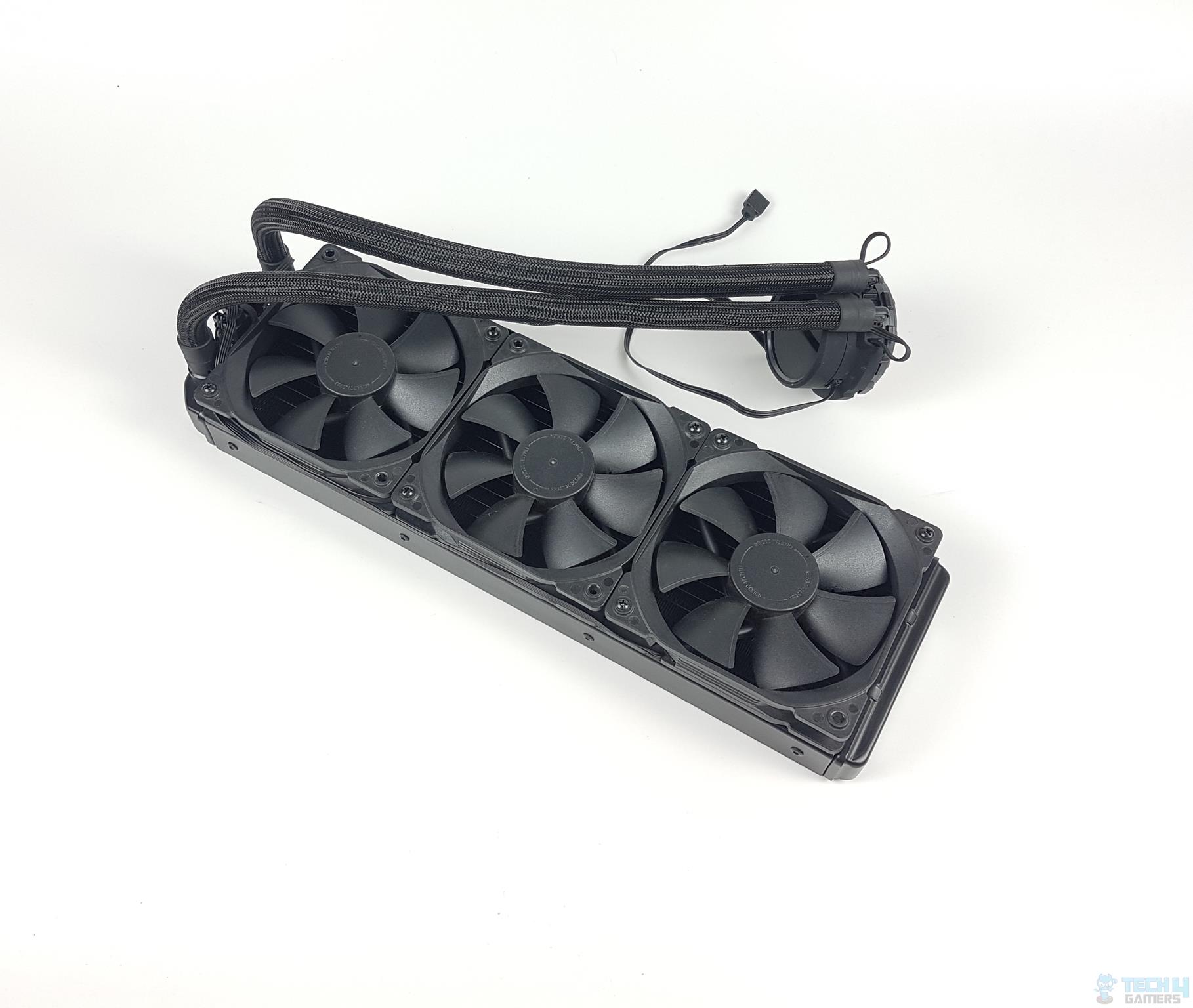 The above picture shows all fans are installed and connected to the hub. You can see some effective cable management as we can't see any loose cable from any fan.
Clearance
This cooler has a dimension of 403x120x30mm without fans. With a fan, this size is 403x123x56mm. This cooler has thicker tube endings which could obstruct the first DIMM slot. Other than that, there is no clearance issue. You would need to check that your PC Case has clearance for this size radiator. 403mm is a bit longer in length, which is probably due to the integrated fan hub.
Thermal Test
We have used below mentioned configuration to test the performance of this cooler: –
Here is the settings table for testing:
| | |
| --- | --- |
| All Cores | 5200MHz All Cores |
| VCore (V) | Auto |
| Thermal Paste | Alphacool Sub-Zero |
| Test Run Time | 30 minutes CINEBENCH R23.2 |
| Idle Time | 10 minutes |
| Fan/Pump Speed | 100% PWM Duty Cycle |
| Monitoring Software | HWInfo64 |
Disclaimer: Every silicon is different; hence no two same SKUs are likely to take some voltage to yield the same performance at the same thermals per see, but the margin would be close. Not every stress test run may yield the same result, which could be due to various reasons like thermal paste application, ambient temperature variation, the mounting pressure of the cooler, etc. This is very why we have listed our variables and their settings. Variables not mentioned are on the Auto setting.
Result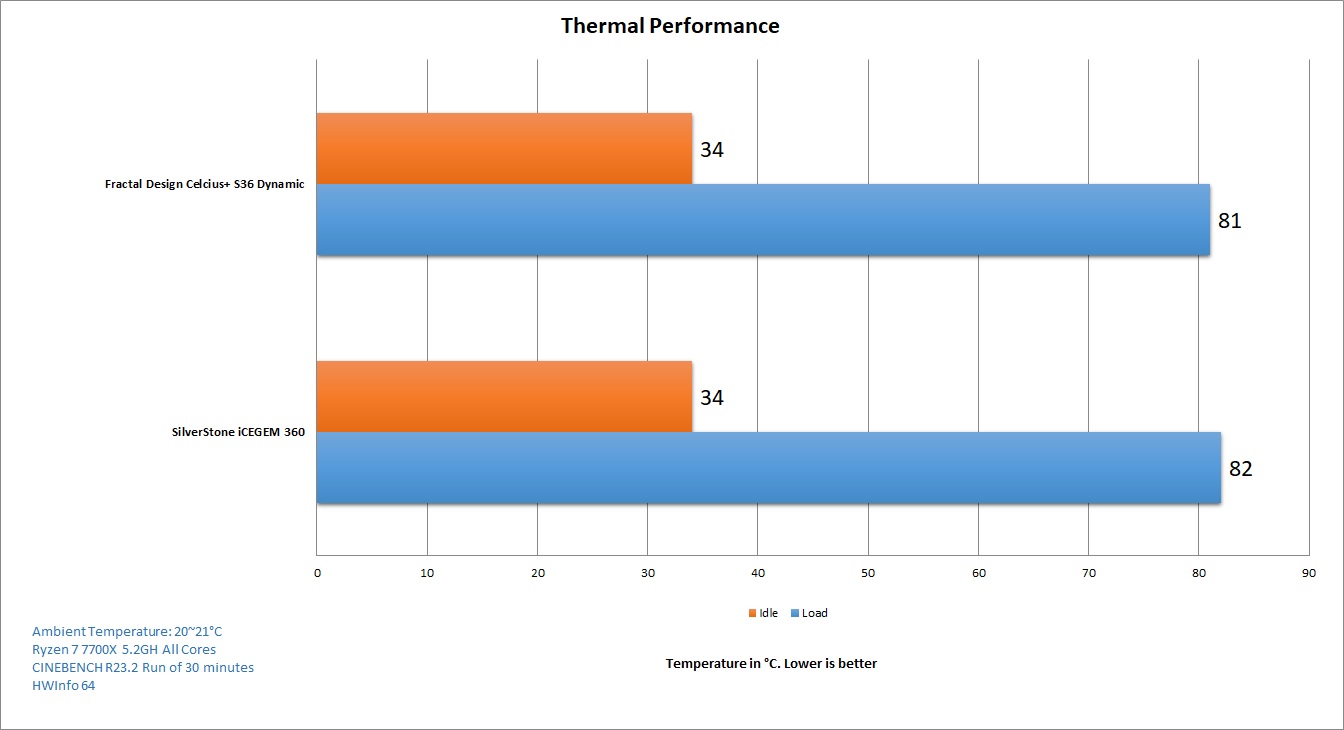 We are seeing a tight competition between two 360mm liquid coolers in the graph, with Fractal Design Celsius+ S36 Dynamic winning by only a 1°C difference.
Noise
We noted a noise output of roughly 55dB(A) on an ambient noise level of 32~33dB(A). The fans and pump were set to run at full speed via BIOS settings. A custom fan curve in this regard would be helpful.
Conclusion
We have earlier tested two different SKUs from SilverStone. This time we have tested Celsius+ S36 Dynamic liquid cooler from Fractal Design. Asetek is OEM of this unit running 6th generation pump design. These coolers are available in two configurations:
Digital RGB editions fall under PRISMA
Non-RGB editions fall under Dynamic
These are available in 240mm, 280mm, and 360mm versions. This cooler is compatible with Intel LGA775, 1366, 115x, 1200, 2011, and 2066 sockets. From AMD, it is compatible with AM5, AM4, AM3+, AM3, AM2, FM2+, FM2, and FM1. Fractal Design has listed its compatibility with the AMD Ryzen ThreadRipper TR4 socket as well as using a stock bracket from AMD. Please note that this cooler will not provide full block coverage on the TR4 socket. This cooler is not compatible with the Intel LGA1700 socket, and we are still waiting to hear from Fractal Design about this.
This cooler has an aluminum-made radiator having a dimension of 403x123x30mm. This dimension will be 403x123x56mm with fans and heads of screws. There are 12 channels for coolant flow, and we have a dense fin stack with an FPI count of 20. To this end, Fractal Design has provided 3x Dynamic X GP-12 PWM fans having an 87.6 CFM rating for airflow and an air pressure rating of 2.3 mmH₂O. These fans are rated at 32.2 dB(A). These are non-RGB versions, and each fan has 7x blades with a notch design. Each is powered by a 4-pin connector cable. They are using LLS bearing, and each fan is rated for 2.4W at 12VDC.
Fractal Design uses Low-Permeability rubber tubes. These have a length of 400mm and have nice braided nylon sleeves on them. Fractal Design was paying attention to the design as we can see protective plating under mounting holes on the radiator. Fractal Design has integrated a fan hub into this radiator. It has 3x ports for 4-pin PWM fans and 1x port for digital RGB lighting using a standard 3-pin, 5V interface. Fractal Design has routed two cables along the rubber tubing under the sleeve. This makes the tubes thicker, but it is a neat and clean layout.
The pump's housing features a tinted glass pump face which is backlit as well. There is a digital RGB LED ring on the top, having 6 LEDs underneath. There are LED indicators backlighting Auto and PWM text in addition to Fractal branding, which always remains lit. The top lid acts as a switch. Flick it to activate either of the two thermal modes (Auto or PWM). Fractal Design has mentioned that the pump will kick in 3500 RPM mode in case the temperature of the coolant crosses 60°C. This implies that there is a sensor right in this block. This 3500 RPM speed is not provided otherwise since the maximum this pump would do is 2800 RPM. The pump has a ceramic shaft and bearing with a pressure rating of 2.0 PSI at 50°C and a maximum flow rate of 40 l/h at 50°C. It has a life expectancy of 50,000 hours, subject to permeation.
Installation is convenient and involves 3x items for AM4/AM5 mounting, including 1x clip and a thumb nut. This cooler requires an AMD stock backplate and stock mounting brackets. A brief note on two modes on this cooler is next. Running the unit on Auto will set the fans and pump to operate at or below the pump's rated 20 dB(A) noise rating. This would make the cooler inefficient as we are not operating it to its full cooling potential, but this would run the unit silently. Operating this unit under PWM mode will give control to the motherboard's fan header settings in BIOS. The catch is pump will operate at the same PWM duty cycle, which may be something we would not want. We would want to run this pump at its full speed of 2800 RPM and use a custom fan curve for the fans, which is not possible in a standard configuration.
The Fractal Design Celsius+ S36 Dynamic is listed at $169.99 MSRP. Fractal Design is offering a 5-year warranty. This is a feature-rich cooling solution that also offers good thermal performance, even on the latest platforms.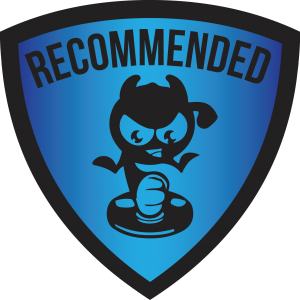 Was our article helpful? 👨‍💻
Thank you! Please share your positive feedback. 🔋
How could we improve this post? Please Help us. 😔