When keeping the temperatures of Ryzen 7 3700x under control, you don't really need to take any extreme measures as long as you stay in the base clocks' territory. The Ryzen 7 3700x Stock Cooler "Wraith Prism" is primarily sufficient for base clocks and has a good build quality, if you install it in a good ventilated chassis. But when Ryzen 7 3700x for extreme workload under full load for extensive comparative gaming and editing/rendering professional work, then you will need to invest in something a tad more powerful to keep your temperatures under control. That's why we've created a list of the Best CPU Coolers for Ryzen 7 3700x to save you some time. Also, before you get a CPU Cooler, make sure to make up your mind by picking Motherboard For Ryzen 7 3700x.
The AMD Ryzen 7 3700x is a bit less capable than its 3800x counterpart, but it's still a very powerful CPU. It has 8 cores and 16 threads. With its stock clock at 3.6 GHz and max boost capacity going up to 4.4 GHz, the Ryzen 7 3700x offers plenty of Performance at a good price range. Higher clocks with CPUs like these also mean more power consumption, so you'll also need good cooling for an enjoyable experience while gaming or under extreme workload.
Ryzen 7 3700x Stock Cooler vs. AIO
Before discussing the Best CPU Coolers For Ryzen 7 3700x, we first need to discuss the stock cooler of the Ryzen 7 3700x and its capabilities. AMD's Wraith Prism Cooler is a good CPU Cooler for Ryzen 7 3700x. It is an upgrade from similar stock coolers from AMD such as the Wraith Spire and Wraith Stealth. AMD has a pretty decent track record of designing good stock coolers for their CPUs under the Wraith title, and Wraith Prism is no different.
The overall size of the cooler is 93 x 105 x 119 mm (L x W x H). You'll be glad to know that the Wraith Prism actually has very little noise production compared to older AMD coolers. Some light humming will be almost unnoticeable when your GPU fans are running. The build quality and design are also very good with a 90mm fan and a compact copper cold plate. We can't deny that it's one of the best-looking stock coolers out there with RGB features. There are no compatibility or clearance issues with the AM4 socket, RAM, or PCIe slots as it is a stock cooler.
AIO Coolers have some strengths and flaws of their own. They are capable of much better thermal Performance than stock coolers. They're also able to handle overclocking and are much more reliable. But AIOs have more compatibility and clearance issues since they're bought separately from the CPU. Despite being a really good cooling solution for Ryzen 7 3700x, the Wraith Prism Stock Cooler by AMD isn't able to handle extreme overclocking and loads. Overall, the cooler is decent for light overclocking and stock operation. Still, when pushing the voltage and limits of your chip, you should get a better high-end AIO CPU cooler.
Best CPU Coolers For Ryzen 7 3700x In 2023
Now that you know if you really need a high-end CPU cooler or not, since you already have a decent stock cooler, we can jump right into our topic for today. There's a whole plethora of coolers out there for you to choose from, but these are just the ones that we've picked to save you some hassle. Each is based on specific criteria and are great choices for 3700x cooling. We'll discuss each cooler's height, design, build, compatibility, size, Performance, and such other criteria in this article. Below are all our recommended CPU Coolers For Ryzen 7 3700x.
Aerocool P7 L240
Best 240mm AIO Liquid Cooler For Ryzen 7 3700x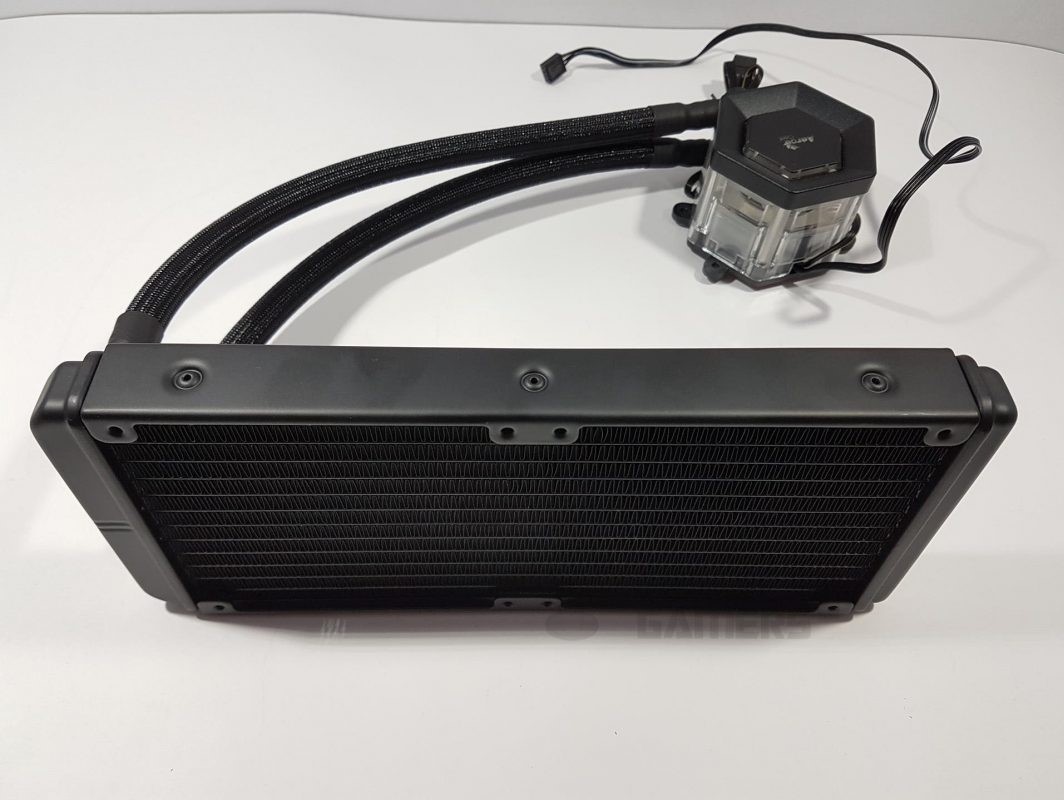 Specifications: Type: Dual Fan AIO | TDP: 380W| Radiator Size: 240mm | Lighting: A-RGB | Dimensions: 280 mm x 120 mm x 53 mm
Pros
Great performance
Low noise output
Beautiful RGB lighting
Cons
Does not include RGB controller
A little expensive
We have the Aercool P7 240 Liquid Cooler starting with the best all-in-one cooler. Aerocool gained traction mostly with their air coolers, and with the release of Aerocool P7 L240, they've delved into liquid cooling in their Project 7 series. The P7 L240 is an excellent cooling solution for the Ryzen 7 3700x with its unique pump design and easy installation process. It offers great Performance, a neat design, and very cool RGB features.
The RGB specially offers a wide lighting range and settings to match exactly with your case's aesthetic. The noise levels are also very low for two fans, and the design is innovative in providing nice airflow to your other computer components.
The P7 L240 is 240mm long and is equipped with two P7-F12 fans. Both of these are 120mm long. The dimensions of the cooler are 280mm x 120mm x 53mm (L x W x D), with the overall thickness of the radiator combined with the fins being 57mm.
The fans have an RPM ranging from 600 – 1800 RPM with a noise output of 31.8dbA. The thermal cooling capacity or TDP is 380W, which is plenty for cooling your 3700x.
What We Liked
The design of the cooler has some perks of its own. Aluminum is used to reduce the overall density of the radiator while simultaneously increasing the airflow. The RGB is a huge feature when talking about the aesthetic of the cooler. RGB lights on the fans can be controlled with either an Aerocool P7-H1 RGB Controller or 4-pin RGB headers on the motherboard. You can choose from a wide range of colors to match with your other computer components.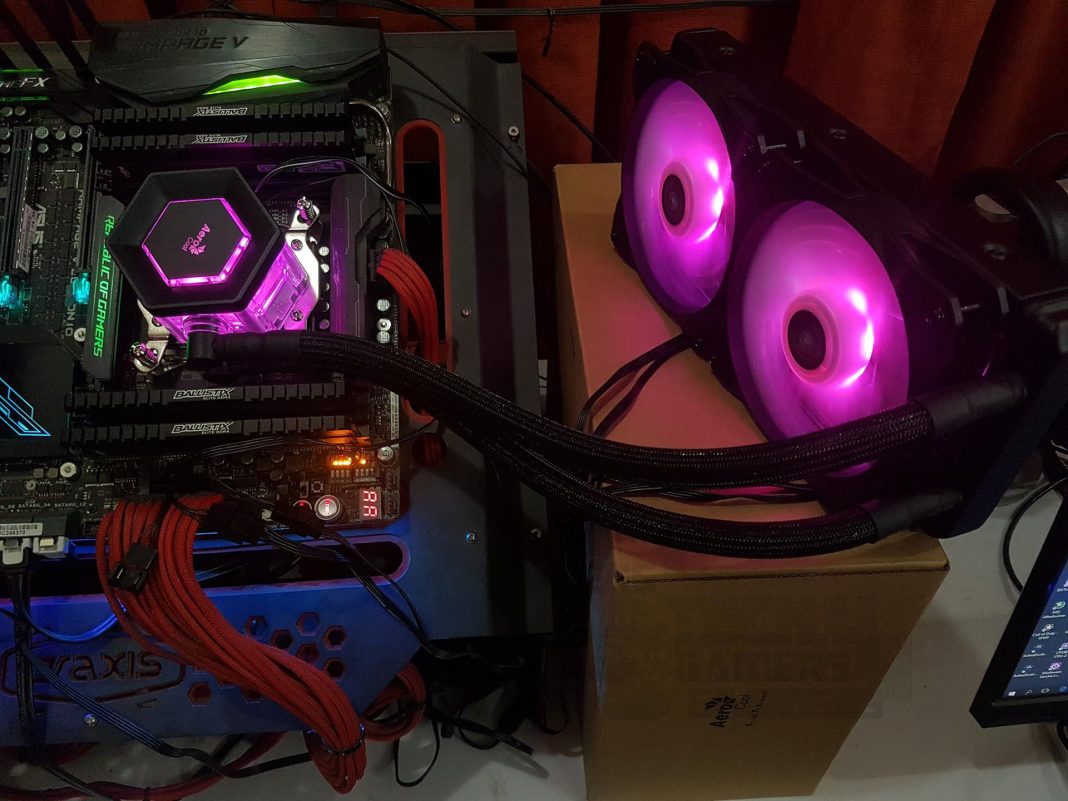 The innovative design makes the P7 L240 is compatible with most motherboard sockets, including the AM4. The noise output is surprisingly less at 32dbA, considering two 120mm fans.
What We Disliked
The RGB features offered by this product are excellent, but the problem is that if your motherboard does not already include an RGB header, you can't make much use of the RGB. You will have to buy another controller separately from Aerocool, adding to the price of this already expensive product.
This brings us to the next con, which is the price. The Aerocool P7 L240 is a bit overpriced when compared with other rival 240mm products such as the Deepcool Castle 240ex. Combined with the extra RGB controller, the overall price is a bit high.
Also, due to the design approach of the cooler, the DIMM slot, which is close to the CPU socket, is a bit hard to reach, and there's a DIMM clearance issue. Other than that, the P7 L240 is still a great choice for cooling 3700x.
What sets the Aerocool P7 L240 apart from its competitors?
First off, the Aerocool P7 L240 has monstrous thermal efficiency capabilities since it's rated at a TDP (Thermal Design Process) of 380W, which is almost 6x the TDP of a Ryzen 7 3700X. Subsequently, it offers excellent performance thanks to dual 120mm Aerocool P7-F12 fans, coupled with a comparably low noise output of 31.8 dB(A).
Lastly, the unique pump design, which houses a second user-refillable liquid chamber for additional cooling headroom, together with RGB lighting, which is compatible with MSI, ASUS, Gigabyte, and ASRock's RGB software, considerably distinguishes the Aerocool P7 L240 from rival offerings.
Who Should Get Aerocool P7 L240
Overall, the Aerocool P7 L240 is a great liquid cooling solution for your Ryzen 7 3700x CPU. You can go all out with overclocking with this. The thermal Performance of this product is outstanding.
When compared to other 240mm coolers, the Aercool P7 L240 stands out because of its low-density design and RGB features making it the Best 240mm AIO Liquid Cooler For Ryzen 7 3700x.
The downside is just that it's a bit expensive. You will also need to buy an RGB controller separately, adding to the price if you don't have a 4-pin RGB header on your motherboard, but it's still a great choice for cooling your Ryzen 7 3700x.
Deepcool Castle 240ex
Best RGB Cooler For Ryzen 7 3700x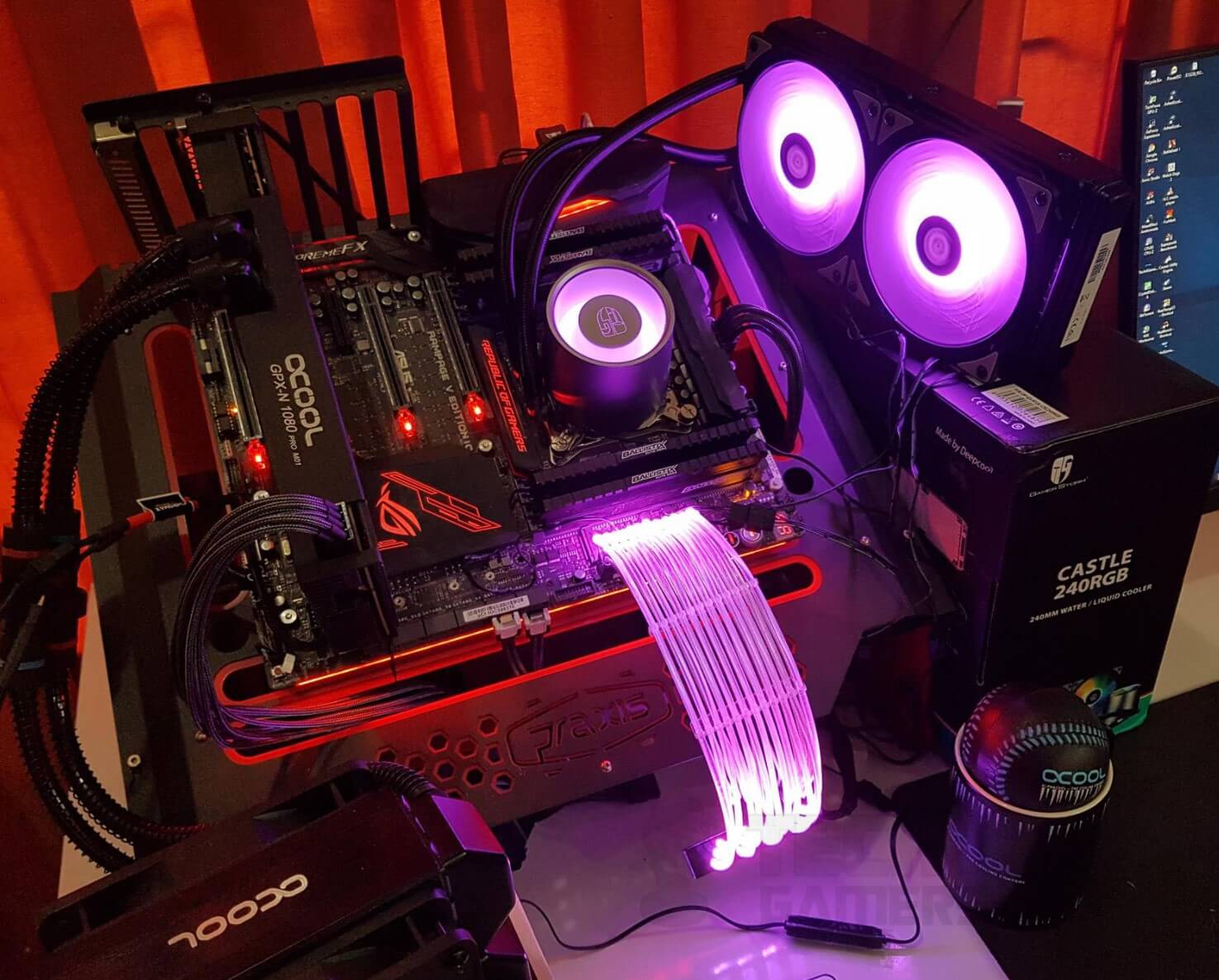 Specifications: Type: Dual Fan AIO | TDP: 350W | Radiator Size: 240mm | Lighting: A-RGB | Dimensions: 282 mm x 120 mm x 27 mm
Pros
Great RGB
Good performance
Deepcool is a dedicated PC component selling brand with products ranging from PC Chassis, Air and Liquid Coolers, PSUs, and more. The Deepcool Castle 240ex comes with Deepcool's new Anti-Leak Technology and a unique block design. The cooler is aesthetically pleasing with its infinity mirror glass and extra effects in the RGB. The radiator has an improved overall build quality, and the RGB features are on an entirely new level.
The dimensions of the Castle 240ex are roughly 282x120x27mm (L x W x D). The overall radiator thickness is 57mm combined with the fins. It is a 240mm long cooler fitted with two 120mm Deepcool CF120 Series fans that are spinning at around 500-1800 RPM.
Despite the height being 240mm, there aren't any noteworthy clearance or compatibility issues. The noise output is rated 32.1dbA. The TDP is rated at 350W and above.
Things We Like About DeepCool Castle 240ex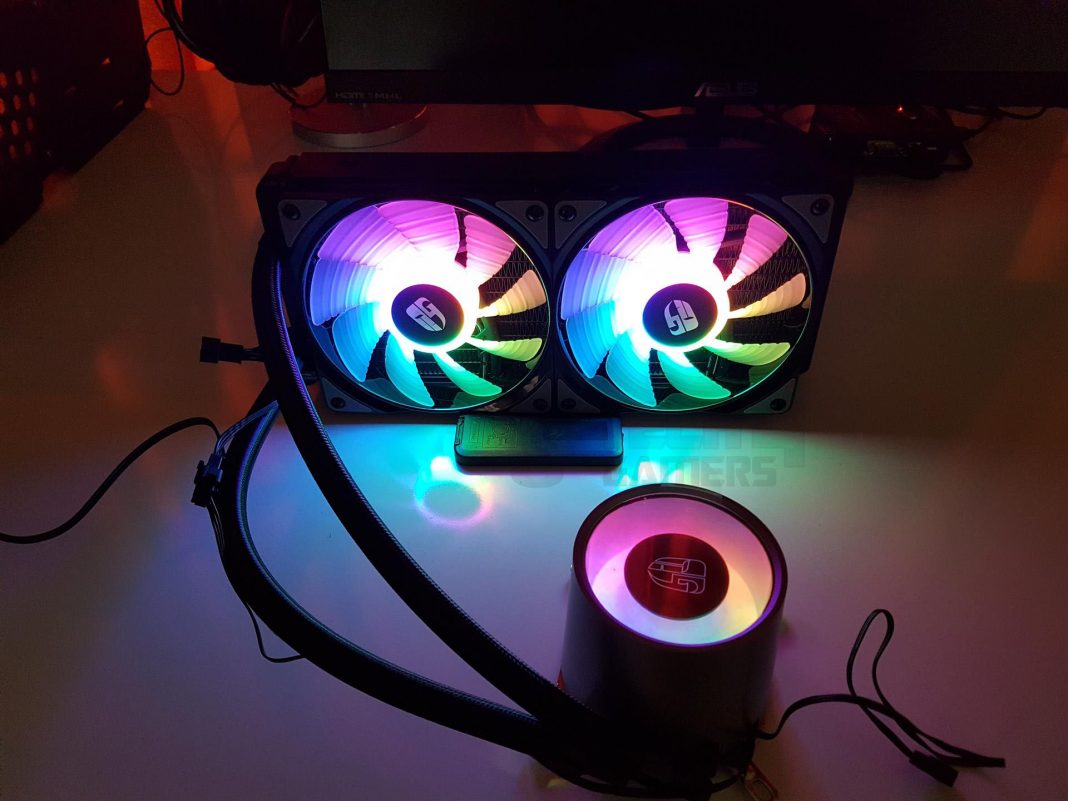 The RGB is a great feature of this cooler with the incredibly pleasing-to-look-at digital and boi CF120 RGB fans. The 16.7M RGB flowing light system offers a wide variety of color combinations. The radiator has an improved reactor-looking design and infinity mirror glass on the sides, which adds to the aesthetic and overall build quality.
The radiator material is aluminum, and the pipes use mesh rubber for lightness and improved airflow. In that regard, it far surpasses its predecessor, the Castle 240 RGB, in both the looks and the design along with the Performance.
The Performance is great, and the temperatures stay stable and low under pressure overclocking the Ryzen 7 3700x. Deepcool also provides a 4-pin RGB controller with the unit, so no extra money going there if your motherboard doesn't have RGB headers. Benchmarks can be found below.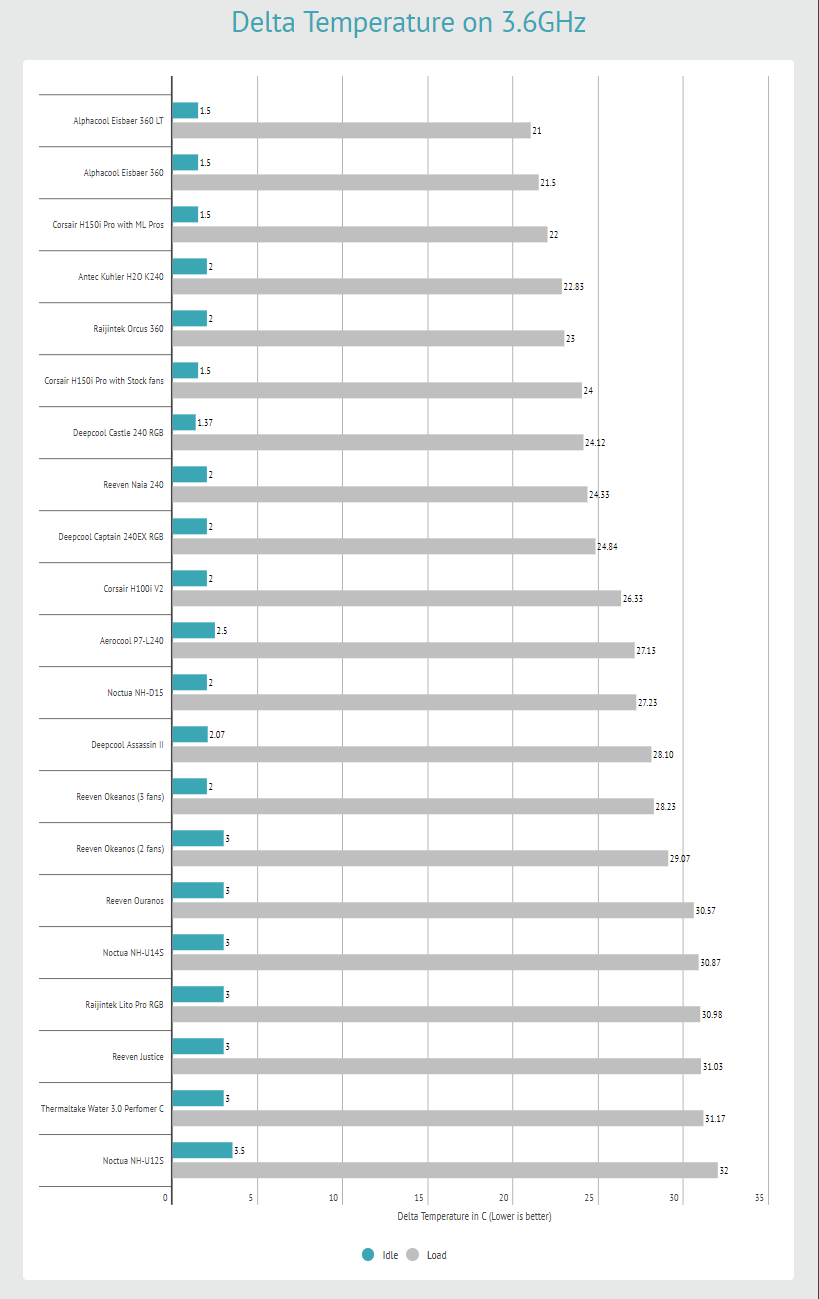 Flaws but not dealbreakers
There's not a whole lot to dislike about this cooler. Just some stuff worth mentioning is that there have been customer reviews about the RGB lights not functioning well after using them for the long run. The user manual also isn't very helpful.
What sets the DeepCool Castle 240ex apart from its competitors?
For starters, DeepCool's solidly performing Castle 240EX possesses a TDP of 350W, which, again, is a lot more than you'll ever need, even if you venture into extreme overclocking usage scenarios with your Ryzen 7 3700X. Moving on, the mirror-like finish on the fans and the pump head complements the A-RGB of the unit, which is also compatible with 5V A-RGB motherboard headers (in the absence of which you can use the bundled proprietary RGB controller).
Last but not least, the Castle 240EX is sporting DeepCool's revolutionary Anti-Leak technology, which helps maintain a systematically automated pressure balance, significantly reducing the chances of fluid leakage and improving componential safety.
Who is this for
In the end, the cooler is still one of the best in the market, due to the price being up to the standard. The RGB features are incredible and really add to the aesthetic. In addition, Performance is good, the acoustics are well, and the fans provide nice cooling. Similarly, the Anti-Leak Technology helps in preventing leakage, and the sublime RGB features especially makes Deepcool Castle 240ex the Best RGB Cooler For Ryzen 7 3700x.
You can read our Deepcool Castle 240ex Full Review for additional information.
Deepcool AK620 CPU Air Cooler
Best Air Cooler For Ryzen 7 3700x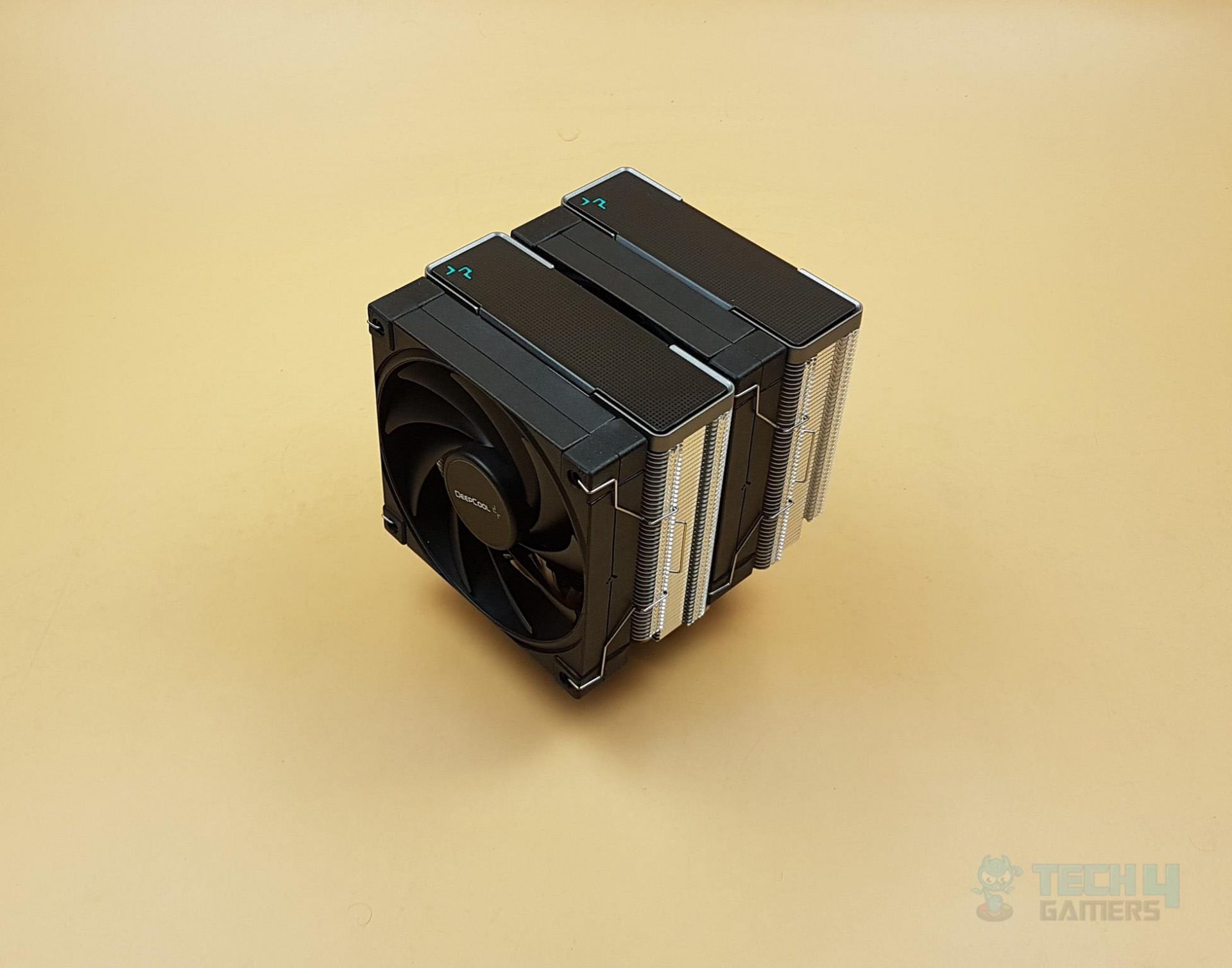 Specifications: Type: Dual Fan AIO | TDP: 260W | Radiator Size: 120mm | Lighting: A-RGB | Dimensions: 129 mm x 138 mm x 160 mm
Pros
Amazing performance
Low noise output
Great design
Deepcool's AK620 CPU A Cooler is a new addition to their well-respected units of air coolers. It is one of the best-selling Deepcool air coolers. The AK620 is a 120mm sized cooler with supports for AM4 sockets as well as other popular CPU sockets. It is worth mentioning that the AK620 has no RGB lighting; this might be a downside for RGB enthusiast customers. The AK620 CPU is a great air-cooling solution for the Ryzen 7 3700x.
The dimensions of the unit are as under: 129x138x160mm (L x W x H). The unit is almost 120mm long with two FK120 fans. The height of the cooler is 160mm. The fins of the fans are densely related as part of the design. The unit provides good acoustics and noise output with ≤28 dBA sound levels on the fans. The fans are spinning at around 500-1850 RPM. The TDP rating is 260W.
You can also check the review for this cooler and how it compares with Deepcool Assassin-III Cooler on our site.
What We Liked About Deepcool AK620 CPU Air Cooler
The AK620 has a great dual-tower slim design and 6x copper plated pipes optimum for pushing out the most thermal efficiency. The design layout for the heatsink and the top covers is sophisticated with a really easy assembling process. The FK120 fans have a great 1850 RPM rotation speed, which enables them to output really powerful air-cooling Performance. Here is how the DeepCool AK620 Clearence looks like.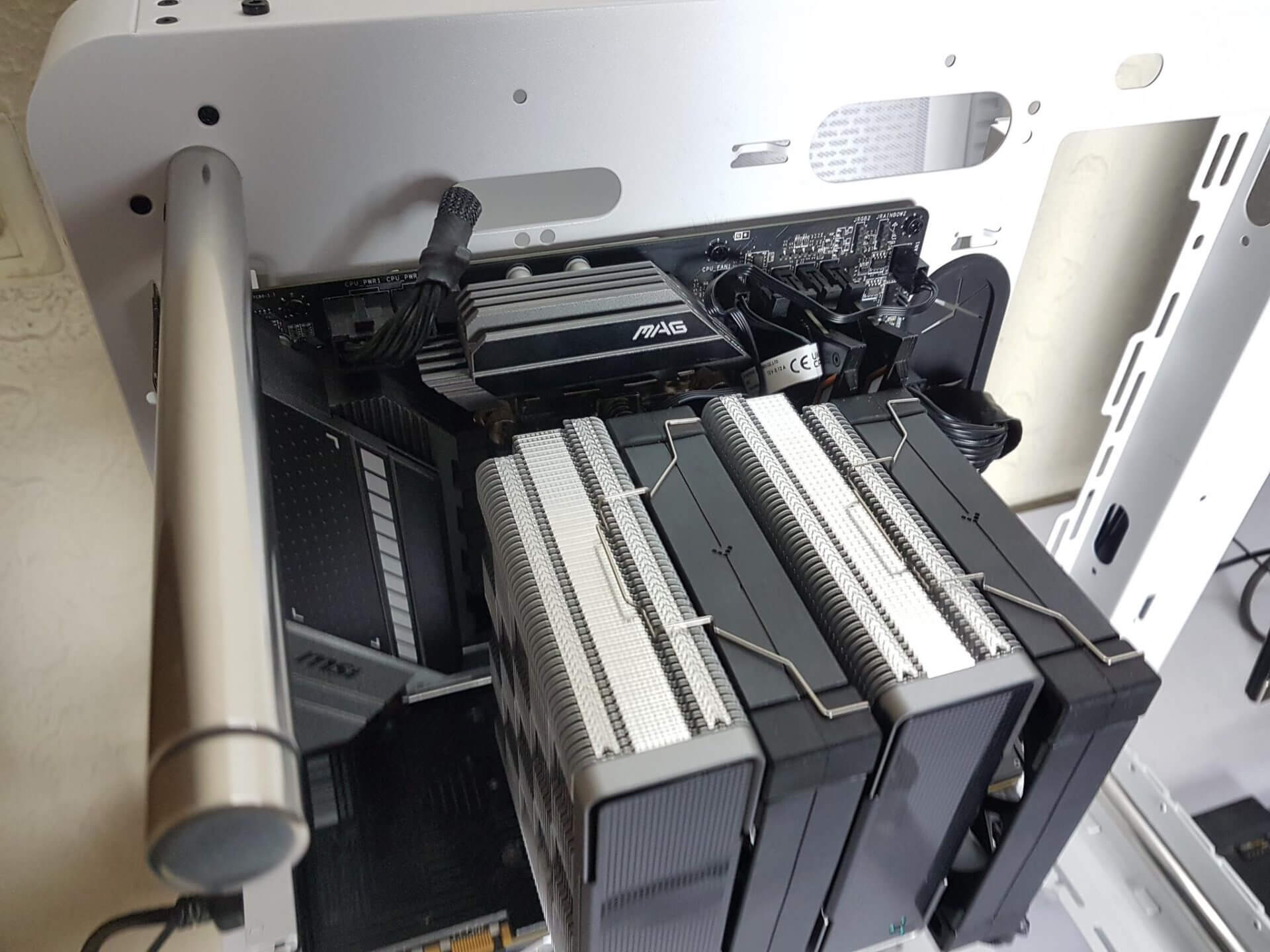 In terms of noise, the AK620 is really quiet at just 28dbA at maximum Performance. The frame for the fans is square-shaped, and all the components are mainly easy to install and assemble. Though it doesn't have an RGB feature, the cooler looks stunning from the matte black paint job and shining copper pipes. There are also no compatibility or clearance issues with the RAM or PC casing.
You Might Not Like these
We understand the AK620 does not include RGB features, which isn't the selling point, but some would consider this a complete turn-off from buying the cooler. The main issue we can find with the AK620 is just the availability. The MSRP is much fairer than what is being sold right now, so it is recommended not to buy this cooler until the prices stabilize.
What sets the DeepCool AK620 apart from its competitors?
DeepCool has gone with a much-acclaimed dual-tower heatsink design with the AK620, primarily based on air cooling, and yet, managing to possess a TDP of 260W, allowing you ample overclocking clearance should you pair the DeepCool AK620 with a Ryzen 7 3700X.
The 6 copper heatpipes are responsible for the AK620's outstanding performance, and despite a maximum speed of 1850 RPM, the DeepCool AK620 sports an incredibly silent sound profile, coming in at just 28 dB(A).
The black fan complements the entire unit wholly, further supplemented by the steel clips and attachments which round off the AK620 with a sleek, toned-down appearance, attractive to the non-RGB users in our audience.
Who Should Get Deepcool AK620 CPU Air Cooler
The overall build quality of the Deepcool AK620 A is great, and the cooling efficiency is very good. Overclocking a Ryzen 7 3700x on this will be an easy task. The build might not have RGB, but it does have a great design and layout when assembled. This makes the cooler most suitable for stealth builds. Other than that, comparing its air-cooling efficiency with other similar products puts the Deepcool AK620 Air Cooler as Best Air Cooler For Ryzen 7 3700x.
Read DeepCool AK620 Cooler Review.
Thermaltake Riing Silent 12 Pro
Best Budget Cooler For Ryzen 7 3700x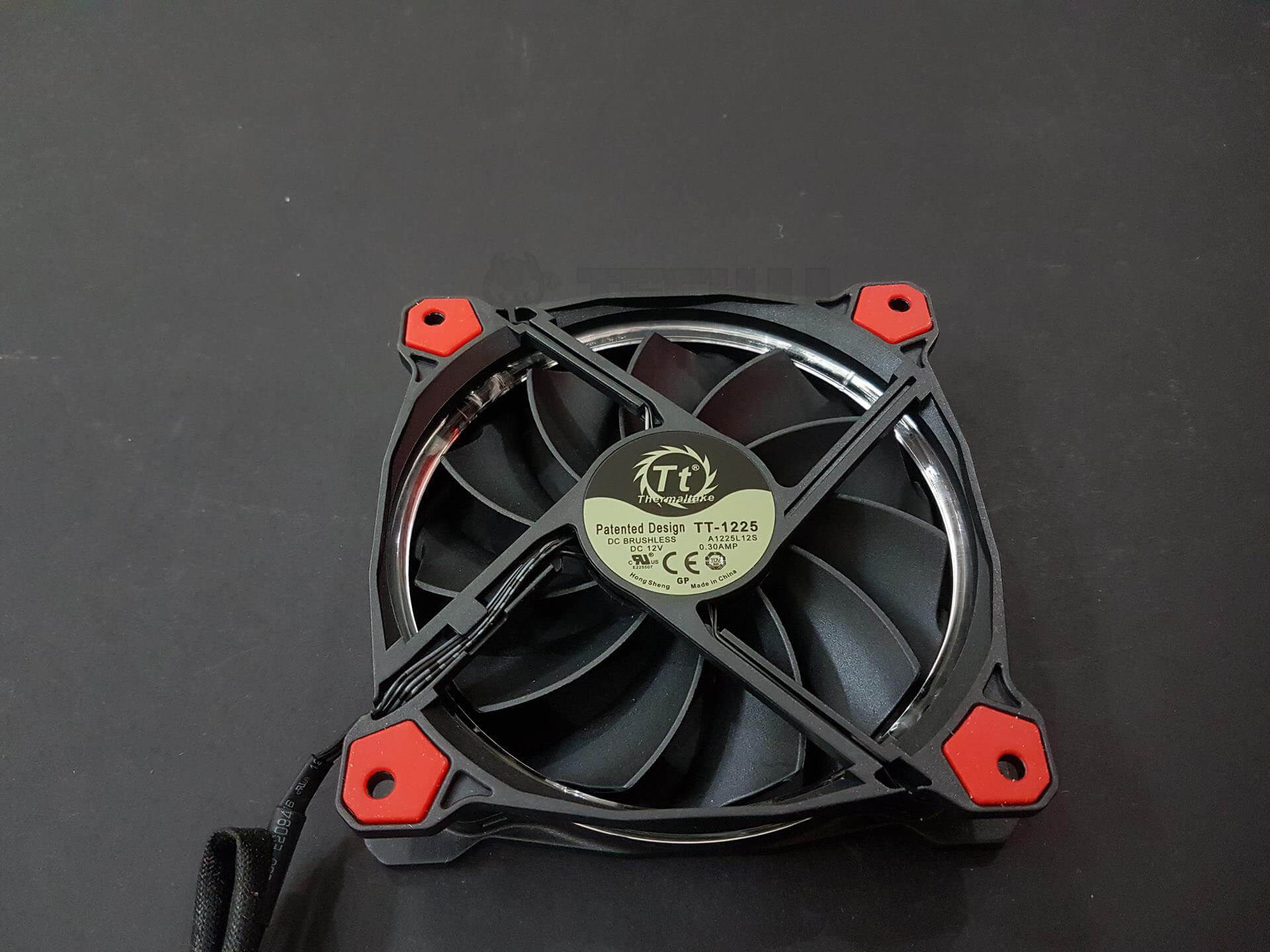 Specifications: Type: Single Fan AIO | TDP: 150W | Radiator Size: 120mm | Lighting: LED | Dimensions: 140 mm x 74 mm x 159 mm
Pros
Best value
Low noise output
Cons
Performance could've been better
Thermaltake launched their slim, high profile, budget-oriented coolers called the Thermaltake Riing Silent 12 Pro, recently adding to their well-reputed collection of budget and performance-budget-focused coolers. The highlights of the unit are the single tower build and the cooling Performance with the price. The cooler comes with AM4 socket compatibility meaning you can operate this with your Ryzen 7 3700x CPU.
The dimensions of the cooler are 140 x 74 x 159 mm (L x W x H). The material used for making the radiator is mostly aluminum. The cooler comes with a well-reputed Riing 120mm fan. The height of the cooler is 159mm. The fan has a rotation speed of 500-1400 RPM. The noise output is also pretty under control with less than or equal to 18dbA. TDP is rated 150W.
What We Liked About Thermaltake Riing Silent 12 Pro
The assembling and installation of the cooler were also easy. The cooler temps are stable under overclocking the Ryzen 7 3700x but show a bit underwhelming result than its competitors.
The design and build of the cooler are very good. The base layout of the cooler is planned out nicely, and the assembled unit looks pleasing to the eye. The fan uses a 4-pin power connector for LED. There are either the red or blue choices as far as lighting goes. Aesthetically, it has a nice appeal.
That fan of the Riing Silent 12 Pro spins at a little underwhelming rotation speed of 500-1400 RPM with really quiet noise levels at just 18dbA. The noise levels are extremely low thanks to the below-average rotation speeds, which could be a con or pro depending on your needs.
The price isn't heavy on the budget at all. This is one of the cheapest CPU coolers out there that supports the AM4 slot, so you can't go wrong with the price with this one.
Things You Might Not Like
Another cooler with not much to say in the area of what not to like about. Although the unit is very quiet, some extra performance over the noise would have been justified. Also, the center contact plate could assist in RAM clearance, but it does hinder the installation process a little bit.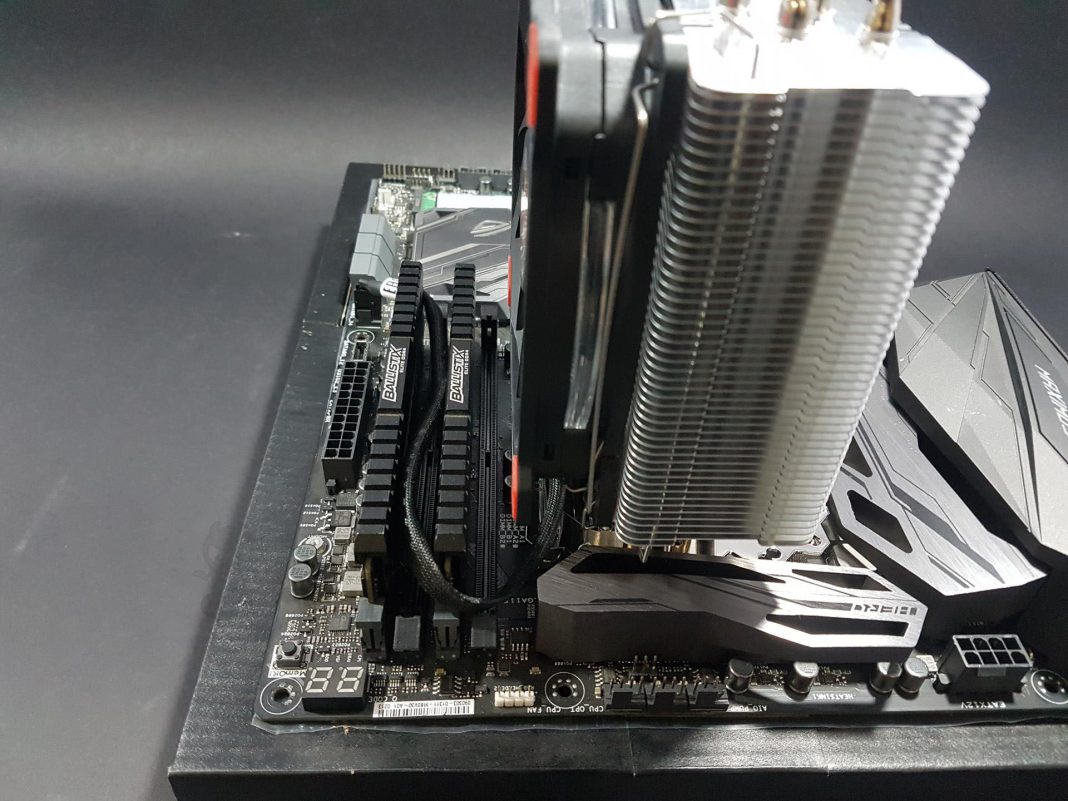 What sets the Thermaltake Riing Silent 12 Pro apart from its competitors?
Thermaltake successfully targets the budget sector of CPU Coolers with the Riing Silent 12 Pro, an air cooler that is incredibly cheap (if you can manage to source one nowadays). The Riing Silent 12 Pro uses a Riing 120mm fan which performs slightly below average in terms of maximum speed, which comes in at about 1400 RPM. However, thanks to the rather low speed, Thermaltake is able to boast an incredibly whisper-quiet sound profile measured at just a mere 18 dB(A).
Despite the unimpressive fan performance, the Riing Silent Pro has a 150W TDP enabling it to easily manage your Ryzen 7 3700X along with the capability to handle moderate overclocking as well. Not to forget, Thermaltake managed to keep an extremely slim profile in terms of the width (74mm( of the Riing Silent 12 Pro, making it one of the prime contenders for the Best Budget CPU Cooler for Ryzen 7 3700X.
Who Should Get Thermaltake Riing Silent 12 Pro
Overall, the Thermaltake Riing Silent 12 Pro is a great cooling choice for Ryzen 7 3700x if you're low on budget. The Performance is sub-par with candidates in the same price range. The Performance could've been better had the fans been traded for speed rather than noise. Even still, the cooler has the top-notch build quality and design, making it our top pick for the Best Budget Cooler For Ryzen 7 3700x.
Read Thermaltake Riing Silent 12 Pro Full Review.
XIGMATEK Aurora 360
Best 360mm Cooler For Ryzen 7 3700x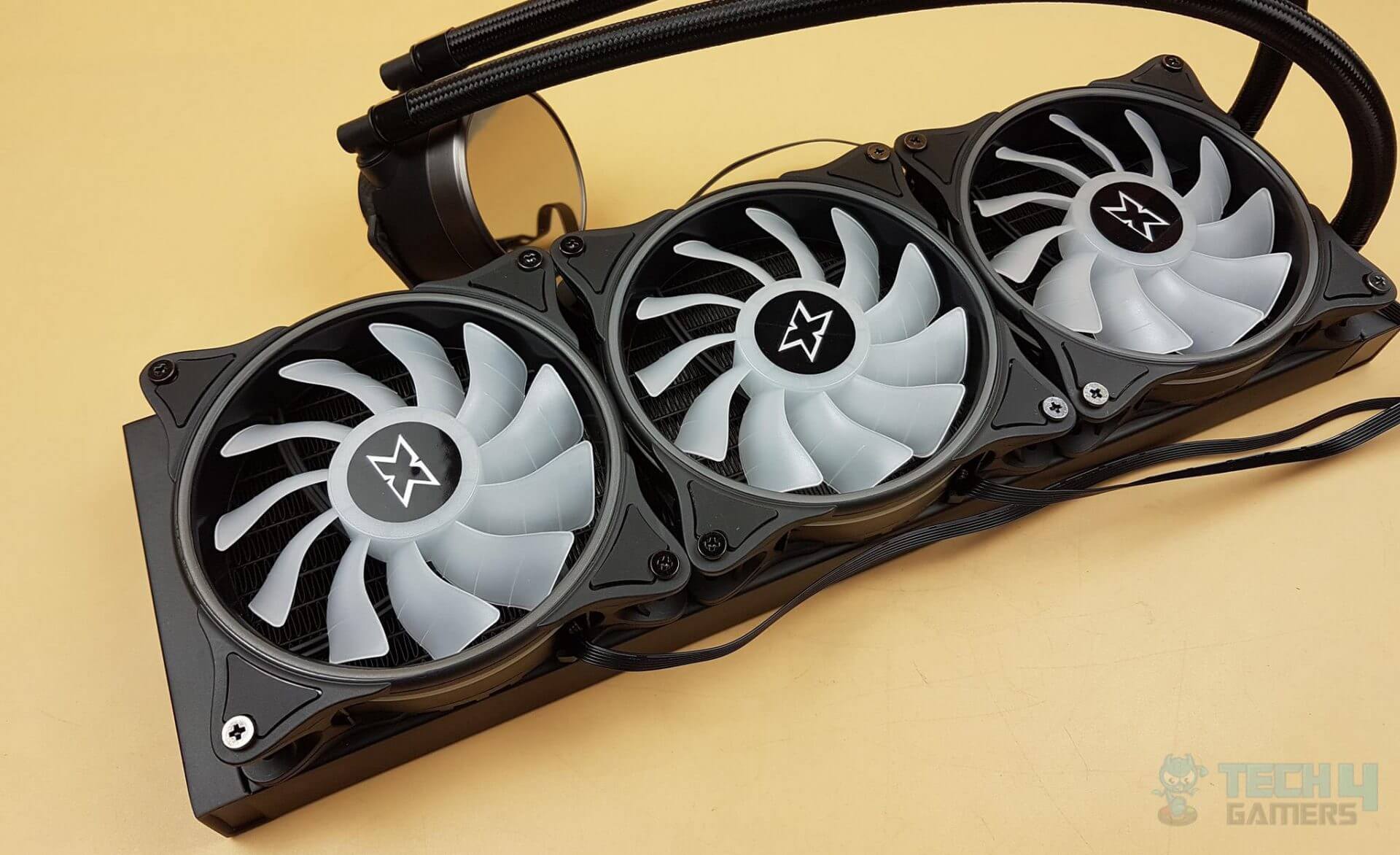 Specifications: Type: Triple Fan AIO | TDP: 450W | Radiator Size: 360mm | Lighting: A-RGB | Dimensions: 398 mm x 120 mm x 27 mm
Pros
Excellent performance
Easily compatible compared to other 360mms
XIGMATEK Aurora 360mm CPU Coolers have quickly made their name in the market as some of the best 360mm coolers out there. There is also a 240mm version of this cooler in the market. The cooler is among our best 360mm coolers for pairing with the latest CPUs, including the Ryzen 7 3700x. The build and design have some unique features in store for us.
The general dimensions of the XIGMATEK Aurora 360 are 398 x 120 x 27mm (L x W x H). The aluminum radiator has a height of 27mm and is paired up with 3 AT120 A-RGB fans. These fans have a rotation speed of 1800 RPM and use 6-pin connectors. The noise output is low at just 28dbA, and the tubes use rubber material for better liquid flow. The TDP for 360mm AIOs is rated more than 450W.
Things We Liked About XIGMATEK Aurora 360
The XIGMATEK Aurora 360 is a massive AIO cooler, but despite its enormous size, it doesn't have any clearance or compatibility issues with the RAM or PC Chassis. The casing should be checked to have enough room for a 360mm cooler to avoid any compatibility issues during the installation process. It is also compatible with any latest CPU sockets, including the AM4. The installation process is pretty straightforward.
The Performance delivered by this giant unit is incredible. The 3 fans running at 1800 RPM really impact the Performance with their huge cooling capacity and not much noise. The noise production with all 3 fans combined is just 26dbA, which is extremely low. Overall, the design and build are very nicely put together, especially the RGB on the fans. The aesthetics of the cooler are top-notch from our perspective. Below are benchmarks for Xigmatek Aurora 360 – comparing other Coolers For Ryzen 7 3700x.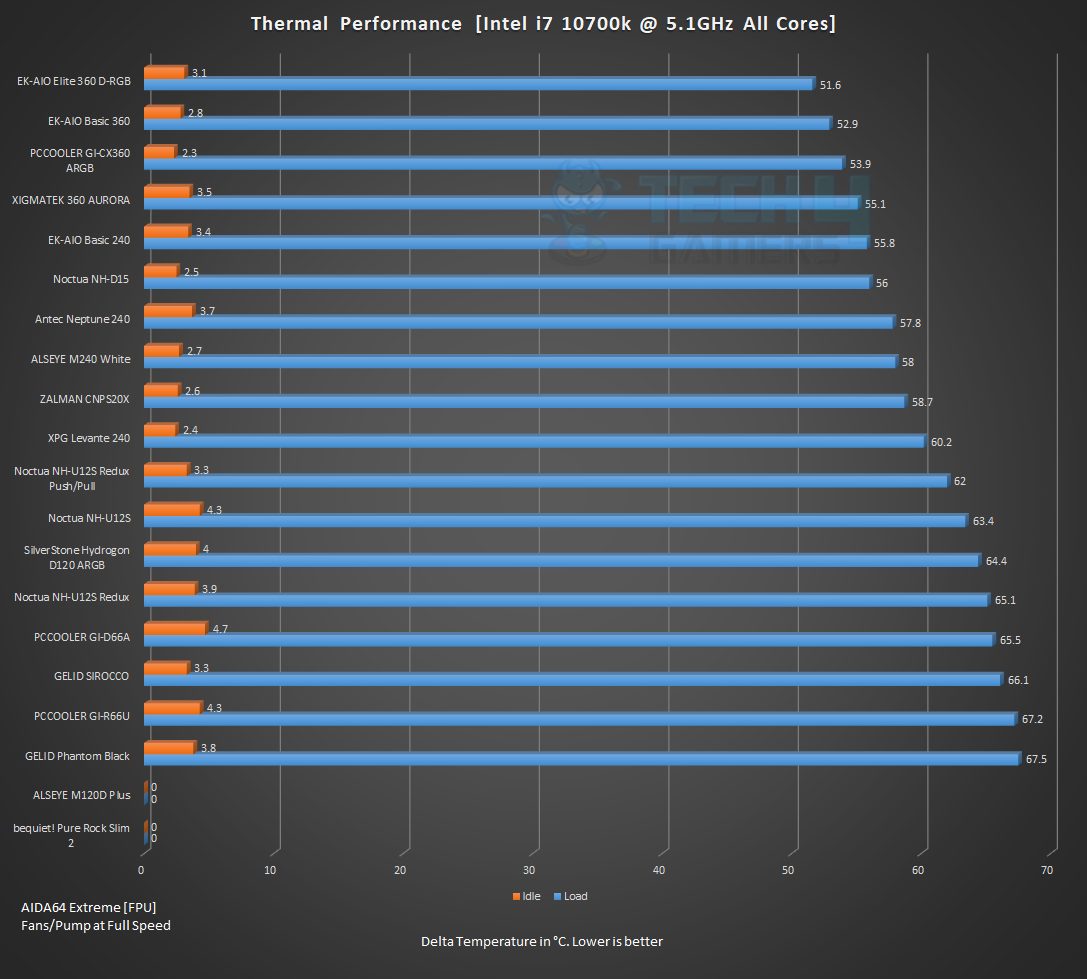 What We Disliked About XIGMATEK Aurora 360
One thing to point out about Aurora 360 is that XIGMATEK does not provide any PWM control of the fans of the cooler. The control box has different operations and functions required to make use of the cooler. There is a significant design flaw with the control box here and XIGMATEK should work on fixing this issue.
What sets the Xigmatek Aurora apart from its competitors?
The Xigmatek Aurora blitzes almost every other AIO thanks to several factors. Firstly, it sports an ultra-high TDP of 450W, which means you won't have any problems pushing your Ryzen 7 3700X to the best of its limits. Secondly, it has a hyper-compact low height of 27mm, so you won't encounter any interference with RAM modules or motherboard VRMs (Voltage Regulator Modules). Thanks to Xigmatek's Ceramic Axle Bearing, the Aurora 360 should perform flawlessly for many years to come, supplemented by the specialized 8-pole motor, which helps to sustain a high fluid flow rate while maintaining a virtually inaudible noise profile at a maximum of 27 dB(A).
Xigmatek uses three of its AT120 fans, which have addressable LEDs built into 11 of their white fan blades, which have frosted white diffusers for enhanced transparency and RGB distribution. On top of this, the Aurora 360 supports the AMD TR4 socket for workstation-class Threadripper CPUs out of the box. Still, it maintains a comparatively low price, making the Xigmatek Aurora 360 a no-brainer in terms of some of the Best 360mm AIOs for Ryzen 7 3700X.
Who Should Get XIGMATEK Aurora 360
The XIGMATEK Aurora 360 is a great product overall and the Best 360mm Cooler For Ryzen 7 3700x. It is a great cooling option for extreme overclocking of your Ryzen 7 3700x. It is a huge save in the price category too, when compared with its other 360mm AIO competitors. It's a low budget, high Performance, and aesthetically pleasing 360mm AIO cooler that is worth your investment.
Read Our XIGMATEK Aurora 360 Cooler Review.
Arctic Liquid Freezer II 120
Best 120mm Cooler For Ryzen 7 3700x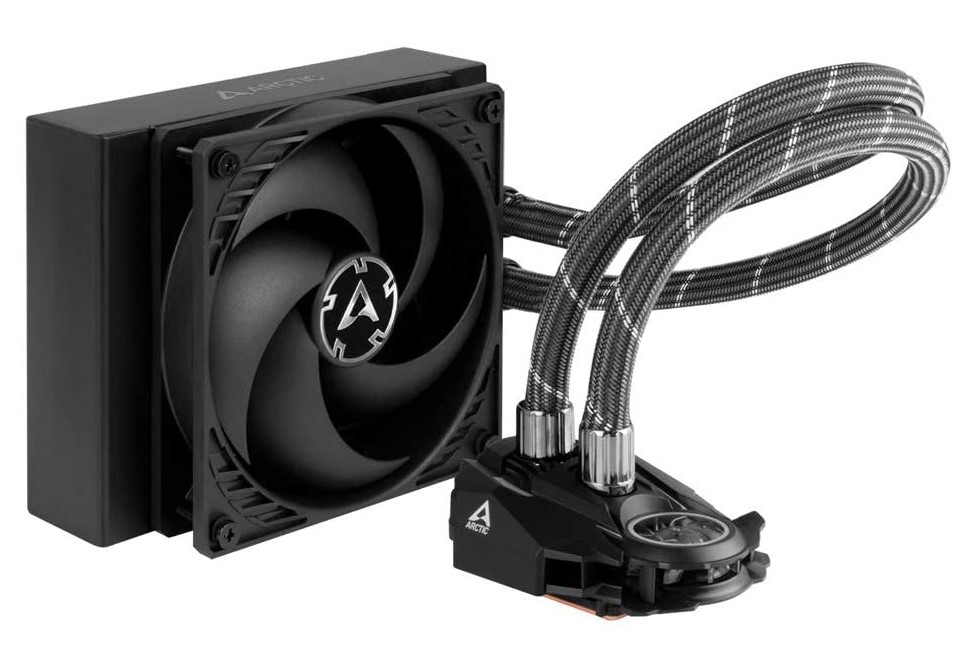 Specifications: Type: Single Fan AIO | TDP: 250W | Radiator Size: 120mm | Lighting: A-RGB | Dimensions: 157 mm x 120 mm x 38 mm
Pros
Good performance
Affordable
Cons
Aesthetics could be better
Arctic has quickly gained traction with the release of its new AIO coolers. In mid-2020, they released a new line of liquid coolers under many different variants named under the Arctic Liquid Freezer II trademark. The Arctic Liquid Freezer II has a total of 5 variants based on different sizes, 120mm, 240mm, 280mm, 420mm, and 360mm. The variant we talk about here is the 120mm one. These cool lines are fairly recent additions to the list of products offered by Arctic.
The measurements of the Arctic Liquid Freezer II 120 are 157 x 120 x 38 mm. The radiator is 120mm long with a well-reputed B12 PVM Fan spinning with a rotation speed of 1800 RPM. The tubes are covered in grey sleeves, and the radiator is made of aluminum for liquid flow and lightness. There is support for all modern AMD and Intel sockets. The Freezer II falls under 120 mm-sized AIO coolers, so the TDP is well above 250W.
What We Liked about Arctic Liquid Freezer II 120
The Liquid Freezer II is compatible with the latest sockets, such as the AM4. In addition to the B12 PVM Fan, a tiny fan provides nice airflow. The surface area of the fins is greater than the standard. The tubes are also thicker than normal. The installation is mostly standard, but there was a small issue when assembling the plates that we will mention later. Arctic has added a subtle feature to the Liquid Freezer II 120: all the cables of the different components coincide into one header, so that's good for cable management. The noise output from the cooler is also quite low too, at just 35dbA, thanks to the B12 PVM Fan. As far as the Performance goes, the Liquid Freezer II can take light overclocking from the Ryzen 7 3700x.
Problems
No strong design flaws worth mentioning except a tiny nitpick. There is this small thing that makes the installation process unnecessarily hard. There are spacers in the cold plates assembling process that are loose and make the support very sensitive. Increasing the diameter of those would fix this issue. The aesthetics could have been better, too, especially with the B12 PVM Fan, as the RGB looks a bit desaturated. The fan offers great air cooling but has a very mediocre look. Arctic does have a trend of prioritizing Performance over the looks in their products. Other than that, there's not much to dislike about this 120mm cooler.
What sets the Arctic Liquid Freezer II 120 apart from its competitors?
The Liquid Freezer II upholds the name of Arctic's award-winning series of AIOs, exhibiting best-in-class performance with Arctic's P12 PWM fan with an embedded VRM fan aside from that for dedicated VRM cooling, which extensively expands overclocking headroom. Furthermore, the Liquid Freezer II 120 manages to maintain whisper-quiet operation, manifesting fantastic cable management paired with a simplistic installation process(as well as an offset mounting option for AMD users for augmented thermal efficiency, making the Liquid Freezer II 120 truly a joy to use and look at.
Arctic distinguishes the Liquid Freezer II 120 via its top-notch after-sales support strengthened by an extensive 6-year warranty. When taking the stellar value for money into consideration, the Arctic Liquid Freezer II 120 cements itself as the Best 120mm AIO for Ryzen 7 3700X.
Verdict
Overall, the Arctic Liquid Freezer II 120 is the Best 120mm Cooler For Ryzen 7 3700x. The build quality and Performance outmatch its competitors with its sleek and compact design. The unit is also moderately priced and offers excellent acoustic Performance compared with other similar coolers. It is an excellent cooling solution for your Ryzen 7 3700x. Arctic Liquid Freezer II 120 is at a standard that prioritizes Performance well over anything else and is priced pretty fairly.
Our Criteria For Selecting Ryzen 7 3700x Coolers
Selecting the Best CPU Cooler For Ryzen 7 3700x out of so many different units under different brand names is a gruesome task. People get confused and end up making the wrong choice most of the time. Maybe they'd underestimate the size of the cooler, or the Performance might not be up to their standards. There are a number of factors that you should keep in mind before buying CPU Cooler For Ryzen 7 3700x In 2023. These are explained below.
Type
CPU Coolers come in many different shapes and sizes. Mainly there are three types of CPU Cooling solutions, including Custom loop Water Cooling kits, Closed-loop AIO Liquid Coolers, and Air Coolers. Each of these may have different variants based on different sizes. Air coolers are best on your budget and are reasonably easy to install. AIO Liquid Coolers and Custom Water Cooling kits deliver maximum thermal Performance but take up a considerable chunk in your budget in some cases. They have bigger density and size too. It is up to you to decide whichever suits your needs and requirements.
Efficiency
A serious factor to consider before buying any CPU cooler is its efficiency or thermal Performance. Each cooler can only handle a certain amount of heat produced by the CPU, otherwise known as the TDP. The rated TDP should be below the maximum cooling capacity of the cooler, or else the cooler will not be able to provide sufficient heat dissipation. This would result in damage to your other PC components as well as reduce the life span of your CPU.
Size
Think about getting an air cooler but keep in mind the size. AIOs have to expand in size to output the best thermal Performance. For this reason, they're pretty large in size compared to air coolers. Air coolers are very easy to mount and install due to their compact design. The coolers' height, width, and density should be kept in mind, so you don't face any clearance or compatibility issues with your other PC components.
Price
One buying tip we should remind you of is to consider your budget. Some of these high-end AIO liquid coolers are very expensive (at least the ones under a reliable brand), but they're Performance heavy and keep your components extra chill. Buy them only if you have money to spare. On the other hand, Air Coolers are pretty efficient for cooling the Ryzen 7 3700x, and they're also very cheap compared to liquid coolers. You can always invest in them if you're on a tight budget.
Ryzen 7 3700x CPU Cooler Compatibility
Ryzen 7 3700x is a CPU that runs on the AM4 socket. It has 8 cores and 16 threads and a minimum to a maximum clock speed of 3.6 GHz – 4.4 GHz. The TDP rating of the base clock is just 65W, while on extreme overclocking, it is close to 163W. The cooling efficiency required is very large in order to be completely compatible with the Ryzen 7 3700x. For overclocking the Ryzen 7 3700x, you will need a powerful cooler. There also exists clearance and compatibility issues with other PC components when buying aftermarket coolers, so that should be checked alongside the affinity of the cooler and the CPU.
For maximum thermal efficiency with any cooler, you'll need it to have a higher TDP rating than the Ryzen 7 3700x's 163W. All of the above-mentioned coolers are highly compatible with the Ryzen 7 3700x in that regard, as all of their TDP ratings are the same as or above the 3700x's.
How We Tested CPU Coolers For Ryzen 7 3700x
All of the chosen Best CPU Coolers for Ryzen 7 3700X undergo comprehensive research here at Tech4Gamers, after which we take into account our proficient analytics, combined with in-house reviewing and testing (if possible). We also compare real-world performance benchmarks under idle, typical, and heavy/gaming/overclocking workloads. Not to forget, we crossmatch noise levels to present a completely objective perspective of each Best Ryzen 3700X Cooler in every aspect.
How We Picked These CPU Coolers
Selecting the Best CPU Cooler for Ryzen 7 3700X isn't a job well-suited for the faint-hearted since you'll need to account for several factors. Nonetheless, you're the one who has to make the decision ultimately. For your convenience, we've mentioned and explained a couple of crucial points to brood over while attempting to handpick the Best 3700X Cooler suited to your customized workloads.
Budget
Every 3700X cooler will introduce itself at a unique price point, determined by its relative cooling performance, build quality, general design, and aesthetics (including RGB capabilities, if any), not to forget manufacturer support and bundled accessories, which varies among even the Best Ryzen 7 3700X CPU Coolers. Therefore, it's essential to keep a specific budget in mind, so you'll know whether it's feasible for you to splurge on some of the fancier 3700X coolers around or compromise on perhaps RGB lighting, for example, going ahead with a functionality-oriented, high-performance cooler instead.
Performance
An essential aspect of any CPU cooler would be the relative performance it offers. The fan's specs, including the max RPMs alongside the amount of airflow it produces, are of utmost importance, not to mention the size of the heatsink and the FPI (Fins Per Inch) count (the higher, the better).
If you're looking for the Best AIO (All-in-One) CPU Cooling Solution for Ryzen 7 3700X, you should keep the pump speed in mind as well. Generally speaking, the higher the pump speed, the cooler your CPU will run. Some of the Best AIOs will even offer dedicated VRM fans for keeping the VRMs (Voltage Regulator Module) on your motherboards cool, which helps within heavy usage/overclocking scenarios.
Efficiency
Even the Best CPU Coolers for Ryzen 7 3700X will differentiate from each other in terms of operational efficiency. That's why it's crucial to choose a CPU Cooler with the capacity (and some extra clearance) to capably cool down your entire PC alongside the CPU without needing to induce thermal throttling to maintain satisfactory temperatures.
Let's consider the Ryzen 7 3700X, the main focus of this article. AMD has rated the CPU's TDP (Thermal Design Process) at 65W, so you should be searching for a cooler rated at 90-110W+ so as to give you slight-to-moderate overclocking clearance as well, should the day ever come for that.
Noise: Smaller fans have a tendency to be noisier, so it's for the best if you choose a Ryzen 3700X cooler with a larger fan since it'll be able to spin at lower speeds but produce the same amount of airflow, albeit with far less noise.
Aesthetics and Build Quality
Manufacturers tend to distinguish their respective offerings for the Best AMD Ryzen 7 3700X Coolers by offering their unique take on the cooler's aesthetics and build quality. Some brands might opt for more premium construction and dazzling RGB capabilities, leading to a higher price tag. In contrast, others may favour a slightly unexotic or more practical approach, sacrificing their design flair for perhaps improvised cooling performance and, with luck, a lower cost price.
Compatibility
It won't come as a huge shock to know that not every CPU cooler in the market will necessarily be compatible with your processor of choice, i.e., Ryzen 7 3700X. Manufacturers often tend to release two variants of the same cooler, one for Intel users and the other for our die-hard AMD fans out there. That's why it's essential to crossmatch the socket support of your desired CPU cooler with the socket of your CPU to confirm compatibility. As you must've noticed already, all the products which took a spot on our selection of the Best CPU Coolers for Ryzen 7 3700X have been tested for 100% compatibility with the 3700X, which sports an AMD AM4 CPU socket.
(Sidenote: If you happen to be showing off the all-new Intel Alder Lake processors, you may reach out to the coolers' manufacturers to see if they'll provide you with an upgrade kit for the LGA 1700 socket should you wish to utilize any of the enlisted Best 3700X CPU Coolers for an Intel 12th Generation processor. Of course, that's assuming the manufacturer hasn't already included the kit in the packaging.
Please have a look at our renowned list of the Best LGA 1700 CPU Coolers while you're at it.
Manufacturer Support
We make it a habit of closely scrutinizing each of the Best Ryzen 3700X Coolers listed in terms of after-sales customer service care provided by each manufacturer, keeping in mind past experiences and track records while also inspecting the MTTF of individual components such as the fan, pump (in the case of an AIO), and the entire unit itself. Of course, we don't let warranty periods slide by, actively encouraging manufacturers to stand by their products for an extended period of time, often up to 6-years.
Why Should You Trust Our Judgement?
With over twelve years of experience in the tech and gaming industry, our dedicated team has been refined consistently to produce a potent group of cultured individuals who are known to convey the most accurate information to our valued consumers, thanks to the extensive research and reviewing we conduct before we publish every piece of journalism.
In addition to this, we have been explicitly featured on a majority of the top-notch gaming and tech brands, such as Gigabyte, MSI, Asus, and DeepCool, to name a few, as reliable and trusted sources for Hardware and Technology. These and other reputed manufacturers such as Noctua, Thermaltake, Xigmatek, and many others regularly send samples to us, on the basis of which we formulate unbiased reviews to give our readers a genuine representation of the product from an objective perspective.
Subsequently, we instill confidence in our esteemed audience, which may rely on us to convey the best advice for building, customizing, and modifying their personal gaming computers.
Frequently Asked Questions
Does the Ryzen 7 3700x come with a stock cooler?
Yes, AMD graciously bundles the Ryzen 7 3700X with its proprietary Wraith Prism, the best Air Cooler AMD has to offer from its lineup in terms of stock cooling solutions
How good is Wraith Prism Air Cooler for Ryzen 7 3700x?
Performance-wise, it is good for everyday use but not so much for extreme overclocking. The design and build are much better than previous installments in Wraith series. It is one of the best stock coolers out there and recommended for basic use. As long as the clocks are below 3.9GHz.
Is stock cooler enough for Ryzen 7 3700x?
For general usage and moderate gaming sessions, the Wraith Prism will work without any hiccups since it's rated for a TDP of at least 105W. In contrast, the default TDP of the Ryzen 7 3700X is 65W, although this will substantially increase if overclocking ensues. Therefore, you should refrain from highly power-hungry workflows such as heavy gaming sessions or overclocking scenarios.
Do you need liquid cooling for Ryzen 7 3700x?
For a majority of our audience, no. There's absolutely no need to go all out on a Custom Water Cooling setup for the Ryzen 7 3700X since it's a relatively thermal efficient processor, in sharp contrast to the more powerful Ryzen 9 3950X or 5950X, which have TDPs ranging from a base rating of 105W to 150W+ when overclocked. Liquid cooling will also be unable to yield you a sustainable price-to-performance ratio as AIOs and top-of-the-line air coolers are far cheaper with less aftercare required while also managing to exhibit splendid thermal dissipation.
How much can you overclock Ryzen 7 3700x with a stock cooler?
The Wraith Prism Air Cooler is only good for light overclocking for the Ryzen 7 3700x. It is highly recommended not to extreme overclock the Ryzen 7 3700x with the Wraith Prism stock cooler.
How good is the thermal paste that comes on the stock cooler of Ryzen 7 3700x?
AMD's thermal paste is notoriously infamous for sticking to the exterior surface of the CPU after a few months or years of operation, making it very hard to scrub off properly, should you choose to pair the Ryzen 7 3700X with an aftermarket cooler in the future or implement high-quality thermal compounds from manufacturers such as Noctua, Arctic or Thermal Grizzly. Otherwise, for day-to-day usage, the stock thermal paste should be fine routinely speaking and even from a long-term perspective, provided you don't intend to install an aftermarket CPU cooler or change the thermal paste later down the line
What CPU cooler should I get with Ryzen 7 3700x?
If you're planning to overclock your processor or go all-out on gaming with ramped-up settings, it's best to stick with a 240mm or 360mm AIO if you have the means to purchase one for maximum overclocking clearance while delivering optimal cooling performance at comparatively inaudible sound levels. Alternatively, you may choose to go for a dual-tower high-performance air cooler from the likes of DeepCool or Noctua, which will come within striking distance of even the Best 120mm and 240mm AIOs with decent headroom for higher CPU Turbo frequencies while maintaining an incomparable price point, often half as cheaper than competitive AIOs.
Was our article helpful? 👨‍💻
Thank you! Please share your positive feedback. 🔋
How could we improve this post? Please Help us. 😔