Intel's 12th Generation Series of CPUs (codenamed Alder Lake) have been in the markets for almost an entire year as of now. In its attempt to promote the introduction of DDR5 support, Alder Lake processors, and thus, their complementary 600-Series Intel Chipsets, primarily support either DDR4 or DDR5, with manufacturers launching two variants of the same motherboard for this purpose, leaving the ultimate choice up to the gamers. In sharp contrast, AMD's newly-launched Ryzen 7000 Series Processors and thus, their compatible AMD-based 600-Series chipsets entirely support DDR5 as part of AMD's aggressive move to propel the uptake and utilization of DDR5 RAM in consumer-grade PCs. "Courage," as Apple would put it, is undoubtedly admirable on AMD's behalf and will come to their benefit in the long run. Still, the question of whether DDR5 is actually beneficial at this point in time for real-world gaming and productivity workflow scenarios remains unanswered, and that's precisely where we come to your aid.
Award
Best Overclocking And Performance DDR5 RAM
Best Value For Money DDR5 Ram
Best Bang For Buck DDR5 RAM
Ram
Corsair Dominator Platinum RGB DDR5
G.Skill Trident Z RGB DDR5
What We Liked About It
Fast Performance & Excellent Looks
Incredible Performance With Low CAS Latency
Incredible value for money
What We Disliked About It
Design might be outlandish for some
Last update on 2022-09-29
DDR5 RAM aims to revolutionize the existing DDR4 standard, with the former offering a higher maximum density per module (64 GB vs. 256 GB) as well as lower power consumption (1.1V vs. 1.2V), in addition to double the base frequencies (4800 MHz vs. 2400 MHz) with the fastest DDR5 RAMs in existence easily breaking the 7200 MHz barrier, with the theoretical ability to reach a staggering 8400 MHz, as compared to DDR4 RAM which tops out at 3200 MHz (in terms of stock speeds). DDR5 modules also feature on-die ECC (Error Correction Code), which serves to prevent and mitigate memory defects in an attempt to vastly improve RAM reliability and overall performance while reducing the chances of a system crash, a phenomenon that is detrimental for any PC, be it a consumer-grade workspace or server/workstation-class productivity machine. Speaking of workstations, server-grade DDR5 modules will also bear additional temperature sensors to closely monitor the RAM's thermal efficiency to sustain peak PC performance by automatically regulating the cooling system as needed.
DDR5 RAM also showcases built-in PMICs (Power Management Integrated Circuit), which automatically regulate the voltage to all components of the memory module, with a few manufacturers such as Asus and Gigabyte manufacturing top-of-the-line motherboards to circumvent and thus, unlock DDR5's native PMIC controls, enabling enthusiasts to manually control their RAM's voltage levels, which will prove immensely beneficial when it comes to driving the highest memory frequencies with the lowest RAM Timings and Latencies. DDR5 circuits also integrate DFE (Decision Feedback Equalization), which helps to maintain stable performance when running DDR5 memory at higher frequencies (4800 MHz+).
Alas, it's not all daisies and sunshine for DDR5 RAM. The latest technological standards come with an eye-watering price tag, and DDR5 is no different, with the newer standard RAM modules being plagued by a series of incredulously priced kits, ranging from $150-300 for 32 GB of DDR5 memory (with stock speeds ranging between 4800-6600 MHz), whereas you can get the same capacity of 3200-3600 MHz of premium, overclockable DDR4 RAM for less than half the price.
It's pertinent to note that while these DDR5 Kits are reaching the sky with respect to their frequencies, they're equally vulnerable when it comes to perpetuating the same advantage as far as memory timings and CAS Latencies are conserved. We'll delve into further detail in the later sections of this article, but for now, you can safely assume that DDR5 RAM doesn't automatically guarantee you a headshot in Valorant.
Best DDR5 RAM
Keeping the above-mentioned factors in mind, let's skip to the positive aspects for now, and showcase the Best DDR5 RAM available in 2022, which were selected in accordance with a number of factors, including but not limited to, Pricing, Real-World Performance, Design Flair, Build Quality, and Overclockability, to name a few as well as every manufacturer's pre-existing track record.
Based on our research, the following are the BEST DDR5 RAM's to get in 2022:
Corsair Dominator Platinum RGB DDR5
G.Skill Trident Z RGB DDR5
Corsair Vengeance DDR5
GeIL Polaris RGB DDR5
XPG Lancer DDR5
Crucial DDR5 4800Mhz
Kingston FURY Beast 32 GB DDR5
G.Skill Ripjaws Dual Channel DDR5
Patriot Viper Venom RGB DDR5
Teamgroup Elite DDR5-5600
Corsair Dominator Platinum RGB DDR5
Best DDR5 RAM In 2022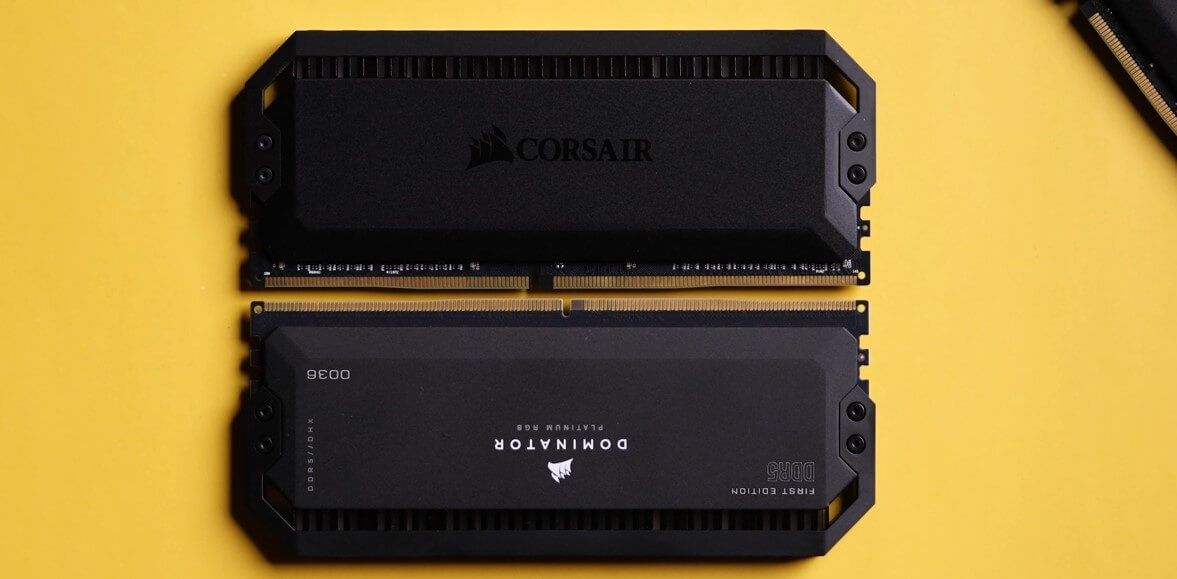 Specifications of Corsair Dominator: Memory Type: DDR5 | Capacity: 32GB (16GB x2) | Frequency: 5200 MHz | Latency: CL38 | RGB Lighting: Yes | Color: Black/Grey
Corsair has always been quite popular in the RAM scene for quite some time now. They have several different products such as the Vengeance LPX series, Vengeance Pro, RGB series, and of course, the extremely famous dominator platinum series. It would be a crime to not include the Dominator Platinum RGB DDR5 kit on our list today. It brings together reliability, high capacity, fast frequency, and great aesthetics into one great product.
As such, it deserves the top spot on our list. The kit we are looking at here has two modules, each of which is 16 gigabytes in size. In total, these modules give us a combined capacity of 32GB in a dual-channel configuration. This 288-pin DDR5 kit runs at a high frequency of 5200MHz, which is perfect for both gaming and productivity.
Other than that, the dominator platinum uses a CAS latency of 38. All in all Corsair Dominator DDR5 RAM kit pairs perfectly with the next-gen processors. This is thanks to the low CAS latency, high frequencies, and capacity. 16 gigs of RAM is still enough for gaming, and you're getting it the newest, most efficient-platform possible
On top of all of that, this memory kit also happens to look quite good. You can get it in either black or white, so it will fit into any build perfectly. The individual LEDs on the top also add a nice subtle glow to your build. While it does not stand out as much as the flashier RGB kits, the design is more sophisticated and accessible for most people. Because of these reasons, it gets the top spot on our list.
Pros
Excellent Design
Fast performance
Elite RGB Solution
Works well with iCue software
Respectable CAS latency
Cons
Expensive side of the DDR5 Ram
G.Skill Trident Z RGB DDR5
Best Overclocking And Performance DDR5 RAM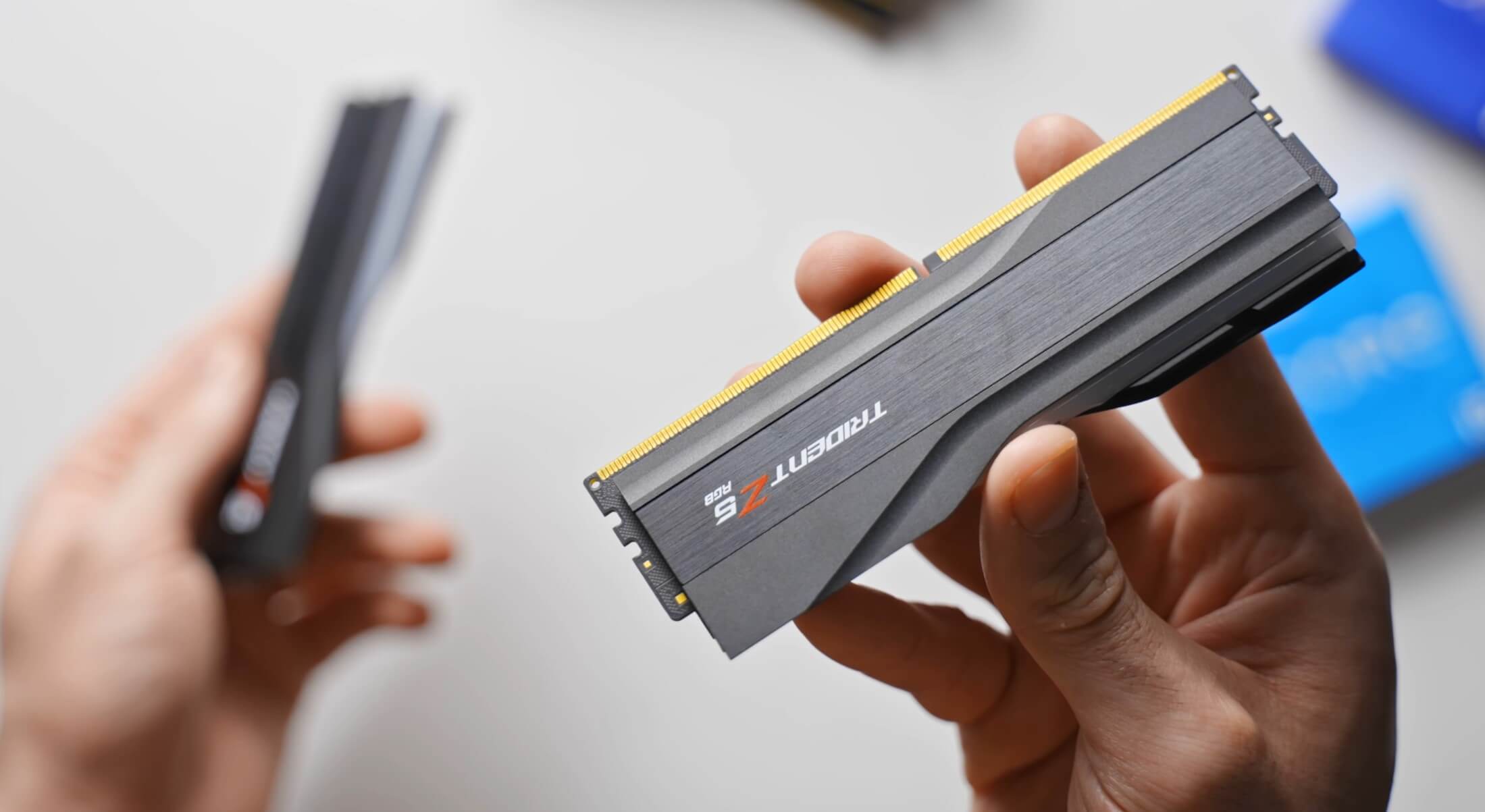 Specifications: Memory Type: DDR5 | Capacity: 32GB (16GB x2) | Frequency: 6600 MHz | Latency: CL36 | RGB Lighting: Yes | Color: Black/Silver
G.skill has been at it for quite a long time now. Their trident series of memory kits are extremely popular. You will often find them in high-end builds, see Youtubers use them, and they tend to be an easy recommendation from reviewers as well. As such, it wouldn't be possible to create a list without at least mentioning the Trident Z RGB DDR5 version. As expected, this is one of the best DDR5 RAM kits available in these early stages.
With all of that said, the Trident Z RGB is here for one big reason: performance. We all knew that this new platform was going to bring a lot of improvement to the table, and the Trident Z RGB is a great example of that. Not only does is it plain faster than its DDR4 predecessor, but it delivers on all regards in a more efficient manner, creating a win-win situation. The only major differentiator left then is the price. However, this RAM kit makes up for that as well.
Clocking in at a comfortable 6600MHz, G.Skill Trident RAM kit is faster than anything we have seen previously in the market. Not only will this prove to provide great performance in terms of gaming, but it also gives us an idea of what the next generation of gaming is capable of. Combine that with a hefty capacity of 32 gigabytes and a low CAS latency of CL36, and we have ourselves a winner. If performance is all that you care about, it does not tend to get much better than this.
On top of that, the Trident Z RGB DDR5 memory kit accomplishes all of this while looking at the part. The design is similar to the DDR4 version, but it is even more angular this time around. The physical size of the RGB strip is smaller, but the subtle glow makes up for it with excellent lighting effects. Furthermore, the G.Skill Trident Z DDR5 Ram kit is available in two colors: black and silver. The silver has an almost white hue to it, so it will perfectly into an all-white build.
If you can look past the high cost of entry, this is by far the best kit available right now in terms of performance, capacity, and design. It's just the Dominator Platinum proves to be a better all-rounder overall. Either way, you should go with G.Skill Trident Z RGB if you want the Best Overclocking DDR5 Ram.
Pros
Fantastic Aesthetics
Incredible Performance
Two elegant color options
Low CAS Latency
Subtle RGB
Cons
Quite Expensive For an i5 Build
Corsair Vengeance DDR5
Best Budget DDR5 Ram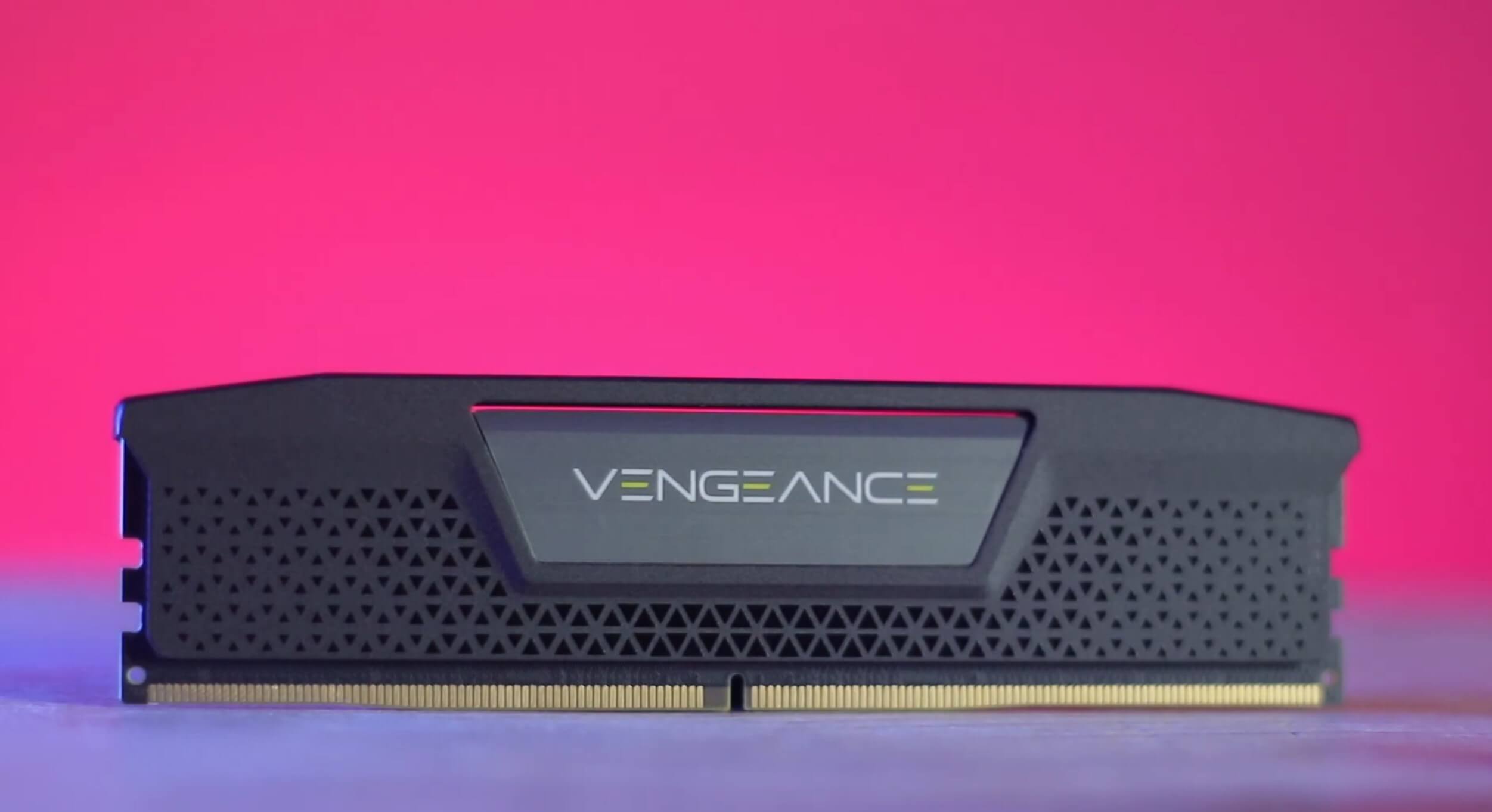 Specifications: Memory Type: DDR5 | Capacity: 32GB (16GB x2) | Frequency: 5200 MHz | Latency: CL38 | RGB Lighting: No | Color: Black/Grey
We've already talked about Corsair's excellent reputation when it comes to memory kits, and the trend continues with the Vengeance line. Perhaps even more popular than their Dominator series, the Vengeance series of DDR5 memory is going to be a massive hit. We've already seen the success of the Vengeance Pro and Vengeance RGB with DDR4, and things might prove to be even better for Corsair with this new DDR5 version.
The one we are looking at today happens to be a 32-gigabyte kit, with two modules holding a capacity of 16 gigabytes each. Down the line, you can add one or more modules depending on the motherboard as well. DDR5 still supports dual-channel, so not much has changed in that regard really. Apart from that, this vengeance kit also looks a bit better than its predecessor.
The DDR4 version stood out a lot because of its tall heat spreader and angular design. The Vengeance DDR5 memory kit is more streamlined, and the overall design language is more approachable in terms of accessibility. You don't need to worry about the tall heat spreader interfering with the CPU cooler either. A bold "vengeance" logo is stamped proudly in the front-center of the modules.
As for the specs, we've already talked about how this is a 32GB DDR5 Ram kit. Each of those modules has a frequency of 5200MHz, which is more than enough for most gamers. Truth be told, it is a bit overkill as games are not taking full advantage of higher frequencies just yet. If you're the type who cares about futureproofing, then this is surely a good investment. This kit has a CAS latency of CL38.
To sum it up, securing another spot on this list was a piece of cake for Corsair. The Corsair Vengeance kit will likely be found in a lot of kits down the line. The lack of RGB is a bit of a disappointment, but that is what ends up saving our money at the end of the day. In terms of value, this is the Best Value For Money DDR5 Ram.
Pros
Sleek design
Great value for money
Respectable CAS latency
Extremely reliable
Affordable Price Comparing other DDR5 Memory Kits
GeIL Polaris RGB DDR5
Best Looking DDR5 Ram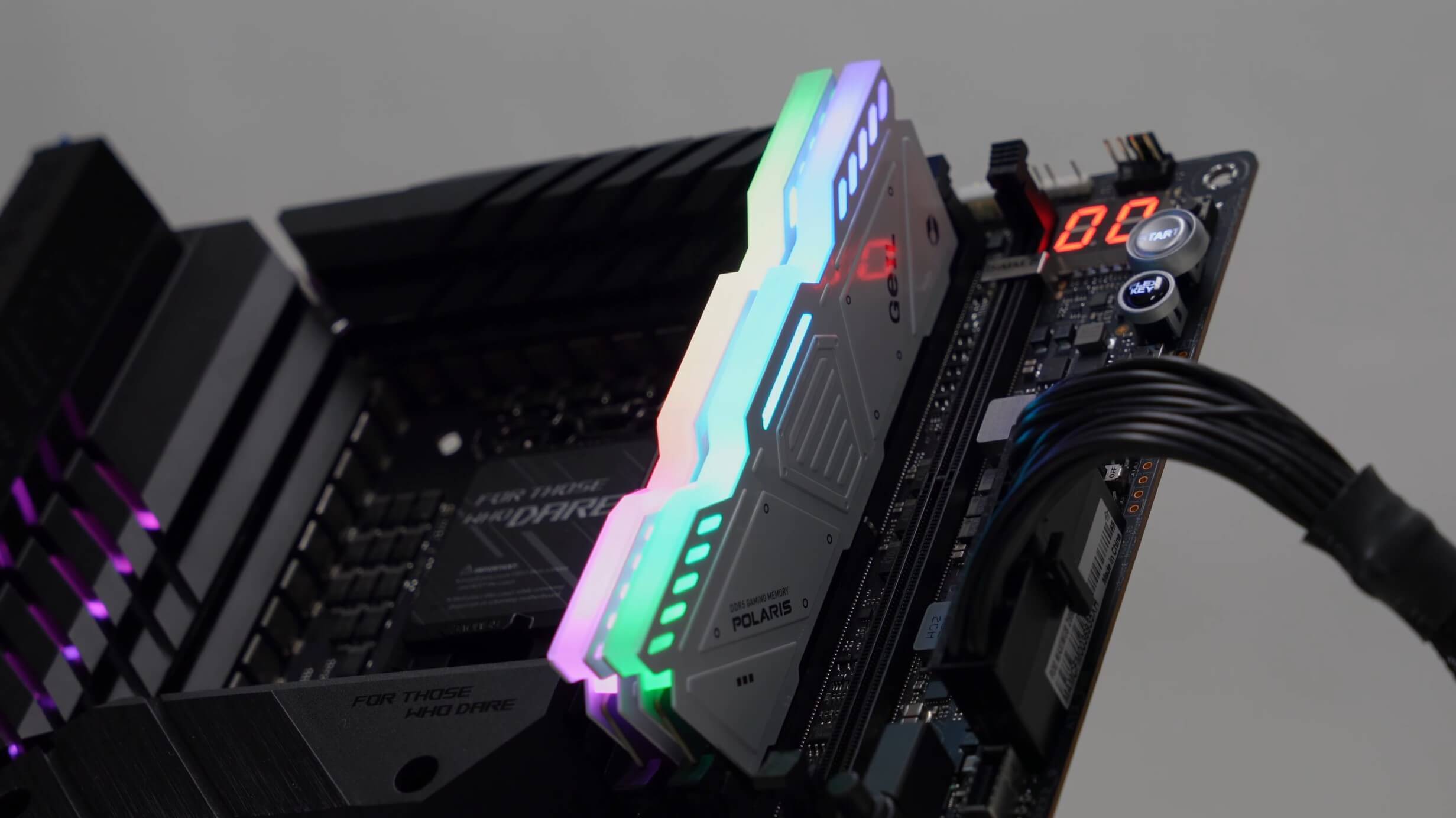 Specifications: Memory Type: DDR5 | Capacity: 32GB (16GB x2) | Frequency: 4800 MHz | Latency: CL38 | RGB Lighting: Yes | Color: Black/Grey
Let us take a bit from the big names such as G.Skill and Corsair for a second. Right now we're taking a look at Geil's take on their DDR5 lineup. This is a relatively new entry into the market, as Geil became popular over the last few years in recent memory. This was mostly due to the price-competitive options when it comes to DDR4 RAM. While not as popular in the USA, Geil is a brand that succeeds in Asia because of its low prices.
As the design of the RAM kit might tell you, this is one of those products that are built purely to look incredibly stunning inside a high-end PC. Fortunately, the Polaris RGB kit does not focus on form over function. It performs just as well as it looks. It sports the numbers of DDR5 while looking great. This is one of those RAM kits that might elevate the look of a gaming PC to the next level.
Thus, we have no problem dubbing Geil Polaris as the Best RGB DDR5 RAM in 2022, currently. Of course, new options will pop up on the market all the time. However, currently, this happens to be the best in terms of design. Furthermore, the performance is also up to snuff, as it should be with a DDR5 kit.
The kit is available in a variety of memory capacities and frequencies, but we recommend going with the 32GB kit at the speed of 4800MHz. That might seem like it's on the lower end of the spectrum. However, it's a good place to start if you want bragging rights about having a DDR5 Memory Kit inside your gaming PC. This 32GB configuration ends up being great for both gaming and productivity. Our staff even went on to recommend Geil Polaris as the top 3 Ram for i9-12900k.
Finally, the angular look of the DIMMs goes well with many other gaming-oriented products in recent memory. We figure that this kit will look great in most of the mainstream gaming PCs out there. Overall, the implementation of RGB is sophisticated and is also controllable via motherboard software.
Pros
Aggressive design
Flashy RGB lighting
Decent performance
XMP Ready
Cons
Design might be outlandish for some
Expensive
XPG Lancer DDR5
Best Bang For Buck DDR5 RAM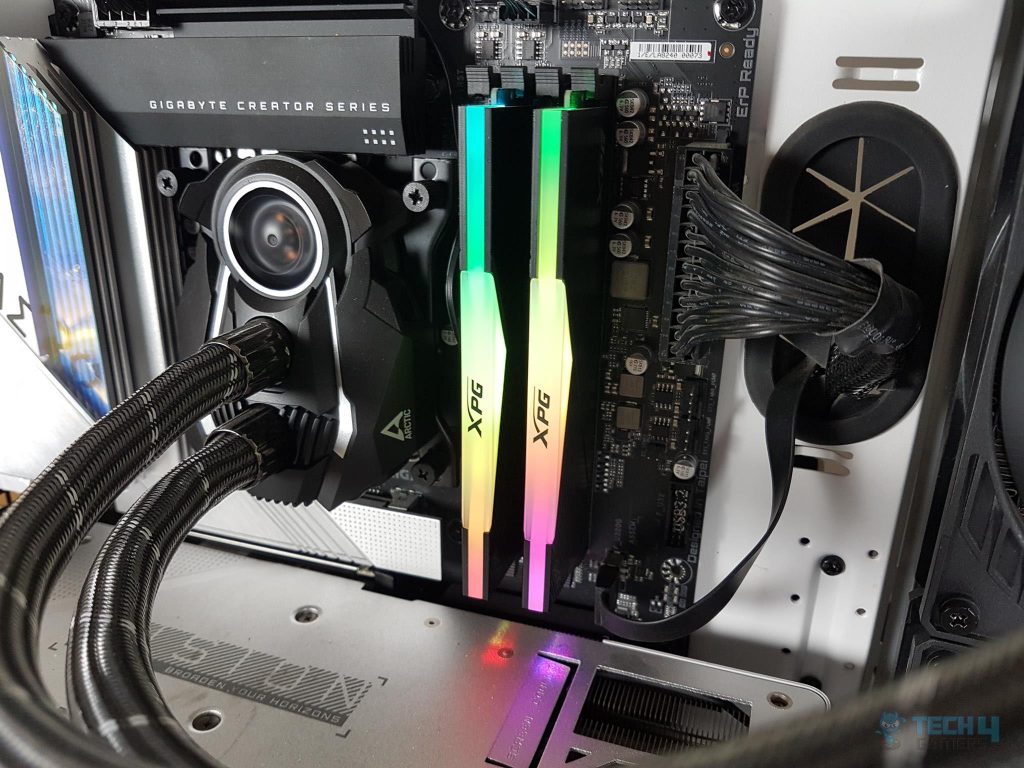 Specifications: Memory Type: DDR5 | Capacity: 32GB (16GB x2) | Frequency: 5200 MHz | Latency: CL38 | RGB Lighting: No | Color: Black/Grey
For many members of the PC Master Race community, XPG might be a relatively unknown name. With that said, XPG is the gaming brand that is brought to us by ADATA, the brand known for value-for-money products in the SSD and memory market. We have reviewed quite a few XPG products in the past as well, such as the XPG Spectric D41 RAM kit.
ADATA did not waste much time at all with the release of DDR5. They were one of the first to get their memory kits out on the market, and the XPG Lancer happens to propose a great value for people who want the most bang for their buck. It ticks all of the boxes, and as such might be one of the best DDR5 RAM that money can buy. You may also check the detailed take on XPG Lancer RGB 6000 DDR5 Black Kit Review.
When paired with the next-gen processors, the Lancer delivers excellent performance. This is thanks to the advancements we see in the generational jump between DDR5 and DDR4. The Lancer can be bought in a variety of different frequencies and capacities, but we recommend going with the 32GB kit. This DDR5 Memory kit features 2x16GB modules that operate at a frequency of 5200MHz. The CAS latency is labeled at a respectable CL38.
Aesthetically speaking, this DDR5 RAM kit looks quite attractive as well. It does not feature an aggressive design nor does it have any RGB. Instead, it goes for an industrial look with a brushed metallic finish, similar to what we have seen in the Spectrix D50. However, we understand that many people want RGB, especially at this price. Overall, XPG Lancer is the Best Bang For Buck DDR5 Ram.
Pros
Subtle and sleek design
Great performance
XMP 3.0 Ready
Crucial DDR5 4800Mhz
Best Cheap DDR5 RAM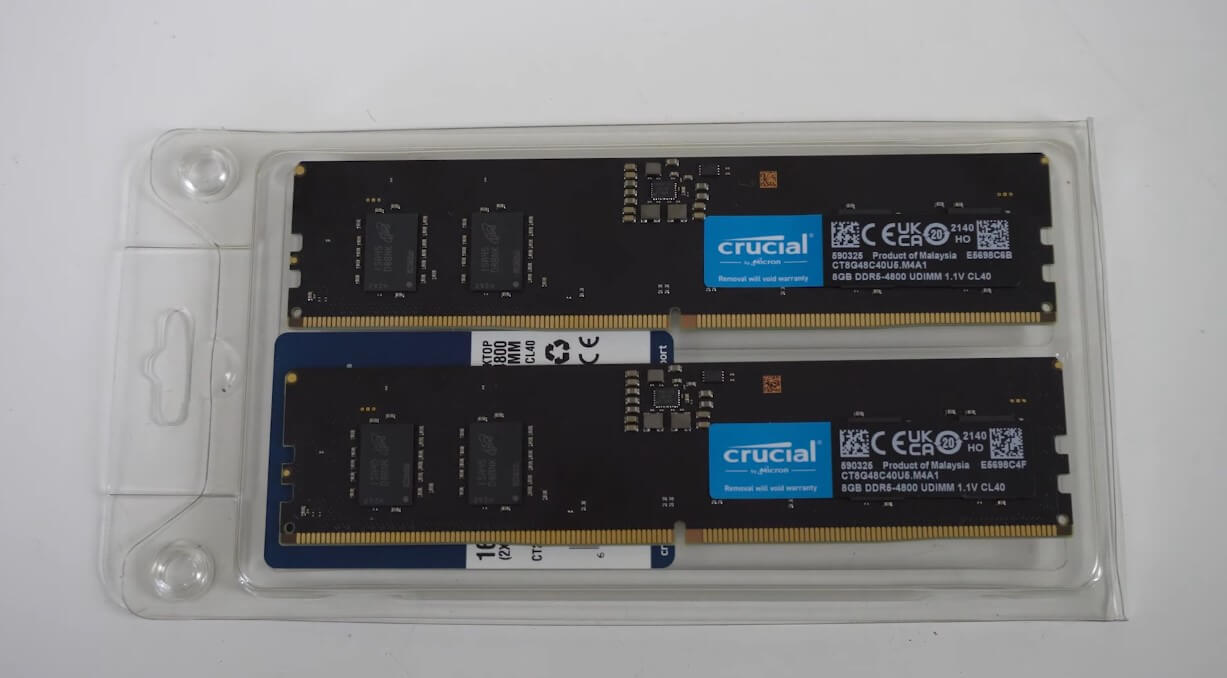 Specifications: Memory Type: DDR5 | Capacity: 16GB | Frequency: 4800 | Latency: CL40 | RGB Lighting: No | Color: Black
It is easy incredibly easy to get lost in the world of flashy designs, bright RGB lighting, and super fast frequencies. This is especially true when it comes to a DDR5, the newest kid on the block. Not everyone is willing to drop a ridiculous amount of money on an expensive DDR5 kit. If your new build is focusing purely on performance then you'd like to save money where you can.
The Crucial DDR5 Ram kit takes a different approach, especially compared to the other options on this list. It focuses on the price to performance ratio rather than anything else. Crucial went for the value for money route, instead of giving priority to design, flashy RGBs, or other bells and whistles.
While the product itself is still expensive due to the nature of DDR5, it still manages to cost less than the competitors on the market. As such, it manages to be a great entry-level kit, and it will likely be quite popular in mid-range PCs. People who don't care about looks at all will also feel quite comfortable with having a cheaper DDR5 kit inside of their PC.
However, this simple design should not be an illusion to you. This DDR5 Memory kit still packs some serious performance thanks to the new platform. You can purchase this kit in a variety of configurations but our recommendation happens to be the 32GB kit in the 16GBx2 DIMM configuration. The frequency for Crucial DDR5 kit is rated at 4800MHz with a CAS latency of CL40. You can go with higher capacities as well, but those variants don't hold the same value.
All in all, the Crucial DDR5 kit is basic as the comes in terms of aesthetics. There is no heat spreader, and the DRAM chips are visible to the naked eye. This bare PCB design is quite common in OEM PCs, and it's amusing to see a DDR5 kit look like a DDR3 one.
To Summarize, If pricing is an issue for you, then the Crucial 4800mhz is our recommended Best Cheap DDR5 Ram In 2022.
Pros
Incredible value for money
Perfect for entry-level builds
Hard to compete with price
Cons
No bells and whistles
Still expensive for a barebones kit
Outdated design
Kingston FURY Beast 32 GB DDR5
Best Gaming DDR5 RAM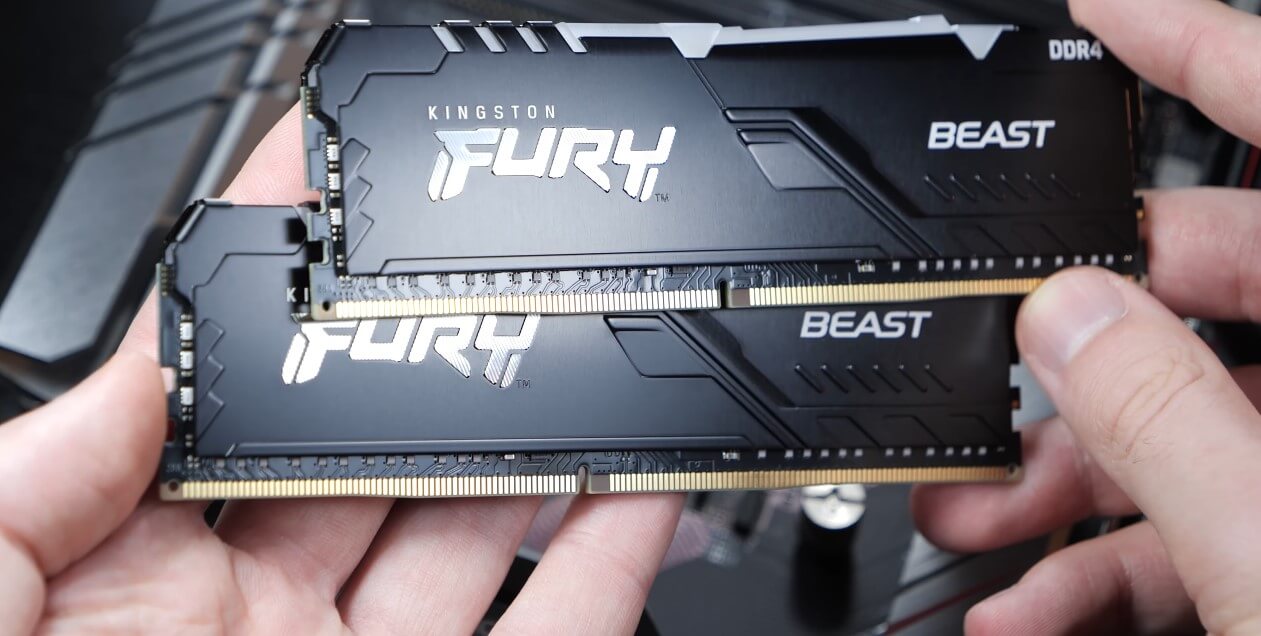 Specifications: Memory Type: DDR5 | Capacity: 32GB (16GB x2) | Frequency: 5200 MHz | Latency: CL38 | RGB Lighting: No | Color: Black
Kingston is a giant American multinational company that excels in flash memory products, storage, and other computer memory products as well. The company name is what immediately comes to mind when you think of an external drive or a USB. They also happen to own the HyperX brand, which is extremely popular when it comes to peripherals.
The same company brings us the excellent Fury Beast DDR5 memory kit. Kingston Fury was launched in tandem with the release of the Z690 chipset and 12th gen Intel Alder Lake processors. This DDR5 Ram kit takes everything into account and excels in speed, capacity, and reliability. It doesn't matter if you are gaming at 4K, animating a 3D graphic, or editing videos, the Fury beast is perfect for any build.
The Fury beast comes in four different variants right now, but we recommend going with either of the 32 GB kits available. Both the 4800MHz and 5200MHz are close to each other in terms of performance, so it's a matter of affordability rather than anything else. This memory kit also happens to look the part, with an aggressive design and bold branding across the DIMM itself. It is also XMP 3.0 certified, which shall make it easier to overclock.
Overall, the Kingston Fury beast is the Best Gaming DDR5 Ram when it comes to features. The only problem is that it lacks RGB, and while the design looks great, it is not going to stand out in any build. Price is also high compared to competitors.
Pros
Extremely reliable brand
Great performance
XMP 3.0 Ready
Cons
No bells and whistles
Quite expensive
Lack of RGB is a disappointment
G.Skill Ripjaws Dual Channel DDR5
Best Low Profile DDR5 Ram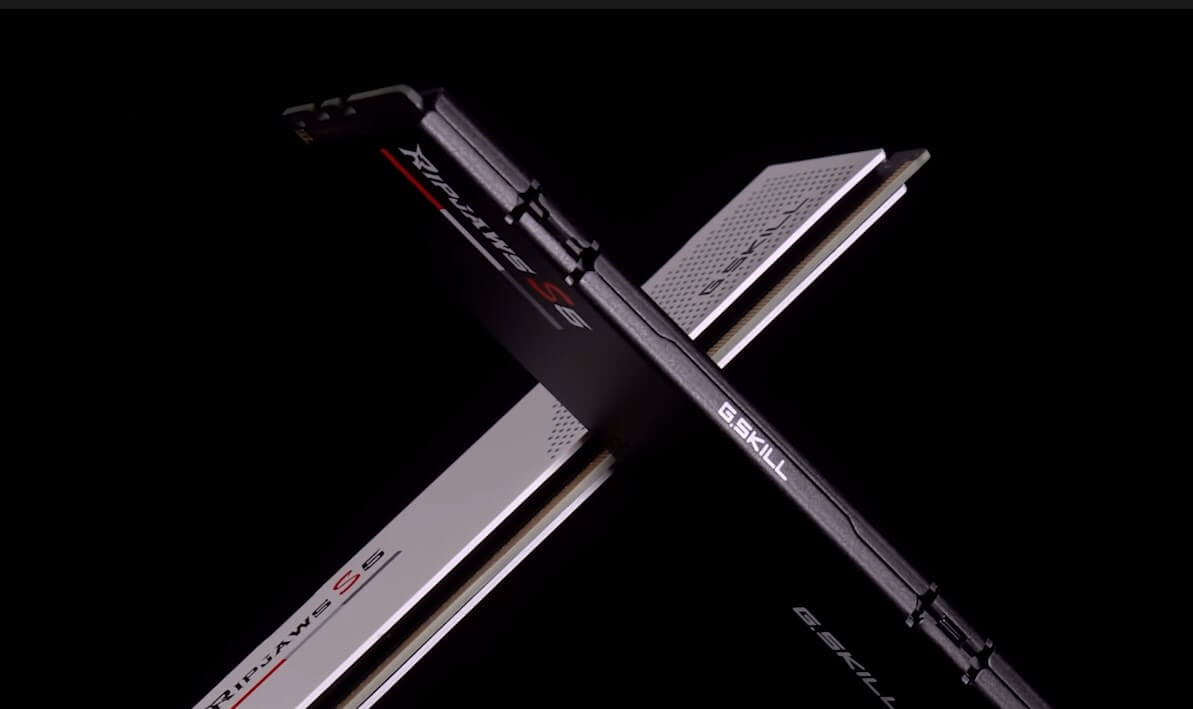 Specifications: Memory Type: DDR5 | Capacity: 32GB (16GB x2) | Frequency: 5200 MHz | Latency: CL40 | RGB Lighting: No | Color: Black
G. Skill finds another spot on this Best DDR5 Ram list thanks to their excellent Ripjaws series of memory kits. This time around, we are taking a look at the G.Skill Ripjaws S5, an upgraded version of the Ripjaws V which was an excellent DDR4 memory kit at the time. Much like the Trident Z and Trident Z RGB modules, the Ripjaws product line has been quite successful.
This time around, the Ripjaws S5 finds its way on this list due to two reasons: performance and reliability. The Ripjaws line is known for its durability and reliability, and this S5 memory kit is no different from that rule. We all know that DDR5 is a new technology and new platform, so reliability is extremely important for people. People don't want to face early buyer's remorse going in, so this is why the S5 is an excellent option.
The S5 clocks in at 5200MHz, which is faster than most of the early kits on the market. Of course, G.Skills own Trident lineup clocks in at a faster frequency, but the S5 kit might be more practical for some people. This means that G.skill kit brings great performance in terms of gaming and productivity. Combine that high-frequency speed with 32GB of RAM, and that seems to be the end game for most people.
The CAS latency is a bit high at CL40, however, the average gamer will not be bothered by that. If you are the sort of person who dubs themselves as a hardware enthusiast, then It might bother you, especially for the price. This S5 kit also looks quite appealing. While it lacks RGB and flashy heatsinks, it makes up for it with a subtle design. It almost has a two-tone look to it, with a blue/black finish on the exterior. You can also buy the GSkill Ripjaws in White Color, so plenty of aesthetic options when it comes to your PC Build.
So, if you can look past the lackluster value for money, the Ripjaws S5 turns out to be quite a decent kit. The CAS latency is a bit high, and the lack of RGB is a bit of a downside. If those issues don't concern you, then by all means go ahead.
Pros
Extremely Reliable
High Frequency
Interesting dual-tone finish
Low Profile
Cons
No bells and whistles
Quite expensive
RGB should be included at this price
Patriot Viper Venom RGB DDR5
Best High-Performance DDR5 RAM
Specifications: Memory Type: DDR5 | Capacity: 32 GB (16×2) | Frequency: 6200 MHz | Latency: CL40 | RGB Lighting: Yes | Colour: Matte Black
Patriot, world-renowned for coming up with some of the Best High-End RAM, has struck again, in 2022, with the Patriot Viper Venom RGB DDR5 rocking SK Hynix Memory ICs (Integrated Circuit), incorporated into a multicoloured scheme consisting of an aluminium heat spreader painted in a mixture of two-tone Black & White with a splash of RGB across the top layer. That being said, without any further ado, let's delve further into the technicalities and real-world performance of the Patriot Viper Venom RGB DDR5 32 GB Kit.
To begin with, the Viper Venom RGB boasts stock RAM Timings of 40-40-40-77, coupled with a maximum default frequency of 6200 MHz, supplemented by 1.1-1.35V of voltage, all of which are pretty decent specs as far as default settings and options are concerned.
It's worth noting that Patriot has configured the Viper Venom RGB to run at a standard profile of 4800 MHz unless you enable XMP (Xtreme Memory Profile) in your motherboard's BIOS settings, in which case, your RAM will automatically turbocharge to 6200 MHz @ CL40. However, Patriot does offer users a choice between two more pre-set XMP profiles rated at 5600 MHz and 6000 MHz, both of which use a lower maximum voltage of 1.25V.
The Patriot Viper Venom RGB DDR5 truly outshines its competition in the overclocking department. After meticulous reviewing and extensive research, we're delighted to inform you that the Viper Venom RGB DDR5 can easily bump up the RAM clocks to 6400 MHz with even lower CAS Latency coming in at about CL38 with RAM Timings also seeing a considerable improvement, dropping down to 38-38-38-76.
As far as the form factor is concerned, the Patriot Viper Venom RGB DDR5 measures at a maximum length, width, and height of 70mm, 137mm, and 43mm, respectively, making it suitable for mid-sized ATX or fully-fledged E-ATX Gaming Systems with ample space and proper ventilation. On that note, feel free to check out the Best Airflow PC Cases in 2022!
With regards to RGB, the Patriot Viper Venom RGB DDR5 sports a top opaque layer comprising of a singular diffuser (painted white) with 3x minute indentations in between for increasing your custom lighting setup's expandability. The white diffuser has also been stamped in the mid-section with a 'VIPER' logo, which when paired together with the Snakehead symbol on the black part of the Aluminium Heat Spreader (AHS), and another example of 'VIPER' branding on the white segment of the AHS, combines to exude an aggressive demeanour, suggesting that the Viper Venom RGB is all set to tackle the contending Top DDR5 RAM's in 2022.
Unfortunately, while the Patriot Viper Venom RGB DDR5 is compatible with major motherboard RGB software, such as Asus Aura Sync, MSI Mystic Light Sync, Gigabyte RGB Fusion 2.0, and ASRock Polychrome Sync, we regret to inform you that Patriot's proprietary Viper Venom Exclusive RGB software utility may interfere with the apps mentioned above. This may pose as a minor issue to a few lighting enthusiasts as the 'Viper RGB Spectrum' mode is only available in Patriot's RGB app, subject to change, courtesy of future updates with respect to the motherboard's manufacturers.
Last but not least, Patriot backs up the Viper Venom RGB DDR5 with a lifetime warranty, something we're much obliged by, alongside a decent price point coming in at about $295 for the 32 GB (16+16) Kit, which undercuts the comparatively slower 32 GB G.Skill Trident Z5 RGB Kit by about $25, giving potential buyers the most bang for their buck by offering faster frequencies, both standard, and overclocked, while still managing to retain a sustainable market price. As such, we have no issues recommending the Patriot Viper Venom RGB DDR5 as the Best High-End DDR5 RAM in 2022.
Pros
Top-notch performance

Reasonable price-to-performance ratio

Ample headroom for improving RAM timings and frequencies

Flashy aesthetics for RGB enthusiasts

Lifetime warranty
Cons
Higher latency profile using default settings

Room for improvement in RGB controls and software

Multi-coloured visuals may not appeal to everyone
Teamgroup Elite DDR5-5600
Best Value DDR5 RAM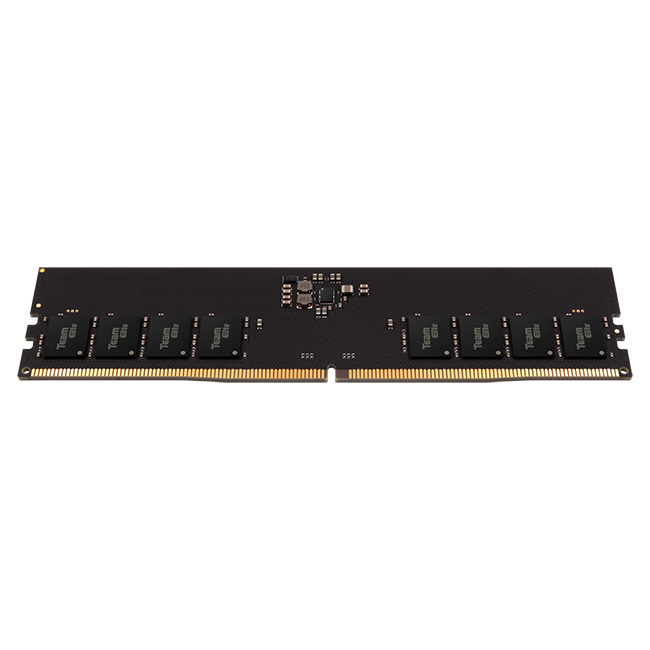 Specifications: Memory Type: DDR5 | Capacity: 32 GB (16×2) | Frequency: 5600 MHz | Latency: CL46 | RGB Lighting: No | Colour: Black
Teamgroup reappears for the final time in our article highlighting the Best DDR5 RAM in 2022, with the Teamgroup Elite DDR5-5600 attempting to champion the entry-level memory segment, i.e., cement itself as the Best Value DDR5 RAM.
However, it has some fierce opposition in the form of Crucial's DDR5-4800 RAM, that's currently going for about $175 (32 GB kit) thanks to multiple discounts. Nevertheless, the Teamgroup Elite DDR5 32 GB RAM Kit boasts a much higher speed rated @5600 MHz, albeit with higher CAS Latencies, which is why we're going to scrutinize Teamgroup's value-oriented memory kit to determine whether it holds its own against Crucial's budgeted offering.
Starting with the technical aspect, the Teamgroup Elite DDR5-5600 runs at a stock speed of 5600 MHz, as the name suggests, sipping through a maximum of 1.1V, which forced Teamgroup to compromise on the RAM Timings (CL 46-46-46-90) and latency, i.e., CL46, paving the way for a significantly deteriorated spec sheet, justified somewhat by only the higher memory frequency and low power consumption. Not to forget, Data Transfer Bandwidth is also certified at a comparatively higher 44.8 GB/s.
As far as the type of memory die used is concerned, Teamgroup has unfortunately concealed the make and model, which forces us to rely on a guesstimate, indicating that probably SK Hynix or Micron Memory Dies were used keeping in mind the low price bracket of the Teamgroup Elite DDR5-5600.
With regards to overclocking support, we'd advise potential buyers against raising their hopes since Teamgroup has specified the maximum voltage intake at 1.1V along with an already higher-than-average RAM frequency of 5600 MHz. Therefore, overclocking enthusiasts will find it hard to boost memory speeds beyond 5600 MHz without negatively impacting RAM timings and CAS Latencies.
Last but not least, Teamgroup has released the Elite DDR5-5600 in only a 16 GB capacity with a maximum height of 32mm, making it ideal for SFF (Small Form Factor) PC builds. For gamers who want 32 gigs of RAM, the Teamgroup Elite DDR5-5600 (16+16) will run you down by about $215, about $25-$40 more expensive than the Crucial DDR5-4800. Teamgroup also backs up the Elite DDR5-5600 with a lifelong warranty period.
As long as users are content with not pushing RAM frequencies above stock settings, the Teamgroup Elite DDR5-5600 poses a compelling bargain at $215 for a 32 GB kit running at a default speed of 5600 MHz while sustaining the same minimum 1.1V limit for optimizing power efficiency. Resultantly, it's safe to assume that the Teamgroup Elite DDR5-5600 is one of the Best Cheap DDR5 RAM Kits in 2022.
Pros
Outstanding value for money

Much faster frequencies than similarly priced competition

Dark monoaesthetic appeal

Comparatively lower power consumption

Lifelong warranty
Cons
RGB enthusiasts may be disappointed

Much higher latency and worse timings

Almost zero overclocking potential
Competition
Have the previously enlisted Best DDR5 RAM kits failed to meet and exceed your expectations? Nothing to fret over; we've given an honorary shoutout to all the memory kits that couldn't make it to our list of the DDR5 RAM but maintain their dignity as respectable alternatives. The cherry on top, we'll continuously refine the following catalogue as time goes on and worthy candidates appear.
Teamgroup T-Force Delta DDR5
Due to the comparatively recent unveiling of DDR5 technology, manufacturers are understandably struggling to reduce CAS (Column Address Strobe) Latencies while grappling to simultaneously improve RAM timings and frequencies, amongst other issues such as inflated price points (initially), commonly associated with the release of new memory technologies, such as DDR4, back in the day. That being said, TeamGroup has stepped in with their T-Force Delta 32 GB DDR5 kit (16+16), capable of running stably at 6400 MHz with slight overclocking to 6667 MHz and even 7000 MHz possible if you're brave enough to manually tweak the voltage levels.
As previously discussed in this article, if it weren't for the G.Skill Trident Z RGB DDR5 with an unbeatable stock frequency coming in at 6600 MHz, the T-Force Delta CL40 would've been the benchmark to beat.
To begin with, the Teamgroup T-Force Delta maintains a CL (CAS Latency) of 40, with RAM timings rated at 40-40-40-84, running at a stock voltage limit of 1.35V, which is on the higher side of the voltage spectrum for DDR5 Memory Kits, but something to be expected for such a high-performance offering.
Moving on, Teamgroup has implemented SK Hynix Memory ICs (Integrated Circuit), which are renowned for eking out industry-leading RAM speeds, even comparable to equivalent releases by Samsung, which has remained the king for multiple decades in terms of producing the best memory dies. The T-Force Delta DDR5 also supports Intel XMP (Extreme Memory Profile) 3.0 for instantaneous and simplified RAM overclocking.
It's worth noting that the Teamgroup T-Force Delta DDR5 measures at a maximum height of 45.5mm, which might interfere with installations in SFF (Small Form Factor) or Mini-ITX builds.
Nevertheless, the T-Force Delta DDR5 is truly a beauty to behold, featuring white, translucent diffusers for even dissipation of the built-in RGB lighting, which, thanks to specialized RGB IC Controllers, are compatible with majorly famous RGB software such as Asus Aura Sync, Gigabyte RGB Fusion 2.0, MSI Mystic Light Sync, and ASRock Polychrome Sync, to name a few. Sturdy heat-spreaders with ample cooling surface area are also present for maximal thermal efficiency, which helps the Teamgroup T-Force Delta DDR5 achieve its outstanding frequencies and exhibit its overclocking potential.
Furthermore, Teamgroup graciously stamps on a lifetime warranty for the T-Force Delta DDR5, which puts us, and undoubtedly potential buyers, at ease, with regards to longevity and durability concerns. Unfortunately, the Teamgroup T-Force Delta 32 GB DDR5 (6400 MHz – CL40) commands a severely inflated price point ranging northward of $400, and despite top-notch RAM frequencies, the significantly abysmal price-to-performance ratio cannot go unnoticed, and it is only for this reason that the Teamgroup T-Force Delta DDR5 (6400 MHz – CL40) was unable to champion itself as the Best Overclocking and Performance DDR5 RAM in 2022.
Samsung DDR5-4800 (CL 40)
Samsung's legendary B-die returns to the market for DDR5 memory in the form of Samsung's generic DDR5 RAM modules, running at stock frequencies of 4800 MHz at 1.1V, meaning there's no need for bulky heat-spreaders. In fact, Samsung's gone with a plain green PCB, echoing design language reminiscent of the DDR/DDR2/DDR3 era, which might detract a significant portion of our audience, who, if not RGB, would've preferred at least a monochromatic aesthetic such as an all-black PCB. As such, you'll run into trouble trying to coordinate the colour theme of your gaming system if these RAM modules are visible from the outside of your particular PC chassis/casing.
Heading onwards without any further ado, we feel compelled to highlight the RAM timings for the Samsung DDR5-4800, i.e., 40-39-39-76. Admittedly, the Samsung DDR5-4800 doesn't impress in terms of raw specs. Unfortunately, this trend continues with real-world performance tests, as we see Samsung's generic DDR5 RAM modules situating themselves around the bottom of the pack or the mid-tier, at best. That being said, the Samsung DDR5-4800 slightly edges out the Crucial DDR5-4800 RAM kit (our pick for the Best Cheap DDR5 RAM in 2022) eight out of ten times.
As for overclocking, thanks to Samsung's reputed B-die ICs, the Samsung DDR5-4800 goes up to 5800 MHz with a maximum voltage limit specified at 1.4V while simultaneously improving RAM timings, which come down to 36-36-36-76.
To our delight, the Samsung DDR5-4800 restricts itself to a maximum height of 31.2mm, guaranteeing user-friendly and simplified installations free of any physical componential interference in even miniature gaming systems with sizeable CPU coolers.
Moreover, Samsung rounds off their DDR5-4800 modules with a lifetime warranty, a perk we can't appreciate enough, with several manufacturers jumping on this bandwagon. This is ultimately a win for consumers since the days spent worrying about RAM lifespans are drawing to a minimum with such stellar support offered by almost every distinguished memory brand.
Notwithstanding, Samsung's DDR5-4800 modules are slightly pricier than the Crucial DDR5-4800 MHz kit, about $25-50 on average, which is the main reason why Samsung's generic RAM modules miss out on being crowned the Best Cheap DDR5 RAM in 2022. Keeping that in mind, you do get what you pay for. While Crucial's offering may have a more aesthetically pleasing all-black PCB and slightly lower price tag, the Samsung DDR5-4800 trumps it in terms of raw and real-world performance thanks to better RAM timings and higher frequencies courtesy of superior overclocking potential.
Last but not least, for some strange reason, Samsung doesn't sell the DDR5-4800 modules in bundled kits; instead, offering singular 8×1, 16×1, 32×1, and 64×1 GB sticks. This means you'll need to buy multiple modules yourself for a dual-channel configuration in a capacity of your choice
DDR5 vs. DDR4
On paper, DDR5 downright blitzes DDR4 RAM in terms of pure RAM frequencies, with even the slowest and cheapest DDR5 RAM Kits offering stock speeds of at least 4800-5600 MHz with overclocking potential easily surpassing the 8000 MHz threshold, theoretically speaking, as compared to DDR4 RAM modules which hover between 2400-4266 MHz as far as default speeds are concerned, with maximal custom overclocking stretching these frequencies to a capped limit of 5500 MHz, at best. That being said, the (approximately) 50% difference in RAM speeds doesn't automatically translate to improved PC Gaming performance in real-world scenarios.
The very ideology regarding DDR5 RAM at this point in time seems to induce a certain degree of boredom as soon as we begin to discuss CAS Latencies and RAM Timings. That's because DDR5, courtesy of its presence as a recently introduced and relatively new technological standard, completely fails to match, let alone outperform DDR4 RAM modules in terms of latencies and timings, with even the fastest and most expensive DDR5 Kit struggling intensely to fetch a CL figure below 30. Comparatively cheaper, entry-level DDR5 RAM modules like the Samsung DDR5-4800 Kit struggle to achieve better RAM Timings than 36-36-36-76, even after considerable manual overclocking.
On the other hand, mainstream DDR4 RAM easily achieves CAS Latencies varying between a range of CL 14-18, with factory-default RAM Timings ranging around 14-14-14-34, equating to a 50-75% difference in these two variables when compared to generic DDR5 RAM Kits. As such, the vast advantage with respect to DDR5 frequencies is negated by the equally, if not worse, difference in RAM Latencies and Timings. Therefore, gamers can expect zero-to-slight improvement in real-world performance as far as gaming and overclocking scenarios are concerned and may even experience a performance dip relative to DDR4 RAM due to the aforementioned latency issues when undertaking systematically taxing workflows.
Nevertheless, it's not all over for DDR5 yet. DDR5 RAM modules boast lower power consumption (1.1V vs. 1.2V for DDR4), with all DDR5 RAM Kits sporting built-in, on-die ECC (Error Correction Code), an advanced feature that used to be typically reserved for server-grade, buffered DDR4 RAM where system stability was of the utmost importance. Furthermore, DDR5 brings higher density, with a theoretical maximum support of 256 GB per module, compared to 64 GB for DDR4. As a result, we can expect to see consumer-grade Intel and AMD CPUs support a maximum of 256 GB very soon (up from 128 GB at the time of writing), with a potential to enable support for a theoretical blistering maximum of 512 GB – 1 TB of DDR5 RAM.
Alas, DDR4 still lives on to see the daylight. DDR5's exorbitant price point proved to be the final nail in its coffin (for now). Enthusiasts can easily pick up 32 GB (16×2) of 3200 MHz, CL16 DDR4 RAM for under $90, whereas you'd need to spend at least $150-175 to get your hands on the same amount of DDR5 RAM with far worse RAM Timings and CAS Latencies. With Intel primed to support good ol' DDR4 RAM for at least another 1-2 years, there's no logical reason to splurge on some fancy DDR5 RAM Kit which will yield your net performance gain null and void. The only exception to this statement is if you plan to upgrade to AMD's brand-new lineup of Ryzen 7000 Series Processors and AM5 Motherboards, which only support DDR5.
All in all, retro-gamers will be able to relate these events to the DDR4 vs. DDR3 era, where the initial DDR4 offerings proved themselves to be a waste of money due to much higher latencies and stability issues, unlike the tried-and-tested DDR3 1600-2133 MHz kits with much lower CL figures and an equally lower price tag. However, just like DDR4 in the yesteryears, DDR5 RAM will considerably improve in all aspects with manufacturers vying with each other to reduce latencies as much as possible, promoting healthy competition, and ultimately, buying a DDR5-equipped system will be a no-brainer thanks to much higher gaming and productive performance, as well as low cost prices due to voluminous production scales. However, that time is still a few years away.
How To Overclock DDR5 RAM
Generally speaking, enthusiasts need to be wary of various crucial factors such as CAS Latencies, RAM Timings, Power Consumption, Thermal Efficiency, and overall systemic stability while chasing overclocked RAM in terms of higher frequencies. As explained previously, pursuing higher RAM speeds won't necessarily equate to a jump in real-world gaming performance since overclocked frequencies can negatively affect Latencies and RAM Timings, both equally vital factors when determining a RAM module's gaming performance.
Overclockers also need to be aware of their RAM's default and peak voltage consumption cap, as that will act as a limiting factor when manually tweaking the RAM frequencies. RAM Thermals also play a significant role since a thermally inefficient RAM module will struggle to adequately dissipate the extra heat generated by higher clock speeds, which can lead to severe thermal throttling, and, thus, acutely degraded RAM performance.
DDR5 Memory Overclocking on Intel's Platform
Overclocking DDR5 RAM on an Intel-baed 600 Series Chipset is a relatively straightforward process. For newbies and experienced maestros alike who aren't willing to sacrifice the extra time needed to carefully manually configure their DDR5 RAM modules to achieve the best mixture of performance, efficiency, and overall stability, Intel's XMP 3.0 (Extreme Memory Profile) can be simply activated by diving into your PC's BIOS Settings with gamers having the flexibility to select between three pre-configured overclocked RAM profiles, which have already been extensively tested to guarantee complete systematic stability.
Nevertheless, enthusiasts (who are willing to take the risk) may add up to another two user-configured XMP profiles with custom settings should they want to fine-tune their RAM speeds to perfection.
It's worth noting that Intel's Dynamic Memory Boost Technology will automatically switch between JEDEC (Globally standardized RAM frequencies; maximum of 6400 MHz for DDR5) and XMP profiles (for users who haven't already configured their XMP profiles) as part of a real-time response to changes in the user's specific workloads to offer the best combination of performance and efficiency.
DDR5 Memory Overclocking on AMD's Platform
On the contrary, manually overclocking DDR5 RAM on an AMD AM5 platform is comparatively complicated. Users will need to familiarize themselves with a few proprietary terminologies; namely FCLK (Fabric Clock), UCLK (Unified Memory Controller Clock), and MEMCLK (DDR5 RAM Memory Clock), with the latter term referring to your RAM module's stated frequency for e.g., 4800 MHz.
AMD's Ryzen 7000 Series CPUs will allow users to independently tweak the FCLK, with UCLK being tied to MEMCLK in a choice of two ratios; either 1:1 or 1:2 (UCLK:MEMCLK). Typically speaking, gamers will yield optimal RAM performance when FCLK, UCLK, and MEMCLK are running in complete sync. However, suppose you're using a slower DDR5 RAM Kit with frequencies between 4800-5200 MHz. In that case, you may specifically overclock FCLK, and similarly, overclock MEMCLK only if you're dealing with DDR5 frequencies northwards of 5600 MHz since the FCLK has a specified upper limit.
That being said, gamers who don't want to lose the last of their brain cells whilst trying to navigate through the aforementioned complex settings are more than welcome to stick with AMD EXPO (Extended Profiles for Overclocking), i.e., AMD's real answer to Intel's XMP 3.0. In a fashion similar to Intel, AMD EXPO will offer users a variety of pre-configured overclocked RAM profiles, enabling enthusiasts to select pre-tested overclocked RAM configurations that have been scrutinized and inspected in complete detail to ensure total stability as well as an optimal delivery of performance and efficiency, as per the needs and type of workloads you intend to pursue.
At present, AMD has indicated the launch of more than 15x EXPO DDR5 RAM Kits from the likes of reputable manufacturers such as G.Skill, Geil, Kingston, Corsair, and Adata, to name a few, most of which will launch around 27th September 2022 (the announced date for the Ryzen 7000 Series Processor's launch), with AMD claiming instant overclocked speeds of up to 6400 MHz for a theoretical 11% boost in gaming performance as well as lower CAS Latencies.
How We Tested
All of the handpicked Best DDR5 RAM in 2022 undergo extensive research here at Tech4Gamers, after which we take into consideration our adroit analytics, combined with in-house reviewing and testing (if viable). We also compare real-world performance benchmarks under idle, typical, and taxing/gaming/overclocking workloads. Not to forget, we crossmatch comparative RAM performance to deduce the Best Overall DDR5 RAM Kits in 2022.
How We Determined
Choosing the Best Gaming DDR5 RAM is a time-consuming job not well-suited for the faint-hearted since you'll need to account for several factors. Nevertheless, you're the one who has to make the decision ultimately. As such, for your added convenience, we've explained several crucial points to brood over while attempting to select the Best High-Performance DDR5 RAM variants as per your uniquely customized workflows.
Budget and Affordability
All manufacturers will tend to launch their respective offerings for the Best DDR5 RAM Kits in 2022 at unique price points. Setting these RAM modules apart from each other are several factors, such as build quality, aesthetics, and general design, as well as performance and heat dissipation, which combine to form a variable price for the RAM kits depending on the brand.
Resultantly, it's essential to base your decision on a specific budget, so you'll know whether it's feasible for you to splurge on some of the more expensive and visually fancier DDR5 RAMs out there or go for something more practical such as a high-speed RAM kit with sufficient heat dissipation.
Latencies and Performance
Objectively speaking, performance can be classified as the most critical aspect of any RAM kit. CAS (Column Address Strobe) Latency (CL), clock speeds, RAM timings, and heatsinks can indicate how strong a RAM will perform. Generally, you should always prioritize DDR5 RAMs with lower latencies (CL) since the lower this figure is, the faster your RAM will be. Furthermore, RAMs with higher clock speeds will always be preferred since the combination of a low CL and faster clock speeds will translate to a positively reduced time taken for the RAM to transfer data between the CPU and itself, subsequently paving the way for drastically improved gaming performance.
Moreover, it would be best if you always tried to choose a DDR5 RAM module bearing lower RAM Timings, which are in an XX-XX-XX-XX format. These timings are an alternative form of measuring a RAM module's latency for conducting various operations.
As we don't wish to confuse you by getting into the details here; simply put, lower RAM timings translate to reduced latencies, which, in turn, means that immeasurable data transfer operations may be conducted instantaneously between the CPU and RAM, which will instantly result in a significant performance boost in your PC's general systematic responsiveness and real-world gaming performance as well as rendering or virtual machine workflows, if you're into that kind of thing.
Lastly, thermally efficient DDR5 RAM modules are much sought-after. Quite a few manufacturers are offering dedicated fans for supplementing airflow or, at the very least, incorporating embedded heat-spreaders that help sustain optimal heat transfer. As a result, enthusiasts can easily overclock RAMs while ensuring the absence of thermal throttling, which would otherwise detrimentally affect RAM and, thus, overall PC Gaming performance.
Thermal Efficiency and Power Consumption
Higher-speed DDR5 RAM is naturally more power-hungry, but some companies manage to decrease this jump in power consumption through a specialized low-voltage operation. If you want to save on your electricity bill, it's worth looking out for these low-power DDR5 RAMs since the performance differential is usually negligible, especially if you plan to avoid overclocking. At the same time, the power-saving can add up extensively over time, saving you some capital in the long run.
Aesthetics and Build Quality
Times have changed. Gone are the days of OEM-green/blue/black RAM modules. Manufacturers these days are sprucing up RAM kits with distinguishable design flairs, such as adding fake jewels on the top of RAMs to give off an exotic appearance. Vendors love to one-up competitors by offering their unique take on RGB lighting by including frosted diffusers (primarily white) on top of the RAMs or throughout the module for a relatively special translucent lighting effect.
In terms of build quality, RAM kits have come a long way in the past decade. Almost all manufacturers are now fully sealing DDR5 RAM modules for improved longevity, thanks to increased dust and humidity resistance. Brands tend to differ, some favouring premium construction while others fancy something more functional to keep the price low.
Compatibility
It's no surprise that there are literally hundreds and thousands of different RAM kits out there, some with the exact same specifications such as latency, speed, and type as in DDR (DDR5 in this case), but that doesn't necessarily mean they're a perfect match for your CPU thanks to differences in memory technologies (such as Intel XMP 3.0 vs. AMD EXPO).
Nevertheless, for your convenience, we've ensured that all of the Best DDR5 RAMs in 2022 highlighted on our renowned lists have their CPU compatibility mentioned within the specifications subdivision. In addition, all the RAM kits have been rigorously tested and researched for fully proven compatibility with the aforementioned processors (which, in this case, are Intel's 12th Generation lineup of Alder Lake CPUs, soon to be followed by AMD's Ryzen 7000 Series Processors).
However, if you're planning to buy an alternative DDR5 Memory kit, we suggest double-checking your motherboard's specifications with that of the RAM you're looking to buy to make sure you get your desired frequencies and, of course, confirm that the memory is compatible with your motherboard and CPU in the first place.
Also, it's essential to crossmatch your desired RAM modules' height with your CPU cooler's height since DDR5 RAM modules nowadays have tall heatsinks for advanced thermal dissipation. Nevertheless, these vast heat-spreaders tend to interfere with the housing of your CPU cooler, which may cause potential compatibility issues. If you're sporting a Mini-ITX or similarly small chassis, we've already spotlighted the Best Low Profile DDR5 RAM. While we're on the subject of SFF (Small Form Factor) components, feel free to view our coveted catalogue of the Best Low Profile CPU Coolers!
Manufacturer Support and Brand Reputation
We make it a habit of closely scrutinizing each of the Best DDR5 RAM Kits in 2022 in terms of after-sales customer service care provided by each manufacturer, taking into account past track records and experiences. Not stopping here, we closely inspect every component of the RAM, from the DDR5 pins to the frosted RGB diffusers (if any) and the heat-spreaders, to get a better idea about the durability and longevity of the RAM module. Of course, we don't let warranty periods go unnoticed, as we actively encourage manufacturers to stand by their RAMs for an extended period of time, with some notable brands excelling in this department, going as far as to offer lifetime warranties!
Why Should You Trust Our Judgement
With over twelve years of experience in the tech and gaming industry, our dedicated team has been refined consistently to produce a potent group of knowledgeable individuals who are known to relay the most accurate information to our valued consumers, thanks to the extensive research and reviewing we conduct before we publish every piece of journalism.
In addition to this, we have been explicitly featured on a majority of the top-notch gaming and tech brands, such as Gigabyte, MSI, Asus, and DeepCool, just to name a few, as reliable and trusted sources for Hardware and Technology. These and other renowned manufacturers such as Noctua, Thermaltake, Xigmatek, and several others routinely send samples to us, based on which we formulate unbiased reviews to provide our readers with a genuine perspective of the particular product from an objective standpoint.
Subsequently, we instill confidence in our esteemed consumers, who may rely on us to give them the best advice for building, customizing, and modifying their personal gaming computers.
Frequently Asked Questions
Is DDR5 RAM good for gaming?
At the time of writing, DDR4 RAM Kits pose a more compelling bargain, offering the most value for money in terms of their price-to-performance ratio. While unable to match DDR5 RAM modules in terms of pure frequencies, DDR4 RAMs have lower CAS Latencies and superior RAM timings, pulling them head to head, or even slightly better, than the most basic DDR5 RAM models as far as real-world gaming performance is concerned. That said, DDR5 RAM is the apparent choice for future-proof conscious enthusiasts since the newest AMD Ryzen 7000 Series CPUs have already phased out DDR4 support, with Intel to follow in a year or two, at most.
Do any Motherboards Support DDR5 Ram?
Presently speaking, Intel's entire lineup of 600 Series Chipsets, namely the H610, B660, H670, and Z690, support DDR5 as well as DDR4 in differing variants. AMD's recently launched 600 Series Chipsets, i.e., B650, B650E, X670, and X670E, based on the AM5 mounting socket, are only compatible with DDR5 RAM modules.
Is 32GB of DDR5 RAM too much?
Not at all. Software utilities and games have come a long way since the DDR3 and DDR4 era, with developers now customizing their code to advantageously utilize a higher quantity of RAM for storing more cache to deliver an instantaneous boost in gaming performance. That being said, 16 GB of DDR5 RAM will do just fine for budget-oriented consumers, with 32 GB acting as the sweet spot in terms of getting the most bang for your buck.
Which DDR5 RAM Kit is best for Intel's 12th Generation Processors?
Depending upon the type of workloads and gaming sessions you intend to undertake, we unanimously recommend the DDR5 versions of the G.Skill Trident Z RGB and Patriot Viper Venom RGB for enthusiasts who'd like to eke out every last bit of performance gains. For newbies and veterans hovering in the entry-level segment, we would like to give a shoutout to the Corsair Vengeance, XPG Lancer, Crucial DDR5 (4800 MHz), and Teamgroup Elite DDR5-5600, all four of which boast more bounce for the ounce.
Was our article helpful? 👨‍💻
Thank you! Please share your positive feedback. 🔋
How could we improve this post? Please Help us. 😔