Intel's 12th generation Alder Lake processors are finally in the hands of consumers, reviewers, and hardware enthusiasts. This new architecture has been a long time coming from Intel, and it's good to see them finally take on AMD after years of fierce rivalry. Of course, the show is not over yet, we haven't seen what Team Red has in store for us (AMD is also preparing Zen 4 processors with support of DDR5 ram). Alder Lake brings better performance and a new memory platform that is known as DDR5. DDR5 memory is faster, more efficient, and less power-hungry than its predecessor. Subsequently, we're taking a look at the best DDR5 RAM in 2022. However, before we do that, let's talk more about DDR5 and If Its Worth it. Also, let's take a look at our DDR5 Ram Comparison of Top 6.
Award
Best Overclocking And Performance DDR5 RAM
Best Value For Money DDR5 Ram
Best Bang For Buck DDR5 RAM
Ram
Corsair Dominator Platinum RGB DDR5
G.Skill Trident Z RGB DDR5
What We Liked About It
Fast Performance & Excellent Looks
Incredible Performance With Low CAS Latency
Incredible value for money
What We Disliked About It
Design might be outlandish for some
Last update on 2022-07-01
Intel has a lot of great processors in their Alder Lake lineup. The 12900K is a productivity powerhouse, and the 12700KF holds a lot of value for money. However, for the majority of gamers, content creators, and professionals, the i5 12600K might make a lot of sense. It blows the competition out of the water when it comes to value, and has a total of 10 cores for better performance in production workloads.
Of course, it uses Intel's new Performance Cores and Efficiency Cores technology. So, the 12600K has 6 performance cores and 4 efficiency cores, adding up to a total of 10. the E-cores are more efficient but less powerful, as the name suggests. The P-Cores are more power-hungry and can hit higher frequencies with more cache.
We are talking mostly about Intel here since the Alder Lake platform is the only one that supports DDR5 at this point. Because of this, you'll find us talking about processors like the 12900K and 12600K for the most part. Later on, we'll likely update this guide with some AMD Ryzen related information as well. You may also check our gaming performance comparison of i5 12600k vs Ryzen 5 5600x, to see how it performs against its direct rival.
Things You Must Know About DDR5 Ram
Before, we get into the Best DDR5 RAM analysis, let's talk a bit about the technology itself first. To put it simply, DDR5 is leaps and bounds ahead of the restraints put on us by DDR4. Even though DDR4 kits will remain the mainstream option for a bit, because of the cost of DDR5 kits. However, the choice between the two does not simply mean you need a 12th gen processor, such as the i5 12600K. Intel has managed to solve this problem beforehand.
The new standard is primarily an increase in bandwidth – this will increase from 3200 Mbps in the case of DDR4 modules to 4800 Mbps for DDR5 modules (although in theory it is possible to get up to 8400 Mbps!).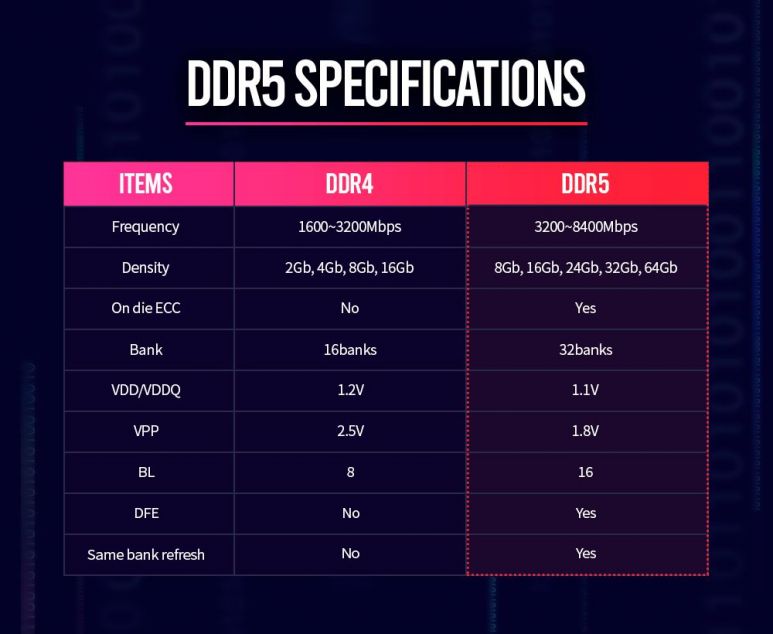 The DDR5 standard also allow the use of 32 banks (divided into 8 groups), so twice as many as in the case of the DDR4 standard (16 banks divided into 4 groups). In addition, the packet length also doubled from 8 to 16. The changes translate into increased throughput. Importantly, until now it was not possible to perform other operations while the memory was being refreshed. This will change with the new DDR5 standard, thanks to the Same Bank Refresh method.
The most important change, however, is the redesigned error correction system. Until now, this function was only available for special EEC modules for servers and data centers. In DDR5 memories, each chip will be equipped with ECC (error correction code) and ECS (error check and scrub) correction. In the case of a large number of modules, it will also be possible to use a Decision Feedback Equalization (DFE) circuit, which eliminates noise at high operating frequencies.
Despite the increased throughput and capacity, the new standard reduce the electricity consumption as mentioned in the start. The supply voltage of VDD is 1.1 V (in DDR4 it was 1.2 V), so here are talking about reduce the demand for electricity by up to 20%.
If we talk about the support, every processor from Alder Lake will support the DDR5 standard, though there are also some Z690 motherboards, which will support DDR4 memory (in this case DDR4 will be written at the end of the motherboard model). This is because the DIMMs themselves also happen to differ in their physical aspect. So, you still have to choose between the two, which is easier said than done.
Anyone planning to upgrade to 12th gen likely has a DDR4 RAM kit, so it leaves people with the option to either go for DDR5 Ram straight out the gate or upgrade down the line. To put it simply, when purchasing a motherboard and processor from the Alder Lake platform, you can pick between both DDR5 and DDR4.
When choosing the right memory for your platform, there are a lot of aspects within the playing field. A lot of factors may end up changing your platform for choice for a modern gaming PC or even a workstation system.
Of course, you'll have to decide on the generation of memory first. Then, you'll have to think of the size, speed, frequency, and CAS latency as well. Aesthetics, RGB lighting, and overall design are also things worth considering.
Keeping all of these things in mind, we have cherry-picked our favourite DDR5 RAM. But before we dive into our picks, there are some crucial purchasing tips that you should know of before purchasing.
Future-proofing
Thanks to the new DDR5 platform, memory technology has taken quite a big step forward. The jump in performance is similar to what we saw when DDR4 Ram's started to replace DDR3 Ram's.
That era seems like it came and went in a flash. There is one important thing to keep in mind, DDR5 Memory Kits are still in its early stages. This means that overclocking, reliability, and costs are still fluctuating. As such, this happens to be a game that most early adopters would like to play.
Price vs Value
As of right now, the DDR4 RAM kits for Alder Lake processors are more affordable than the average DDR5 variants. This is only natural, as newer technology is always going to come at a price. While DDR5 does help in terms of overall performance, it is still up in the air if the upgrade is worth it for just gaming.
We would recommend making sure you have the money to spare for more important components such as the processor and GPU before you go with DDR5. Of course, this is going to be a subjective decision for many.
Frequency and CAS Latency
Column Access Strobe or CAS latency is a topic that is still bewildering to the average gamer. Most people don't likely care, however, it is important to know about it if you're going with a new DDR5 platform.
These are also loosely referred to as memory timings. CAS latency is the time it takes for the module to start to respond to the data. It is measured in clock cycles. Combine high frequency with lower latency, and then you'll start to reap the benefits of your new DDR5 RAM kit.
Best DDR5 RAM
Right now, we are taking a look at the Best DDR5 RAM Kits in 2022. However, this guide is likely to be updated in the near future. We still have more options for DDR4, so your favorite design from certain manufacturers might not be updated for DDR5. This is something to keep in mind, so we'd keep an eye out for the rollout of more DDR5 kits.
All things aside, we will rank Budget, Overclocking, Performance, Low-Profile, RGB, and Other Types of Ram's, so whenever you decide to buy one, pick according to your need, and not the one which has higher specifications.
Corsair Dominator Platinum RGB DDR5
Best DDR5 RAM In 2022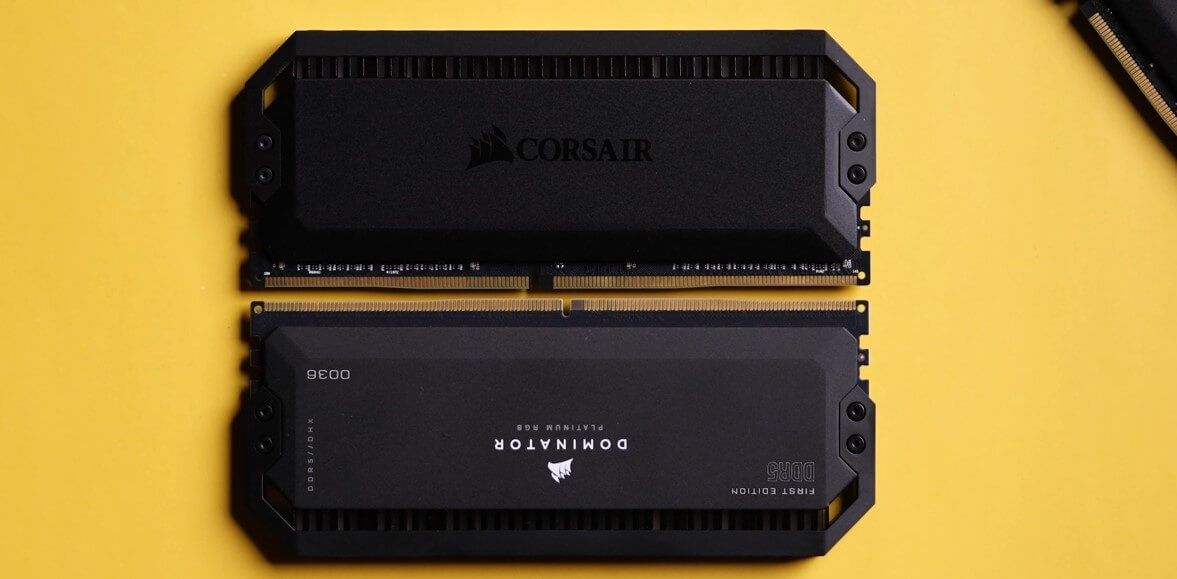 Specifications of Corsair Dominator: Memory Type: DDR5 | Capacity: 32GB (16GB x2) | Frequency: 5200 MHz | Latency: CL38 | RGB Lighting: Yes | Color: Black/Grey
Corsair has always been quite popular in the RAM scene for quite some time now. They have several different products such as the Vengeance LPX series, Vengeance Pro, RGB series, and of course, the extremely famous dominator platinum series. It would be a crime to not include the Dominator Platinum RGB DDR5 kit on our list today. It brings together reliability, high capacity, fast frequency, and great aesthetics into one great product.
As such, it deserves the top spot on our list. The kit we are looking at here has two modules, each of which is 16 gigabytes in size. In total, these modules give us a combined capacity of 32GB in a dual-channel configuration. This 288-pin DDR5 kit runs at a high frequency of 5200MHz, which is perfect for both gaming and productivity.
Other than that, the dominator platinum uses a CAS latency of 38. All in all Corsair Dominator DDR5 RAM kit pairs perfectly with the next-gen processors. This is thanks to the low CAS latency, high frequencies, and capacity. 16 gigs of RAM is still enough for gaming, and you're getting it the newest, most efficient-platform possible
On top of all of that, this memory kit also happens to look quite good. You can get it in either black or white, so it will fit into any build perfectly. The individual LEDs on the top also add a nice subtle glow to your build. While it does not stand out as much as the flashier RGB kits, the design is more sophisticated and accessible for most people. Because of these reasons, it gets the top spot on our list.
Pros
Excellent Design
Fast performance
Elite RGB Solution
Works well with iCue software
Respectable CAS latency
Cons
Expensive side of the DDR5 Ram
G.Skill Trident Z RGB DDR5
Best Overclocking And Performance DDR5 RAM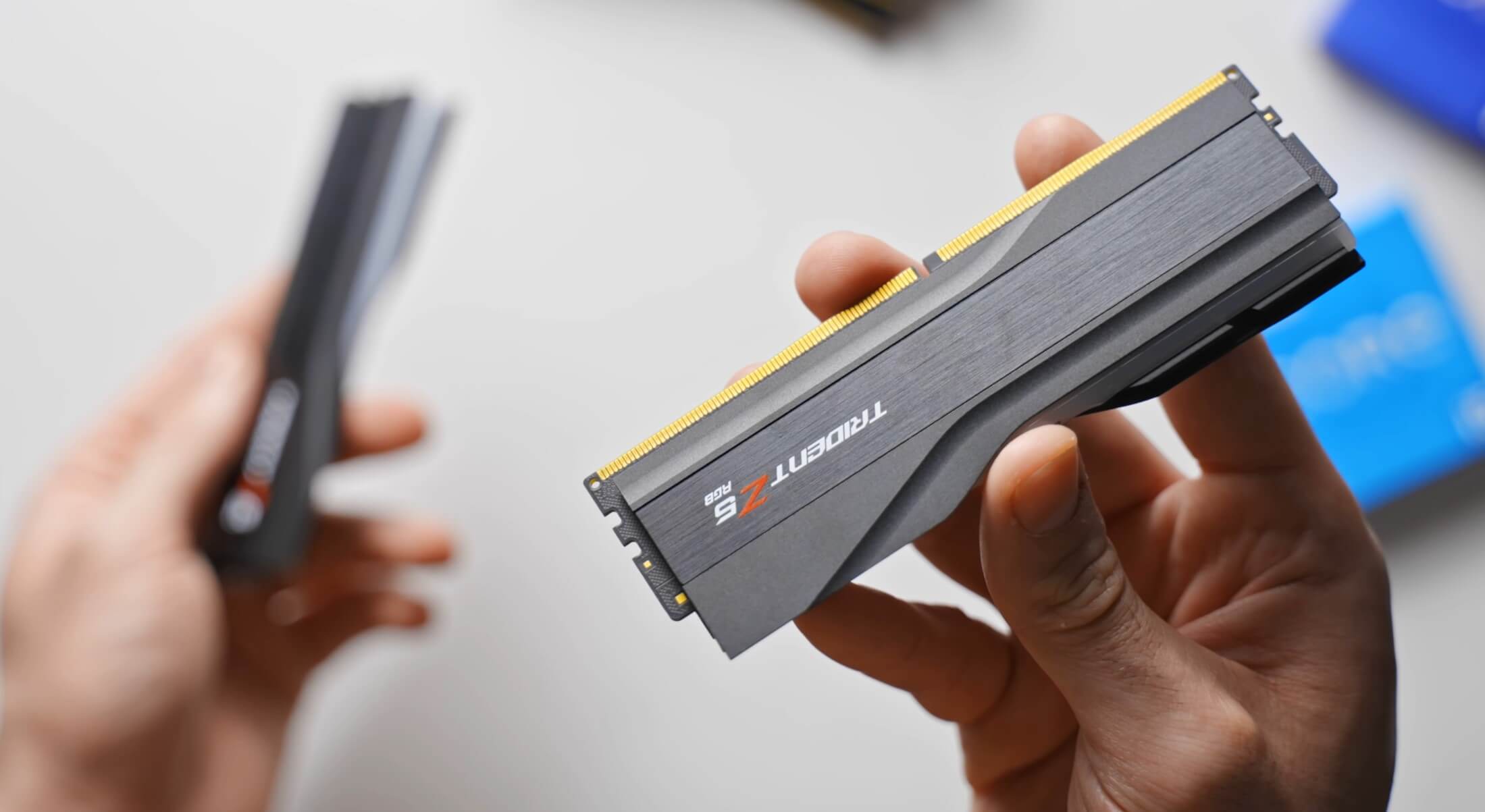 Specifications: Memory Type: DDR5 | Capacity: 32GB (16GB x2) | Frequency: 6600 MHz | Latency: CL36 | RGB Lighting: Yes | Color: Black/Silver
G.skill has been at it for quite a long time now. Their trident series of memory kits are extremely popular. You will often find them in high-end builds, see Youtubers use them, and they tend to be an easy recommendation from reviewers as well. As such, it wouldn't be possible to create a list without at least mentioning the Trident Z RGB DDR5 version. As expected, this is one of the best DDR5 RAM kits available in these early stages.
With all of that said, the Trident Z RGB is here for one big reason: performance. We all knew that this new platform was going to bring a lot of improvement to the table, and the Trident Z RGB is a great example of that. Not only does is it plain faster than its DDR4 predecessor, but it delivers on all regards in a more efficient manner, creating a win-win situation. The only major differentiator left then is the price. However, this RAM kit makes up for that as well.
Clocking in at a comfortable 6600MHz, G.Skill Trident RAM kit is faster than anything we have seen previously in the market. Not only will this prove to provide great performance in terms of gaming, but it also gives us an idea of what the next generation of gaming is capable of. Combine that with a hefty capacity of 32 gigabytes and a low CAS latency of CL36, and we have ourselves a winner. If performance is all that you care about, it does not tend to get much better than this.
On top of that, the Trident Z RGB DDR5 memory kit accomplishes all of this while looking at the part. The design is similar to the DDR4 version, but it is even more angular this time around. The physical size of the RGB strip is smaller, but the subtle glow makes up for it with excellent lighting effects. Furthermore, the G.Skill Trident Z DDR5 Ram kit is available in two colors: black and silver. The silver has an almost white hue to it, so it will perfectly into an all-white build.
If you can look past the high cost of entry, this is by far the best kit available right now in terms of performance, capacity, and design. It's just the Dominator Platinum proves to be a better all-rounder overall. Either way, you should go with G.Skill Trident Z RGB if you want the Best Overclocking DDR5 Ram.
Pros
Fantastic Aesthetics
Incredible Performance
Two elegant color options
Low CAS Latency
Subtle RGB
Cons
Quite Expensive For an i5 Build
Corsair Vengeance DDR5
Best Budget DDR5 Ram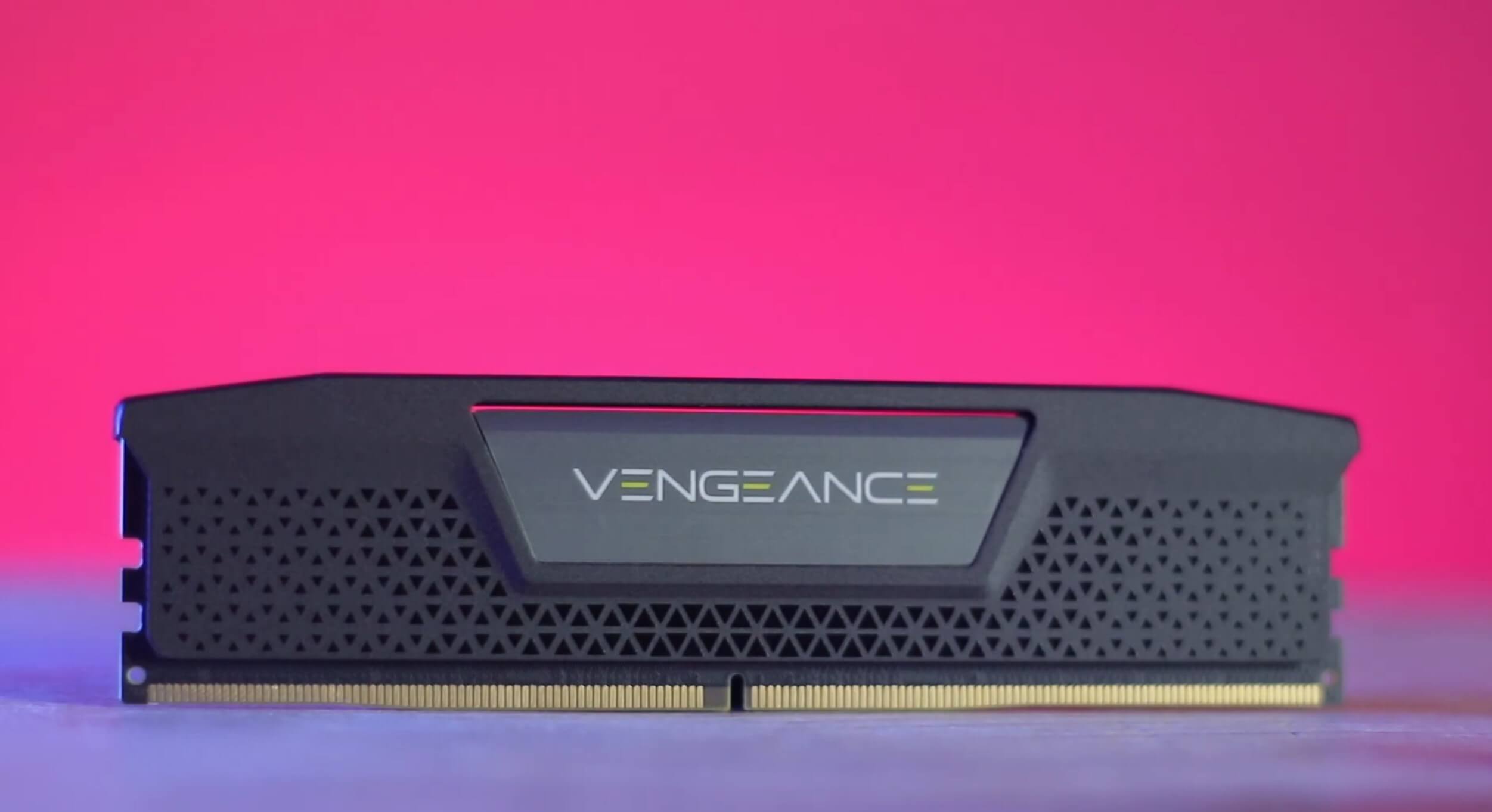 Specifications: Memory Type: DDR5 | Capacity: 32GB (16GB x2) | Frequency: 5200 MHz | Latency: CL38 | RGB Lighting: No | Color: Black/Grey
We've already talked about Corsair's excellent reputation when it comes to memory kits, and the trend continues with the Vengeance line. Perhaps even more popular than their Dominator series, the Vengeance series of DDR5 memory is going to be a massive hit. We've already seen the success of the Vengeance Pro and Vengeance RGB with DDR4, and things might prove to be even better for Corsair with this new DDR5 version.
The one we are looking at today happens to be a 32-gigabyte kit, with two modules holding a capacity of 16 gigabytes each. Down the line, you can add one or more modules depending on the motherboard as well. DDR5 still supports dual-channel, so not much has changed in that regard really. Apart from that, this vengeance kit also looks a bit better than its predecessor.
The DDR4 version stood out a lot because of its tall heat spreader and angular design. The Vengeance DDR5 memory kit is more streamlined, and the overall design language is more approachable in terms of accessibility. You don't need to worry about the tall heat spreader interfering with the CPU cooler either. A bold "vengeance" logo is stamped proudly in the front-center of the modules.
As for the specs, we've already talked about how this is a 32GB DDR5 Ram kit. Each of those modules has a frequency of 5200MHz, which is more than enough for most gamers. Truth be told, it is a bit overkill as games are not taking full advantage of higher frequencies just yet. If you're the type who cares about futureproofing, then this is surely a good investment. This kit has a CAS latency of CL38.
To sum it up, securing another spot on this list was a piece of cake for Corsair. The Corsair Vengeance kit will likely be found in a lot of kits down the line. The lack of RGB is a bit of a disappointment, but that is what ends up saving our money at the end of the day. In terms of value, this is the Best Value For Money DDR5 Ram.
Pros
Sleek design
Great value for money
Respectable CAS latency
Extremely reliable
Affordable Price Comparing other DDR5 Memory Kits
GeIL Polaris RGB DDR5
Best Looking DDR5 Ram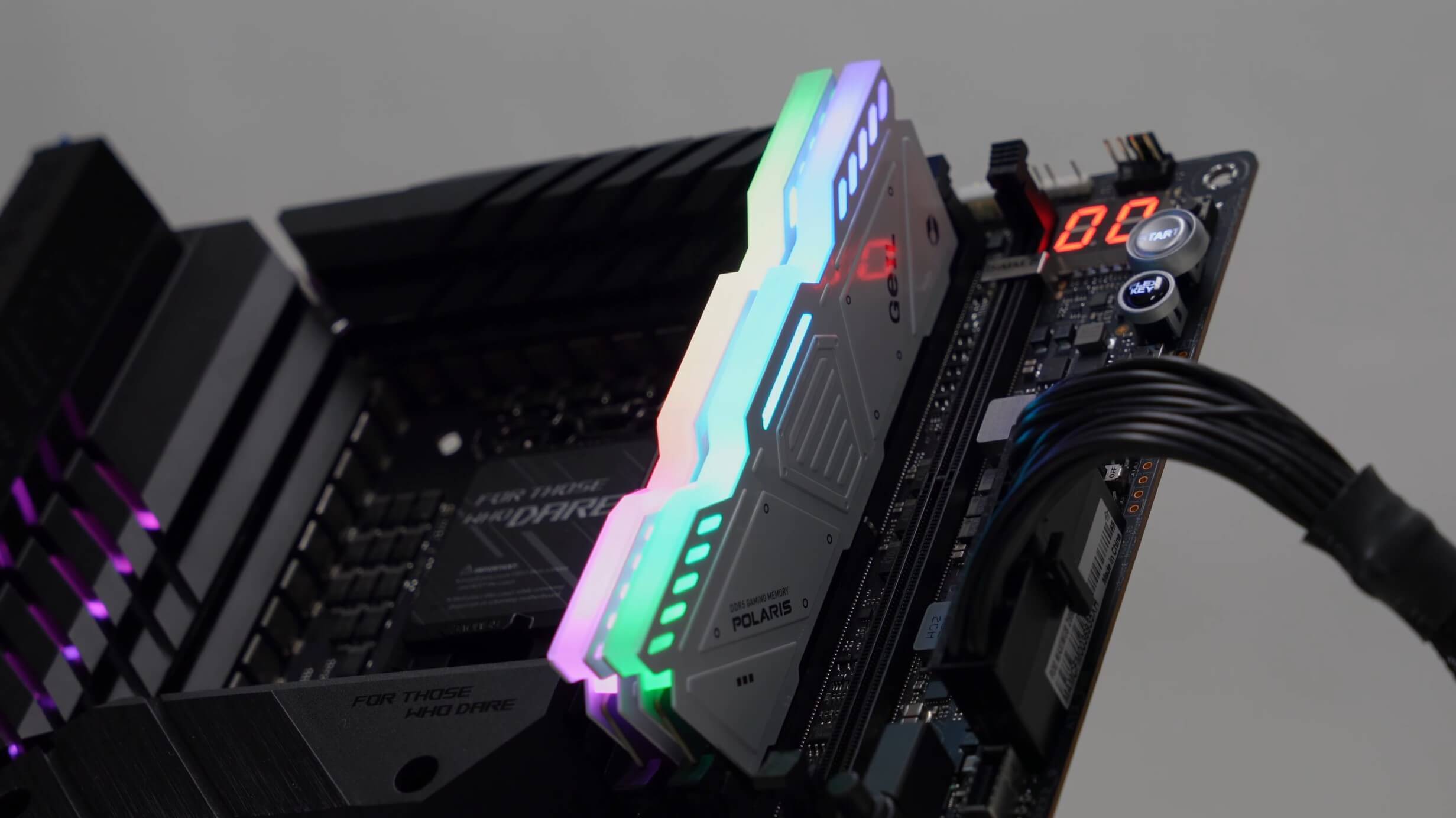 Specifications: Memory Type: DDR5 | Capacity: 32GB (16GB x2) | Frequency: 4800 MHz | Latency: CL38 | RGB Lighting: Yes | Color: Black/Grey
Let us take a bit from the big names such as G.Skill and Corsair for a second. Right now we're taking a look at Geil's take on their DDR5 lineup. This is a relatively new entry into the market, as Geil became popular over the last few years in recent memory. This was mostly due to the price-competitive options when it comes to DDR4 RAM. While not as popular in the USA, Geil is a brand that succeeds in Asia because of its low prices.
As the design of the RAM kit might tell you, this is one of those products that are built purely to look incredibly stunning inside a high-end PC. Fortunately, the Polaris RGB kit does not focus on form over function. It performs just as well as it looks. It sports the numbers of DDR5 while looking great. This is one of those RAM kits that might elevate the look of a gaming PC to the next level.
Thus, we have no problem dubbing Geil Polaris as the Best RGB DDR5 RAM in 2022, currently. Of course, new options will pop up on the market all the time. However, currently, this happens to be the best in terms of design. Furthermore, the performance is also up to snuff, as it should be with a DDR5 kit.
The kit is available in a variety of memory capacities and frequencies, but we recommend going with the 32GB kit at the speed of 4800MHz. That might seem like it's on the lower end of the spectrum. However, it's a good place to start if you want bragging rights about having a DDR5 Memory Kit inside your gaming PC. This 32GB configuration ends up being great for both gaming and productivity. Our staff even went on to recommend Geil Polaris as the top 3 Ram for i9-12900k.
Finally, the angular look of the DIMMs goes well with many other gaming-oriented products in recent memory. We figure that this kit will look great in most of the mainstream gaming PCs out there. Overall, the implementation of RGB is sophisticated and is also controllable via motherboard software.
Pros
Aggressive design
Flashy RGB lighting
Decent performance
XMP Ready
Cons
Design might be outlandish for some
Expensive
XPG Lancer DDR5
Best Bang For Buck DDR5 RAM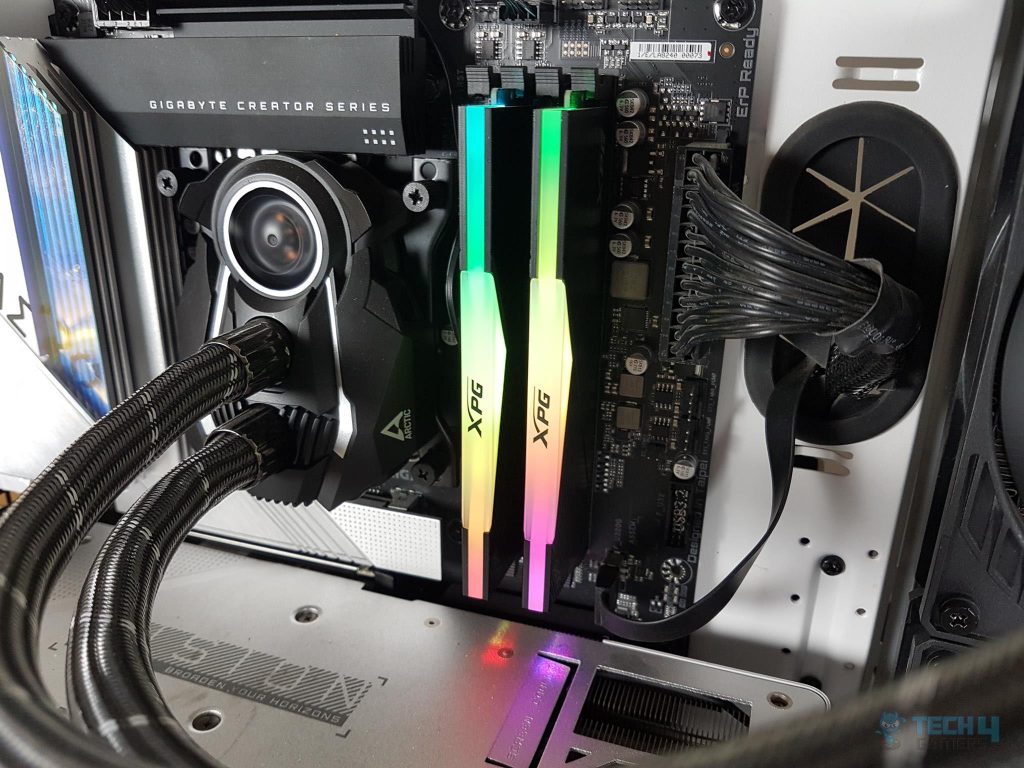 Specifications: Memory Type: DDR5 | Capacity: 32GB (16GB x2) | Frequency: 5200 MHz | Latency: CL38 | RGB Lighting: No | Color: Black/Grey
For many members of the PC Master Race community, XPG might be a relatively unknown name. With that said, XPG is the gaming brand that is brought to us by ADATA, the brand known for value for money products in the SSD and memory market. We have reviewed quite a few XPG products in the past as well, such as the XPG Spectric D41 RAM kit.
ADATA did not waste much time at all with the release of DDR5. They were one of the first to get their memory kits out on the market, and the XPG Lancer happens to propose a great value for people who want the most bang for their buck. It ticks all of the boxes, and as such might be one of the best DDR5 RAM that money can buy. You my also check detailed take on XPG Lancer RGB 6000 DDR5 Black Kit Review.
When paired with the next-gen processors, the Lancer delivers excellent performance. This is thanks to the advancements we see in the generational jump between DDR5 and DDR4. The Lancer can be bought in a variety of different frequencies and capacities, but we recommend going with the 32GB kit. This DDR5 Memory kit features 2x16GB modules that operate at a frequency of 5200MHz. The CAS latency is labeled at a respectable CL38.
Aesthetically speaking, this DDR5 RAM kit looks quite attractive as well. It does not feature an aggressive design nor does it have any RGB. Instead, it goes for an industrial look with a brushed metallic finish, similar to what we have seen in the Spectrix D50. However, we understand that many people want RGB, especially at this price. Overall, XPG Lancer is the Best Bang For Buck DDR5 Ram.
Pros
Subtle and sleek design
Great performance
XMP 3.0 Ready
Crucial DDR5 4800Mhz
Best Cheap DDR5 RAM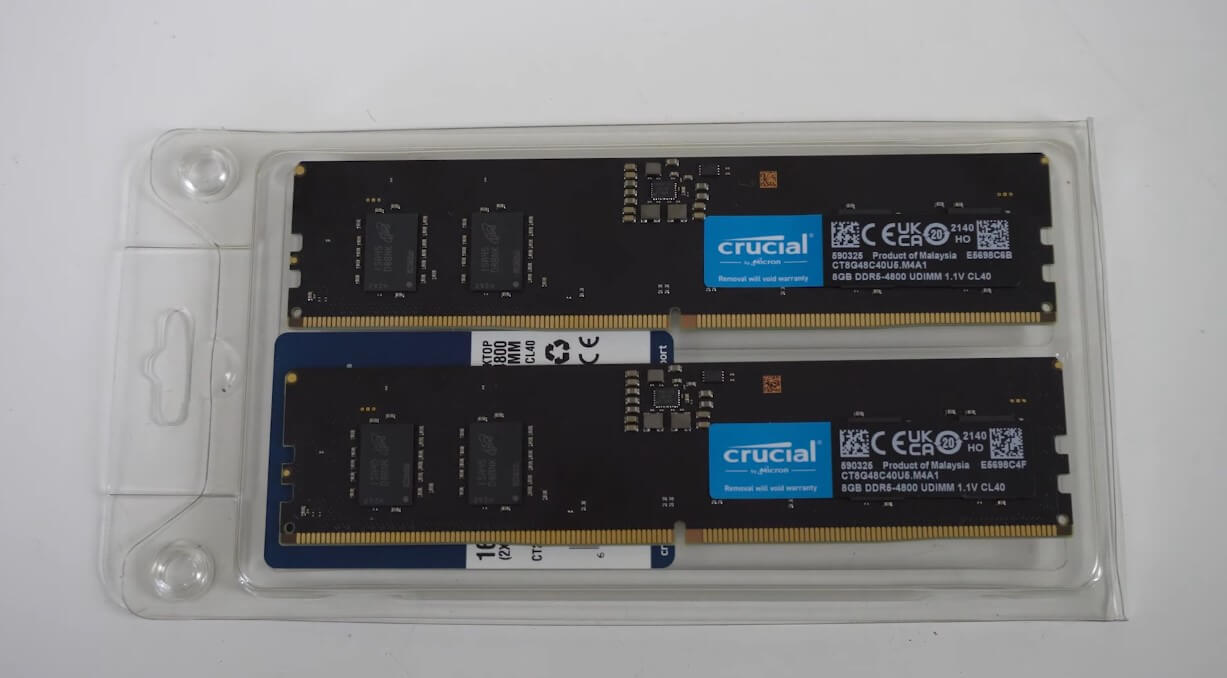 Specifications: Memory Type: DDR5 | Capacity: 16GB | Frequency: 4800 | Latency: CL40 | RGB Lighting: No | Color: Black
It is easy incredibly easy to get lost in the world of flashy designs, bright RGB lighting, and super fast frequencies. This is especially true when it comes to a DDR5, the newest kid on the block. Not everyone is willing to drop a ridiculous amount of money on an expensive DDR5 kit. If your new build is focusing purely on performance then you'd like to save money where you can.
The Crucial DDR5 Ram kit takes a different approach, especially compared to the other options on this list. It focuses on the price to performance ratio rather than anything else. Crucial went for the value for money route, instead of giving priority to design, flashy RGBs, or other bells and whistles.
While the product itself is still expensive due to the nature of DDR5, it still manages to cost less than the competitors on the market. As such, it manages to be a great entry-level kit, and it will likely be quite popular in mid-range PCs. People who don't care about looks at all will also feel quite comfortable with having a cheaper DDR5 kit inside of their PC.
However, this simple design should not be an illusion to you. This DDR5 Memory kit still packs some serious performance thanks to the new platform. You can purchase this kit in a variety of configurations but our recommendation happens to be the 32GB kit in the 16GBx2 DIMM configuration. The frequency for Crucial DDR5 kit is rated at 4800MHz with a CAS latency of CL40. You can go with higher capacities as well, but those variants don't hold the same value.
All in all, the Crucial DDR5 kit is basic as the comes in terms of aesthetics. There is no heat spreader, and the DRAM chips are visible to the naked eye. This bare PCB design is quite common in OEM PCs, and it's amusing to see a DDR5 kit look like a DDR3 one.
To Summarize, If pricing is an issue for you, then the Crucial 4800mhz is our recommended Best Cheap DDR5 Ram In 2022.
Pros
Incredible value for money
Perfect for entry-level builds
Hard to compete with price
Cons
No bells and whistles
Still expensive for a barebones kit
Outdated design
Kingston FURY Beast 32 GB DDR5
Best Gaming DDR5 RAM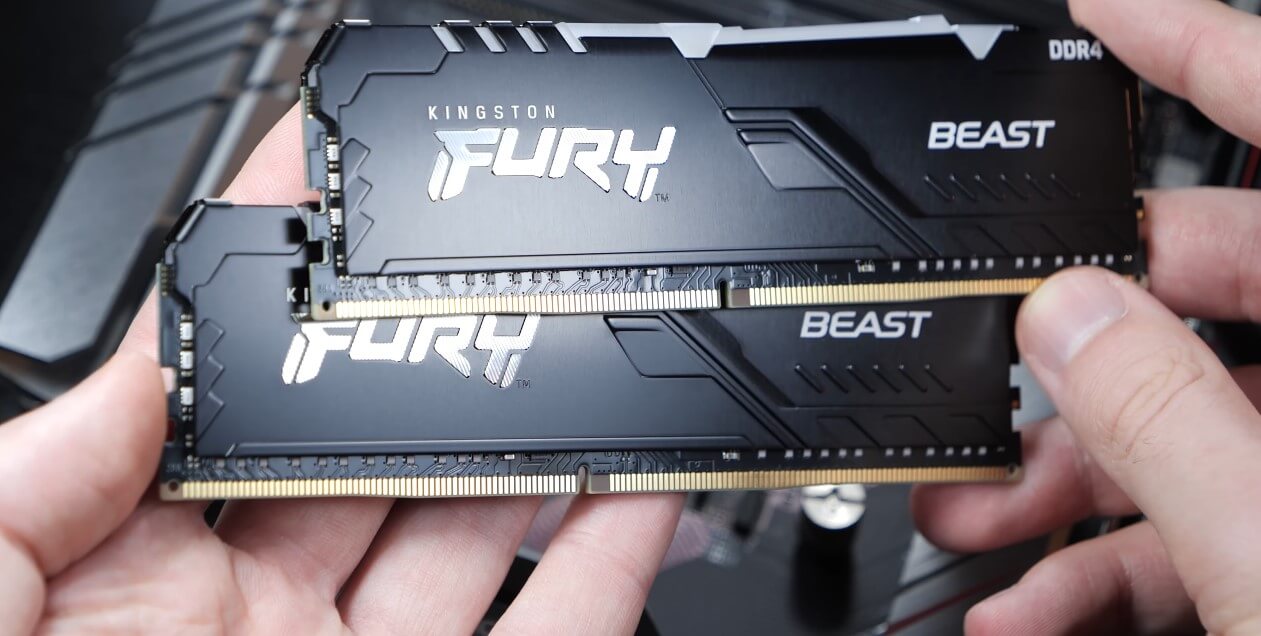 Specifications: Memory Type: DDR5 | Capacity: 32GB (16GB x2) | Frequency: 5200 MHz | Latency: CL38 | RGB Lighting: No | Color: Black
Kingston is a giant American multinational company that excels in flash memory products, storage, and other computer memory products as well. The company name is what immediately comes to mind when you think of an external drive or a USB. They also happen to own the HyperX brand, which is extremely popular when it comes to peripherals.
The same company brings us the excellent Fury Beast DDR5 memory kit. Kingston Fury was launched in tandem with the release of the Z690 chipset and 12th gen Intel Alder Lake processors. This DDR5 Ram kit takes everything into account and excels in speed, capacity, and reliability. It doesn't matter if you are gaming at 4K, animating a 3D graphic, or editing videos, the Fury beast is perfect for any build.
The Fury beast comes in four different variants right now, but we recommend going with either of the 32 GB kits available. Both the 4800MHz and 5200MHz are close to each other in terms of performance, so it's a matter of affordability rather than anything else. This memory kit also happens to look the part, with an aggressive design and bold branding across the DIMM itself. It is also XMP 3.0 certified, which shall make it easier to overclock.
Overall, the Kingston Fury beast is the best Gaming DDR5 Ram when it comes to features. The only problem is that it lacks RGB, and while the design looks great, it is not going to stand out in any build. Price is also high compared to competitors.
Pros
Extremely reliable brand
Great performance
XMP 3.0 Ready
Cons
No bells and whistles
Quite expensive
Lack of RGB is a disappointment
G.Skill Ripjaws Dual Channel DDR5
Best Low Profile DDR5 Ram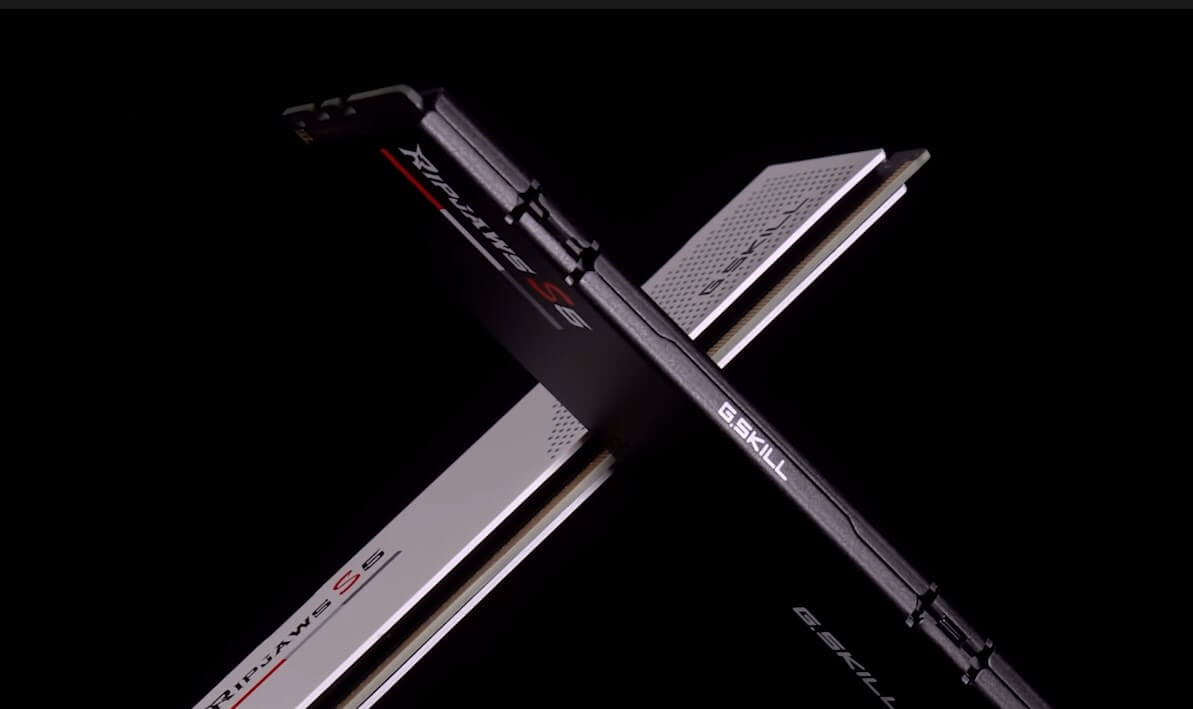 Specifications: Memory Type: DDR5 | Capacity: 32GB (16GB x2) | Frequency: 5200 MHz | Latency: CL40 | RGB Lighting: No | Color: Black
G. Skill finds another spot on this Best DDR5 Ram list thanks to their excellent Ripjaws series of memory kits. This time around, we are taking a look at the G.Skill Ripjaws S5, an upgraded version of the Ripjaws V which was an excellent DDR4 memory kit at the time. Much like the Trident Z and Trident Z RGB modules, the Ripjaws product line has been quite successful.
This time around, the Ripjaws S5 finds its way on this list due to two reasons: performance and reliability. The Ripjaws line is known for its durability and reliability, and this S5 memory kit is no different from that rule. We all know that DDR5 is a new technology and new platform, so reliability is extremely important for people. People don't want to face early buyer's remorse going in, so this is why the S5 is an excellent option.
The S5 clocks in at 5200MHz, which is faster than most of the early kits on the market. Of course, G.Skills own Trident lineup clocks in at a faster frequency, but the S5 kit might be more practical for some people. This means that G.skill kit brings great performance in terms of gaming and productivity. Combine that high-frequency speed with 32GB of RAM, and that seems to be the end game for most people.
The CAS latency is a bit high at CL40, however, the average gamer will not be bothered by that. If you are the sort of person who dubs themselves as a hardware enthusiast, then It might bother you, especially for the price. This S5 kit also looks quite appealing. While it lacks RGB and flashy heatsinks, it makes up for it with a subtle design. It almost has a two-tone look to it, with a blue/black finish on the exterior. You can also buy the GSkill Ripjaws in White Color, so plenty of aesthetic options when it comes to your PC Build.
So, if you can look past the lackluster value for money, the Ripjaws S5 turns out to be quite a decent kit. The CAS latency is a bit high, and the lack of RGB is a bit of a downside. If those issues don't concern you, then by all means go ahead.
Pros
Extremely Reliable
High Frequency
Interesting dual-tone finish
Low Profile
Cons
No bells and whistles
Quite expensive
RGB should be included at this price
Competition
Have the previously enlisted Best DDR5 RAM kits failed to meet and exceed your expectations? Nothing to fret over; we've given an honorary shoutout to all the memory kits that couldn't make it to our list of the DDR5 RAM but maintain their dignity as respectable alternatives. The cherry on top, we'll continuously refine the following catalogue as time goes on and worthy candidates appear.
Teamgroup T-Force Delta DDR5 (6400 MHz – CL40)
Due to the comparatively recent unveiling of DDR5 technology, manufacturers are understandably struggling to reduce CAS (Column Address Strobe) Latencies while grappling to simultaneously improve RAM timings and frequencies, amongst other issues such as inflated price points (initially), commonly associated with the release of new memory technologies, such as DDR4, back in the day. That being said, TeamGroup has stepped in with their T-Force Delta 32 GB DDR5 kit (16+16), capable of running stably at 6400 MHz with slight overclocking to 6667 MHz and even 7000 MHz possible if you're brave enough to manually tweak the voltage levels.
As previously discussed in this article, if it weren't for the G.Skill Trident Z RGB DDR5 with an unbeatable stock frequency coming in at 6600 MHz, the T-Force Delta CL40 would've been the benchmark to beat.
To begin with, the Teamgroup T-Force Delta maintains a CL (CAS Latency) of 40, with RAM timings rated at 40-40-40-84, running at a stock voltage limit of 1.35V, which is on the higher side of the voltage spectrum for DDR5 Memory Kits, but something to be expected for such a high-performance offering.
Moving on, Teamgroup has implemented SK Hynix Memory ICs (Integrated Circuit), which are renowned for eking out industry-leading RAM speeds, even comparable to equivalent releases by Samsung, which has remained the king for multiple decades in terms of producing the best memory dies. The T-Force Delta DDR5 also supports Intel XMP (Extreme Memory Profile) 3.0 for instantaneous and simplified RAM overclocking.
It's worth noting that the Teamgroup T-Force Delta DDR5 measures at a maximum height of 45.5mm, which might interfere with installations in SFF (Small Form Factor) or Mini-ITX builds. (Feel free to check out the Best Low Profile CPU Coolers if you're interested in components for an SFF PC).
Nevertheless, the T-Force Delta DDR5 is truly a beauty to behold, featuring white, translucent diffusers for even dissipation of the built-in RGB lighting, which, thanks to specialized RGB IC Controllers, are compatible with majorly famous RGB software such as Asus Aura Sync, Gigabyte RGB Fusion 2.0, MSI Mystic Light Sync, and ASRock Polychrome Sync, to name a few. Sturdy heat-spreaders with ample cooling surface area are also present for maximal thermal efficiency, which helps the Teamgroup T-Force Delta DDR5 achieve its outstanding frequencies and exhibit its overclocking potential.
Furthermore, Teamgroup graciously stamps on a lifetime warranty for the T-Force Delta DDR5, which puts us, and undoubtedly potential buyers, at ease, with regards to longevity and durability concerns. Unfortunately, the Teamgroup T-Force Delta 32 GB DDR5 (6400 MHz – CL40) commands a severely inflated price point ranging northward of $400, and despite top-notch RAM frequencies, the significantly abysmal price-to-performance ratio cannot go unnoticed, and it is only for this reason that the Teamgroup T-Force Delta DDR5 (6400 MHz – CL40) was unable to champion itself as the Best Overclocking and Performance DDR5 RAM in 2022.
Samsung DDR5-4800 (CL 40)
Samsung's legendary B-die returns to the market for DDR5 memory in the form of Samsung's generic DDR5 RAM modules, running at stock frequencies of 4800 MHz at 1.1V, meaning there's no need for bulky heat-spreaders. In fact, Samsung's gone with a plain green PCB, echoing design language reminiscent of the DDR/DDR2/DDR3 era, which might detract a significant portion of our audience, who, if not RGB, would've preferred at least a monochromatic aesthetic such as an all-black PCB. As such, you'll run into trouble trying to coordinate the colour theme of your gaming system if these RAM modules are visible from the outside of your particular PC chassis/casing.
Heading onwards without any further ado, we feel compelled to highlight the RAM timings for the Samsung DDR5-4800, i.e., 40-39-39-76. Admittedly, the Samsung DDR5-4800 doesn't impress in terms of raw specs. Unfortunately, this trend continues with real-world performance tests, as we see Samsung's generic DDR5 RAM modules situating themselves around the bottom of the pack or the mid-tier, at best. That being said, the Samsung DDR5-4800 slightly edges out the Crucial DDR5-4800 RAM kit (our pick for the Best Cheap DDR5 RAM in 2022) eight out of ten times.
As for overclocking, thanks to Samsung's reputed B-die ICs, the Samsung DDR5-4800 goes up to 5800 MHz with a maximum voltage limit specified at 1.4V while simultaneously improving RAM timings, which come down to 36-36-36-76.
To our delight, the Samsung DDR5-4800 restricts itself to a maximum height of 31.2mm, guaranteeing user-friendly and simplified installations free of any physical componential interference in even miniature gaming systems with sizeable CPU coolers.
Moreover, Samsung rounds off their DDR5-4800 modules with a lifetime warranty, a perk we can't appreciate enough, with several manufacturers jumping on this bandwagon. This is ultimately a win for consumers since the days spent worrying about RAM lifespans are drawing to a minimum with such stellar support offered by almost every distinguished memory brand.
Notwithstanding, Samsung's DDR5-4800 modules are slightly pricier than the Crucial DDR5-4800 MHz kit, about $25-50 on average, which is the main reason why Samsung's generic RAM modules miss out on being crowned the Best Cheap DDR5 RAM in 2022. Keeping that in mind, you do get what you pay for. While Crucial's offering may have a more aesthetically pleasing all-black PCB and slightly lower price tag, the Samsung DDR5-4800 trumps it in terms of raw and real-world performance thanks to better RAM timings and higher frequencies courtesy of superior overclocking potential.
Last but not least, for some strange reason, Samsung doesn't sell the DDR5-4800 modules in bundled kits; instead, offering singular 8×1, 16×1, 32×1, and 64×1 GB sticks. This means you'll need to buy multiple modules yourself for a dual-channel configuration in a capacity of your choice
The Argument of DDR4 vs DDR5: Which Is Better?
After reading through this guide, doing your research, and looking at the price of DDR5, one might consider if this purchase will truly be worth the money. Going with DDR5 RAM for your next-gen gaming PC is a good idea, but not really affordable. On top of that, the motherboard also needs to be compatible with the memory type, and you can't mix and match DDR5 and DDR5 memory kits either.
On the other hand, DDR5 is faster than DDR4, but the story is not that simple. Right now, the difference is gaming is big, but not exactly leaps and bounds ahead. Yes, you will benefit from faster frequencies, but it is likely a better idea to focus on components like the graphics card and processor first. While initial benchmarks don't show a massive improvement in just gaming, this is all stuff we have seen unfold in past times.
This was the same story when DDR4 replaced DDR3. A lot of high-end DDR3 kits at the time managed to match the performance of the new DDR4 memory modules. With that said, the manufacturing process will improve, and DDR5 will prove to be faster, reliable, and efficient down the line.
So while DDR5 is exciting, it might not be practical for the average consumer. If money is not an issue, then just go with the best components you can buy, of course. However, we'd recommend people to thoroughly consider if DDR5 is going to prove to be helpful for their gaming/workload needs.
Gaming and Productivity
This is where things to start a get bit interesting, and almost confusing as well. We have talked a lot about how the new generation of DDR5 memory is a substantial leap ahead of DDR4. This statement stands true, as physically, the DIMMs are more efficient, and they can run at faster speeds as well. So, DDR5 has those two advantages over DDR4.
However, that does not mean that those improvements are going to translate into real-world performance gains just yet. This is because frequencies for DDR5 Memory Kits will only get higher with time. When that does happen, we might see more performance being squeezed out of this platform for both games and production workloads.
Right now, there is not a major improvement in either case. Especially in gaming, where very few games take advantage of the improvements that DDR5 brings to the table. The same is true for productivity, while some applications such as Premiere and Blender show better performance, the performance gains are not that huge considering the price. Of course, as we get even higher frequencies, things will change.
But things are not that simple. It's not just that the frequencies need to improve, the programs and games need to be optimized to take advantage as well. It is likely that upcoming games will show better results, as they will be built from the ground up with DDR5 in mind. The same is true for production workloads. Content creators and gamers will both be able to reap the benefits of DDR5 once we get to that point.
As for right now, buying DDR5 is purely for the sake of being an early adopter. We don't blame you, we never know how the chip shortage is going to affect future markets. So, for those of you who have the money to burn, DDR5 might make some sense. For the rest of us, it is likely a waiting game.
How To Overclock DDR5 RAM
Overclocking memory and processors is always one of the best ways to squeeze more performance out of your gaming PC. While we are almost reaching the point of diminishing returns with overclocking, it is still an enthusiast hobby. We realize that many hardware lovers don't mind spending time tinkering around with BIOS settings to get even the smallest returns in terms of performance.
There are two major ways in which you can overclock DDR5 RAM. The first one is also the simplest. First off, you'll need to reach the BIOS settings. Once your PC is powered on, press the indicated key for BIOS settings. Usually, these are the F2 or DEL keys. Once in the BIOS, you'll want to look for a tab that says performance or "tweaker". This is where you will find an auto-boost feature on many motherboards. For most people, this is the best way to get more performance out of their RAM without thinking about changing settings all the time.
The second method is via changing XMP profiles. For this, you'll need to find the performance or tweaking tab again. From here, find the setting for XMP profiles. Find the profile that suits your needs and select it. You may or may not have to play around with voltage to get stable performance. However, that could be a whole different guide of its own.
How We Choose The Best DDR5 RAM
A typical low-tier or mid-tier processor buyer is concerned with value for money choices. It's hard to pull off when you have new advancements in the space with the latest technology, which is hefty on the pocket. So, picking the Best DDR5 RAM kits for great gaming-focused CPUs is no easy task to achieve as DDR5 are the latest of the bunch.
The market has grown considerably in recent years. Multiple manufacturers are making a specific memory type. It becomes pretty difficult to decide which one to go for, considering your preferences in the domain. How do you move around this problem?
For your help, we took this task into our hands and rounded it up with a bunch of DDR5 RAMs that can be an excellent choice to consider if you are interested in buying one. You might be thinking about how we performed this task. Let's look at the few things we checked for before concluding that these RAMs are the best value for performance DDR5 RAMs in the market. You can also use these guidelines to make your own purchase decision.
Compatibility
Talking of 2022's first quarter, Intel 12th generation processors are only compatible with the DDR5 RAMs. AMD announced that they are releasing their new AMD Ryzen 7000 processor series soon, supporting the DDR5 RAMs. So before buying the RAMs, check if your chipset supports the DDR5 memory or if you own the components, check the cross-compatibility.
Frequency and RAM Slot
The frequency of RAM is the speed at which it transfers data to the CPU. Each RAM type has its range of frequencies. DDR5 RAMs mostly have a frequency that ranges between 3200MHz – 8400MHz. If you want to buy a DDR5, check if your motherboard's DIMM slots (RAM slots) support DDR5 RAM. You cannot place a DDR5 RAM in a DDR4 RAM slot because of the frequency difference alongside the voltage delivery to the DIMM slots. We went with the DDR5 RAMs that had the best frequency possible.
CAS Latency
CAS Latency is the latency or delay we get between the process when the RAM provides data to the CPU to process. The lower this latency is, the faster the RAM will perform. So, we looked for the lowest CL latency possible in DDR5 RAMs. The lowest latency achieved for DDR5 is relatively high now compared to DDR4. But it is a new technology and has a lot of time to improve concerning time and upcoming generations. Try going for a lower CAS Latency RAM among all the options you have cornered.
Aesthetics
RAM performance is at the top of the priority list as users spending some bucks deserve the best performance they can get for their money. However, performance is not only the primary metric. Visual appeal can deviate your choice preference too.
Design and aesthetics are also important to consider. PC building with looks in mind can be a skill in making masterpieces as people love showing their builds. A PC built using RGB lights or sleek and beautifully designed components look more appealing. It was essential for us to include memory modules with different designs that appeal to a broader audience. Tech4Gamers tried keeping this list as diverse as possible, maintaining excellence.
How We Tested Each DDR5 Ram
The most essential and crucial part of the testing is the procedure and considerations made while carrying out the tests. Until now, we have told you about the advantages and disadvantages of the DDR5 memory type alongside stats for multiple RAMs available in the market. All these results resulted from continuous testing on these top tier RAMs. We will be telling you about the methods we used to test out these RAMs and how much performance gains they gave compared to the DDR4 RAMs.
There are multiple ways to test a RAM for its performance. There are in-built methods, external applications, and benchmark methods that tell the user about the RAM's performance, health, and many other stats. If you are a Windows user, you can use the Task Manager for simple diagnosis. If you are a Windows 10 user, you can right-click on the taskbar and open the Task Manager. Here in the performance tab, go to the Memory. You can get significant information about the RAM in the form of a graph like the transfer speeds of a RAM, the usage history, available Memory and all vital information that matters.
There are multiple external applications like Userbenchmark, PassMark software, and MSI Afterburner, among others, which help with benchmarking RAMs. Overclocking RAM is also possible. Older RAMs were overclocking locked as it is not safe for the hardware health of the RAM. Still, with the increase of performance-hungry applications and the community's demand, the RAMs nowadays are overclocking unlocked, which boosts their performance. Overclocking RAM improves your memory speed, which improves your computer's performance.
The tests we told above are more related to the performance of the Memory. However, before buying, the performance of RAM is not the only thing that you need to look out. RAM quality is another crucial aspect that every RAM user should look out for. A thin and fragile RAM from outside might break earlier than a RAM with a sturdy design. RAM consists of sensitive parts like its pins. A little extra pressure will cause the RAM pins to break, rendering your new RAM useless. Place the RAM carefully in the slot to avoid this disaster. These are some of the points and factors we consider before reviewing a RAM.
Who Is This Article For?
There are multiple classes of people who want to buy DDR5 RAM. Within these classes are those also who want to upgrade from a DDR4 to DDR5 RAM. These people will search for information that can help them make the right decision for their PC build. They should also be looking for some points to consider when making a purchase decision. This article is especially for those people.
You cannot make RAM replacements according to your free will. DDR5, a new generation of RAM, requires components that are also new generation compatible. Placing DDR4 RAM in a DDR5 RAM slot in your motherboard is not possible; the same is the case the other way around. The reason is that each DDR5 RAM slot has more pins compared to the DDR4 RAMs alongside special DDR5 power requirements compared to the DDR4. Also, only Intel's 12th Generation processors are DDR5 compatible. So at the moment, you must have Intel's Alder Lake processor to run DDR5 RAM as AMD doesn't have any processor with DDR5 compatibility. However, AMD is also working on this stuff and claims that their to-be-released AMD Ryzen 7000 series will be supporting DDR5 RAM.
Other groups of people include those who are technology enthusiasts. They want to keep themselves updated about the latest technologies and components in the market. DDR5 is one of the latest technologies now, with a price point that everyone can't afford. Tech nerds can also benefit from this article as they keep a critical view of the technologies and assess the pros and cons of each generation.
Frequently Asked Questions
Is DDR5 RAM good for gaming?
Down the line, DDR5 will prove to be excellent for gaming. It will likely become the standard mainstream option and remain that way for a while. While the cost of entry is high right now, things will get more accessible soon.
Do any Motherboards Support DDR5 Ram?
As of right now, Intel's 12th gen Alder Lake processors are the only processors that have support for DDR5 memory. Subsequently, Z690 motherboards happen to be the only choice right now. Of course, this will change down the line as more options become available.
Is 32GB DDR5 too much?
his depends on what you require from your PC. If you are just concerned with gaming, you can easily get away with 16 gigabytes of memory. If you are performing tasks such as video editing, CAD design, or other production-focused workloads, then you might benefit from higher memory size
Which DDR5 RAM is best For Intel 12th Genration?
Finding the best DDR5 RAM for any processor is important to get the most performance out of your rig. It is crucial to focus on getting the right size and frequency, so a kit that fits that description will be your best bet. Of course, this depends on what you will be using your gaming PC for. As for the matter of DDR5 or DDR4, that comes down to performance vs value.