Is It Worth It?
Review Summary
XPG Invader X is a mid-tower case that is perfect for high-tier PC builds. I love the dust filtration on the top, side, and bottom, as well as the ability to house up to 360mm radiators. The 5x pre-installed fans are a great touch, and the GPU support bracket and riser cable are the icings on the cake. The overall height of the case can make it difficult to connect cables on the top headers of the motherboard, but that's a minor inconvenience. Overall, I highly recommend the XPG Invader X case to anyone looking for a high-quality and feature-rich case for their next PC build.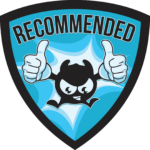 Design -

9/10

Build Quality -

9/10

Features -

9.5/10

Cooling Provision -

9/10

Storage Provision -

8/10
Pros
Panoramic View Design
3mm Tempered Glass
5x Pre-Installed Fans
Good Fust Filtration all around
Rail Mount System for fans and radiators
Storage Bracket
GPU Support Bar
Vertical GPU Bracket
Horizontal GPU Bracket
180mm 90ᵒ Riser Cable included
Supports Back-plug motherboards
Ample Airflow
Versatile IO Ports
Supports up to 2x 360mm Radiators/AIOs at a time
3x Reusable PCIe Slot Covers
Cons
Price
Non-reusable PCIe covers
XPG has launched a new PC Case in the Invader series of their PC Case series. The new model is Invader X, and it is designed around the panoramic view concept. This case comes with a steep price of USD 170, but you need to know the features of this case before saying no based on the pricing. One sole component contributing to a chunky portion of this case is the PCIe 4.0 riser cable that comes included. We know that good quality riser cables are not cheap. I will cover the features in detail later in this article. The salient features of this case include:
Panoramic View 3mm tempered glass panels to showcase internal RGB lighting effects.
Support for vertical or horizontal GPU installation up to 400mm in length.
Magnetic dust filters and removable PSU shroud for convenient cleaning and installation.
Supports cooling configurations with up to 10x 120mm fans and 360mm radiators on the side or
4x 120mm pre-installed reverse blade fans plus an additional 1x 120mm regular fan for certain
Utilizes a newly designed cable management channel and comes pre-installed with 5 XPG cable
Straps, leaving 36mm of space for easy installation of ATX / mATX motherboards and cable
Supports motherboards with connectors on the back, allowing for easier installation and cable
---
Key Takeaways
The XPG Invader X has a stunning panoramic design and enthusiast-grade features, so you can show off your PC's internals in all their glory.
The higher price tag includes a 180mm riser cable, which is a great value for users who want to mount their GPU vertically.
The XPG Invader X has excellent cooling support, so you can be sure that your high-end system will stay cool and stable under even the heaviest load.
---
Specifications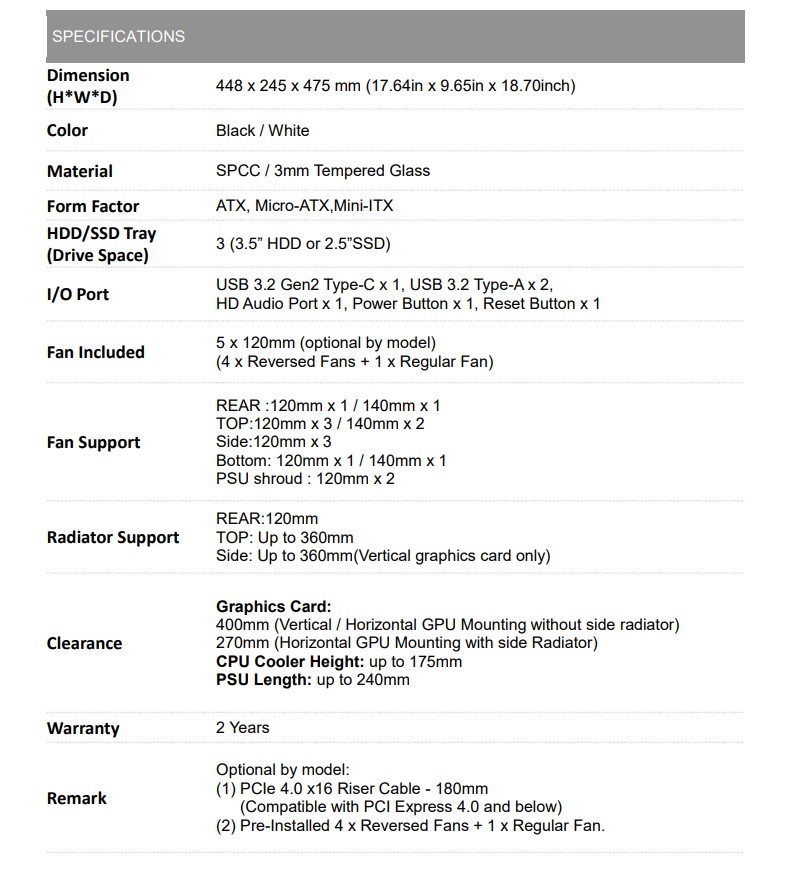 This case comes in white and black colors. It is made of SPCC and 3mm Tempered Glass materials, along with plastic parts. The cooling department is quite strong in this case. However, there is a limited storage provision, but they have done that in quite some way. The front USB ports are all on USB 3.2 protocol. Vertical mount and horizontally mounted GPU support brackets are among the salient features.
Packaging and Unboxing
The unit is shipped inside a standard brown color cardboard box. XPG has highlighted key features in a modular style over here, like storage capabilities, removable dust filters, Versatile IO ports, etc.
The case comes tucked between two white-colored Styrofoam pads.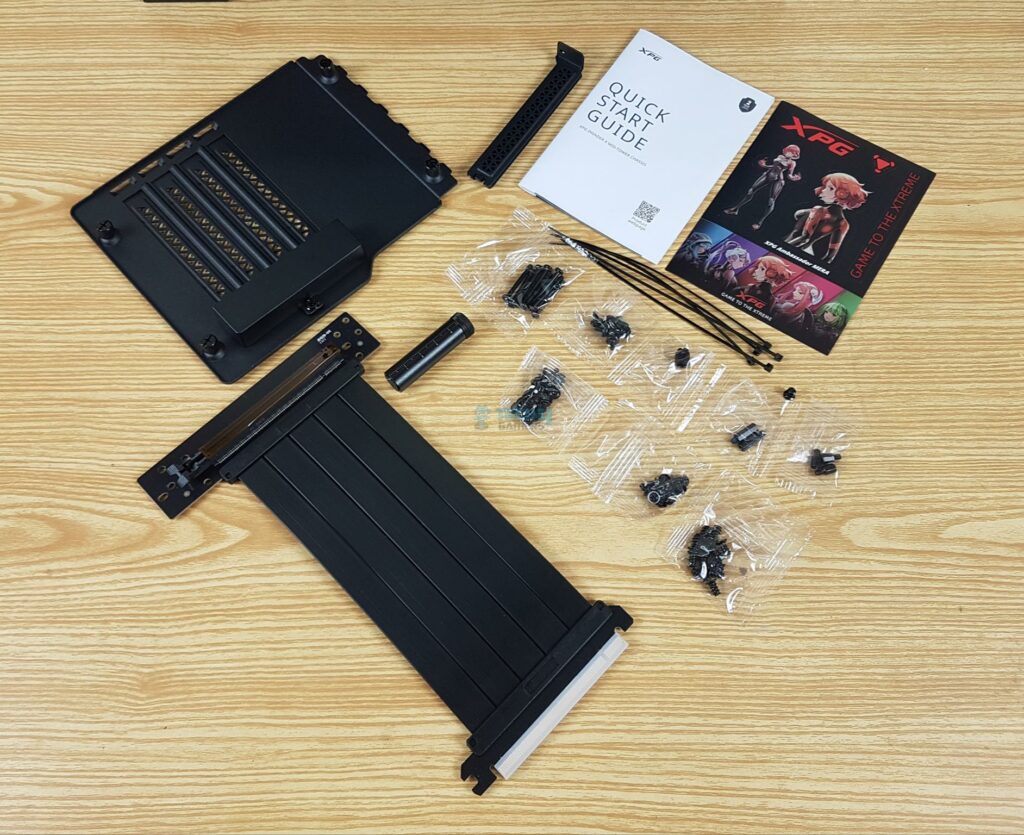 XPG has provided the following in the accessory box:
1x 180mm GPU Riser Cable in 90ᵒ
1x Vertical GPU Bracket
1x GPU Support Bracket
3x Steel made PCIe slot covers
5x Zip Ties
Various Screws and standoffs
1x User Guide
1x XPG Sticker Sheet
Design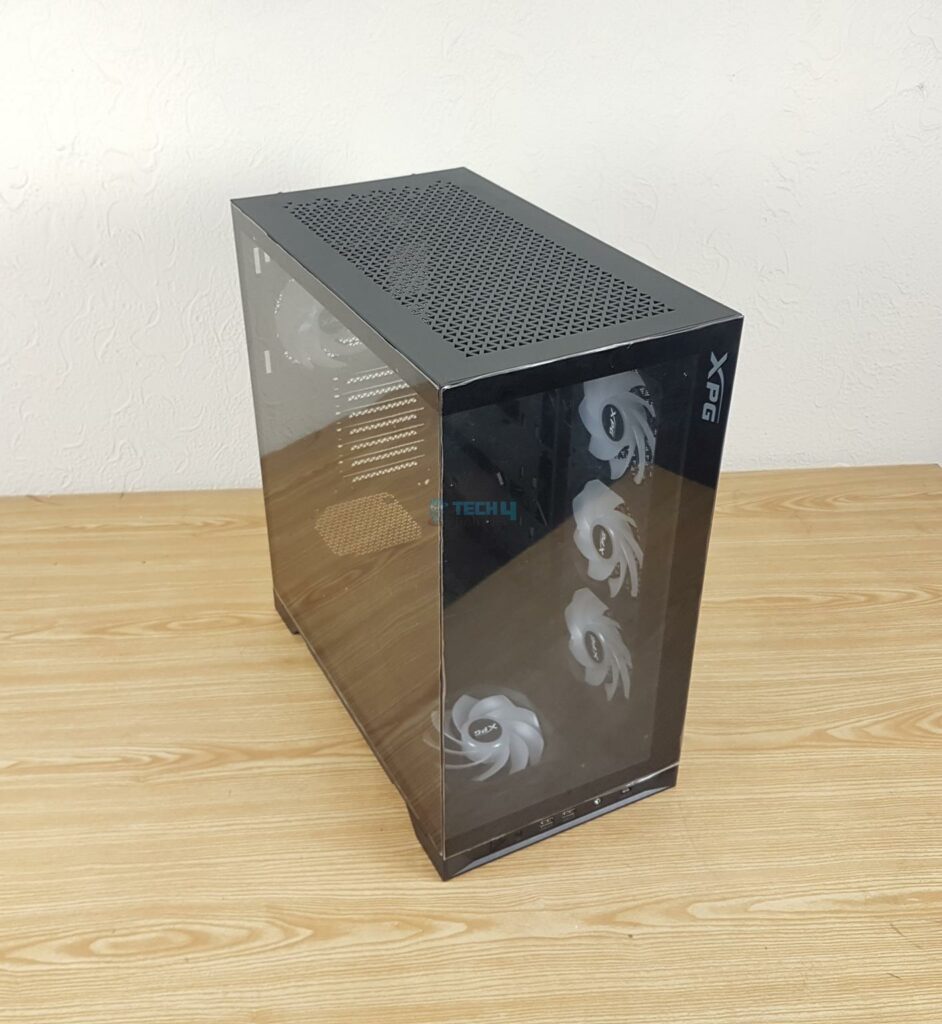 The XPG Invader X is a mid-tower case. It has a dimension of 448x245x475mm (HxWxD). It is made of SPCC, Tempered Glass, and plastic materials. The weight of this case is 8.95 kg. Let's start taking a closer look from Insider and Outside views being our major categories.
What Does The Outside View Look Like?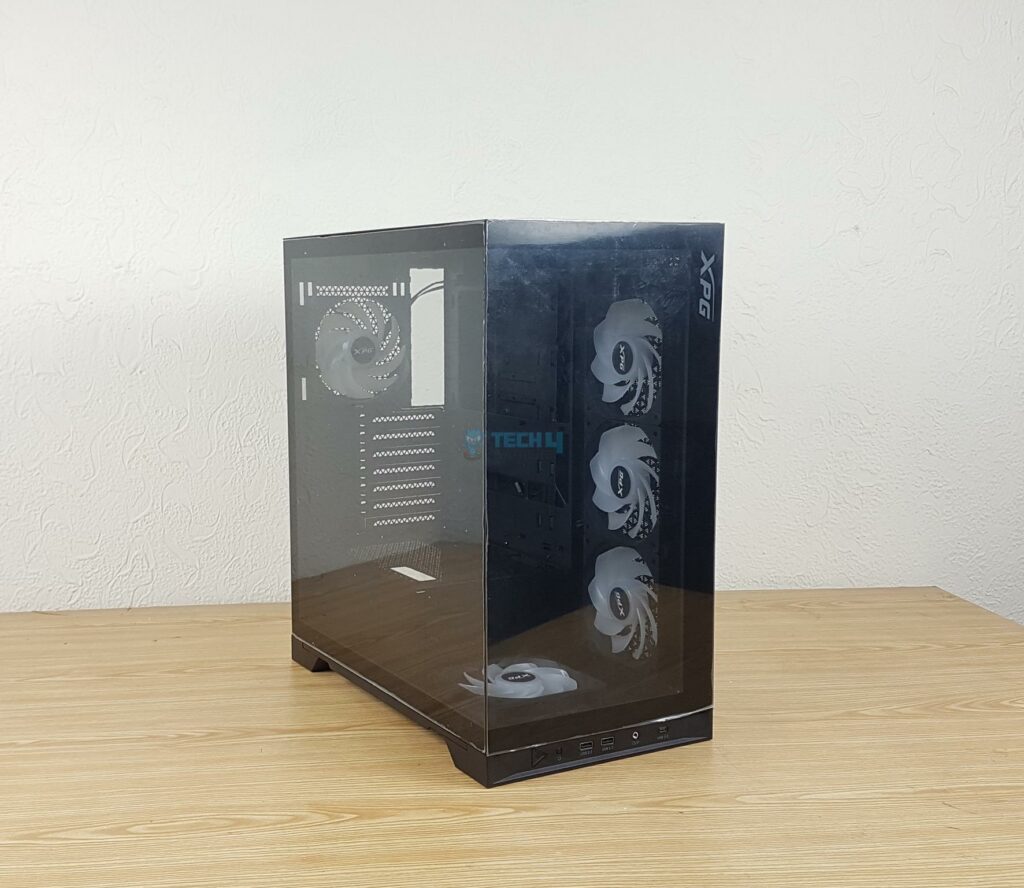 We can see that this case is based on the panoramic view concept. There is a clear see-through glass on the front which is fixed and a 3mm clear tempered glass on the side. Together these two provide a panoramic view of the complete build inside this case. I guess, Lian Li's design is still kicking in well.
What Is The Front Panel About?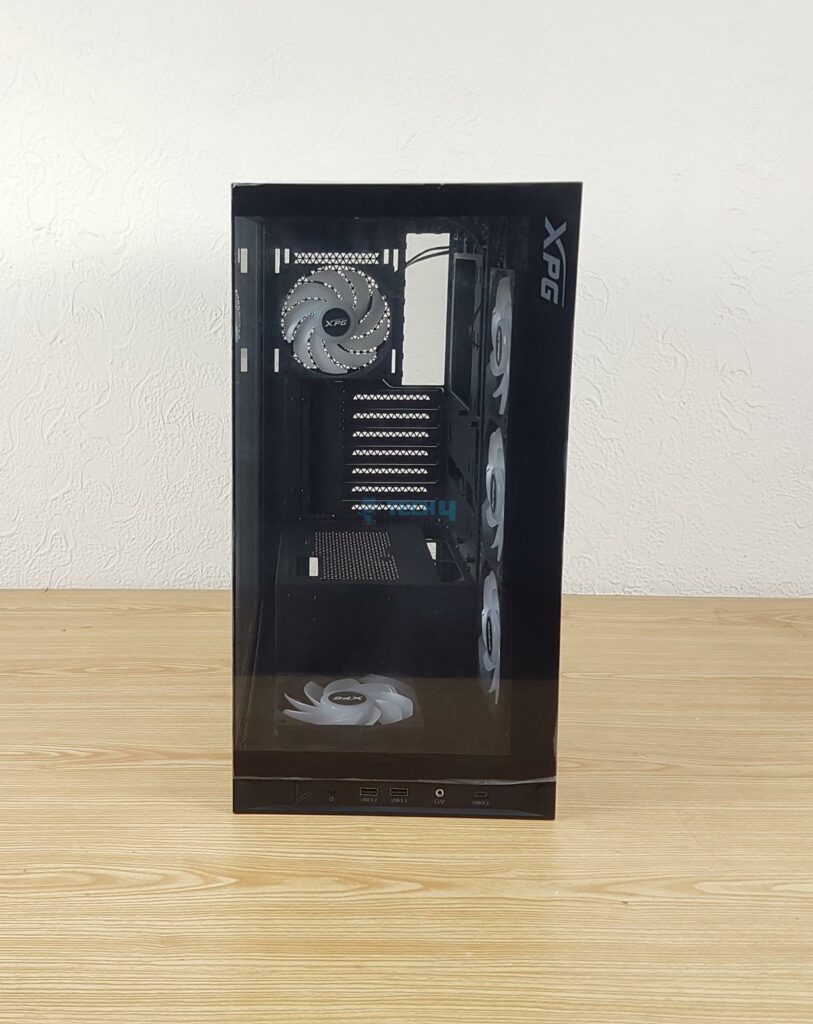 Looking at the front of the Invader X, there is not much tooling work since the 3mm tempered glass is fixed. It can't be removed so don't try that. The other salient design is the front IO port which is located at the base of this case. The glass panel is a bezel-less design.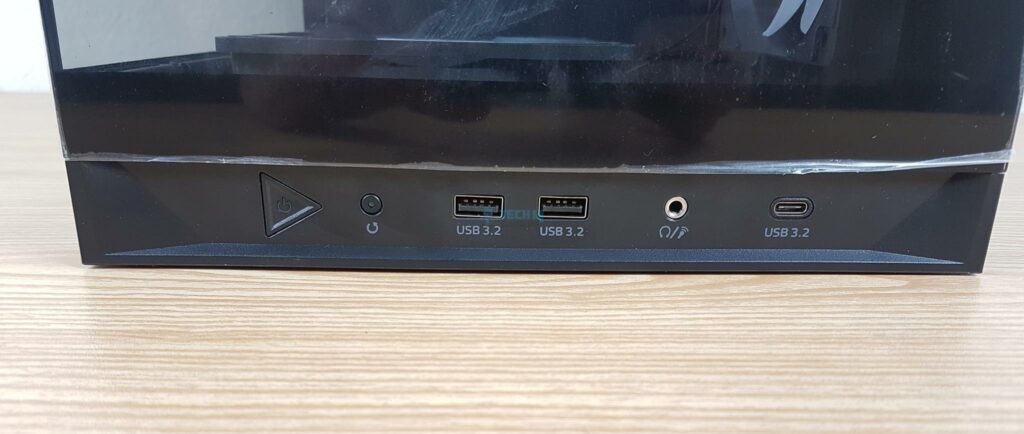 1x USB 3.2 Type C port
2x USB 3.2 Type-A ports
1x HD Audio Port
1x Power Button
1x Reset Button
The power button has a nice click and tack to it without wobbling.
A Look at the Rear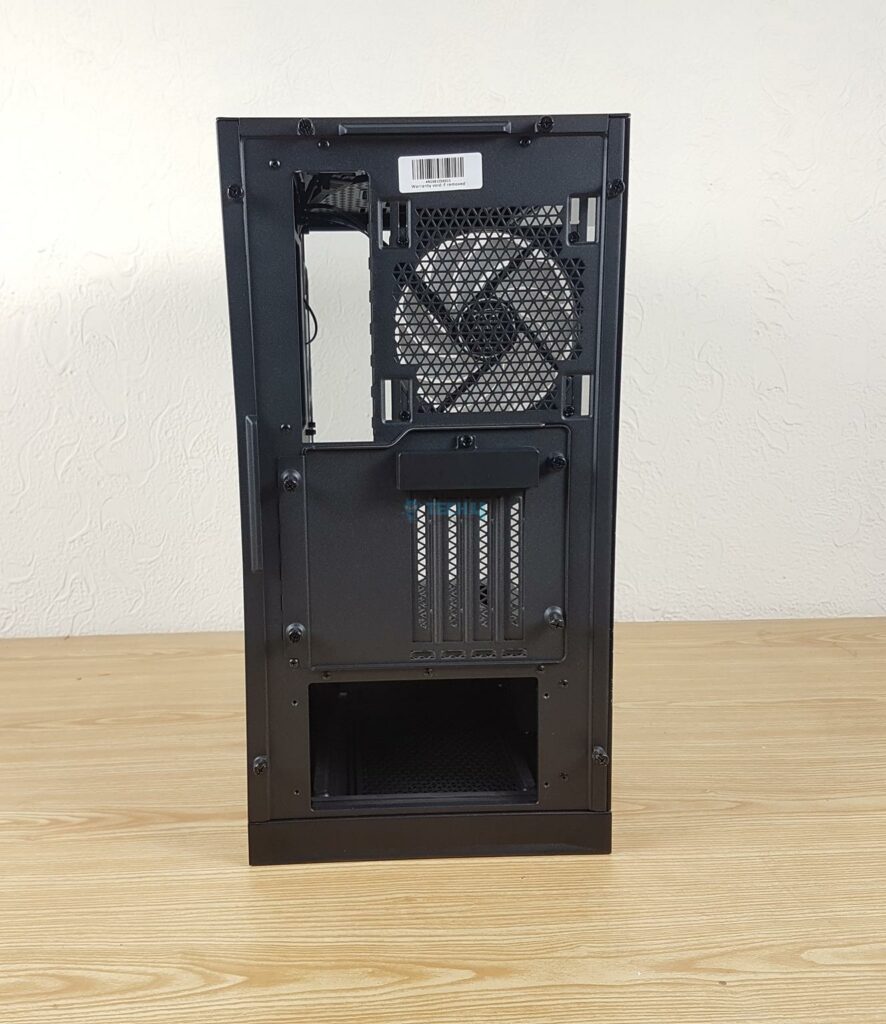 I am showing the rear side of Invader X. The top section has a cutout for the motherboard's rear IO panel. On its right is a mounting location for a 120mm and 140mm fan. There is one 120mm fan pre-installed. This is a rail mount to my liking. You can adjust the height of the fans conveniently.
The central section has PCIe slot covers which are not reusable. These are 7 in number. This is a single-piece bracket that can be removed easily by removing a few screws. At the bottom, we have a mount for ATX PSU. There is a PSU cover that needs to be removed and installed on the PSU. PSU is then slided in from the rear of the case.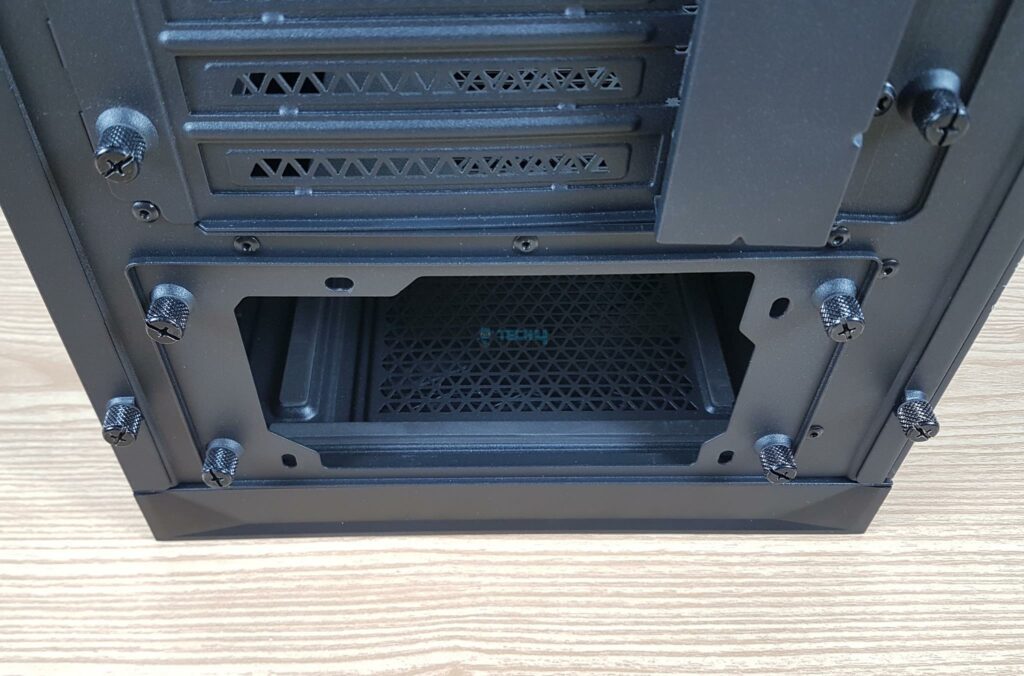 XPG has used all captive thumb screws.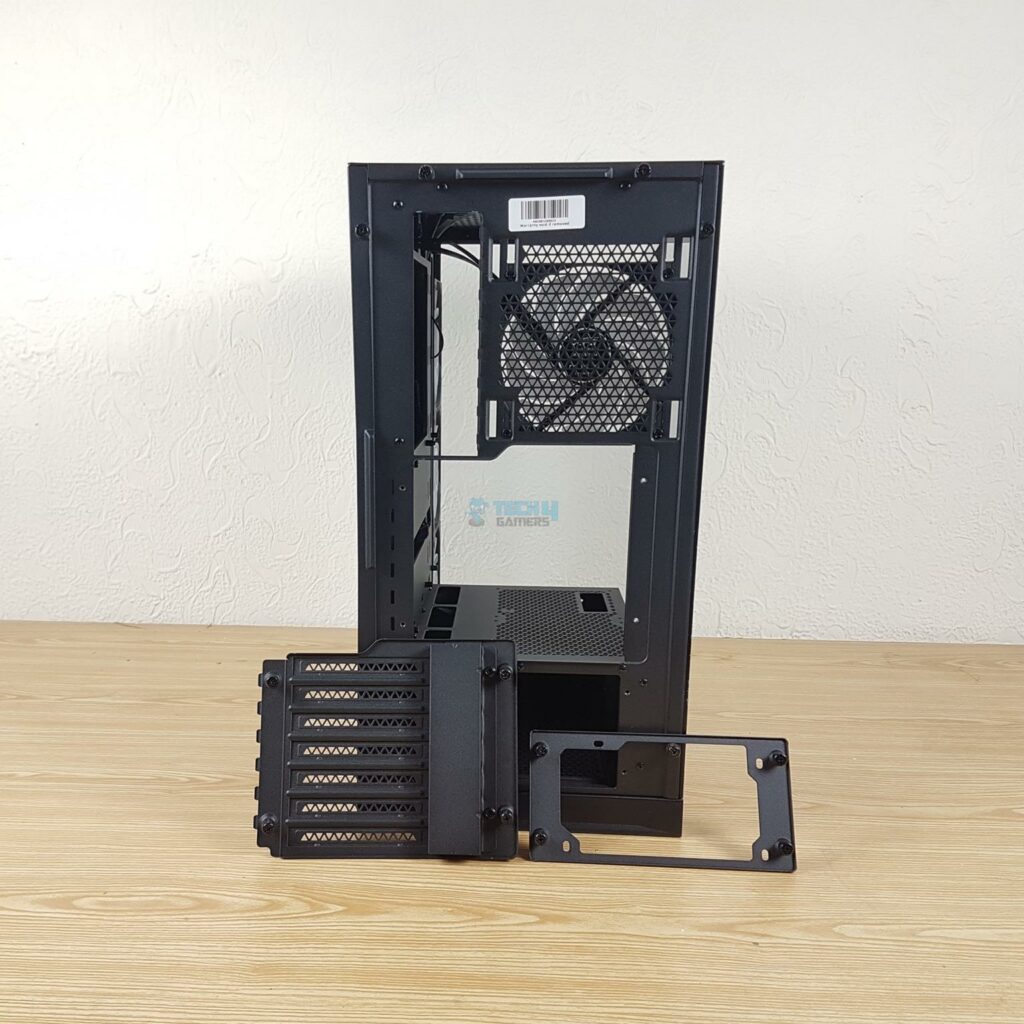 I am showing the horizontal GPU bracket and the PSU cover bracket removed from the case.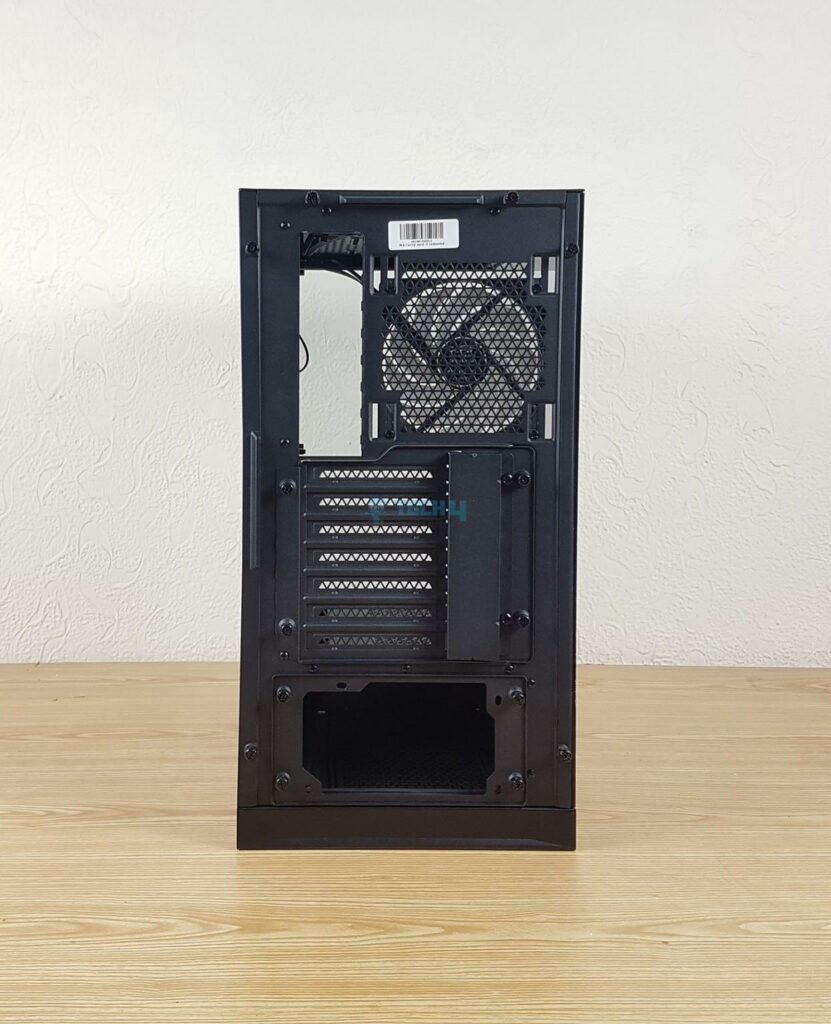 I have installed a vertical GPU bracket that has 4x PCIe slots on the rear. I appreciate how easy it is to change these brackets.
A Look At The Top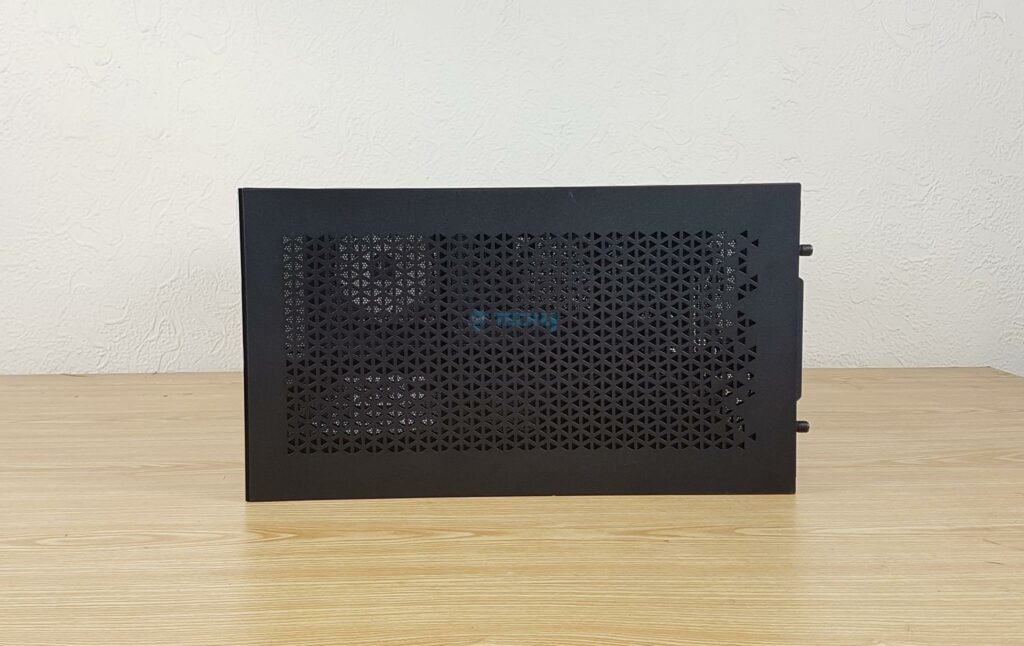 Looking at the top there is a solid metal cover that is vented in a similar design pattern which are on the CORSAIR 4000 series PC Case series. This cover is removable. It is secured using two captive thumb screws on the rear. Unscrew them and pull the cover.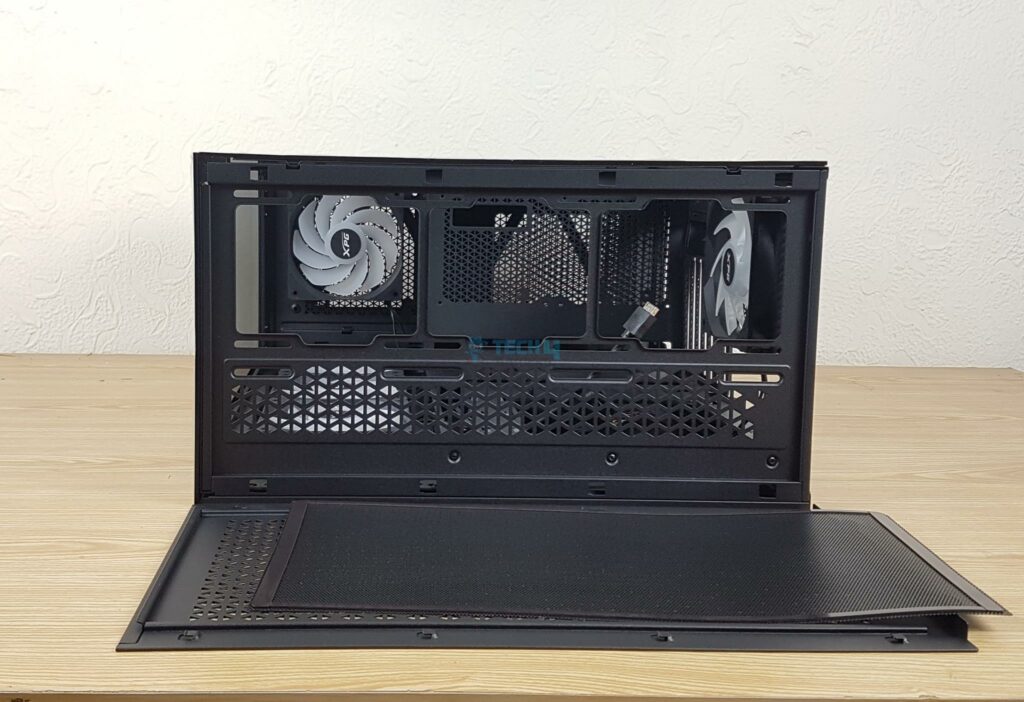 This top cover has a full-length magnetic dust filter. The user can install up to 3 120mm fans or 2x 140mm fans on the top. There is a rail mount system. XPG has done a fine job in the design department.
Look at the displacement from the side of the case towards the rail mount. This rail mount is located more towards the side panel. This offset of 44mm gives more area to work with when installing top top-mounted cooler.
What Does The Bottom Look Like?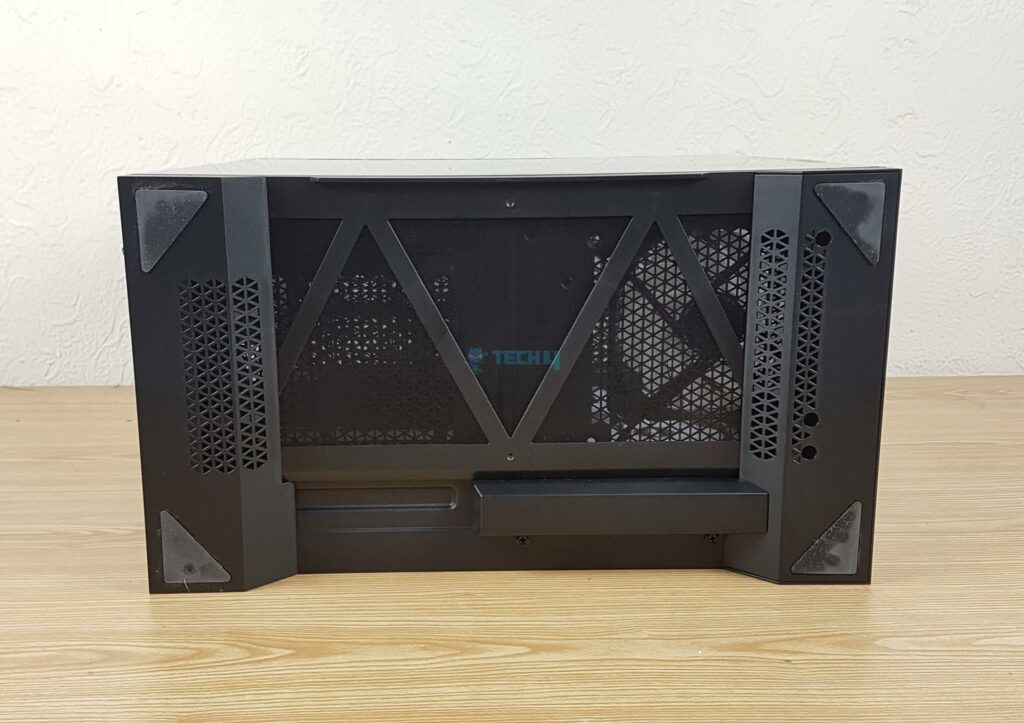 I am showing a bottom view of this case in the above picture. There is a large-sized non-magnetic dust filter that can be removed by pulling it from the side. There are 4x triangular-shaped anti-vibration rubber pads on the feet.
I have removed the dust filter and now showing the base of the PC case. The PSU bay has a vented area. There is also a vented area towards the front side where we can a pre-installed fan from inside.
Take A Look At The Side Panel And Inside Details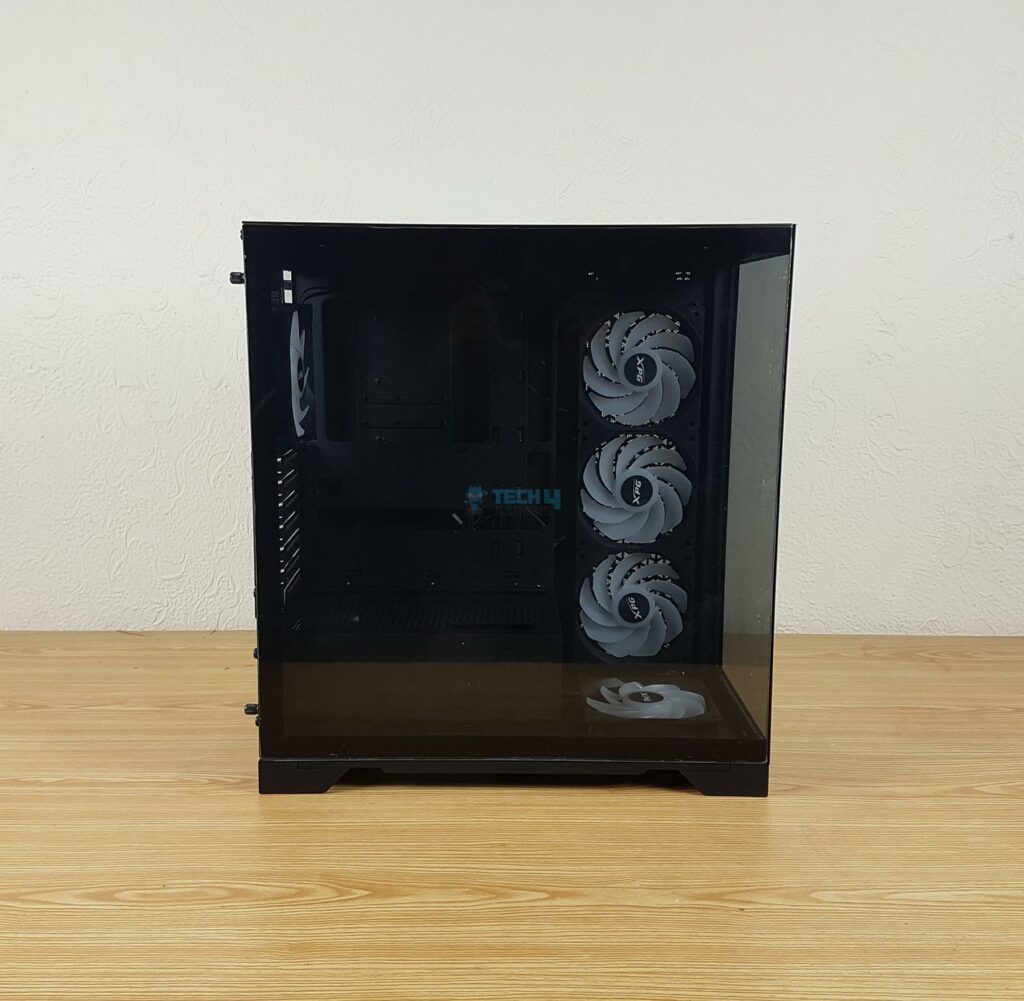 There is a 3mm tempered glass on the side panel. It is bezel-less in design so that users can take a glimpse of what is inside the case. It is somewhat tinted.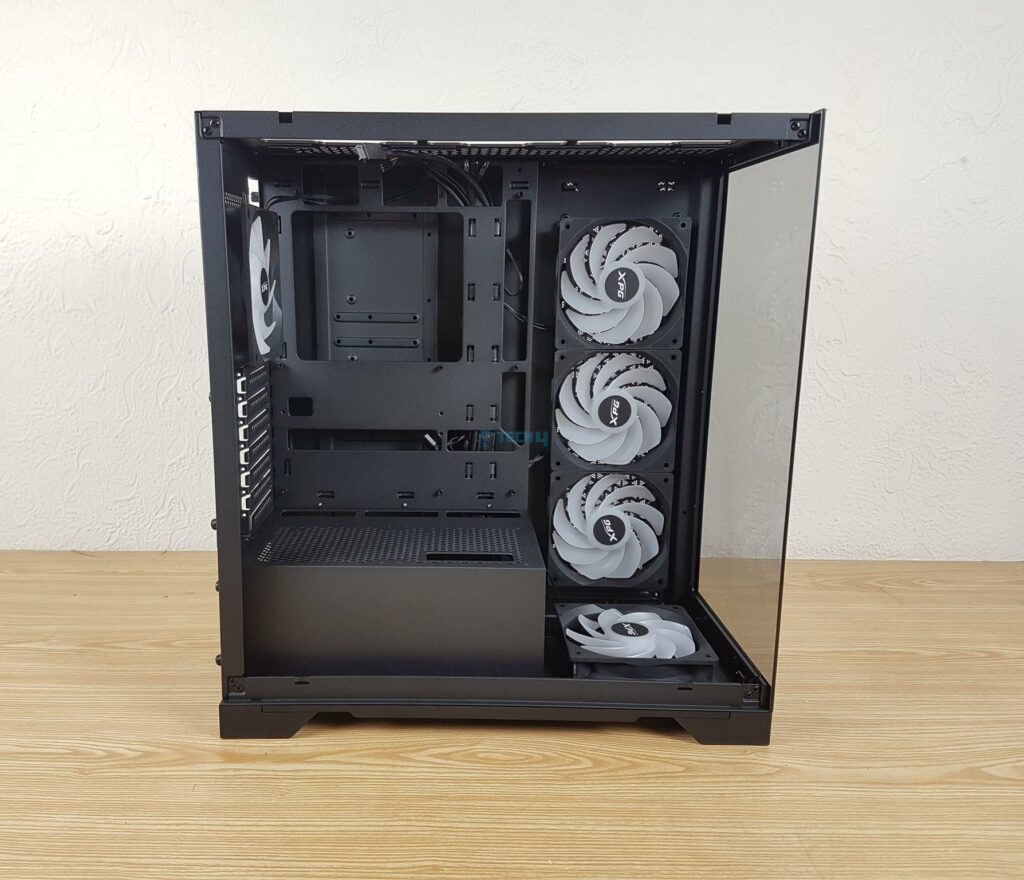 The above picture shows a complete overview of the case. This is our working space hence it needs more attention from the design aspect.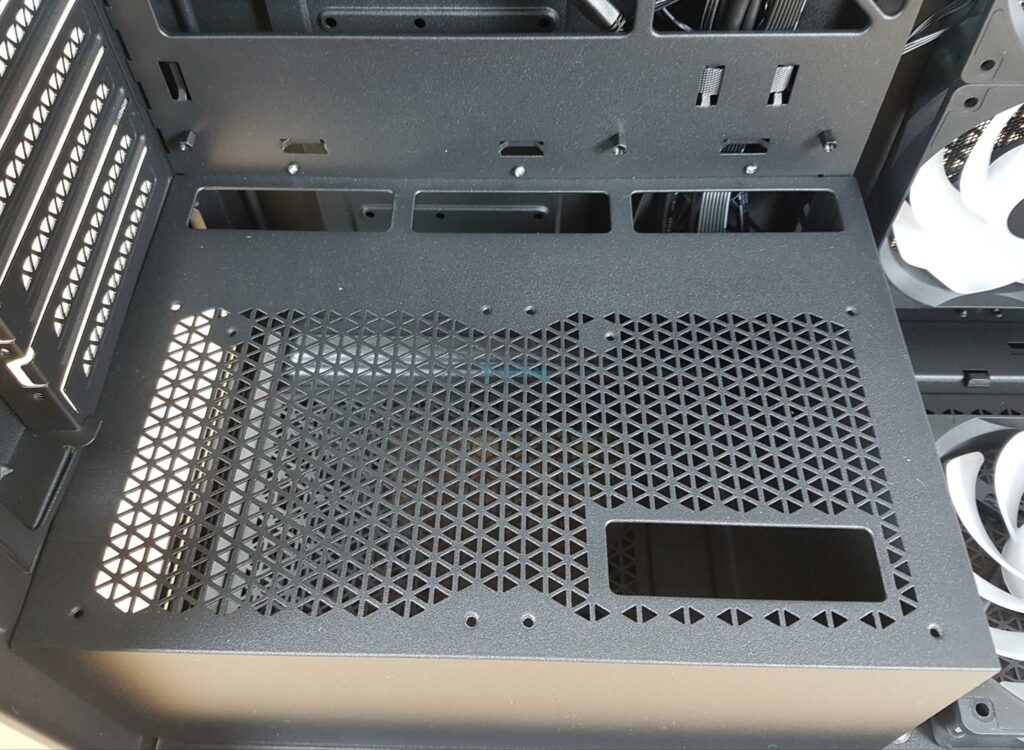 The PSU shroud has a totally vented portion. Taking a closer you can and you can identify mounting holes for 120mm fans. The user can optionally install 2x 120mm fans over it. There are three cutouts towards the motherboard tray for cable routing. There is a large size cutout towards the front that is for the graphics card cable routing.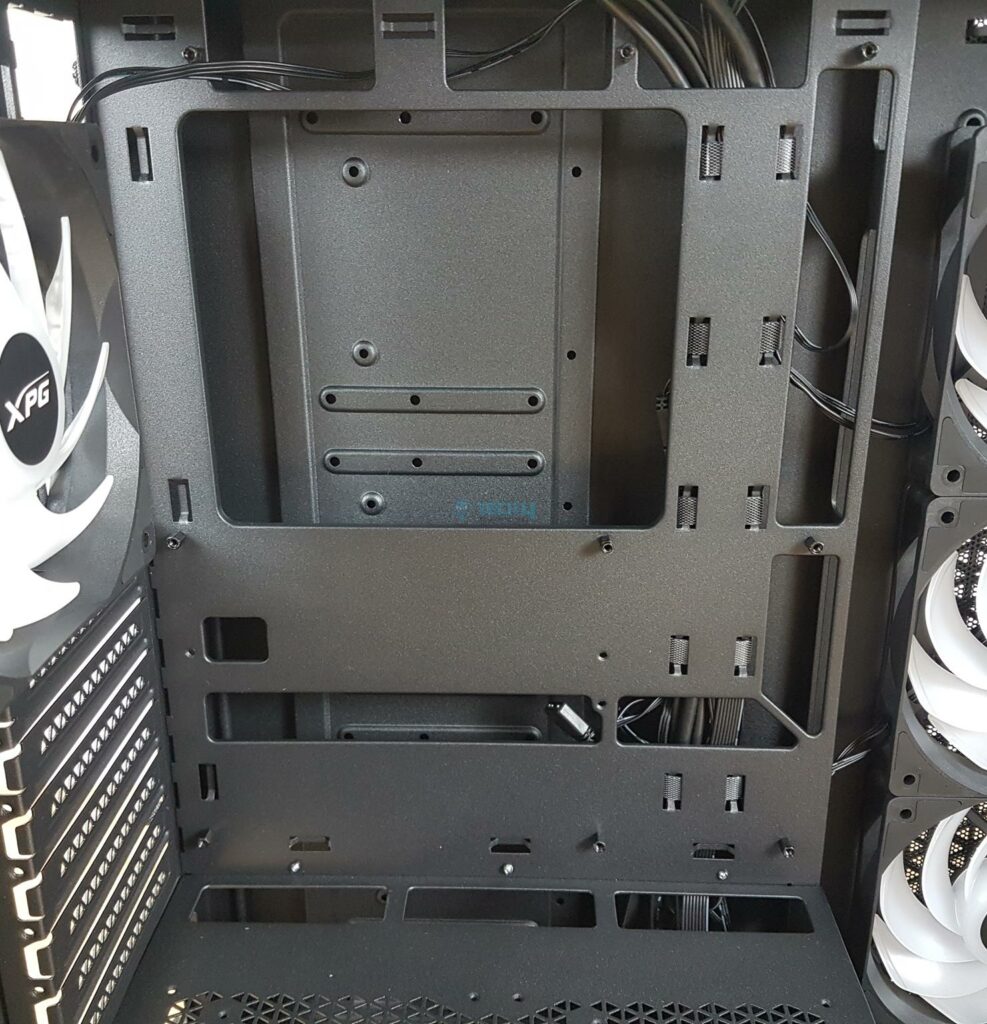 Now, I am showing a close-up of the motherboard tray. There is a large size cutout for easy installation of the CPU cooler. It is also called CPU cutout. There are three cutouts on the top for cable routing, one large size and the other mid-size cutout on the right for further cable routing and management. There are two more cutouts for mATX-size motherboards. Speaking of motherboards, this case has support for:
This PC Case supports back-plug motherboards. These motherboards have not yet entered into main stream market segments but it is good to see XPG is providing for the future upgrade needs. The cutouts are designed so that they align with the reversed power connectors on these motherboards. All 9x standoffs are pre-installed. There is no rubber grommet on the cutouts. This tray has a size of 320mm by 240mm (HxL). There is a displacement of 22m from the top of the case to the top of the motherboard.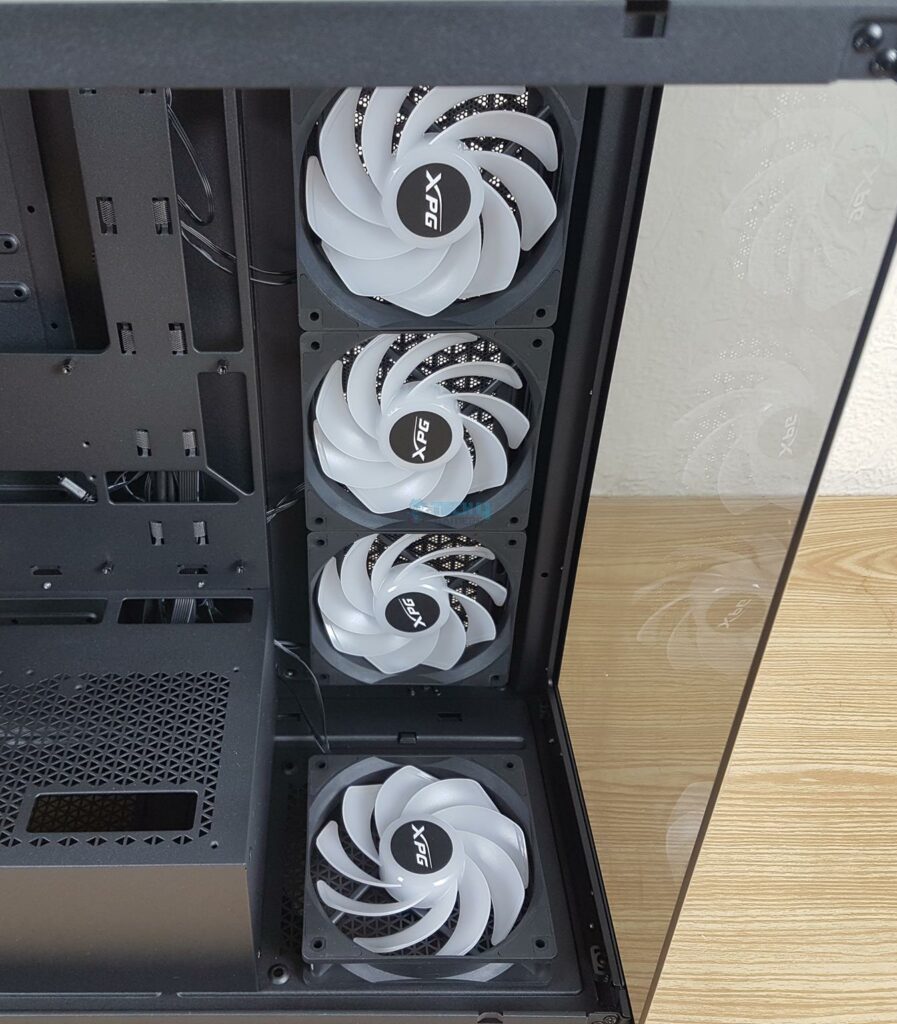 XPG has installed 4x digital RGB 120mm fans with reversed blades on the side and at the base. You can install up to 3x 120mm fans on the side and 1x 120mm or 140mm fans on the base. Similarly, you can install up to a 360mm radiator on the side. These fans are taking the air in.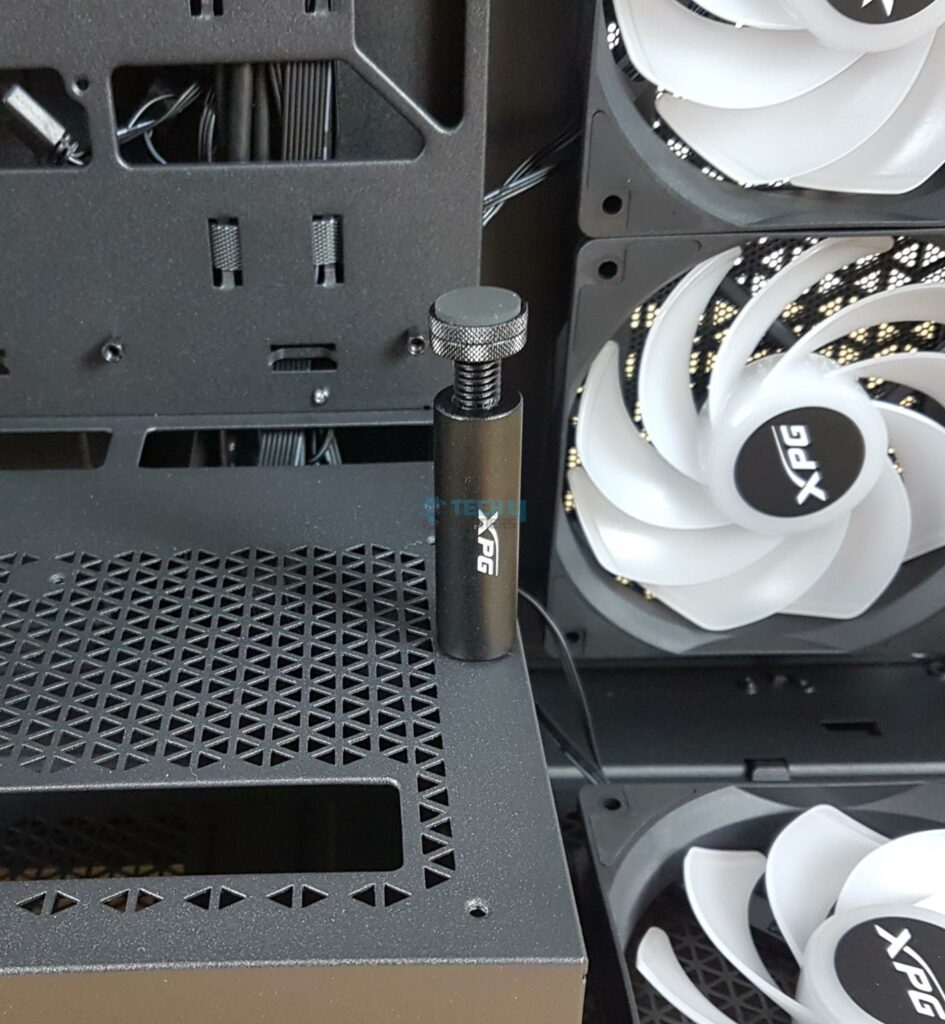 There is a cylindrical shaped magnetic bar that acts as a support for the horizontally installed heavy graphics card. The magnetic portion is attached to the PSU shroud and the height of the screw column can be adjusted as per the requirement. This is quite a convenient solution.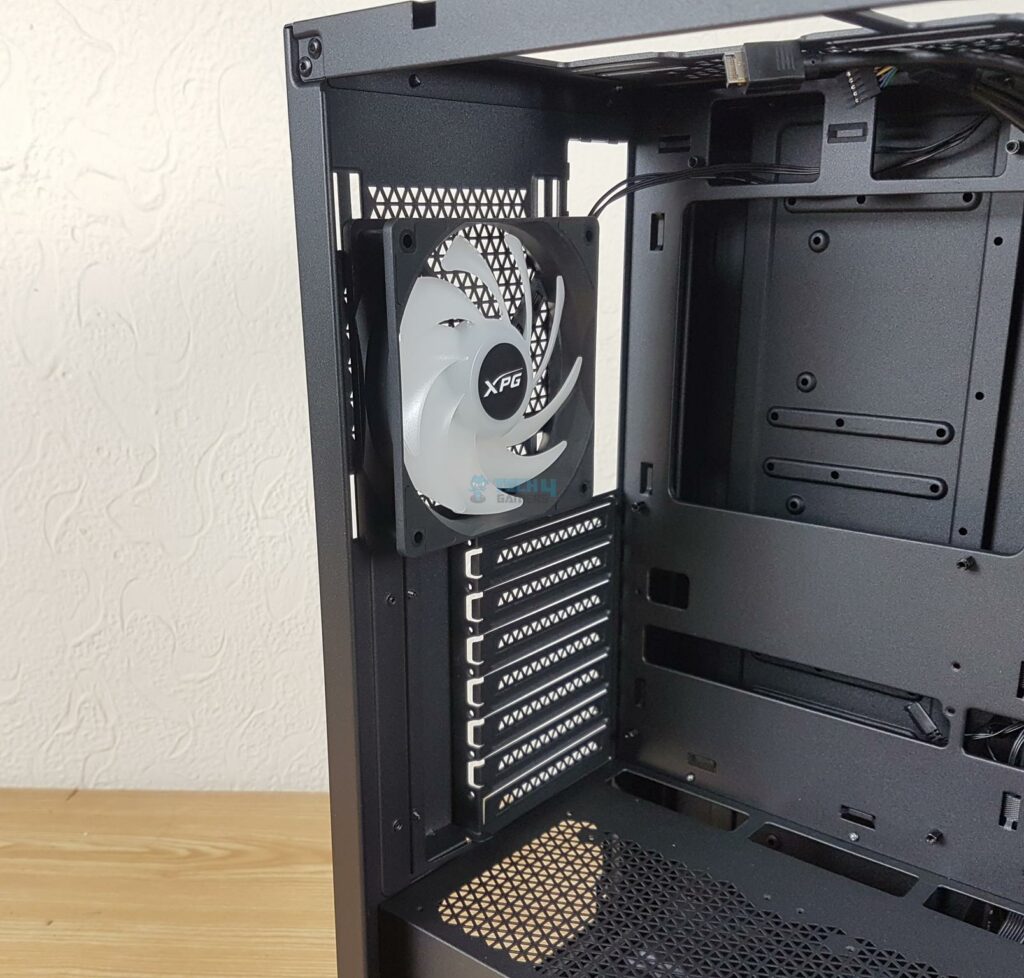 There is a 120mm digital RGB fan on the rear, exhausting the air out of the case. We can see 7x non-usable PCIe slot covers. It seems like a non-practical design but XPG has wisely included 3x PCIe slot covers so that should cover up this limitation. Still, I would have preferred a removable and reusable 7x PCIe slot covers.
Looking At The Backside Of The Case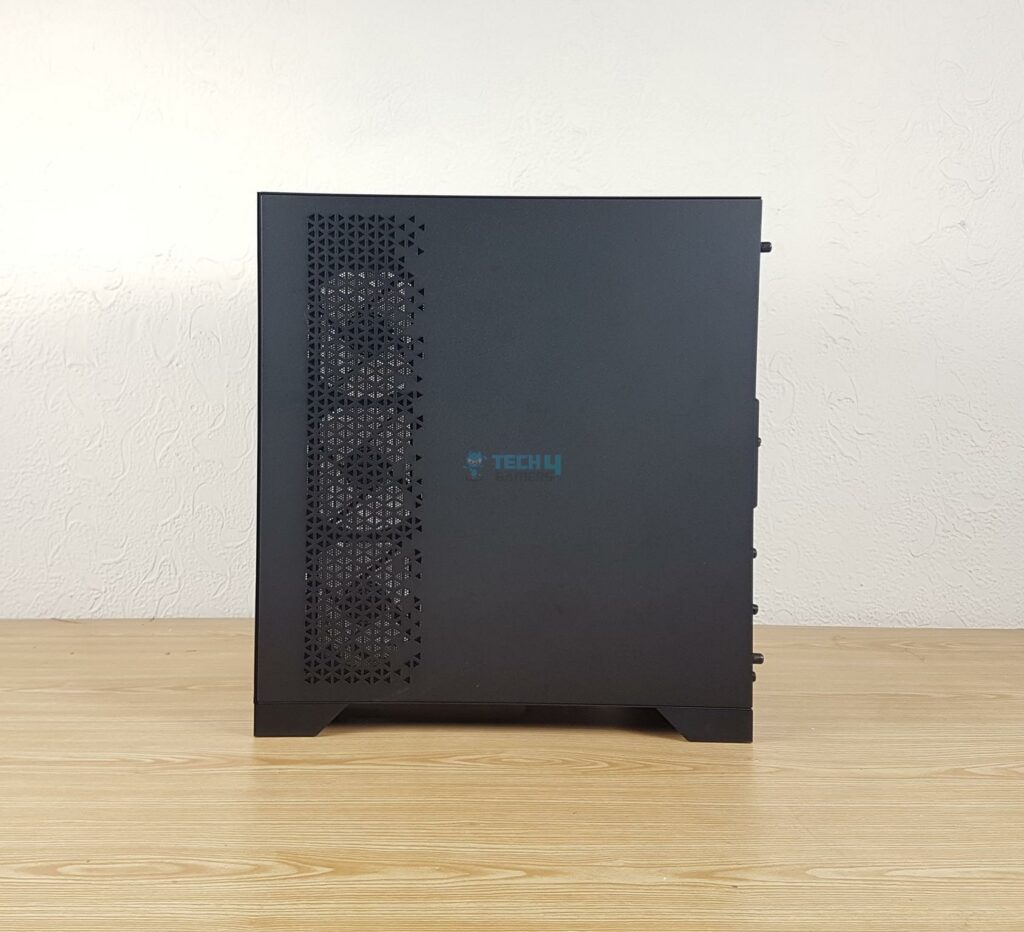 There is a steel-made backside panel. It has a vented portion towards the front of the case and we can see 3x 120mm fans pre-installed there.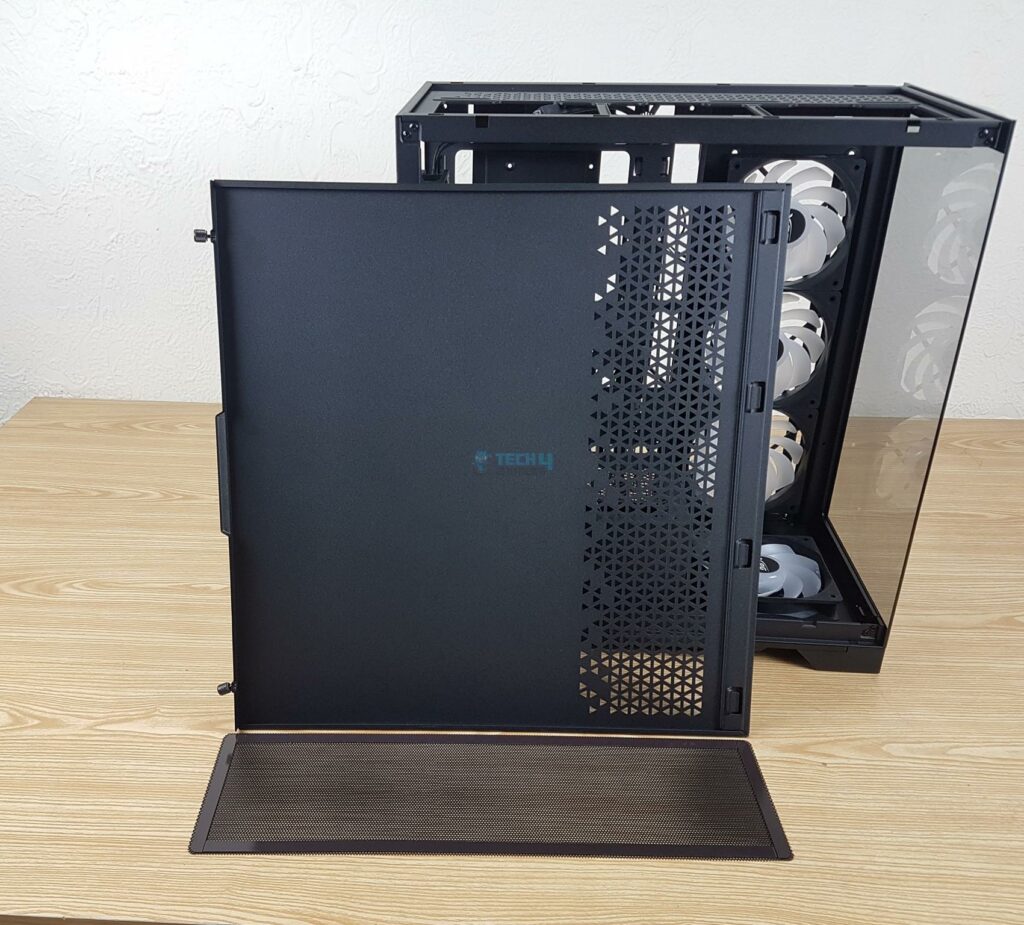 There is a magnetic dust filter covering the vented area on the side panel.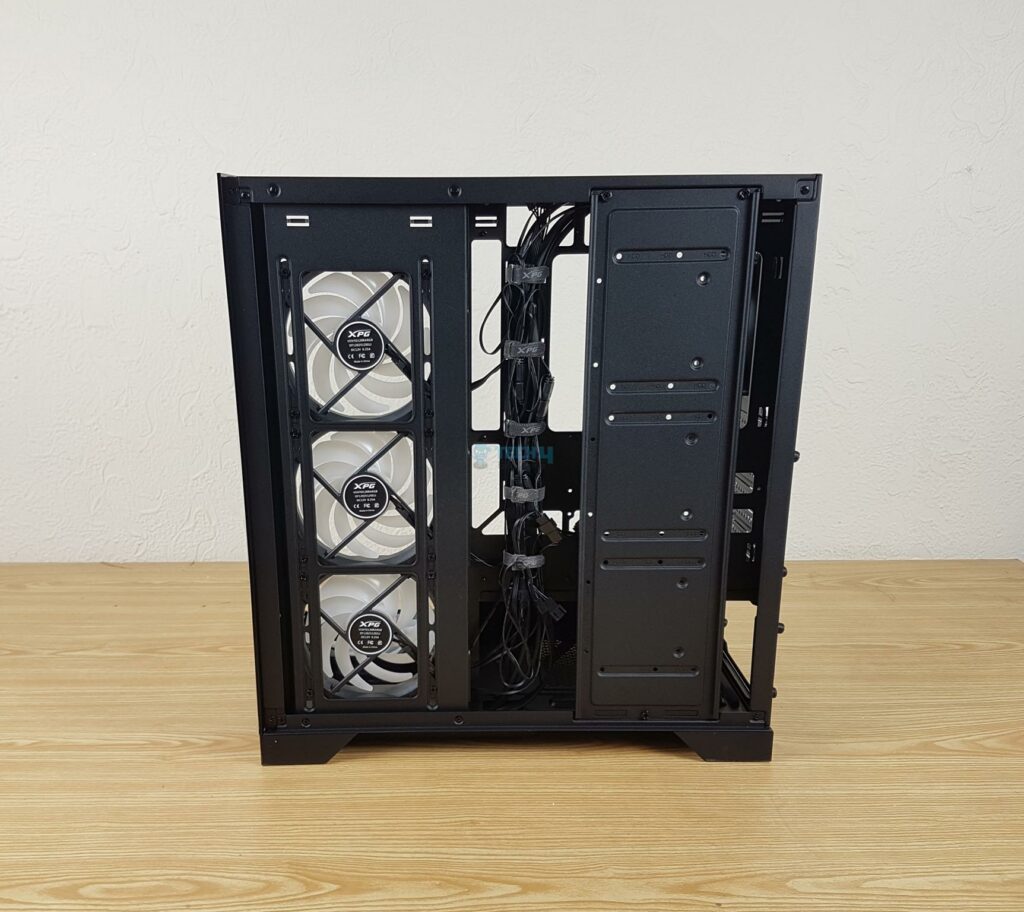 Now, we are taking a look at the inside of the case from its backside. The prominent item here is a pre-installed bracket. This bracket can either hold up to 3x 3.5" drives or 2.5" drives. This is the only storage area in this case. XPG has wisely used this design to provide maximum room for other build aspects yet covers a decent amount of storage.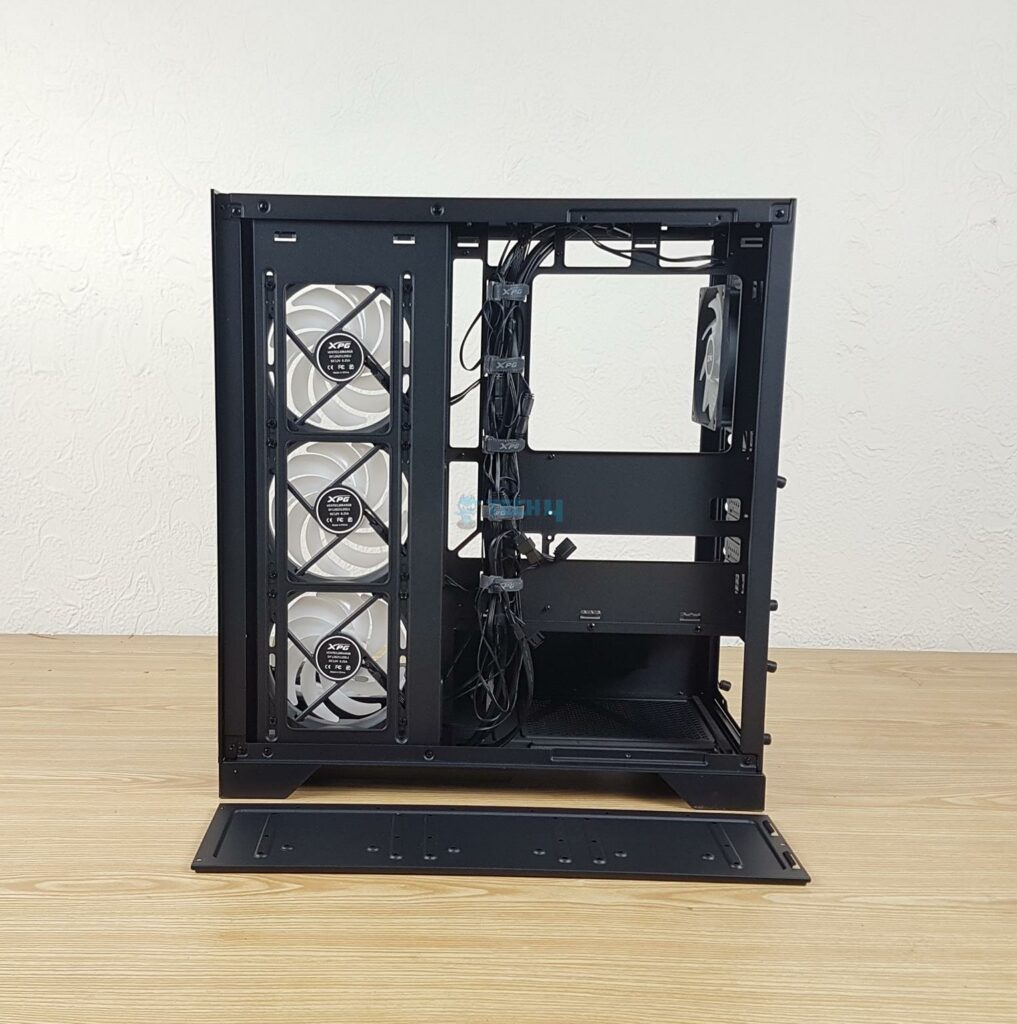 I have removed the storage bracket and now I am showing a clear-up view of the case. There is an ample area for cable management and it is nice to see that XPG has pre-routed the front panel and fans cables and cable managed them using 5x Velcro strips. But I have one observation.
The USB 3.2 connector, HD Audio, and front panel connectors were found on the top of this cable management whereas these should be cable managed towards the bottom of the case except the USB 3.2 which needs to be in the middle of this pre-managed cables stack. There are 13 cable tie points. The fans on the left side are installed on a rail mount.
We can spot a PSU bay on the bottom right. You can easily use up to 240mm length PSU in this case. Using a standard 160mm PSU would give you ample space to hide the cables inside the PSU bay.
Front IO Hub Cables
XPG has provided:
1x USB Type-E 3.2 Connector
1x USB 3.2 main Connector
1x Front Panel Connectors
1x HD Audio Connector
Test Build And Experience
We have used the following configuration for testing of this case:
Be Quiet! Straight Power 11 850W Platinum PSU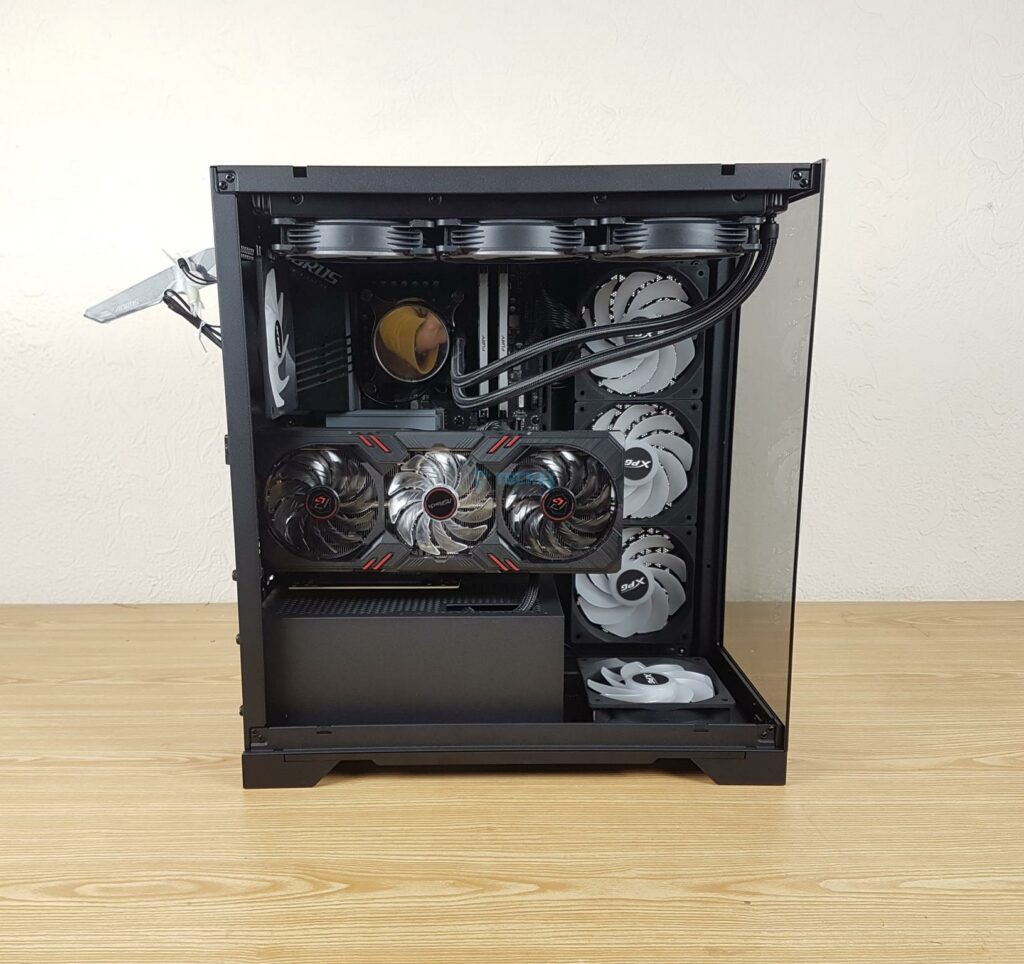 I installed the RAM outside of the case as well as the mounting hardware for the cooler. But you can install these inside the case as well. There is no obstruction. I swapped the horizontal GPU bracket with the vertical GPU bracket before installing the motherboard. I removed two non-reusable PCIe covers from the vertical GPU bracket, and then the motherboard was installed.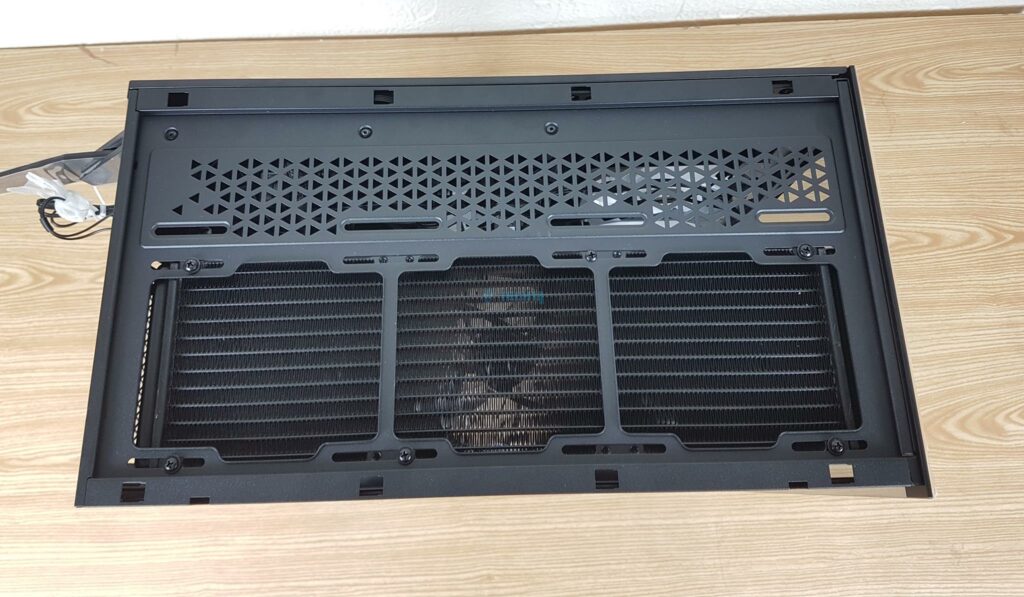 The liquid cooler was installed next. I have used XPG Levante X 360 AIO in this build. There is a 44mm displacement from the cooler to the motherboard tray. I would suggest installing the radiator without fans first. Before installing the fans, route their cables as after installing the fans, you will have a restricted approach toward the top of the motherboard.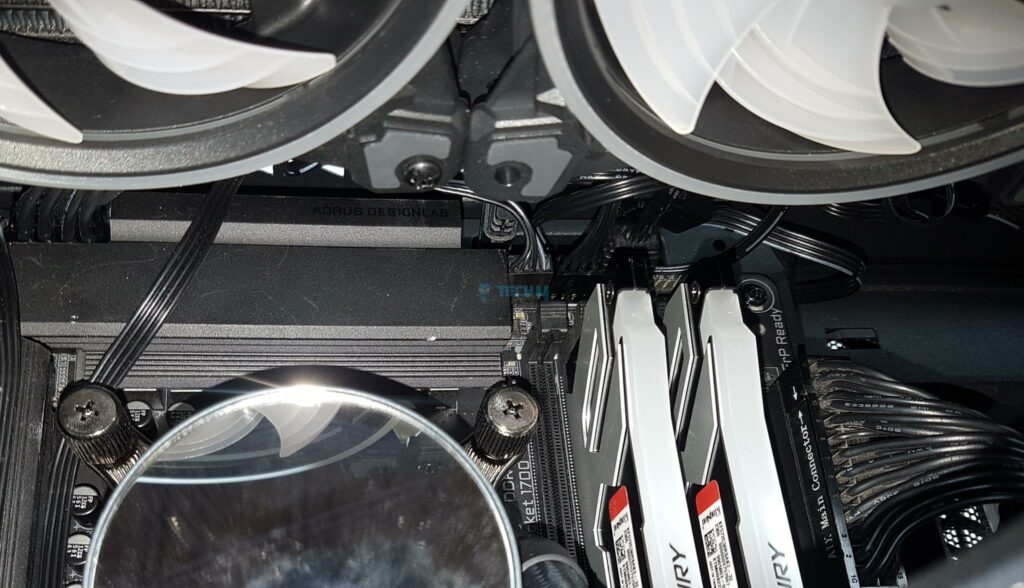 I am showing the top of the motherboard with the cables connected to the headers on the motherboard. It was a challenging step since I installed the fans on the radiator outside of the case.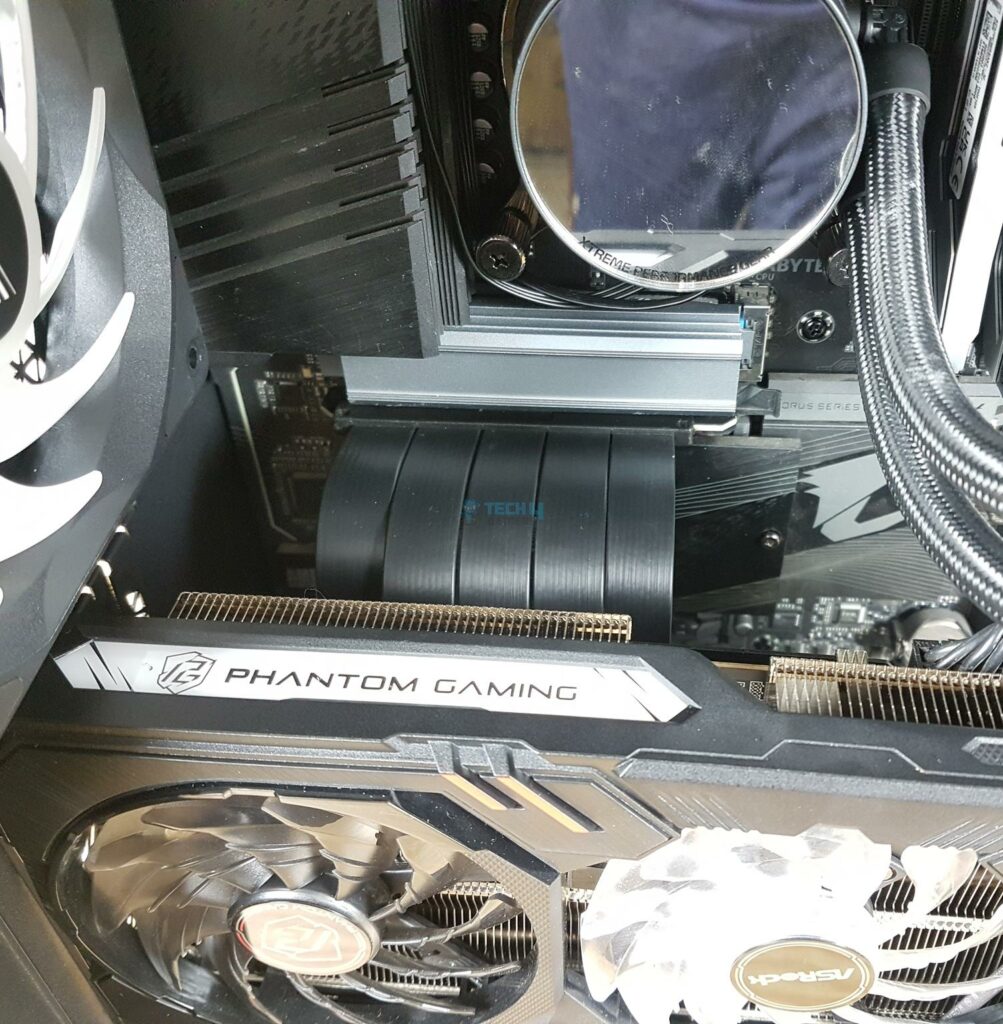 There was no issue installing the graphics card vertically. The riser cable was easily attached to the PCIe slot of the motherboard.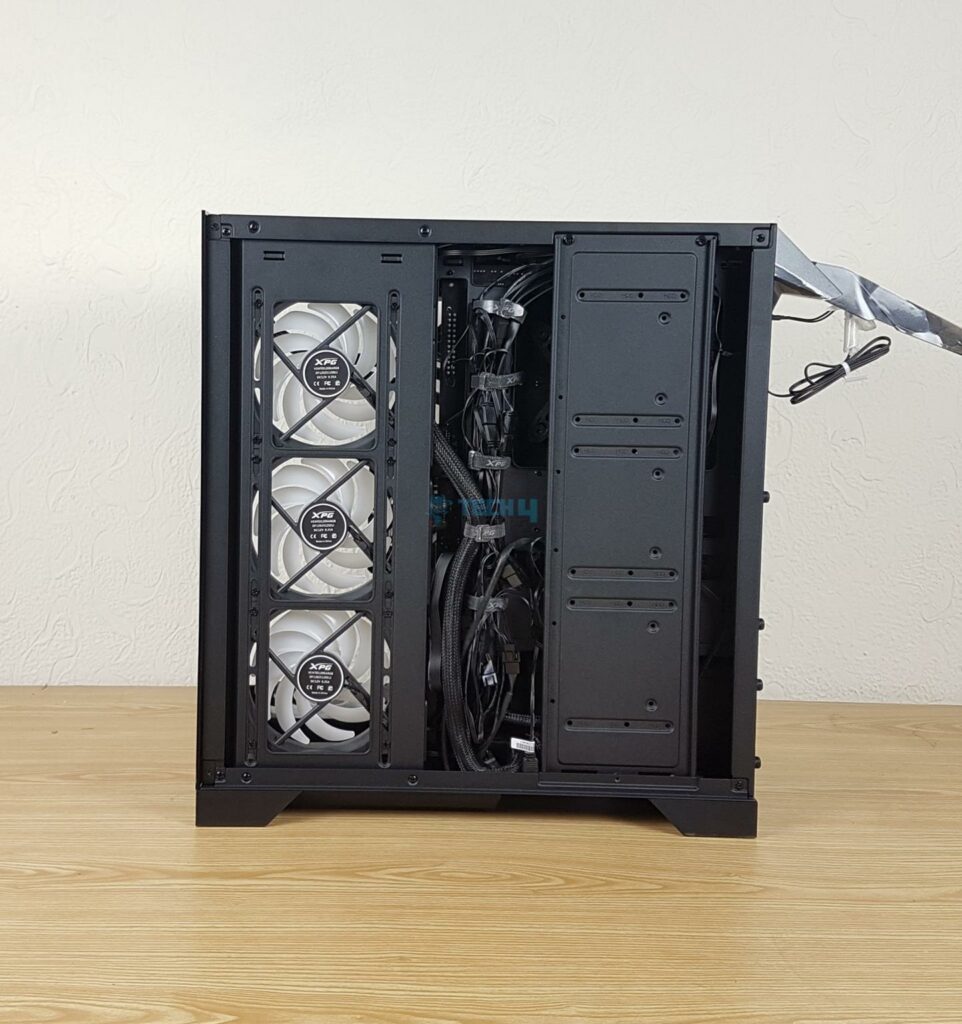 I am showing the cable management done on the backside of the case. The storage bracket provides a natural cover to hide the cables if not using storage devices.
RGB Lighting
The below are a few pictures of the test build and its live pictures when in action.
Thermal Testing
We have tested the Intel i7 13700k on auto and stock settings. The power limits were removed; hence, we are looking at a 250W power draw by the CPU under CINEBENCH R23.2 CPU Multi load. I have used Noctua NT-H1 thermal paste on the CPU. The fans and the pump were set to run at 100% PWM cycle.
The XPG fans, in this case, were set to run at full speed as well. The RGB lighting was covered using a 3-pin, 5B digital RGB headers of the motherboard. The graphics card was operating at its stock settings. XPM was loaded from the UEFI BIOS.
The rest of the settings were on Auto and Stock in the UEFI/BIOS. The system was put on idle for a minimum of 5 minutes. The ambient temperature was 26°C. Let's take a look at the results.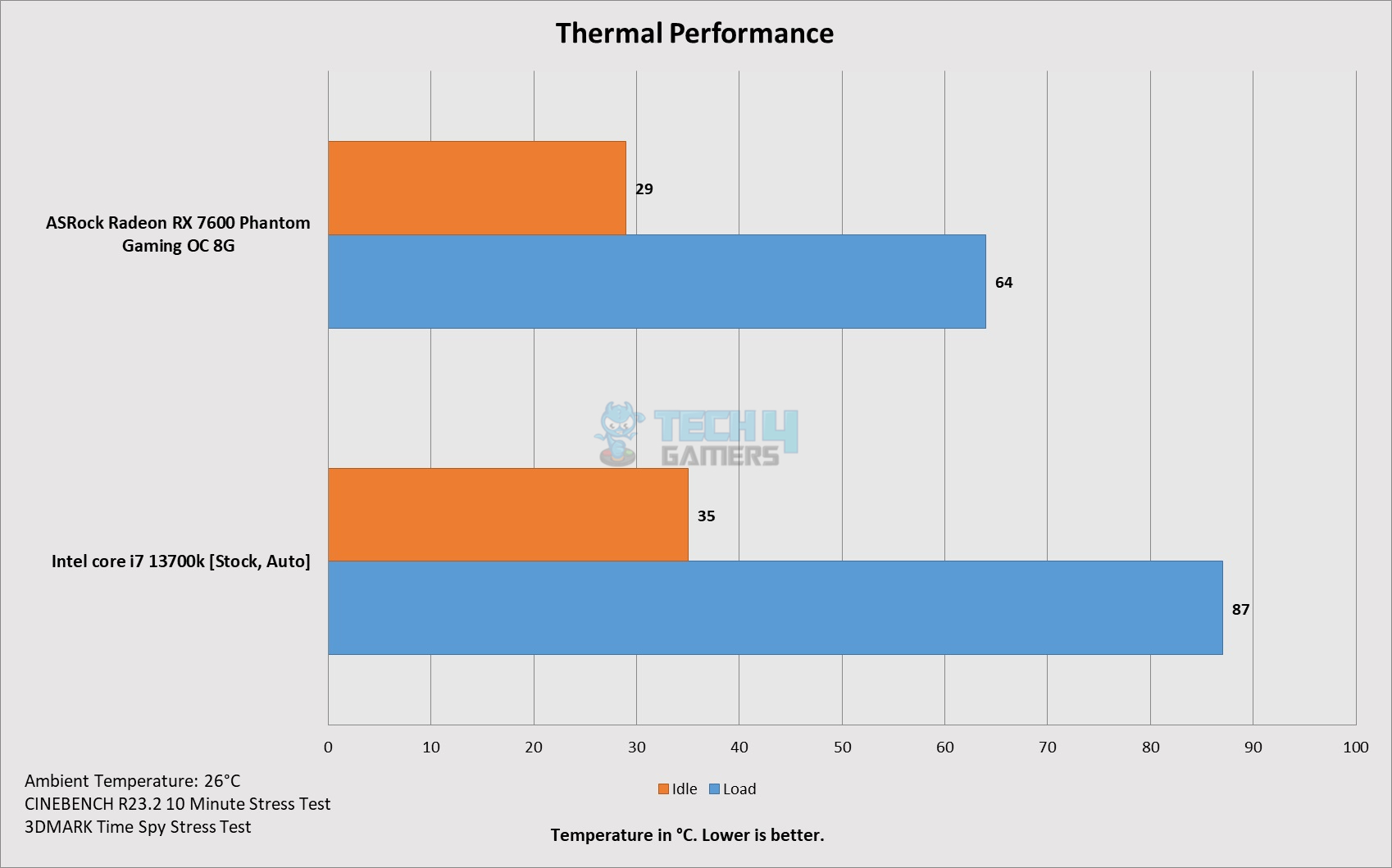 This is an impressive performance showing good airflow inside the Invader X PC Case from XPG.
Acoustic
The overall noise level was at 55 dBA on ambient 33 dBA, which is a bit on the high side, but keep in mind that 8x fans were operating at full speed.
Should You Buy It?
Buy It If
Need a panoramic view case: The XPG Invader X has a panoramic view design coming from the bezel-less front and side tempered glass panels. Keep in mind that the market is filled with such designs now; hence, competition is tough.
A high-spec PC Case is required: Filled with excellent features like a 180mm 90ᵒ riser cable, up to 2x 360mm radiators, 10 fans, 3x 2.5"/3.5" drives and bundled GPU support bracket, the chassis is a must-have for those who want top-notch specs. This case also supports back-plug motherboards making it a future-ready PC Case.
Don't Buy It If
Already own a nice mid-tower case: If you already have a nice features mid-tower PC Case, then I would not suggest spending USD 169.90 on this case.
Budget User stays away: If you are on a tight budget, then this case is not for you. Period.
Final Thoughts
The XPG Invader X is a feature-rich mid-tower case designed for high-end PC builds, offering excellent dust filtration, strong cooling capabilities with support for up to 360mm radiators, and sufficient space for large graphics cards (400mm without side fans, 270mm with a side radiator).
It has a moderate storage capacity with three drive slots, accommodates full ATX motherboards and PSUs up to 240mm, and provides ample room for cable management with a standard 160mm PSU. It supports CPU coolers up to 175mm in height, includes two GPU support brackets for vertical and horizontal mounting, and comes with a riser cable, justifying its higher price. On top of all this, the XPG Invader X supports back-plug motherboards.
With five preinstalled fans (four with reversed blades for intake and one exhaust), a flexible rail system for fan mounts, a well-equipped front IO panel, and an option to add two additional fans above the PSU shroud, it offers great customization.
However, top-mounted AIO coolers may impede cable connections due to the case's height. XPG offers a 2-year warranty and overall, the Invader X comes highly recommended for its quality and design.
Was our article helpful? 👨‍💻
Thank you! Please share your positive feedback. 🔋
How could we improve this post? Please Help us. 😔
[Hardware Reviewer & Editor]
Meet Nauman Siddique, a highly experienced computer science graduate with more than 15 years of knowledge in technology. Nauman is an expert in the field known for his deep understanding of computer hardware.
As a tech tester, insightful reviewer, and skilled hardware editor, Nauman carefully breaks down important parts like motherboards, graphics cards, processors, PC cases, CPU coolers, and more.
15+ years of PC Building Experience
10+ years of first-hand knowledge of technology
7+ years of doing in-depth testing of PC Hardware
A motivated individual with a keen interest in tech testing from multiple angles.
I majored in Computer Science with a Masters in Marketing
Previously worked at eXputer, EnosTech, and Appuals.