Bang For Buck?
Review Summary
If you have a smalls size PC Case that is space constrained but still supports a 120mm or 240mm liquid cooler like SilverStone SUGO 14, then SilverStone's VIDA 240 SLIM is no bargainer. We noted that despite carrying a premium price tag and a low warranty period, this cooler is not slim in thermal performance at an adequate noise level.
Build Quality -

9/10

Design -

9/10

Performance -

8.8/10

Features -

9/10

Value -

7.5/10
Pros
Good Performance
Rotatable Top Cover
Digital RGB Lighting
Intel LGA1700 and AMD AM5 sockets support
Easy Installation
38mm overall thickness making this cooler even more compatible.
Noise Performance
Cons
Low Warranty Period
Price
There are only a few options in the market where we get to have slim liquid coolers that would come in handy for space-constrained builds like HTPC and SFF or even some mATX size cases. SilverStone has capitalized on this opportunity and released a new cooler series named VIDA Slim. Two variants of this cooler are available, namely SST-VD120-SLIM and SST-VD240-SLIM. We are testing SST-VD240-SLIM in this article.
The standard or traditional size of a radiator in a majority of liquid coolers is 27mm to 30mm, except for a few exceptions. Taking a 27mm thick radiator and combining it with a standard 25mm height fan would give an overall height or thickness of 52mm. The SST-VD240-SLIM, on the other hand, has a total height or thickness of 38mm. Now, you can imagine how slim a cooling solution we are talking about here. This cooler has a 22mm thick radiator combined with 16mm thick fans. This is not all, as SilverStone has managed to provide a vivid digital RGB solution on the fans and at the base's housing. This cooler is compatible with Intel LGA115x/1200/1700/2011/2066 and AMD AM4/AM5 sockets.
Salient features of this cooler include:
38mm total thickness for the fan and radiator
SilverStone's unique 22mm radiator design allows for effective heat dissipation in cases with space constraints
The water pump is integrated into the radiator
The aluminum alloy cavity pump strengthens the overall structure
Three-phase, six-pole motor design
9-bladed pressure-optimized fan blades
A rotatable CPU water block
Integrated rubber padding on fan mounts to further reduce vibrational noise
ARGB controller includes 10 lighting modes and adjustable brightness, along with a color-changing speed
Specifications
Product
SST-VD240-SLIM CPU Liquid Cooler
Block Dimension
74mm (W) x 41mm (H) x 74mm (D)

Block Material
Copper base with plastic body
Radiator Dimension
120mm (W) x 22mm (H) x 275mm (D)
Radiator Material
Aluminum
Fan Dimension
120mm (W) x 16mm (H) x 120mm (D)
Fan Speed
300 ~ 1800 RPM
Fan Noise Level
15.9 ~ 33.9 dBA
Fan Rated Voltage
12V
Fan Max Airflow
66.83 CFM
Fan Max Air Pressure
2.59 mmH2O
Fan Connector
4 pin PWM & 4-1 pin ARGB (5V LED)
Pump Motor Speed
4200 ±10% RPM
Pump Rated Voltage
12V
Pump Rated Current
0.39A
Pump Connectors
2510 - 3 pin & 4-1 pin ARGB (5V LED)
Tube Length
400mm
Tube Material
Rubber
Application
Intel LGA 115X/1200/1700/2011/2066
AMD Socket AM4/AM5

Packing Box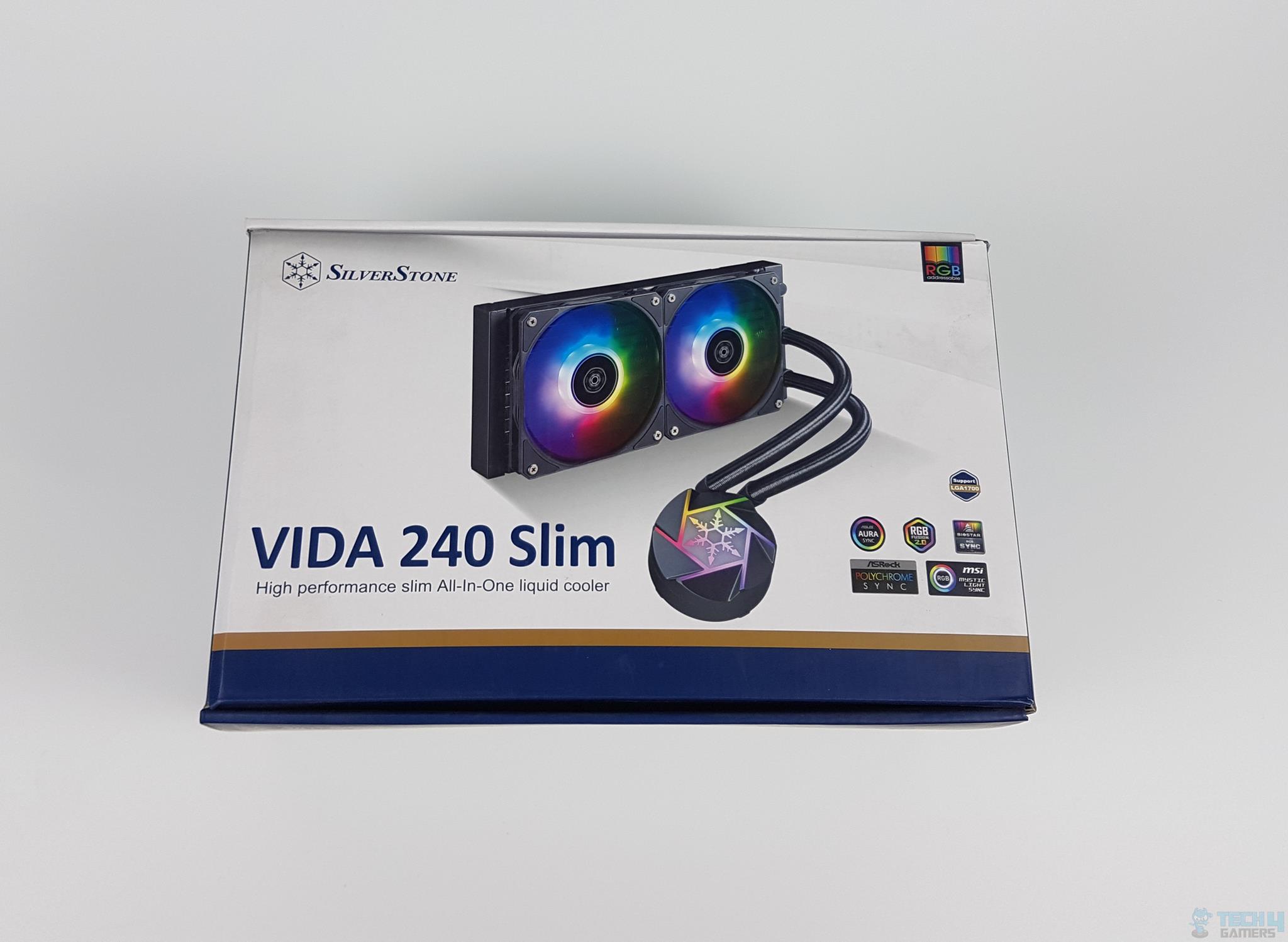 The packing box is made of a cardboard box, and there are white and blue colors on this box, showing the color theme of SilverStone. This cooler is compatible with Intel LGA1700, and digital RGB lighting compatibility is shown as well. There is nothing else for key information here.
Also Read: BEST LGA 1700 CPU Coolers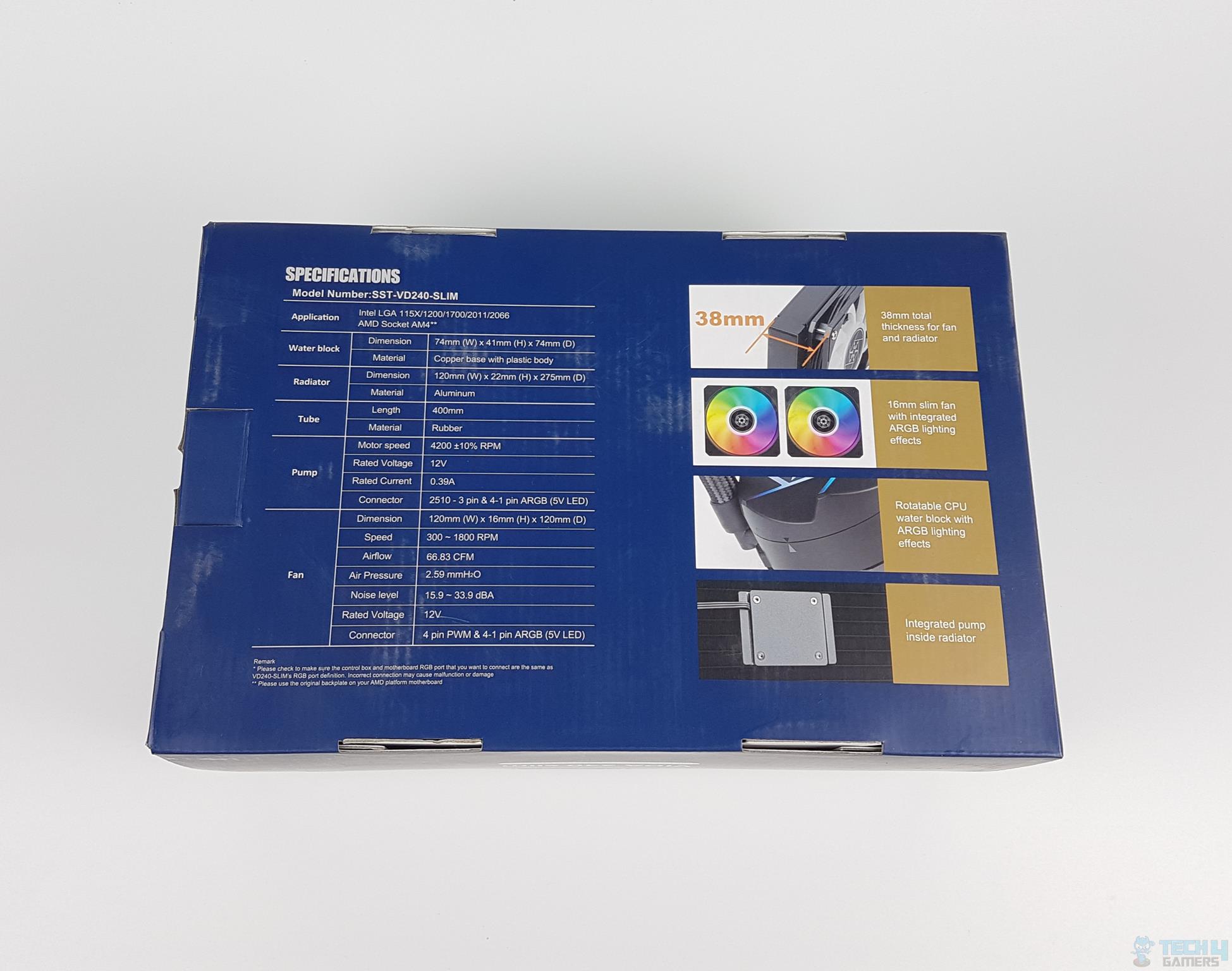 The top cover of the base housing is rotatable, which means that the cooler can be installed in any orientation, as we can easily adjust the SilverStone logo to always remain upright. This cooler uses an AMD stock backplate; hence it is also compatible with an AMD AM5 socket.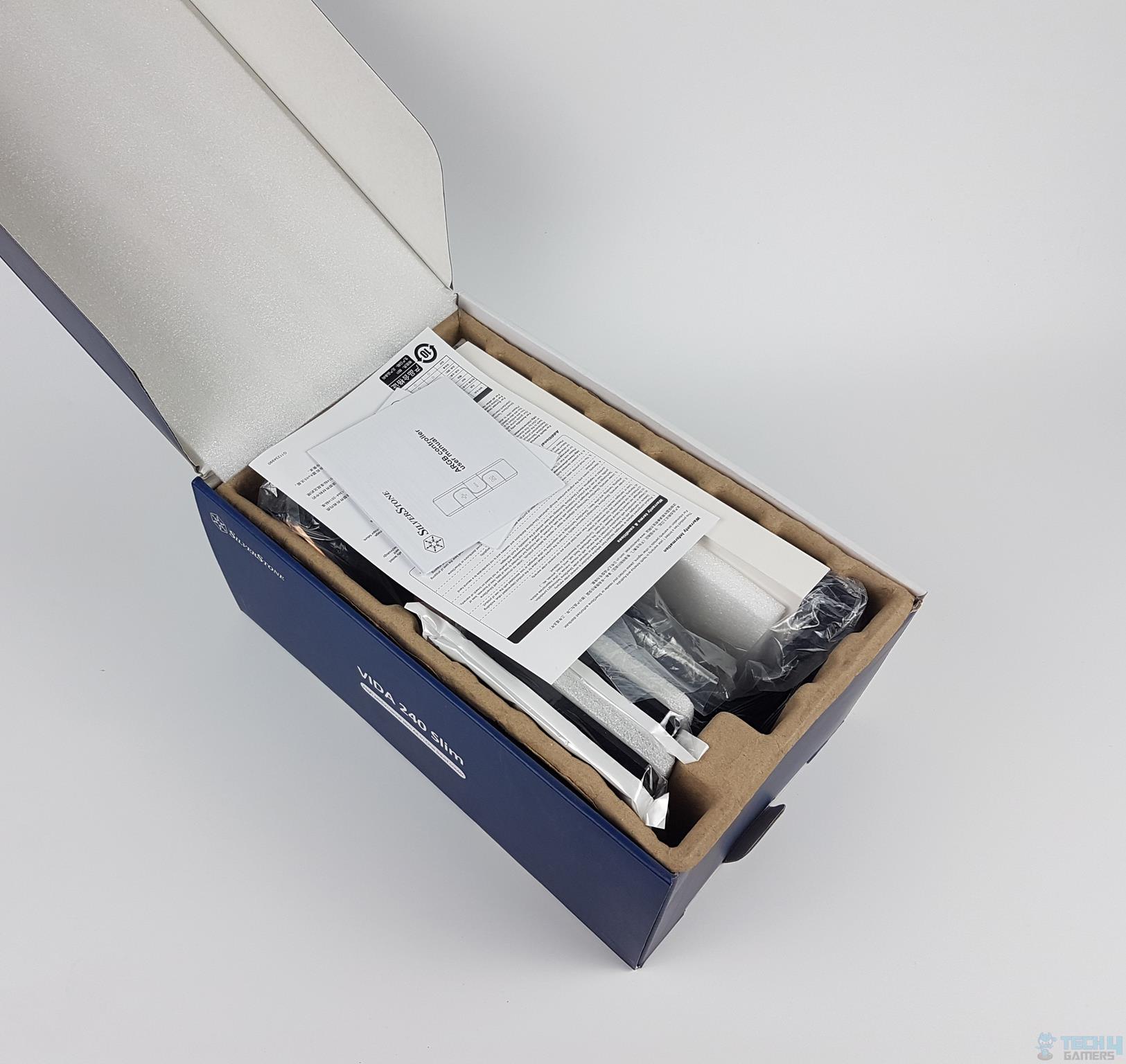 Opening the box, we see that all components are nicely placed inside an egged carton. The user manuals are placed over the top. There is a white color Styrofoam pad for further protection.
Contents
Let's see what is included in the box: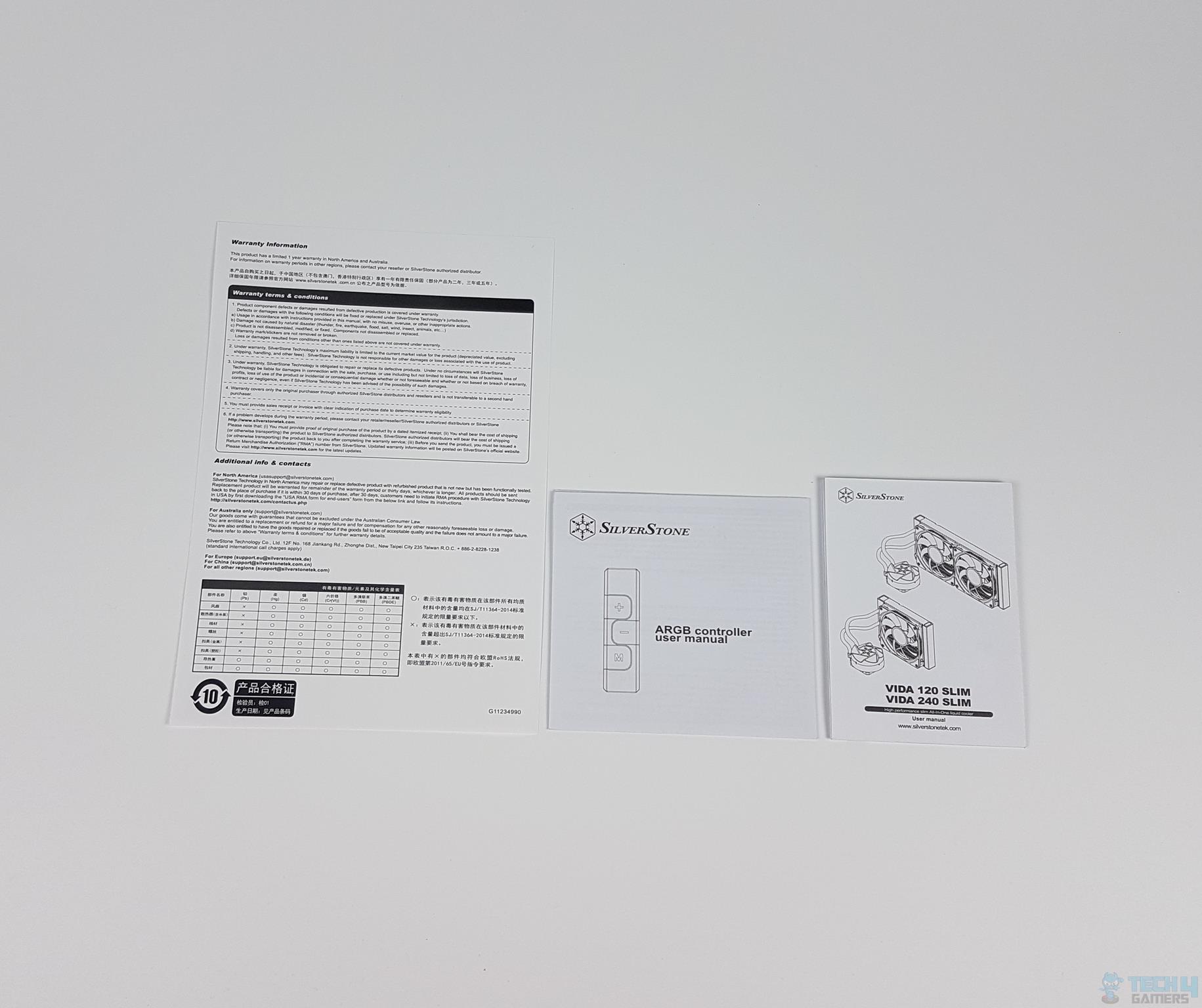 There are two user guides, one for the digital RGB controller functions and the other for the cooler's installation. There is also a warranty paper showing 1-year limited warranty for North America and Australia. The warranty period would vary from region to region.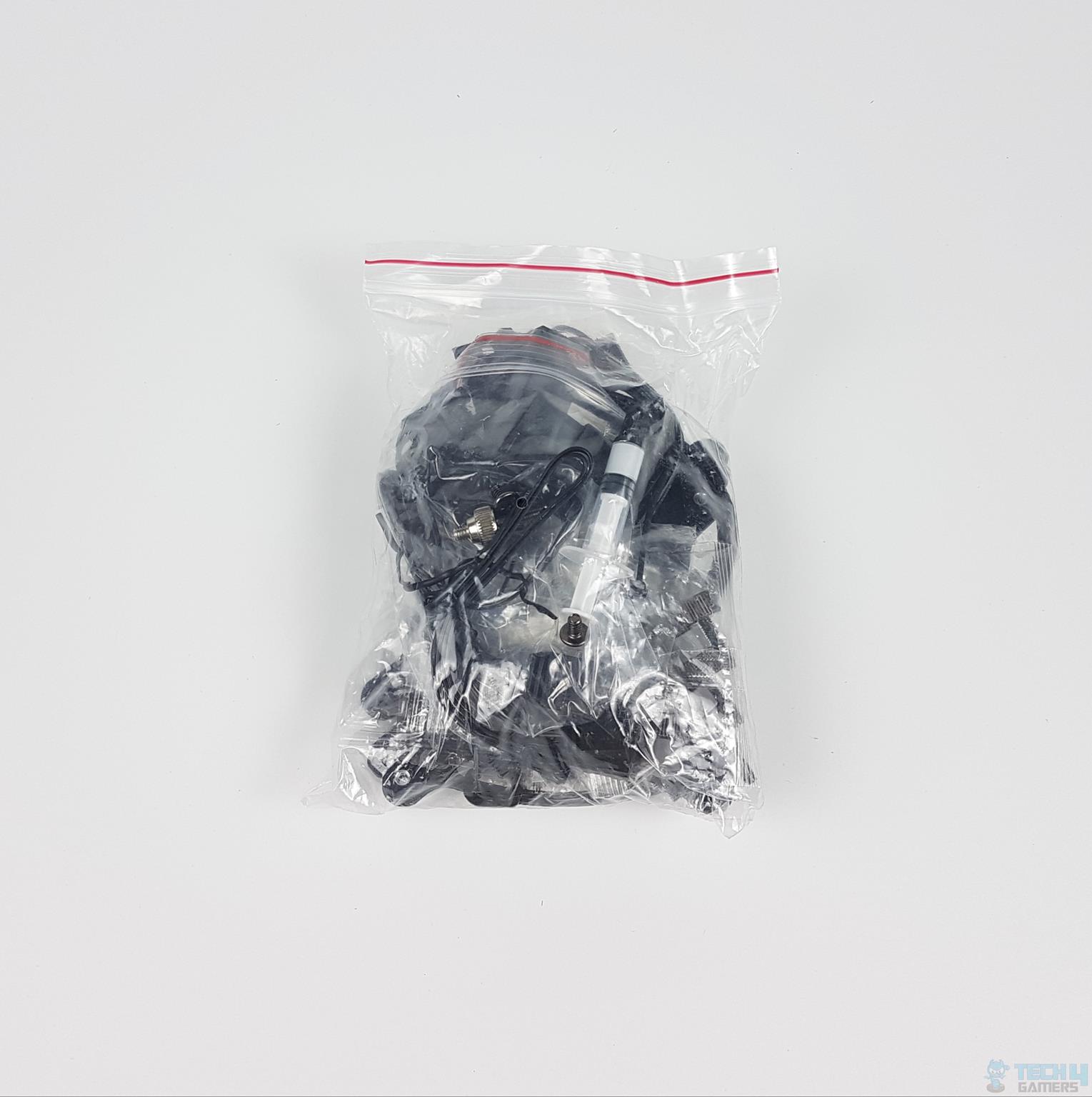 All mounting hardware is provided in a transparent container.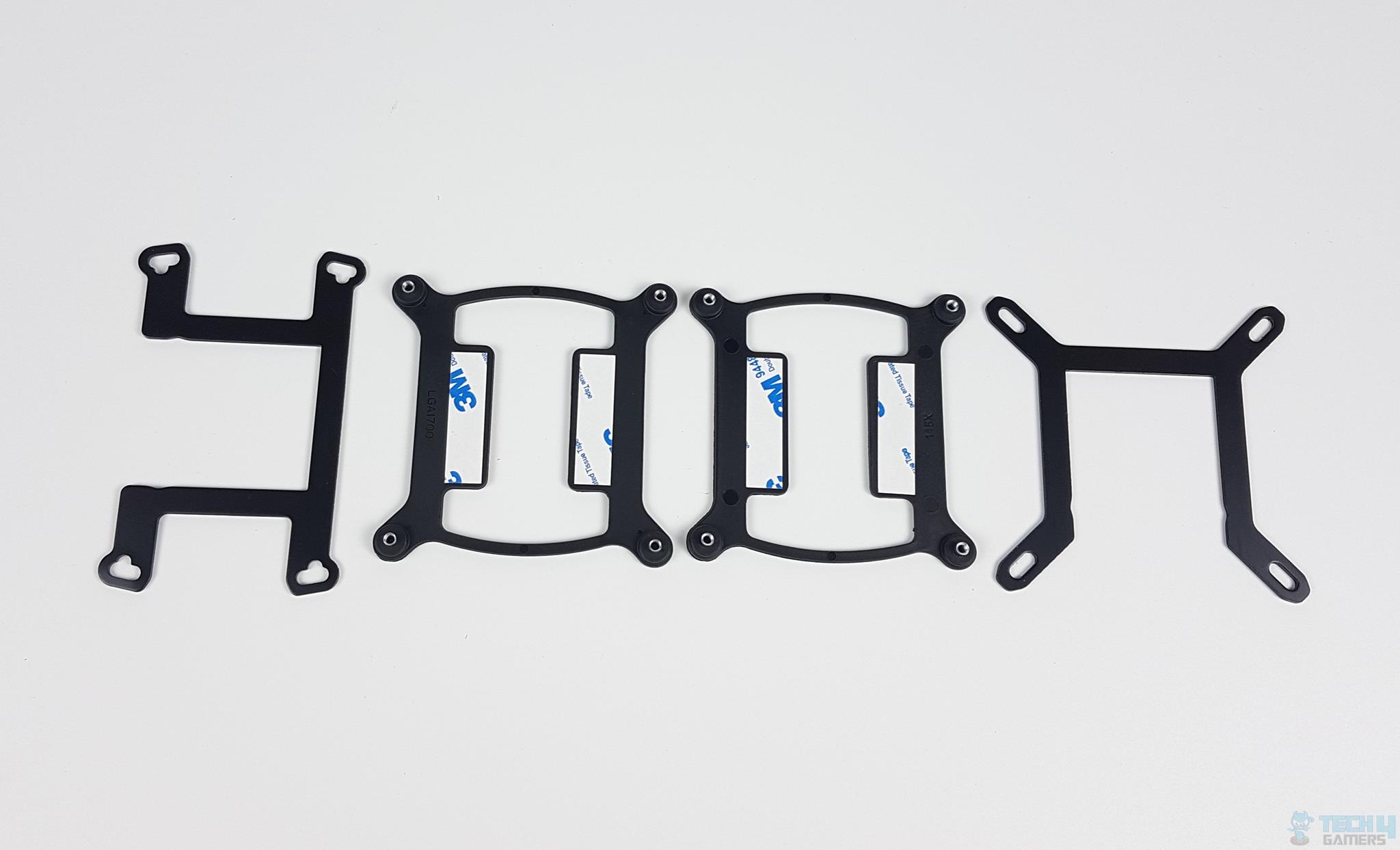 We have:
1x Mounting Bracket for the AMD platform
1x Mounting Bracket for the Intel platform
1x Backplate for Intel LGA1700 socket only
1x Backplate for Intel LGA115x/1200 sockets only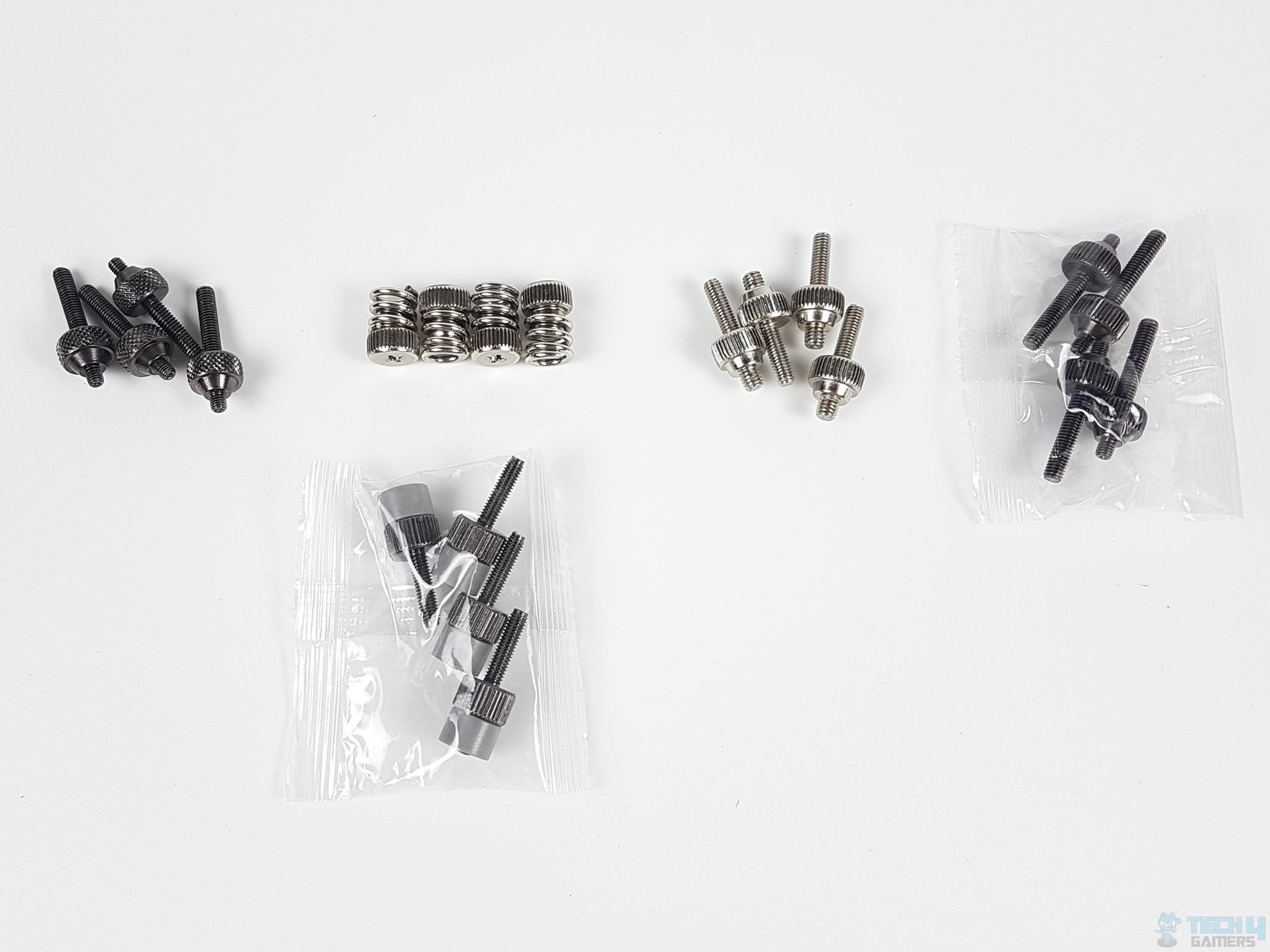 We have:
4x Intel LGA20xx Standoff pillars
4x Intel LGA 115x/1200 pillars
4x Intel LGA1700 pillars
4x AMD AM4/AM5 pillars
4x Spring-Loaded Screws/Nuts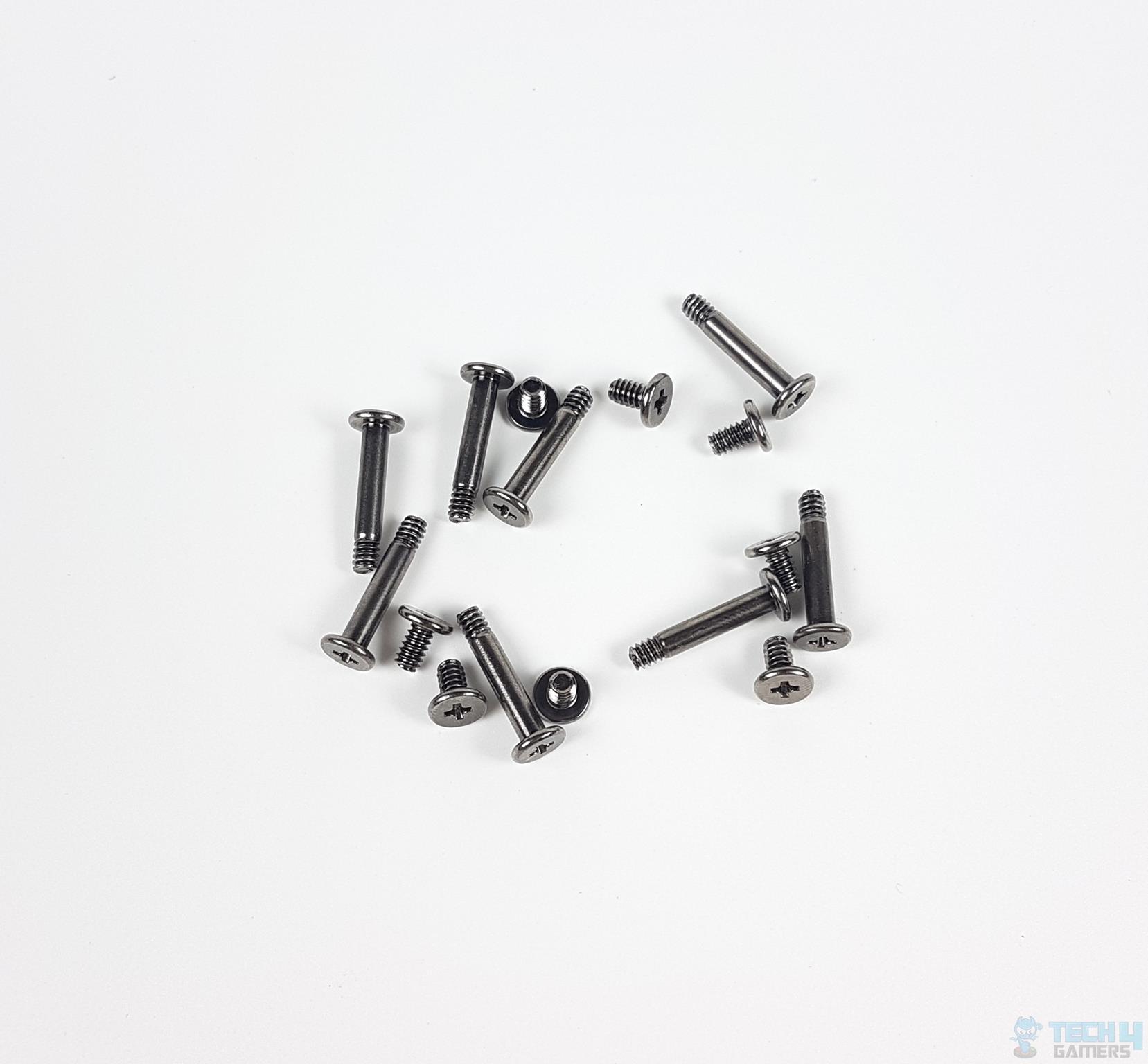 8x Long Length Philips Screws
8x Short Length Philips Screws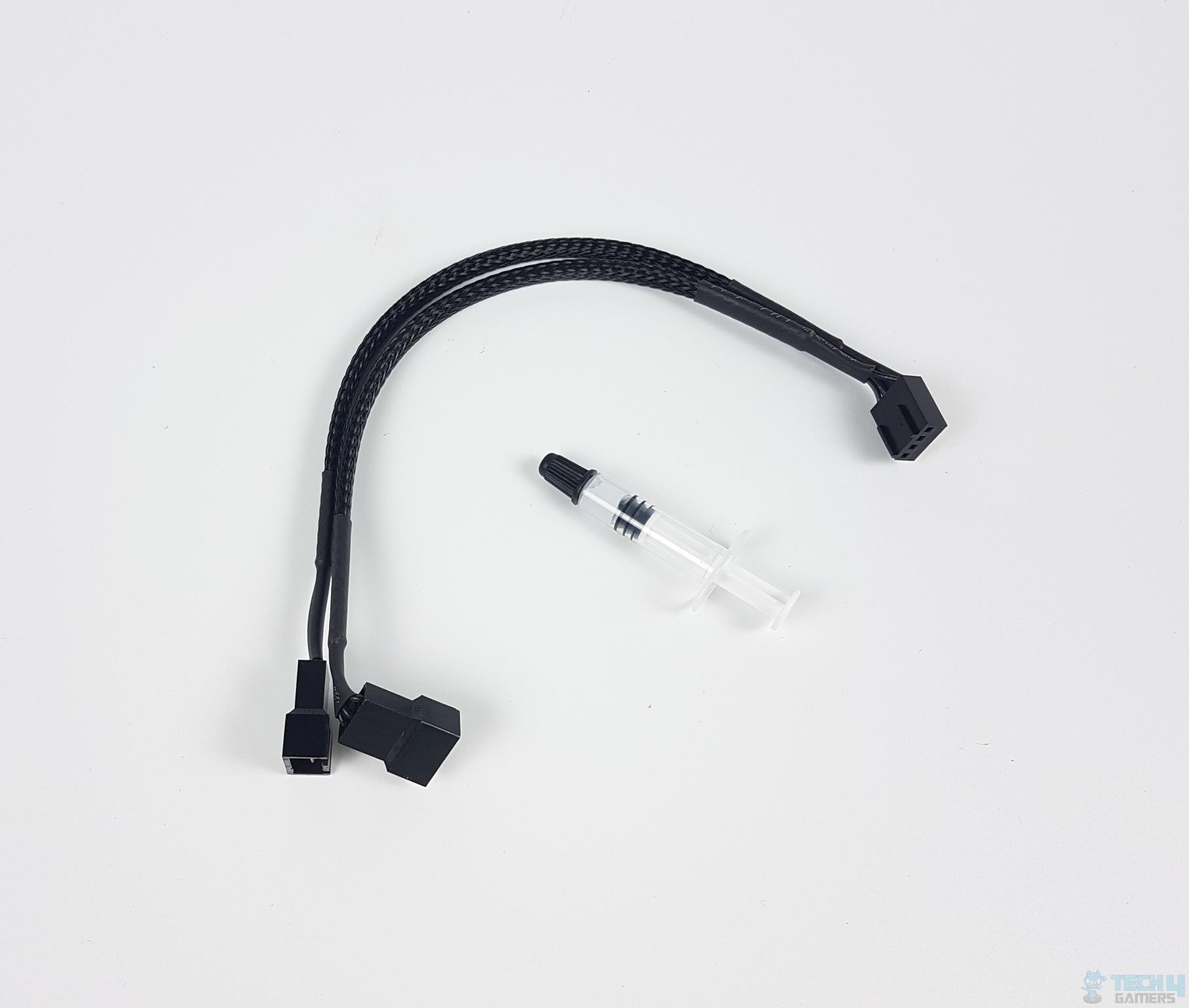 SilverStone has provided a thermal paste syringe as well as a Y-cable for the PWM connectivity of fans.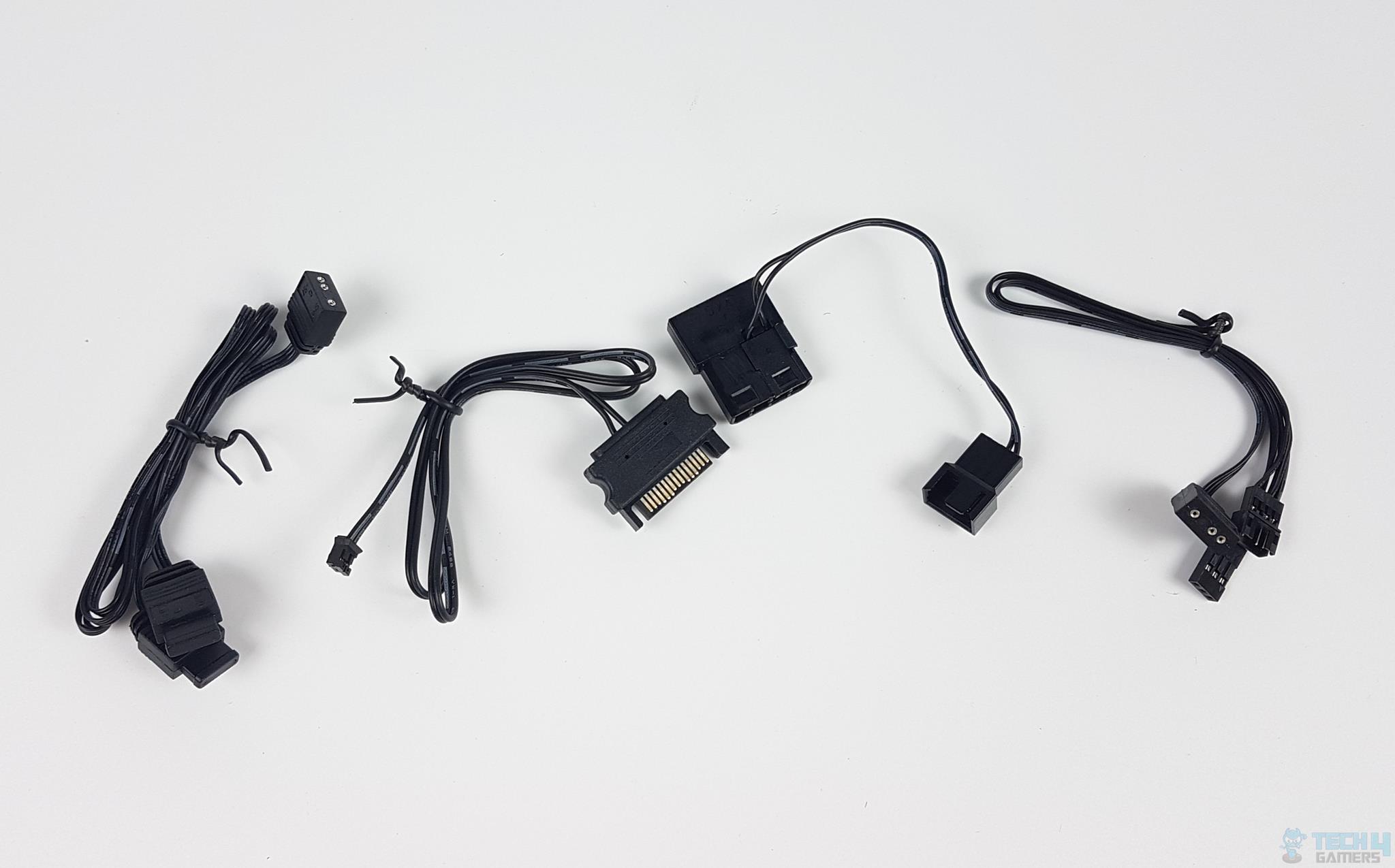 A 2-pin socket to MOLEX cable which is for the Pump's direct connection to the PSU.
A Y-cable for 3-pin digital RGB connectivity
A SATA cable to power the controller
A-RGB cable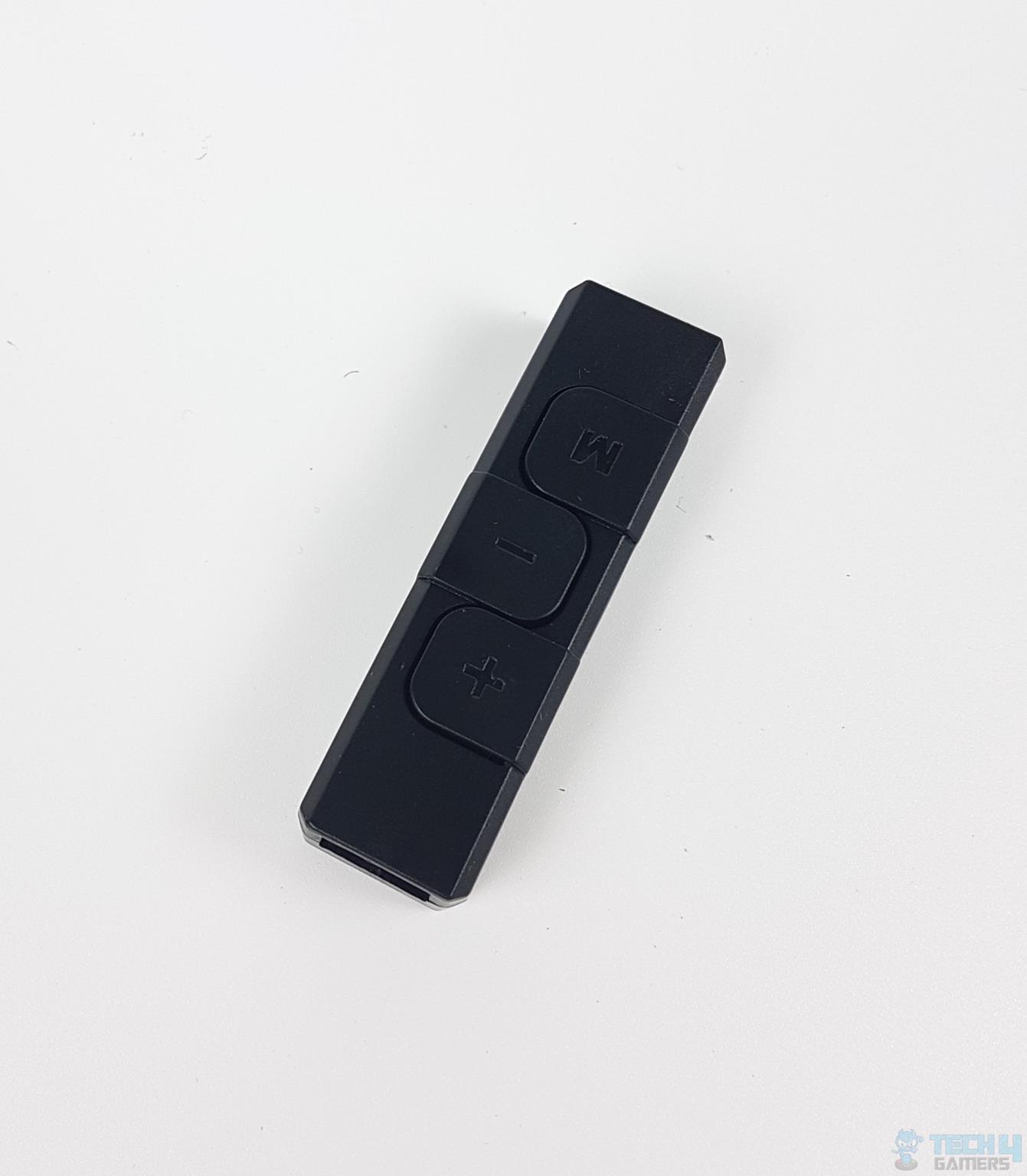 There is a black color digital RGB controller. It has a slim design. There are three buttons on it. The + button increases the speed/brightness of the dynamic mode, whereas the – button decreases the speed/brightness of the dynamic mode. The M button toggles through the 10 loaded modes.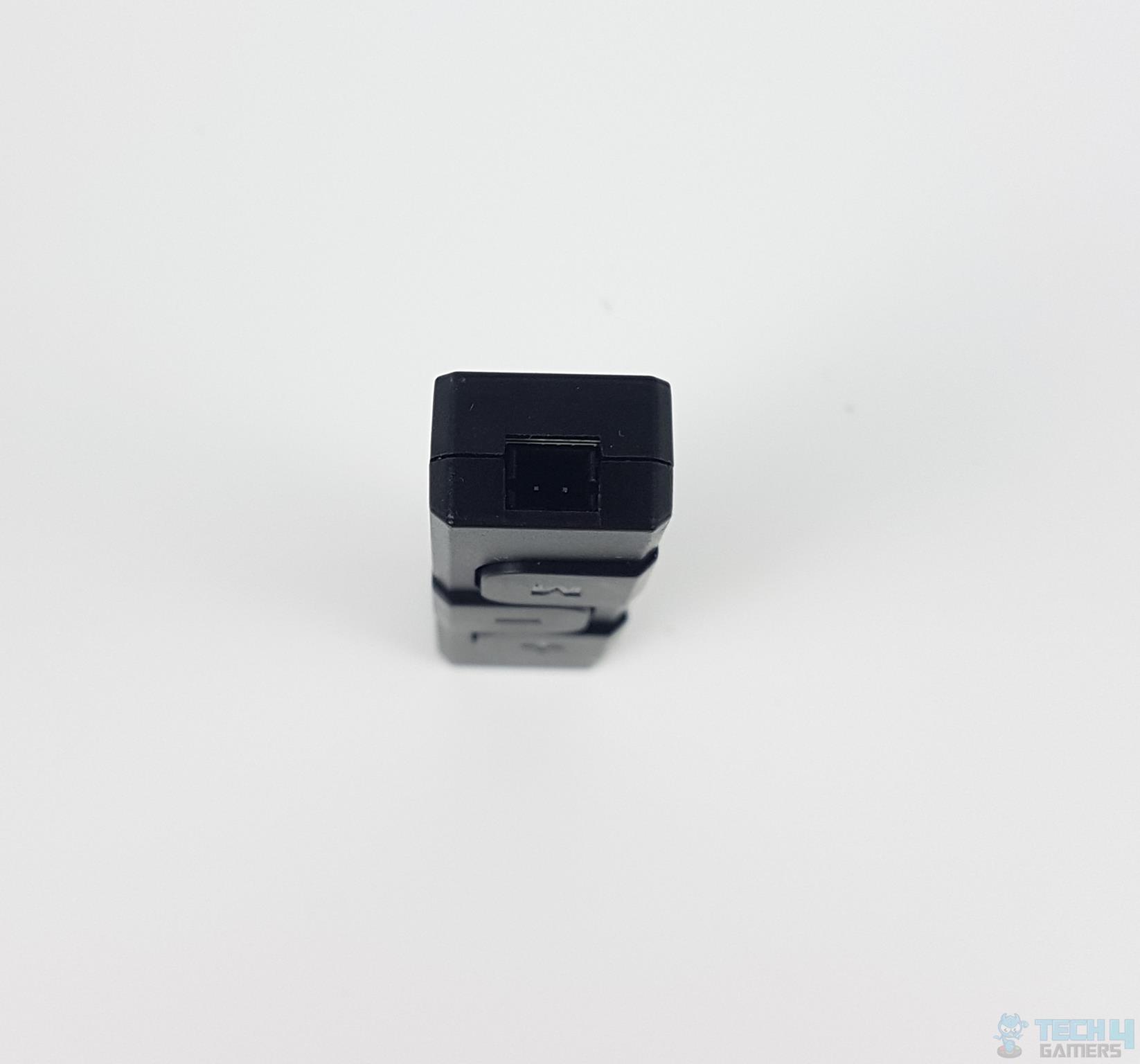 There is a 2-pin port to which a SATA cable is connected.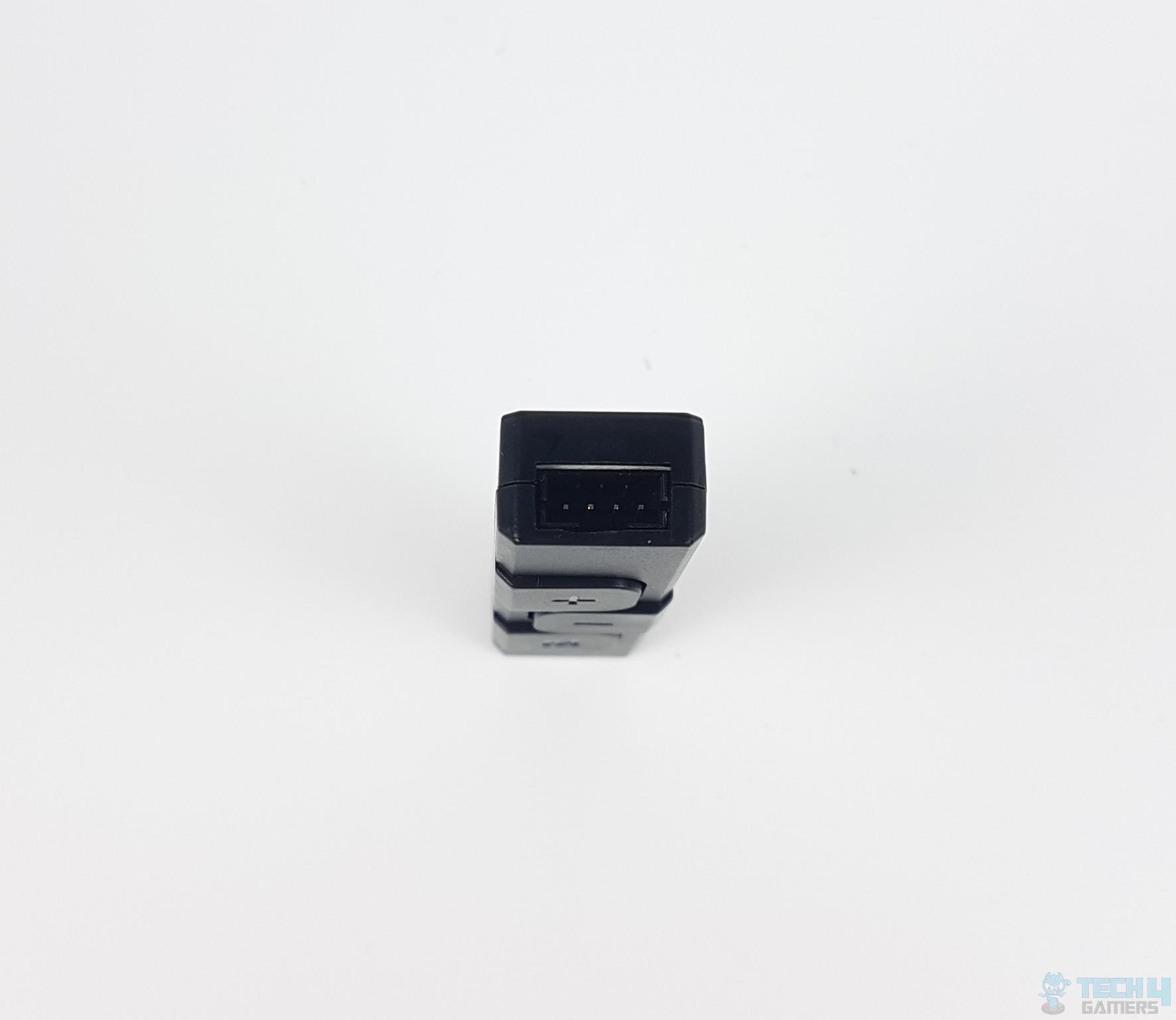 There is a 4-pin port here to which a bundled digital RGB cable having a proprietary 4-pin connector is attached. The other end of these cables is there so that users can daisy-chain the digital RGB elements and connect to this cable for a single and synchronized control. Alternatively, users can connect the standard 3-pin, 5V connector to the supported motherboard and use the motherboard's RGB application to control the lighting.
Design
It is time to dig in deep and see the bells and whistles of this unit, starting with the radiator.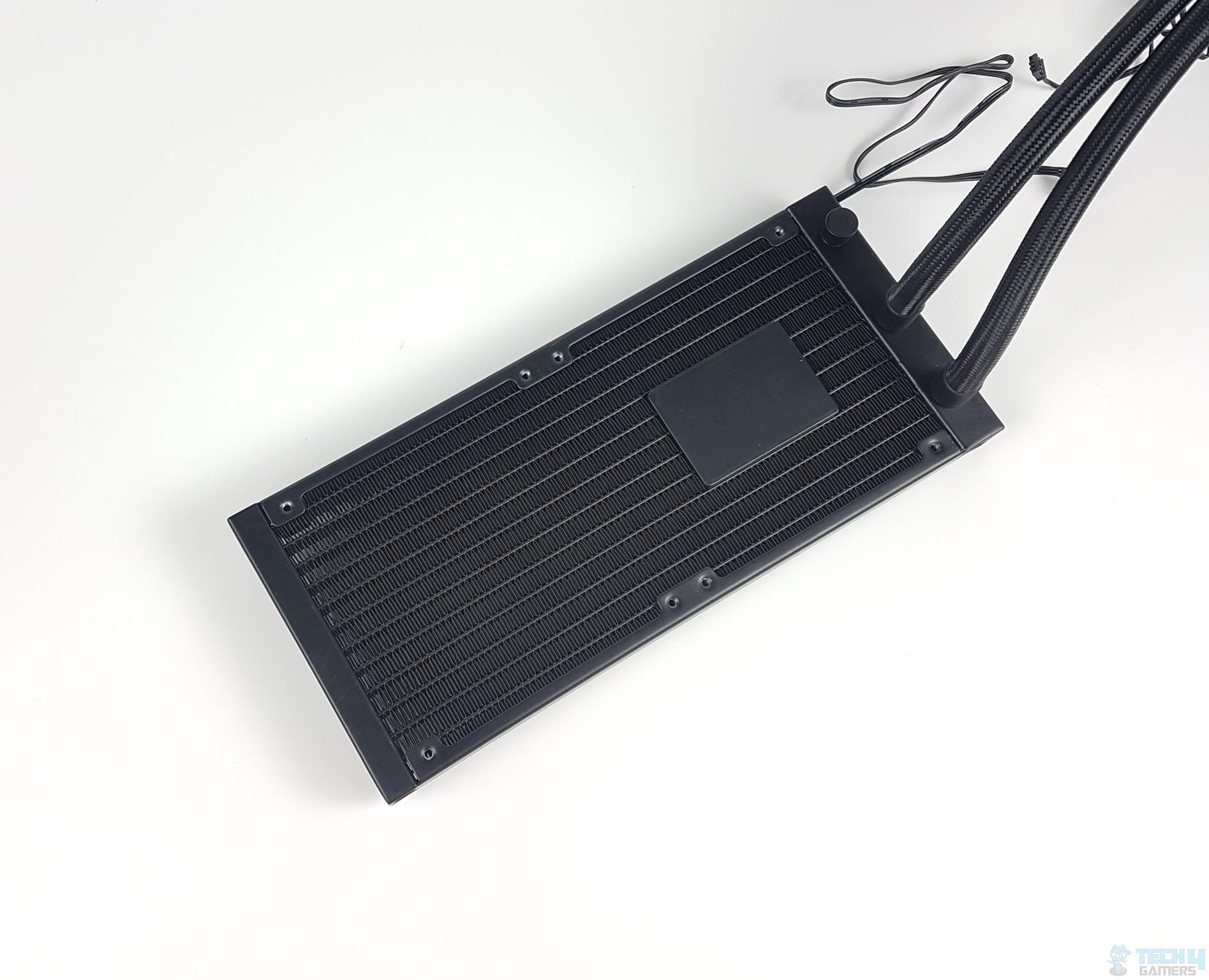 The complete assembly of this radiator is in black color. We have a dense fin stacking. The dimension of this radiator is 275 x 120 x 22mm. As we mentioned above that this radiator has a thickness of only 22 mm. Adding 16mm fans, provided in the box, the overall height comes to 38mm, which would be 39mm by counting the heads of long screws. This unit has an 18 FPI count. There is a gap of 105mm between any two fan mounting holes on the radiator. This unit has 12 coolant flow channels. The complete assembly is made of aluminum material. Looking at this unit towards the right side near the tube end, we can see an aluminum alloy cavity pump design. A pump is installed on the radiator of this cooler instead of housing it inside the base unit. SilverStone has done a good job with fin stacking and build quality.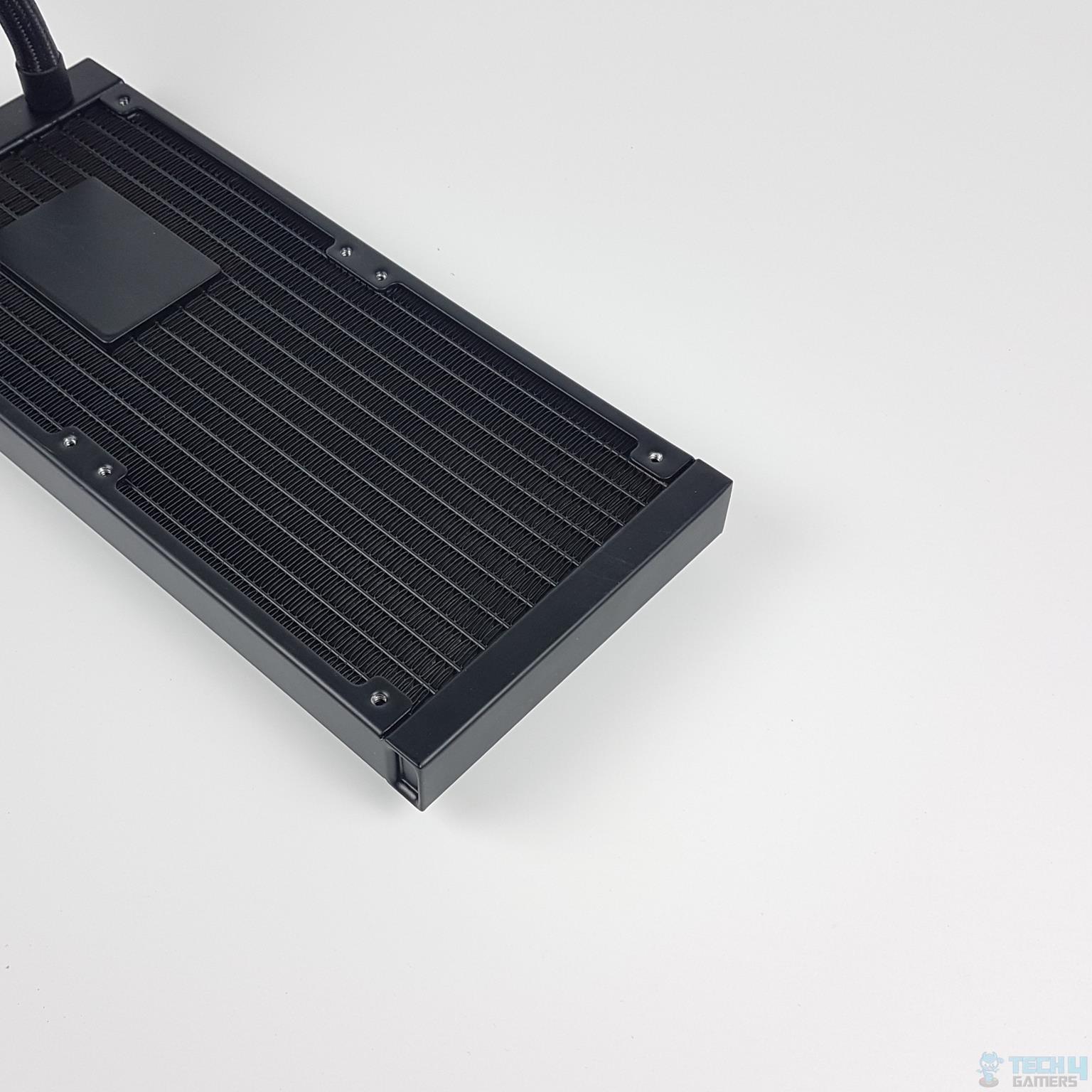 The far head of the radiator is rectangular in design. This is also a slim design.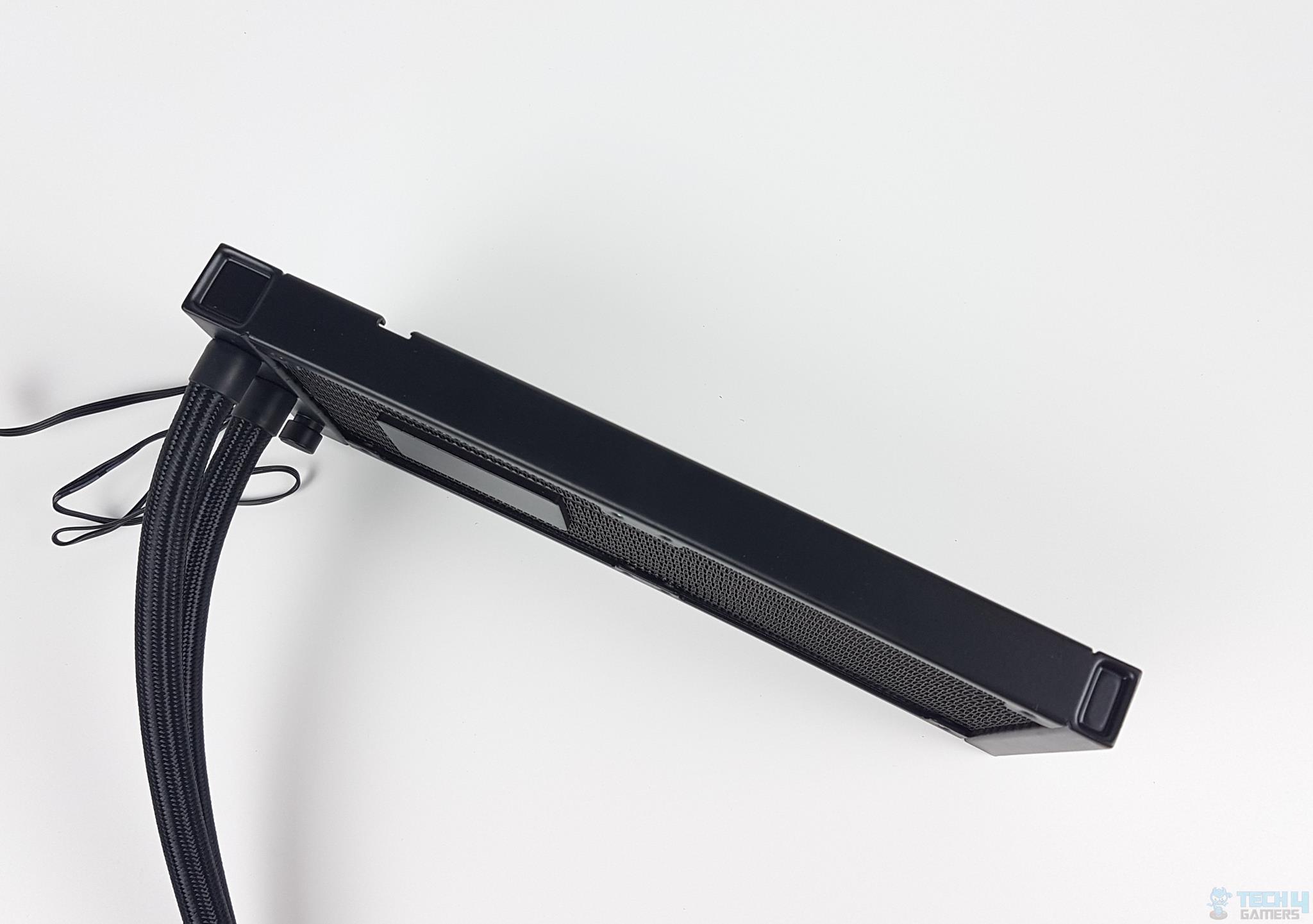 There is no branding on the side frame of this radiator. We can see a cutout on edge near to tube end. This is where the pump's power cable is routed. The same cutout is on the opposite end as well.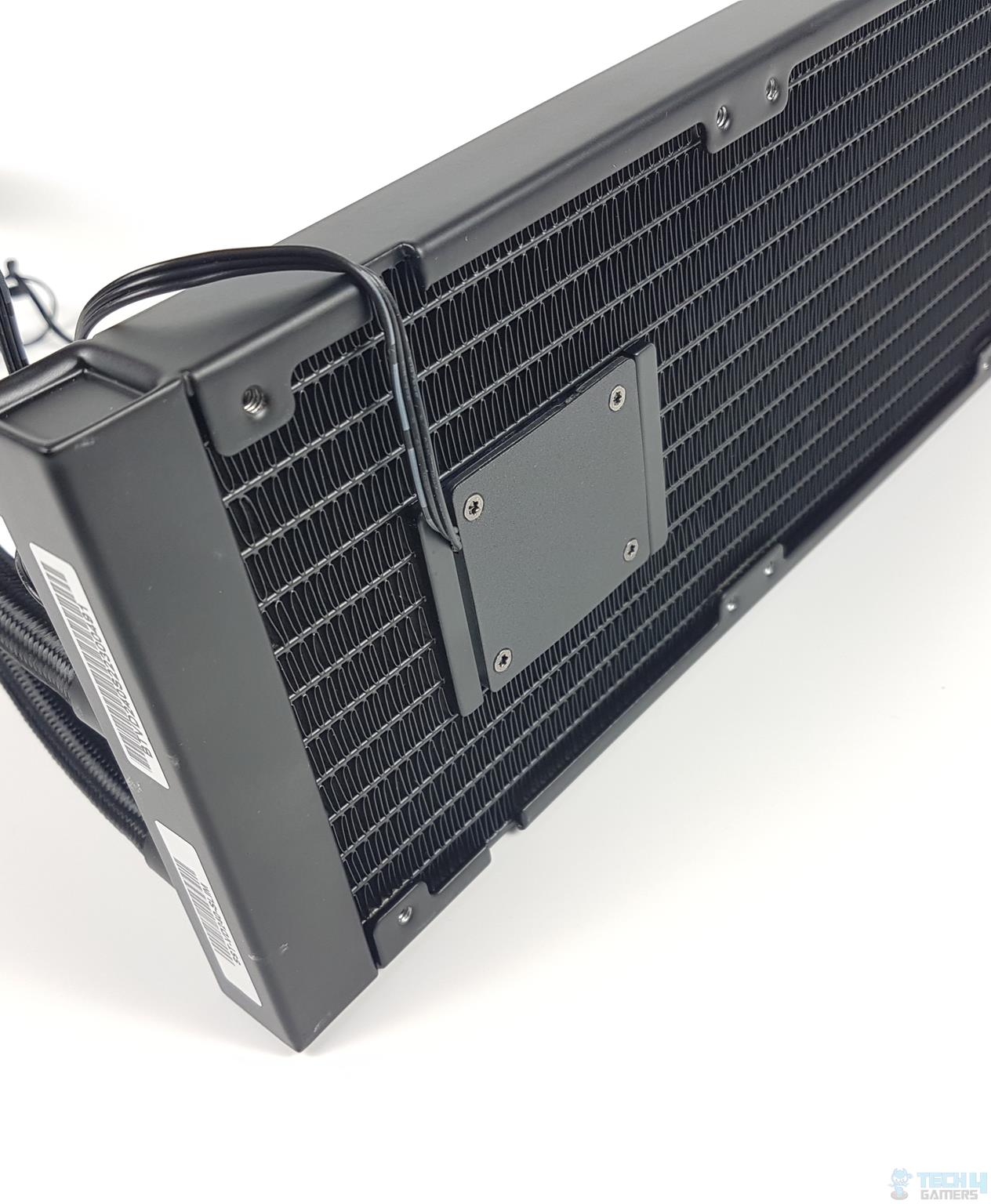 The pump is integrated into this radiator. This is not the first liquid cooler with such a design. We have seen a few others as well. Even Lumen S series coolers from Fractal Design have a similar design. There is a 3-pin flat cable coming out of the pump shell. The pump specifications include:
| | |
| --- | --- |
| Speed | 4200 ± 10% RPM |
| Rated Voltage | 12V |
| Rated Current | 0.39A |
| Connectors | 3-pin |
SilverStone has provided a strong motor in this pump unit. This motor has three phases and six pole design.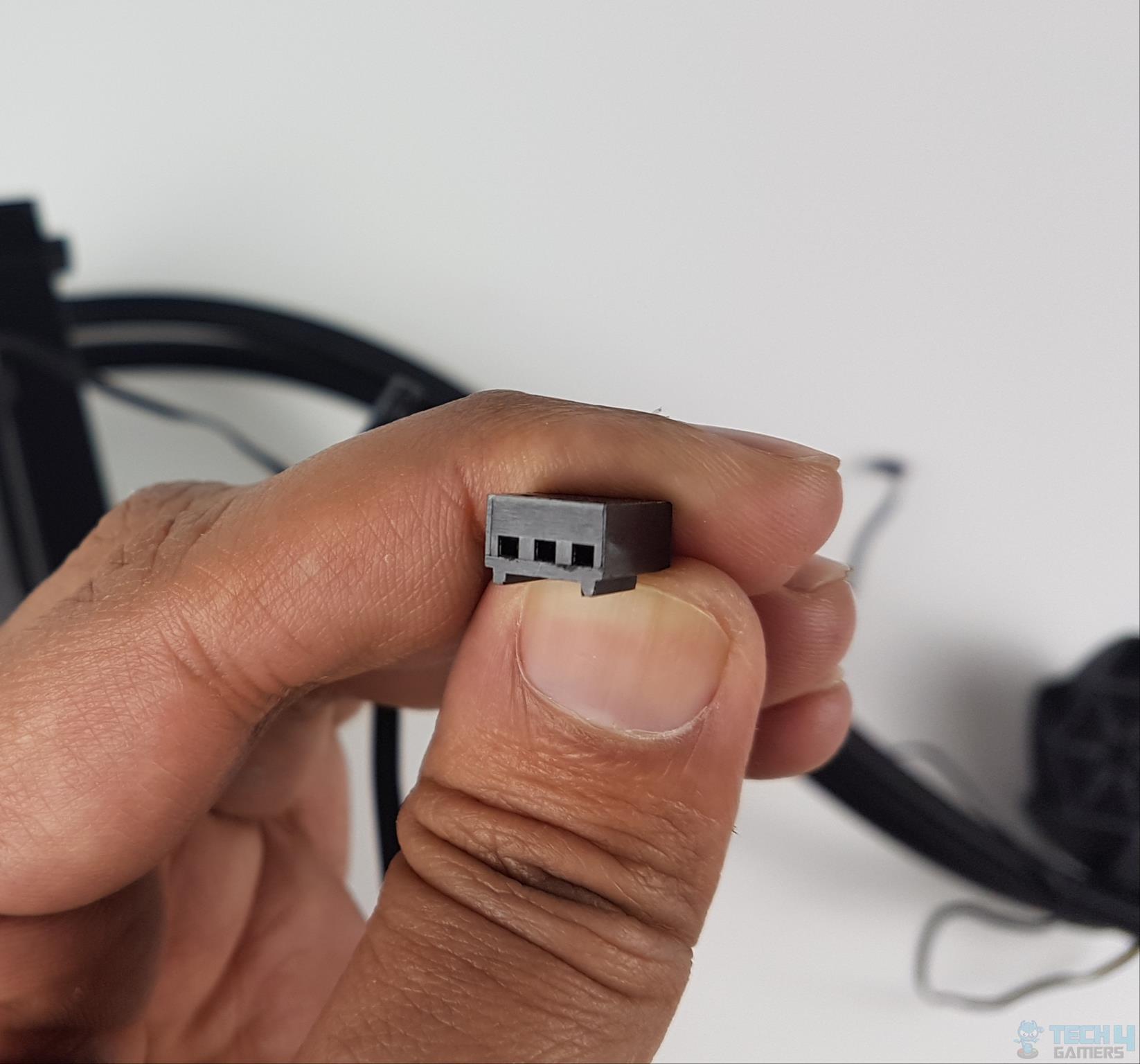 A 3-pin power connector is used to power this pump.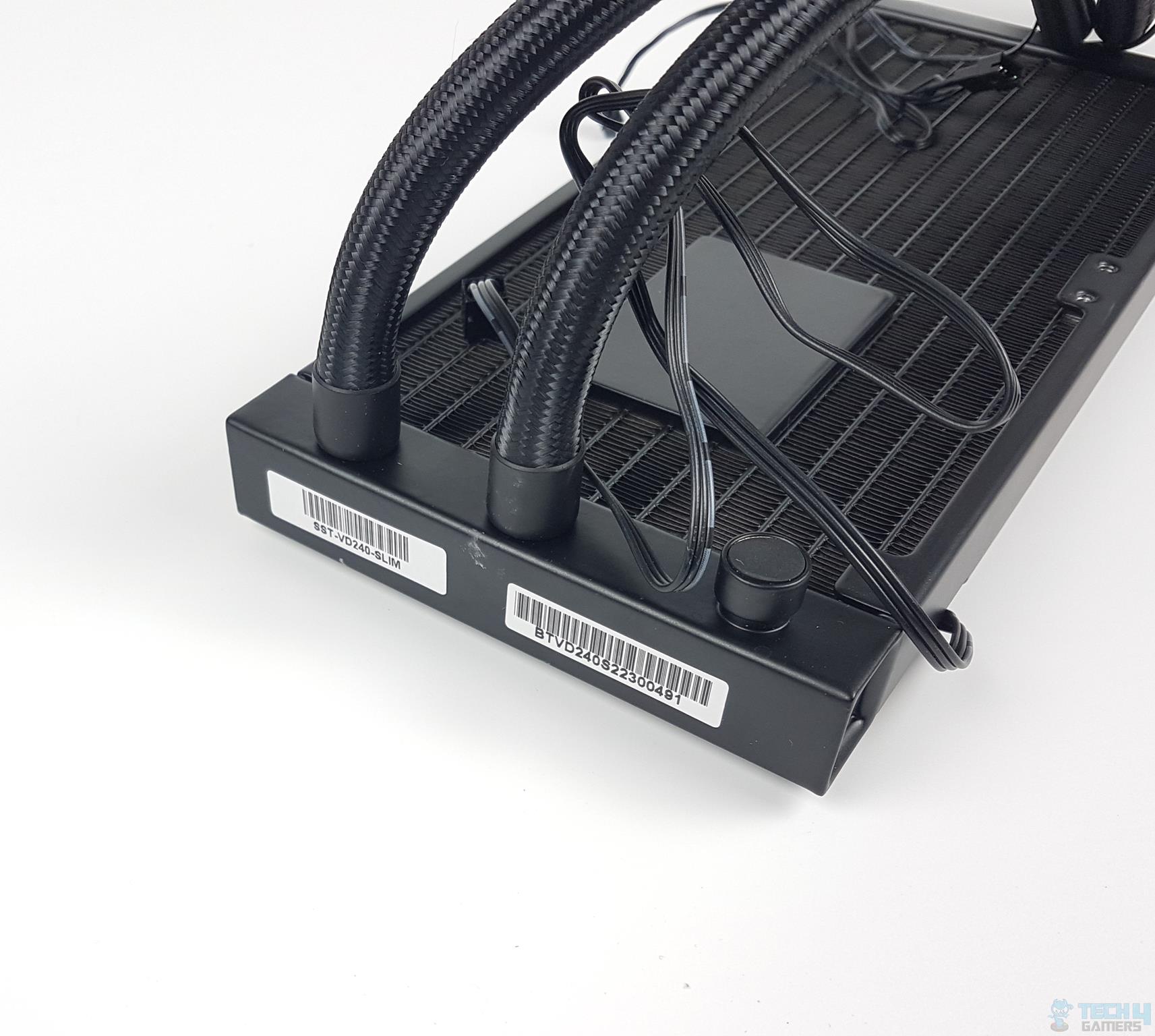 Looking at the tube end side of this radiator, we can see that SilverStone has used two barbed fittings with covers for reinforcement and a better outlook. There is another small footprint port cover. This seems to be a refill port, but it is reserved for factory use, as opening it may reduce the vacuum pressure in the loop. A serial number sticker is also pasted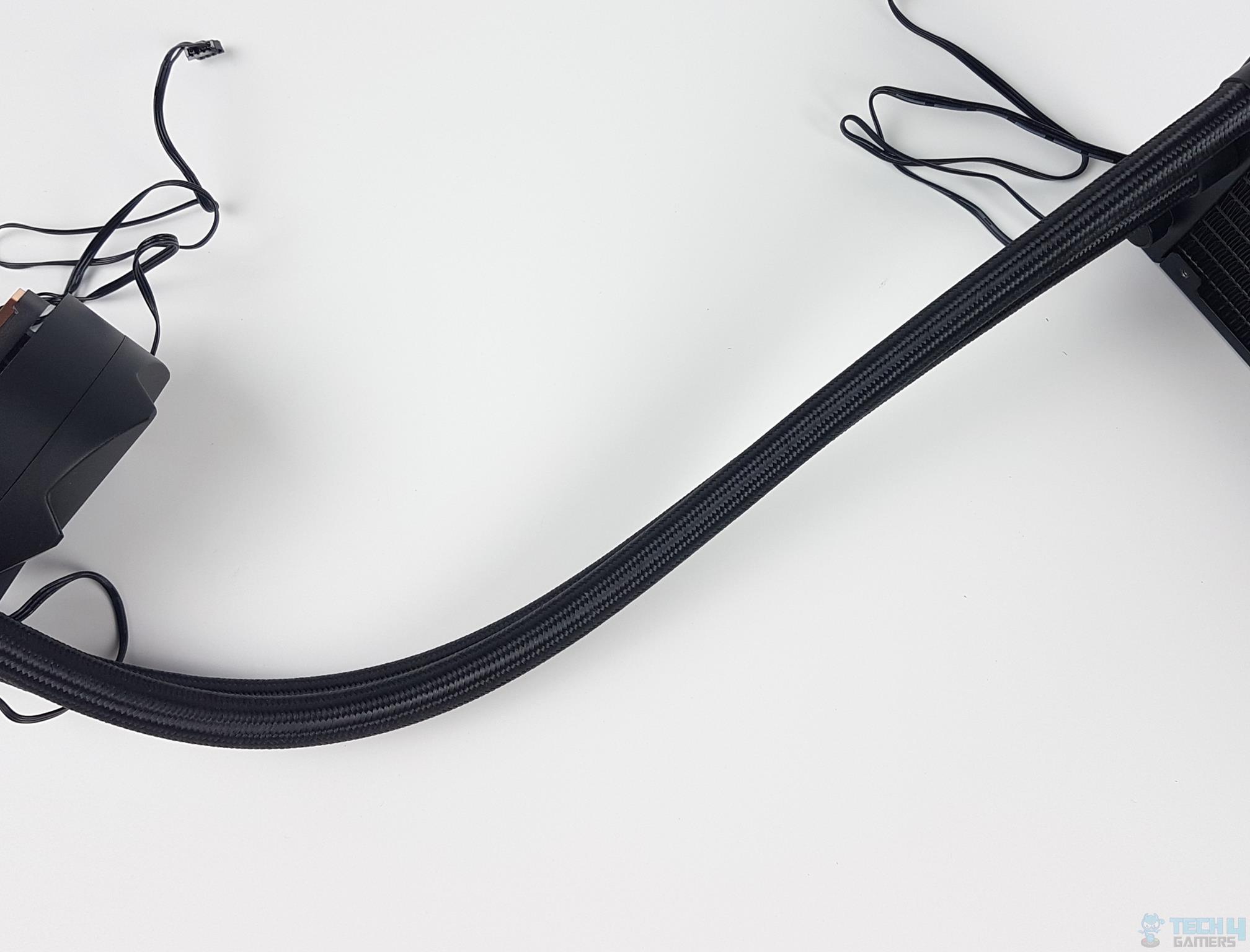 There is a 400mm length rubber tube on his unit. It has a nice mesh sleeve for aesthetics. The soft material tubing is flexible and doesn't produce a kink. Kinking in a tube would reduce coolant flow and put pressure on the pump.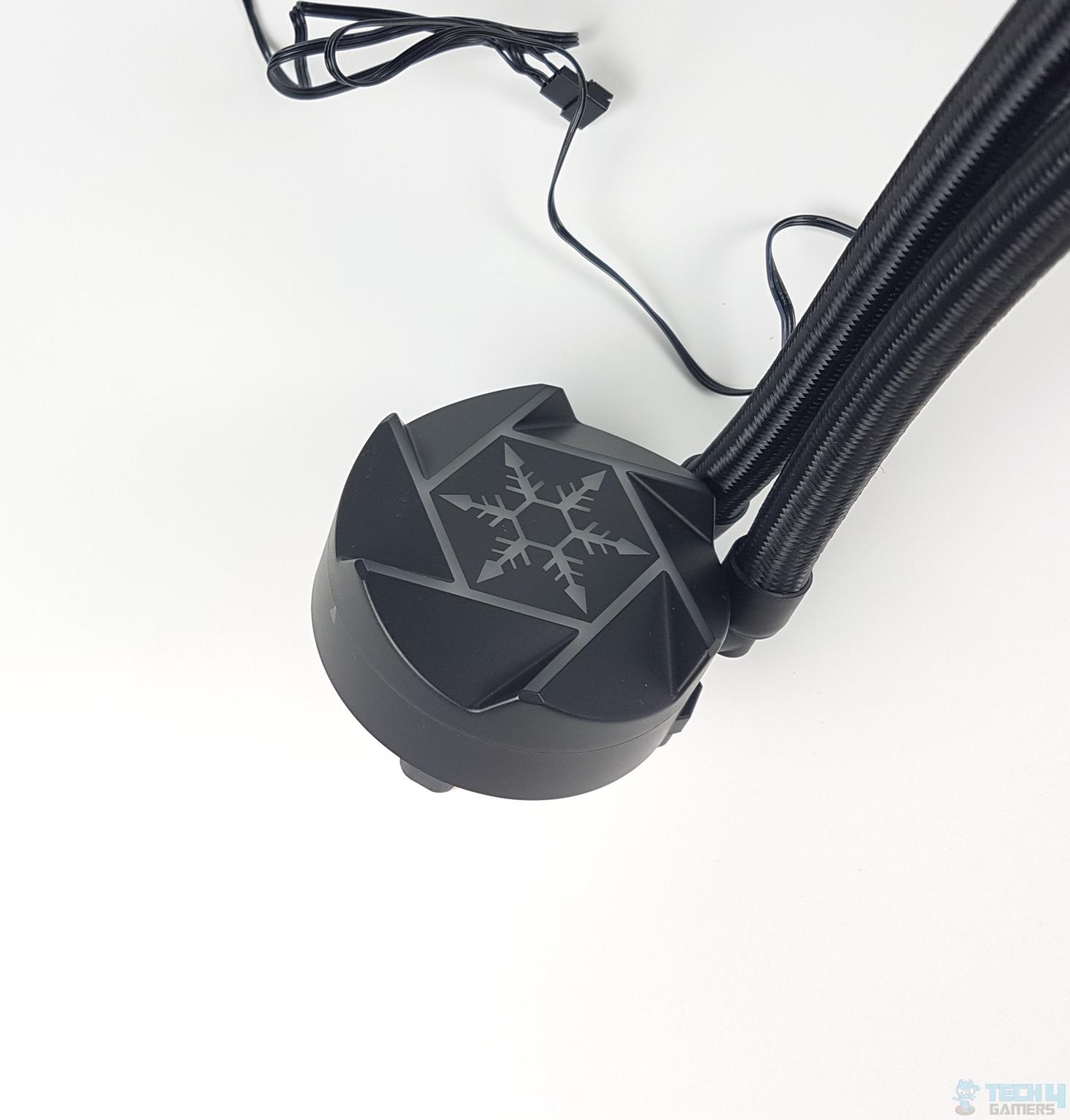 Looking at the base housing, we can spot a slim and low-profile design. This is merely due to the fact that this unit does not have an integrated pump here since the pump is integrated into the radiator. That would also mean that a less-weight base unit will now rest on the CPU, and there will not be any vibration as well. The housing has a size of 74x41x74mm. The top cap has SilverStone branding with a stylish layout using cuts underneath digital RGB LEDs.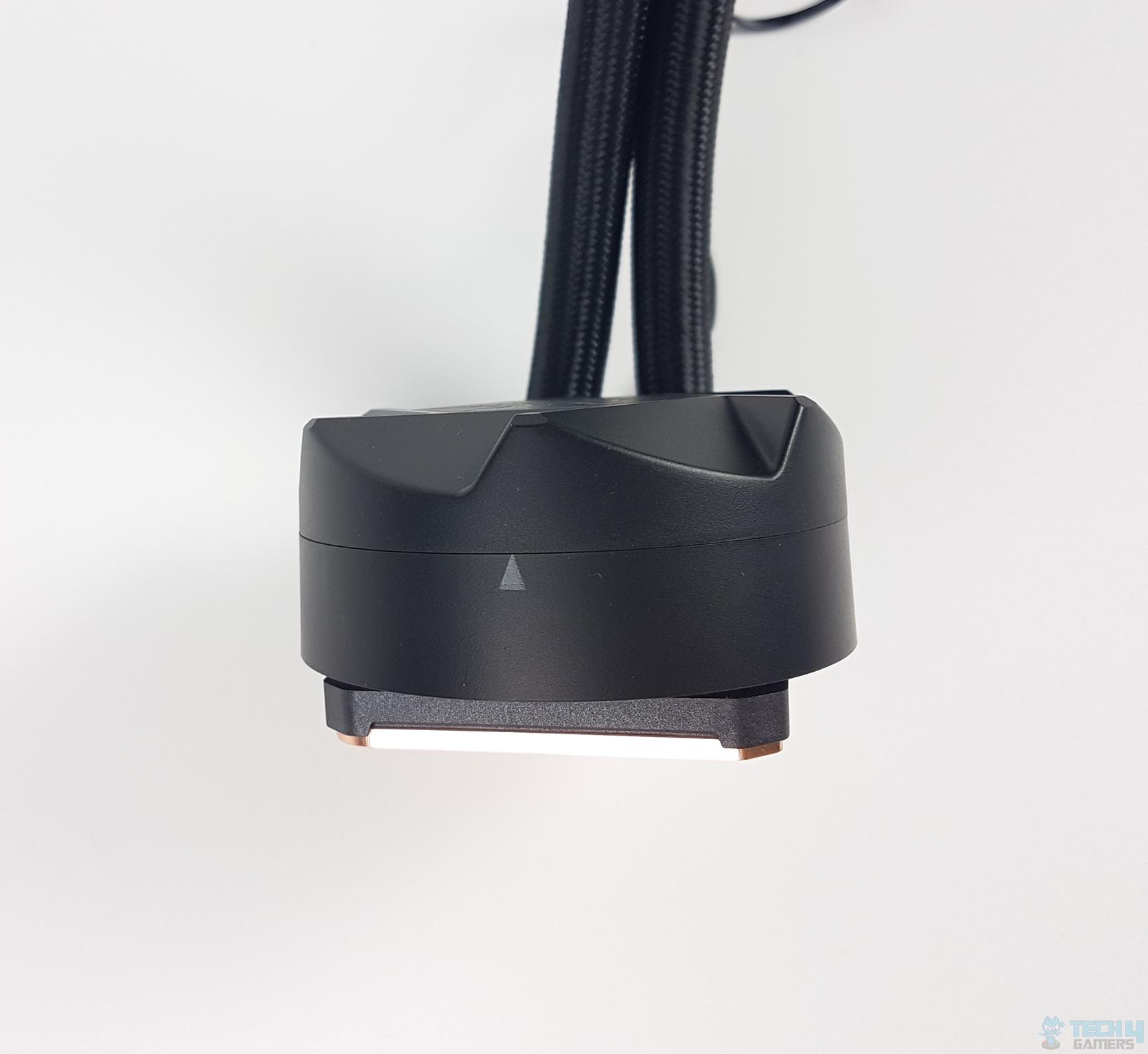 There is a triangle symbol pointing upwards. The symbol is on the lower chamber. The upper, rotatable chamber has a downward pointing arrow marker. These two should align. We have a total of two pointing upward arrows at the lower base. This cap can be rotated at 90° and 180° hence the two symbols' logic.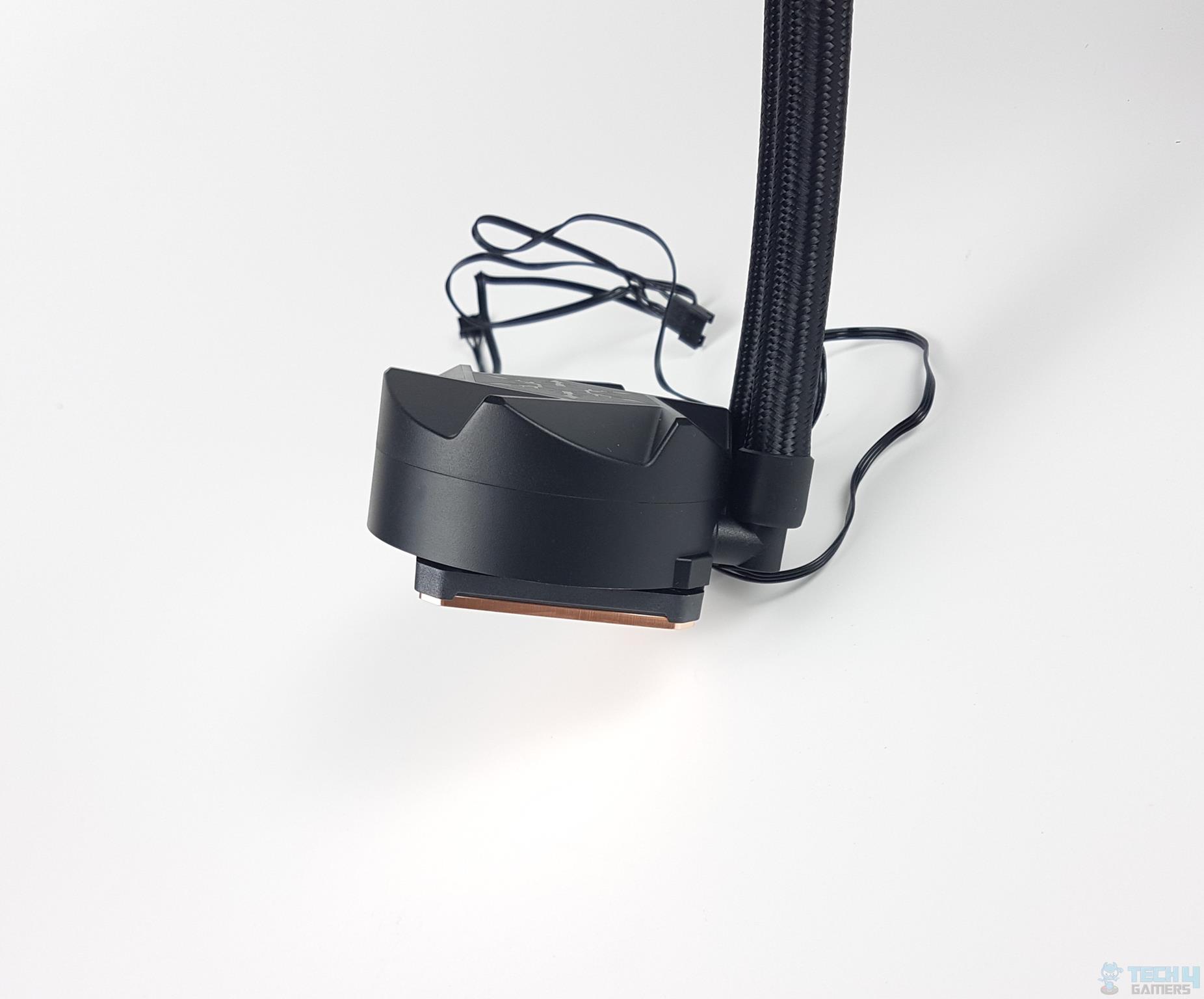 The sides of this housing don't have any branding, as we have a simple and plain layout.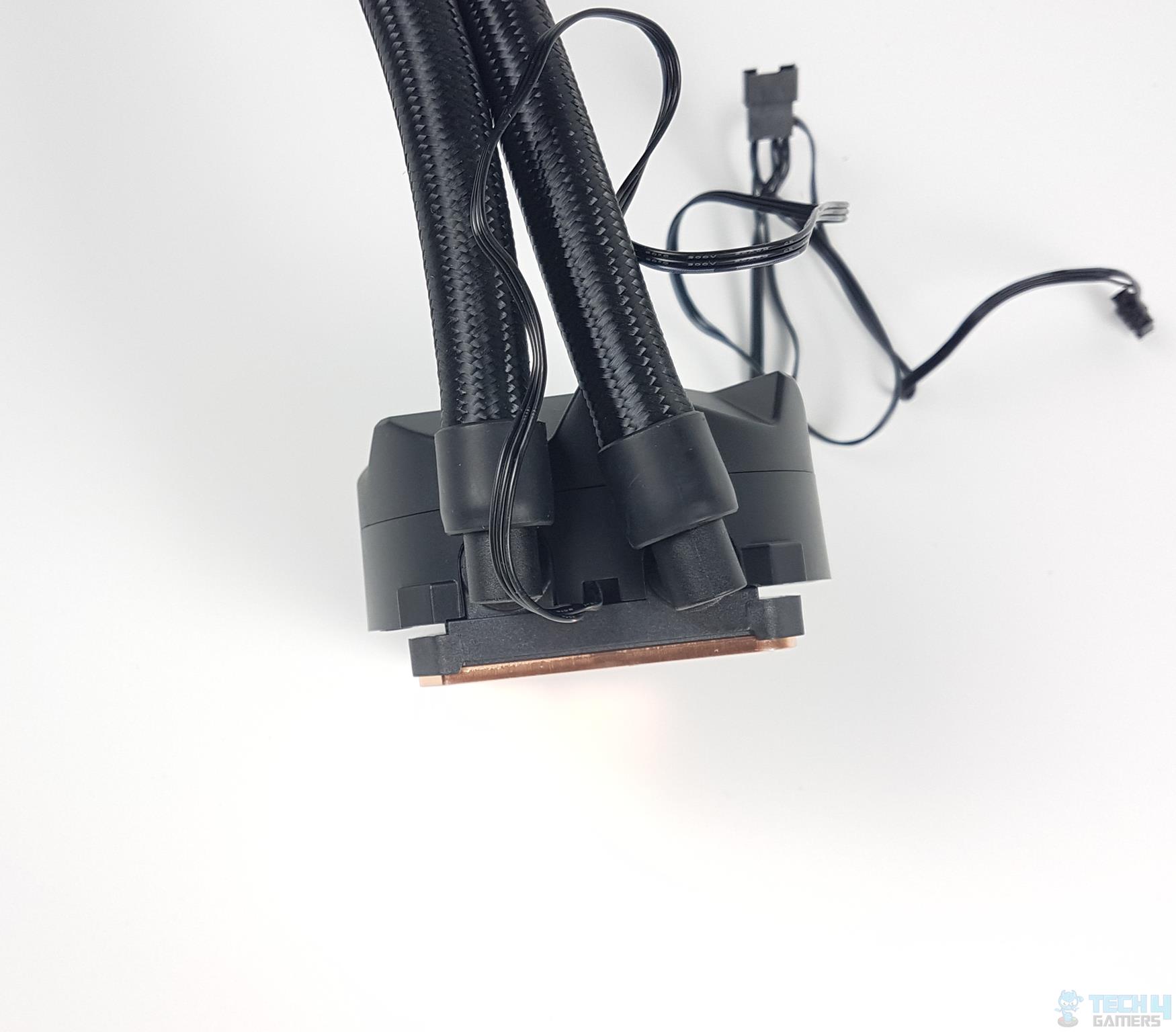 We can see that both tubes are installed in a 90° orientation on the base of the housing. This is done to provide a certain but limited rotation on these tubes as per the user's requirements. Two cables are coming out of the pump housing.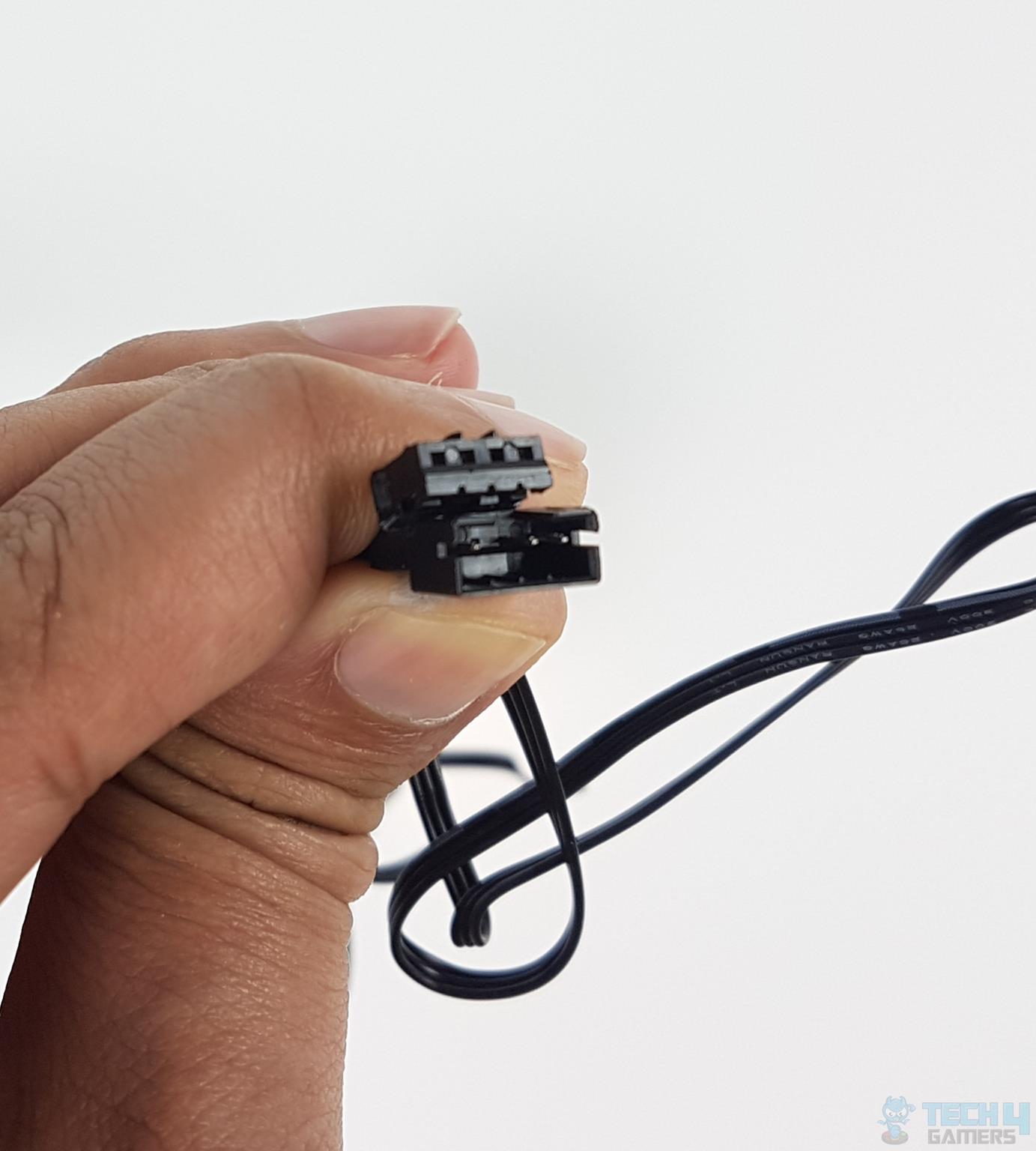 SilverStone uses proprietary connectors for the digital RGB LEDs. There are two connectors. One is male, and the other is female. In other words, we have a connector and a socket. This design provides flexibility to daisy chain the digital RGB connectors. There is a copper-made base plate measuring approximately 53×53 mm. There is a protective cover on the base which needs to be removed before the installation.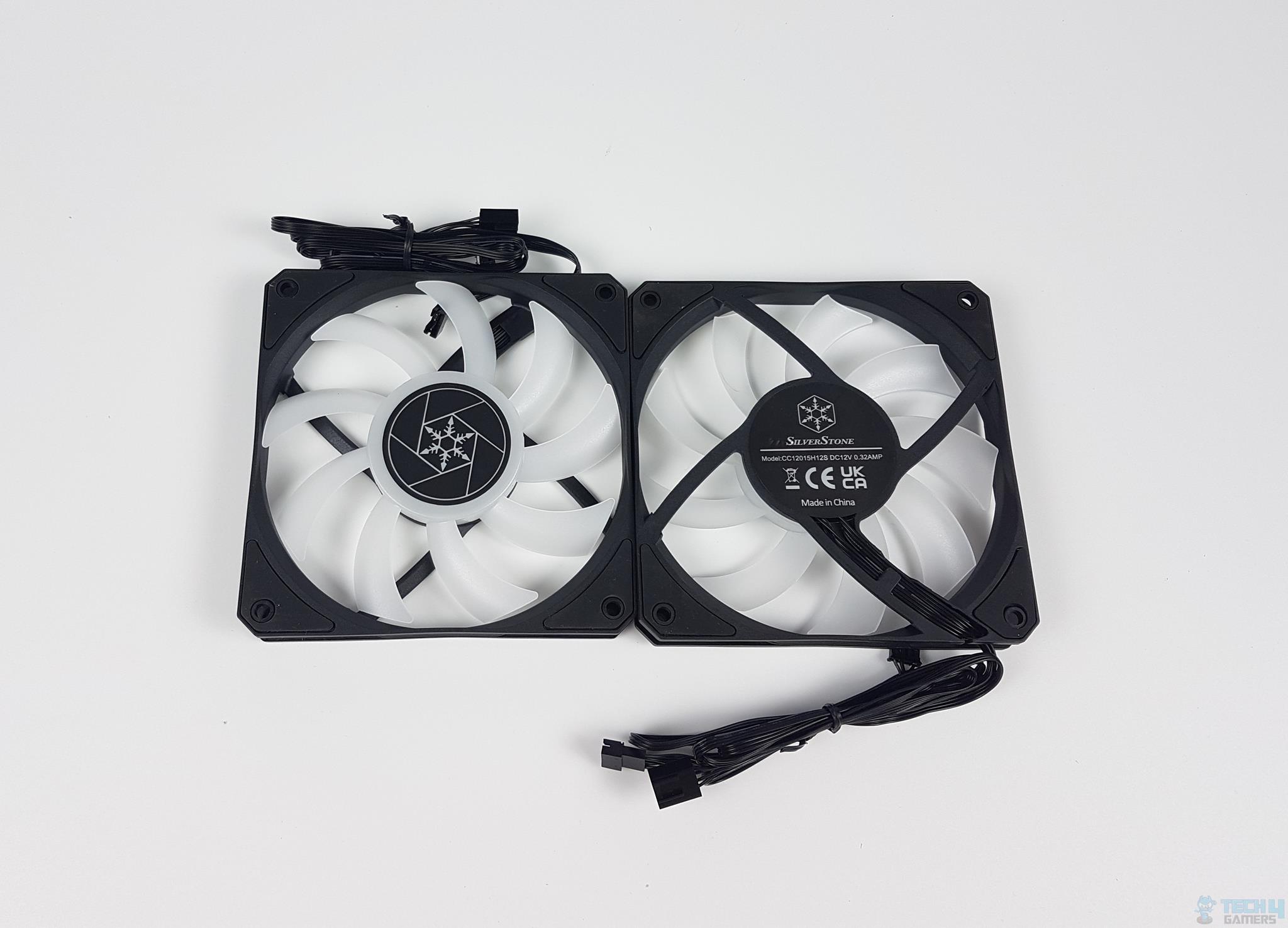 SilverStone has provided 2x 120mm digital RGB fans. These fans have a thickness of 16mm. There are 9x frosted blades on each fan. The center has a large diameter as it houses those digital RGB LEDs. The fans are made in China. There is a 4-arms assembly on the back side, with one arm being wider as it catches the wires. This fan has a 0.23A current rating at 12VDC. The frame of the fan is quite sturdy.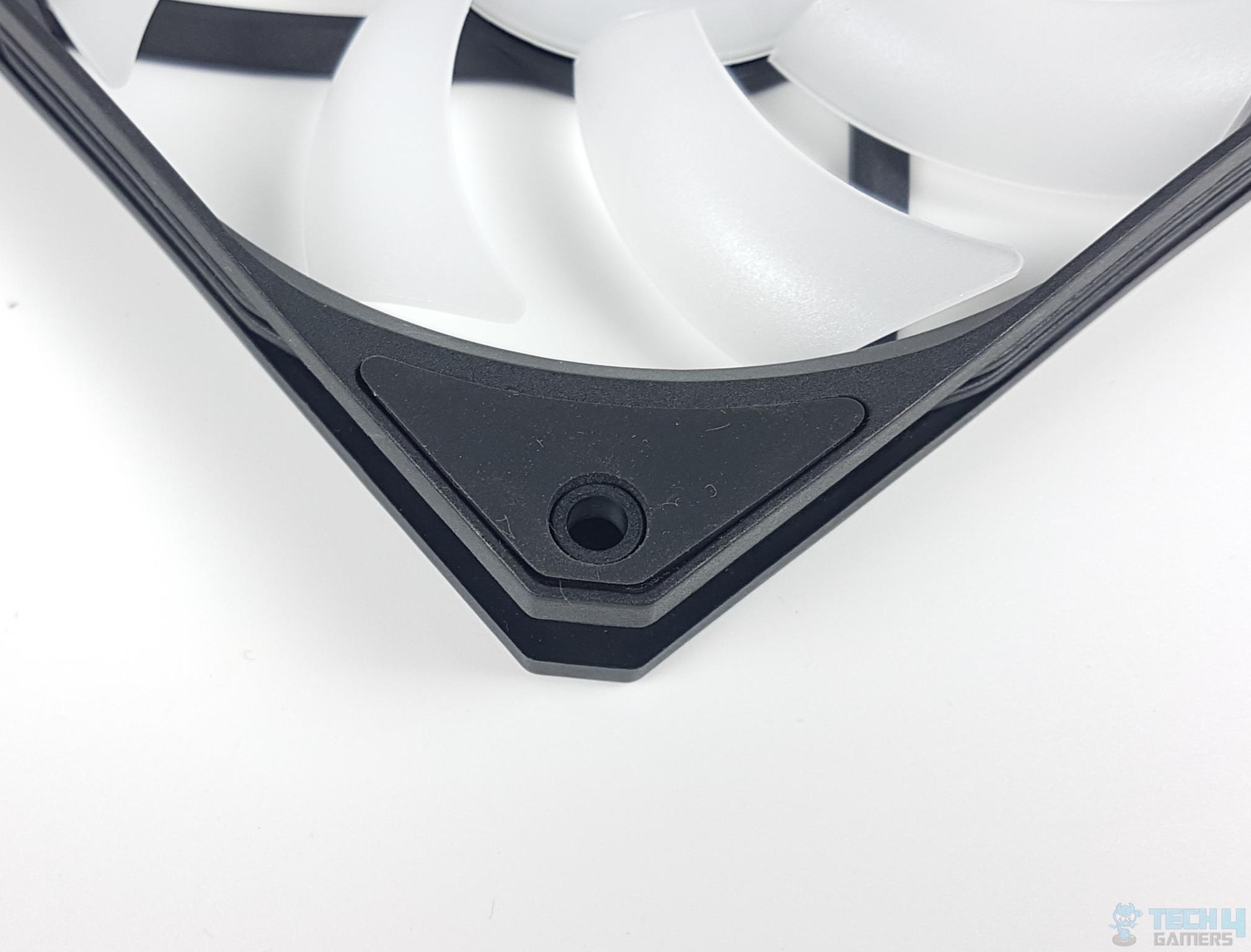 The mounting corners have cut-to-size anti-vibration rubber pads to reduce vibrational noise.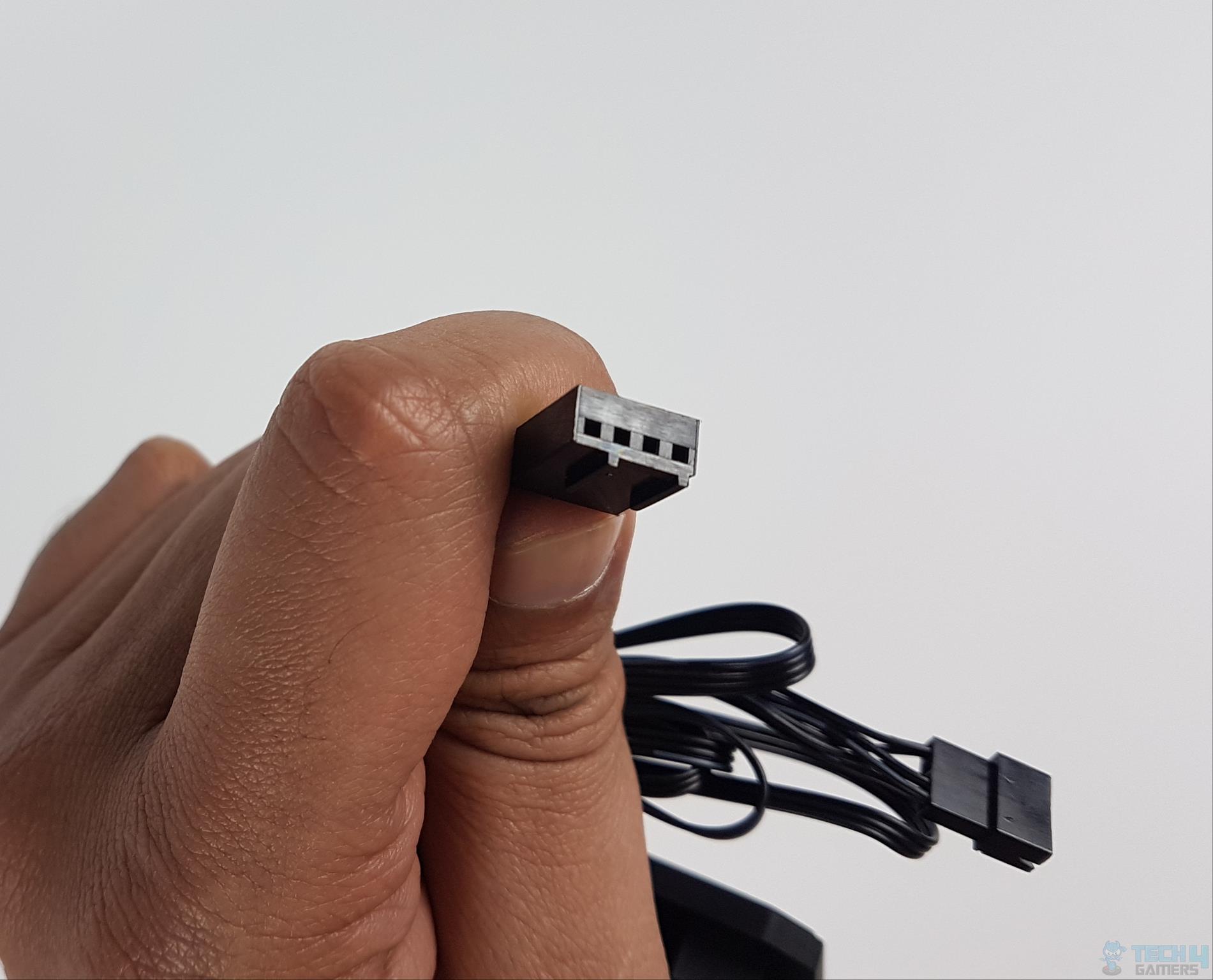 Each fan is powered by a 4-pin PWM connector.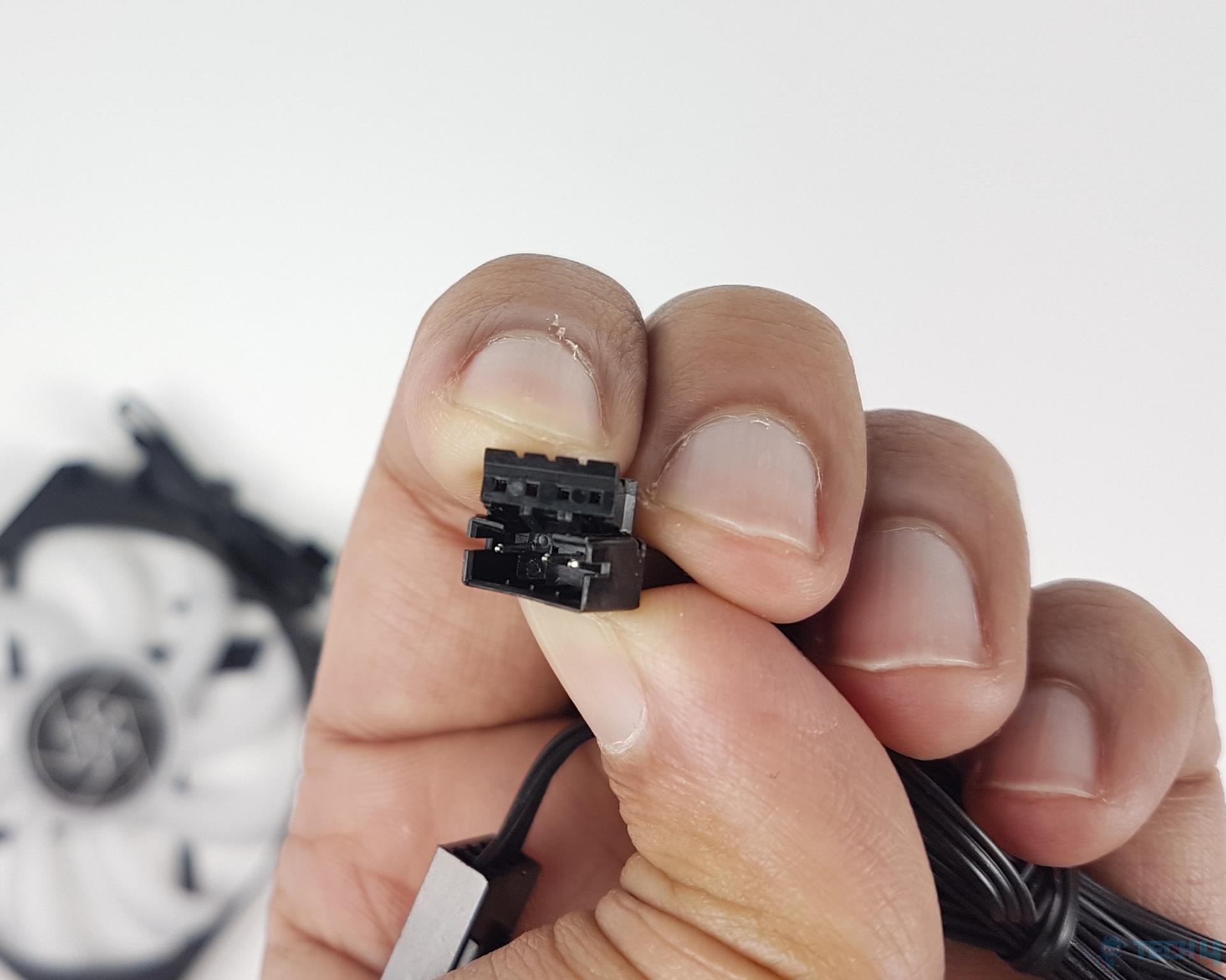 There are two proprietary JST connectors per fan to power the digital RGB LEDs in a daisy-chain configuration.
Below are a few specifications of a fan:
| | |
| --- | --- |
| Dimension | 120x120x16mm |
| Speed | 300~1800 RPM |
| Air Flow | 66.83 CFM |
| Air Pressure | 2.59 mmH₂O |
| Noise | 15.9 ~ 33.9 dB(A) |
| Fan Connector | 4-pin PWM and 3-pin JST |
| Bearing | Fluid Dynamic Bearing |
| Fan Voltage | 12VDC |
Digital RGB Lighting
This cooler comes with digital RGB lighting, which is compatible with:
ASUS AURA SYNC
GIGABYTE RGB FUSION 2.0
MSI MYSTIC SYNC
ASROCK POLYCHROME SYNC
We have already covered the digital RGB controller above. We used GIGABYTE RGB FUSION 2.0 to control the lighting effects and found that digital RGB LEDs were working fine. Here are a few pictures:
Installation
We have tested the cooler on AMD AM5 on GIGABYTE X670E AORUS MASTER using AMD Ryzen 7 7700X. Installation on AM5 is straightforward and convenient. We needed 9 components to set up the mounting hardware for the block. Installation is as under:
Remove AMD's stock mounting brackets.
Mount 4x AM5 pillar screws on each mounting hole or standoff of AMD's stock backplate.
Install an AMD mounting bracket on the base housing of the cooler.
Apply the thermal paste on the CPU.
Place the block on the CPU by aligning the edged concerns of mounting bracket's holes with a threaded portion of screws.
Use spring-loaded nuts to secure the block on the CPU socket.
Install fans on the radiator.
Connect the cables as per requirements, and you are good to go.
Clearance
This is a 240mm size liquid cooler. It does not obstruct the first DIMM slot near the CPU socket. There is no clearance issue for a first full-length PCIe slot, either. All that you would need to check is that your case has enough clearance for a 275x120x38mm size assembled cooler.
Thermal Test
We have used below mentioned configuration to test the performance of this cooler: –
Here is the settings table for testing:
| | |
| --- | --- |
| All Cores | 5200MHz All Cores |
| VCore (V) | Auto |
| Thermal Paste | Alphacool Sub-Zero |
| Test Run Time | 30 minutes CINEBENCH R23.2 |
| Idle Time | 10 minutes |
| Fan/Pump Speed | 100% PWM Duty Cycle |
| Monitoring Software | HWInfo64 |
Disclaimer: Every silicon is different; hence no two same SKUs are likely to take some voltage to yield the same performance at the same thermals per se, but the margin would be close. Not every stress test run may yield the same result, which could be due to various reasons like thermal paste application, ambient temperature variation, the mounting pressure of the cooler, etc. This is very why we have listed our variables and their settings. Variables not mentioned are on the Auto setting.
Result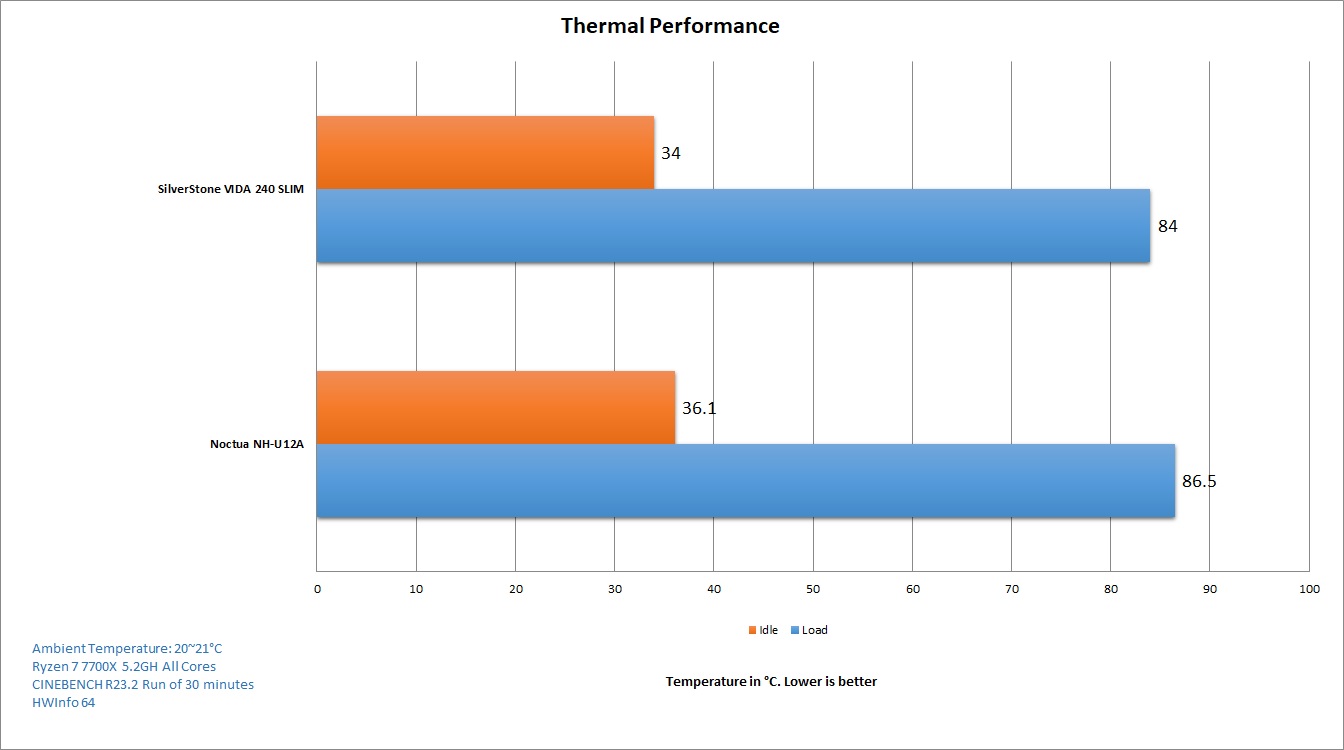 The SilverStone VIDA 240 SLIM has offered a better performance on AMD Ryzen 7 7700X clocked at 5.2GHz all cores. We are seeing an improvement of over 2°C compared to Noctua NH-U12A, which is another high-performance CPU air cooler.
Noise
We noted a noise output of roughly 49~50dB(A) on an ambient noise level of 32~33dB(A). This is a better noise performance from this cooler.
Conclusion
We have tested a new liquid cooler which strictly falls under the category of coolers aimed for space-constrained PC Cases. This cooler is VIDA 240 SLIM from SilverStone. There is a 120mm version available as well. Key highlights of this unit are:
38mm overall thickness or height of this cooler
Integrated high-performance pump in the radiator
Rotatable Top Cover on base housing
14mm thick, 120mm
Digital RGB Lighting
LGA1700 and AMD AM5 sockets support
The SST-VD240-SLIM has 12 channels for coolant flow. Its FPI count is 18, and SilverStone has done a nice job in fin stacking.
This unit has soft tubing between the radiator and base housing. They run to approximately 400mm, which should be good enough. They have a nice mesh sleeve and don't produce kink. Another key feature, as mentioned above, is an integrated pump in the radiator.
The pump features a 3-phase, 6-pole powerful motor that can go up to 4200 RPM ±10%. It is powered by a 3-pin connector.
Since there is no pump in the block housing, it is lightweight. SilverStone has made that housing a low profile design with some stylish accent and SST branding over the top cover that is backlit. This top cover or cap is rotatable to 90° and 180° orientations.
This would mean that we can always keep this logo in the up-right position regardless of the cooler's orientation. The block has a copper base of roughly 53x53mm. This cooler is compatible with Intel LGA115x/1200/1700/20xx and AMD AM4/AM5 sockets.
This cooler uses an AMD stock backplate; hence it is covered for AM4 and AM5.
There are 2x 120mm slim fans provided with this cooler. These have a dimension of 120x120x16mm. They are digital RGB editions. Their speed rating is up to 1800 RPM. They can generate 66.83 CFM at 2.59mmH₂O pressure (I am not sure if it is a combined rating or a single fan rating).
The maximum rated noise is 33.9 dB(A). These fans have a 4-pin PWM connector as well as the proprietary digital RGB socket and connector using JST. SilverStone has also provided a controller with 10x in-built modes to control digital RGB lighting.
The digital RGB elements can be connected to a supported motherboard as well using a standard adapter cable. We used the GIGABYTE X670E AORUS MASTER to control the lighting of this cooler and found it working fine.
The installation is simple, and we have to deal with 9 components to install the block on the CPU. The Fans and the block are daisy-chained. The fans were connected to the CPU_FAN Header using the bundled PWM Y-Cable.
The SST-VIDA240-SLIM has an MSRP of $129.99 at the time of this writing. This price tag may seem a little high, given the slim nature of this cooler, but SilverStone has not cut any corners when it comes to delivering a solid performance.
When pitched against Noctua NH-U12A on AMD Ryzen 7 7700X, this cooler was leading by over a 2°C margin. Noise output is also fine on this unit. SilverStone provides a 1 to 2-year warranty, depending on the region.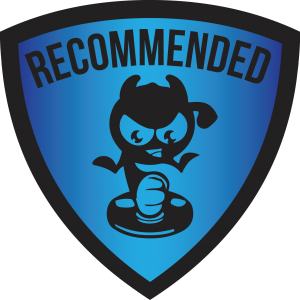 Was our article helpful? 👨‍💻
Thank you! Please share your positive feedback. 🔋
How could we improve this post? Please Help us. 😔
[Hardware Reviewer]
Awais Khan is a Tech Geek, conscientious, reliable, and hardworking individual who pays attention to detail with excellent time management skills. Alongside that, he is an expert in PC Hardware; dealing with Benchmarks, Analysis, and testing before sharing information with readers. Whenever free, Awais occasionally shares Gaming Videos on his YouTube Channel.
Get In Touch: [email protected]