Intel's 12th Generation of CPUs by the name of "Alder Lake" has taken the PC gaming market by storm. These Alder Lake chips are becoming the primary choices of consumers that want to build a new gaming PC, or upgrade their old machine, beating out both AMD chips and older Intel CPUs available at similar prices. Today, we will be comparing Intel's 12th Generation vs 11th Generation to see how much of a performance leap Alder Lake provides over the previous Generation.
We will discuss their specifications, microarchitectures, I/O, pricing, and gaming and productivity benchmarks.
General Specifications
Before we get into the details and benchmarks, let's look at the basic difference when it comes to 12th Generation vs 11th Generation.
12th Generation
11th Generation
Socket
LGA 1700
LGA 1200
Codename
Alder Lake
Rocket Lake
Architecture
Cyprus Cove
Hybrid

Architecture

Max No. of Cores
Up to 8 Performance

and Efficiency Cores

each

Up to 8 Cores
L1 Cache
80 KB per P core,

96 KB per E core

80 KB per core
L2 Cache
1.25 MB per P core

2 MB per E core

512 KB per core
L3 Cache
Up to 30 MB, shared
Up to 16 MB, shared
Integrated GPU
UHD 770,

UHD 730

UHD 710

UHD 750,

UHD 730

DMI Version
4.0 (up to x8)
3.0 (x8)
DMI Speed
16 GT/s
8 GT/s
PCI Express
5.0
4.0
Memory Support
DDR5, DDR4
DDR4
Thunderbolt
4.0 Supported
4.0 Supported
Max No. of SATA

6 GBPs Ports

8
6
Max No. of Displays
4
3
Wi-Fi Support
Wi-Fi 6E
Wi-Fi 6/Wi-Fi 6E
Launch Date
16th March, 2021
4th November,

2021
Intel's 12th Generation vs 11th Generation
As mentioned above, the most notable change in Intel's 12th Generation is in the architecture, which involves the splitting of cores into P and E cores. It is also based on a more advanced 10nm manufacturing process known as Intel 7, while the 11th Generation processors are based on a 14nm process. Moreover, there's support for DDR5 memory, PCIe 5.0, and Wi-Fi 6E. Let's discuss these changes.
Alder Lake
Alder Lake is the codename of Intel's 12th Generation lineup of CPUs. Intel announced this lineup at Intel Architecture Day 2021, and the first batch of CPUs was launched on 4th November, 2021.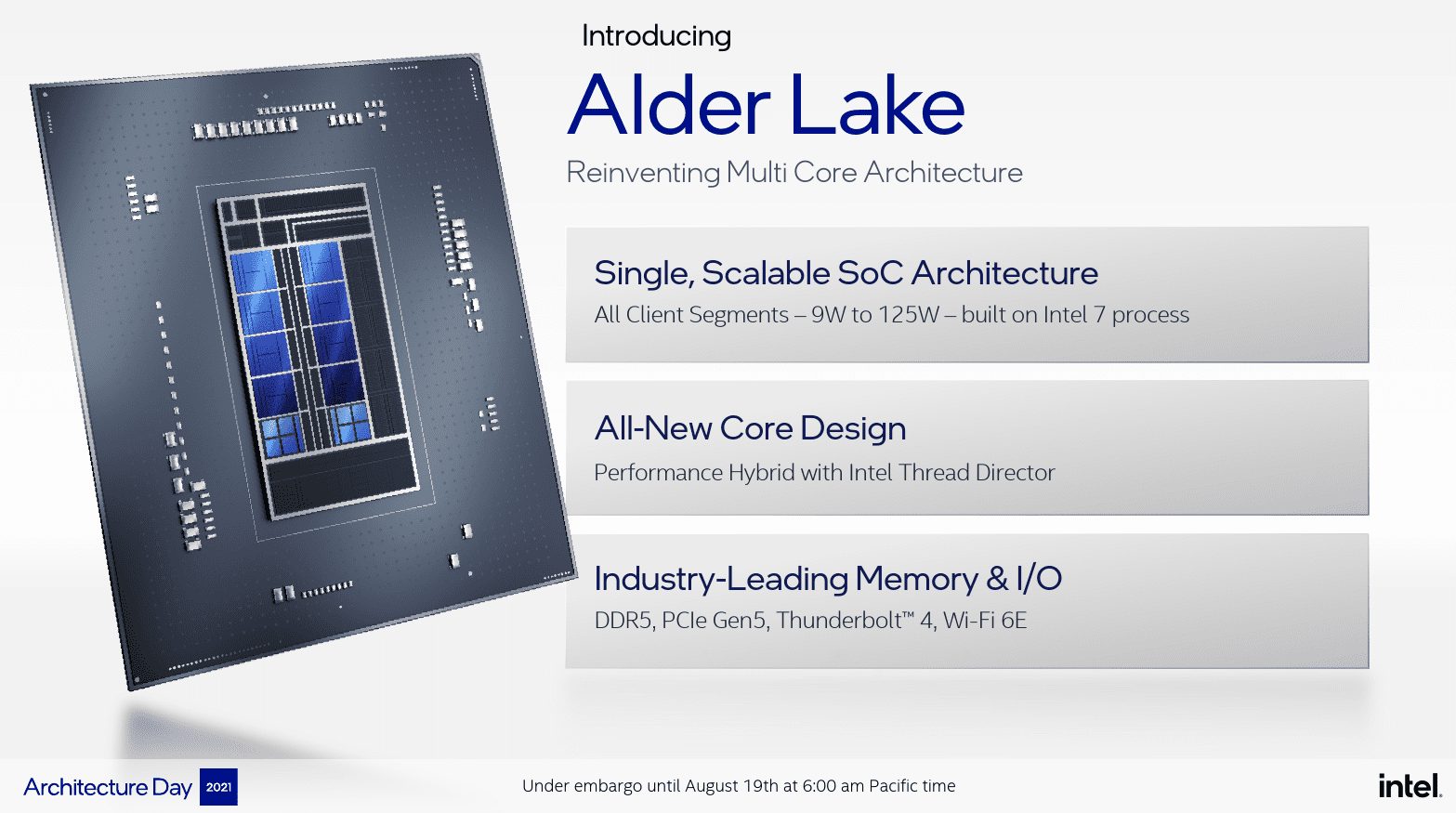 It brings us a wide array of changes and upgrades, including Intel's Performance Hybrid Architecture, and the latest I/O upgradability. These changes will be discussed shortly.
Alder Lake brings us a huge new lineup of CPUs, including new Xeon CPUs, which are yet to be launched.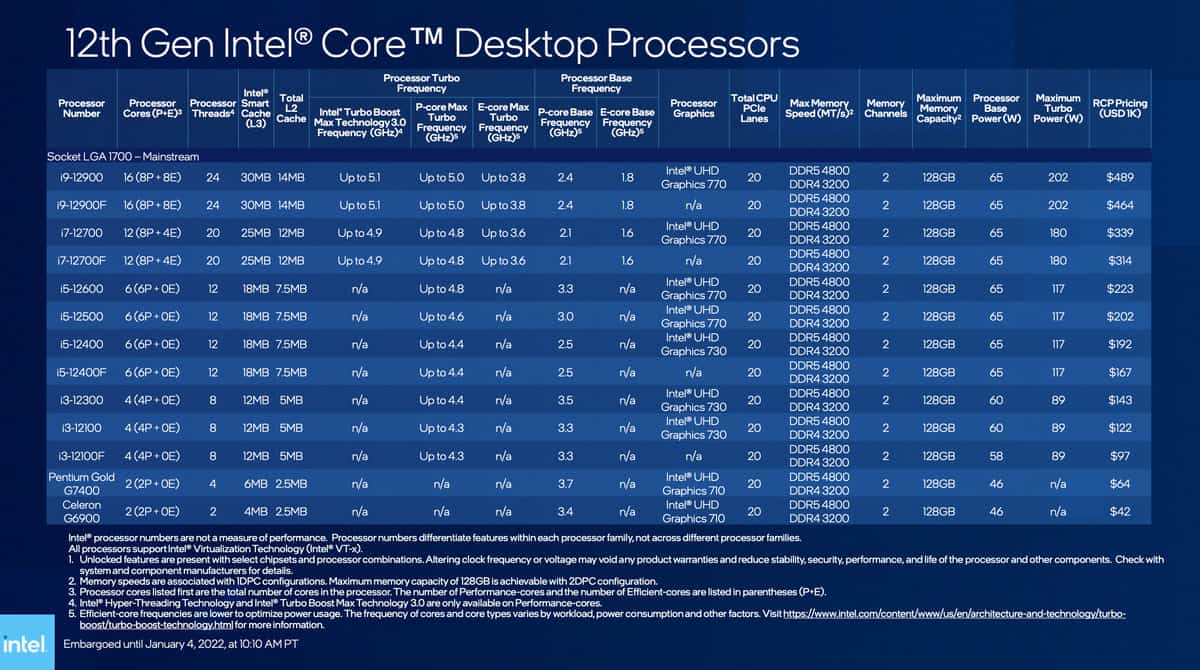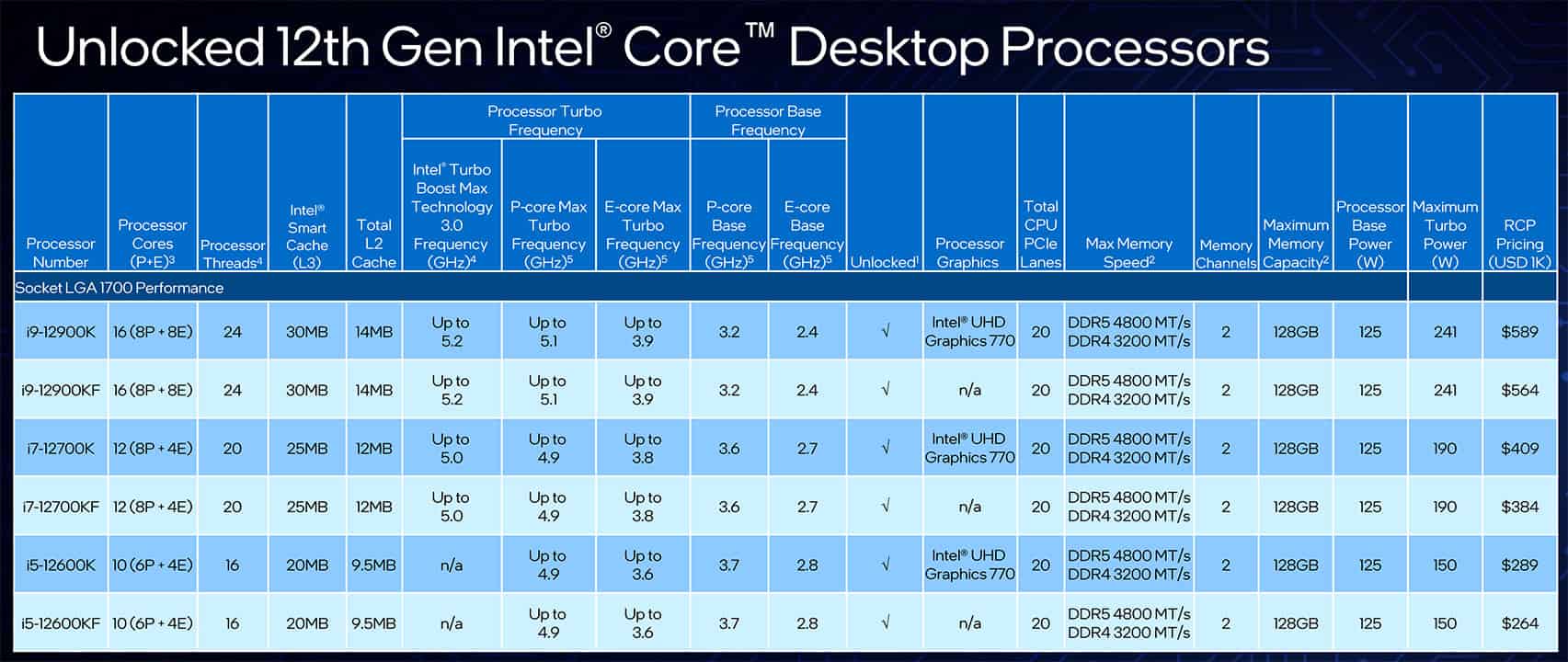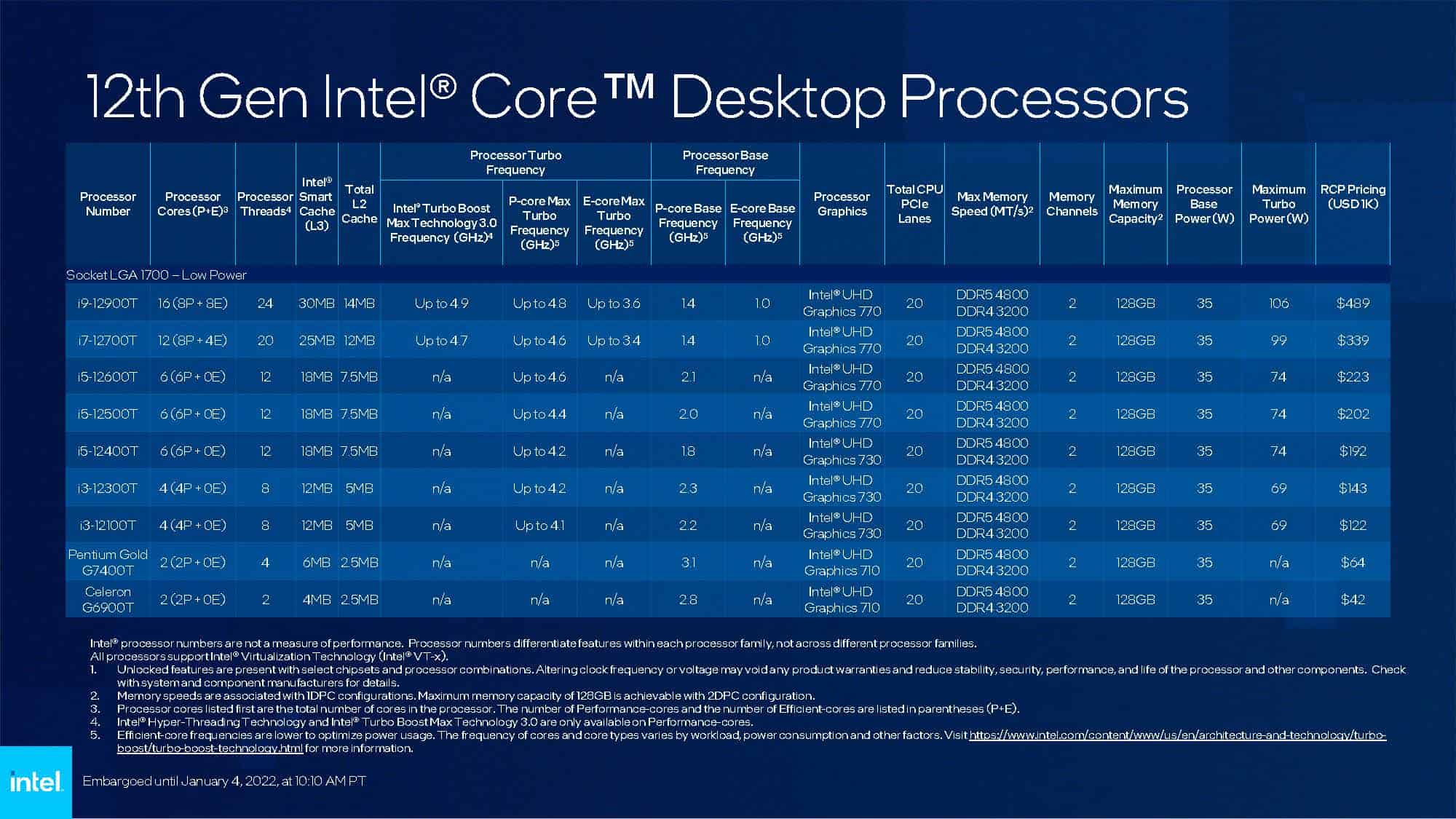 These 3 tables cover up the entire range of the new 12th Generation Alder Lake chips (minus the Xeons, yet to be launched) along with their main specifications. These CPUs will be running on one of four available Intel 600 Series Chipset motherboards.
Intel 600 Series Chipset
Same as Rocket Lake, Intel introduces us to four new chipsets supporting the new Alder Lake CPUs aimed at different price points. These are Z690, H670, B660, and H670.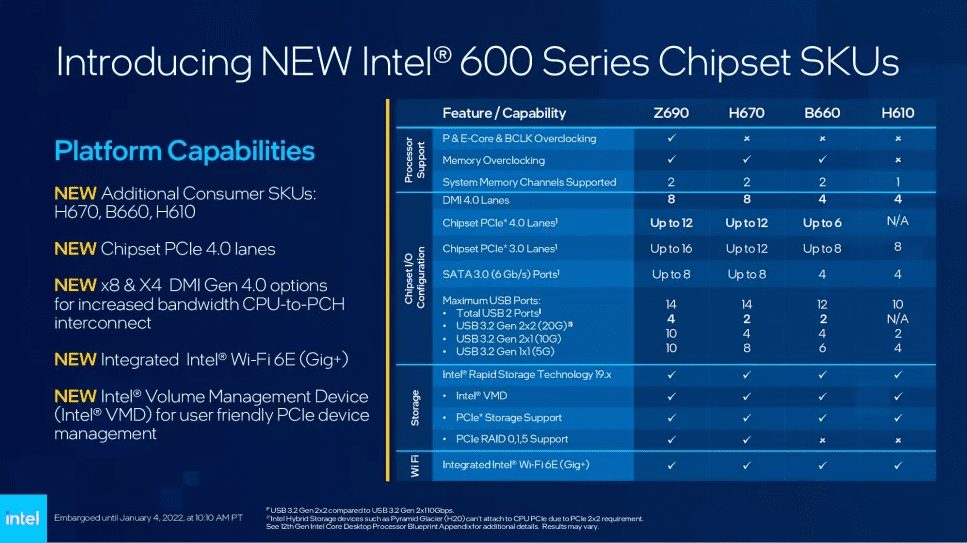 The main differences are that CPU overclocking is only supported on Z690, while H610 does not support overclocking of any type. H610 also supports only one memory channel. Furthermore, Z690 and H670 share the same 8 lanes of DMI 4.0, while the number of lanes is halved for B660 and H610.
Read our detailed guides if you're looking for a Z690, H670, B660, or H610 motherboard.
Hybrid Core Architecture
The biggest difference in the 12th Generation vs 11th Generation competition is the Hybrid Core Architecture from Intel, found in the Alder Lake CPUs. Intel's brand new Hybrid Core Architecture is implemented in its K and KF series SKUs and the locked i7 and i9 CPUs. This isn't the first time Intel has implemented the idea of two types of cores in a single CPU. Intel's Lakefield mobile CPUs, launched in 2020 followed the same idea. However, these CPUs, aimed for power efficiency, failed to compete with more powerful AMD CPUs, while laptops containing these chips were sold for high price points.
Again, Intel has fit two different types of cores, based on two different microarchitectures, into a single CPU die, this time on the desktop platform. These two cores are known as Performance (P) cores and Efficiency (E) cores.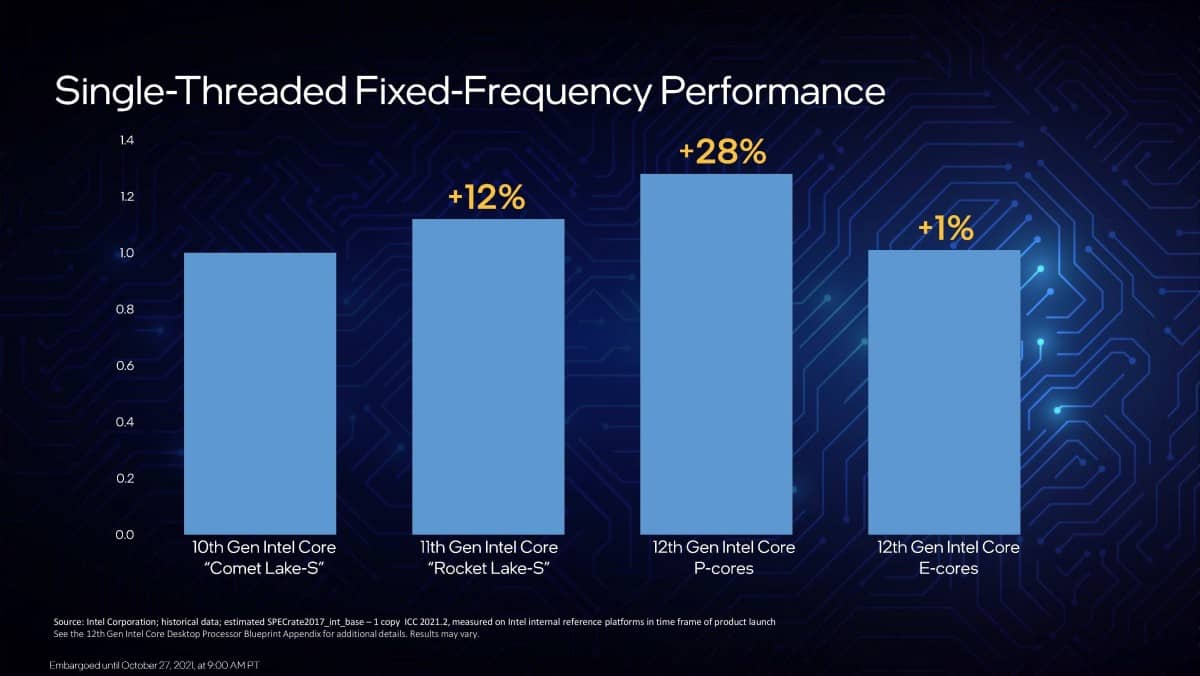 So, Intel claims a 50% increase in Multi-Threaded performance for the 12900K at the same power level as the i9-11900K, or the same performance at roughly 1/4th of the power draw 11900K. Intel also claims a 16% increase in single-threaded performance for the Alder Lake P cores compared to Rocket Lake cores at the same frequency.
Intel needed something new in order to compete with AMD, as simply increasing frequencies and trying to fit more cores into a single die was only decreasing power efficiency. With the 11th generation Rocket Lake CPUs being comprehensively beaten by the Ryzen 5000 series, Intel really stepped up with this Hybrid Architecture design. (Read: i5-12600K vs Ryzen 7 5800X)
Performance Cores
The Performance Cores are based on Intel's new Golden Cove microarchitecture. The Golden Cove microarchitecture, first unveiled in August 2020, provides an improvement of 19% in terms of IPC (instructions per cycle) compared to its immediate predecessor, Cypress Cove. Intel claims that this microarchitecture is the "biggest microarchitectural leap" in about a decade.
A single P core is nearly four times the size of a single efficiency cores. Each P core supports hyperthreading, and therefore has two threads. The P cores are intended for heavy workloads such as gaming and rendering, and therefore use more power as well.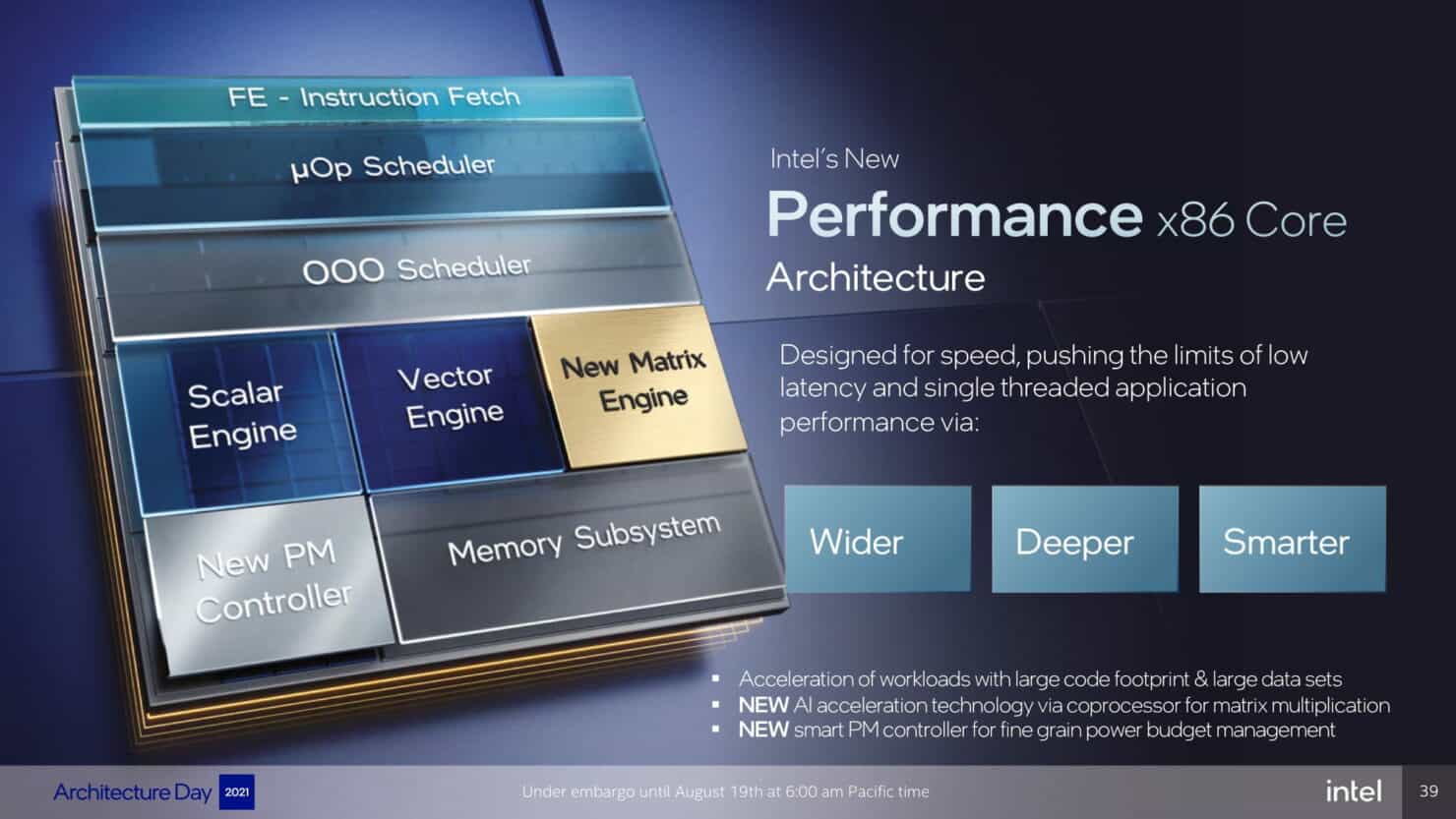 So, Intel claims that it has improved performance on the full-power Performance cores by designing them to be "Wider, Deeper and Smarter. "
Wider refers to an increase in the number of decoders from 4 to 6, and also an increase in the micro-operations processing per cycle (μops/cyc).
Deeper refers to an increase in the micro-operations cache from 2.25K to 4K, which leads to a higher hit rate.
Any numbers don't back up Intel's Smarter claim. However, Intel claims "Improved branch prediction accuracy" as well as a "Smarter code prefetch mechanism" for smarter operation.
Efficiency Cores
The Efficiency Cores, or Power Efficient Cores (E cores), are based on Intel's Gracemont microarchitecture. This microarchitecture succeeds Tremont, a microarchitecture implemented in Intel's low-power Atom, Celeron and Pentium CPUs. A single Gracemont core and outperform a single Skylake core by 40% at the same power level. Conversely, a single Gracemont core can deliver the same performance as a Skylake core at 40% less power. The Skylake microarchitecture was based on a 14nm process, and was used by Intel up to its 10th Generation of CPUs.
Efficiency cores are packed in clusters of four, with each having a single thread. These cores are optimized for multi-threaded performance and are meant to handle the smaller background tasks, while the P cores handle the heavier tasks.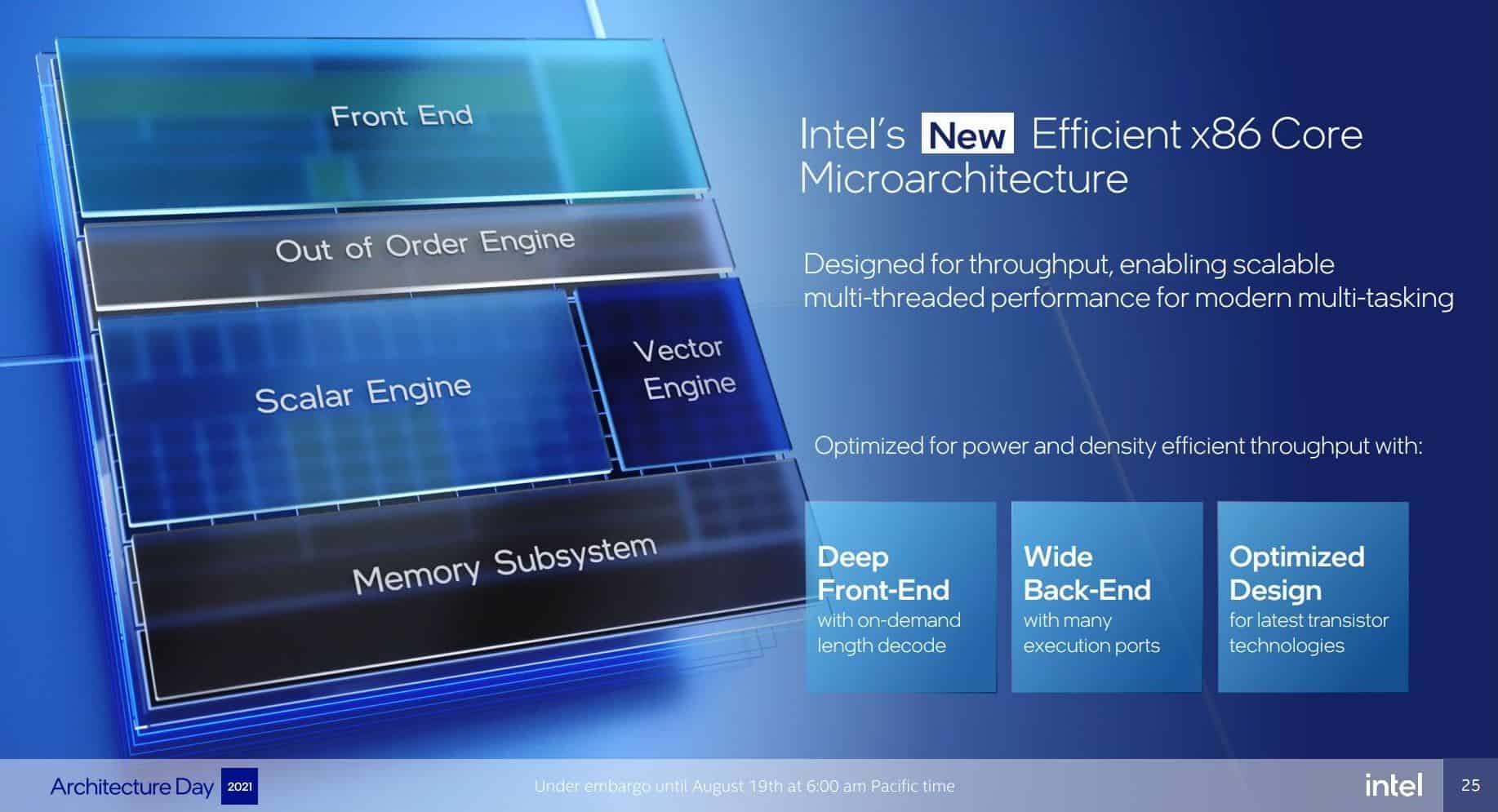 Intel claims to have optimized the E cores for power efficiency and efficient throughput with a Deep Front-End, a Wide Back-End, and a Design Optimized for the latest transistor technologies.
This table sums up the differences between these two types of cores:
| | |
| --- | --- |
| Performance Core | Efficiency Core |
| Based on Golden Cove microarchitecture | Based on Gracemont microarchitecture |
| Physically Larger | Physically Smaller |
| High-Performance Core with Higher Power Consumption | Less performance delivered at lower power |
| Supports Multithreading | No Multithreading |
| Optimized for Single-Threaded Performance | Optimized for Multi-Threaded Performance |
| Up to 80 KB L1 Cache | Up to 96 KB L1 Cache |
| Up to 1.25 MB L2 Cache | Up to 2 MB L2 Cache |
Performance Core vs Efficiency Core
These cores will be managed by Intel's Thread Director Technology. Intel has cooperated with Microsoft for a Task Scheduler in Windows 11, which allows these cores to be managed efficiently. For instance, the performance cores will remain parked when only light tasks like browsing and 1080P streaming are running, saving power. But they will be enabled when a heavy workload is fired up.
New i3, Celeron, and Pentium Chips
Unlike Rocket Lake, which did not feature any new i3, Celeron or Pentium chips, Alder Lake introduces us to two new i3 chips, and one Pentium and Celeron chip each. All these CPUs have different variants, and are differentiated by F or K suffixes.
Alder Lake Xeon CPUs
Recent leaks from Twitter user momomo_us reveal the block diagram for Intel's W690 chipset block diagram. This chipset will be supporting Intel's Alder Lake Xeon CPUs. These Alder Lake Xeon CPUs are codenamed Sapphire Rapids.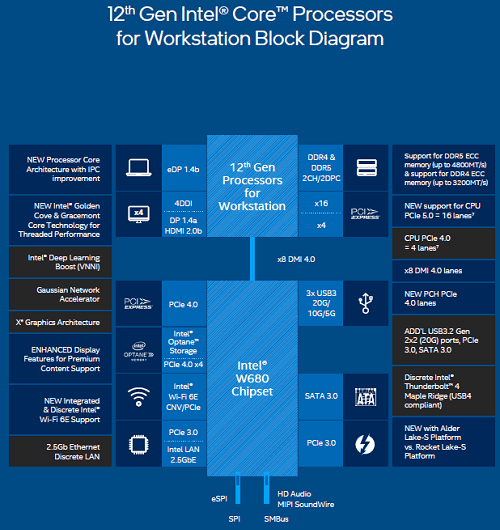 This W680 chipset will be supporting Intel's Xeon W33000 series (as well as the rest of the Alder Lake lineup) and will be running on the same socket LGA1700. Some European retailers have already listed W680 chipset motherboards on their websites.
So far, nothing is known of the details of these upcoming Xeon chips or their launch dates.
Integrated Graphics
The Alder Lake CPUs contain integrated graphics based on Intel's new Xe-LP microarchitecture. These integrated chips are codenamed "Alder Lake GT1 ". There are three ranges of Integrated Graphics: UHD 770, UHD 730 and UHD 710, with UHD 770 being the most powerful of the bunch. UHD 770 provides a performance difference of around 8% in older triple-A titles, compared to UHD 750 of Rocket Lake.
The integrated graphics or iGPU is not present on the K or KF CPUs. The i3 and lower-end i5 chips contain slightly weaker (compared to UHD 770) UHD 730 graphics with a lesser number of CUDA cores and lower boost clock speeds. Finally, the Celeron and Pentium chips contain further downgraded UHD 710 graphics. When comparing integrated graphics for the 12th Generation vs 11th Generation competition, the 12th Generation takes the edge with slightly improved performance.
Multicore Enhancement
The K series Alder Lake CPUs from Intel will have Multicore Enhancement enabled, by default. Multicore Enhancement allows the Intel CPUs to run faster than their advertised stock speeds. This applies if your CPU cooling solution supports it. This has never been implemented in Intel's previous generations of CPUs, and so becomes a major differentiating factor in the 12th Generation vs 11th Generation competition.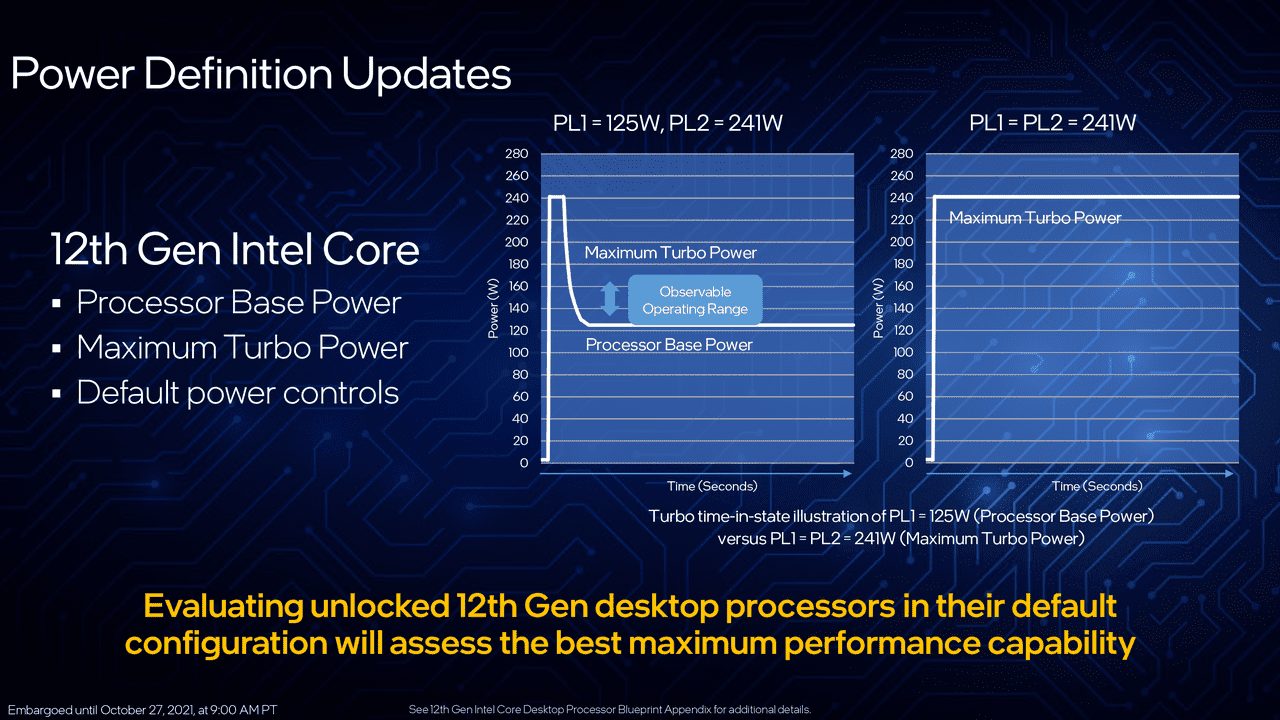 DDR5 Support
Intel announced support for DDR5 memory with the latest Alder Lake CPUs, and you can find DDR5 support on all four chipsets of motherboards.
DDR5 memory brings a lot of improvements on paper, such as improved capacity per module, higher base frequencies, built-in voltage regulation, and slightly better power efficiency. In the real world, however, DDR5 memory provides very little benefits in terms of performance. It's also much more expensive than DDR4 memory, and DDR5 supporting motherboards also pack a punch in terms of price.
PCIe 5.0
PCIe or Peripheral Component Interconnect Express is a bus standard that runs your powerful graphics cards, SSDs, and other add-on cards like sound cards or capture cards.
PCIe 5.0 is the latest standard which sees the transfer speeds being doubled to that of PCIe 4.0, with each PCIe 5.0 lane offering a transfer speed of 4 GB/s. So, PCIe 5.0 offers a bandwidth of up to 64 GB/s (with a 16 lane configuration) and transfer speeds up to 32 GT/s. PCIe 5.0 will also provide enough power to power even the RTX 3090 without the need for external power connectors, with the PCIe 5.0 x16 offering up to around 600 watts of power.
So far, though, there are no devices that require the bandwidth that PCIe 5.0 offers. PCIe 4.0 with 16 lanes is enough to run even the RTX 3090 at its full potential. Samsung became the first to announce PCIe 5.0 SSDs, that offer up to double the speeds than that of its previous Generation of SSDs.
Rocket Lake
Rocket Lake is the codename of Intel's 11th Generation CPU lineup, launched in March, 2021. Unlike Alder Lake, Rocket Lake did not provide any major leaps in performance despite being based on the New Cypress Cove microarchitecture.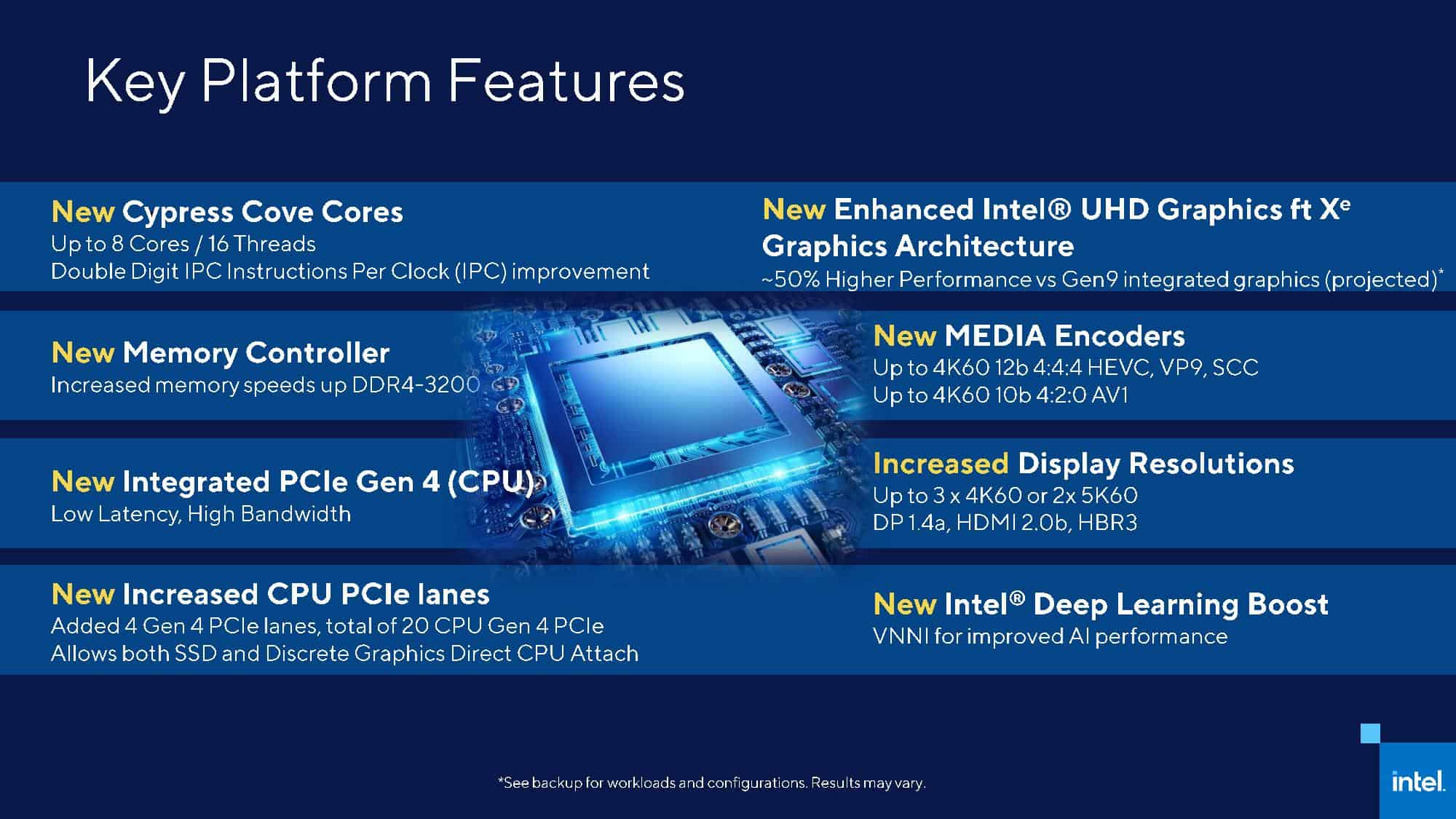 Cypress Cove
Cypress Cove is actually just a variant of Intel's mobile microarchitecture known as Sunny Cove. Sunny Cove, however, is based on a 10nm manufacturing process. Cypress Cove has been backported on the same 14nm manufacturing process that was used in previous Skylake generations. Intel had nothing to advertise in terms of pure performance other than "IPC Improvement." This was correctly advertised, as Rocket Lake comfortably beats out previous-gen Comet Lake CPUs in performance. The problem is that, they could not compete with AMD's Ryzen 5000 series.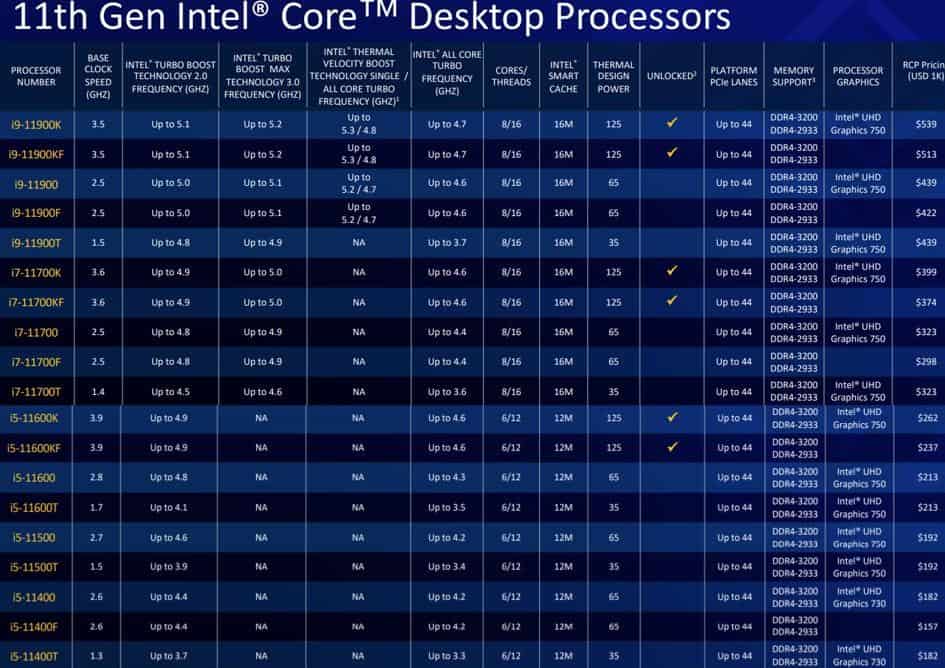 With a microarchitecture that was originally designated for a 10nm node, Intel had to reduce the number of maximum cores and was limited to up to 8 cores only. The 11900K features 8 cores and 16 threads, while 10900K features 10 cores and 20 threads.
Intel 500 Series Chipset
The Intel 500 series chipsets follow the same pattern as that of the 600 series, introducing us to four chipsets that support the 11th Generation CPUs, Z590, H570, B560, and H510. These motherboards will also support Intel's 10th Generation (Comet Lake) chips since they're based on the same socket LGA 1200.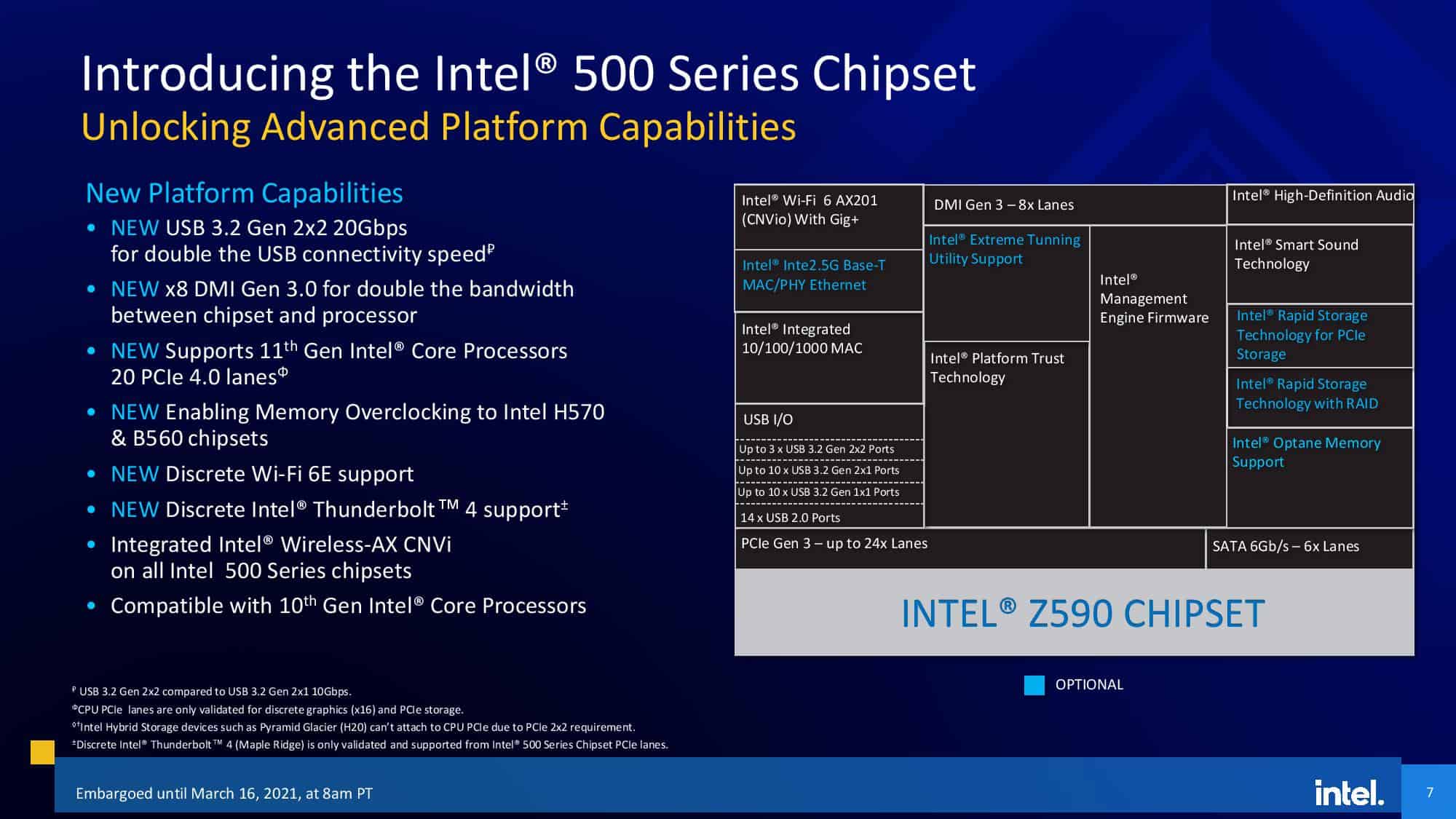 This chipset brought about some noticeable improvements, such as support for USB 3.2 20Gbps, DMI 3.0 x8 with double the bandwidth (16 GT/s), as well as Wi-Fi 6E and Thunderbolt 4. Wi-Fi 6E and Thunderbolt 4 were far from the mainstream when this chipset was launched, and they're even many 600 series motherboards on which you won't find them. Another thing is that memory overclocking was extended to the cheaper H570 and B560 chipsets, whereas, memory overclocking was only supported on the "Z" chipsets before.
Thunderbolt 4.0
Thunderbolt is the interface that supports your chargers and displays, and even SSDs that run on this interface. Intel's 11th Generation lineup supports Thunderbolt 4.0, the latest entry for this technology.
Thunderbolt 4.0 does not offer any improvements in speed over Thunderbolt 3.0, with both offering transfer speeds of 40 GB/s. However, it brings some noticeable improvements. Thunderbolt 4.0 increases the minimum data rate required through PCIe to 32 GB/s, double than that of Thunderbolt 3.0's 16 GB/s. It also has better display support, and compatibility for up to two 4K displays, or a single 8K display. Also, Thunderbolt 4.0 docks will typically feature more ports than the amount seen for Thunderbolt 3.0.
Wi-Fi 6E
The Rocket Lake CPUs became the first to support Wi-Fi 6E, which is the latest Wi-Fi technology, supporting 6 GHz. 6 GHz Wi-Fi provides a massive 1200 MHz spectrum to accommodate an influx of connections running within a small radius. The 6 GHz Wi-Fi also supports speeds of over 1 Gigabyte Per Second. 6 GHz Wi-Fi has a shorter range than 5 GHz and 2.4 GHz Wi-Fi.
Integrated Wi-Fi 6E are commonly found on the more expensive Z590 motherboards, since it is not mainstream yet. If that's not an option, there are plenty of Wi-Fi 6E adapters available on the market that will do the same job.
Gaming and Productivity
Now we'll look at some gaming and productivity benchmarks and compare the two generations. We will test the i9-12900K, i7-12700K and i5-12600K, and compare them with their direct predecessors: the i9-11900K, i7-11700K, and the i5-11600K, respectively. But before that, a quick overview of how these CPUs differ
12900K vs 11900K
12900K
11900K
Cores (Threads)
8P, 8E (24)
8 (16)
Base Frequency
3.2 GHz for P core

2.4 GHz for E core

3.50 GHz
Turbo Frequency
5.2 GHz for P core

3.9 GHz for E core

5.3 GHz
Total Cache
30 MB
16 MB
Base Power
125W
125W
Turbo Power
241W
Not

Advertised

Price Today
$610
388$
12700K vs 11700K
12700K
11700K
Cores (Threads)
8P, 4E (20)
8 (16)
Base Frequency
3.6 GHz for P core

2.7 GHz for E core

3.6 GHz
Turbo Frequency
4.9 GHz for P core

3.8 GHz for E core

5.0 GHz
Total Cache
25 MB
16 MB
Base Power
125W
125W
Turbo Power
190W
Not

Advertised

Price Today
$384
$345
12600K vs 11600K
12600K
11600K
Cores (Threads)
6P, 4E (16)
6(12)
Base Frequency
3.7 GHz for P core

2.8 GHz for E core

3.9 GHz
Turbo Frequency
4.9 GHz for P core

3.6 GHz

4.9 GHz
Total Cache
20 MB
12 MB
Base Power
125W
125W
Turbo Power
150W
Not

Advertised

Price Today
$279
$215
All these tests are carried out with DDR4 memory, and AMD's RX 6900XT. The OS is Windows 11.
Gaming Benchmarks
Before getting into our benchmarks, let's look at Intel's advertised gaming benchmarks for Alder Lake;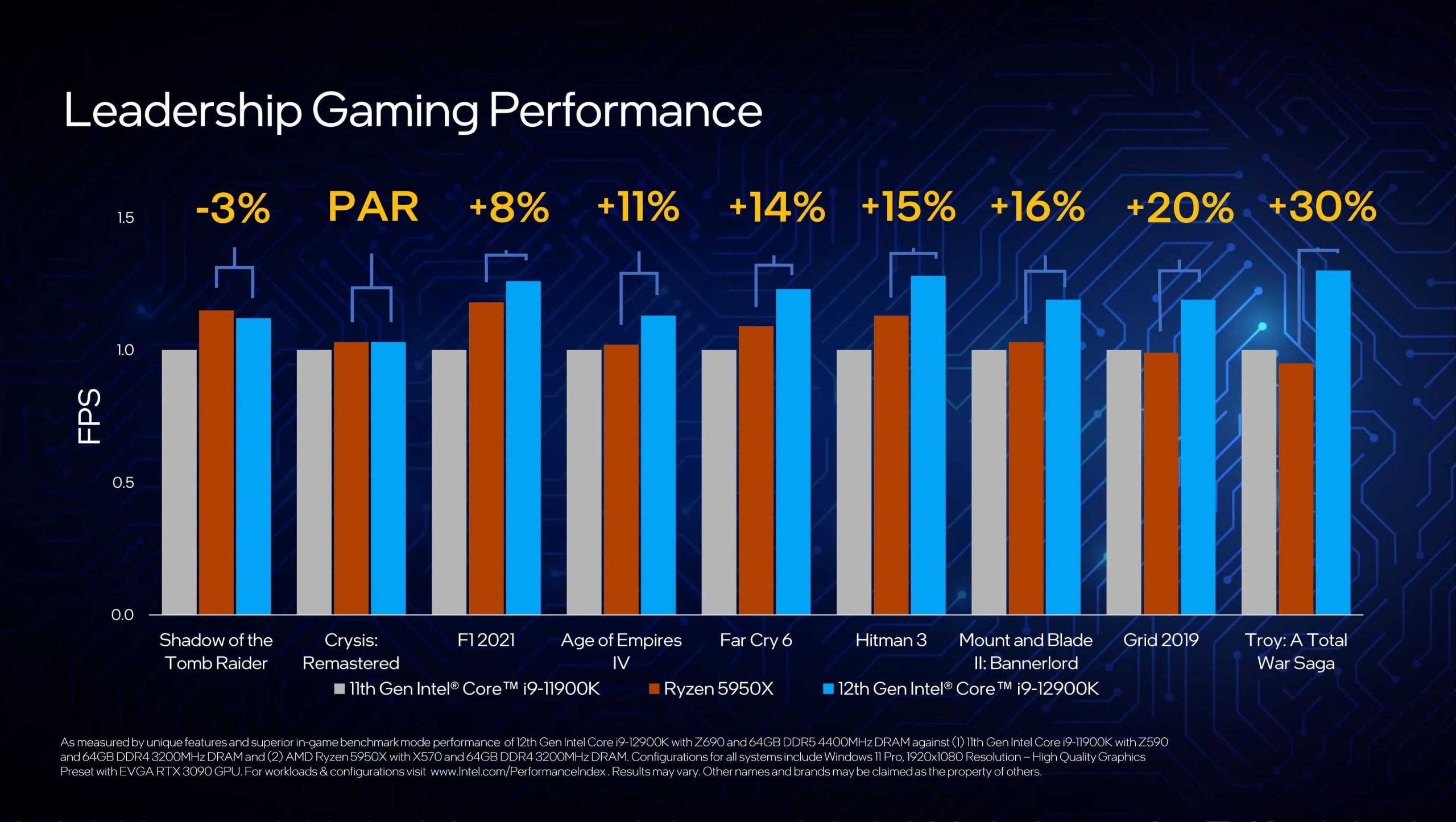 So, according to Intel's benchmarks, the most powerful Alder Lake chip, the i9-12900K outperforms its predecessor i9-11900K in all the benchmarks. Compared to AMD's Ryzen 5950X, its only beaten in Shadow of the Tomb Raider by 3%. (Read: i9-12900K vs Ryzen 5900X)
Now, let's see what our benchmarks show us.
Age of Empires IV
In our Age of Empires 4 benchmark, the 12600K and the 12900K take the biggest advantage in terms of average FPS and %1 lows, delivering a very impressive performance improvement over their predecessors. Also, it needs to be said that the %1 Lows or Average FPS, individually, are not good metrics for measuring performance. The lower the gap between average FPS and %1 lows, the better the performance, and our Alder Lake chips show much smaller gaps than the Rocket Lake chips, which sets them apart significantly in terms of performance.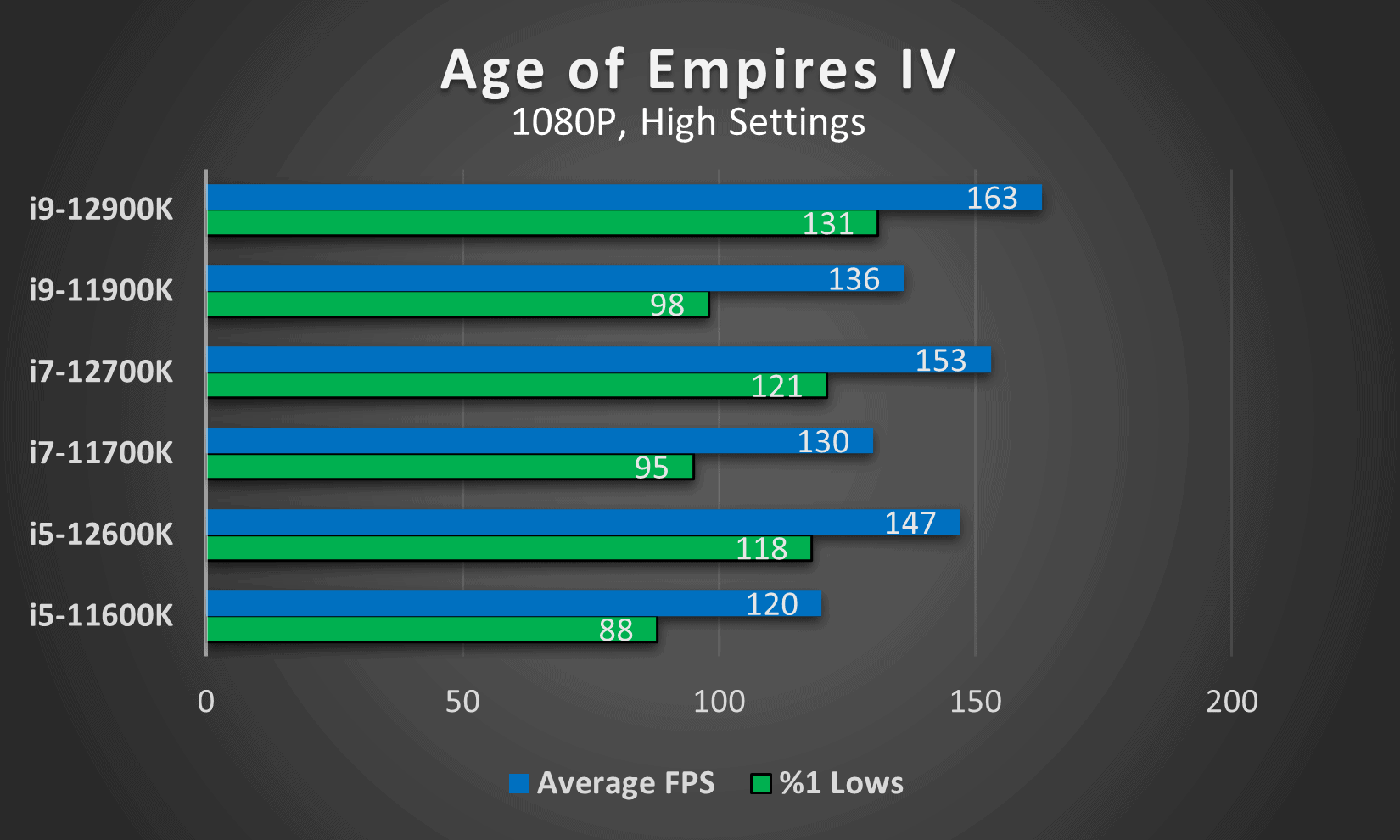 Borderlands 3
In Borderlands 3, the 12th Generation chips show very little difference in terms of average FPS. However, they again show lesser gaps between average FPS and %1 lows, compared to their predecessors.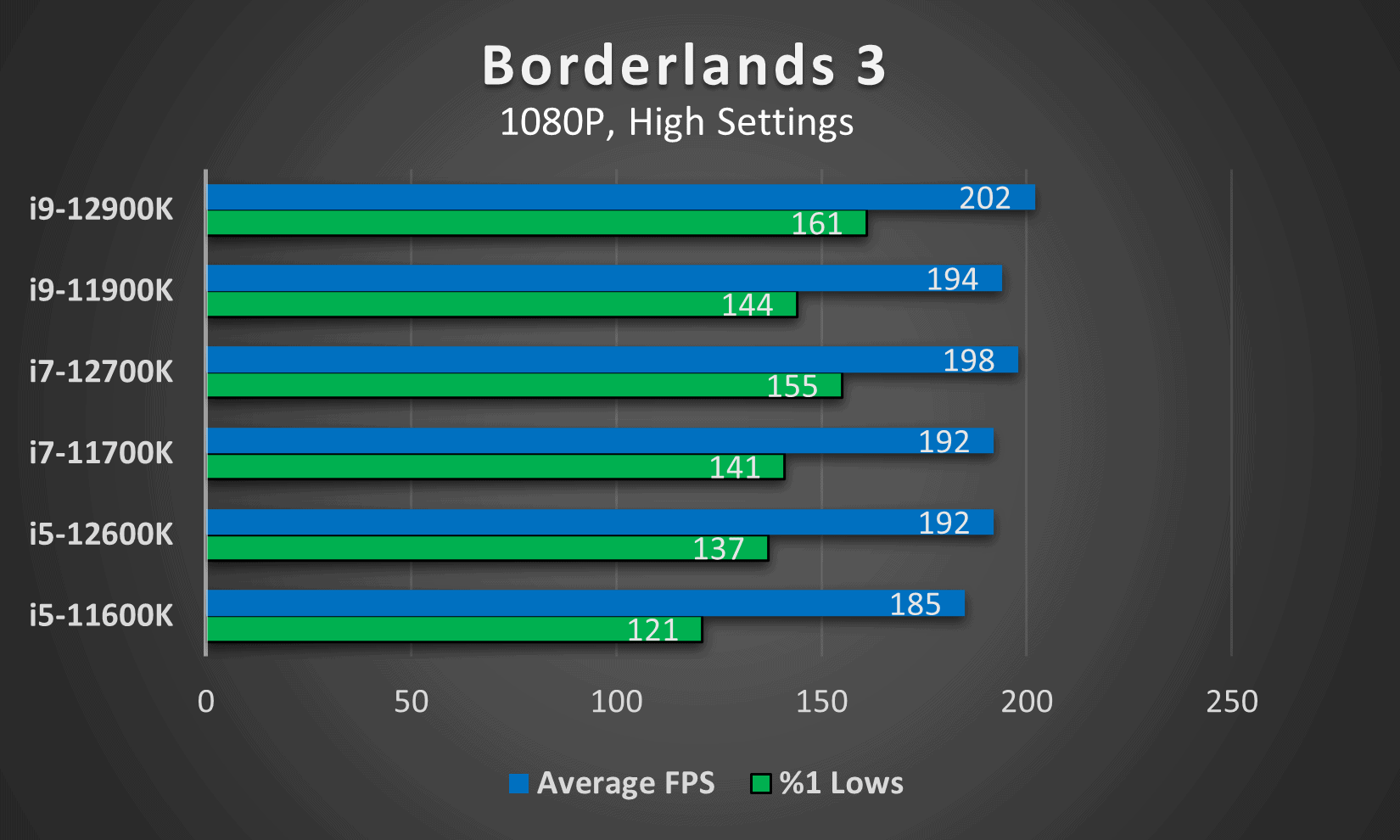 Cyberpunk 2077
Our Cyberpunk benchmarks show us remarkably similar results, to say the least. The only noticeable performance difference is between 12600K and its predecessor, 11600K.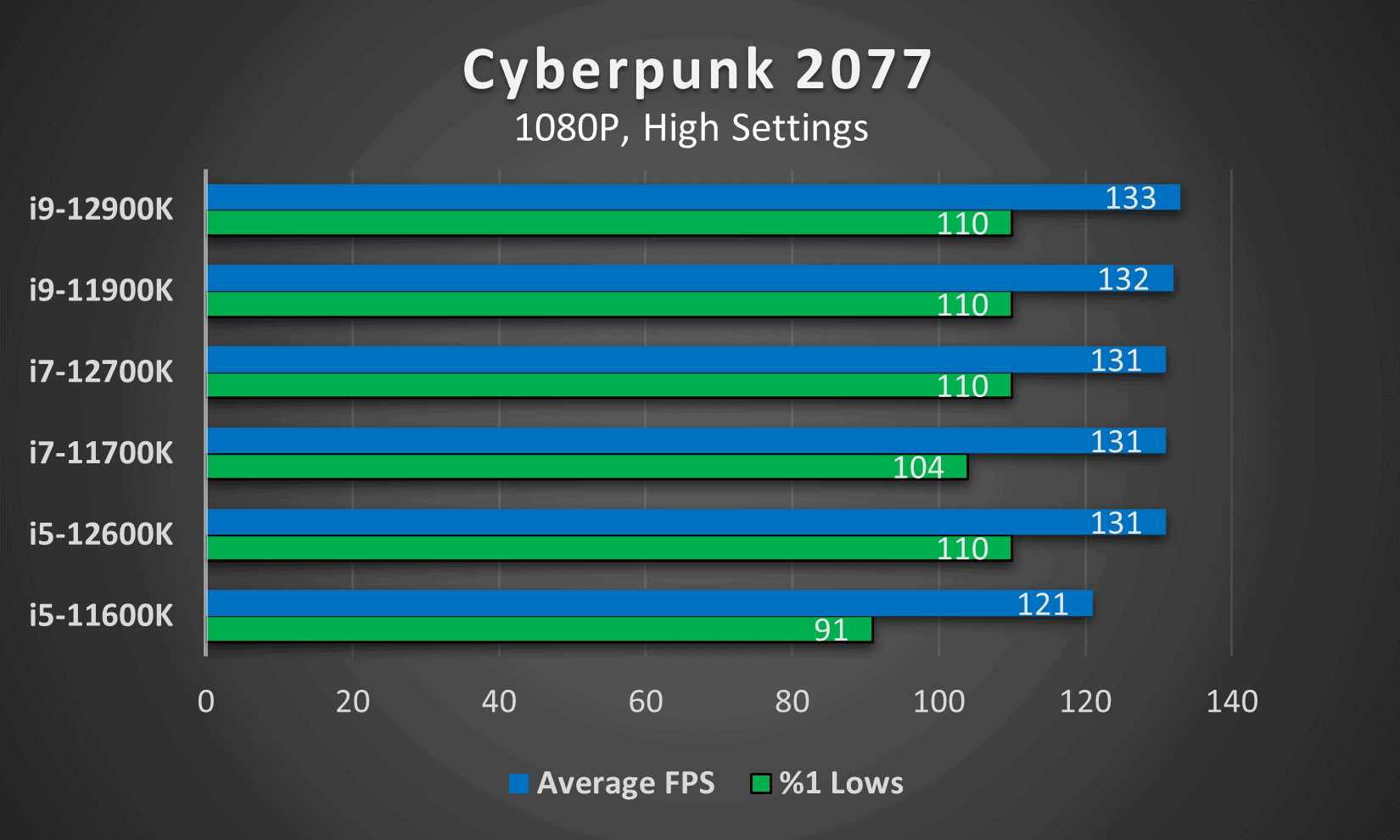 F1 2021
In F1 2021, we see some noticeable improvements in average FPS, but the gaps between %1 lows and average FPS is very similar for both generations.
Guardians of the Galaxy
Not much to be said here, both the generations show remarkably similar performances in our Guardians of the Galaxy benchmark.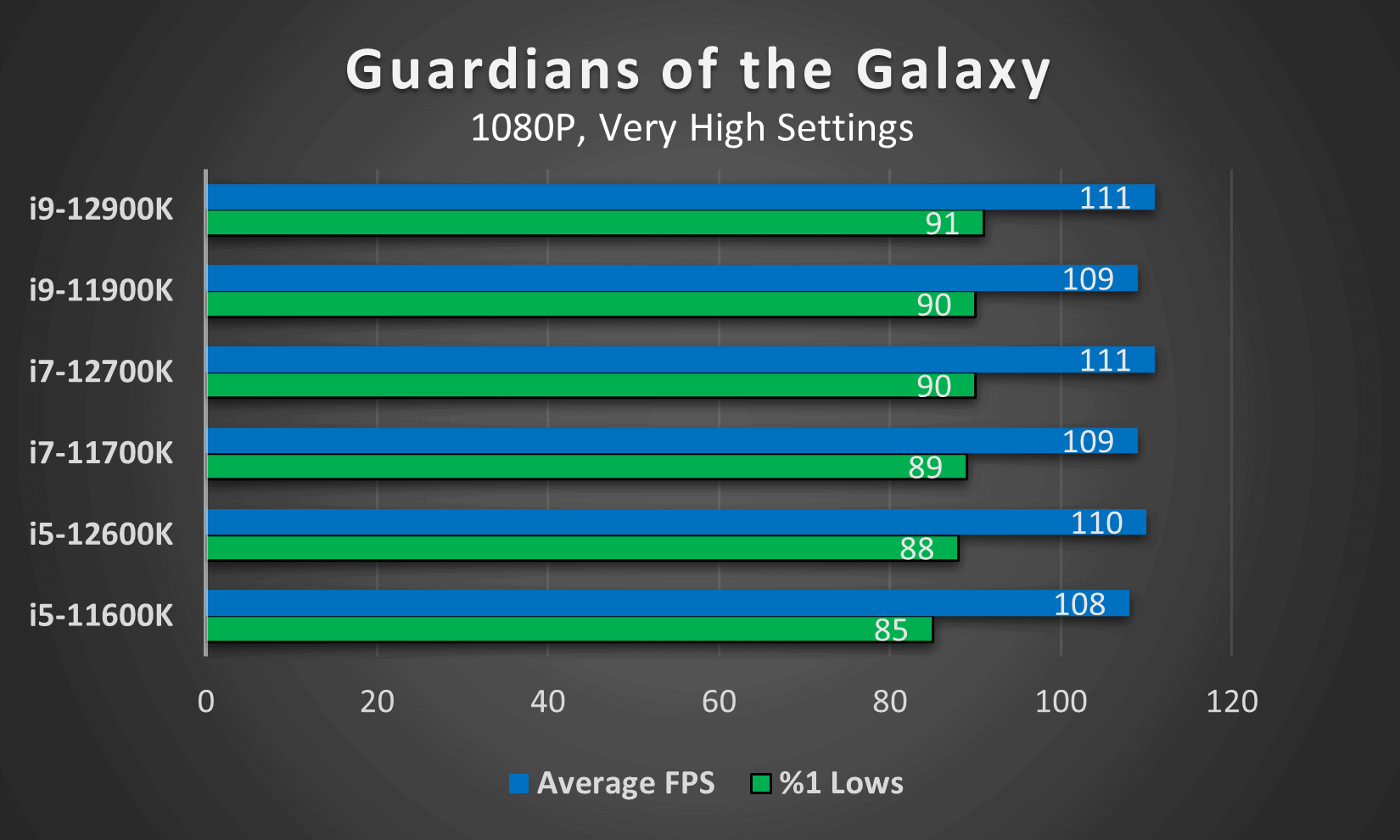 Hitman 3
In Hitman 3, again, there's not much noticeable difference except for the 12600K, which shows much improved average FPS over the 11600K.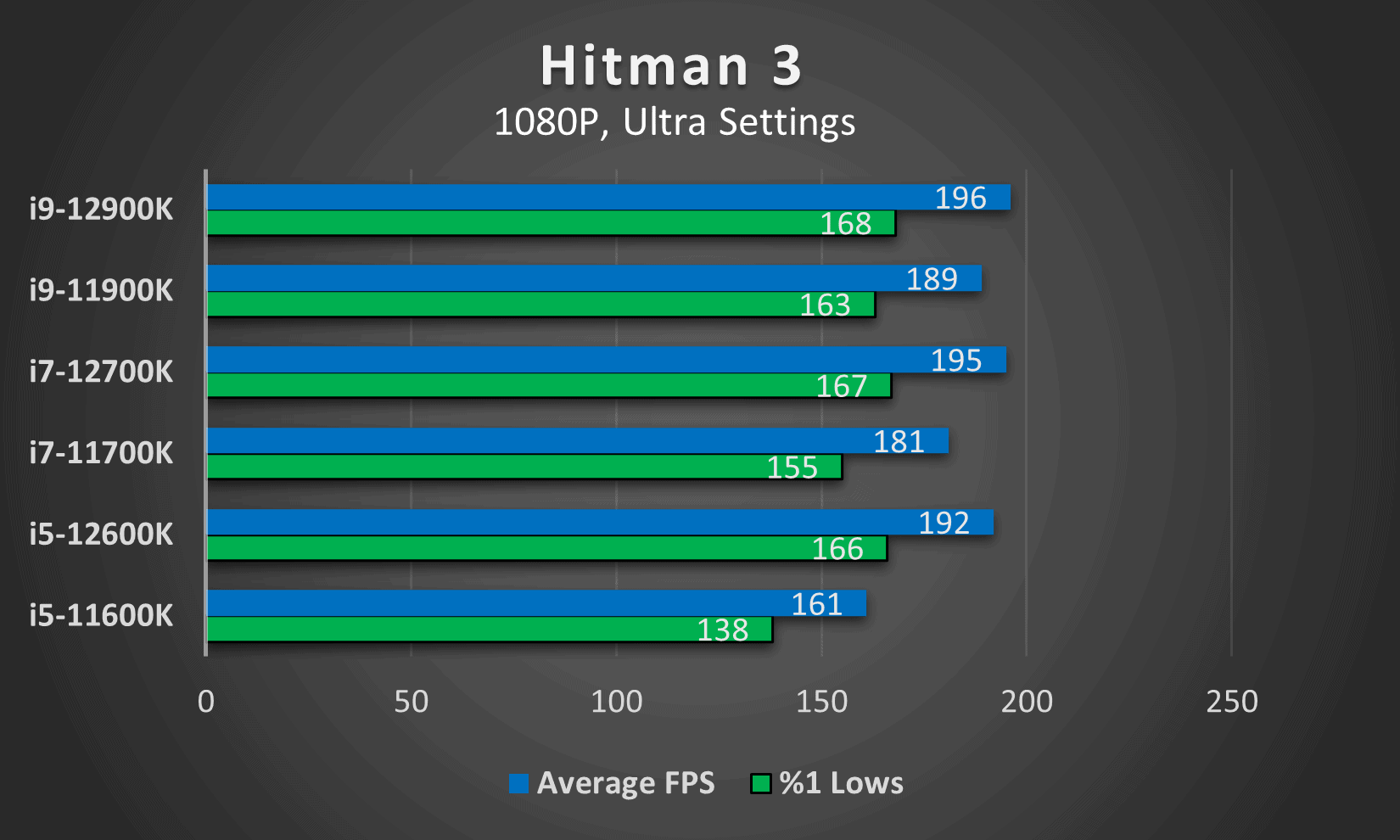 Rainbow Six Siege
In Rainbow Six Siege, the 12600K, again, shows the biggest improvement in terms of average FPS and %1 Lows. The 12900K and 12700K also show noticeable improvements over their predecessor.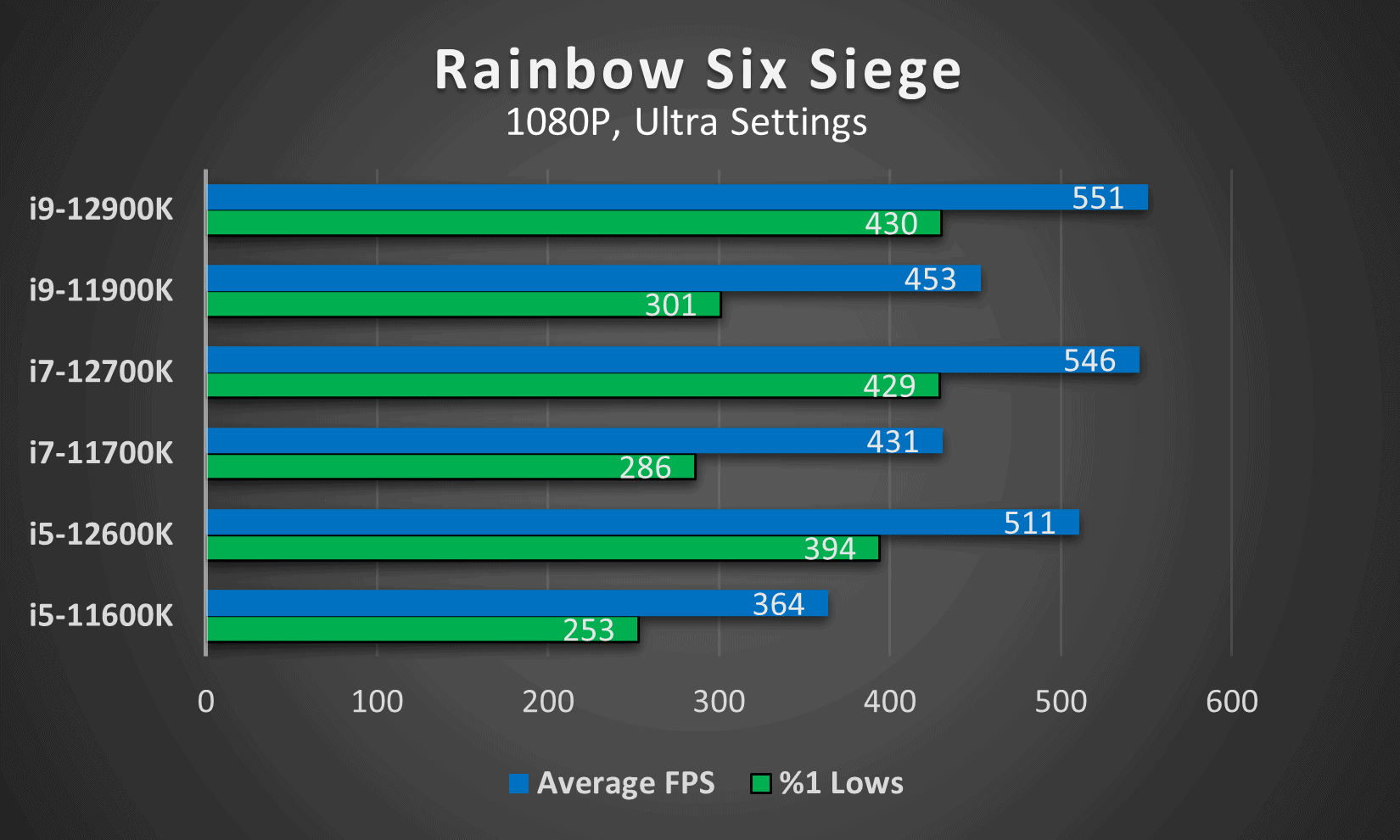 Shadow of the Tomb Raider
In Shadow of the Tomb Raider, the performance difference is again quite similar when comparing 12900K and 12700K against their predecessors. The 12600K, yet again, shows the more major performance difference over its predecessor, the 11600K.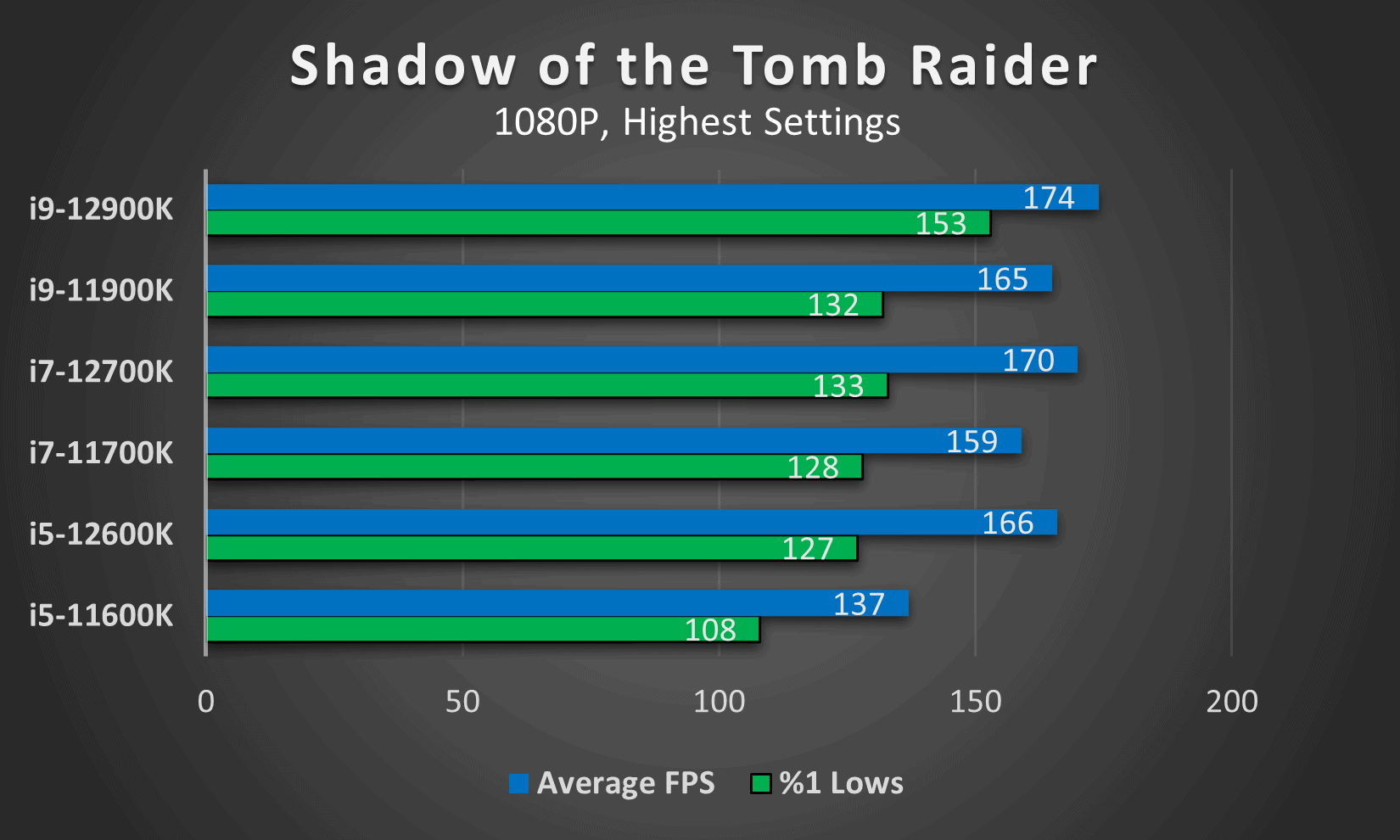 Watch Dogs: Legion
Our Watch Dogs: Legion benchmark shows us that the 12th Generation CPUs take a noticeable lead over the 11th Generation. The 12600K shows the biggest performance leap.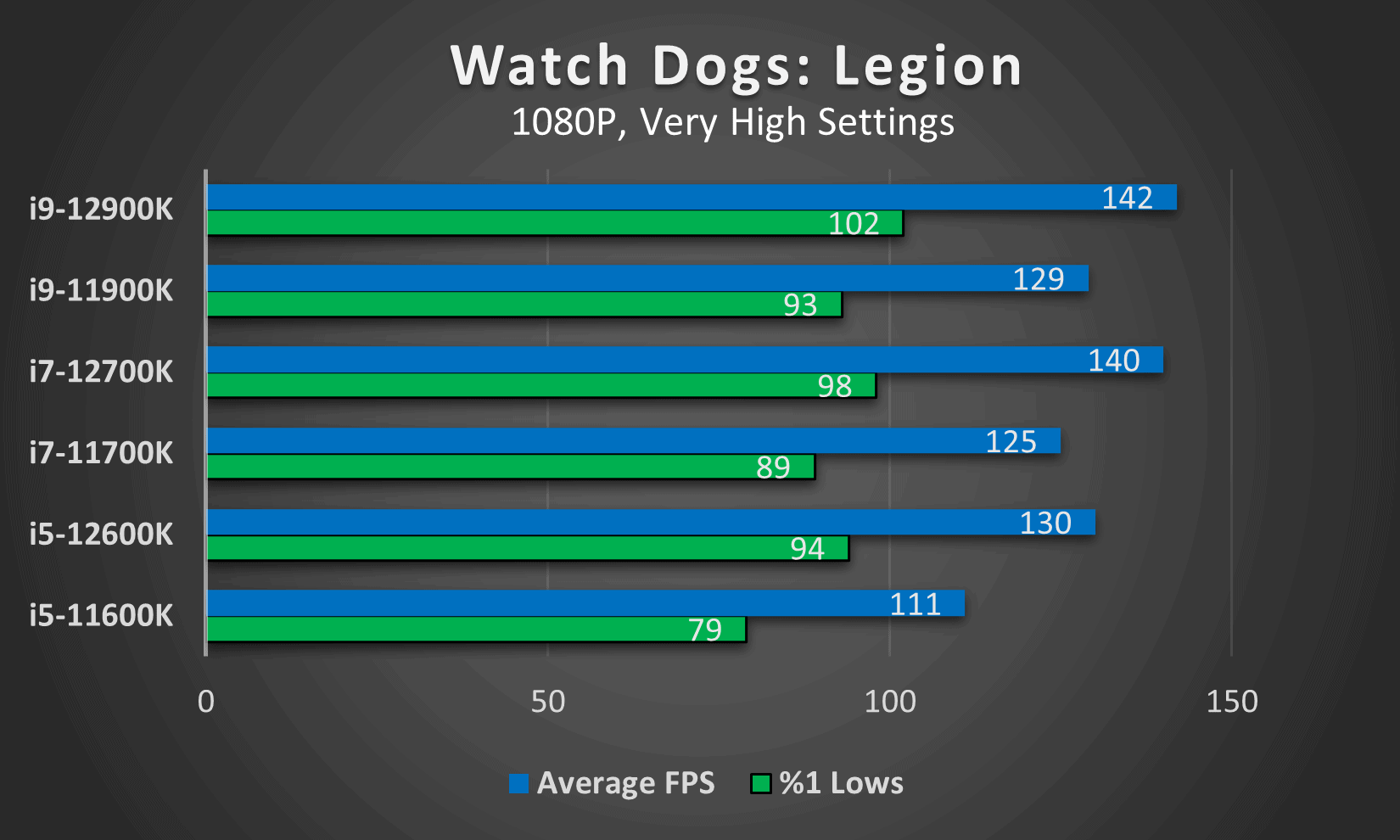 Average Across 10 Games
To wrap up our gaming benchmarks, we will average out the average FPS as well as the %1 Lows across the 10 tested games, to give us a good idea of overall performance improvements.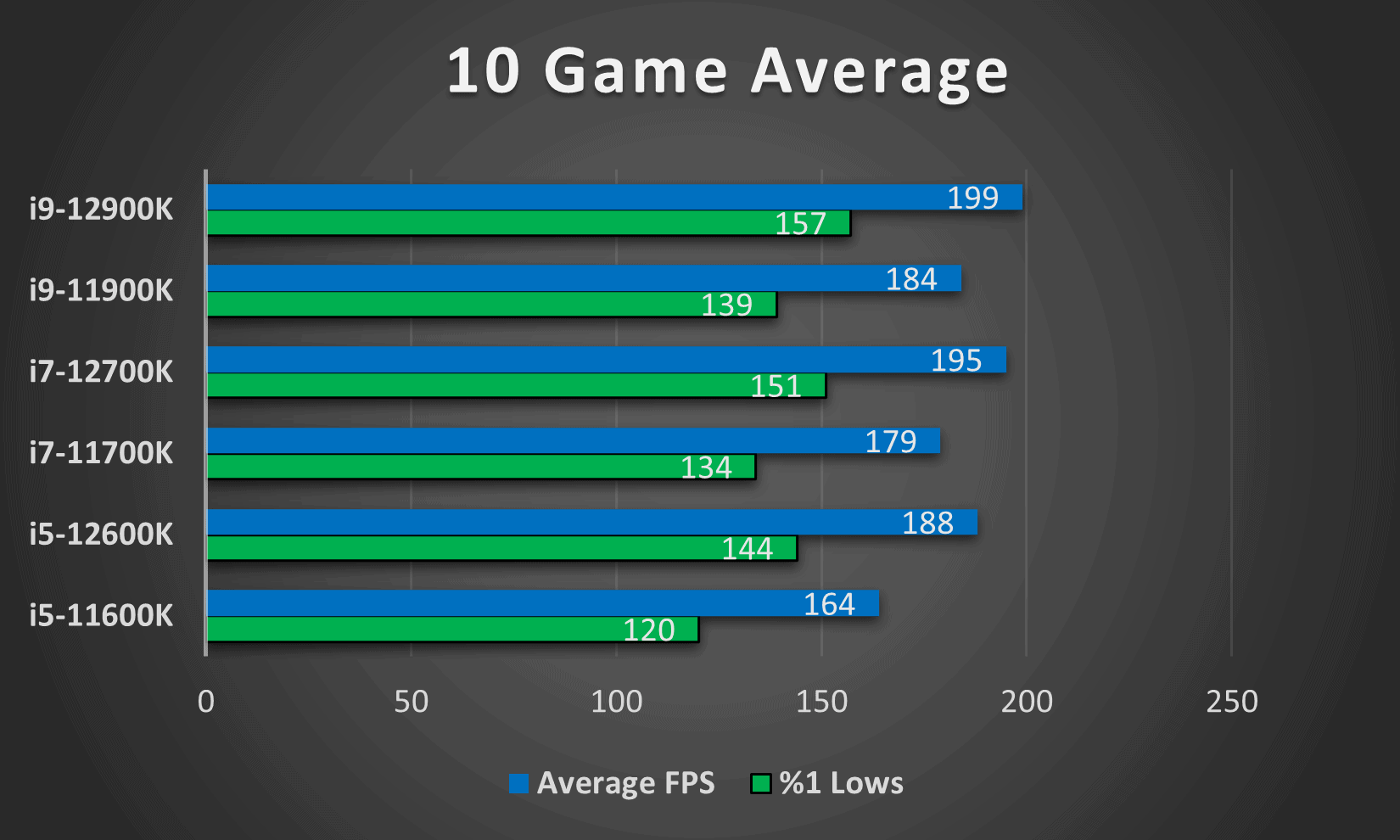 Averaging the benchmarking results of the 10 games, we find that there is an FPS boost of around 15 frames per second for the i7 (8.9%) and i9 (8.1%) CPUs over the previous Generation. The i5-12600K (14.6%), on the other hand, shows a much larger leap over its predecessor, i5-11600K. Looking at every game individually, we can see that the biggest differences are recorded in Rainbow Six Siege, Age of Empires IV and F1 2021. The i5-12600K shows reasonable performance differences over the 11600K in every game except Guardians of the Galaxy.
Productivity Benchmarks
With the gaming benchmarks behind us, let's get into the productivity benchmarks.
Cinebench R23 Multicore
In our Cinebench R23 Multicore test, the Alder Lake CPUs show massive gains in performance over Rocket Lake. The 12900K shows a whopping 75% improvement in score over the 11900K.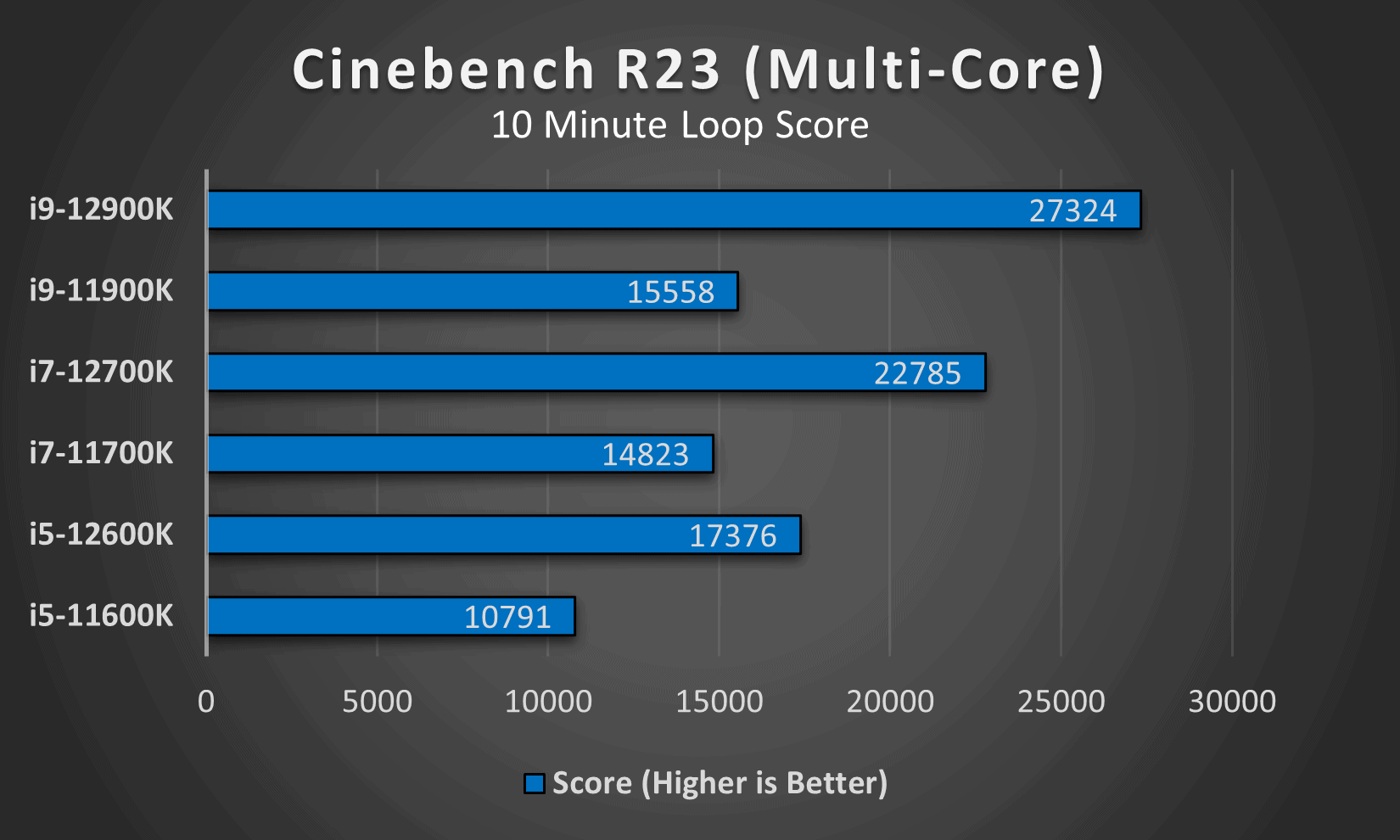 Cinebench R23 Single Core
The 12th Generation CPUs show much improved single-core performance over their predecessors, as is evident from our Cinebench R23 Single-Core benchmark.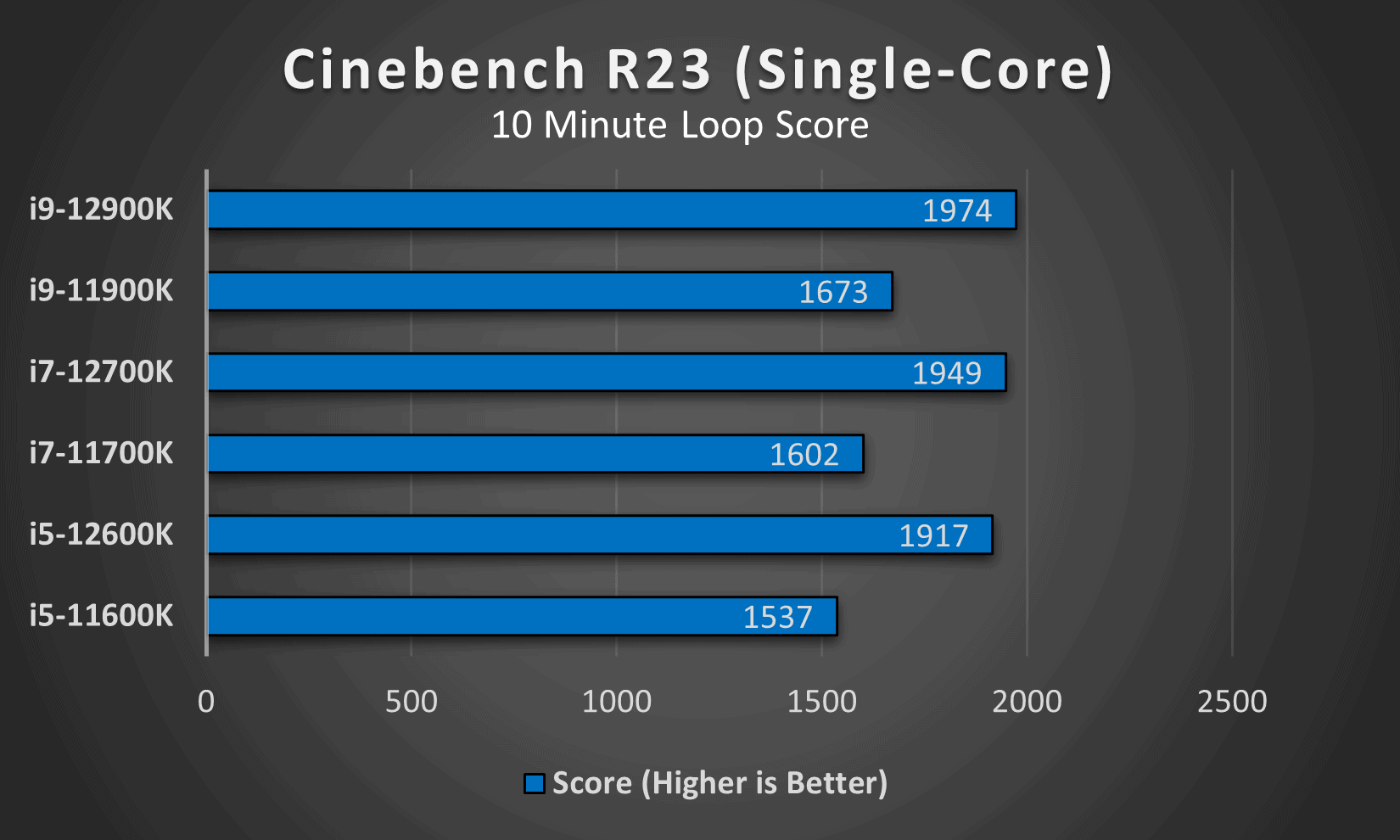 Adobe After Effects 2022
In our Adobe After Effects Puget Systems Benchmark, the Alder Lake chips, again, show noticeable gains over their Rocket Lake predecessors.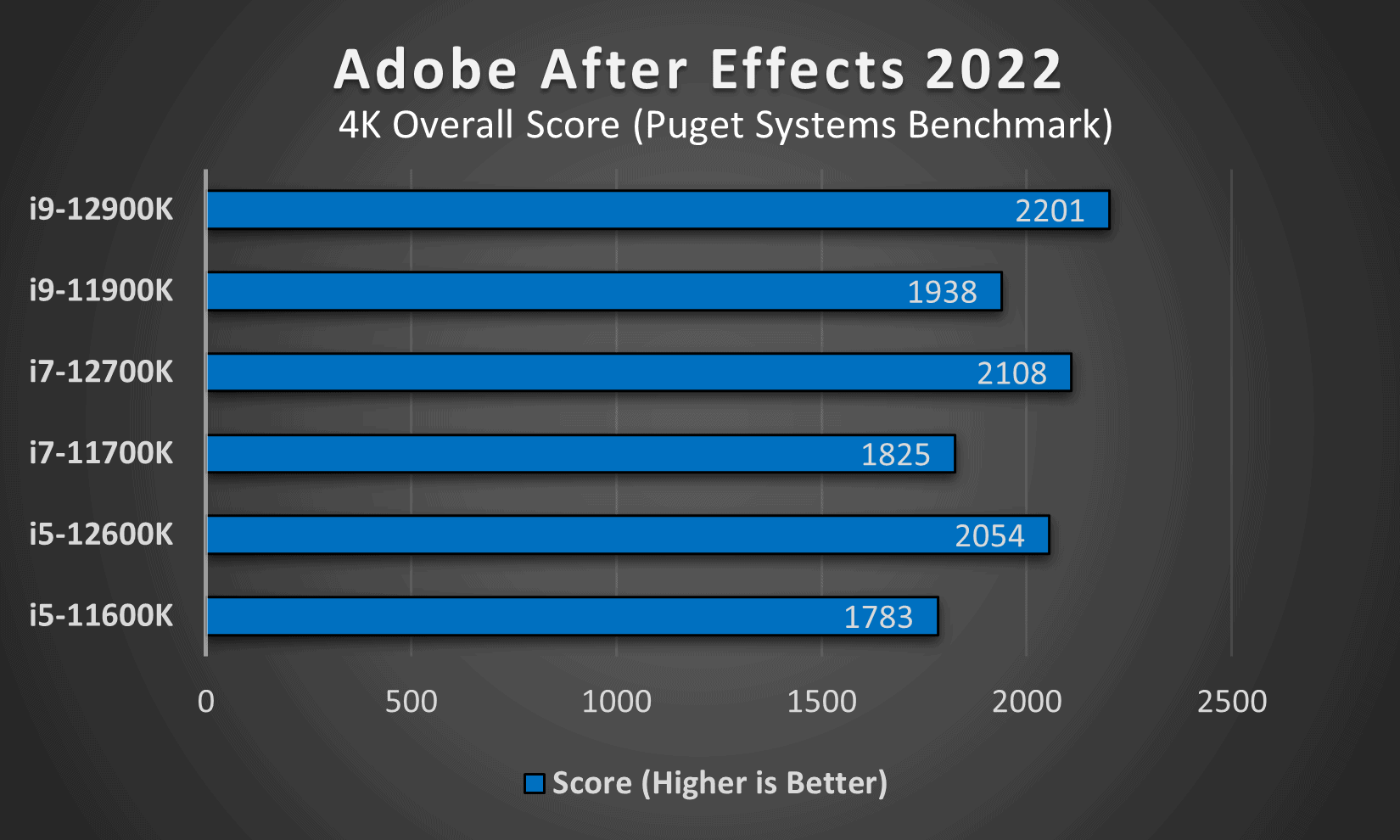 Adobe Photoshop 2021
Same story as above, the Rocket Lake CPUs fall significantly behind in rendering score in our Adobe Photoshop Puget Systems Benchmark, with the 12th Generation CPUs taking strong leads.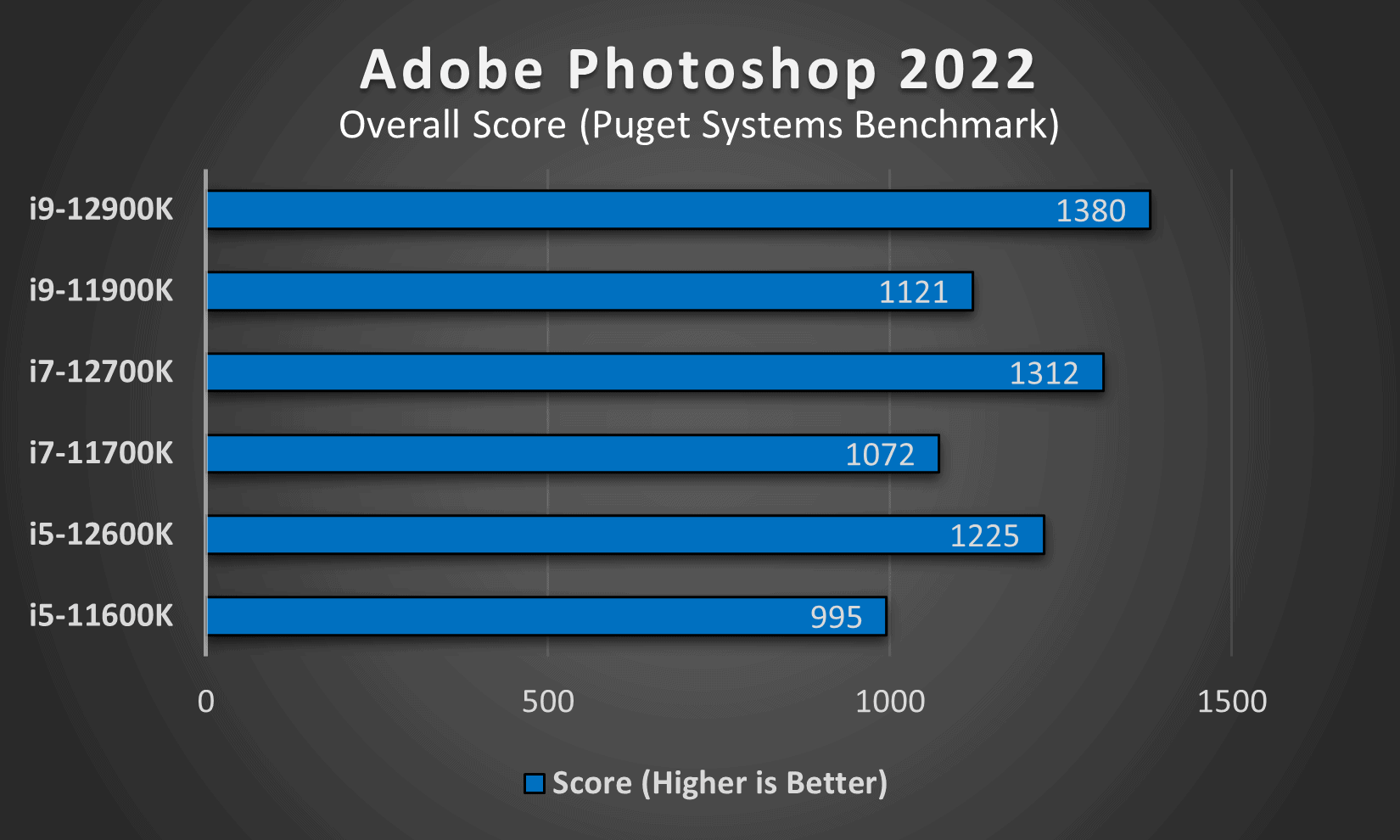 Adobe Premiere Pro 2021
In our Adobe Premiere Pro benchmark, the 12700K shows the highest leap over its predecessor. The 12600K also shows big gains.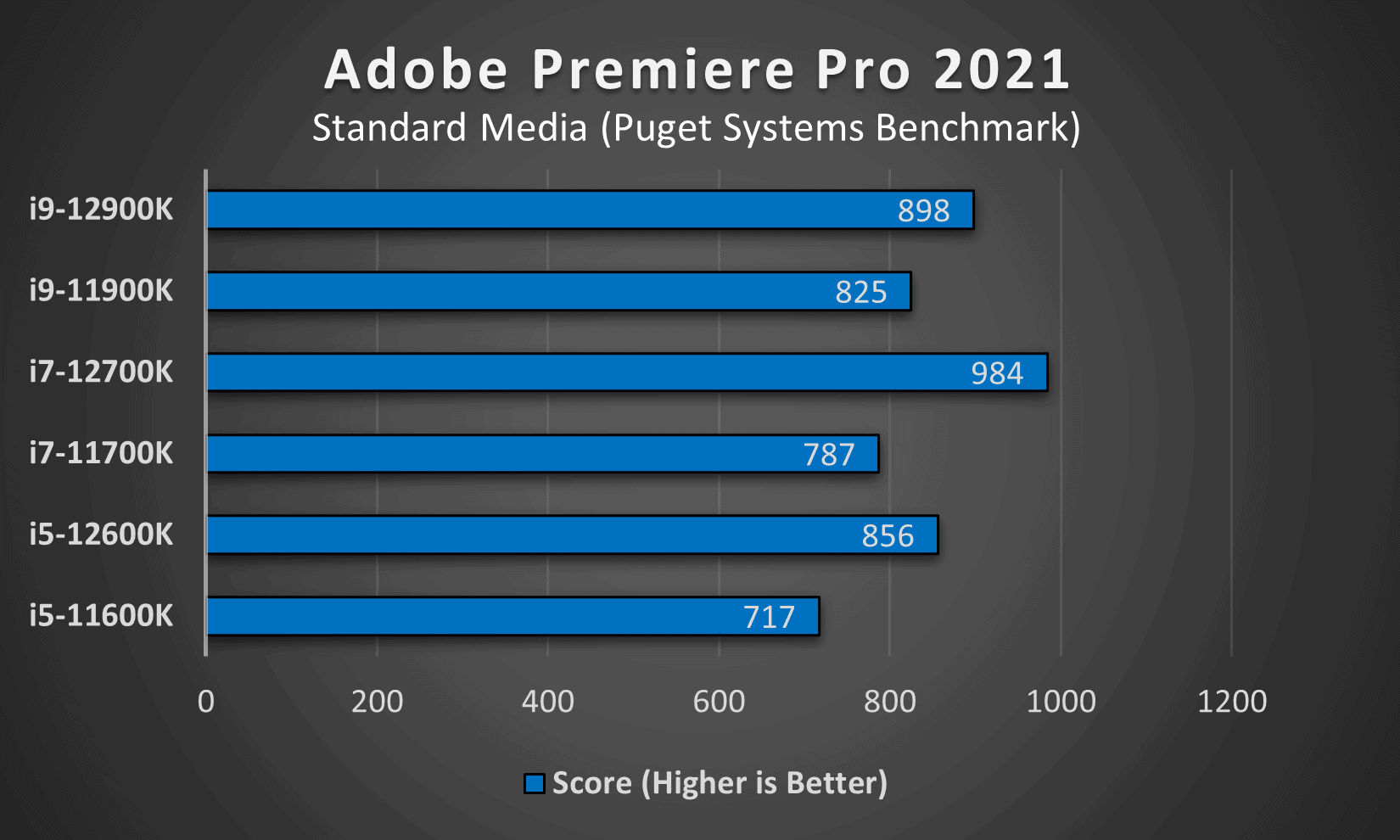 Blender
In our Blender Render test, the 12900K shows biggest performance improvement over its predecessor. The 12700K and 12600K also show significant gains.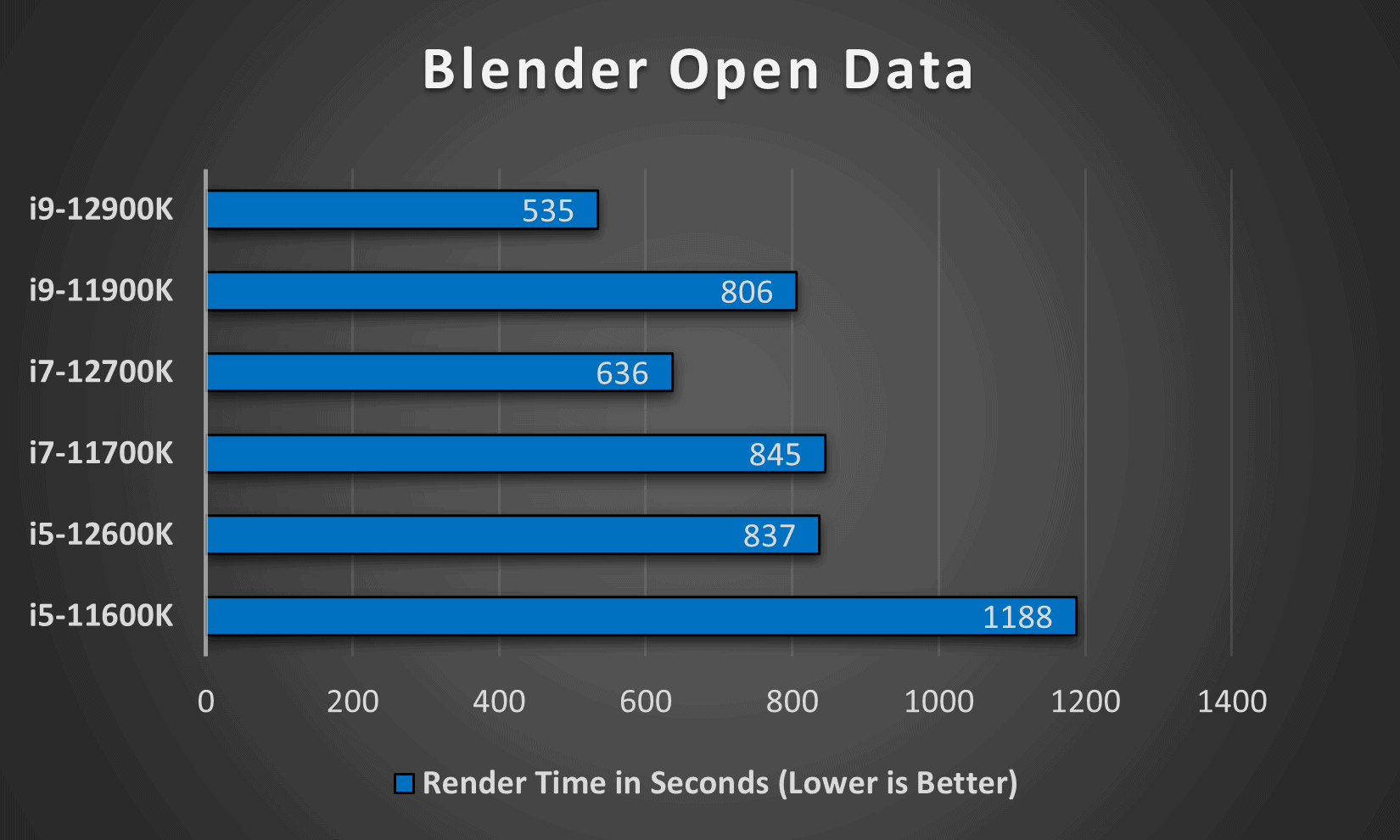 Corona 1.3
Finally, in our Corona 1.3 Benchmark, the 12900K, again, shows the biggest performance leap over its predecessor. The 12700K and 12600K also take significant leads over their predecessors.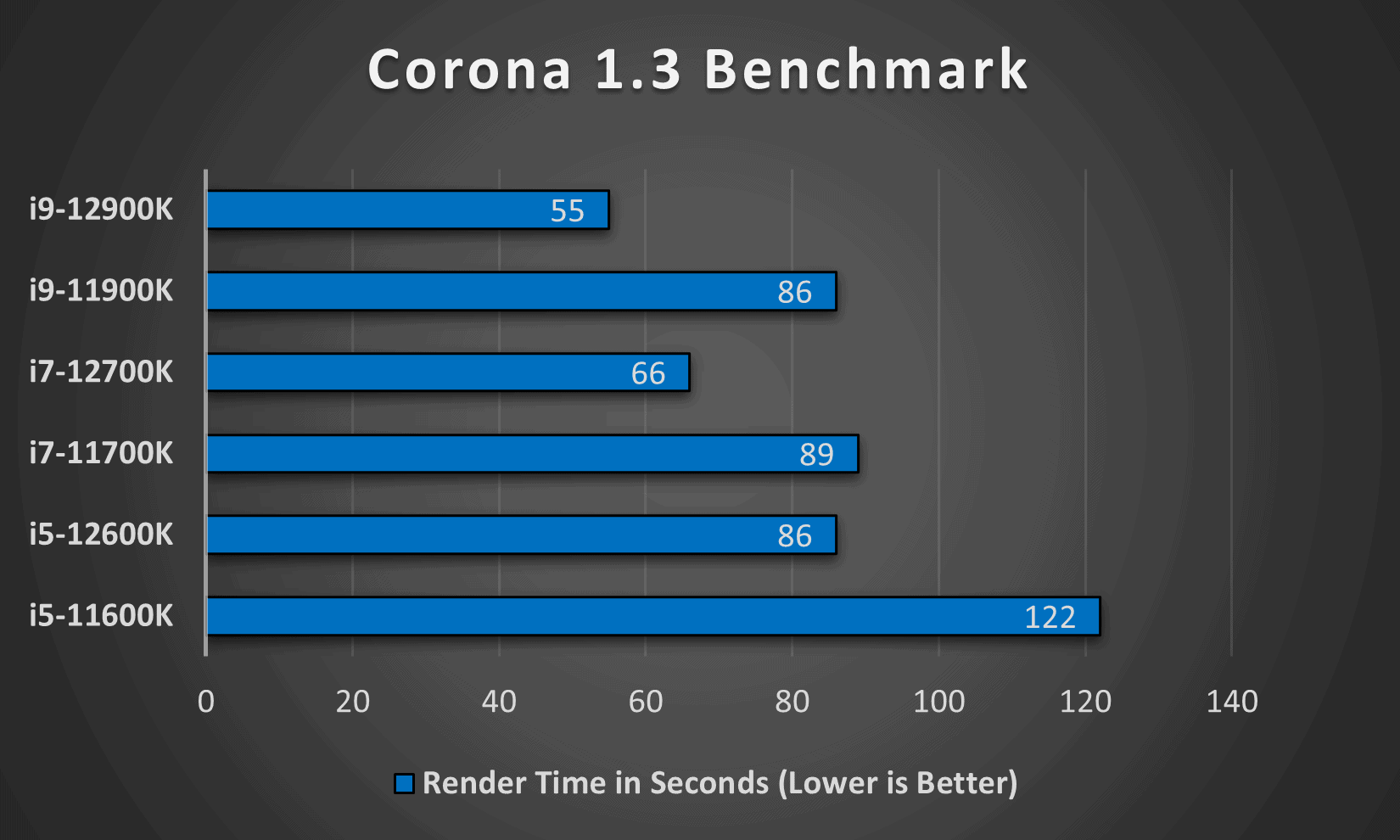 Productivity Benchmarks Courtesy: iVadim
Here, we see massive gains in the productivity and render benchmarks, with the i5-12600K providing the biggest performance improvement over its predecessor.
Power Draw
Now, we will compare total system power draws across the two generations.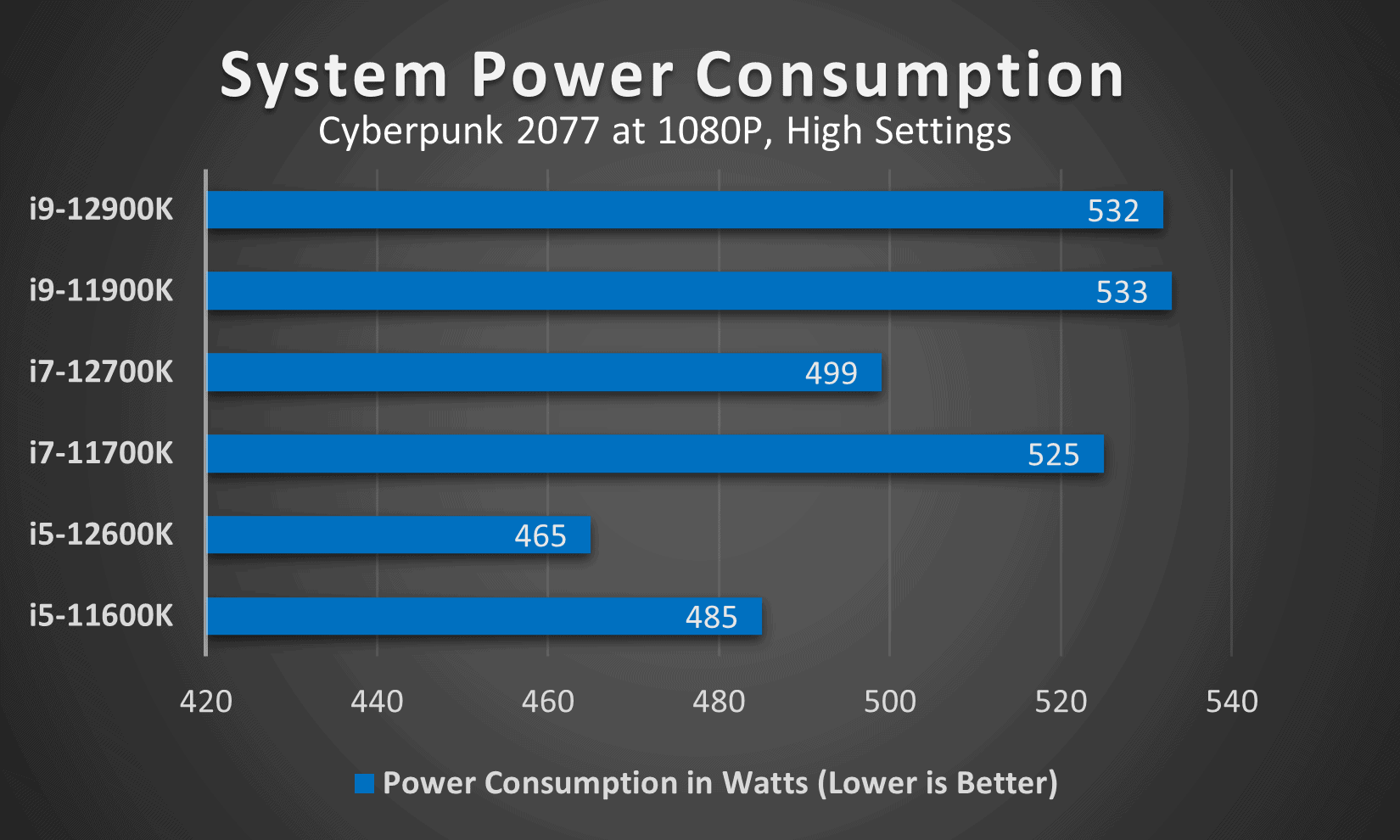 Courtesy: iVadim
Here, we see that the Alder Lake i5 and i7 are somewhat more power efficient as compared to their predecessors. The i5 system shows power efficiency improvement of 4.3%, while the i7 delivers an improvement of 5.2%. The i9, on the other hand, does not provide any benefits in terms of power efficiency.
11th Generation vs 12th Generation Processors
We've discussed the price points for these CPUs as well as their performances, which leaves us with some mixed thoughts.
12900K vs 11900K
First of all, the price of i9-11900K has come down drastically since the launch of Alder Lake, with this chip being available for under $400 on Amazon. The 12900K, on the other hand, is priced at a massive $610, which is a difference of over $200. The i9 12900K provides massive improvements when it comes to productivity workloads, but there's a big enough difference in gaming performance that would justify the price difference. The i9 12900K also isn't any more power-efficient than the 11900K. If bought purely for productivity and rendering purposes, the i9 12900K might still be worth the price difference. However, if bought only for gaming, the price difference is far too much and you will get a terrible price-to-performance ratio.
12700K vs 11700K
The price difference between the 12700K and 11700K is only around $40 at the moment. The 12700K provides a performance boost of around 9% in gaming, and there are also significant improvements in gaming performance. Lastly, the 12700K provides the highest difference in power efficiency out of the three CPUs. With that little difference in price and such massive performance gains, the 12700K is surely a choice to consider over the 11700K.
12600K vs 11600K
Finally, the 12600K delivers an improvement of nearly 15% in gaming, and much-improved productivity performance. It also shows 4.3% better power efficiency. There's a price difference of around $70, but the difference is certainly worth it since you get such a massive performance hike, especially in gaming.
Why Consider Alder Lake?
Intel's Alder Lake isn't just another new lineup of CPUs with a new name and slightly improved frequencies. Intel has implemented an idea that has never been spoken of before in desktop CPUs with their Hybrid Architecture design, pairing it with their new 10nm processing node. This design will likely be a mainstay for Intel's future lineups as it provides much better efficiency for managing workloads. Furthermore, you get the latest and greatest when it comes to I/O, with DDR5 memory option and PCIe 5.0. Furthermore, Thunderbolt 4 and Wi-Fi 6E are becoming more mainstream with the 600 series platform.
An important factor is that Alder Lake brings us new i3 chips for low-budget consumers who want to game and new Celeron and Pentium CPUs for cheap home or office-based PCs. The i3 chips will be useful as you get all the new tech Alder Lake provides, and you can upgrade to a more powerful i5 or i7 chip later on.
Why Consider Rocket Lake?
Rocket Lake doesn't have anything to make it stand out over Alder Lake, and that's not unexpected. Rocket Lake was rather Intel's failed comeback against the Ryzen 5000 series, and Intel could not leave a mark with their 11th Generation lineup.
The only factor to really consider is that the prices of Rocket Lake chips have fallen drastically since Alder Lake's launch, as expected. The most expensive Rocket Lake chip, the i9-11900K was launched in the mid $500 range and now it's going for under $400. The 500 series chipset motherboards will also be somewhat cheaper, allowing you to put together a Rocket Lake-based system together for cheaper. However, you get none of the upgrades that Alder Lake brings, and a poor bang for your buck, unless you buy an i9-11900K purely for gaming purposes which is a rare exception.
Is 12th Generation Worth Upgrading From 11th Gen
Intel's Alder Lake has really shaken the gaming CPU market, providing a generational leap that hasn't been seen in many years. With so much to offer in terms of upgradability, and an efficient Hybrid Architecture design, Intel has left us expecting a lot from AMD for a fightback. At the moment, however, Alder Lake reigns supreme, providing numerous benefits and a much better price-to-performance ratio over Rocket Lake. If you're building a system from scratch, then Alder Lake is very much worth considering. If you want to upgrade your cheap Rocket Lake CPU and don't have much to spend, simply upgrading to a better Rocket Lake chip isn't bad.
Frequently Asked Questions
Can I install a 12th Generation CPU on my current 11th Generation motherboard?
No, since the 12th Generation lineup is designed for a new LGA 1700 socket, you have no option but to buy one of the 600 series chipset boards to run an Alder Lake CPU.
Is Intel's 12th Generation better than 11th Generation?
Yes. Intel's 12th Generation CPUs give much better price-to-performance ratios, as well as DDR5, and PCIe 5.0 support. Thunderbolt 4 and Wi-Fi 6E are also more common on 12th Generation Motherboards.
What's new in Intel's 12th Generation?
Intel's 12th Generation (Alder Lake) comes with a new Hybrid Architecture design with DMI 4.0 providing improved I/O connectivity. There is also DDR5 and PCIe 5.0 support.
Is Intel's 12th Generation lineup worth it?
Intel's 12th Generation lineup is certainly worth it, providing you with much-improved gaming and productivity performance, as well as futureproofing with DDR5 support. There's also PCIe 5.0, Wi-Fi 6E and Thunderbolt 4.0 support.
Was our article helpful? 👨‍💻
Thank you! Please share your positive feedback. 🔋
How could we improve this post? Please Help us. 😔