In the world of PC building, choosing the right motherboard is crucial for maximizing performance and compatibility. In this article, we delve into comparing the X570 vs X670 motherboards, two popular options for high-performance systems.
Key Takeaways
Firstly, the X570 motherboard sets the foundation with PCIe 4.0 connectivity. However, the X670 motherboard takes it further by offering support for PCIe 4.0 and cutting-edge PCIe 5.0.
The X670 chipset motherboards are generally superior to their X570 counterparts because they have an even more reliable VRM design with more phases.
Finally, the X570 motherboards are generally more affordable and widely available compared to the X670 models.
Comparison Table
| Chipset | X570 | X670 |
| --- | --- | --- |
| CPU Socket | AM4 | AM5 |
| PCIe Connectivity | PCIe 4.0 | PCIe 4.0 and PCIe 5.0 |
| CPU Generation Support | Ryzen 5000, 4000, 3000, and some 2000 series CPUs | Ryzen 7000 series CPUs |
| DMI Lanes | DMI 4.0 (4 lanes) | DMI 4.0 (4 lanes) |
| Max No. of SATA 3.0 Ports | 4 | 6 |
| No. of USB Ports | 4 USB 3.2 (10Gbps), 1 USB 3.2 (20Gbps), 6 USB 2.0 | 8 USB 3.2 (10Gbps), 2 USB 3.2 (20Gbps), 12 USB 2.0 |
| Memory Support | DDR4 – Dual-channel | DDR5 – Dual-channel |
| No. of Memory Slots | 4 | 4 |
| No. of Display Supported | 2 Displays (HDMI and DisplayPort) | 4 Displays (HDMI and DisplayPort) |
| No. of DIMMs Per Channel | 2 | 2 |
| Thermal Design Power (TDP) | 7W | 14W |
| Overclocking Capabilities | Yes | Yes |
| Integrated Wi-Fi | Wi-Fi 6 Gen 2 | Wi-Fi 6E |
| VRM Power Phase | 16 Power Phases | 20 Power Phases |
| Best Motherboards | Best X570 Motherboards | Best X670 Motherboards |
Basic Overview
X570 Chipset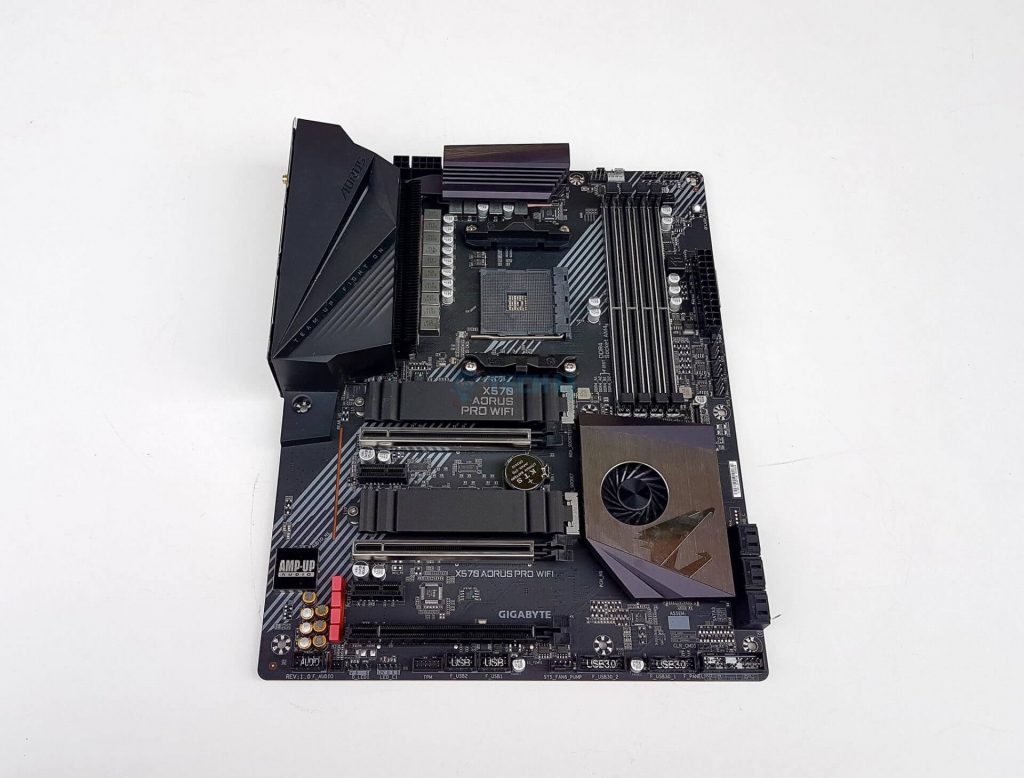 The X570 chipset was a part of the latest and greatest design by AMD for the previous generation of the Ryzen processors.
Built with the AM4 socket, it brought forward the support for PCIe 4.0, robust power delivery, extensive options for connectivity, and an all-out arsenal for overclocking enthusiasts, making it an excellent choice for gamers, content creators, and power users seeking top-tier performance.
Read: AMD B550 Vs B650 Motherboards
X670 Chipset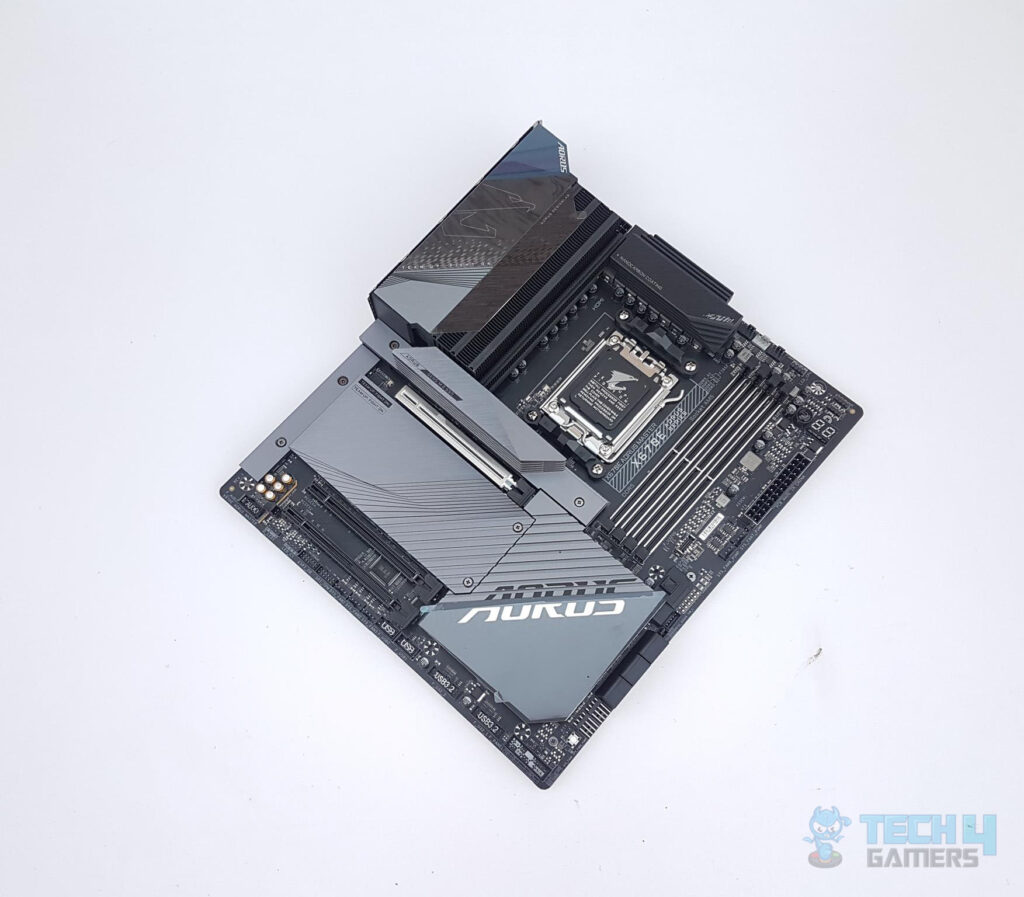 The X670 chipset represents cutting-edge motherboard technology, providing compatibility and optimized performance for AMD's latest processors using the AM5 socket.
With features like support for DDR5 RAM, PCIe 5.0 connectivity, and an upgrade pathway for future CPUs, X670 motherboards are the ideal choice for enthusiasts seeking top-tier performance and future-proofing their systems.
Related: X670 Vs B650 Motherboards
Architectural Differences
Now that we have covered all the basic differences, it is time to dive in a little further and explain the technicalities of the X570 Vs X670 in detail.
CPU Overclocking
When it comes to tinkering with CPU and RAM overclocking, having a stable voltage supply is paramount. Luckily, both the X570 and X670 motherboards have your back in this regard. However, if we had to pick one of the two, the X670 motherboard steals the spotlight with its upgraded VRMs and MOSFETs.
These enhancements ensure better voltage stability during those adrenaline-fueled overclocking endeavors. So, if you're an avid hardware enthusiast seeking to squeeze every ounce of power from your system, the X670 motherboard becomes the go-to option, elevating your overclocking experience to new heights.
PCIe And DMI Lanes
The X670 motherboard surpasses the X570 in terms of PCIe and DMI lanes. It offers a blend of PCIe 5.0 and PCIe 4.0 slots, while the X570 is limited to PCIe 4.0. The X670 also includes 4 CPU PCIe 5.0 lanes, providing enhanced performance and compatibility with fast devices.
Additionally, it boasts 40 PCIe 4.0 compared to 36 PCIe 4.0 lanes for optimal resource utilization, making it a preferred choice for power users. Both motherboards have two PCIe 4.0 M.2 slots and eight PCIe 3.0 lanes. They share the same number of DMI 4.0 lanes, doubling the bandwidth compared to DMI 3.0.
USB Ports
While reviewing the number and variety of USB ports, the X670 motherboard surpasses its predecessor, the X570 motherboard, offering a more extensive selection to meet your connectivity needs.
With eight USB 3.2 (10Gbps) ports, you'll have plenty of high-speed options to connect your devices and transfer data quickly. Additionally, the X670 motherboard features two USB 3.2 (20Gbps) ports, providing even faster transfer rates for compatible peripherals.
On the other hand, the X570 motherboard provides four USB 3.2 (10Gbps) ports, offering a decent number of connections for everyday usage. It also includes one USB 3.2 (20Gbps) port, catering to devices that demand faster data transfers. Furthermore, the X570 motherboard offers six USB 2.0 ports, accommodating a range of legacy devices.
Also Read: Z790 Vs B760
SATA 6.0 Gb/s Ports
Regarding connecting storage devices, the X670 motherboard shines with its generous offering of 6 x SATA 3.0 ports. With each port providing a speedy 6Gbps transfer rate, you'll have plenty of options to connect your hard drives and SSDs, ensuring ample storage capacity for all your needs.
On the other hand, the X570 motherboard provides 4 X SATA 3.0 ports, offering a slightly more limited number of connections for your storage devices. However, these ports still deliver the same impressive 6Gbps speed, guaranteeing efficient data transfers and reliable performance.
VRM Power Phase
Finally, when it comes to powering your CPU and its integrated components, the voltage regulator module (VRM) plays a crucial role in delivering stable voltage. The number of power phases in a motherboard's VRM determines its ability to provide consistent and reliable power, especially during demanding tasks and overclocking.
While the X570 motherboards' VRM is perfectly suited for CPUs like Ryzen 7, the X670 motherboards' feature an even better VRM design with more phases to offer an even wider scope for performance tuning, especially with higher-end CPUs like Ryzen 9.
The additional power phases give enthusiasts greater headroom for overclocking, allowing them to extract every ounce of power and performance from their CPUs.
Also Read: LGA Vs PGA Sockets
X670 Vs X570: Which Chipset Is Suitable For You?
Starting off, the X570 offers PCIe 4.0 connectivity, while X670 takes it a step further with support for both PCIe 4.0 and PCIe 5.0, providing faster data transfer rates and future-proofing.
Moreover, in terms of overclocking potential, the X670 are well suited for overclocking as compared to their X570 counterparts because of their more reliable VRM structure.
Lastly, the X570 motherboards are generally more affordable and widely available compared to the newer X670 models, making them a suitable choice for those on a budget or looking for immediate availability.
FAQs

What is the main difference between the X570 and X670 motherboards?

The main difference lies in their CPU socket, with X570 using the AM4 socket and X670 utilizing the newer AM5 socket.

Can I use a Ryzen 7 CPU on X570 and X670 motherboards?

Yes, both motherboards support Ryzen 7 CPUs. However, the X670 motherboard with its AM5 socket also supports higher-end Ryzen 9 CPUs.

Which motherboard is better for future-proofing and overclocking?

The X670 motherboard provides better future-proofing and overclocking capabilities due to its upgraded VRM power phases and support for PCIe 5.0.

Was our article helpful? 👨‍💻

Thank you! Please share your positive feedback. 🔋

How could we improve this post? Please Help us. 😔