Best Value 360mm?
Review Summary
COUGAR Poseidon GT 360 is a very capable cooling solution that can handle your high-end SKUs though it might not be able to provide enough headroom for overclocking or high power on a package of these SKUs. It has beautiful digital RGB lighting on the block, and there is a 5-year warranty on this cooler as well, making this quite a contender for your bucks, albeit a bit high noise output.
Quality -

9/10

Design -

8/10

Performance -

9/10

Features -

9/10

Value -

9/10
Pros
Good Thermal Performance
Rotatable Pump Lid
A-RGB Lighting
Metal-Reinforced Motor Hub and Shell Bearing on Fan
Extensive AMD sockets support
Intel LGA1700 socket support
Dedicated A-RGB Controller
Warranty
Price
Cons
Somewhat tricky Installation
Loud Fans
Why you can trust Tech4Gamers:

We understand the importance of making informed decisions. That's why our team spends significant time testing every product we review.

Find out more about how we test.
For a person who is not versed with the COUGAR brand, the first thing that would come to his mind would be the COUGAR clothing brand probably. COUGAR Gaming is a PC stuff manufacturer and official chair partner at VALORANT CHAMPIONS TOUR EMEA. This brand was established in 2007, and in 16 years, they have come a long way, emerging as a reputable gaming brand in the industry. They are manufacturing PC components, including PC coolers, power supplies, and PC Cases. This is not all, as they also have a Gaming gear product line in which they manufacture keyboards, mice, mouse mats, headphones, accessories, gaming desks, and gaming chairs. And this is not all since they are also engaged in Streaming products where they carry microphones, docking stations, cameras, video capture devices, and monitor arms. They also carry electric standing desks.
We are taking a look at the Poseidon GT series of liquid coolers in this article. This series has two sizes; 240mm and 360mm. We have got a 360mm version. This cooler comes with three MHP 120 fans. These are high-performance edition fans tailored for radiator use. The radiator features a different fins layout which COUGAR refers to as UTTERIGHT. Traditional fins are in an E shape or what I usually mention as a V shape. The fins on the COUGAR Poseidon GT radiator are implemented in an offset manner following a 90° layout.
According to COUGAR, this provides more surface area for better heat transfer. The block features an infinity mirror design on the COUGAR logo using A-RGB lighting effects. The pump has a ZrO2-made bearing that is said to provide toughness and strength. Speaking of socket compatibility, this cooler is compatible with Intel LGA 115x/1366/1200/1700/2011/2066 and AMD TR4/TRX4/AM5/AM4/FM2/FM1/AM3/AM2+/AM2 sockets. COUGAR is providing a 5-year warranty on this cooler.
---
Key Takeaways
You should buy the COUGAR Poseidon GT 360 Liquid Cooler if you are you are looking for an affordable 360mm AIO that can handle your high-end CPU.
You should not buy the COUGAR Poseidon GT 360 Liquid Cooler if you plan to overclock your rig or if you want the quietest setup..
---
Specifications
Cold Plate Material
Copper
Pump Speed
3200 ± 200 R.P.M
Rated Voltage
DC 12V
Rated Current
0.35 A
Power Consumption
4.2 W
Connector
Pump: 2510-3Pin
Lights: 5V-ARGB 3Pin
Type
Brazing Radiator
Dimensions (WxDxH)
392 x 121 x 27mm
Material
Aluminum Alloy
Dimensions (WxDxH)
120 x 120 x 25 mm
Fan Speed
600-2000RPM ±200RPM
Air Flow
82.48 CFM
Air Pressure
4.24 mmH2O
Acoustic Noise
34.5 dB(A)
Power Consumption
2.76 W ± 10%
Rated Current
0.23 A
Rated Voltage
DC 12V
Connector & Control
Fan:2510-4Pin (FG+PWM)
Packing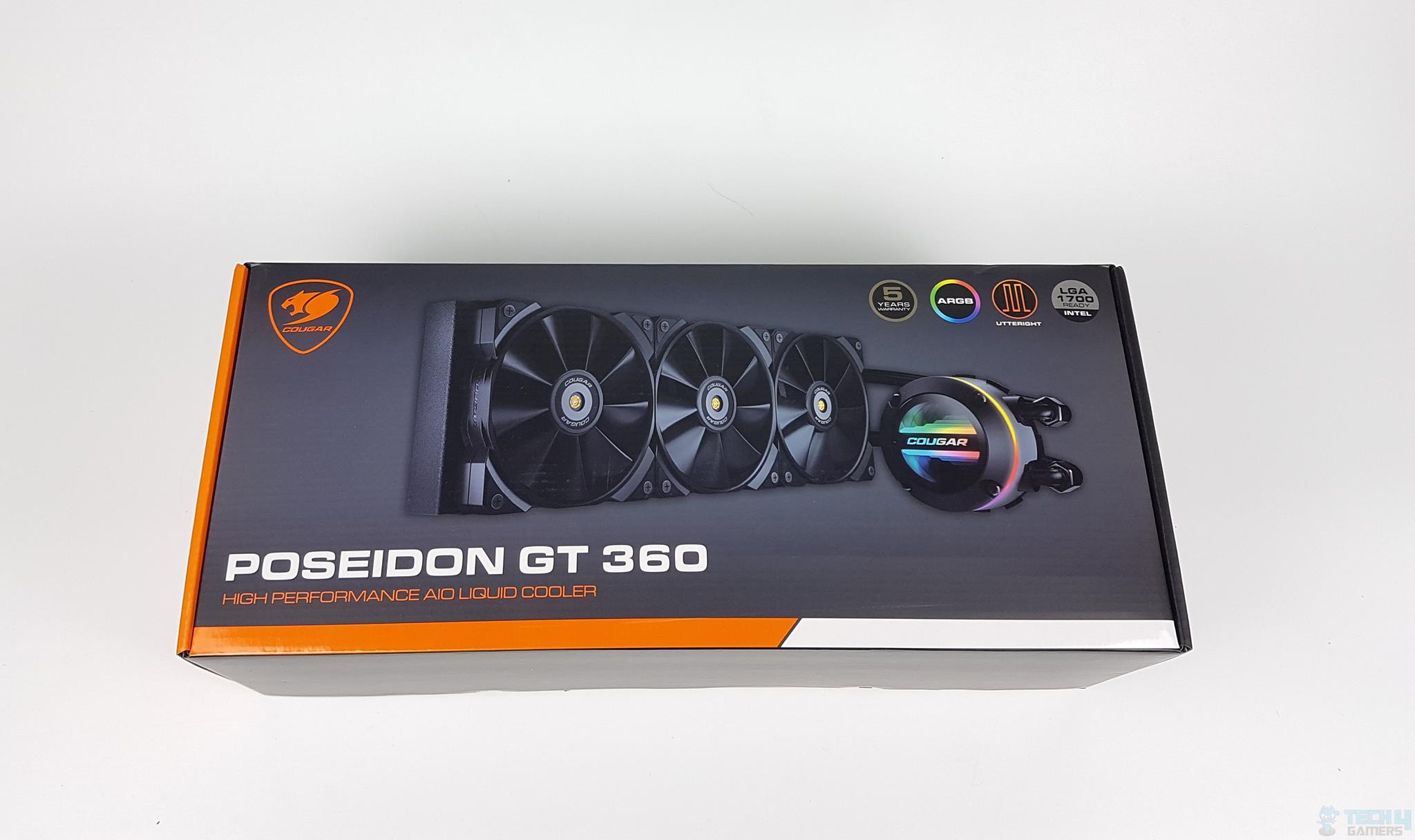 The packing box is quite slim and sleek. It has COUGAR colors all over it, and COUGAR seems to be good at presentation. Among the four highlighted features, the LGA1700 socket compatibility and 5-year warranty are more important listings. The fans are not RGB.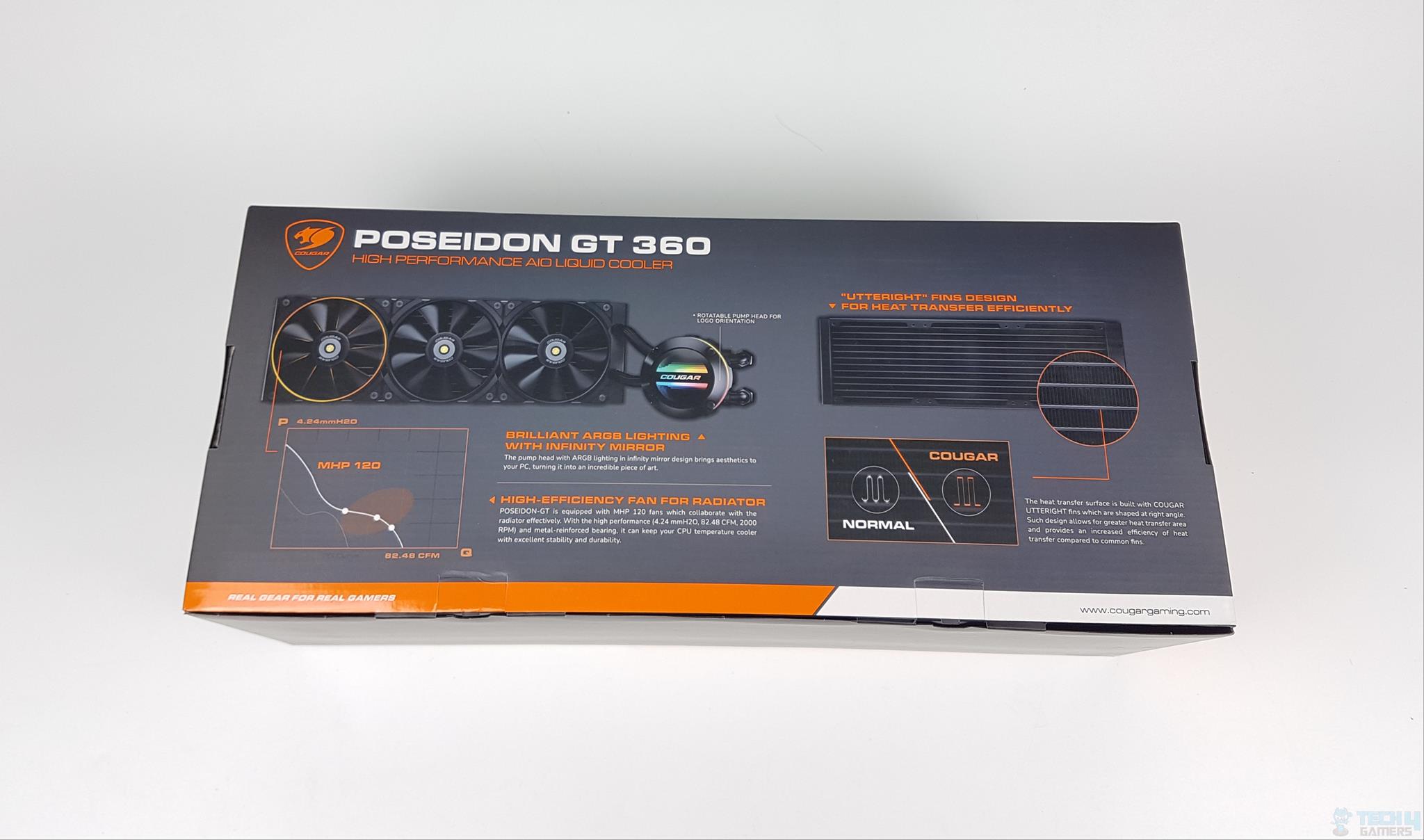 The backside of the main packing box has some key highlights:
UTTERIGHT fins are implemented at the right angle, giving more heat transfer efficiency
There is a P/Q curve for MHP 120 fans showing their performance numbers (4.24 mmH20) and 82.48 CFM)
ARGB Lighting
Infinity Mirror Design
Rotatable Pump Head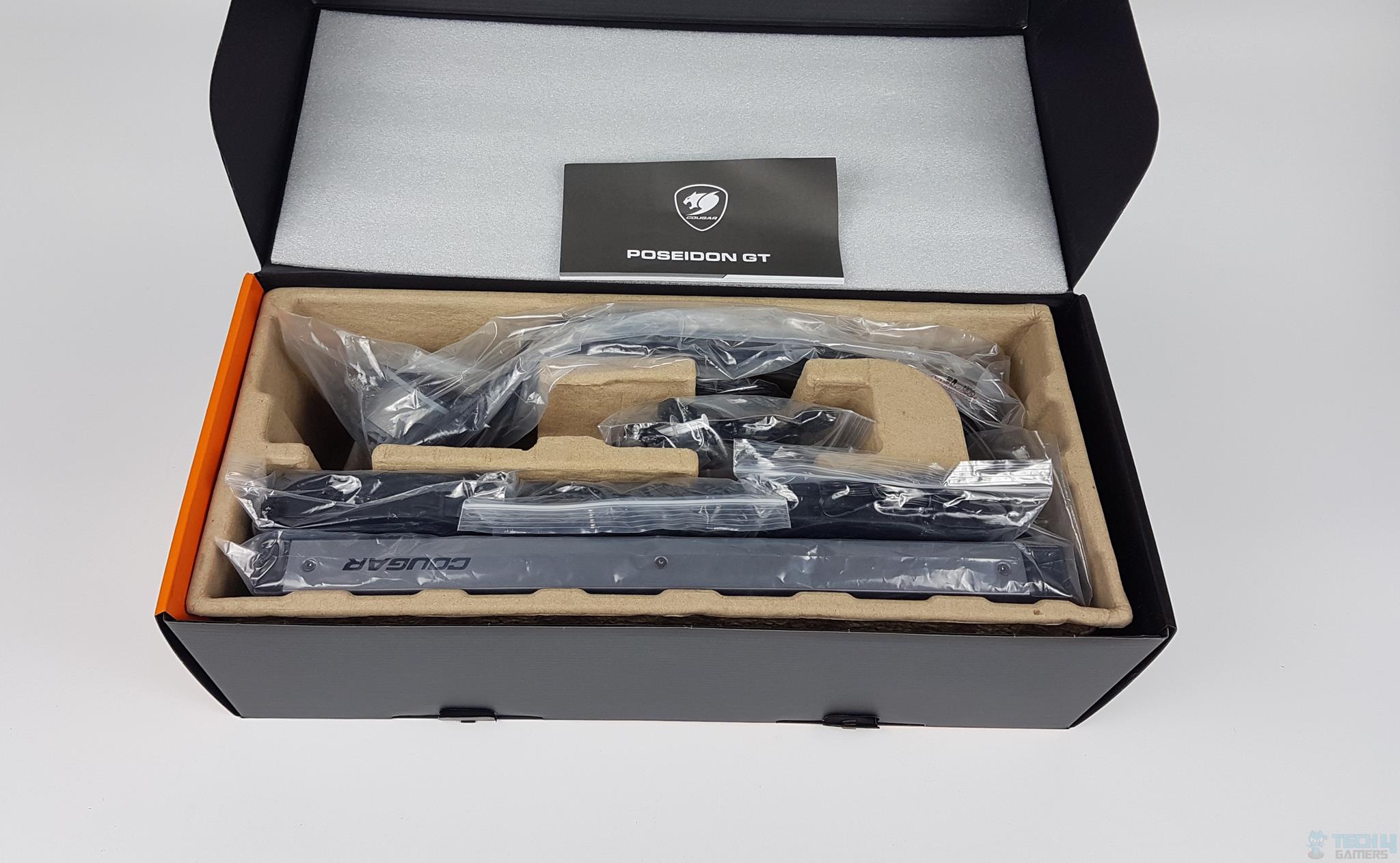 As is the case with the majority of liquid coolers, this unit is also shipped inside an egged carton to protect the contents during shipping.
What is provided in the box?
First, let's see what is provided in the box.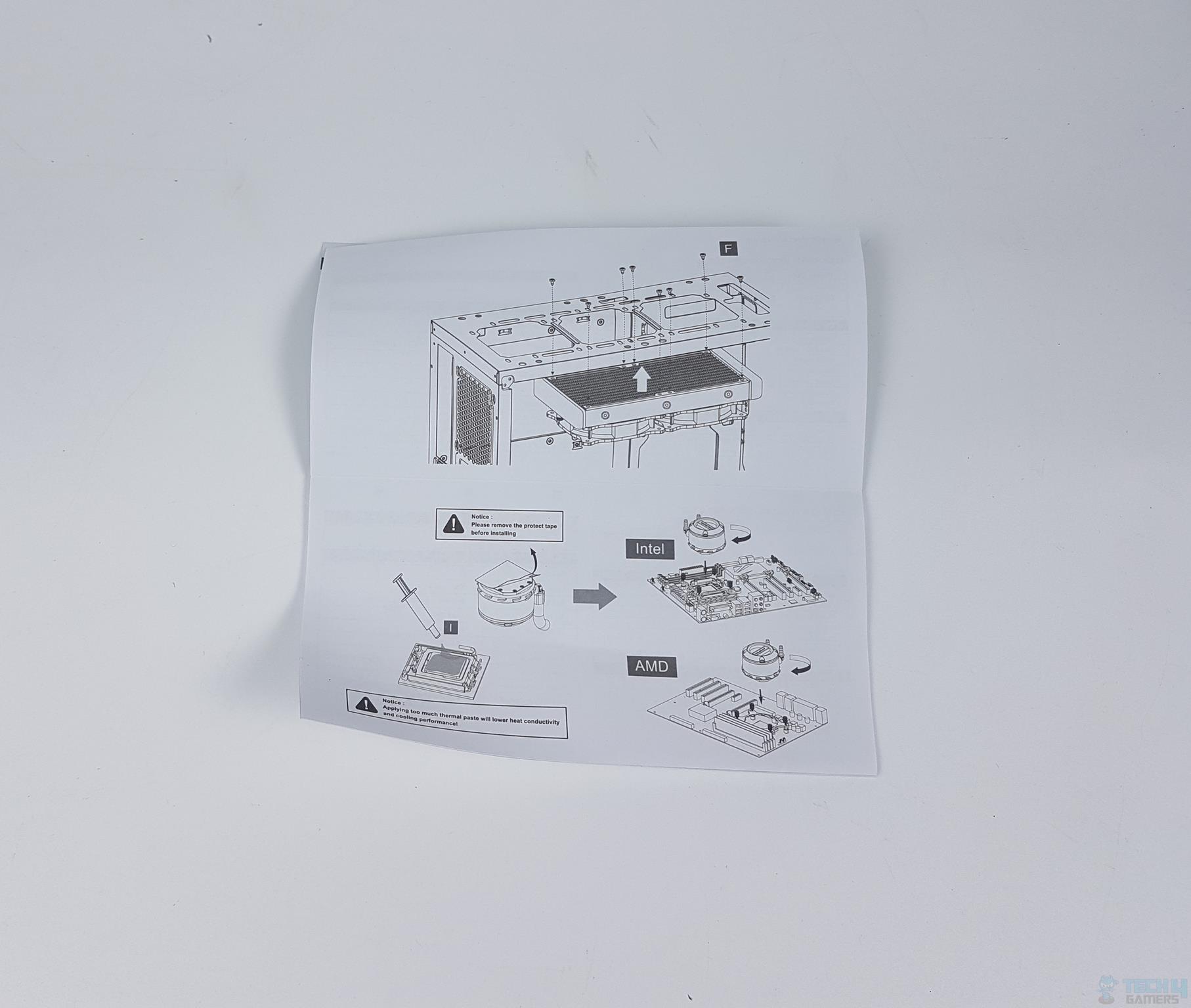 There is a printed guide provided with the cooler that provides illustrations and text on how to install this cooler on the supported sockets. The installation of a block is a strange doing, and we will cover it in the Installation section.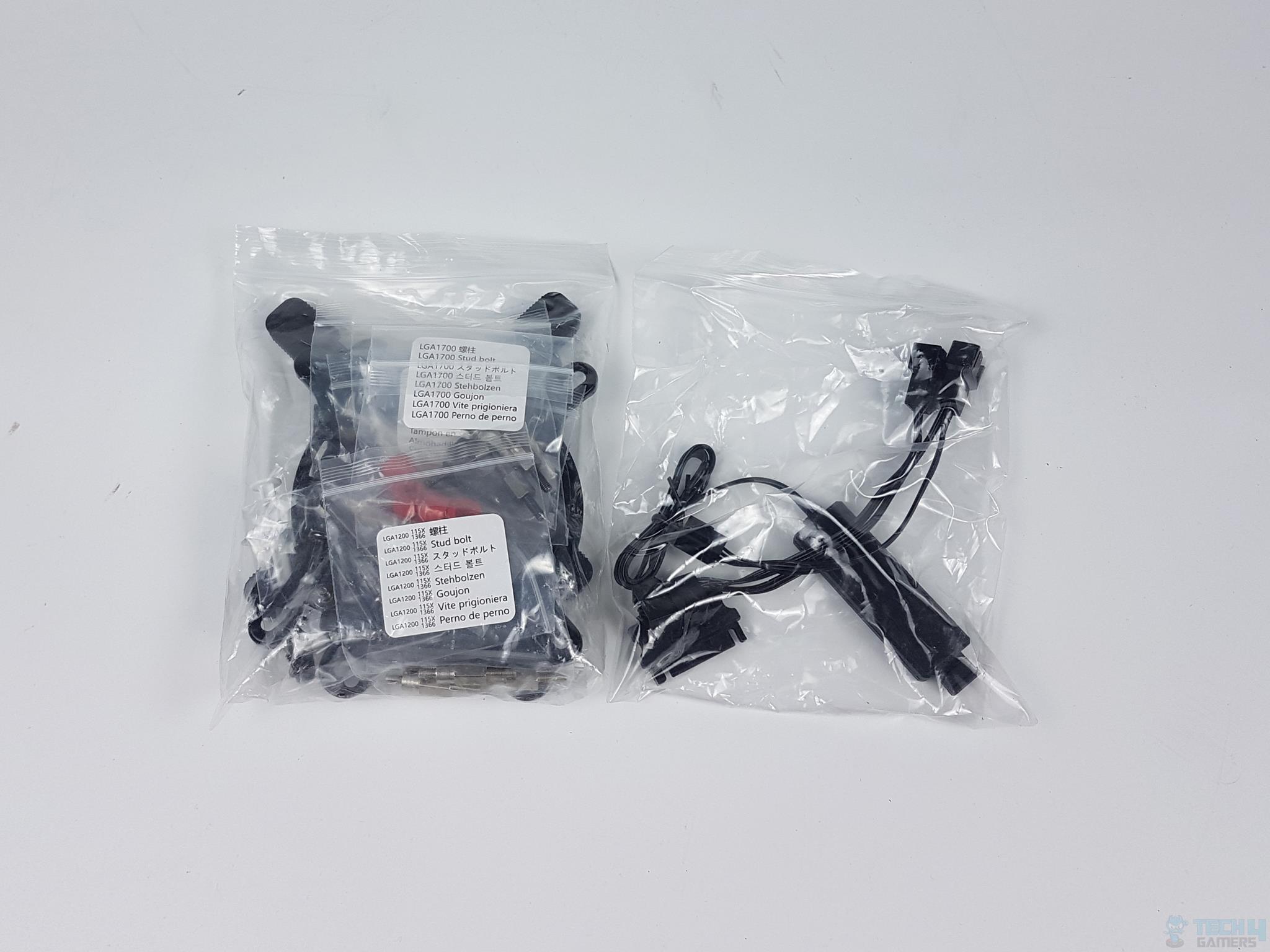 The mounting hardware is provided in a transparent pouch.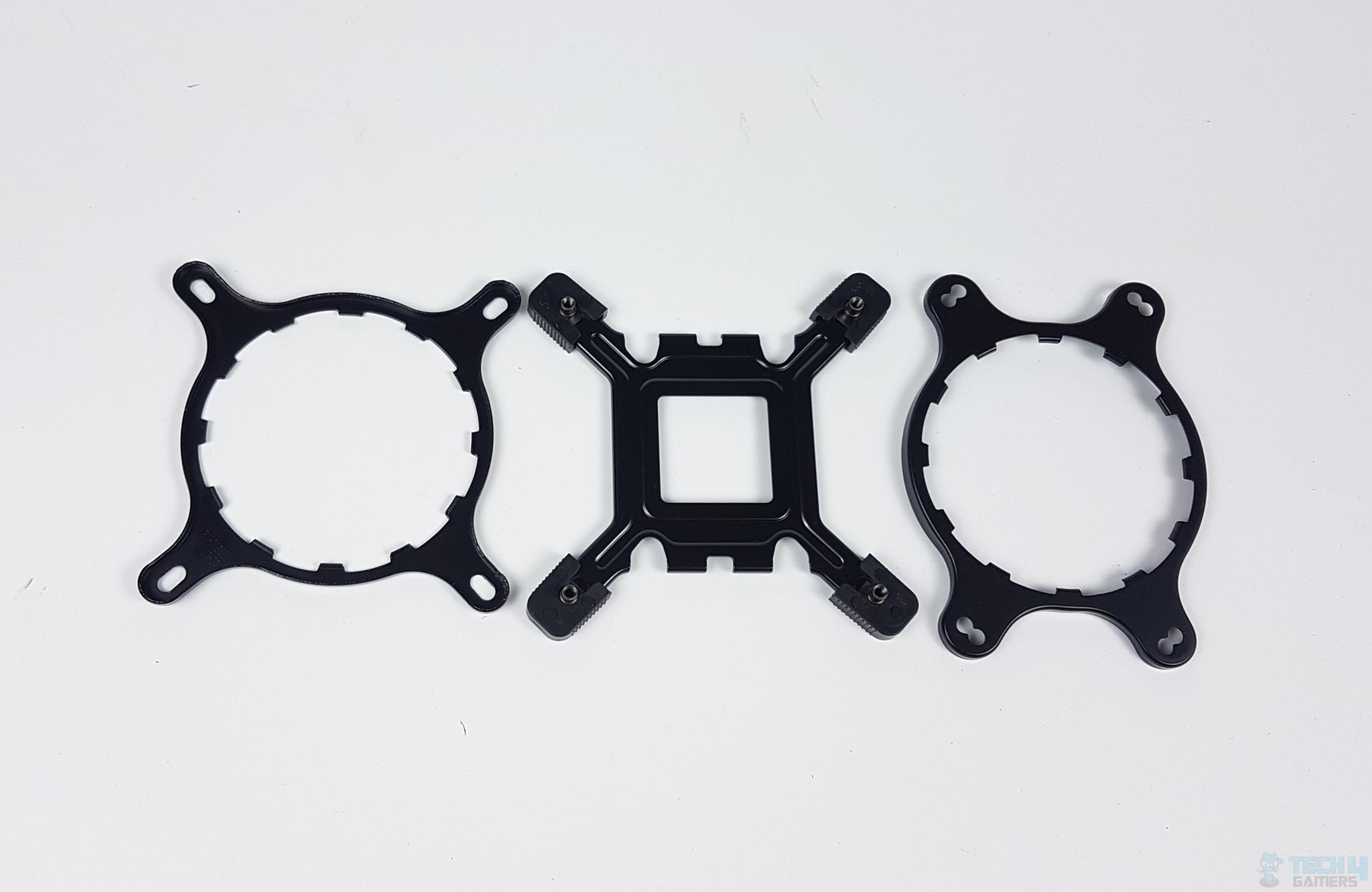 COUGAR has provided the following:
1x Backplate for Intel Platform
1x Intel Ring Bracket
1x AMD Ring Bracket
The Intel backplate has pre-installed standoffs. There are clips or sliding covers on the mounting arms. The socket numbers are labeled on each arm and the locker needs to be placed on the required socket number.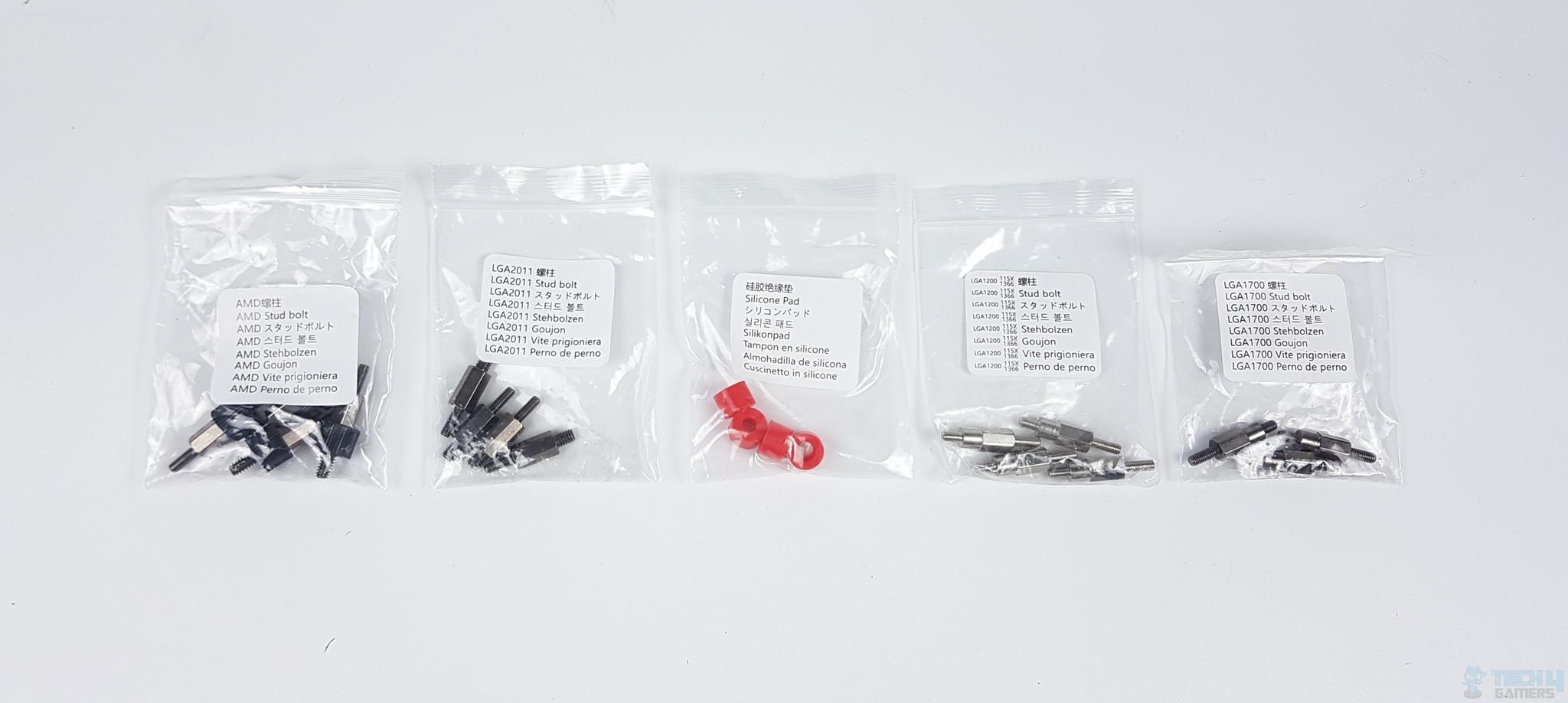 COUGAR has provided the following:
4x Red color Silicon Pads
4x AMD Stud Bolts
4x Intel LGA1700 Stud Bolts
4x Intel Other Sockets Stud Bolts
4x Intel LGA20xx Stud Bolts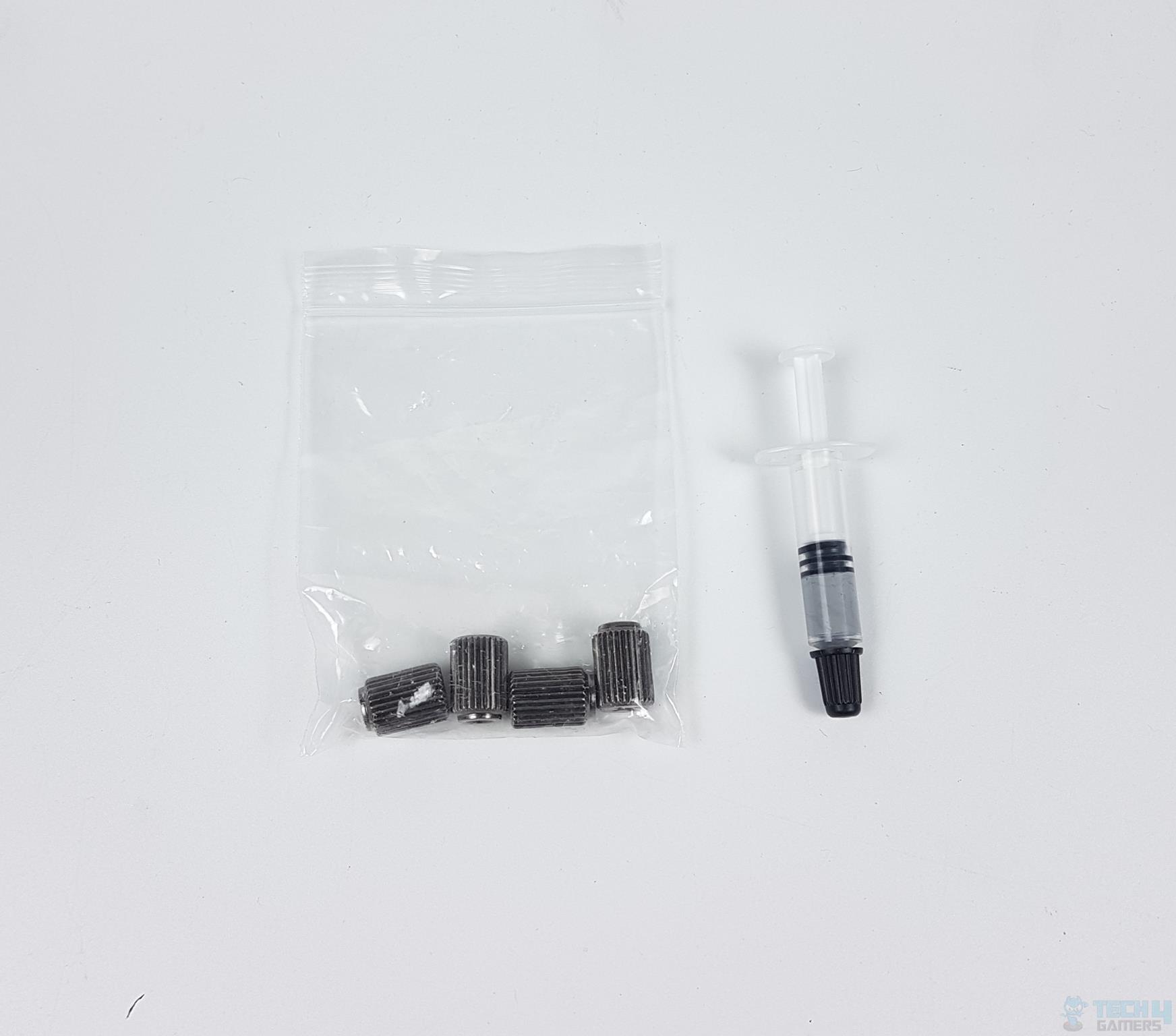 There are:
4x Thumb Nuts
1x Thermal Paste Tube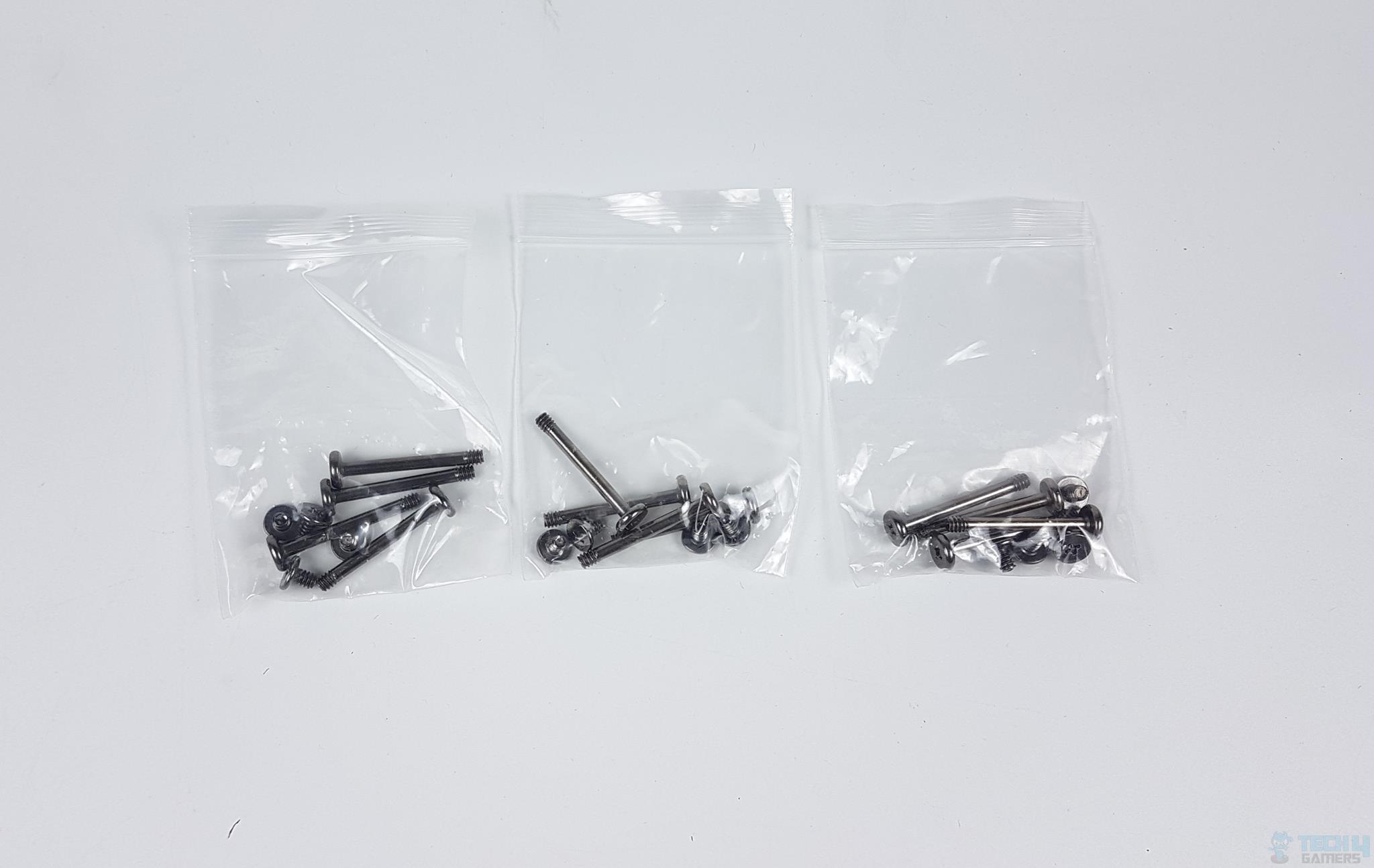 There are three containers, each having 4x radiator screws and 4x fan screws. A total count is 12x for the radiator screws and 12 for the fan screws.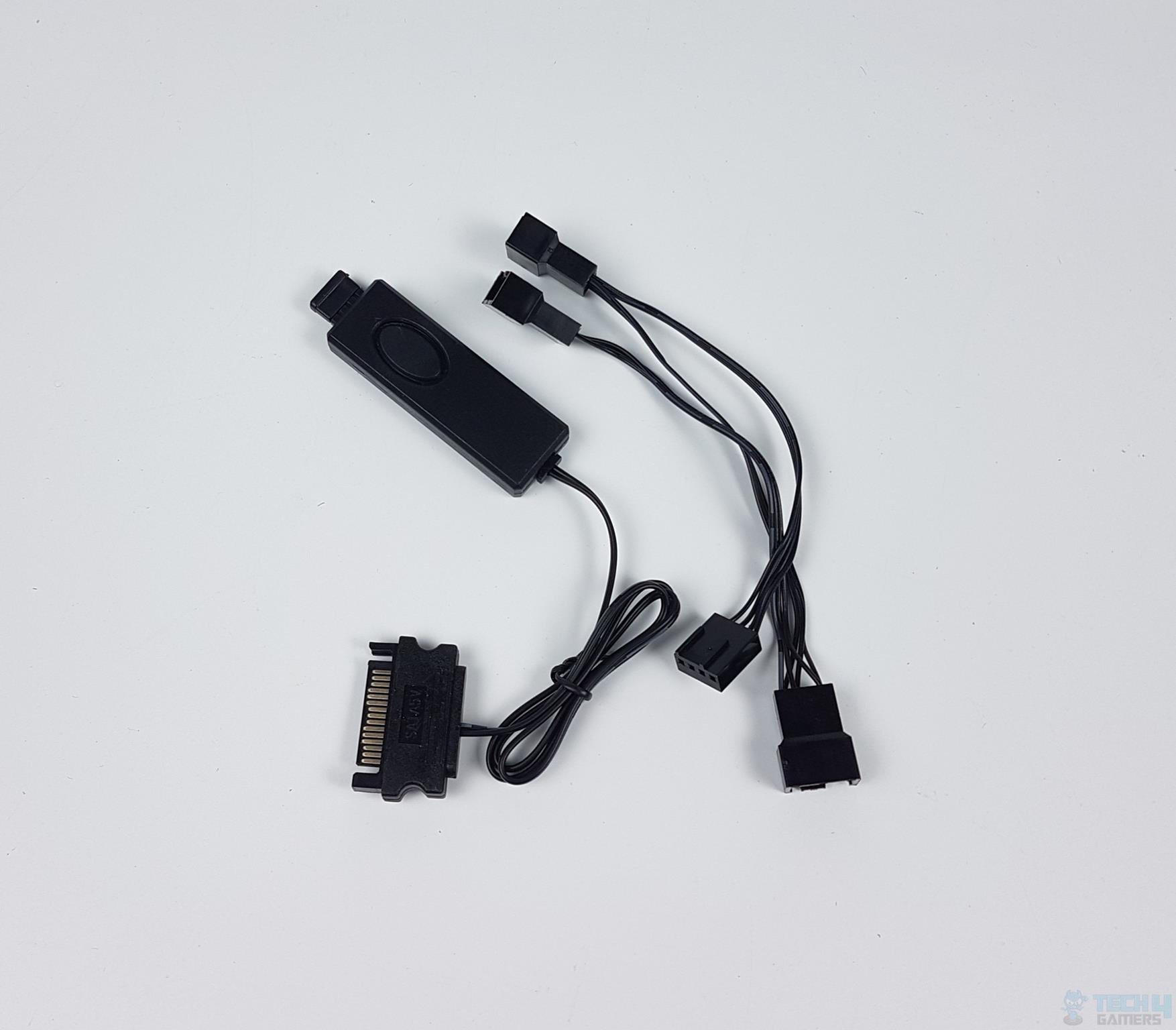 There is a 3-way PWM splitter cable. It has a short length compared to some other options, but it would still be enough since the length of the fans' cables would make up for it. There is a dedicated digital RGB controller as well, which is SATA powered. This will come in handy in case your motherboard does not support RGB sync technology.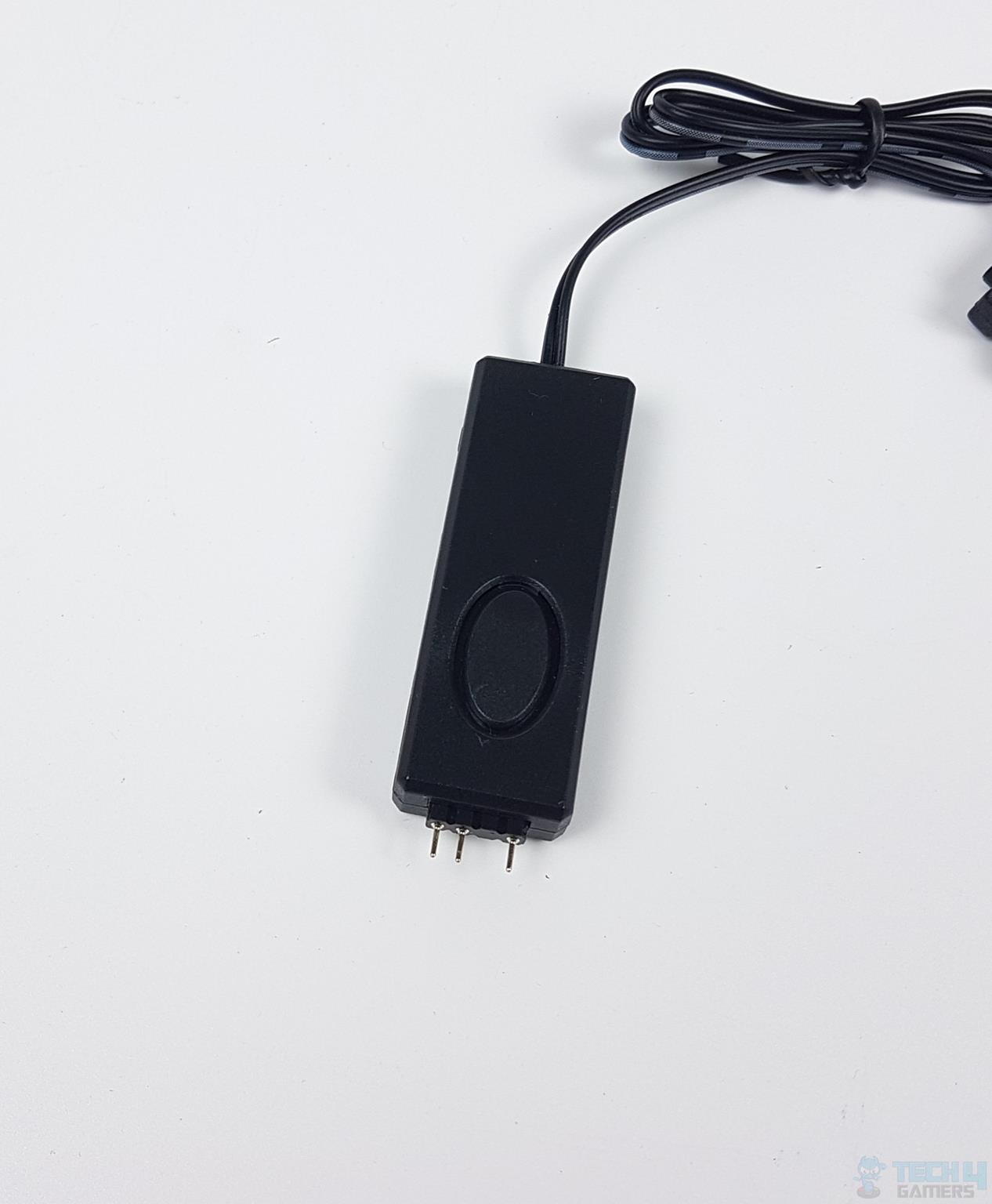 There is a single large-size button on this controller to control the lighting modes. The controller has a fixed standard RGB port (3-pin) operating at 5VDC on the other end. The RGB connector can be connected to this port to take advantage of the controller's functionality.
Design
Let's take a look at the main components of this cooler, starting with the radiator.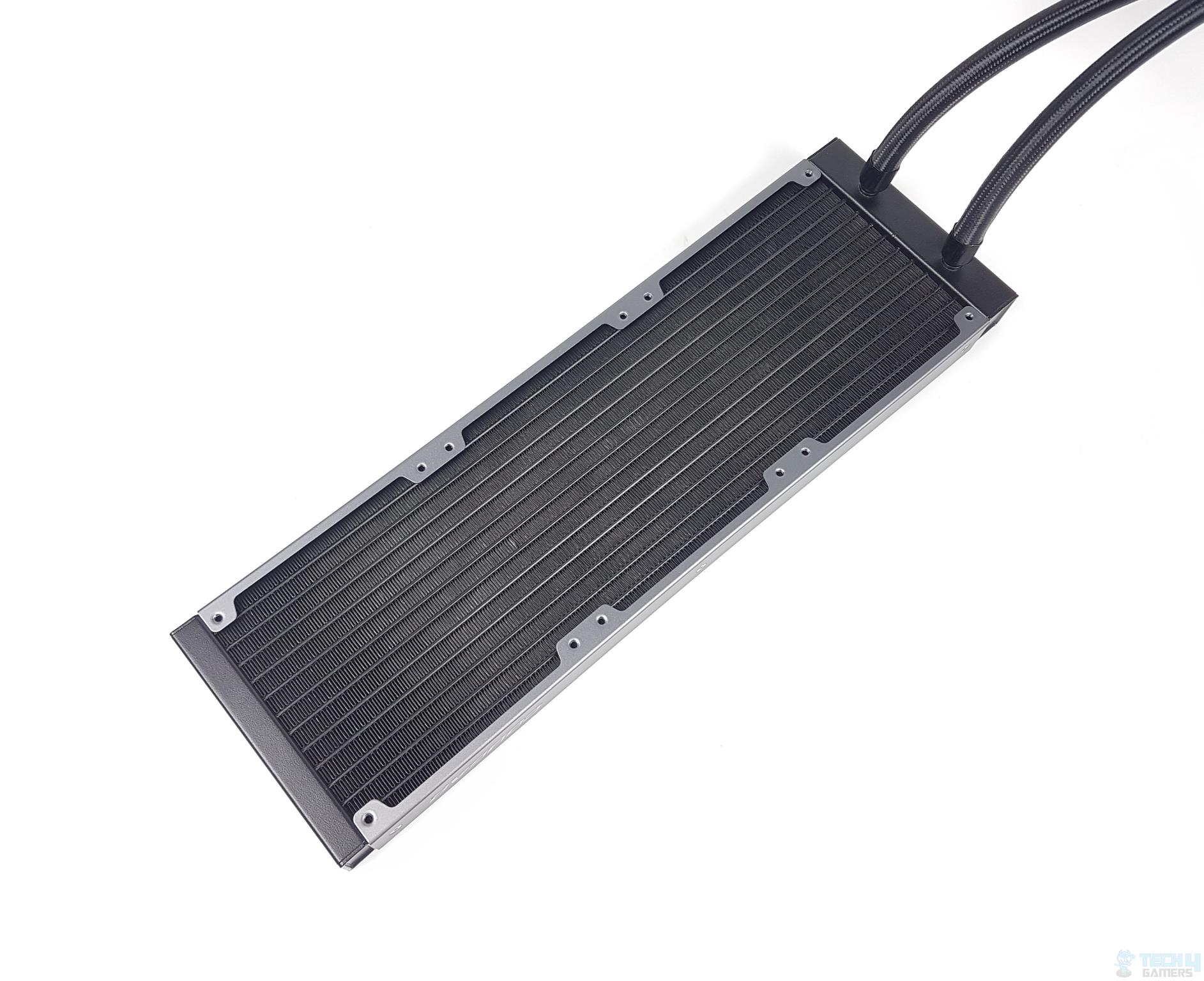 COUGAR Poseidon GT 360 has a 360mm radiator that is made of aluminum material. It has a dimension of 392x121x27mm. 392mm here refers to the length of this unit. We have seen units having lengths nearing the 400mm mark. Adding 120x25mm fans to this unit would make the overall height of 53mm, including the heads of the screws. This is a high-density radiator having a 20 FPI count. There are 12 channels for the coolant flow.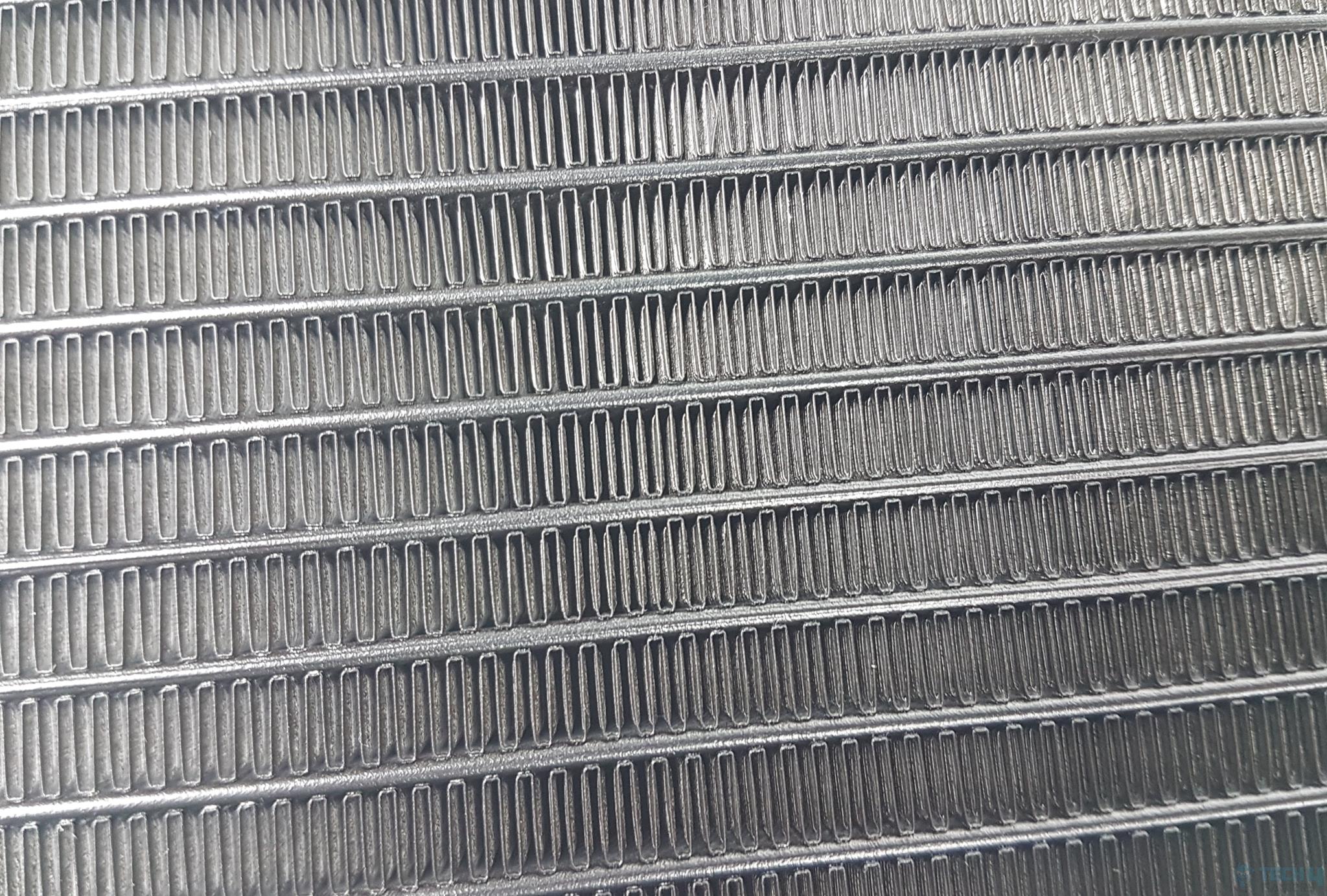 Looking closely at the fins, we see what COUGAR means by UTTERIGHT fins, as they have used a different design for the fin stack. These fins are laid out in a right-angle design, unlike the v shape markings on the traditional layout. According to COUGAR, this design will provide better heat transfer and more efficiency. The overall fin stack job is satisfactory, as we did not find any broken or bend fin on both sides of this radiator.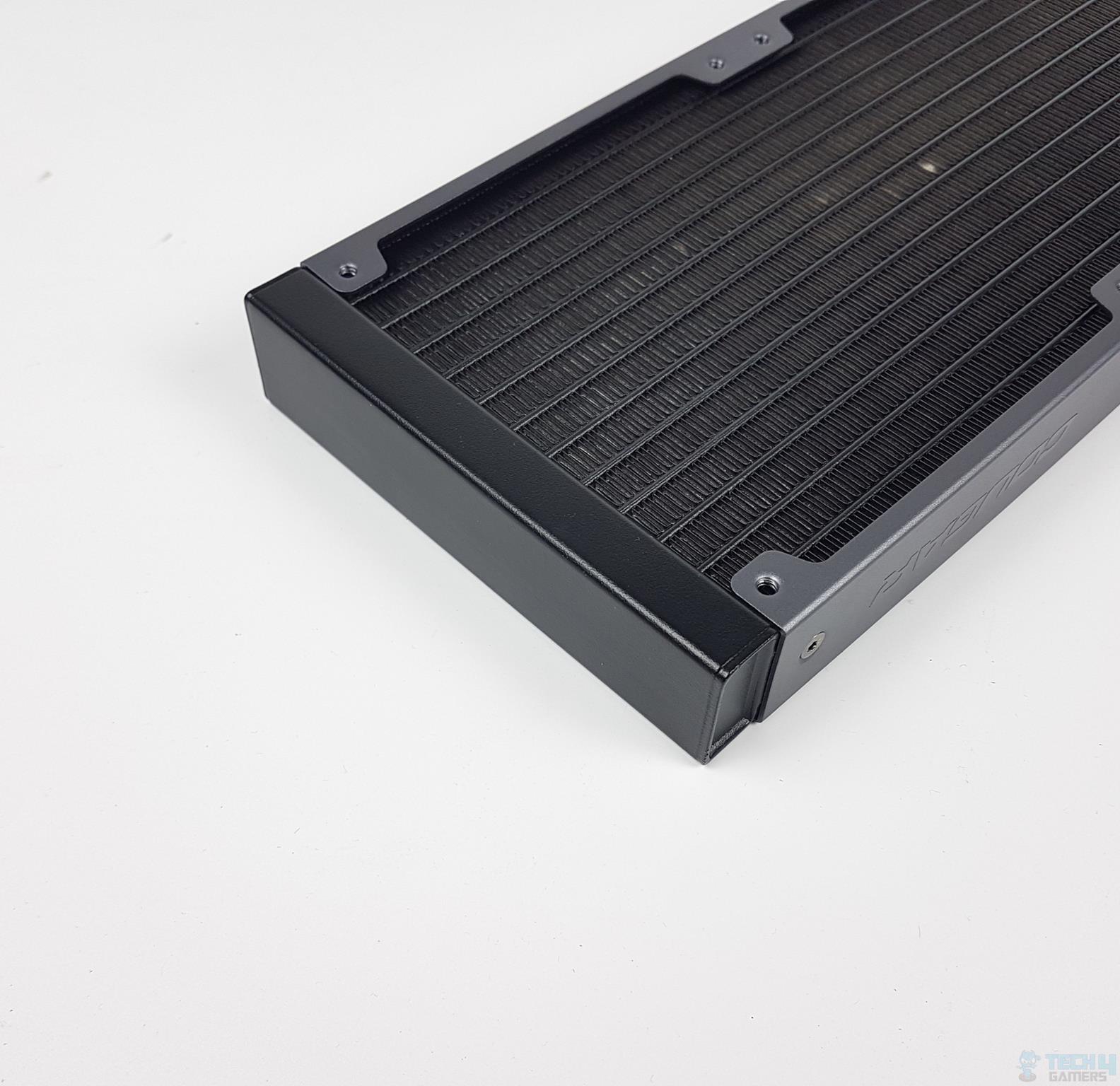 Another peculiar feature of this radiator is that it is finished in black and dark gray colors for quite some aesthetics. Both ends of this unit are in the black color finish. The far end has a rectangular layout without any branding or label.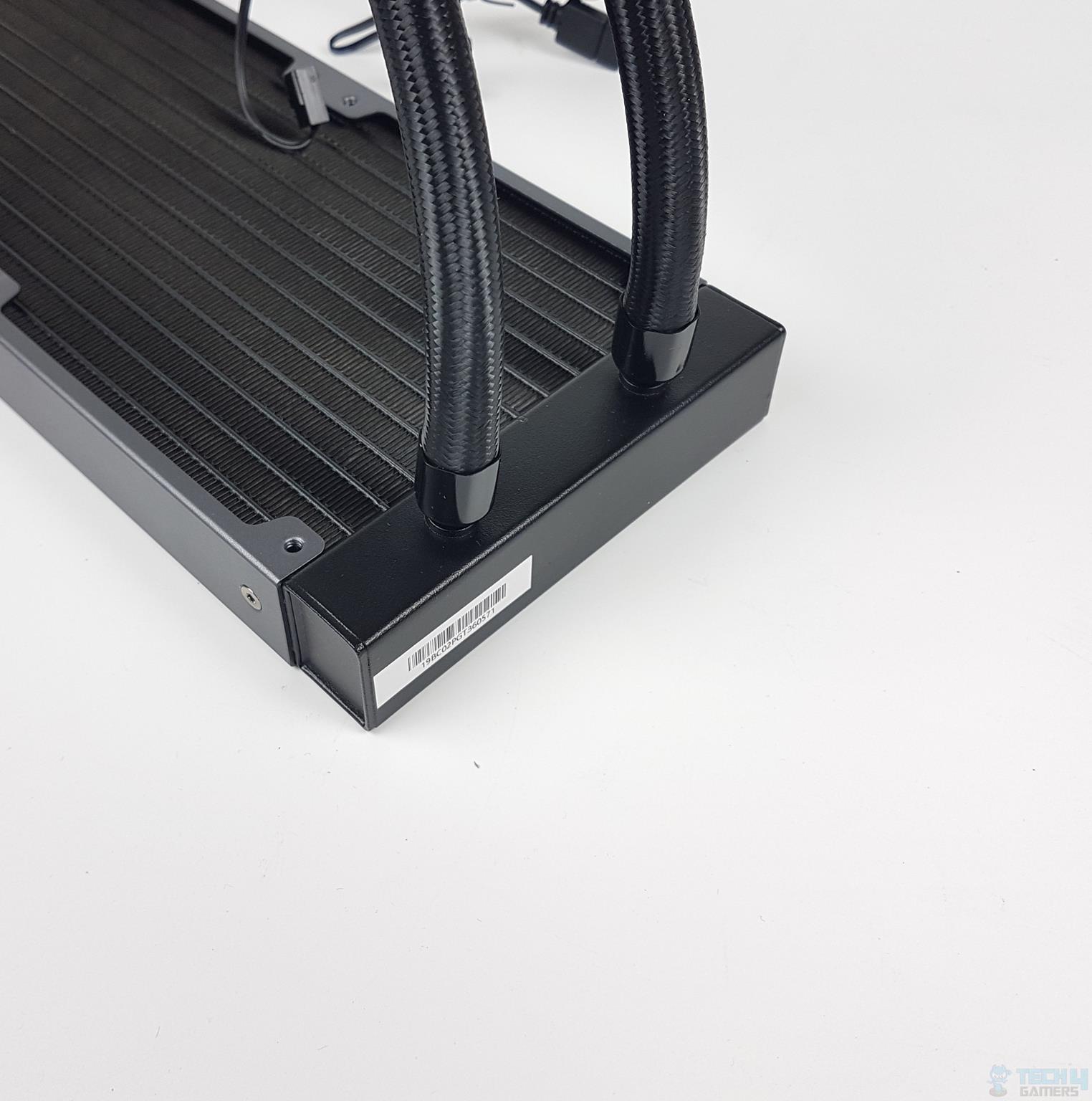 Looking at the tube end of this unit, we can see that COUGAR has used metallic clamps to hide the connection between tubes and fittings. This is for aesthetic purposes as well. We can spot a serial number sticker as well.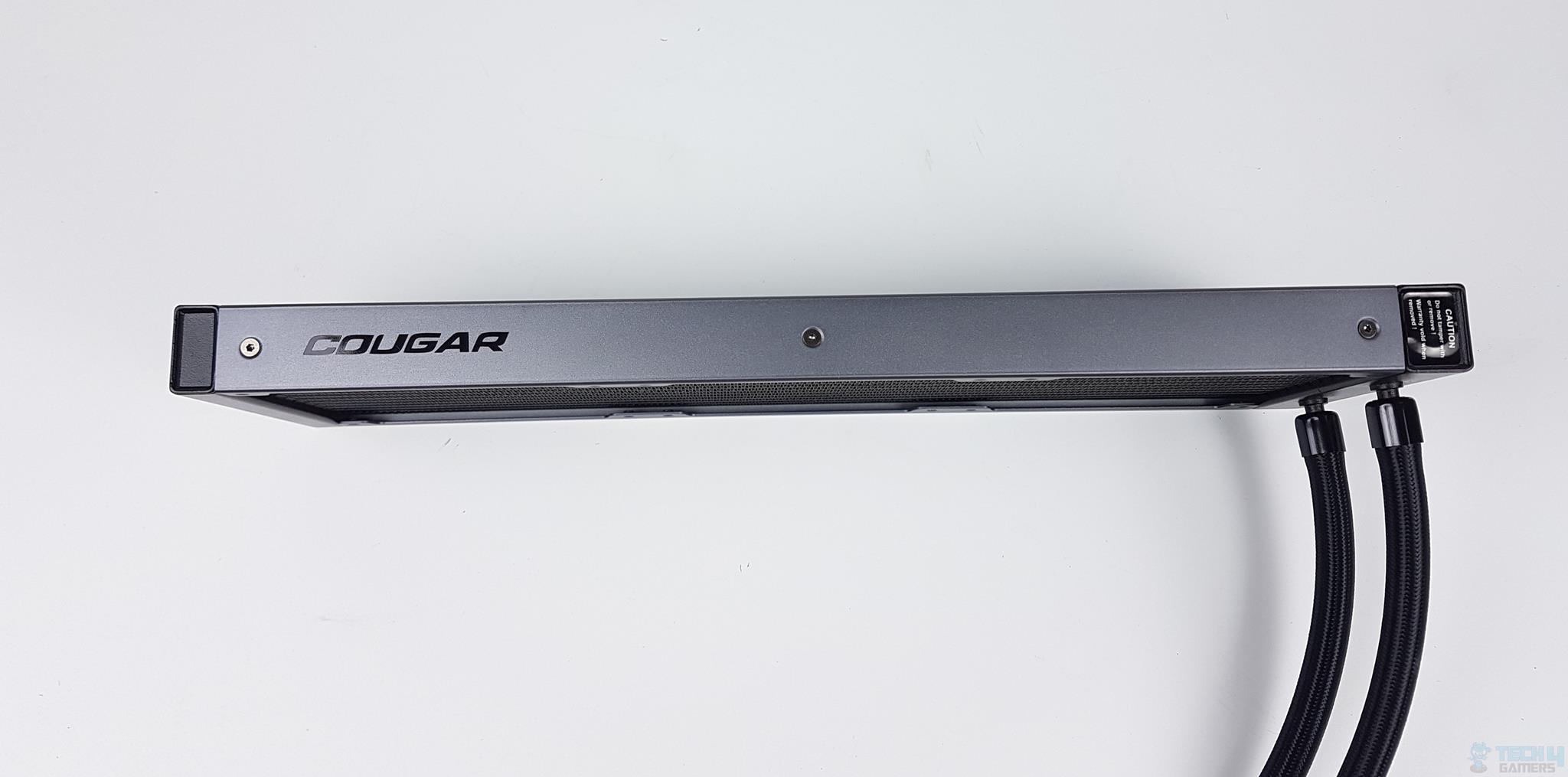 Here you can take a glimpse of the black and gray color combination. The sidebars or plates are gray in color. They are installed using hex screws, meaning they are removable. There is a COUGAR branding in black color on one side of this plate.
There is a black color sticker over one end of the near block or end of this radiator. Clearly, there is a port underneath, which seems to be reserved for factory use only. This sticker hides that port and cautions the user not to tamper, or the warranty will void.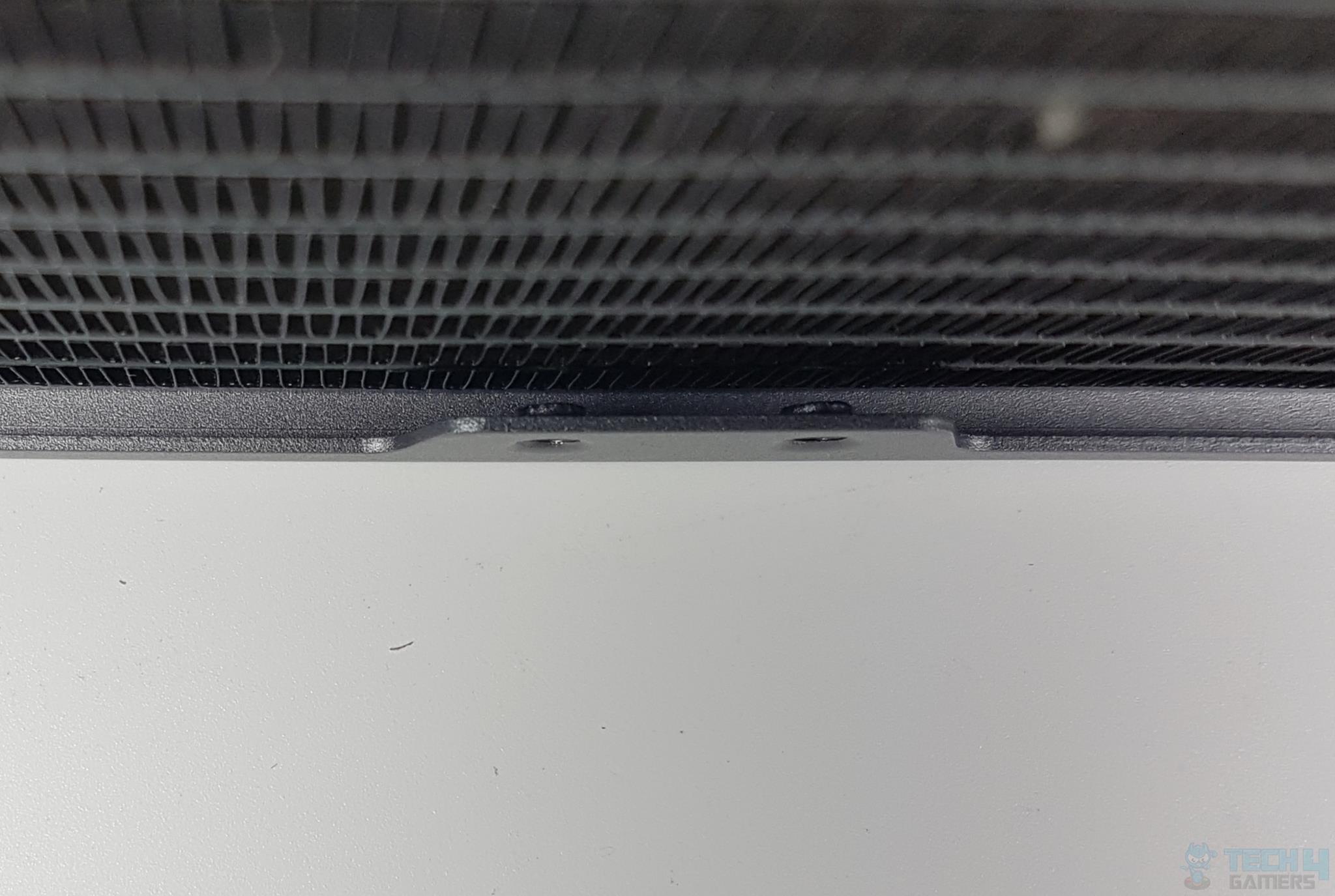 We have been mentioning in our other coolers' contents that there is a particular gap between the side frame and the main fin stack. COUGAR Poseidon GT 360 is no exception to that. So far, only CORSAIR AIOs have zero gaps. There is no protection under the mounting holes, but as long as you are using bundled screws, you are good.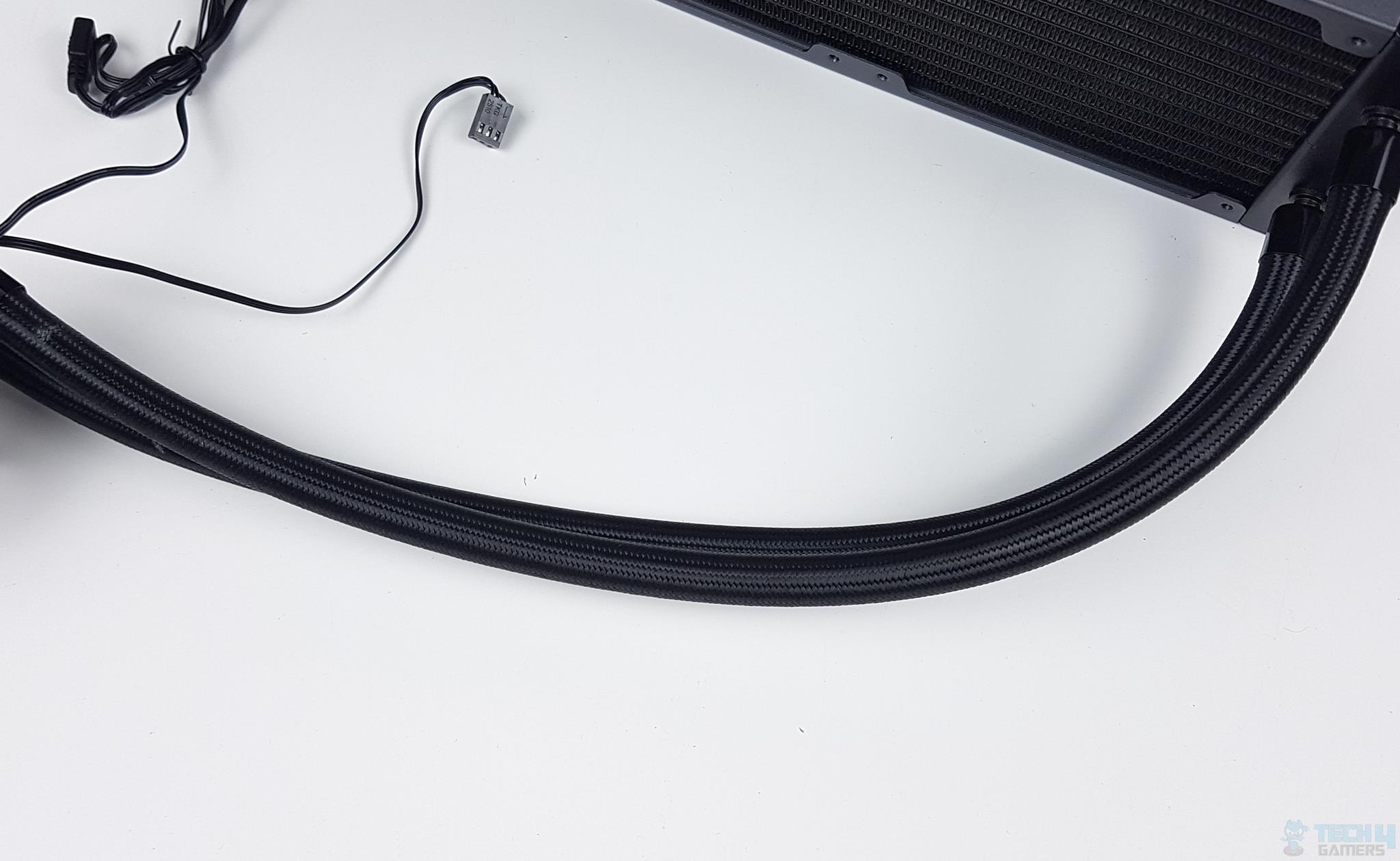 The COUGAR Poseidon GT 360 uses rubber tubes that run to approximately 400mm. These have nylon braided mesh sleeves for aesthetics.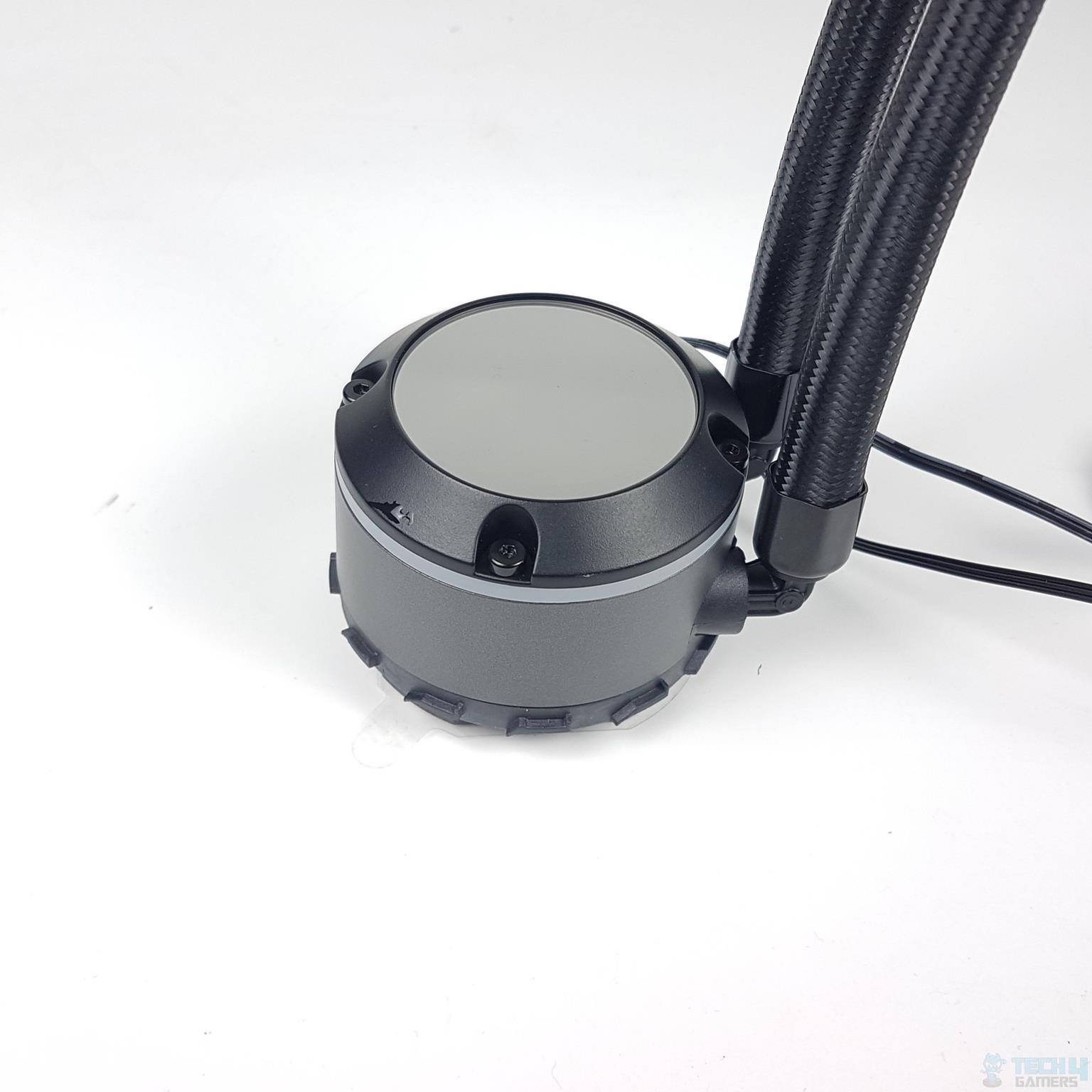 The pump housing has a beautiful design. It is circular or ring design. Ignore the water drops. That was my sweat as I was working in a warm room. This housing is made of ABS material. It has a dimension of 71.5×49.8mm. I appreciate the low height of this unit as compared to other units. We can spot a thick diffuser between the main housing and the top that they refer to as the pump head, which is technically incorrect. It is A-RGB backlit.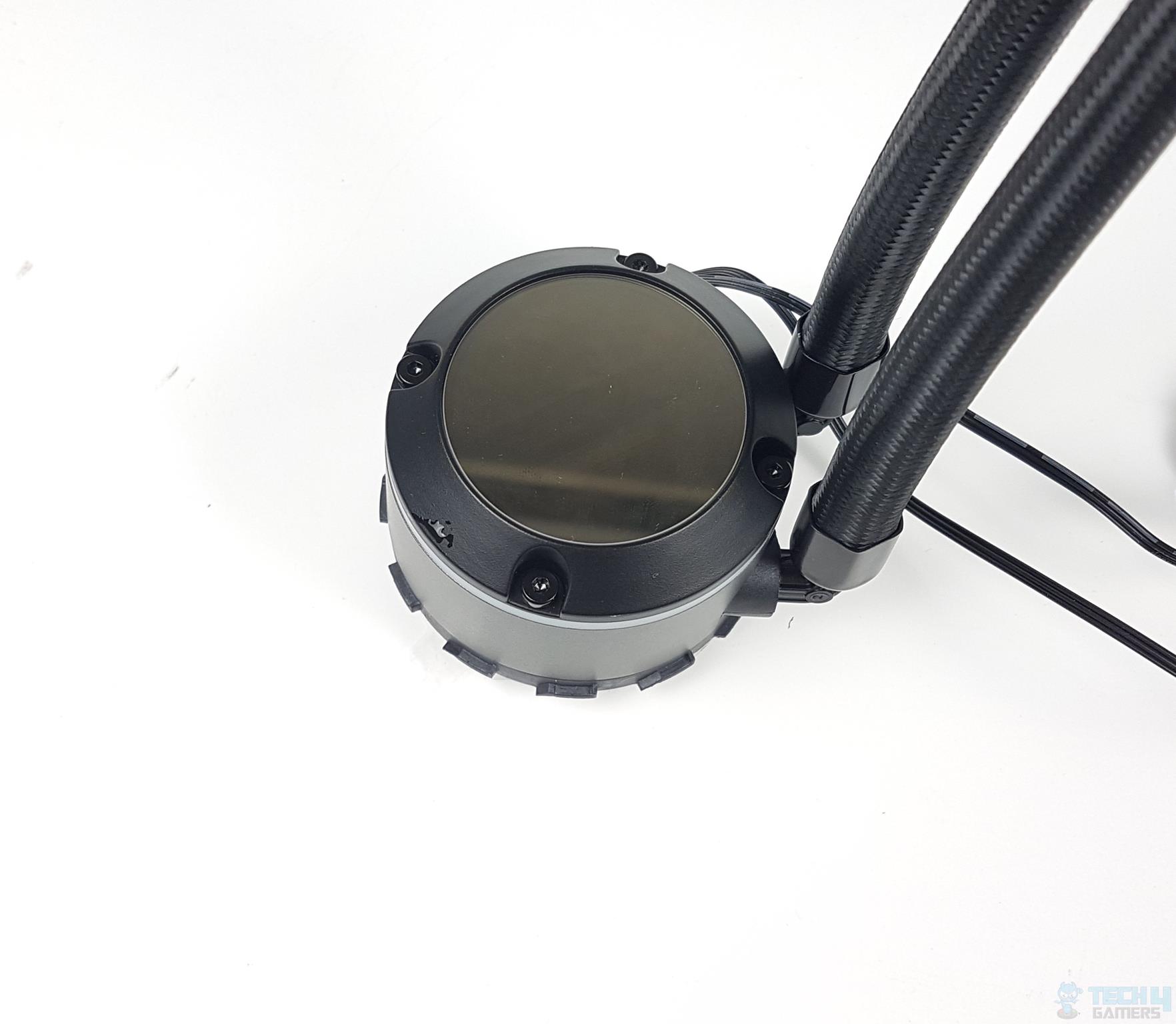 There is a COUGRA brand text on the top under the lid. It has an infinity mirror effect, and all this is A-RGB backlit. The most important design element here is that this lid is rotatable and removable as well. There are four screws securing the lid with the main frame over the diffuser. This rotatable design will allow the users to install the cooler in any orientation, regardless of the COUGAR text orientation. It can always be set up right with a simple rotation of the top lid.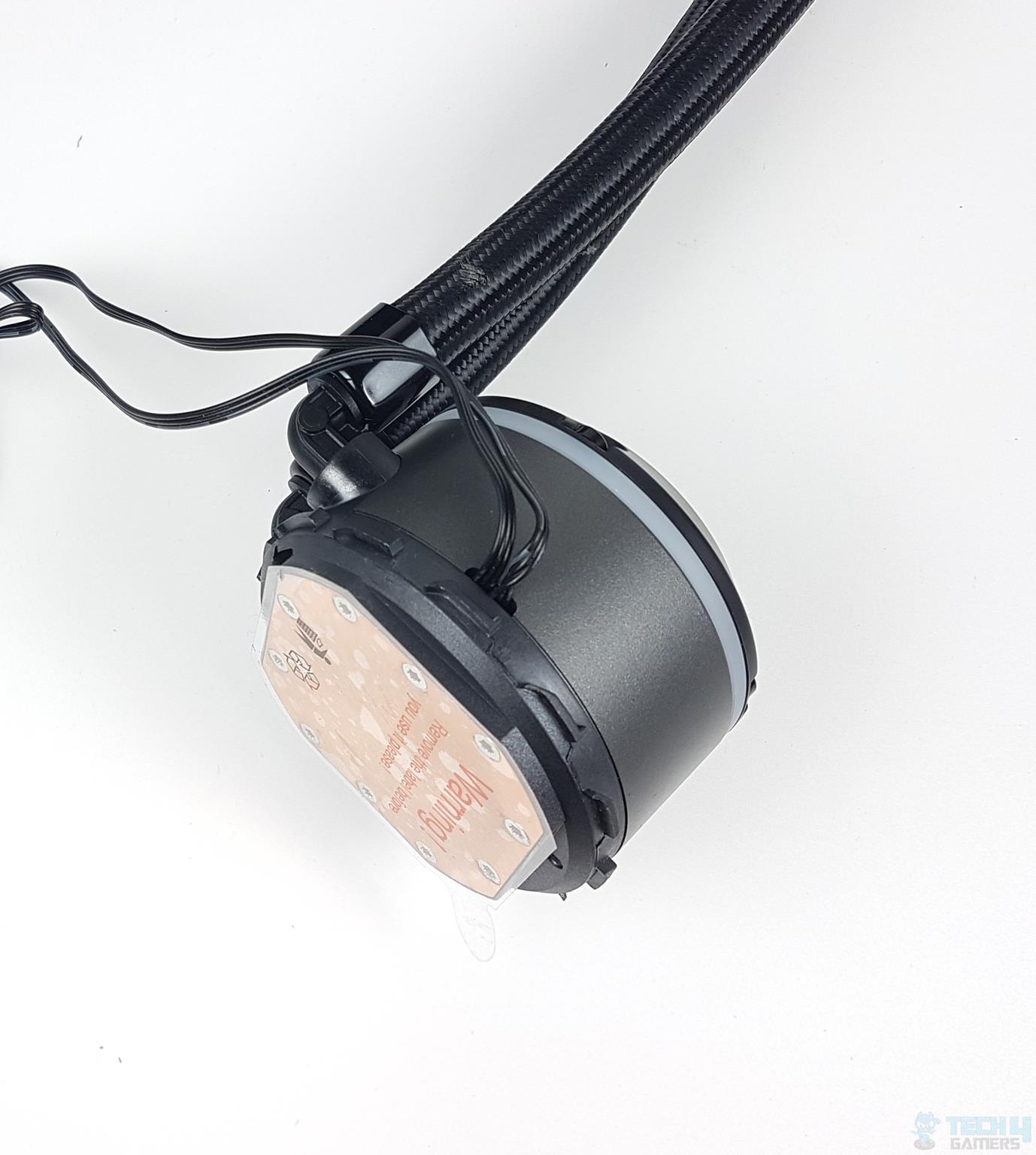 The main housing is finished in gray color. All the sides have no branding or any particular design element over them. We can spot two flat cables coming out from the upper base.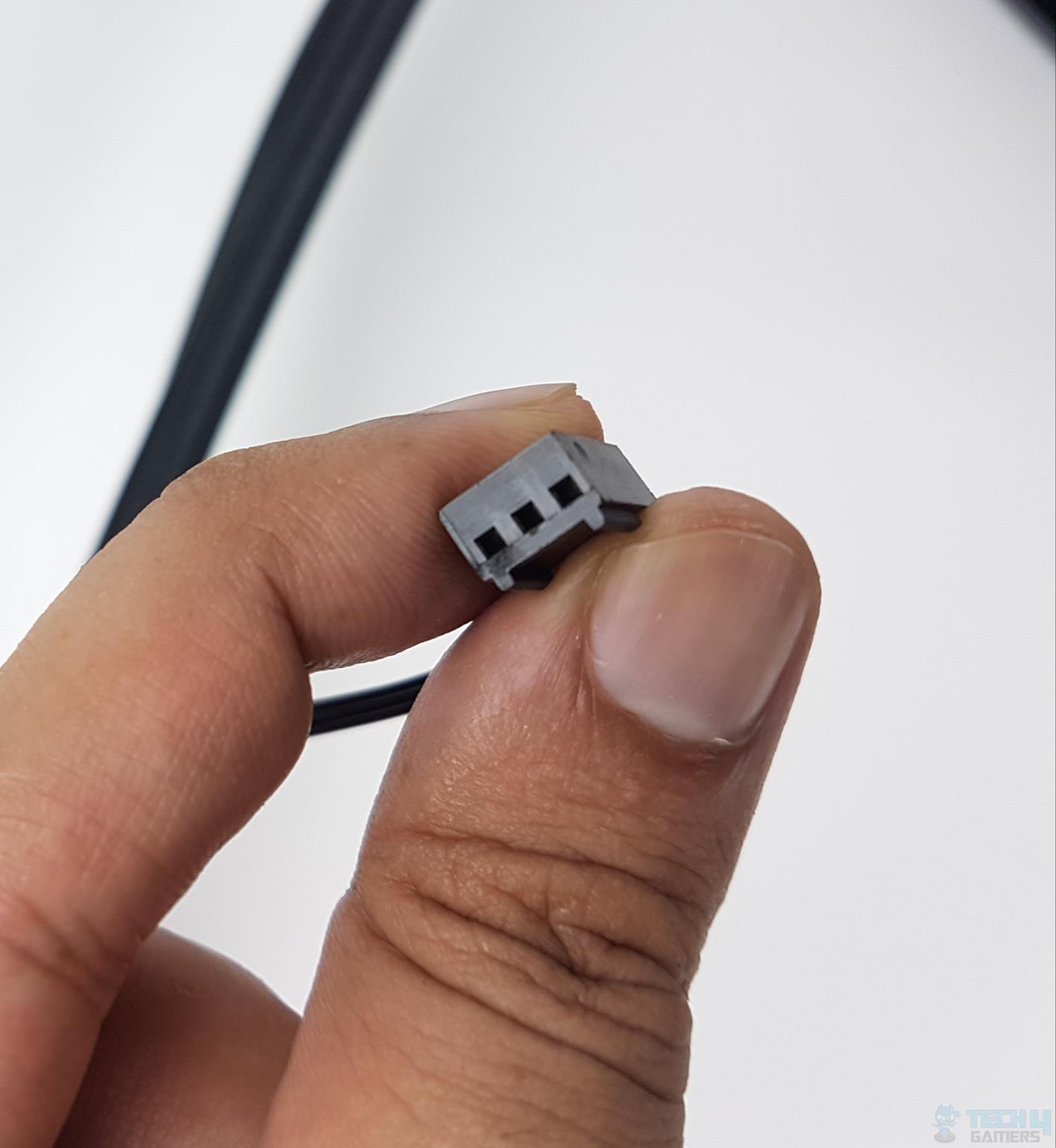 One flat cable has a 3-pin connector on the terminating end. It powers the pump. The pump of this unit has a rated speed of 3200 ± 200 RPM, running at 12VDC using 0.35A with 4.2W power consumption.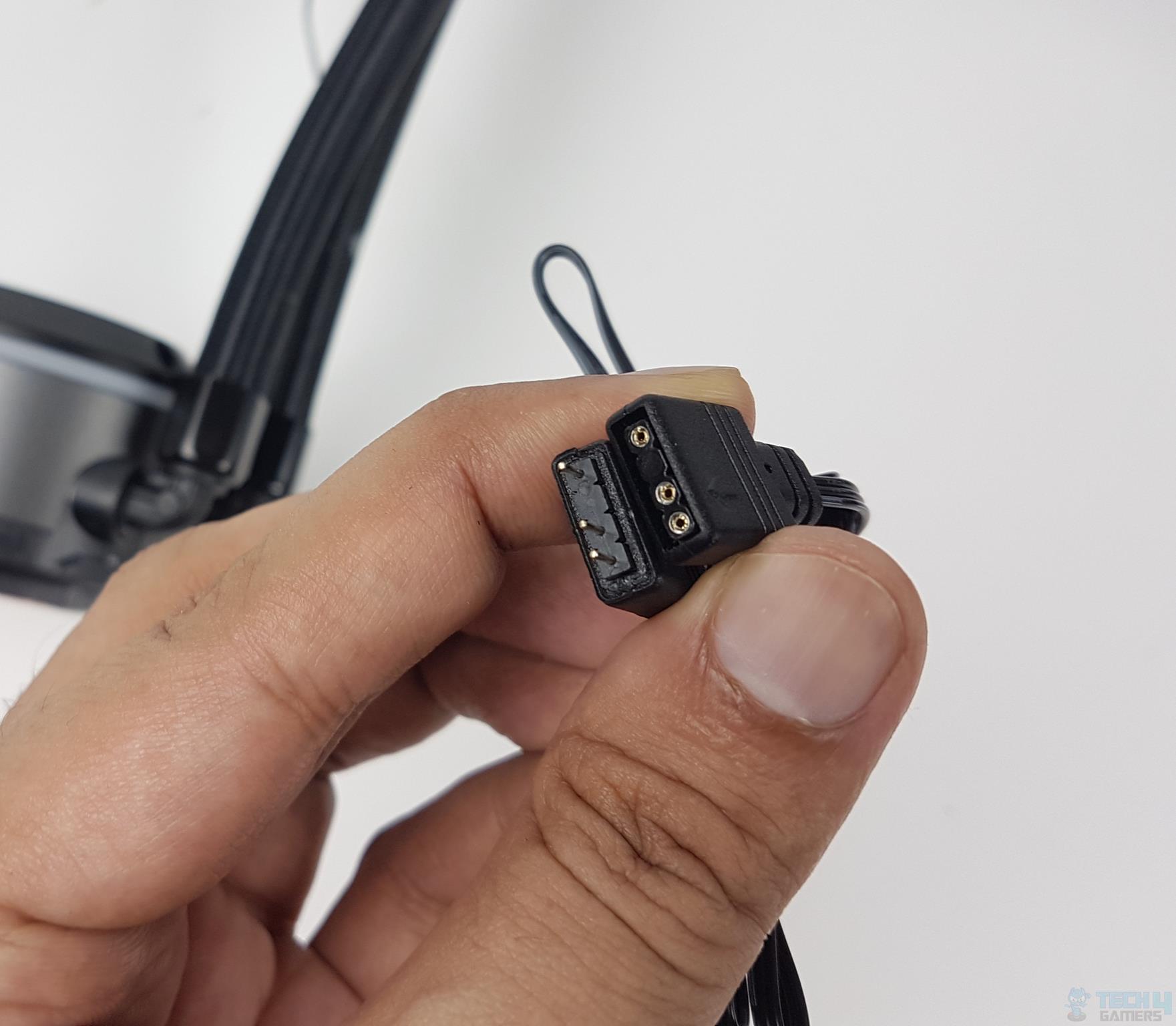 COUGAR is using standard RGB connectors on Poseidon GT 360 cooler. I appreciate this design, keeping it simple, minimalistic yet providing maximum compatibility with the RGB sync technologies of various motherboard manufacturers.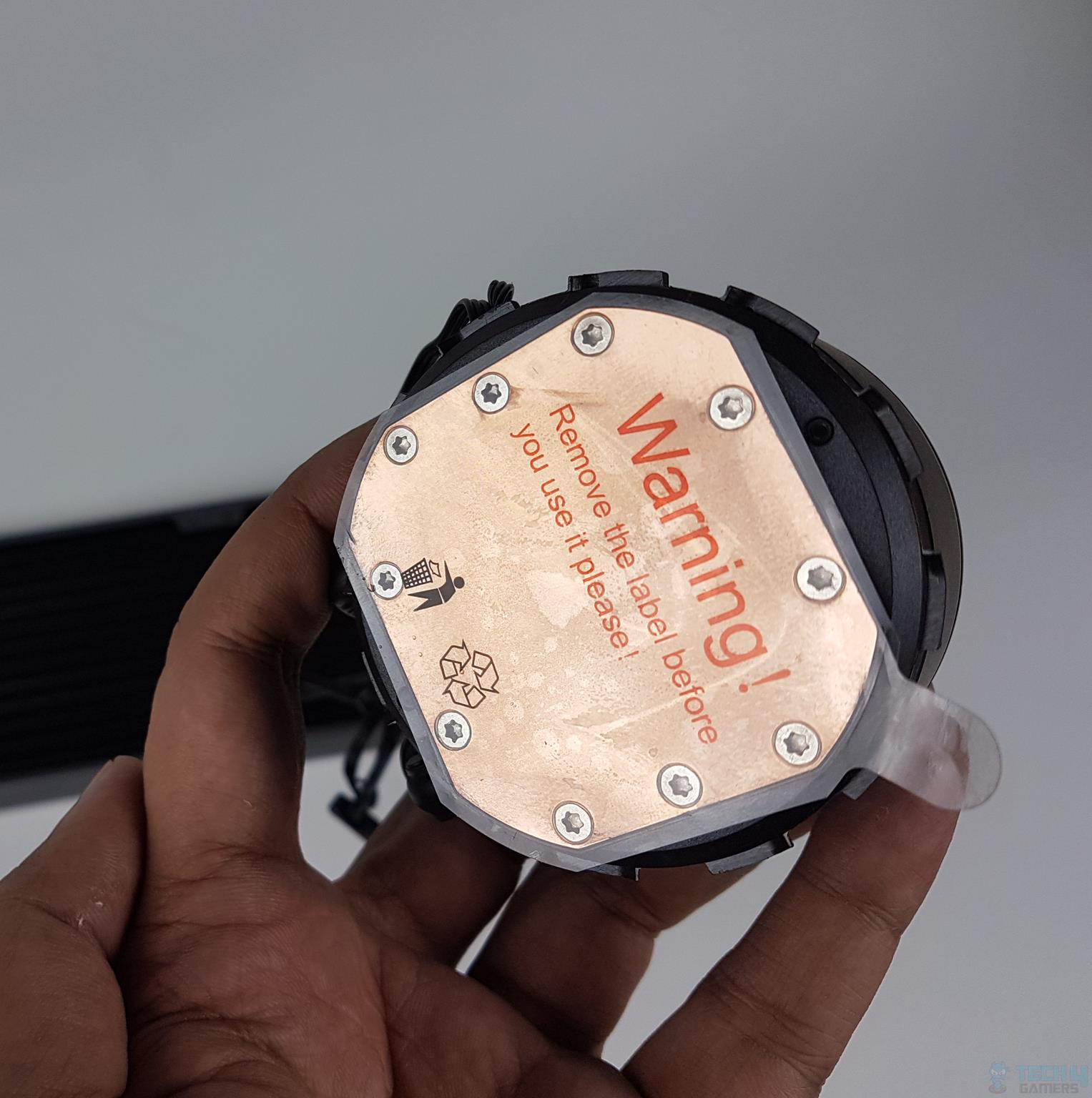 COUGAR has used right-angled fittings on the housing of this pump. The connection between tubes and fittings is concealed using clamps. There is a copper base measuring 51x54mm. It has a protective cover cautioning the user to remove this cover during installation. This cover protects the base from contamination and damage. Although this unit comes with ring brackets, those brackets don't slide in to lock onto the clips; instead, this ring bracket sits on top or over these notches to lock the housing on the CPU. This is the main reason for a different mounting mechanism during the installation of this block.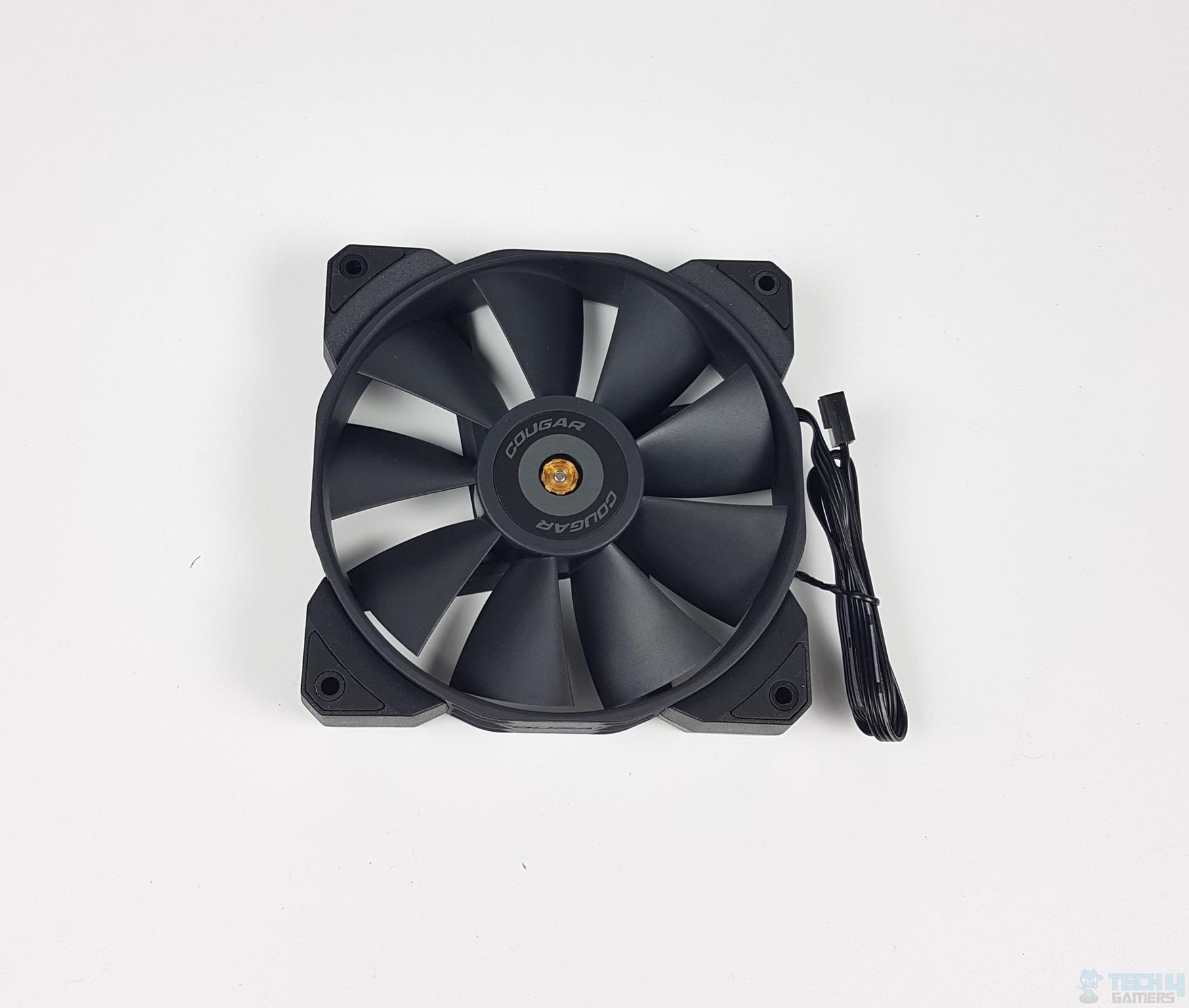 COUGAR has provided three MHP 120 fans with Poseidon GT 360 cooler. These are non-RGB fans, and they are finished in black color from head to toe except for the bearing shell. Each fan has 9x blades. There is a brass-made shell in the center, making the bearing metal-reinforced. This would provide longevity to these fans. There is a COUGAR branding on the hub.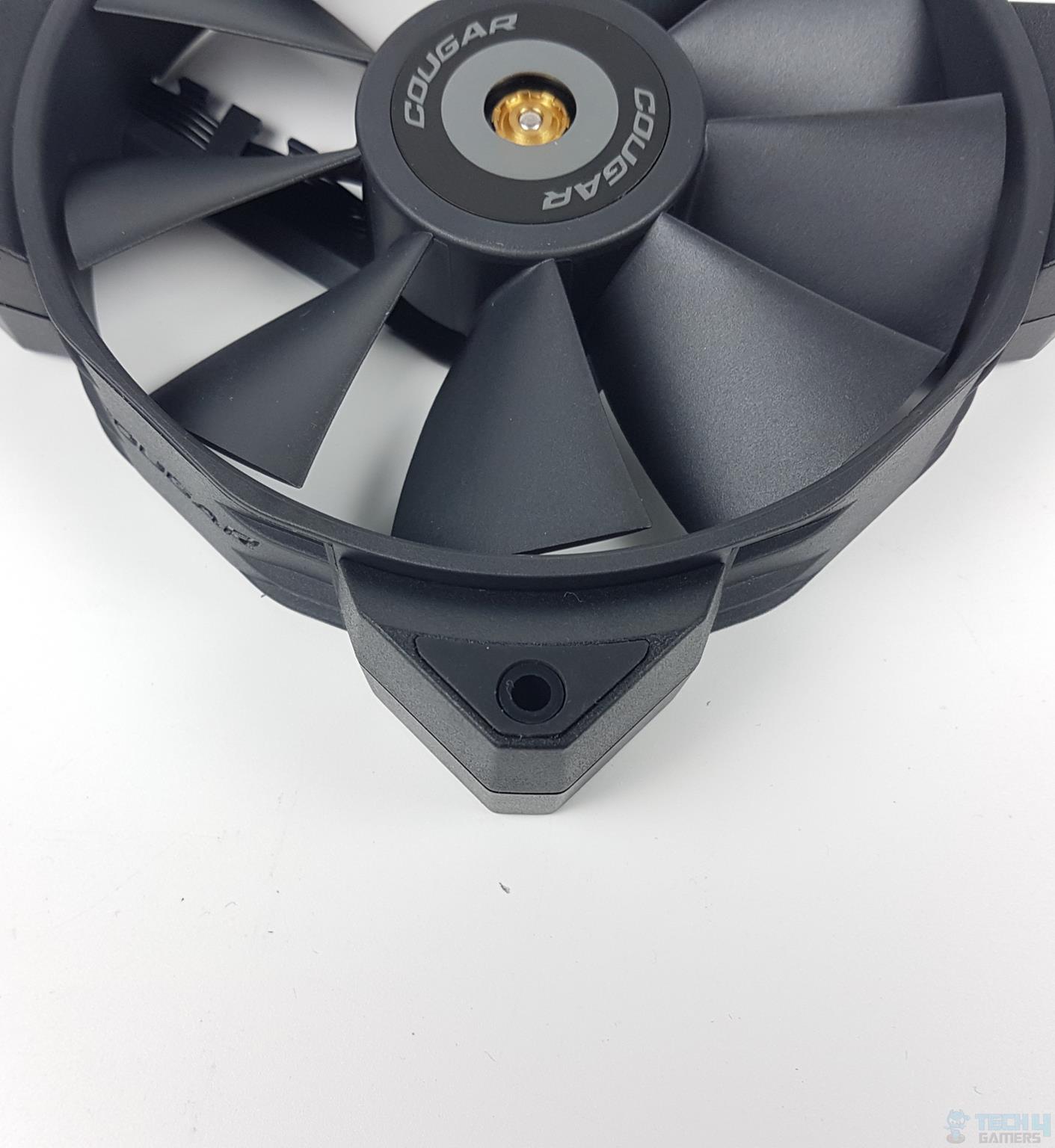 There is a cut-to-size anti-vibration pad on each mounting corner.
There are two arrow markers on one side of the main frame of this fan. These provide a visual aid to the novice user in determining the direction of airflow through the fan and the direction of the blades' spin.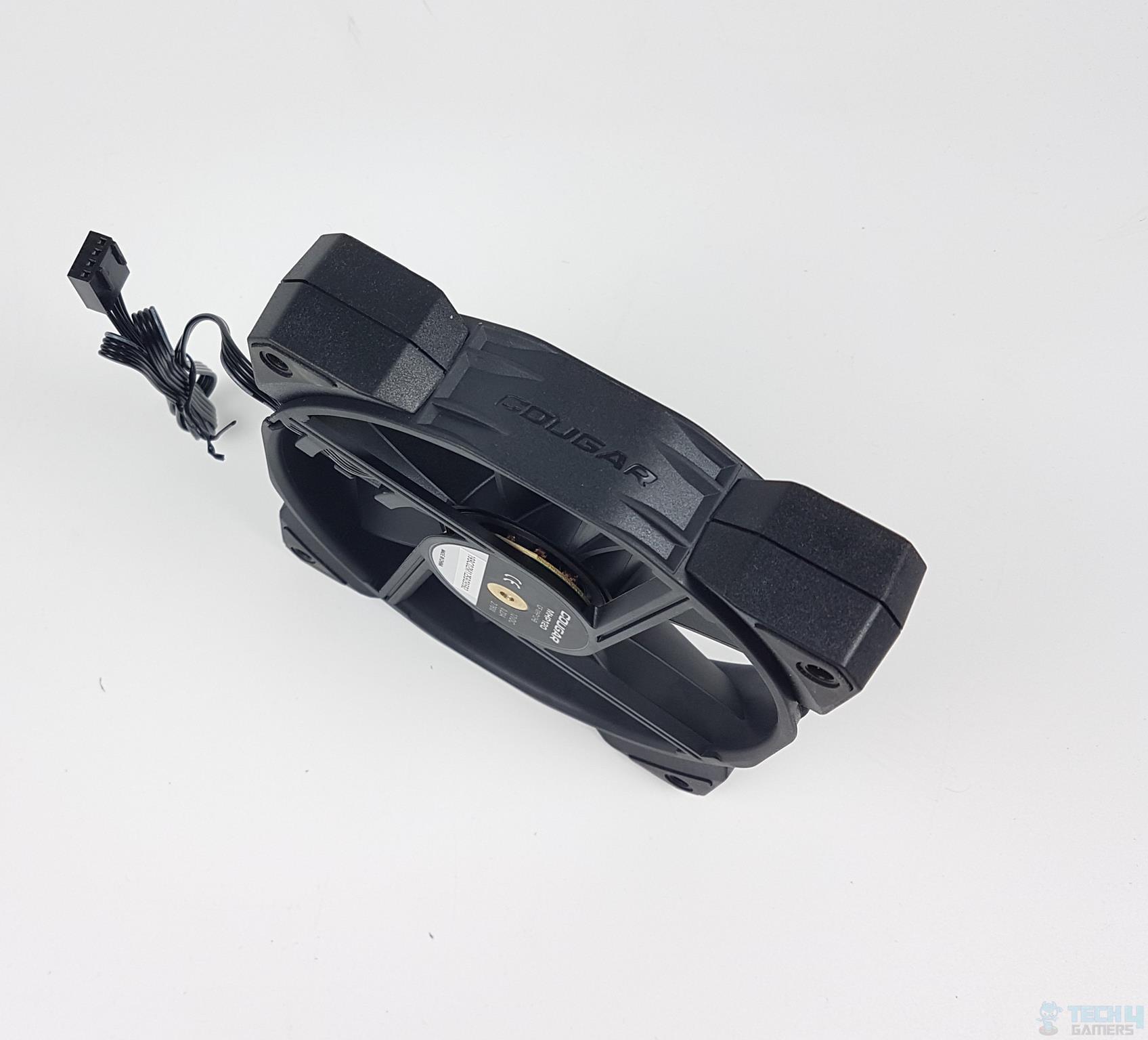 There is a COUGAR branding on the other side of the frame.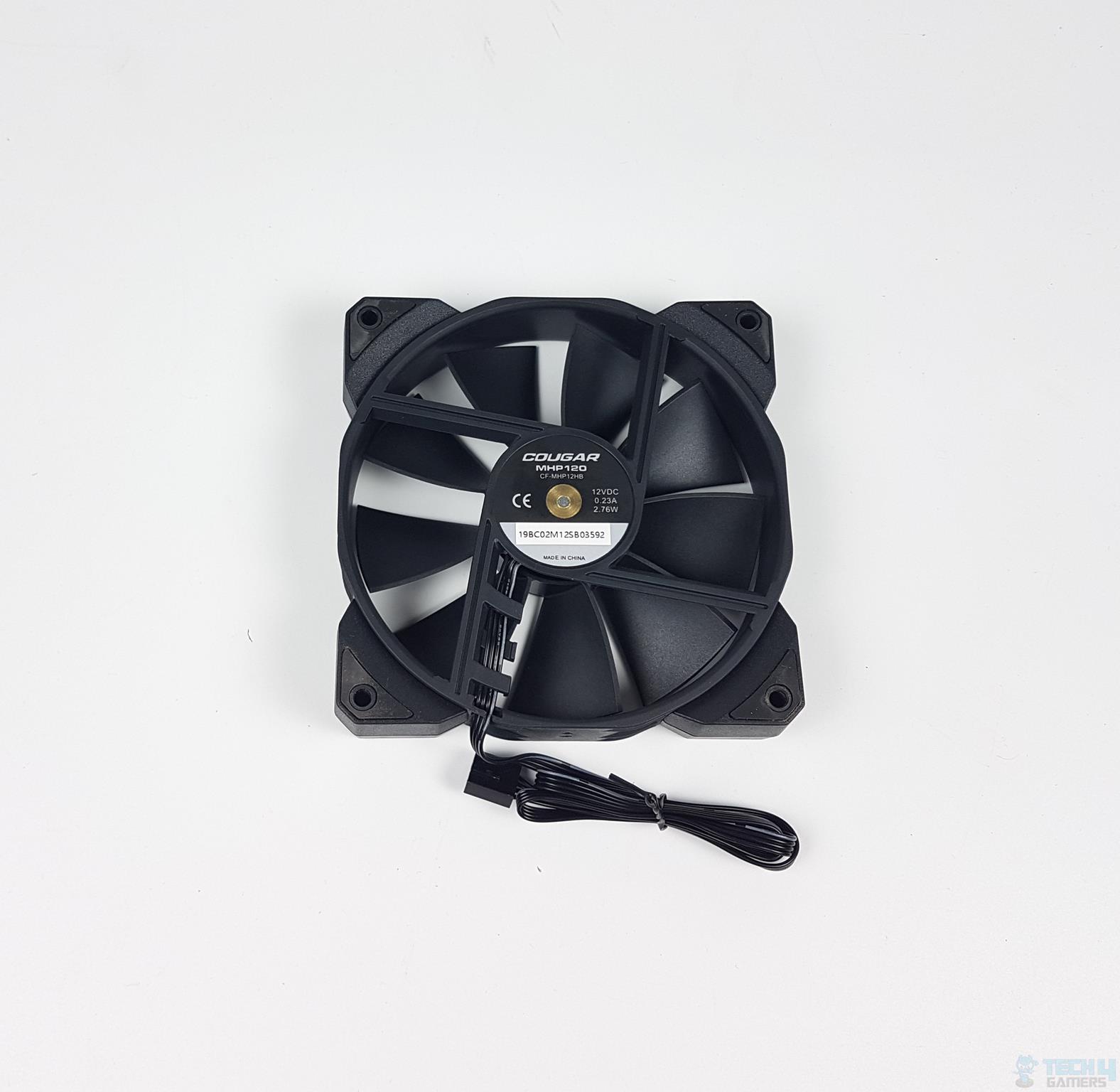 There is a 4-arms assembly on the backside of these fans. One arm has an inset on which the wires are routed toward the frame of the fan. These fans are made in China.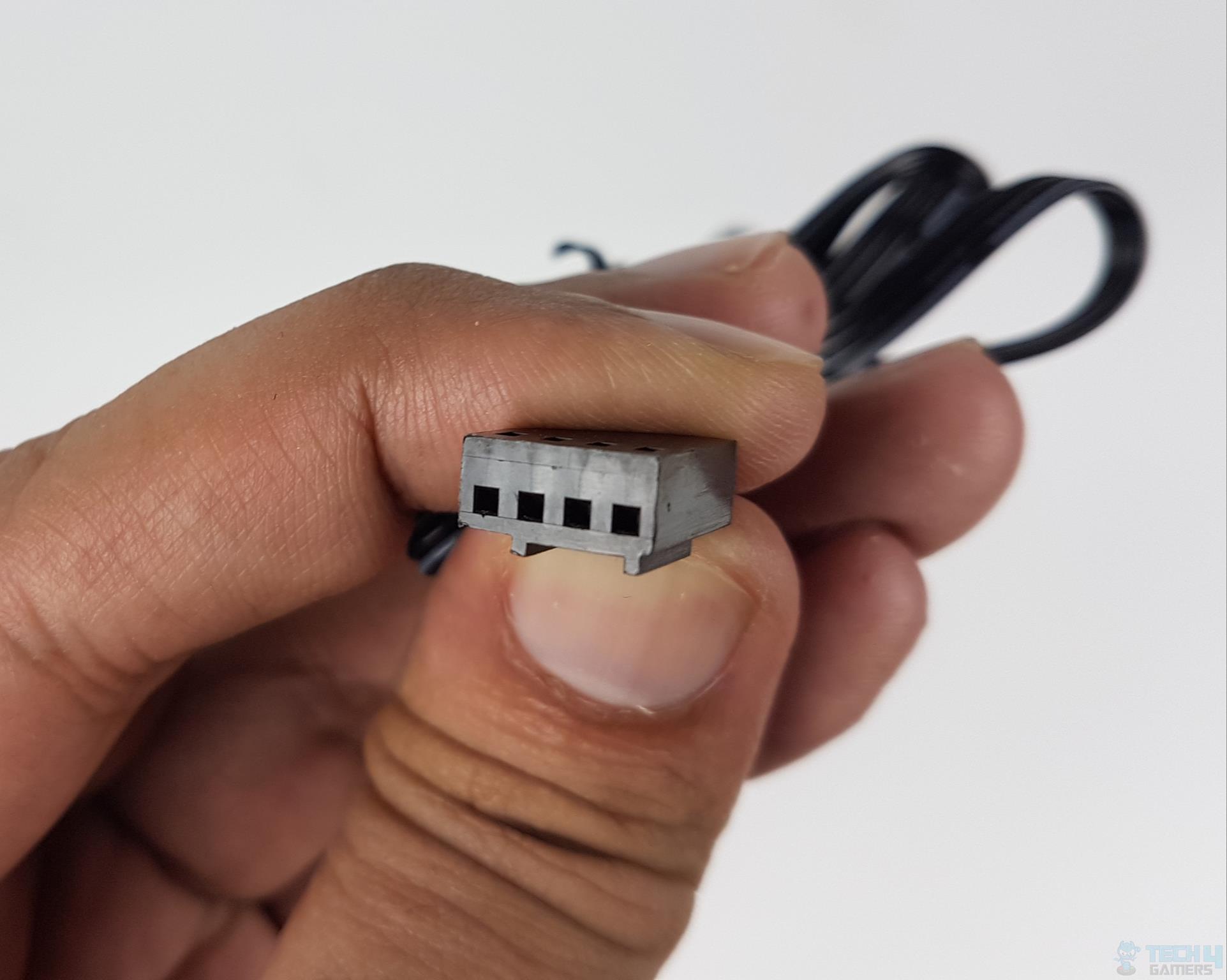 There is a flat cable per fan. This cable powers the fan, and it has a 4-pin PWM connector.
The specifications of the fans are:
| | |
| --- | --- |
| Dimension | 120x120x25mm |
| Type | 4-pin PWM Connector |
| Speed | 600 – 2000 ± 200 RPM |
| Airflow | 82.48 CFM |
| Air Pressure | 4.24mmH2O |
| Noise | 34.5 dB(A) |
| Bearing Type | Hydro Dynamic Bearings |
| Lifespan | 300,000 hours at 25°C ambient |
| Rated Voltage | 12VDC |
| Rated Current | 0.23 A |
| Rated Power | 2.76 W ± 10% |
Installation
We have tested this cooler on GIGABYTE Z790 Elite AX motherboard using Intel i7 13700k. Installation is as follows:
Prepare Intel Backplate for LGA1700 socket
Place the backplate on the backside of the motherboard
Place red color silicon pad on the protruded standoffs of the backplate. Alternatively, you can place these pads on the stud bolts directly towards the thick side.
Secure the backplate using the stub bolts
Place the Intel ring bracket on the installed stud bolts
Use thumb screws on each stud bolt but don't tighten them so that bracket can remain to lose
Remove the protective cover from the base of the unit
Apply the thermal paste on the CPU IHS
Place the block through the ring bracket and slide it in offset or right-angled so that bracket snuggles the bracket
Install fans over the radiator
Install radiator as per requirement
Connect cables
Installation is complete
This was not a convenient installation. Here is a walk around. Instead of placing the ring bracket over the stud bolts, place the ring bracket on the block housing so that it sits on top of the notches, and pressing the bracket down would keep it locked. This is how I installed this cooler and tested it.
This unit has a dimension of 392x121x53mm with fans installed. The tubes don't obstruct the DIMM slot and PCIe slot. However, you need to make sure that there is enough clearance in the PC Case.
A-RGB Lighting
COUGAR uses standard 3-pin, 5V connectors for A-RGB lighting, making this solution compatible with RGB sync technologies from all major motherboard manufacturers. We have tested the lighting on GIGABYTE Z790 AORUS ELTIE AX motherboard. The D-RGB lighting is working fine with RGB FUSION 2. We did not use the dedicated controller. Here are a few pictures.
Thermal Testing
We have used the following configuration for testing:
The test table for Intel core i7 13700k is:
| | |
| --- | --- |
| Clocks | Auto, Stock |
| Voltage | Auto, Stock |
| Power Limits | Enforced |
| C-States | Disabled |
| Speed Step | Disabled |
| Rest of settings | Stock, Auto |
| XMP | XMP Loaded where available |
| Thermal Paste | Alphacool Subzero Thermal Paste |
| Thermal Paste Application | X pattern |
| Headers | CPU_FAN, CPU_OPT, and PUMP Headers |
| Stress Software | CINEBENCH R23.2 |
| Stress Run Time | 30 minutes |
| PC Idle Time | 5 minutes |
| Monitoring Software | HWInfo64 |
| OC Tool | Intel XTU |
We have seen AMD AM5 and Intel Alder Lake S CPUs taking more power, and this time both sides have aimed at reaching the maximum clocks regardless of the thermal limit. In fact, the AM5 SKUs will run into thermal limits right away depending on the cooling solution and the clocks being used. This has made testing of CPU coolers challenging because viewers/readers are not used to a new nomenclature which is what clocks are sustained under a given load using a particular cooler.
That is if the cooler is capable of providing enough cooling heads to sustain the high frequencies at high package power. Among other reasons is the high thermal density of these new CPUs. Traditionally we are used to going the other way around, that is, which cooler is better in terms of thermal capacity. Despite this, we are using temperatures as a base for measuring this unit.
The ambient temperature was in the range of 32°C. We are reporting absolute temperatures in the graph. The testing is done on an open-air bench system. Once inside the chassis, the temperatures are expected to rise and would largely depend upon the optimal airflow inside the chassis. This high temperature was the reason we enforced the power limits.
Disclaimer: Every silicon is different; hence no two same SKUs are likely to take the same voltage to yield the same performance at the same thermals per se, but the margin would be close. Not every stress test run may yield the same result, which could be due to various reasons like thermal paste application, ambient temperature variation, the mounting pressure of the cooler, etc. This is very why we have listed our variables and their settings. Let's take a look at the results.
Result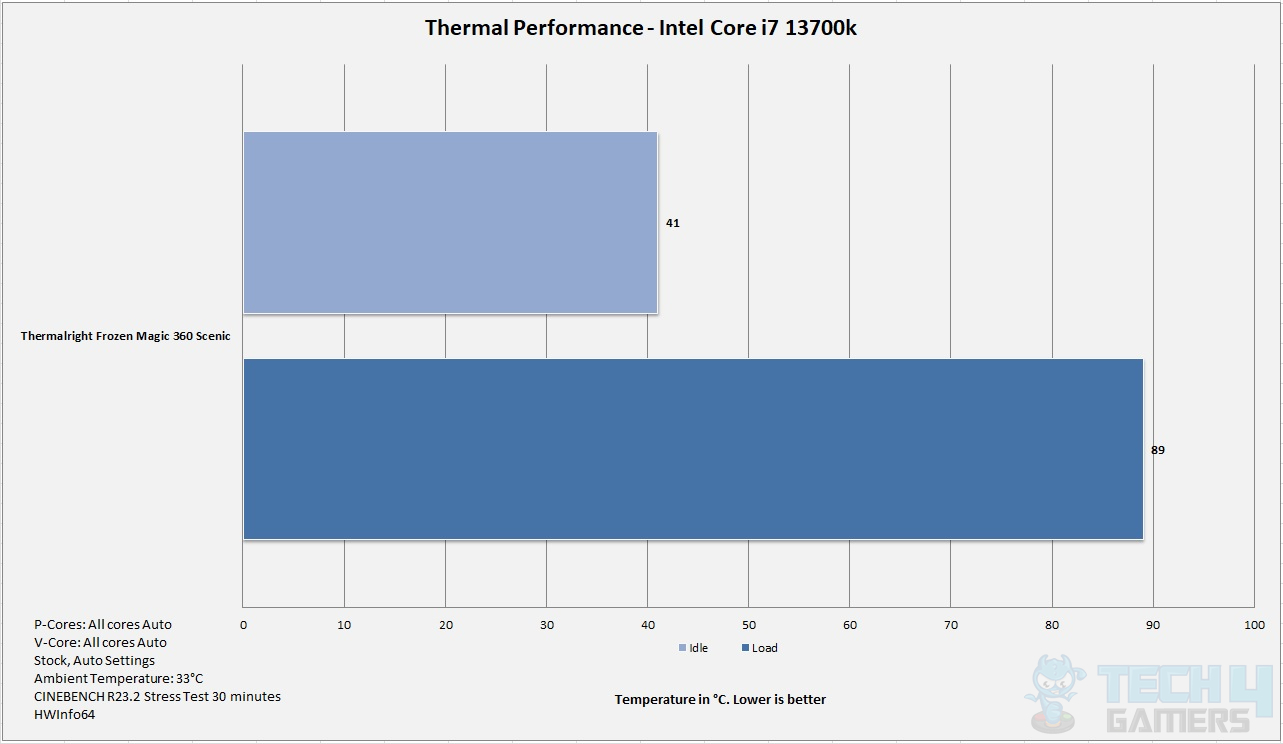 This is a good performance from this cooler. We were roughly operating at 200W power on the package, and this is where many other coolers in our testing have struggled, but this cooler can handle this job. Yes, the temperature is almost reaching the 90s but you have to keep in mind the high ambient temperature and the thermal behavior of this platform.
Noise
Our sound meter shows this cooler to be at 52 dB(A) to 53 dB(A) sound output level. A custom fan curve is suggested if you are sensitive to high noise from the fans. The ambient was at 32 dB(A) approximately.
Conclusion
In this article, we have taken a look at COUGAR Poseidon GT 360 liquid cooler. This is our first ever COUGAR product under review light (Not sponsored). COUGAR carries multiple liquid cooling solutions under the umbrella of the Poseidon series. GT is mentioned to be a high-performance cooling solution by the manufacturer, and we put it through paces to find out its performance potential.
The Poseidon GT series has 240mm and 360mm size liquid coolers. The COUGAR Poseidon GT 360 is compatible with Intel LGA 115x/1366/1200/1700/2011/2066 and AMD TR4/TRX4/AM5/AM4/FM2/FM1/AM3/AM2+/AM2 sockets. You can expect the same compatibility for the 240mm version.
We are not sure about the OEM of this unit, but it is not ASETEK and this is the prime reason why this cooler is not available in US markets. ASETEK patent in the US implies that only ASETEK-based coolers can house pumps in the block. Some brands simply don't launch their coolers, violating this US-based patent in the US markets, but the rest of the regions and some brands have come up with installing pumps in the tubes. We can see that COUGAR decided not launching this cooler in the US region.
The COUGAR Poseidon GT 360 liquid cooler has a 360mm radiator. Please don't confuse 360mm with the length of the radiator. Both are different connotations. When we say a 360mm cooler, we imply that this cooler use three 120mm size fans. This unit has a dimension of 392x121x27mm. Here you can see that length of this radiator is 392mm, not just 360mm. The housing of this radiator is black and gray in color, and I like this color combination. The side frames are gray in color, while the rest of the assembly is black in color. The tube connection with fittings is well concealed. This unit uses rubber tubes that have black color mesh sleeves for aesthetic purposes. These tubes have a length of 400mm. I must say that the true colors on this unit will come once you install black color fans.
This radiator has a different fin stacking compared to the traditional way. COUGAR has installed fins in a right angle manner, unlike v-shape or what others call E-shape fin placement. This is what COUGAR refers to as the UTTERIGHT fin on Poseidon GT 360 cooler. According to COUGAR, this would give better heat transfer efficiency.
The block of this cooler is in a ring design with a slim profile to my liking. It stands at 71.5×49.8mm. Here 71.5 refers to the diameter, whereas 49.8mm is the height of this housing. It features an infinity mirror design behind the COUGAR text on the top lid. This lid is removable, and the user can also remove it. This lid is secured using 4x screws to the main housing. There is a diffuser running between the top lid and the main housing. All these areas are A-RGB backlit. There is a copper base measuring 51x54mm. The pump is powered by a 3-pin connector on the power cable. The pump of this unit has a rated speed of 3200 ± 200 RPM, running at 12VDC using 0.35A with 4.2W power consumption.
COUGAR has provided three high-performance MHP 120 fans. These are 120mm size fans, and they are non-RGB. These fans have a metal-reinforced motor hub and metal-bearing shell. This provides stability and durability. These fans are using Hydro Dynamic Bearings. Each fan has 9x blades and a PWM control. These fans have a dimension of 120x120x25mm. They have a maximum speed of 2000 ± 200 RPM with a maximum of 82.48 CFM airflow at 4.25mmH2O static pressure. The noise level is rated at 34.5 dB(A) maximum.
COUGAR Poseidon GT 360 comes with a dedicated A-RGB controller. This would be helpful when your motherboard does not support the RGB sync technology. It is SATA powered. It has a fixed port on one end that has a standard RGB interface (5V). It is wise on COUGAR's part to use standard RGB connectors to provide maximum compatibility with RGB sync technologies of various motherboard manufacturers. We have tested on GIGABYTE Z790 AORUS Elite AX motherboard using RGB Fusion 2.0 app. RGB lighting was found to be working fine.
Installation could have been simple and convenient, but the very requirement of installing a ring bracket on the stud bolts first, followed by placing rotating the block, makes it inconvenient. However, there is a walk-around in which you can place the ring bracket on the notches of the block in such a manner that the ring bracket fits firmly on those notches and does not fall down on pressing. Carefully placing the block on the CPU where threaded portions of the studs pass through the mounting holes of this ring bracket will do it. There, I have made it somewhat convenient. Installing this cooler on an Intel LGA1700 socket would need 14 items.
Since this cooler is not available in the US region, we are mentioning the Canadian price, which is $149 CAD. In our thermal testing, this cooler has performed very well, and we are impressed by what this cooler can do in the 200 to 210W package power range. Don't expect it to handle more than that unless you are operating at a 20-ish ambient temperature. There is a subtle A-RGB with infinity mirror lighting effects on the block. On top of this, COUGAR is providing a 5-year warranty on this cooler. This all sounds like a perfect cooling solution, but fans are loud and don't forget the tricky installation.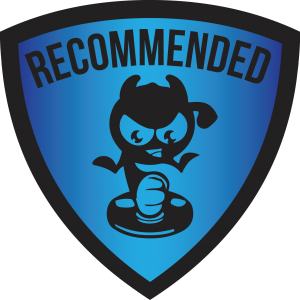 Learn more about Tech4Gamers Awards
Was our article helpful? 👨‍💻
Thank you! Please share your positive feedback. 🔋
How could we improve this post? Please Help us. 😔