Intel's Alder Lake CPUs come with four new chipsets of motherboards supporting these CPUs. These series are introduced in the form of Z690, B660, H670, and H610. Our focus today is Z690 vs H670 vs B660. Today, we will dive deep and see which chipset is ideal for which consumer. We will not be discussing H610 motherboards because of the extraordinary cut-down on features. Furthermore, we have not reviewed these motherboards as of yet.
The naming pattern of these chipsets is the same that Intel has been using for a few years. Z690, B660 and H670 precede Z590, B560 and H570, respectively. If you are familiar with this pattern, you might already know how they differ in terms of price and features.
In our recent comparison (read: i5-12900K vs Ryzen 7 5900x and i5-12600K vs Ryzen 7 5800x), we compared two CPUs from Intel's Alder Lake lineup. We saw that these new Intel CPUs beat AMD's Ryzen 5000 CPUs in performance and somewhat price. So, it's no surprise that this Alder Lake lineup is the talk of the town right now in the gaming CPU market. Now, if you were to opt for one of these 12th Generation CPUs, which motherboard will be ideal for you? In this article, we will answer that question for you!
The 12th Generation Chipsets
Intel's 600 Series Chipset brings us compatibility for the latest Alder Lake CPUs. This is Intel's 12th Generation of the "Core-i" Family CPUs and runs on socket LGA 1700.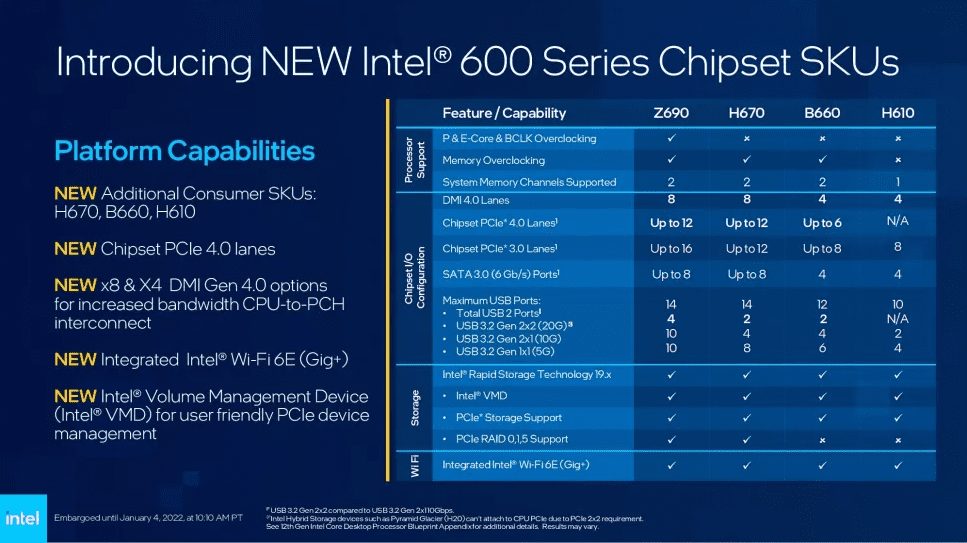 This new chipset brings us a lot of new technologies and upgrades over the previous generations like PCIe 4.0, DMI 4.0, and support for 6 GHz Wi-Fi. Let's discuss what's new, in some detail.
DDR5 Memory
Intel's Alder Lake Generation becomes the first lineup of CPUs to offer support for DDR5 Memory, with the Z690 being the first chipset running DDR5 Memory. While H670 and B660 come with DDR5 support, the major manufacturers are opting for DDR4 motherboards at the moment. This is likely because of the prices of DDR5 Memory being very high, and it wouldn't be rational to buy expensive DDR5 Memory with cheaper H670 or B660 boards.
DDR5 Memory is still "optional," with Z690 boards providing separate DDR4 and DDR5 supported models. This DDR5 Memory brings a lot of advantages over its predecessor DDR4 like improved bandwidth, higher base frequencies and more capacity per module. Having said that, the prices of DDR5 Memory are too high to be considered at the moment. You can read our article on DDR5 Memory and get to know everything there is.
DMI 4.0
DMI 4.0 or Direct Media Interface is Intel's link between Northbridge and Southbridge on motherboards. Northbridge (or memory controller hub) handles communications between the CPU, PCIe, RAM and Southbridge. Southbridge [or I/O Controller Hub (ICH)], on the other hand, links I/O components such as USB, BIOS, SATA etc. to the CPU. In short, DMI handles the links between your CPU and your chipset.
Intel's latest DMI is DMI 4.0. This version of DMI provides 8 lanes with a data transfer rate of 16 GT/s (Giga Transfers per second), double than that of DMI 3.0's 8 GT/s.
PCI Express 4.0
PCI or Peripheral Component Interconnect is a bus on the motherboard that accommodates our powerful graphics cards, and NVMe SSDs. PCIe 4.0 has just been introduced in Intel Chipsets with the launch of Alder Lake, while AMD has been providing PCIe 4.0 since the launch of their Ryzen 3000 series.
While PCI Express 4.0 is better for futureproofing, there are no graphics cards that need specifically need PCIe 4.0 to perform at their full potential. PCIe 4.0 SSDs are, nevertheless, becoming common. Consequently, you'd want at least one, two or four PCIe 4.0 lanes if you want to run the fastest SSDs.
Thunderbolt 4.0
The 600 Series Chipsets will also be supporting Thunderbolt 4.0. This latest thunderbolt technology doesn't bring any improvements in transfer speeds but does bring support for up to two 4K displays. Also, it raises the required transfer rate through PCI Express to 32Gbps, compared to 16Gbps of Thunderbolt 3.0.
Wi-Fi 6E
Alder Lake brings support for 6 GHz Wi-Fi in the form of Wi-Fi 6E which offers a massive 1200 MHz of spectrum and speeds over 1 Gbps (1 Gigabyte Per Second).
6 GHz Wi-Fi is quite rare at the moment though and the Wi-Fi 6E support is pointless if you don't have a router supporting 6 GHz.
Z690
The Z690 chipset was the first chipset released that comes with active support for Intel's Alder Lake CPUs. Its release was announced the same day as that of the unlocked Alder Lake CPUs, on November 19th, 2021. Z690 is also the most premium of the four chipsets, offering Memory and CPU overclocking, and the highest level of expandability among the four chipsets.
(Read: Z690 Motherboards)
H670
The H670 chipset was introduced along with B660, to appeal to those that want to upgrade to Alder Lake but cannot spend a premium on Z690 boards. This chipset was launched on January 5th, 2022. Intel's non-K SKU CPUs were also launched on this date. This H670 chipset is somewhat of a close competitor to the Z690, with the most notable difference being the removal of CPU overclocking capability.
(Read: H670 Motherboards)
B660
The B660 chipset was also launched the same date as that of H670. It severely cuts down on I/O capabilities and the simultaneous DMI bandwidth. Its starting price of around $120, however, makes it an attractive choice for those that want to run the Alder Lake CPUs for a cheap cost.
(Read: B660 Motherboards)
Key Differences Between Z690, H670 and B660
Before we get into detail, we will be looking at the key differences (and a few of the similarities) between the three chipsets of motherboards. We will then summarize these differences.
Chipset
Z690
H670
B660
CPU Overclocking and Bclk Overclocking
Yes
No
No
Memory Overclocking and XMP
Yes
Yes
Yes
No. of Memory Channels
2
2
2
DMI 4.0
x8
x8
x4

PCIe and SATA

PCIe 4.0 Lanes

PCIe 3.0 Lanes

SATA 3.0 Ports

Up To 12

Up To 16

Up To 8

Up To 12

Up To 12

Up To 8

Up To 6

Up To 8

Up To 4

No. of USB Ports

• USB 3.2 Gen 2×2

• USB 3.2 Gen 2×1

• USB 3.2 Gen 1×1

• USB 2.0

4

10

10

14

2

4

8

14

2

4

6

14

Storage

Intel Rapid Storage Technology 19.x

• Intel VMD

• PCIe Storage Support

• Raid Modes

• Raid Support

Yes

Yes

Yes

0,1,5,10

SATA / PCIe

Yes

Yes

Yes

0,1,5,10

SATA / PCIe

Yes

Yes

Yes

0,1,5,10

SATA

Wi-Fi 6E Support
Yes
Yes
No
No. of Supported Displays
Up to 4
Up to 4
Up to 4
Thermal Design Power
6 Watts
6 Watts
6 Watts
Launch Date
November 19th, 2021
January 5th, 2022
January 5th, 2022
Package Size (approx.)
28mm x 25mm
28mm x 25mm
28mm x 25mm
The H670 chipset isn't a major downgrade from Z690. B660, however, shows a clear cut down from the other two chipsets. Now, we will be discussing some of these differences in detail.
Overclocking
This trend has been followed in Intel's previous chipset that used the same naming hierarchy. When comparing Z690 vs H670 vs B660, the Z690 is the only chipset that supports CPU overclocking while the B660 and H670 do not. BClk or Base Clock Overclocking, which increases Memory, CPU and PCIe frequency altogether, is also only supported on Z690. Having said that, Memory overclocking and XMP (Extreme Memory Profile), are available on all three chipsets.
The base rule, therefore, is that you only buy a Z690 motherboard if you have an unlocked CPU, and vice versa. You can overclock a non-K CPU with a Z690 motherboard through BClk overclocking, but it doesn't make sense since the only reason you should get a non-K CPU is if you're on a lower budget, and Z690 motherboards aren't exactly budget-friendly at the moment. This rule can also be inverted, in which case you shouldn't buy an unlocked Alder Lake CPU if you're pairing it with a motherboard that does not support overclocking. But this can be argued against, since non-K CPUs lack efficient cores, which greatly reduces performance (at least in productivity), compared to the unlocked counterparts. So some users would want to buy the K SKU CPUs just for the sake of the efficiency cores.
Direct Media Interface 4.0
The Z690 and H670 chipsets are equivalent in this regard, with both having the same 16 GT/s bandwidth between the CPU and the chipset. The B660 is a clear downgrade though, reducing the number of lanes (and therefore the concurrent bandwidth) to half. This means that the chipset's connectivity to the motherboard is reduced and the simultaneous throughput will be limited. In simpler words, there will be fewer options for I/O connectivity on the motherboard.
No. of PCI-e Lanes and SATA Ports
The number of different PCI Express lanes and SATA ports is where Z690 and H670 are almost on the same page. The difference here is that the Z690 supports up to 16 PCIe 3.0 lanes while H670 supports up to 12, a minor difference. B660, on the other hand, shows a great reduction. It supports half the number of PCIe (3.0 and 4.0) as well as SATA 3.0 ports, as compared to Z690.
In terms of the PCIe lanes provided by the CPU, the H670 and Z690 chipsets are equivalent as both of them support either a 1×16 + 1×4 or 2×8 + 1×4 configuration. The B660 chipset does not support splitting of the 16 lane PCIe 5.0 slot to 2×8 lanes. Therefore, it only supports a 1×16 + 1×4 configuration from the CPU.
Intel RAID Support
RAID or Redundant Array of Inexpensive Disks, is a technology that protects against data loss. All three chipsets offer RAID 0,1,5, and 10 support. Z690 and H670 offer RAID support for SATA and PCIe drives both. B660, on the other hand, only provides RAID support for SATA drives. This means that you won't get data protection for your NVMe SSDs on the B660 platform, but only for your SATA hard drives.
No. of USB 3.2 Ports
The three chipsets also see a reasonable contrast in the number of USB 3.2 ports. These include USB 3.2 Gen 2×2 (20Gbps), USB 3.2 Gen 2×1 (10Gbps) and USB 3.2 Gen 1×1 (5 Gbps).
Z690 supports up to 4 USB 3.2 (20G) while both H670 and B660 support up to 2 each. Z690 supports 10 USB 3.2 (10G) ports, while the two B660 and H670 support up to 4 of each. Z690 also supports up to 10 USB 3.2 (5G) ports. In contrast, H670 supports up to 8, while B660 supports up to 6 ports.
Thermal Design Power (TDP)
Thermal Design Power basically refers to the maximum power drawn by the motherboard at any one time. All three (as well as H610) have a TDP of 6w. This is a fairly low amount of power and does not produce much heat from the motherboards, so you'll likely be seeing aluminum and copper heatsinks on these motherboards. Anything more than that, is probably more for gimmicks than for cooling purposes.
Prices: B660 vs Z690 vs H670
In terms of price, it might be obvious that Z690 is the most expensive chipset since it has the most premium features. The H670 comes next, followed by B660.
Z690 Prices
The Z690 is, summed up, the best of the best out of the 4 chipsets. It offers both CPU and Memory overclocking, the highest number of PCIe lanes, as well as the highest number of different USB ports. All these features come at a cost though. The Z690 motherboards start at a price point of around $210 and go all the way up to $800 for the most expensive ones.
Do note that most DDR5 supported Z690 motherboards will generally not be available for the starting price ($210) of Z690 motherboards and you might need to look out specifically for a DDR5 supported Z690 board. Furthermore, if you're going with a very high-end CPU, such as the i9-12900K, then you might have to increase your budget to $300 or $400 to get a higher-end Z690 board that will have a good quality VRM to support the voltage requirements for overclocking.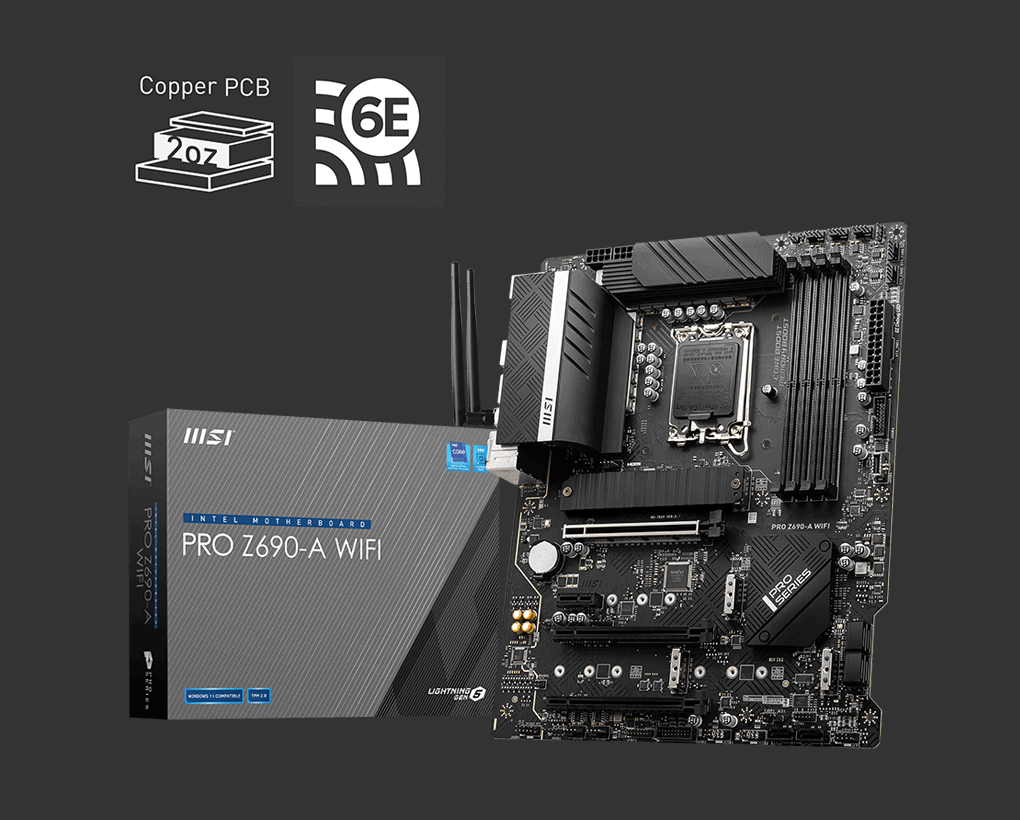 H670 Prices
The H670 chipset offers a lot of the same features as the Z690. The most important being that H670 has the same simultaneous DMI bandwidth that Z690 has. The main difference is really in the overclocking side of things, where H670 does not support CPU overclocking. H670 motherboards occupy the starting price of $160. The thing to note, however, is that many of the H670 boards equate or even exceed the prices of some Z690 motherboards. So, there is no point in getting an H670 for over $200 when you can instead get a Z690 with overclocking support.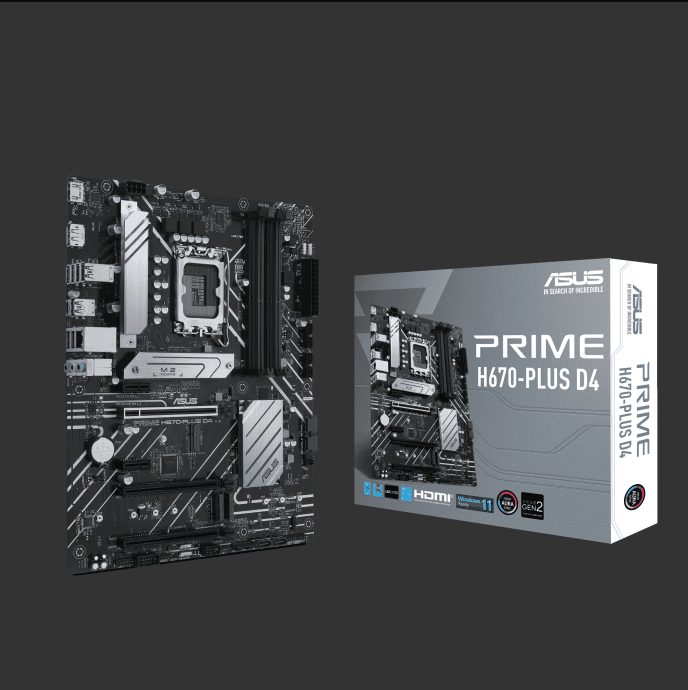 B660 Prices
In the end, comes B660, which is cheaper than both Z690 and H670. It supports Memory overclocking, same as H670 and Z690. With that being said, it brings a pretty big downgrade in terms of I/O capabilities in the form of PCIe, USB and SATA Ports. These B660 motherboards will cost you $120 at the cheapest. But just like H670, B660 motherboards also exceed the $200 price point where they compete with the prices of Z690 motherboards.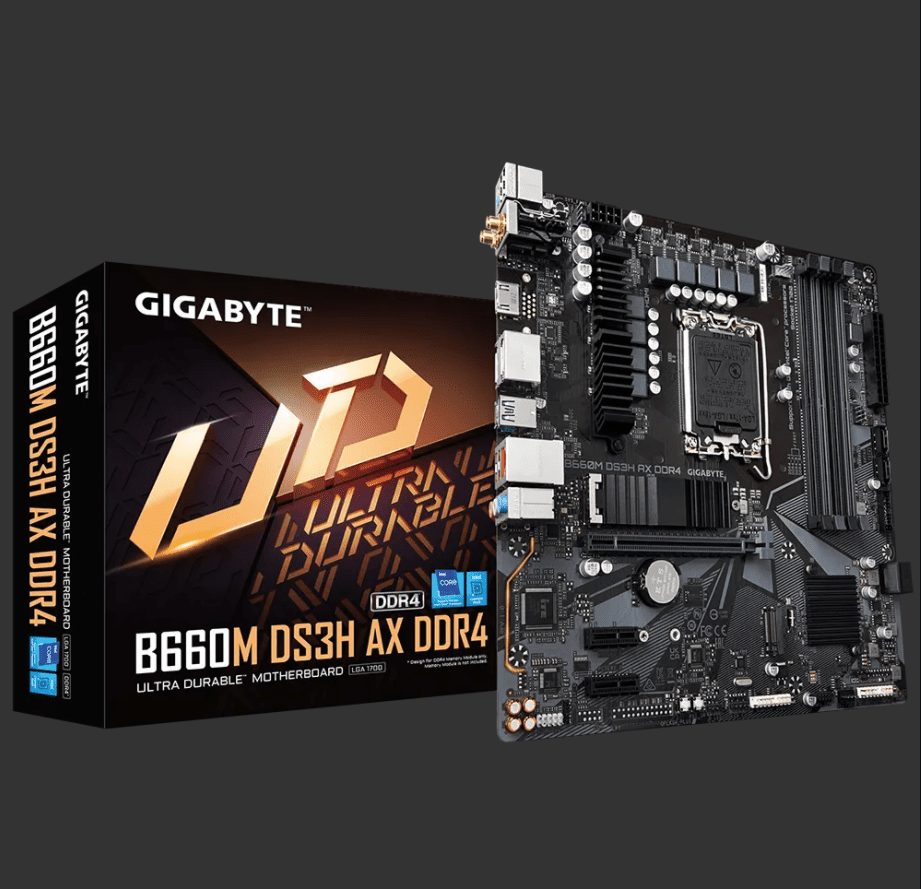 Comparing Different Chipset Models
Now, we'll compare some of the cheaper and popular Z690, H670 and B660 motherboards to see how the actual differences line up.
Our pick for the Z690 chipset will be the MSI Pro Z690-A Wi-Fi, priced at $219. For the H670, we picked the ASUS PRIME H670-PLUS D4, coming in at $160. And finally, for B660, our choice is GIGABYTE B660M DS3H AX which costs $120.
Model
MSI Z690
ASUS H670
Gigabyte B660
PCIe x16

1 x PCIe 5.0

2 x PCIe 3.0

2 x PCIe

4.0 1 x PCIe 3.0

1 x PCIe 4.0
PCIe x1
1 x PCIe 3.0
2 x PCIe 3.0
4 x PCIe 3.0
Memory Support
4 slots, up to 128 GB
4 slots, up to 128 GB
4 slots, up to 128 GB
Memory Type
DDR5 up to 6400 MHz (+OC)
DDR4 up to 5333 MHz (+OC)
DDR4 up to 5066 MHz (+OC)

USB Ports

USB 3.2 20Gbps

USB 3.2 10Gbps

USB 3.2 5Gbps

USB 2.0

USB 3.2 5Gbps

USB 2.0

BACK

1 x (Type-C)

1 x (Type-C), 1x (Type-A)

2 x (Type-A)

4 x

FRONT

4 x

4 x

BACK

N/A

1 x (Type-C)

2 x (Type-A)

3 x (Type-A)

2 x

FRONT

2 x

2 x

BACK

1 x (Type-C)

1 x (Type-A)

2 (Type-A)

4 x

FRONT

2 x

4 x

SATA
6 x 6Gbps
4 x 6Gbps
4 x 6Gbps
M.2 Slots

3 x M.2 on PCIe 4.0 x4

1 x M.2 on PCIe 3.0 x4

3 x M.2 on PCIe 4.0 x4
2 x M.2 on PCIe 4.0 x4
Bluetooth and Wi-Fi
Bluetooth 5.2; Wi-Fi 6E
Bluetooth 5.2; Wi-Fi 6E
No built-in Wi-Fi or Bluetooth
Graphics and Display

1 x DisplayPort 1.4

1 x HDMI 2.1

2 x DisplayPort1.4

1 x HDMI 2.1

1 x DisplayPort 1.4

1 x HDMI 2.1

LAN
2.5 Gb Ethernet
2.5 Gb Ethernet
2.5 Gb Ethernet
Audio
Realtek High Definition Audio 7.1 Surround Sound

Realtek High Definition Audio 7.1 Surround Sound

Realtek High Definition Audio 7.1 Surround Sound
This table sums up the main specifications of all the three motherboard models in question. The fundamental specifications are nearly the same and the difference mostly comes in numbers. The biggest difference comes in the form of DDR5 memory support, which is only supported on the Z690 motherboard. Also, the latest PCIe 5.0 technology is only present on the MSI Pro Z690-A Wi-Fi. This doesn't make a major difference since there are no SSDs that require PCIe 5.0, and neither are there any graphics cards. Lastly, USB 3.2 Gen 2×2 ports are only present on the Z690 chipset board.
All the motherboards do have their own sets of features that are offered by the manufacturer like MSI's Memory Boost, Gigabyte's On/Off Charge, and ASUS' OptiMem. These are something to keep in mind.
From this, we can conclude that as long as you're not running a super high-end system with multiple GPUs and SSDs, any non-H610 motherboard will suffice. All of these motherboards have plenty of options for SATA Storage, SSDs and at least one powerful graphics card.
Z690 vs H670 vs B660; Which Chipset Would Be Best For You?
With all of the specifics behind us, let's briefly go over which chipset should be your potential choice.
Why Choose Z690?
When it comes to the very fundamentals, your primary reason for choosing a Z690 board should be if you want to overclock your CPU. So, if you want CPU overclocking, Z690 is literally your only option and there are no other questions there. Z690 might also be the best for you if you need a lot of I/O options and use multiple USB ports and NVMe SSDs.
In short, if you want the best of the bunch and don't mind spending a good $200-ish or more on just your motherboard, then by all means, you should consider Z690.
Why Choose H670?
Now, the H670 should be your choice if you want what the Z690 chipset offers but don't need to overclock. The differences between the Z690 and H670 are very minor other than CPU overclocking. Memory overclocking is supported on both the chipsets. It just supports a lesser number of USB ports and PCIe 3.0 slots. These "downgrades" aren't significant, but the price difference surely is. There is around a $50 difference in starting price for the Z690 and H670 boards.
Why Choose B660?
Finally, the B660 should be your choice if you want to build an Alder Lake system at an economical cost and don't want to completely miss out on PCIe 4.0 and USB 3.2 20G capabilities, as well as Memory, overclocking support. The B660 is still a much, much better option than the H610 which only supports 1 DIMM per channel of Memory. Moreover, it has no support for overclocking whatsoever. In conclusion, if you're not interested in overclocking and don't need a lot of I/O options to work with, then the B660 motherboards are a perfect choice for you.
Verdict
If you want to upgrade to Alder Lake or build a PC on the Intel's 12th Generation platform, then you have a lot of options to choose from. Fortunately, if you don't want to spend a lot on a compatible motherboard, then you can buy an H670 or a B660 board in the $120-$180 range, which will do just fine. Intel offers four different chipsets for its Alder Lake series, but there's not a whole lot difference in the Z690 vs H670 vs B660 competition. There are a few differences, particularly the overclocking factor and Direct Media Interface bandwidth. Other than that, the differences are too minor for the average consumer to consider.
Frequently Asked Questions
Can I overclock my CPU on H670/B660 motherboard?
No. CPU overclocking is not supported on H670 or B660 motherboards. A few B660 boards from ASUS allow you to overclock even the non-K SKU CPUs through Bclk overclocking, however. These motherboards support DDR5 supported only, though.
Should I choose Z690, H670 or B660 for my build?
It depends on your circumstances. If you want to overclock your CPU, go for a Z690 motherboard. Otherwise, an H670 or B660 motherboard will do just fine.
Will my Z690/H670/B660 motherboard support Intel's 13th Generation CPUs?
Will my Z690/H670/B660 motherboard support Intel's 13th Generation CPUs? It is rumored that Intel's 13th Generation Raptor Lake CPUs will be running on the same socket LGA 1700 as Alder Lake. In that case, they will likely be supported on the 600 series chipset boards. This is still a rumor though, and nothing is confirmed yet in this regard.
How is Z690 better than H670/B660?
Z690 motherboards support both Memory and CPU overclocking, while H670 and B660 only support Memory overclocking. Most Z690 motherboards have at least one PCIe 5.0 slot while the majority of the H670 and B660 motherboards do not.
Should I buy an H610 motherboard?
If your budget isn't enough for even a cheap B660 board, but you really want to run an Alder Lake CPU, then the H610 is still not a bad option. You get only 2 RAM slots, but two 8 gigabyte modules for a total of 16 GB is still plenty. Moreover, the PCIe x16 4.0 lets you run even the most powerful graphics cards. Most motherboards offer an M.2 slot on PCIe 3.0 x4, which will support budget NVMe SSDs. So the H610 chipset is still fairly decent for a low range to a mid-range build.
Was our article helpful? 👨‍💻
Thank you! Please share your positive feedback. 🔋
How could we improve this post? Please Help us. 😔