The RX 7900 GRE has generated quite a buzz due to its limited availability. The name of this graphics card hints at it being one of AMD's very best, but how does this speculation hold up in real-world performance? I'll guide you in this RX 7900 GRE vs RTX 4080 comparison.
Key Takeaways
I found that the RTX 4080 outperformed the RX 7900 GRE by about 35%, making some choppy games much more pleasant to play.
I noticed that the difference in power consumption was not a lot, about 30 watts in our testing.
The RX 7900 GRE is a little over half as expensive as the RX 7900 GRE.
Comparison Table
| Technical Specs | RTX 4080 | RX 7900 GRE |
| --- | --- | --- |
| Architecture | Ada Lovelace | RDNA 3.0 |
| CUDA Cores | 9728 | 5120 |
| Tensor Cores | 304 | 168 |
| RT Cores | 76 | 80 |
| TMUs | 304 | 320 |
| ROPs | 112 | 192 |
| Memory Bus Width | 256bit | 256bit |
| Memory Bandwidth | 716.8GB/s | 576GB/s |
| Approximated Price | $1199 | $649 |
| Launch Date | Nov 16th, 2022 | Jul 27th, 2023 |
| Best Variants | Best RTX 4080 | – |
| Best Power Supply | Best PSU for RTX 4080 | – |
Architectural Differences
Clock Speed: The RTX 4080 clocks in at 2205MHz at its base, whereas the GRE dials it down to 1500MHz The gap closes with the boost clock, with Nvidia's card boosting to 2505MHz, whereas the RX 7900 GRE has a boost clock of up to 2245MHz.
TDP: The great performance of the RTX 4080 also uses a lot of juice to sustain, resulting in a TDP of 320 watts, whereas the GRE has a significantly lower TDP at 260 watts.
VRAM: Both the RTX 4080 and RX 7900 GRE have a 16GB memory buffer, but the RTX uses faster GDDR6X memory instead of the GDDR6 memory the AMD card uses.
Bus Width: The similarly sized VRAM buffer of both cards also uses the same bus width, being 256-bit.
Process Size: The RTX 4080 uses a bog standard 4nm manufacturing process, whereas the AMD card uses a more complex chipset architecture, utilizing both 5nm and 6nm manufacturing cores.
Other Differences: RTX 4080 uses DLSS for better performance with minimal visual difference. AMD's FSR is a comparable feature, but DLSS is known for superior visual quality. Nvidia has an existing frame generation tech, while AMD's fluid motion technology is untested.
RX 7900 GRE Vs RTX 4080: Gaming Benchmarks
It's hard to get a feel of the performance of a card by just seeing numbers on a spec sheet, especially if they utilize different architecture. That is why I'm bringing you the benchmarks where games will be played on 4K, with the GPUs rendering the game at its native resolution.
The following items are used in the testing rig:
Resident Evil 4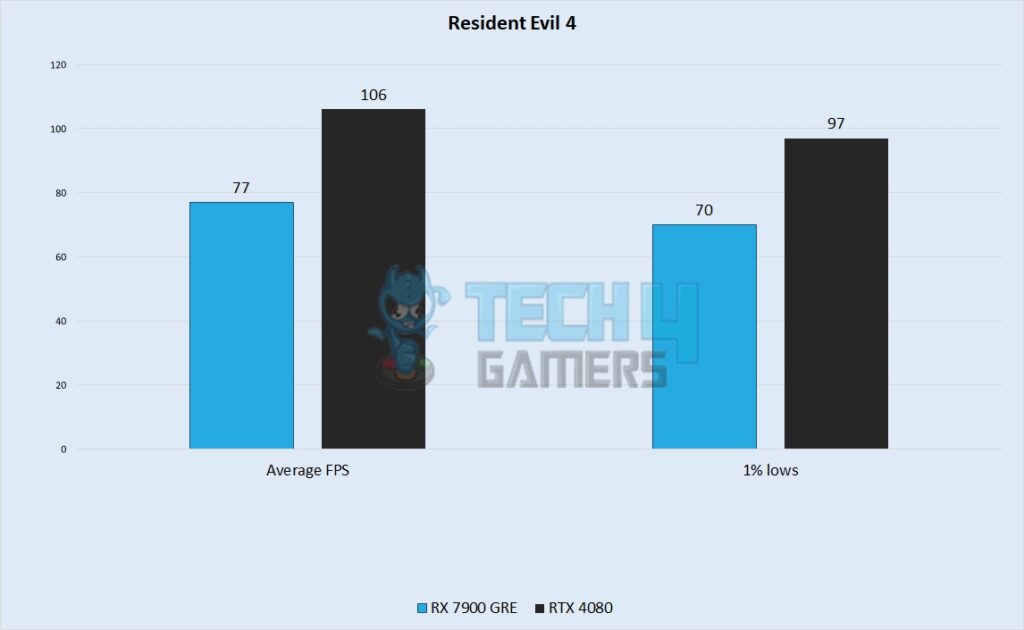 On Resident Evil 4, I found that the RX 7900 GRE obtained an average framerate of around 77 FPS, whereas the RTX 4080 had a much higher average of around 106 FPS. In my eyes, this has established a large margin right from the beginning.
1% lows were also much smoother on the Nvidia card at around 97 FPS, whereas the GRE gave me minimums hovering around 70 FPS.
The Last Of Us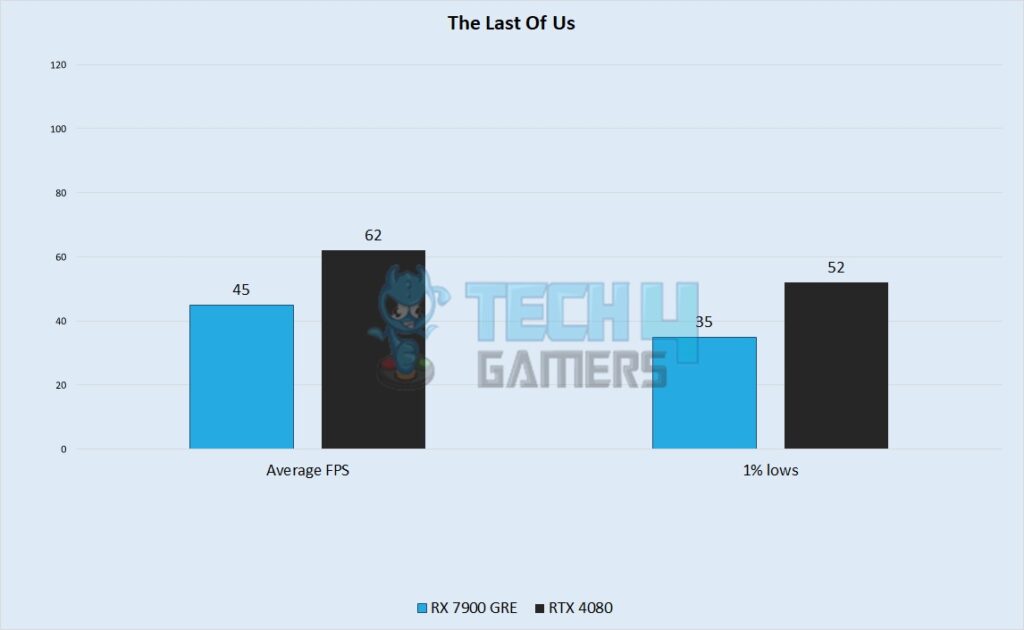 I observed that in The Last Of Us on 4K Ultra settings, both cards were faced with a challenge. The RTX 4080 averaged 62 FPS but faced choppy 1% lows at 52 FPS.
For 1% lows, I noticed that the RX 7900 GRE performed even worse, with an average of 35 FPS over its rival's 45 FPS.
Hogwarts Legacy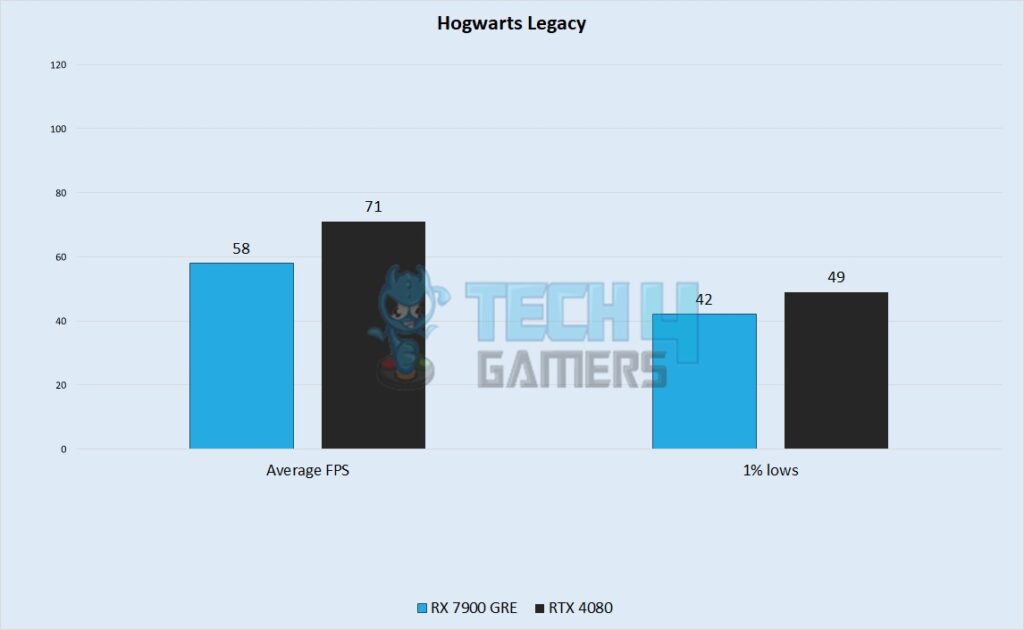 In the 4K Ultra setting of Hogwarts Legacy, I saw the RTX 4080 lead with an average framerate of approximately 71 FPS, surpassing the RX 7900 GRE, which averaged around 58 FPS.
Curiously, despite the distinct average performance, the 1% lows were surprisingly comparable. The RX 7900 GRE hit lows of about 42 FPS, while the RTX 4080 recorded minimums of around 49 FPS in my testing.
Forza Horizon 5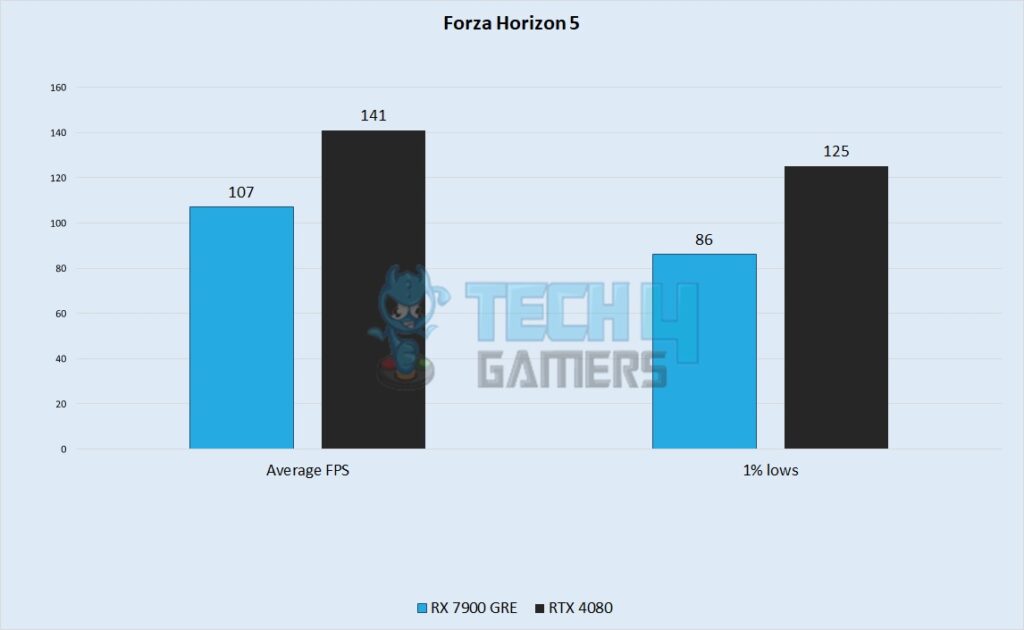 Under my observation, the RX 7900 GRE achieved an average of 107 FPS on the Extreme preset at 4K, while the RTX 4080 surged ahead with a remarkable average of 141 FPS.
I discovered that the RTX 4080 continued to outpace its rival in 1% lows, achieving 125 FPS, while the RX 7900 GRE lagged behind with around 86 FPS in this aspect.
Fortnite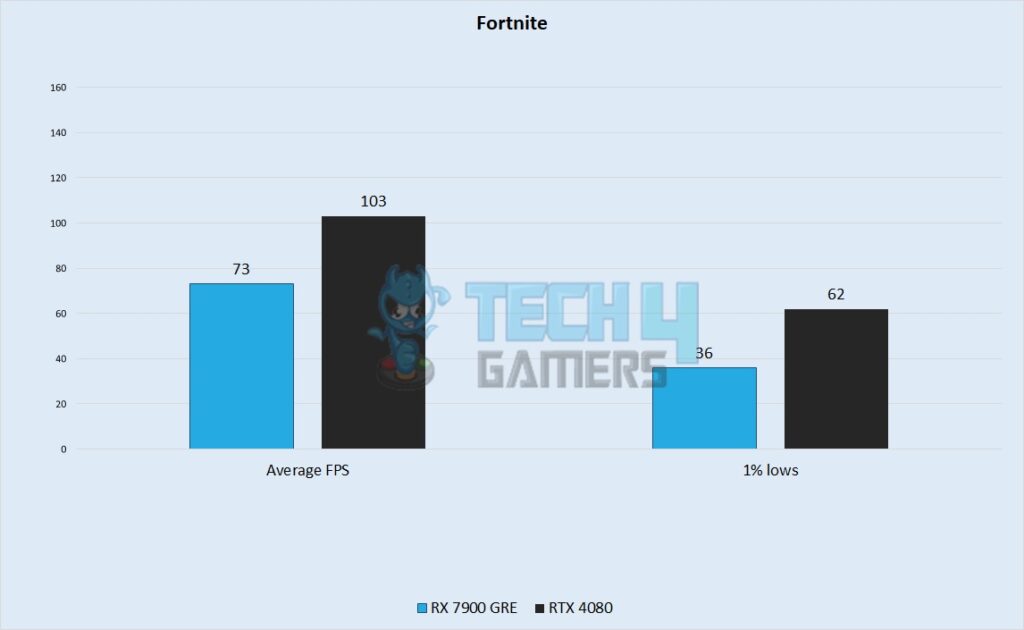 I can gladly say that the RTX 4080 elegantly handled it with an average framerate of 103 FPS, outperforming the RX 7900 GRE significantly, which averaged around 73 FPS.
As for the 1% lows, I saw that the RTX 4080 dipped to 62 FPS in graphically intense scenes. The RX 7900 GRE suffered more, plummeting to an average of around 36 FPS.
A Plague Tale Requiem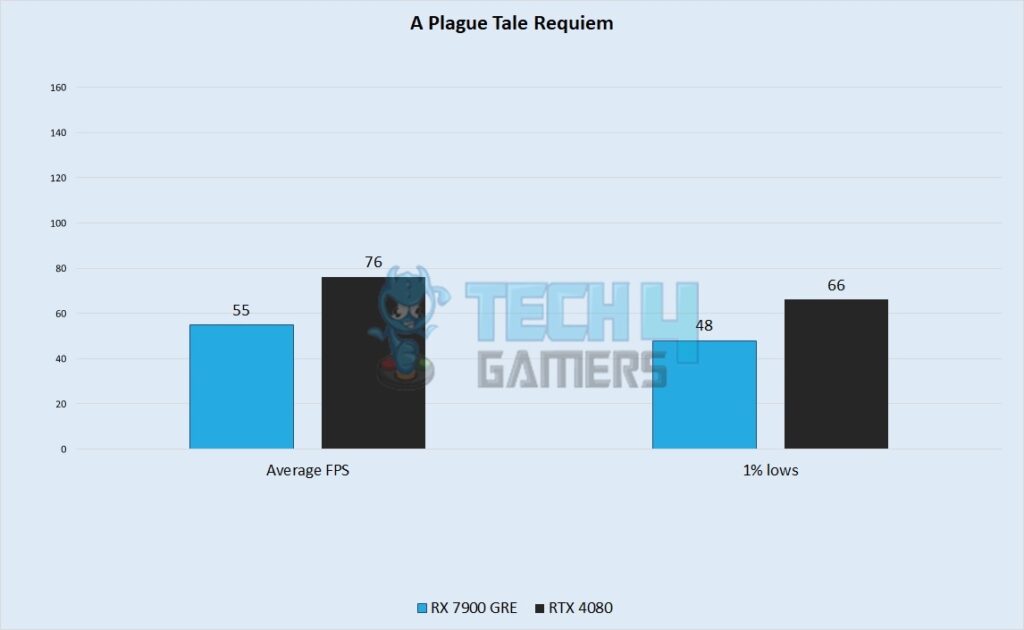 In this last game, I again saw a large difference in FPS. The RTX 4080 achieved an average framerate of 76 FPS, outpacing the RX 7900 GRE, which managed a playable average of 55 FPS.
Despite the playable averages, the 1% lows revealed a performance dip for the RTX 4080, reaching a minimum framerate of 66 FPS—10 frames below the average. Meanwhile, the RX 7900 GRE experienced lows of around 48 FPS in our benchmark.
Overall Gaming Performance
Now that the findings of our tests have been discussed, this part of the comparison will take a step back to reveal the bigger picture.
Framerate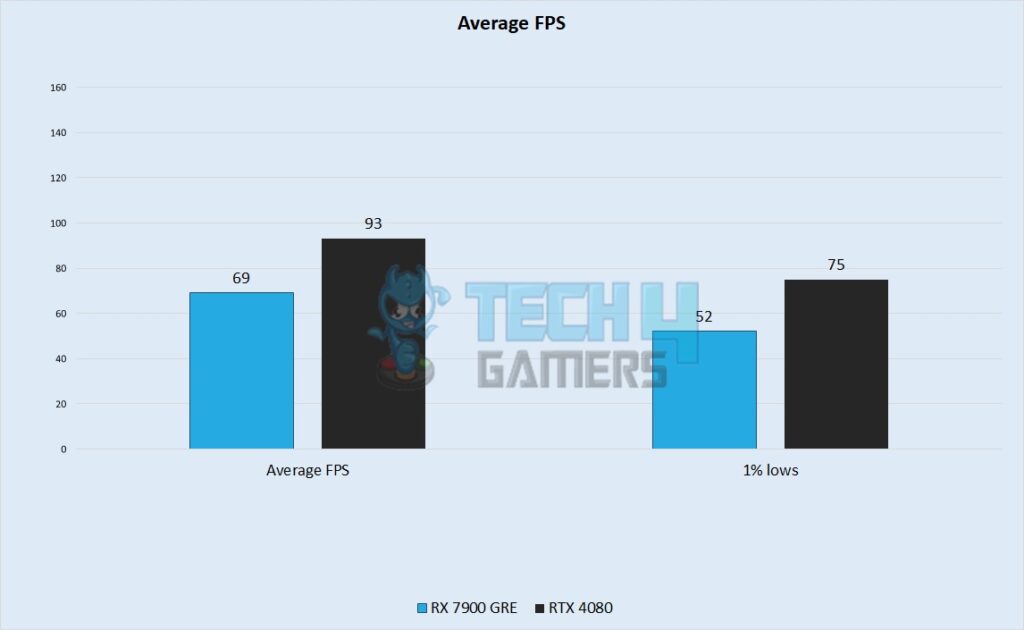 On 4K, I've seen the RTX 4080 obtain an average framerate of around 93 FPS, whereas the RX 7900 GRE had an average framerate of 69 FPS. This means the RTX 4080 was, on average, 35% more performant than the RX 7900 GRE.
The RTX 4080 had higher 1% lows than the average of the GRE at 75 FPS, whereas the RX 7900 GRE had lows hovering around 52 FPS.
Nvidia's RTX 4080 can use frame generation technology to increase framerates by an order of magnitude, acting to beat the RX 7900 GRE further down. It also has more mature ray tracing capabilities than its competition, as it has had 2 iterations of the technology up till the release of the 40 series of cards, whereas AMD only had two.
Power Consumption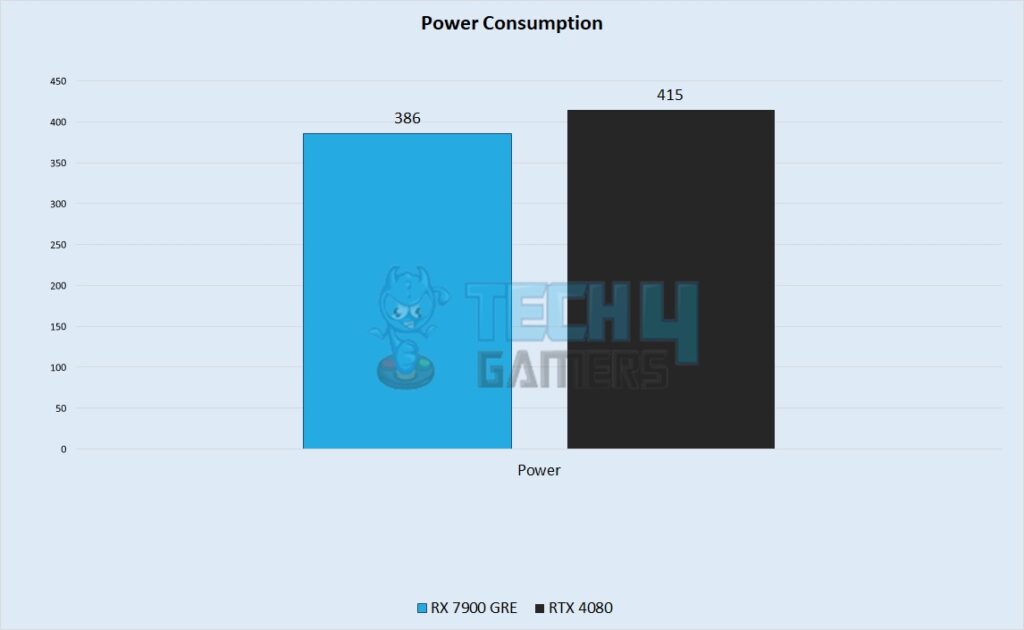 While testing the RX 7900 GRE, it showed me an average of 386 watts of power in total, whereas the RTX 4080 had a power draw of 415 watts.
As all else remained the same between the two test benches except for the GPU, it is safe to say that you can expect the RTX 4080 to consume around the ballpark of 30 watts more while gaming, which isn't a very significant amount of difference unless you have a 400-watt power supply.
On average, the RTX 4080 took 4.5 watts to produce one frame at 4k, whereas the RX 7900 GRE consumed around 5.6 watts to render every single frame, making the RTX around 24% more power efficient.
Price And Availability
The RTX 4080 has a price tag of $1199, whereas the RX 7900 GRE can be had for close to half that amount at $649.
The RX 7900 GRE is currently a China-only graphics card, but its marketing material mentions its price in dollars. The most common way of getting this card is through PC manufacturers that deal with Chinese retailers, so this card is not available to most people at the moment.
RTX 4080 Vs RX 7900 GRE: Which One I Recommend?
It is no secret that the RTX 4080 performed much better than our RX 7900 GRE, turning some unpleasant gaming experiences on the latter into a buttery smooth experience. This was mainly done because of Nvidia's DLSS 3-frame generation technology.
Though the RTX 4080 has a great performance, it is not worth the almost doubled price compared to the RX 7900 GRE. This is because I recommend you get the RX 7900 GRE as it provides a better bang-for-your-buck ratio.
If you do want a good-performing card that won't break the bank, the RX 7900 GRE is a great option to consider if you are able to acquire it given its limited availability.
Turning your settings down to something more reasonable can net you an above 60 FPS experience all the time, and AMD's track record of improving the performance of their cards as they age can go a long way in improving your experience over the years.
Nonetheless, I presented aspects of both cards so you can arrive at your final decision with clarity.
Pros And Cons
CPU
Pros
Cons
Radeon RX 7900 GRE

Much cheaper than the RTX 4080
Consumes slightly less power than the RTX 4080

Significantly lower performance than the RTX 4080
No frame generation technology (as of yet)

GeForce RTX 4080

More powerful than the RX 7900 GRE
Ability to use DLSS 3 frame generation technology.

Much more expensive than the RX 7900 GRE
More power hungry than the RX 7900 GRE
Frequently Asked Questions
How many RT cores do these graphics cards have?
The RTX 4080 has about 76 RT cores, whereas the RX 7900 GRE is fitted with 80 RT cores.
What processor should I use with the RTX 4080 at 4k to not bottleneck it?
As most games are not that CPU intensive at 4k, you can get away with using an i7 13700K in your RTX 4080 rig.
How good is the ray tracing on the RX 7900 GRE?
The RX 7000 graphics cards from AMD have a similar performance hit when using ray tracing as the RTX 3000 series.
---
More From RX 7900 GRE
More From RTX 4080
Was our article helpful? 👨‍💻
Thank you! Please share your positive feedback. 🔋
How could we improve this post? Please Help us. 😔
[Comparisons Expert]
Abdemanaf is a skilled creative writer who has been honing his craft since 2011. While initially working in different fields, he found a passion for technology and has been exploring the tech world since early 2015. Over the years, he has developed an in-depth knowledge of the latest tech trends and product offerings by various companies.
Abdemanaf's writing reflects his analytical mindset and ability to think critically. He has a knack for breaking down complex technical information into easily digestible pieces, making his articles engaging and accessible to readers from all backgrounds. In February 2022, he joined Tech4Gamers as a blog and product comparison writer, where he has been able to hone his skills further.
As a writer, Abdemanaf is dedicated to staying up-to-date with the latest technological advancements and trends, enabling him to provide readers with the most relevant and accurate information. He is always eager to learn more and is constantly seeking new challenges to improve his skills.
Get In Touch: [email protected]