Best White AIO??
Review Summary
Lian Li GALAHAD 360 White packs solid performance and full features set, making it stand out from the competition in various design aspects. This cooler has almost everything you could need for your cooling requirement, including a dedicated RGB controller as well. It comes recommended by us.
Build Quality -

9/10

Design -

9/10

Performance -

8.8/10

Features -

9/10

Value -

9/10
Pros
Thermal Performance
Rotatable Top Cap
Brilliant digital RGB Lighting over Top Cover
Magnetic Silver Color Cap for top
Triple Chamber Pump Design
AMD AM5 socket support
Intel LGA1700 socket support [Not out of the box]
Easy Installation
Warranty
Price
Cons
Loud Fans at full speed
No free upgrade kit for the LGA1700 socket
Lian Li is among a few manufacturers who are known to break the shackles and bring out something new. Their innovative designs are popular among the majority, and it is a fact that their base design has been copied or is being copied by many others. Sorry if this offends anyone out there, but the truth has been spoken.
Their philosophy is clear; their customers should feel that very difference that is otherwise not present in the majority of the PC products in the market. Their PC Cases are a perfect example of their testimony. They cater to industrial and consumer markets in quite some styles.
Lian Li, after enjoying unprecedented success in the PC Case category, ventures into liquid coolers, and their GALAHAD AIOs were exactly the sort of product one would expect from Lian Li. These coolers were released in 240mm and 360mm versions. Down the road, Lian Li introduced many versions of this cooler by changing the fans.
These coolers are available in black and white (formerly silver) colors. I am not sure who the OEM of this design by the block design is by far the most innovative one I have ever seen. Oki, enough chit-chat praising Lian Li's design (this is not a sponsored product). Let's get back to the main topic.
We are taking a look at Lian Li GALAHAD 360 White cooler this time. This would be our fourth liquid cooler in a row to be tested on the AMD AM5 platform with some interesting results. This cooler is compatible with Intel LGA 775, 1366, 115x, 1200, 1700, 2011, and 2066 sockets.
It is compatible with AMD AM4 and AM5 sockets. Please note that you would need to buy an upgrade kit for the LGA1700 socket. This cooler comes with 3x white fans, which are, in fact, ST120 editions. Lian Li has also released the UNI Fan SL edition of these AIOs.
The radiator assembly is white color spray coated. There are silver frames or shields on the sides with Lian Li branding. There is a magnetic silver color plate over the top of the block, which is removable. These silver touches make the cooler listed as Silver in the first launch.
Lian Li has mentioned some key highlights of this cooler, they are:
Magnetic Aluminum Cap
Sophisticated RGB Lighting
Aluminum Housing
Extreme Cooling Capability
Extreme Silent
5 Year Warranty
Specifications
Product
Lian Li GALAHAD 360 White Cooler
RADIATOR MATERIALS
Aluminum and plastic
RADIATOR DIMENSIONS
(L) 397.5 x 123.5 (H) x 27mm
PUMP
Height: 61.8mm
Diameter: 74mm
FAN DIMENSIONS
(L) 120 X (W) 120 X (H) 25 mm
FAN SPEED
800±200(30%DUTY) ~ 1900 RPM±10%
FAN AIRFLOW
69.17 CFM
FAN AIR PRESSURE
2.6 mmH2O
FAN MTTF
40,000 Hours
NOISE
32.dB
FAN POWER CONNECTOR
4-PIN
FAN RATED VOLTAGE
12V DC
PUMP DIMENSIONS
(L) 87.1 X (W) 74 X (H) 62
PUMP MTTF
70,000 Hours
PUMP NOISE LEVEL
< 20 dBA
PUMP RATED VOLTAGE
12V DC
COMPATIBLE CPU SOCKETS
Intel: LGA 115X,LGA 1200,LGA 1700
AMD: AM4,AM5
WARRANTY
5 years (fans and LEDs limited to 2 years)
Packing Box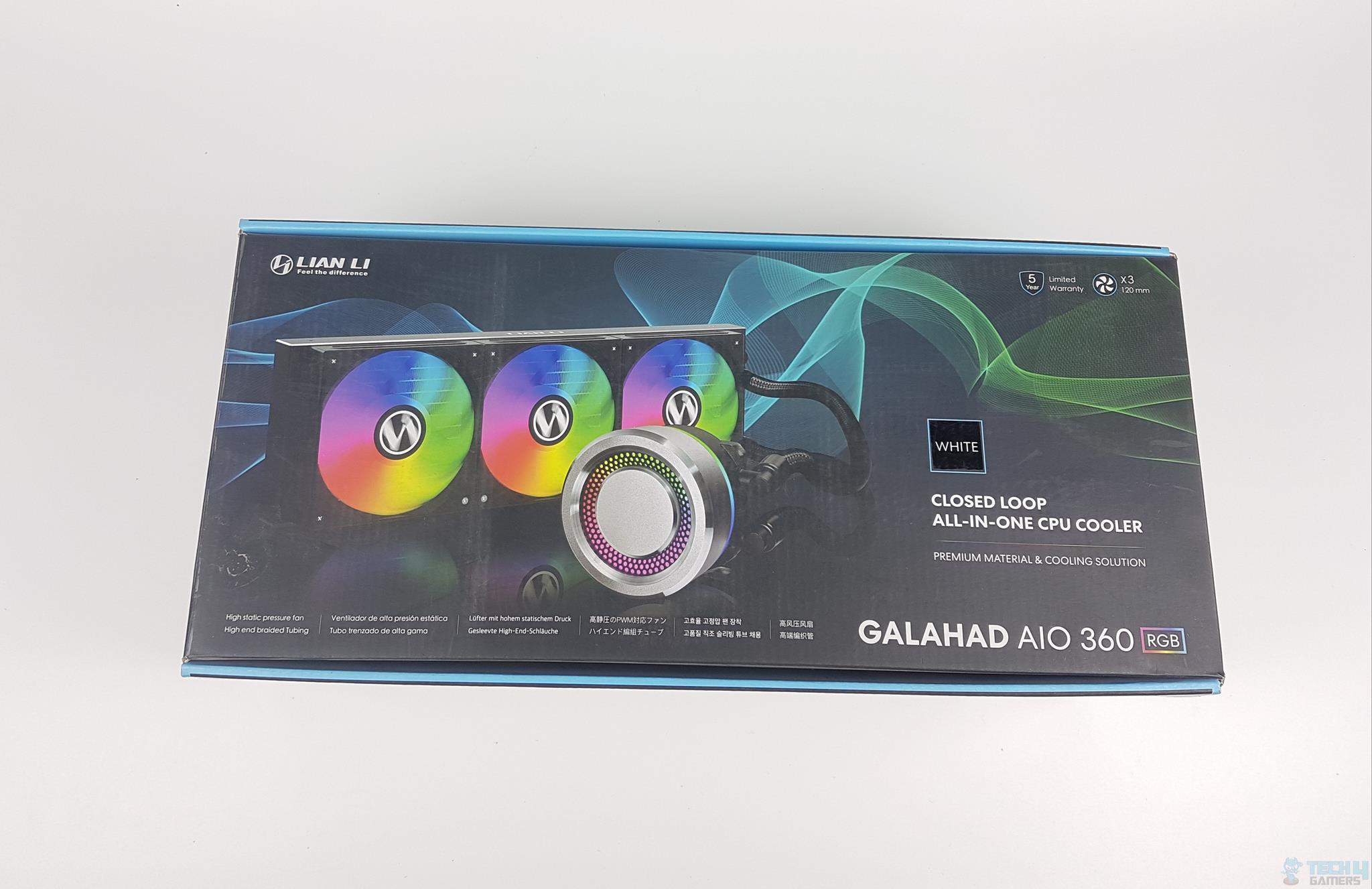 The cooler is shipped inside a cardboard box. There is a label showing the color of the cooler inside the box. It seems like Lian Li is using the same box for both colors. Lian Li is offering a 5-year warranty on this cooler. This cooler packs brilliant digital RGB, which we will cover soon.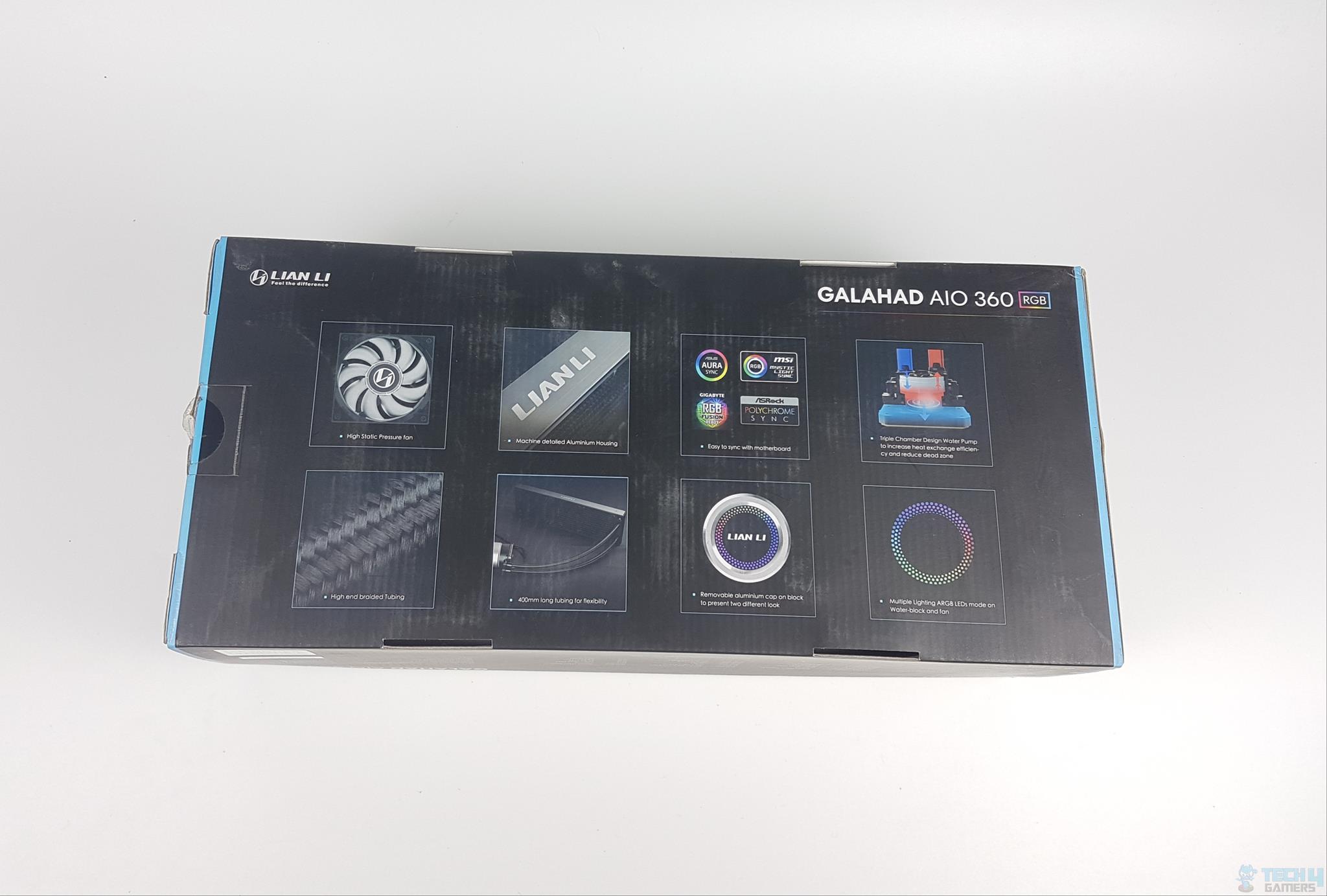 Lian Li has highlighted 8 features here. A few of these are:
Digital RGB Lighting, particularly on block
Rotatable Cap
High-Performance Fans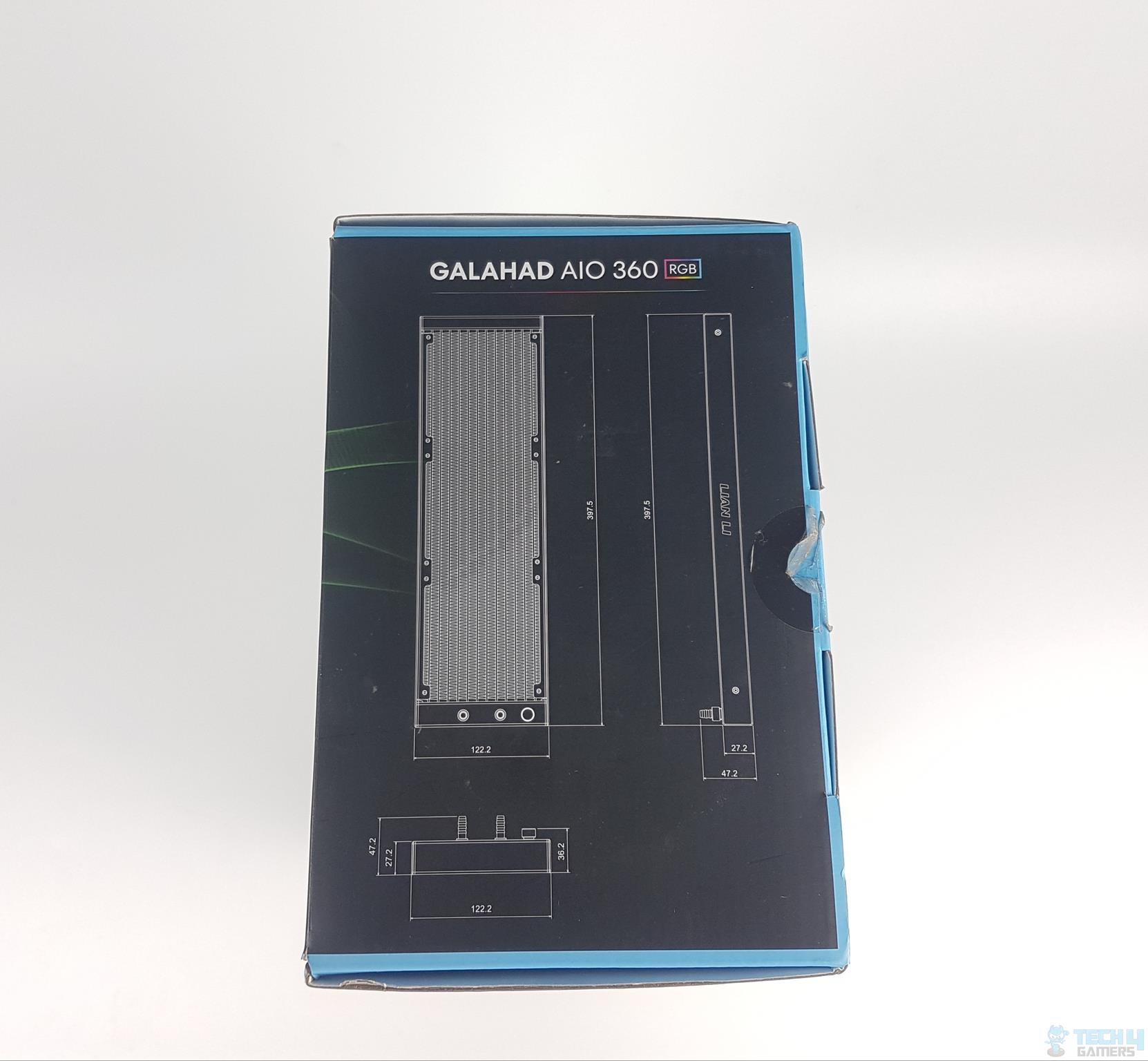 There are block diagrams showing the dimension of this cooler. Lian Li has shown the thickness of the radiator, including barb fittings which are 47.2mm. This is nice, but we would not need this information as such since the overall thickness of the radiator would be 53mm which is more than this 47.2mm.
As we have seen on other units, the contents of this cooler are placed inside an egged carton. This helps in safe shipping to prevent any damage. There is a Styrofoam pad over the top as well.
Contents
Let's see what is provided in the accessories department.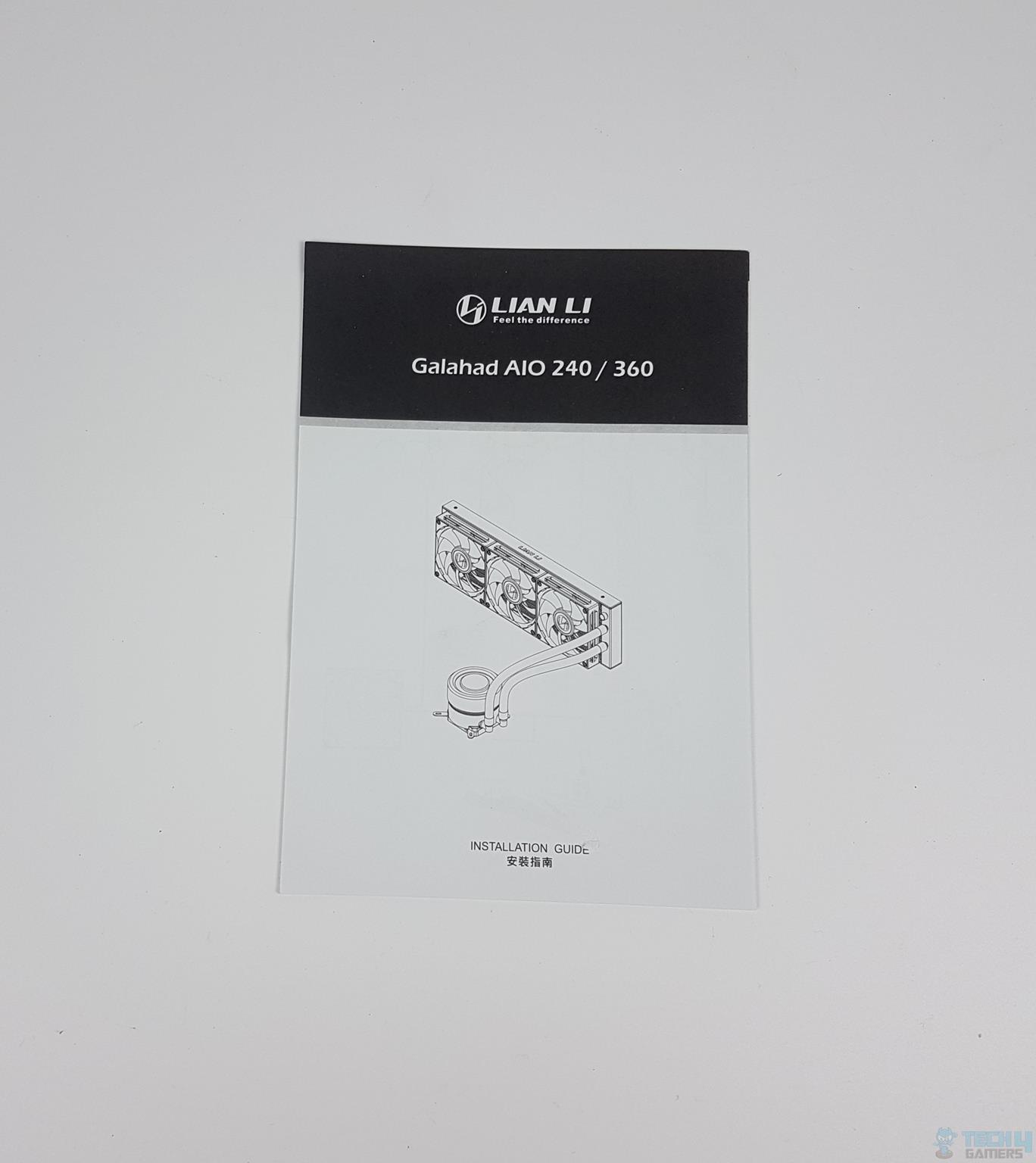 There is a detailed user guide illustrating pictures for installation on supported sockets.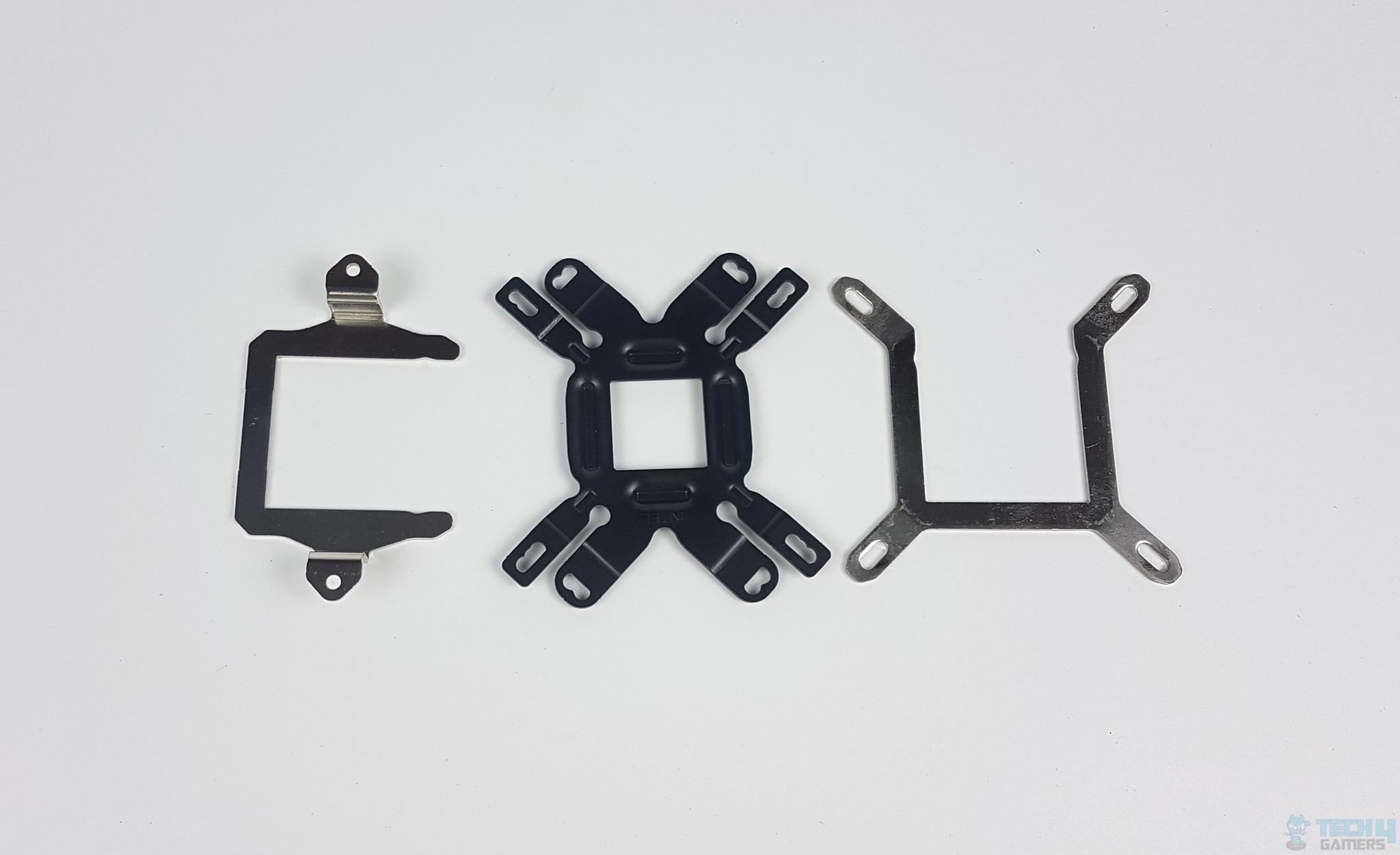 We have:
1x Metallic Backplate
1x Intel Mounting Bracket
1x AMD Mounting Bracket
Intel backplate comes pre-installed. We removed it to take this picture.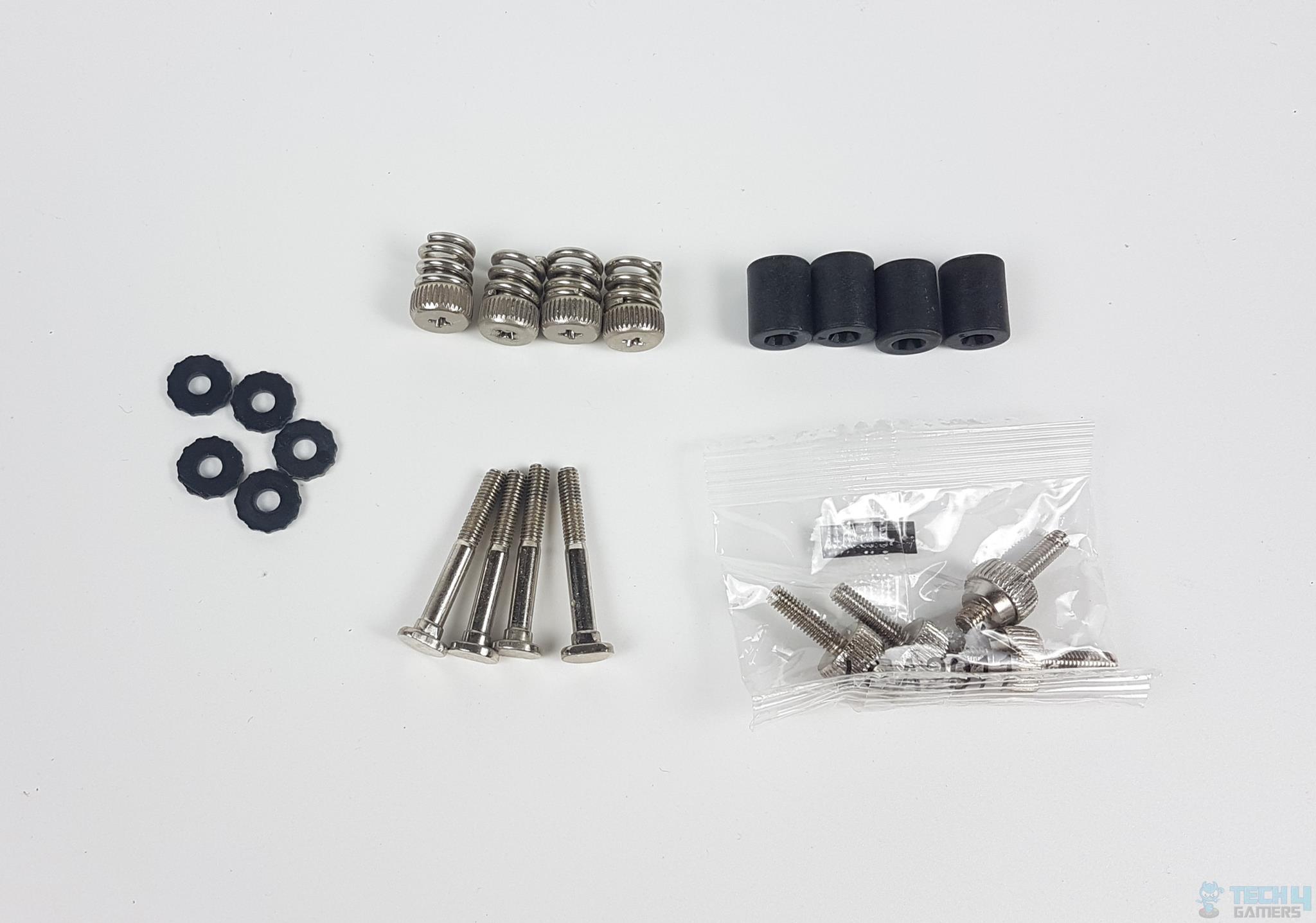 We have:
4x Spring-Loaded Thumbnuts
4x Intel LGA20xx standoffs
4x Other sockets standoffs
5x washers
4x black spacers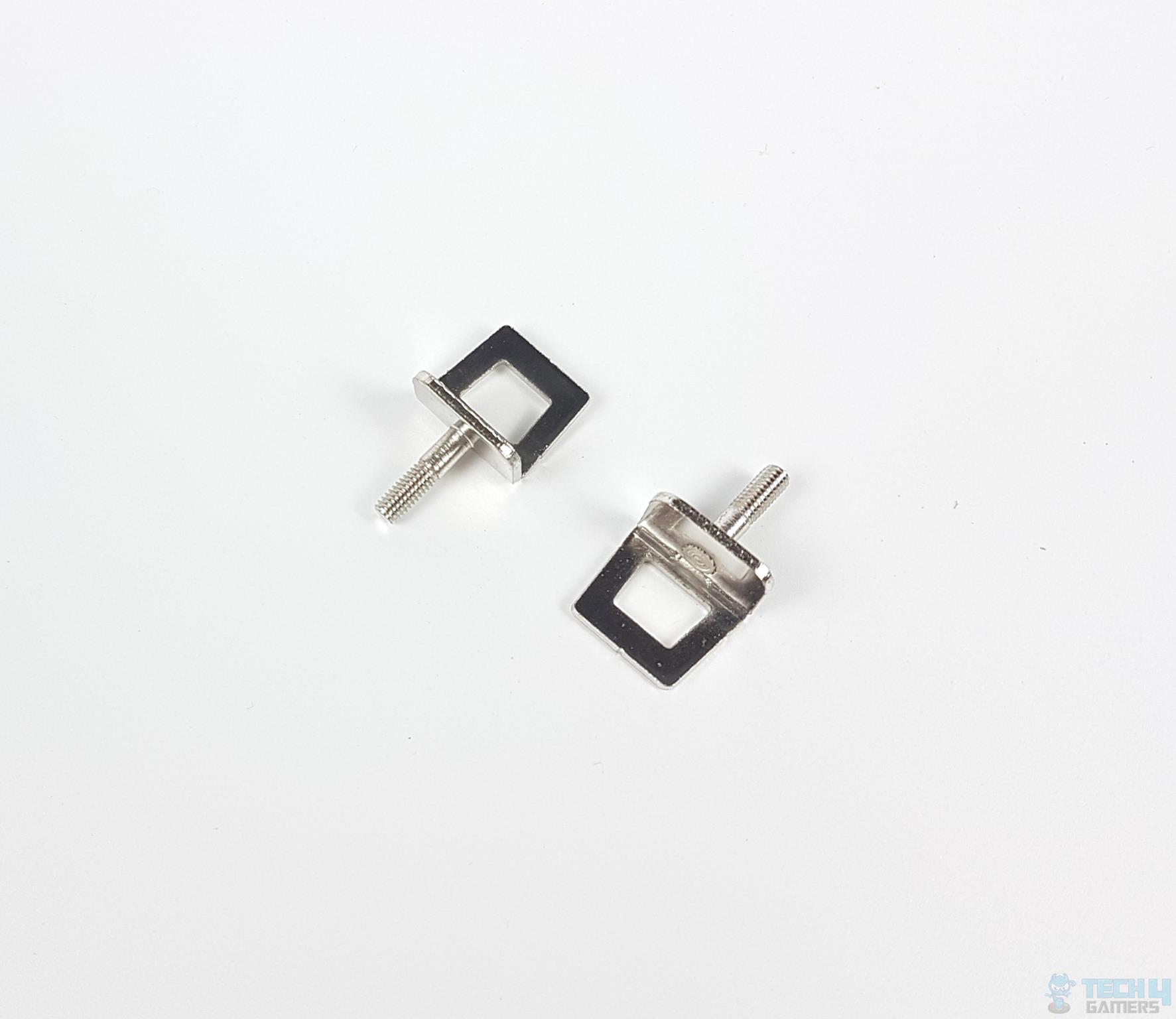 Two clips or pins are provided for AMD AM4 and AM5 installation. Since this cooler uses an AMD stock Backplate and stock mounting brackets on the motherboard, it is compatible with AM5 as well.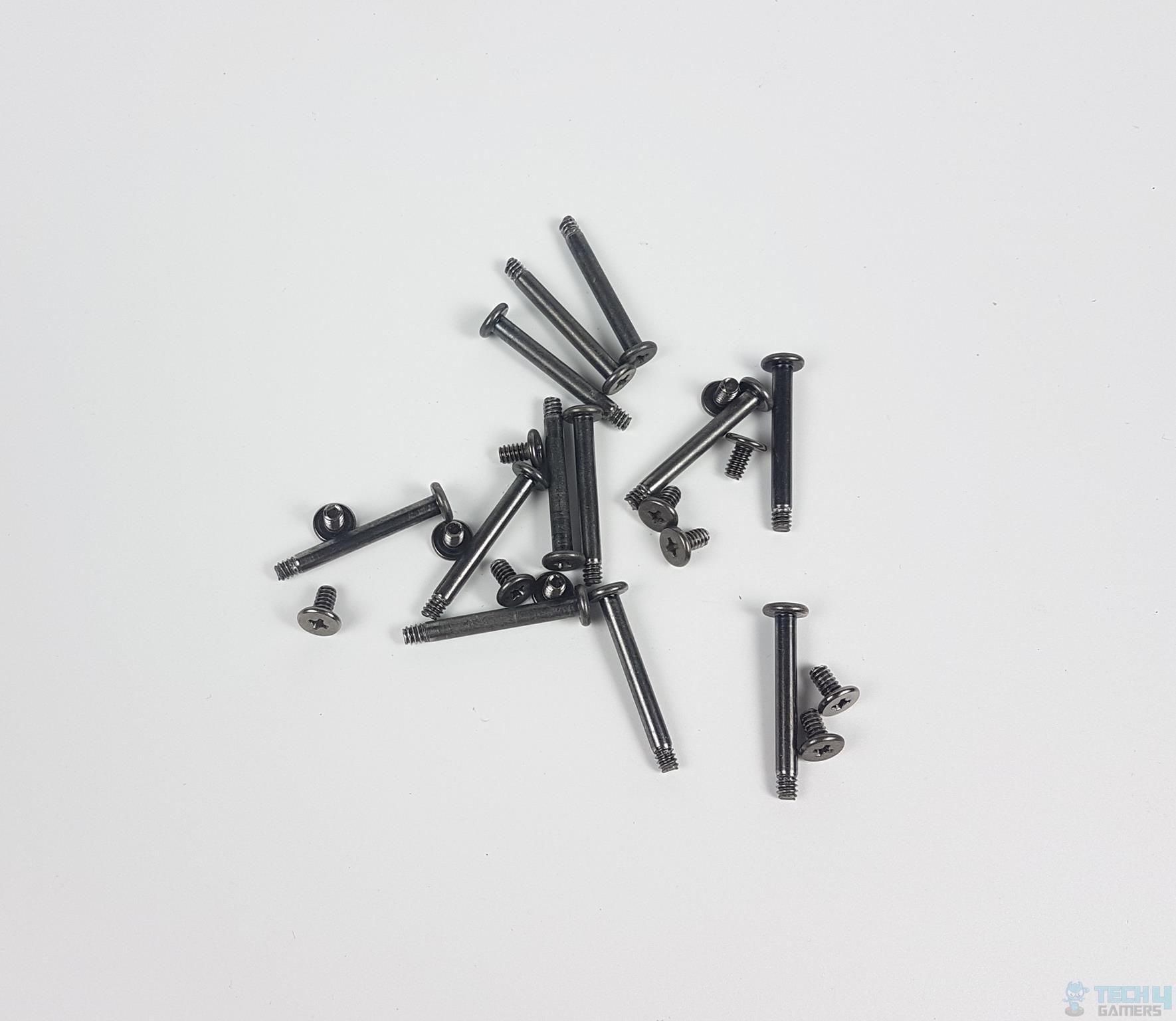 We have:
12x small screws for the radiator
12x screws for the fans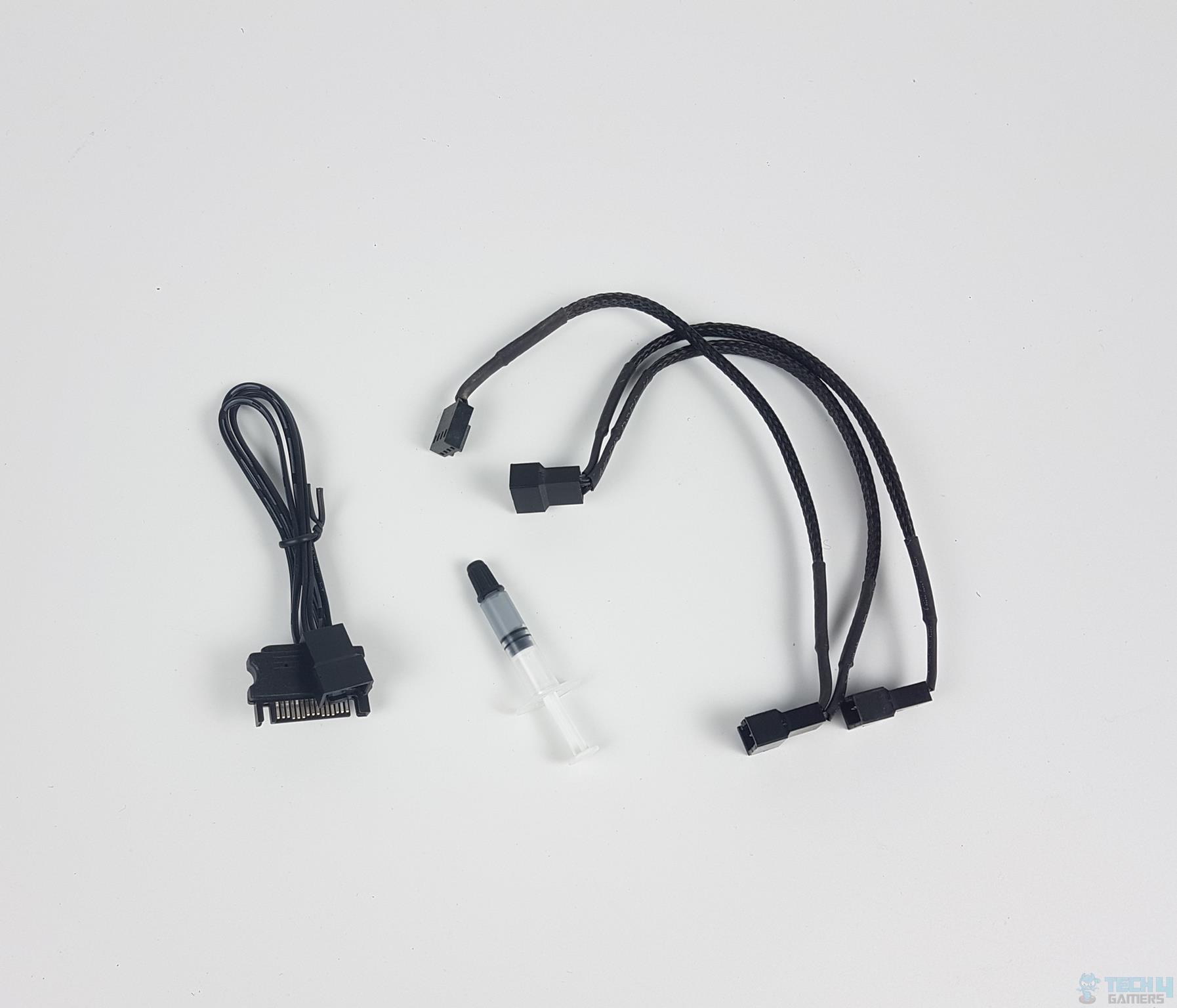 Lian Li has provided the following:
1x Thermal Paste
1x 3-way PWM splitter cable
1x SATA-powered 2-pin socket to power the pump directly from PSU.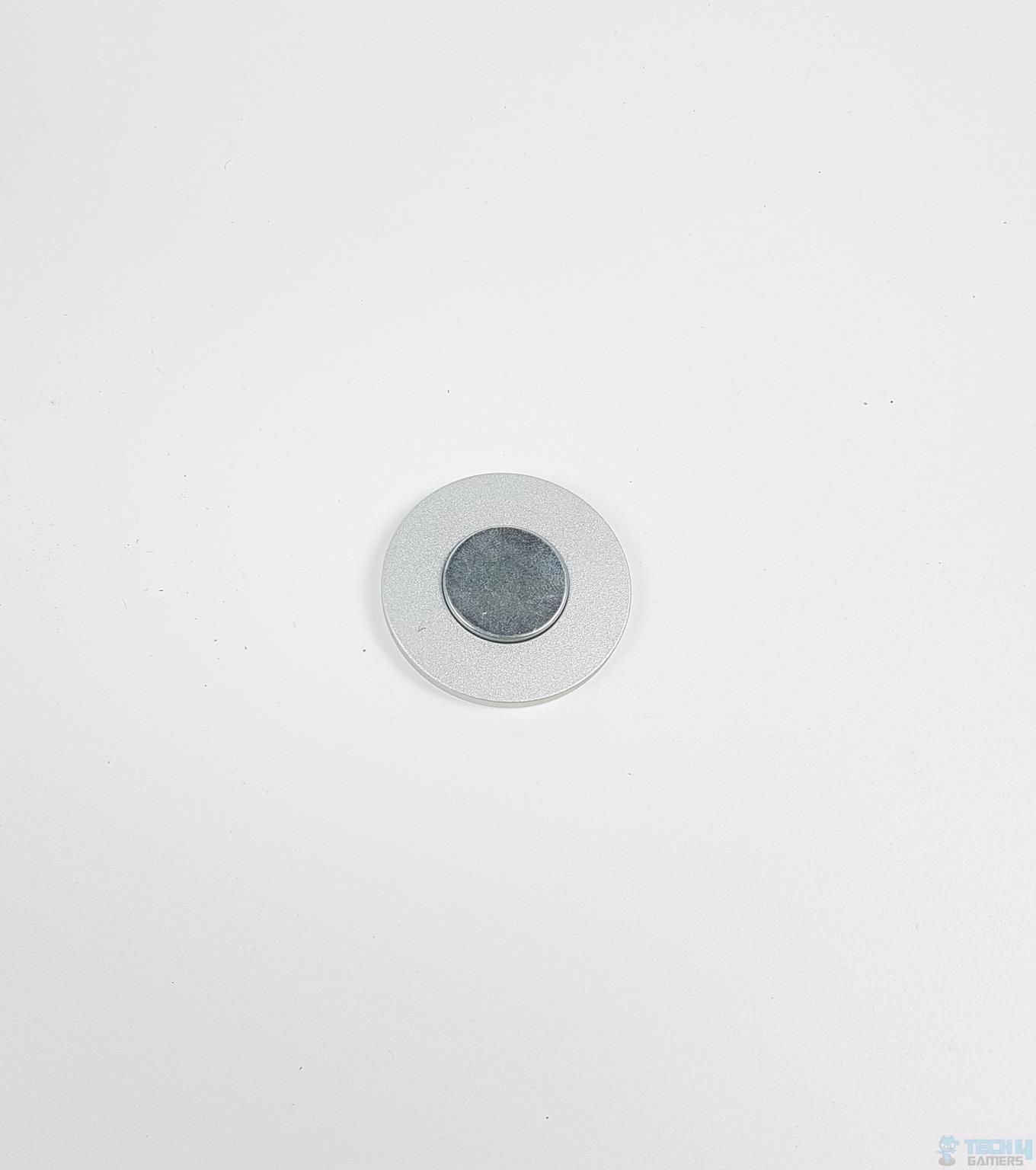 There is a silver color magnetic plate or cover. This cover is placed right on top of the block to conceal Lian Li's branding. Since it's magnetic, its handling is easier.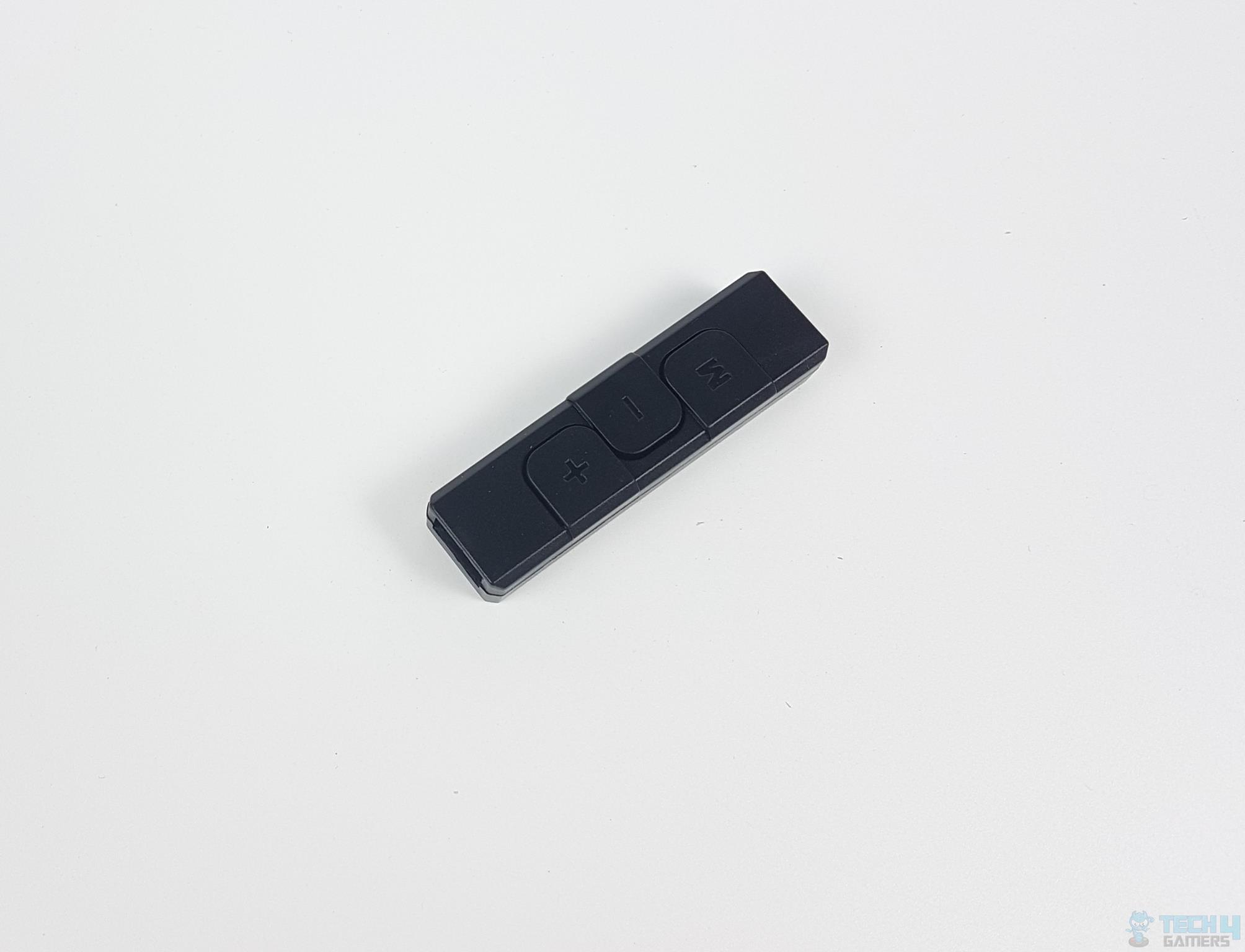 Lian Li has provided a dedicated RGB controller with this cooler. It is the same as we have seen on SilverStone iCEGEM 360 liquid cooler. This controller has a slim design and has three buttons to control various pre-defined modes and speeds. M button toggles among 10 pre-defined RGB modes. The + and – buttons increases or decrease the speed and brightness of dynamic modes. The controller also has an LED indicator with these effects:
When Green, press + or – to adjust lighting effects.
When Red, press + or – to adjust speed.
When Blue, press + or – to adjust brightness.
When Yellow, the lighting effect is on auto-mode. It will cycle through all pre-defined modes one by one.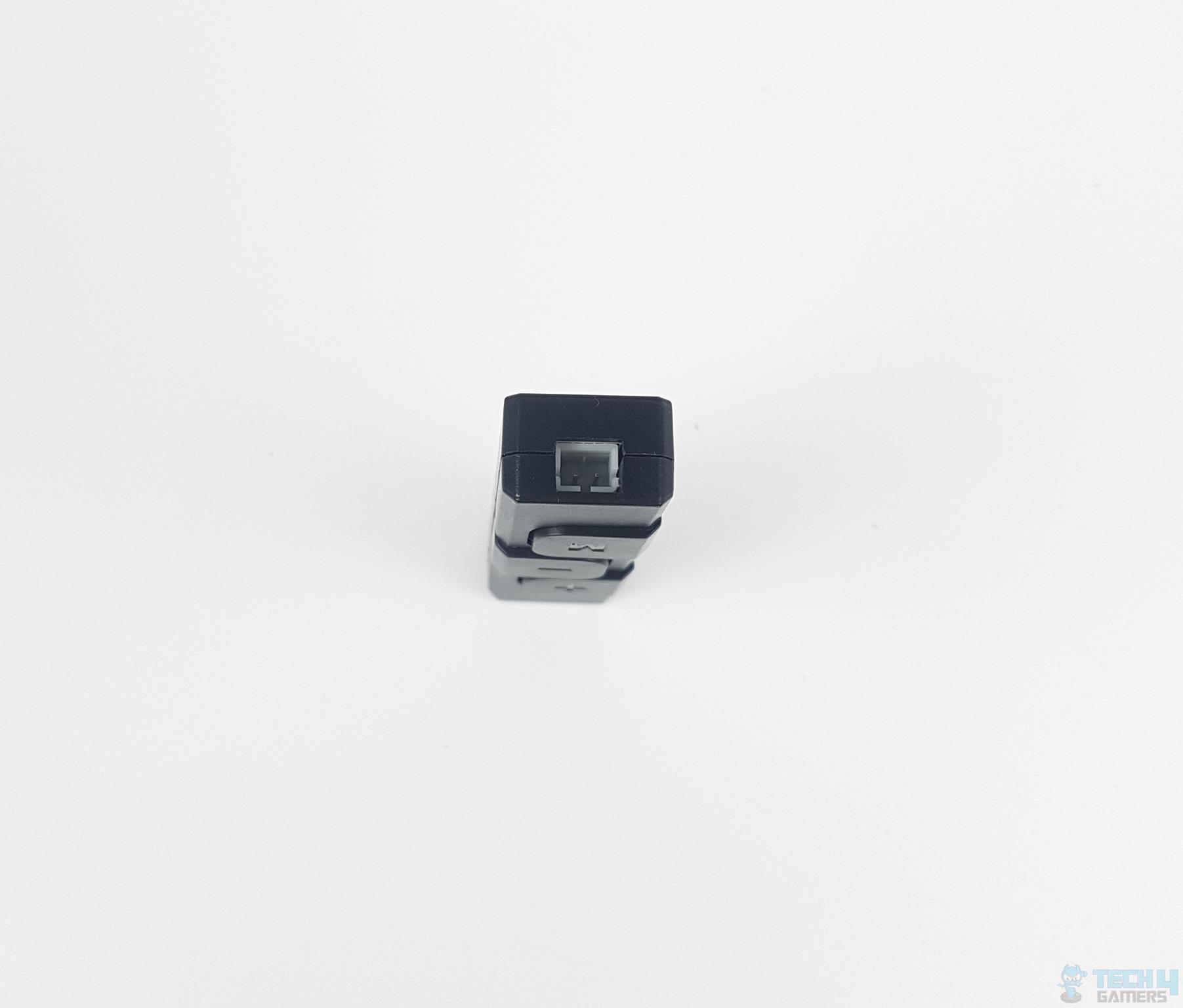 This side of the controller has a 2-pin port to which the SATA cable is connected.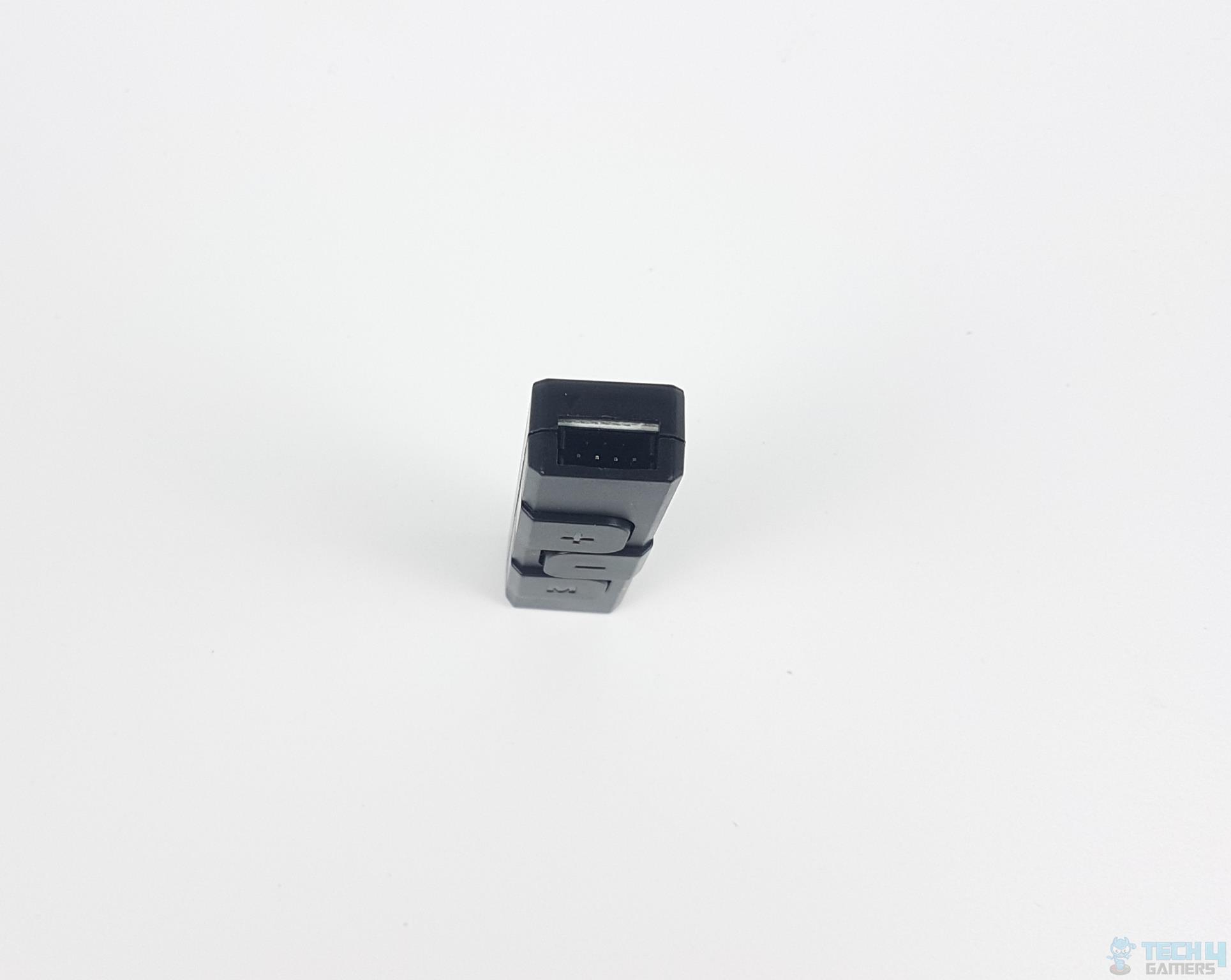 We can see a 4-pin port in the above picture. Since this cooler is using proprietary connectors (JST) for digital RGB lighting, Lian Li has provided a solution to daisy-chain all RGB components and connect them either to this port or directly to a supported motherboard (3-pin, 5V header).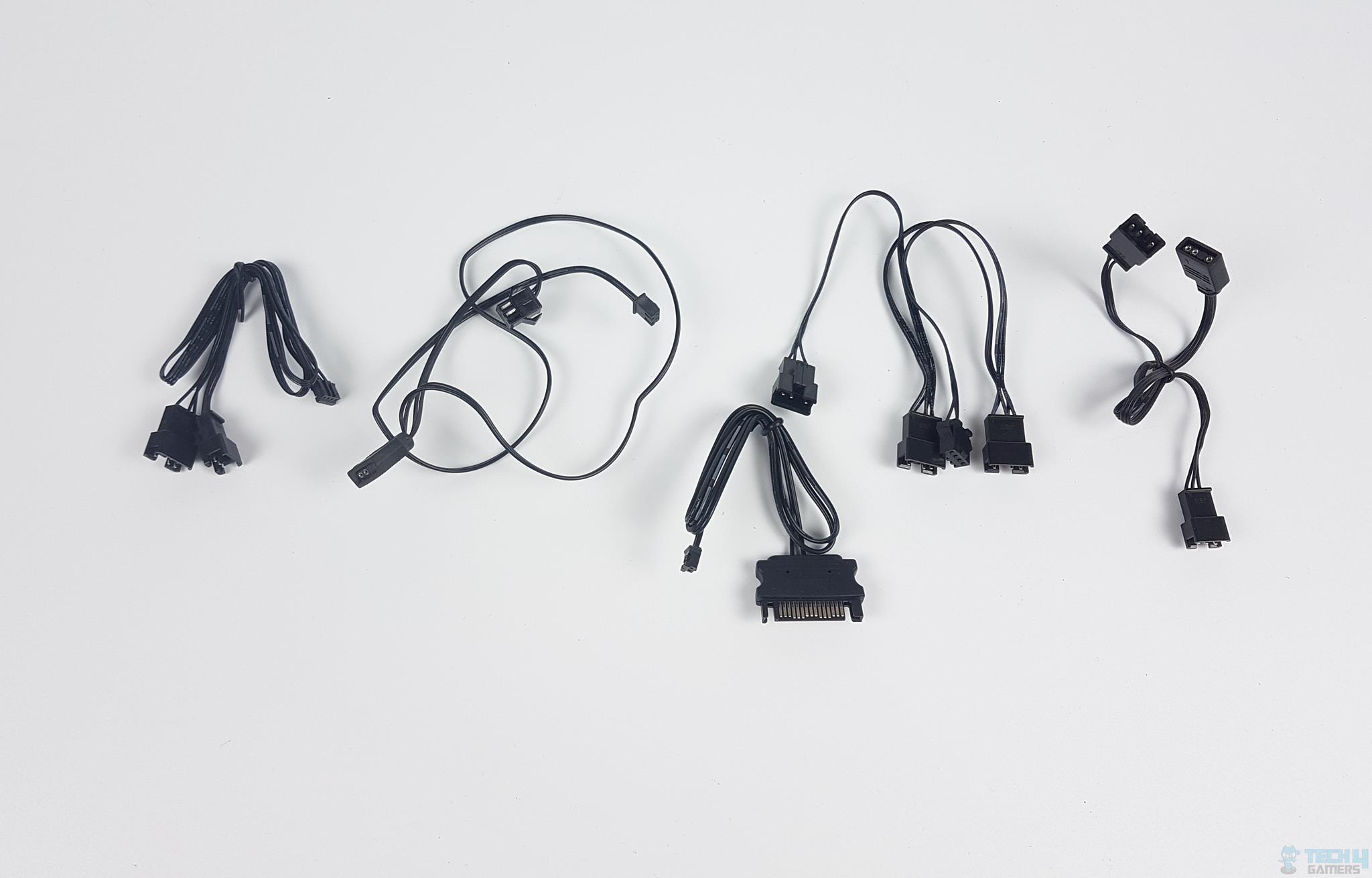 There are a plethora of cables provided with this cooler. Starting from right, there is 2 JST to 1 standard 5V, 3-pin adapter cable. The most important cable is the one on the left. This cable will allow users to connect all three fans' JST connectors to it and then use a single proprietary connector to the final source of light control.
Then there is a SATA cable with a 2-pin connector that goes into the controller. Next is another cable with a JST connector and socket on two ends and a standard 5V connector at the opposite end. Next, we have 1 3-pin and 1 4-pin JST socket to 1 4-pin JST connector. This sounds confusing, but the user manual will help you sort it out.
Design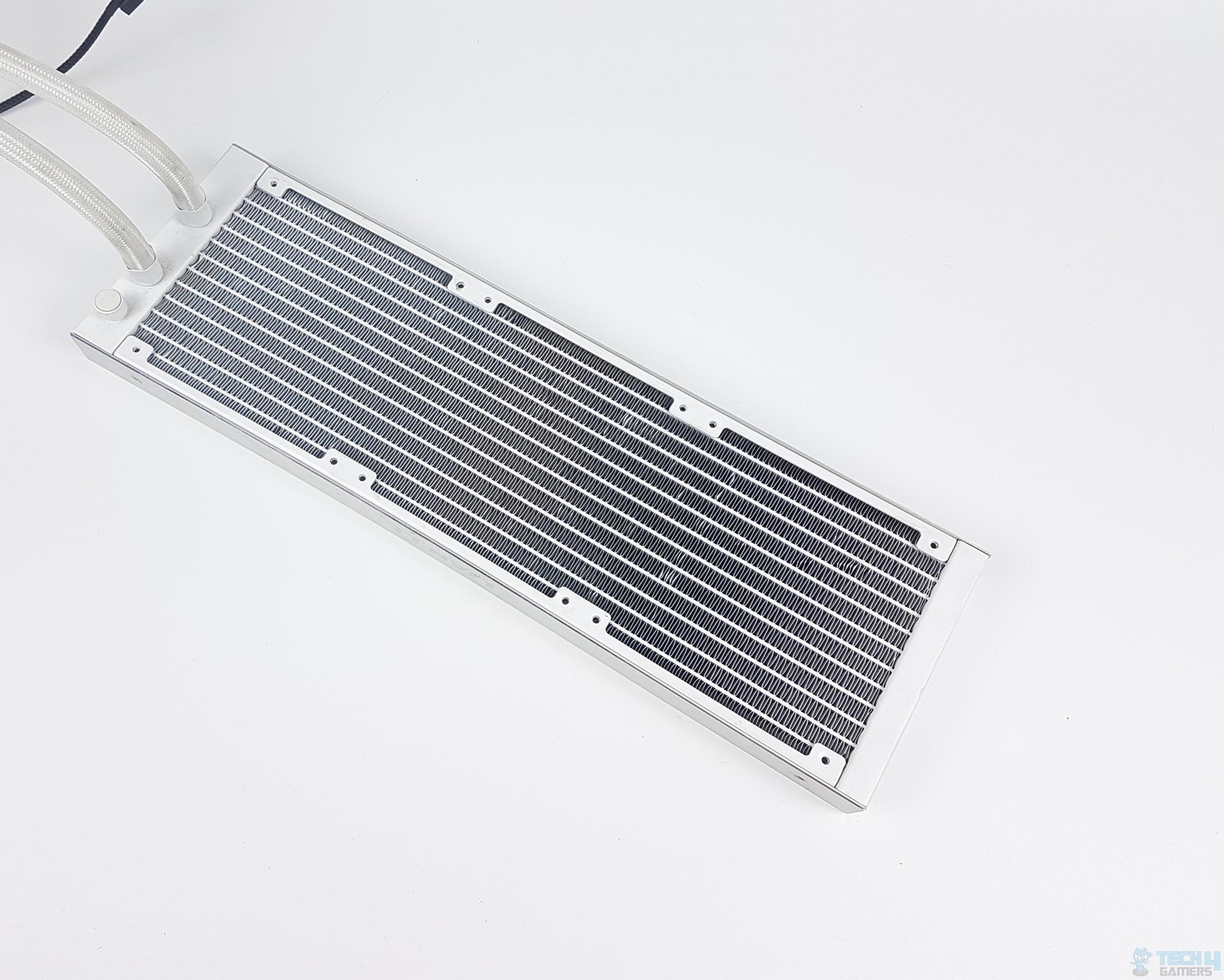 Like all other recent coolers we have tested except ALPHACOOL Eisbaer PRO HPE 360 AURORA edition, this cooler is also using an aluminum-made radiator. This radiator has a dimension of 397.5×123.5x27mm with a thickness of 27mm. After installing 25mm fans, the overall height would be 53mm, including the heads of screws (approximately).
Lian Li has done a fantastic job with fins stacking. The FPI count is 20, so high static pressured fans would be preferable. Another layout is standard as well, like there is a gap of 105mm between any two adjacent holes on opposite sides of the frame.
Lian Li has shown that the thickness of this radiator with a fill port is 36.2mm, and this thickness is 47.2mm with barb fittings. The complete assembly is white color coated. The fin assembly has a thickness of 20mm, and the radiator has 12 channels for coolant flow.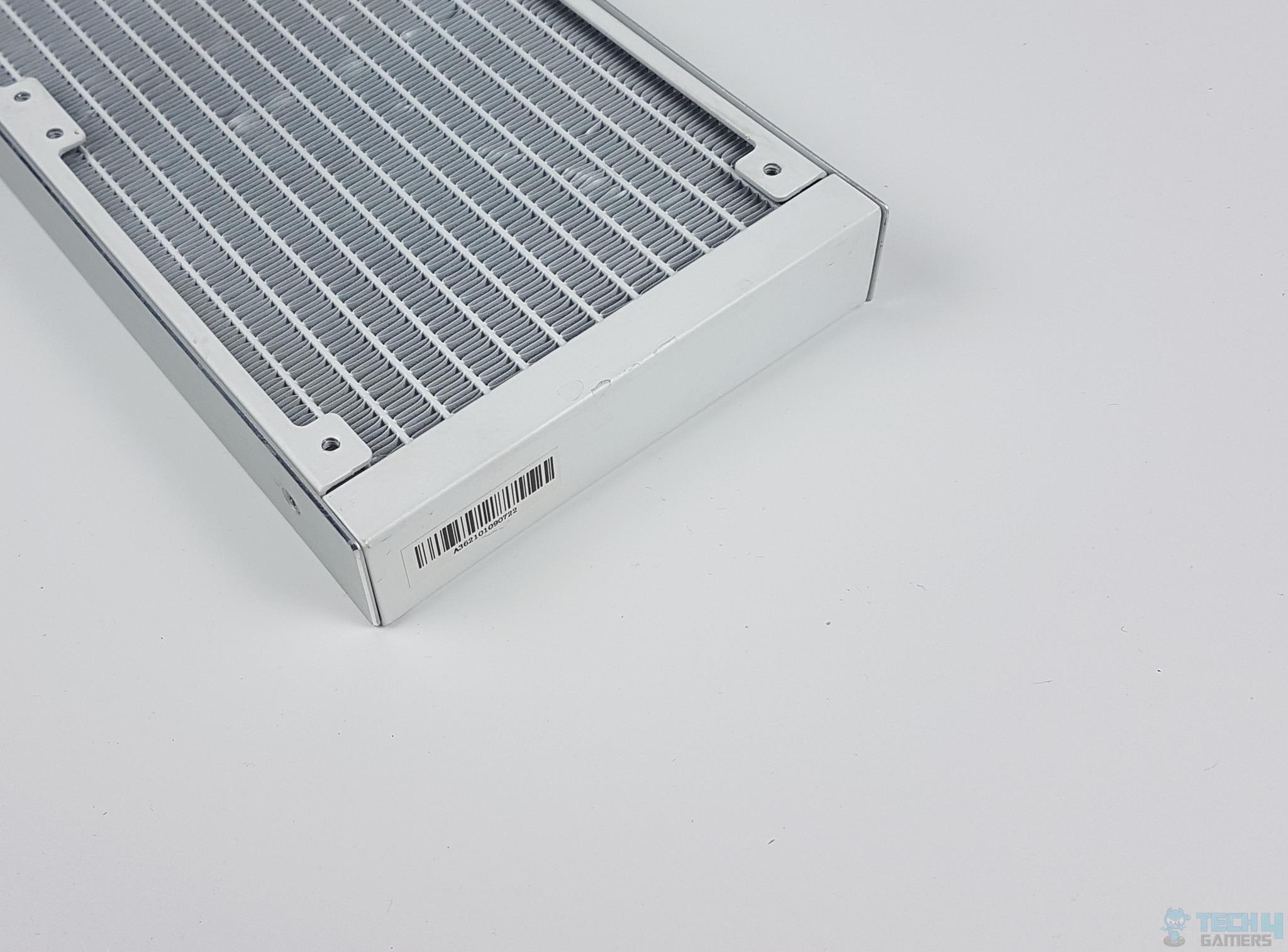 The blocks on both ends are rectangular and non-slim in design, and the far end has a sticker, probably showing a serial number.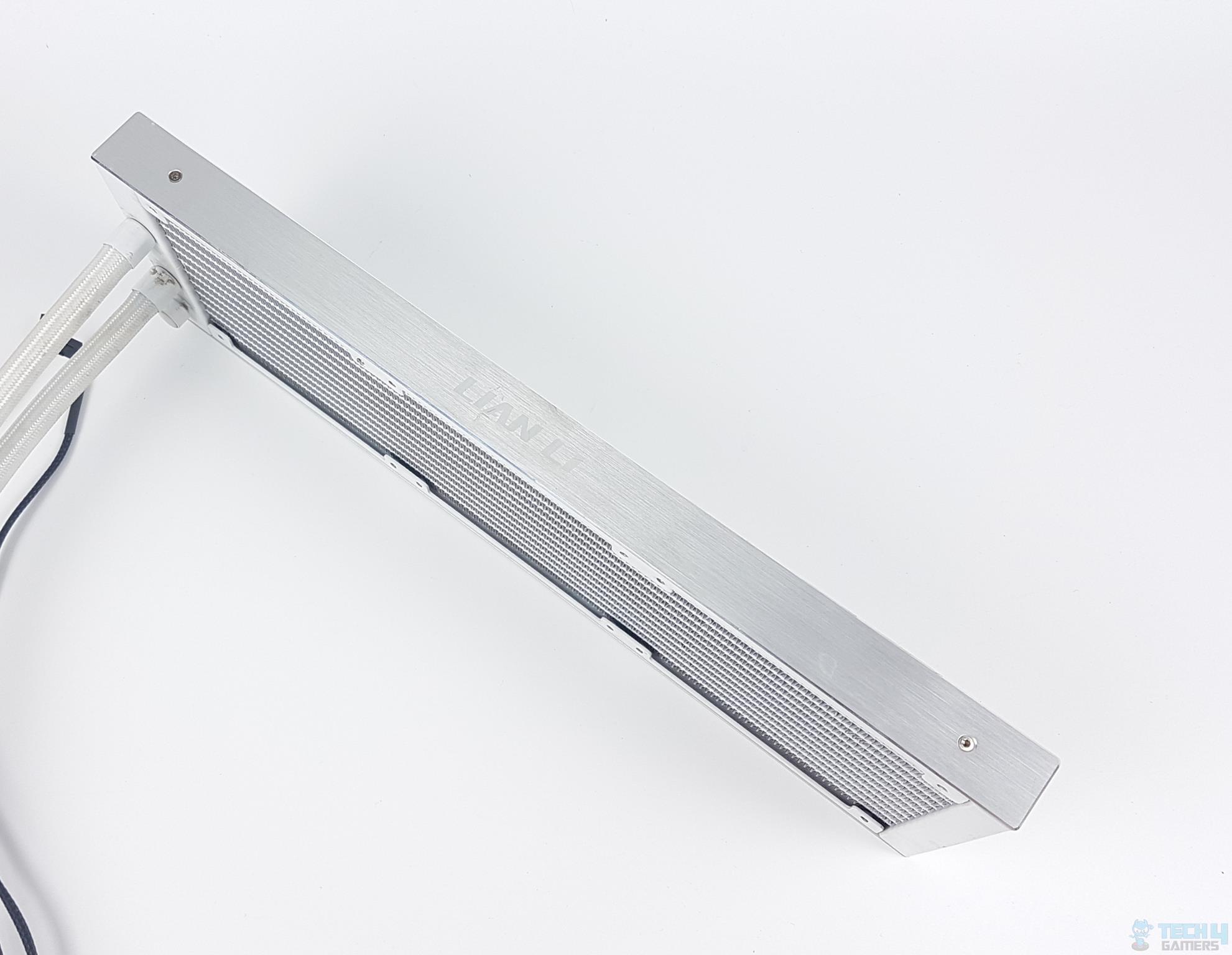 There is a brushed aluminum frame or shield on both sides of the aluminum housing. It has Lian Li branding as well. These complement the overall look and feel of this cooler pretty well. There is no protective plating under the mounting holes. These plates add protection for fins and prevent damage from excessive torquing.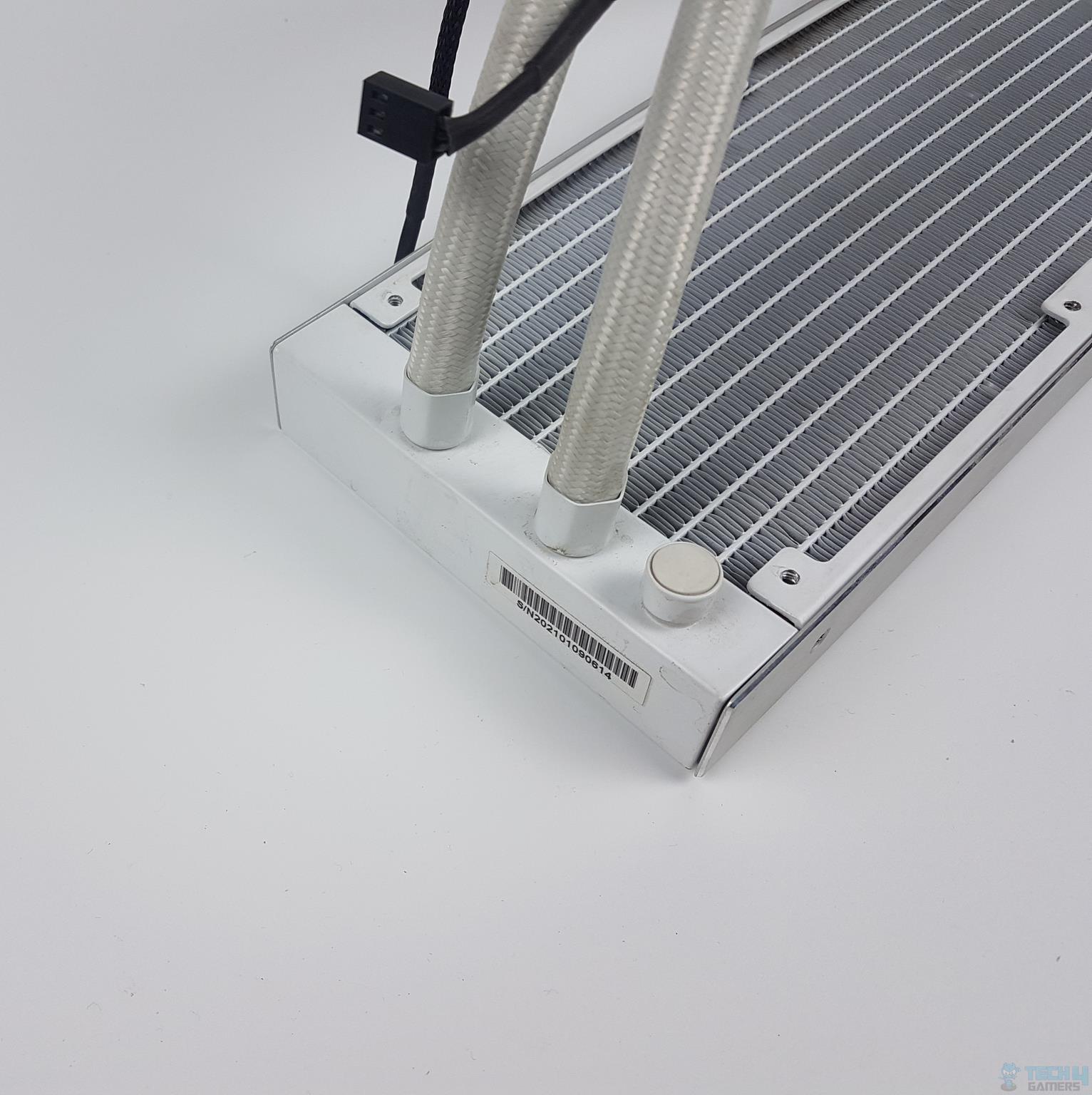 Lian Li has employed straight barb fittings on the radiator, and the connection is well concealed using white color covers. There is what seems to be a refill port. Don't tamper with the port, as it is probably reserved for factory use. Opening it may lose the vacuum pressure of the loop.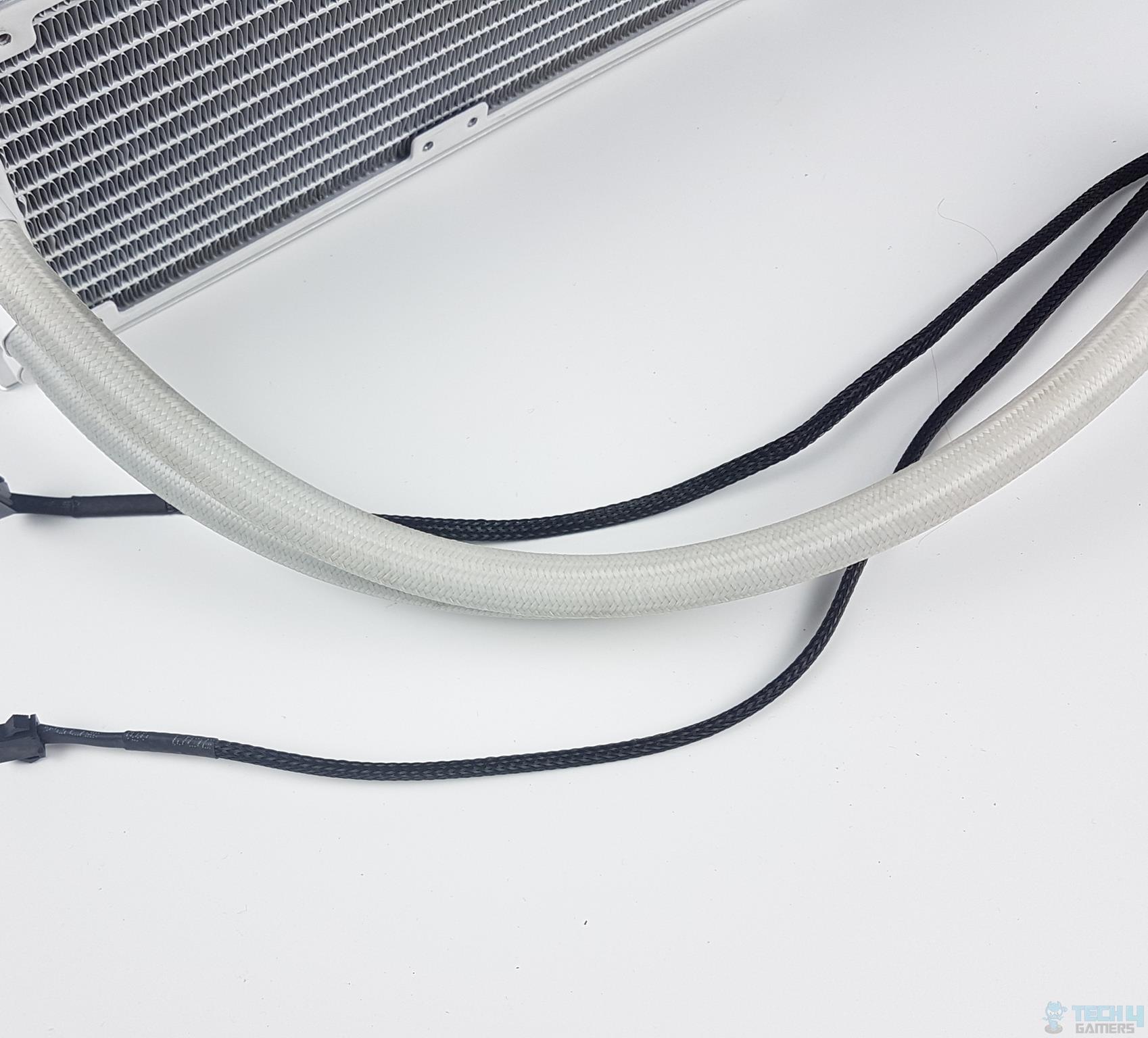 Lian Li has provided 400mm long rubber tubes on GALAHAD 360 white. These are wrapped inside nylon braided sleeves in white color. These tubes don't kink.
In my opinion, the most attractive and killer component in terms of aesthetics is the pump housing. Let's take a look.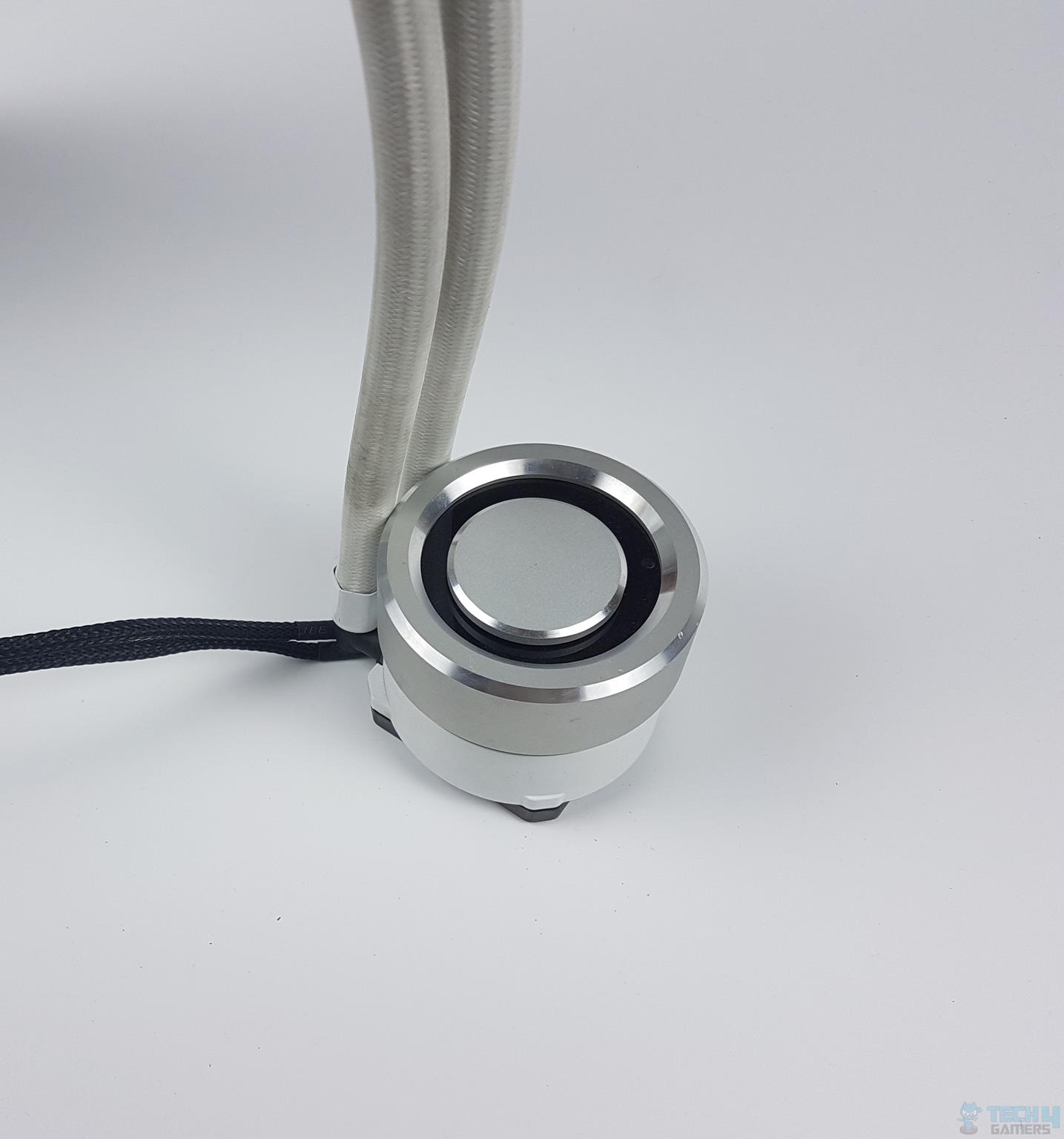 This unit has a dimension of 87.1x74x62mm (LxWxH). 62mm height is quite a length, but it makes sense, given how Lian Li has implemented the overall design. We can see white and silver colors on the housing, which adds quite a subtle touch. The top block is actually rotatable, and it has a good contribution to the total height of this block.
Lian Li has done a fantastic job in overall build quality. The silver and white color portions have a diffuser in between, which is digital RGB backlit. There are plenty of digital RGB LEDs in this unit. We are showing a picture where the magnetic cover is already placed.
This plate hides the Lian Li branded plate on the top cover, and its silver color matches the silver color of the top chamber.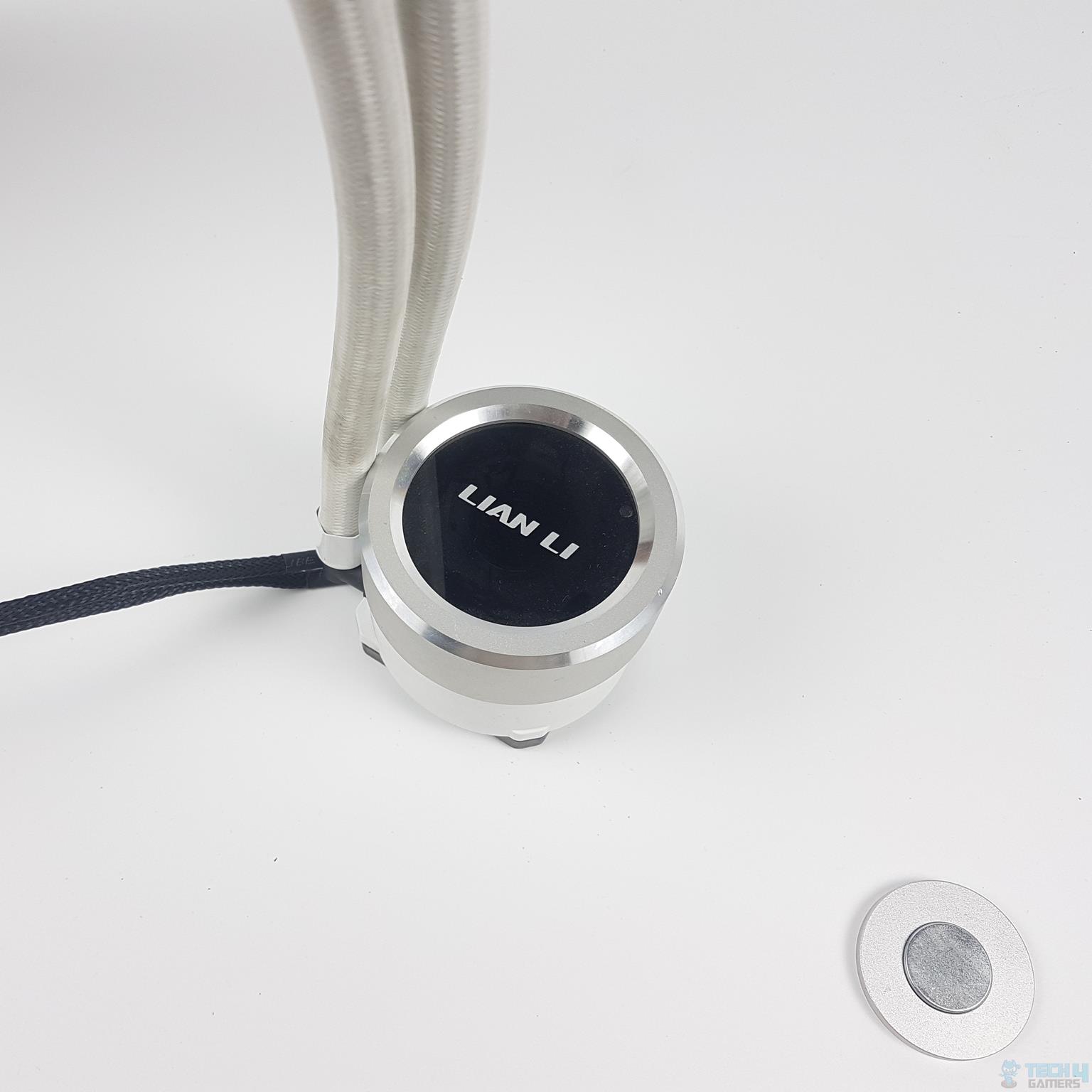 This picture shows the top of the block with the magnetic cover removed. There is a black color top plate with Lian Li branding in the center.
This complete area is digital RGB backlit except for the Lian Li branded plate. This RGB style is in honeycomb patterns which looks that good and dope in person.
There you go. Take a peek at this beauty.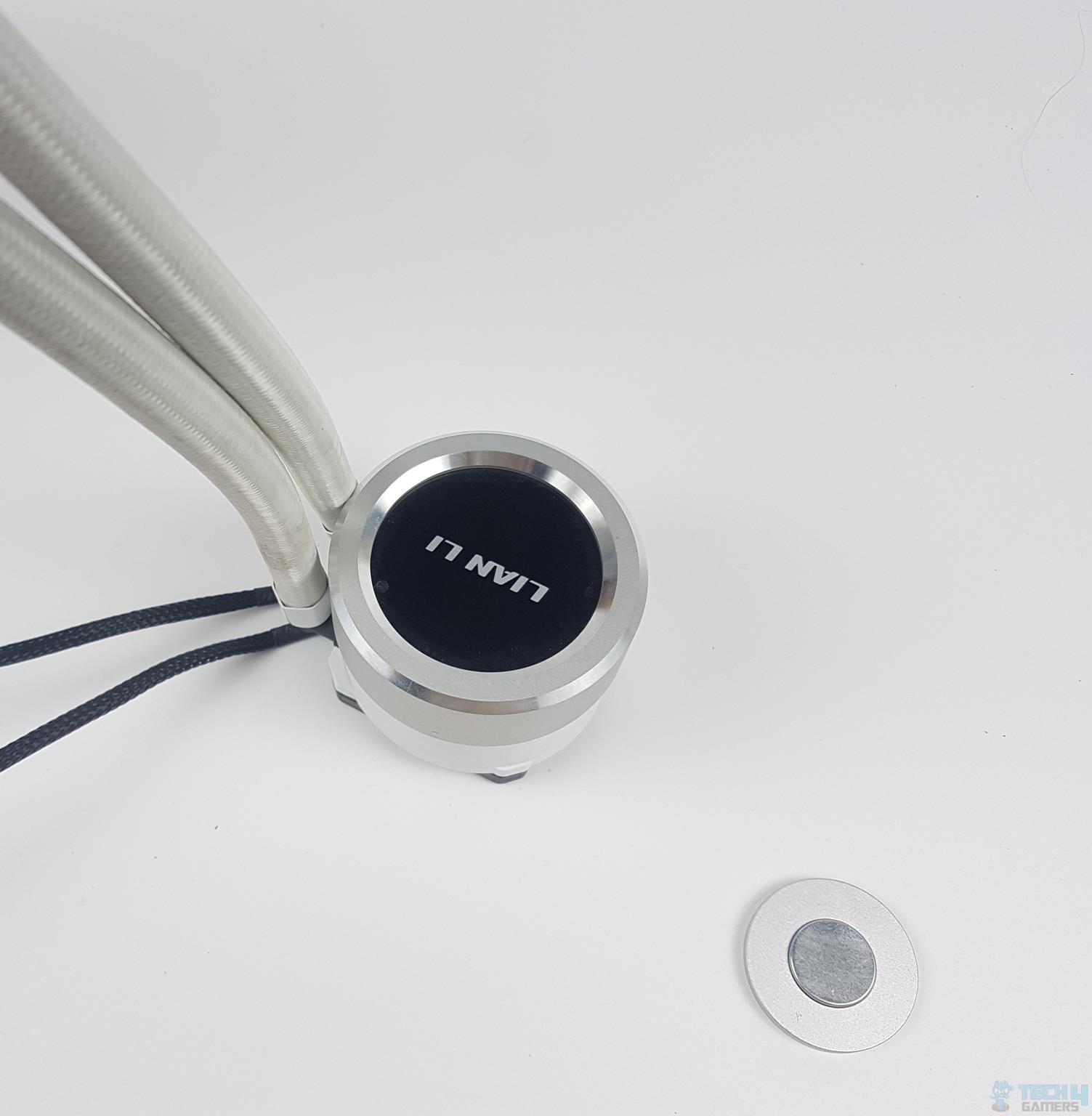 We mentioned above that the top chamber or a silver color area is rotatable. This is an impressive implementation. Users can install this cooler in any orientation and still keep the Lian Li logo horizontally up right.
The good thing is we don't need to remove the top cover for this rotation. Rotation is built right into the structure.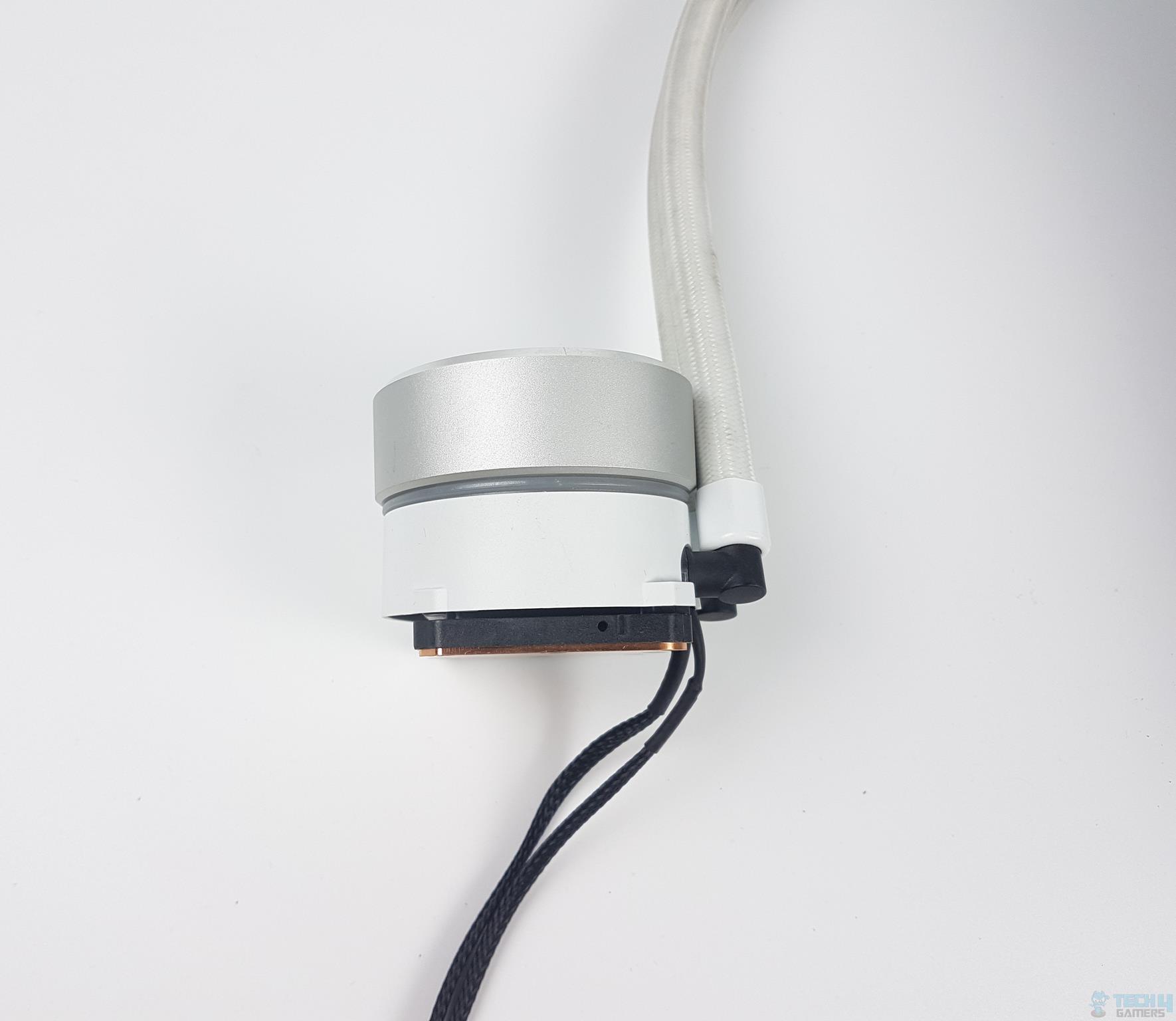 All sides of this block are identical in layout except the rear. There is no branding on these sides. Take note of an inset right above the black color housing at the base. This is where the mounting brackets are installed.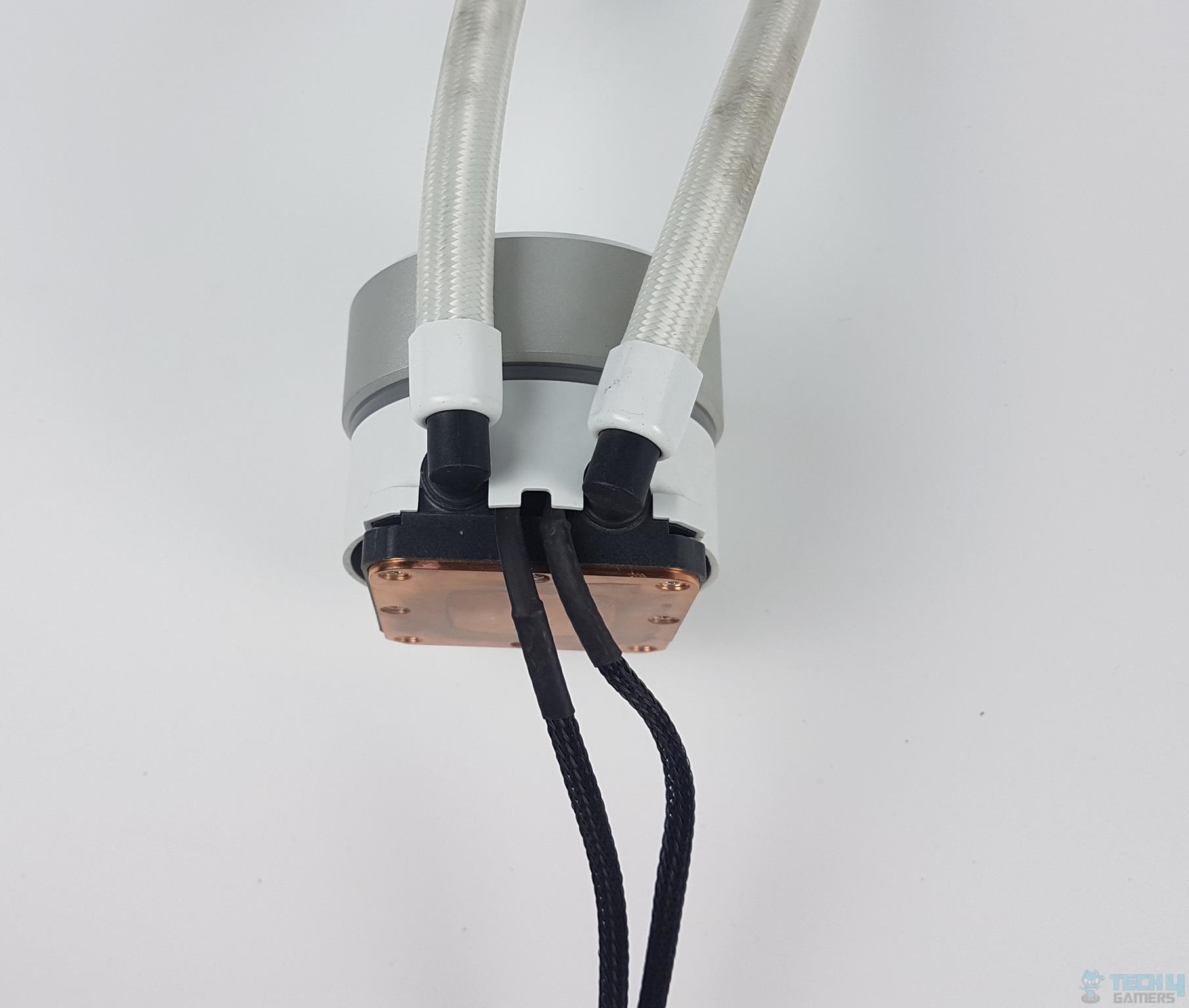 The rear side of this block has tubes installed in a 90° orientation. The connection is concealed using white color covers. There is a black color base that houses the copper base plate. This plate is made of ABS material.
There are two cables coming out from the mid-section of the housing. Both cables are braided sleeves.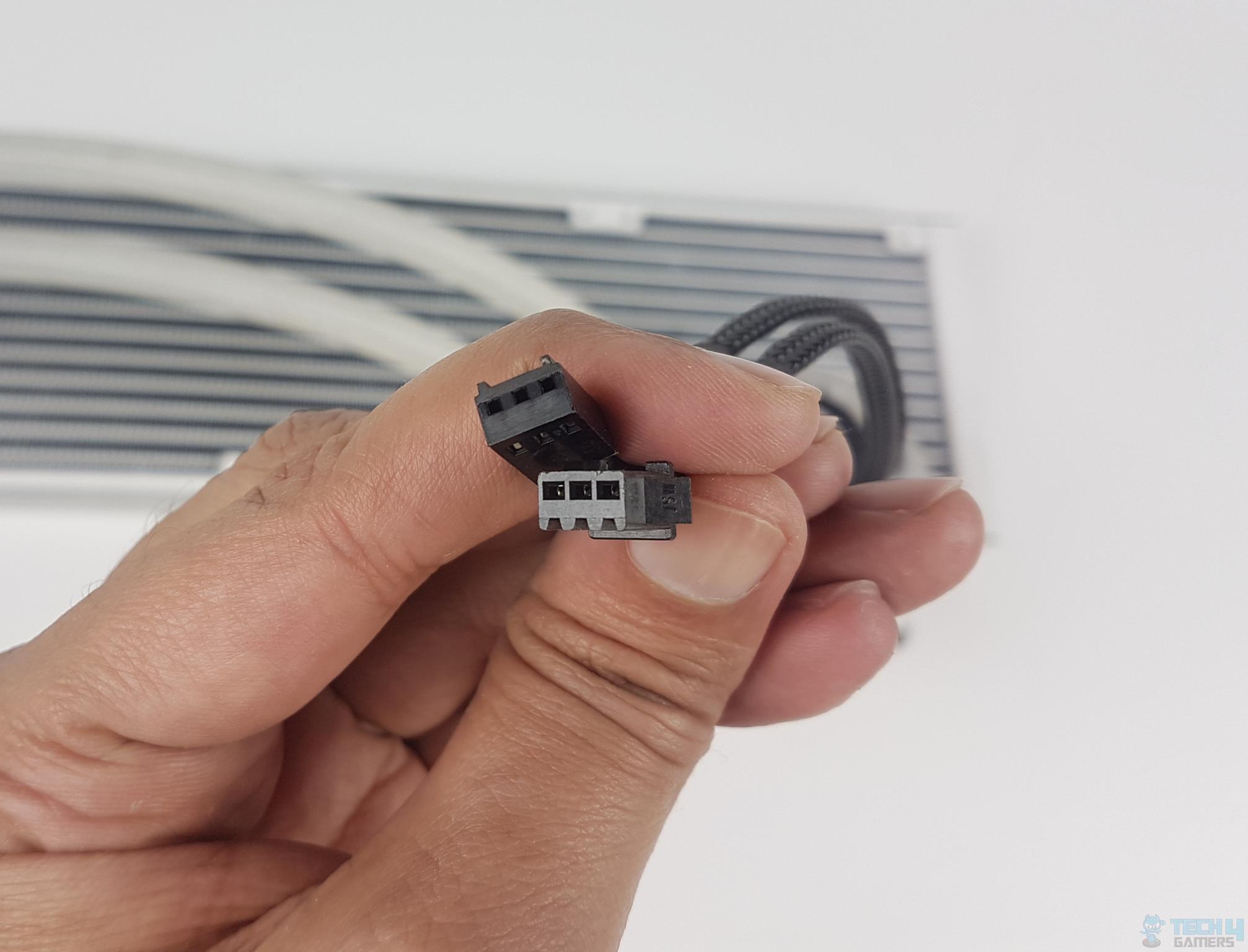 One cable is a 3-pin connector to power the motor of the pump. The other cable is a 3-pin JST cable to power the digital RGB LEDs.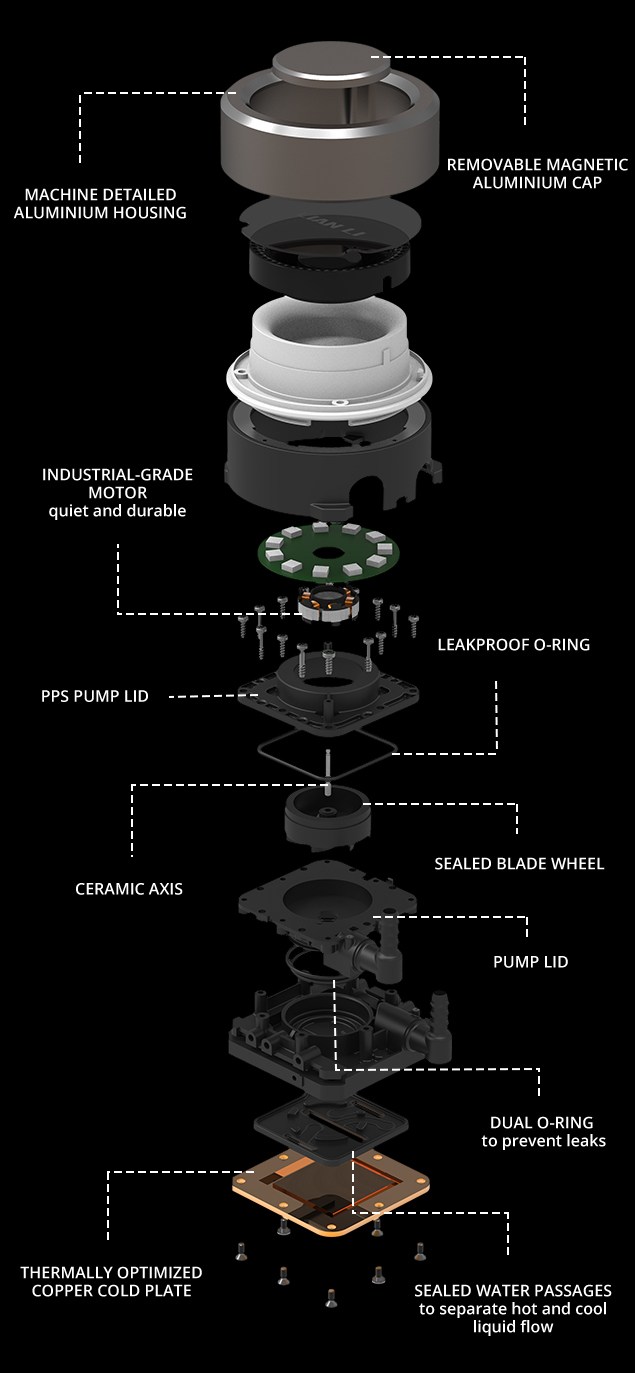 This cooler uses triple-chamber which are:
Pump Chamber
Cold Plate Chamber
Connecting Chamber
All these chambers are connected into a unit to reduce the friction produced by the coolant's flow.
Lian Li has mentioned that "The M.C.T. design separates the hot and cool liquid flow by conveying them into different, sealed water passages, significantly enhancing the heat exchange efficiency and extending the lifespan of the CPU block pump by preventing the hot liquid from flowing back."
The following are the specifications of the pump:
| | |
| --- | --- |
| Speed | Upto 3300 RPM |
| MTTF | 70,000 hours |
| Noise Level | <20 dB |
| Rated Voltage | 12 VDC |
| Connector | 3-pin |
| RGB Connector | 3-pin addressable |
The copper base measures approximately 55x55mm. The cooler does not have a pre-applied thermal paste.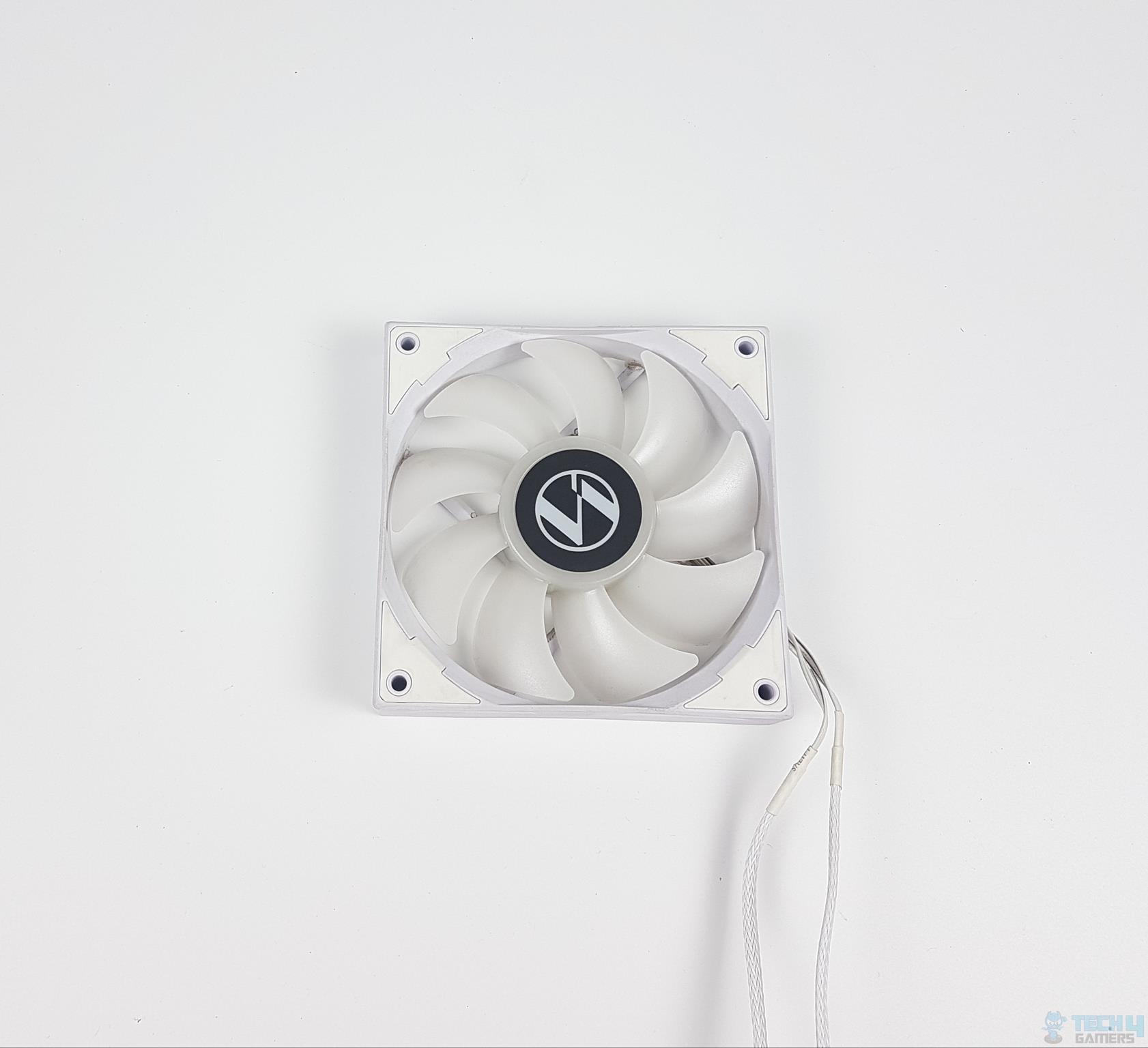 Lian Li has provided 3x ST120 fans with this cooler. These fans are digital RGB enabled, and they feature a square frame to my liking. These fans are fully white, so much so that connectors and cables are white.
Personally, I like this approach. This fan has 9x frosted blades for even lighting. They are designed to generate more airflow at low noise. The Center has more diameters since it houses digital RGB LEDs. The only black thing on these fans is a center sticker with Lian Li branding.
Lian Li has mentioned that these fans feature industrial-grade motor design, and Lian Li is using Fluid Dynamic bearings. The frame area on the mounting corners has a downward slope design.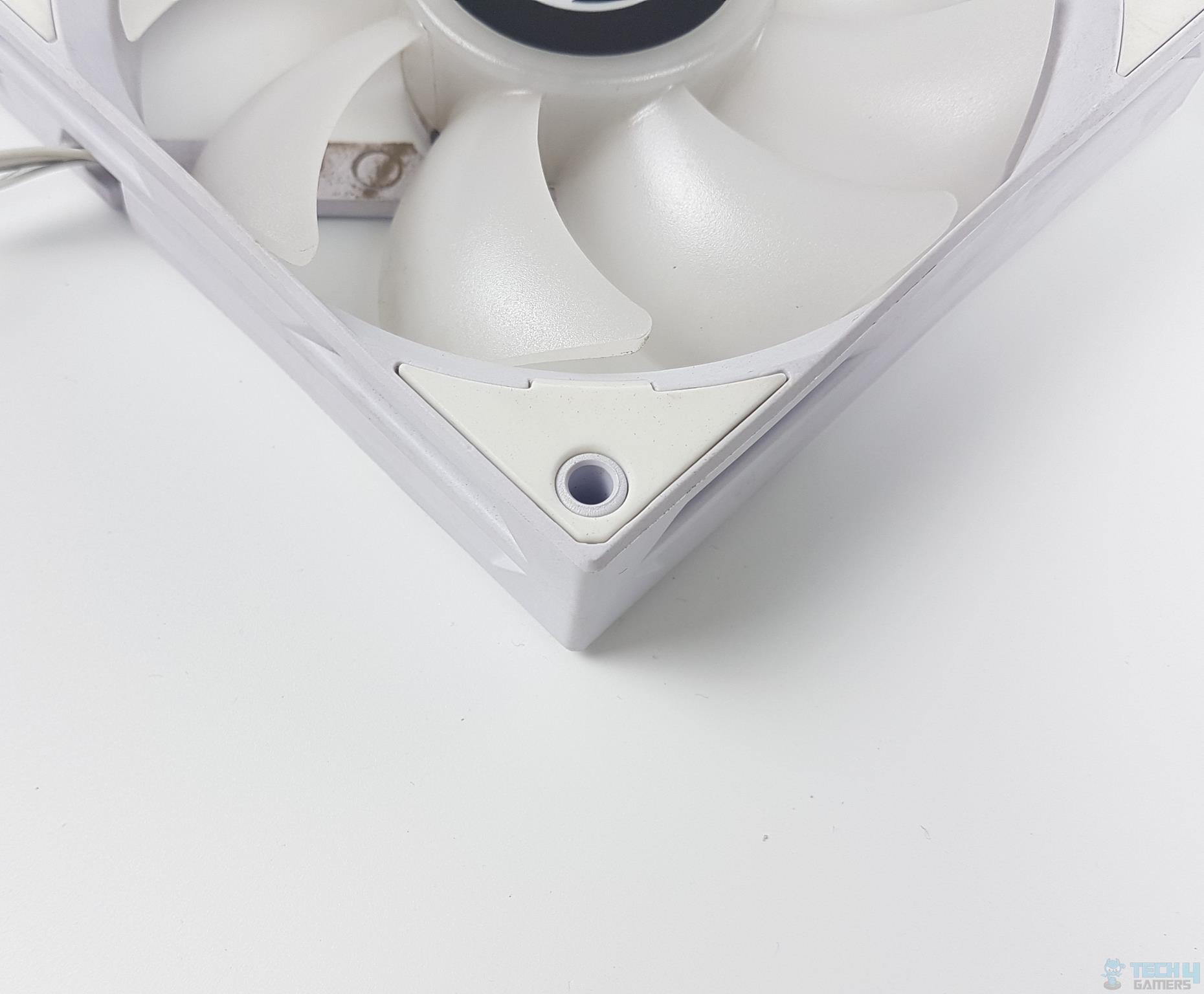 Each mounting corner has a white color anti-vibration pad to reduce vibrational noise.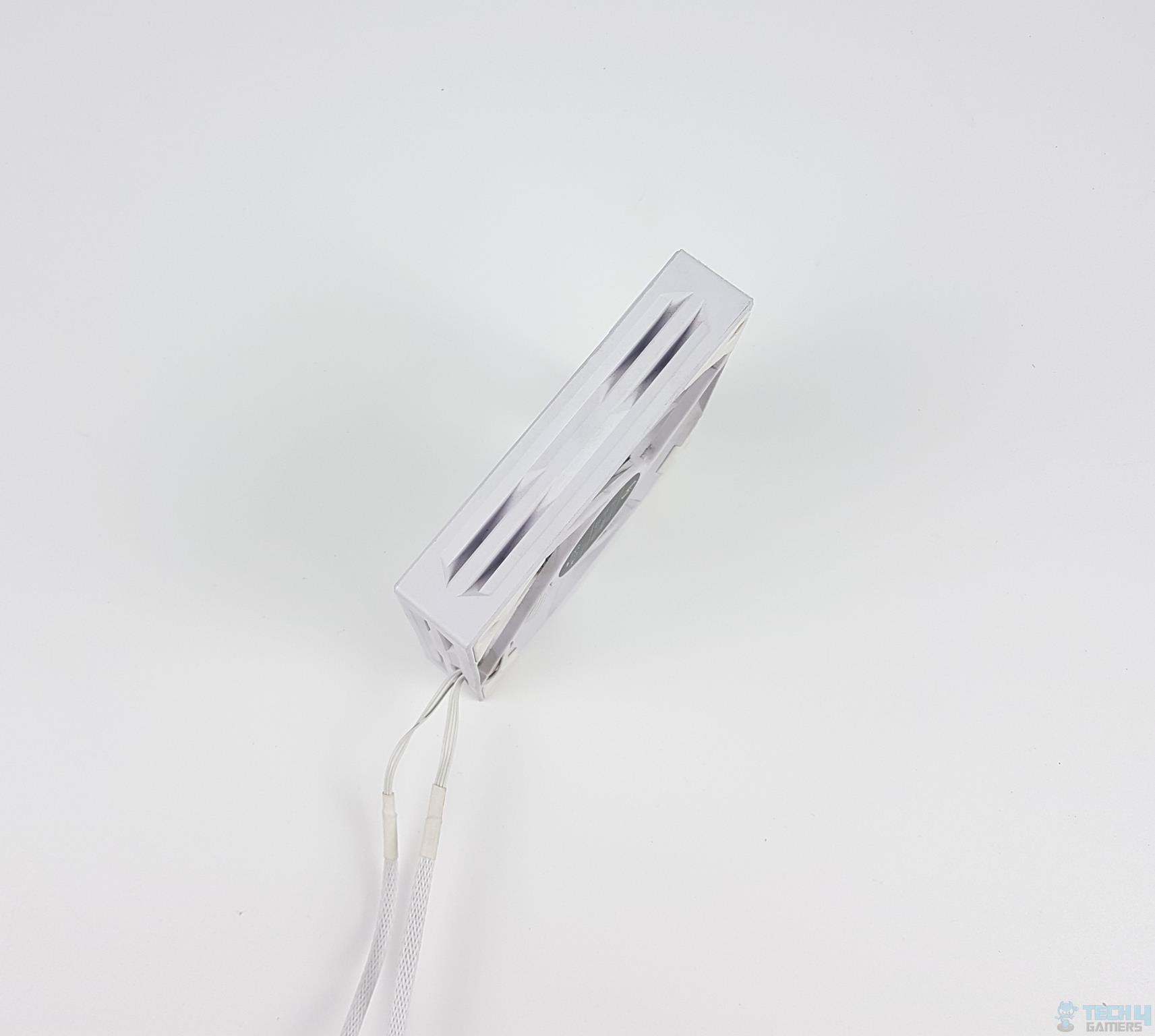 The frame of this fan is rigid, and as mentioned above, it is a square design which adds more to the look. We could not find any arrow marking which helps in determining the direction of airflow and rotation of blades.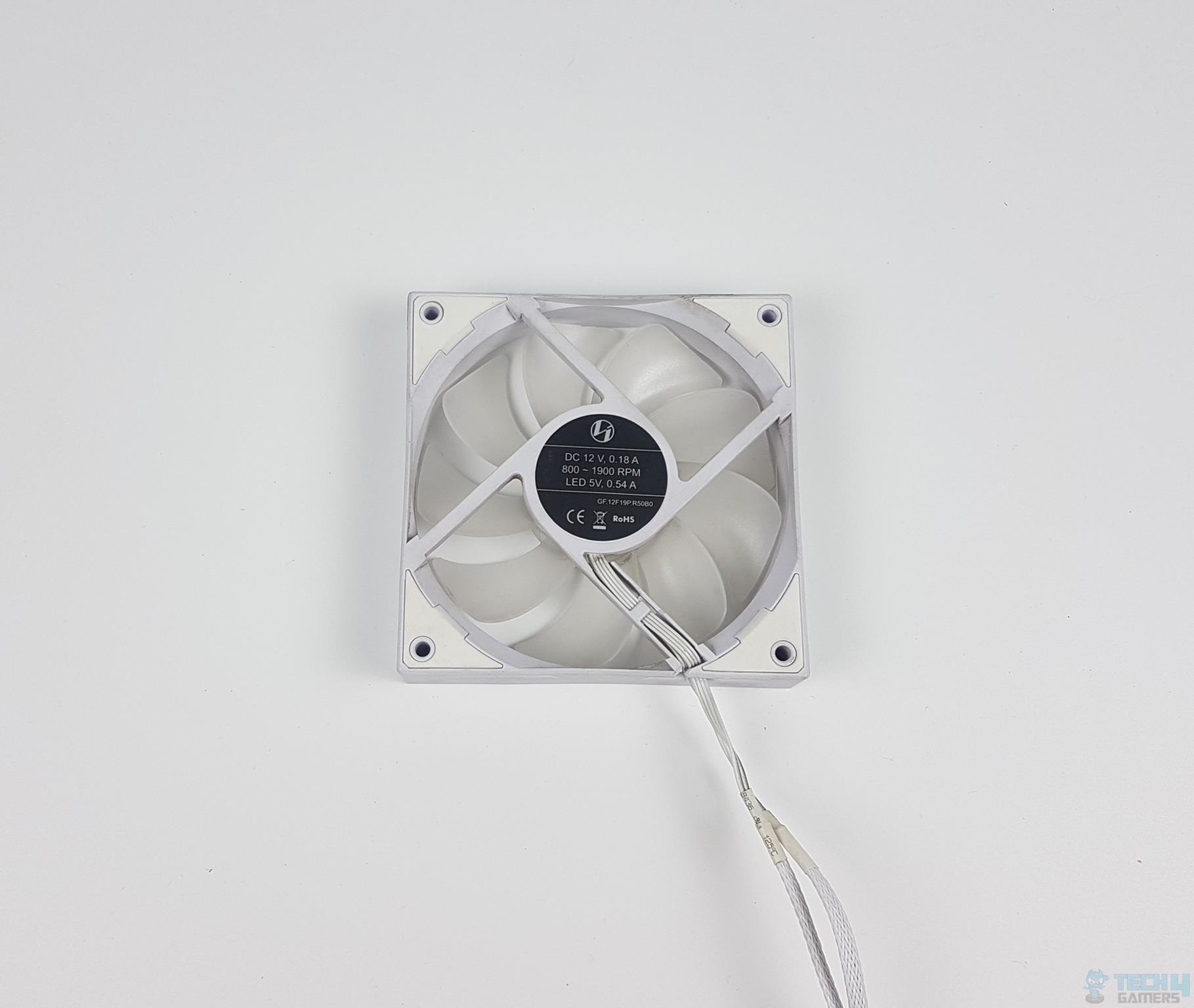 There is a 4-arms assembly on the backside. One arm has an inset to catch the wires coming from the hub. There is a black color sticker in the center showing the power rating and speed of the fan.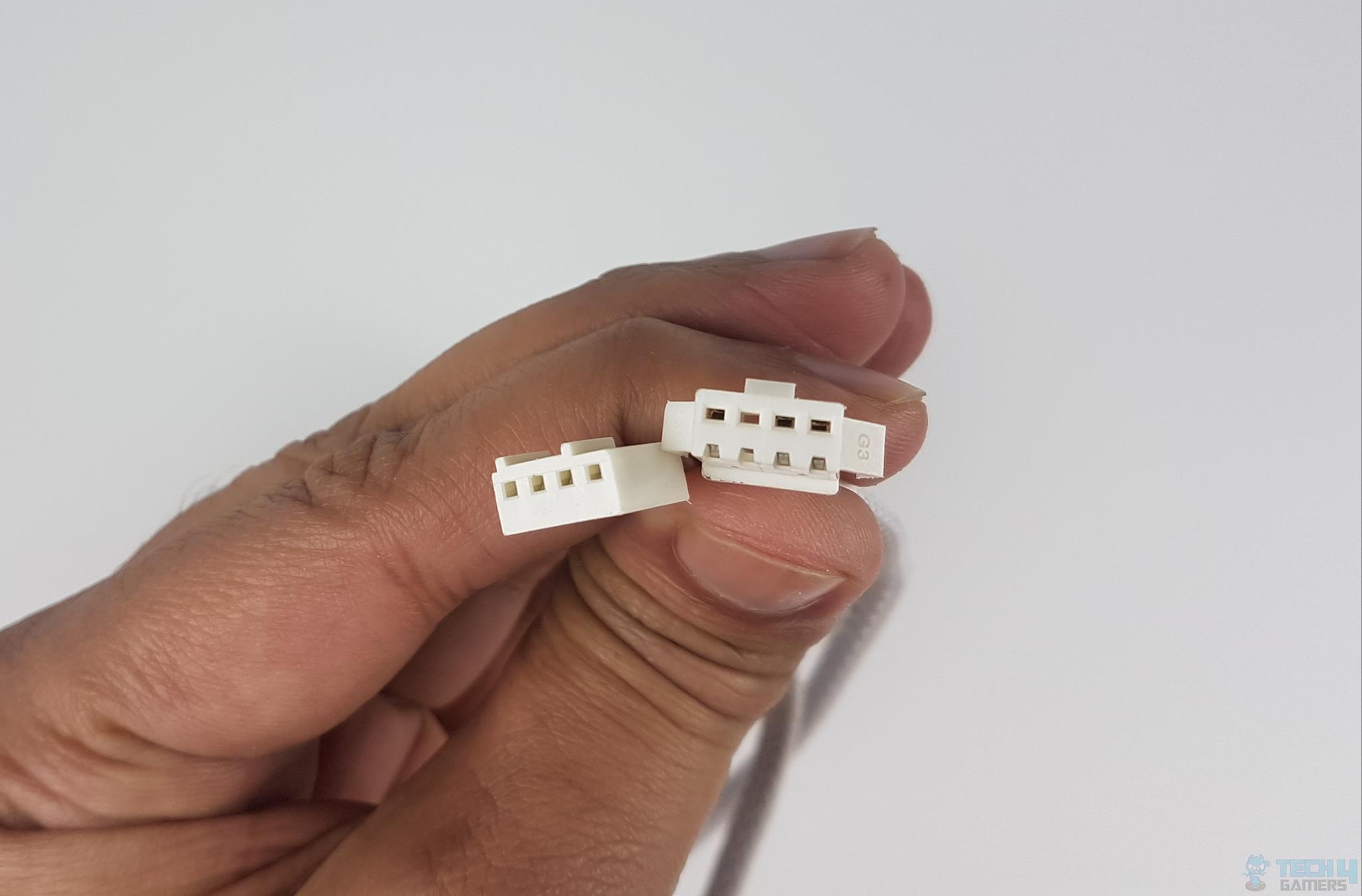 There are two cables per fan. One is to power the motor of the fan, and it has a 4-pin PWM connector. The other is a JST 3-pin connector cable to power the digital RGB LEDs.
Let's take a look at the salient specifications:
| | |
| --- | --- |
| Dimension | 120x120x25mm |
| Type | 4-pin PWM Connector |
| Speed | 800±200 (30% Duty) ~ 1900 RPM ±10% |
| Airflow | 69.17 CFM |
| Air Pressure | 2.6 mmH₂O |
| Noise | 32 dB(A) |
| MTTF | 40,000 hours |
| ARGB Connector | 5V,3pin ARGB dual Header |
Installation
We have tested the Lian Li GALAHAD 360 White cooler on the AMD AM5 platform using GIGABYTE X670E AORUS MASTER and AMD Ryzen 7 7700X. Installation on AM5 is straightforward and convenient. Lian Li has provided two AMD clips. These clips and two thumb nuts are required for installation. Some key steps are:
Remove Intel Mounting Bracket from the block.
Install fans on the radiator.
Install digital RGB Cable to the block.
Install the AMD Mounting bracket on the block.
Place clips or pins through holes on AMD Mounting Bracket.
Use Thumbnuts to hold AMD pins on the mounting bracket.
Keep these connections loose.
Clean the CPU surface and apply thermal paste or use pre-applied thermal paste.
Make sure AMD stock mounting brackets are on the motherboard.
Carefully place the block on the CPU and pass the cutout area of clips on the catchers of the AMD stock bracket on the motherboard.
Start torquing thumb nuts till they run out of threads.
Install the radiator and connect cables. You are good to go.
Clearance
This cooler has a dimension of 397.5×123.5x27mm without fans. With fans, this size is 397.5×123.5x53mm. The tube side may obstruct the first DIMM slot; other than that, we did not observe any observation. You would need to check that your PC Case has clearance for this size radiator.
Digital RGB Lighting
We have already covered the dedicated controller above. This lighting can also be controlled using a supported motherboard; speaking of which, this cooler's lighting is compatible with the following:
ASUS AURA SYNC
MSI MYSTIC LIGHT SYNC
GIGABYTE RGB FUSION READY
ASRock POLYCHROME SYNC
If for anything, I am now a huge fan of the brilliance and aurora of digital RGB lighting, particularly on the block. We have even diffusion, and there are 17 pre-defined modes in the dedicated controller. Here are some pictures:
Thermal Test
We have used below mentioned configuration to test the performance of this cooler: –
Here is the settings table for testing:
| | |
| --- | --- |
| All Cores | 5200MHz All Cores |
| VCore (V) | Auto |
| Thermal Paste | Alphacool Sub-Zero |
| Test Run Time | 30 minutes CINEBENCH R23.2 |
| Idle Time | 10 minutes |
| Fan/Pump Speed | 100% PWM Duty Cycle |
| Monitoring Software | HWInfo64 |
Disclaimer: Every silicon is different; hence no two same SKUs are likely to take some voltage to yield the same performance at the same thermals per see, but the margin would be close. Not every stress test run may yield the same result, which could be due to various reasons like thermal paste application, ambient temperature variation, the mounting pressure of the cooler, etc. This is very why we have listed our variables and their settings. Variables not mentioned are on the Auto setting.
Result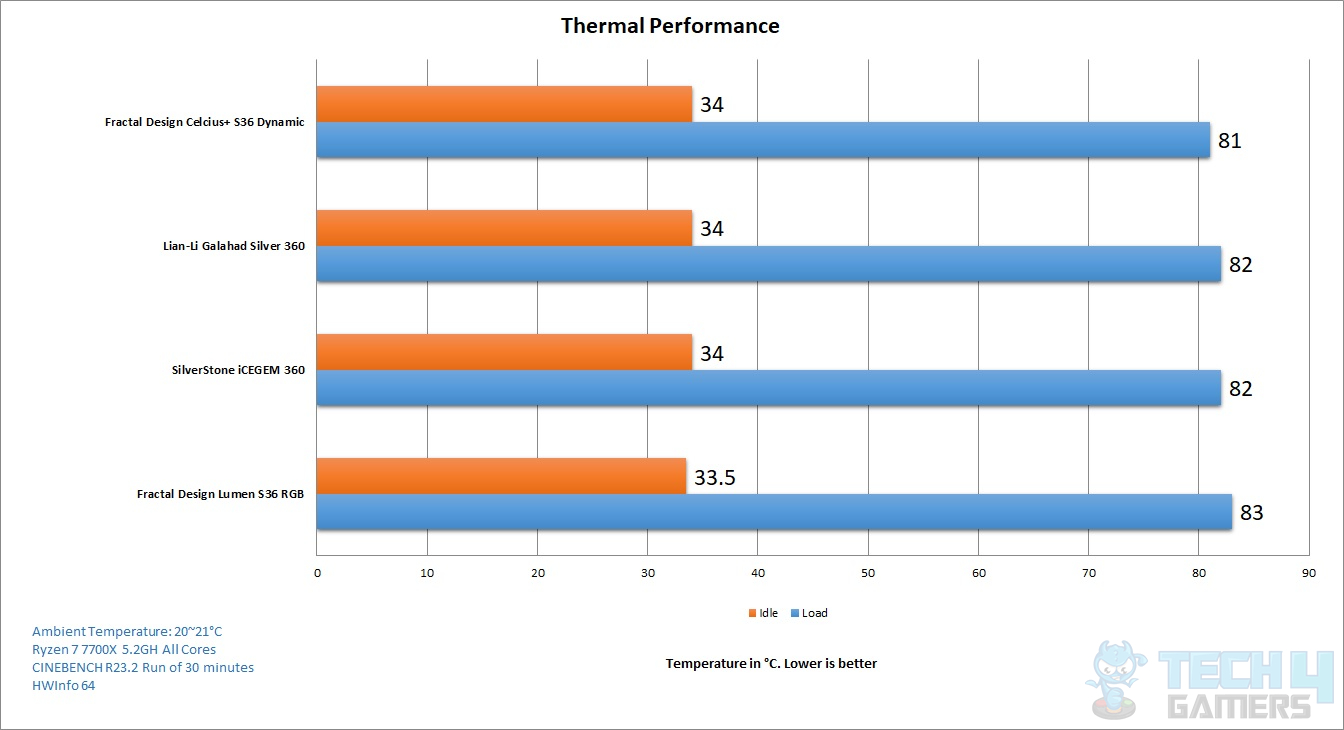 This cooler is doing 82°C and sitting in between the top and fourth contender in the graph. Almost all of these coolers are within 1°C difference from each other except for the first and last cooler.
Noise
Fans and pumps at full speed are making a noise of 51dB(A) approximately. This is at an ambient noise level of 32~33dB(A). A custom fan curve would be beneficial for the fans.
Conclusion
Lian Li made some strong waves when they launched the GALAHAD series liquid coolers. Coming from Lian Li, we were sure of the same build quality and something different that we are used to with their PC Case, and they did not disappoint.
While there are many AIOs out there with fantastic design and good lighting but the brilliance from Lian Li is different, as usual. Initially, GALAHAD 240 and 360 were released in black and white (formerly silver) colors. Recently, Lian Li launched the UNI Fan SL version of these coolers as well.
We have tested the Lian Li GALAHAD 360 White liquid cooler in this article and pitched this cooler against 3x other 360mm liquid coolers. This cooler is compatible with Intel LGA 775, 1366, 115x, 1200, 1700, 2011, and 2066 sockets.
It is compatible with AMD AM4 and AM5 sockets. Please note that you would need to buy an upgrade kit for the LGA1700 socket since Lian Li is not offering this kit as a free upgrade to existing users.
This cooler has an aluminum-based radiator with a complete assembly of white color coated. This gives one heck of a good outlook to the unit. This radiator has a dimension of 397.5×123.5x27mm. 27mm is the height of this unit. After installing 25mm thick fans, the overall thickness would be 53mm, including the head of screws.
It has a dense fin stack with an FPI count of 20. There are two brushed aluminum cover plates or shields on the sides of the main housing. These have Lian Li branding as well. These two silver color plates with square design fans make this unit one heck of a cool look. The tubes are also in white color sleeves, which are made of nylon.
The connections of tubes with fittings are concealed using covers. The length of these tubes is approximately 400 mm.
Lian Li has provided 3x ST120 digital RGB high-performance fans with this cooler. These fans have a square design giving them a good outlook once installed on the radiator. The fan is rated for a maximum of 1900 RPM ±10% while generating a maximum airflow of 69.17 CFM at a 2.6 mmH₂O air pressure rating.
These fans are white in color from head to toe, including the cable and connector. They use frosted blades.
Now coming to the most striking feature of this complete unit which is the block itself, we have a triple chamber design under the shell. The dimension of the block is 87.1x74x62mm (LxWxH). The top portion is silver color whereas the lower portion is white color. This silver and white color combination are highly attractive in design.
The circular-shaped block is made of aluminum, copper, and ABS materials. There is a black color faceplate on top which is RGB backlit. Its center has a Lian Li branded plate which is not backlit. That would mean we have a circular-shaped RGB backlit in a honeycomb design. Man, this gives one heck of a cool look to this unit.
Lian Li has also provided a magnetic top cover which can be placed right on the Lian Li branded faceplate. This cover is also silver in color. Clearly, Lian Li was paying attention to all details.
Wait, I am not done yet. The top aluminum portion is actually a cap that can be rotated in a 360° circle. This would ensure that Lian Li's text will remain upright no matter what orientation the cooler is installed in.
The block has two cables coming out of it which are in a black sleeve. This is probably the area of this cooler where we see the non-white design. One is the 3-pin power connector power cable, and the other is a 3-pin digital RGB JST connector cable.
Lian Li has provided a plethora of cables with this cooler, and you would want to spend some time reading the user guide to determine the best possible configuration for digital RGB setup, depending on the power source.
There is a dedicated controller provided with the cooler, which is SATA powered and has 17 pre-programmed RGB modes. Alternatively, users can daisy-chain the RGB elements and connect them to a standard 3-pin, 5V header on the motherboard.
Speaking of motherboards, this lighting is compatible with ASUS, MSI, GIGABYTE, and ASRock motherboards.
Installation of this cooler is convenient as well. We only needed 5 items to install the block over the CPU. However, cable connection would be challenging in terms of routing and connectivity. We did not observe any issue during the installation on the AM5 platform hence clearing this unit.
Lian Li GALAHAD 360 white is listed at USD 134 (Amazon Price). Lian Li is offering 5 years warranty on the cooler and a 2-year warranty on the Fans and LEDs. This cooler is performing quite well on a new platform, as we can see in the graph.
The fans are a bit loud, but other than that; it is one fantastic cooler to have in your build.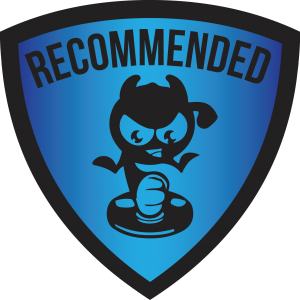 Was our article helpful? 👨‍💻
Thank you! Please share your positive feedback. 🔋
How could we improve this post? Please Help us. 😔