DarkFlash CX6 AURORA SPECTRUM RGB Fans
Review Summary
The darkFlash CX6 AURORA SPECTRUM RGB fans are pocket-friendly fans that are best suited for case ventilation though the user can use them on the radiator with a bit of performance loss. They pack a good and vibrant ARGB light show. If you are up for some color customization and don't want to spend a good fortune yet still want a decent performance then take a look at these fans.
Thermal Performance: -

8.5/10

Value -

9/10

Build Quality -

9/10

Noise Performance -

7.5/10
Pros
Decent Performance
PWM Connector
Build Quality
Good looks
A-RGB Lighting
Standard Connectors
Fans, fans, fans! I have been testing a lot of fans lately, a major part of which is coming from the Alphacool SuperNova 1260mm radiator (on other media sites). A local dealer approached us asking to test the darkFlash fans in 120mm size. We agreed, and so they sent us the CX6 AURORA SPECTRUM RGB fans.
Specifications
| Product | darkFlash CX6 AURORA SPECTRUM RGB White |
| --- | --- |
| Dimensions | 120x120x25mm |
| Fan Speed | 800-2000±10% RPM |
| Noise Level | 18-30 dBA (Max) |
| Airflow | 55.29 CFM |
| Static Pressure | 1.63mm H₂O |
| Current | 0.3-0.5 |
| MTTF | 30,000 hrs |
| Bearing Type | Rifle Bearing |
You can get these fans in four colors:
Each of these colors is available in the following configuration:
A single fan pack
A 3-in-1 fans pack
A 5-in-1 fans pack
These fans are available in PWM and Voltage base control versions. We have got 3x CX6 white colors fans in a single fan pack. Speaking of the specifications, these fans are rated for up to 2000 RPM generating a 55.29 CFM at 1.63mm H₂O air pressure. It seems like darkFlash is targeting these fans for case ventilation. If that is the case, then these stats make sense.
Related Read: White PC Cases & Best White CPU Coolers
Packing Box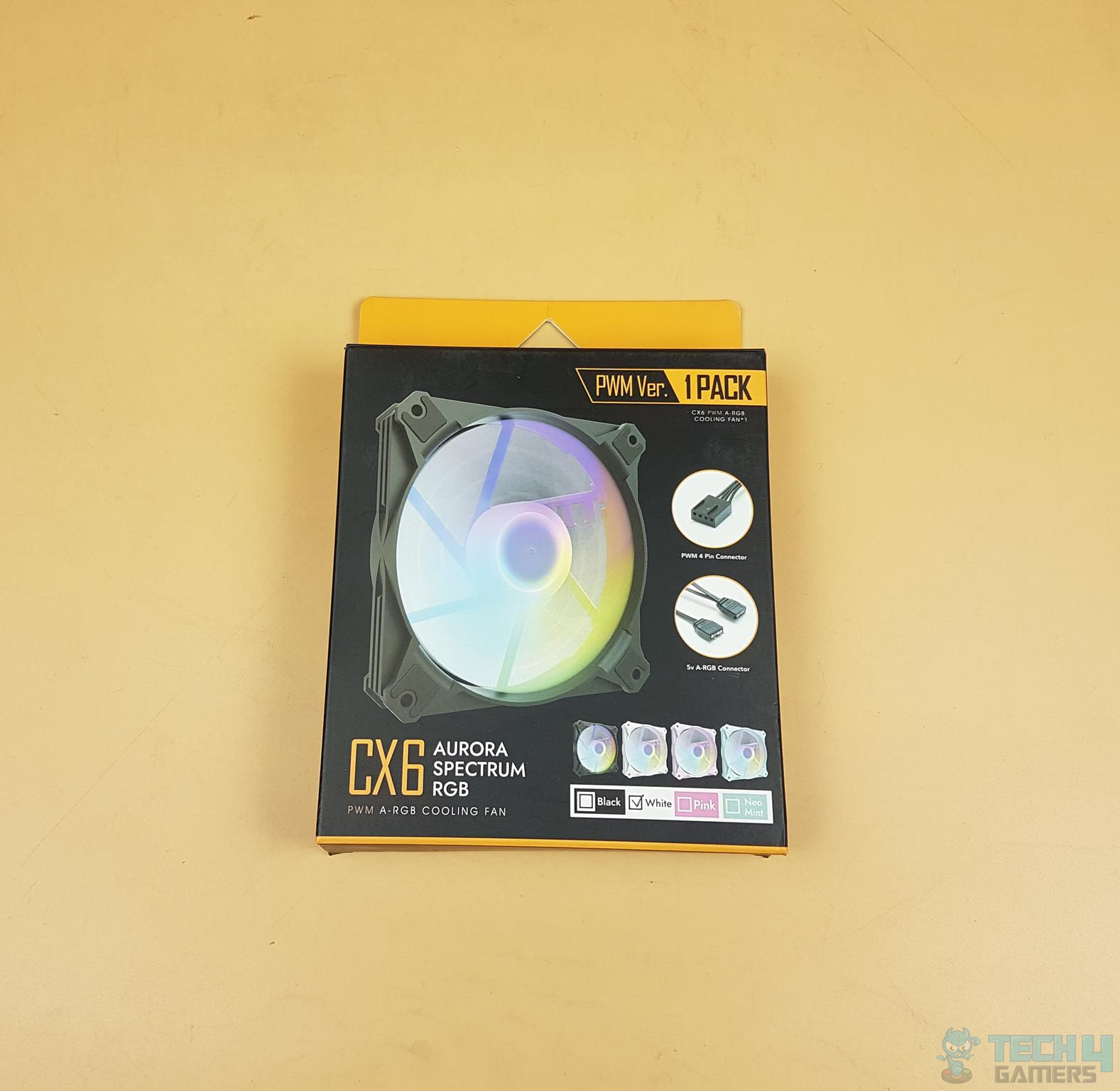 The fan is shipped inside a paperboard packing box in black and orange colors. You can see that there is a picture of the fan on the box's front. Here, the most critical information is printed on the top, which says that this is a PWM version.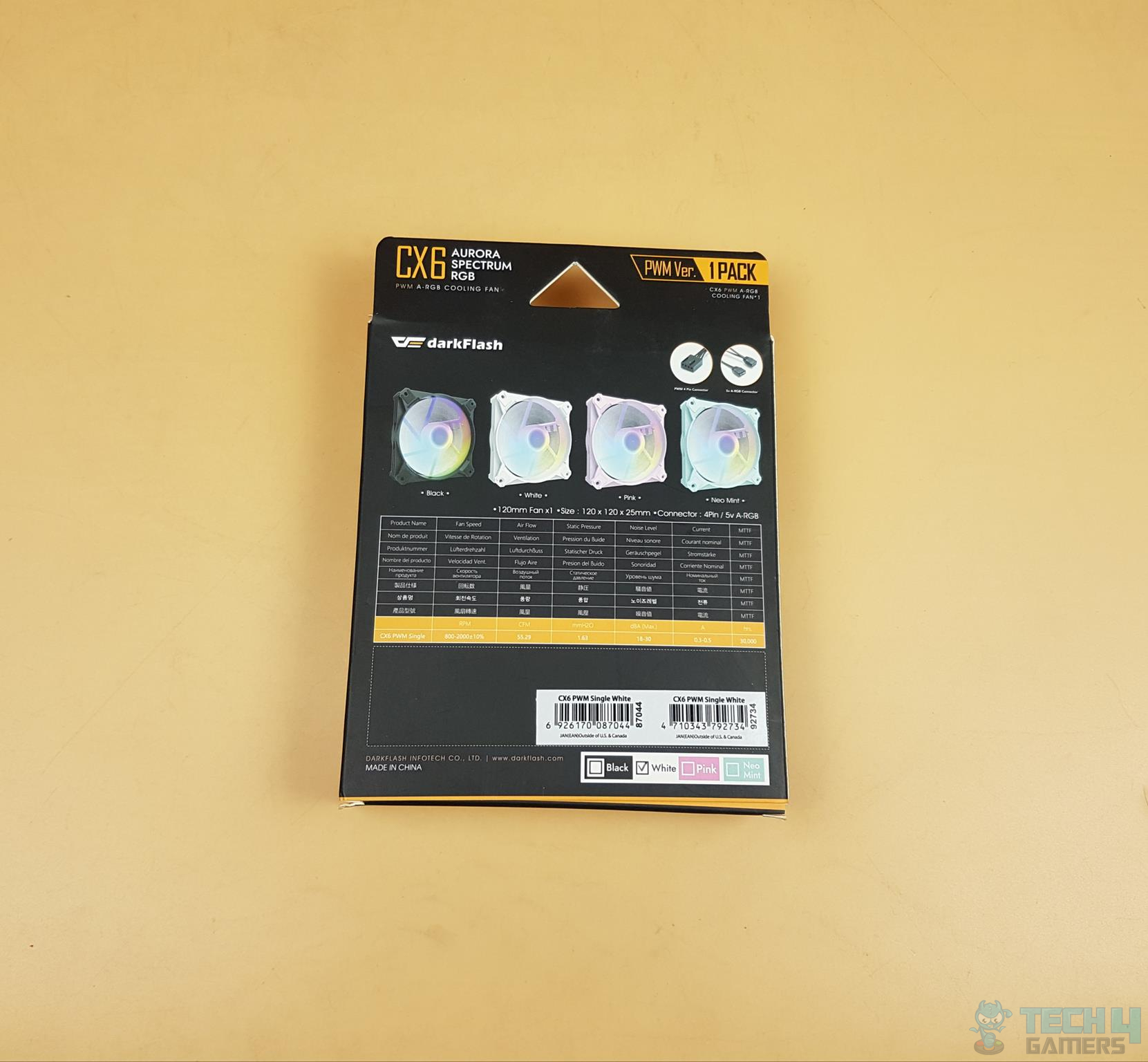 The backside of the box has a listing of specifications in multiple languages. Since the fans we received are in white color, the white box is ticked.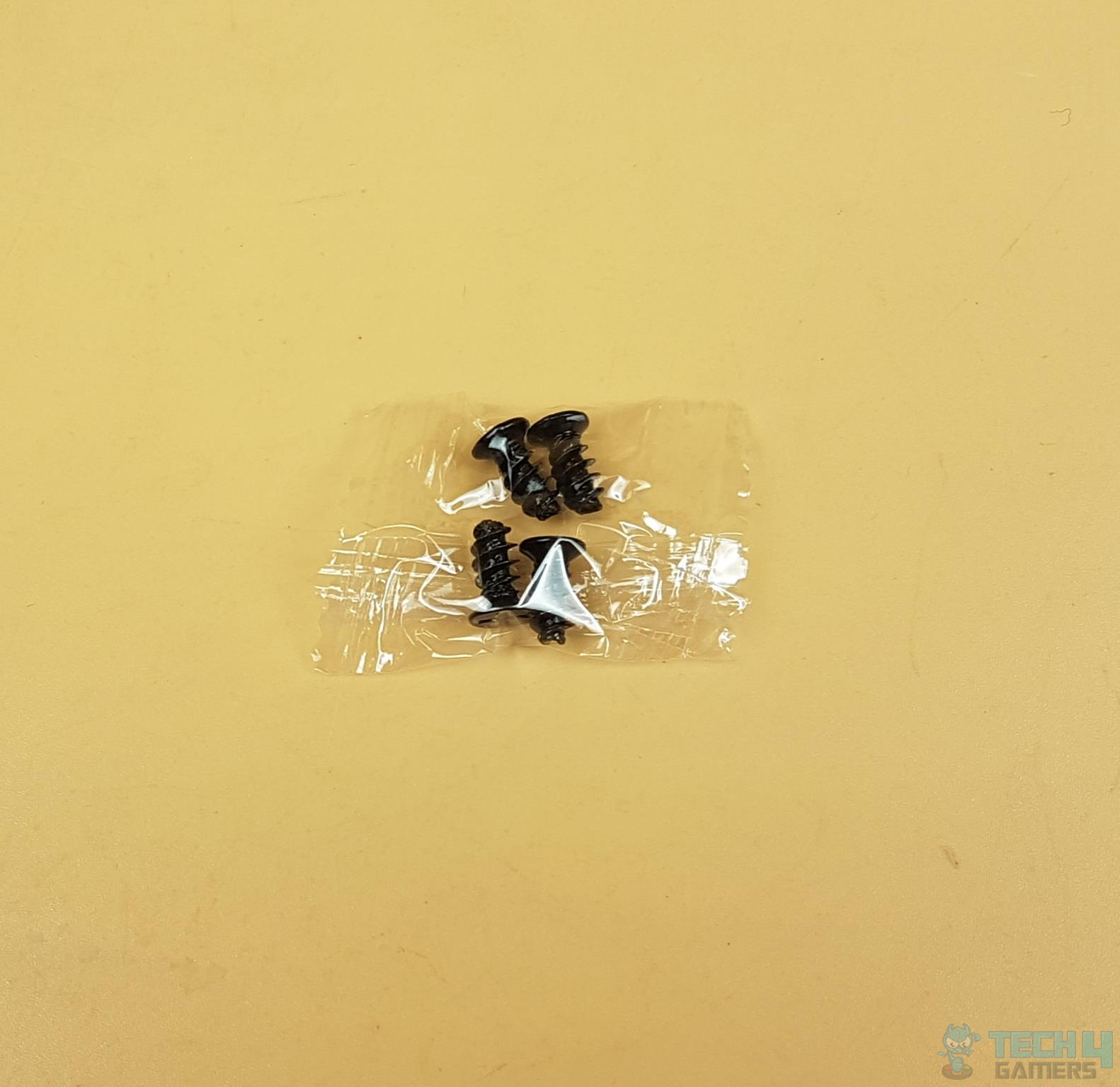 DARKFLASH has provided 4x self-tapping screws in the box.
Closer Look
It is time to take a look at the fans.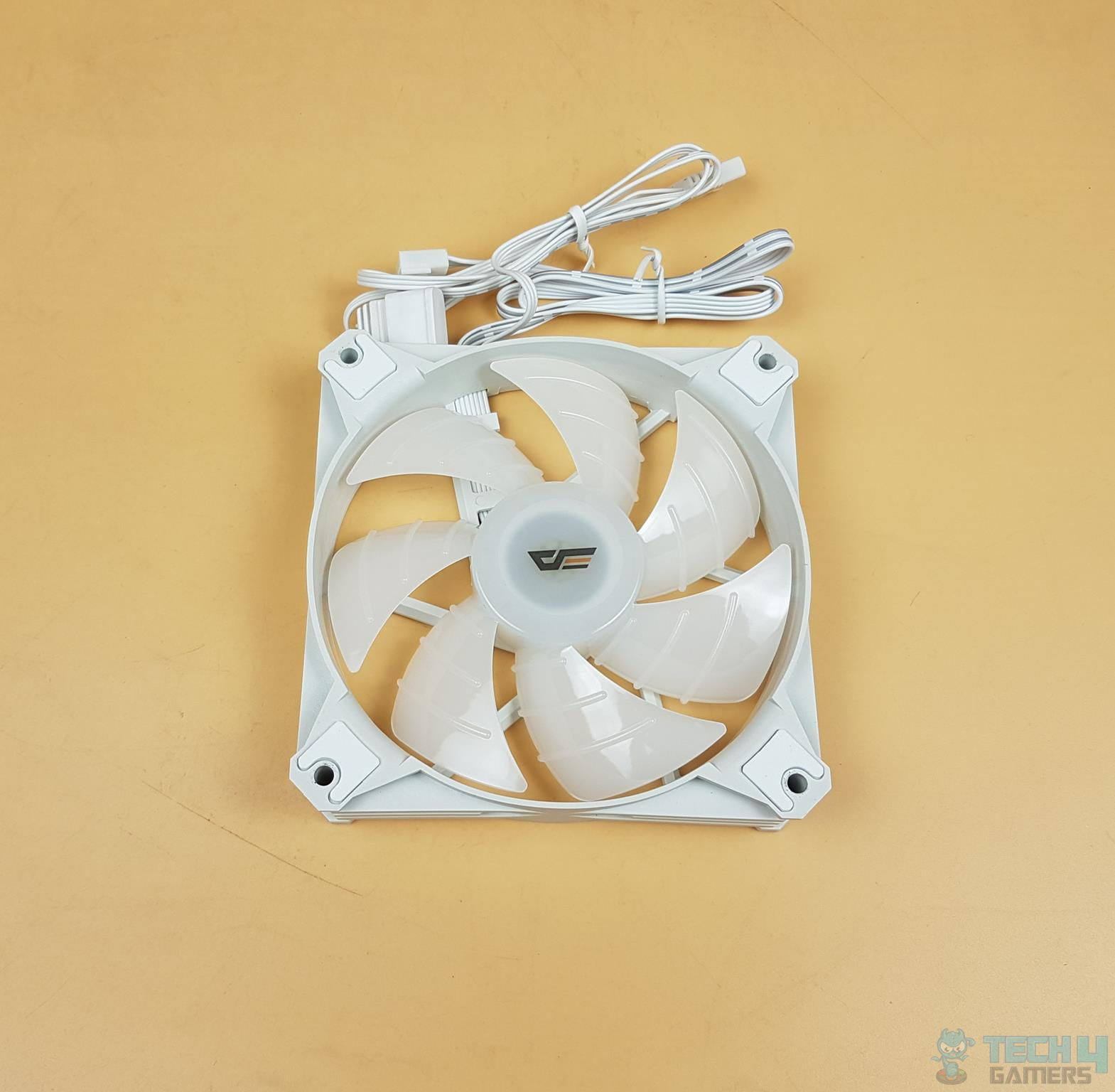 The fan has a dimension of 120x120x25mm and comes with 7x translucent blades. Any two mounting corners are apart by a distance of 105mm. The frame of the fan is white in color. Though the color is not pure white but gives a blue-white hint. The center is also translucent with darkFlash branding.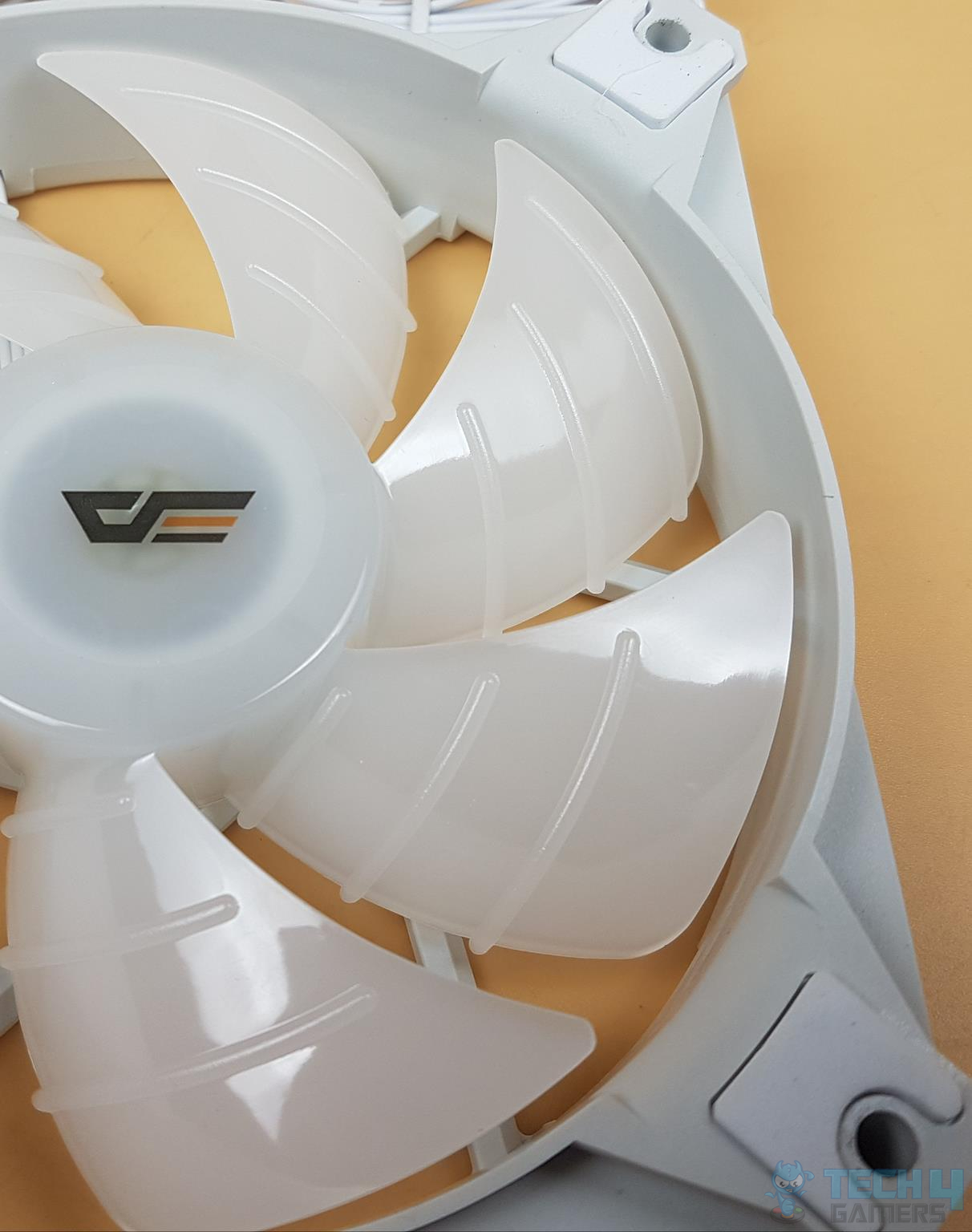 The blades have a 3D striped design with each blade having 3 of such stripes. These stripes protruded towards the trailing edge of the blades. This design is probably used to generate more sustainable airflow across the edges while reducing the drag. The frame has a rounded slop-down design on the corners.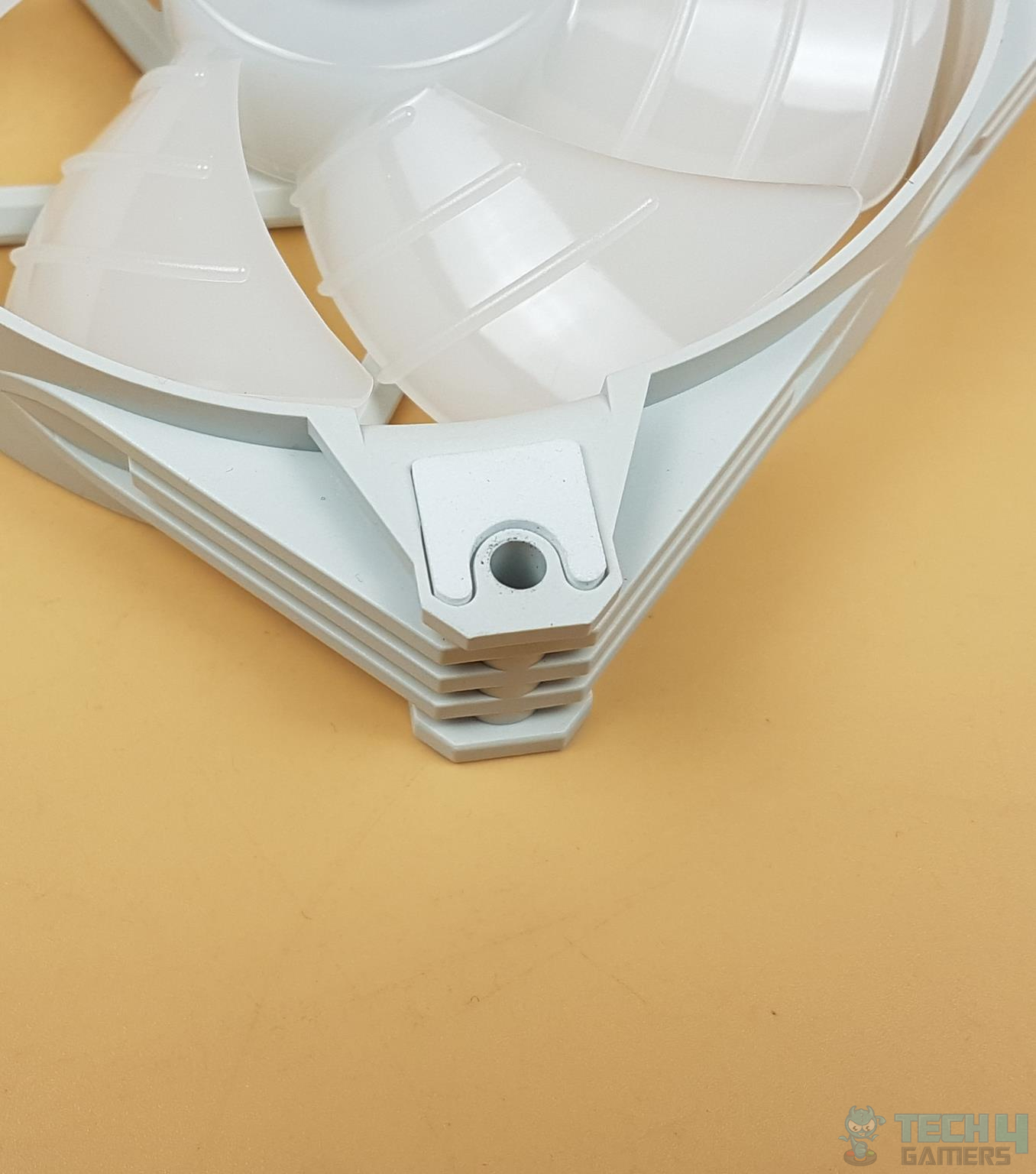 Each mounting corner has a cut-to-size anti-vibration pad which is also in white color. The mounting corner is a bit scratched hinting that the fan is probably used before.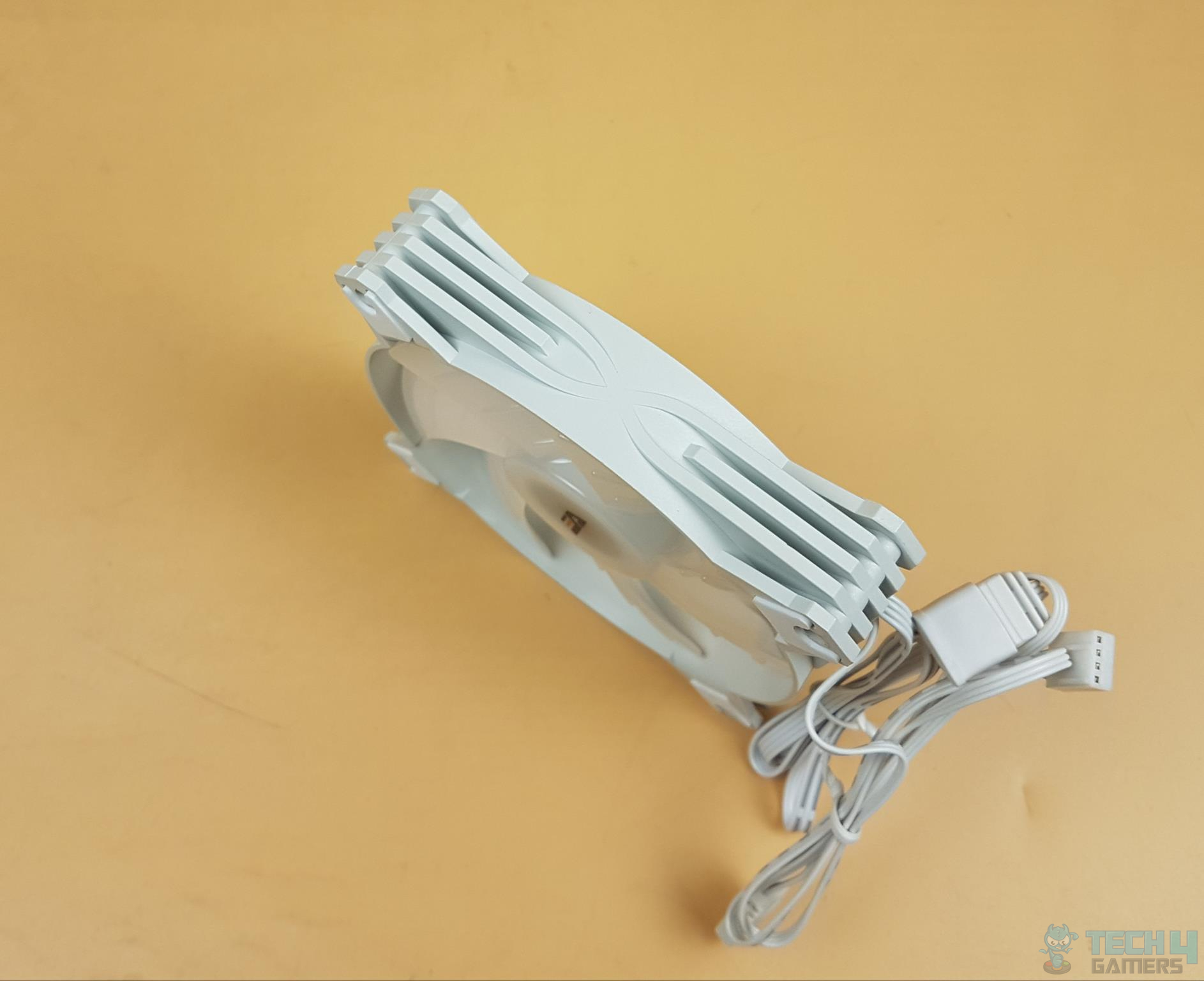 There is a striped design on the frame of the fan in quite a style. The frame is quite sturdy and inflexible, and the build quality of the fan is also fine. Overall, the design is well synchronized and sits in harmony with the side of the frame and the front/back. There are no arrow symbols on the side frame. These arrow symbols provide a visual aid to novice users in identifying the directions before the installation.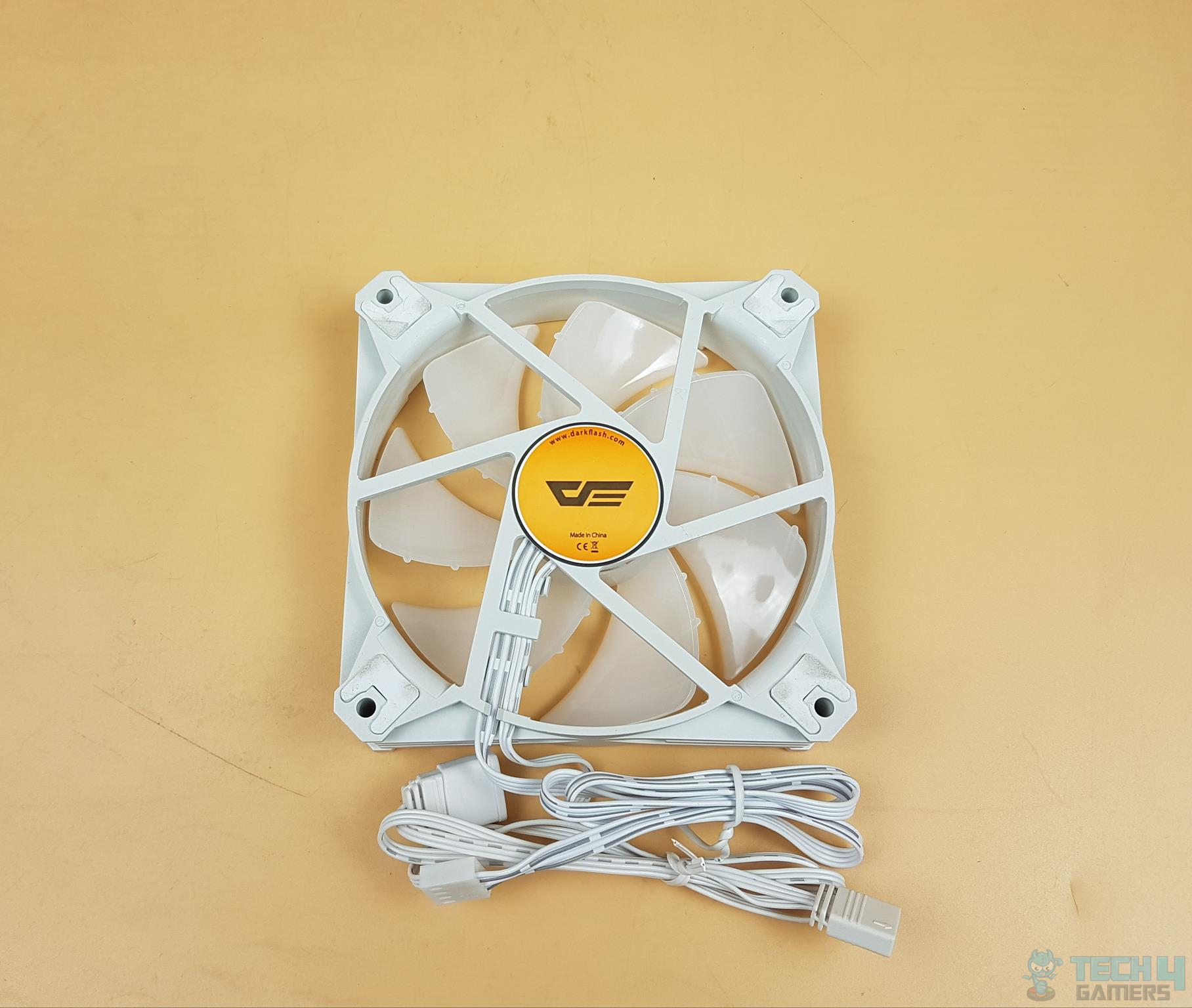 There is a 6-arm assembly on the backside holding the fan motor and blades to the frame, along with a sticker. Unlike most fans, the darkFlash CX6 AURORA SPECTRUM RGB does not have its power rating and model printed. Also, we have seen most of the fans having 3-4 arms on the backside. These fans are made in China. The black spots on the anti-vibration pads give a hint that this is probably a used fan. One of the arms is wider and has an inset on which the wires are routed from the center to the frame.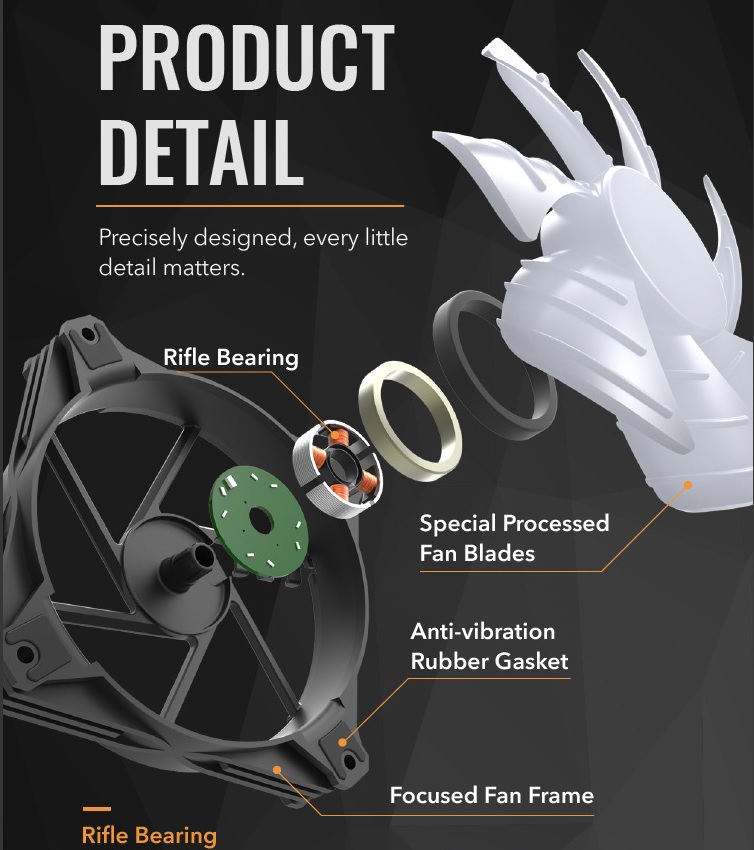 These fans use Rifle bearings giving them a life span of 30,000 hours. I am not sure but it seems like the motor has 4-poles.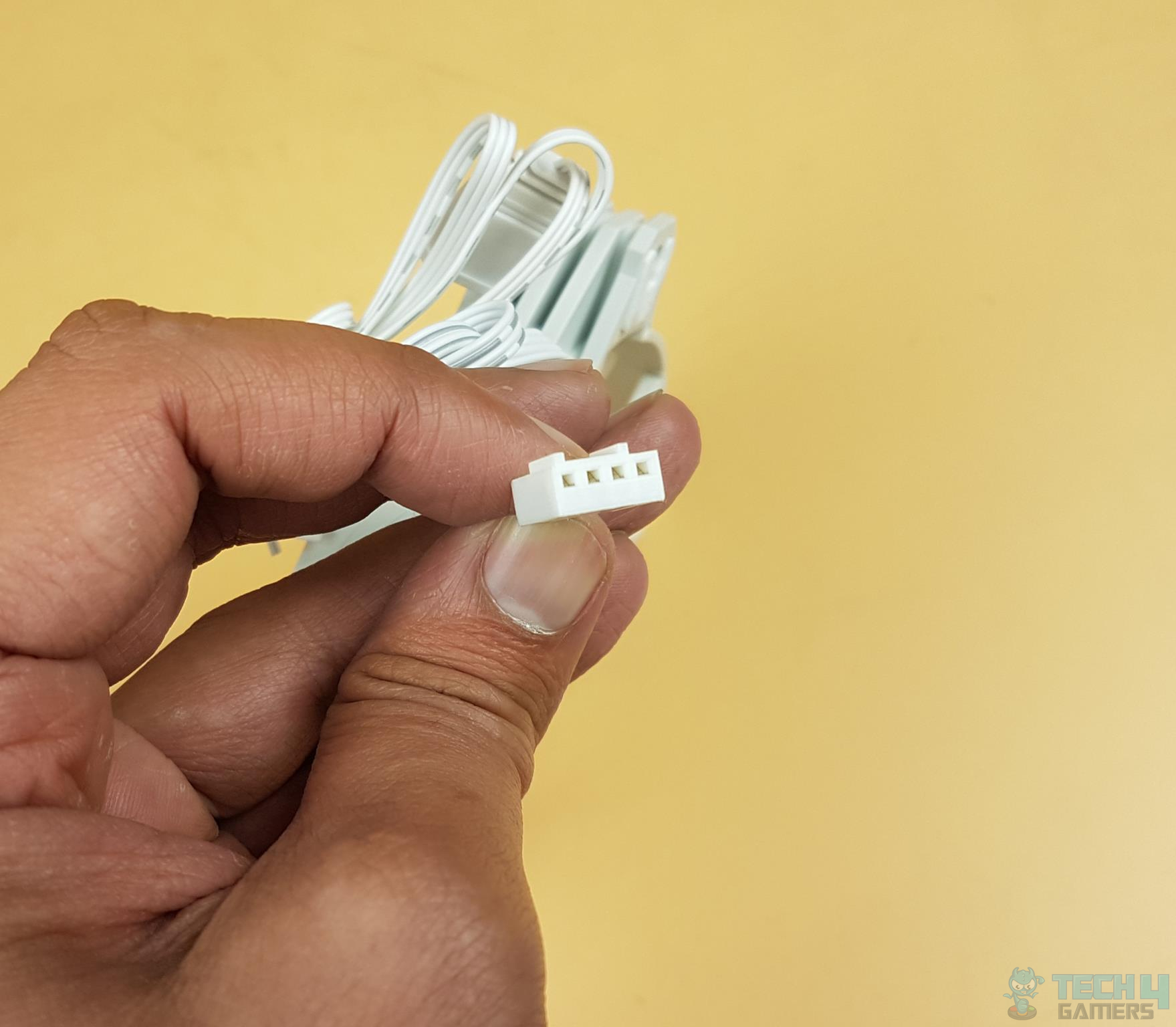 The cables have a sufficient length, and they are flat and white in color along with the 4-pin PWM connector.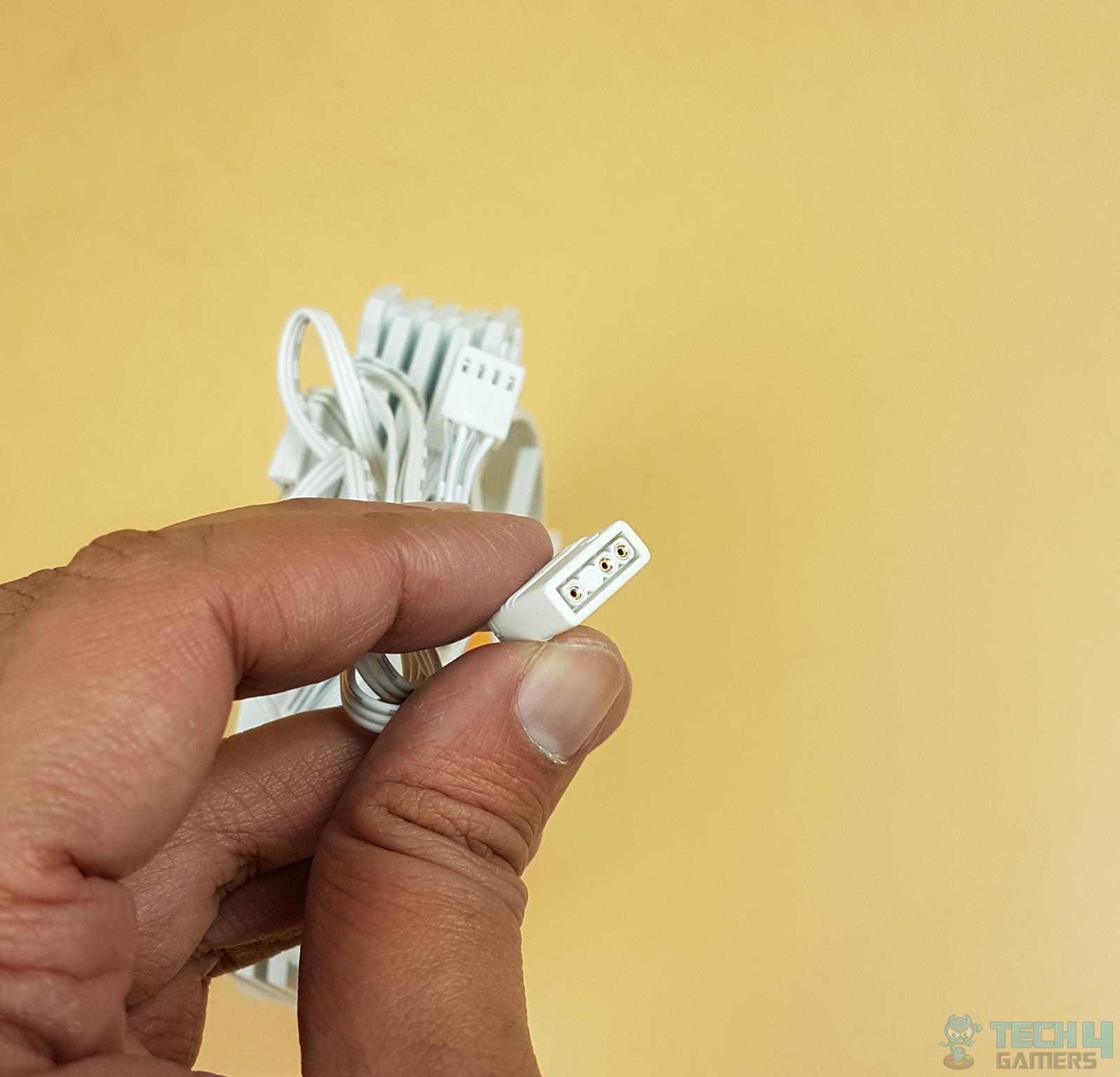 3-pin, 5V ARGB female connectorThere is a standard 3-pin, 5V ARGB female connector with a flat white color cable.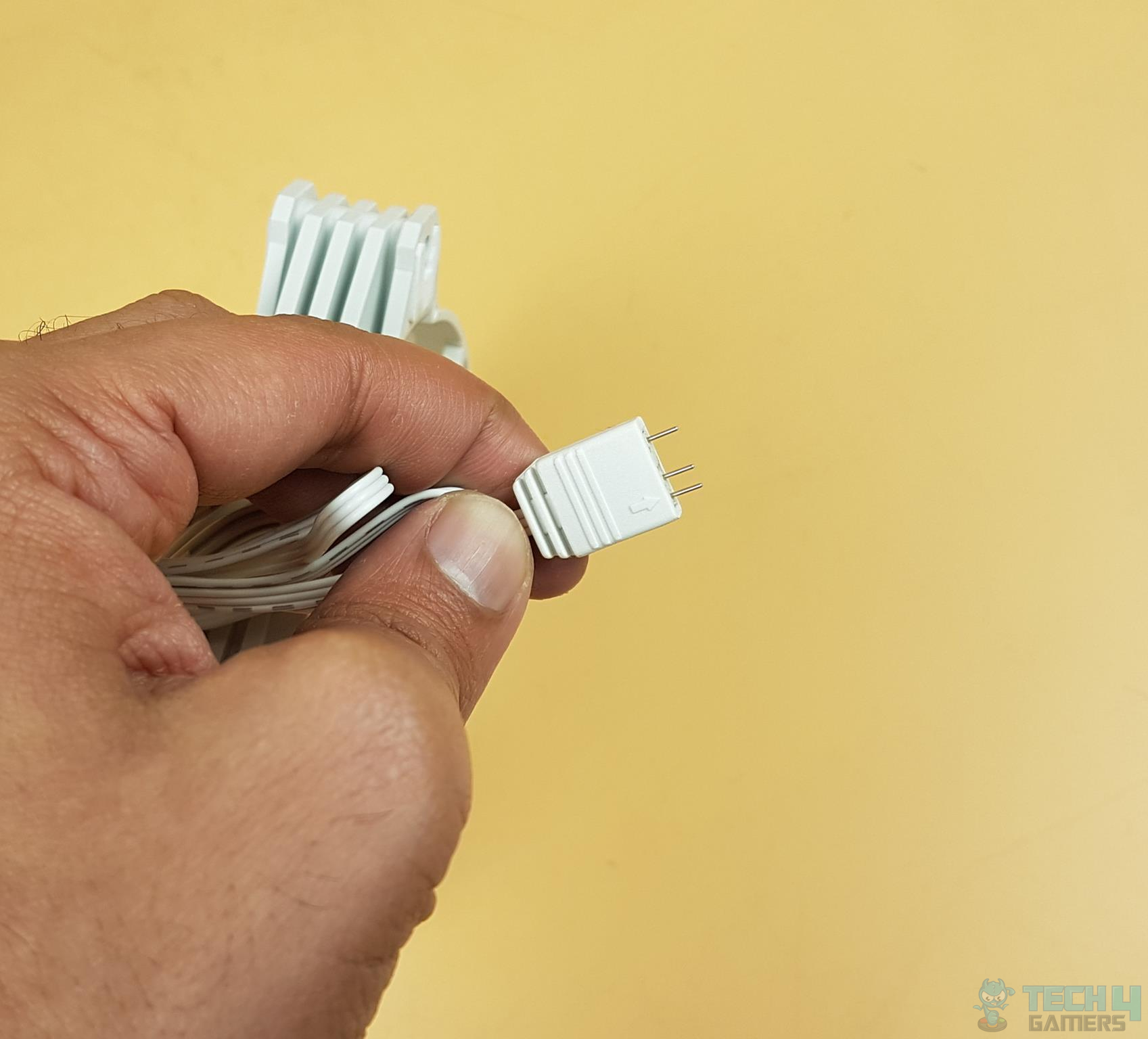 There is also a 3-pin male connector. This allows the daisy-chaining of the fans for a single and synchronized control of the fans.
A-RGB Lighting
Surprisingly, darkFlash has mentioned on the website that these fans are compatible with ASUS AURA SYNC. No other motherboard manufacturer is mentioned there. Since these fans use the standard 5V, 3-pin connectors, they will work with any motherboard. We have tested them on the GIGABYTE X670E AORUS MASTER using RGB FUSION 2.0 and found them working flawlessly. They were responding to the change in the light mode. Here are a few pictures of these fans in action:
Testing
The following test bench is used for thermal performance testing:
A 30-minute run of Cinebench R23 is used to stress the CPU to test the thermal performance of the cooler. The comparison is between the DeepCool FK120 fans and the darkFlash CX6 RGB White fans.
Please note that not every run of the stress test may yield the same result. This could well be due to many factors like mounting pressure, thermal paste application, and varying ambient temperature. Not to mention the silicon differences even among the same category of chips. Hence, it is pertinent to mention the testing methodology along with the specifics.
Let's take a look at the results.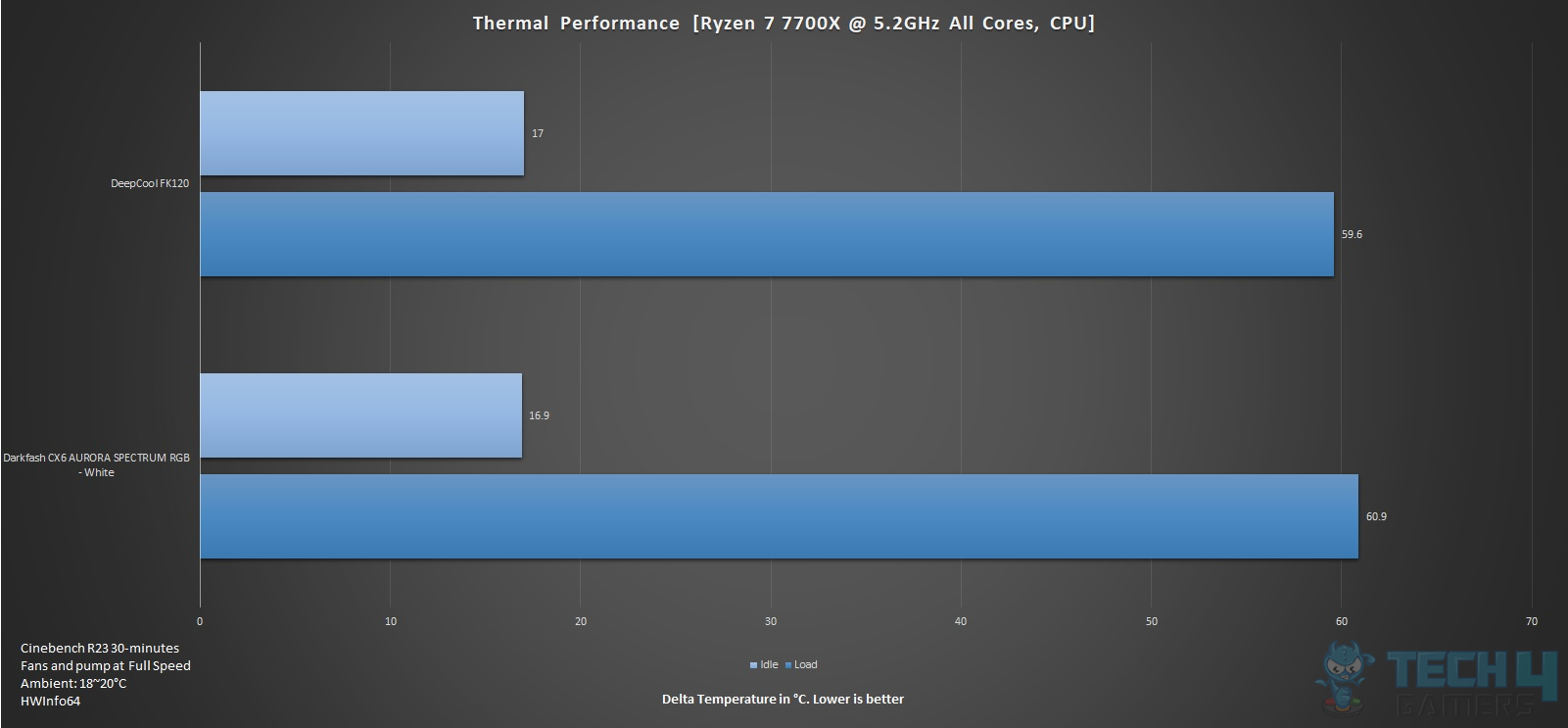 The ambient temperature was 18 to 20°C approximately. There is roughly a difference of 1.3°C between the DeepCool fans and the darkFlash CX6 RGB White fans. This is actually a better performance from the darkFlash fans since the DeepCool FK120 is rated for up to 2000 RPM with a static pressure rating of 3.27 mm H₂O and an airflow rating of 85.85 CFM. FK120 are clearly high-performance edition fans optimized for high static pressure. Despite all this, the darkFlash fans have delivered a nice performance.
Acoustic
The fans at 100% of their speed were doing approximately 51 dB(A) at an ambient of 32 dBA. The DeepCool FK120s were doing 50 dBA.
Conclusion
The first product we have ever tested from darkFlash are these CX6 AURORA SPECTRUM RGB White fans. darkFlash offers these fans under their budget segment. They are available in PWM and Voltage based configurations. We have taken a spin on the PWM version. Besides, these fans are also available in black, pink, and neo-mint colors. So, color customization is good on these fans since these are A-RGB so that is another plus over the colored frames.
The CX6 RGB white fans have 7 translucent blades with a 3D stripe design to improve the airflow and reduce the drag, and the white frame of the fans is quite stylish and the overall outlook is well synchronized. Not only that, but the anti-vibration pads are white in color as well. darkFlash has mentioned the frame as a focused design. I am not sure what is meant by that as we don't see anything specular on the frame that could help generate the focused airflow. Anyhow, no complaint there as these are a nice option in this price range.
These fans are 120mm in size having a dimension of 120x120x25mm. They have a speed rating of 800 ~ 2000±10% RPM with a maximum airflow rating of 55.29 CFM and a static pressure rating of 1.63 mm H₂O. Their sound level is rated at 018 to 30 dB(A). They use Rifle bearings with a life span of 30,000 hours.
These fans have standard 3-pin (5V) A-RGB connectors and a 4-pin PWM. The use of standard connectors makes these fans compatible with the majority of the motherboards and external controllers. We tested the fans on the GIGABYTE X670E AORUS MASTER motherboard, and they responded flawlessly to the change in dynamic and static color mode changing using the RGB FUSION 2.0.
The single fan pack of the darkFlash CX6 AURORA SPECTRUM RB White is available in the local market for PKR 18000/-. darkFlash has also a listing of 3-in-1 and 5-in-1 fan packs. The single fan pack does not have a controller and I am not sure if the 3 and 5 fans packs come with the controller.
We have pitched these fans against the high-performance FK120 fans from the DeepCool which are using better bearings and pack powerful stats. We saw the CX6 fans trailing the FK120 in thermal testing by 1.3°C. This is actually a better performance from these fans given their average ratings. darkFlash is targeting these fans for case ventilation and this is where these fans will deliver quite well as they generate a good amount of airflow. darkFlash seems to offer a 1-year warranty on these fans whereas the local dealer is giving a check warranty only. The only caveat I have found is that these fans make high noise at full speed. I would suggest a custom fan curve.
Was our article helpful? 👨‍💻
Thank you! Please share your positive feedback. 🔋
How could we improve this post? Please Help us. 😔
[Hardware Expert]
With a major in Computer Science, Sameed is a tech enthusiast who puts his passion for gadgets into words and creates informative blogs. From comparing different hardware to reviewing the best RAMs, motherboards, and graphics cards for your next build, Sameed has covered a wide spectrum of topics that have given him a special insight into every nook and cranny of the tech world. Sameed is also a certified expert at Computer Hardware & Networking.
Get In Touch: [email protected]