Uninstalling Microsoft Edge can prove to be a frustrating task, especially when you don't know exactly what to do. To help you out, we are going to share some methods that can help you uninstall Microsoft Edge quickly.
---
Key Takeaways
Whenever you install Windows, Microsoft Edge is installed automatically on your device.
Microsoft Edge can be uninstalled from the System Settings, or you can remove it directly from its folder.
You can also remove it using the Command Prompt, Windows PowerShell, etc.


---
How To Uninstall Microsoft Edge
Well, there can be two possible cases, and in both, the method to get rid of Microsoft edge is different. For example, the first case is that the user is using a Dev, Beta, or Canary version, where it can simply be uninstalled from the app list in the system settings.
This might also work if Edge was downloaded from an installer file, also known as an APK file. On the other hand, if you get Microsoft Edge through a windows update, you might struggle to get rid of it. Still, you don't have to worry because this article will help you in getting get rid of it once and for all.
From System Settings
Assuming that you have installed Edge manually using an installer file. If so, then:
Click on the Windows Logo. It is present on the bottom-left of your screen.

Windows icon – Image Credits [Tech4Gamers]

Click on Settings, then click on Apps, and under that, click on Apps and Features.
As soon as you enter, you will be displayed with all the apps that are present in your system. Scroll down to look for Microsoft Edge.
You will be presented with two options here; Modify and Uninstall. In case you have installed the Dev, Canary, or Beta version, you will be able to find these options. Proceed to click on the Uninstall button here.

Click on Uninstall – Image Credits [Tech4Gamers]
Microsoft Edge will successfully be deleted from your system without an issue.
Using Command Prompt
Taking into consideration the second case and as mentioned earlier, if you got Microsoft Edge through a system update, the uninstall button will be unavailable for you. Hence, you will have to use Command Prompt to uninstall Edge forcefully.
Open up Microsoft Edge, Look for the 3-dot menu icon on the top right corner, and click on it. Then, click on Help and Feedback.


Help and feedback – Image Credits [Tech4Gamers]

After clicking Help and Feedback, the dropdown list will have About Microsoft Edge at the very end; click on it. Note the version number of Microsoft Edge running on your system shown here, as it will be needed in further steps.

Microsoft Edge version – Image Credits [Tech4Gamers]

Type out 'cmd' in the windows search bar. As soon as results appear, click on Command Prompt App and then proceed to run it as administrator.

Run command prompt as an administrator – Image Credits [Tech4Gamers]

After the Command Prompt opens up, copy-paste the command given below, then hit enter. Note: you'll have to rewrite xxx as the version of Edge you noted in step 2.
cd %PROGRAMFILES(X86)%\Microsoft\Edge\Application\xxx\Installer

Command Prompt – Image Credits [Tech4Gamers]

This command will direct you to the Edge Installer folder. Once you are there, you will have to copy the following command: setup.exe –uninstall –system-level –verbose-logging –force-uninstall
A prompt stating, "do you want to allow this app to make changes to your device" will appear on your screen. Click on YES for the final confirmation. Once you have confirmed, your PC will be completely free of Microsoft Edge, and it will be uninstalled.
The Microsoft Edge shortcuts from Desktop and Taskbar will disappear. When accessing from the Start Menu, some users might still see Microsoft Edge, but clicking on it does not do anything. To make it disappear from Start Menu, too, you can restart your PC.
Using Windows PowerShell
Windows PowerShell is a task automation and configuration program by Microsoft. We can use this program to permanently uninstall Microsoft Edge from our system. Follow the steps below to use PowerShell to uninstall Microsoft Edge.
Open the search menu and type Windows PowerShell.

Run it as an administrator.

A user account control UAC prompt will appear. Type Yes to bypass that.

Copy the command mentioned below:
Get-appxpackage *edge*

Find the section named PackageFullName and copy the text next to it.
Paste the previously copied text into this command:
Remove-appxpackage <PackageFullName>

Run the command after replacing the package name.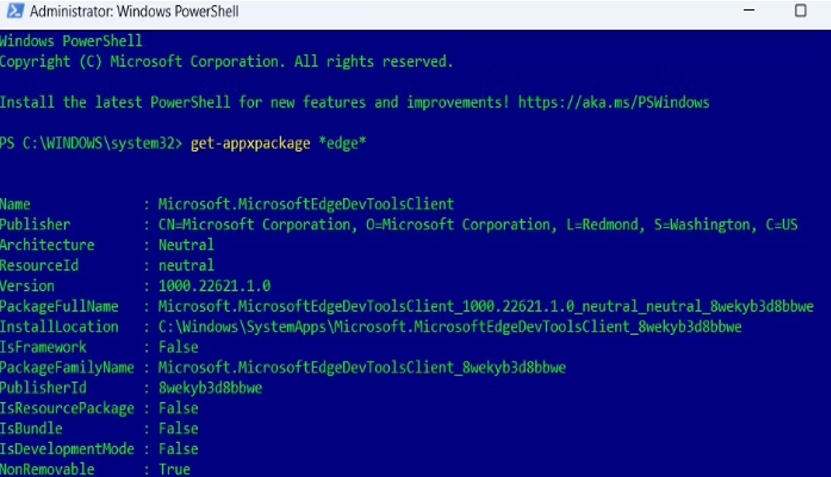 Using Windows 11 Settings
Windows 11 lets you uninstall any app, including Microsoft Edge, from within Windows 11 settings app. Mentioned below are the steps you need to take to uninstall the preview build of Microsoft Edge from Windows 11.
Head to the Windows 11 settings app by pressing the windows + I keys.

Scroll down to the "Apps" section on the left side.

Find the tab labeled "Installed Apps" and click on it.

Find Microsoft Edge in the list of installed apps.

Click on the three dots next to it to expand the menu.

Click on "Uninstall." Windows will ask if you are sure you want to continue.

Click yes, and windows will remove it from your system.
Uninstall From Its Folder
It's time to learn how to uninstall Microsoft Edge directly from its folder. You can navigate your way into the C drive and remove Microsoft Edge from there. The only drawback of this method is that rollback from this point is pretty impossible unless you install a fresh copy of Windows.
Head over to the C drive and find the drive you have installed Windows in.

Once inside the drive, find a folder named "Windows" and open it.

Inside that folder, find another folder named "SystemApps" and open it.

Scroll down and find a folder named "Microsoft.MicrosoftEdge_."


Microsoft Edge Folder – Image Credits [Tech4Gamers]

Right-click on the folder and select properties.
Make sure the "Read Only" option is selected in the attributes.


Properties – Image Credits [Tech4Gamers]

Open the folder and delete all the files ending with .exe. This will prevent windows 11 and other applications from accessing Edge, hence shutting it down forever.
Using Third-Party Software
Microsoft has done everything it can to force its user to shift to Microsoft Edge in windows 11. Sometimes, you can not even remove Edge or WebView 2 from the default settings app or control panel as the option is greyed out. Luckily for us, a handful of third-party software enables us to remove Microsoft Edge and other bloatware from our system.
We have used an application called CCleaner to uninstall Microsoft Edge from our system. You can use the steps mentioned below to remove Microsoft Edge and WebView 2 from your PC.
Download and install the CCleaner application.

Run the application.

Head over to the tools tab.

Scroll down and find Microsoft Edge.

Click the Uninstall button on the right side.

The application will automatically launch the uninstaller and remove Microsoft Edge for you after that.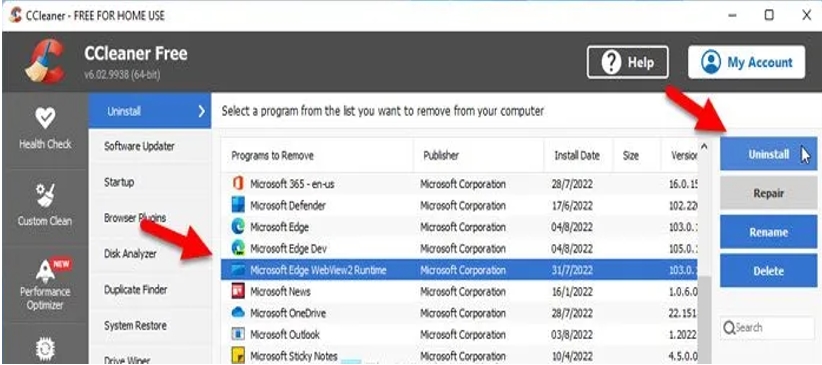 Stopping Microsoft Edge From Reinstalling
Microsoft wants you to use Edge as your default browser, so there is a pretty good chance that Microsoft Edge might reappear on your PC with the next System Update. To avoid its reinstallation, you need to follow these steps:
Type "Regedit" to search for the Registry Editor App and then run it as Administrator.

Registry Editor – Image Credits [Tech4Gamers]

After the Registry Editor app opens up, copy the following key into the address bar.

HKEY_LOCAL_MACHINE\SOFTWARE\Microsoft

Address bar – Image Credits [Tech4Gamers]

Head to the Microsoft folder and make right-click. Then proceed to click on New

and then click on

Key

. You will have to give the key a name. Name it

EdgeUpdate.


Rename – Image Credits [Tech4Gamers]

After the EdgeUpdate key has come into formation, right-click on it. From these options, Again click on New and head to create a new DWORD (32-bit) Value. Name it: DoNotUpdateToEdgeWithChromium.
Once you have created the new DWORD (32-bit) Value, you will have to double-click on it to open. On the given Value Data tab, enter value 1. Click on Ok. This will save the value. You are now free to head out from the Registry Editor app.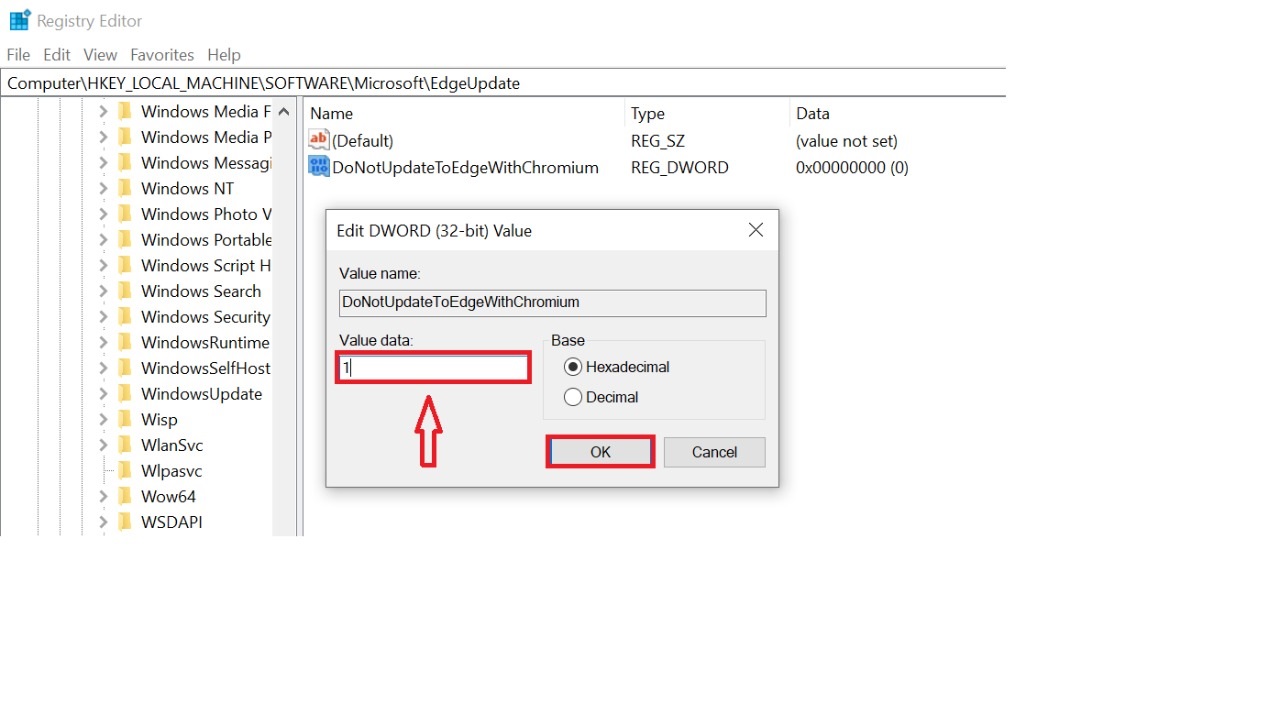 Once you have carried out the above-mentioned steps, you will be free from any worry associated with Microsoft Edge installation on your PC. Just in case you wish to re-install Edge in the future, all you have to do is
change the DWORD value back to 0
.
To Conclude
And there you have it. This was how to uninstall Microsoft Edge from your PC. As you can see for yourself, you will have to make some extra efforts to remove it from your system in some cases. However, you will have to do it if you're annoyed with the presence of this browser on your PC.
FAQs
Is it difficult to uninstall Microsoft Edge?
It is pretty easy to uninstall Microsoft Edge from the system, as it can be done directly through the settings or the Command Prompt.
Is it safe to uninstall Microsoft Edge?
Yes, it is completely safe to uninstall Microsoft Edge from your PC.
Can I reinstall Microsoft Edge after uninstalling it?
Yes, you can install it again by downloading it from the official website of Microsoft.
---
Also Read:
Was our article helpful? 👨‍💻
Thank you! Please share your positive feedback. 🔋
How could we improve this post? Please Help us. 😔