In today's world, most computer tasks require a GPU to perform optimally. Whether gaming, video editing, or designing, a high-performance GPU is a must-have. Unfortunately, as much as GPUs are robust and beneficial, they can also be prone to crashes, which affects the entire system's functionality. If your GPU keeps crashing, you should resort to methods that can quickly help fix the issue.
Key Takeaways
GPU is a vital computer part that requires extra maintenance for long-lasting operation.
GPU crashes for several reasons, such as overclocking, outdated or incompatible drivers, overheating, and faulty PSUs.
Reduce the load on the GPU, dust it off, and upgrade your graphics drivers to the most recent and compatible version to fix the issue.
Why Does My GPU Keeps Crashing?
GPU is crucial to a computer, particularly in gaming, but when it suddenly quits functioning, that is problematic. Reasons that are to blame for crashing the GPU are:
Old GPU.
Outdated DirectX.
Faulty power supply.
Incompatible in-game settings.
How Does A GPU Crash Appear?
There are several occurrences that you might face when your GPU crashes. The details given below demonstrate the crash's appearance and what are the possible causes:
How To Fix The GPU Keeps Crashing Issue
When dealing with GPU crashes, focus on the problem you're experiencing and concentrate on fixing it. We'll demonstrate broad fixes that might apply to most situations and more detailed troubleshooting for specific problems.
Remember that crashes may not always be a sign of a more significant problem but may be caused by an error in the game or application. However, frequent GPU crashes and poor performance suggest a persistent problem.
Check For A Faulty Power Supply
Your GPU could crash if you are using an insufficient PSU. The most typical case is where your PSU is faulty, yet your computer still powers on, and when you start working on any graphics or playing any game, your GPU starts taking maximum power supply, which results in a crash. You should test your system with a different PSU to confirm this problem. Moreover, make sure the PSU you buy is compatible with your GPU.
Turn Off Overclocking
Your GPU may crash if you overclock it. Overclocking is altering your GPU's settings to boost performance over the factory levels. Reset your GPU to its default settings to fix this problem. Your GPU can be underclocked as well to decrease its temperature.
If your PC freezes and you cannot access third-party overclocking software, you can manually restart it by pressing the power button until it resumes. When your computer restarts, you should revert to the GPU's default frequency and voltage values.
Also Read: Does Overclocking Reduce GPU's Lifespan?
Check For Overheating
One of the primary causes of GPU crashes is overheating. The GPU will automatically turn off when temperatures reach a certain level to prevent additional damage.
Ensure proper airflow in your computer's casing, clean the fans on your system, and, if you feel that's not enough to reduce heat, add a cooling system to the setup to address this problem. If you're facing heating issues, you must resort to methods that can help you lower GPU temperature. Water-cooling the GPU can also lower the temps.
Update GPU Driver
If you encounter the GPU keeps crashing issue on AMD or NVIDIA cards, it might be brought on by outdated GPU drivers, which can be detrimental to the system's stability and performance. Always keep your GPU drivers updated for consistency.
Go to Device Manager.
Open Display Adapters to look for your graphics card, then right-click on it.
Select Update driver and then Search automatically for drivers.

Search automatically for drivers. – Image Credits (Tech4Gamers)

Follow the prompted instructions to download and install the driver update.
Update DirectX
A group of Windows components known as DirectX can show, render and compute 3D images, textures, and other graphics or visual-related data. Games also rely on it, but you might face crashes if the DirectX version needs to be updated. Here's how to update the version:
Verify Your DirectX Version
To launch the DirectX Diagnostic Tool, type dxdiag into the search box and press Enter.
Verify the DirectX version under the System Tab. Move to the method below if it requires an update.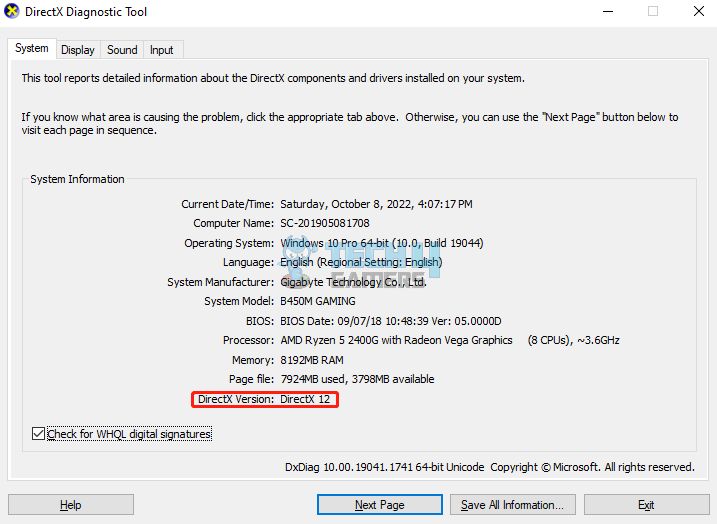 Update DirectX
You can only update DirectX on Windows 10 via Windows Update because there isn't a standalone package.
To access Windows Settings, press Win+I.
Open Update & Security and jump to Windows Update.
Now click on Check for updates.
Start following screen prompts, and Windows Update will download and install the most recent version of DirectX.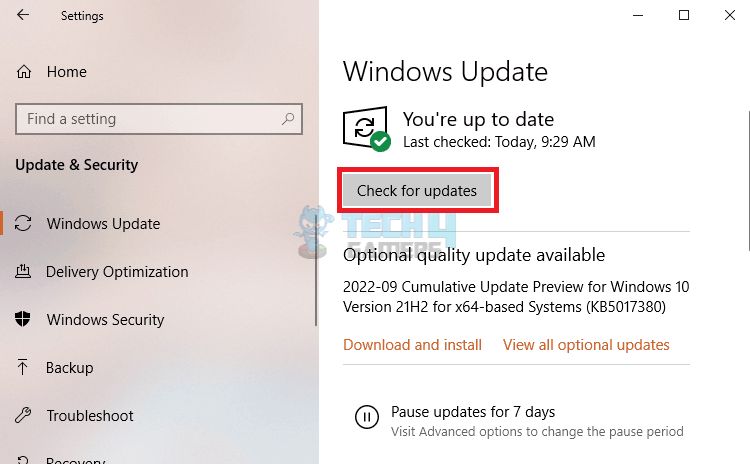 Remove Old Driver
If you recently changed your GPU and are facing the crash issue, your new GPU might not be compatible with the current graphics card driver and starts crashing. To fix this, uninstall the old driver and restart your computer.
Change Game Settings
If your GPU keeps crashing in games or when you are playing a particular game, you should look at the in-game settings because they could be the cause. It would be best if you disabled specific options like VSync, Antialiasing, and others because some GPUs don't get along with them.
Replace GPU
GPU is exposed to a very high temperature, which results in the deterioration of various parts of it over time, like VRAM or capacitors, just like any other hardware component. Consequently, if your GPU has been used for a while, it's probably time to acquire a new one. Also, make sure to read about how to fix the "Windows not detecting second GPU" issue.
Run SFC Scan
An SFC scan can be helpful if your GPU is crashing in Windows 10/11. Following are the steps to run the scan:
Input CMD after clicking the Windows key, then select Run as administrator.
Type sfc/scannow, and press Enter.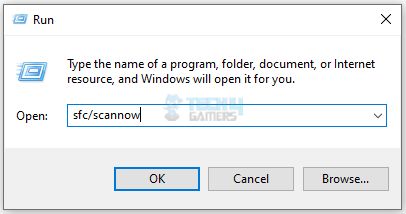 When your system is done with the scan, restart it. In addition, we advise using a bottleneck calculator to check the compatibility of your PC's parts.
Clean The GPU
One of the causes of hardware problems is dust. It's time to clean your computer inside and out thoroughly. Use these instructions to clean it, especially on the GPU:
Switch off your computer and unplug all of the power supplies.
Allow some time for the residual power to dissipate.
Look for a clean place or arrange a table to unseat the computer components and GPU.
Use a microfiber cloth, isopropyl alcohol, and swabs to clean the outside of the system and GPU.
Use an air blower to eliminate the dust within the system and GPU.
Let any leftover isopropyl alcohol evaporate by letting the GPU sit momentarily. Reconnect your GPU and other parts into the computer and restart it. Speaking about cleaning, make sure you regularly clean your PC fans to ensure smooth airflow. Don't worry; you can clean your PC even without using compressed air.
Turn Off Background Applications
Background applications also result in GPU crashing, and Selective Startup can help eliminate the issue:
Hit the Windows key, enter msconfig, and choose System Configuration.
Choose Selective Startup from the General menu.
Remove the selection from Load Starting Items and restart your computer.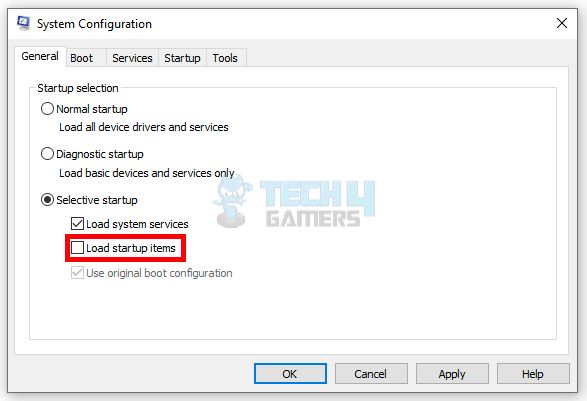 After performing this technique, if the crashes stop, try enabling other applications one at a time to see which one is to blame.
Wrap Up
Don't panic if your GPU keeps crashing; troubleshoot the problem using the abovementioned techniques. Resolving GPU crashes is often accomplished by cooling down your computer, removing problematic drivers, installing appropriate PSUs, updating drivers, and verifying system settings. Users on Reddit suggested reseating your GPU in a different PCIE slot to see if it makes a difference. If nothing worked and your GPU is still crashing, consider getting a new one.
Common Questions Answered
How do I check my GPU health?
Use the built-in Windows utility to check the health of your PC. Go to Device Manager and open the Details tab of GPU properties, then Device Instance Path to check for any error. But you can use third-party software such as GPU-Z if you don't have built-in utility.
How to reset the GPU?
Resetting a GPU can be done in several methods, depending on the problem. Some methods are restarting the computer, installing new drivers, power cycling, and reseating the GPU. Remember to turn off the computer, unplug the power supply, remove the GPU, and let it out for a few minutes before power cycling or reseating it.
Does a PC crash because of GPU?
When watching videos/movies or playing games, a faulty graphics card might cause your screen to freeze or crash the computer.
---
Related Articles
Was our article helpful? 👨‍💻
Thank you! Please share your positive feedback. 🔋
How could we improve this post? Please Help us. 😔
[How To's & Guides Editor]
Haddi has been in the Gaming and tech Space for over 10 Years Now; he has worked on notable websites like eXputer, Gamepur, Gear Siege, Gearnuke, and plenty more. He is an expert at Games & PC Hardware; you can expect him to solve any problem. People often joke, that if there is any problem anyone can solve, Haddi can solve it faster. Currently, Haddi writes and manages a Team of Experts at Tech4Gamers.
Contact: [email protected]