Good RGB 360mm?
Review Summary
GAMDIAS CHIONE P3-360U is an attempt from the manufacturer into the arena of display screens and embedded coolers. Competition in this niche is stiff. While the cooler has a decent performance, the totality of features coming at such a steep price with only a 2-year warranty is hard to recommend.
Quality -

7/10

Design -

8/10

Performance -

8.5/10

Features -

9/10

Value -

6/10
Pros
IPS LCD Screen
Rotatable Display
AD-RGB Lighting
Extensive AMD sockets support
Intel LGA1700 socket support
Embedded Fan for VRM cooling
PWM Control for Pump
USB AEOLUS Control Box
Cons
No control over embedded fan
Proprietary connectors
Total dependency on the control box
Too many cables to deal with
The embedded fan would spin even if the PC is not on
Broken software
Warranty
Price
Loud Fans
Why you can trust Tech4Gamers:

We understand the importance of making informed decisions. That's why our team spends significant time testing every product we review.

Find out more about how we test.
GAMDIAS is a relatively new name in the market, having been founded in 2012 and with 11 years in the industry. This brand has made some quick travels with its products and covers over 60 countries around the world. GAM in GAMDIAS is from Greek mythology and stands for "Gaming Art in Motion". The DIAS in GAMDIAS is a Latin word referring to God. Their brand logo of an inverted triangle represents ZEUS. Their product lines carry PC cooling solutions, PC Cases, PSUs, thermal pastes, fan hubs, controllers, gaming chairs, gaming desks, gaming mice, keyboards, headsets, and related accessories. This brand is also targeting streamers with webcam and microphones.
We have been testing GAMDIAS products in the past. Last time we took a look at their CHIONE M3 240 white liquid cooler. GAMDIAS introduced a new series of liquid coolers during COMPUTEX 2023 in Taipei, Taiwan. They are named CHIONE P3. They will release two variants in this series; 240mm and 360mm. We have got our hands on early samples and we are taking a spin at the GAMDIAS CHIONE P3-360U liquid cooler.
There are two salient features of this new cooler from GAMDIAS. These are:
IPS LCD Screen with Software base customization
An integrated fan in block housing for VRM cooling
This new cooler is compatible with LGA2066 / 2011-v3 / 2011 / 1700 / 1200 / 1151 / 1150 / 1155 / 1156 / 1366 / AM5 / AM4 / AM3+ / AM3 / AM2+ / AM2 / FM2+ / FM2 / FM1 / TR4 sockets from both camps.
GAMDIAS has provided three AEOLUS M3 120mm A-RGB fans. There is an AEOLUS control box as well that allows syncing of all fans and blocks for a single control. However, there is a whole lot of plethora of cables to deal with in this cooler. GAMDIAS has mentioned that this cooler is rated for 290W ±10% TDP.
Here are listed features from GAMDIAS:
IPS LCD Screen
Customize LCD Background (png/gif/jpg)
Micro-embedded Fan for Motherboard Cooling
CHIONE CAST Software
LCD Screen Orientation
Control Lighting Effects / Brightness / Speed / Direction
Show System Information (with customized image)
Motherboard sync ARGB
Durable Teflon Tube with Aesthetic Nylon-braided Tube Sleeve
High Static Pressure Hydraulic PWM fan
USB AEOLUS Box
Support LGA 1700 / AM5 / TR4
Specifications
| CPU Cooler | GAMDIAS CHOINE P3-360U |
| --- | --- |
| Radiator Dimensions | 394 x 119 x 27 mm |
| Tube Material | Teflon |
| Base Plate Material | Copper |
| Radiator Material | Aluminum |
| Sleeved Tube | Yes |
| Pump Rated Voltage | 12 V (Pump) / 5V(LED) |
| Pump Connector | 3 Pin |
| Compatibility | LGA2066 / 2011-v3 / 2011 / 1700 / 1200 / 1151 / 1150 / 1155 / 1156 / 1366 / AM5 / AM4 / AM3+ / AM3 / AM2+ / AM2 / FM2+ / FM2 / FM1 / TR4 |
| TDP | 290W ±10% |
| Support Motherboard RGB Sync Connectors | 5V 3-pin addressable (digital) RGB header Only |
| Fan Dimensions | 120 x 120 x 25 mm |
| Speed | 800 – 2000 RPM±10% |
| Noise Level | 10 – 31 dBA |
| Air Flow | 69.01 CFM |
| Air Pressure | 2.37 mmH2O |
| Bearing | Hydraulic |
| Rated Voltage | 12 V (Fan) / 5V(LED) |
| Connector | 8 pin |
| Support PWM Control | Yes |
Packing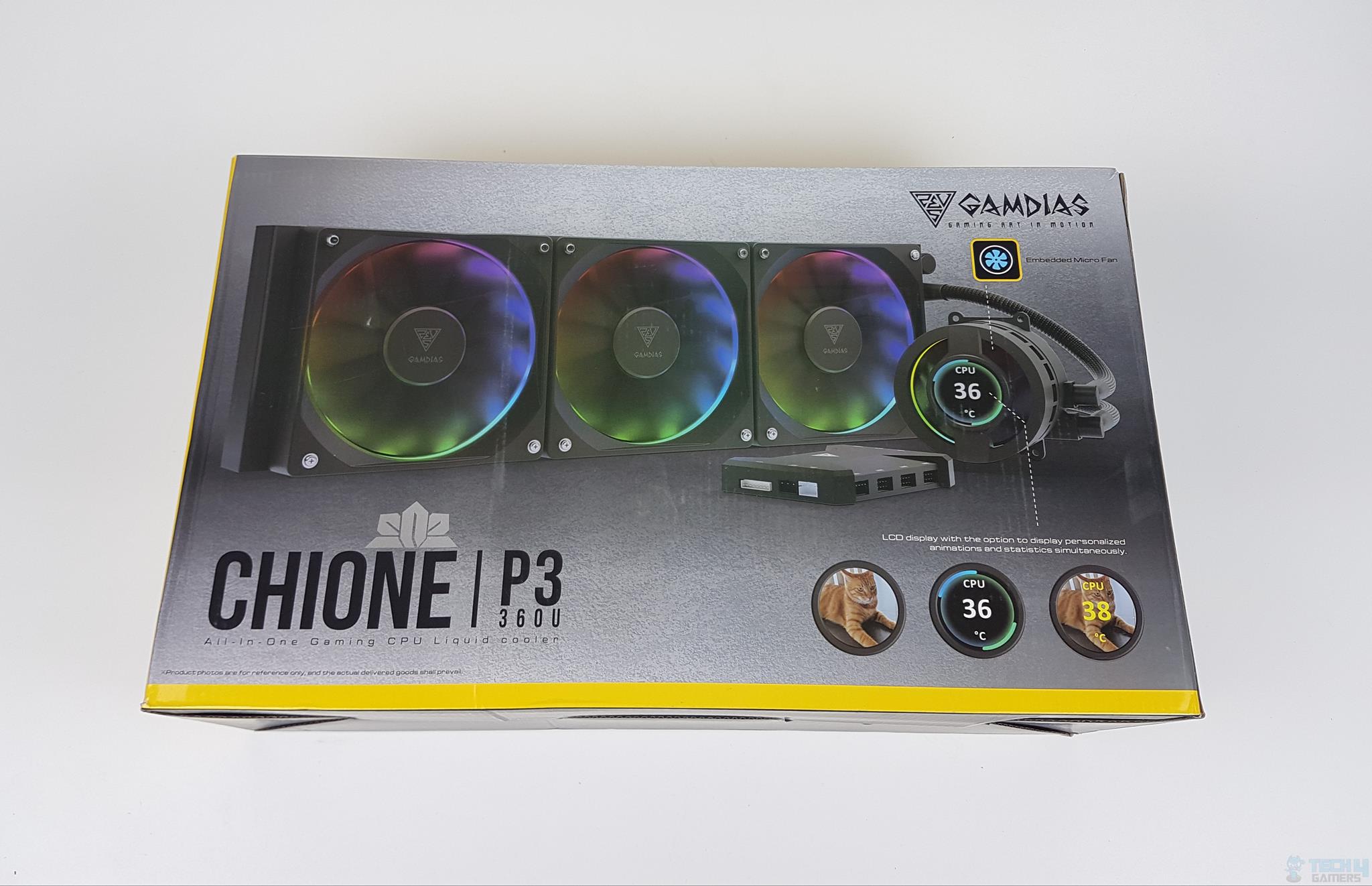 Meow, meow! Oh, wait; there is a picture of a cat. Someone at GAMDIAS loves cats, but who does not? Looking closely, you will notice that the cat picture is shown on the IPS LCD screen, and I was wondering how a cat would cool a CPU! Pun intended. GAMDIAS has provided an IPS screen and the user can display their own pictures in a supported format and even animated gifs are allowed. There is nothing significant else mentioned here.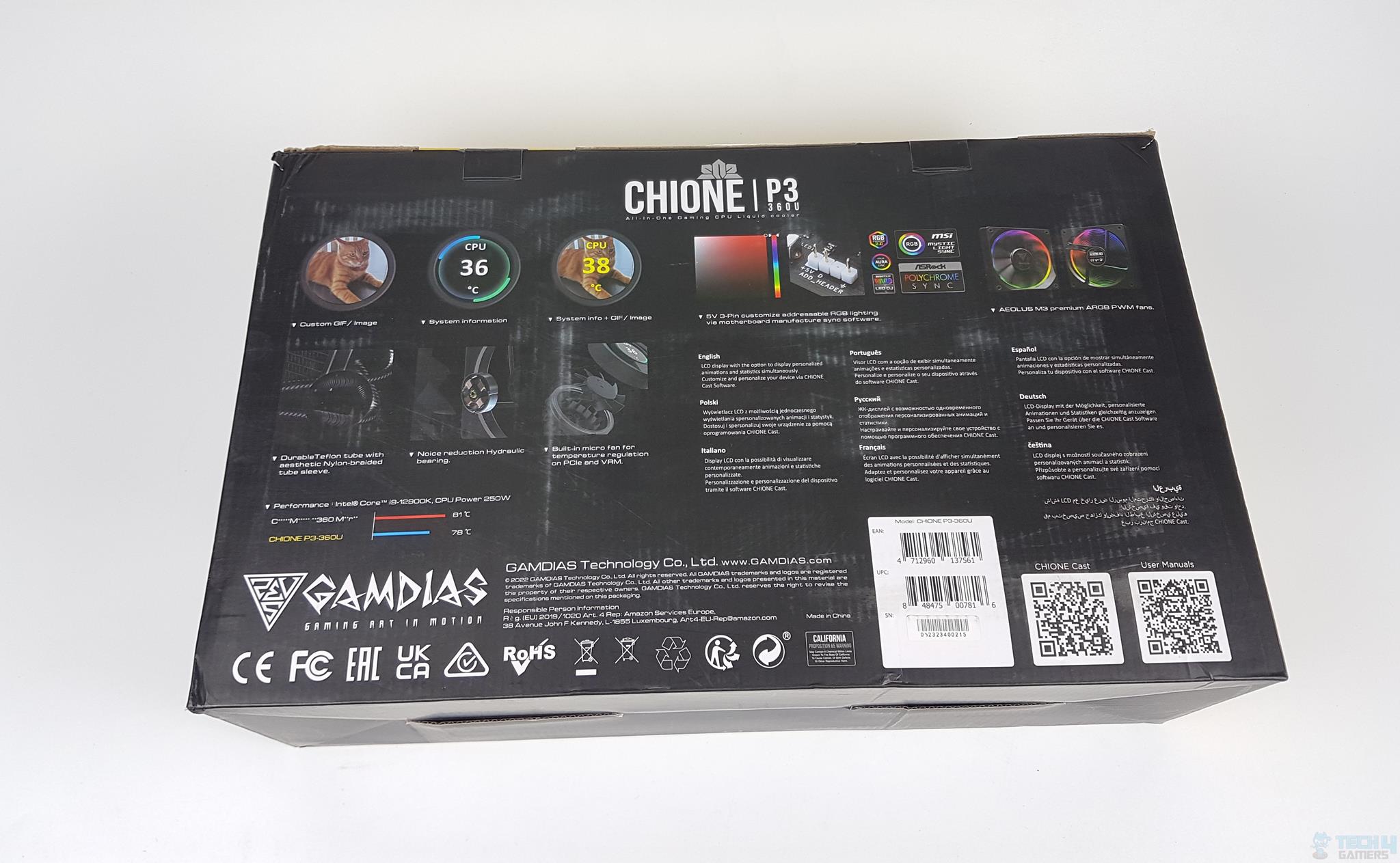 Looking at the backside of this packing box, we can see that GAMDIAS is focused on many features. Some of these are:
Custom GIF/Image
System Information Live Feed
Teflon Tubing
Hydraulic bearings on fans
Built-in micro fan for VRM cooling
RGB Sync technology compatibility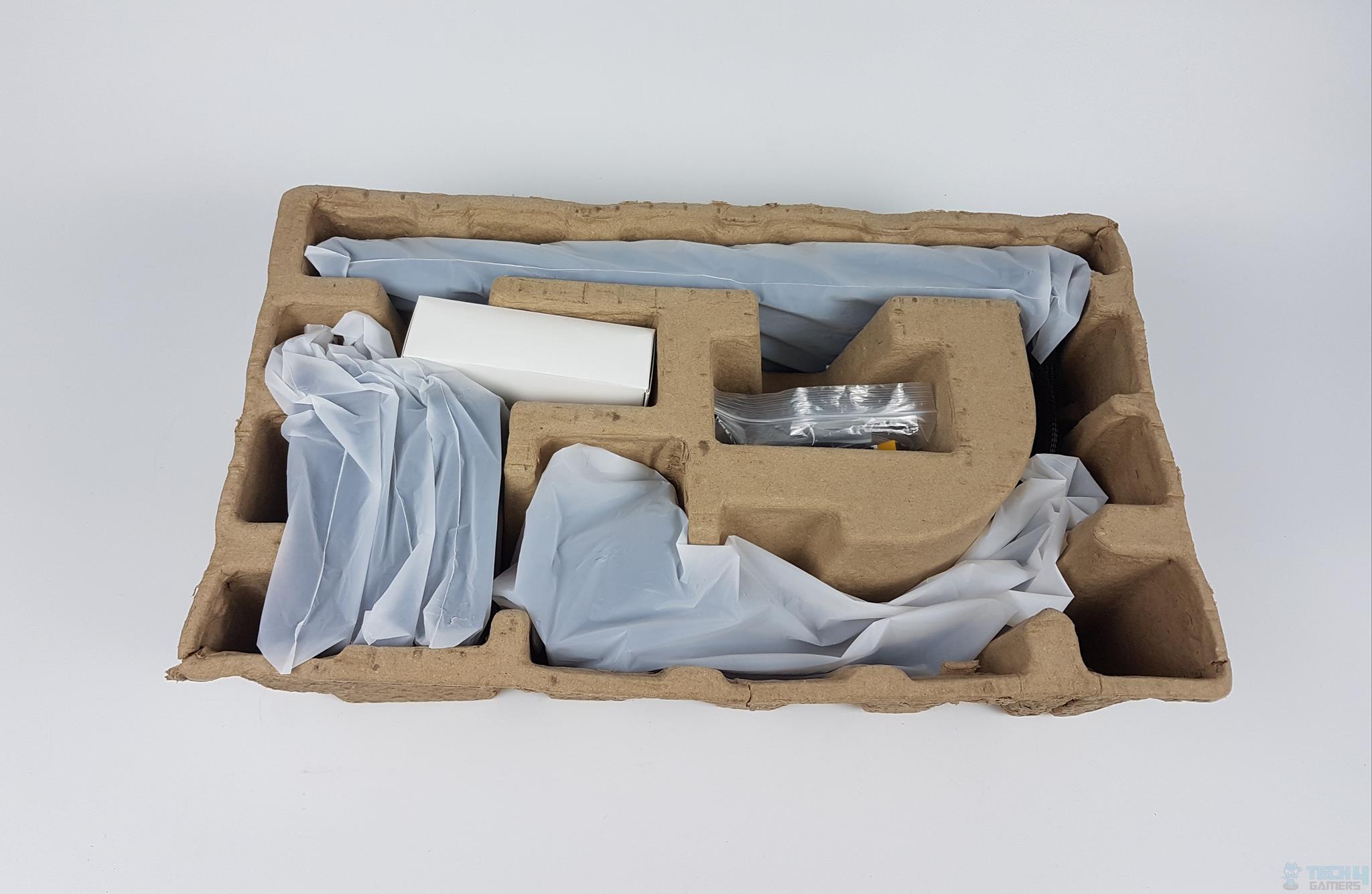 All contents are nicely placed inside an egged carton for protection during shipping. The cooler and fans are covered, whereas the mounting hardware is in a transparent container. The white color box has an AEOLUS control box and cables.
What is provided in the box?
Let's see what is provided in the box.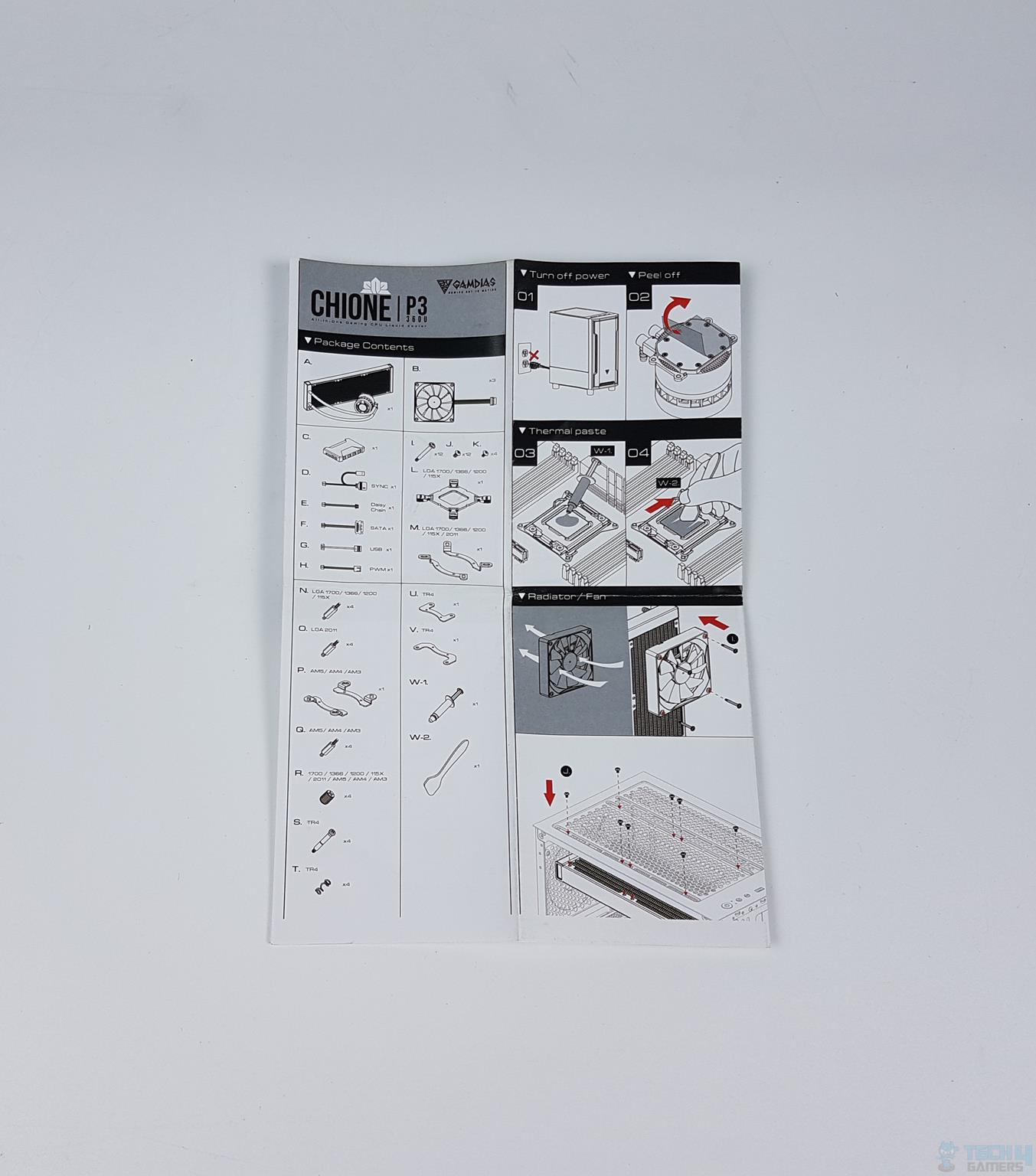 GAMDIAS has provided a user guide having illustrations to show the installation of this cooler on supported sockets.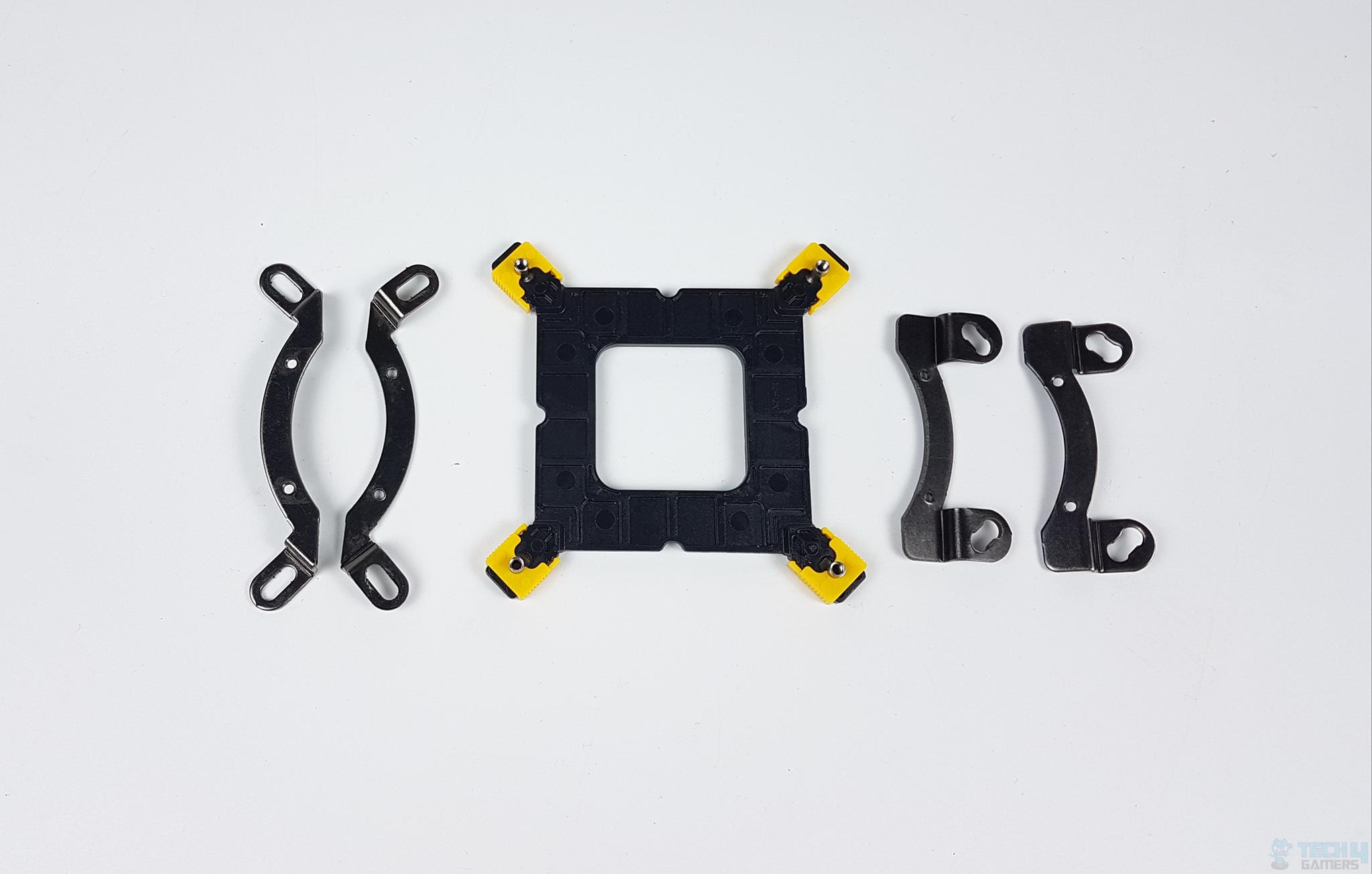 GAMDIAS has provided the following:
1x Backplate for Intel Platform
1x Intel Ring Bracket
1x AMD Ring Bracket (non TR4)
The Intel backplate is a universal design, and it has pre-installed standoffs. There are yellow color clips or sliding covers on the mounting arms. The socket numbers are labeled on each arm on the opposite side, and the locker needs to be placed on the required socket number.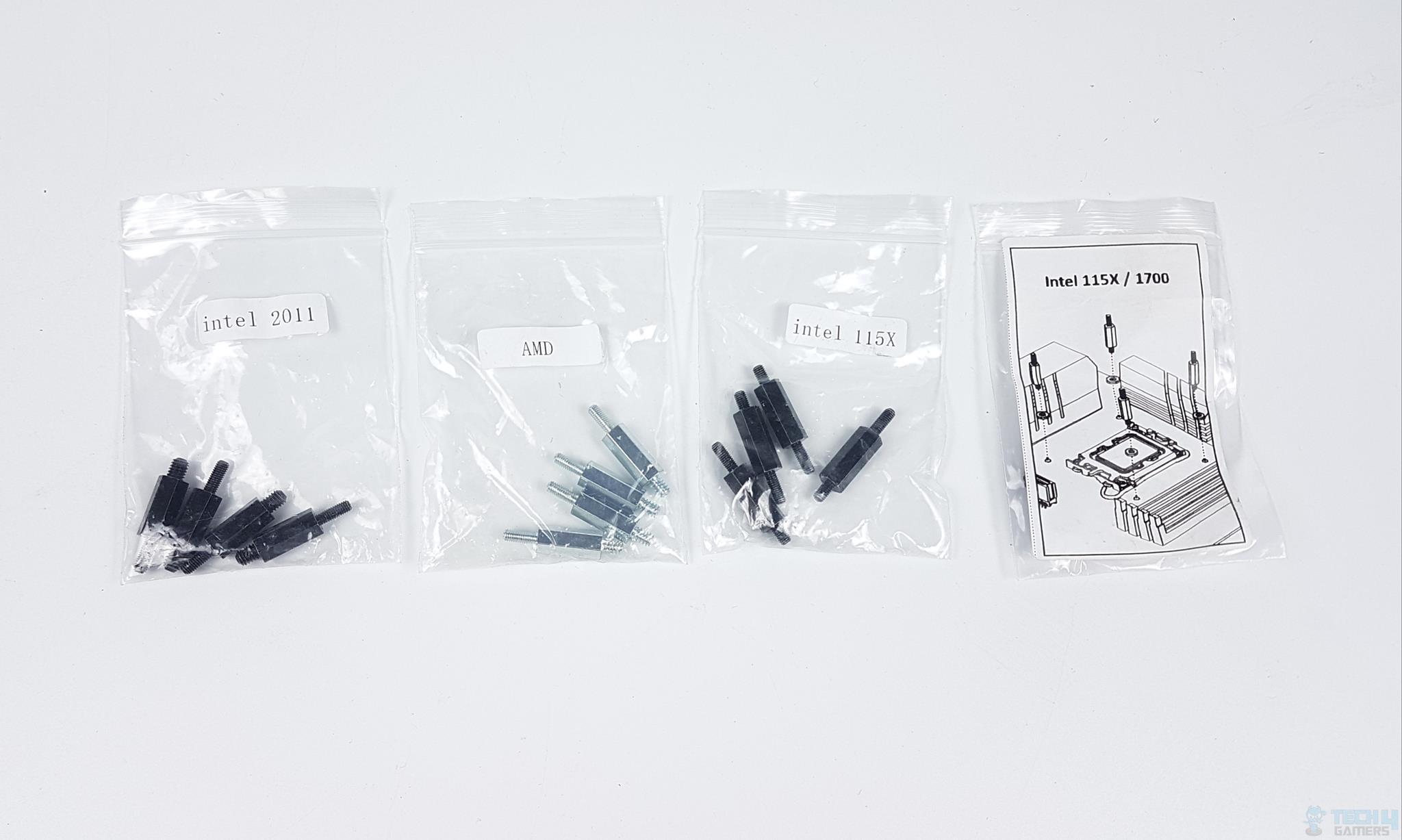 GAMDIAS has provided the following:
4x Intel LGA2011 Stud Bolts
4x AMD AM4/5 Stud Bolts
4x Intel 1200/115x Stud Bolts
4x Intel washers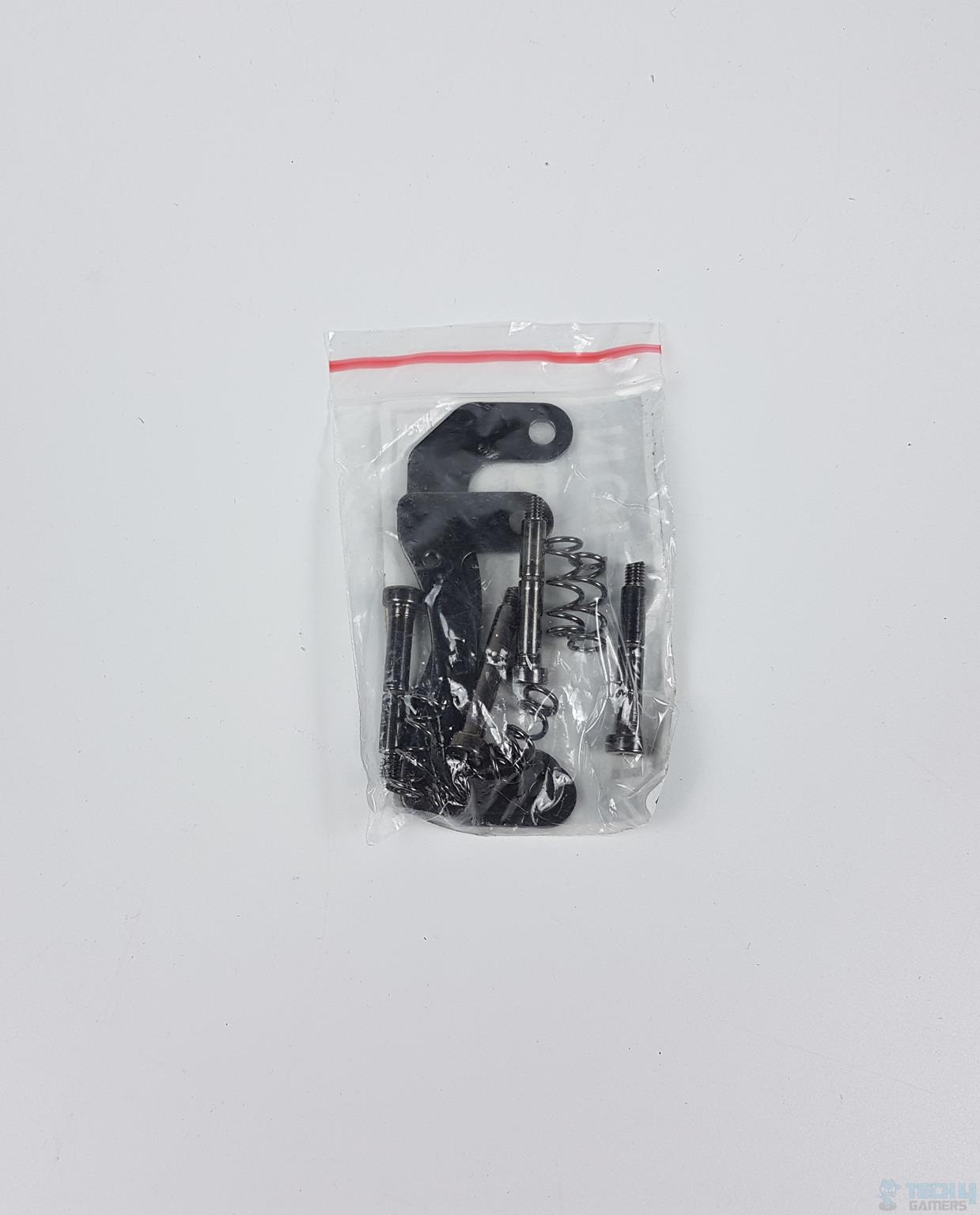 GAMDIAS has provided complete mounting hardware for the AMD TR4 socket, which includes:
2x Mounting Brackets
4x Long Screws
4x Springs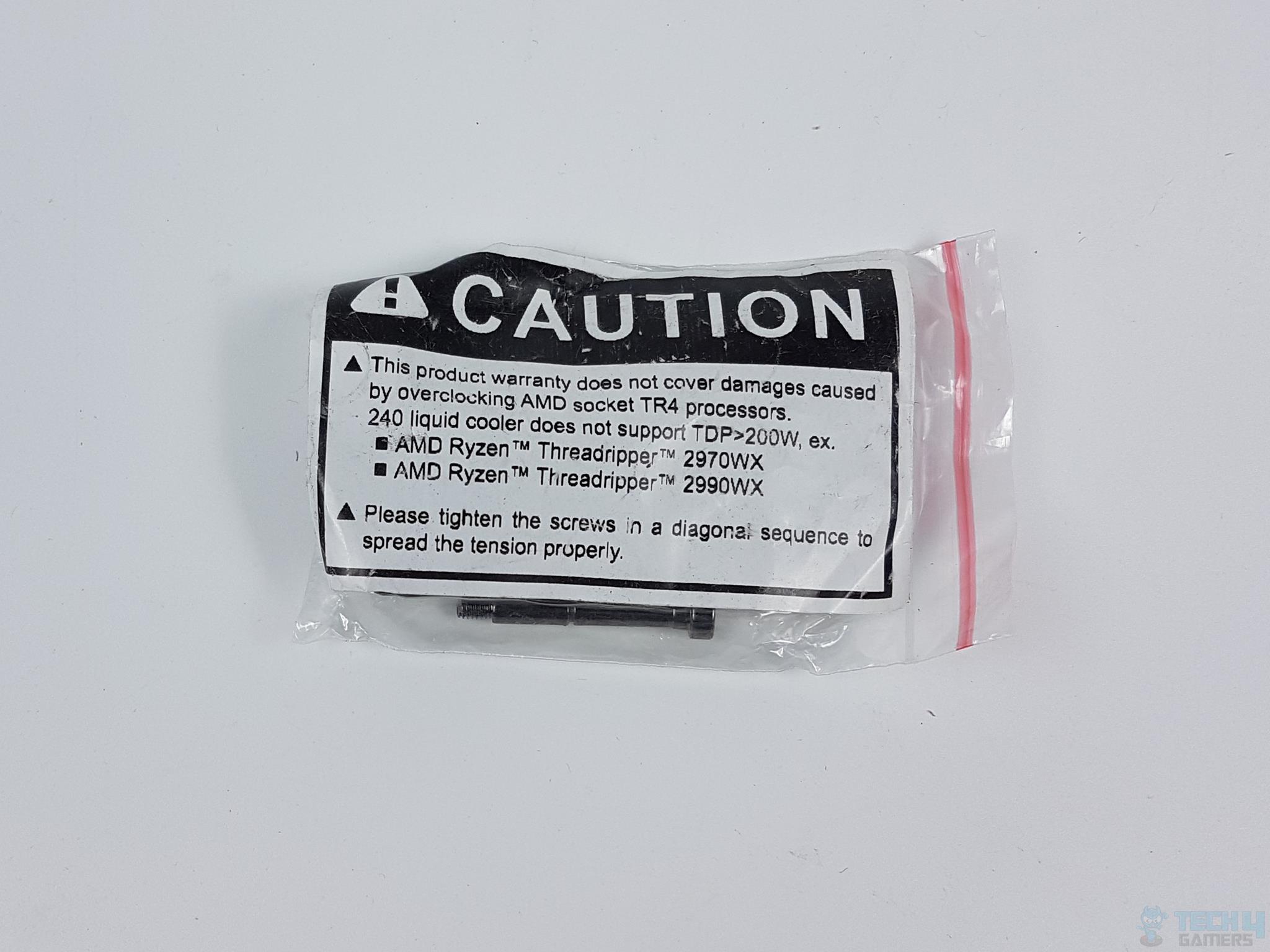 We can get important information from this label. The CHOINE P3-240U has a TDP of less than 200W. Even if a 240mm could actually handle a 200W on new platforms, I would declare it an instant winner.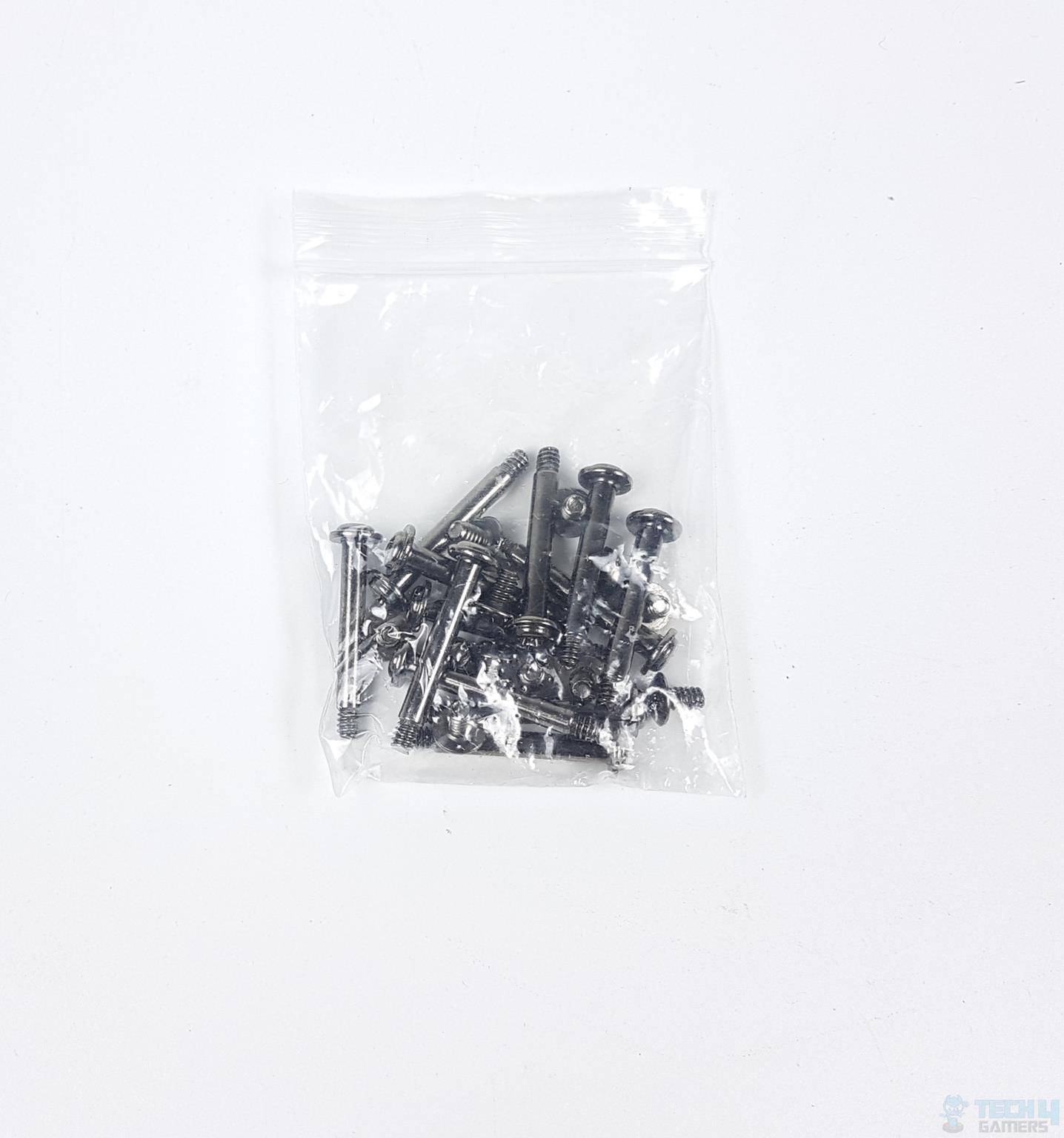 There are;
12x Fan Screws
12x Radiator Screws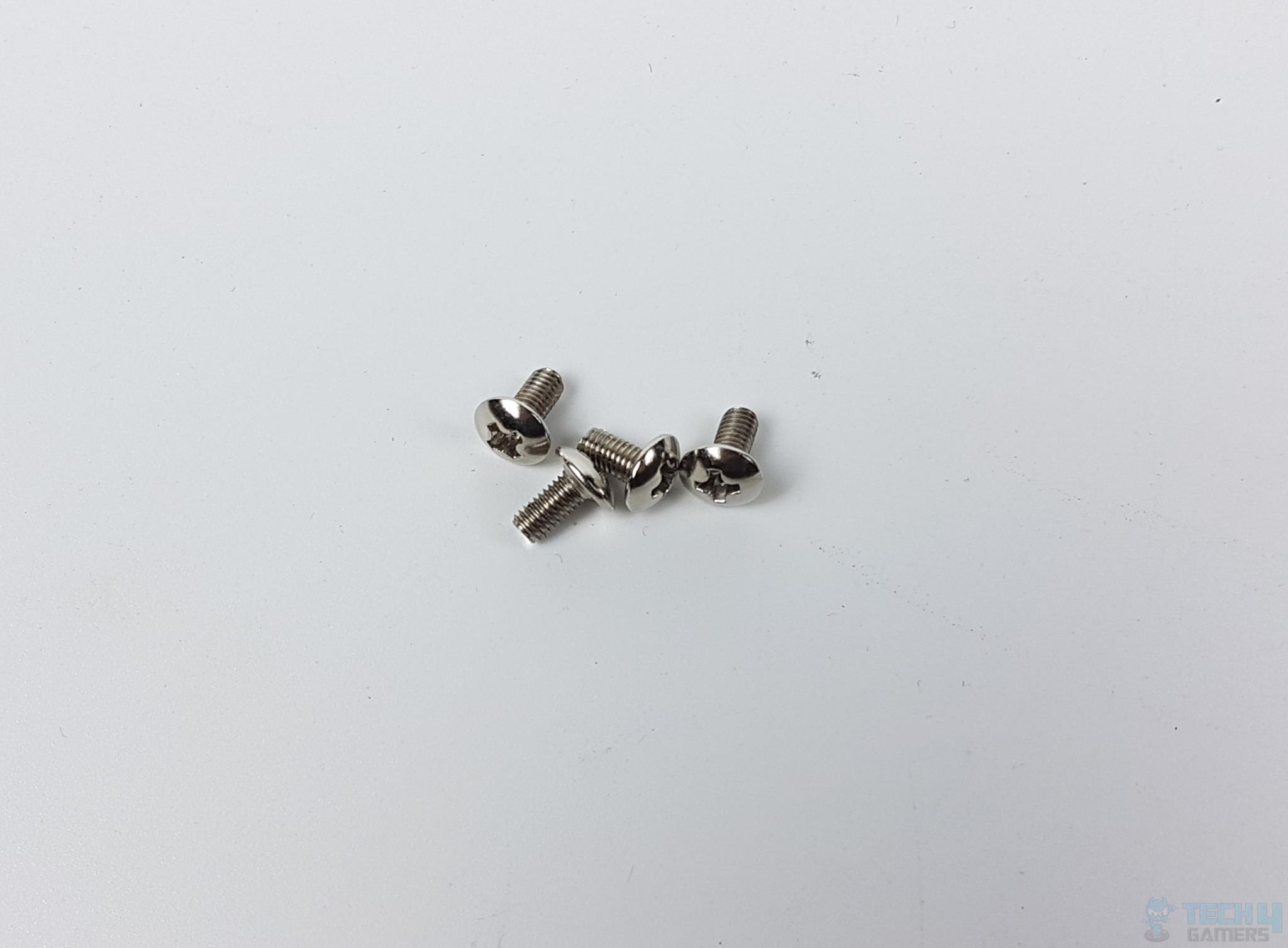 GAMDIAS has provided 4x screws to install mounting brackets on the block's housing.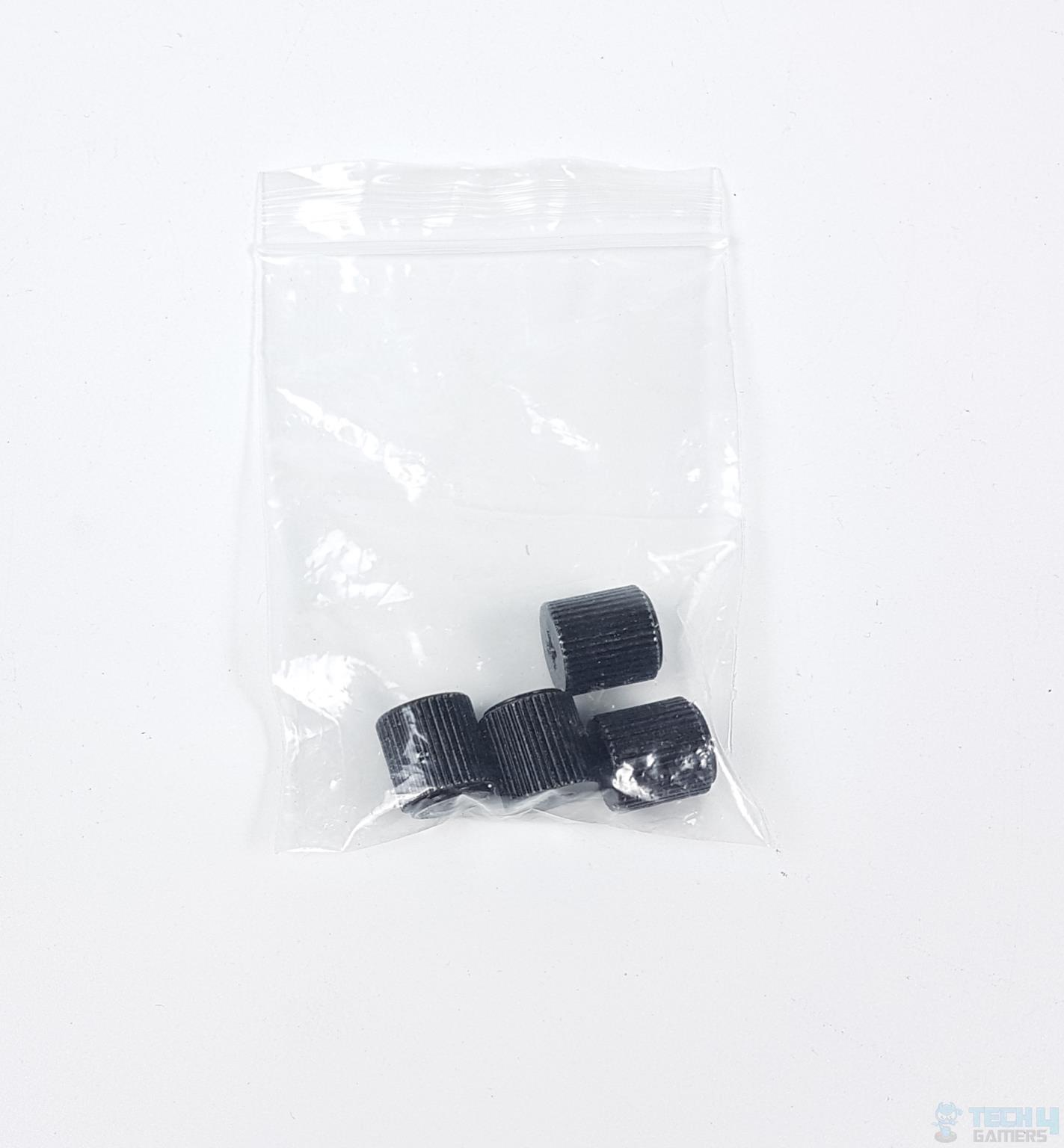 There are 4x thumb nuts. These nuts seem to have rubber pasting on the thread side, which is missing.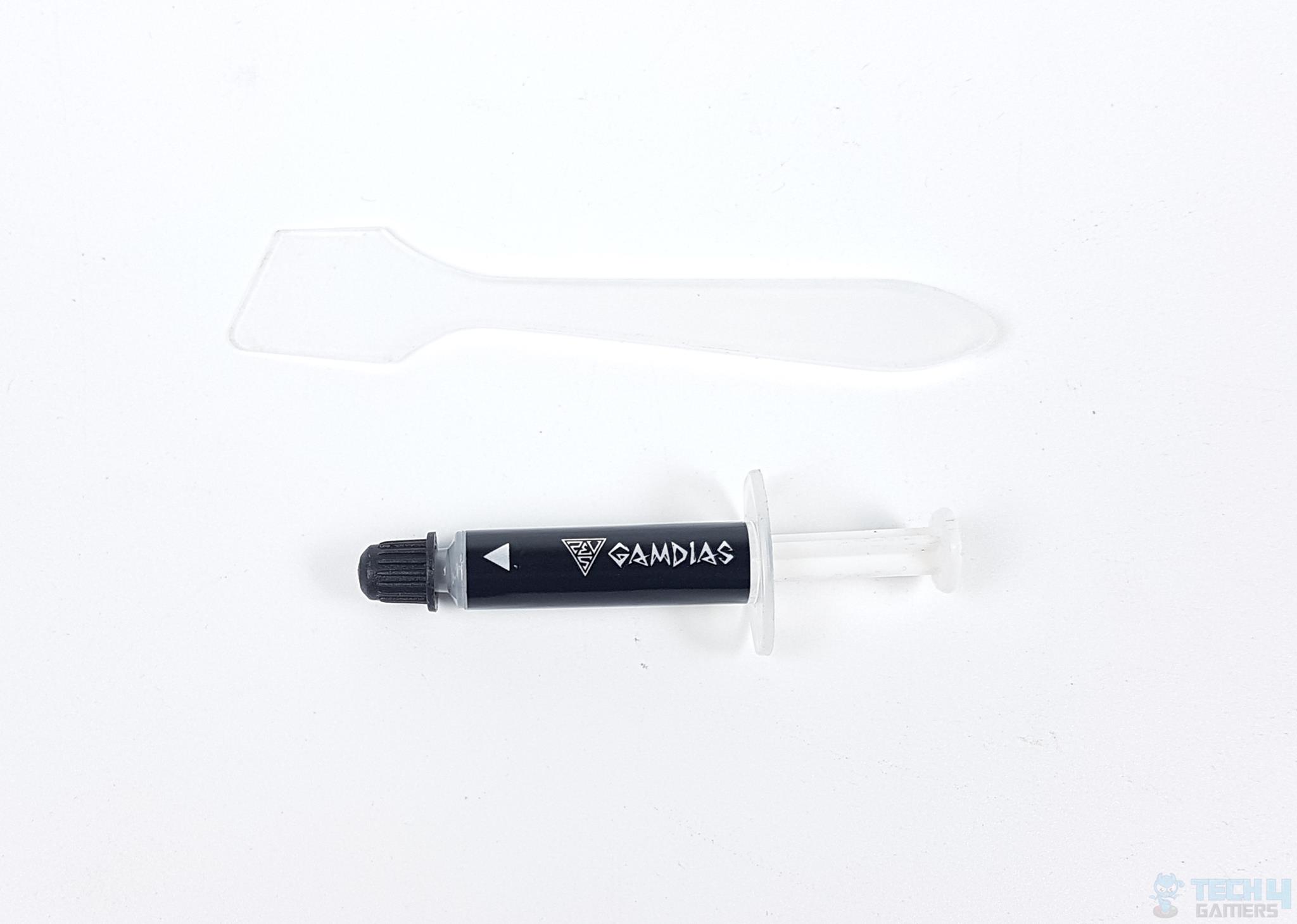 GAMDIAS has provided a tube of thermal paste and an applicator for even spreading this thermal paste during installation.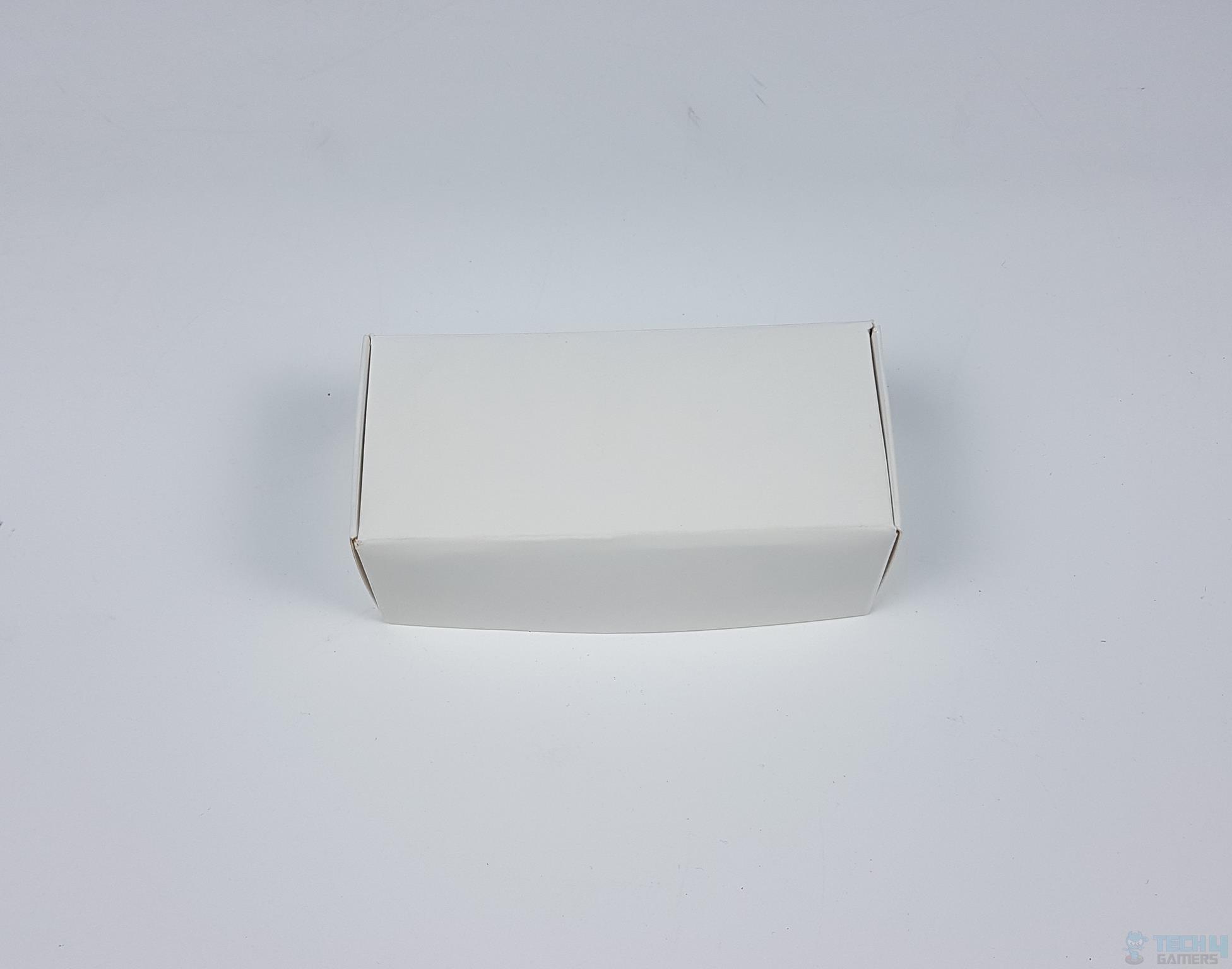 This box has an AEOLUS control box.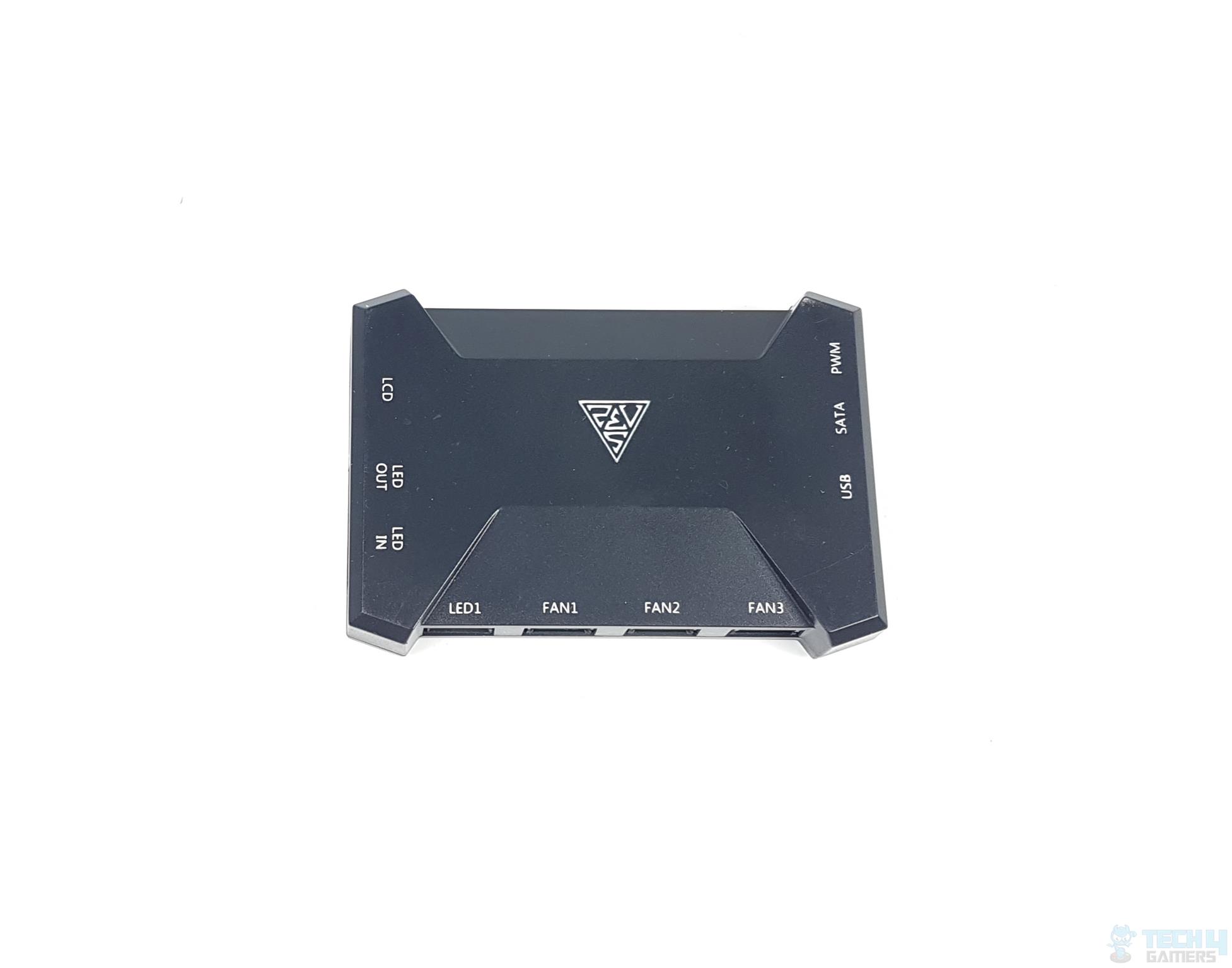 GAMDIAS has provided a USB-based AEOLUS control box with this cooler that can be connected to another non-USB AELOUS box that would allow adding more fans. We will cover the AEOLUS control box later in the Design section.
Design
Let's take a look at the main components of this cooler, starting with a statement from GAMDIAS about this cooler. "The CHIONE P3 high-performance liquid cooler is a 360mm radiator AIO fine-tuned for next-generation cooling and equipped with a personalized LCD display. The AIO features a highly customizable IPS LCD display, a motor pump with a high-performance three-phase drive, an optimized cold-plate design, a micro-embedded fan within the pump head, and three fine-tuned AEOLUS M3 PWM fans to offer top-notch cooling power on any setup."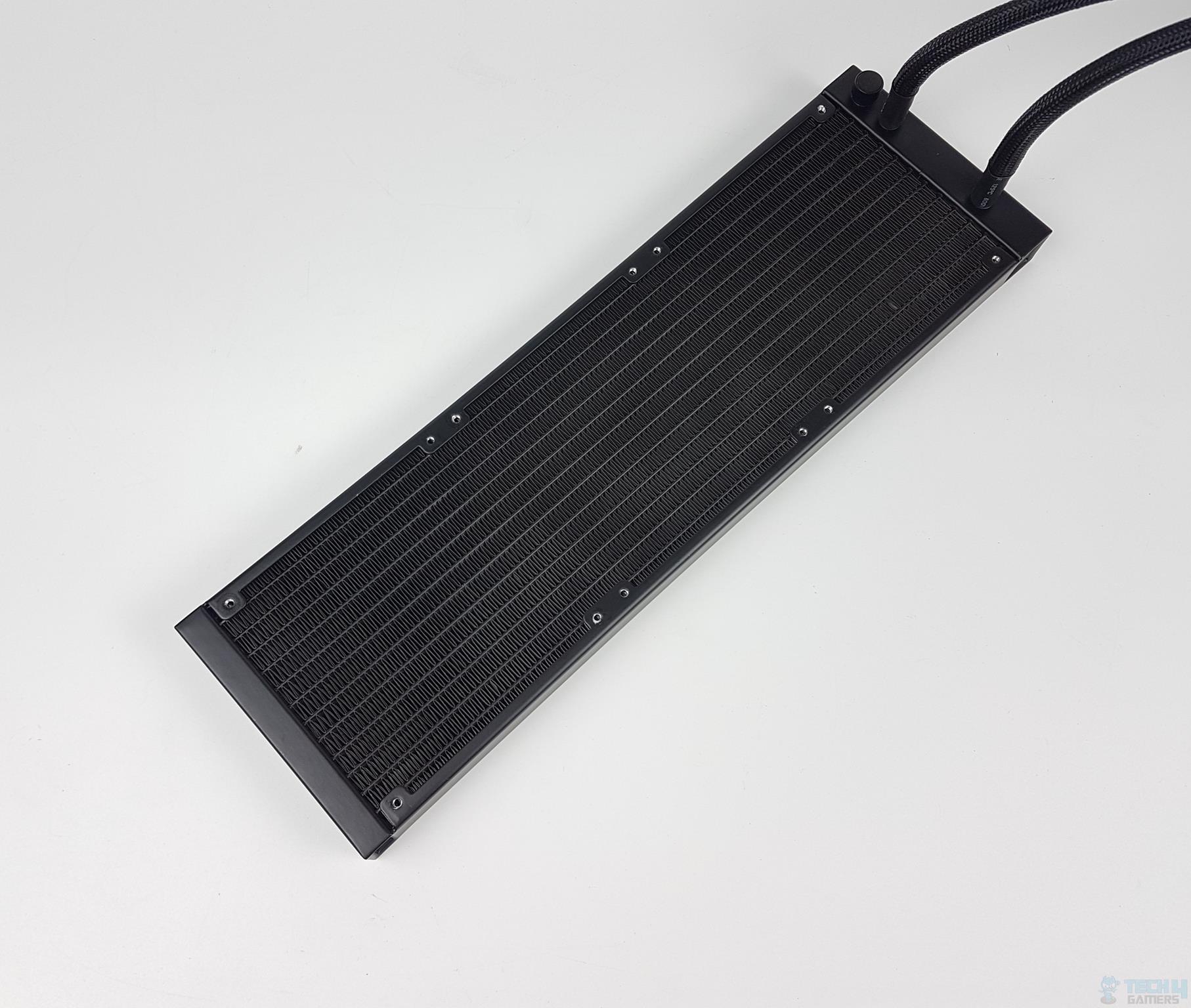 The GAMDIAS CHIONE P3-360U has an aluminum alloy-made radiator. This unit has a dimension of 394x119x27mm. Our measurement using a digital caliper shows a width of 120mm. Here 27mm is the height of this radiator. When we install 25mm thick fans, the overall height would be around 53mm, approximately including the heads of the fans' screws. This radiator has high fin density with a count of 20. There are 12 channels through which coolant flows. There is a standard gap between two opposite mounting holes of 105mm.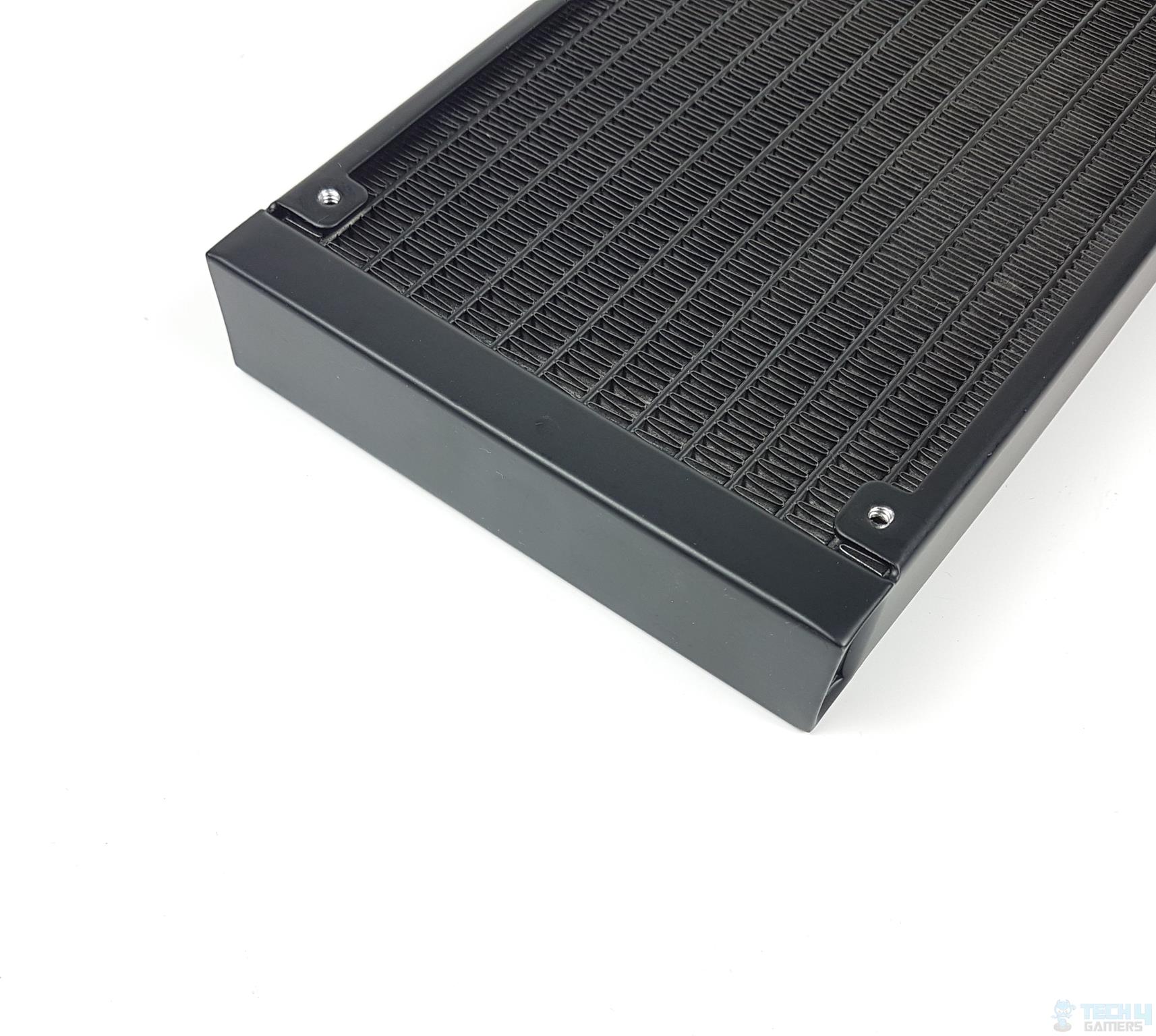 The far end has a rectangular layout, and we did not find any branding or label there.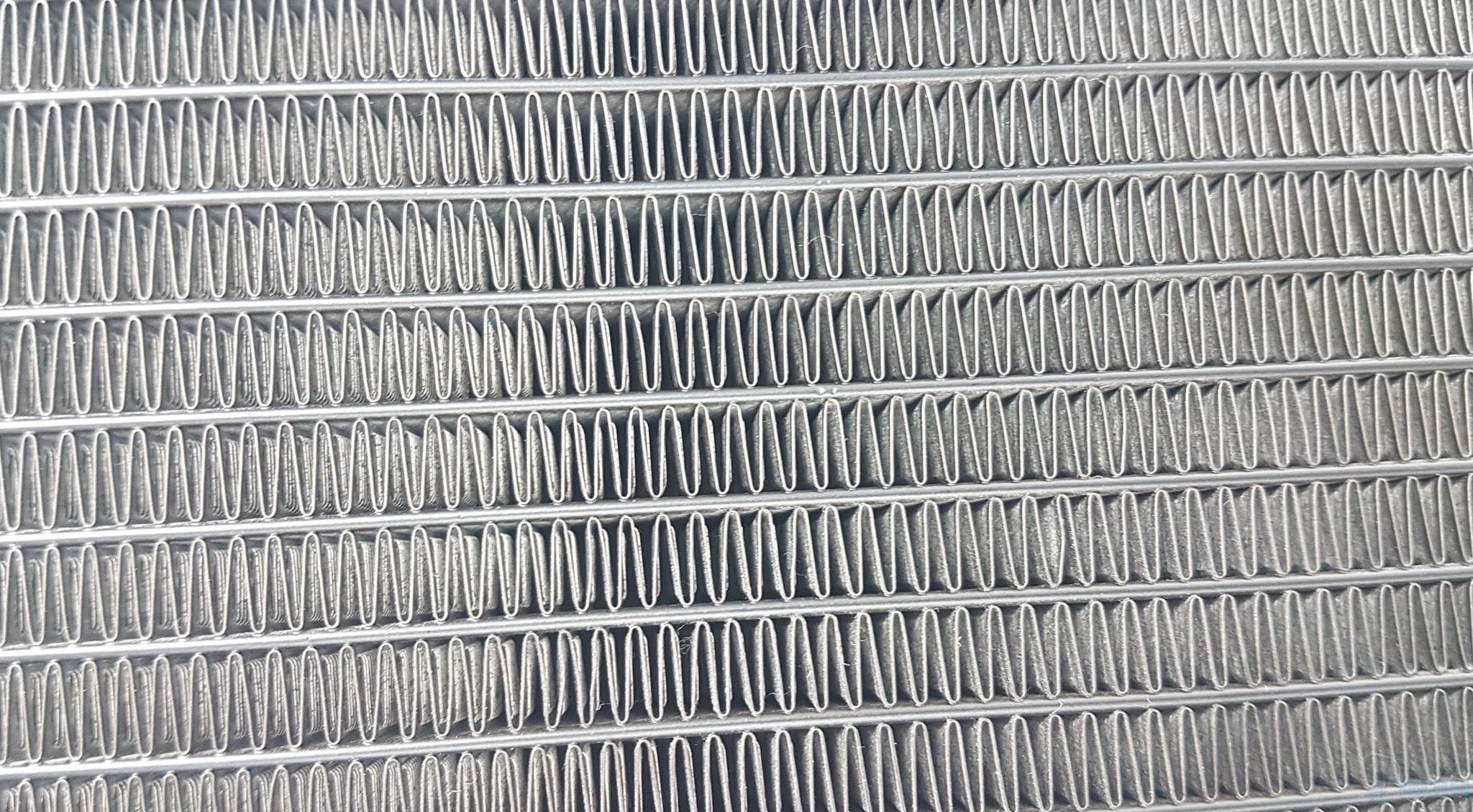 The above picture shows a close-up view of the fins. GAMDIAS has done a good job in fin stacking. Fins are an E shape or what I usually mention as a v shape from their side angles. There are no bends or broken fins.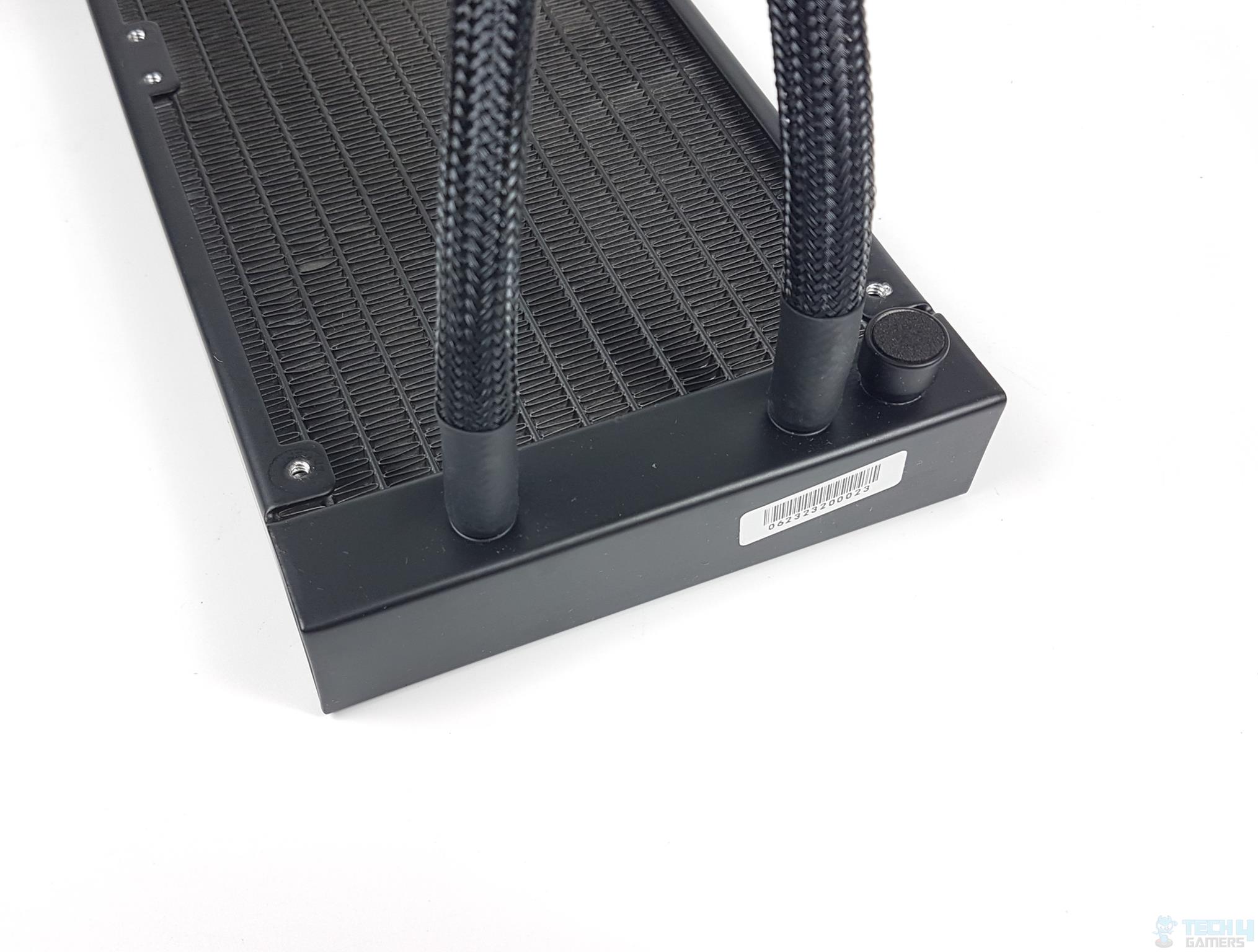 Looking at the tube end, we can see that GAMDIAS is using heat shrinks on the connection between tubes and fittings. While heat shrink is not necessarily bad, it is just that using a metallic cover would give better aesthetics, particularly at this price point. There is a cover on possibly another port that seems to be reserved for factory use. Don't tamper with this port cover, or you may lose the vacuum pressure of this loop. There is a serial number sticker as well on this end.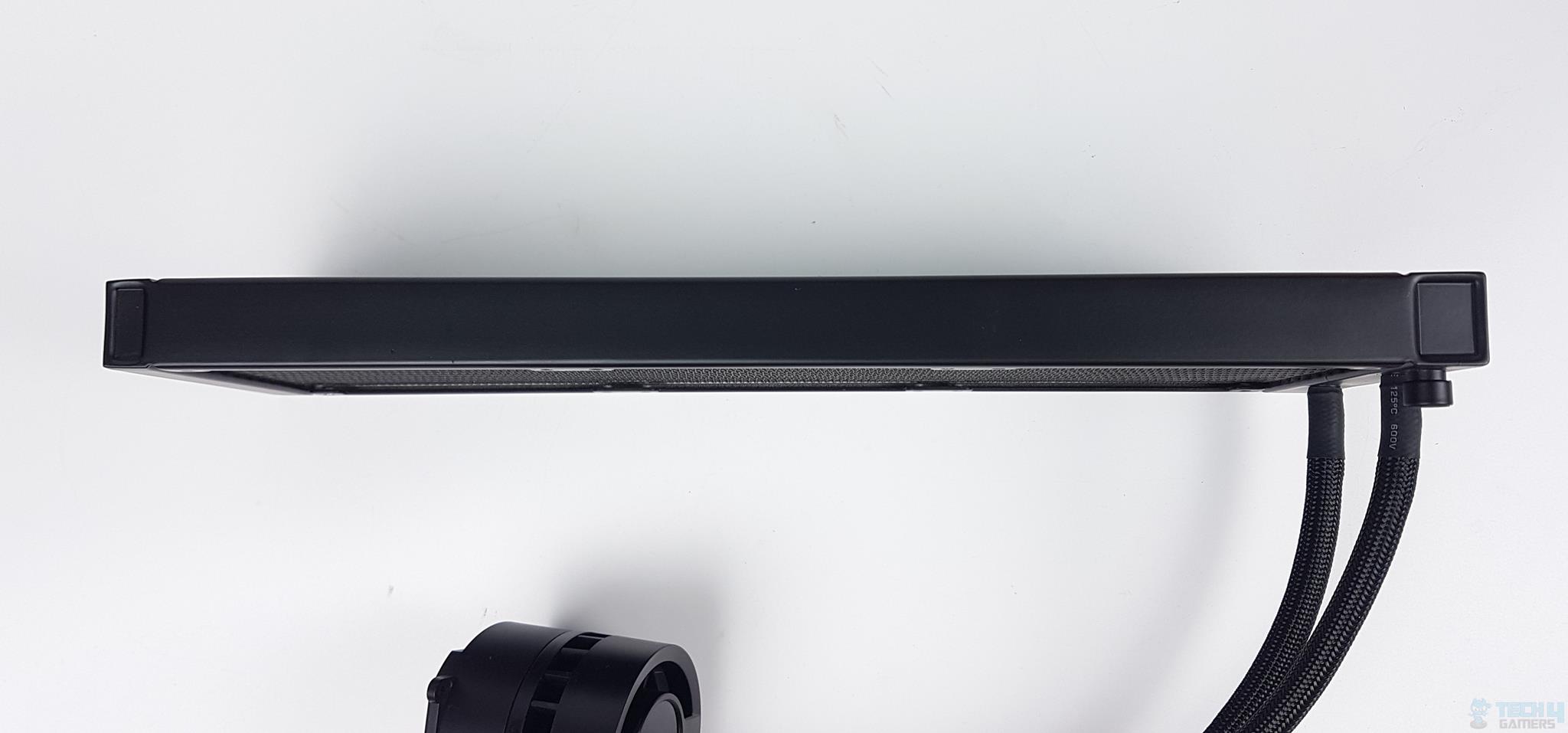 Looking at the side frame of this radiator, we can see that there is no branding whatsoever. Well, this does not matter either. The complete assembly is in the black color coating.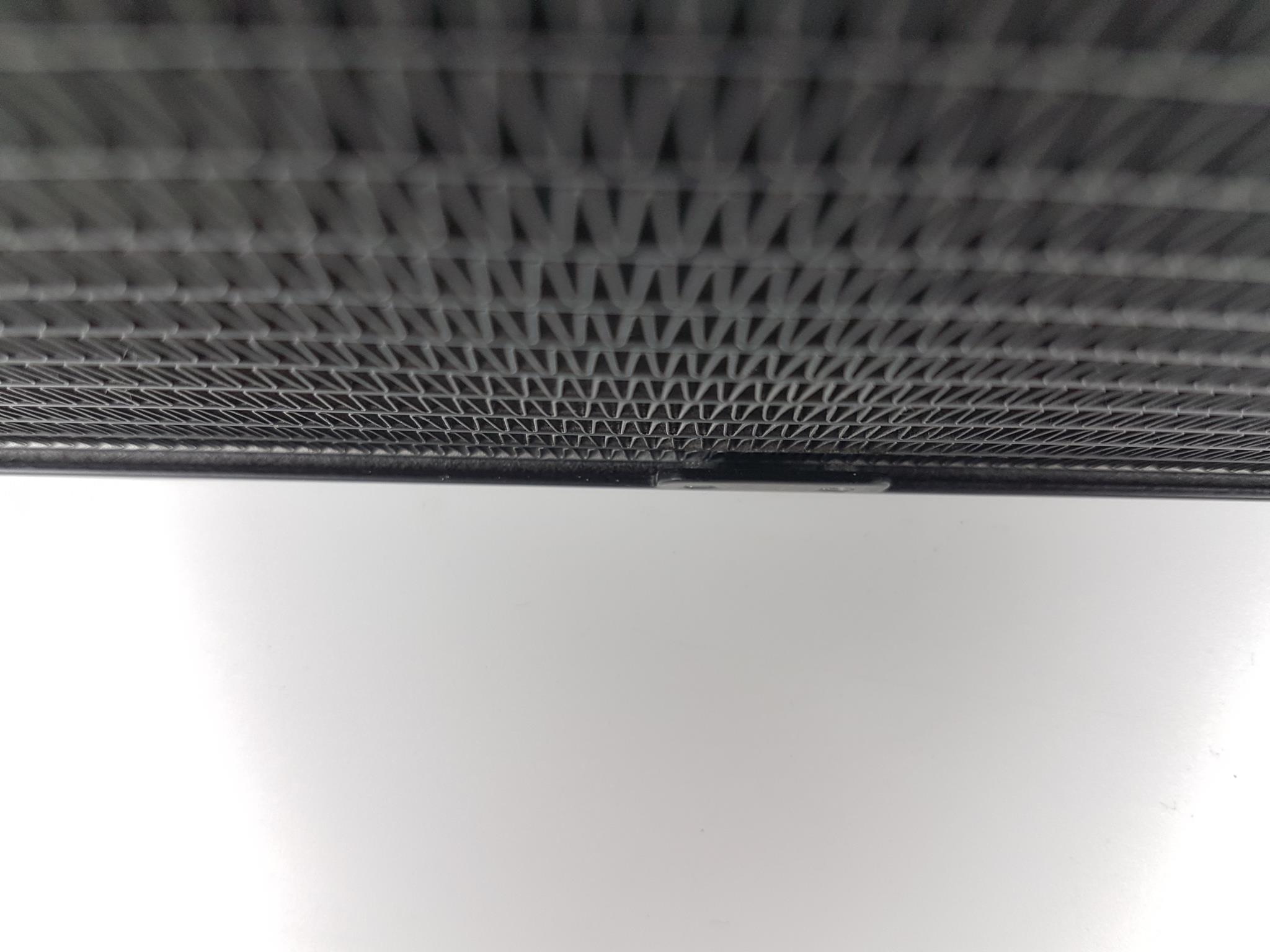 There is a certain gap between the side frame and the fin stack. This means the fin stack has a thickness of less than 27mm because 27mm is the overall thickness of this radiator. Also, there is no protective plating under the mounting holes. As long as you are using GAMDIAS-provided screws, you are good.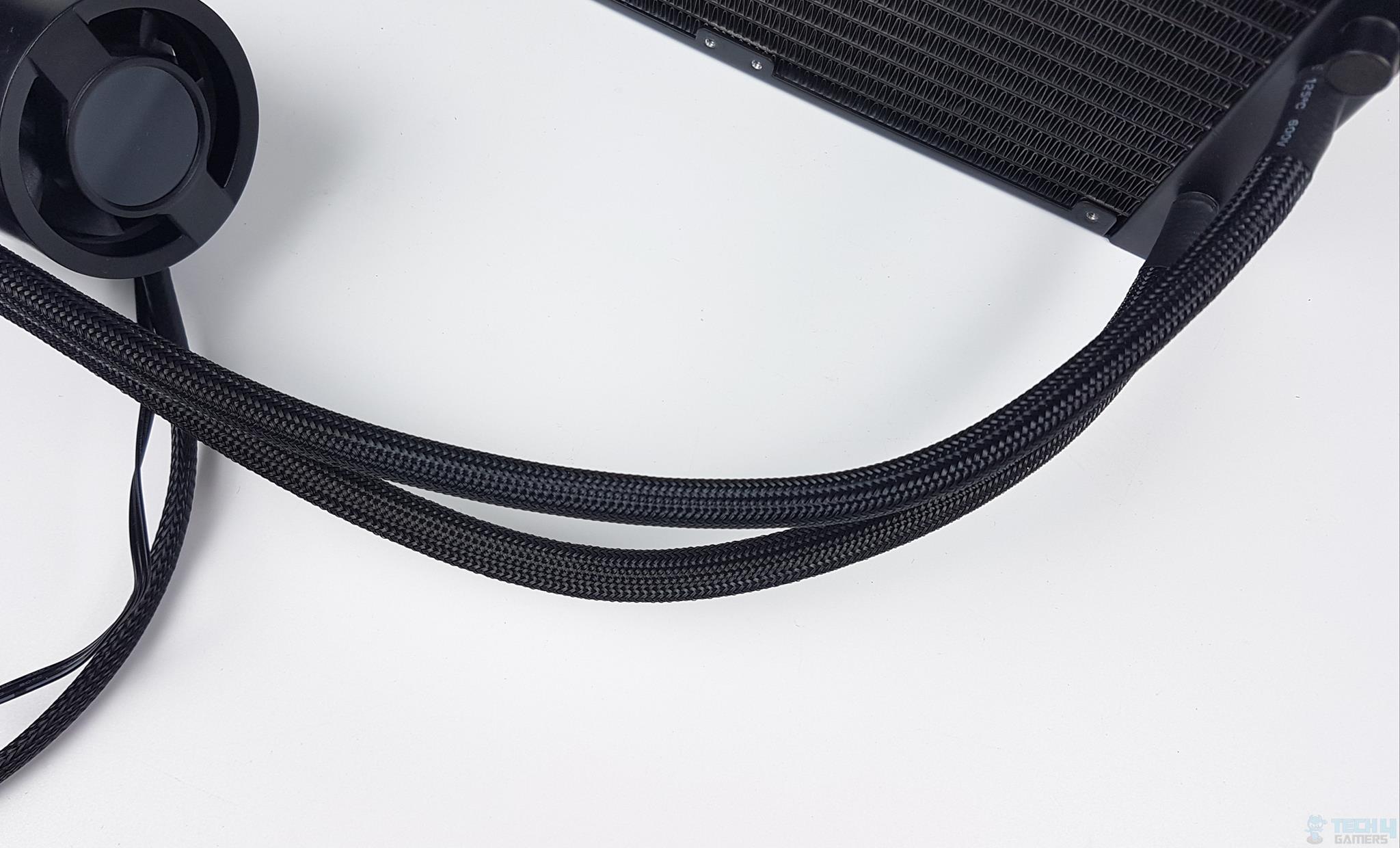 The GAMDIAS CHIONE P3-360U uses Teflon tubes. These tubes have lower ID/OD compared to many other 360mm AIOs that I have tested recently. These tubes are flexible but don't kink. They have nylon braided mesh sleeves over them for aesthetics. These run to approximately 400mm.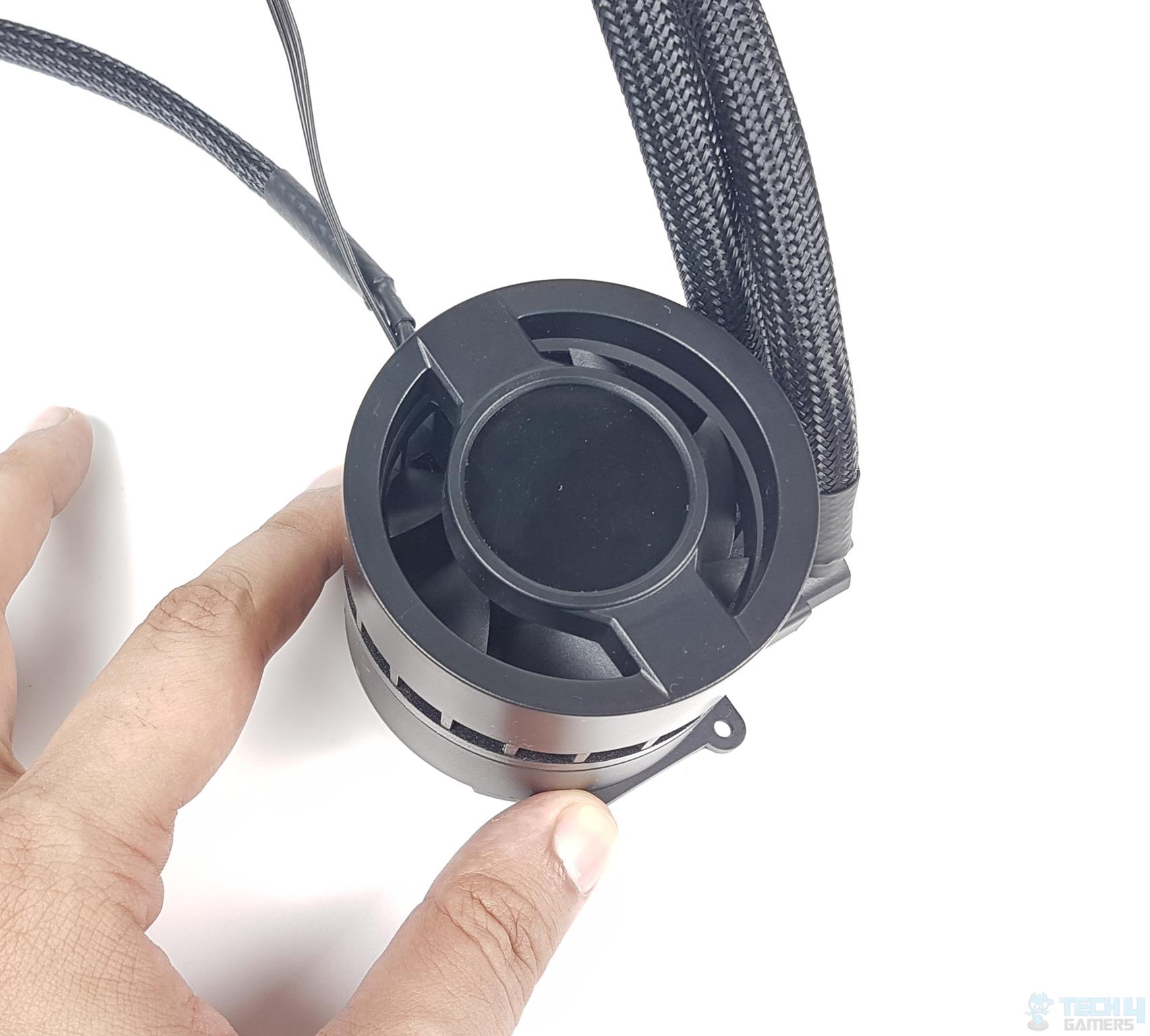 The pump housing is a bit strange in design. When they said this unit has IPS LCD, I had in mind a stylish housing for that LCD screen, but I was wrong. The above picture shows a top view of the block. The ring or circular part in the center is an IPS LCD screen. They did not mention the resolution of this screen. There is a thick diffuser integrated inside the main housing on the inner side to provide illumination and hide the embedded fan. We can see the propellers of this embedded fan. These two features are new in the CHIONE series of coolers from GAMDIAS. The very reason for leaving the top frame open-ended is that this fan can intake fresh air. This fan provides cooling for the VRM area of the motherboard. They did not provide specifications for this fan.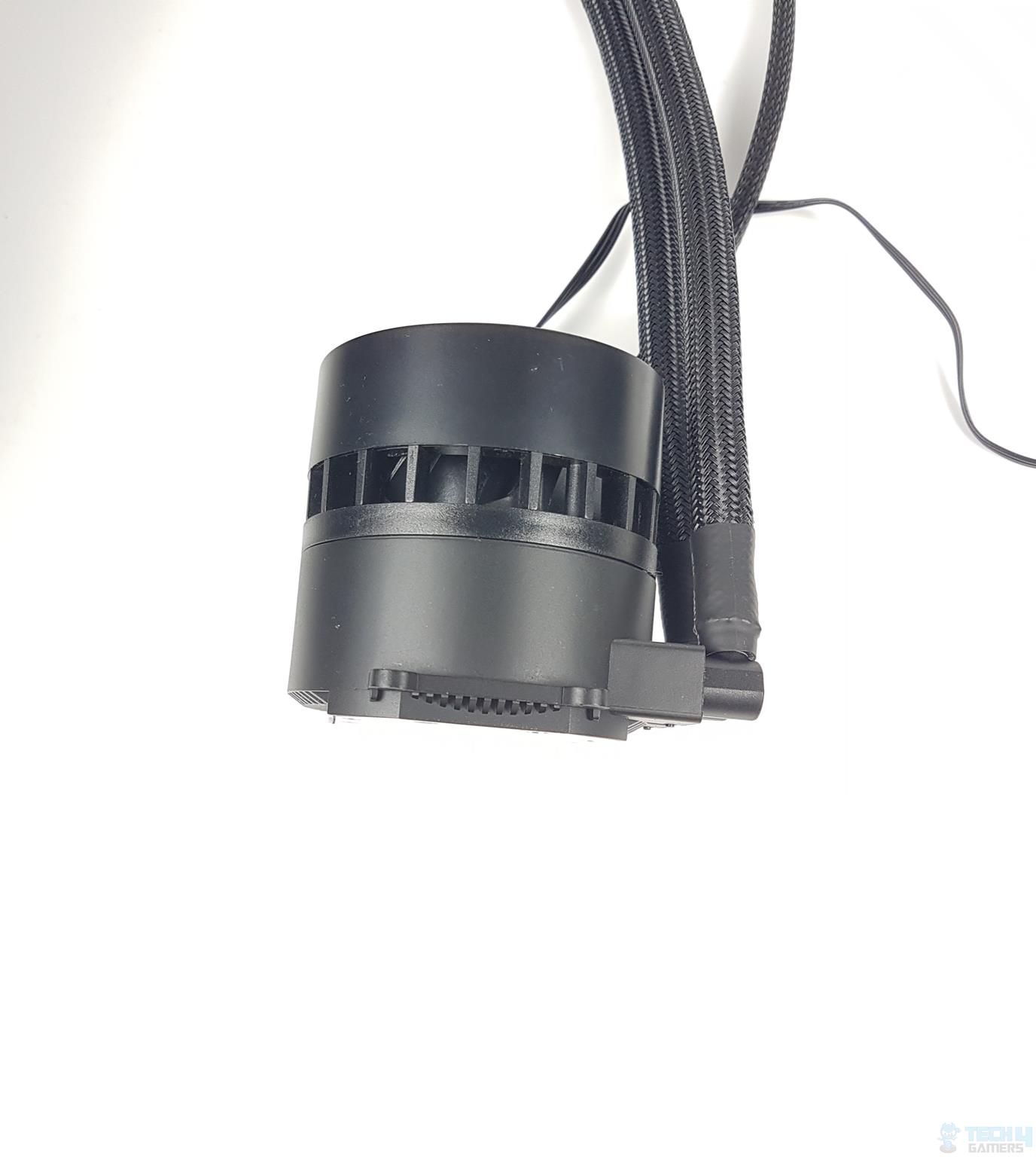 Looking at the side of this block, there is no branding of any sort. There are cutouts or vents on the upper portion. This is where the air comes out from the embedded fan. This is kind of a strange implementation as these vents should have some sort of design to facilitate the air coming out downward manner. This housing is made of plastic material, and the overall look and feel are not that satisfying to justify the steep pricing. They should have done a better job in designing this housing. The dimension of this housing, as per our measurement using a digital caliper, is 69 in height, and 69mm in diameter.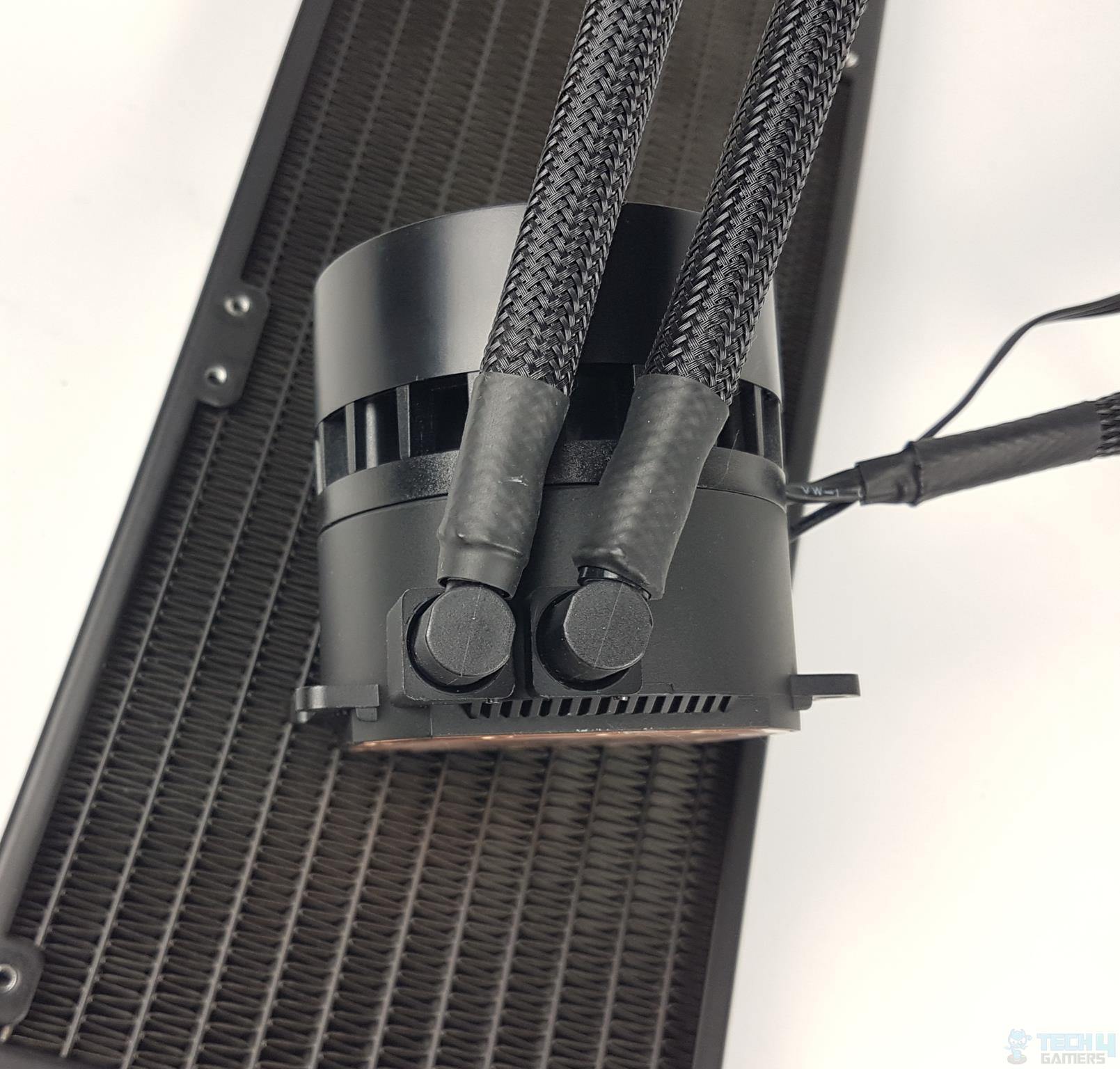 Looking at the backside of this housing, we can see that heat shrinks are also used over here to cover the connection between the tubes and right-angled fittings. Looking closely, you can see that the fittings are located in an offset manner, not in the middle of the housing.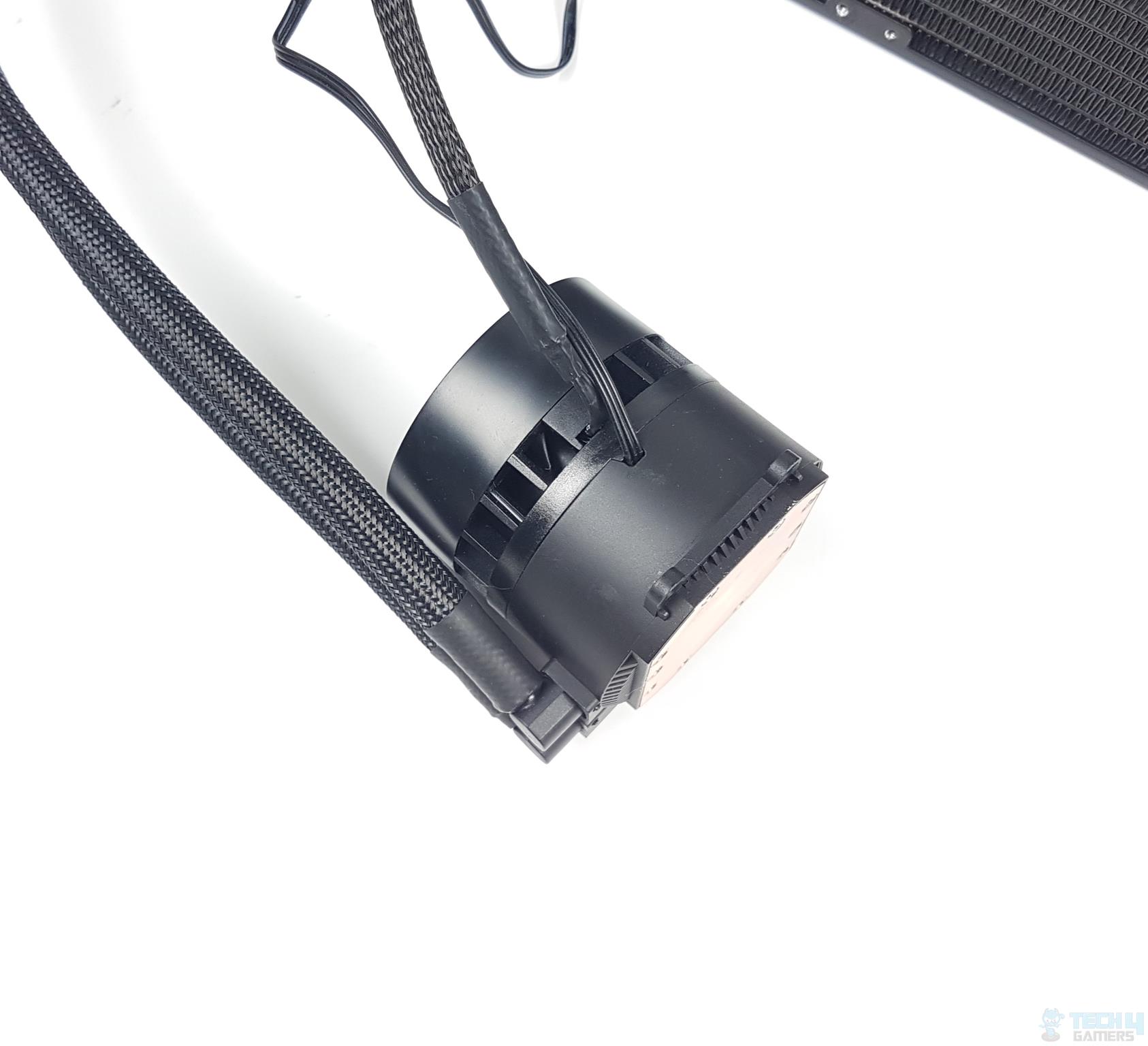 There are two cables coming out from one side of this housing.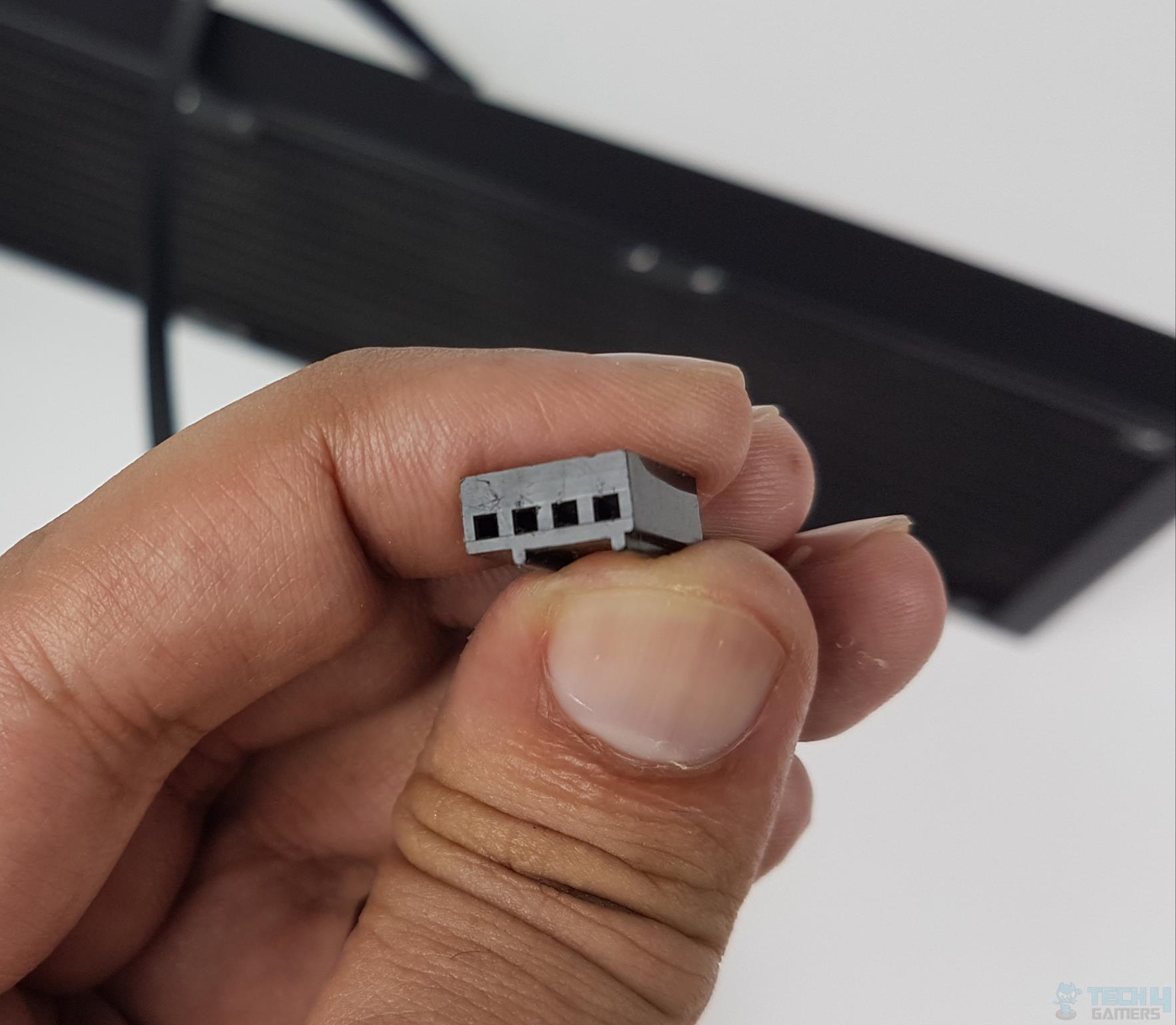 There is a flat cable that has a 4-pin connector on one end. It has only 3 wires meaning that the pump is not PWM controlled. It is still DC-based. Although not mentioned in the specifications, this pump has a rated speed of 2800 RPM using 12VDC. It is funny that GAMDIAS has mentioned this pump is powered by a 3-pin interface connector, and the actual connector is 4-pin.

The above picture shows the schematic of the pump housing's internal layout. IPS LCD Screen at the top. There is a hidden RGB lighting inside the housing. We can see small holes on the plate on which the embedded fan is rested. I am not sure if it has anything to do with air going down or not, given how small they are. The pump has a three-phase motor.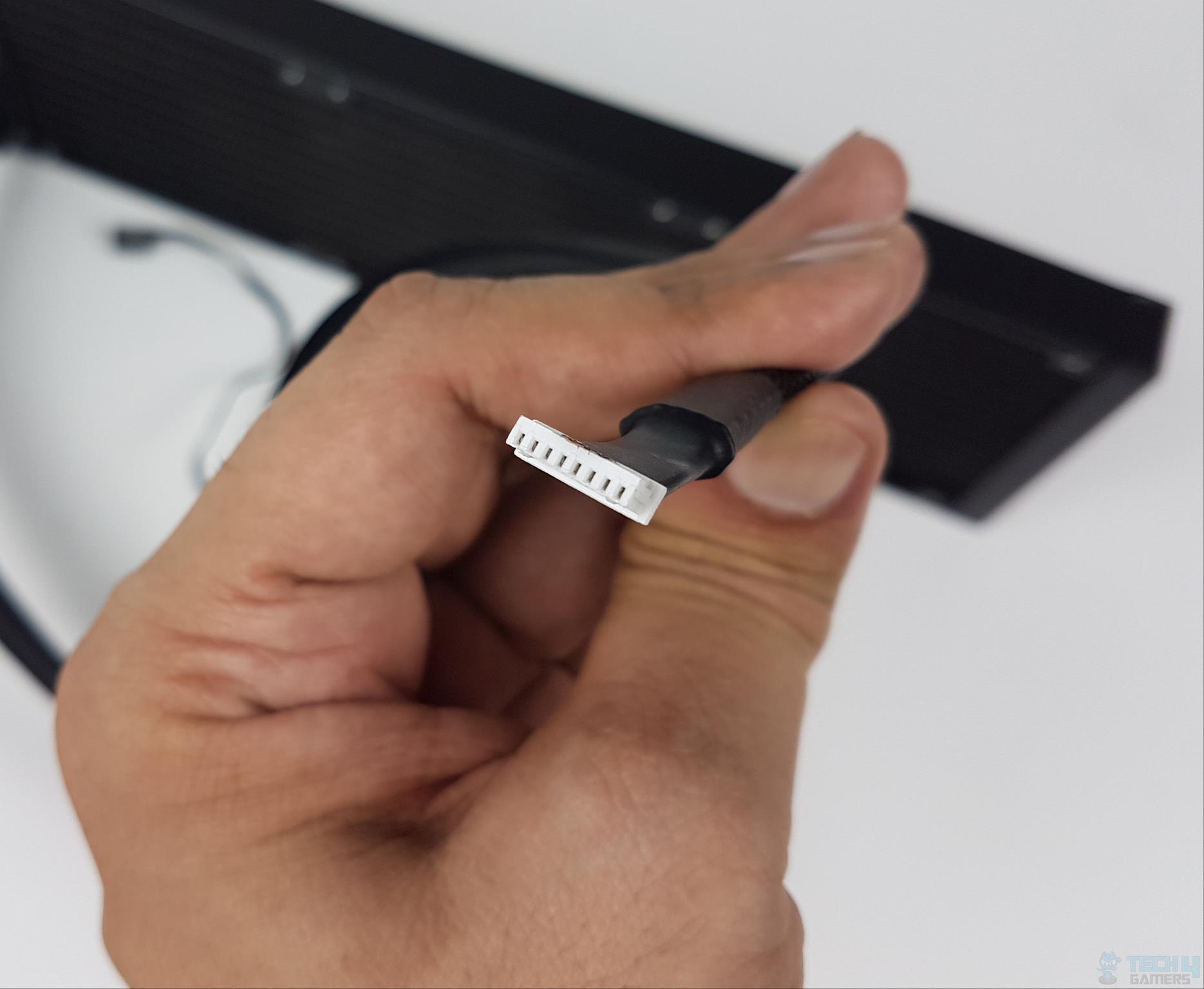 There is a proprietary 8-pin white color connector with a bulky-sleeved cable. This possibly powers the IPS LCD Screen and RGB LEDs. I think the embedded fan is also powered by this cable but not sure.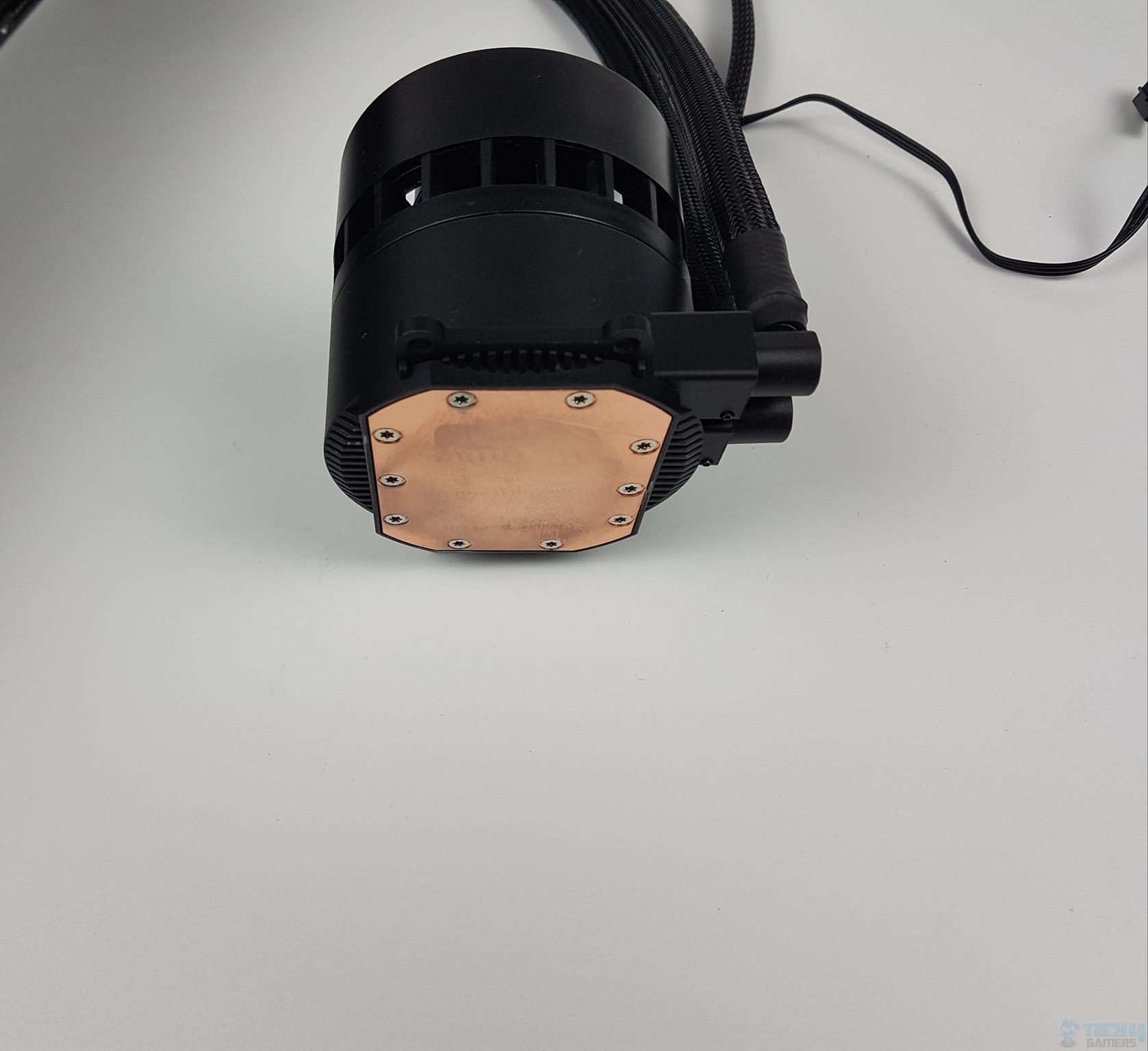 This unit has a copper base measuring approximately 59x49mm in size. There is a protective cover over the base to protect it from damage. Don't forget to take off the cover during installation. We took pictures after testing this unit; hence base seems used.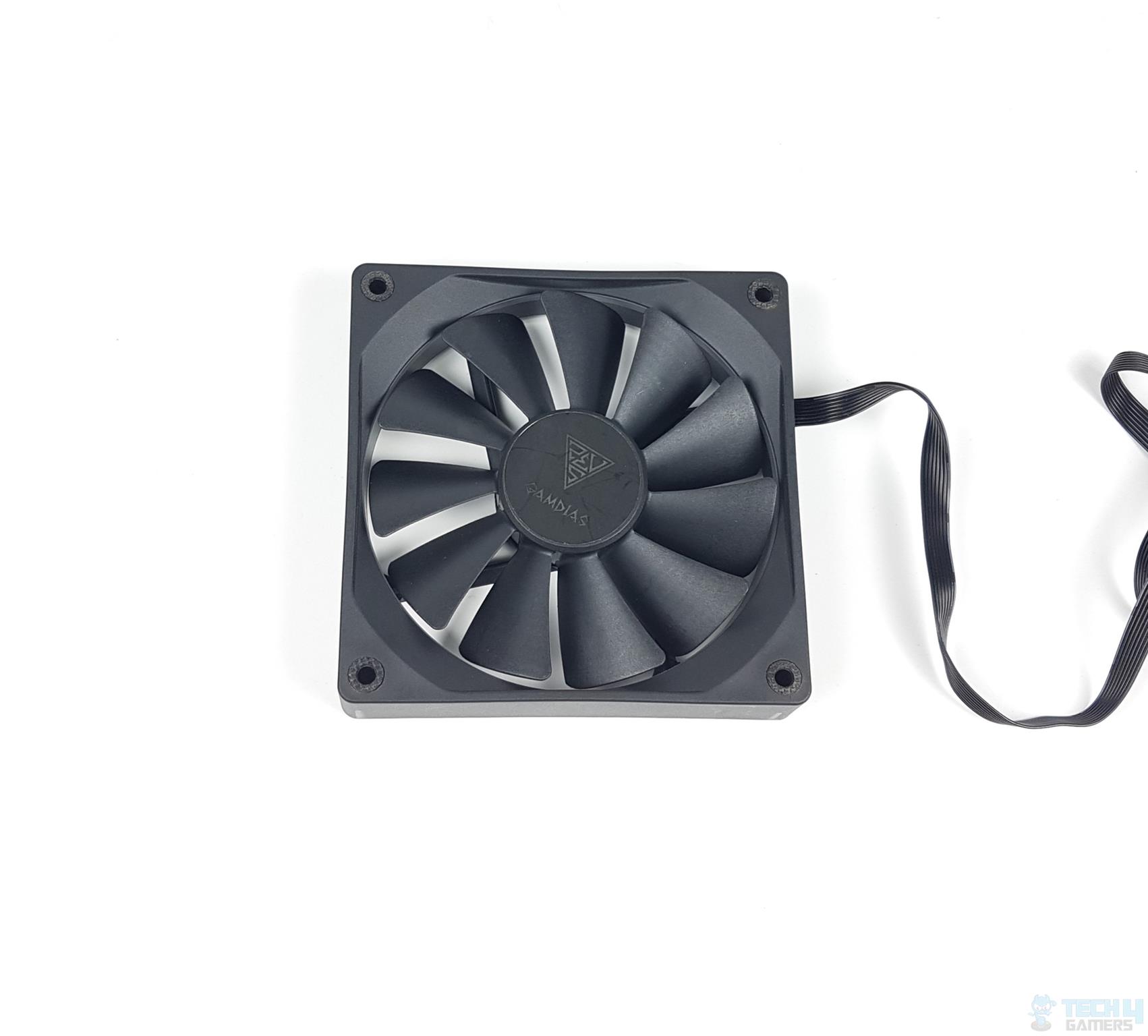 GAMDIAS has provided three AEOLUS M3 1204R with this cooler. We tested these fans earlier. Click here to read our take on these fans. However, the fans provided with CHIONE P3-360U are customized as we see differences in specifications. These fans use a chamfered design for a robust air intake. The blades are designed in an altered manner that helps with maximum airflow performance and better acoustics. There are 11 blades per fan. The complete assembly is black in color. The blades are a bit protruded from the inclined or down slope frame. Also, take note of the diffuser running on the inside main frame. This is what GAMDIAS refers to as low-profile concentric lighting using 55 Neon-Flex RGB LEDs. There is a small size anti-vibration pad on each mounting corner. This is a complete and close design.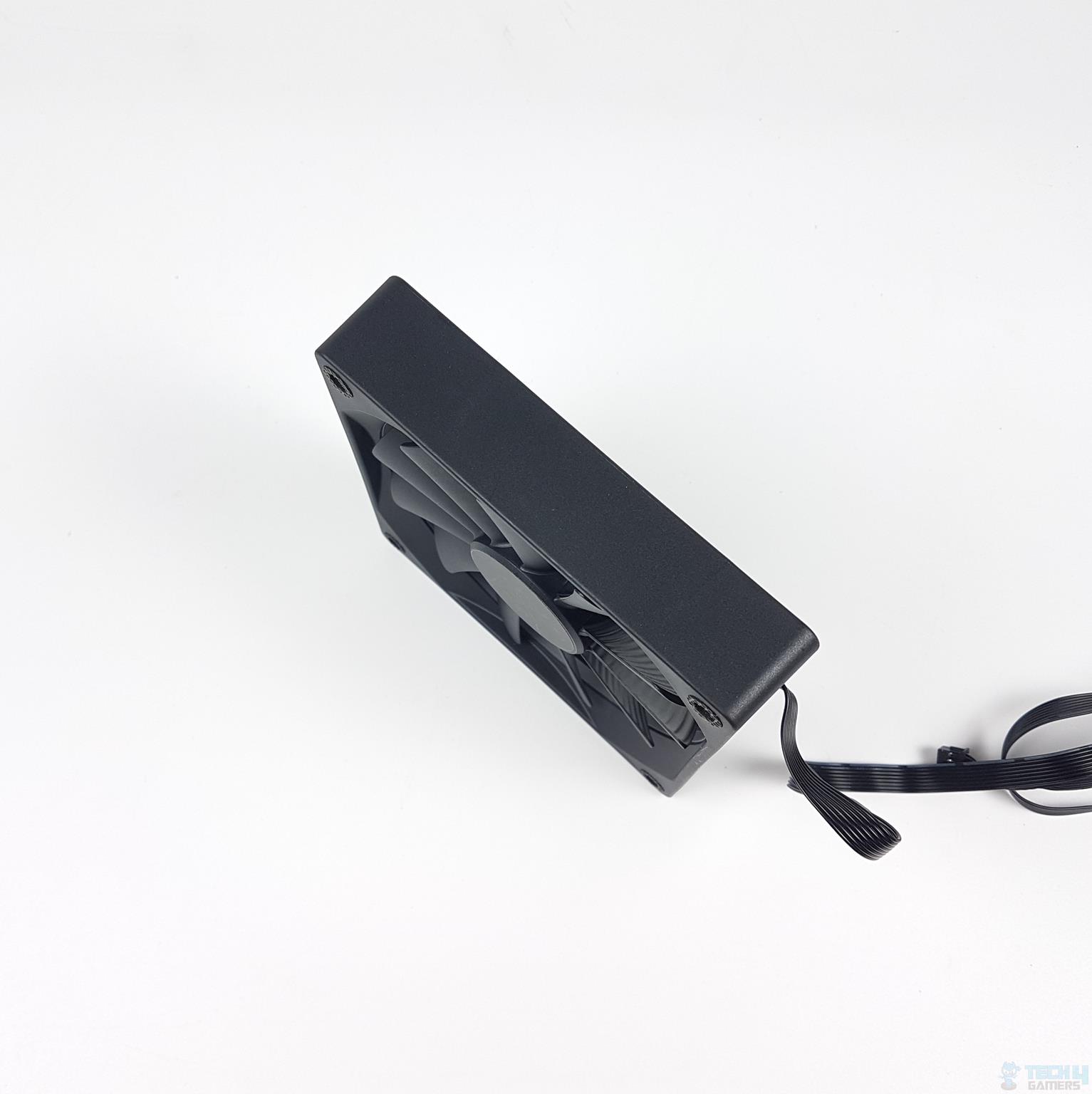 The frame is quite sturdy and there is no geometrical design on any of its side. We could not find arrow markings either. These provide a visual aid to the novice user in determining the direction of airflow through the fan and the direction of the blades' spin.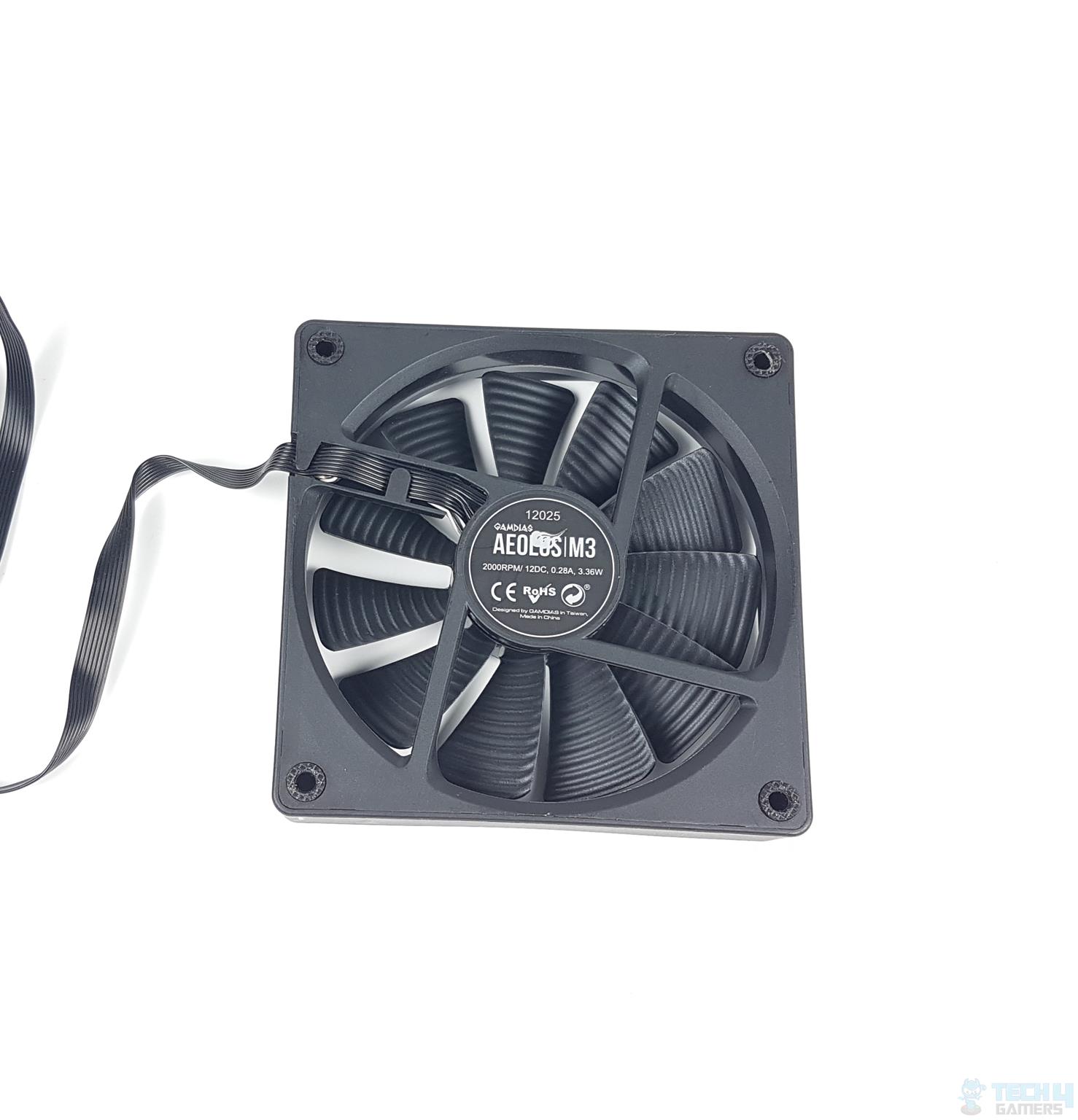 There is a 4-arms assembly on the backside of these fans. One arm has an inset on which the wires are routed toward the frame of the fan. We can see a single cable coming out of this fan. This is because GAMDIAS is using proprietary connectors on these fans.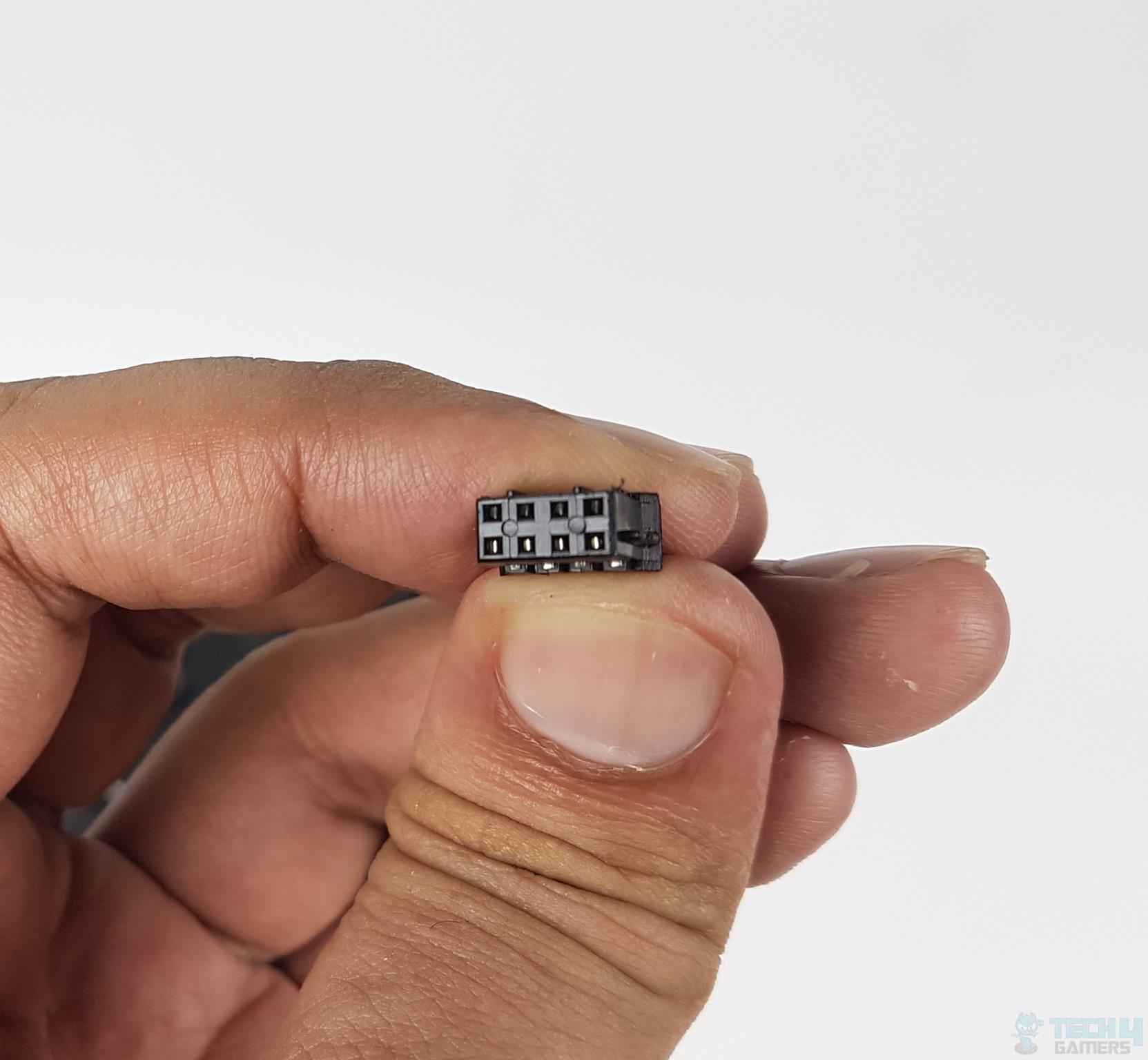 We are showing an 8-pin proprietary connector coming out from the fan. This is to be connected to the AEOLUS control box. This would sit quite well in the GAMDIAS ecosystem, but I prefer standard connectors as they make life easier and provide better compatibility.
The specifications of the fans are:
| | |
| --- | --- |
| Dimension | 120x120x25mm |
| Type | 8-pin Proprietary Connector |
| Speed | 800 – 2000 ± 10% RPM |
| Airflow | 69.01 CFM |
| Air Pressure | 2.37 mmH2O |
| Noise | 10 to 31 dB(A) |
| Bearing Type | Hydraulic Bearing |
| Rated Voltage | 12VDC |
Installation
We have tested this cooler on the GIGABYTE X670E AORUS MASTER motherboard using AMD Ryzen 7 7700X. Installation is as follows:
Remove the stock AMD mounting bracket from the motherboard
Install 4x AMD stud bolts on the stock backplate
Install AMD Mounting brackets on the base of this cooler
Apply the thermal paste on CPU IHS
Remove the protective cover from the base of this unit
Place the block on the CPU, such as the holes on the mounting brackets pass on the threaded portion of the stud bolts
Use thumb nuts or screws to secure the block
Install fans on the radiator
Connect fans to the AEOLUS control box
Connect 8-pin cable from block to AEOLUS control box
Connect 4-pin cable from block to CPU fan header or pump header
Connect SATA cable to AEOLUS control box
Connect the 4-pin PWM cable coming out from the AEOLUS control box to a fan header on the motherboard
Connect standard A-RGB cable coming out from the AEOLUS control box to the RGB sync header on the motherboard
I think I have covered all cable connections. Installation is complete.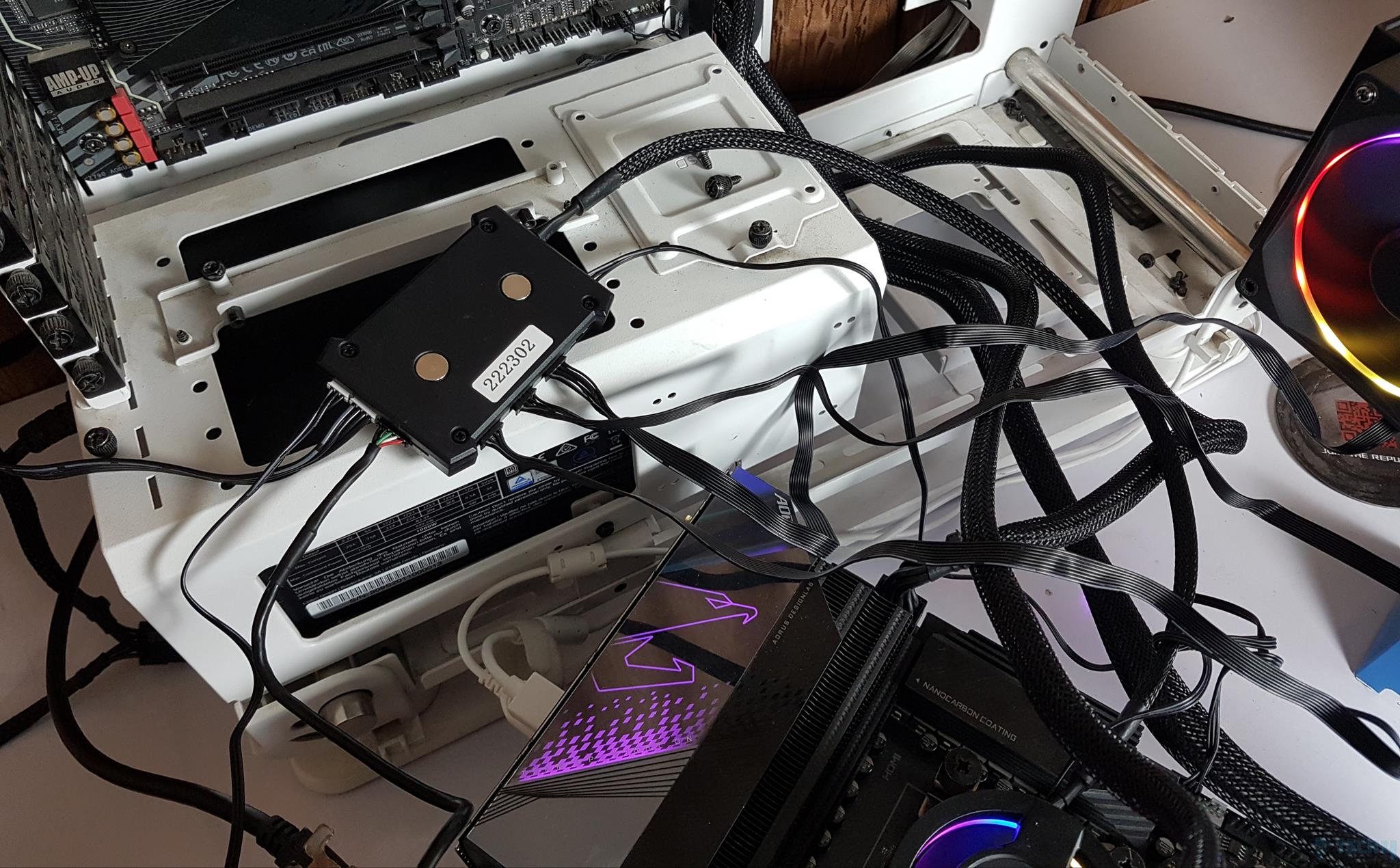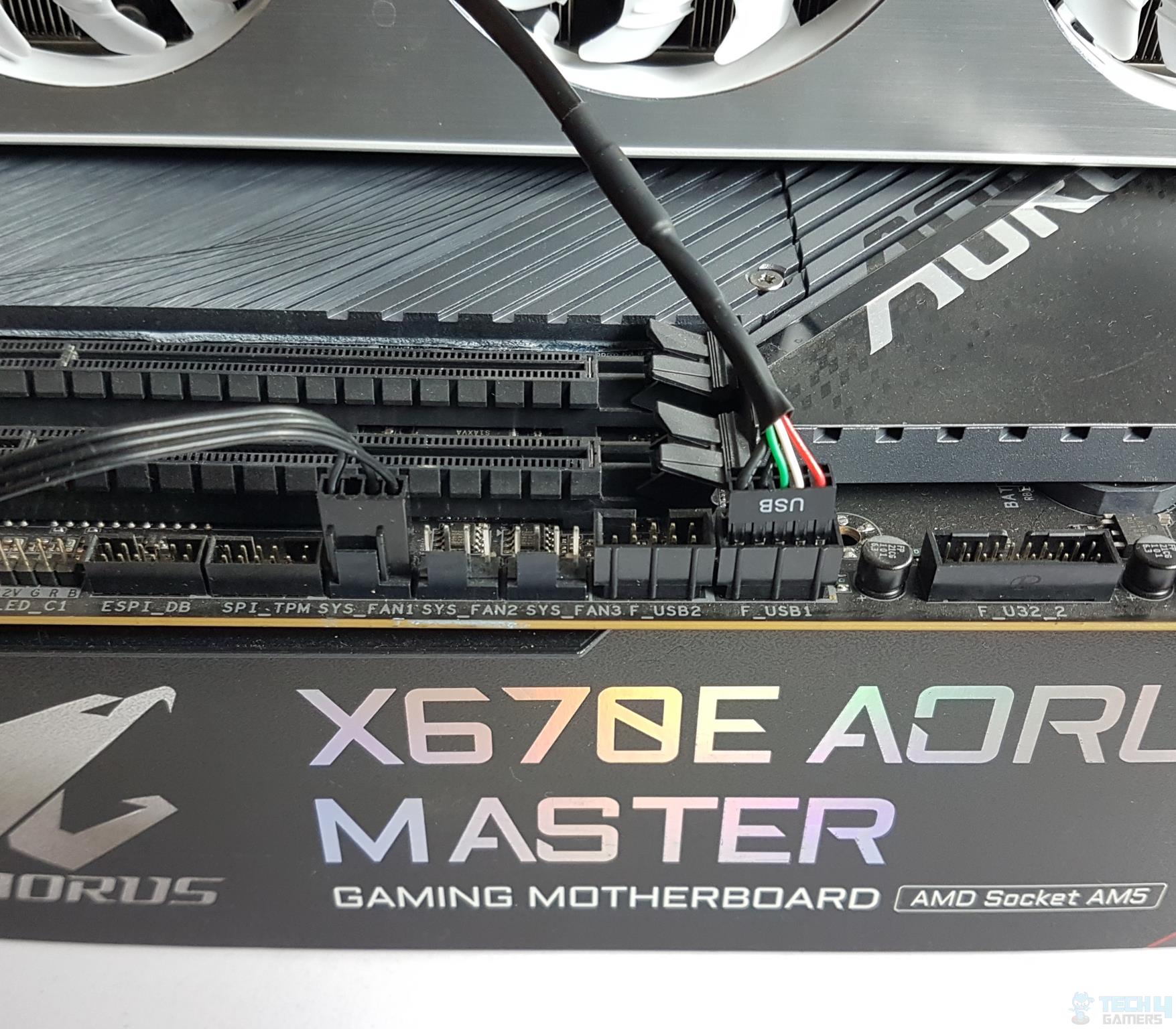 We have got so many cables to deal with, like three fan cables connecting to the control box. Then handing 4x cables of this control box, and on top of that, we also need a USB 2.0 header (9-pin) on the motherboard, without which IPS LCD Screen will not work.
This unit has a dimension of 397x119x53mm with fans installed. The tubes don't obstruct the DIMM slot and PCIe slot. However, you need to make sure that there is enough clearance in the PC Case.
AEOLUS Control Box
It is time to take a look at the USB AEOLUS Control Box provided with this unit. The very particular requirement of using a USB 2.0 header is the software customization and control of the IPS LCD Screen. This box has a dimension of 83x59x14mm. It is made of plastic material and powered by SATA.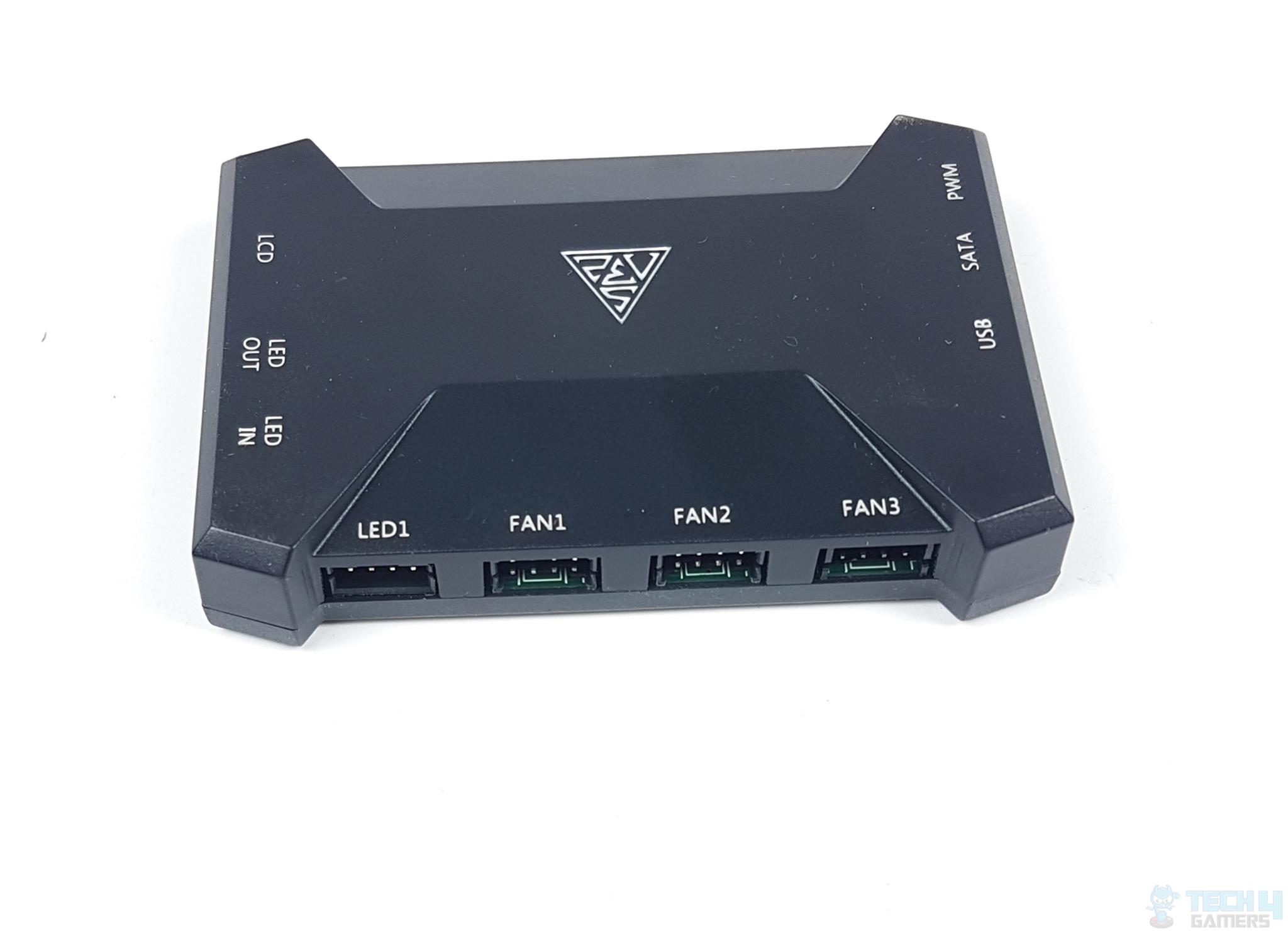 Looking at one side of this control box, we have a 4-pin, 12V, RGB port to which a user can connect any RGB device. Then there are 3x 8-pin ports to which the fan cables are to be connected.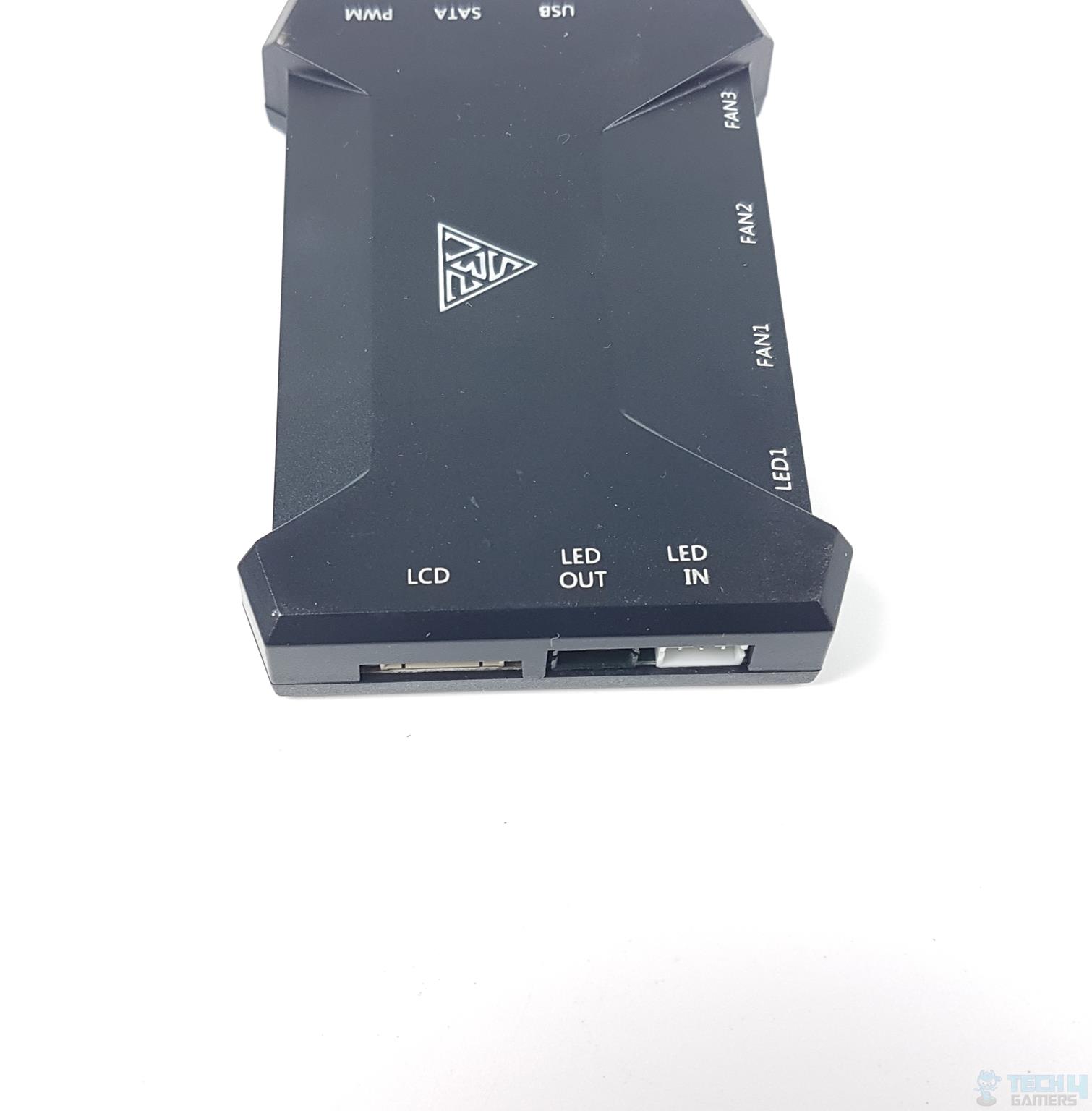 There are three ports over here. The 8-pin connector from the block needs to be connected to the LCD label port. This USB control box can be daisy-chained with other AEOLUS control boxes (non-USB). The LED Out serves the purpose of connecting two boxes, whereas the LED In is to be used to connect this box with the RGB header on the motherboard.
There are three more ports over here. The USB cable is connected to the USB label port. The SATA cable is connected to the SATA-labeled port. A 4-pin PWM connector cable is connected to the PWM port. This way GAMDIAS has provided full PWM control of these fans to the users.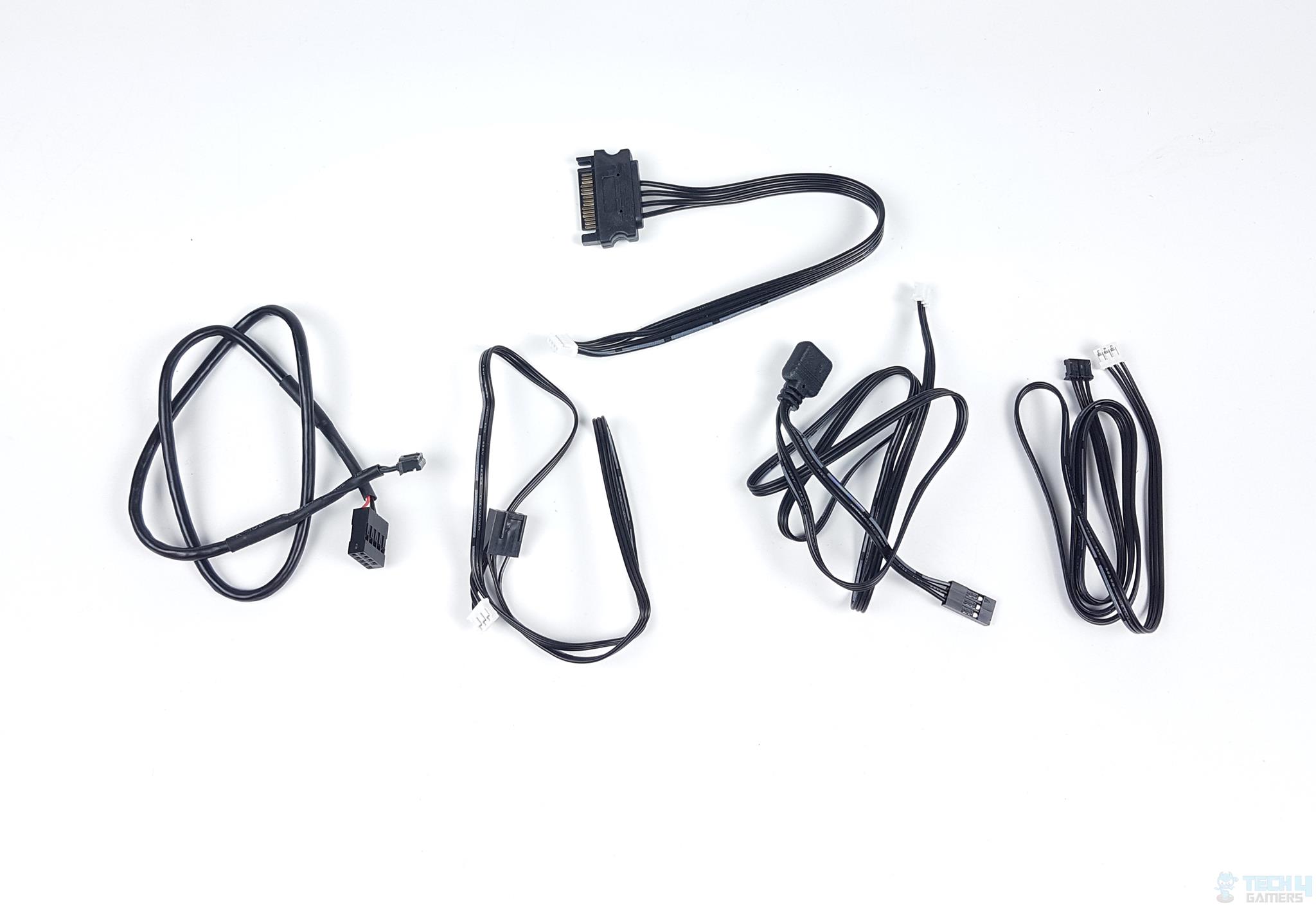 The above picture shows the bundled cables for this control box. These are:
USB Cable
4-pin PWM Connector Cable
SATA Cable
D-RGB Cable
LED Cable for daisy-chaining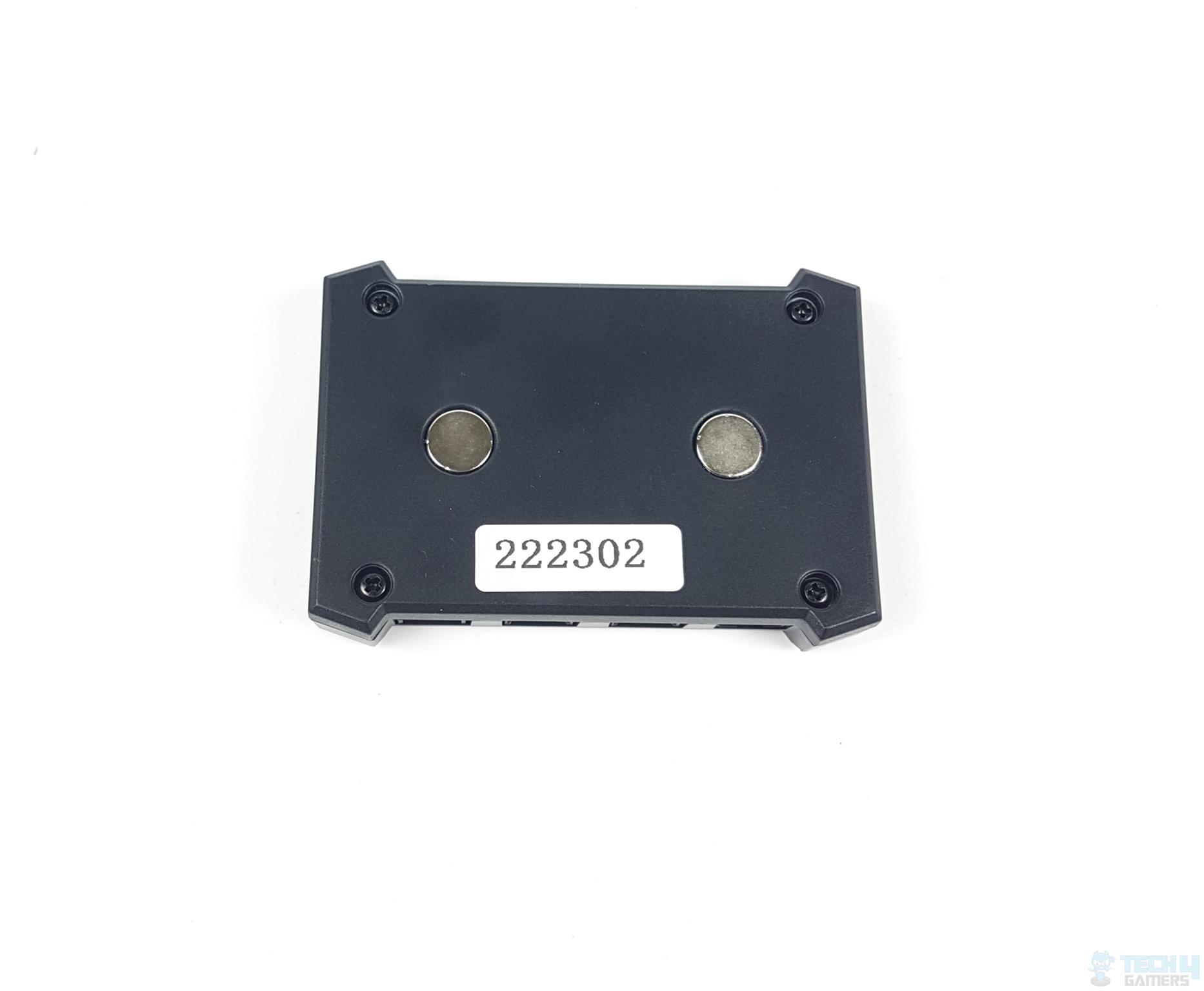 There are two magnets on the backside of this control box. One can easily attach this control box to the metallic portion of the PC Case. However, we have noted that connecting so many cables could actually pull this box down easily.
CHIONE CAST
CAST is the name of the software that GAMDIAS has provided on their website. It can be downloaded from their website. We will give a quick tour of this software.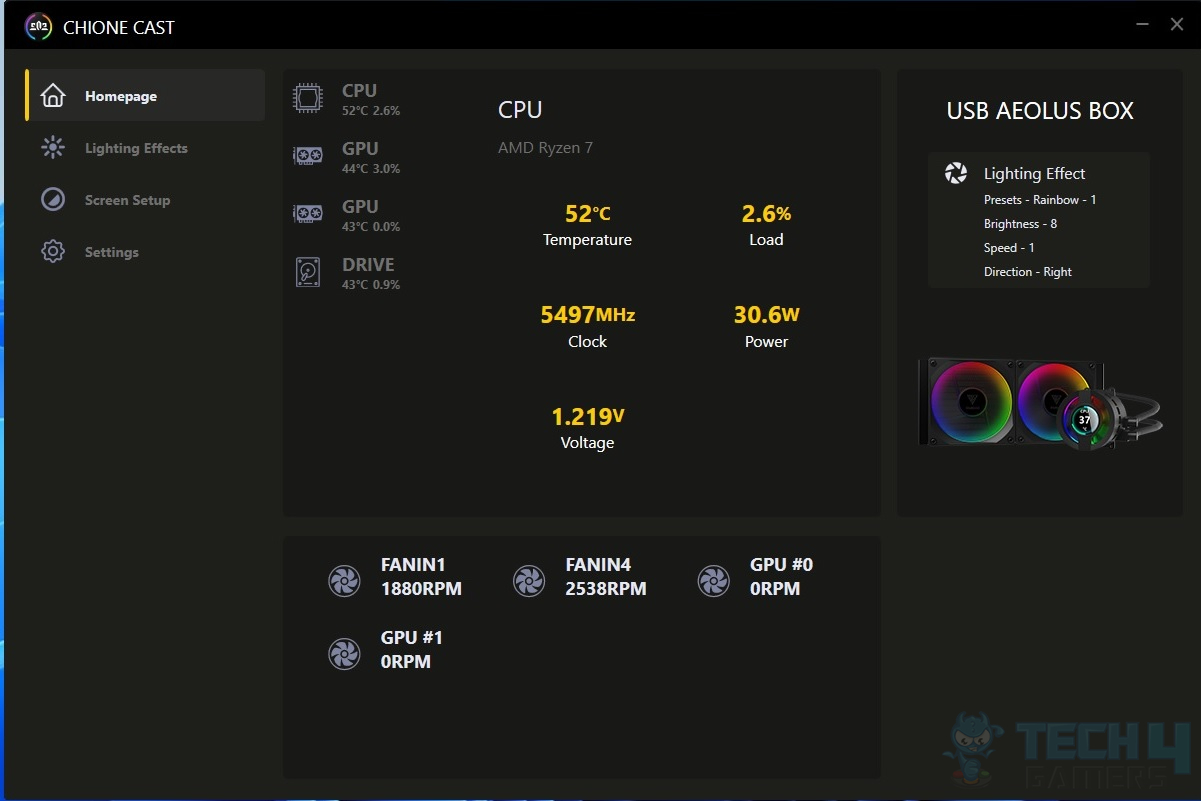 We are landed on Homepage. Here GAMDIAS is showing quick stats of CPU, GPU, and drive. I am not sure what is meant by FANIN4, but it could be a pump's RPM measure. Also, this information of brightness – 8, rainbow – 1, and speed – 1 does not provide any aid to the users. GAMDIAS better change this style.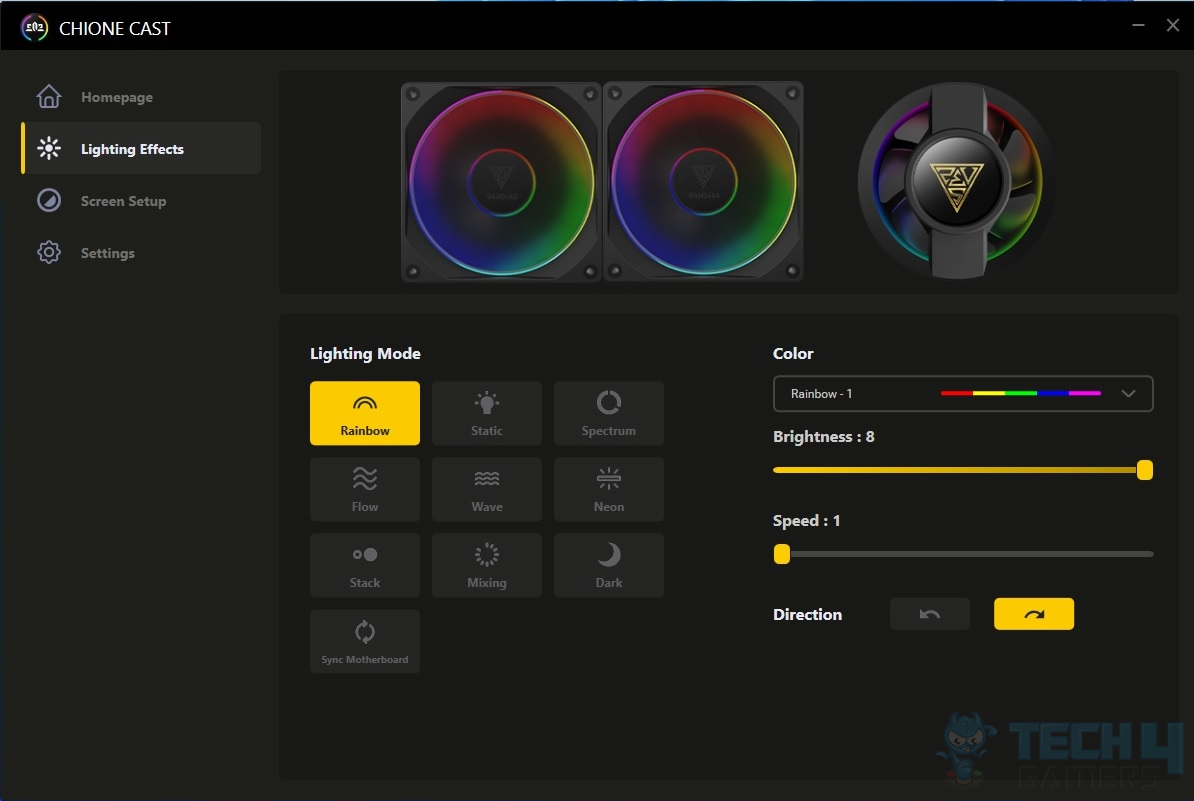 The next portion of this software is Lighting. We can see some pre-defined modes listed here. The default is Rainbow. Now, you can get a hint of what is meant by Rainbow – 1. There are many pre-defined rainbow styles. Each has a number assigned to it. This could be helpful to their internal design team but not to the user. Brightness is 8; meaning fans are fully bright. A speed of 1 means slow speed.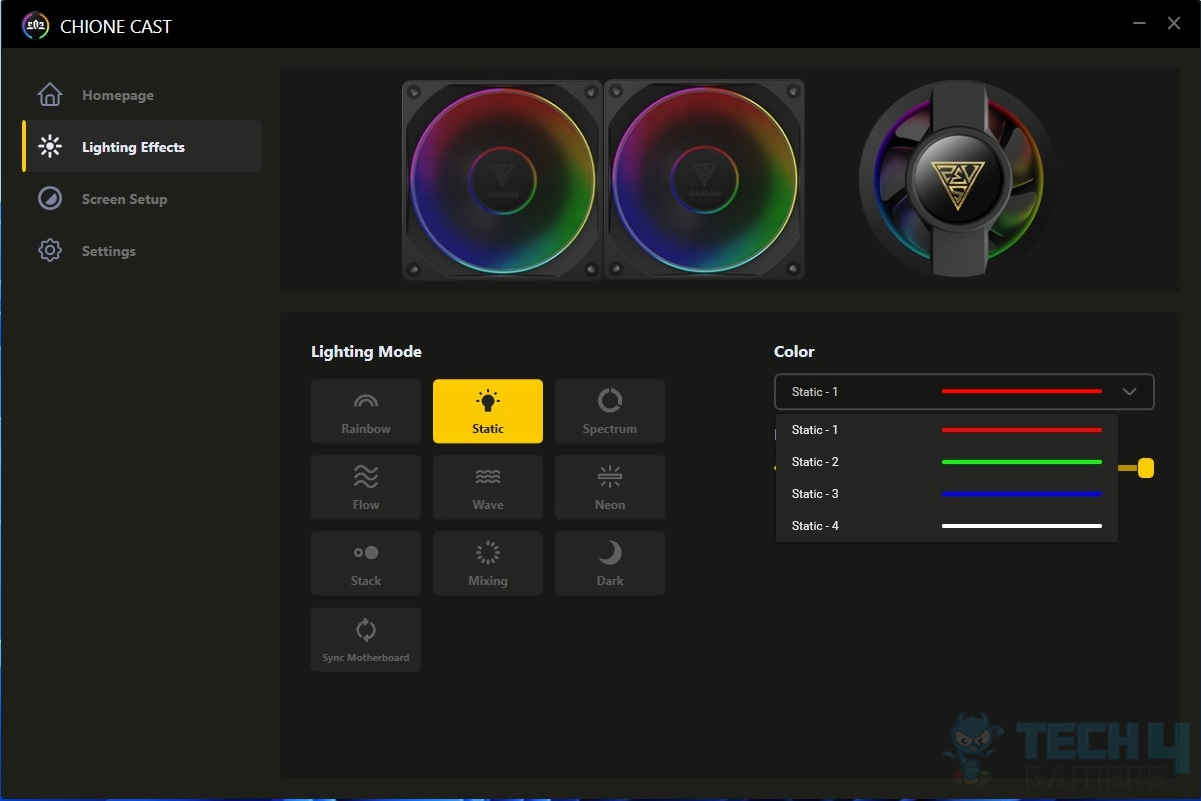 Under static, we have only 4 options. Seriously, they should provide a full spectrum here, allowing the user to select any color of choice.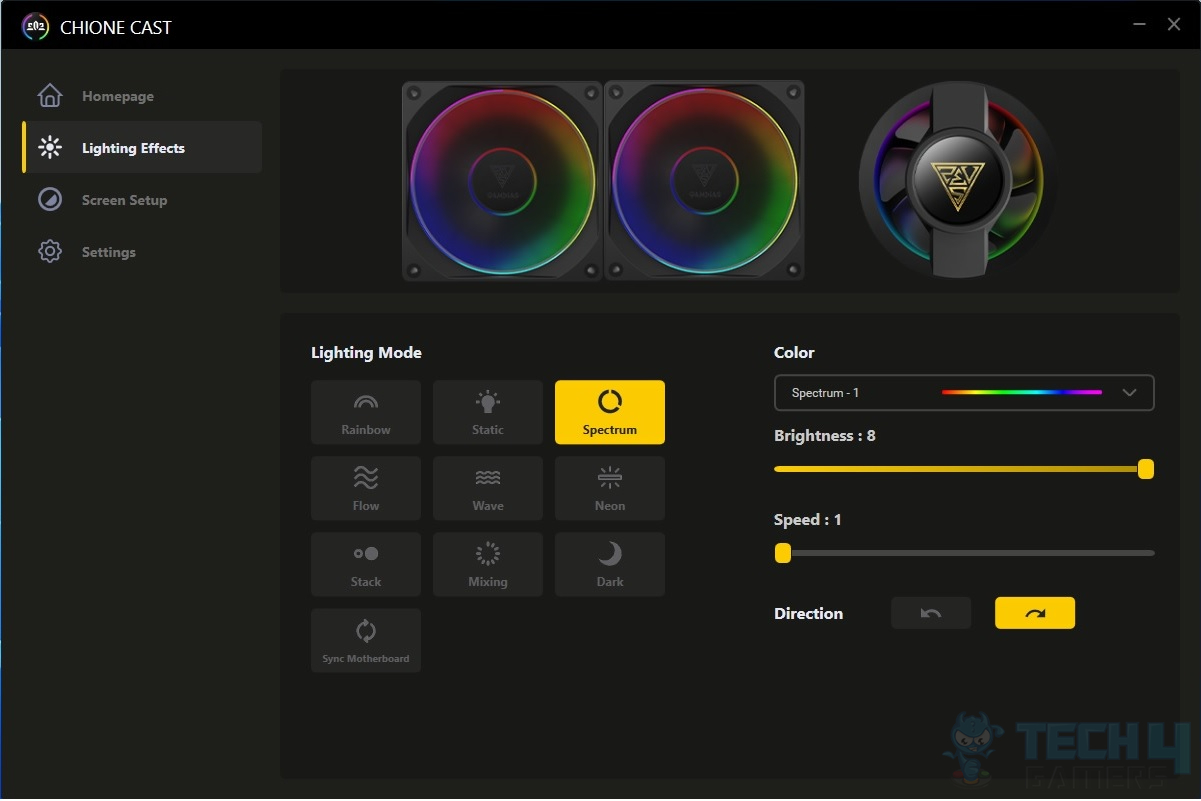 Spectrum mode is no different than others.
There is a Sync motherboard option as well. Selecting it will transfer the control to the motherboard's RGB header, and then the user can use that motherboard's native app to control the lighting. To make this happen, you need to connect the RGB cable from the AEOLUS control box to the motherboard.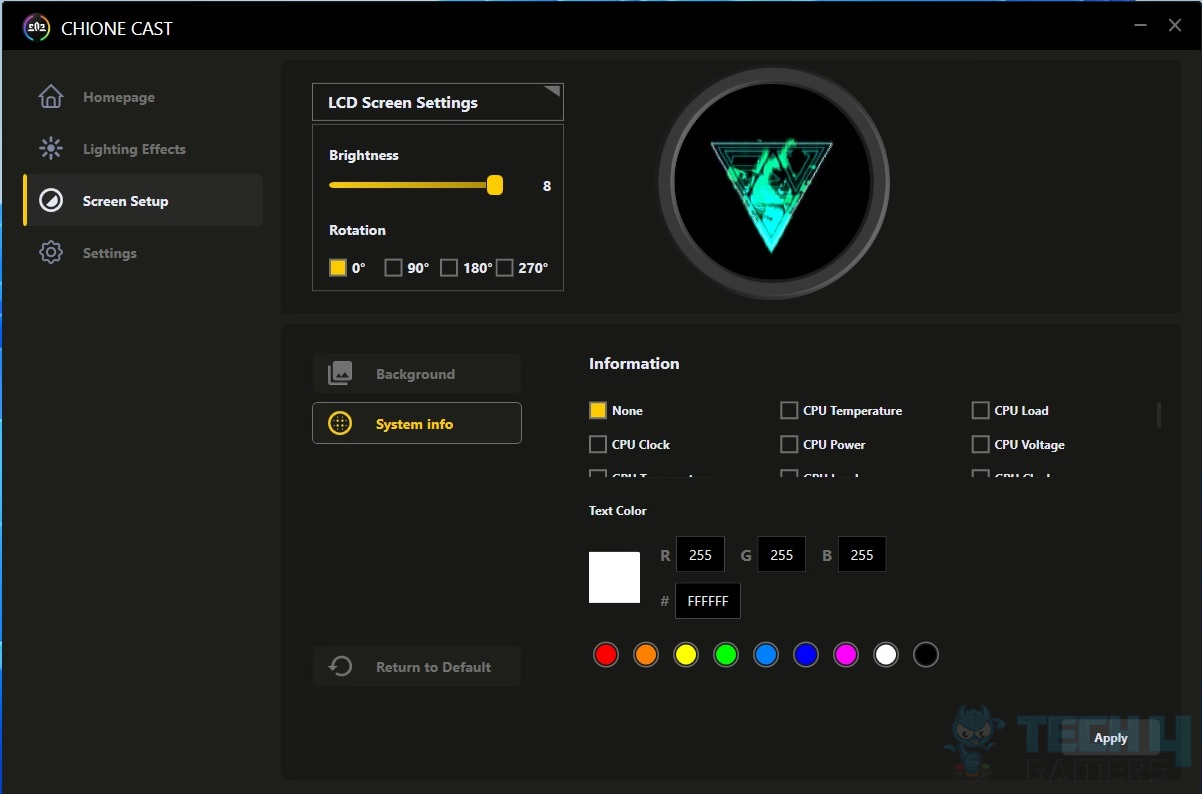 Next, we are on the Screen Setup page. We can rotate the display in four directions which they have listed in angles; 0°, 90°, 180°, and 270°. This means we can install this cooler in any direction and have the screen display changed accordingly. Under System Info, you can select which sensor you would want to report on the screen. You can only display one value at a time. There is no provision to show multiple values, as we saw on the GIGABYTE cooler. We can change the text color on the screen as well. I would leave it white for a better readout.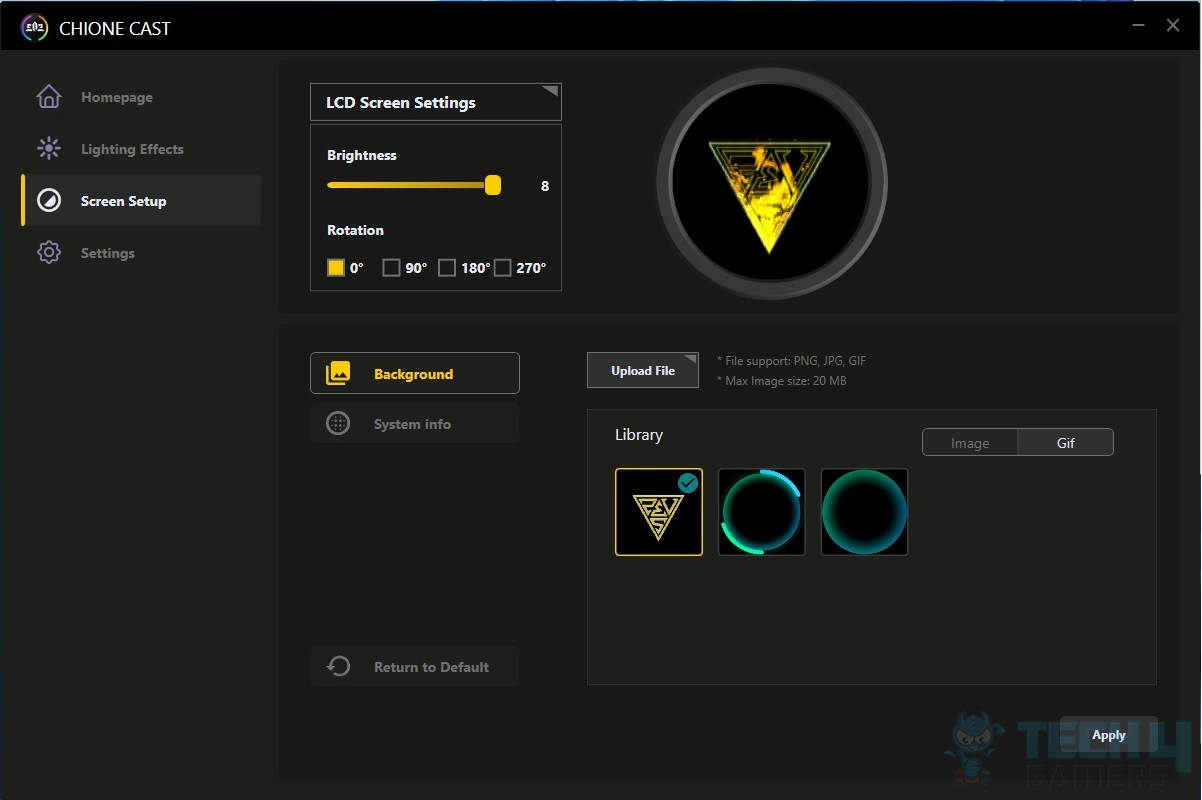 In the background, we can change the image on the screen display. The default triangle can be changed to the static ring or rotating ring display. The user can also display GIFs as well as their own pictures like GAMDIAS has shown cat pictures. This screen supports JPG, PNG, and GIF only. The maximum file size is 20MB and there is no information about the pixel size or display resolution.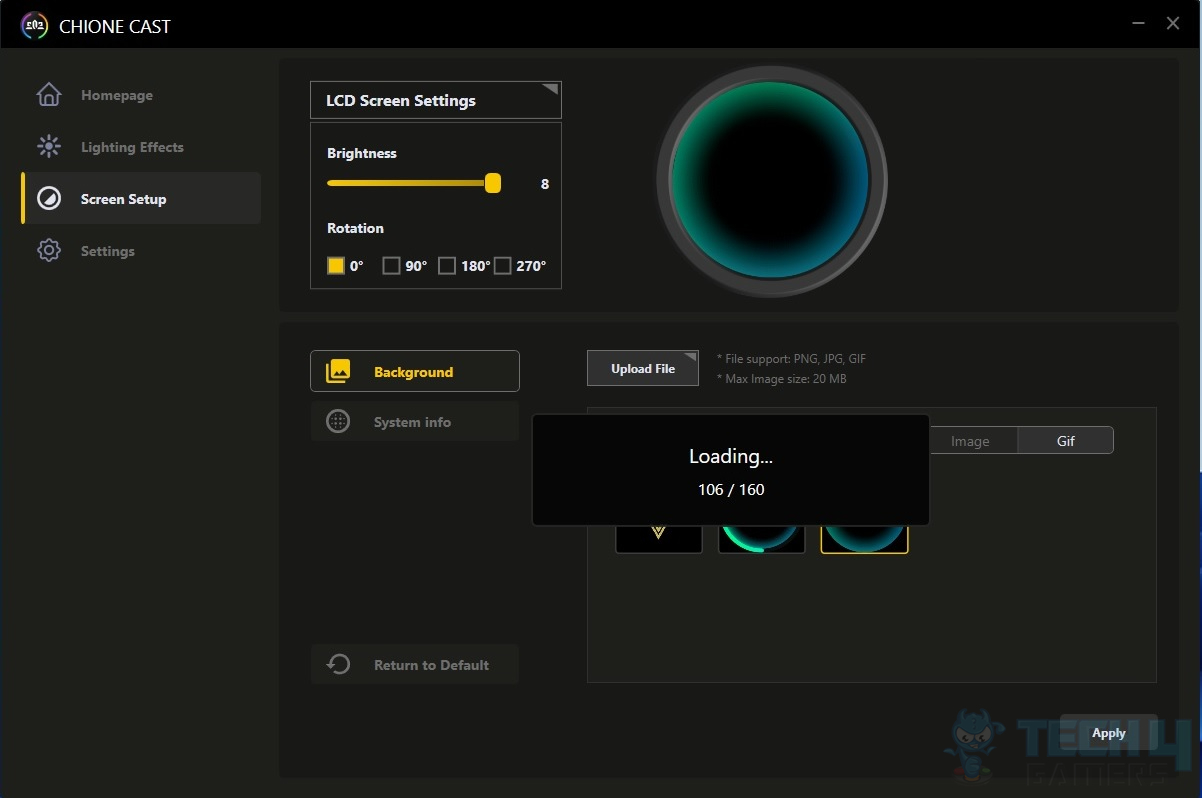 Another observation we made is this strange loading mechanism. Whenever we use Apply button, this label comes up showing the progress. It is not in 100 as is the standard rather 160. This should not even be there, as applying a change should be instantaneous.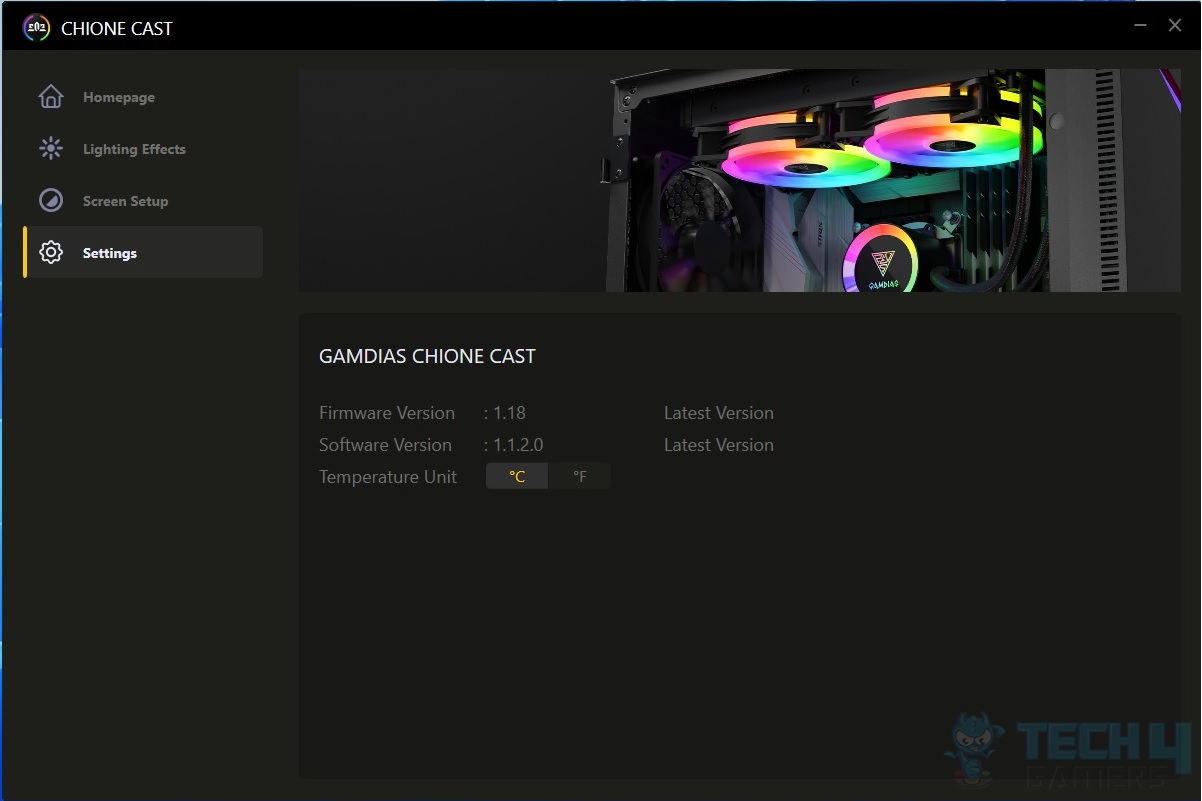 The settings menu does not have any control except changing the temperature value from °C to °F and vice versa. The firmware is updated. Not sure how to update the firmware since there is no such option.
D-RGB Lighting
Here are a few pictures:
Thermal Testing
We have used the following configuration for testing:
The test table is as under:
| | |
| --- | --- |
| Clocks | Auto, Stock |
| Voltage | Auto, Stock |
| PBO | Advanced |
| Thermal Limit | 85°C |
| PPT | 85000 |
| Efficiency Curve | -30mV |
| XMP | XMP Loaded where available |
| Thermal Paste | Alphacool Subzero Thermal Paste |
| Thermal Paste Application | 5 dots |
| Headers | System Fan Header |
| Stress Software | CINEBENCH R23.2 |
| Stress Run Time | 30 minutes |
| PC Idle Time | 5 minutes |
| Monitoring Software | HWInfo64 |
We have seen AMD AM5 and Intel Alder Lake S CPUs taking more power, and this time, both sides have aimed at reaching the maximum clocks regardless of the thermal limit. In fact, the AM5 SKUs will run into thermal limits right away depending on the cooling solution and the clocks being used. This has made testing of CPU coolers challenging because viewers/readers are not used to a new nomenclature which is what clocks are sustained under a given load using a particular cooler. That is if the cooler is capable of providing enough cooling heads to sustain the high frequencies at high package power. Among other reasons is the high thermal density of these new CPUs. Traditionally we are used to going the other way around, that is, which cooler is better in terms of thermal capacity. Despite this, we are using temperatures as a base for measuring this unit.
The ambient temperature was in the range of 33°C. We are reporting absolute temperatures in the graph. The testing is done on an open-air bench system. Once inside the chassis, the temperatures are expected to rise and would largely depend upon the optimal airflow inside the chassis.
Disclaimer: Every silicon is different; hence no two same SKUs are likely to take the same voltage to yield the same performance at the same thermals per se, but the margin would be close. Not every stress test run may yield the same result, which could be due to various reasons like thermal paste application, ambient temperature variation, the mounting pressure of the cooler, etc. This is very why we have listed our variables and their settings. Let's take a look at the results.
Result
This testing was done with Eco mode enabled. Otherwise, there is no way to measure the performance of any cooler on this platform unless the ambient is 20ish or the CPU is delid. Another mechanism is to measure the performance by recording the CINEBENCH score after a stress run at which the CPU will operate at 95°C. Anyhow, this cooler has a decent performance in Eco mode.
Noise
The fans are noisy at full speed, and we recorded approximately 53 to 54 dB(A) at an ambient of 32 dB(A).
Conclusion
During Computex 2023, held in Taipei, Taiwan, many brands showcased their upcoming new coolers. GAMDIAS also had a unit at their display. This unit is named CHIONE P3-360U. The CHIONE P3 will be available in 360mm and 240mm sizes. We have got our hands on one unit, and we have tested it. This is a 360mm size cooler that is rated for 290W ± 10% TDP. This cooler is compatible with Intel LGA2066 / 2011-v3 / 2011 / 1700 / 1200 / 1151 / 1150 / 1155 / 1156 / 1366 sockets. On the AMD side, it is compatible with AM5 / AM4 / AM3+ / AM3 / AM2+ / AM2 / FM2+ / FM2 / FM1 / TR4 sockets. GAMDIAS has provided complete mounting hardware for all supported sockets, including TR4.
The radiator of this unit has a dimension of 397x119x27mm. When we measured the thickness of the unit, it was 119.97mm on the digital caliper. Seems like tolerances are there but not mentioned. The radiator is a standard design, and it has a fin density of 18 FPI. The count of coolant channels is 12, and the complete assembly is made of aluminum. GAMDIAS has sued heat shrinks on the tube and fitting connections. This seems a cheap option, given the high price point of this cooler. They are using Teflon tubes with nylon braided mesh sleeves. These tubes run to 400mm in length.
The pump housing is where all the focus is at. This housing, as per our measurement, has a diameter of 69mm and a height of 69mm as well. It is made of plastic material. On top, GAMDIAS has installed an IPS LCD Screen. We don't know the resolution of this screen, but it has a small size compared to other display-enabled AIOs in the market. The top lid does not cover the housing completely, as it leaves a maximum area exposed for air intake for the embedded fan. This fan would throw air on VRM or CPU near socket areas for effective cooling. There are vents on the sides where the air comes out. These vents are not sloped down so we are not sure if the air would actually reach the VRM areas for cooling.
There is also a hidden diffuser embedded inside the housing right below the screen, having digital RGB LEDs. These light up the area under the screen, and actually, it is done so that the fan is not visible when powered. The area below the fan plate has a pump and cold plate. The overall look and feel of this housing give this unit away, as we never got a premium feel. There is nothing fancy about the layout and design either. At this price point, GAMDIAS should be focusing on providing some good-looking housing, even for aesthetic purposes. This pump has a DC-based control, not a PWM control. This pump is apparently rated for 2800 RPM though we found it running at 2500 ± mark. This unit has a copper base measuring 51x54mm.
GAMDIAS has provided three AEOLUS M3 fans. The frame of these fans is square, and it is a close design. The fans have a chamfered design. The frame on mounting corners has a slope-down (inward) design. The blades are in an altered manner. The A-RGB LEDs are placed in the frame and covered by a diffuser which is not easy to see. This is called low-profile concentric lighting. These fans are powered by a proprietary 8-pin connector which may fit in the GAMDIAS ecosystem, but I would prefer standard connectors. These fans are rated for a maximum speed of 2000 RPM generating an airflow of 69.01 CFM with a static pressure of 2.37 mmH2O, operating at 31 dB(A) sound output. These fans are using Hydraulic Bearings.
So, if the fans have 8-pin connectors, how would you use these? GAMDIAS has provided USB AEOLUS Control Box as well. These fans are required to be connected to this box. There is an 8-pin proprietary connector coming from the pump housing that needs to be connected to this box as well. In addition, we need the following cables connection:
SATA Power Cable
PWM Cable for Fan Speed Control
D-RGB Cable for Motherboard Sync
USB Cable to be connected to a 9-pin USB 2.0 port on the motherboard
Optionally, another D-RGB cable to daisy-chain this control box with another box (Non-USB).
As you can see, we are dealing with a lot of cables for this cooler which would make cable management quite a challenge. The USB 2.0 cable should have more length to it. In my opinion, we are totally depending on one control box for a complete operation of this cooler and personally, I would avoid such designs, particularly when we don't even know the customer support of the brand. Should this control box develop an error, the complete unit would be useless unless the control box is repaired or replaced.
The installation of the pump housing is not trivial. We have tested the unit on the AMD AM5 platform and it requires 14 items for this installation. We have faced an issue during fans installation as the last fan, regardless of the end, was not fitting. We ended up installing the outermost fans first, then inserted the middle fan with some force to make it install. A user can display images in PNG, JPG, and GIF formats having less than 20MB in size. The IPS Screen can display system metrics live, but I am not sure how accurate the sensor reporting is, even though we saw margins on ASUS and GIGABYTE coolers. Only one sensor can be displayed at a time which, in my opinion, should be multiple reporting as per the user's selection. The screen display can be rotated in four angles. This makes it easy to install the cooler in any orientation. We can't turn the embedded fan off or control its speed. One observation we made is that even if the system is not powered but PSU has a live connection from the wall, the embedded fan would start spinning, and D-RGB lighting would light up as well. This probably has to do with power settings in UEFI/BIOS, but it should not have been there in the first instance, or the user guide should clearly mention it.
GAMDIAS has provided CHIONE CAST software to customize the IPS screen. This software seems to be in a trial state or something, as it is basic and has many rudimentary areas. Like when we use Apply button, it will show you a status where a count from 1 to 160 will run to apply that change. Any change should be instantaneous, and there should not be any such status bar activity. The numbering on lighting modes, speed dial, and brightness would mean nothing to the user, but it would be a good start for the developer. Please hide this. The software needs some serious overhaul and a redo, in my opinion.
This cooler is not yet released, but its expected price tag is USD 239.9 for a 360mm version. This is a steep price for sure. GAMDIAS will be giving a 2-year warranty on this cooler. This is not looking good, to be honest. We have tested this cooler on the AMD AM5 platform using Ryzen 7700X working in Eco mode, where we limited the thermals to 85°C and PPT of 85W. Under load, this unit was doing 71°C at an ambient of 33°C. The fans are loud, and we would suggest using a custom fan curve for that end.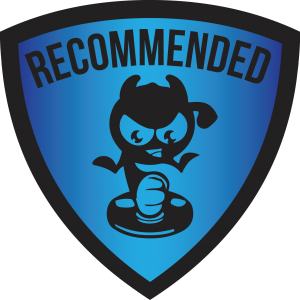 Learn more about Tech4Gamers Awards
Was our article helpful? 👨‍💻
Thank you! Please share your positive feedback. 🔋
How could we improve this post? Please Help us. 😔