The Xbox Error Code 0x80830003 signifies that your console is experiencing low storage space. When users attempt to save their game progress, they are confronted with a screen displaying the following message:
Key Takeaways
This error code indicates that your Xbox is facing a shortage of available storage space.
The problem originates from difficulties synchronizing cloud saves, insufficient storage capacity, and corrupted saved data files.
Effective solutions include removing stored local game data, performing a power cycle on your Xbox, executing a soft reset, or considering a factory reset.
Also Read: How To Clean Xbox & Controller
What Causes Xbox Error Code 0x80830003?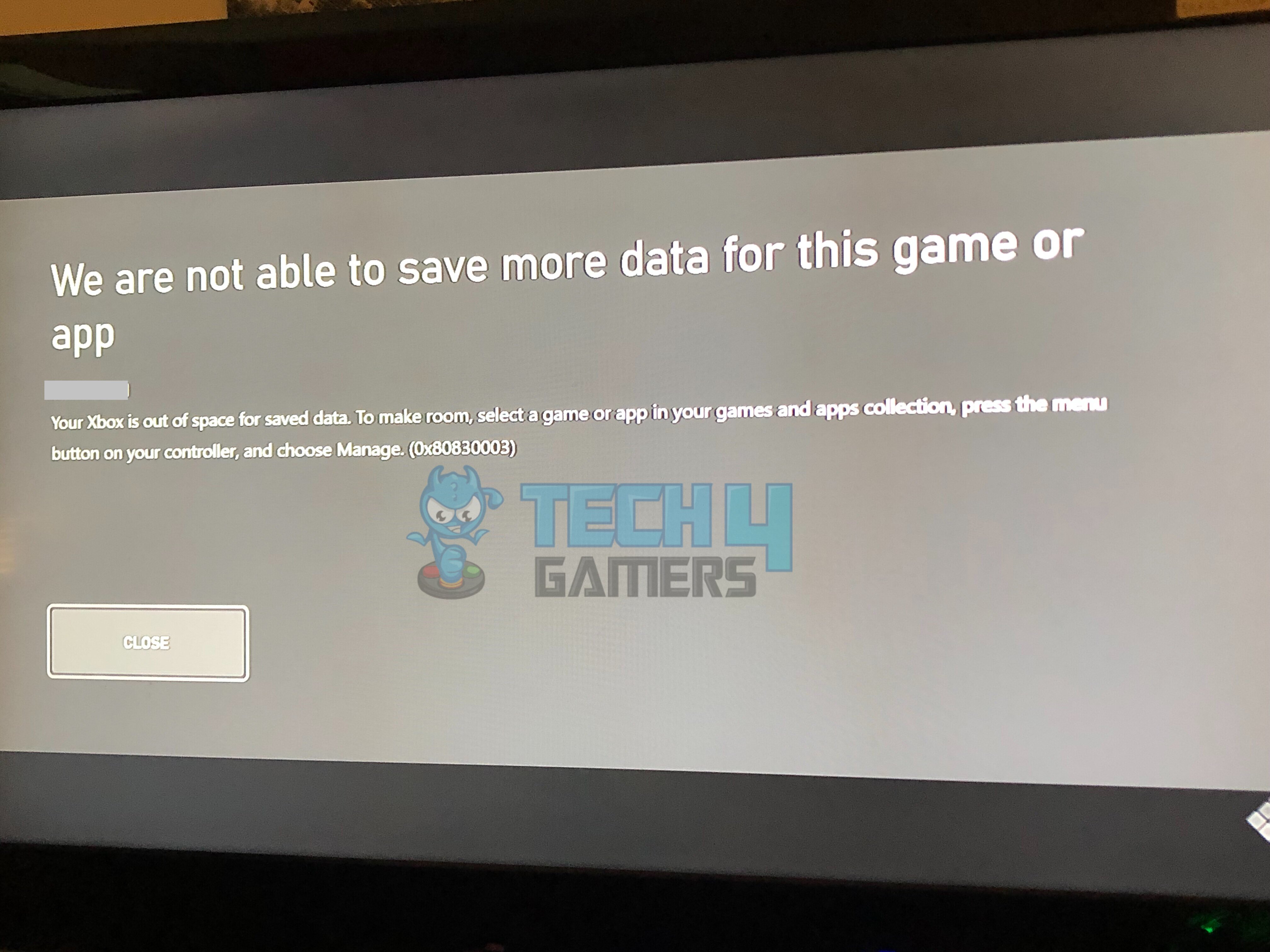 The crux of the issue emerges due to the following:
Cloud-Based Backup Complexities.
Lack Of Sufficient Available Storage Space.
Corrupted Saved Data Files (Either Local or Cloud)
Those who get the error will see the following error message:
Error Message: We are not able to save more data for this game or app. Your Xbox is out of space for saved data. To make room, select a game or app in your games and apps collection, press the menu button on your controller, and choose Manage.
How Can I Fix Xbox Error Code 0x80830003?
Before attempting any alternative solutions, it is recommended first to try to reset your internet router.
Restart Your Console
First, I recommend initiating a restart of your Xbox console. This can often address any transient issues that might be causing the problem.
Here is how to restart it:
Press and hold the Xbox button.
Once the options menu appears, opt for "Restart Console."

Restart Console (Image By Tech4Gamers)

Confirm your choice by selecting "Restart," and patiently wait for the console to complete the reboot process.
After the restart, check to see if you can save your game data on the console successfully.
Power Cycle Your Console
Here is how to power cycle it:
Hold the Xbox button on the console for about 10 seconds to turn it off.
Unplug the power cord from the back of the console.

Unplug the Power Cable of Your Xbox Console – Image Credits: Xbox Support

Wait for 60 seconds.
Plug the power cord back into the console.
Press the Xbox button on the console or controller to turn the console on.
Remove Saved Local Games Data
Here is how to remove saved local games data:
Press the Xbox button on your controller to access the guide.
Navigate to Profile & System> Settings > System > Storage.
Choose the option "Clear local saved games."

Clear Local Saved Games (Image By Tech4Gamers)

Afterward, attempt to launch your game using the newly cleared savegame cache.
Note: Make sure that the game is saved and properly synchronized with the cloud.
Check Out: How To Clear Cache On Xbox?
Soft Reset Your Console
Here's how to do it:
Press the Xbox button to open the guide.
Select System > Settings > System > Console info.
Select Reset console.

Reset Console (Image By Tech4Gamers)

On the "Reset your console? screen", select "Reset and keep my games & apps."

Reset And Keep My Games And Apps (Image By Tech4Gamers)
Remember: If a corrupt game file is causing the 0x80830003. As a last resort, you may have to choose "Reset And Remove Everything."
Perform A Factory Reset
If the soft reset didn't yield the desired results, there's a strong possibility of an issue with the game copy itself. To address this, you might consider initiating a factory reset on your Xbox, essentially starting anew.
Get In Touch With Xbox Support
Furthermore, you can visit the official Xbox Support website and solicit their assistance regarding this issue. Be sure to communicate the solutions you've already attempted.
Frequently Asked Questions
What Is Xbox Error Code 0X80830003?
The error code indicates that your console is encountering a shortage of available storage space.
How Should I Remove This Error?
To resolve the error, perform a power cycle on your Xbox, create more available storage, clear the system cache, or perform a soft reset on your console.
Does Clearing Cache Delete My Data?
No, performing a cache clear will not affect the data stored on the hard disk.
---
Similar Articles:
Was our article helpful? 👨‍💻
Thank you! Please share your positive feedback. 🔋
How could we improve this post? Please Help us. 😔