After installing Windows 11, some users may experience the "KMODE_EXCEPTION_NOT_HANDLED" Blue Screen of Death error. In a nutshell, it occurs when one system component overwrites the memory of another. Some common reasons are using third-party antivirus, outdated BIOS, system file corruption, conflicting graphics card drivers, and damaged physical RAM.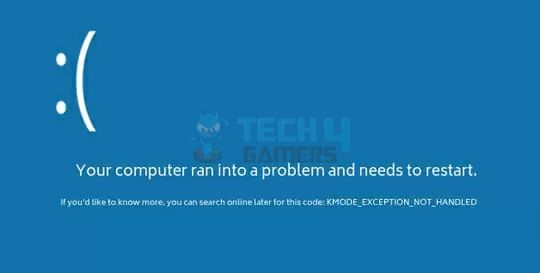 You will see this message on your screen:
Error Message: Your computer ran into a problem and needs to restart. If you'd like to know more, you can search later for this code: KMODE_EXCEPTION_NOT_HANDLED.
Key Takeaways
The KMODE exception not handled error appears right after installing Windows 11 or updating Windows.
Corrupt system files, conflict between apps or drivers, damaged RAM, or outdated BIOS are some causes of the error.
You can fix the error by updating drivers, restoring the system, resetting the PC, or replacing the motherboard/CPU.
Important: Note any file name appearing in brackets after the kmode_exception_not_handled error message on the error screen before continuing. If it does, finding the problematic driver will be much easier.
Update Your Graphics Drivers
As per my experience, it is crucial that you update your PC's drivers promptly and timely. The KMODE exception error will go into a reappearing loop, popping as Windows restarts. A driver issue usually causes this Blue Screen of Death error, most certainly the display driver. So, I performed a graphics card driver update and eliminated the trouble.
Delete The EspoDRIVER.sys Driver And Esportal App
There is a high chance that it is due to a system file (EspoDRIVER.sys) belonging to the e-sports platform Esportal. Deleting the above-mentioned system file and parent app is a viable fix and resolved the BSOD error for me. Furthermore, use an account with admin privileges to delete the driver from the drivers' directory.
Here are the exact instructions:
Launch Run with Windows + R > Type appwiz.cpl > OK.
Wait for User Account Control > Hit Yes to gain admin privileges.
Find Esportal in Programs and Features > Right-click Esportal > Uninstall
As the Esportal app isn't active, you can safely delete the EspoDRIVER.sys driver. For this, navigate the path below and right-click on the file to go for the delete option.
Note: Uninstall the parent app Esportal first, and then delete the driver, and if you work in the other sequence, the error may not resolve as the driver will keep working otherwise.
The method seems to be working for users on Reddit as well, so you can give it a try to see if it eliminates the issue at your end.
Perform A System Restore
While working on the issue, I found that system restores can also eliminate the error. By restoring the system, I took it back to a favorable point before the error's arrival and then used it from that point onwards without encountering the error.
WARNING: On opting for a restore point of a previous point in time, all the installed apps and software after that point will be uninstalled from your PC.
Here's how to restore it:
Access Run box > Execute rstrui.exe.
Select Next > Choose a point before the error occurred and restore the system > Finish > Restart PC.

Show More Restore Points (Image By Tech4Gamers)
Tip: If the BSOD error's culprit is the buggy or improperly installed previous update, then the system restoration method will fix the issue.
Reset Your PC
Resetting a Windows PC can become the problem solver when faced with technical system glitches, malware infections, and, most importantly, Windows BSOD errors. You can restore the system to its default condition through a system reset, which will eventually fix several problems. However, use it as a last resort.
Replace The Faulty Motherboard/CPU
The KMODE Blue Screen of Death error may arise in case of an issue with the motherboard or the CPU.
Therefore, I took my motherboard and CPU to a technician to get it checked for hardware faults, and when present, I had to replace these components to get out of the trouble. Learn about what you need to look for when buying a motherboard and how long a motherboard lasts.
It is a technical error I experienced while updating my Windows 11. The installation failed midway, leading to this error. Using my experience in tech, I could solve the error in the above ways, though I had to be careful not to mess with any crucial settings on my PC.
Common Questions Answered
What is the Kmode_exception_not_handled BSOD error?
The error appears when the error handler does not handle an exception sent by kernel mode. The error usually triggers right after you install or update to Windows 11.
What Are The Causes Behind This Exception Error?
The common causes of this BSOD error are corrupted system files, antivirus software, outdated BIOS, or damaged RAM.
How Do I Fix The KMODE BSOD Error?
You can perform a system restore, reset your PC, update the driver, or delete the EspoDRIVER.sys driver.
---
Related Articles
Was our article helpful? 👨‍💻
Thank you! Please share your positive feedback. 🔋
How could we improve this post? Please Help us. 😔
[How To's & Guides Editor]
Haddi has been in the Gaming and tech Space for over 10 Years Now; he has worked on notable websites like eXputer, Gamepur, Gear Siege, Gearnuke, and plenty more. He is an expert at Games & PC Hardware; you can expect him to solve any problem. People often joke, that if there is any problem anyone can solve, Haddi can solve it faster. Currently, Haddi writes and manages a Team of Experts at Tech4Gamers.
Contact: [email protected]