The "User profile cannot be loaded Windows 11" is a frustrating issue that holds you up at the login screen of your PC. Fortunately, there are some techniques that can let you log in to your computer and solve this issue.
Key Takeaways
The user profile login issue can occur for several reasons, including file corruption, user profile service failure, and anti-virus software.
As your computer is accessible, you must boot it into safe mode to log in.
You can try several solutions in safe mode, like running the SFC scan, rebooting the user profile service, or making a new user account.
Why Your User Profile Cannot Be Loaded In Windows 11?
NTUSER.dat File Issue: One of those reasons is the corrupted NTUSER.dat file. This file stores all the user profile data, like the custom appearance settings a user has made for their profile. Upon corruption, the user profile can become inaccessible. The NTUSER.dat file will likely get corrupted during or after a Windows update or the system restore procedure.
User Profile Service Issue: The User Profile Service handles all the processes related to a user profile in Windows. So, if this service doesn't perform properly, your user profile will be out of reach until the service is fully functional again.
Anti-Virus Interruption: Another reason can be the anti-virus software installed on your computer. Anti-viruses are built to protect your computer from internal harm caused by malicious programs. However, they are also known for sometimes causing interferences in the Windows' functions. Therefore, the anti-virus on your computer may be why you can't log in.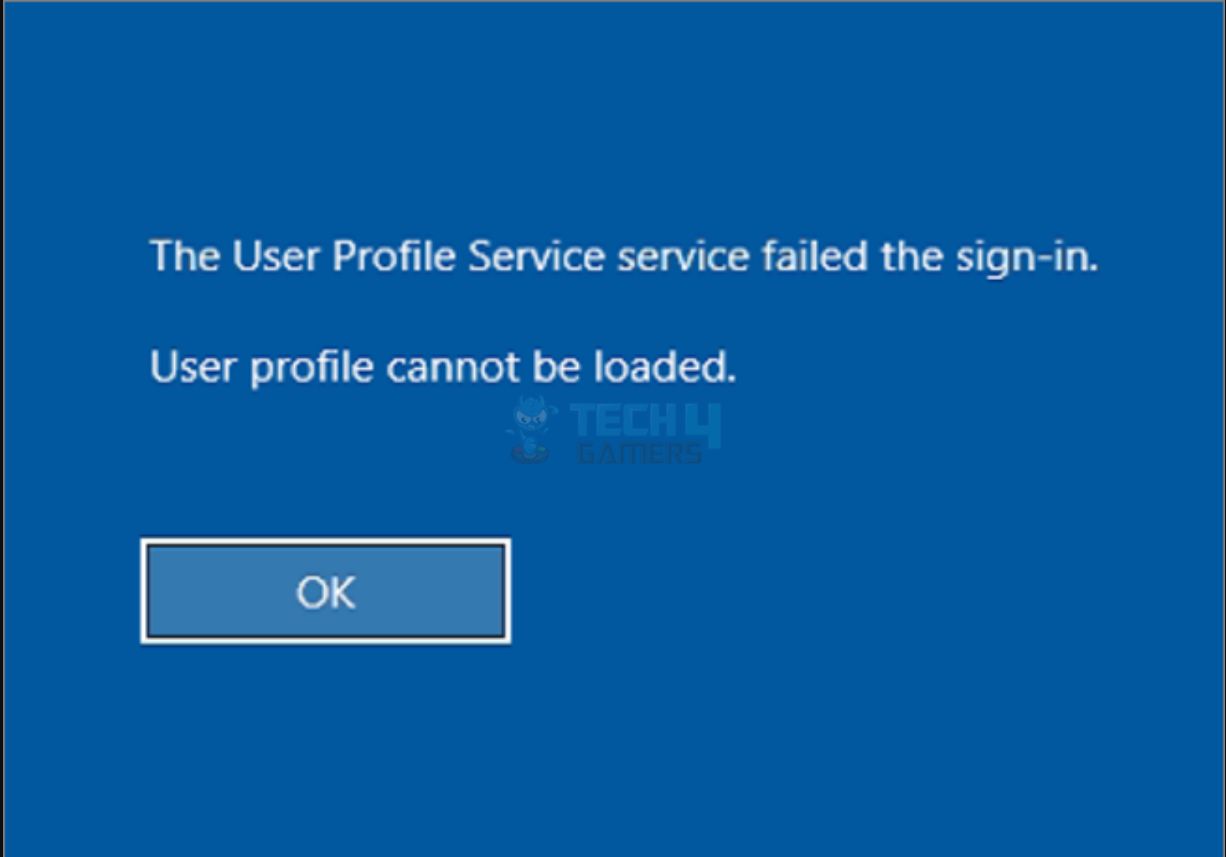 This is the error code you will see on your screen when you are unable to load a user profile:
Error Message: The user profile service failed the sign-in. The user profile cannot be loaded.
How To Counter This Error?
Since logging into the computer is impossible during this problem, we found another way to access Windows: by utilizing the safe mode.
The safe mode is a feature that lets the computer only run the programs necessary to boot up the system, allowing you to log back into your PC temporarily. Once you get access to the computer, there are several solutions we have come up with that you can apply to fix this issue.
Here's how to boot into safe mode:
While on the login screen on your computer, click the power menu. Hold on to the Shift key and then click "Restart."
This will take you to a page with three options: choose "Troubleshoot."
Next, under "Advanced options," go to "Startup Settings" and restart the PC.
Select the "Enable Safe Mode" option from the Startup Settings page and click restart.

Startup Settings (Image By Tech4Gamers)

Your PC will then boot in safe mode.
When the Windows has restarted, you can access your computer. Once you are on the desktop screen, the actual troubleshooting process begins.
Following are the methods we will go through:
Run the SFC scan.
Reboot the user profile service.
Make a new user account.
Load a system restore point.
Copy the NTUSER.dat file to the default user account folder.
Run The SFC Scan
The SFC scan is a tool that searches for any faulty files in Windows and repairs them. As we don't precisely know which file is causing the log in issue, it is better to let the SFC scan do the work.
Upon initializing, the SFC scan runs on Windows, for which you must spare a few minutes. Once the scan is complete, it informs the users if any files were corrupted or if the system was free from such files.
Follow these steps to run the SFC scan in Windows 11:
Press the Windows and the R keys simultaneously while on the desktop screen.
It will bring up the RUN command. Type "cmd" and press Enter.

RUN Command (Image By Tech4Gamers)

The Command Prompt Window will show up. The command is "SFC /scannow" to launch the SFC scan.

SFC Scan (Image By Tech4Gamers)
A YouTuber, Electronics&Computers, also had the SFC scan solution, which helped many people get rid of the user profile issue.
Make A New User Account
As the previous profile can't be accessed anymore, you can always create a new one and log into your PC through it. Also, even if your user profile is locked and inaccessible, you can still copy its data to the newly created user profile. This can be done by entering some commands in the command prompt.
Tip: Before proceeding with this method, keep in mind that if the locked user profile has some private settings, its data is not accessible from another user profile; this method can only aid you in logging in to your computer and cannot assist in data recovery.
But if you didn't apply any privacy on the previous profile or don't care about the data saved in that profile, follow the steps below to create a new user profile in Windows 11:
RUN the command prompt as explained above, or go to the Windows search option, type "Command prompt," and click it.
Type "net user /add username password" in the command prompt. Remember that you must provide the username and password you want to set for your new account, hence replacing "username" and "password" when entering the command.

Command Prompt (Image By Tech4Gamers)

After entering the previous command, enter another command, which is as follows: "localgroup administrators username /add." Again, when typing "username," write the username you entered in the previous command instead.
Your new profile will be created, and you can now use your computer like before.
The method is also suggested by YouTuber Victor Explains and it worked flawlessly for us as well.
Load A System Restore Point
A system restore point is a previously saved state of Windows. The system restore feature allows the user to take the Windows back in time to return to the settings and configurations set for the Windows in that state. This way, you can eliminate minor glitches or errors, such as the "User profile cannot be updated Windows 11" error.
Tip: If your PC doesn't have a previously saved restore point, you will not be able to roll back the Windows.
Follow the steps below to load a system restore point in Windows 11:
Go to the power menu from the Windows button, and click "Restart" while holding onto the Shift key.
When the PC boots up, you will see some options on the screen, select "Troubleshoot" and then go to "Advanced options."
Afterward, go to the "System Restore" option, which will bring up a list of available system restore points.
Choose the system restore point you want to return to and click "Next."
On the next screen, click "Finish" to complete the process.

System Restore (Image By Tech4Gamers)

Victor Explains also suggested this method in the same YouTube video as above, and it also worked out for many users.
Copy The NTUSER.dat File To The Default User Account Folder
All of the information related to a user profile is stored in the NTUSER.dat file. In case of corruption, this file can cause a login issue. To ensure there aren't any problems with our NTUSER.dat file, we better replace the old file with a new one, which may let you log into your computer.
These are the steps to replace the NTUSER.dat file in Windows 11:
While on your desktop screen, press the Windows + E keys, which will lead you to Windows File Explorer.
Below the title bar, there will be a "View" option. Click it and choose "Show hidden files."
Next, go to the disk your Windows has been installed on, and then head to the default user account folder.

Default User Account Folder (Image By Tech4Gamers)

There will be a file called "NTUSER.dat". Rename that file to "NTUSER.dat.old".
Then, go to your local user account folder, copy its NTUSER.dat file and paste it into the default user account folder.

Local User Account Folder (Image By Tech4Gamers)

Reboot your PC and see if you can now log into your computer.
Reboot The User Profile Service
As explained above, the User Profile Service performs all the functions related to a user profile. You will get stuck on the login screen if it doesn't function as it should. In that case, restarting this service can be our best shot at fixing it. Once restarted, it may start working usually, hence getting you out of this problem.
These steps will lead you to restart the user profile service:
Go to the desktop screen and press the Windows + R keys to open the RUN command.
Then, type "services.msc".

RUN Command (Image By Tech4Gamers)

This will take you to Windows services. Scroll down and find "User Profile Service".

Restart (Image By Tech4Gamers)

Right-click it and select "Restart".
One additional thing related to the User Profile Service may be worth fixing. That's changing its startup type to "Automatic" from its properties.
Here's how you can do it:
After right-clicking the User Profile Service option, click "Properties" from the menu.
In the properties window, head to the "General" tab and change the startup type to Automatic if it isn't set that way.

User Profile Service Properties (Image By Tech4Gamers)

Click "Apply" and then "OK" to save the settings.
SmartTechTutorials on YouTube also found these last two methods helpful and mentioned them in their video. Judging by the comments on the video, this solution also helped other people.
Frequently Asked Questions
Why I can't log into Windows 11?
You get stuck at the login screen in Windows 11 for several reasons. Among many other reasons, it can be due to User Profile Service failure, corruption of different files, and anti-virus interferences.
How can the "User profile cannot be loaded Windows 11" issue be fixed?
There are multiple solutions to this problem. Some of them are running the SFC scan, restarting the User Profile Service, and deleting anti-virus software.
Can my data in the locked user profile be recovered?
Your data can be recovered with our solutions, but only if the user profile is public under the privacy settings.
Was our article helpful? 👨‍💻
Thank you! Please share your positive feedback. 🔋
How could we improve this post? Please Help us. 😔
[How To's & Guides Editor]
Haddi has been in the Gaming and tech Space for over 10 Years Now; he has worked on notable websites like eXputer, Gamepur, Gear Siege, Gearnuke, and plenty more. He is an expert at Games & PC Hardware; you can expect him to solve any problem. People often joke, that if there is any problem anyone can solve, Haddi can solve it faster. Currently, Haddi writes and manages a Team of Experts at Tech4Gamers.
Contact: [email protected]