You will encounter the Kernel security check failure in Windows 11 when some crucial system files or components do not pass the compatibility or integrity check. It is a Blue Screen of Death error that might cause your system to crash, resulting in the loss of any unsaved data. Issues with memory, incompatible or malfunctioning hardware, problematic Windows updates, or outdated OS are some reasons for this error.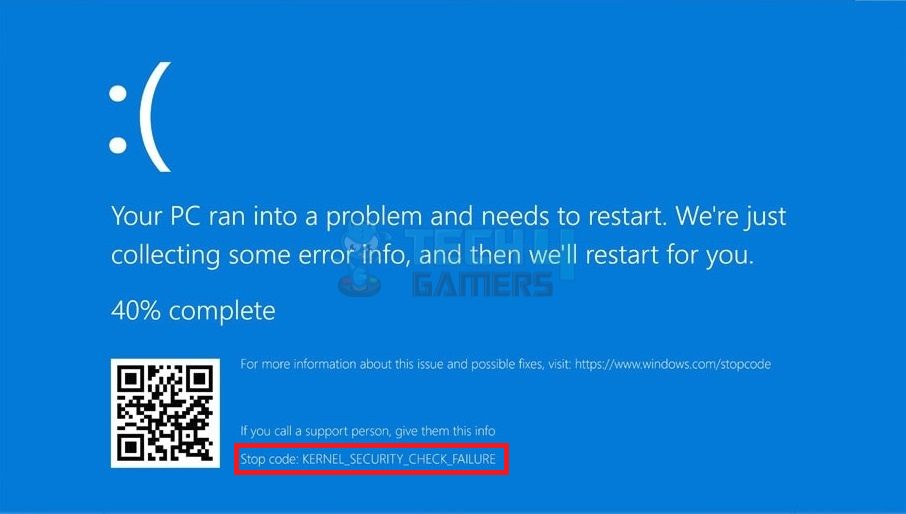 Here's how the error message appears:
Error Message: Your PC ran into a problem and needs to restart. We're just collecting some error info, and then we'll restart for you. Stop code: KERNEL_SECURITY_CHECK_FAILURE.
Key Takeaways
Kernel security check failure is a BSOD that hinders the Windows startup.
Outdated drivers, corrupted system files, malfunctioning hardware, or any virus attack could be the reasons behind this error.
Running Windows utilities such as CHKDSK, SFC, or DISM are some of the potential fixes. You can also try updating drivers or Windows or resetting your PC.
Run The SFC Scan
The SFC and DISM Scans diagnose and repair the problematic system and OS-related files. While fixing the error, I found this tool quite helpful.
Here's how to run the SFC and DISM scans through Command Prompt:
SFC/scannow 
DISM /Online /Cleanup-Image /CheckHealth 
DISM /Online /Cleanup-Image /ScanHealth 
DISM /Online /Cleanup-Image /RestoreHealth
Important: Make sure to enter the commands exactly as mentioned and one after another.
Run A Disk Check
While trying to find the possible causes behind the Kernel error, I realized that disk issues could also be the cause. So, I performed a disk check to check the hard drive for any corruption, thereby fixing errors/bugs and freeing some disk space.
Turn Off Kernel-Mode Hardware-Enforced Stack Protection
While working out a way to resolve the error, I found that turning off the Kernel-mode Hardware-enforced Stack Protection feature from Windows Security fixes the Kernel error well. You can trust this repair method, backed by my first-hand experience and from numerous Windows 11 users. Moreover, this also seems to work for many users facing this problem.
Here's how to operate:
Access Windows Settings > Privacy & Security > Windows Security > Device Security.
Click Core Isolation Detail.

Core Isolation Details (Image By Tech4Gamers)

You'll see the Kernel-mode Hardware-enforced Stack Protection option > Turn it off via the toggle > Yes > Restart the PC.
Fix RAM Issues
Based on my findings while troubleshooting the error, faulty RAM cards can cause the Kernel Security BSOD error. However, running the Windows Memory Diagnostic utility identifies and fixes the malfunctioning RAM. The solution got rid of the error on my PC.
Here's how to run the test:
Access Windows Search > Type Windows Memory.
Opt for Windows Memory Diagnostic > Hit Run As Admin > Select Restart Now And Check For Problems.

Diagnose Restart Now (Image By Tech4Gamers)

If faulty memory is mentioned, replace it and check if the error resolves.
Update Windows
Sometimes, the error appears because the system runs on an outdated Windows version. My testing proved that the Kernel error can be resolved by updating Windows and installing the latest version.
Update Drivers
Another important fix I found crucial while working on the Kernel Security Check Failure In Windows 11 is to promptly update drivers, as outdated drivers often lead to this error. Keep your system's functionality running smoothly, as it helps eliminate the bugs that might have come with old updates.
Reset The Windows
If none of the fix methods are working out, then as a last approach, you can try resetting the Windows to fix the error. This step resolves the BSOD errors for Windows 11 in most cases but requires data backup beforehand, as you may lose the settings and apps. I went with a soft reset by choosing to Keep My Files, and it was successful.
Tip: Secure your files by selecting Keep My Files while other app settings will be removed. All files and system settings will be reset by opting for the Remove Everything option.
Users across Reddit reported that their PCs suddenly turned off, and upon restarting, they encountered the error. The same was the case for me since my PC was restarting in a loop, and I could not boot to the Windows interface. After testing the methods above, the Windows returned to its normal operation, getting out of the BSOD.
Common Questions Answered
What Is The Kernel Security Check Failure In Windows 11?
The error indicates incompatible components or the integrity check has failed. You will see a BSOD screen when this error appears, and it might make you lose some unsaved data and won't let you boot into Windows.
What Are The Causes Behind The Failure Error?
This error is usually caused by corrupted Windows installation or system files, incompatible system components, malware/virus, outdated or corrupted drivershardware issuesdware.
How To Resolve The Kernel Error?
You can fix the error by running an SFC or CHKDSK scan or updating Windows or drivers. Additionally, get your RAM checked and fixed to eliminate the kernel error.
---
More Errors From Windows 11:
Was our article helpful? 👨‍💻
Thank you! Please share your positive feedback. 🔋
How could we improve this post? Please Help us. 😔
[How To's & Guides Editor]
Haddi has been in the Gaming and tech Space for over 10 Years Now; he has worked on notable websites like eXputer, Gamepur, Gear Siege, Gearnuke, and plenty more. He is an expert at Games & PC Hardware; you can expect him to solve any problem. People often joke, that if there is any problem anyone can solve, Haddi can solve it faster. Currently, Haddi writes and manages a Team of Experts at Tech4Gamers.
Contact: [email protected]