Xbox system error E106 is a technical error due to a corrupt or faulty hard drive, failed system updates, or a corrupt OS. You can fix the error through a handful of methods.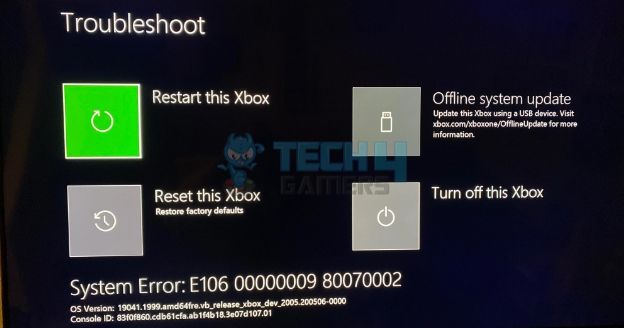 The error message will appear as the following:
Error Message: System Error: E106 00000009 80070002.
Key Takeaways
Xbox error code E106 is associated with startup issues caused by a faulty reset process or incomplete OS updates.
Update the console offline, power cycle the Xbox, or replace the hard drive to continue using the Xbox.
Consult an expert if you do not have knowledge and experience dealing with Xbox hardware components, such as the hard drive.
Errors Associated With E106
However, the error can also appear differently, such as:
E106 00000000 80070570.

E106 00000002 8007045D.
How To Fix Error E106?
Try power cycling your internet router and the Xbox console, or verify the Xbox server status to ensure the problem does not lie on the server's end.
Run Offline Update
Updating the console is extremely important as it can help fix different types of errors, including system error E106. We performed an offline update for this particular error, and it went away. Don't worry; the process is pretty simple.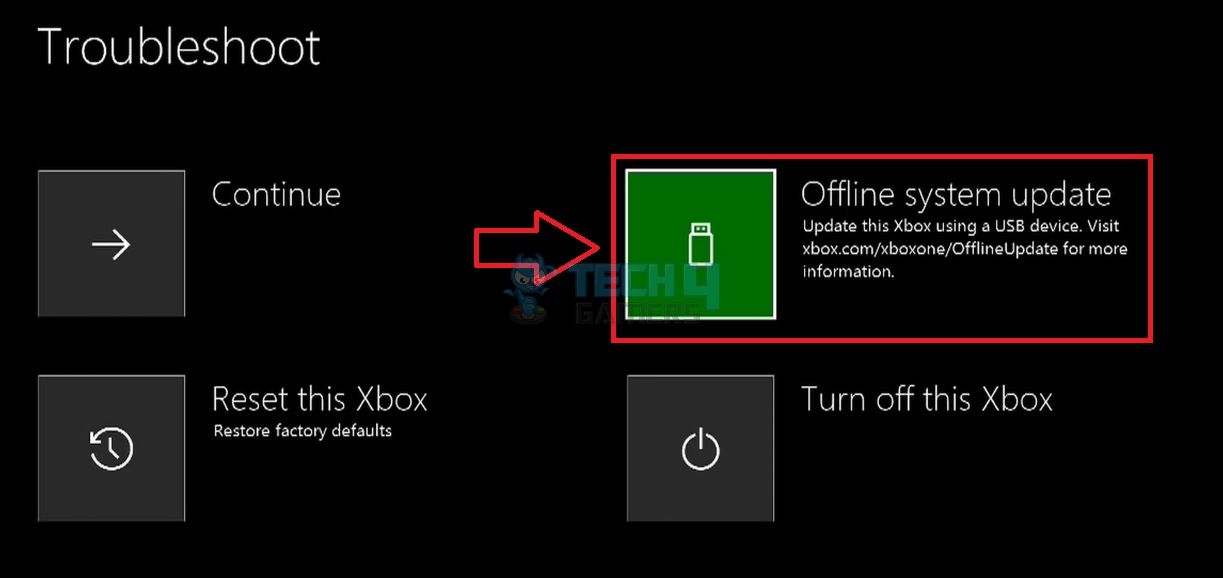 Reset Xbox
While testing the fixes, we discovered that resetting the Xbox is a viable fix. So, we performed a soft reset, and it worked. You should also first do a soft reset since it does not delete any games or data. In case it fails to solve the error, go with a hard reset.
Important: Remember to create a backup of your console's data before hard resetting because it will wipe out everything.
Replace Hard Drive
A corrupted hard drive is one of the primary reasons you may encounter system errors on your Xbox. Therefore, we scanned the hard drive using third-party software, like HD Tune, to see the root cause of the error.
If corrupted, you can repair it or replace the drive entirely.
Here is how you can scan the Xbox hard drive with HD Tune:
Download and open HD Tune software on your PC.
Plug out the hard drive from your console > Connect it to Xbox.
Select the connected hard drive in the app > Press Start.

HD Tune Scan (Image By Tech4Gamers)
If the hard drive turns out to be at fault, you will need to buy a new one to resolve the Xbox system error E106.
Tip: Replacing the hard drive of the console is not that difficult, but we suggest you take it to a shop if you haven't done it before yourself.
Refer to Xbox Support and take their guidance on your console's issue. Alternatively, if any solutions from their side do not work, you may need to repair your Xbox console.
Frequently Asked Questions
What Is Xbox System Error E106?
You may see the error E106 after installing system updates on your console. It occurs due to incomplete installation of the updates or faulty update files.
How Do I Resolve This Xbox Error?
Power cycle the console, perform an offline update or repair your Xbox hard drive to fix the error.
Can A Corrupt Hard Drive Cause Xbox System Errors?
A corrupt or faulty hard drive can give rise to the system and in-app errors on your Xbox.
---
More Errors From Xbox:
Was our article helpful? 👨‍💻
Thank you! Please share your positive feedback. 🔋
How could we improve this post? Please Help us. 😔
[Errors Troubleshooting Expert]
Arsalan Shakil (aka GuyThatDoesEverything on YouTube) is a PC Tech Enthusiast and Electronic Geek. With over 10+ years of experience in Electronics, he then decided to explore Software Engineering to design embedded products and automate existing hardware solutions. 
When he started tearing down old cameras to understand how they worked, he was shocked (literally, when he got zapped by a flash discharge capacitor), giving him the power (debatable) to fall in love with videography/photography. He also started making some fun videos that later became YouTube tech reviews.
Skills:
10+ years of experience in Electronics design, embedded solutions, and prototyping

Majored in Software Engineering

Research paper publication in IEEE for Embedded Military Uniform & LoRa WAN wireless technology

Specialized in IoT Solutions

PC Enthusiast & PC Modder
In his local region, he's known to expose cheap PSU brands, often claiming fake certification or false claims on the box. He's a true nerd and needed some friends in his life. Then he met some guys who work at Tech4Gamers, and they also came out to be equal nerds who suggested he join Tech4Gamers as a Hardware Expert.