You can try many things if you face the Windows 10 update error 80240020 on your PC. Start by restarting your computer and follow on to the other fixes mentioned in this guide.
Key Takeaways
The error 80240020 may arise due to faulty or corrupt installation files, bugs in the system, and more.
Use Windows Update troubleshooter, erase contents in the "Downloads" folder, and disable proxy to resolve the error.
Make sure to create a backup of your essential data before resetting the system or editing the System Registry, as there are chances of losing data.
What Causes Windows 10 Update Error 80240020?
You might see the error on your computer for various reasons, such as the ones listed in this section:
Corrupt or faulty system or installation files.
Corrupt or erroneous Windows Update components.
Low space on the disk.
Conflicts with other software.
Weak internet.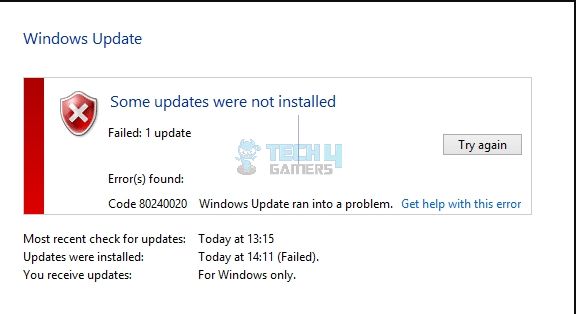 When met with the error, you'll see the following message on the screen:
Error Message: Some updates were not installed. Error(s) found: Code 80240020. Windows update ran into a problem.
Signs Of Error 80240020
The computer might experience these signs when the error occurs:
System instability or malfunctioning.
System crashes/freezes during the update.
Unable to proceed with Windows 10 update.
Also Read: How To Play Windows Games On Mac
How To Fix Windows 10 Update Error 80240020?
We recommend power cycling the computer and the internet router before trying anything else to clear any background processes or a glitch in the connection interfering with the update. However, proceed to the solutions below if the error persists.
Check Disk Space
Analyze the target disk where you are storing the Windows Update files. See if it has enough space for a hassle-free installation. If not, free up space or choose another disk to go ahead with the updates. You can also run a disk check to scan it for erroneous data.
Run Windows Update Troubleshooter
Windows has built-in troubleshooters that can quickly diagnose and fix errors such as this one. Meanwhile, read this guide to learn about the mistakes you should avoid while building a PC.
This is how you can run Windows Update troubleshooter:
Go to the "Settings" on your PC.
Head to "Update And Security."

Update And Security (Image By Tech4Gamers)

Scroll to the "Troubleshooters" pane on your left.
View "Additional Troubleshooters."

Additional Troubleshooters (Image By Tech4Gamers)

Double-click on "Windows Update" and hit "Run The Troubleshooter."

Windows Update Troubleshooter (Image By Tech4Gamers)

The system will diagnose and fix the problem or prompt you to resolve them via the necessary measures.
Disable Antivirus
Pause all the antivirus protection enabled on your computer before the Windows updates. Third-party antivirus software, like Avast or McAfee, might prevent your computer from updating smoothly. Therefore, stop the protection. However, resume it after a successful Windows update to prevent malware and virus from affecting your system.
WARNING:
Make sure to turn Antivirus back on after a successful Windows update to prevent
malware and virus
from affecting your system.
Edit System Registry
Make sure to carry out this process if you have enough knowledge regarding the process; otherwise, consult an expert. Also, create a backup of essential data just to be safe.
Use these steps to modify System Registry:
Simultaneously press the "Windows+R" keys to launch the "Run" menu.
Execute the code "regedit."

Regedit Code (Image By Tech4Gamers)

Select "Yes" to grant relevant permissions.
In the window, type the address, "Computer\HKEY_LOCAL_MACHINE\SOFTWARE\Microsoft\Windows\CurrentVersion\WindowsUpdate\OSUpgrade" and hit "Enter."

Address (Image By Tech4Gamers)

However, if the "OSUpgrade" folder is not available in the "System Registry," you can go to the "WindowsUpdate" section from the left pane.

Windows Update (Image By Tech4Gamers)

Once there, right-click anywhere on the blank screen and select "New," and choose "DWORD (32-bit) Value."

DWord Value (Image By Tech4Gamers)

Name this folder "AllowOSUpgrade."

Name The Folder (Image By Tech4Gamers)

Now, keep the value as" '0x00000001."
Exit the Registry and "Restart" your computer.
Check if you can install the updates.
Similar Guides: Windows Wireless Service Is Not Running On Computer
Delete Contents In The Downloads Folder
Reinstall the Windows Update components to eliminate corrupt data or glitches. Remember to only delete the contents within the "Downloads" in "Step 7" and not the folder itself.
Access and delete the files with this method:
Search for "Command Prompt" in the "Search Bar" and open the results in administrator mode.

Search Command Prompt (Image By Tech4Gamers)

Enter the code "net stop wuauserv."

Stop Service (Image By Tech4Gamers)

Launch "This PC" from the "Desktop."
Head to the "Local Disk: C."

Local Disk C (Image By Tech4Gamers)

Choose the "Windows" folder.

Windows (Image By Tech4Gamers)

Navigate to "Software Distribution."

Software Distribution (Image By Tech4Gamers)

Pick "Downloads."

Downloads (Image By Tech4Gamers)

Next, select all the files in this folder and delete them.

Delete Files (Image By Tech4Gamers)

Return to "Software Distribution" and choose "DataStore" this time.

Data Store (Image By Tech4Gamers)

Delete everything in this folder as well.
Again, open "Command Prompt" and run the code "net start wuauserv."

Start Service (Image By Tech4Gamers)
Run SFC And DISM
The System File Checker (SFC) and Deployment Image Servicing Management (DISM) identify and repair corrupt data and drivers on your PC to resume normal operation. We found these scans particularly useful in getting rid of errors related to the Windows OS, like the Windows 10 update error 80240020.
Use the codes below to proceed with SFC and DISM scans:
In the "Command Prompt" window, execute the following codes one after another.
sfc/scannow
dism/online/cleanup-image /checkhealth
dism/online/cleanup-image /scanhealth
dism/online/cleanup-image /restorehealth
Re-run the Windows updates and see if the error is resolved.
Disable Windows Defender Firewall
Another option is to disable the Windows Firewall on the connected network so that nothing interrupts the update process. On the other hand, check out the fixes we used for the error message, "The computer has rebooted from a bugcheck."
This is how you can turn off the service with the settings on your computer:
Open the "Run" menu and type "firewall.cpl." Hit "OK."

Firewall Search (Image By Tech4Gamers)

In the left pane, select "Turn Windows Defender Firewall On Or Off."

Windows Defender Setting (Image By Tech4Gamers)

Mark the circles beside "Turn Off Windows Defender Firewall" for both, Private and Public networks.

Turn Off Windows Defender (Image By Tech4Gamers)

Choose "OK" to save the settings.
Also Check: Windows Could Not Prepare Computer To Boot Installation Error
Reset Windows Update Components
We tried resetting the components related to the Windows update to undo any incorrect settings we might have set on our computer. However, carefully input each code since a wrong entry can temper your computer's functioning.
Vigilantly enter each code to avoid mishaps:
Access the "Command Prompt" box and execute these codes:
net stop bits
net stop wuaserv
net stop appidevsc
net stop cryptsvc
Once you have performed all the above operations, enter Del %ALLUSERSPROFILE%\Application Data\Microsoft\Network\Downloader\qmgr*.dat
Next, write cd /d %windir%\system32 and run the code.
You need to execute all the codes below one by one. Let each process complete before typing the next code.

Enter Codes (Image By Tech4Gamers)

After this, write "netsh winsock reset" and then "netsh winhttp reset proxy."
Lastly, resume the Windows Update components with the commands below:
net start bits
net start wuaserv
net start appidevsc
net start cryptsvc
Restart your PC.
Also Read: Windows 11: Computer Won't Wake Up From Sleep [SOLVED]
Use Third-Party Software
Another solution that proved effective for us was using third-party software to scan for issues in the PC that may be hindering the Windows update process, such as corrupt data or files. Outbyte PC Repair is an effective tool for this method.
Reset PC
Resetting the computer will undo all the customizations and delete the installed apps and media to restore the system to its factory default state. Once you restart the PC after the reset, it will automatically install the Windows.
WARNING: Make sure to create a backup of all important files before performing a reset.
Use Microsoft Support
As a last resort, you would need to contact Microsoft Support on your problem and get their assistance to resolve Windows 10 update error 80240020.
Frequently Asked Questions
Why Is My Computer Showing Error 80240020?
Insufficient disk storage, corrupt data or installation media, and third-party app restrictions are some reasons why this error may occur.
How Do I Fix The Error?
You can do SFC and DISM scans via the Command Prompt, use Windows Update troubleshooter, and disable Windows Defender Firewall to continue with the Windows update.
Is There An Alternative To Updating Windows 10?
Use the Windows Media Creation Tool to download the updates into a USB through a second PC. Attach this USB to the problematic computer and clean install Windows 10.
Was our article helpful? 👨‍💻
Thank you! Please share your positive feedback. 🔋
How could we improve this post? Please Help us. 😔