One of the most common PS5 errors is the CE-100005-6, which happens when there is some issue reading the disc, an internal storage problem, or a random glitch in the console. It can be quickly fixed by reinserting the disc or deleting the paused games from the download queue, along with many other solutions.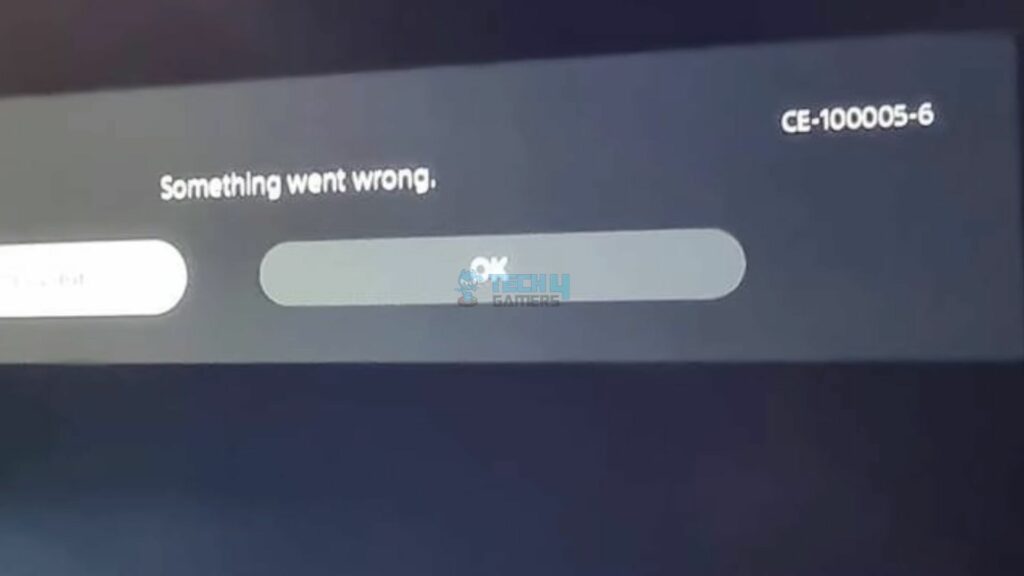 When the PS5 CE-100005-6 error occurs, you will see the following message:
WARNING: Something went wrong.
Key Takeaways
PS5 error CE-100005-6 is a disc-related issue that prevents the console from reading the disc.
An unstable internet connection, scratches or dust on the disc, and low internal storage can be its core reasons.
You can resolve it by cleaning the disc, making space on your PS5 console, or modifying DNS settings.
Obsessively Clean The Disc
When the PlayStation is having trouble reading the disc, you should consider Cleaning it, as the dust gathered on it may be the primary reason for the error.
I also came across a YouTube video by Tricks Tips Fix, which included the same fix and worked for many of the channel's viewers. Cleaning the disc has also previously helped me get rid of this error. Once you have thoroughly cleaned the disc, insert it again to check if the error is being displayed or not.
Tip: Keep in mind to always use a soft cloth or alcohol and a Cotton Swab, and increase pressure slowly while cleaning it.
Free Up Internal Storage
I have observed that this error occurs when there is insufficient storage space on PS5. Even if the game has a file size of 50 GB and you have 55 GB of free storage, the game always needs some extra storage.
So, if you are experiencing the error, go through all of your apps and games to delete the unwanted ones. I also use this method whenever I get a similar error, and it works most of the time.
Download The Game On An External Hard Drive And Transfer It To PS5
When you are sure the problem is with your game disc, I would prefer you download the game on an External Hard Drive and then Transfer it to your PS5. Some users on Reddit tried and found it to be working. I also gave it a go, and it worked for me as well.
Here's how you can do it:
Connect your external hard drive to your computer.
Open a web browser and navigate to the PlayStation Store.
Purchase and download the game you want to play onto your external hard drive.
Once the game has finished downloading, eject the hard drive from your computer.
Connect the external hard drive to your PS5.
Navigate to the Settings > Storage.
Choose your external hard drive from the list of available storage devices.
Select the game you downloaded on your external hard drive and choose Copy to Console Storage.
Wait for the transfer process to complete.
Once the transfer is complete, disconnect the external hard drive from your PS5.
Rebuild Database
Rebuilding the PS5 database via Safe Mode is another effective way to resolve this error. The database of your console can get corrupted due to some reasons, and this can start causing different errors. To fix it, you need to rebuild it via Safe Mode. Don't worry; you won't lose any important data while rebuilding it.
Factory Reset PS5
When none of the solutions is helping in resolving this error, then you must resort to resetting your PS5. I have managed to fix multiple PS5 errors in the past by resetting my console, and the error error CE-100005-6 was no different.
WARNING: Performing a factory reset on your PS5 will erase all data and settings on the console, returning it to its original state.
Frequently Asked Questions
What is the PS5 CE-100005-6 Error?
The PS5 CE-100005-6 Error means the PS5 has failed to detect or read a disc.
What causes "An Unidentified Error Occurred PS5 CE-100005-6?"
This error is usually caused by a slow internet connection, a broken disc, or unavailable PSN servers.
How to fix PS5 CE-100005-6 Error?
You can fix this error by keeping the disc clean, freeing up internal storage, or modifying DNS settings.
---
More From PS5:
Was our article helpful? 👨‍💻
Thank you! Please share your positive feedback. 🔋
How could we improve this post? Please Help us. 😔
[Errors Troubleshooting Expert]
Arsalan Shakil (aka GuyThatDoesEverything on YouTube) is a PC Tech Enthusiast and Electronic Geek. With over 10+ years of experience in Electronics, he then decided to explore Software Engineering to design embedded products and automate existing hardware solutions. 
When he started tearing down old cameras to understand how they worked, he was shocked (literally, when he got zapped by a flash discharge capacitor), giving him the power (debatable) to fall in love with videography/photography. He also started making some fun videos that later became YouTube tech reviews.
Skills:
10+ years of experience in Electronics design, embedded solutions, and prototyping

Majored in Software Engineering

Research paper publication in IEEE for Embedded Military Uniform & LoRa WAN wireless technology

Specialized in IoT Solutions

PC Enthusiast & PC Modder
In his local region, he's known to expose cheap PSU brands, often claiming fake certification or false claims on the box. He's a true nerd and needed some friends in his life. Then he met some guys who work at Tech4Gamers, and they also came out to be equal nerds who suggested he join Tech4Gamers as a Hardware Expert.