The error "Windows could not prepare the computer to boot" occurs when a user tries to update their Windows to the latest version or wants to install a new one on their computer.
Your computer may fail to proceed with the installation for many reasons, one being an outdated BIOS, which can prevent the motherboard's smooth working and disrupt communication with newer software or hardware. Hard drive issues, disk errors on the PC, incomplete or corrupted installation files, and third-party software conflicts may prevent the update.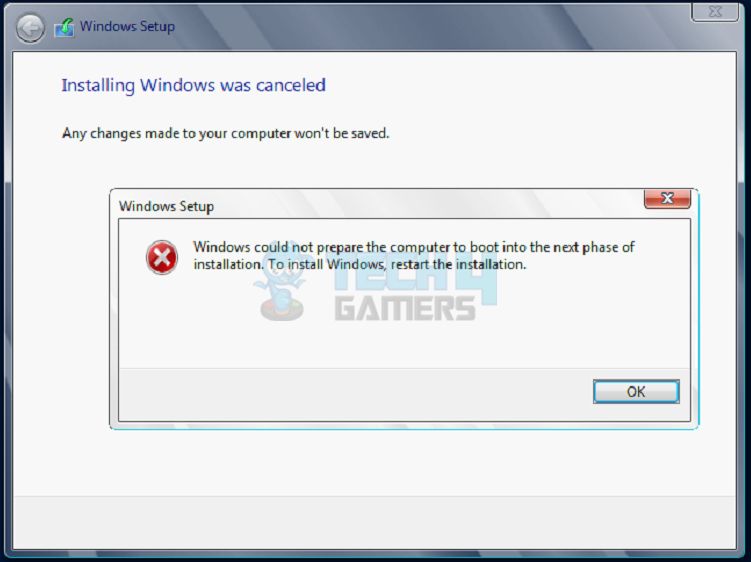 The error message looks like this:
Error Message: Windows could not prepare the computer to boot into the next phase of installation. To install Windows, restart the installation.
Key Takeaways
When a person attempts to install a new version of Windows on their computer or update their current one, they might get the "Windows could not prepare the computer to boot" error.
The error may occur due to a corrupt drive, insufficient storage on the system disk, or incompatibility between the motherboard and Windows version.
You can fix the error by updating BIOS, deleting partitions, removing external devices from your computer, and more.
Run CHKDSK
Your computer's operating system checks its hard drives for malfunctions, corrupted data, and other anomalies that might compromise its functionality when you run a Disk Check. The scan will identify any disk issues with the system and correct them or ask you to do so. Thus, the procedure promotes your computer's hassle-free operation while helping you keep the disk data safe.
Disable Windows Defender
Windows Defender Firewall is a real-time anti-virus protection that usually stops some programs or operations from functioning. Disabling the firewall comes in handy when installing new software or updating existing system files.
Important: Turn on Real-time protection in Windows Defender after installing the Windows to keep your system safe from attacks.
Turn Off BitLocker Drive Encryption
BitLocker is a built-in encryption feature in Microsoft Windows that helps protect your data by encrypting the entire drive where the operating system is installed. Turning off this feature will allow you to make changes to the drive, like installing new software or system settings.
Click Windows Search bar > Type BitLocker > Open Program >Choose Turn Off BitLocker > Yes.


Turn Off BitLocker – Image Credits [Tech4Gamers]
Enable UEFI On BIOS
UEFI is an advanced version of BIOS that promotes faster booting time, enhanced security features, and better support for modern hardware. Enabling UEFI may help resolve the Windows installation error.
Click Power menu > Restart > Enter Boot Mode by pressing the relevant key according to your computer's manufacturer.


| | |
| --- | --- |
| MANUFACTURER | BOOT MENU KEY |
| Lenovo | F1, F2 or F12 |
| HP | F10, Esc, Or F9 |
| Dell | F2 Or F12 |
| Asus | F2 or Esc |
| Acer | F2 Or F12 |
| Samsung | F2 Or Esc |
| Sony | F1, F2, F3, Or F11 |

Head to the Boot menu > Boot Mode > Choose UEFI.


UEFI Settings – Image Credits [Tech4Gamers]

Save the settings with F10 and exit the menu.
Drive Partition Recognition
A drive partition recognition problem causes the error to trigger. After partitioning the internal M2 drive, the installer attempts to install the files on the USB.
Here's how to solve the partitioning issue:
Boot using USB drive > Command Prompt > diskpart> Enter.
Delete partitions > Convert to GPT to boot in UEFI.
Now, create a partition in an M2 drive of 10GB and format it as NTFS.
Keep a letter for this partition and the other partition as Unallocated.
Cut/Paste the files from the USB to the drive partition.
Eject USB > Restart system.
The system will boot from the installer and install Windows.
Again, boot your system, and it will automatically boot to the partition we created before, as it was assigned as the first partition.
To remove that partition from the boot list, go to Command Prompt > diskpart > Enter > Restart the system.
While researching the error, I found that this method was also being used to fix the error by users on the Microsoft forum.
Remove HDD / SSD
The main root cause that I came to know after working around this error is that my system has several SSDs and HDDs, which were creating conflict as the Windows installer was unable to determine which drive to choose to install files.
I removed all the extra memory drives, even the external ones, and left one in the system where I wanted the installer to save the files. And voila! It worked. The system successfully booted after this fix!
Format USB as MBR
For several reasons, formatting your USB drive for MBR can potentially fix some of the Windows errors. MBR is a format that works better with older computers and is able to function as a bootable drive, which comes in handy when installing an operating system on a computer. Partitioning MBR drives is easier than the other formatted drives.
Here's how to format a USB drive for MBR:
Connect a USB to the system > Open a disk management program > Right-click USB > Choose Create Partition > Choose MBR.
Select NTFS or FAT32 file system > Label partition > Click OK.
Formatting drive to MBR also successfully tackled the error for Reddit users, underscoring its effectiveness.
Editor`s Note
Windows could not prepare the computer to boot" error during installation can come up due to several reasons, and users are finding it troublesome to figure out the exact cause. After trying out all the fixes above, I recommend that users still experiencing this error contact Microsoft support directly to receive personalized help to fix the issue.
– Arsalan Shakil
Frequently Asked Questions
What is the Windows boot error?
A user may get the Windows boot issue when attempting to install a new version of Windows on their computer or update their current version.
Why do I face the Windows boot error?
You might get the error due to a corrupted drive, a storage issue on the disk, or a mismatch in the Windows version and motherboard.
How do I make my computer boot again?
The potential fixes for this error are running CHKDSK, disabling Windows Firewall, turning off BitLocker, or enabling UEFI on BIOS.
---
Related Articles
Was our article helpful? 👨‍💻
Thank you! Please share your positive feedback. 🔋
How could we improve this post? Please Help us. 😔
[Errors Troubleshooting Expert]
Arsalan Shakil (aka GuyThatDoesEverything on YouTube) is a PC Tech Enthusiast and Electronic Geek. With over 10+ years of experience in Electronics, he then decided to explore Software Engineering to design embedded products and automate existing hardware solutions. 
When he started tearing down old cameras to understand how they worked, he was shocked (literally, when he got zapped by a flash discharge capacitor), giving him the power (debatable) to fall in love with videography/photography. He also started making some fun videos that later became YouTube tech reviews.
Skills:
10+ years of experience in Electronics design, embedded solutions, and prototyping

Majored in Software Engineering

Research paper publication in IEEE for Embedded Military Uniform & LoRa WAN wireless technology

Specialized in IoT Solutions

PC Enthusiast & PC Modder
In his local region, he's known to expose cheap PSU brands, often claiming fake certification or false claims on the box. He's a true nerd and needed some friends in his life. Then he met some guys who work at Tech4Gamers, and they also came out to be equal nerds who suggested he join Tech4Gamers as a Hardware Expert.