Xbox system error E203 happens when users try installing the latest OS updates on their Xbox. The update may pause mid-installation, and you may see the error code paired with the message "Something Went Wrong." It mainly happens due to corrupt system files or glitches/bugs in the data, or corrupt or erroneous hard drives.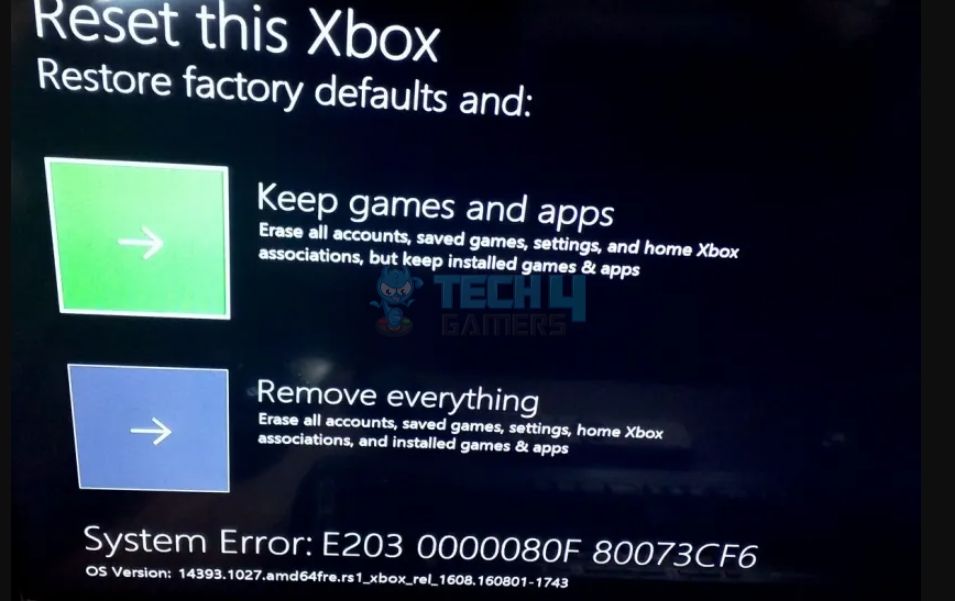 The error message appears as the following:
Error Message: System Error: E203.
Key Takeaways
The Xbox error E203 happens when trouble occurs during the installation of OS updates.
You can perform an offline update using the OSU file to counter the error if it arises during an online update.
Remember to back up your data in an external or cloud storage before hard resetting the console.
Error Codes Associated With E203
The exact error code may vary on your console, but it always starts with E203.
E203 0000080C 80670015.

E203 0000080F 80073CF6.
How To Fix Xbox System Error E203?
Before you proceed to the technical solutions, we recommend you try the go-to troubleshooting methods for Xbox, for instance;
Power cycling the Xbox.
Signing in to your profile again.
Tip:
Make sure to keep an eye on the
Xbox sever status
before proceeding to the fixes.
Clean Xbox Cache
We erased the Xbox cache from the Settings to delete faulty and corrupt data from the temporary storage since the method also worked for user Uber25206 on Reddit. Doing so allowed the console to store newer and updated information.
Perform An Offline Update
While it is necessary to maintain the latest software updates on your Xbox to avoid errors, you can carry out an offline update if an error occurs during the online update. Just make sure to download the right OSU files (OSU1, OSU2, or OSU3) according to your Xbox model and OS version.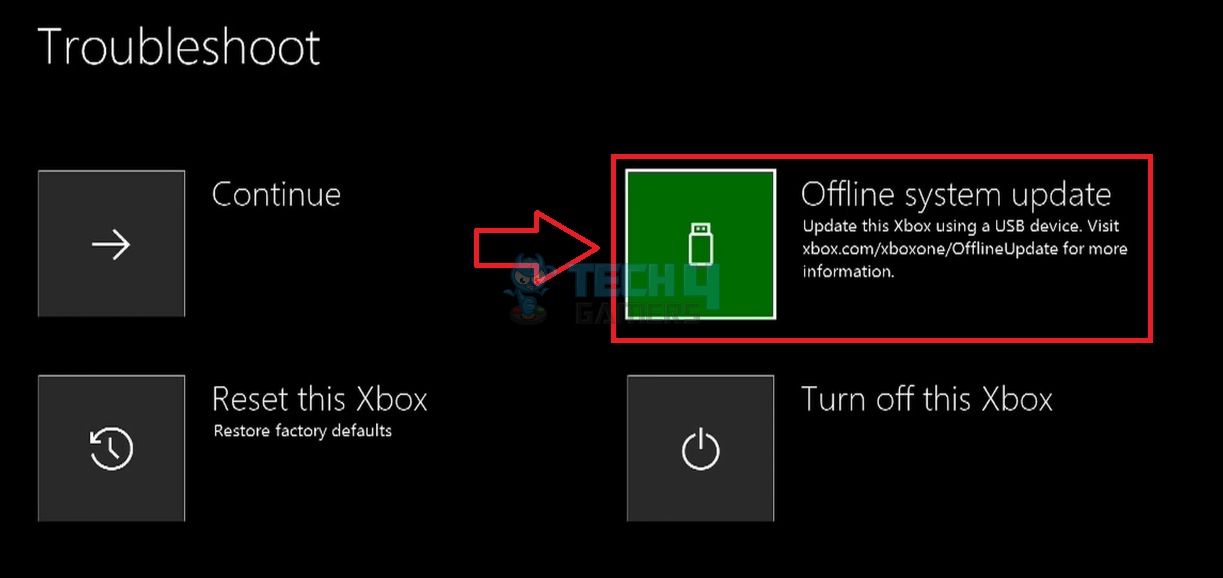 Test The Hard Drive
While testing the fixes for Xbox system error E203, we noticed that a faulty or corrupt hard drive could also lead to such errors when installing the OS updates on Xbox. Hence, we tested if that was the case for our hard drive.
Use the following steps to scan your console's hard drive using a PC:
Download software on your PC to scan and repair the Xbox hard drive. In our case, we used HD Tune.
Launch the program once installed > Remove the hard disk from the console > Connect it to the PC.
The software should be able to detect the Xbox HDD if you have connected properly.
Within the app, go to the Error Scan > Select Xbox Hard Drive < Press Start.

HD Tune Scan (Image By Tech4Gamers)
Tip: In case the software detects errors or bugs in the hard drive, you can take it to a technician and get it fixed. Alternatively, you might have to replace the hard drive if the issue cannot be solved.
Reset Your Xbox
If nothing else is effective in fixing the Xbox system error E203, you should reset your Xbox. Run a soft reset by choosing "Keep Games And Apps." In case the error does not go away, do a hard reset.
WARNING: Resetting your Xbox will remove all of the data from it, so make sure to create a backup first..
Frequently Asked Questions
What Is Xbox System Error E203?
Xbox error E203 may show up when trying to update your console. It may indicate some problems with the installation file or within the process.
How Do I Fix This Error?
Repair the hard drive, run an offline update, or power cycle the console to resolve the error.
What Should I Do If Xbox Servers Are Not Working?
Unfortunately, you can only wait for the servers to become fully functional again to resolve system errors.
---
More Xbox Errors:
Was our article helpful? 👨‍💻
Thank you! Please share your positive feedback. 🔋
How could we improve this post? Please Help us. 😔
[Errors Troubleshooting Expert]
Arsalan Shakil (aka GuyThatDoesEverything on YouTube) is a PC Tech Enthusiast and Electronic Geek. With over 10+ years of experience in Electronics, he then decided to explore Software Engineering to design embedded products and automate existing hardware solutions. 
When he started tearing down old cameras to understand how they worked, he was shocked (literally, when he got zapped by a flash discharge capacitor), giving him the power (debatable) to fall in love with videography/photography. He also started making some fun videos that later became YouTube tech reviews.
Skills:
10+ years of experience in Electronics design, embedded solutions, and prototyping

Majored in Software Engineering

Research paper publication in IEEE for Embedded Military Uniform & LoRa WAN wireless technology

Specialized in IoT Solutions

PC Enthusiast & PC Modder
In his local region, he's known to expose cheap PSU brands, often claiming fake certification or false claims on the box. He's a true nerd and needed some friends in his life. Then he met some guys who work at Tech4Gamers, and they also came out to be equal nerds who suggested he join Tech4Gamers as a Hardware Expert.