Osu!, a well-known rhythm-based music game, delivers a challenging and entertaining gaming experience. But some Intel graphics users encounter an irritating problem when the "Osu! can't find Intel graphics". This issue resists the gamer from playing and messes up the overall experience.
Key Takeaways
Osu! is a popular rhythm-based game that sometimes stops finding Intel graphics, preventing it from running on the system.
The causes of this issue are an outdated driver, glitches in game files, power-saving settings limitations, and antivirus/firewall software interruptions.
You can fix the issue by updating the Intel graphics driver, tweaking graphics and power-saving settings, or reinstalling the game.
Causes of Osu Intel Graphics Error
Osu! usually detects the graphics hardware when users run the game on their computers and modifies the settings accordingly. However, players using Intel graphics may experience a situation where the game cannot recognize their graphics card, leading to poor performance, glitches, or even game crashes.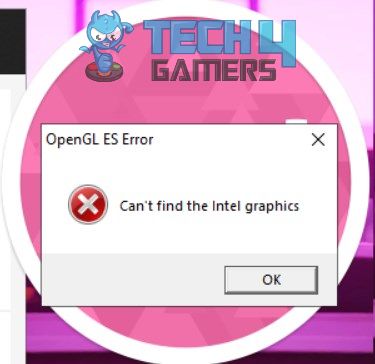 The causes behind the Osu Intel Graphics Error error are:
Outdated driver
Power saving settings
Incompatible hardware
Antivirus or Firewall issues
Users who face the error will be met with the following message:
OpenGL ES Error: Can't find the Intel graphics.
How To Fix "Osu! Can't Find Intel Graphics"
Following are the methods that can help with fixing the issue.
Verify System Requirements
Verify that your system satisfies the requirements for running Osu! before moving on to other technical fixes. It will let you confirm if your system is compatible with the game. Here are the requirements:
Minimum Requirements
CPU: Processor 1 GHz+
RAM: 512 MB+
OS: support .NET Framework (3.5+)
Recommended Requirements
CPU: Intel Pentium III
RAM: 512 MB+
VIDEO CARD: Intel UHD Graphics
You can check for more recommended settings at Intel's official website.
If your hardware satisfies the given criteria, try different troubleshooting methods; otherwise, upgrade your hardware first.
Update Intel Graphics Drivers
The next most important thing to check is the driver update. Outdated graphics drivers cause compatibility problems. For the latest graphics drivers, visit the official Intel website or go for the driver update utility tool to ensure you have downloaded the version compatible with your operating system. It also provides optimal performance.
Here is how to do it manually:
Manual Update
Go to the Search of your Windows and type System.
Go to System Information.

System Information – Image Credits (Tech4Gamers)

Here, you will find your processor's information. Note down the processor number.

Processor Info – Image Credits (Tech4Gamers)

Open your browser now and go to the Download Center.
Click on Search and type your processor's number and Enter.

Intel Core2Quad Driver – Image Credits (Tech4Gamers)

Choose Driver and Software, showing at the top.
Click on the driver version that you want to download. However, using the version with Windows* will be good.
Go to the downloads folder of your system and click on the .exe file.

Download Driver – Image Credits (Tech4Gamers)

You will see the installer running on your screen.
Opt for Begin Installation.
Keep following the on-screen instructions until it says Installation Complete!
Lastly, click on the Optional Reboot to apply changes properly.
Note:
At any point or any step, if the installation stops or you encounter any issue, try the
Intel Wizard
to get it solved before proceeding with the installation again.
Launch Osu! again and see if your Intel graphics is detected.
You can also use a third-party driver updater if you are unaware of manual updates such as AVG driver updater.
Configure Graphics Settings
Sometimes, compatibility problems can cause the error "OSU can't find Intel graphics" to trigger. The graphics settings can be changed to resolve this problem.
Here's how:
Jump to the desktop and right-click on it.
Choose Graphics Properties or Graphics Options from the context menu.
Look for modification settings for the apps, power, or performance.
Start tweaking the sliders and setting options to boost performance.
Click on Save Changes or Apply Changes.
Also Read: Host Does Not Support 'Intel EPT' Hardware-Assisted Error
Disable Power-Saving Settings
Your computer's power-saving settings may prevent the graphics card from operating correctly. Therefore, you can face the "Osu! Can't find intel graphics" error because of it.
Disable power-saving settings through the steps below to ensure optimal performance:
Windows
Open Control Panel.
Click on the Power Options.

Control Panel – Image Credits (Tech4Gamers)

Go for the High-Performance power plan or modify the current one to optimize performance.

Power Plan – Image Credits (Tech4Gamers)
Disable Antivirus/Firewall
Osu! and other games sometimes malfunction due to antivirus or firewall software. Check if the game finds Intel graphics by temporarily turning off your antivirus and firewall before starting. Suppose the game runs smoothly after turning off these security applications.
In that case, you can add an exception or make a rule in your security program to permit osu! to run without problems.
Here's how to do it:
Access Control Panel of your system.
Choose System and Security.
Select Allow a program or feature through Windows Firewall under Windows Firewall.

Window Defender Firewall – Image Credits (Tech4Gamers)

Hit the Change Settings button to modify access to the list's programs.
To allow access over the Windows Firewall, tick the check box available by the program. Only check the Home/Work (Private) box if you engage in local network gaming. Check the Public option if you require the application to have internet access.

Windows Firewall – Image Credits (Tech4Gamers)
Reinstall Osu! Game
Try reinstalling Osu! if the problem still exists. As a result, it eliminates any potential conflicts or corrupted files that might have caused the problem.
Here's how to reinstall the game:
Uninstall the installed version from your system.
Download the most recent version from the official website.

Download OSU – Image Credits (Tech4Gamers)

To begin the installation, access your downloads and click the setup file.

OSU Download Manager – Image Credits (Tech4Gamers)

Restart your computer when the game completes the installation.
Now, run the game to see if the Intel graphics are detected.
Roll Back To An Old Version
There might be some bugs in the newer versions, which halts the game's operation, so returning to an older version usually fixes "Osu! Can't find intel graphics" problem.
Here's how to roll back to an old version:
Uninstall the game from your system to prevent any conflicts.
Go to your browser, type osu old versions in the search bar, and Enter.
Open the top search result and look for a bit older version, not the outdated one.
Download an older version and install it by going into your Downloads folder.
The game will now work if you launch it.
Common Questions Answered
Why is the Osu! unable to find Intel graphics?
This problem has several causes, such as outdated graphics drivers, incompatible hardware, power-saving settings, or interference from Antivirus or Firewall.
How to update Intel graphics drivers?
For the latest drivers for your Intel graphics card, go to the Intel website or use driver updater. Download and install the driver manually or update it through any application and restart your system to make the changes to your system.
Why should I turn off power-saving settings to make the Osu! detects Intel graphics?
Performance is not a consideration in the power-saving settings, which might impact how well graphics cards work. Turning off these settings ensures your Intel graphics card performs to its total capacity.
Was our article helpful? 👨‍💻
Thank you! Please share your positive feedback. 🔋
How could we improve this post? Please Help us. 😔