Windows 11 has a built-in feature that protects your PC from harm by blocking the applications it suspects as a threat. You might face the error message, "This app has been blocked for your protection," when launching an application in Windows 11. It could be because of missing administrator privileges, overly restrictive antivirus software, outdated applications, virus and malware threats, or misconfigured SmartScreen settings.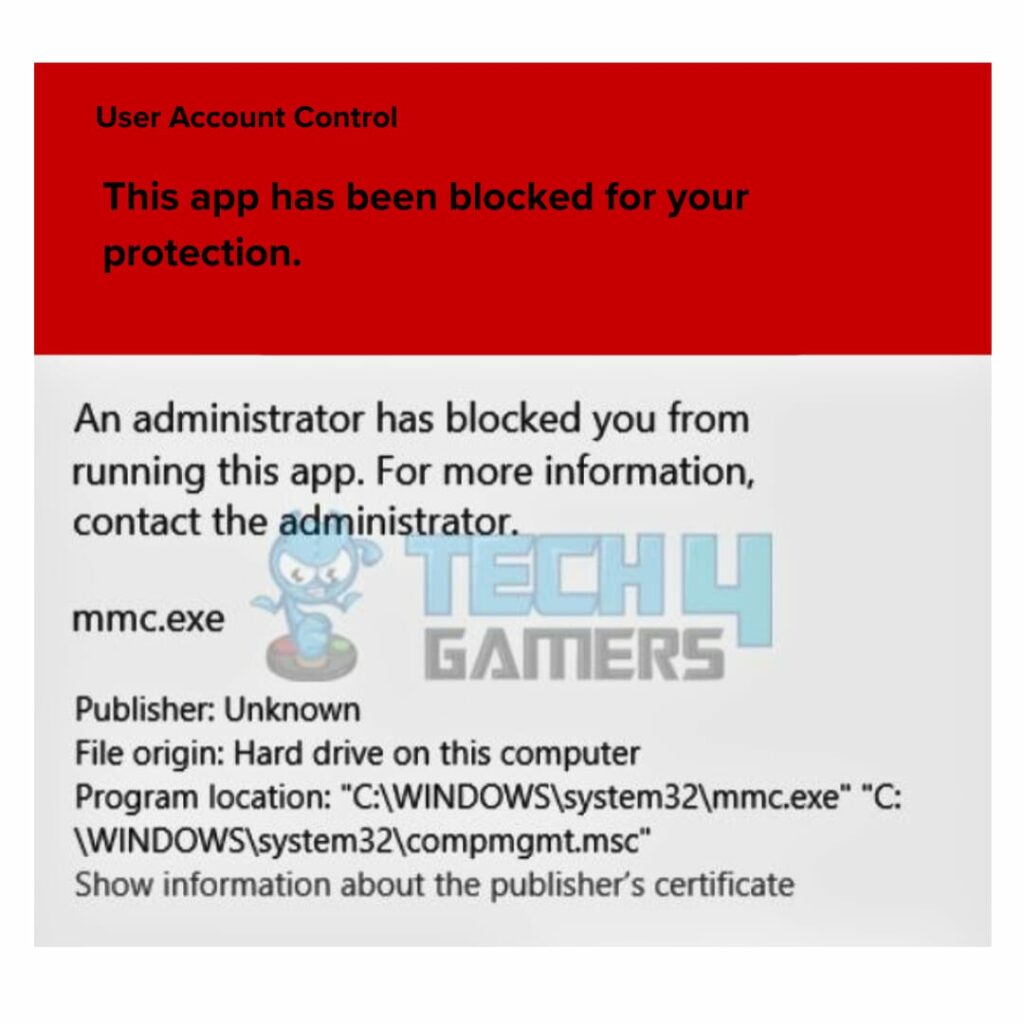 Here is what the error message appears like:
Error Message: This app has been blocked for your protection.
Key Takeaways
Windows 11 can block applications it deems threatening to system security and give out the error "This app has been blocked for your protection."
It might arise due to virus and malware threats, SmartScreen settings, restrictions from antivirus software, and missing admin privileges.
Fix the error and unblock the application by tweaking Registry Editor, eliminating virus and malware threats, or running the application via Command Prompt.
Run The App Using The Command Prompt
If you cannot access the application from the File Explorer and are facing a protective blockage issue from the system, launch it through the Command Prompt using the application path.
Here's how to access via the prompt:
Right-click the application > Properties > Shortcut tab > Copy its path from the Target bar > OK.
Right-click the Start menu > Command Prompt > Paste the application's path in the prompt > Hit Enter.
Disable Smart App Control
Smart App Control is a built-in feature that provides security and system functionality improvement by blocking untrustworthy or harmful apps. Also, the apps that slow down or show ads are also restricted by the feature. Disabling Smart App Control immediately resolved the app blockage issue in my Windows 11.
Here's how to turn off the feature:
Access Settings > Privacy and Security > Windows Security.
On the left pane, select App & Browser Control > Smart App Control > Click on the Off button.
Note: Smart App Control is a Windows 11 exclusive built-in feature, so you can not access it if you installed the update via Windows Update in the Settings app.
Run The Program As An Administrator
Several programs require elevated access for their prompt performance. If a user tries to access such applications without granting them administrator rights, the system will restrict it, and an app blockage error message will pop up on the screen.
Here's how to perform the task:
Open the Start menu > Type the app's name in the Search Bar.
Right-click the app > Run as Admin.
Tweak The Registry Editor
Sometimes, the system settings are the culprit behind the app blockage issue in Windows 11. In this case, tweak the Registry Editor and unblock the app by adjusting the User Account Control settings.
Here's how to adjust the settings:
Launch Run dialog box > Type regedit > Enter.
When the UAC prompt appears, hit Yes.
Now, navigate to the given path:

Computer\HKEY_LOCAL_MACHINE\SOFTWARE\Microsoft\Windows\CurrentVersion\Policies\System

In the left pane, look for EnableLUA > Double-click on it > Set the value as 0 > OK > Restart PC.

EnableLUA Value (Image By Tech4Gamers)
The method also seems to be working for several people on YouTube, so you can give it a good to see if it fixes the issue for you.
Modify The Group Policy Settings
Through Group Policy Editor, Windows 11 users can modify the system security settings and manage application allowance and blockage matters. Therefore, adjusting settings via the editor may be an effective fix for you, as it also worked for me.
Here's how to adjust the settings:
Launch Run > Type gpedit.msc > Enter.
Navigate to Local Computer Policy > Computer Configuration > Windows Settings > Security Settings > Local Policies > Security Options.
Double-click on User Account Control > Find Run all administrators in Admin Approval Mode > Mark Disabled option > Apply > OK > Restart.
WARNING: Modifying group policy settings can make your system vulnerable to malicious programs, so revert the adjustment right after you're done.
Remove Malware And Viruses
As per my experience, malware and virus threats, if not taken seriously, can cause severe damage to your system functionality, privacy, and security and harm the stored data. Therefore, remove malware and viruses from your system by running antivirus scans promptly to see if the app unblocks.
In my opinion, this is a useful security feature in Windows 11 that protects a computer from malware attacks and data theft. However, oftentimes, I received the pop-up without any legitimate reasons, and users across the Microsoft Community also reported the same. Following the solutions given above eliminated the error message on my end, and I could proceed using the program with no hindrances.
Common Questions Answered
What Happens When The System Blocks An Application?
You may be unable to run the app or use any of its features if it is blocked on Windows 11.
Why Does The Windows 11 System Block Apps?
The system may block an application if it contains virus or malware threats, installs space-wasting heavy softwares, clashes with system settings, or shows time-wasting ads.
How Can I Unblock An Application Blocked By The System?
Several ways can help you work around the app's blockage error, including turning off the antivirus program, tweaking the Registry Editor and SmartScreen settings, launching the app through Command Prompt, and granting it admin privileges.
---
More From Windows 11:
Was our article helpful? 👨‍💻
Thank you! Please share your positive feedback. 🔋
How could we improve this post? Please Help us. 😔
[Errors Troubleshooting Expert]
Arsalan Shakil (aka GuyThatDoesEverything on YouTube) is a PC Tech Enthusiast and Electronic Geek. With over 10+ years of experience in Electronics, he then decided to explore Software Engineering to design embedded products and automate existing hardware solutions. 
When he started tearing down old cameras to understand how they worked, he was shocked (literally, when he got zapped by a flash discharge capacitor), giving him the power (debatable) to fall in love with videography/photography. He also started making some fun videos that later became YouTube tech reviews.
Skills:
10+ years of experience in Electronics design, embedded solutions, and prototyping

Majored in Software Engineering

Research paper publication in IEEE for Embedded Military Uniform & LoRa WAN wireless technology

Specialized in IoT Solutions

PC Enthusiast & PC Modder
In his local region, he's known to expose cheap PSU brands, often claiming fake certification or false claims on the box. He's a true nerd and needed some friends in his life. Then he met some guys who work at Tech4Gamers, and they also came out to be equal nerds who suggested he join Tech4Gamers as a Hardware Expert.