Managing files, directories, and other data stored on a computer, mobile device, or any external storage device such as an HDD or USB drive is convenient with File Explorer. However, sometimes you may encounter File Explorer crashing in Windows 11 when launching right after the system startup, running any .exe file, or choosing a file. It could be due to a corrupt cache, incorrect system configuration, and conflicting third-party software.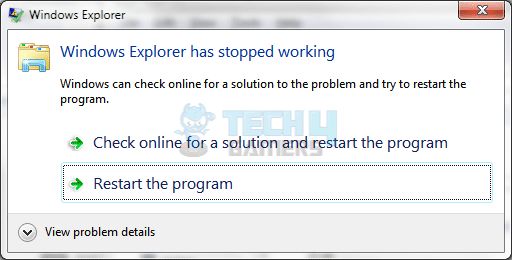 The pop-up box will read the following:
WARNING: Windows Explorer has stopped working. Windows can check online for a solution to the problem and try to restart the program.
Key Takeaways
File Explorer crashing problem occurs in Windows 11 when you have just started your system or are trying to run any setup file.
Corrupted caches, unwanted data in history, OS not updated, system files getting corrupted, or virus attacks are some of the main reasons behind the error.
You can fix the error by updating Windows or drivers, clearing system caches, modifying registry keys, or adjusting some options.
Clear System Cache
The cache is a temporary file storage layer that the OS or the programs use to make the system's functionality smoother. But if it's overloaded, the hard drive will slow down, and software conflicts will arise, which can lead to system glitches.
In this case, we recommend clearing the cache as it worked for us and may also assist you in fixing the File Explorer crashing issues in Windows 11.
Tip: Keep clearing the cache for smooth flow of operations.
Clean Boot Your Windows
Several processes keep running in the background when you are using your PC. These tasks sometimes interfere with the OS processes and cause system glitches, such as the one in consideration.
In this case, the solution we tried and tested is to clean boot your computer, allowing the system to start with only the crucial files and programs. If this resolves the issue for you, it indicates that the background processes were the culprit.
Adjust The File Explorer Options
While working on the File Explorer issue, we found that adjusting the program's option solves the problem since improper settings can cause a glitch.
Here's how to adjust:
Jump to Control Panel > Search for File Explorer Options.
Click on General tab > Expand Open File Explorer To > This PC > Apply > OK.

File Explorer Options (Image By Tech4Gamers)
During our research, we also found that the same method fixed the error for multiple users on YouTube.
Modify The Registry Keys
Modifying the registry keys can help you resolve the File Explorer crash glitch. We tried this fix, and it worked efficiently for us because it restores the configurations to the default state, removing any problematic settings.
Here's how to modify:
Open Run menu > Type regedit > OK > Yes.
Run the following path:

\HKEY_CURRENT_USER\Software\Classes\LocalSettings\Software\Microsoft\Windows\Shell

Expand Shell folder > Navigate to Bag and BagMRU folders > Right-click on each > Delete.
Remove A Windows 11 Update
Try removing the faulty Windows update, as it is sometimes the main reason behind different errors. As per our knowledge, faulty or corrupt Windows updates are known to cause various issues with the functionality. Hence, we deleted the recent Windows update from our PC. After restarting, File Explorer ran fine.
Here's how to remove it:
Press the shortcut keys Ctrl+Shift+2 to access the Command Prompt.
Run the command line:

wmic qfe list brief /format:table

From the list, look for the update you want to remove and note its HotFixID number.
Next, execute this command:

wusa /uninstall /kb:HotFixID
Important: In place of "HotFixID" enter the update ID number you noted down earlier.
Removing a faulty update seems to be working for others as well, as some users on Reddit used the same method to fix the issue.
Run SFC And DISM Scans
While working on the issue, we found that the reason behind the Windows File Explorer crash could be faulty system files. So, we ran the SFC (System File Checker) and DISM (Deployment Image Servicing and Management) to scan and repair the system file corruption glitches.
These are the codes you need to run individually:
SFC/scannow
DISM /Online /Cleanup-Image /CheckHealth
DISM /Online /Cleanup-Image /ScanHealth
DISM /Online /Cleanup-Image /RestoreHealth
Important: You must type the commands correctly, as the scans will not run otherwise.
Use Task Manager To Restart The File Explorer
Restarting the utility from the Task Manager is our tried and tested simple method that immediately solved the problem on our end.
Here's how to employ the fix:
Press CTRL+ALT+DEL > Task Manager.
Go to the Processes tab > Right-click Windows Explorer > Restart.

Restart File Explorer (Image By Tech4Gamers)
Scan For Malware Or Virus
The presence of malware or viruses hinders the normal running of Windows OS and its features. Therefore, run a scan to check for these threats and remove them immediately if found. It prevented the File Explorer crashing in Windows on our end.
This is not a major trouble and was pretty easy to fix using the techniques provided above. I noted that temporary glitches were mostly the culprit behind the issue, and a simple restart was enough to eliminate the problem in many cases.
Frequently Asked Questions
What Is The File Explorer Crashing Error?
It will sometimes crash in Windows 11 when you try to run any setup file or launch File Explorer right after the system startup.
Why Does The Crashing Issue Appear In Windows 11?
The error appears when there are corrupted caches or system files, system settings are incorrect, third-party apps are conflicting, or malware is detected in your system.
How Do We Fix The Crashing Issue?
You can fix the issue by clean booting your system, clearing system caches, tweaking some file explorer settings, and updating GPU drivers or system OS.
---
Similar Errors From Windows:
Was our article helpful? 👨‍💻
Thank you! Please share your positive feedback. 🔋
How could we improve this post? Please Help us. 😔
[Errors Troubleshooting Expert]
Arsalan Shakil (aka GuyThatDoesEverything on YouTube) is a PC Tech Enthusiast and Electronic Geek. With over 10+ years of experience in Electronics, he then decided to explore Software Engineering to design embedded products and automate existing hardware solutions. 
When he started tearing down old cameras to understand how they worked, he was shocked (literally, when he got zapped by a flash discharge capacitor), giving him the power (debatable) to fall in love with videography/photography. He also started making some fun videos that later became YouTube tech reviews.
Skills:
10+ years of experience in Electronics design, embedded solutions, and prototyping

Majored in Software Engineering

Research paper publication in IEEE for Embedded Military Uniform & LoRa WAN wireless technology

Specialized in IoT Solutions

PC Enthusiast & PC Modder
In his local region, he's known to expose cheap PSU brands, often claiming fake certification or false claims on the box. He's a true nerd and needed some friends in his life. Then he met some guys who work at Tech4Gamers, and they also came out to be equal nerds who suggested he join Tech4Gamers as a Hardware Expert.