The RX 7800 XT vs RX 6800 are exceptional cards from the house of AMD. Despite having an almost three-year gap between their productions, these cards share a lot of similarities. Let's see what they are as I present you with this ultimate comparison.
Key Takeaways
The RX 7800 XT establishes a decisive lead by having a stunning 15.9% increase in average frame rates over the RX 6800.
The RX 7800 XT stands out in my eyes as a model of power efficiency, outperforming the RX 6800 by a startling 7.47% when put under power load.
In my comparison of the two GPUs, the RX 7800 XT exhibits remarkable thermal efficiency skills, with maximum temperatures averaging almost 1.46% lower and GPU hotspot temperatures around 3.82% lower than the RX 6800.
Comparison Table
| | | |
| --- | --- | --- |
| Specs | RX 7800 XT | RX 6800 |
| Architecture | RDNA 3.0 | RDNA 2.0 |
| GPU Name | NAVI 32 | NAVI 21 |
| Process Size | 5nm | 7nm |
| Base Clock | 1295 MHz | 1700 MHz |
| Boost Clock | 2124 MHz | 2105 MHz |
| Memory Capacity | 16GB GDDR6 | 16GB GDDR6 |
| Memory Bus Width | 256 bit | 256 bit |
| Memory Bandwidth | 620.8 GB/s | 512.0 GB/s |
| TDP | 263W | 250W |
| RT Cores | 60 | 60 |
| CUDA Cores | 3840 | 3840 |
| TMUs | 240 | 240 |
| ROPs | 96 | 96 |
| Release Date | Aug 25th, 2023 | Oct 28th, 2020 |
| Best CPU | 6 Best CPU For RX 7800 XT In 2023 | – |
| Best Variants | Best RX 7800 XT Graphics Cards | – |
Architectural Differences
Process Size: The RX 7800 XT and RX 6800 both use cutting-edge manufacturing processes 5nm and 7nm, respectively.
Clock Speed: With a commanding base clock of 1700 MHz and a skyrocketing boost clock of 2105 MHz, the RX 6800 leads the pack in clock speeds and sets the bar high for performance. The RX 7800 XT, in comparison, comes with a base frequency of 1295 MHz and a boost clock that is effective at 2124 MHz.
VRAM: With a massive 16GB GDDR6 memory capacity, the RX 6800 and RX 7800 XT greatly improve gaming performance and provide a fluid and immersive gaming environment.
Bus Width: The RX 6800 and RX 7800 XT share a substantial 256-bit memory bus width, which elevates gaming to new levels with lightning-fast connectivity and breathtaking graphics.
TDP: A higher TDP of about of The RX 7800 XT has a higher TDP of 263W. Whereas, the RX 6800, showcases its commitment to power efficiency by having a TDP of 250W.
Learn The Difference:
RX 7800 XT Vs RX 6800: Benchmark At 1440p
Since the technical details are out of the way, let me guide you to the benchmark test of both GPUs on 1440p, which highlights their performance difference with respect to their average FPS.
Testing Rig
Disclaimer: The value obtained from this benchmark may contain a slight margin for error due to the influence of a few external factors, such as airflow, temperatures, and recording software. Therefore, we advise you to take the results as mere estimations.
A Plague Tale: Requiem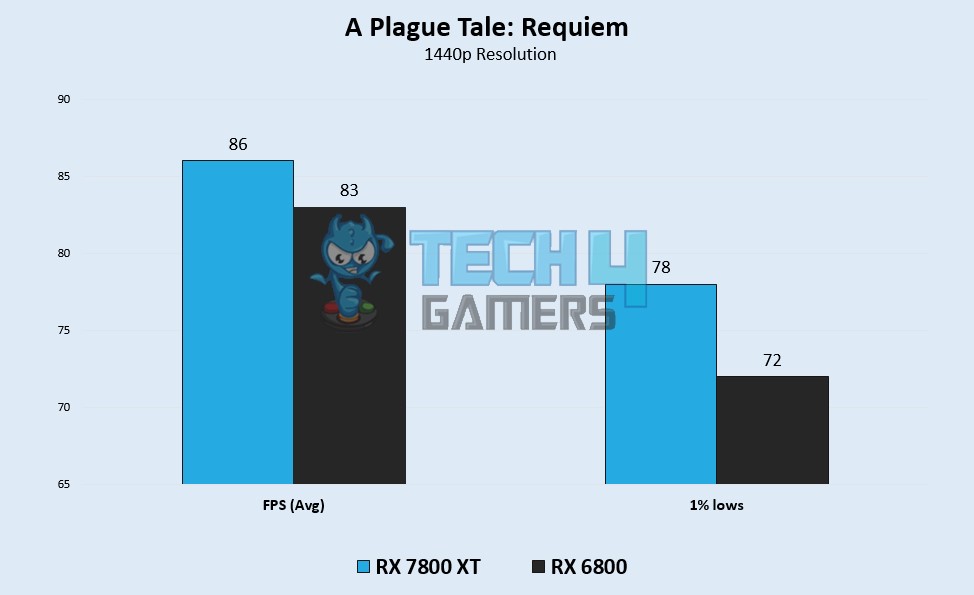 On A Plague Tale: Requiem, the RX 7800 XT showcased its ability to provide higher frame rates, by achieving an average of 86 FPS. This accomplishment greatly outperforms the RX 6800's more constrained performance, which manages only 83 FPS.
The RX 7800 XT displayed 1% low frame rate of 72 FPS. On the other hand, the RX 6800, provides a little more consistent performance in this area, by obtaining a 1% low of 78 FPS.
Resident Evil 4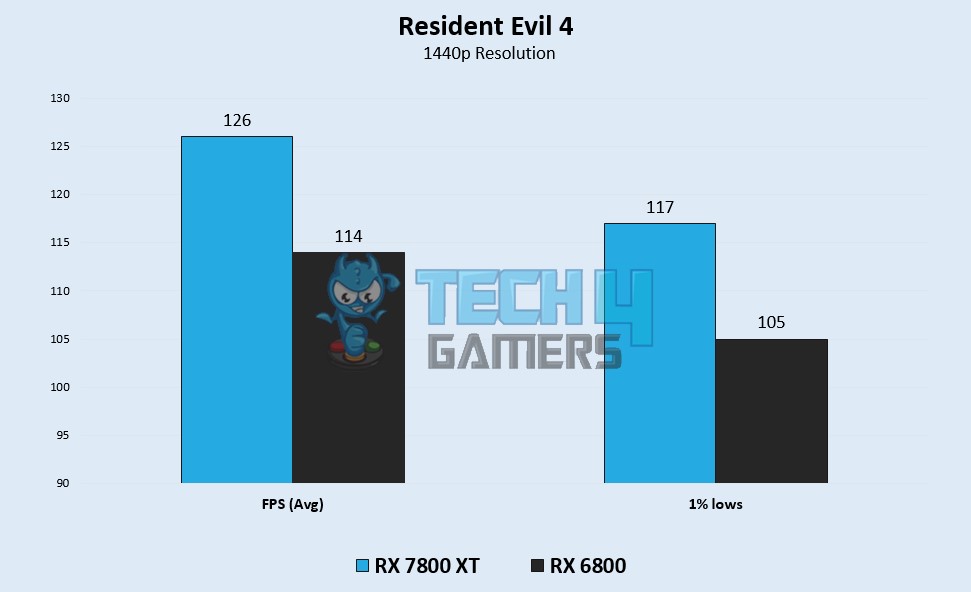 On Resident Evil 4, I could see a visible difference between the average FPS of both cards. With a remarkable average FPS of 126, the RX 7800 XT stands tall and victorious. On the flip side, the RX 6800 performs with an average of 114 FPS.
The RX 7800 XT displayed a 1% low frame rate of 117 FPS as opposed to the RX 6800, which achieved a 1% low of 105 frames per second, showcasing a difference of about 20 FPS.
Cyberpunk 2077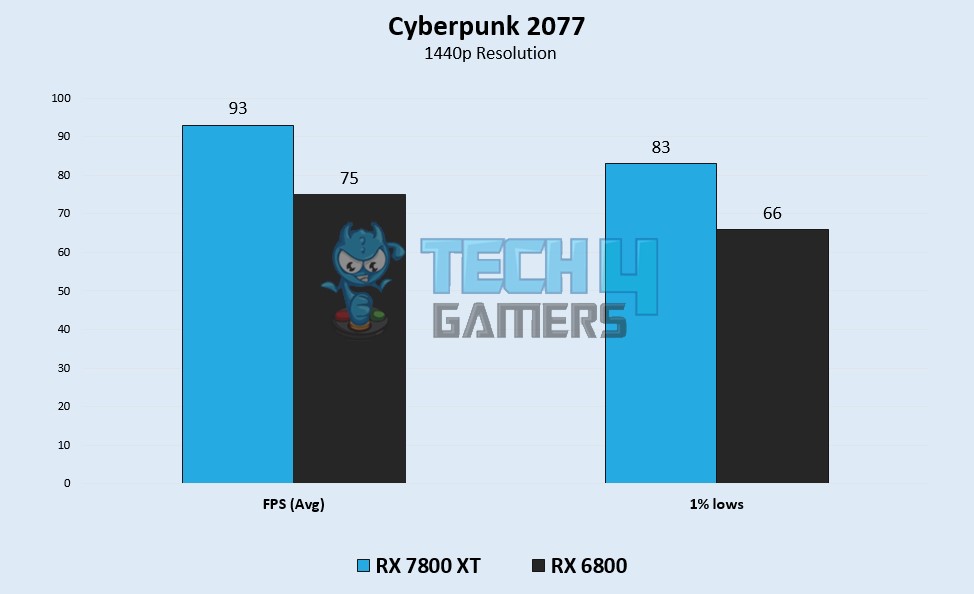 Cyberpunk 2077's gaming performance revealed to me a substantial difference in average frame rates. Where the RX 7800 XT establishes its superiority by obtaining a stellar average FPS of 93, it surpasses the RX 6800, which trails at a mere 75 FPS.
The RX 7800 XT shines in this area, showcasing its ability to maintain stutter-free gameplay throughout by obtaining a 1% low of 83 FPS. The RX 6800, in comparison, traids lightly behind its contender, by having a 1% low of 66 FPS.
Read More: RTX 4060 Ti Vs RX 6800
Hogwarts Legacy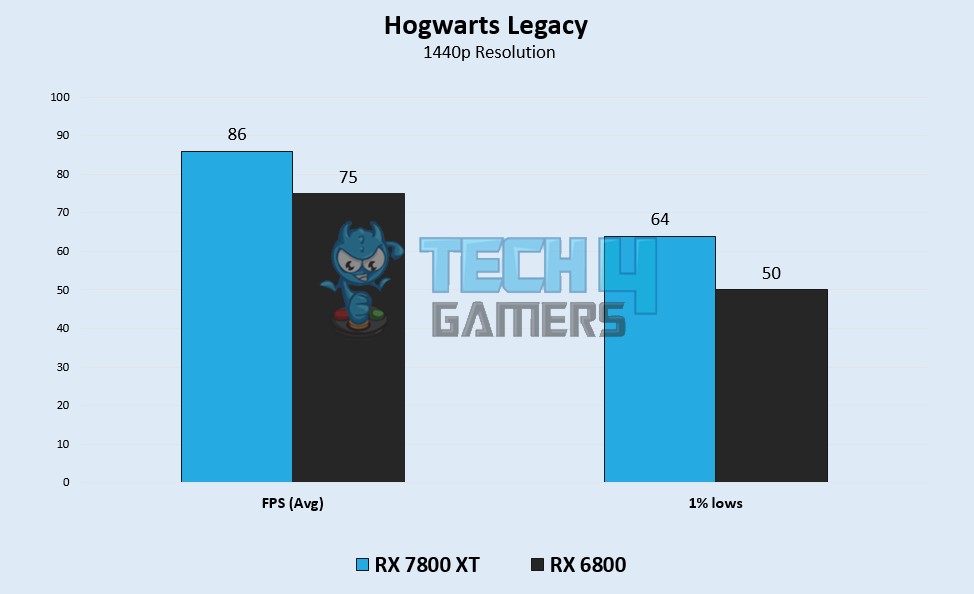 After my thorough inspection, I saw that the RX 7800 XT had a clear advantage over the RX 6800 as it reached 86 FPS over RX 6800's 75 FPS.
In terms of the 1% lows, I was made aware of RX 7800 XT's outstanding endurance, which keeps a 1% low frame rate of 64 FPS. In contrast, the RX 6800 pushes its limit by providing a 1% low of 50 FPS.
Similar Comparison:
The Last Of Us Part 1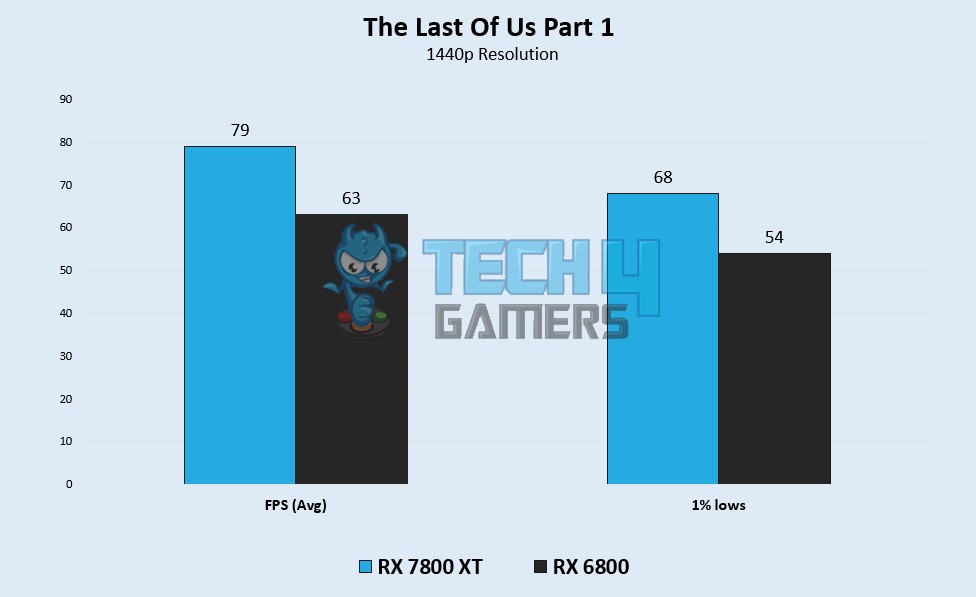 With an outstanding average frame rate of 79 FPS, the RX 7800 XT overshadows the comparably inadequate performance of the RX 6800, which manages 63 FPS.
The RX 7800 XT also stands effectively when tested through demanding gaming settings. It showed me remarkable consistency, with a 1% low of 68 FPS. The RX 6800, in contrast, exhibits a little lower level of stability, with a 1% low of 54 FPS.
Marvel's Spider-Man Remastered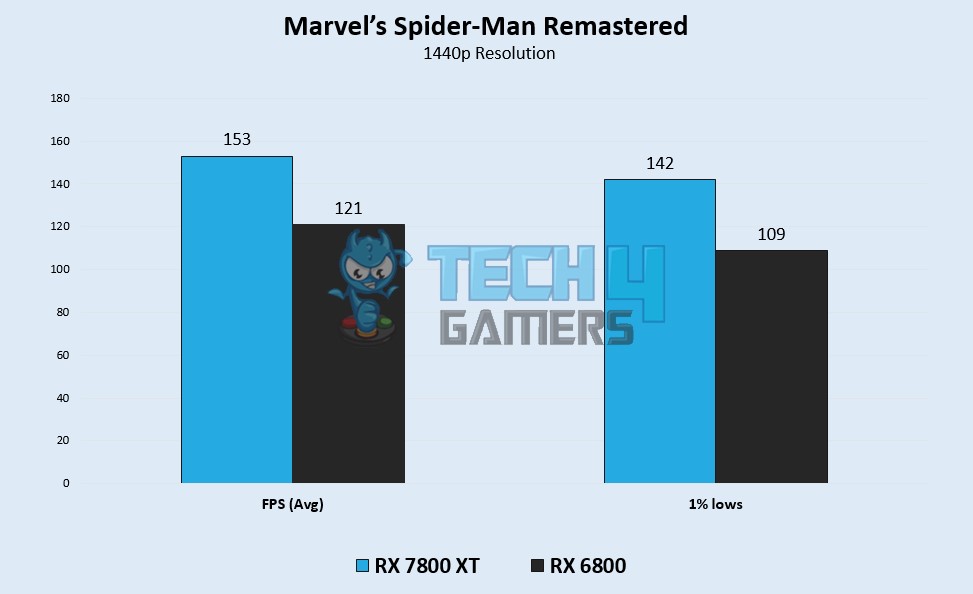 On Marvel's Spider-Man Remastered, the RX 6800 solidifies its superiority over its rival by obtaining 153 FPS over the RX 7800 XT's mere 121. Admittedly, this is a big leap in FPS for me.
Similar to the average FPS, I expected the same amount of margin when it comes to the 1% lows as well. Here, the RX 7800 XT stands victorious by having a 1% low of 142 FPS. Whereas, the RX 6800 displays a 1% low of 109 FPS, showing over a 30 FPS gap.
RX 6800 Vs RX 7800 XT: Overall Gaming Analysis
Average Framerates
The average FPS obtained by two GPUs is an excellent way to compare the performance of the graphic cards. This is why I have added an informative graph, which will provide you with clarity regarding this area.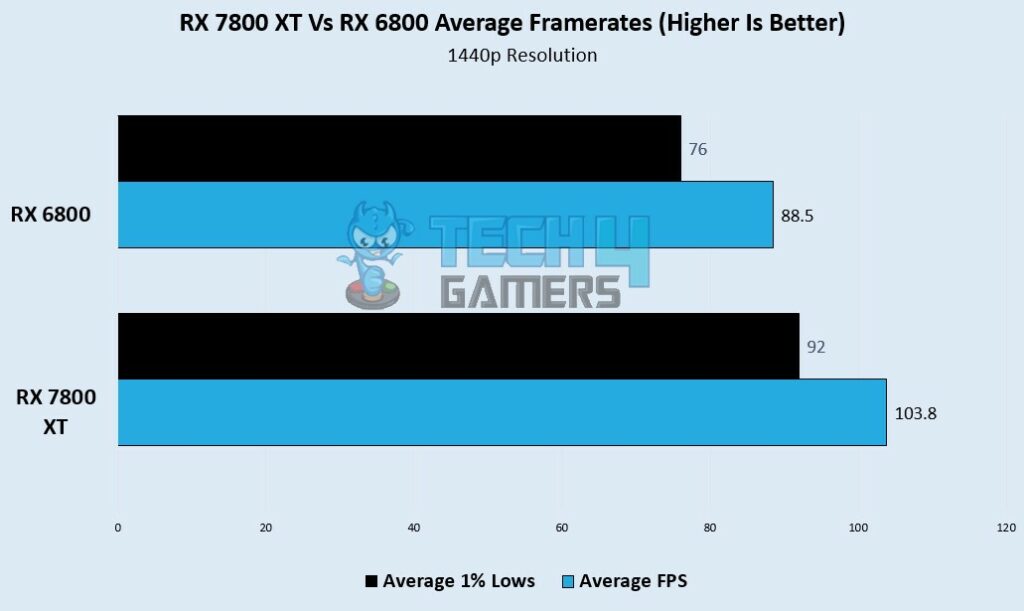 With an outstanding average FPS of 103.8, the RX 7800 XT confirms its superiority in this field. This statistic represents a significant 15.9% gain over the RX 6800, which averages 88.5 FPS.
Thermal Efficiency
Effective temperature management is essential to maintain a GPU's health and guarantee peak performance. Here, we examine these GPUs' thermal dynamics and evaluate their capacity to keep cool under the rigorous demands of gaming.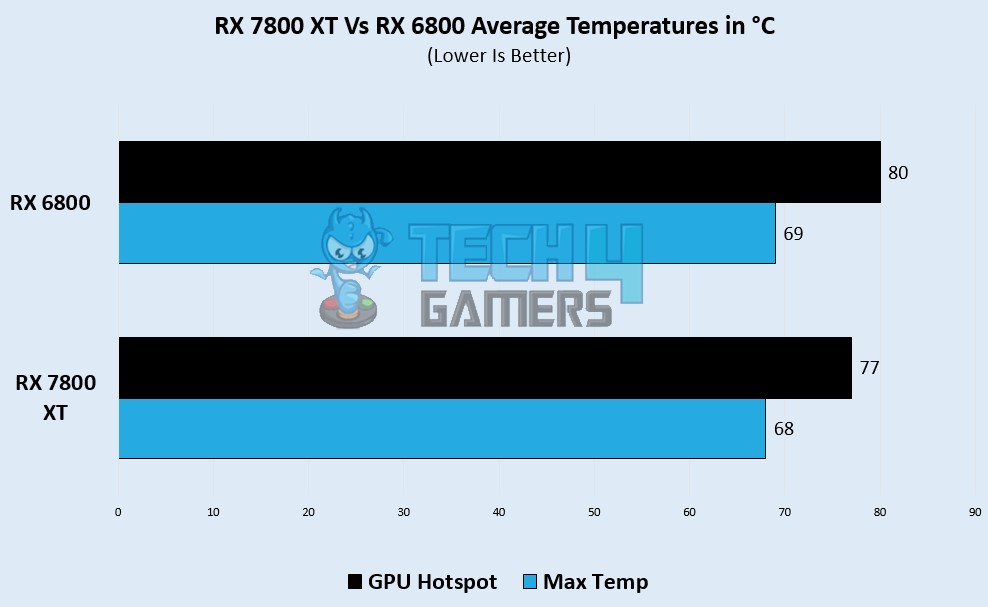 Despite reaching a maximum temperature of 68°C, the RX 7800 XT maintains exceptional calmness. The RX 6800, on the other hand, displays its thermal performance with an unnoticeable maximum temperature of 69°C.
The RX 7800 XT maintains a lower maximum GPU hotspot temperature of 77°C, further emphasizing how distinct its thermal performance is, while the RX 6800 works at a slightly higher maximum of 80°C, highlighting its capacity to withstand larger thermal loads.
Power Consumption
In today's energy-conscious environment, balancing performance and power efficiency is crucial. These GPUs' power usage in both the active and idle modes provides vital information about their energy conservation capabilities.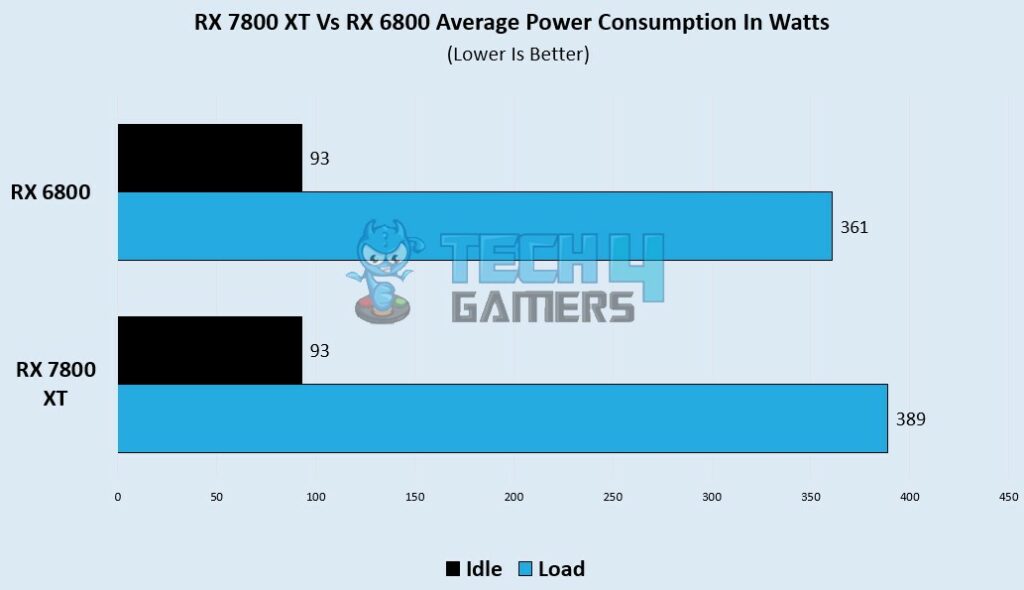 The RX 6800 and RX 7800 XT display comparable power consumption at peak operation, with the RX 6800 using 361W, which is nearly identical to the RX 7800 XT's maximum power demand of 389W.
Both GPUs exhibit a sophisticated strategy for energy management while idle, using just 93W, demonstrating their high level of power efficiency.
Pricing And Availability
The RX 6800 caters to a wide variety of economic concerns, with prices ranging from $420 to $579, making it an appealing option for consumers seeking dependable performance at the forefront of technological innovations.
The $499 RX 7800 XT, on the other hand, has a more accessible position and emphasizes finding the ideal balance between cost-effectiveness and excellence in quality.
Which GPU Do I Recommend?
When you're considering acquiring either the AMD Radeon RX 6800 or the AMD Radeon RX 7800 XT, it is essential to look over all the factors in order to make the right decision that fits your unique needs and your personal wants. This is why I've made a list of points that will help ensure you gain clarity.
The AMD Radeon RX 6800 is marketed as a top-tier graphics card with a desirable balance between performance and affordability.
It guarantees compatibility with modern games by supporting DirectX 12 Ultimate, which includes capabilities like hardware-ray tracing.
The RX 6800 emerges as an attractive alternative if your present system already has strong capabilities and your goal is to get considerable gaming performance without placing a heavy financial load.
Despite being significantly less sophisticated than the RX 7800 XT's 7nm manufacturing technology, it might have somewhat higher power consumption. However, if gaming is your first priority, this shouldn't bother you in any way.
On the other hand, the AMD Radeon RX 7800 XT makes use of cutting-edge 5nm process technology.
Its initial allure originates from its relatively affordable launch price, which makes it a tempting deal for anyone managing financial restrictions while striving for high-end gaming performance.
The promise of improved power efficiency and the possibility for significant overclocking is held by this cutting-edge process technology.
The RX 7800 XT may easily meet your goals if your project entails building a new gaming system and you want to take advantage of the most recent technical breakthroughs while staying within a budget.
Both GPUs provide exceptional gaming performance. Considering a better performance-to-price ratio and a better value for you, I'd say it is the RX 6800. If adding a bit to your budget is not a problem for you, the RX 7800 XT becomes a better option for you. The decision ultimately depends on the circumstances and preferences of the person.
Pros and Cons
GPU
Pros
Cons
RX 7800 XT

Affordable price
Multiple display outputs

Slightly lower clock frequencies
Smaller VRAM

RX 6800

High clock speeds
Decent shading units

High power consumption
High price
Frequently Asked Questions
Can both GPUs allow ray tracing?
Ray tracing is supported by the RX 6800 and RX 7800 XT owing to their DirectX 12 Ultimate compatibility. In supported games, this makes lighting and reflections more realistic.
In terms of connectivity alternatives, are there any noticeable differences?
There are some distinctions, indeed. One HDMI 2.1 port, two display port 1.4a connections, and one USB Type-C port are all available on the RX 6800. The RX 7800 XT, in comparison, has three display port 2.1 connectors and one HDMI 2.1a port.
Which GPU is better suited for 4K gaming?
Yes, both GPUs can support 4K gaming, although real performance may differ depending on the game and settings. In demanding 4K applications, the RX 7800 XT's newer process could provide a tiny advantage.
---
More From RX 7800 XT
More From RX 6800
Was our article helpful? 👨‍💻
Thank you! Please share your positive feedback. 🔋
How could we improve this post? Please Help us. 😔
[Comparisons Expert]
Abdemanaf is a skilled creative writer who has been honing his craft since 2011. While initially working in different fields, he found a passion for technology and has been exploring the tech world since early 2015. Over the years, he has developed an in-depth knowledge of the latest tech trends and product offerings by various companies.
Abdemanaf's writing reflects his analytical mindset and ability to think critically. He has a knack for breaking down complex technical information into easily digestible pieces, making his articles engaging and accessible to readers from all backgrounds. In February 2022, he joined Tech4Gamers as a blog and product comparison writer, where he has been able to hone his skills further.
As a writer, Abdemanaf is dedicated to staying up-to-date with the latest technological advancements and trends, enabling him to provide readers with the most relevant and accurate information. He is always eager to learn more and is constantly seeking new challenges to improve his skills.
Get In Touch: [email protected]