How Fast Is It?
Review Summary
Kingston has a good reputation for building quality and support. Their Fury Renegade is an enthusiast-grade product line offering nothing but the best. The 2TB NVMe SSD with the heatsink is no exception to that. This SSD offers good sustained performance and is compatible with PS5 as well.
Quality -

9/10

Performance -

8.8/10

Features -

9/10

Value -

8.8/10
Pros
Using E18 Controller
7300MB/s Sequential Read
7000MB/s Sequential Write
1,000,000 IOPS in 4K Random
PS5 Compatible
Heatsink Design
5-Year Warranty
Good Real World Performance
Cons
A bit more pricey
Runs warm
Kingston Technology needs no introduction. The company has roots in 1987 when they came out with a new design of memory module that actually revolutionized the market subsequently.
They are engaged in manufacturing memory in particular and storage solutions not only for the consumer market but for industrial, business, and DATA Center sectors as well. Kingston and Quality are almost synonymous when it comes to memory module technology and solutions. Suffice it to say, Kingston is an old player in the market.
In our last content, we tested Kingston Fury Renegade 2x16GB 6400MT/s CL32 DDR5 kit. This time we are taking a look at another high-performance product but in a different category.
Kingston Fury Renegade series also carry NVMe SSDs and this is exactly what we are testing this time. This line of NVMe SSDs starts with 500GB and goes as high as 4TB capacity. We are testing the 2TB variant of Fury Renegade.
This SSD uses NVME 1.4 interface over PCIe4x4 meaning it is a PCIe Gen 4 SSD taking 4 PCIe lanes. What is really impressive, at least on paper, is the sequential write and read speed rating.
The 2TB variant is rated for up to 7300MB/s read and 7000MB/s write which is what the Gen 4-based SSDs can max peak at. In contrast, the Sabrent Rocket 4 Plus 1TB NVMe SSD is rated for up to 7000MB/s read and up to 5800MB/s write. 4K Random read and write are rated for up to 1,000,000 IOPS each.
Coming to another important factor of TBW (Total Bytes Written), this SSD is rated by Kingston for a whopping 2.0 PBW. You read that right it is Peta Bytes.
The salient features of this drive include:
Incredible PCIe Gen 4×4 NVMe performance
Available with a heatsink or low-profile heat spreader
Slim M.2 2280 form factor
High capacities up to 4TB2
PS5™ Ready
7,300MB/s Read, 7,000MB/s Write
Includes cloning software
Specifications
| Product | Kingston Fury Renegade 2TB NVMe SSD with Heatsink |
| --- | --- |
| Form Factor | M.2 2280 |
| Interface | PCIe 4.0 x4 NVMe |
| Capacities | 2TB |
| Controller | Phison E18 |
| NAND | 3D TLC |
| Sequential Read/Write | 7,300/7,000MB/s |
| Random 4K Read/Write1 | up to 1,000,000/1,000,000 IOPS |
| Total Bytes Written (TBW) | 2.0PBW |
| Power Consumption | 5mW Idle / 0.36W Avg / 2.8W (MAX) Read / 9.9W (MAX) Write |
| Storage Temperature | -40°C~85°C |
| Operating Temperature | 0°C~70°C |
| Dimensions | 80mm x 23.67mm x 10.5mm |
| Weight | 34.9g |
| Vibration Operating | 2.17G Peak (7-800Hz) |
| Vibration Non-operating | 20G Peak (20-1000Hz) |
| MTBF | 1,800,000 hours |
| Warranty/Support | Limited 5-year warranty with free technical support |
Packing Box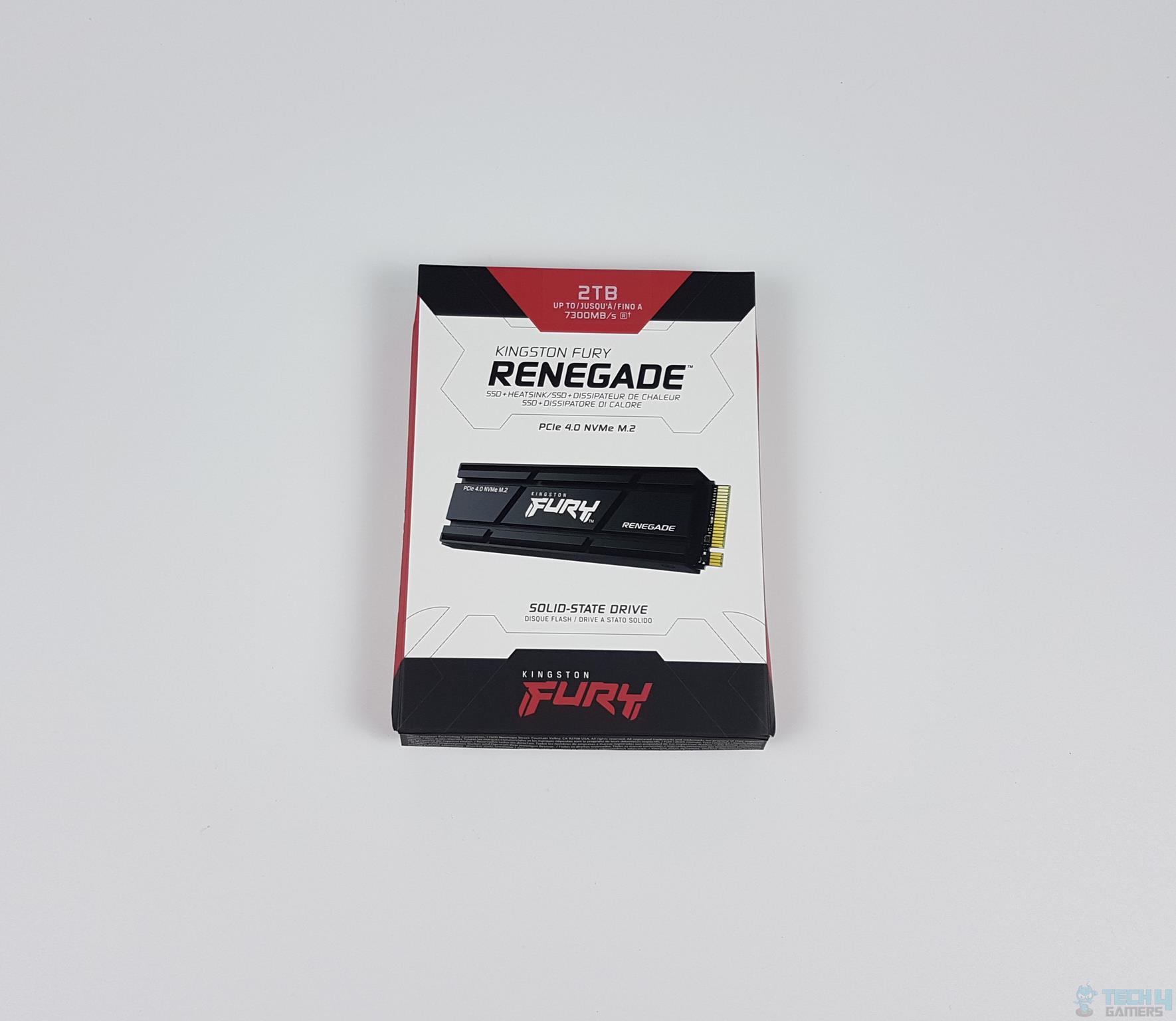 Kingston is using a paperboard-made packing box finished in black and white colors. Kingston has highlighted 7300MB/s speed here to highlight the fast sequential speed of this SSD.
There is a stylish, low-profile heatsink provided with this variant. This SSD is also available without this heatsink.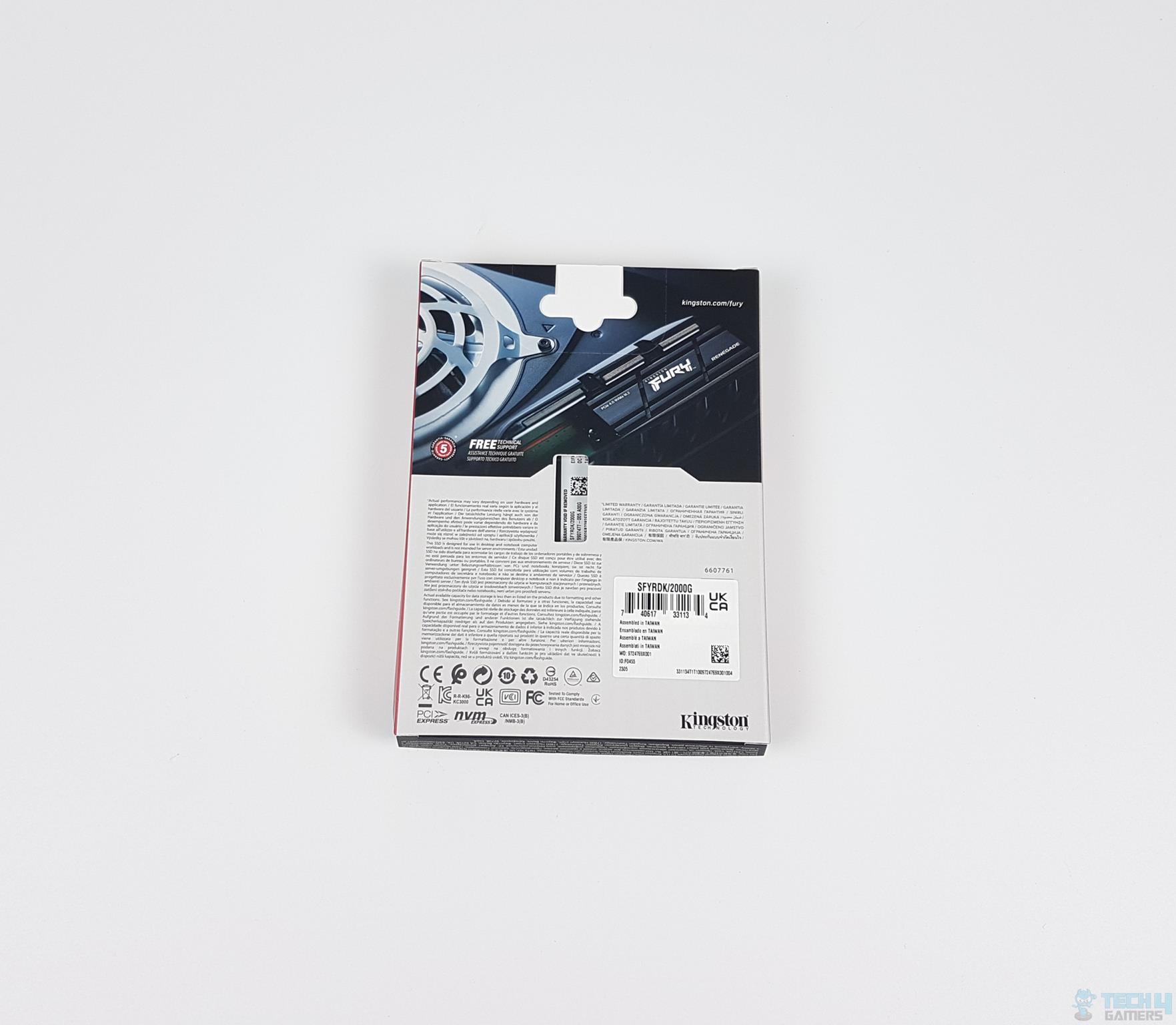 SFYRDK/2000G is a part number of this particular variant. There is a cutout in the center of the box giving a glimpse at the SSD, showing a label sticker.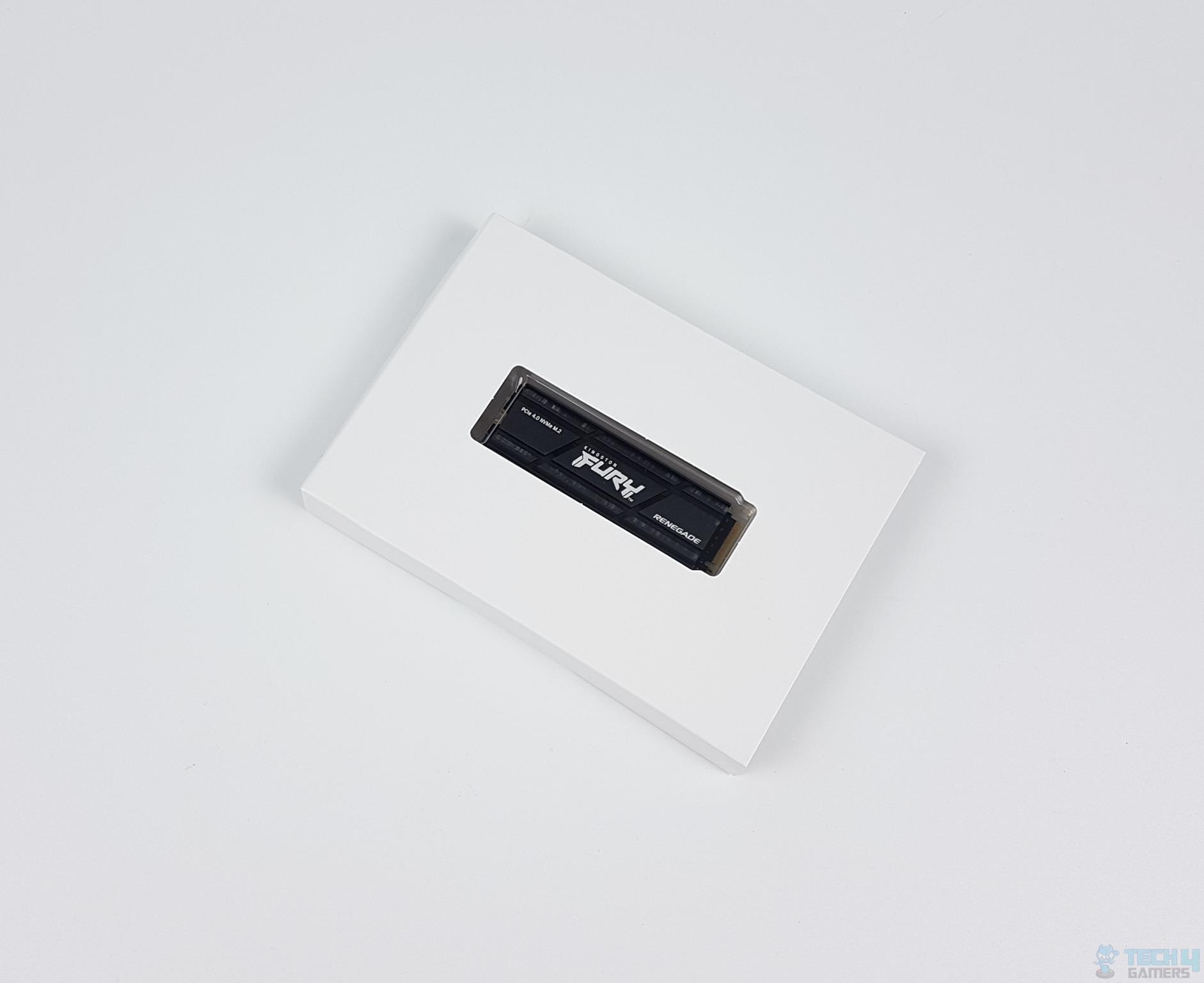 There is another paperboard-made inner container having the SSD tucked inside.
Kingston has done a safe way of providing a serial number for Acronis True Image HD software. This sticker is inside the inner container.
Design
Kingston is using 3D TLC NAND flash in the Fury Renegade series of NVMe SSDs. We saw Sabrent using the same type in their Rocket 4 Plus 1TB NVMe SSD though the chip-level design could differ.
3D TLC NAND Flash-based storage solutions are relatively expensive compared to QLC or MLC. This SSD is available in the following capacities:
Here is a statement from Kingston about this SSD. "Kingston FURY™ Renegade PCIe 4.0 NVMe M.2 SSD provides cutting-edge performance in high capacities for gaming and hardware enthusiasts seeking extreme performance for PC builds and upgrades.
By leveraging the latest Gen 4×4 NVMe controller and 3D TLC NAND, Kingston FURY Renegade SSD offers blazing speeds up to 7,300/7,000MB/s1 read/write and up to 1,000,000 IOPS1 for amazing consistency and exceptional gaming experience. From game and application loading times to streaming and capturing, give your system a boost in overall responsiveness."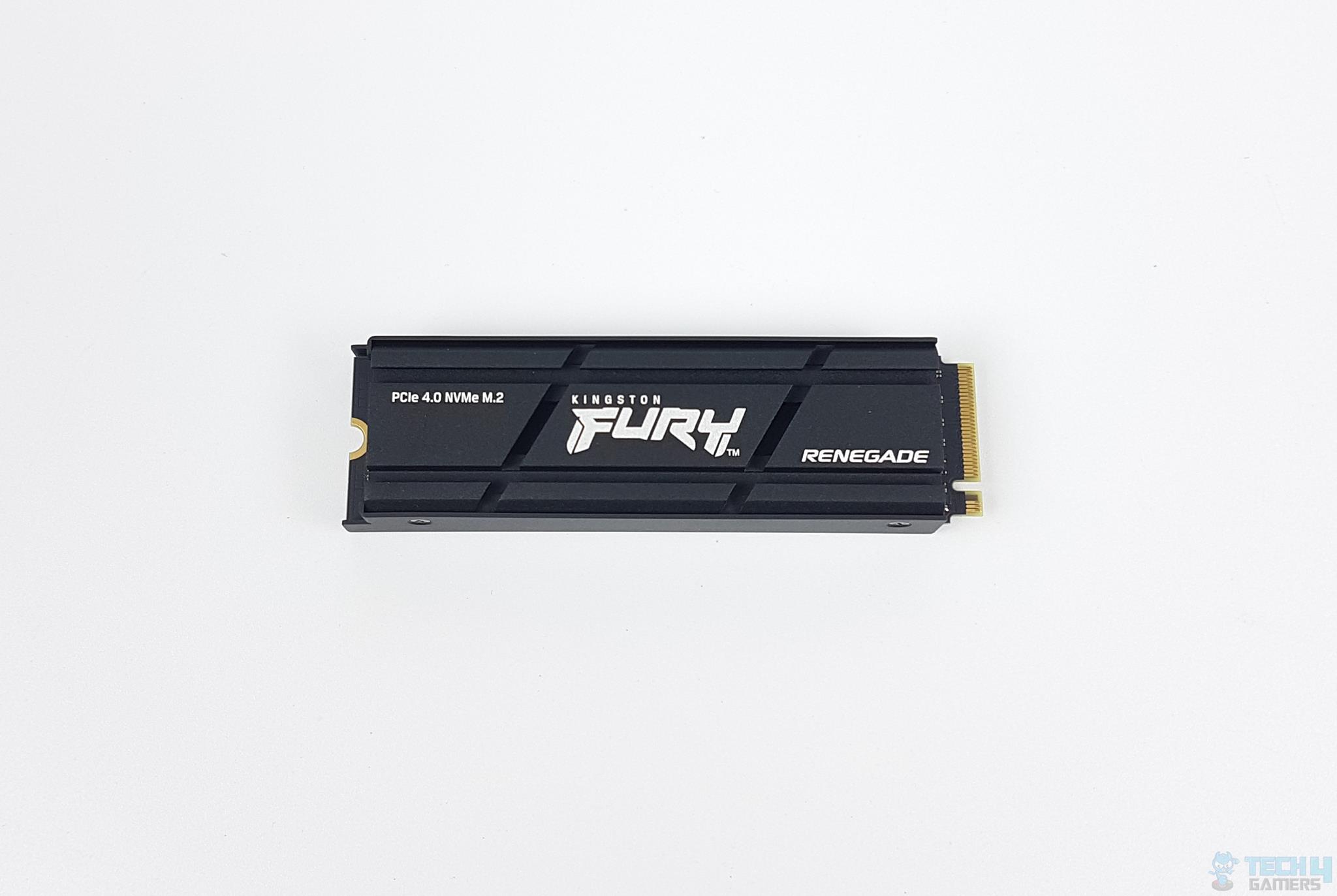 This particular version comes with a heatsink. This series of NVMe SSDs is also available in a low-profile graphene aluminum heat spreader. You would need to check for the particular version at the time of buying.
This SSD is using a form factor of 2280 using M-Key type for M.2 ports. In other words, it is an NVMe interface. This SSD is based on PCIe Gen 4 and uses 4x PCIe lanes (PCIe 4×4). Installing this SSD on a Gen3-based M.2 port would reduce the speeds.
The dimension of this unit is 80×23.67×10.5mm (LxWxH) and it has a weight of 34.90g. There are no dedicated drivers as they are not required on Windows 10 and 11. 10.5mm is the overall height of this unit making it fully compatible with PS5.
Kingston is actually aiming this SSD towards PS5 users as well allowing them to fully integrate the super-fast storage in high capacity in their console. This would be handy given the limited storage on PS5 and heavy game sizes. Plus having a heatsink would help mitigate the heat factor as well.
There is a line pattern created by using insets on the black color heatsink. Kingston Fury Renegade is written in white over this heatsink. The top portion of this heatsink is made of a single aluminum piece. The total solution comprises a base plate, 2x thermal pads, and a top cover.
I remember Sabrent using a thin plate of copper on top of Rocket 4 Plus series SSDs for heat transfer. Keep in mind that using any low-profile cover would increase the total height of the SSD and this may have an issue when installing under the motherboard's M.2 covers with standard height SSDs. We did not open this heatsink.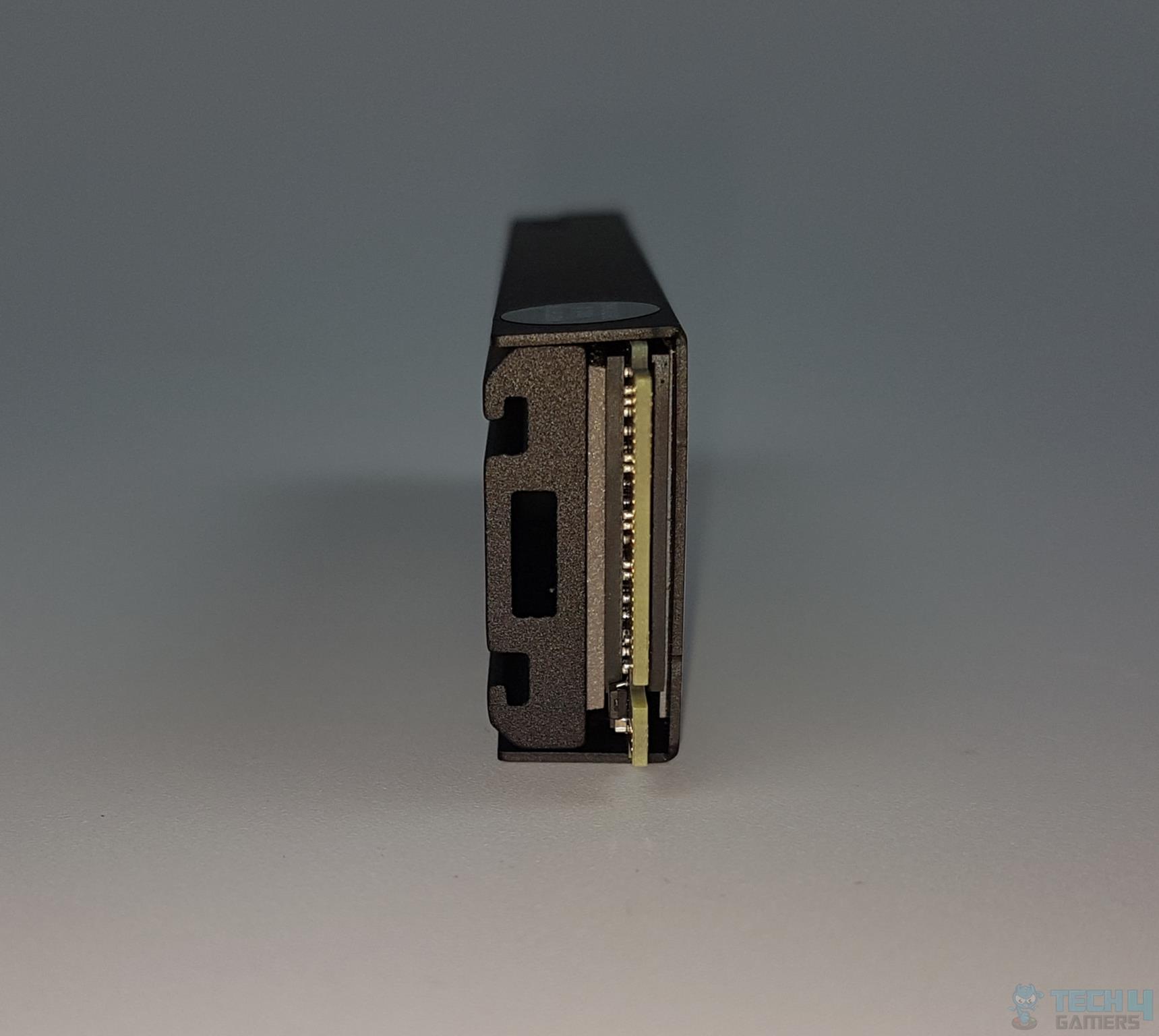 The above picture shows that we have a top cover acting as a heatsink. There is a gray color thermal pad under this heatsink. This SSD is dual-sided, meaning there are components on both sides of the SSD which are clearly visible.
There is a thin (0.5mm or so) thermal pad below this SSD. The base plate is actually designed to serve as a container with raised sides. Overall, Kingston has done a good job.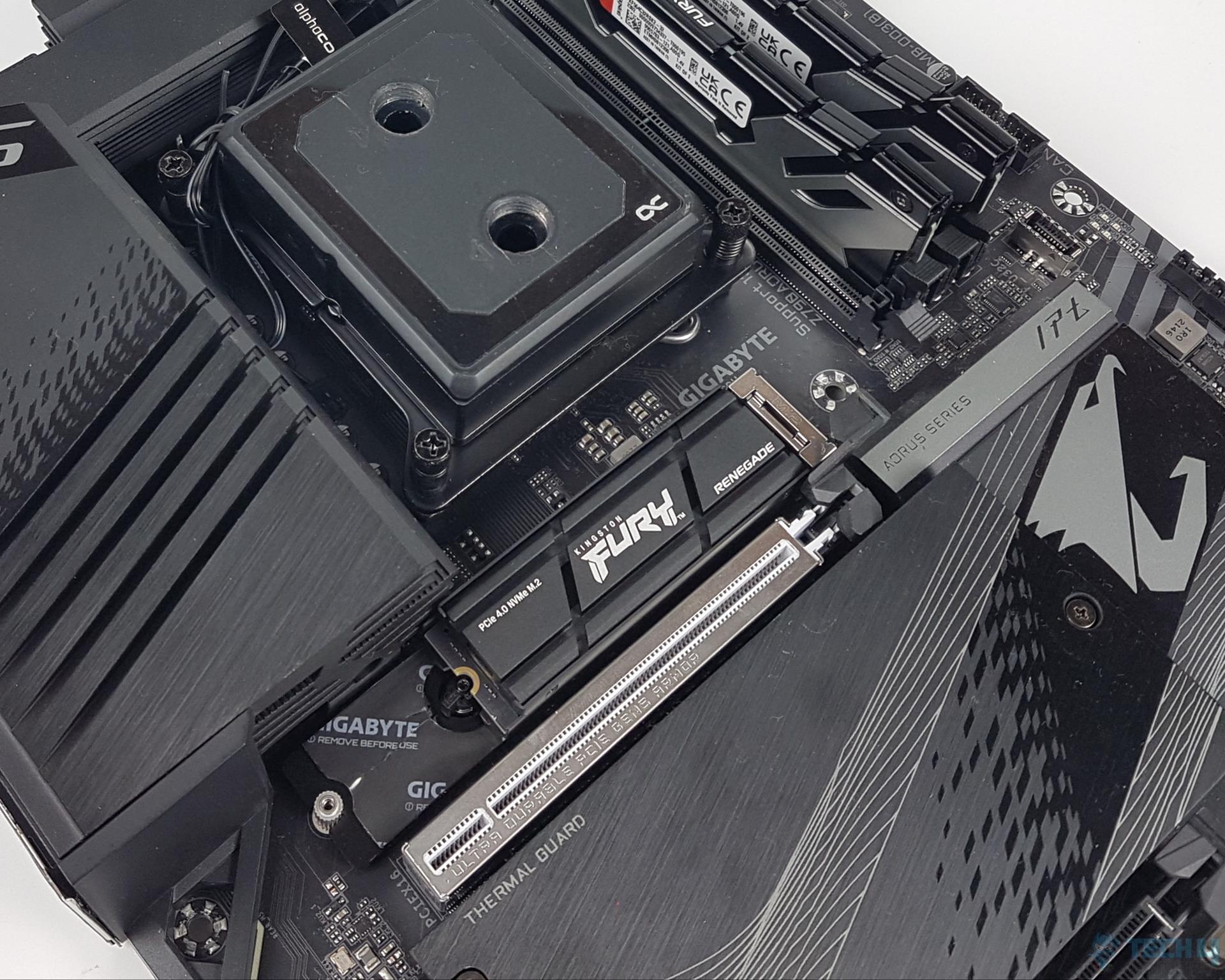 Take note of the base plate. When installing this SSD on modern motherboards with toolless mounting/removal, this SSD would not fit in as can be seen in the above picture. I am guessing this would not happen with screw-based mounting.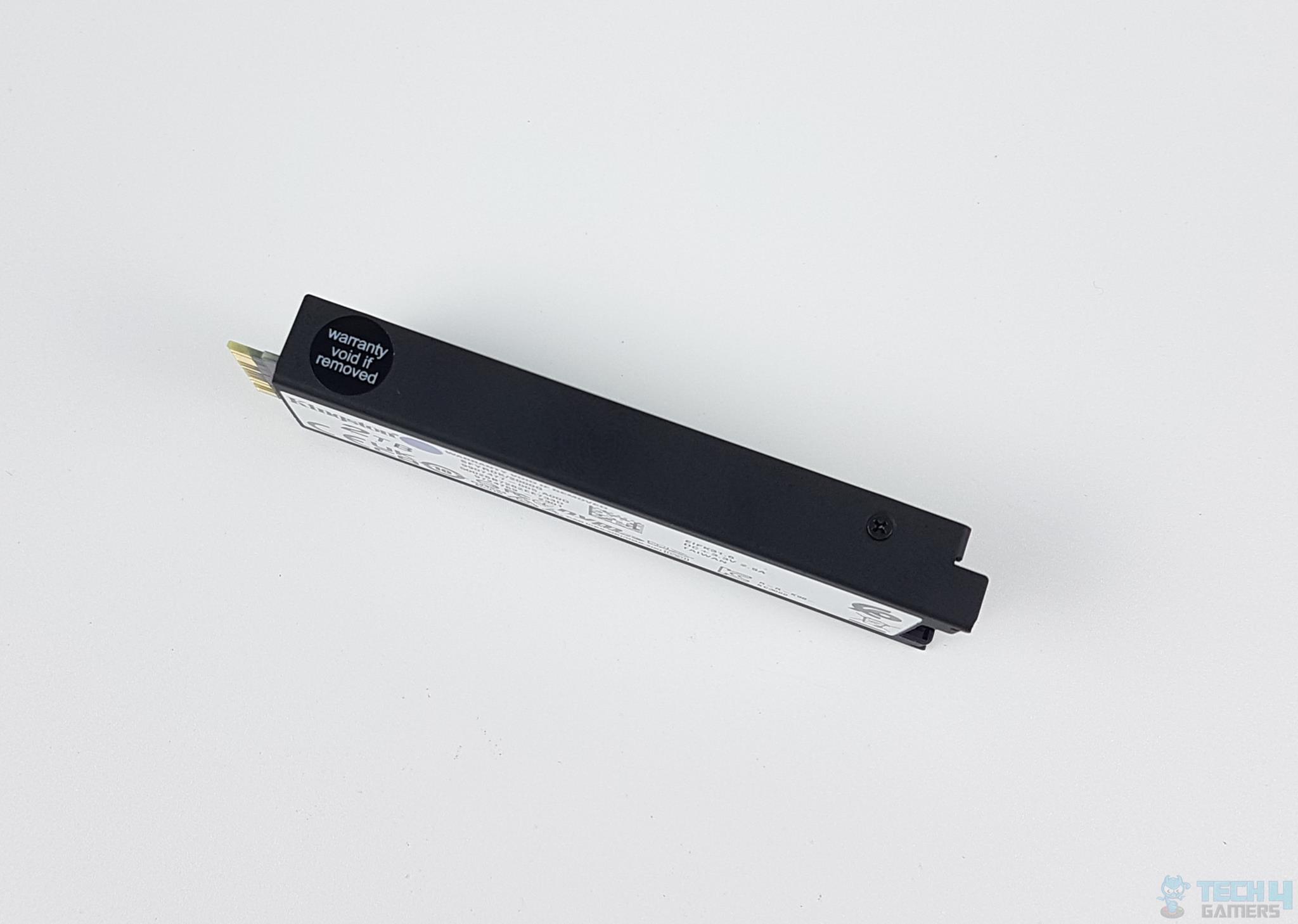 The top cover is screwed to the housing. One of the screws has a sticker on top of it. Tearing or removing this sticker will void the warranty.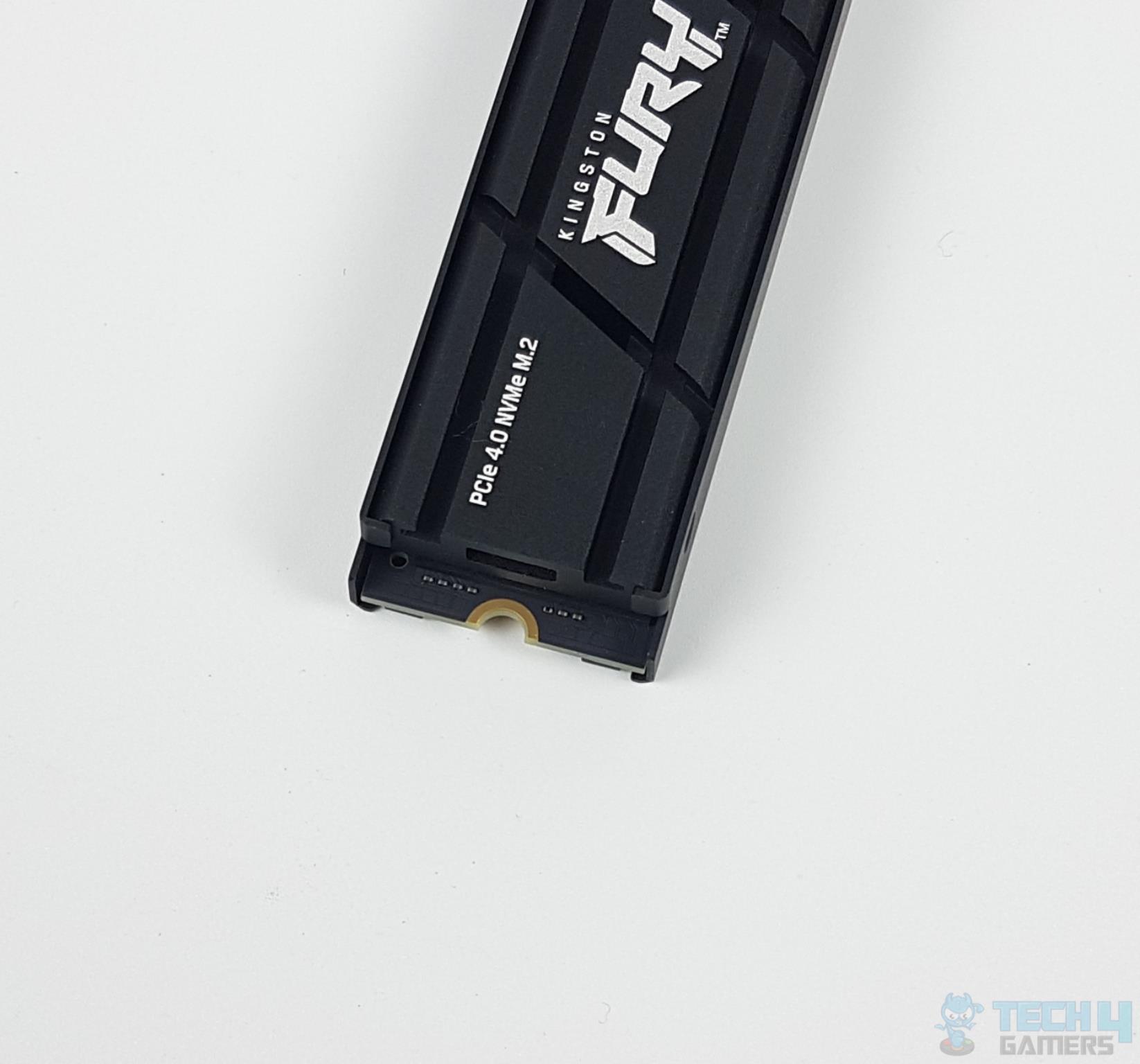 There is enough clearance towards the cutout side of the PCB. This side faces the standoff on M.2 slot.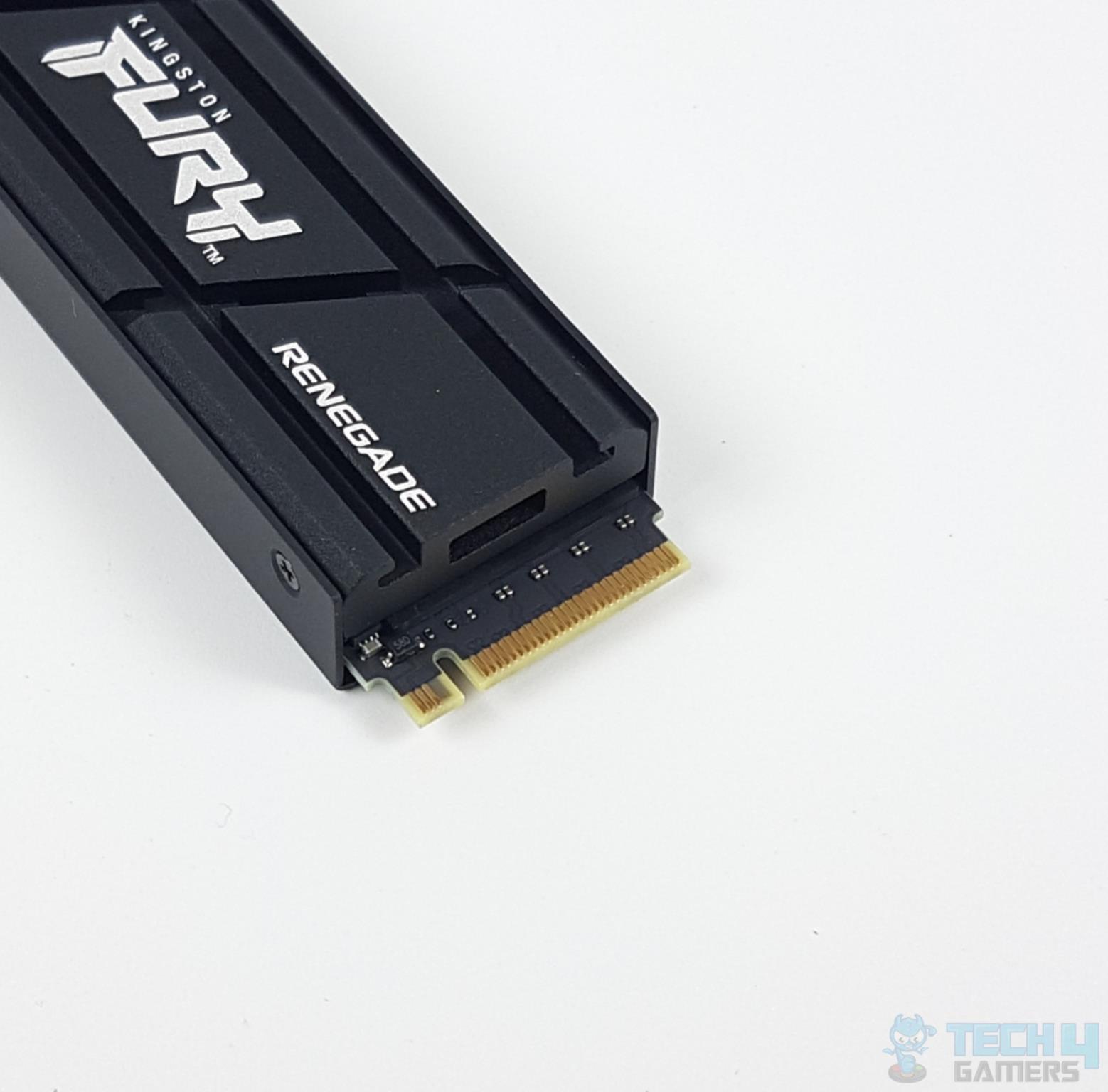 There is enough clearance towards the M.2 connector for easy socketing.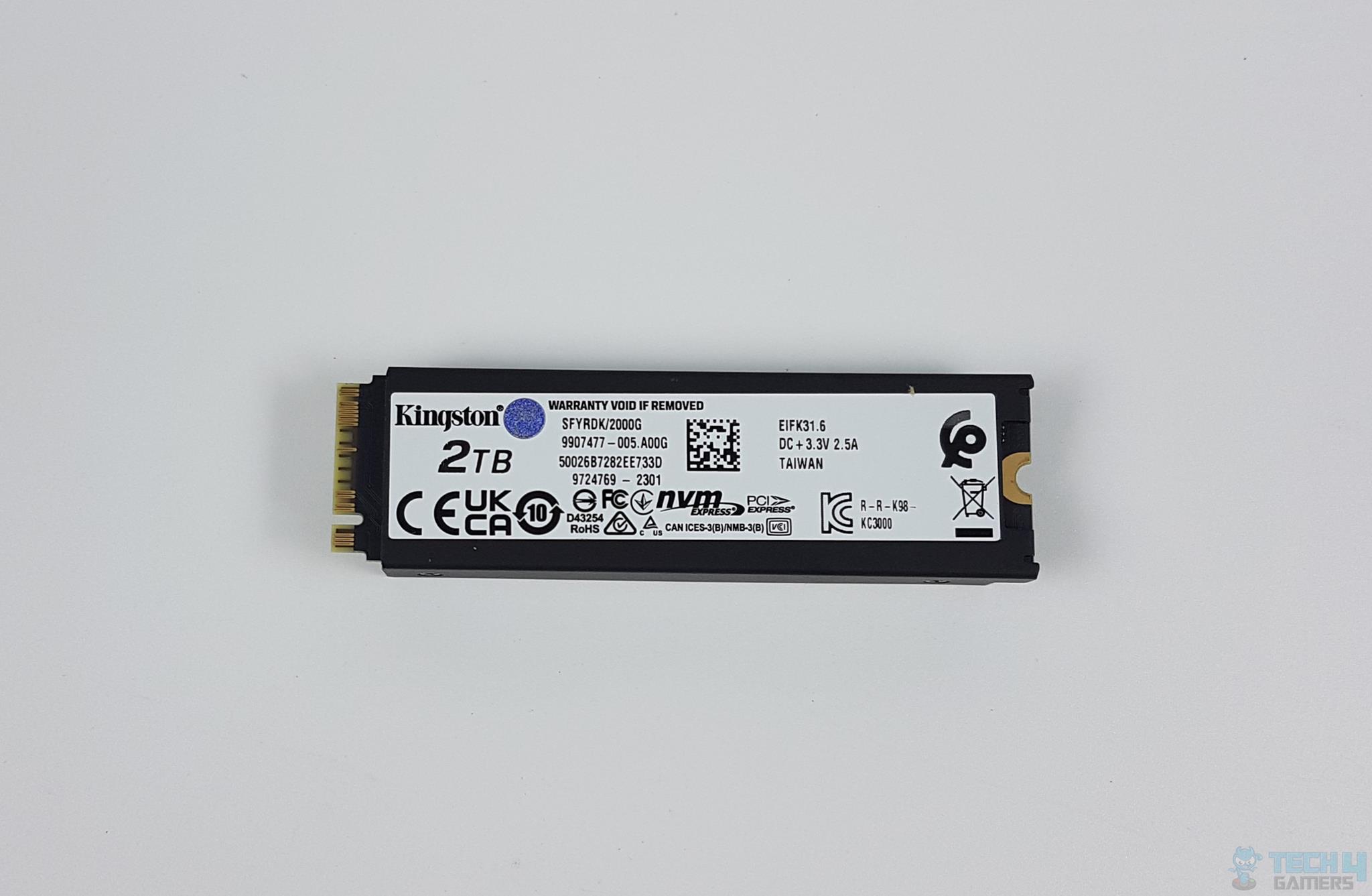 There is a large size sticker on the back side of this unit. The part number and a serial number of this unit are printed on that sticker. The drive is rated to draw 2.8W for Read operations and 9.9W for Write operations. There is a mention of 5mW idle power. The power supply is rated at 3.3V.
Kingston has stated that the operational temperature of this SSD is between 0°C and 70°C. The storage temperature range is -40°C to 85°C. MTBF is 1,800,000 hours. A closely related variable of TBW has a rating of 2.0 PBW which is quite good. Kingston is offering a limited 5 years warranty on this SSD.
So, overall, this SSD is expected to last for years of data writing. In case you are wondering how many Terabytes we are talking about here, the figure is 2000 TB. This is even better than 1400 TB on Sabrent Rockett 4 Plus 2TB NVMe SSDs.
The 2TB variant of Kingston Fury Renegade SSD is rated for:
Sequential Read
7300MB/s
Sequential Write
7000MB/s
Random Read
1,000,000 IOPS
Random Write
Usually, these 4K Random figures are based on QD32. There is no mention of this in the specifications. This unit is also powered by the same Phison E18 controller which we saw on Rocket 4 Plus 1TB NVMe SSD. This controller can be found in the majority of high-range SSDs.
This controller is based on TSMC 12nm process technology using a 32bit ARM Cortex R5 micro-controller in Triple-CPU architecture with up to 8 channel support. The controller has support for Dynamic SLC Cache and supports 1600MT per channel in DDR4 DRAM. It has 2GB dedicated RAM.
We found that Kingston may be using a 1GB per 1TB capacity formula for RAM. In terms of NAND flash, this SSD has Micron 176L TLC NAND flash. Overall, this is a winning combination in Gen 4 NVMe SSDs for high-speed data transfers out of the box.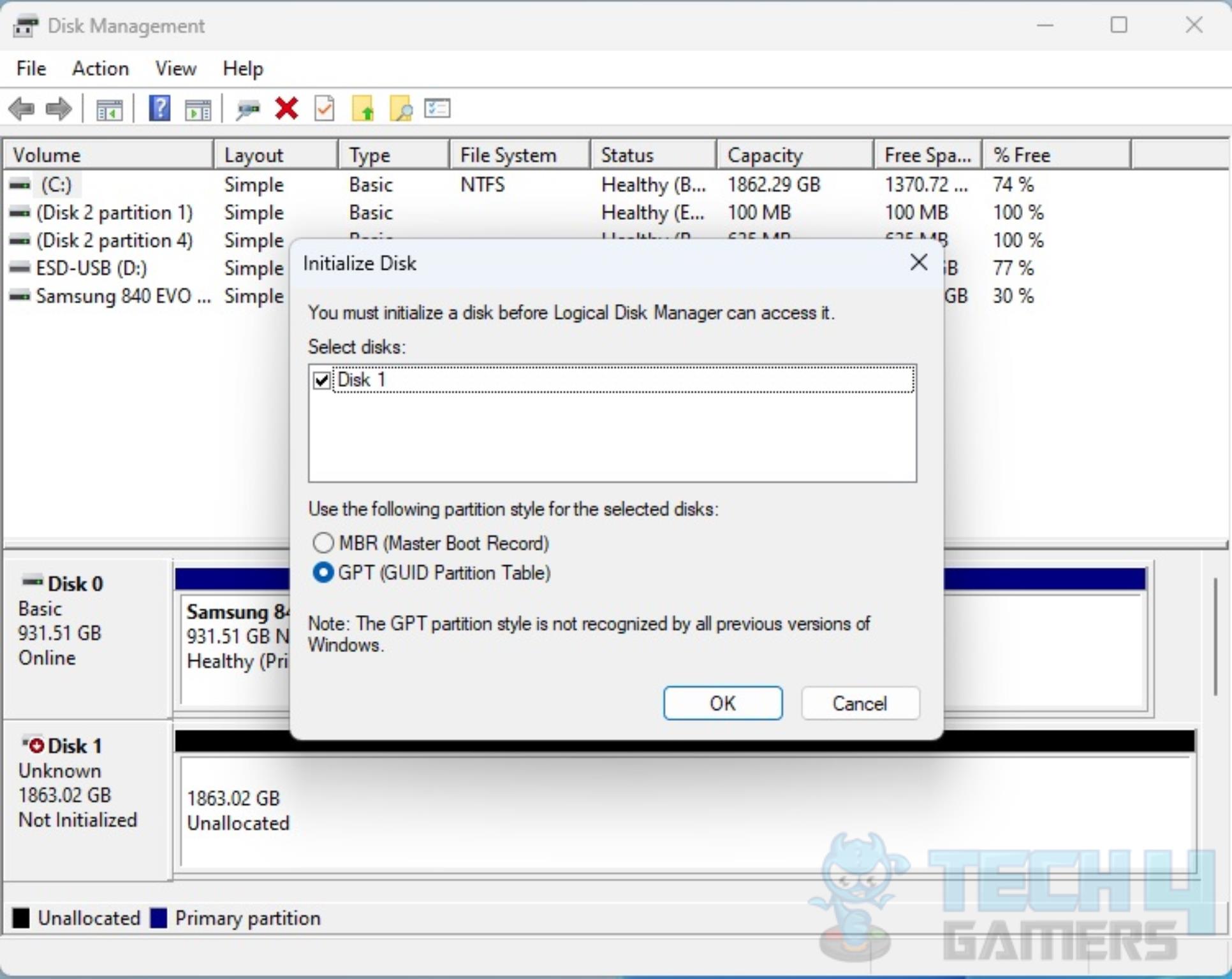 Our sample was not initialized which is usually the case with a new SSD. So, you would need to access Disk Management Console in the Windows environment. You will be immediately prompted for disk initialization. Follow the course for further steps.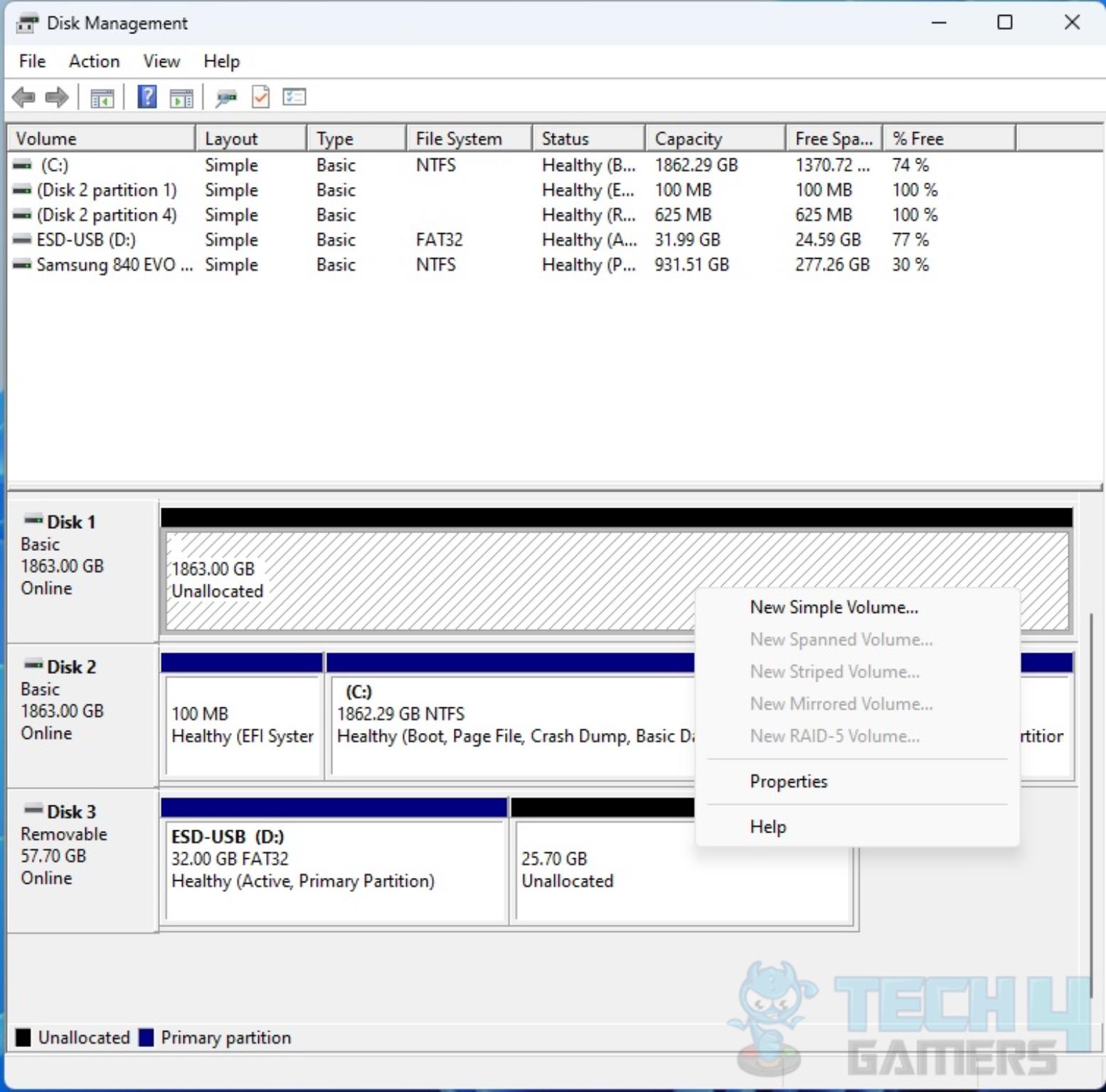 Now that disk is initialized, it needs to be prepared for use as it still has a total capacity unallocated. Right-click on it and select New Simple Volume.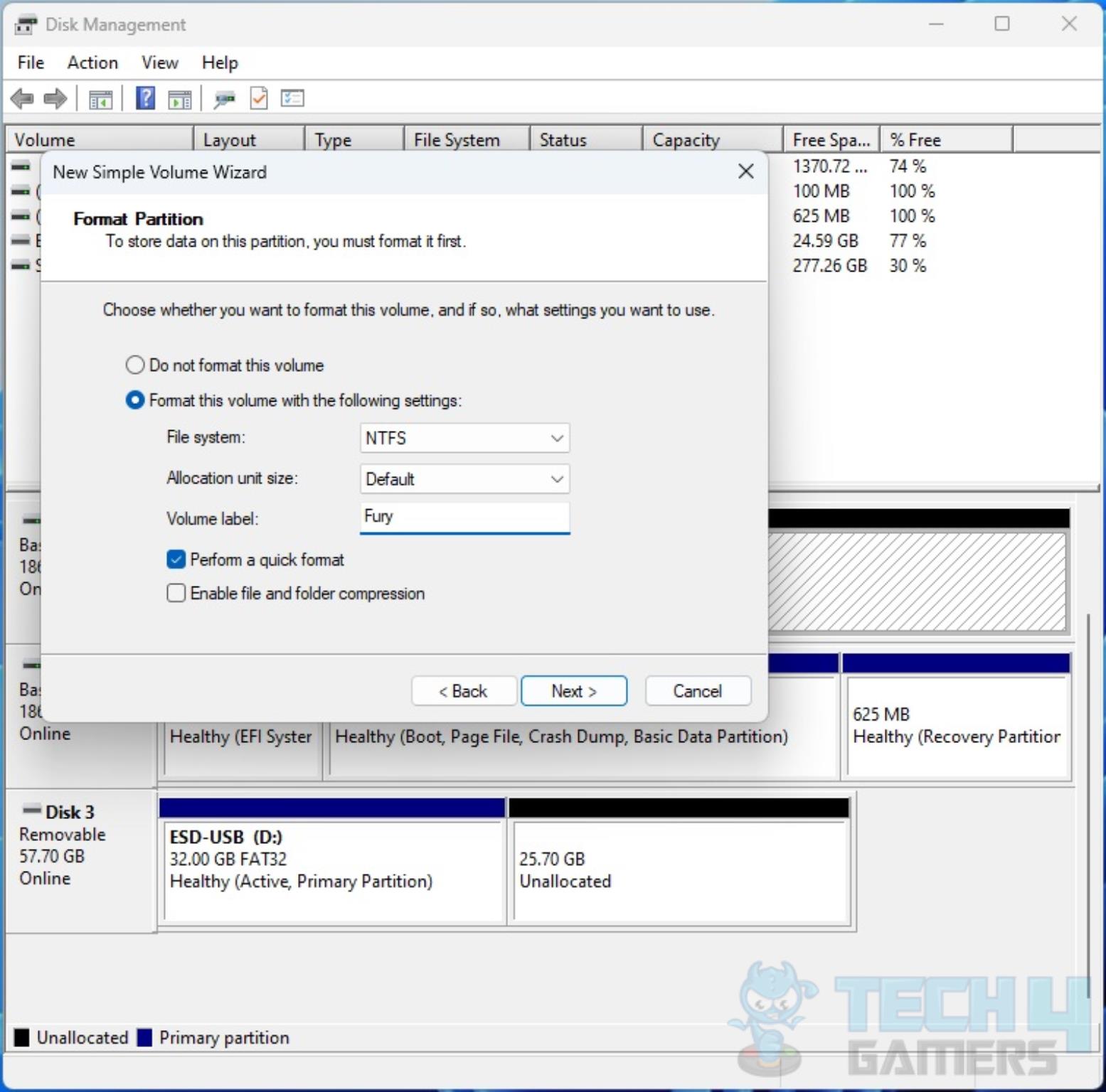 Select appropriate parameter values and proceed further.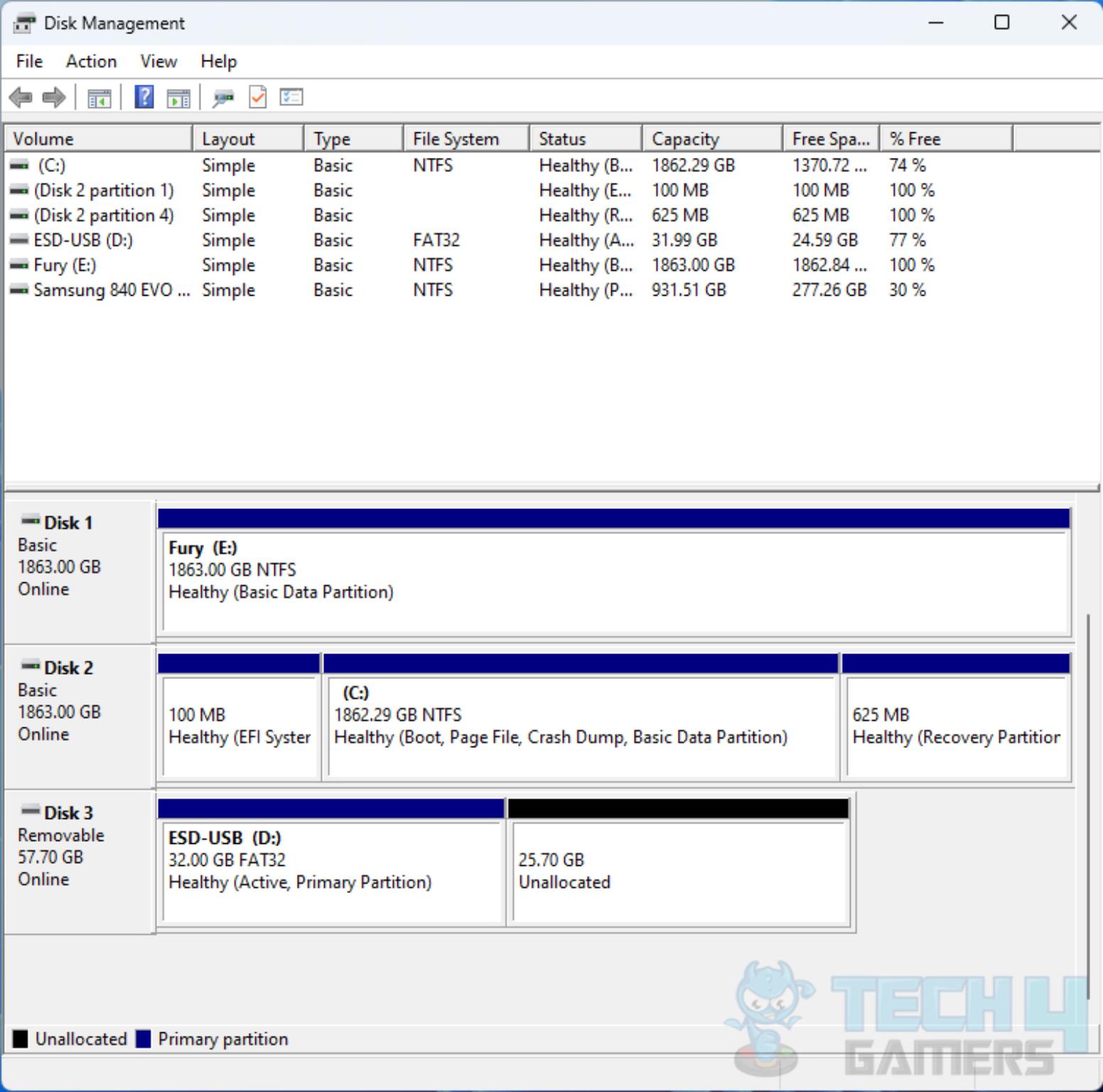 Fury is ready for use.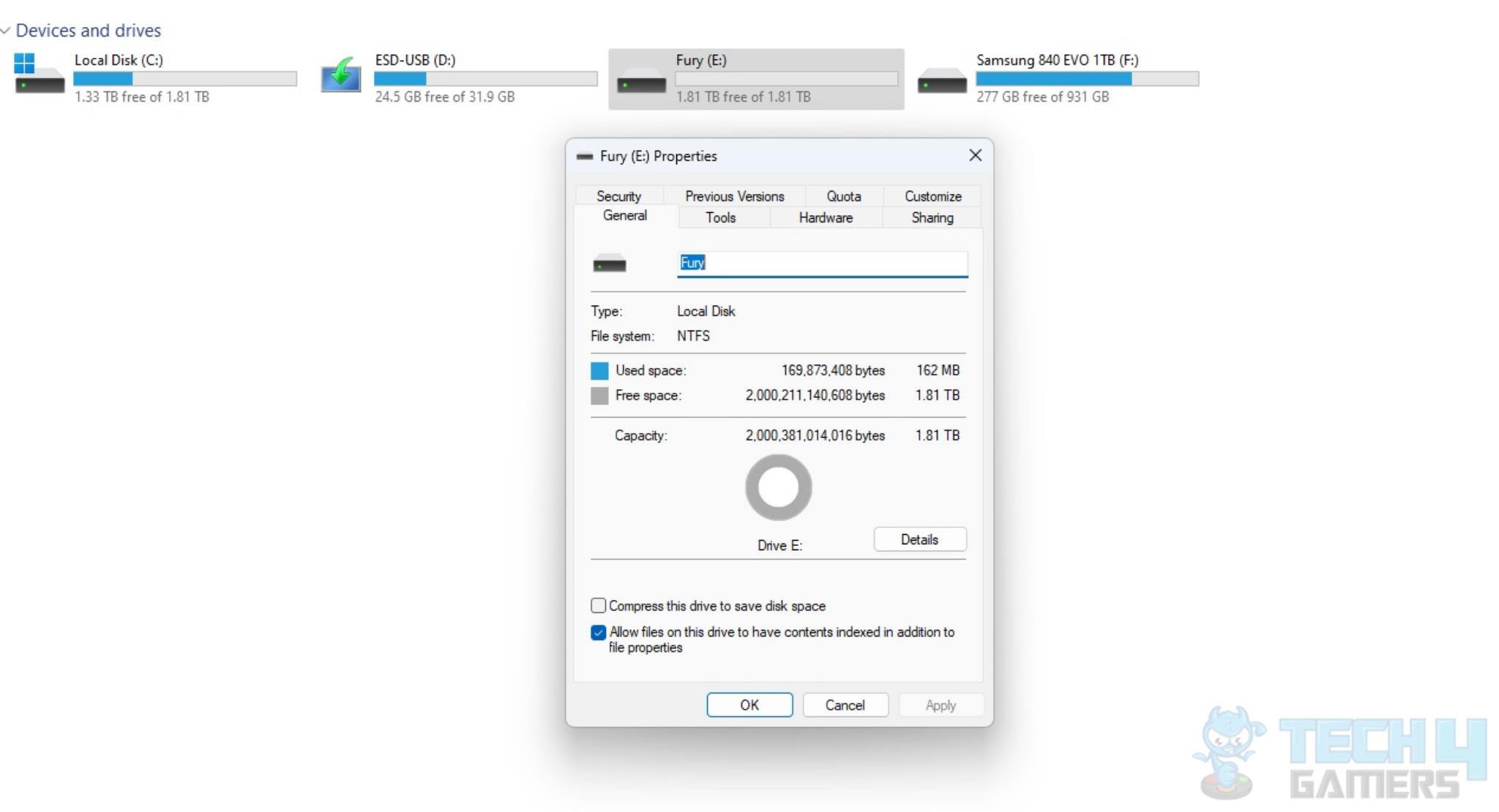 We have 1.81TB available out of 2TB for use.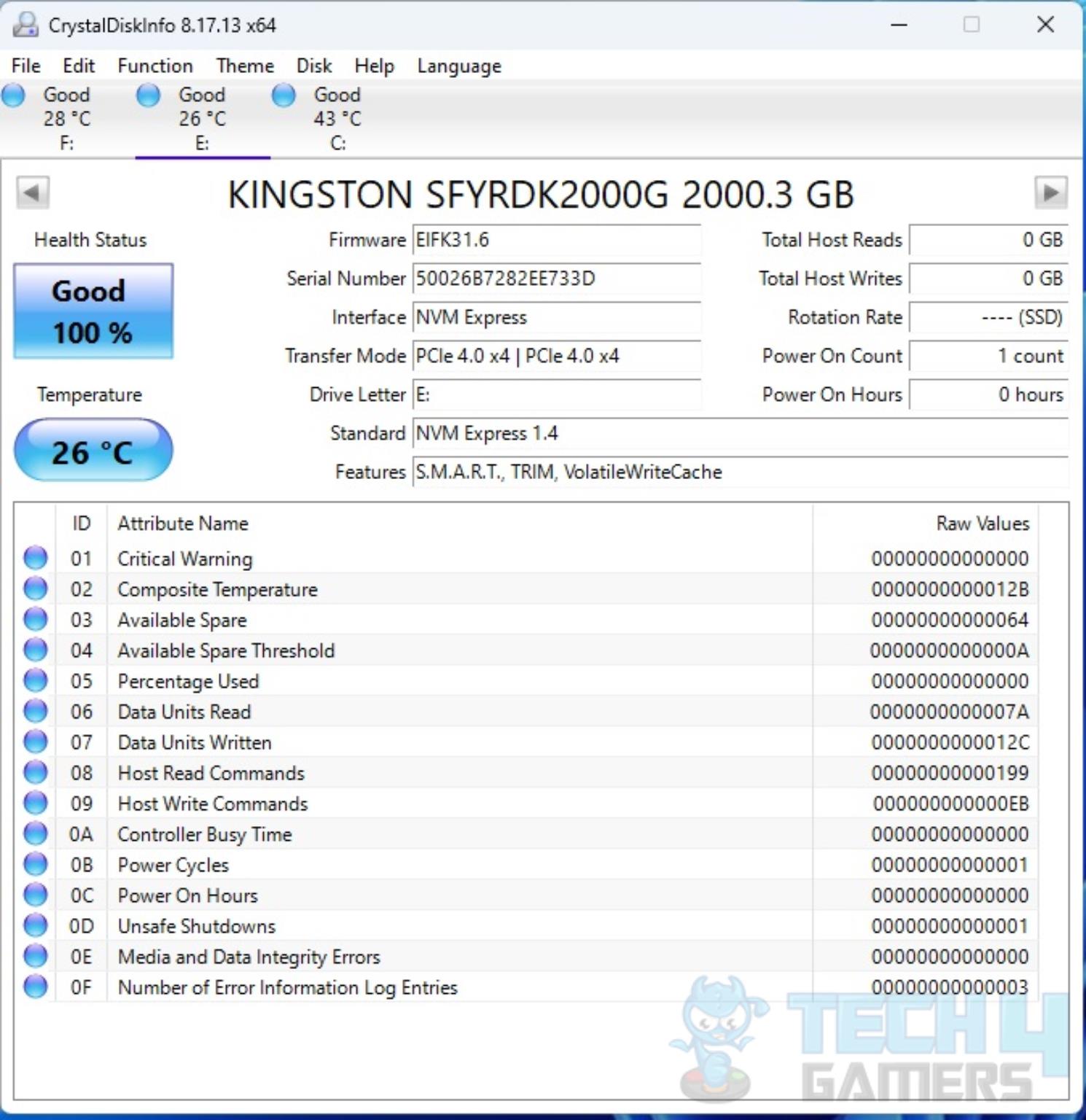 The above picture shows the Crystal Disk Info readout of this unit. The drive has an NVMe 1.4 interface using a PCIe4x4 connection. The unit supports S.M.A.R.T, TRIM, and VolatileCacheWrite.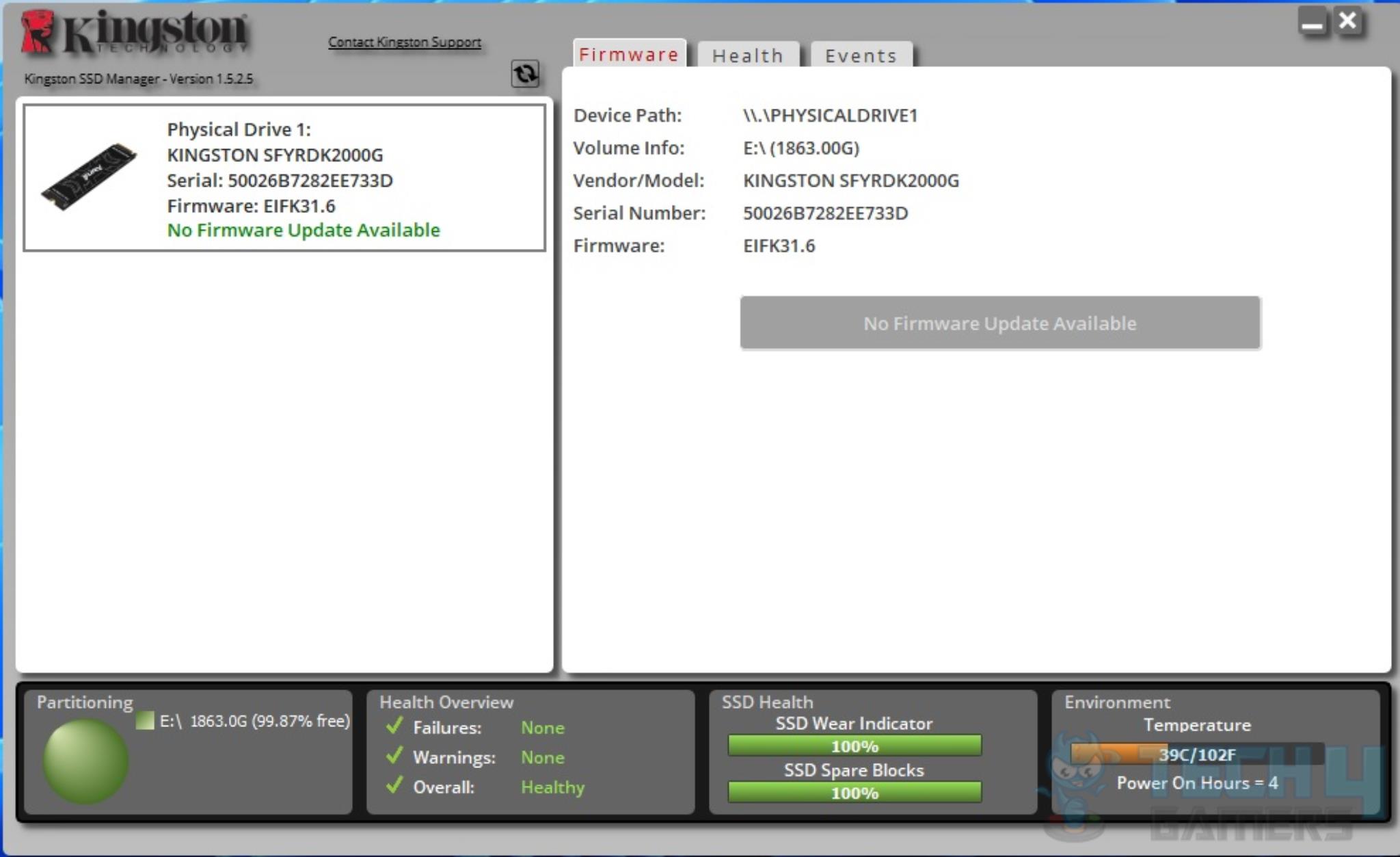 Kingston has also provided SSD Manager software that can be downloaded from their website. It has a simple interface and shows the firmware and health status of this drive. Users can update the firmware of Kingston SSDs using this software.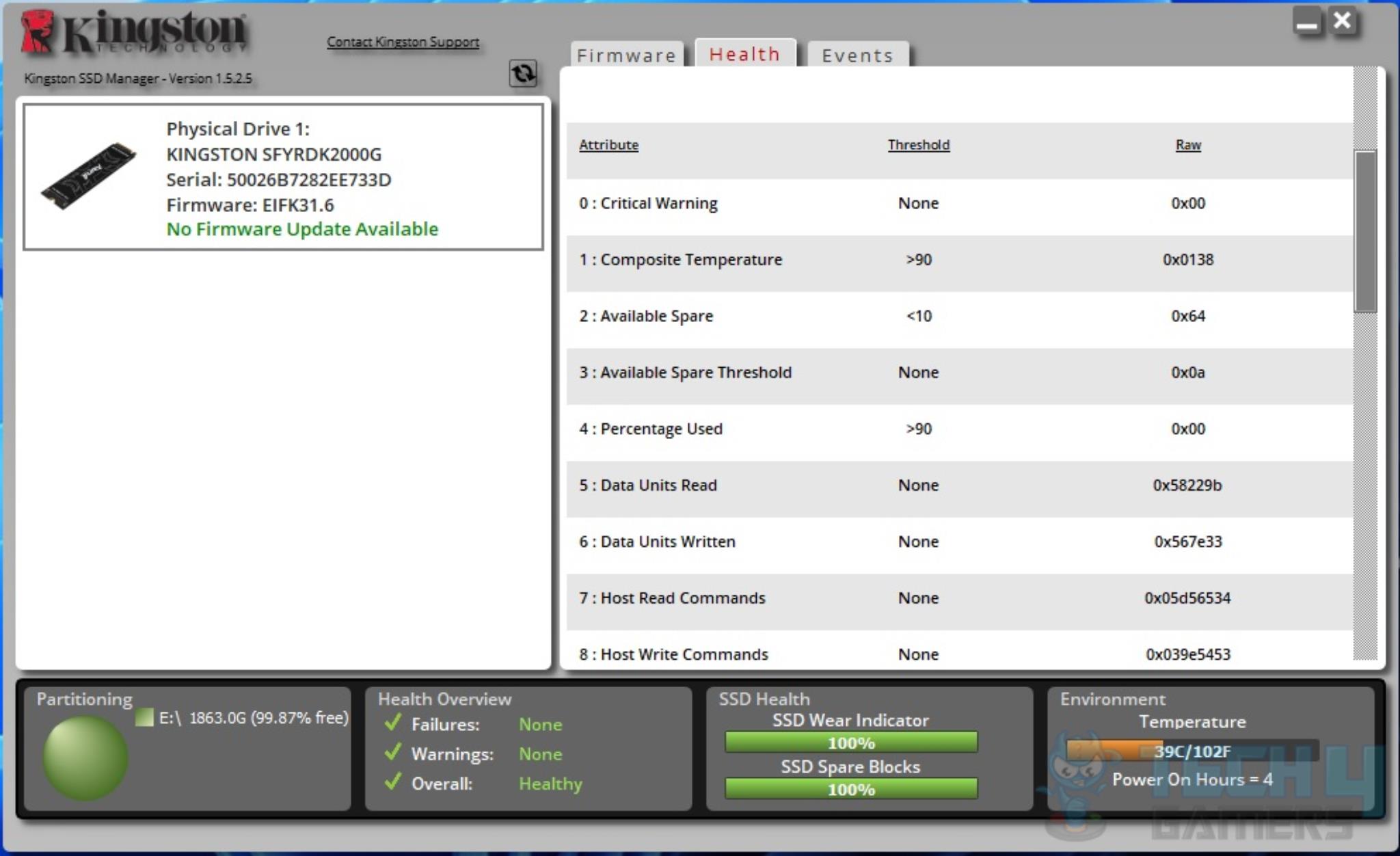 Users can check a detailed report on the Health status of this SSD under the Health page.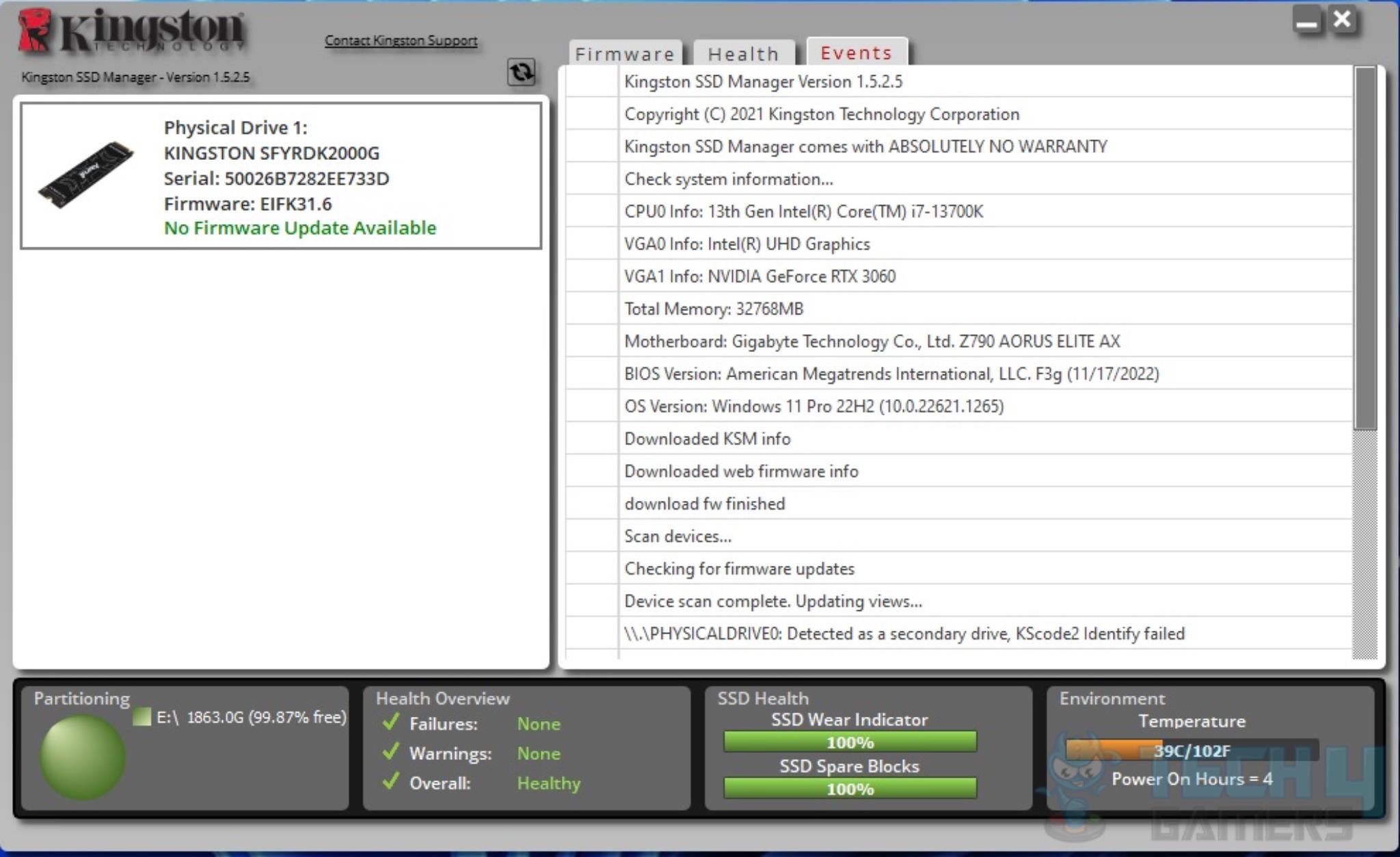 The events page is listing the events occurring in the Windows environment.
Testing
Below mentioned configuration is used to test this drive: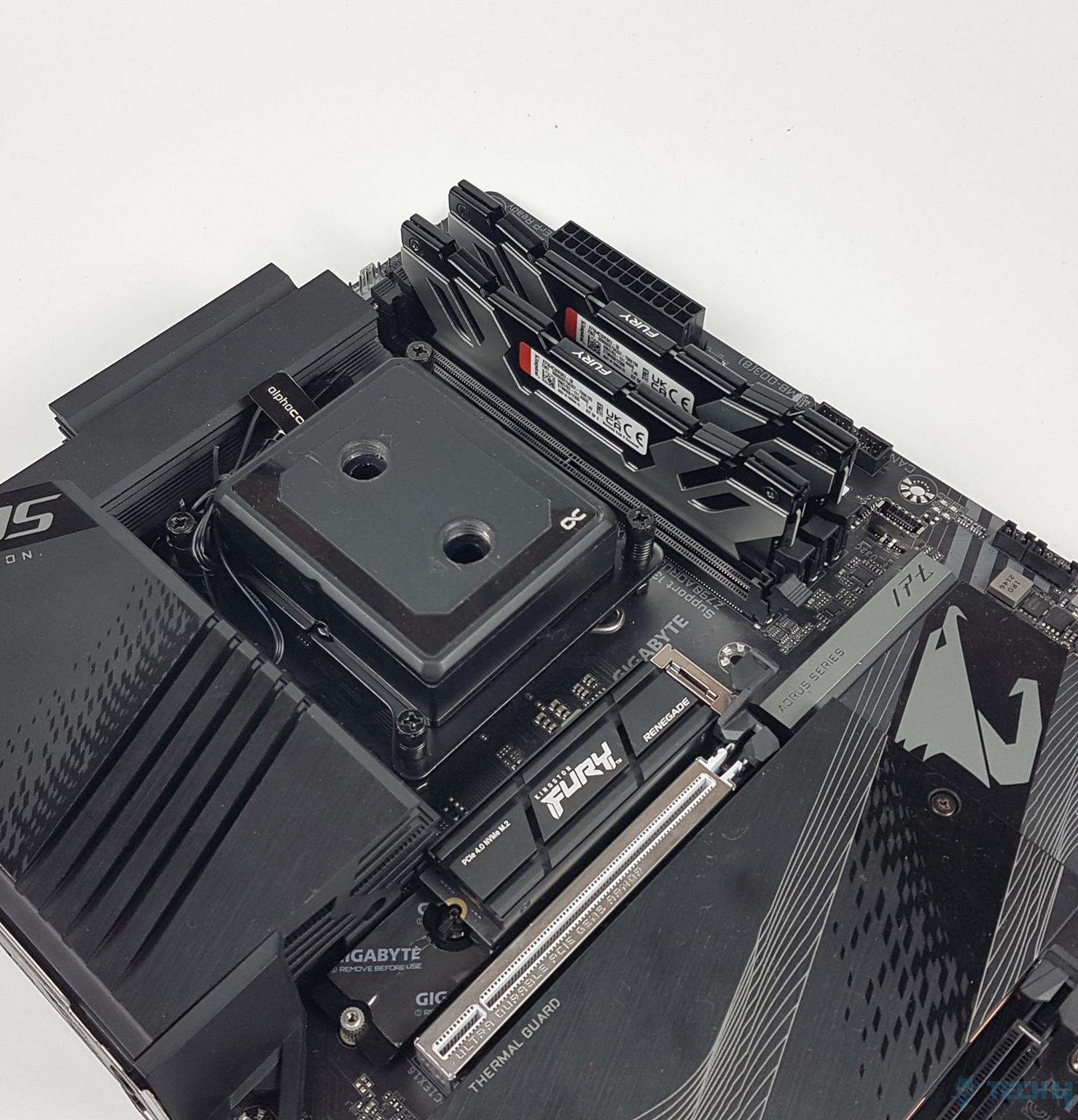 We have used the following software:
AS SSD 1.8.5636.37293
ATTO Disk Benchmark 4.0
CrystalDiskMark 8.0.4
Anvil Pro Storage Utilities 1.1.0
3DMARK Storage Benchmark
PCMARK10 Storage Benchmarks
AJA Disk Bench
Black Magic Disk Bench
TxBench
DiskBench
Microsoft Windows 11 22H2 is used for the testing.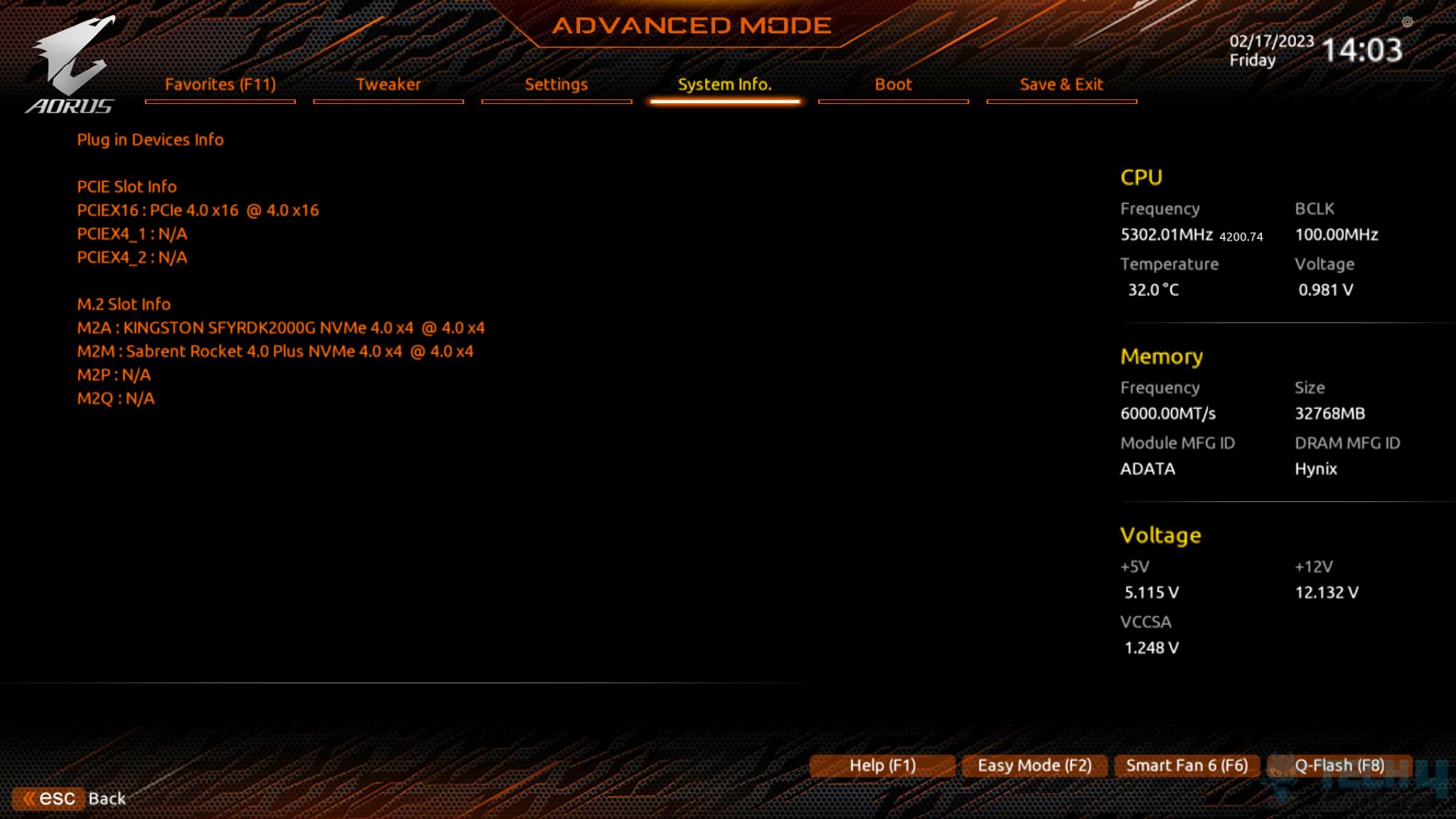 The drive was picked in BIOS.
Test Results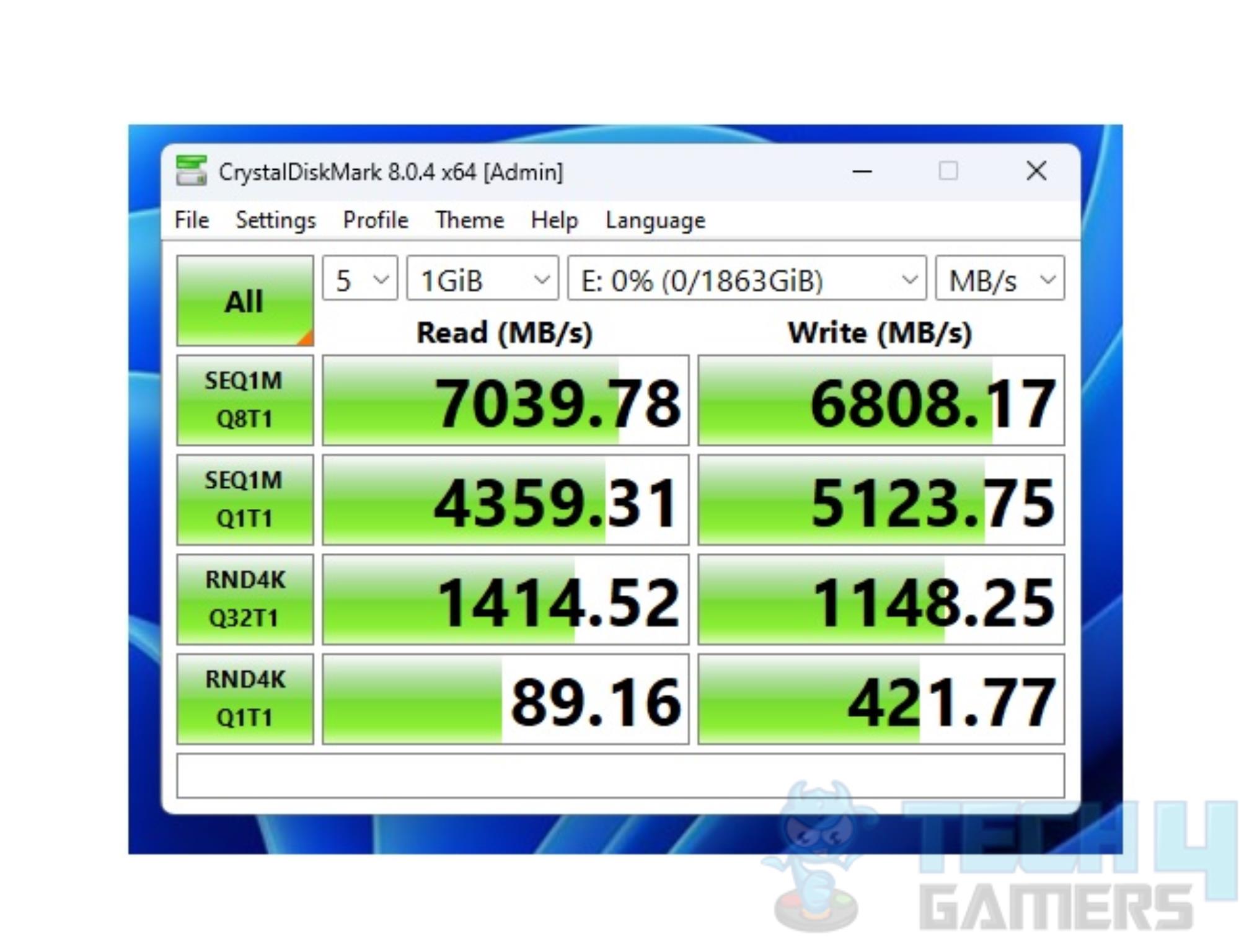 We can see this drive falling short of sequential rating speeds by Kingston but this is still a good performance range in terms of numbers. The 4K performance is quite good as well.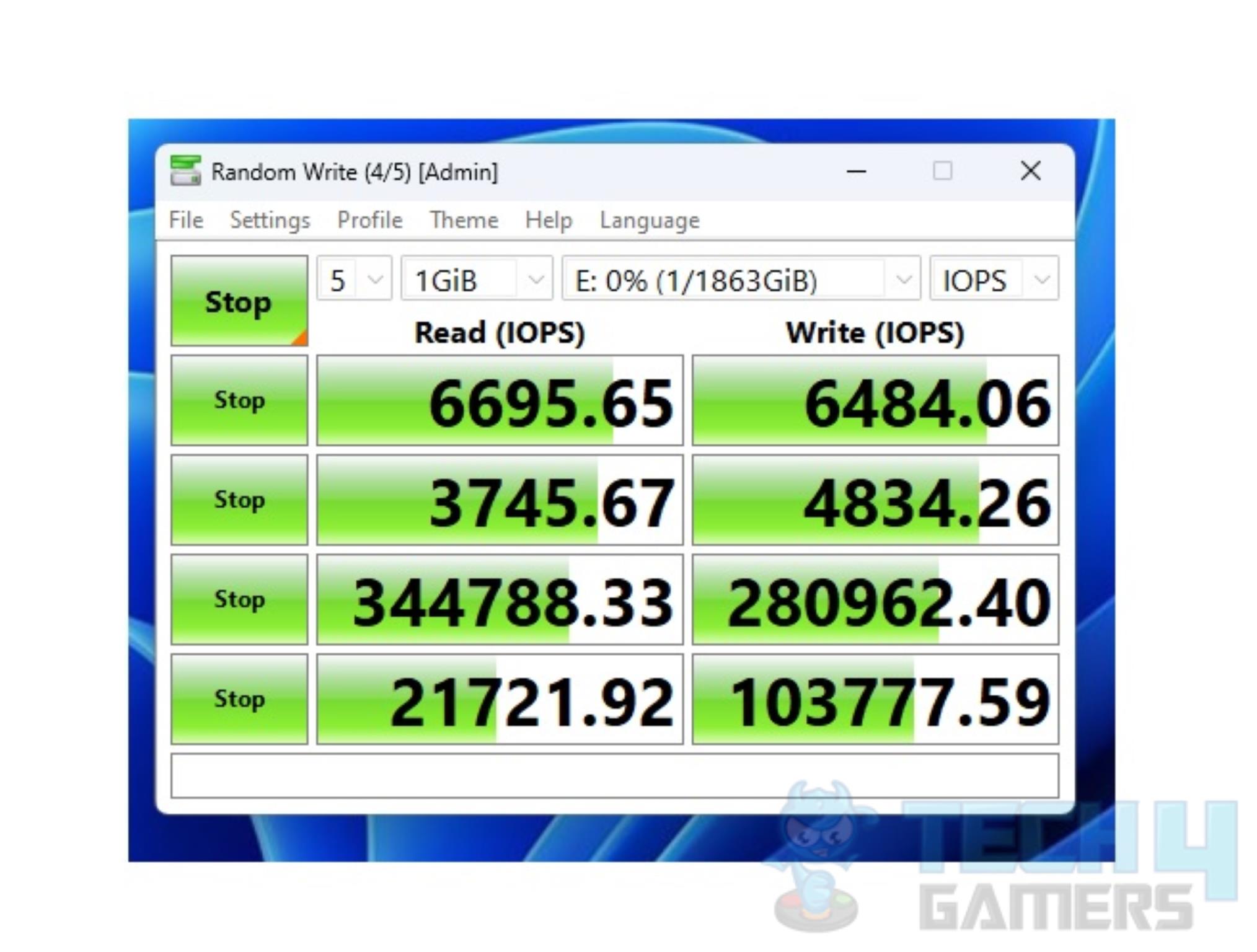 The game is strong with this SSD.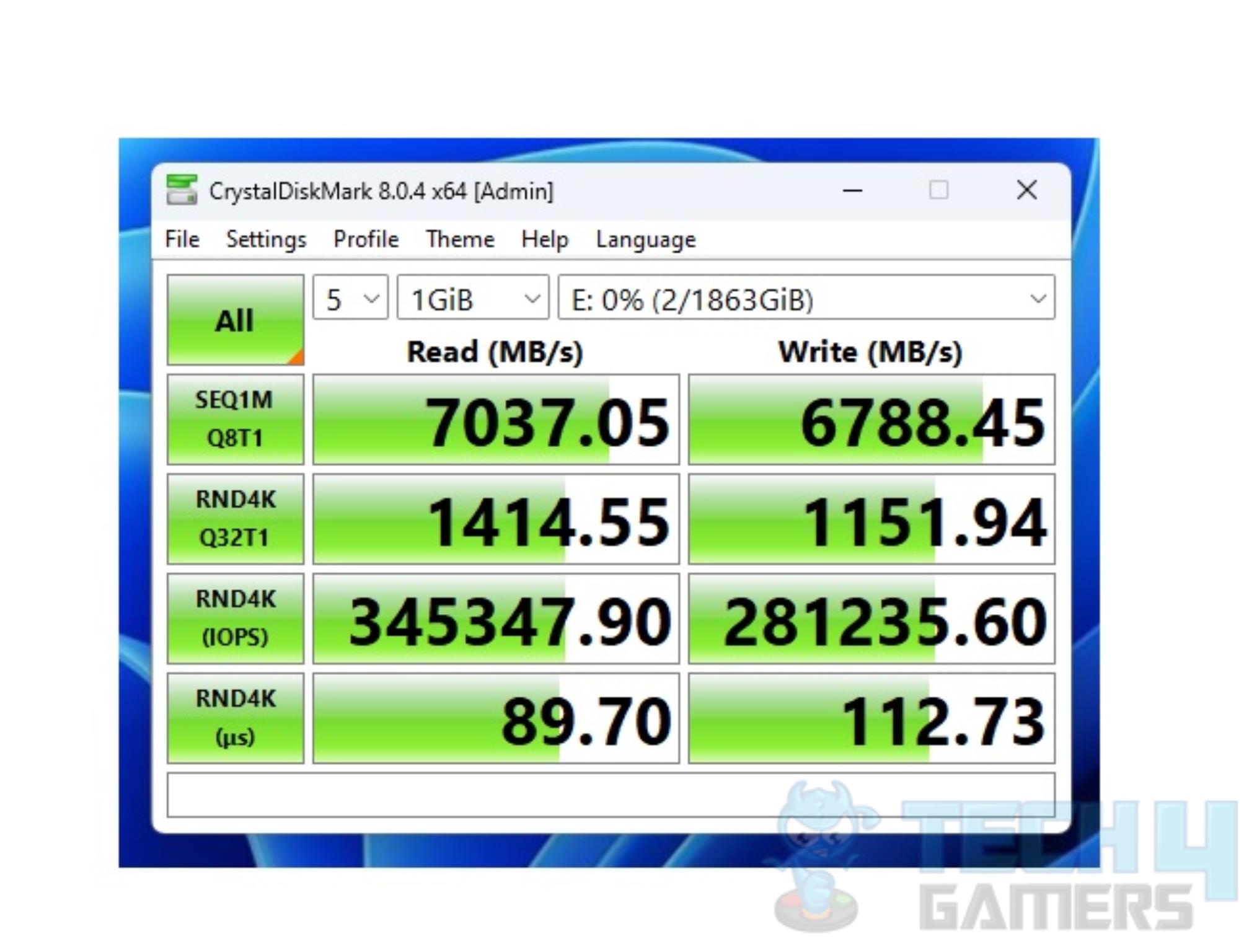 Above is a run result of a Peak Performance. We have a decent response time in 4K Random operations.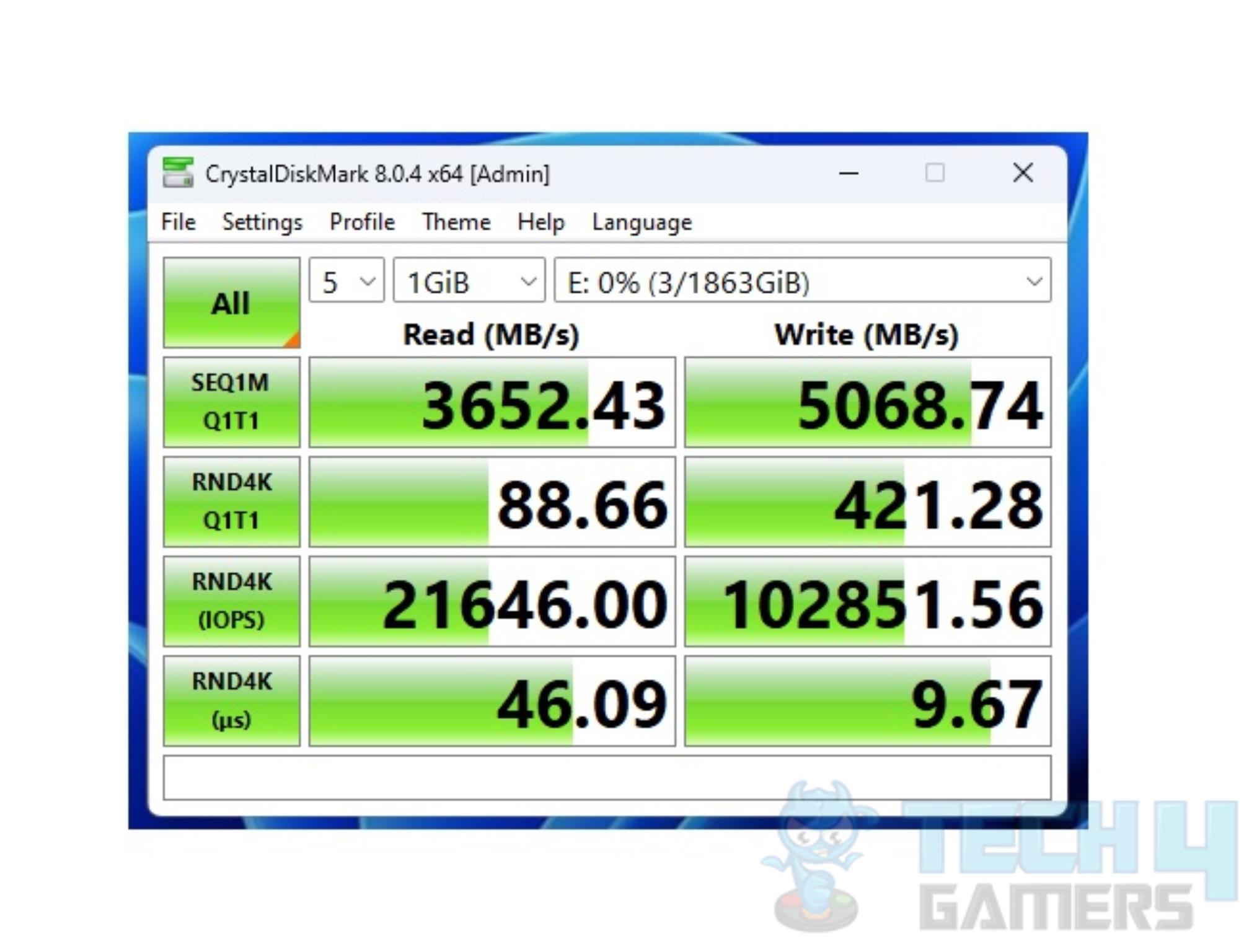 Above is a Real World scenario run result from CrystalDiskMark. The timings in 4K Random are quite nice. Impressive sustained read and write sequential speeds as well.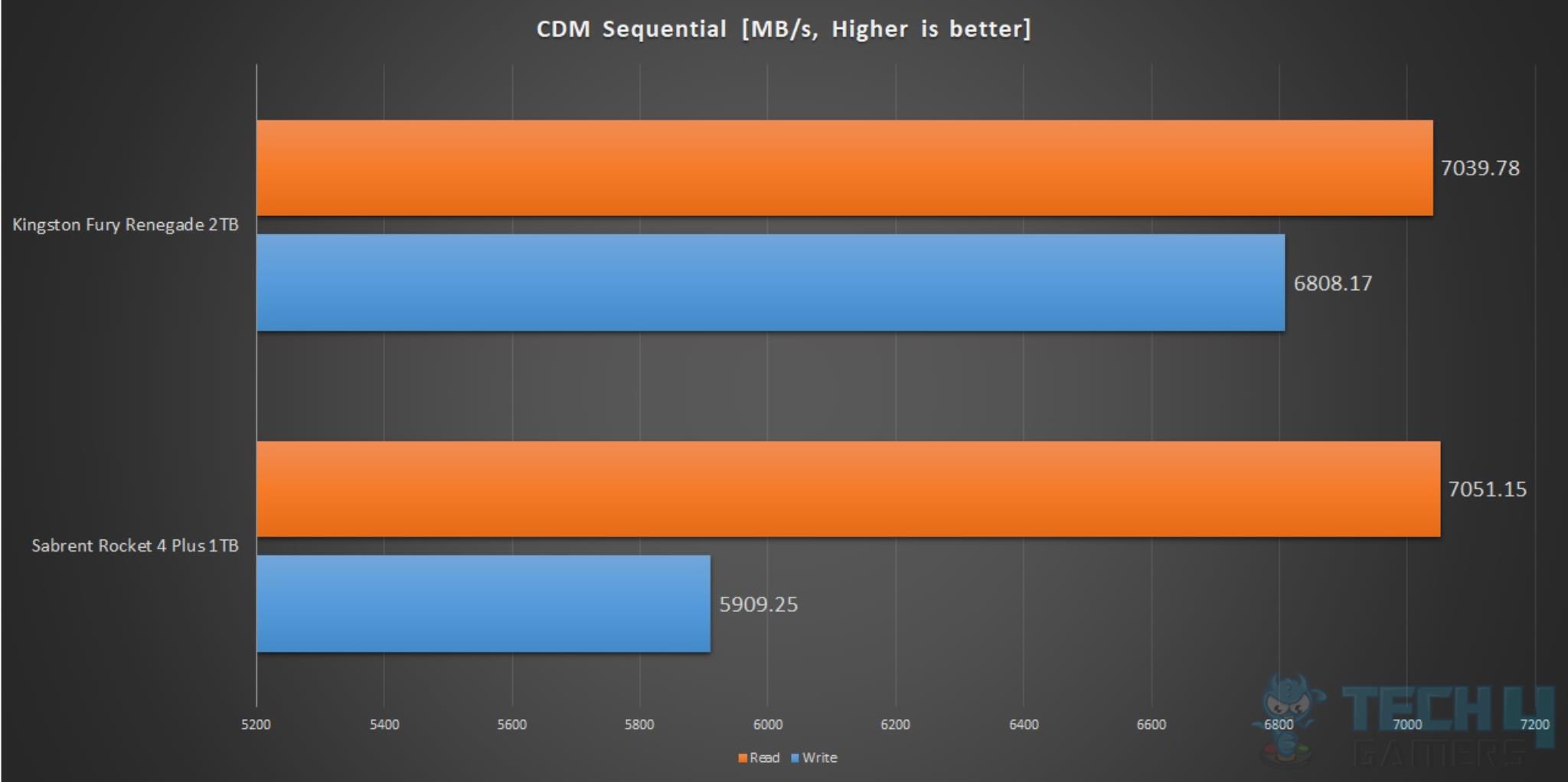 Comparing these two SSDs, we see that Sabrent Rocket 4 Plus 1TB NVMe SSD actually managed to attain its sequential rated speeds in this synthetic benchmark.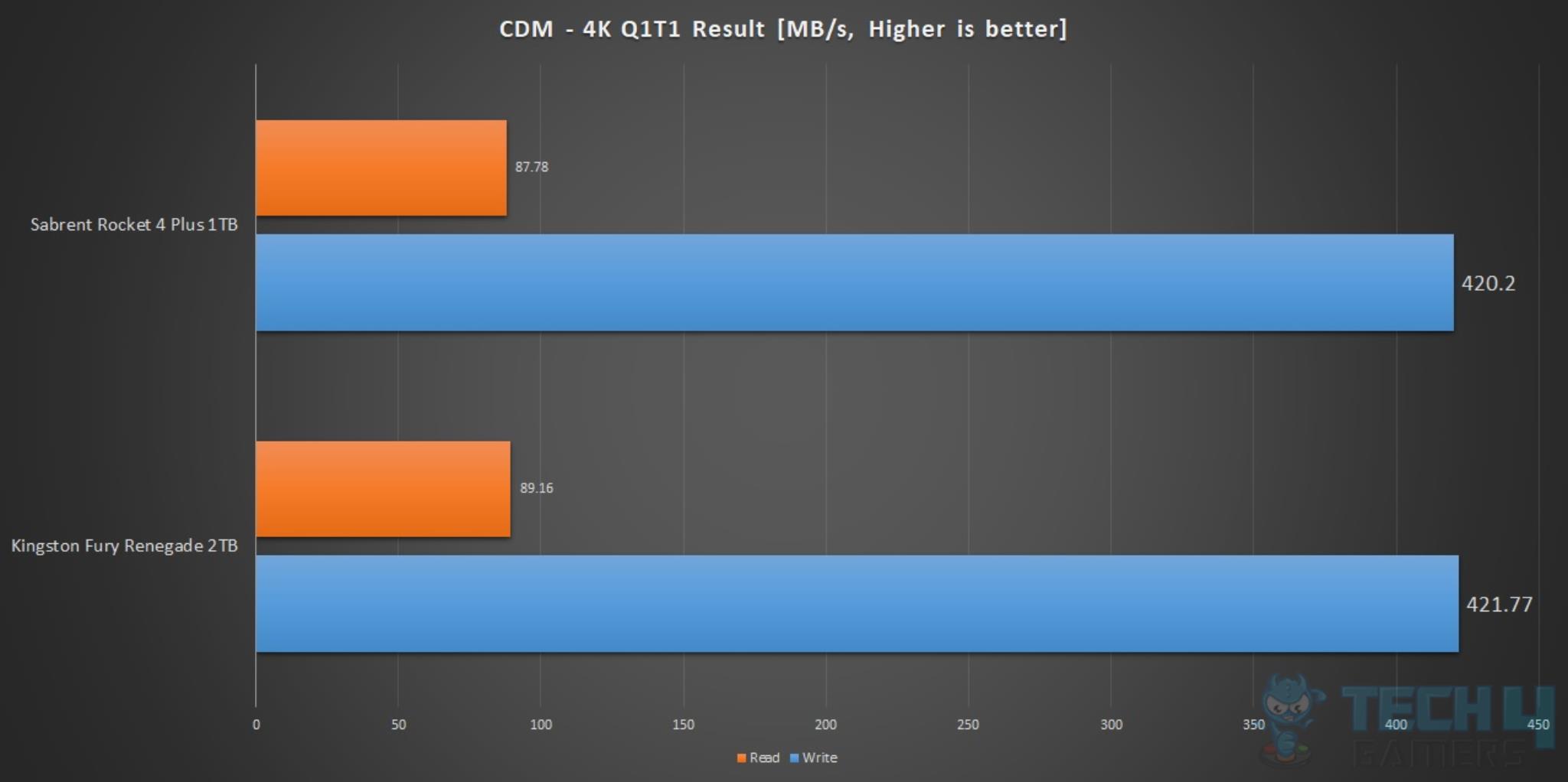 Both SSDs are almost offering similar performance in the Q1T1 quadrant with Fury winning marginally.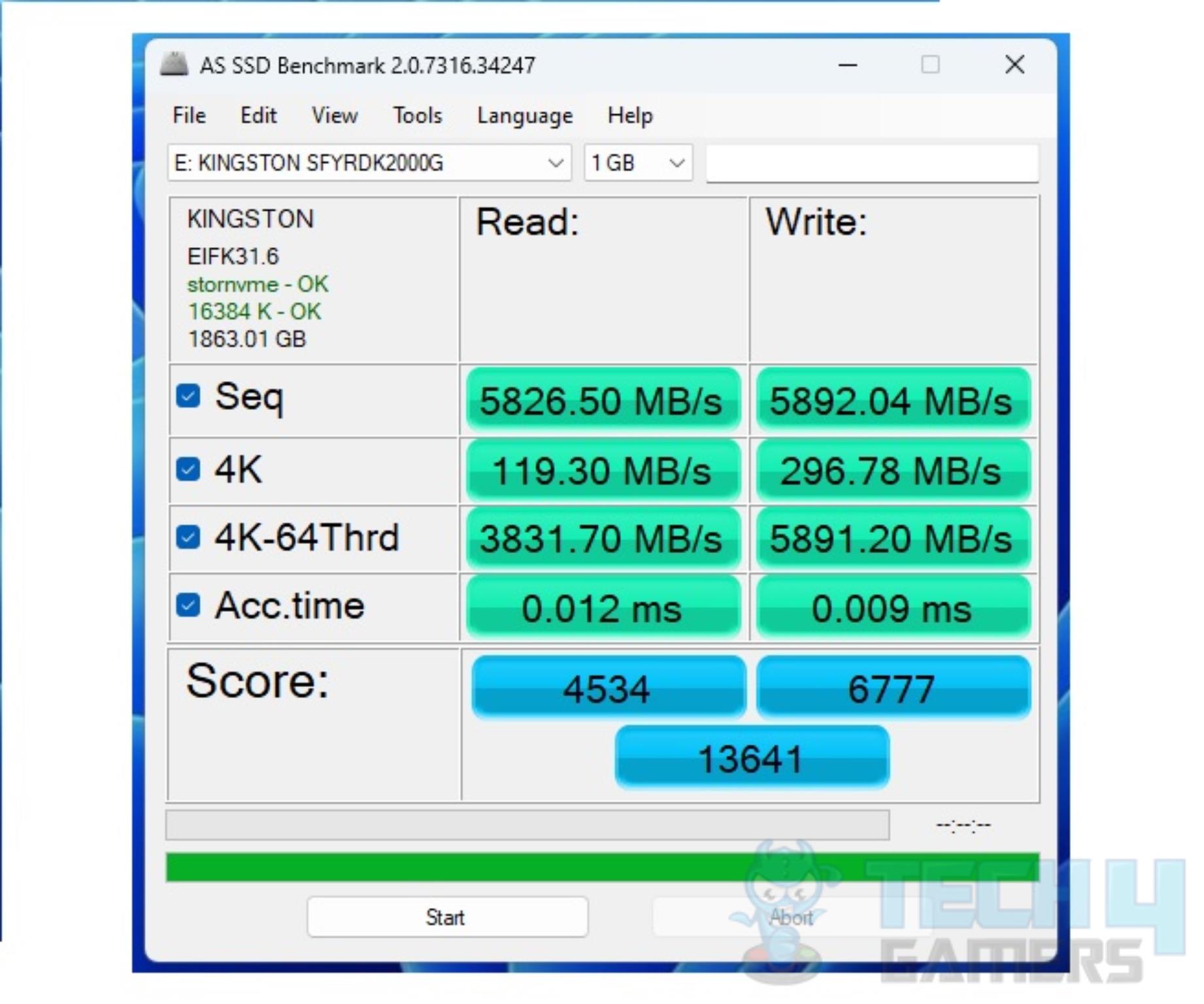 Fury Renegade 2TB NVMe SSD scored 13641 which is above 11462 from Sabrent drive.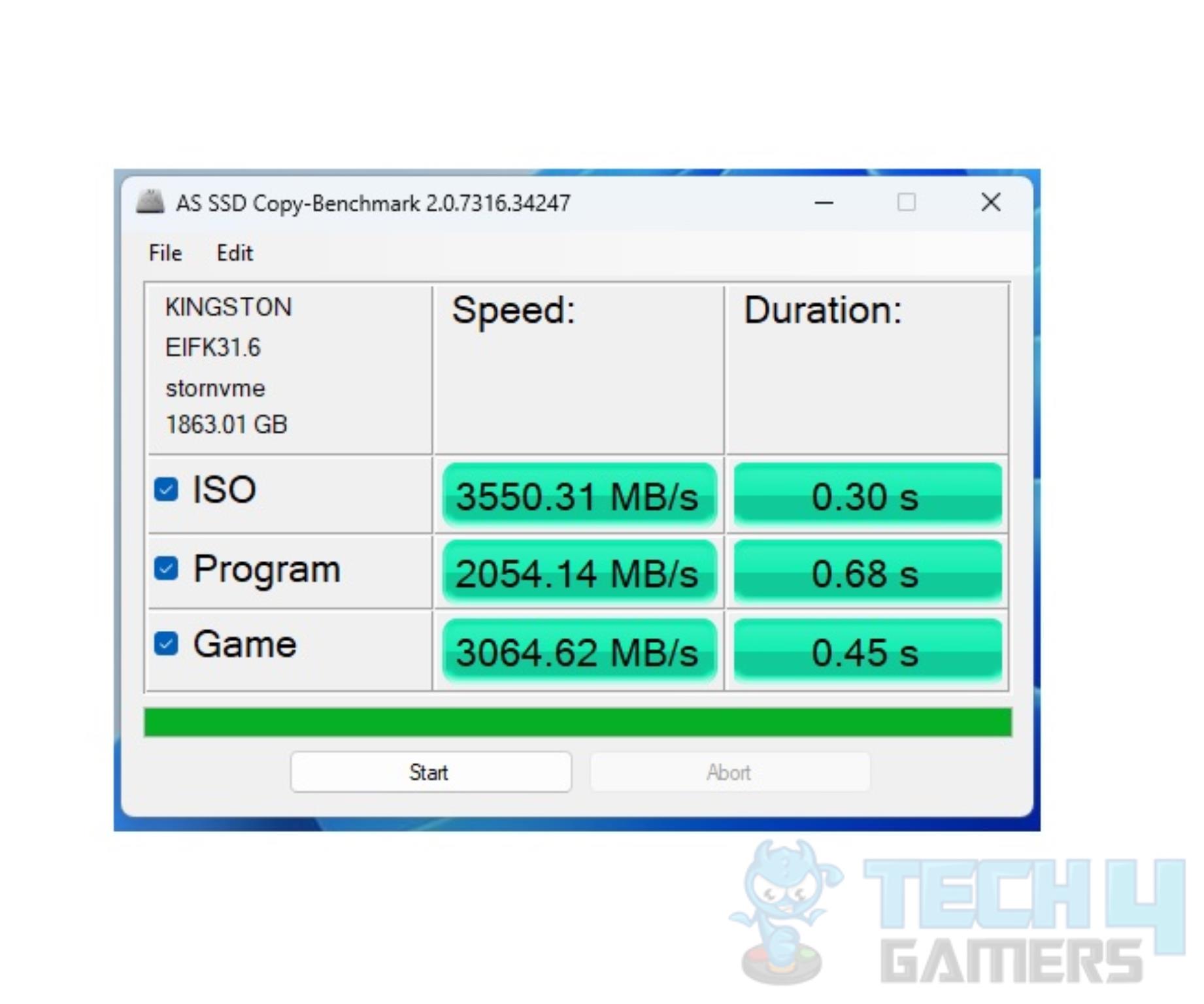 The above is a result of the AS-SSD Copy benchmark. It shows the speed and duration of different workloads giving an idea of the real-world use scenario. Fury SSD is doing quite well here.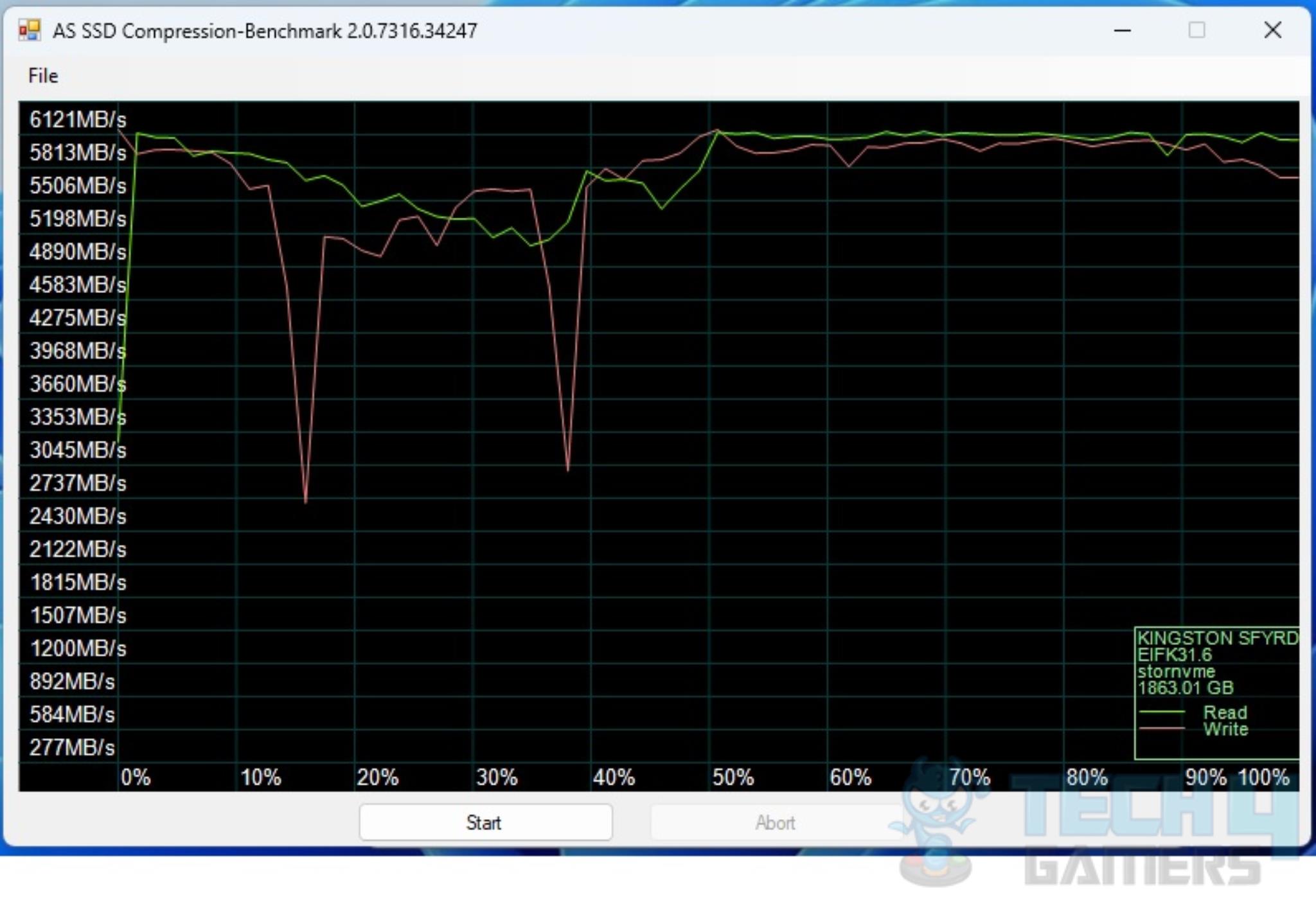 The above pictures show the result of the Compression benchmark run from AS SSD. We can see that this SSD was operating below 6000MB/s.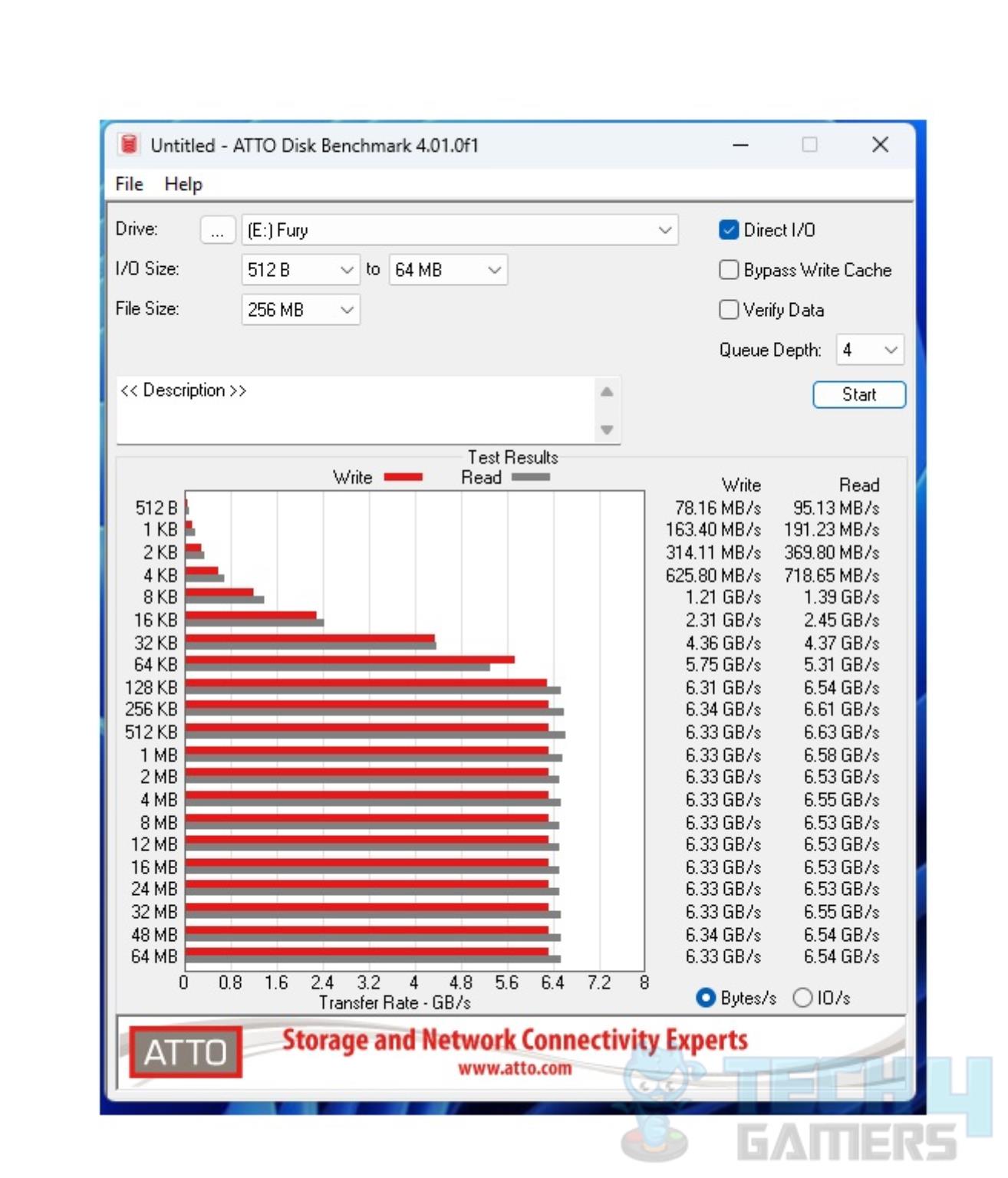 Next, we ran the ATTO Disk Benchmark to test the drive's performance. We have a maximum read (sequential) speed of 6.58 GB/s which is quite impressive. The writes remain above 6.34GB/s.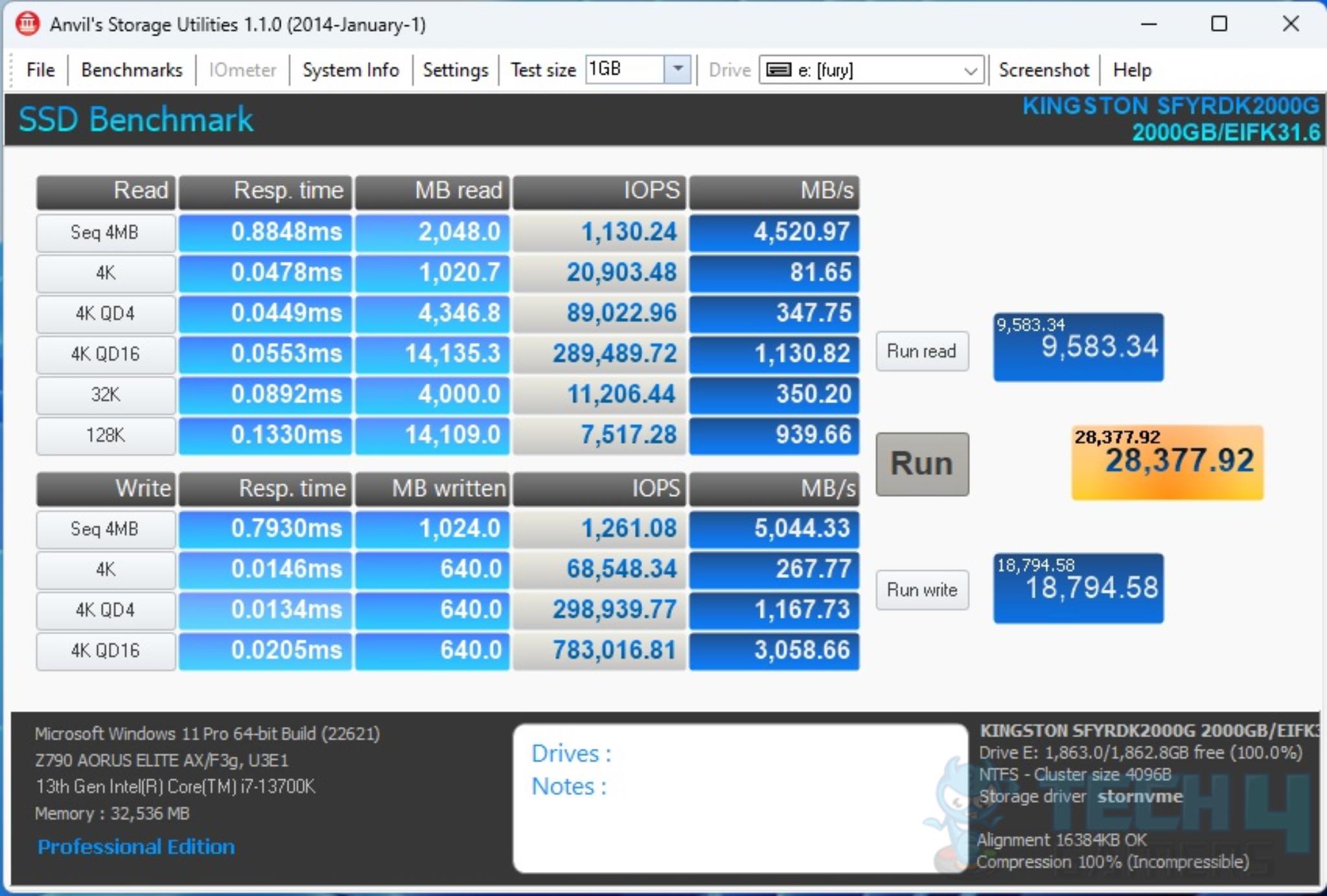 Anvil Storage Utilities benchmark has given an impressive score. On the default test size of 1GB, the tested read speed score was 9583.34. The write speed score was 18794.58 with an overall score of 28377.92.
We also ran the IO – Threaded QD Benchmark in the Anvil (read and write). Here are the results.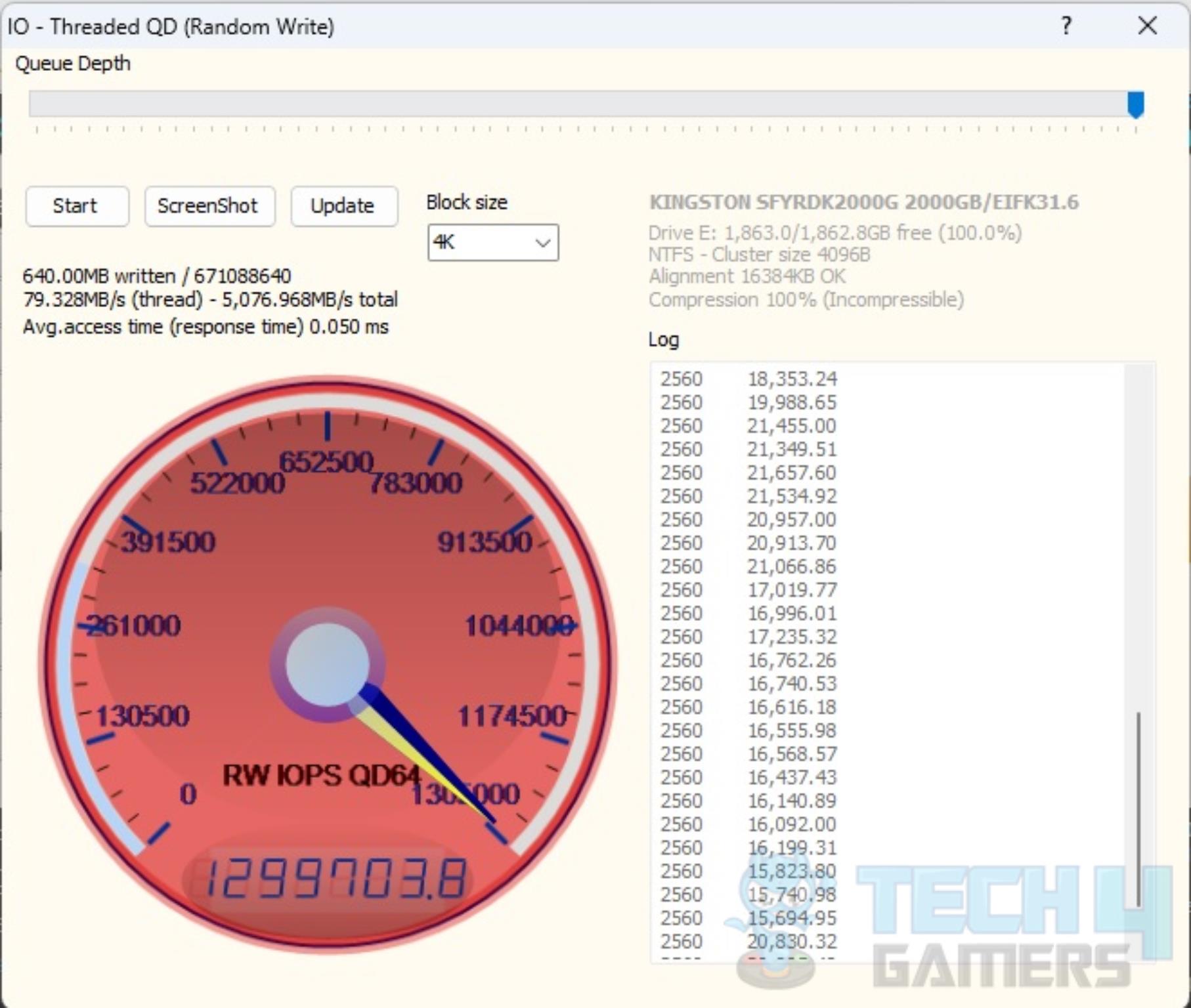 We got 1299703.8 IOPS with a QD64 in the write operations. This is an impressive performance.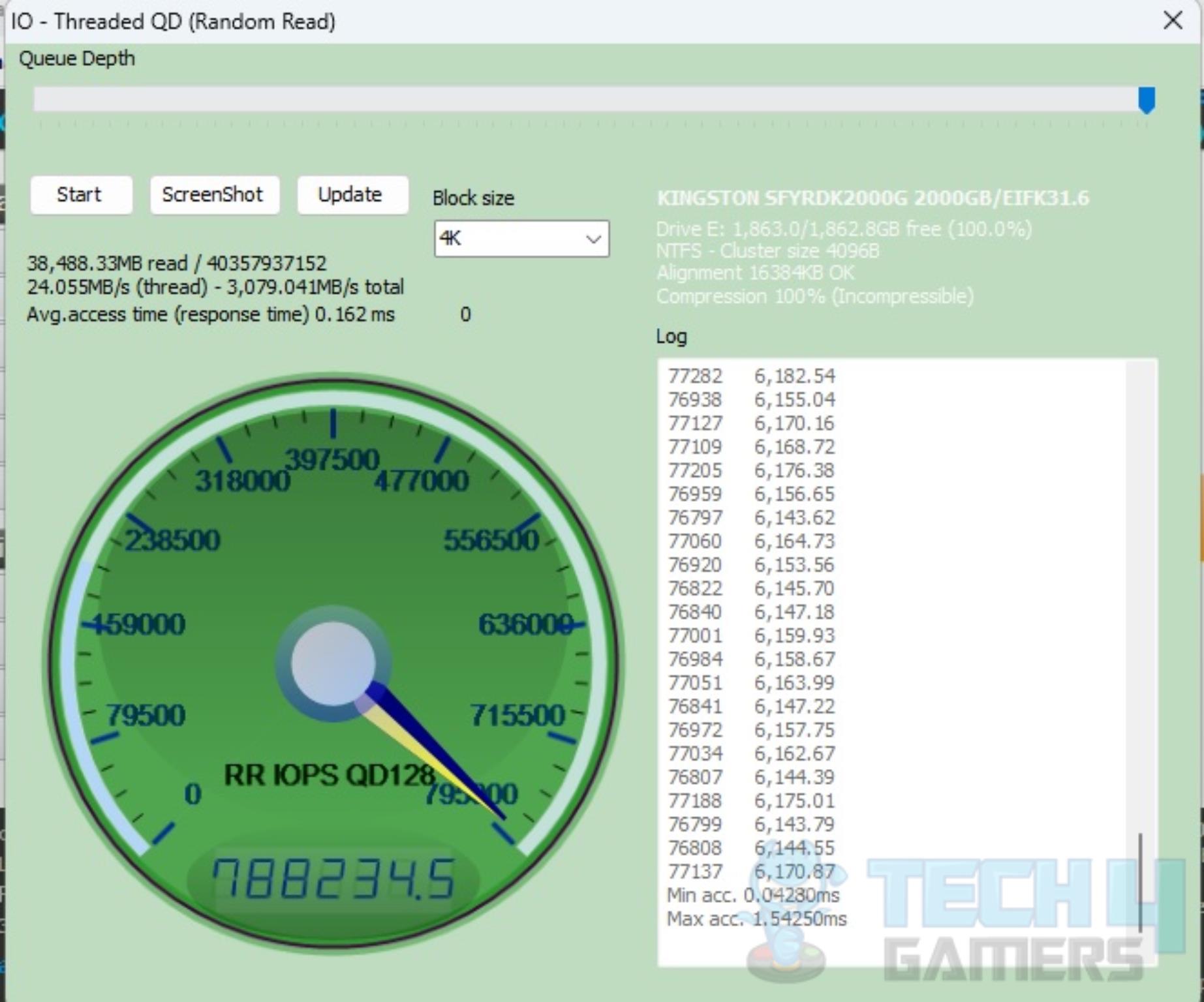 With a queue depth of 128, the read speed was 788234.5. This drive fell short in Random Reads.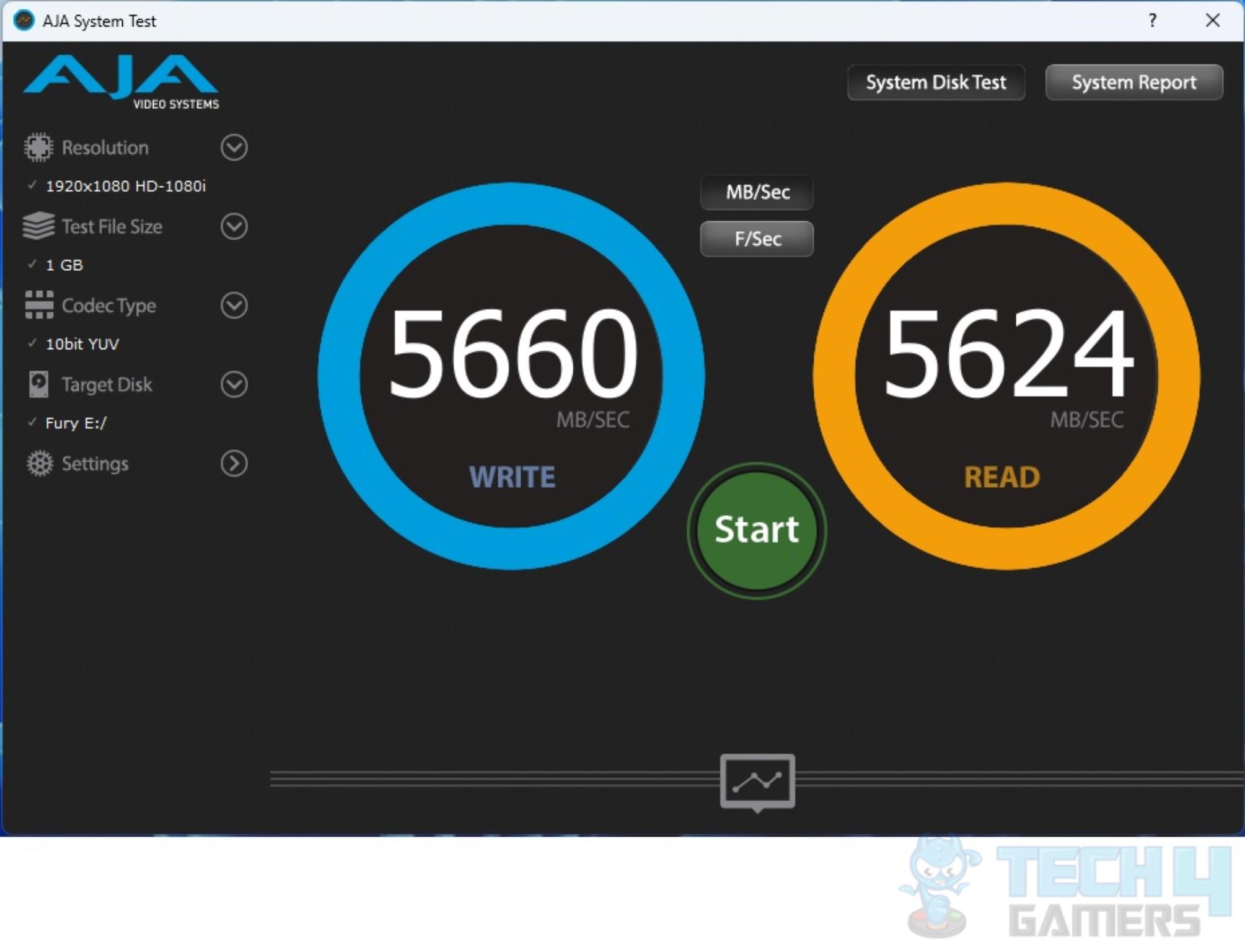 This benchmark is showing the SSD operating at the 5600 MB/s mark or so.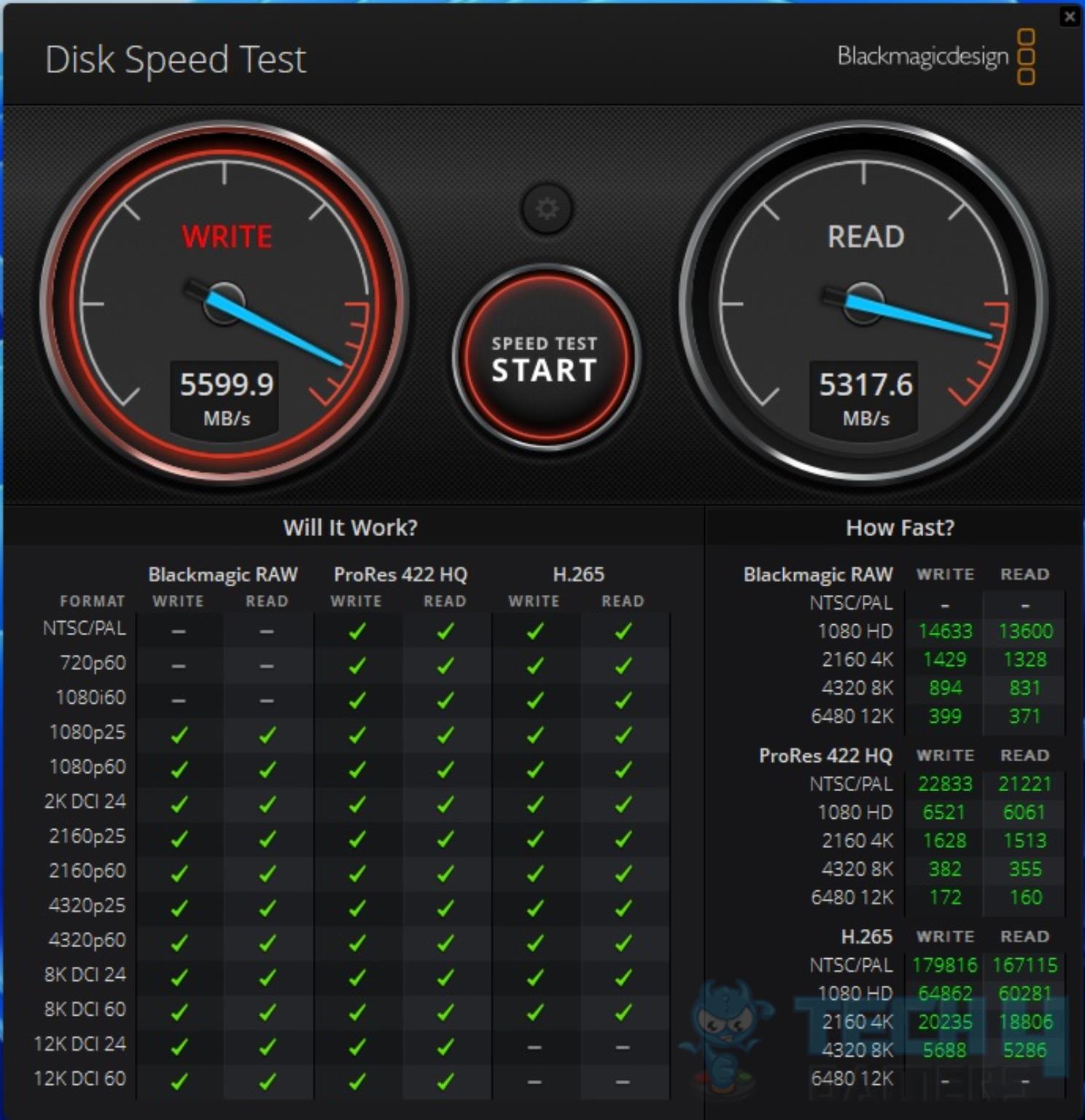 Black Magic Disk Bench shows a similar result.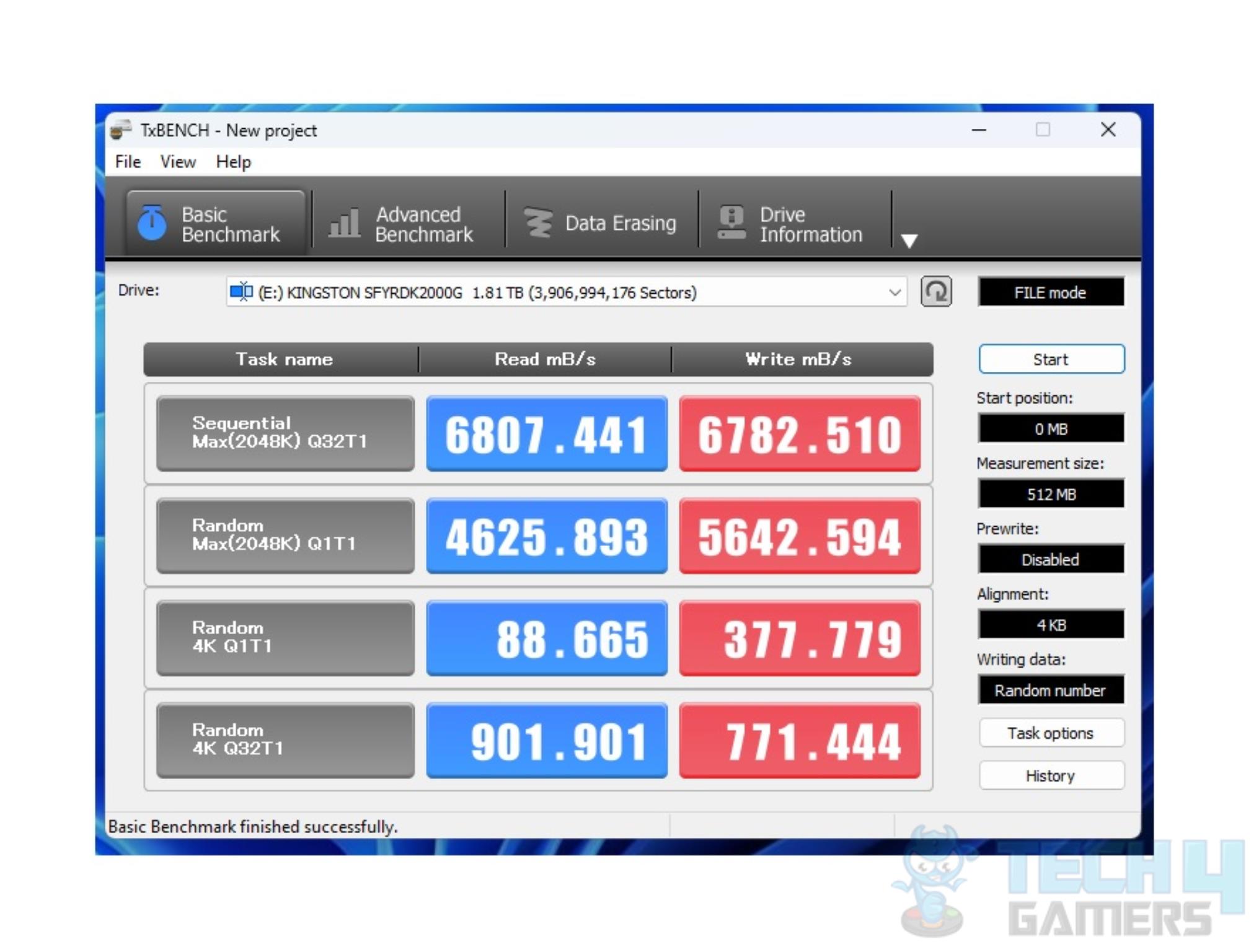 Nice performance from TxBench.
3DMark Storage Test
3DMark Storage test is relatively a new test bench measuring the gaming-only performance of the given drive using three games. It measures the load time of the games, recording the gameplay, saving the game, and moving the game.
The overall score is given in a number whereas there is also a result for the bandwidth and access time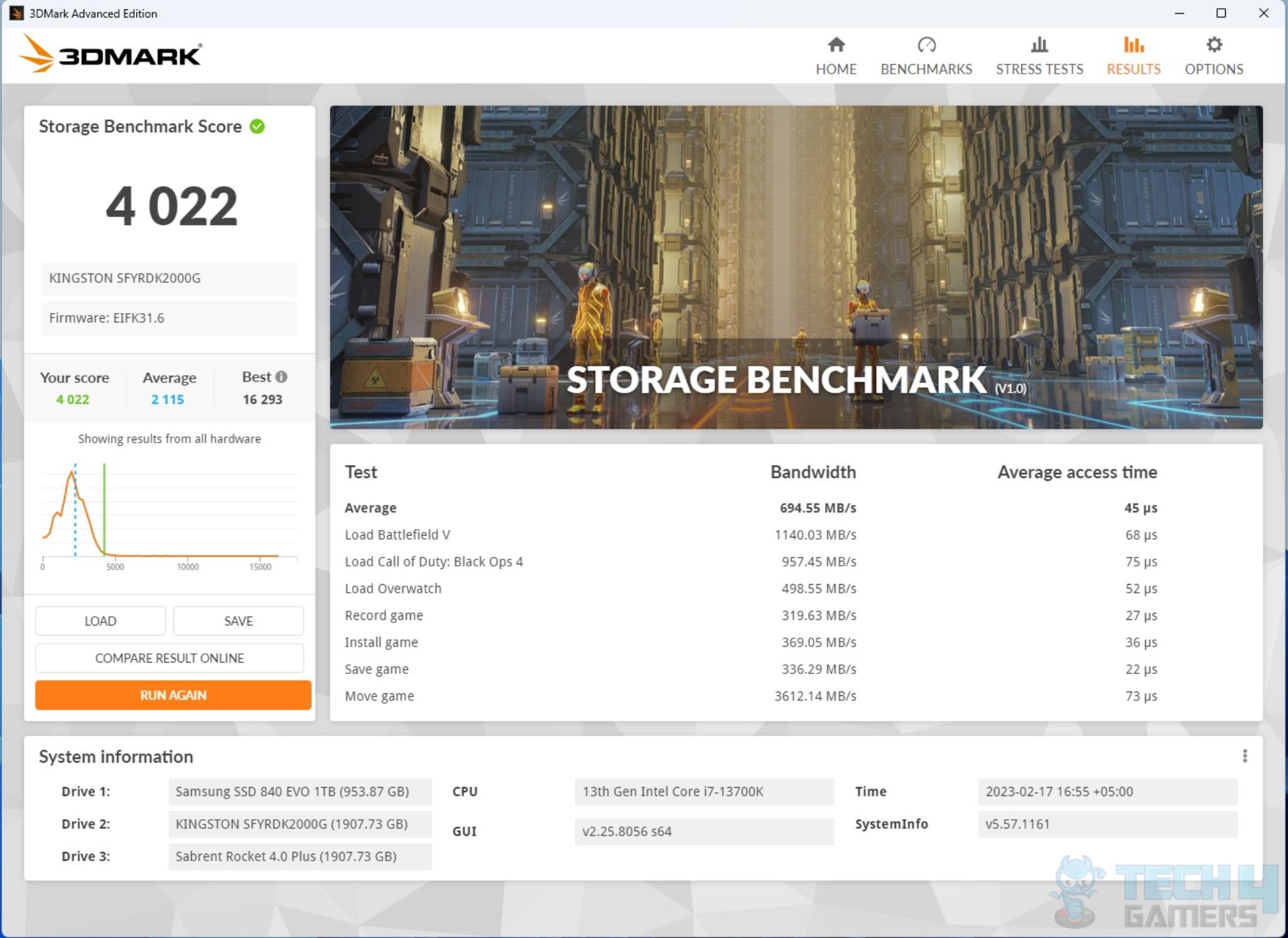 Kingston Fury Renegade 2TB NVMe SSD has performed superbly in this benchmark. Let's compare it with Sabrent Rocket 4 Plus 1TB NVMe SSD.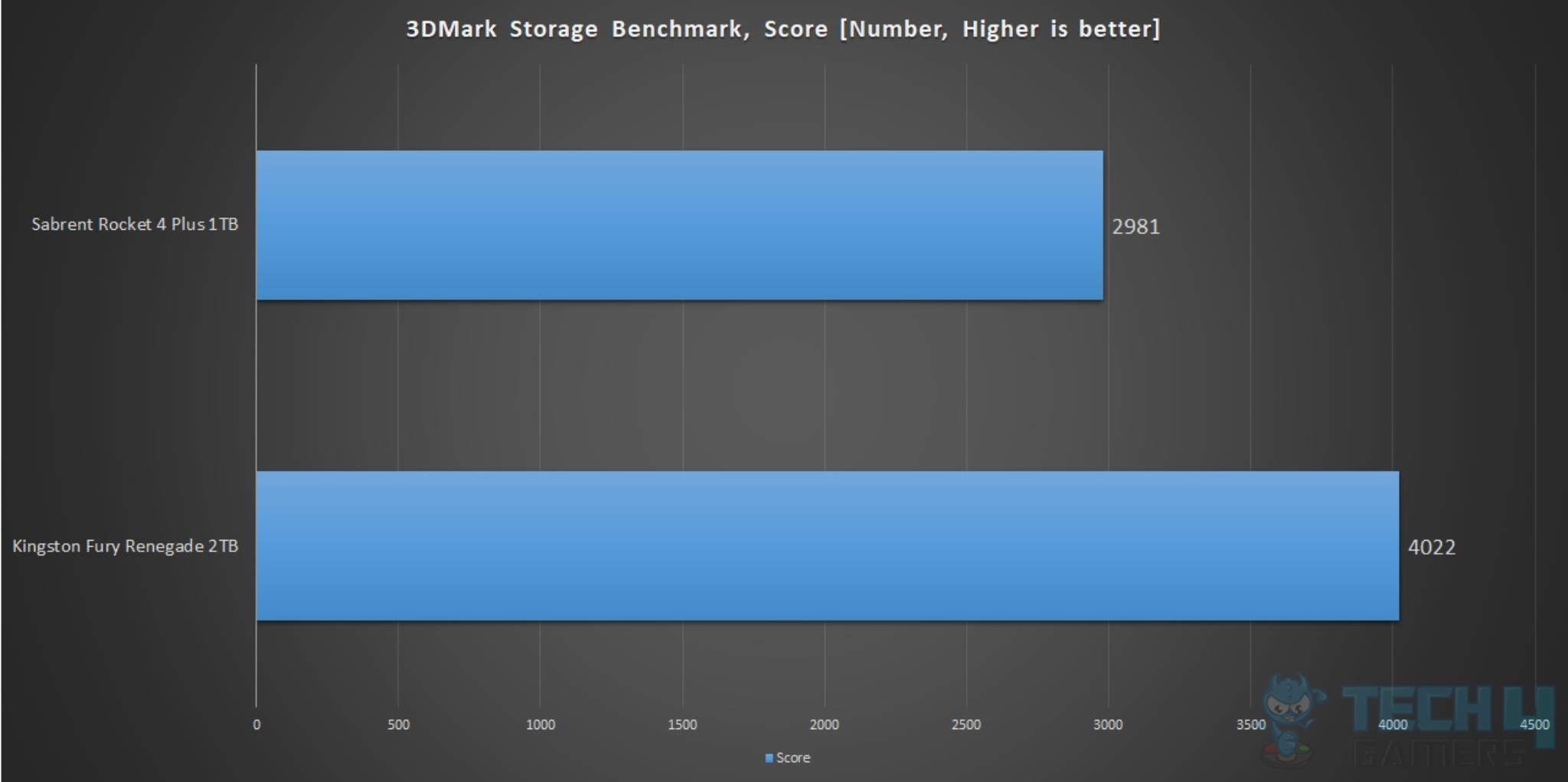 This is like a day-and-night difference in performance from both drives.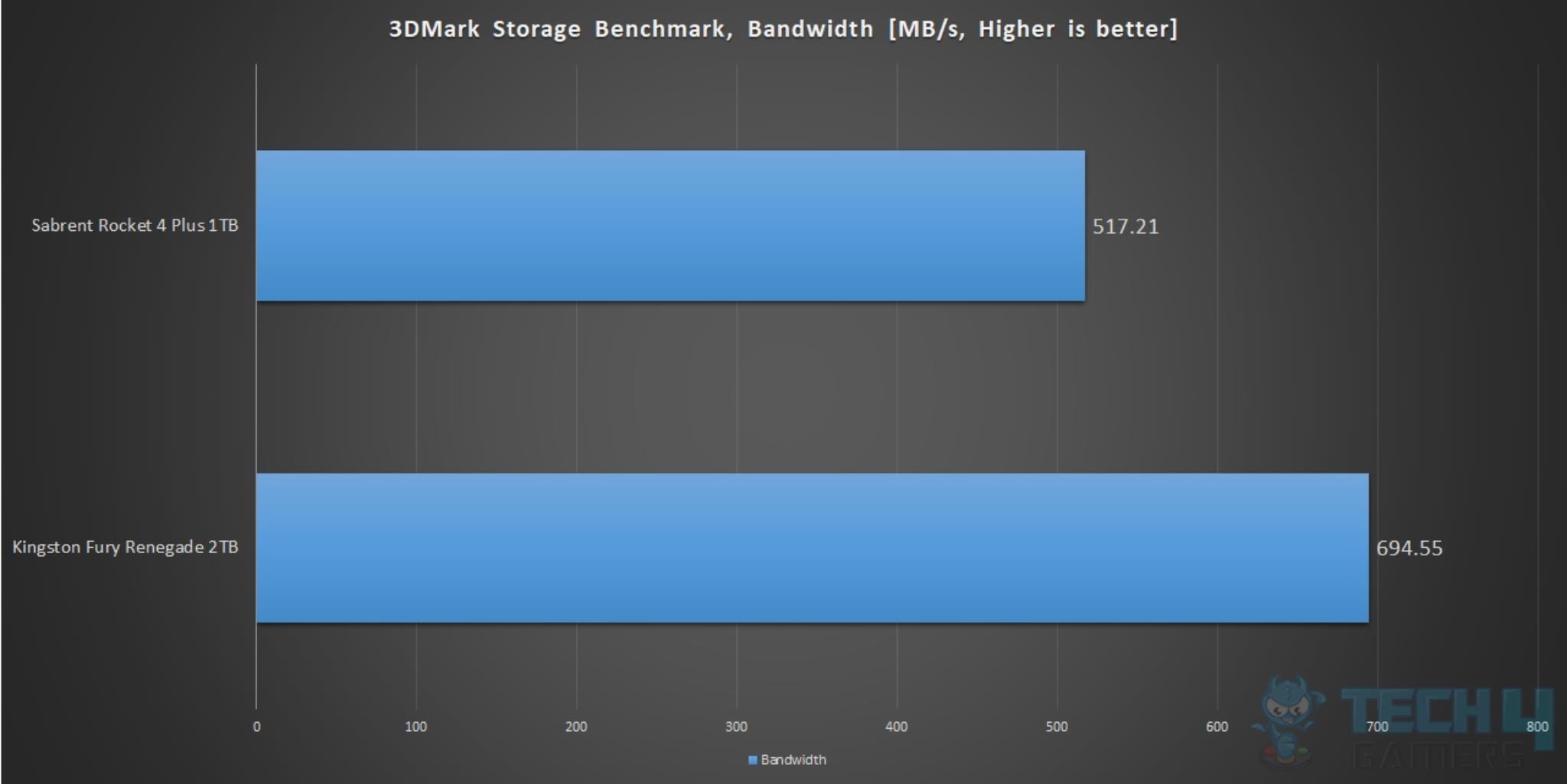 Kingston Fury Renegade offers better bandwidth.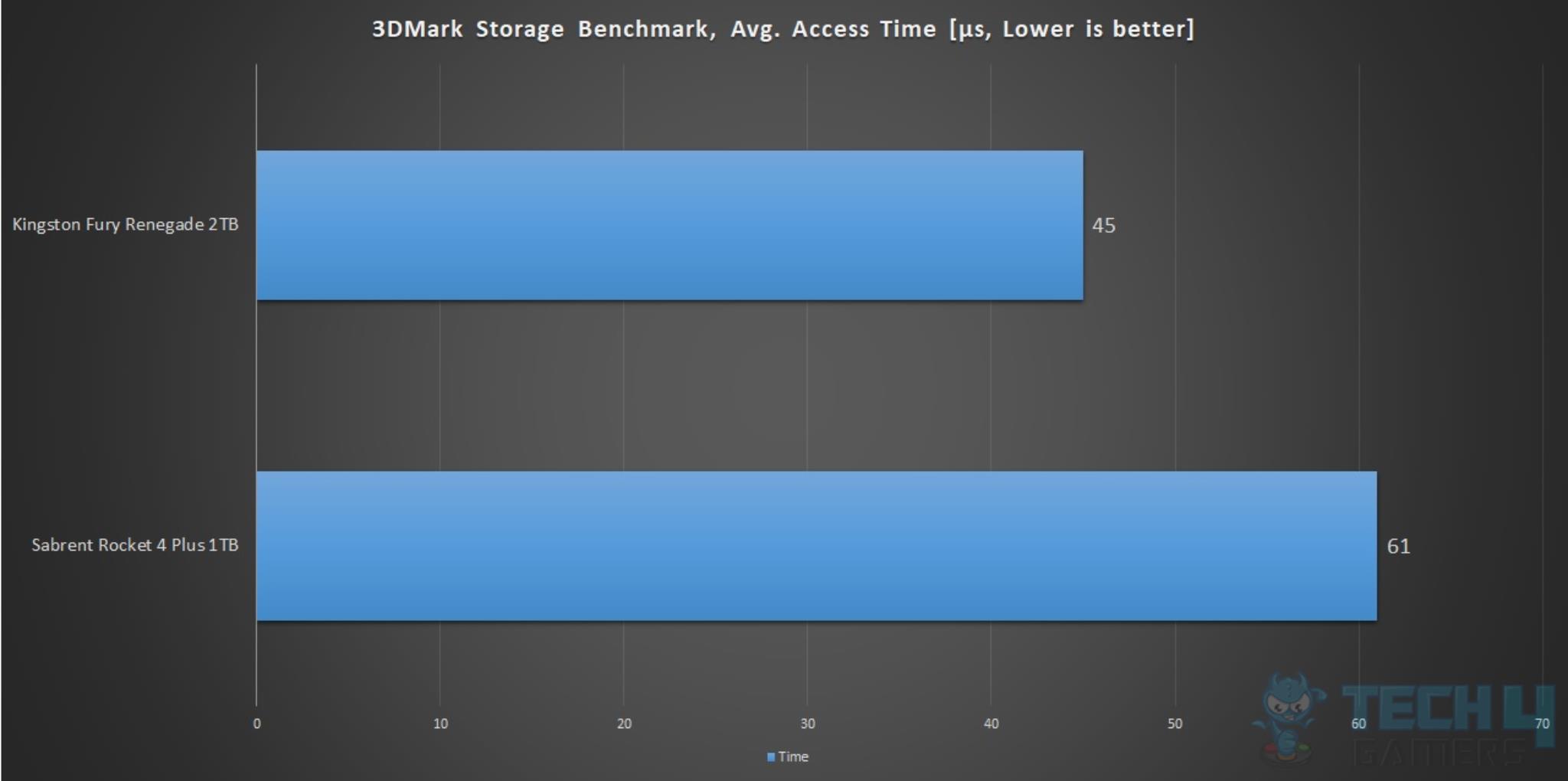 Even access time is impressive.
PCMARK10 Storage Benchmarks
We have added two storage benchmarks from PCMARK10 software:
Quick System Drive Benchmark
Data Drive Benchmark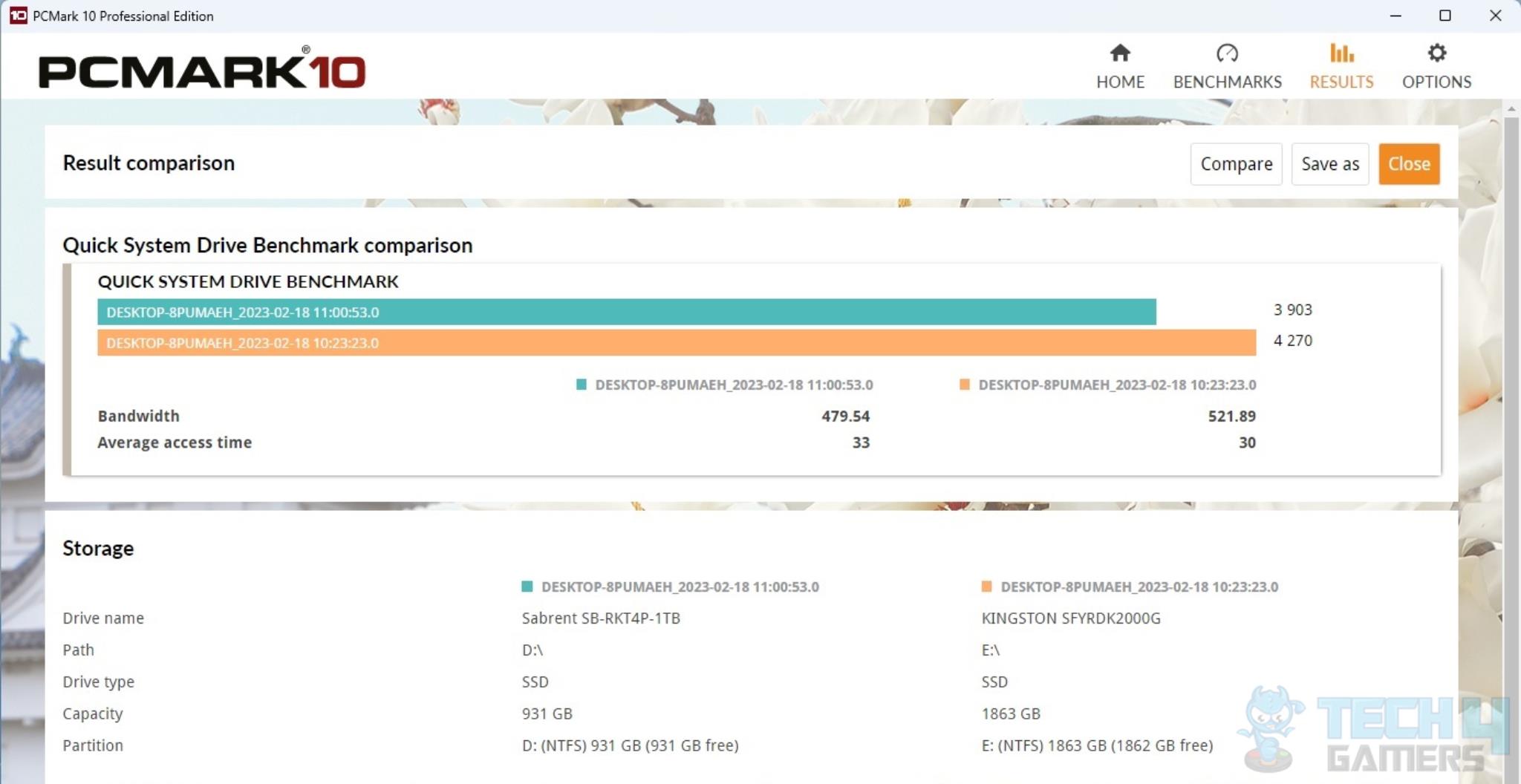 The Quick System Drive benchmark is a shorter test with a smaller set of less demanding real-world traces. This benchmark can be used to test smaller system drives that are unable to run the Full System Drive benchmark.
We can see that Kingston Fury Renegade offers better performance compared to Sabrent Rocket 4 Plus 1TB NVMe SSD.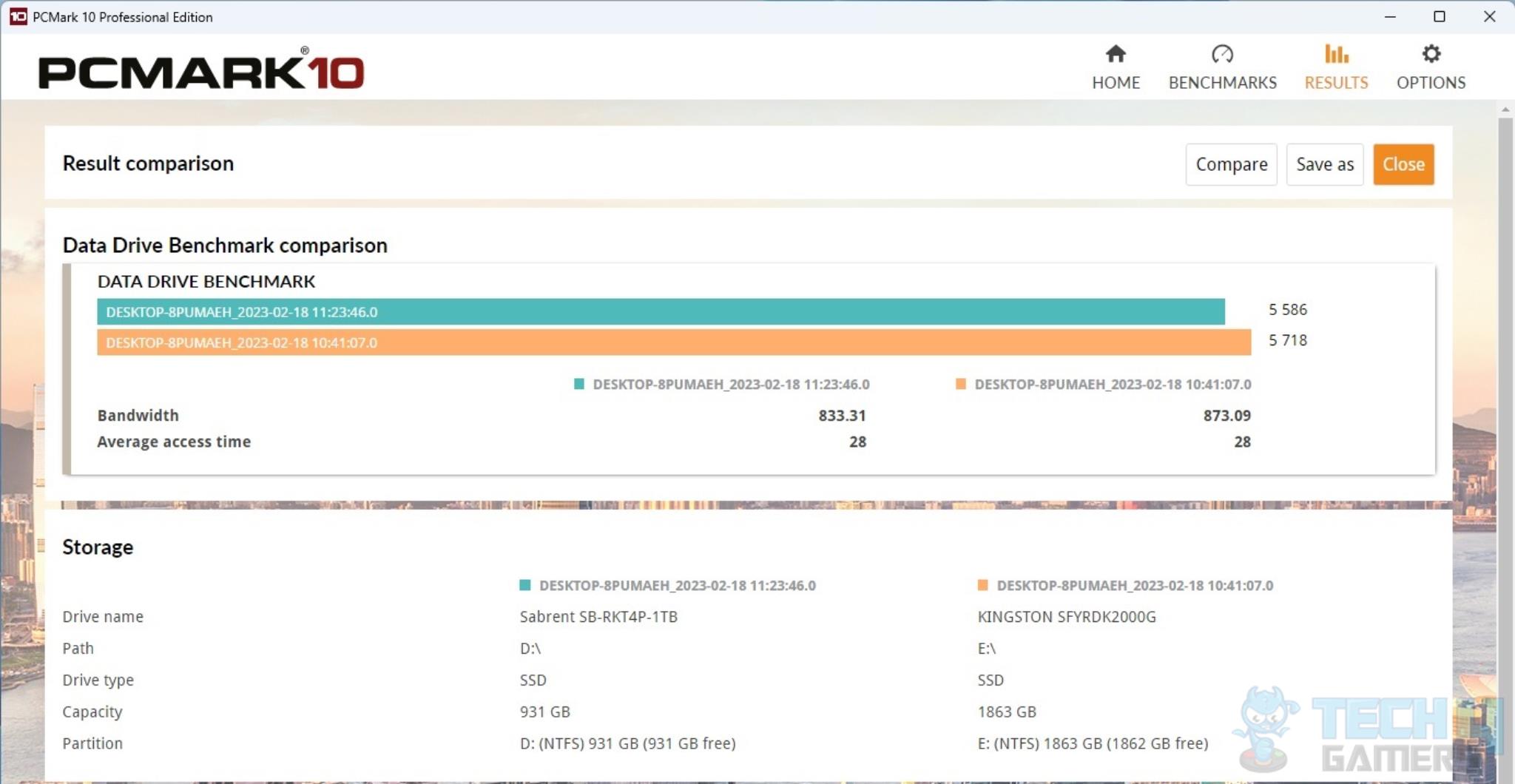 The Data Drive benchmark is designed to test drives that are used for storing files rather than applications. You can also use this test with NAS drives, USB sticks, memory cards, and other external storage devices.
Again, we are seeing the Kingston Fury Renegade 2TB NVMe SSD offering better performance.
Real World Testing
Now, that we have completed testing using synthetic benchmarks, it is time to prepare our sample for a real-world use scenario for further evaluation. We prepared a 110GB size folder containing multiple files and folders including compressed files.
We also prepared a 97GB compressed file separately. DiskBench was then used to observe the real-world data transfer speeds. Here are the results: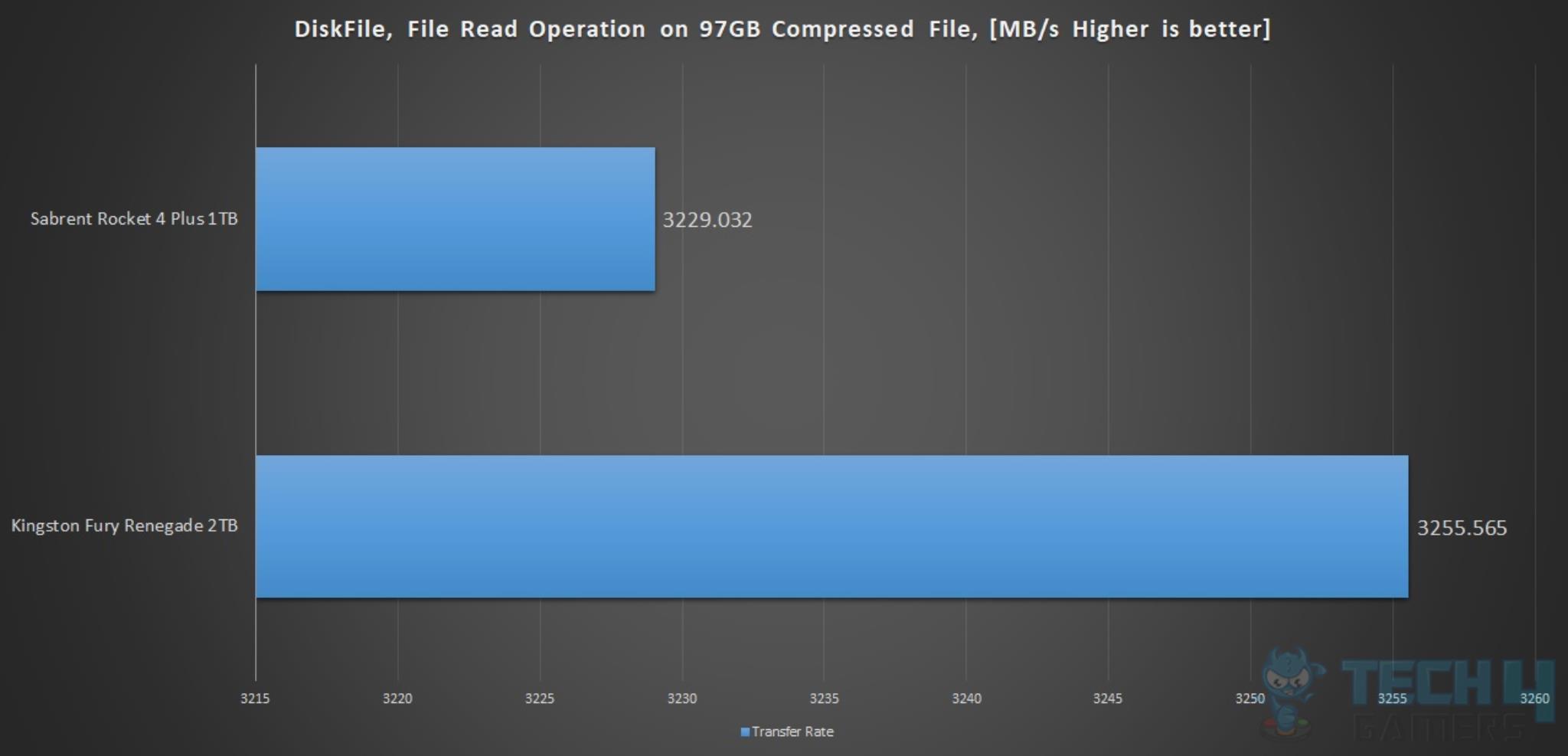 We can see both drives are operating at a minimum of 3200MB/s transfer rate to read a file.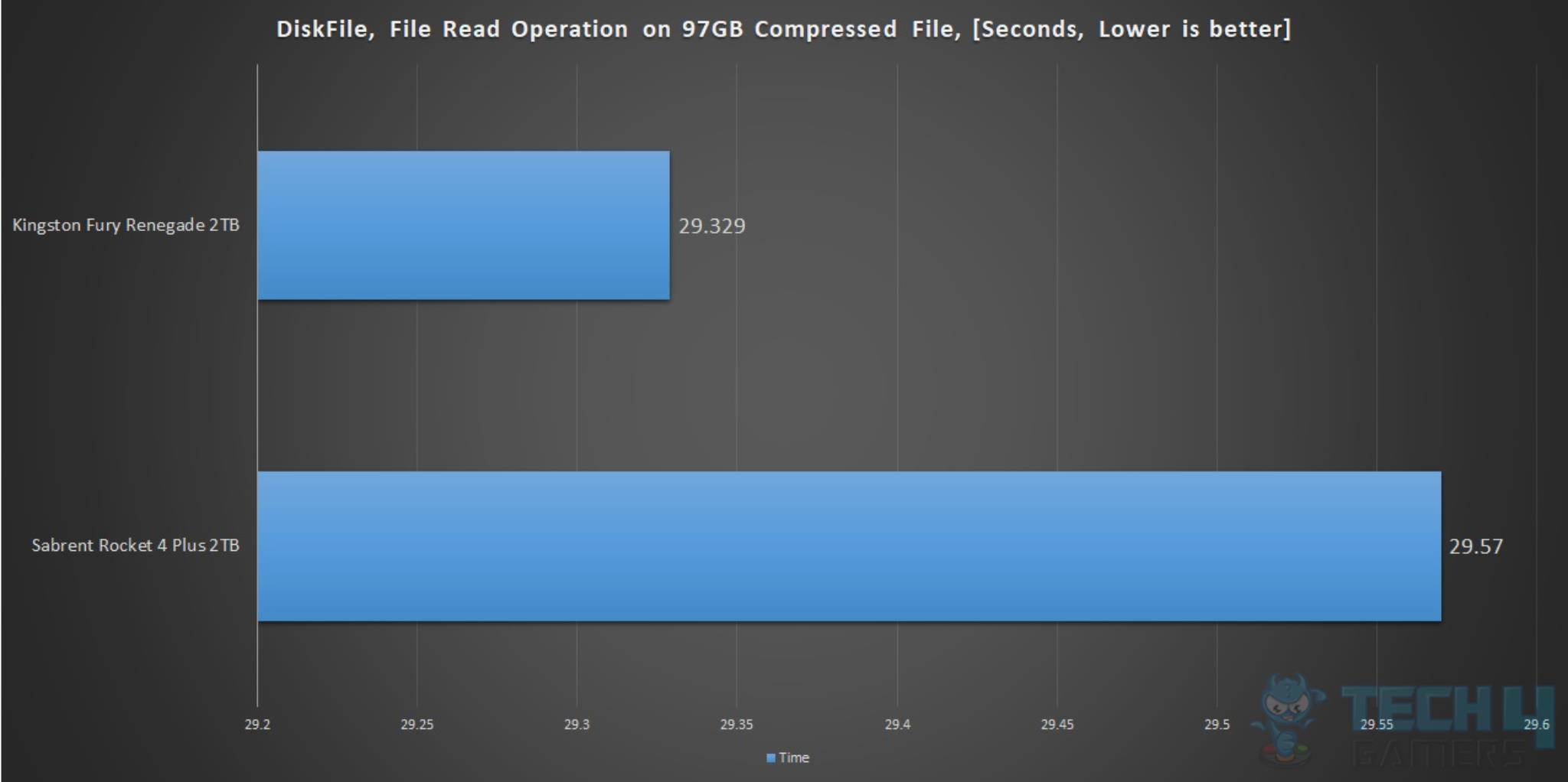 Both drives took almost the same time as well for this operation.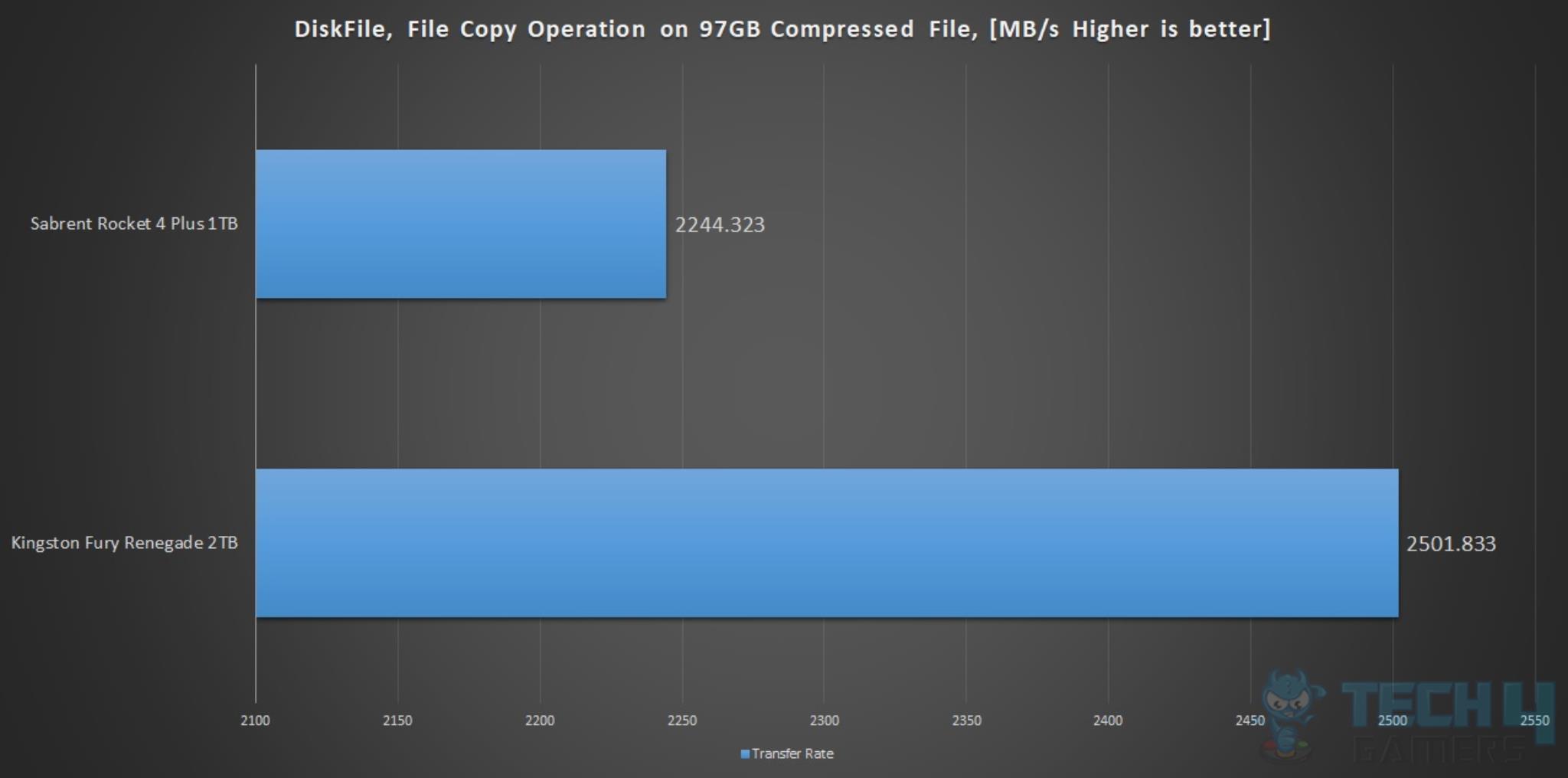 The same file was then copied from the source to the destination folders on the same SSD. We can see a better performance from Kingston driver compared to Sabrent drive.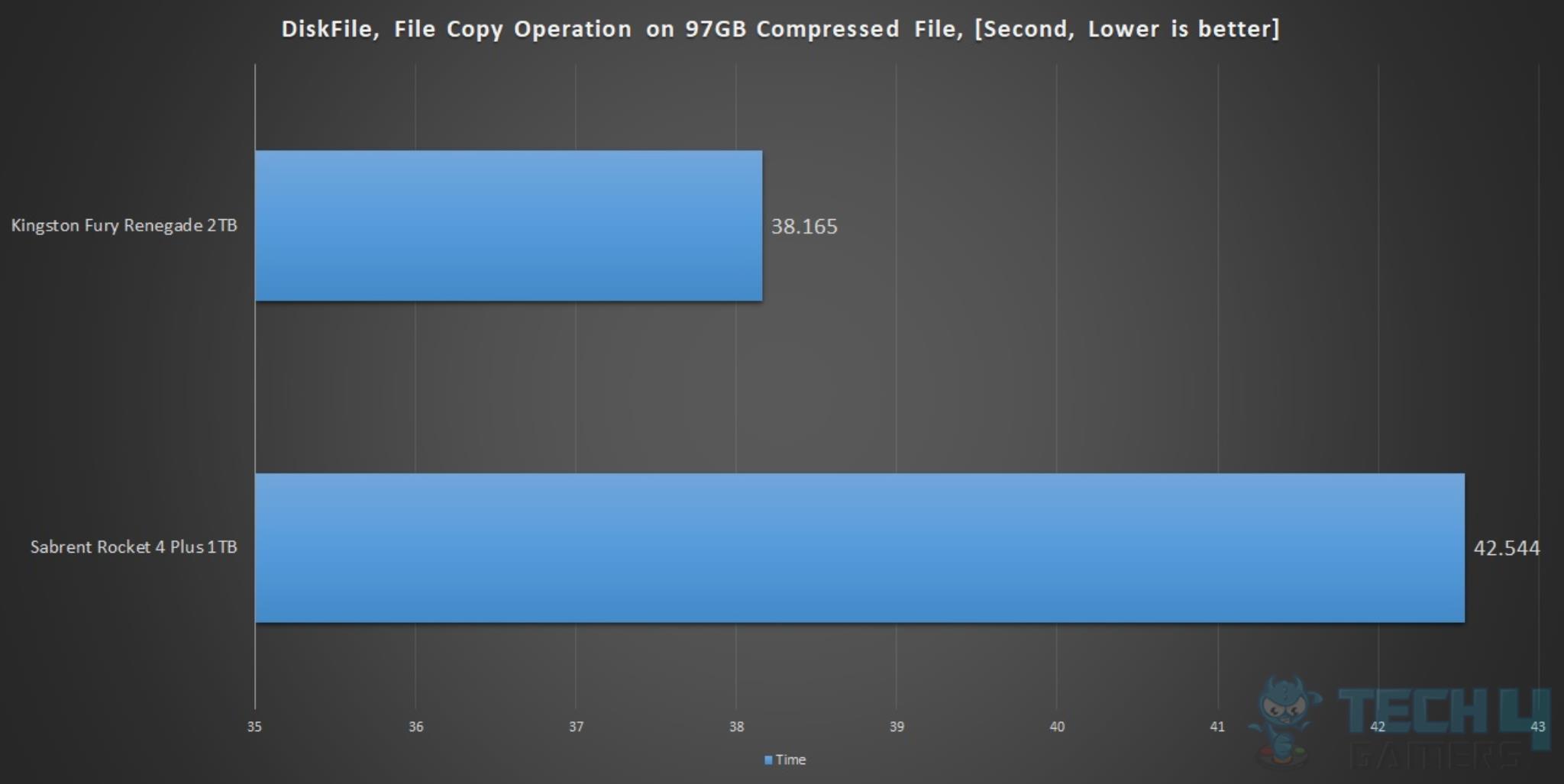 Kingston drive completed the transfer 4 seconds earlier than Sabrent drive.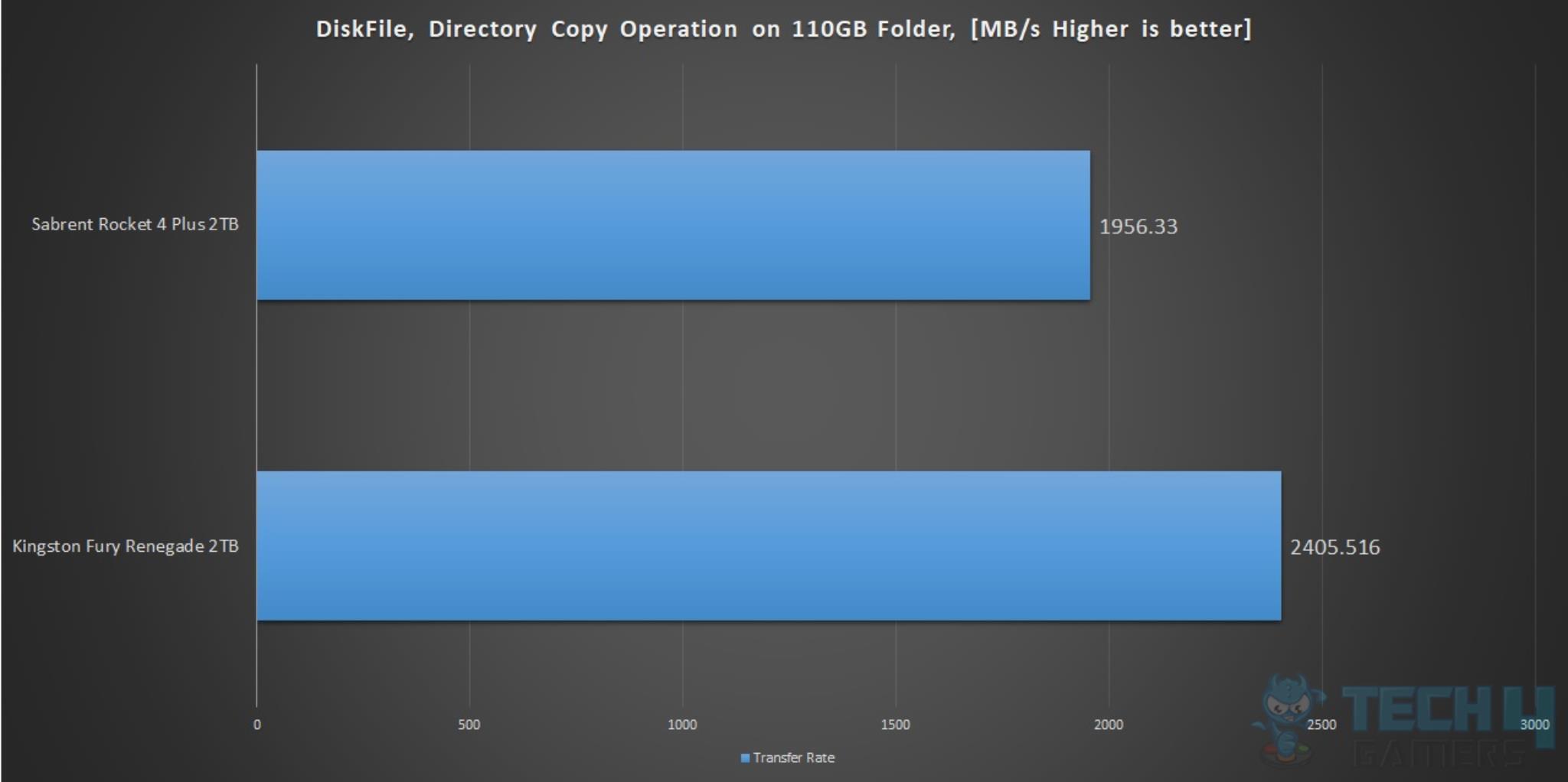 Next, we copied a 110GB size folder to another folder on the same drive. Kingston Fury SSD has offered a better performance compared to Sabrent drive.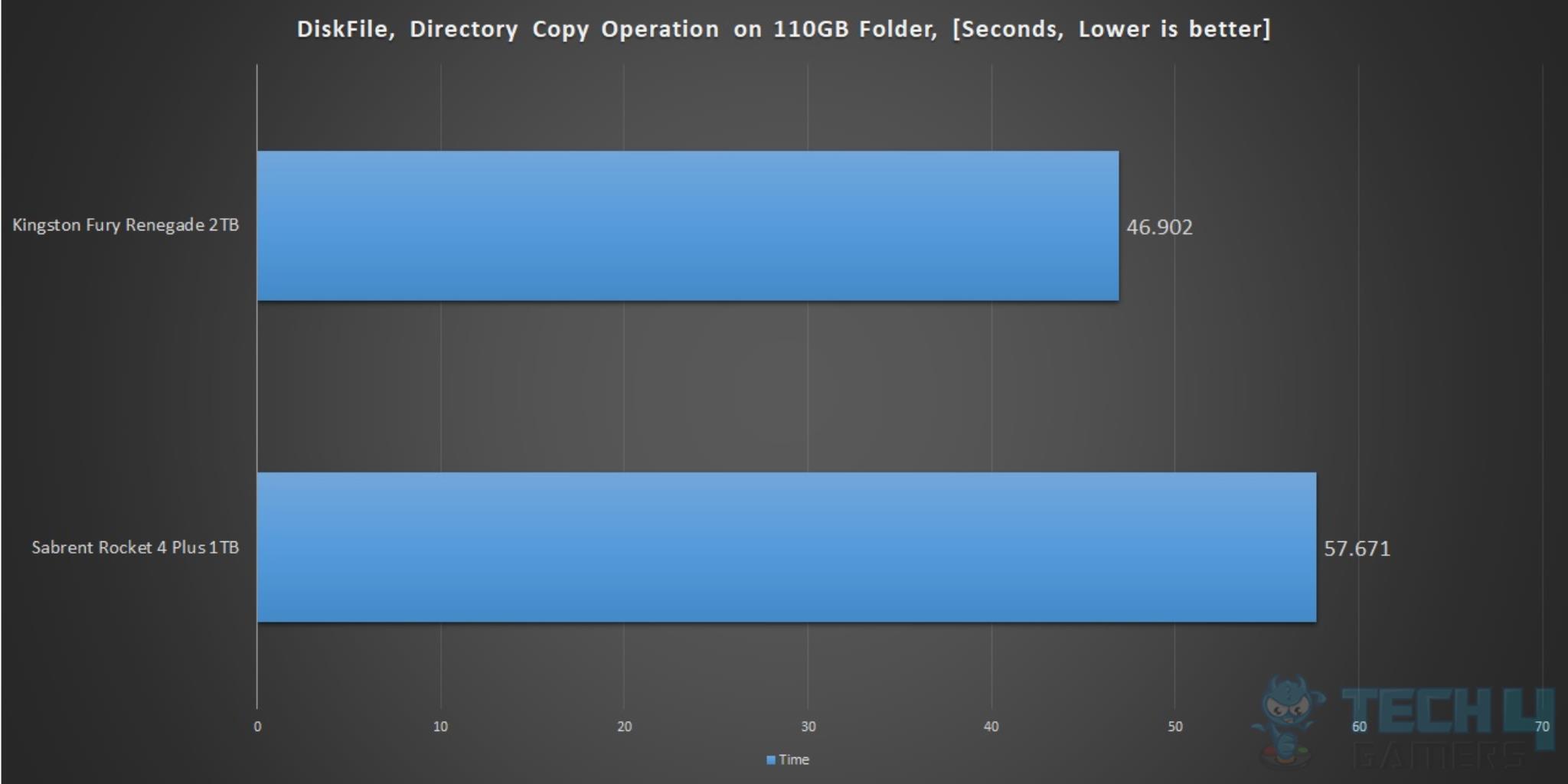 Kingston drive completed the transfer approximately 10 seconds earlier than Sabrent drive.
Gaming Load Time
Gamers are very particular about these high-speed drives. This is why we have used Final Fantasy XIV: Shadowbringers Benchmark using the Highest Preset to record the game load time on RTX 3060.
We already have some ideas from 3DMARK Storage Benchmark. This test will show further insight.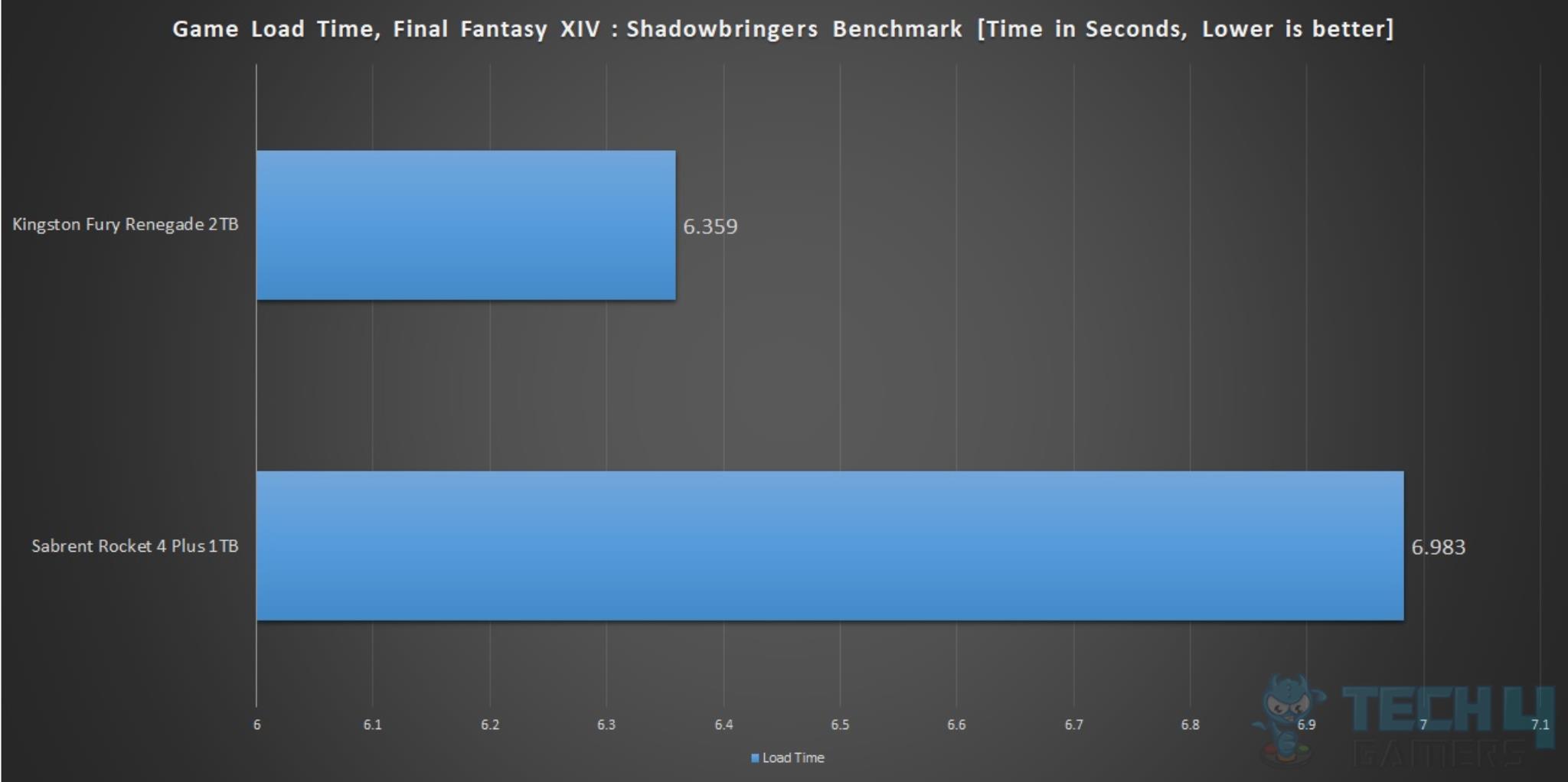 Both drives are very fast with almost similar load times.
Thermal Performance
We used a custom run of CrystalDiskMark to run for 18 minutes on sequential read and write speeds to stress the SSD for this test. We are showing absolute temperature along with ambient temperature values at the time of testing.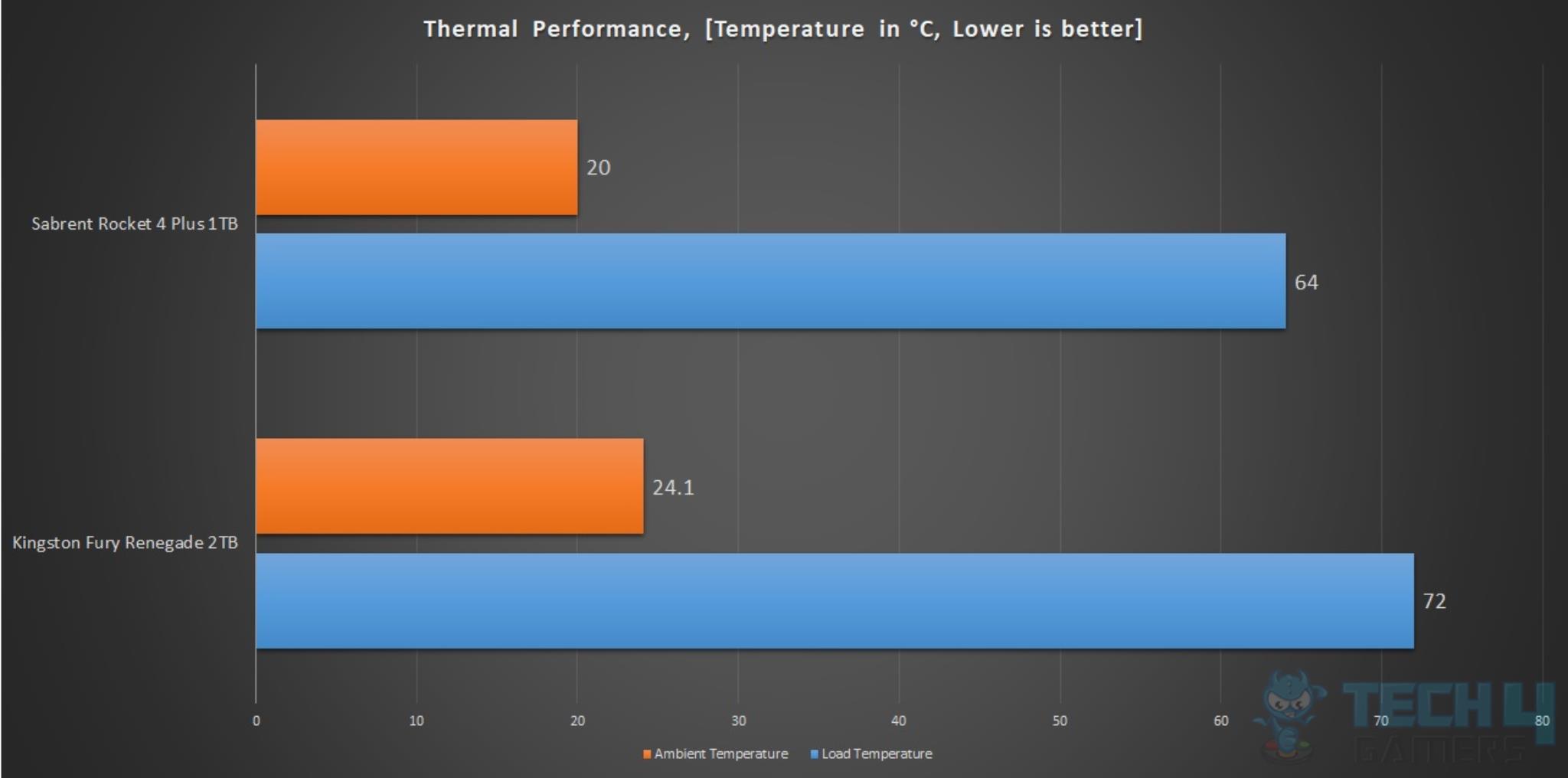 72°C is a high temperature under full load and crossed the upper-temperature limit of Kingston drive. The drive was tested with a stock heatsink in a passive environment meaning there was no fan blowing air throughout the PC.
Temperatures would be lowered once there will be some active cooling as well. This has actually shown the true cooling potential of the heatsink which in my opinion is not doing that well.
Conclusion
Fury Renegade is quite living up to its name. Fury Renegade DDR5 kit impressed us and this time we are seeing an overall good performance from Fury Renegade NVMe SSD with a few misses that we will mention. Kingston is offering 4x SKUs in this line starting from 500GB and going up to 4TB.
Then there are two variants in each capacity. One comes with a graphene aluminum-made heat spreader and the other comes with a proper heatsink. We have tested Kingston Fury Renegade 2TB NVMe SSD with heatsink having a part number; SFYRDK/2000G.
The dimension of this SSD is 80×23.67×10.5mm (LxWxH) and it has a weight of 34.90g. This dimension is inclusive of a heatsink. The 10.5mm overall height of this unit makes it compatible with PS5. Kingston is in fact targeting these drives toward PS5 users as well. Three key factors are:
The overall size of the unit makes it fully compatible
High Capacity allows PS5 users to store more heavy games
Using a low-profile heatsink offers some heat transfer
This is a new trend we are seeing from SSD manufacturers and we can appreciate it for sure as it would ease the life of console users at least when it comes to storage limit. The heatsink comprises an aluminum-made top cover, housing with a base, and 2x thermal pads of different thicknesses.
The heatsink is screwed to the housing. Removing the heatsink would void the warranty which in my opinion should not. Anyhow, for users not interested in a heatsink variant, take a look at the graphene aluminum heat spreader variant. Sorry, but there is no SKU without any cooling part.
Kingston is using 3D TLC NAND Flash from Micron in Fury Renegade SSDs. These are 176 layered designs. There is a 2GB DDR4 DRAM provided and all this is governed by none other but a powerhouse from Phison namely E18.
It seems like the 1GB per 1TB capacity design is being used by Kingston for DRAM. Sabrent Rocket 4 Plus drives are using the same controller and 3D TLC NAND flash chips as well.
Kingston has rated a 2TB NVMe SSD to have up to 7300MB/s sequential read and 7000MB/s sequential write. The 4K Random Read and Write speeds have a rating of up to 1,000,000 IOPS. This looks so good on paper and we wanted to see how this SSD would actually perform.
Anyhow, coming to the main design aspect, this SSD is using NVMe 1.4 interface over PCIe Gen 4 using 4 lanes. It is an M-Key type using an M.2 port with a form factor of 2280. Please, keep in mind that using this drive on Gen 3 M.2 port would drop the performance numbers.
This SSD has a TBW rating of 2.0 PB which stands for 2000 TB. This is an impressive figure. The MTBF rating is 1,800,000 hours which is also nice and on top of this, Kingston is offering a limited 5 years warranty on this SSD.
Kingston has stated that the operational temperature of this SSD is between 0°C and 70°C. This SSD is NVMe 1.4 compliant and has power management support as well as support for S.M.A.R.T and TRIM commands and status. It also has some other features like advanced wear leveling, bad block management, and ECC.
I am not sure if this SSD supports AES hardware-based encryption or not. Kingston has also provided SSD Manager software. Users can check the health status of this drive as well as update the firmware. There is also a license provided for Acronis True Image HD software bundled with this SSD.
This SSD is listed at USD 194.99 at the time of this writing (AMAZON Price). Compared to CORSAIR MP600 Pro/XT, SAMSUNG 980 PRO, and WD Black SN850X, the Fury Renegade 2TB variant carries a high price charge.
While this SSD has performed quite well in our synthetic testing but it was behind the rated sequential read and write speeds. We also felt that this drive offers a bit less 4K Random Read performance compared to writes. Real-world testing is where we have our focus and this is where this SSD has a strong performance.
Under our customized stress test, this SSD reached 72°C. While NAND flash loves to run warm but it seems like the heatsink is not doing any substantial cooling.
Thanks to Kingston for a test unit.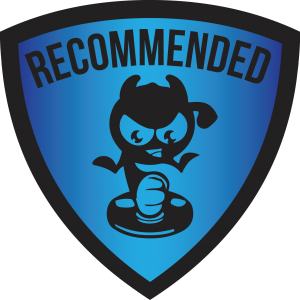 Was our article helpful? 👨‍💻
Thank you! Please share your positive feedback. 🔋
How could we improve this post? Please Help us. 😔