Why settle for dull 2D videos when you can watch VR, 3D, 360-degree, and 180-degree videos that immerse you in the story on your PC? The times when you were content to watch VR videos in VR theaters have ended, and today we are going to discuss how to watch VR videos on PC.
Watching VR videos isn't easy whether you have an HTC Vive or another headset. Most standard video players aren't capable of handling such files. After all, this is a different kind of video file with unique properties designed for use with a VR headset.
If you have the desire to watch virtual reality videos on your PC or Mac, you've come to the right place.
---
Key Takeaways
The best VR-watching experience can be gained by using all accessories like the

headset, VR gloves, and a camera.

You must be careful in the choice of VR equipment and check whether it is supported by your PC or not.

The minimum PC specifications for viewing VR content include Windows 10 or above, processor: Dual-Core with Hyper-Threading, RAM: 8 GB or more, and graphics cards at least as powerful as the GTX 970 or AMD RX 480.
---
How To Watch VR Videos On PC?
In recent years, VR headset technology has advanced significantly. Now, you can get a decent headset for less than $200, and many of them are wireless. If you want to watch VR videos on your computer, you'll need more than just a headset. Additionally, you'll need a computer that can run VR and 360-degree videos.
VR headsets all need a PC to run because they use a computer's graphics card to create the images you see. While you can get away with an average computer for a few minutes at a time, you'll need a high-end PC to use VR for long periods without incurring a lot of problems. Your PC needs an Intel Core i5 processor and 8GB of RAM to run most headsets. If you want to play higher graphically challenging games, the GPU will also be crucial.
VR equipment
There are many different types of VR equipment available on the market, each with its own set of pros and cons. Some of the most popular VR equipment include VR headsets, VR gloves, and VR cameras.
VR headsets are among the most popular VR equipment. They enable users to experience virtual worlds convincingly and engross themselves in them. However, VR headsets can be pricey, and not all systems may be compatible with them.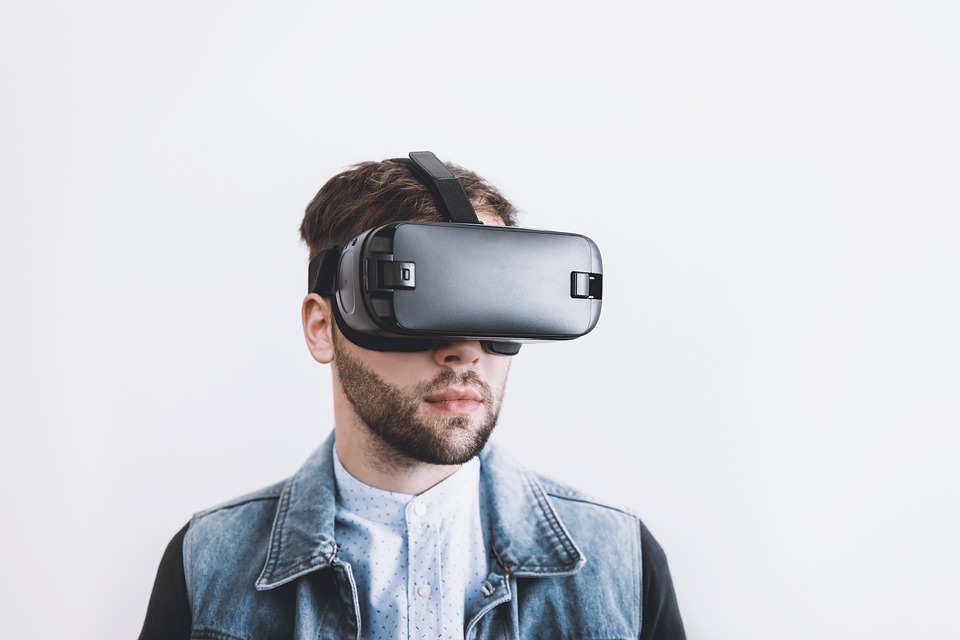 VR gloves are another type of VR equipment that allows users to interact with virtual objects more realistically. However, compared to other types of VR technology, they may not be as affordable or as comfortable to use.
VR cameras are used to capture real-world objects or environments and then convert them into a format that can be viewed in VR headsets. However, they can be expensive and require special software to view the resulting footage.
PC/Desktop VR players
Now that you have learned about the equipment let's take a look at how to watch VR videos on a PC using different players.
To play VR videos on a PC, you also need a player that supports a VR video. Following are some of the best VR players.
SKY box VR video player
It is completely free to use, and it also supports 4k and other kinds of videos, no matter if it is 360/180/3D. It also works with the rift.
Kolor Eyes
The special thing about this is that it lets the user socialize and play games or watch videos. We can see movies online with our friends by linking them to the software.
Magix
It is free to use, and this one allows the user to record their videos or games. These things especially work during the games that we can record without any other hardware, and later one can upload them on YouTube.
Virtual Reality Apps For VR Headsets
As with watching any other video on your PC, you'll need to download and install a VR app. There are hundreds of VR apps available on all major VR platforms, including the Oculus Rift, HTC Vive, and PlayStation VR.
Standalone apps like the Jaunt VR app and VR Cinema are also available. You should make sure that a VR app is designed to work with your particular headset before downloading it. Different apps are consistent with multiple devices. Nonetheless, you must verify before downloading. If you have installed an appropriate app and connected a headset to your PC, you can simply open the app and start watching VR videos.
How To Watch VR Videos On PC Without A Headset
If you don't have a VR headset and want to watch VR videos on your PC, you can do so in a few different ways.
If you want to watch 360-degree videos, a VR headset is not necessary for that. It only requires that you download and install a VR app like YouTube VR. These apps let you watch 360-degree videos in VR with a simple click.
You can also use an app like VRV or VLC Media Player to watch 360-degree videos. There are a few websites that let you watch 360-degree videos directly in your browser. For example, Veer VR lets you view 360-degree videos in your browser and even enables you to create and distribute your VR/360 videos and photographs.
Vrideo is is a premiere platform where you can watch 360-degree videos. You can use it to stream videos from your phone or computer directly to your browser, so you don't need to download anything to watch videos.
Types Of VR Videos
There are three main types of VR videos: panoramic, stereoscopic, and 360-degree.
Panoramic VR videos are shot with a special camera that captures the entire scene around the camera. You can use a VR headset or a regular computer screen to enjoy these videos.
Stereoscopic VR videos are shot with two cameras, each capturing a different perspective of the scene. You can watch these videos with either a VR headset or using a regular computer screen.
360-degree VR videos are shot with multiple cameras placed around the scene. A VR headset is the only equipment we can use to see 360-degree videos.
Realistic/High Quality/Spatial Sound: Several factors are necessary for watching virtual reality videos. The videos need to be high quality and have a fast frame rate to avoid any type of motion sickness. In addition, the audio needs to be realistic and spatial to create an immersive experience. The viewer also needs to be able to control the video so that they can pause or move around as needed.
Create Your Videos And Watch Them Using 360 Cameras
You'll need a high-quality 360-degree camera to create your VR video. There are a few different factors to consider for choosing the right camera. You must first decide what kind of resolution you require. 4K is the highest quality currently available, though it needs a strong computer to function properly. If you're not sure your computer can handle 4K, you can try a lower resolution and see how it goes.
Second, you'll need to make sure the camera has a wide field of view. Increasing the field of view leads to a more immersive experience.
Third, you should check reviews to see what other people have said about the camera's image quality and build quality. A good 360-degree camera will produce clear images and video without any distortion or artifacts.
Finally, make sure the camera is compatible with your PC. Some cameras require special software or hardware to work correctly. Once you have your 360-degree camera set up, you'll be able to watch VR videos on your PC just like any other video. You can use any media player or video streaming service that supports 360-degree playback.
Best VR Headsets For PC
Following are some of the best VR headsets for PC.
Oculus Rift
The Rift is one of the most well-known VR headsets, and for good reasons. While it used to cost around $600, the Rift now retails for $399 and comes with a wireless controller and tracking sensor. The Rift has over 1,000 apps and games to choose from, including some of the best VR games available. The headset itself doesn't require much adjusting and is easy to wear for extended periods of time. You must have a powerful computer to use it.
HTC Vive
The Vive is another PC VR headset with a lot of fans. It retails for around $499 and comes with motion controllers and two base stations. It works with Windows 7 and more contemporary versions. The Vive is designed to be used in a room-scale environment, meaning you'll need at least a couple of meters of free space to use it properly. The Vive boasts over 500 games and apps. Many of these are designed to take advantage of the room-scale feature.
PlayStation VR
The PlayStation VR headset is compatible with the PlayStation 4 console. The headset costs $299 and comes with two motion controllers. It has only a couple of hundred games and apps. Many of these are console exclusives and are not ubiquitous. It's also one of the cheapest ways to get into PC VR since you probably already own the required hardware and have no need for a high-end PC.
Samsung Gear VR
This Gear VR is compatible with PC VR if you own a Samsung Galaxy phone. The device retails for around $100 and comes with a controller and an adapter for the phone. The Gear VR only has around 200 apps and games, but it's also the cheapest way to get into PC VR. It only works with Samsung phones, so remember that before making a purchase.
Google Daydream
The Google Daydream headset is among the least expensive VR headset available. Google designed it to work with the Pixel 2 smartphone. Its cost is less than 100$. Daydream only has around 50 apps and games available, but it's a great way to try PC VR on a budget.
How To Get The Best VR Experience
There's no doubt that virtual reality has the potential to change the way we interact with the world around us. There is a need for some major improvements in both hardware and software involved for VR to become truly mainstream. Here are a few tips to help you get the most out of your VR experience:
You must ensure the proper fitting of the headset. By doing this, you can be confident that you're obtaining the greatest image quality available and that you're not experiencing any discomfort.

Take advantage of hand tracking if your headset supports it. This feature allows you to interact with virtual objects more naturally, making the overall experience more immersive.

Use high-quality audio headphones. This will help you better enjoy any sound effects or music that may be playing in the background of your VR experience.

Adjust the settings on your headset to get the ideal combination of performance and picture quality. You would not like to sacrifice one of these things for the other if you can help it.

Be mindful of your surroundings while wearing a headset. This is vital for convenience and safety reasons. You wouldn't want to cause yourself harm or someone else inadvertently. Additionally, you would not desire to spend an extended period of time feeling cramped.
Final Words
You can get an amazing experience by watching VR videos and games on a PC with all the accessories like a headset, gloves, and a camera. It could become a hassle for you if you don't choose compatible and interlined equipment. Your VR headset must support the type of VR video you are watching, and it should also be compatible with your PC, etc.
Some of the VR videos can be watched without the headset, like the way Facebook offers, and you need to tap and swipe for the different angles. But with the headset and accessories, it seems as though you are not in reality. For some people, it can cause motion sickness as your brain would think you're moving even when your body is still. So, it can trigger motion sickness.
This was everything that you needed to know about how to watch VR videos on a PC. We hope that we helped you out.
Common Questions Answered
How do I know if I can use VR on my PC?
Minimum required specs for the most popular VR headsets OS: Windows 10 or higher and SteamOS, Processor: Dual Core with Hyper-Threading, 8GB of RAM or more, and Nvidia GeForce GTX 970 / AMD RX 480 equivalent or higher graphics cards would be better.
Can any video be watched in VR?
No, you can not watch every type of video in VR. How the video is recorded will determine this.
Why is VR different for each eye?
The way each eye captures a particular piece of information is different. Our eyes send the captured image to the brain for processing and the brain merges them into one picture.
How head detection takes place in a VR headset?
The electronics in the VR headset detect the motion of the head. It then is transmitted to the computer and it redefines what you see and then it is displayed in your VR headset.
Was our article helpful? 👨‍💻
Thank you! Please share your positive feedback. 🔋
How could we improve this post? Please Help us. 😔