A secure VPN prevents third parties from eavesdropping on your data. However, there might be a need to turn off your VPN in some cases, but doing so puts your cybersecurity at risk. Your IP address, identity, and sensitive data are exposed when you disconnect VPN.
Key Takeaways
VPN masks your original IP address and provides security and safety to your data from cybercriminals.
Turning off your VPN can expose your privacy and let hackers, advertisers, and even government officials look into your details easily. In case it's necessary, try using VPN Split tunneling feature!
You can turn off VPN through device settings or just by opening the VPN software and clicking on the Disconnect or Power Off button.
What Happens When You Disconnect VPN?
When you disconnect your VPN, everyone can see your original IP address and identify your connection location. Turning off your VPN will end all your security and privacy measures, and your data is not secured anymore.
Even though your online activities and browsing can become visible to your ISP, and they might share it with the advertisers, you often get ads that match your geolocation and other details. ISPs frequently monitor your activity to limit your connection and deploy site prioritization to save bandwidth for sponsored affiliates.
When your VPN is active, you can't access your streaming subscriptions, but you can browse through the restricted sites at school, work, or while traveling. However, you may need to stop using your VPN cause it makes the internet slow when you need to use or browse regular apps or websites available in your geolocation.
When Should I Turn Off My VPN?
As you know the consequences now, depending on how you use your VPN and whether turning it off won't harm you, you're good to go.
You must have the knowledge to turn VPN off for some particular situations where it becomes necessary, such as:
You are configuring an internet connection for the first time.
To access LAN.
Your network has a problem that has to be fixed.
To use a SaaS platform.
Because you're using a free VPN or one that cannot support your activity without speed loss, your VPN causes your internet to slow down.
Play online games.
It is streaming on websites that block VPNs.
Browse through the websites that are only accessible in your area.
You don't worry about keeping a VPN on for privacy and security because you only use it to unblock content.
Your place of employment prohibits VPN use.
You travel to a nation like North Korea, Iraq, Russia, Oman, Belarus, etc., where VPN use is prohibited.
Keep in mind that disconnecting VPN could waste all your effort and cost to protect your data and will reveal your browsing activity and IP address.
Do I Need A VPN At Home?
To keep your data secure and uphold your privacy at home, you require a VPN. We now have even more reasons to defend our online security because the Internet of Things (IoT) has altered how we manage our living areas. Let us explain to you how?
Take this example: smart homes make life comfortable by maintaining a pleasant temperature when you're home, and to reduce energy costs, your smart home knows when you're out, and it will save energy.
Although, the risks of cybercrime and data breaches increase with this pattern of life as you connect more of your gadgets to the Internet of Things and incorporate it into your daily life.
A connection that is not protected, think of it like a locker that is not locked and will have a chance of burglary. Thus, a trustworthy VPN is necessary to strengthen your house's security to stop third-party snooping and data sharing.
How To Turn Off VPN?
You can disable the VPN by going into the device settings or VPN software, but you might discover that your internet gets turned off as soon as you disable your VPN. This most likely indicates that the kill switch option is turned on.
Before disconnecting the VPN, go to the software and turn off the kill switch to keep accessing the internet if you have this feature.
It can be challenging to find the VPN disconnect option cause it is placed differently on every device. We have explained the process for each device below, including Windows, Mac, Android, iOS, and routers.
On Windows 7, 8, 10, Or Earlier
Disconnecting a VPN on a Windows laptop or computer in several ways. The basic steps are the same for all but vary according to the version of Windows; follow the given instructions:
Click on the Windows icon, go to Settings, and select Network & Internet.
Jump to the VPN section and choose the VPN software that needs to turn off.
Now click on Disconnect.
Let us show you how to do it through multiple options in the latest Windows OS that is Windows 10.
Using View Network Connections
Use the search bar next to the Windows 10 icon to find View Network Connections, then click it.
You will have the list of all your internet connections in the View Network Connections section.
Go to the VPN you want to disable, right-click on it, and from the menu, choose Disconnect.
Via Network & Internet Settings
You can permanently or temporarily disconnect your VPN service by this method. Follow the given instructions:
Open Settings and go to Network & Internet option.

2. Jump to the VPN section.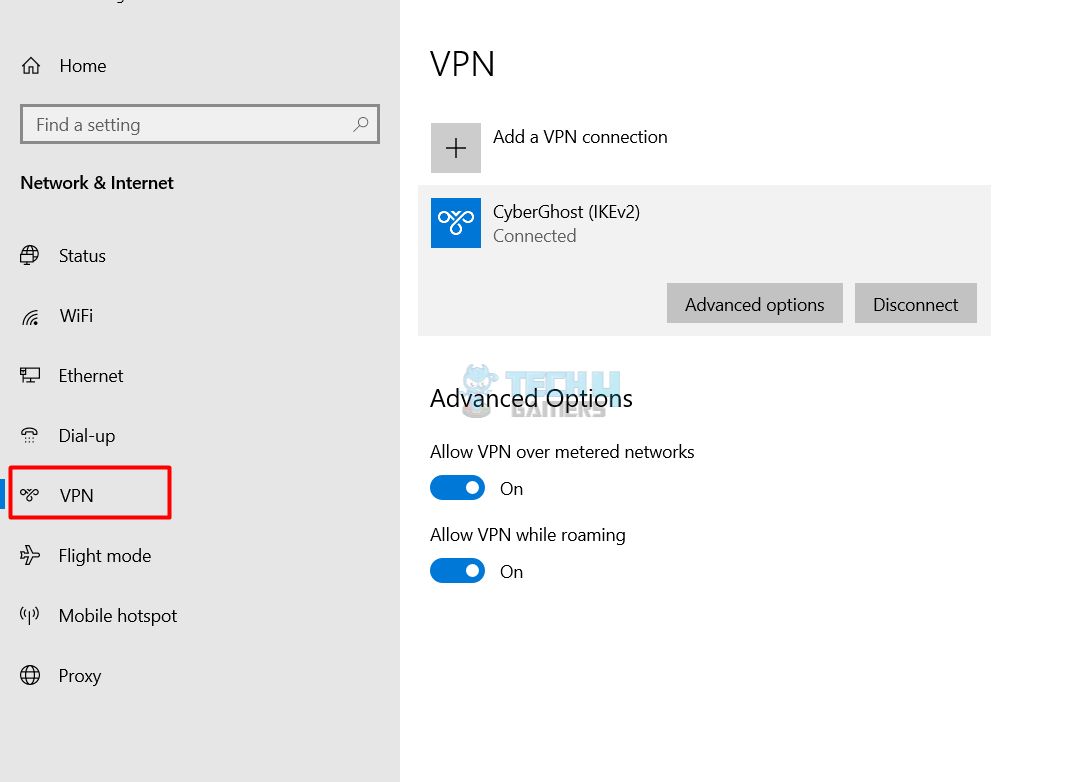 3. Choose the VPN that you want to turn off, then click Disconnect.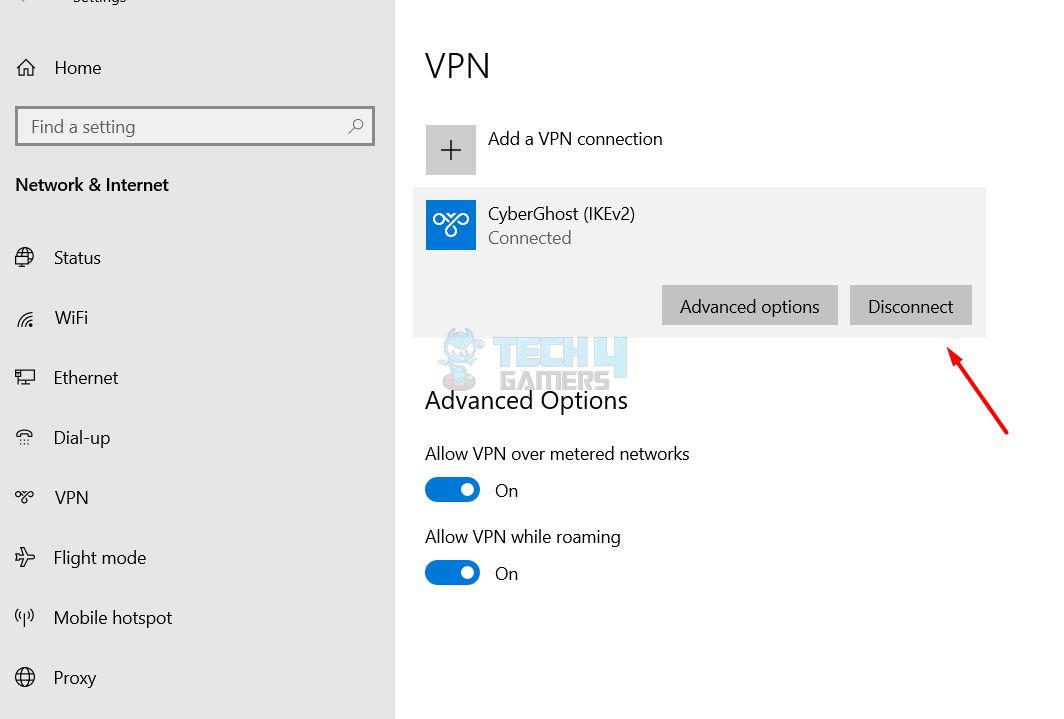 By using the VPN client in Windows 10, disable your VPN. The steps are given below:
Click System Tray.
Right-click the icon for the VPN client.
To switch off your VPN connection, click Exit or any other button on your VPN client to disconnect it.
Related Guides: How To Check PS4 Controller Battery On PC?
On MacOS Computer
You can disconnect VPN via the VPN app or the System Preferences on a macOS device.
Following are the steps to turn off VPN using System Preferences:
Click on the Apple icon and go to the System Preferences option.
Choose a network and then the VPN service that requires turning off.
Now jump to disconnect and click on it.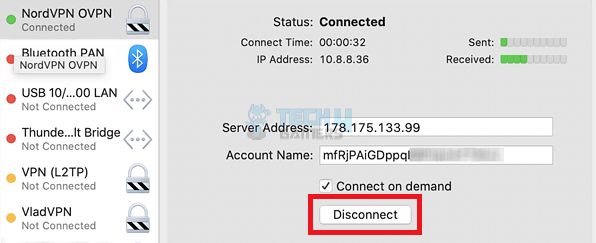 On Android Devices
Following are the steps to disconnect the VPN on your Android device through Settings:
Go to the Settings.
You will have different titles for the tasks according to your smartphone device, so look for Connection & Sharing or Network & Internet, then select VPN.
Now you need to tap on the toggle button to disconnect the VPN.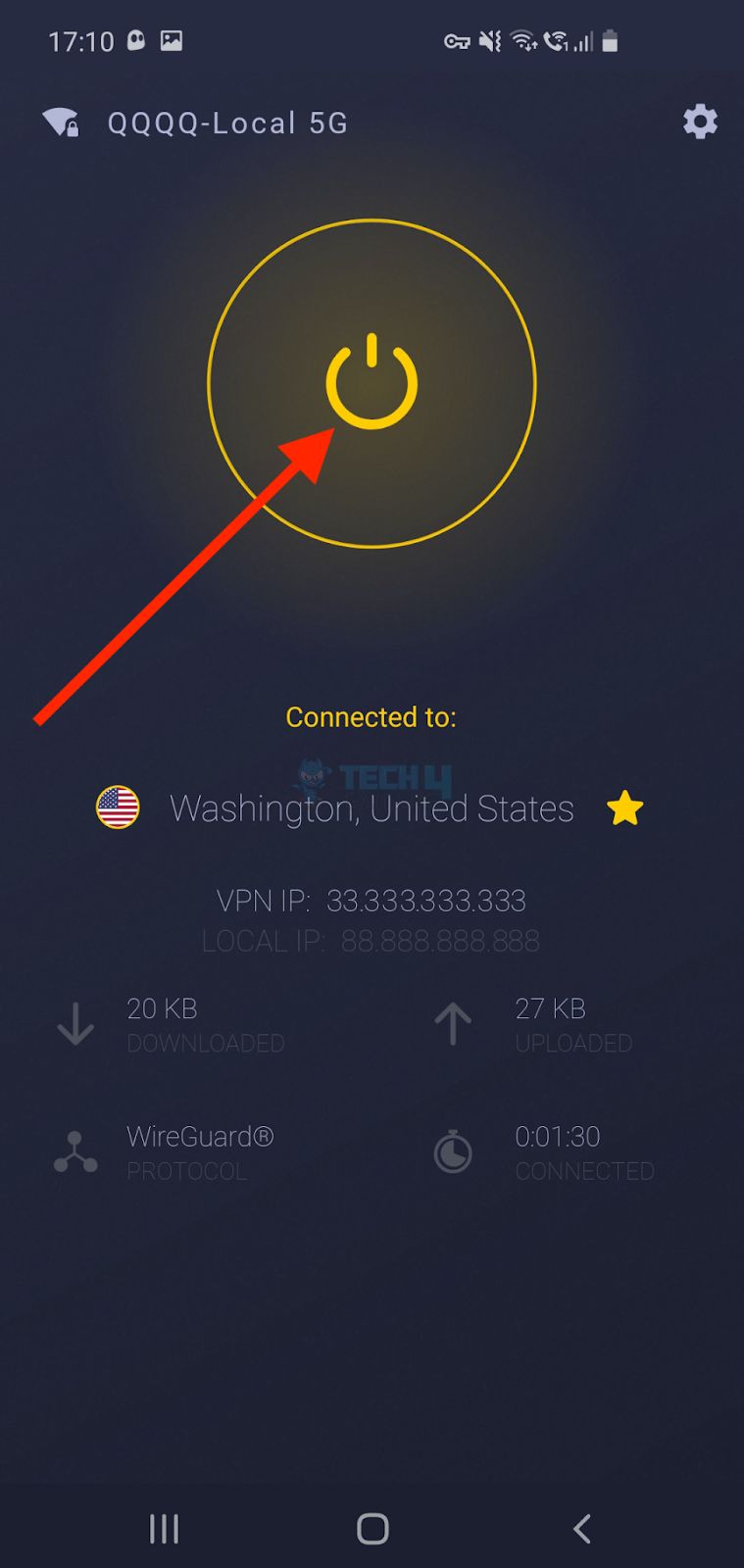 On iPhone
The process for disabling your VPN service on an iPhone is very similar to that for Android.
Follow the instructions below to turn off VPN via iOS Settings:
Go to Settings and open General.


Go to Settings and Open General – Image Credits [Tech4Gamers]

Jump to VPN & Device Management option.


Jump to VPN Device Management Option – Image Credits [Tech4Gamers]

Click the VPN icon.


Click the VPN Icon – Image Credits [Tech4Gamers]

Now tap the toggle button to disconnect the VPN

.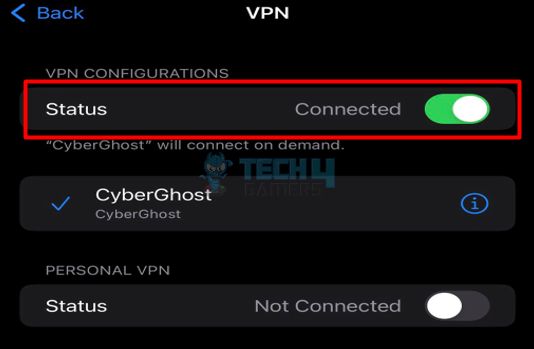 How To Turn Off A VPN On Your Router?
The designs of routers and the associated software vary just slightly. However, the basic functions are similar.
The app's settings allow you to turn off the VPN feature of your router:
Open the app's settings.
To disable the VPN, use the power button or toggle switch.
When resetting your router, the VPN is also disconnected from all connected devices.
Also Check: Computer Restarts When Trying To Print
How To Turn Off VPN Using VPN Software?
On Android, iPhone, iOS, and MacOS devices, you can easily disconnect from your VPN using the VPN app. The software's functionality may be different and located in different places per design, but the process is usually the same. The steps are given below:
Launch VPN software.
You'll see a bold power or disconnect/connect button in the front window; press that button to turn off the VPN.
Disabling A VPN On Linux
Most VPNs include software or an app that you may use to control the VPN. You can disconnect VPN by just clicking a button. Even if we talk about Linux VPNs with a GUI (Graphical User Interface), the process remains the same; you will have a disconnect button on the front screen.
However, the situation is slightly different for those with a command-line interface (CLI). The software's documentation can help you find the command line code necessary to disable a Linux VPN using the CLI. You only need to type the code into the Terminal to disconnect the VPN.
What Is VPN Split Tunneling?
Split tunneling is an essential VPN feature that divides your internet traffic in two, which means some of your device or app traffic that needs protection will go through the secure VPN tunnel while other data from a regular internet connection.
If your VPN supports split tunneling, you will not need to disconnect your VPN for the websites or streaming apps that require a connection without a VPN while encrypting and concealing the rest of your connection.
The best practice is opting for the VPN software with this feature!
Is It Safe To Disable Your VPN?
Unless you're disconnecting your VPN for a short period to complete specific tasks, getting it back on as soon as possible is safe. However, some users must remember to connect VPN after finishing, which makes things go wrong. It's better to keep a note or put a reminder to turn on the VPN.
Some VPN companies have an easy way out of this problem. Users can temporarily turn off their VPN, and it automatically connects after a specified period of one hour.
What Is A VPN Kill Switch?
A VPN Kill Switch gives a boost to data security. It prevents your device from sending/receiving data if your VPN connection is lost. VPN connection could be disrupted for several reasons, including an unsteady or limited connection, router or firewall settings, etc. Any interruption in your VPN connection can make your IP address and browsing details visible to third parties. A Kill Switch assures that your identity is always safe. Moreover, public Wi-Fi users are an easy target for cybercriminals, so make sure you use a VPN with a Kill Switch.
VPN providers include this functionality to avoid scenarios in which the VPN is unexpectedly disconnected for any reason without alerting the user and causing a breach in security.
Wrapping Up
Disconnecting a VPN is quite simple; however, we only encourage doing so regularly due to privacy measures, as we have defined the risks of turning off the VPN in the article. If it becomes necessary to disable your VPN at some point, remember to connect it back as soon as possible. We recommend using a VPN with a split tunneling feature to prevent data loss and IP identification. It's better to be safe than to regret any of your decision!
Common Questions Answered
How to Turn Off VPN?
You can disable VPN simply through the VPN software or the device's settings. The process is almost similar, but some specific steps vary depending on your device and VPN. Usually, the software gives an on/off or connect/disconnect button.
What happens if I turn off my VPN?
Your IP address and complete personal data will expose to cyber criminals or third parties if you turn off your VPN. Also, secure access to some sites will get compromised. So, it's better to maintain your VPN connection all the time and only disconnect when required.
How to block all VPNs on my router?
There is no exact method for blocking all VPNs on the router. However, setting firewalls and routers to prevent VPN access is possible. You can establish a list of access controls to prohibit commonly used VPN traffic, such as UDP port 500.
When should I keep my VPN turned on?
It would be best to keep your VPN active every time because you never know where hackers or cybercriminals can attack you for data theft. Especially public internet connections are a very easy target to get your data. But don't think; it's safe to turn off VPN; some ISPs are also involved in sharing users' data with advertisers!
Was our article helpful? 👨‍💻
Thank you! Please share your positive feedback. 🔋
How could we improve this post? Please Help us. 😔