Projecting to another screen is a built-in feature of Windows 10 and Windows 11, allowing users to multitask. It is not a difficult thing to do, press Windows key+P, and you will see a list of options to manage another screen. But there's a possibility that you might encounter an error message saying, "Your PC can't project to another screen."
Key Takeaways
Screen projection of a PC is a built-in feature of Windows 10 and 11, but many users cannot do so due to the error.
It happens due to an incorrect connection to the graphics card, PC, or other screen. Other reasons might be hardware failure or outdated display drivers.
You can fix this error by updating drivers or Windows, checking for cables and connections, or by replacing your graphics card if nothing works.
What Is The "Your PC Can't Project To Another Screen" Error?
Windows 10 and 11 have a built-in screen projecting feature; they can be wired or wireless. But this can be messed up sometimes.
Also Read: PC Fans Spin But It Won't Boot
You're in a meeting trying to project your PC to a bigger screen for a better view, or you are doing multiple tasks at the same time, and to be more efficient, you need to connect your PC to multiple screens and snap.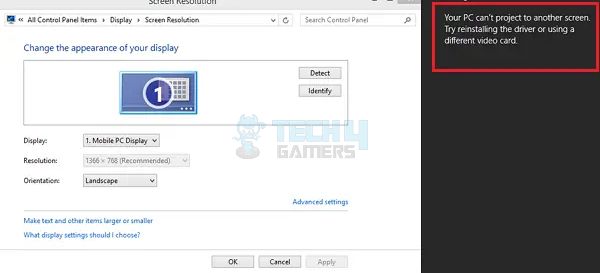 It means your PC fails to project to another screen, which will give you a headache to fix it for multiple reasons.
One of the primary culprits is faulty or outdated drivers behind your PC's inability to project to another screen. Outdated Windows or pending Windows updates can also be a reason.
Moreover, there may be a connectivity issue between your PC and other screens due to faulty or loose cables or connections. Another reason could be corrupt system files can also trigger this error message by interrupting the PC functionality.
Last but not least, damaged graphics cards can also cause the error. Learn how to remove the GPU from the motherboard in case it is damaged and you have to replace it.
How To Fix The "Your PC Can't Project To Another Screen" Error
Following are the methods to fix this screen projection error, but let's start by doing some basic troubleshooting:
Basic Troubleshooting
Before proceeding to any technical fixes, workaround these first:
Examine the cables you're using and the device's ports for any damages and ensure they work fine.
Verify the connections of the display cables, such as HDMI or VGA, to the PC and another screen you're trying to project.
Sometimes, Windows 10 doesn't support or detect other screens through analog cables. To avoid this, always go for a DVI connection.
If any port or cable is not working, try other cables or ports of your devices.
If you have a dedicated graphics card, insert the cable directly into it rather than the motherboard.
Reinstall Video Drivers
An issue with the drivers prevents your PC from projecting to another screen. The drivers must be outdated if you recently updated to Windows 10 or upgraded to Windows 11.
As a result, you must install compatible updates for the new OS. Also, the best way to do this is to uninstall and reinstall the drivers to get the latest versions and avoid conflicts because sometimes old settings remain in the system if you update the driver. It's necessary to do a clean installation of the drivers.
Access Device Manager.

Device Manager – Image Credits (Tech4Gamers)

Go for the Display Adapters option.

Display Adapter – Image Credits (Tech4Gamers)

Find your display driver and right-click on it, then choose Uninstall device.

Display Adapter Uninstall – Image Credits (Tech4Gamers)

To complete the action, click the Uninstall button.

Uninstall Adapter – Image Credits (Tech4Gamers)

Click the Scan for Hardware Changes icon to finish.

Scan Hardware – Image Credits (Tech4Gamers)
To ensure you get the right drivers, always download the drivers directly from the manufacturer's website, which is compatible with Windows 10, because a wrong driver can harm your PC.
Also Check: PC Stuck On Motherboard Screen
Remember, if you're unaware of the manual downloading of drivers or don't have enough time, go for a third-party application such as DriverFix or Driver Updater that can update all of your drivers automatically with just one click.
Uninstall Existing Driver Through Display Driver Uninstaller
Directly uninstalling the driver does not eliminate its cache and existing entries. To remove these files and clean the entire system from your PC, opt for Display Driver Uninstaller (DDU) software and use it in safe mode.
Hit the Windows key and press the Power icon in the menu.
Here, you need to select the Restart option, but before that, hold down the Shift key while clicking Restart. Your computer will now boot through the recovery environment.
As soon your PC restarts, go to Troubleshoot and select Advanced Options.
Now opt for Startup Settings and again restart your system.
Immediately press the numeric key 5 or F5 to launch your system in Safe mode.
Go to Display Driver Uninstaller's official site and download the setup on your PC.
Launch the DDU application after extracting the zipped file from your downloads.
Select the type and model of your device and opt for a driver.
Now click on the Clean and Restart option.
After restarting, the driver will be entirely uninstalled, along with all its configurations and registry information.
Now access the graphics driver's official manufacturer website and download it.
Clean Boot Computer
Some applications and programs may interfere with your projector, causing your PC to display an error message saying, "Your PC can't project to another screen."
Below is the method to start your computer with only a few necessary drivers and programs to avoid interruption.
Click on the search bar on the main screen and type msconfig.
You'll see System Configuration in the search result; click on it to open.

System Configuration – Image Credits (Tech4Gamers)

From the top menu, click on Services.

System Services – Image Credits (Tech4Gamers)

Click the check box next to Hide all Microsoft services, then opt for Disable all button.

Hide All Microsoft Services – Image Credits (Tech4Gamers)

Afterward, go to Startup and click the option Open Task Manager.

Startup Task Manager – Image Credits (Tech4Gamers)

Now, right-click on every startup program and choose Disable.

Disable Startup Program – Image Credits (Tech4Gamers)

Return to the Services tab now, click Apply, then OK.
Run SFC
Corrupt system files may cause your PC's inability to project to another screen. It would help if you run the SFC (System File Checker) scan to resolve this issue. This utility will analyze the issue and quickly fix it.
Click on the search box and type cmd in it.
Select the Command Prompt option in the search results and opt for Run as administrator.

CMD Run As Administrator – Image Credits (Tech4Gamers)

Type the command sfc/scannow and Enter.

CMD SFC Scan – Image Credits (Tech4Gamers)

Restart your computer after the scanning is finished.
Use a third-party repair tool for deep scanning of your system and advanced repairing of corrupted files, such as System Mechanic Ultimate Defense, Restoro, or Outbyte PC Repair Tool. These tools will also boost your PC's performance.
Also Read: How to Check Used Graphics Card Before Buying?
Use Authorized Account
If your computer has many user accounts, be aware that not all have access to or are authorized to project to a different screen.
Try using a different user account; it might solve your issue. In any case, give the troubleshooting methods mentioned above a shot and see if you can resolve your technical problems.
Run The Hardware And Devices Troubleshooter
The troubleshooter for Hardware and Devices works on modifications and issues with the hardware connections and related drivers.
Windows 10 Troubleshooter
Go to Settings and open Updates and Security.
Once your system is done with the troubleshooting, restart it.
Once the process is completed, restart the system.
Windows 11 Troubleshooter
Go to Start and open the system to access Troubleshoot.
Find and go for the Hardware and device troubleshooter from the list of Other troubleshooters.
Restart the system after the troubleshooting process has been completed.
Another way to run the Hardware Troubleshooter is through Command Prompt.
Open cmd and type or copy-paste the command: msdt.exe -id DeviceDiagnostic and press Enter button on the keyboard.
Now check for the display if this method has resolved the screen projecting issue.
Also Read: How To Fix Your Computer Has A Virus Error
Reinstall Display Hardware
This method will give your system a fresh start by reinstalling display hardware automatically.
Go to Device Manager.
Look for the device driver that is facing an error and Uninstall it.
Now, restart your system.
Windows will detect your device while starting up and reinstall the driver automatically using a Windows update.
Perform Windows Update
By releasing new updates through Windows Update, Windows usually resolves glitches and bugs in its existing operating system and drivers. Also, the necessary updates may be pending if you recently upgraded the version of your system's Windows. You can fix this error by simply installing all the available updates.
Go to Windows Settings and jump to Windows Update.
Click Check for updates, and if you find any available ones, select Download and Install.

Check For Update – Image Credits (Tech4Gamers)

Now open Advanced Options and click on Optional Updates.

Advance Option Update – Image Credits (Tech4Gamers)

Download and install all the available updates and restart your PC.
Try projecting your PC to another screen to see if it functions properly.
Prevent Windows From Installing Drivers Automatically
The system will automatically install the graphics driver after you uninstall it because of being important software for the computer's display. However, you only sometimes get an updated version installed which creates a problem and interrupts a clean installation. You need to disable this setting before starting a new installation.
Press Windows+R, and the Run dialogue box will appear.
Now type system properties hardware in it and press Enter.
You will be directed to the System Properties window's Hardware tab.
Select Device Installation Settings.

Device Installation Settings – Image Credits (Tech4Gamers)

Opt for No (your device might not work as expected), then click Save Changes.

Device Might Not Work – Image Credits (Tech4Gamers)
Replace Graphics Card
When all the other options have failed, changing your graphics card becomes mandatory. Before considering this option, let an expert check your GPU and make a suggestion. There might be any temporary glitch, or if you are under warranty, replace it immediately!
However, if you need to buy a new graphics card and are unsure what to look for to avoid such problems in the future, go through this article how to choose the right graphics card for your PC.
With this method, you should be able to get rid of the "Your PC can't project to another screen" error.
Final Verdict
Now that you know the reasons and fixes for the error message "Your PC can't project to another screen," this issue can be easily and quickly fixed, and you can get back to work in no time if you follow all the steps properly. But even after trying all the methods, you still get the error; contact your system's hardware manufacturer or supplier.
Common Questions Answered
Why am I getting an error while projecting my PC to another screen?
The error message "Your PC can't project to another screen" is a common issue, while trying to do screen projection. This error may occur due to outdated or broken graphics drivers, outdated Windows, or any interruption in the system settings due to corrupt system files.
How to fix the screen projection issue of a PC to another screen?
Start by checking the hardware, cables, and ports for any damage or lose connections, and make sure everything is in place properly. Secondly, try updating graphics drivers and Windows; look for any incompatible or broken files and repair them.
How to update a graphics driver?
Open Device Manager and select Display Adapters from the drop-down menu. Right-click on your graphics card, and you will have a context menu. Choose Properties from it. Now, jump to the Driver tab and opt for Update Driver.
Was our article helpful? 👨‍💻
Thank you! Please share your positive feedback. 🔋
How could we improve this post? Please Help us. 😔