The Core i9 13900H and Core i9 13980HX are the latest additions to Intel's Core i9 processors' long-standing reputation as high-performance computing powerhouses. These processors are made to meet the needs of experts who need high processing capability and are intended for heavy workloads.
We will examine the main characteristics and capabilities of the Core i9 13900H vs Core i9 13980HX in this comprehensive comparison, assessing their effectiveness and deciding how they compare to one another.
Key Takeaways
The core i9 13980HX performs better in both single-core and multi-core benchmarks.
The Core i9 13980HX guarantees efficient data handling by supporting DDR5-5600 RAM, whereas the Core i9 13900HX offers support of DDR5-5200 RAM.
Despite being a high-performance CPU like the Core i9 13900H, the Core i9 13980HX is more inclined to use more power because of its higher maximum turbocharged frequency and computing capabilities.
Core i9 13980H vs Core i9 13900HX: Comparison Table
Processor
Core i9 13980HX
Core i9 13900H
Architecture
Core i9
Core i9
Codename
Raptor Lake-HX
Raptor Lake-H
Processing Node
Intel 10nm
Intel 10nm
Cores
24
14
Threads
32
20
Hybrid Cores
P-Cores: 8
E-Cores: 16
P-Cores: 6
E-Cores: 8
Frequency
2.2 GHz
2.6 GHz
Turbo Clock
up to 5.6 GHz
up to 5.4 GHz
TDP
55W
45W
Max. Operating Temperature
100°C
100°C
L1 Cache
80K (per core)
80K (per core)
L2 Cache
2MB (per core)
2MB (per core)
L3 Cache
36MB (shared)
24MB (shared)
Release Date
Jan 4th, 2023
Jan 4th, 2023
MSRP
$668
$617
Integrated Graphics
UHD Graphics 770
Iris Xe Graphics 96EU
Architectural Differences
Process Size: The Core i9 13900H and Core i9 13980HX CPUs are based on Intel's 10nm SuperFin architecture, which offers enhanced power and thermal efficiency than earlier versions. This guarantees ideal performance and heat control for prolonged use.
Clock Speed: The Core i9 13900H offers solid single-core and multi-core performance for demanding applications. Its basic clock speed is 2.6GHz and can be turbo-boosted to 5.4GHz.
While the Core i9 13980HX is one of Intel's most powerful mobile CPUs, it goes one level beyond with a higher base clock speed of 2.2GHz and an amazing maximum turbo frequency of 5.6GHz.
Cores and Threads: Featuring 14 cores and 20 threads, the Core i9 13900H achieves the ideal mix for efficient resource utilization and seamless multitasking.
The Core i9 13980HX, on the other hand, has an astounding 24 cores and 32 threads, giving it an advantage in performing activities that require a lot of threading and displaying improved performance in distributed programs.
TDP: The Core i9 13900H usually uses 45 Watts of power. However, the Core i9 13980HX uses 55 Watts of power due to its superior performance and faster clock speeds.
Both processors effectively control power use and heat output to guarantee laptops function at their peak levels.
Supported Technologies: The Intel Hyper-Threading Technology is supported by the Core i9 13900H, which boosts multithreaded program performance as a whole. In addition, Intel VT-x Technology is also supported by the Core i9 13900H.
Through the use of this technology, hardware-assisted virtualization may be implemented, which improves the efficiency of running several virtual machines on the CPU.
Contrarily, the Core i9 13980HX offers a larger range of technologies, such as Turbo Boost Max 3.0 and Intel Thread Director. These characteristics improve the processor's effectiveness and performance, providing further advantages over and beyond its fundamental features.
Performance Benchmarks
Let's get started with the thrilling portion of our Core i9 13900HX versus Core i9 13980HX showdown: the performance improvement in real-world scenarios! It's time to explore how these CPUs perform in the real world now that we've found the distinctive traits that make them stand out.
Prepare to watch the might of these high-performance beasts being unleashed in your demanding applications and routine activities.
Laptops Used:
i9 13980HX
MSI GE78HX
Some on MSI GT77HX Titan
i9 13900HX
Cinebench R23 Single Core
The Core i9 13980HX exhibits its strength in the field of computational prowess with a great benchmark score of 2,059. The Core i9 13900H fights valiantly on the opposite side, scoring 1,985.
The difference becomes apparent when all the data has been analyzed. With an advantage of almost 3.73% over its rival, the Core i9 13900H, the Core i9 13980HX leads a well-earned triumph.
Cinebench R23 Multi Thread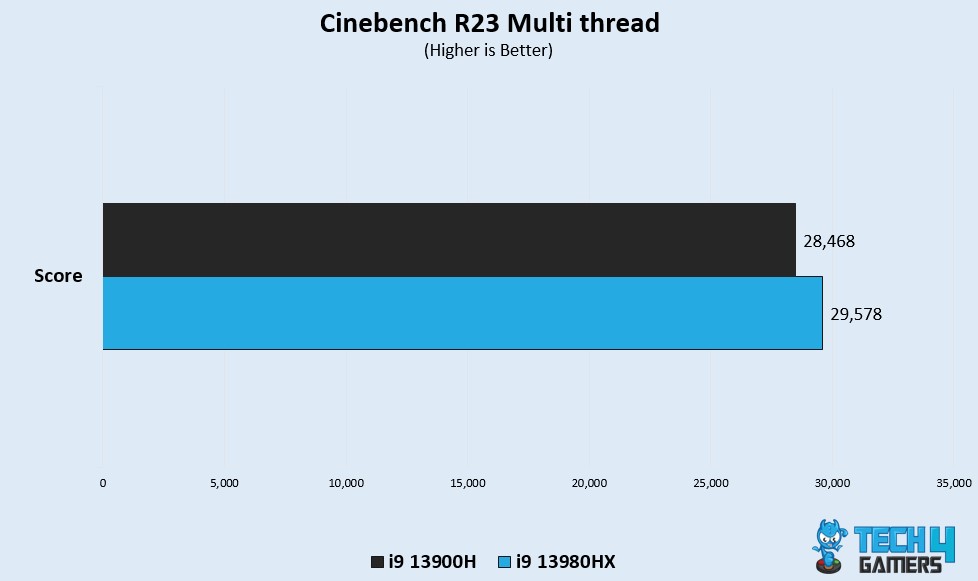 The Core i9 13980HX displays its computing strength in the multi-threaded performance clash, achieving an excellent score of 29,578. The Core i9 13900H displays its determination in the face of this strong competitor, earning a good score of 28,468.
The Core i9 13980HX shows off its advantage in multi-threaded performance with a tantalizing 3.89% lead over the Core i9 13900H, displaying its competence in handling resource-intensive applications more effectively.
Also Read: i9 13900K Vs i9 13900KS
3DMark Time Spy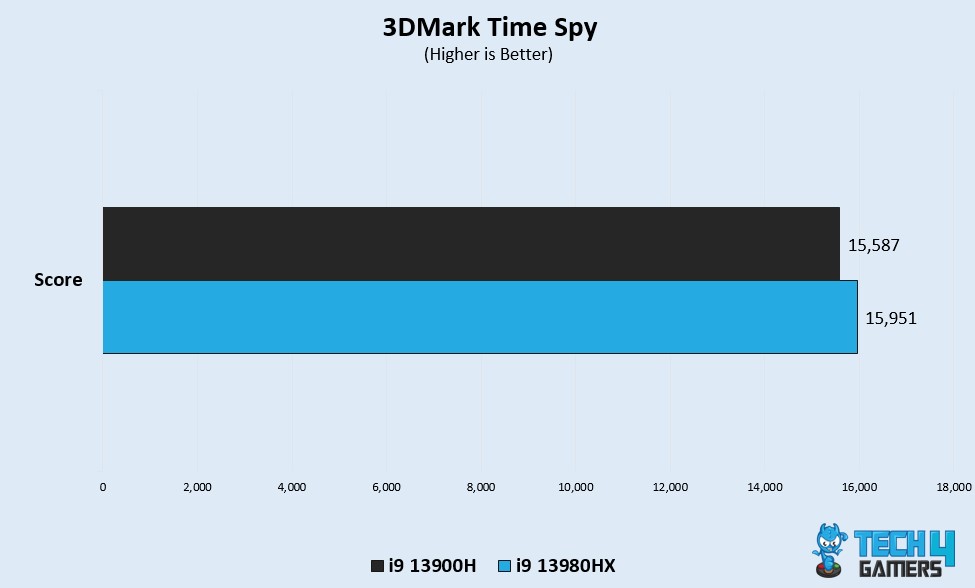 The Core i9 13980HX and Core i9 13900H enter the gaming arena, illuminating the virtual battlefield. With a fantastic 3DMark Time Spy score of 15,951, the Core i9 13980HX displays its gaming ability, leaving spectators in wonder. The Core i9 13900H puts on a brave performance, earning a remarkable score of 15,587 in the same test.
After the digital conflagration has subsided, the Core i9 13980HX's edge is seen in the efficiency comparison between the two CPUs. In the 3DMark Time Spy test, it gains a lead of around 2.33% over the Core i9 13900H.
3DMark Fire Strike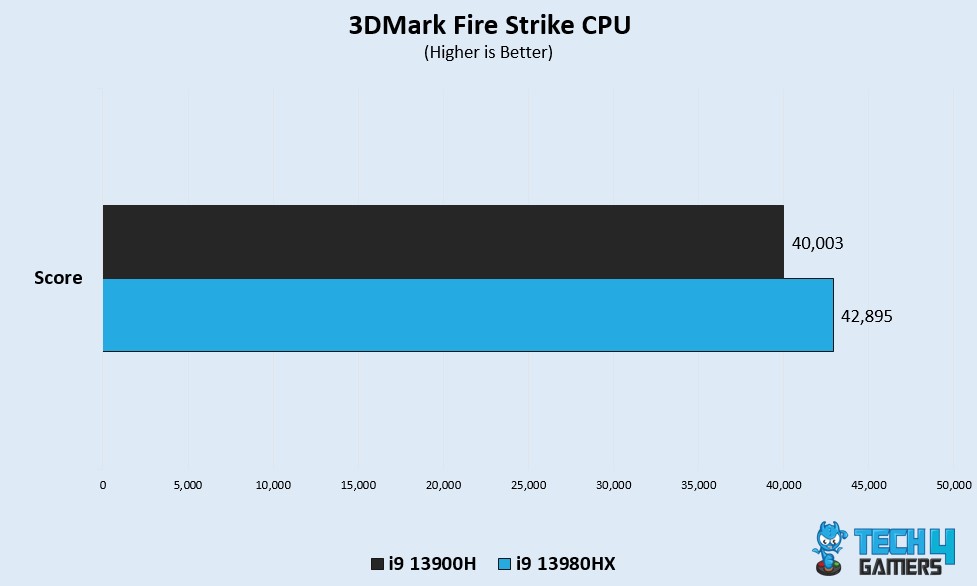 The Core i9 13900H enters the 3DMark Fire Strike CPU test with a decent score of 40,033. But hold on! The Core i9 13980HX enters the scene with an aura of assurance and resolve. This speedy processor doesn't need much time to reach its full capacity and get a mind-blowing score of 42,895.
Let's discuss numbers now. With a surprising 6.9% difference in their test results, the Core i9 13980HX prevails over the Core i9 13900H. This percentage might appear negligible at first, but it's the type of variation that can actually affect how well high-end gaming experiences function.
Handbrake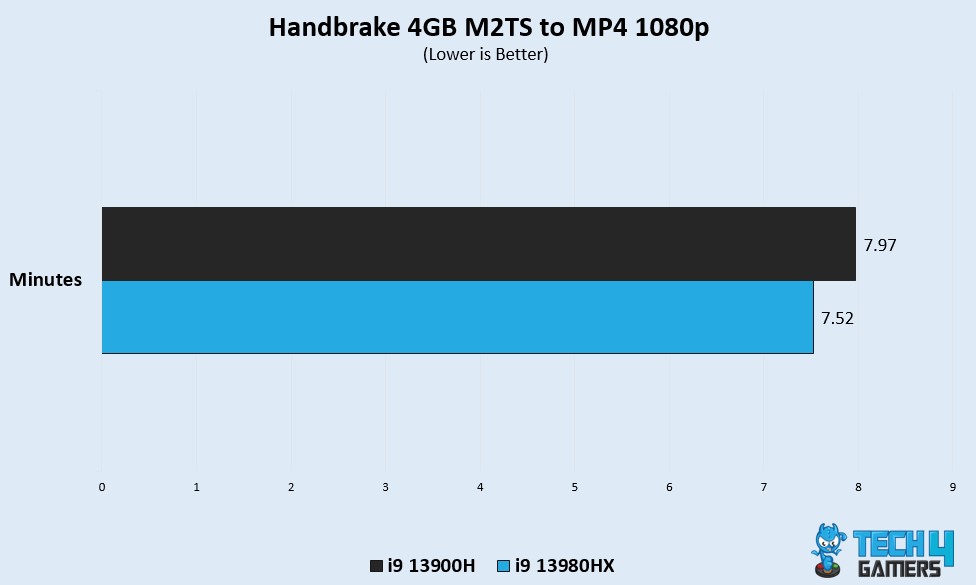 An efficient processor in its own competition, the Core i9 13900H completes the 4GB M2TS To MP4 video conversion at 1080p on Handbrake in a reasonable 7.97 minutes.
However, the Core i9 13980HX is a high-octane powerhouse that is prepared to demonstrate its value. This powerful processor proves beyond a shadow of a doubt that it can easily handle resource-intensive activities as it glides through the identical conversion in an impressive 7.52 minutes.
With a substantial 5.8% difference in time, the Core i9 13980HX performs better than its competitor, the Core i9 13900H. This incredible time advantage might open up new avenues for productivity and aesthetic expression for individuals working on challenging projects with strict deadlines.
Also Read: Intel i9-13900k Vs Ryzen 9 7900X
Corona 1.3 Render Test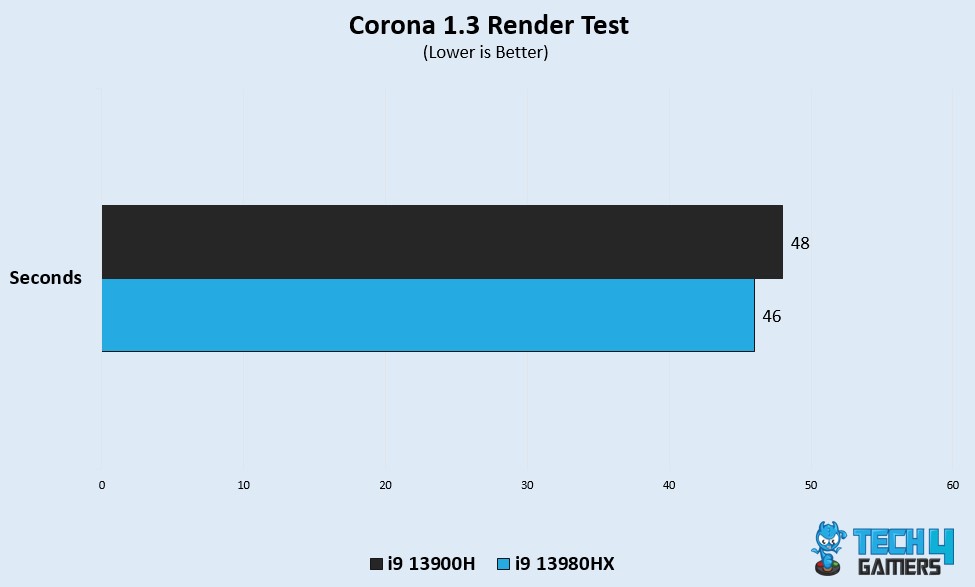 The dependable competitor, the Core i9 13900H, summons all of its processing power and successfully completes the taxing render test in a commendable 48 seconds. But look! The Core i9 13980HX is about to enter! With a flurry of greater clock speed, this powerful processor storms onto the scene, completing the identical render test in an impressive 46 seconds.
Let's now enjoy the exciting stats. With an impressive 4.2% time difference, the Core i9 13980HX outperforms the Core i9 13900H. The 13980HX's faster completion time is evidence of its better raw processing capability, which translates into faster processes and less waiting for users.
7Zip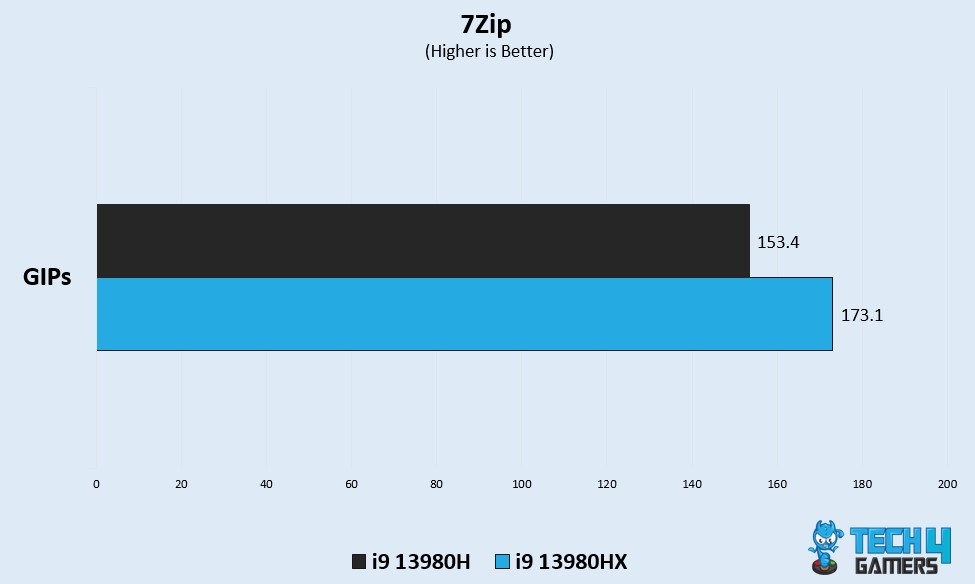 Achieving 153.4 GIPS (Giga Instruction per second), the Core i9 13900H exhibits its adaptability for a variety of computing workloads. However, the Core i9 13980HX scored higher by achieving 173.1 GIPS, demonstrating its stronger computing ability.
A performance differential of about 19.7 GIPS, or about 12.8%, separates the Core i9 13980HX from the 13900H.
Geekbench 6 Single Core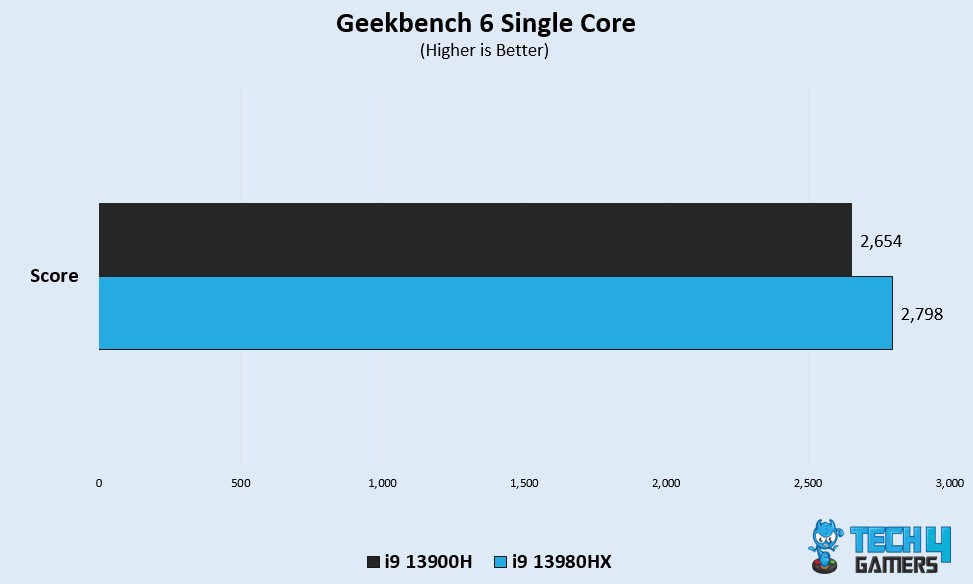 The Core i9 13900H performed admirably, earning a score of about 2,654 points.
The Core i9 13980HX scored roughly 2,798 points and, as a result of its higher clock speeds, showed a significant 5.28% improvement in efficiency.
Geekbench 6 Multi Core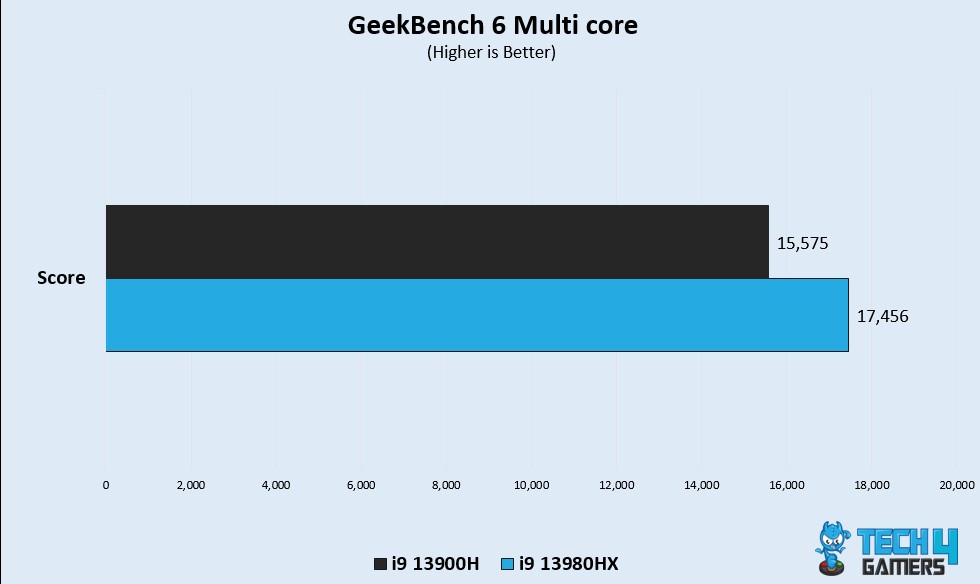 Approximately 15,575 points were earned by the Core i9 13900H in terms of multi-core performance.
The Core i9 13980HX scored 17,456 points on Geekbench 6, surpassing the 17,000 mark and demonstrating a significant increase of 11.38%.
Also Read: Ryzen 7 7800X3D Vs i9-13900K
Blender 3.4.0 Monster Render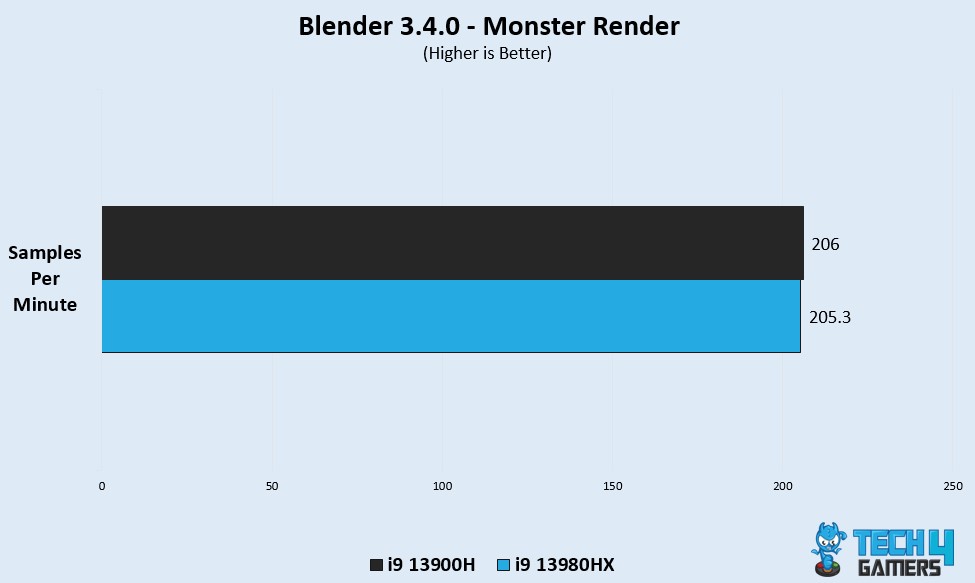 With its high rendering rate of 206 samples per minute, the Core i9 13900H proved to be a potent CPU for tackling challenging Blender rendering jobs. However, the Core i9 13980HX also displayed excellent performance, rendering at a speed of 205.3 samples per second.
Only 0.7 samples per minute separate the Core i9 13900H from the Core i9 13980HX, giving the 13900H a little lead that amounts to a 0.34% advantage. Practically speaking, this gap is quite small because both CPUs have comparable rendering capabilities and can effectively complete demanding rendering jobs.
Core i9 13900H Vs Core i9 13900HX: Which One Should You Choose?
Intel has unveiled two high-performance laptop CPUs: the Core i9 13980HX and Core i9 13900H.
With 10 more physical cores, a larger L3 cache, an unlocked multiplier, support for DDR5-5600 RAM, and a faster Turbo Boost frequency, the i9 13980HX offers several benefits over the i9 13900H.
The Raptor Lake-based Core i9 13900H, on the other hand, has 14 cores and 20 threads, making it a potent CPU. Its excellent multitasking skills allow it to easily manage resource-intensive tasks like gaming, content production, and video editing.
Pros And Cons
CPU
Pros
Cons
Core i9 13900H

Power optimization
Efficient performance

Core i9 13980 HX

Overclocking potential
Future-proofing

Limited availability
High Power consumption
Despite having a little lower GIPS and rendering performance than the 13980HX, it still offers strong performance at lower costs.
The Core i9 13980HX performs better in both single-core and multi-core benchmarks. For instance, in a single-core Geekbench 6 test, it is 5% quicker; in a multi-core test, it is over 11% faster.
The user's preferences ultimately determine which Core i9 model they choose between the Core i9 13900H and Core i9 13980HX. The Core i9 13900H delivers an appealing blend of power and pricing if cost-effective performance is a necessity.
The Core i9 13980HX is an alternative for consumers that want the greatest performance possible and are willing to spend more money.
Frequently Asked Questions
Which CPU performs things like gaming and content production the best?
The Core i9 13900H and Core i9 13980HX are both excellent alternatives for gaming and content development jobs. The 13980HX may have a little advantage due to its higher turbo frequency, which might lead to better performance while doing taxing jobs like gaming, video editing, and 3D rendering.
Can these CPUs adequately manage large workloads and multitasking?
Yes, the Core i9 13900H and Core i9 13980HX are built to easily handle high workloads and multitasking. They can effectively manage running numerous apps simultaneously and take on resource-intensive activities due to their 8 cores and 16 threads.
Are there any variations in these CPUs' and motherboards' compatibility?
the Core i9 13900H and Core i9 13980HX use separate sockets due to their distinct architectures. The 13900H uses the LGA 1700 socket, whereas the 13980HX uses the LGA 1449 socket. As a result, they cannot be swapped for one another, and the motherboard's socket determines compatibility.
Was our article helpful? 👨‍💻
Thank you! Please share your positive feedback. 🔋
How could we improve this post? Please Help us. 😔