In this article, we will compare the Nvidia RTX 3080 vs. 3080 Ti, two of the most potent graphics cards currently available. Such GPUs allow you to test the boundaries of what a graphics card is capable of. Those needing a powerful graphics card for gaming, editing videos, creating 3D models, or mining cryptocurrencies need to go no further than the RTX 3080 or RTX 3080 Ti.
---
Key Takeaways
Both the RTX 3080 and the 3080 Ti are powerful cards. RTX 3080 Ti's performance is comparable to that of the pricier RTX 3090.
It is important to learn about the gaming benchmarks of both cards, so you can decide whether it is worth getting the RTX 3080 Ti instead of the RTX 3080.
The Nvidia RTX 3080 offers the most remarkable performance considering the price, even while running games at 4K resolution and ultra settings.
---
RTX 3080 Vs 3080 Ti Specifications
If you're new to the world of GPUs or finding a replacement for your existing card, the GeForce 30-series is an excellent choice. Nvidia's GeForce series has been dominating the graphics card market for some time now, and with good reason. The RTX 3080 and RTX 3080 Ti are two of NVIDIA's most amazing GPUs.
All GPUs in an Nvidia GPU family have the same name, architecture, cooling system, and physical dimensions, except for minor alterations or changes. There are, however, a few important differences. Miners should concentrate on the GPU's hash rate, while gamers should focus on the card's speed and performance. You may rely on us to aid you in choosing which of the two GPUs seems to be the better graphics card and how they are different from each other.
However, this information raises the question of what separates high-end cards from one another. Should you get the RTX 3080 or spend some more bucks for the RTX 3080 Ti, which is only a little bit more powerful? So, we are here to see whether all that variability enhances the lineup. Today's article examines this by conducting systematic comparisons, setting benchmarks, and uncovering essential details.
Comparison Table
| | | |
| --- | --- | --- |
| Name | NVIDIA GeForce RTX 3080 | NVIDIA GeForce RTX 3080 Ti |
| Node | Samsung 8nm | Samsung 8nm |
| Architecture | Ampere | Ampere |
| CUDA Cores | 8704 | 10240 |
| Core Clock | 1440 MHz | 1365 MHz |
| Boost Clock | 1710MHz | 1665MHz |
| Memory | 10GB GDDR6X | 12GB GDDR6X |
| Memory Clock | 19GHz | 19GHz |
| Memory Bandwidth | 760.3 GB/s | 912.4 GB/s |
| RT Cores | 68 | 80 |
| Tensor Cores | 272 | 320 |
| Transistors | 28,300 million | 28,300 million |
| TDP | 320W | 350W |
| Power Connector | 1x 12-pin | 1 x 12 pin |
| Launch Year | Sep 17, 2020 | Jun 3, 2021 |
| MSRP | $699 | $1199 |
| GPU Die | GA102 | GA102 |
| Memory Bus | 320 bit | 384 bit |
| Interface | PCIe 4.0 x16 | PCIe 4.0 x16 |
Difference In Specifications
Both graphics cards have comparable specifications, but the 3080-Ti has improved in a few essential areas, allowing it to perform even better. If you just heard the term "RTX 3080 Ti," you may think it was a little mid-generation spec upgrade over the original RTX 3080. However, Nvidia turned up the performance significantly.
There were ten gigabytes of GDDR6X RAM and a 320-bit bus in the first Nvidia GeForce RTX 3080. A total of 8,704 CUDA cores and a boost clock speed of 1.71GHz were paired with this RAM. It has received an upgrade that added a 12GB capacity. Optionally, you may upgrade to a 384-bit memory bus and 8,960 CUDA cores. But the Nvidia GeForce RTX 3080 Ti has 10,240 CUDA cores and a turbo clock speed of 1.67GHz.
That makes it a lot more potent than any RTX 3080 variant. With 10,496 CUDA cores, it's more comparable to the RTX 3090. It has a 384-bit memory interface and the same 12 GB of GDDR6X Memory as the contemporary RTX 3080. As if the RTX 3080 wasn't already ridiculously powerful, Nvidia raised the bar with the release of the RTX 3080 Ti. However, specifications can only tell you so much. If you want to know how well these graphics cards perform with the top PC games, that's what counts, not a bunch of numbers on a page.
However, this is an excellent illustration of how different the two cards are. The RTX 3080 Ti is better than the RTX 3080 if you want to play 4K games. Additionally, this implies less need to compromise high-end visual flourishes like ray tracing. The only question in the end that matters is whether the $500 more price tag on the RTX 3080 Ti is justified or not.
Benchmarks At 4k
The RTX 3080 and 3080 Ti are viable options for gamers because they perform well beyond every game's recommended requirements. If you upgrade to the Ti version of this graphics card, will you notice a performance boost? To address that question, we have gathered the data here today. To see how these graphics cards measure up against one another, we've aggregated benchmarks from Testing Games.
We put these graphics cards through their paces by comparing them in several intensive titles, which we ran at 4K resolution with Ultra settings. The RTX 3080 Ti outperforms the RTX 3080 in several benchmarks and offers specific performance improvements. Paying extra for an RTX 3080 Ti is not justified since both graphics cards will destroy any modern game at 1080p resolution.
But future games may employ this low resolution to test the more powerful graphics. And if you're going to spend that much on a graphics card for 1080p gaming, you're the kind that wants something that will endure. It's just as vital to know how efficient a graphics card is and how much it costs.
The RTX 3080 Ti provides a bit more power to get things done, but either card will be more than enough. In addition, the RTX 3080 Ti will boost average frame rates by a small amount. In what ways may this improvement stand out? Maybe, but I doubt anybody except die-hard fans would notice the difference in most games.
The performance of a GPU must be compared to its cost to determine if it is worthwhile to purchase. We run benchmarks in several different game settings to see how well they perform in actual use. We'll compare power consumption, thermal output, and other metrics to determine the most efficient GPU currently available. The NVIDIA GeForce RTX 3080 and 3080 Ti were placed on the following test PC specifications.
PC Specifications
Processor: Intel i9 10900K 3.7GHz
Motherboard: MSI MPG Z490 GAMING PLUS
CPU Cooler: Dark Rock Pro 4
Graphics Cards: GeForce RTX 3080 10GB & Geforce RTX 3080 Ti 8GB
RAM: 32Gb RAM DDR4 3800Mhz
Power Supply: CORSAIR RM850i 850W

SSD: 2xSAMSUNG 970 EVO M.2 2280 1TB
To kick things off, the CPU in this build is a 10th-generation Intel i9. The 10th generation of Intel processors is somewhat old, yet it's still powerful enough for modern games. The Core i9-10900K, Intel's 10-core, 20-thread processor, can achieve speeds of up to 5.3 GHz on a single core when using Intel's Thermal Velocity Boost technology.
Powered by the revolutionary Z490 chipset and the LGA1200 socket, the 10900K is a much more engaging product. These two parts complement one another rather well. This board's VRM design and cooling methods were improved compared to its predecessor. Because the power, frequency, and TDP of the i9 10th generation are higher.
MSI has implemented various unique and powerful methods to guarantee sufficient support for these CPUs on their Z490 boards. The Dark Rock Pro 4 from Be Quiet has been utilized for system cooling and does not disappoint. A huge cooler with brushed metal and no LEDs gazing at us from within the chassis may be dull to some RGB fans, but it still did a fine job cooling the system during all these benchmarks.
In addition to the CPU, they got 32 GB of DDR4 Memory running at 3800 MHz with CL16 timings. Similarly, the quality of the heat spreaders used in Crucial RAM tends to be high, extending the modules' lifespan. In addition, the RM850i power supply from Corsair is among the most influential models in the middle-range PSU category. Corsair RM850i is the most acceptable alternative for system builders searching for high power, thanks to its full-modular cables and all-Japanese capacitors.
To top it all off, we have two 1 TB SSDs from the industry-leading brand Samsung, which significantly increases both read and write speeds. The loading time is cut down dramatically. After the evaluation of the PC is complete, we'll dive into the benchmarks to determine which graphics card is the best of the following. Also, make sure to check out the gaming benchmarks of Ryzen 9 7900X vs Intel i9-12900K.
Ranking Methodology
When conducting comparisons, we adopt an objective and exhaustive method. To achieve this, we ensure that the GPUs and CPUs in our test rigs are a mix of high-end and low-end models. Thus, we can ensure that the test sets we use represent what our readers and viewers genuinely build. Our second technique is to provide an impartial and truthful evaluation of everything we analyze.
Assassin's Creed Valhalla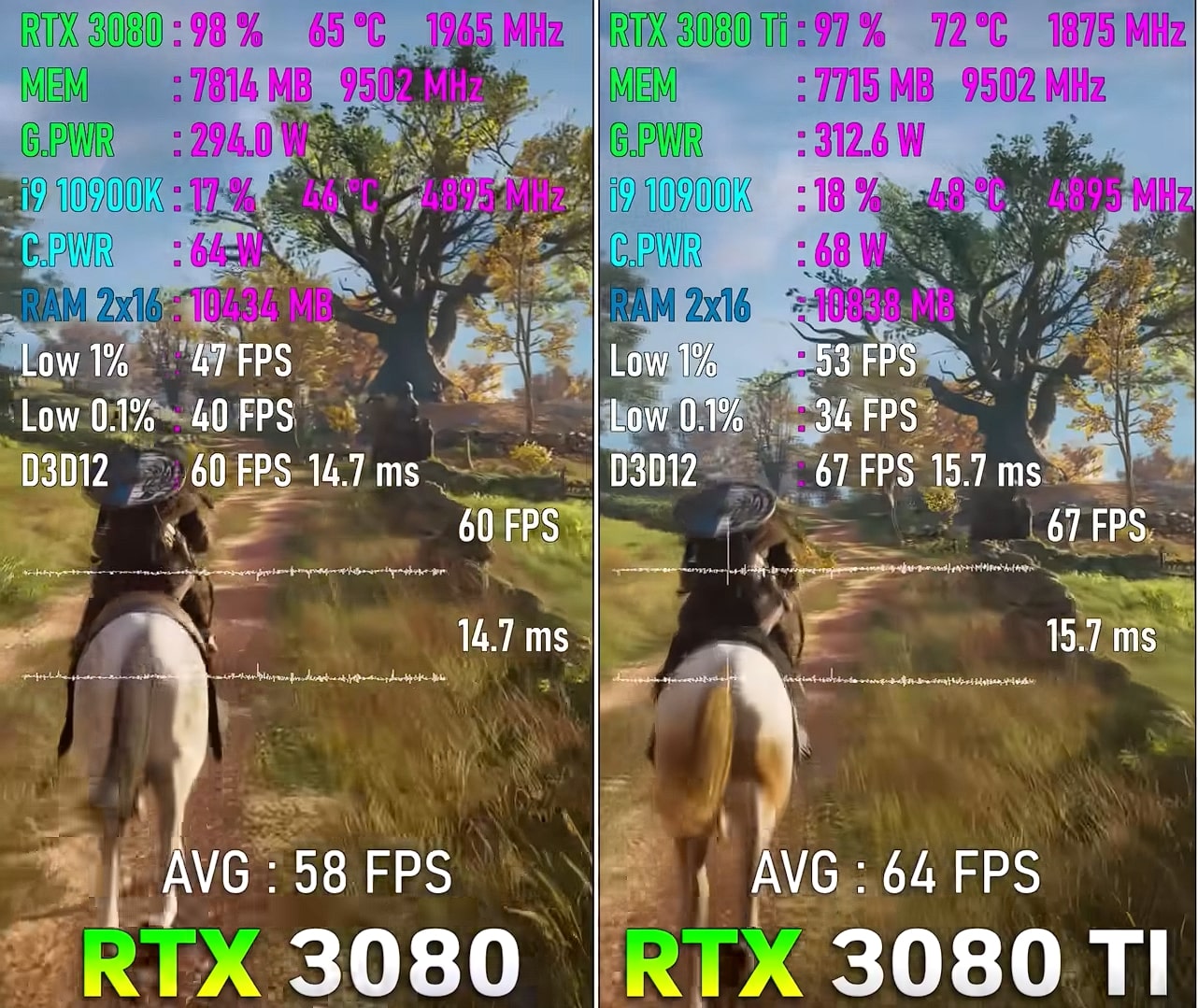 As a result of their habit of producing buggy games, players have come to associate Ubisoft with negative characteristics. However, even without cutting-edge tools like Raytracing, Valhalla is a sight. However, as you're about to discover, this game is quite demanding on the GPU. Assassin's Creed Valhalla is a DirectX 12 game that uses the AnvilNext 2 render engine, the same engine used in Ghost Recon: Breakpoint.
The engine has beautiful visuals and excellent weather and environmental effects. The Graphics tab is where you'll find the game's more acceptable visual tuning options. There are many options to tweak when adjusting the visuals. Viewing distance, frame rate cap, aspect ratio, resolution, refresh rate, vertical sync, and horizontal resolution scaling are all adjustable under the Screen menu.
Furthermore, Brightness, contrast, HDR on/off, maximum luminance, and exposure may all be tweaked under the Screen's Image Calibration area. Remember that all of these comparisons are made on 4K resolution. The graphics quality preset used in the settings is ultra-high. In addition, all the other options that make the game more fascinating are also enabled.
Firstly, if we look at the average FPS between these two cards, there is no significant difference. The RTX 3080 achieves 58 FPS on average at 65°C. Meanwhile, its counterpart, the RTX 3080 Ti, achieves 64 FPS on average at 72°C. The performance difference between the two cards is a mere 10%, while the price difference is 71%.
The RTX 3080 and RTX 3080 Ti use 294W and 312W, respectively. This is mainly caused by the more TDP required by the RTX 3080 Ti design. Lastly, the Low 1% FPS on RTX 3080 is 47 FPS which is 6 FPS less as compared to the RTX 3080 Ti's 53 FPS. However, things change in the Low 0.1%. The RTX 3080 get's as low as 40 FPS. At the same time, the RTX 3080 Ti gets 34 FPS.
The difference between them is less, which would result in smooth gameplay. In the end, if we look at the performance benchmarks of this. There is no significant difference. No one in their right mind would spend 500 bucks more to get 60 FPS. Both cards can easily surpass the 60-frame rate mark. So, the clear winner of this game in our RTX 3080 vs. 3080 Ti guide is the RTX 3080, with a good value-for-money option.
Cyberpunk 2077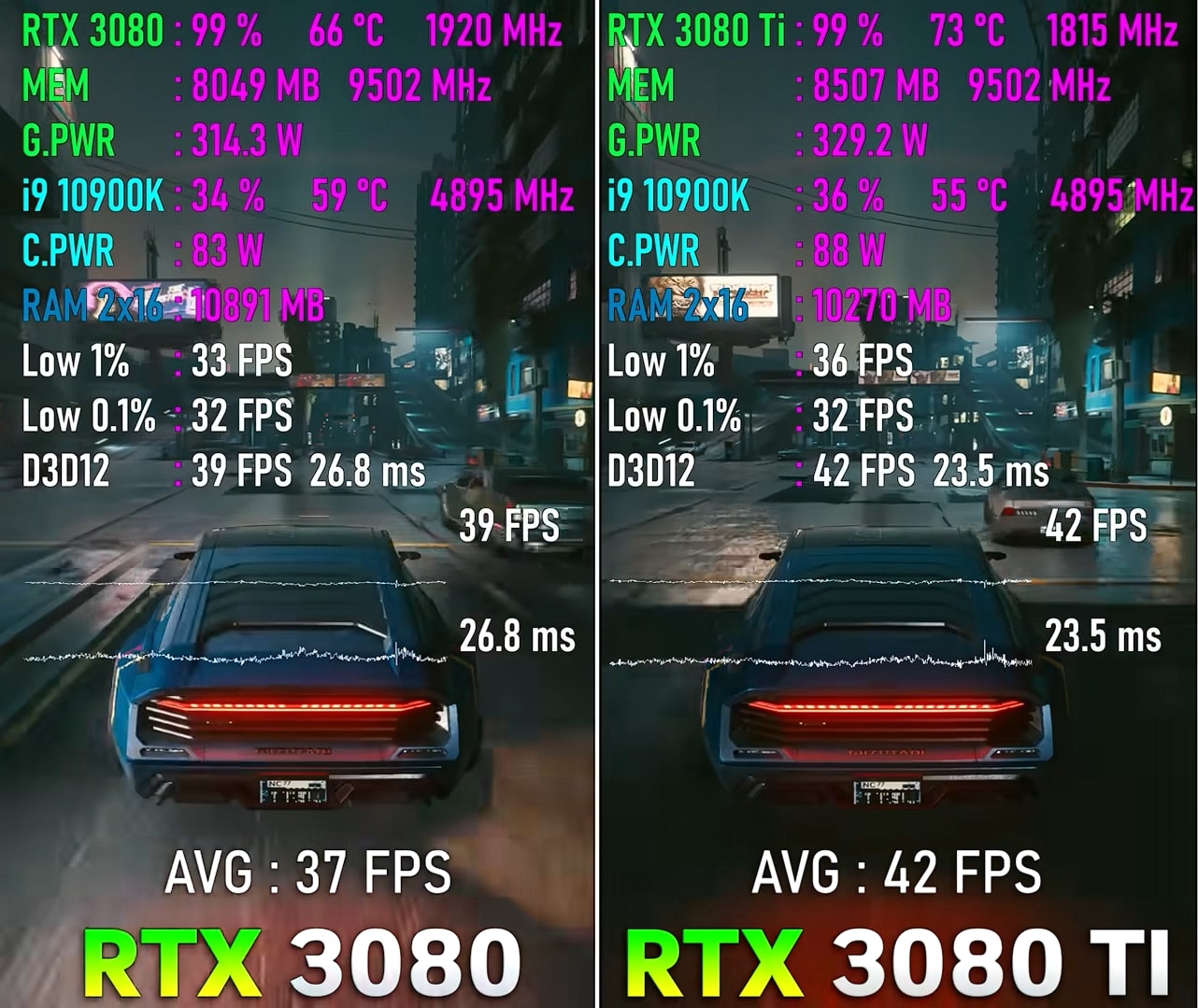 By a wide margin, Cyberpunk 2077 is 2020's most anticipated PC game. Cyberpunk 2077's latest patch has sparked numerous PC improvements, adding aesthetics and functions inaccessible to the game's existing platform iterations. Nearly twenty-four graphical options are available for customization in Cyberpunk 2077. However, scaling from low to high resolution is not as noticeable as we'd want.
The primary performance impact comes from the display's resolution and scaling, with just a few other options making a difference. Despite having high-end graphics cards, this game is a beast to run. However, as time passed and updates were released, the game gradually improved, and a significant performance gain became visible in patch 1.6. The RTX feature makes the night city look even more impressive even better than before.
To start, the Ultra preset is used in this comparison to max out all the potential from these cards. However, the Ray Tracing and DLSS are disabled, as shown in the above comparison. The difference between the RTX 3080 and RTX 3080 Ti is, once again, not enormous. The RTX 3080 gets 37 FPS on average at 66°C. On the contrary, the RTX 3080 gets 42 FPS on average at 73°C. So, there is a 13.51% performance difference between the two cards.
Considering the price at MSRP, the price difference is much more significant than the actual performance. This indicates that RTX 3080 is giving more performance than the price we are getting. Both cards are around the 40-frame rates. So, if you want to hit 60 FPS, you need to upgrade to RTX 3090 series or might want to lower some settings too high or medium with these cards.
Lastly, the Low 1% of RTX 3080 and RTX 3080 Ti is 33 FPS and 36 FPS, respectively. Moreover, the Low 0.1% of both the cards stays on 32 FPS. Consequently, it emphasized that the gameplay from these cards of this game will result in a much smoother experience. The CPU and memory utilization is impressive. As a result, there is no bottleneck between the components. One thing to note is that if we enable DLSS, this will improve the FPS, and we could even reach the 60 FPS mark.
Hitman 3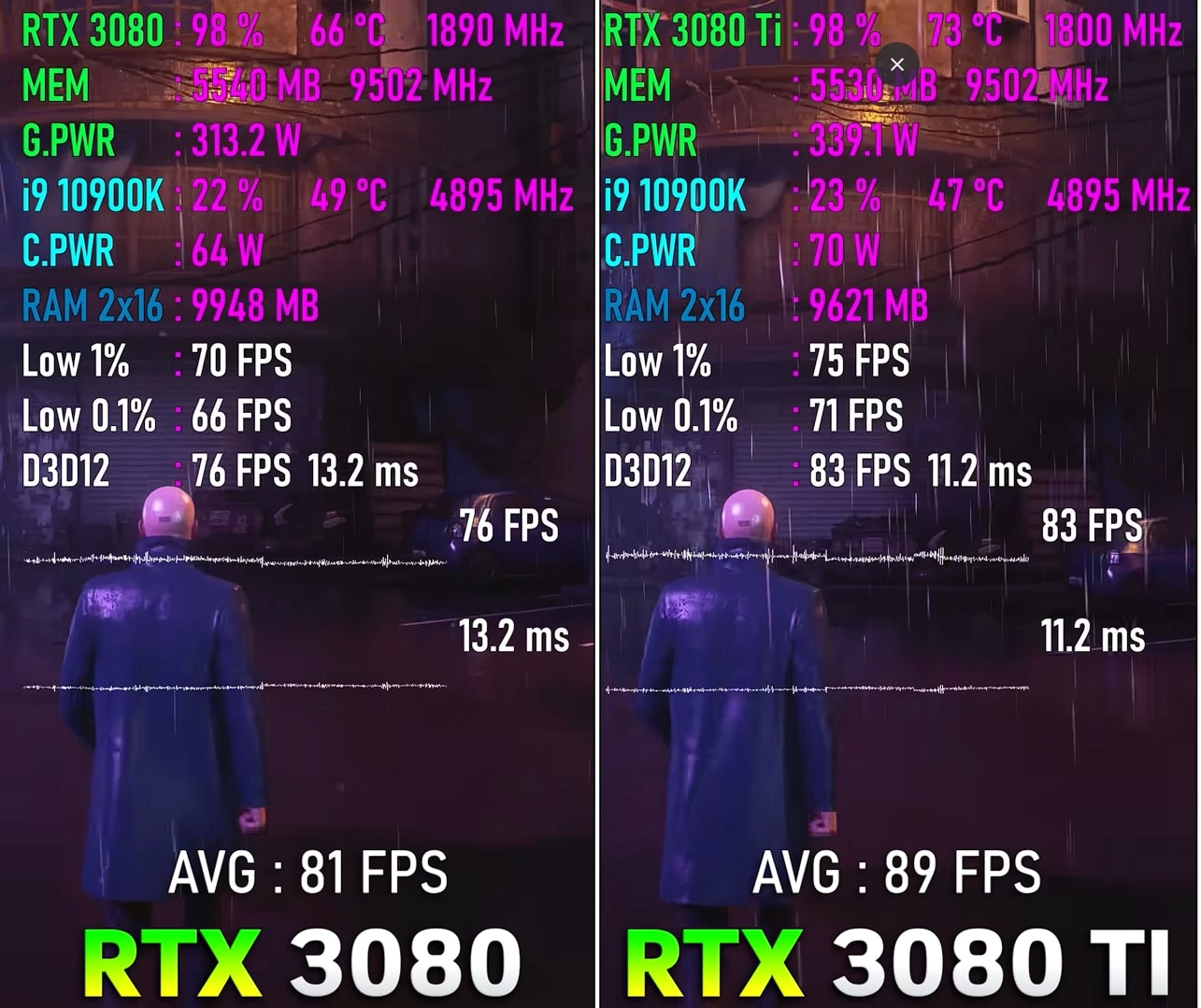 Hitman 3 has several more graphic options courtesy of developer IO Interactive. Texture quality, LOD, TF, SSAO, shadows, mirror reflections, and SSR can all be tweaked on PC. Motion blur, simulation quality, and variable rate shading are further customization possibilities. Hitman 3's Glacier Engine can use more than 8 CPU cores/threads. Hitman 3's aesthetics are impressive and outperform those of Hitman 2.
Reflections in-game space is now possible thanks to work by IO Interactive. Although, the Ray Tracing feature would enhance it significantly. Furthermore, the majority of materials are of high grade. There are some beautiful fabric physics effects, and players may interact with plants and grass. The game plays smoothly on various GPUs and scales to many cores/threads. To IO Interactive's credit, the PC version of Hitman 3 performs well.
If we look at the benchmarks, we can see that the RTX 3080 averaged 77 frames per second at 66 degrees Celsius. The RTX 3080 Ti, in contrast, managed 85 FPS at 73°C. The RTX 3080 Ti's framerate advantage over the RTX 3080 Super was just 7.2%. The gap is not significant to be eligible for a potential upgrade over the RTX 3080.
Similarly, the RTX 3080's lowest 1% FPS dip was observed at 67 FPS, while the RTX 3080 Ti's was 72 FPS. Lastly, the 0.1% FPS drops were 62 FPS and 100 FPS for the RTX 3080 and 3080 Ti, respectively. The settings used in this comparison are a mix of Ultra and high to push the boundaries.
Finally, there is a clear difference between the two graphics cards regarding power consumption. Computing on an RTX 3080 uses around 316W. The RTX 3080 Ti, on the other hand, uses just around 345W. Compared to the RTX 3080, this suggests that the RTX 3080 Ti is not energy efficient and would likely overheat in a short time. For a statement, RTX 3080 manages to secure this comparison as it has only slightly less performance with a huge price gap.
Forza Horizon 4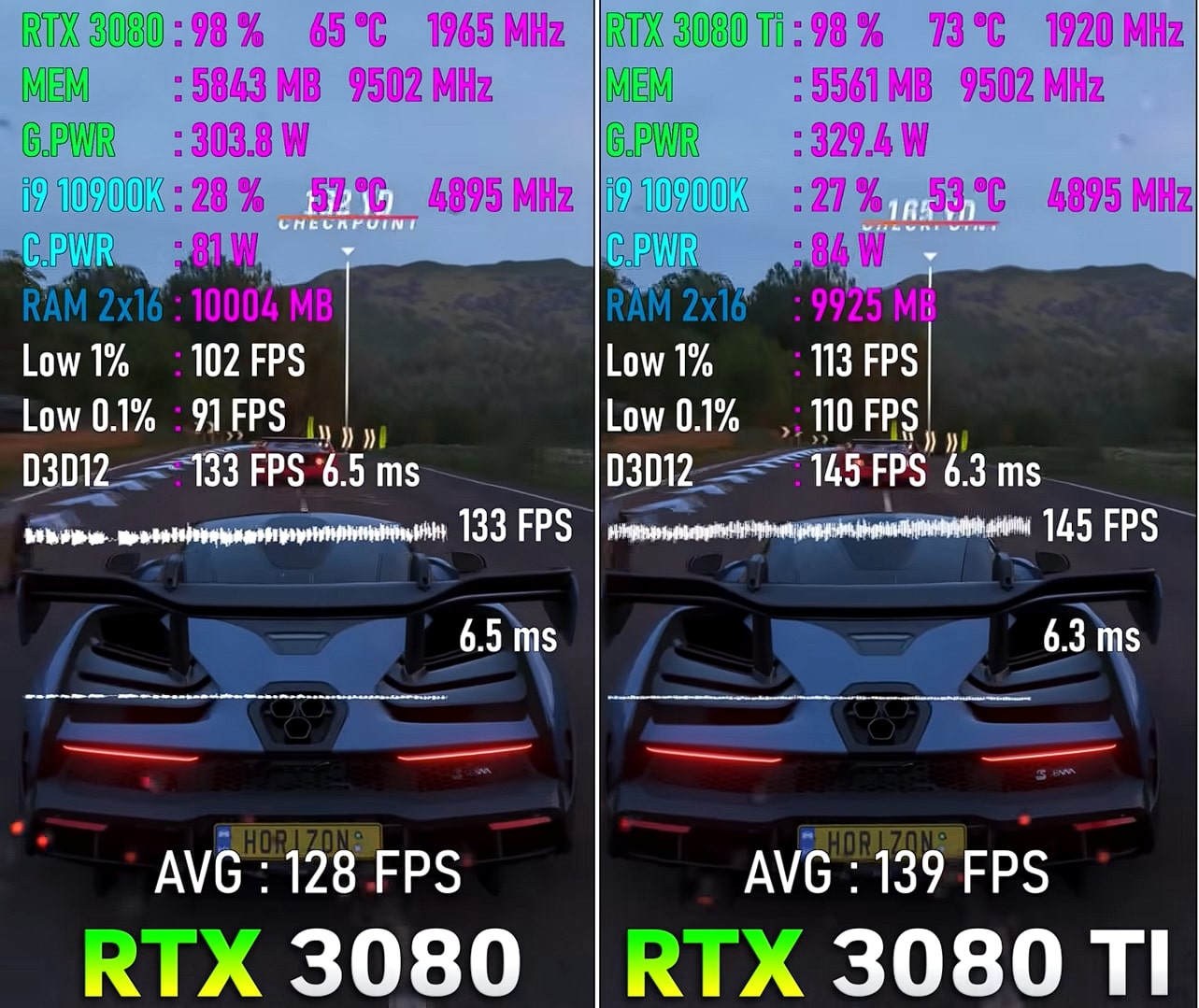 Indeed, considering Forza Horizon 4 is a graphically spectacular videogame, this should be no surprise. The advanced graphics settings menu has around twenty separate options. To get the most out of Forza, you may personalize the game using this amazing suite of tools. Forza Horizon is less demanding than the AAA games that are currently being released. It is quite simple to use on systems with medium to high specifications. Even with decent specs, reaching maximum frame rates during its prime was difficult.
The preset utilized in this game is the ultra setting. Currently, all of the advanced settings are enabled. Therefore, RTX 3080 and 3080 Ti graphics cards produce astounding performance in Forza Horizon 4. On both GPUs, the system is dramatically over 100 frames per second; furthermore, if we get into the frame rates. The RTX 3080 averages 128 FPS at 65° C. At 73°C, the RTX 3080 Ti reaches 138 FPS on average. This makes RTX 3080 Ti 7.24 percent superior to RTX 3080.
There are no notable decreases in FPS on any GPU. Despite this, RTX 3080 sometimes fails to maintain frame rates for over 100. It may affect you if you are playing on a display with a higher refresh rate and trying to obtain frame rates as near as possible to the refresh rate of your monitor. Nonetheless, The RTX 3080 offers superior performance and value compared to the RTX 3080 Ti.
Horizon Zero Dawn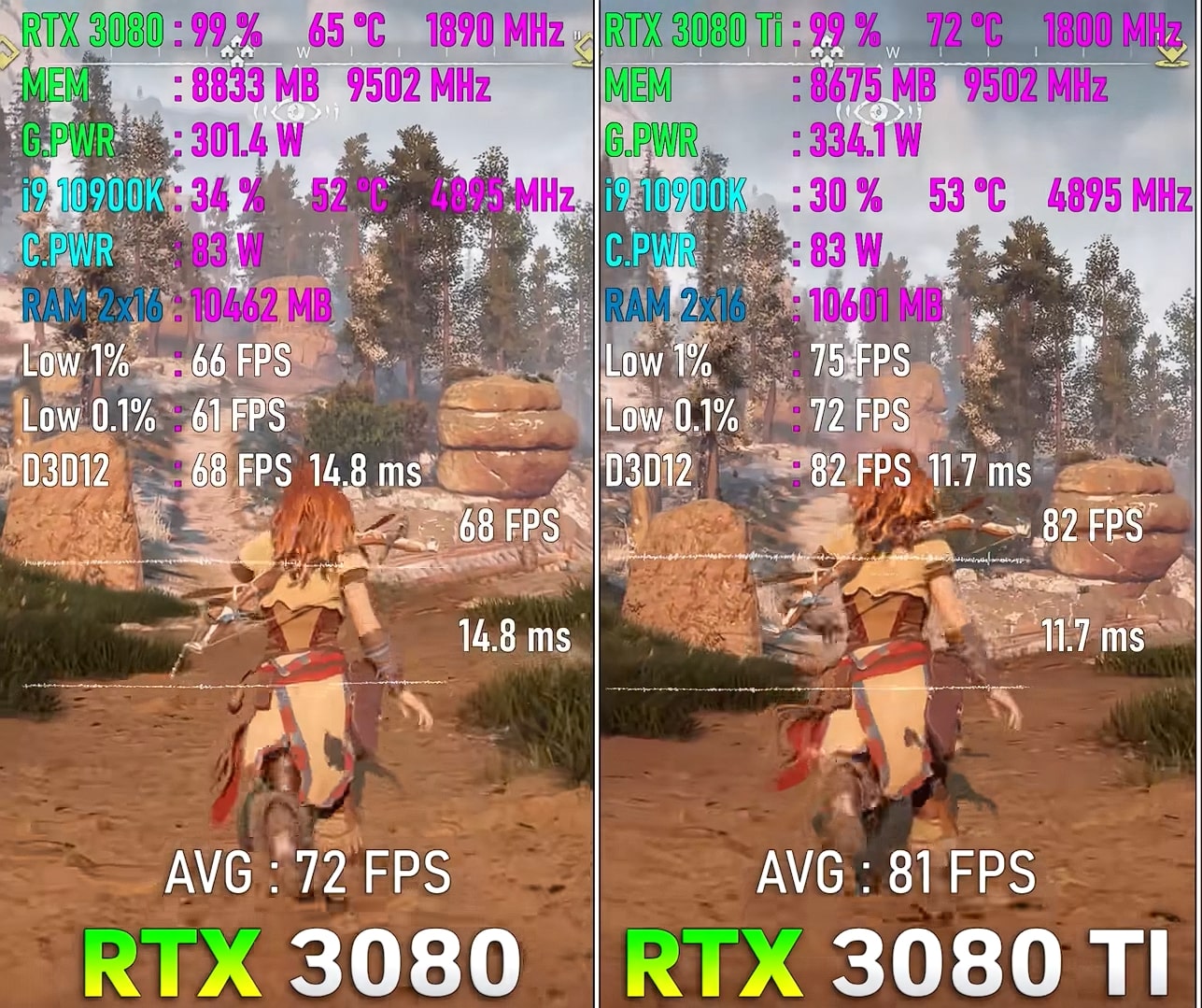 Next up in our RTX 3080 vs. 3080 Ti guide is Guerrilla Games' Horizon: Zero Dawn. All of the PlayStation 4 exclusives that have made their way to PC run smoothly, thanks to the excellent optimization work done by the developers. The game is one of the finest triple-A games because of its stunning visuals and compelling narrative. Yet, you'll need a powerful computer to play the game. Because of its open-world design, a powerful graphics card and CPU are essential.
There are four different settings, and there are notable variances between them. Favor Performance lacks realistic lighting and has rather low-detailed environments, especially regarding the game's vegetation and wildlife. Favor Quality takes this further by adding a ton of background detail and increasing the draw distance. At the same time, Original enhances this in a significant way by enabling graphical settings that are almost identical to the original Playstation 4 edition of the game.
From my personal experience, I have found that Favour Quality seems to be the best PC setting and that switching to Ultimate Quality does not provide much better results. The upgrade in lighting is nice, but I don't think it's pretty as noticeable as the one from Original to Favour Quality. Let's start with the average FPS in the comparison. The RTX 3080 manages to have 72 FPS at 65° C on the ultimate quality. Under the same circumstances, the RTX 3080 Ti gets 81 FPS at 72° C.
With these performances from both cards. You can expect smooth gameplay above 60 FPS all the time at max resolution and max settings. Furthermore, the Low 1% FPS on RTX 3080 and RTX 3080 Ti is 66 and 75 FPS, respectively. In addition, the Low 0.1% FPS on RTX 3080 and RTX 3080 Ti is 61 and 72 FPS, respectively. Consequently, it indicated that the gap between the frame times is low, so you will expect better latency in the frame rates.
To conclude, I would say that the RTX 3080 is a far better option in this game. The RTX 3080 Ti only has a performance boost of 12.5% as compared to the RTX 3080. Considering the price difference between these two cards. The RTX 3080 has a much better value than its alternative. Subsequently, the RTX 3080 wins this comparison by a massive mile.
Days Gone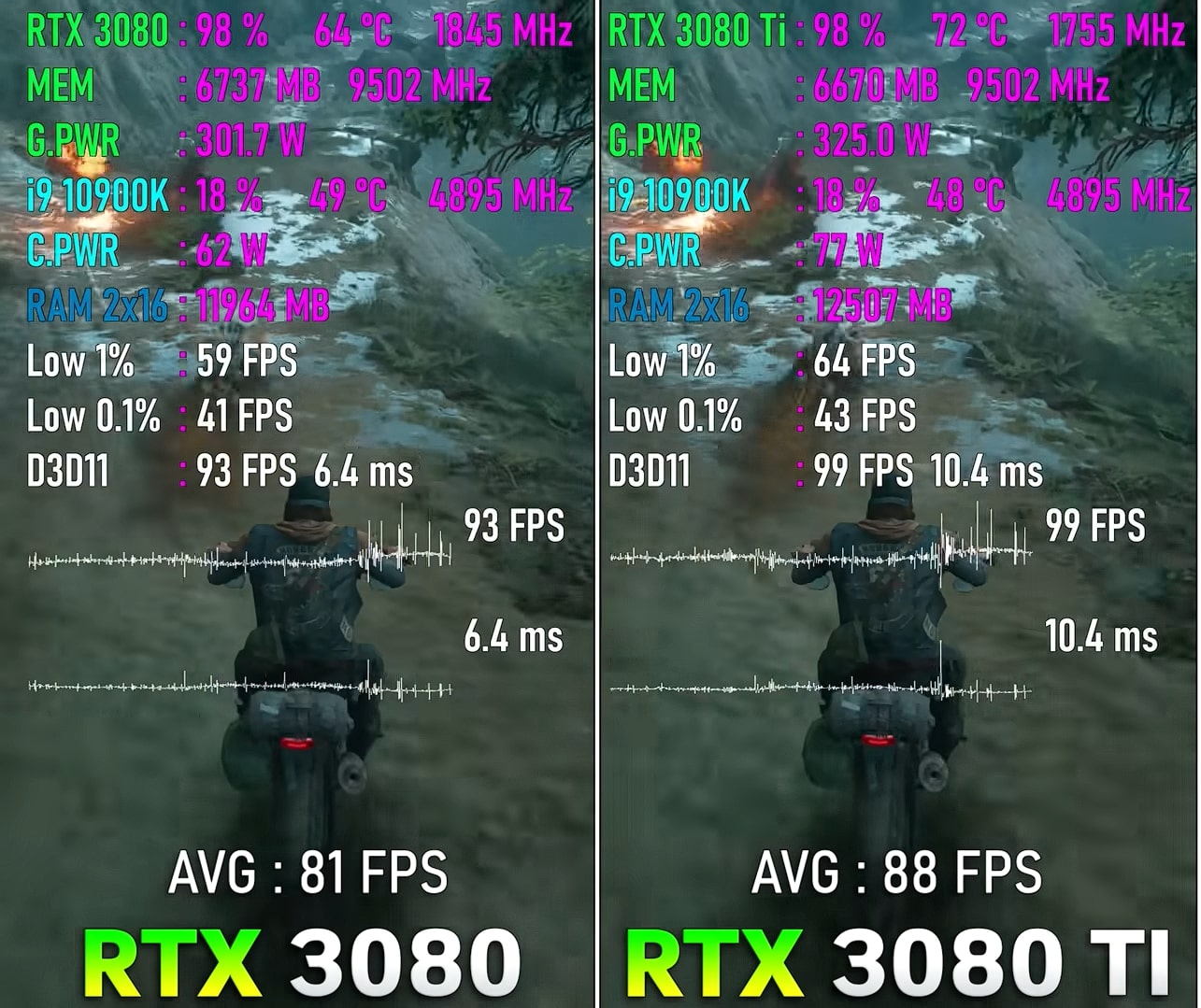 You should know right from the bat that Sony's Bend Studio created Days Gone and that it was built on Unreal Engine 4. Surprisingly only DirectX 11 is available, and DX12 is not an option. As a result, Days Gone is devoid of progressively enhancing technologies like ray tracing and DLSS, a trend that is only expected to continue. Despite the game's impressive visuals, poor framerates were a common complaint about Days Gone.
Despite this, The PC version is quite polished for a 2021 video game. The enormous expanses of North America are represented in a way that is both visually appealing and believable, which I much appreciate. Dynamic lighting functions well and provides a welcome break from the static illumination often seen in buildings. While I enjoyed Days Gone, I can't help but believe that it might have benefited from DLSS and RT to further differentiate itself from the other games released in 2021.
Bend Studio did a fantastic job with the configuration options; all crucial PC-specific toggles and sliders exist. There are a variety of display choices to choose from. It's wonderful that there's a field-of-view slider and a render scale parameter, and you can tweak the textures, lighting, shadows, and more. There is a menu of fast presets to choose from, including Low, Medium, High, and Very High; we used Very High for today's benchmarks with V-Sync turned off.
Looking at the above screenshot, we can say that, once again, RTX 3080 is keeping up its performance with its counterpart. The RTX 3080 can achieve 81 FPS on average while at a temperature of 65° C. Conversely, the RTX 3080 Ti reached 88 FPS on average while at a temperature of 72° C. So, the performance gap between these two cards is minimal at 8%. Once again, both cards are performing well under 4k resolution and very high settings.
When running the latest AAA games, the RTX 3080 and 3080 Ti battle neck to neck. The Low 1% FPS on the RTX 3080 is 59 FPS. Whereas the RTX 3080 Ti has 64 FPS at a Low 1% FPS. In addition, the Low 0.1% FPS of both RTX 3080 and RTX 3080 Ti is 41 and 43 FPS, respectively. In Days Gone, we might see a stuttering issue in these two cards because the gap between low and average FPS is significantly huge.
The RTX 3080 runs at lower temperatures than the RTX 3080 Ti. Moreover, the RTX 3080 is more efficient since it consumes less power. Despite RTX 3080 Ti's greater frame rate, the RTX 3080 consumes less power than its rival at 302W. Undoubtedly, the FPS margin between the two cards is 8% which is quite less considering the price. Therefore, The RTX 3080 is now superior to the RTX 3080 Ti because of its cheaper pricing and other benefits.
Red Dead Redemption 2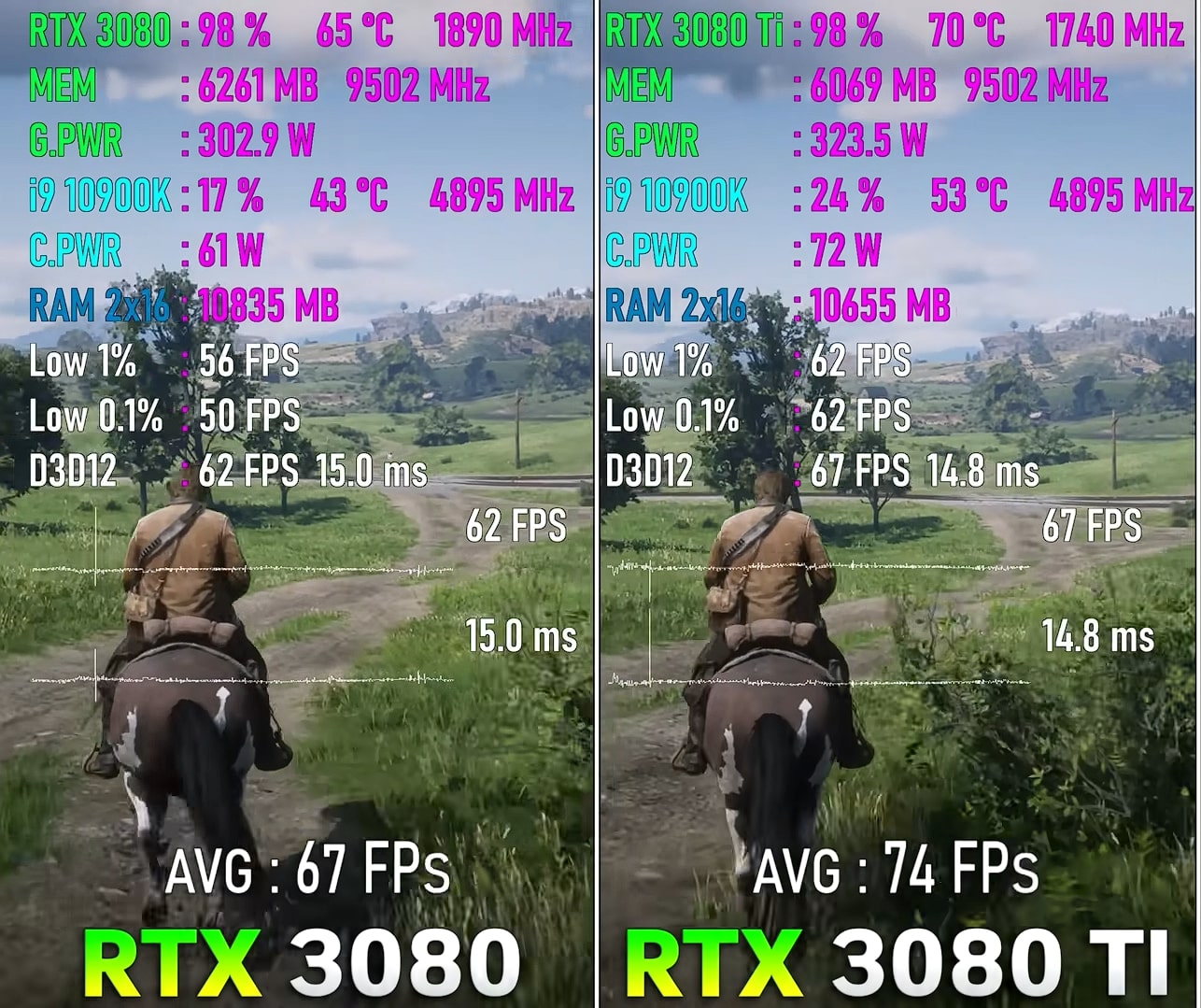 Now that we've covered the vast majority of games in our RTX 3080 vs. 3080 Ti comparison guide, we'll move on to Rockstar Games' Red Dead Redemption 2. And just so everyone knows, Rockstar Games is also responsible for the GTA series. For this reason, Red Dead Redemption 2 has stunning visuals and a moving narrative. Due to the game's demanding system requirements, only high-end CPUs and GPUs will be able to run it significantly.
Based on the image we've provided, the game has some of the most cutting-edge visuals ever seen in a PC game. Much detail is put into recreating the vast American wilderness of the nineteenth century. Excellent lighting and shadow effects are provided without the need for RTX raytracing. And it's not only the visuals.
Furthermore, The animations are also really well done and fluid. Due to its very high system requirements, the game will undoubtedly become the next "Can it run Crysis?" joke. To tailor the visuals to your needs, you may adjust various settings. We conducted our tests under real-world gaming conditions, using the maximum settings preset as a benchmark.
By looking at the above benchmarks. We can clearly state the performance difference between the RTX 3080, and RTX 3080 Ti is nominal. Consequently, they might have different specs on paper, but the performance difference in real scenarios is not worth the price. The RTX 3080 can get you 67 FPS while being at a temperature of 65° C. On the other hand, the RTX 3080 Ti does not have a considerable performance gain. It only provides 74 FPS at 65° C.
The RTX 3080 consumes less power than its counterpart at 303W. In comparison, the RTX 3080 Ti is driving 324W. Both cards are well efficient in utilizing their processors and Memory. So there is no bottleneck. The settings used in this comparison are Ultra to get the best out of these GPUs. Subsequently, they performed well in this scenario.
Moreover, the Low 1% FPS on the RTX 3080 is 56 FPS. Contrastingly, the RTX 3080 Ti manages to get 62 FPS. In addition, the Low 1% Fps of RTX 3080 and RTX 3080 Ti is 50 and 62 FPS, respectively. Consequently, this indicated that the RTX 3080 Ti would provide you with more sustain and smooth gameplay compared to its counterpart. Although, the frame rate latency of both cards is relatively identical.
Microsoft Flight Simulator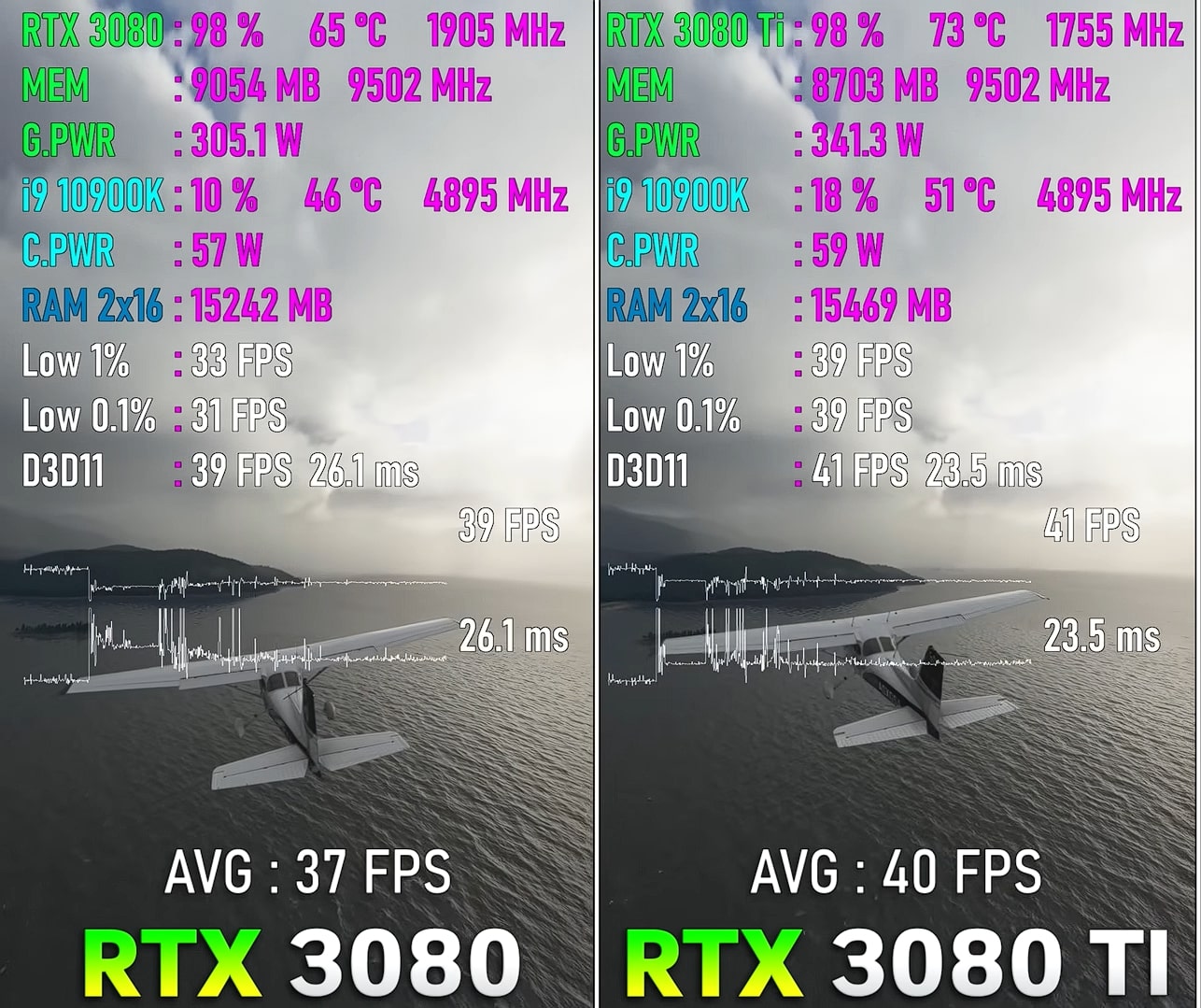 The next benchmark game may now be Microsoft Flight Simulator. The game is well-known for its realistic flight simulation and stunning visuals. Therefore, if you want to fly in the game, you'll need a powerful computer. In addition, Microsoft developed the game to provide a realistic training environment for aspiring pilots.
Since the game's release last year, it has earned a reputation for being particularly resource-intensive. However, the developers behind the simulator have been working hard to reduce the simulator's need for both processing power and Memory. The new patch is now available for download on PC and should increase frame rates on many systems.
I thought I was running everything in extreme settings, but after seeing these results, I had to double-check. Because of the significant performance, it had after the patch. The DirectX 11 platform will be used for the PC release. This means there's room for more development down the road. Asobo will be able to implement ray tracing after they upgrade to DirectX 12. Water, shadows, and the customary reflections present in ray-traced games should all significantly improve.
As in the last comparison, the performance gap is significantly reduced. Due to the GPU-intensive nature of the game, both GPUs can only manage 40 frames per second. The RTX 3080 Ti continues to wear its crown with improved frame rates. Of course, the RTX 3080 is 8% slower in frame rate than in previous games. Since no multiplayer or other competitive elements exist, more excellent frame rates are not essential for the best experience.
The RTX 3080 Ti continues to outperform the RTX 3080 in terms of temperature by a margin of 8 degrees Celsius. The RTX 3080 Ti is less efficient than the RTX 3080 since it uses more power. In addition, the TDP of the RTX 3080 Ti is 341W, while the TDP of the RTX 3080 is 305W. However, the RTX 3080 outperforms the RTX 3080 Ti in terms of performance for the money.
Why Should You Trust Tech4Gamers?
Tech4Gamers, like hundreds of other websites in the computer technology industry, has been around for over a decade. We value accuracy because of the nature of our company. Furthermore, we have our tech reviewers take detailed images of goods for product reviews and include them in related articles. Tech4Gamers includes several details in its news, comparisons, recommendations, and product review areas. Finally, recognized businesses in our sector have validated the integrity of our work. Ultimately, we have to deliver accurate facts in our job.
Should You Get RTX 3080 Ti Over RTX 3080?
The Nvidia RTX 3080 offers the most remarkable performance considering the price, even while running games at 4K resolution and ultra settings.
In terms of performance, it's on par with the RTX 3080 Ti.
Prices have risen to the point that there is little difference between them. In contrast, the suggested MSRP reveals a different picture.
If you're in the market for a high-performance GPU, the Nvidia RTX 3080 is your best bet.
Consequently, the RTX 3080's reduced power consumption is another significant advantage.
Whenever the 3080 is being clocked. There will be less of a need to worry about overheating. Keep in mind that, in any case, adequate cooling will be required for both GPUs.
There is little doubt that the 3080 Ti is superior to the 3080, although the gap is less than one would think, given the price tag. There's no denying that it's a faster card, but the 3080 wouldn't be a huge step back. Both are strong cards that can hit the same range as the other. I think you'll be pleased with anyone if you can get your hands on it. The 3080 looks to perform well in 4K gaming, and it's worth getting if you want to play at the highest settings possible.
However, the 3080 Ti should still be considered by anyone looking to use their PC for more demanding tasks. Our advice is to proceed with care if you're looking for a new graphics card since you may not need a card with that much power for the games you play. However, if you have the means to do so, any card will serve you well so long as you have additional components that can keep up with the performance. We've done all we can on our end. See you at the next one, as usual!
Common Questions Answered
Is the 3080 Ti worth it over 3080??
Considering the price and performance ratio, the RTX 3080 performs head to head with the RTX 3080 Ti. In all of the benchmarks above, we can see no significant difference in performance. Both cards achieve playable FPS at 4k resolution with Ultra preset.
How much faster is the 3080 Ti than the 3080?
The RTX 3080 Ti has much better specs on paper than its counterpart, the RTX 3080. However, when it comes to gaming performance, there is not much difference. Subsequently, the RTX 3080 Ti has more Cuda cores and VRAM, which makes it slightly less potent than RTX 3080. However, they both are excellent GPUs that can perform your daily tasks efficiently without any problem.
Is 750W enough for RTX 3080 Ti?
To function properly, the RTX 3080 Ti, a high-end graphics card, consumes a substantial amount of electricity. This card requires a power source with at least 750 watts of capacity. The card's Thermal Design Power is 350 watts. Hence a PSU with at least 650 watts is needed to run it. The RTX 3080 Ti is a power-hungry card. Therefore, you need an efficient power supply so it would not raise your electricity bills.
Is the 3080 Ti good for 4K gaming?
The RTX 3080 Ti is a future-proof card that brings a lot of performance with it. It can efficiently run all the existing games with Ultra presets at 4k resolution. All thanks to its high VRAM and CUDA cores. However, if you are planning to keep it as your primary GPU in the future, you might need to crank down some settings when running the upcoming AAA titles that demand heavy GPU performance.
Was our article helpful? 👨‍💻
Thank you! Please share your positive feedback. 🔋
How could we improve this post? Please Help us. 😔