AMD's 7000 series of Ryzen CPUs finally hit the markets in late September. With some fierce competition provided by arch-rivals Intel in the form of Alder Lake, AMD fans were desperate for a strike back from the Red Team. Today we compare the Ryzen 7 5800X3D vs Ryzen 7 7700X; two high-end Ryzen 7 CPUs spaced $50 and a generation apart.
The launch of the Ryzen 7 5800X3D was a solid fightback from AMD, almost beating Intel's 12900KS in gaming performance with nearly $300 off the (launch) price. However, the Ryzen 7 5800X3D was a single CPU aimed at the high-end consumer market, particularly to compete with Intel's 12900K and 12900KS. Due to this, AMD was still falling behind since the rest of the Ryzen 5000 lineup could still not compete with Intel. The Ryzen 7 5800X3D was a sign of good things to come, but have AMD really produced the results that were expected of them in the Ryzen 7000? Let's find out.
The Ryzen 7000 Series
An important discussion to be had is about the new platform that the Ryzen 7000 CPUs come with and how they differentiate from the Ryzen 5000 CPUs. And there are several changes to be discussed here:
AMD Zen 4
As with every passing CPU generation, there is a change of architecture to improve IPC performance while maintaining power efficiency. The Ryzen 7000 series are based on the new Zen 4 architecture, which also introduces us to a new socket.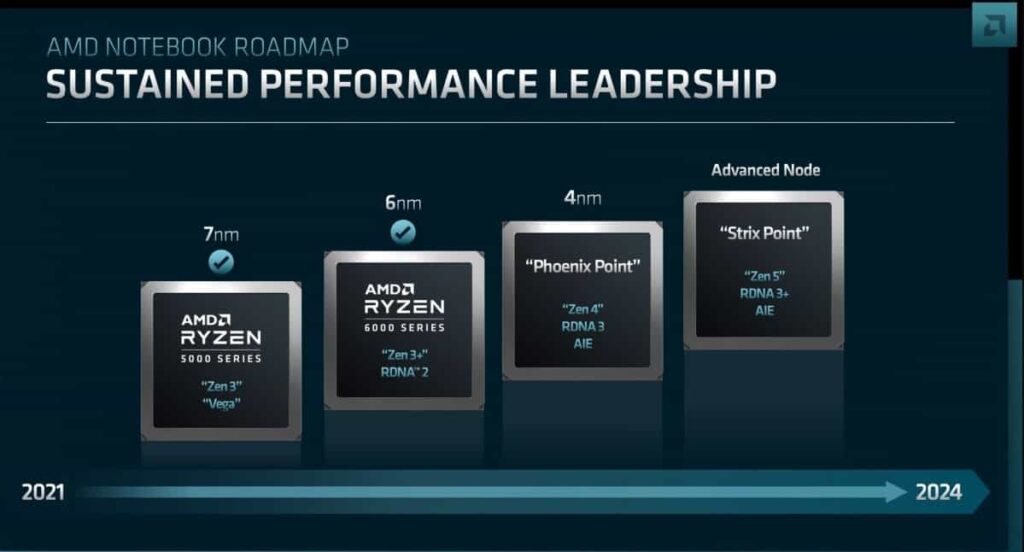 Here, AMD is using TSMC's 5nm nodes as AMD continues its push on the roadmap to Zen 5, which will presumably be based on a 4nm process. With this, AMD's Ryzen 7000 series also became the first lineup of desktop CPUs to use a 5nm node. Paired with this is the 6nm processing node for the I/O, which also contains the integrated GPU.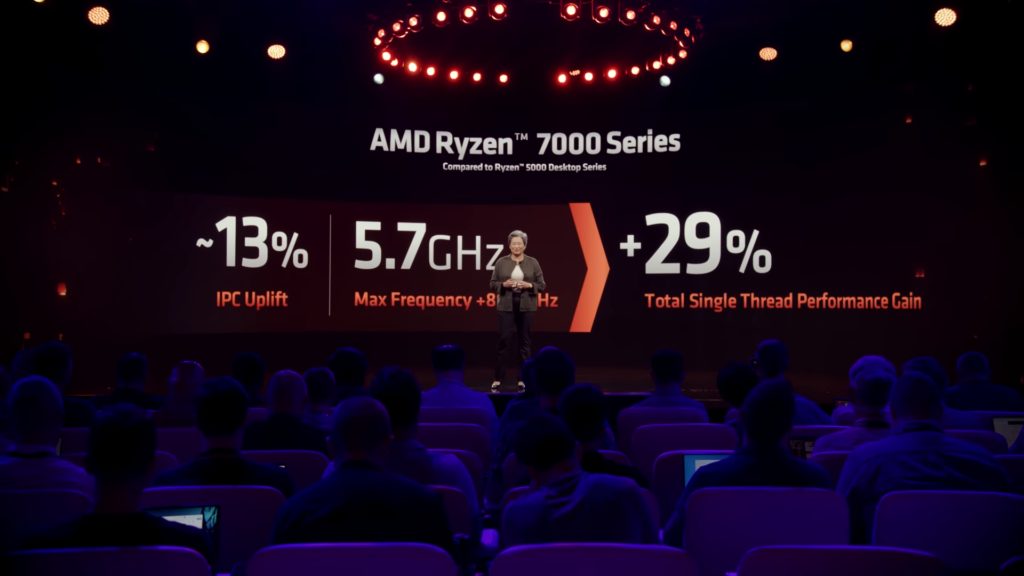 AMD, while premiering the Ryzen 7000 series, highlighted a 13% IPC (Instructions Per Clock) increase, with the maximum frequency being pushed up to 5.7 GHz, which is 800 MHz higher than any given Ryzen 5000 chip. This has led to a massive 29% uplift in single-threaded performance.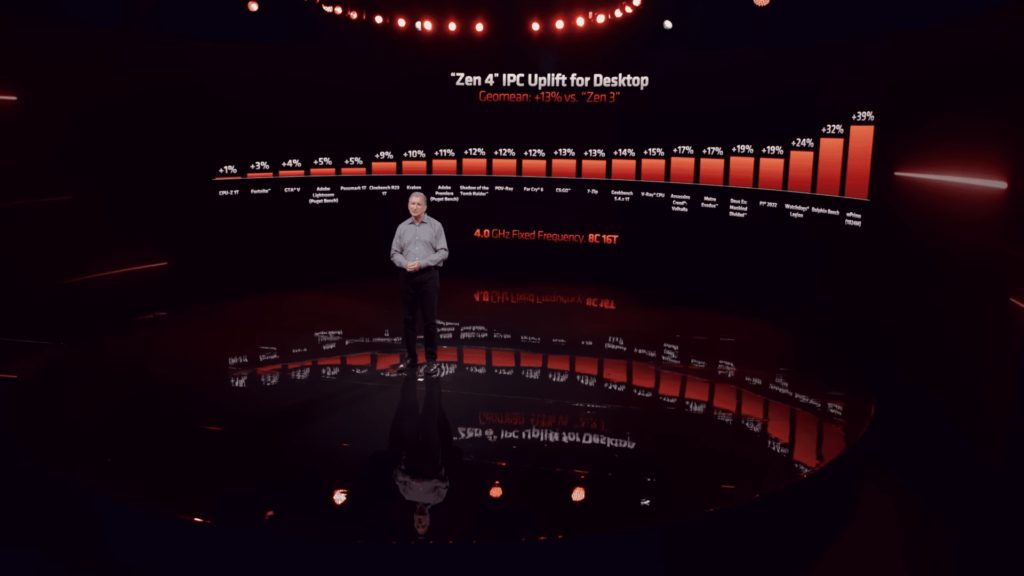 So this benchmarking graph from AMD shows, on average, a 13% improvement in performance over Zen 3, with 8 Cores and 16 Threads, at a fixed 4.0 GHz frequency. The performance improvement goes up to +39% for the wPrime test.
This AMD graph demonstrates which improvements have made the 13% IPC boost possible. AMD credits improved branch prediction, Load/Store architecture, and a better front-end design. An increase in L2 Cache (with each CPU having double the L2 cache over its direct predecessor) also contributes.

AMD has also implemented AVX-512 (Advanced Vector Instructions) in its Ryzen 7000 CPUs, which is a set of instructions for the x86 ISA (Instruction Set Architecture). Here AMD is using a double pump of the 256-bit wide extension, and they claim that this will prevent frequency fluctuations that the 512-bit operations could cause.
According to AMD, Ryzen 7000 CPUs are better than their 5000 counterparts by up to 1.3 times in FP32 compute performance using AVX-512. Furthermore, AVX-512, with VNNI (Vector Neutral Network Instructions) support, provides up to 2.5 times better performance in Int8 operations. These improvements will massively enhance performance in deep learning applications.
The Ryzen 7000 series are based on the new AM5 socket, where AMD is adopting the LGA (Land Grid Array) platform for the first time for Ryzen CPUs. In this platform, the pins that connect the CPU and motherboard are located on the CPU. This provides improved pin density, which in turn will help to accommodate DDR5 and PCIe 5.0. On the other hand, Intel has been using the LGA platform starting from their LGA 775 socket CPUs.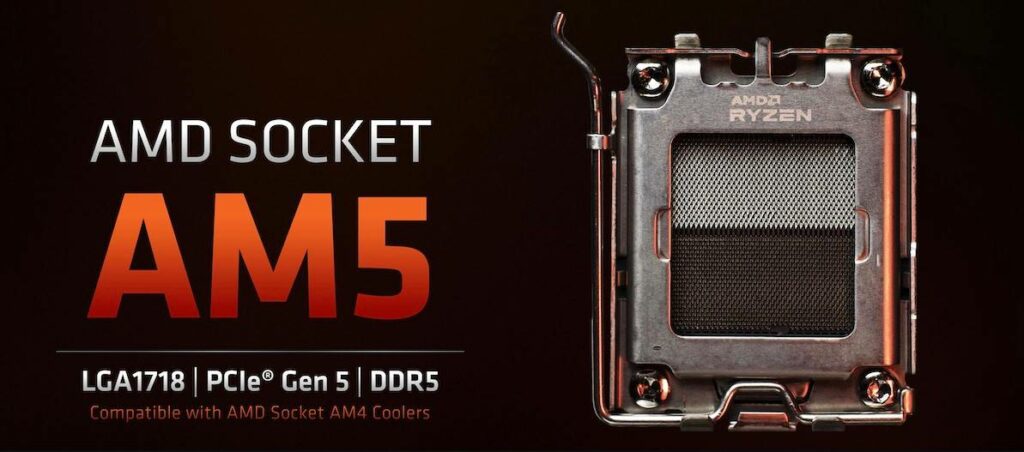 AMD 600 Series Chipset
Like Intel, AMD's latest chipset is the 600 series, where we see the same naming pattern, one generation apart. There is one touch, however, with AMD introducing sub-variants with the "E" (for Extreme) suffix. Thus, so far, we have X670 and X670E, along with the pair of B650 and B650E.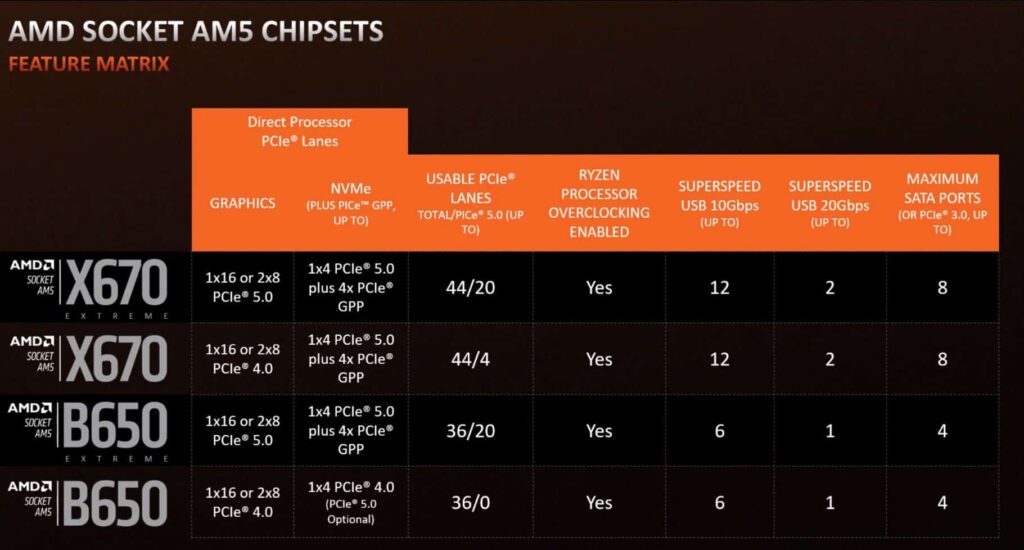 So as you may have guessed, the "extreme" variants have better features and, consequently, heftier price tags, with X670E being the top-of-the-line chipset. The short form is that both the E variants have the same number of PCIe 5.0 lanes, but B650E has a decrease in the number of maximum possible PCIe 4.0 lanes. The rest of the I/O connectivity also varies with each chipset, with B650 (and B650E) having half the number of USB 3.2, USB 3.1, and SATA ports.
Among the similarities across all chipsets are CPU and memory overclocking, DDR5 and Wi-Fi 6E support, and support for a PCIe 5.0 (1×4) M.2 slot. But what's new in terms of I/O and features?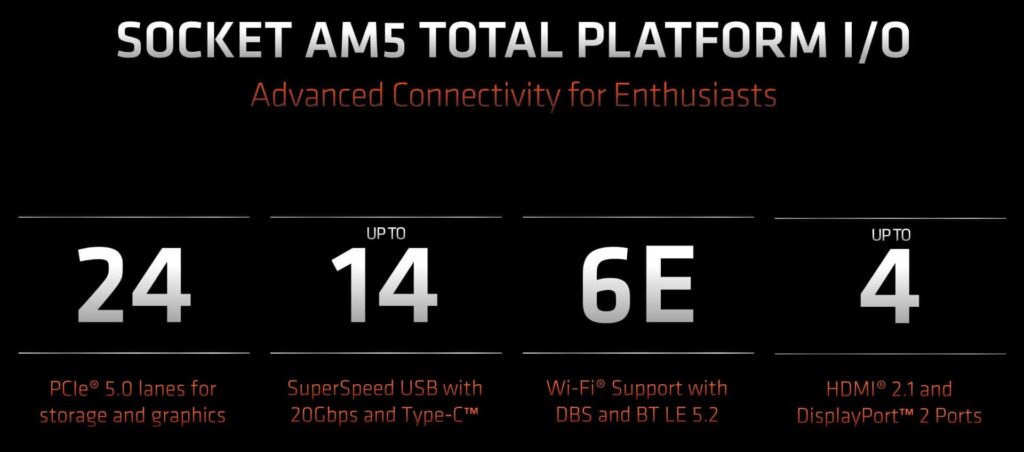 DDR5 Support
The 600 series chipset becomes the first from AMD to provide DDR5 support. But AMD has played a major card compared to Intel, removing DDR4 support and thus completely shifting to the DDR5 platform. This may seem like a controversial decision, with DDR5 prices still being fairly higher than DDR4 and providing very little performance differences, in gaming at least. However, AMD making this move is a reassurance that the push for making DDR5 mainstream has well and truly begun, and the technical advancements of DDR5 will come into play for DDR5 to beat out DDR4 in performance.
DDR5 provides numerous improvements over DDR4. Some noticeable upgrades are in the bandwidth, DIMM power management, increased die density, and slightly less operating voltage. (Read More: DDR4 vs DDR5 memory)
PCIe Gen 5
One of the most exciting I/O advancements in recent times, AMD's AM5 platform provides support for PCIe 5.0. The extreme variant chipset, as mentioned, supports Gen 5 across the GPU and the M.2 slot.
PCIe Gen 5 doubles the bandwidth and transfer rates over the previous generation, as is the trend with every passing generation. Hence, with PCIe 5.0, we get transfer speeds of up to 32 GT/s and bandwidth of up to 128 GB/s across 16 lanes (x16).
The 16-pin 12VHPWR power connector is the standard PCIe 5.0 connector, providing up to 600 watts of power, and this power connector is being used to power Nvidia's RTX 4080, 4090, and 4090 Ti. But the most thrilling prospect that comes with PCIe Gen 5 is the SSDs that will be able to utilize the massive bandwidth it provides. Samsung became the first to announce PCIe 5.0 SSDs, with its upcoming PM1743 with reading speeds up to 13000 MB/s. Gigabyte also followed suit recently. (Read: GIGABYTE Announces AORUS 10000 PCIe 5.0 SSD With 10GB/s Read Speed)
WiFi 6E
The 500 series chipset technically supports WiFi 6E since it expands on the same band as WiFi 6, but only a select few motherboards provide direct WiFi 6E support on that chipset. The AM5 platform brings official support for WiFi 6E across all chipsets.
WiFi 6E support basically extends support to the 6 GHz band, which provides a huge 1200 MHz spectrum that will greatly increase signal strength, but across a slightly shorter range. We're also looking at speeds of 1 GB/s and more on WiFi 6E, so this is another massive upgrade in I/O.
USB 3.2
AMD's AM5 platform provides support for up to 2 USB 3.2 ports which provide speeds of up to 20 Gbps. The maximum supported number of 3.1 ports remains at 12, the same as X570.
DisplayPort 2
Finally, Socket AM5 also introduces us to DisplayPort 2, with up to 4 HDMI 2.1 and DisplayPort 2 ports combined. DisplayPort 2 provides a massive uplift in bandwidth with speeds up to 77.36 Gbps, while DisplayPort 1.4 only went up to 25.92 Gbps in comparison. With this, we get support for an 8K display at 60 Hz without any compression and can support 16K at 60 Hz with compression.
AMD EXPO
AMD introduced EXPO or Extend Profiles for Overclocking for easy memory overclocking on Ryzen 7000 systems. It's similar to Intel's XMP (Extreme Memory Profiles), simplifying memory overclocking in accordance with compatibility. AMD has partnered with all mainstream memory manufacturers to provide these memory profiles by default.

AMD claimed speeds up to 6400 MHz through EXPO, with up to an 11% improvement in 1080P gaming performance.
Ryzen 7 7700X
AMD has only launched 4 CPUs in this lineup as of yet, with Ryzen 7 7700X being one of the true high-end options with a price tag of $399. It sees a price bump of $100 compared to its predecessor 5700X, which was also released earlier this year to fight Alder Lake, to no avail.
The Ryzen 7 7700X has the same core and thread count as the 5700X (8C 16T) but comes with all the new advancements of Zen 4, including double the L2 cache and an increased TDP. So it has 32 MB of L3 cache and 8 MB of L2 cache. It has a base frequency of 4.5 GHz with the boost clock going up to a whopping 5.4 GHz if cooling requirements are met. Lastly, the TDP sees an increase to 105 watts. (compared to 5700X)
The Ryzen 7 7700X features integrated graphics based on RDNA 2 with a base clock of a modest 400 MHz. AMD says not to have expectations from this iGPU, as it's mostly just meant for display purposes.
Ryzen 7 5800X3D
Released earlier this year as part of the Ryzen 5000 series, a CPU like the Ryzen 7 5800X3D was a need of the hour for AMD, with Intel's Alder Lake absolutely thrashing the 5000 series CPUs in all departments. With the launch of Ryzen 7000 still months away at the time of Alder Lake's launch, this was AMD's temporary answer to Intel. The Ryzen 7 5800X3D launched at $449 and sits on the same AM4 platform but has one (major) difference.
AMD introduced V-cache with the Ryze 7 5800X3D, which is a method of stacking cache vertically. This pushed the L3 cache to a massive 96 MB. This would benefit the CPU over the previous top-of-the-line 5950X in selecting some select games and code compile workloads.
Compared to the 5800X, the V-cache was pretty much the only difference, but Ryzen 7 5800X3D falls back slightly in terms of base and boost clocks. Now, in terms of the specifications, the Ryzen 7 5800X3D also comes with 8 cores and 16 threads. The base clock is set at 3.4 GHz with a boost clock of up to 4.5 GHz. It comes with 100 MB of total cache (100.5 if you count L1). Finally, it has the same TDP as Ryzen 7 7700X at 105 watts.
Similarities And Differences
| | | |
| --- | --- | --- |
| CPU | Ryzen 7 5800X3D | Ryzen 7 7700X |
| Architecture | Zen 3 | Zen 4 |
| Processing Node | TSMC 7nm | TSMC 5nm FinFET |
| Socket | AM4 | AM5 |
| Supporting Chipset | AMD 500 Series Chipset | AMD 600 Series Chipset |
| Memory Support | DDR4 (up to 3200 MHz) | DDR5 (up to 5200 MHz) |
| Cores (Threads) | 8(16) | 8(16) |
| Base Frequency (Boost Frequency) | 3.4 GHz (4.5 GHz) | 4.5 GHz (5.4 GHz) |
| L2 Cache | 4 MB | 8 MB |
| L3 Cache | 96 MB | 32 MB |
| TDP | 105 watts | 105 watts |
| iGPU | No | Yes |
| Launch Date (approx.) | Q2'2022 | Q3'2022 |
| Launch Price (Current Lowest Price) | $400 ($400) | $450 ($249) |
Ryzen 7 5800X3D Vs AMD Ryzen 7 7700X
Ryzen 7 5800X3D Vs Ryzen 7 7700X: Gaming And Productivity
On to the main topic, how do these two CPUs with comparable (launch) prices and somewhat comparable specifications differ in performance? We take a look at their gaming and productivity performance across a variety of games and software. Let's take a look at our test benches:
Ryzen 7 5800X3D
Motherboard: MSI MEG X570 ACE
Memory: G.SKILL Trident Z RGB 3600 MHz (2 x 8 = 16 GB)
Ryzen 7 7700X
Motherboard: MSI PRO X670-P WIFI
Memory: G.Skills Trident Z5 RGB 6000 MHz (2 x 8 = 16 GB)
The rest of the components will remain the same for both benches:
GPU: ASUS RTX 3080 TUF Gaming
CPU Cooler: Corsair iCUE H115i Elite Capellix
2 TB SSD
PSU: Corsair RM1000X
OS: Windows 11
Note: ALL components are on their stock settings.

*All benchmarks courtesy: NJ Tech*
Gaming
Let's look at the gaming performance first. Keep in mind that all the gaming benchmarks are carried out at the same resolution (1920×1080). Another thing is that the presets are switched from game to game to get the best idea of performance differences in the games, which will be better represented by the mean FPS shown at the end.
Finally, it's important to remember that the frame time (i.e the %1 lows) is a much more important metric for performance than average FPS. This also means that the lower the difference between average FPS and %1 low, the better the performance.
So without any further due, let's dive into the gaming bechmarks of our Ryzen 7 5800X3D vs Ryzen 7 7700X guide.
Spider-Man Remastered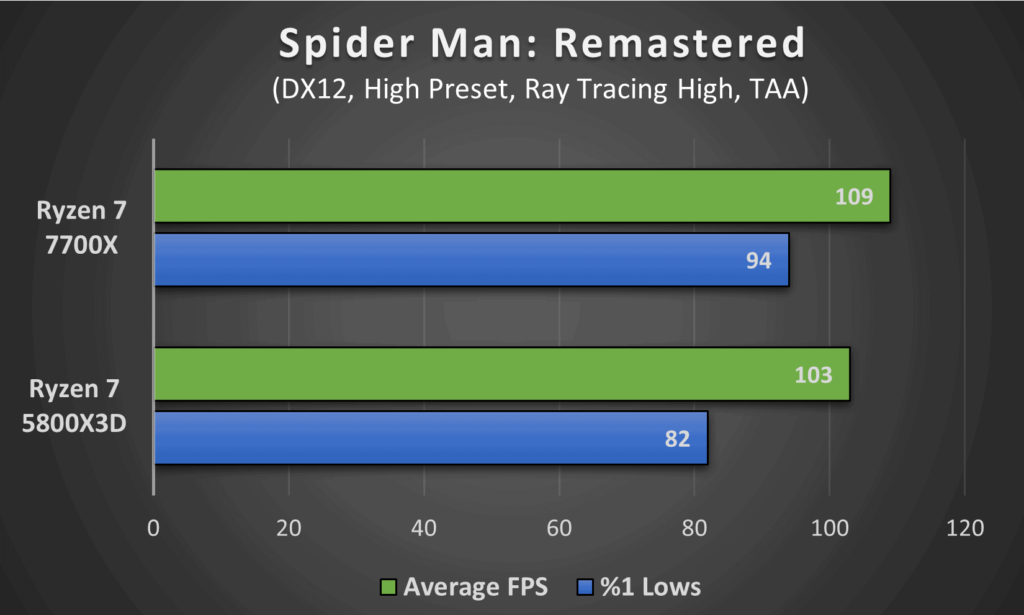 Starting off with Spider-Man: Remastered, there is not a major difference in average FPS, but the difference in %1 low is, in fact, quite significant. So the Ryzen 7 7700X takes a decent lead here.
Far Cry 6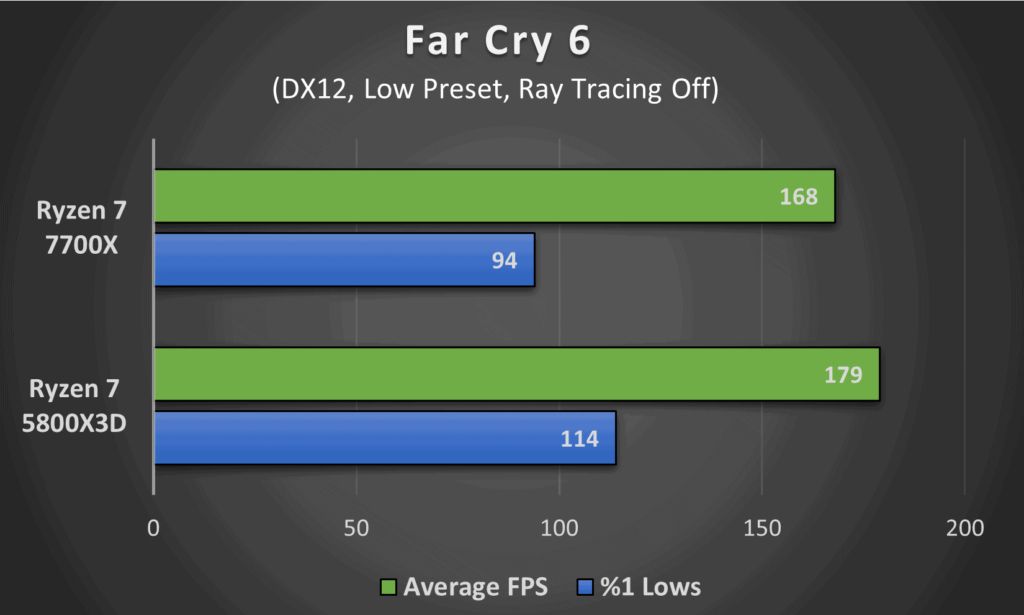 Far Cry 6 provides a surprising turn with the Ryzen 7 5800X3D significantly ahead of the Ryzen 7 7700X.
Call of Duty: Warzone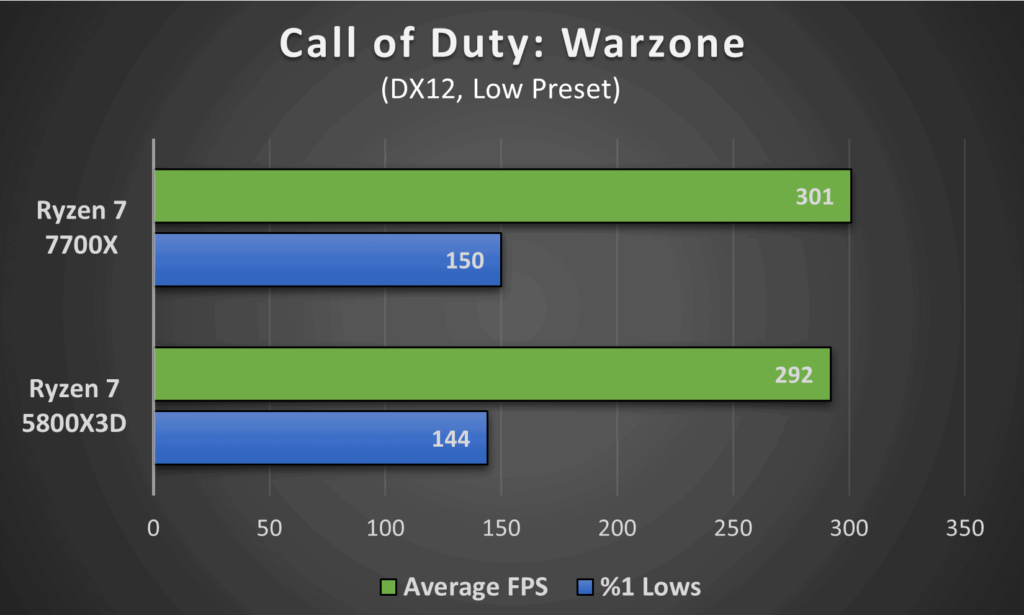 In Call of Duty: Warzone, the result is a lot more even, as tends to be the case in less CPU-intensive games.
Hitman 3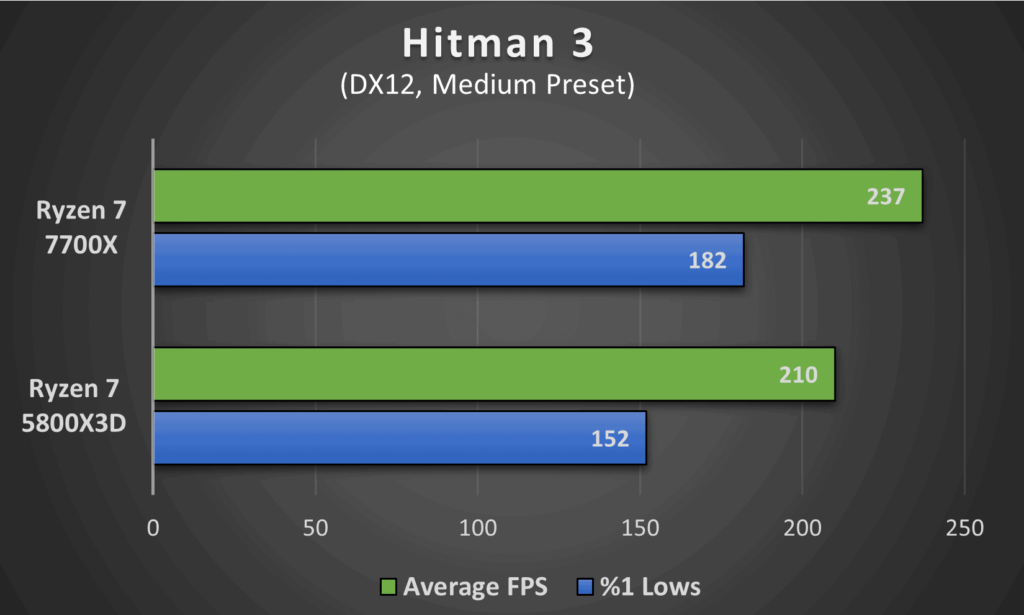 Hitman 3 sees the Ryzen 7 7700X taking a healthy lead over the Ryzen 7 5800X3D.
Cyberpunk 2077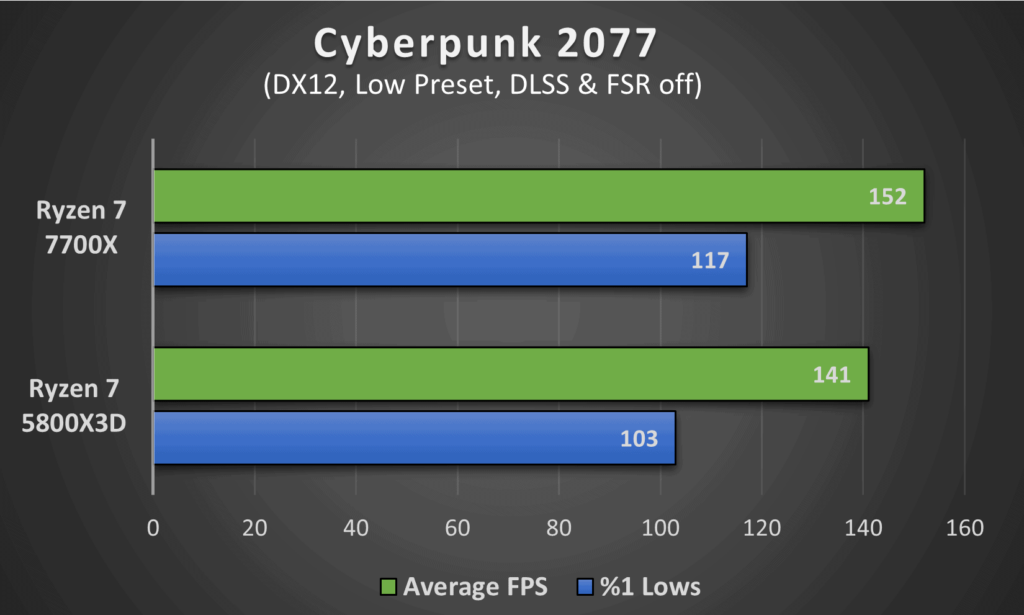 In Cyberpunk 2077, there's a somewhat marginal performance difference between the two CPUs, with the Ryzen 7 7700X coming out on top again.
F1 2022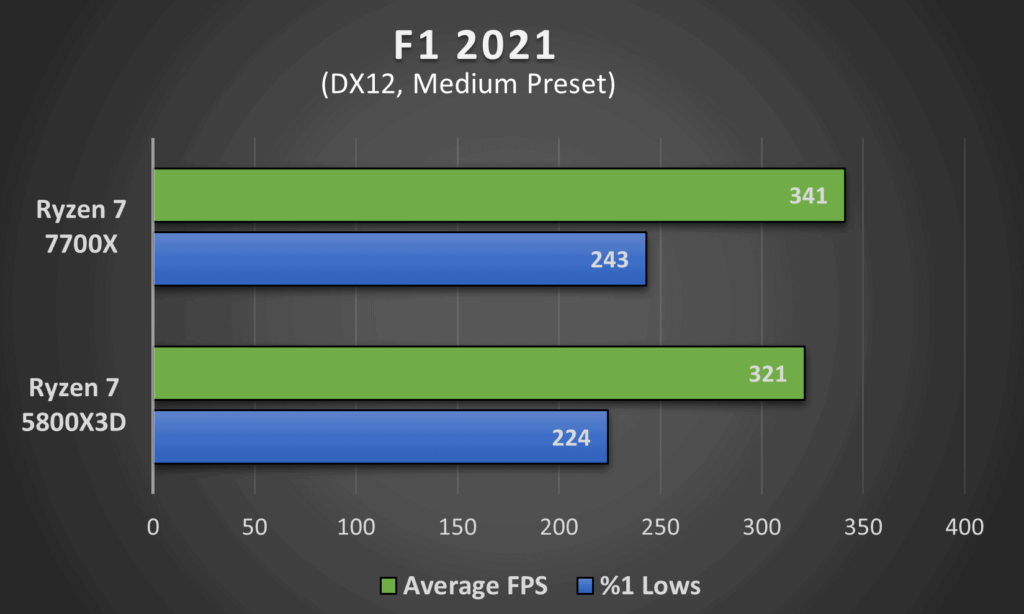 Again a familiar situation with less CPU-intensive games; there's not much of a difference of note between Ryzen 7 7700X and Ryzen 7 5800X3D here.
Shadow of the Tomb Raider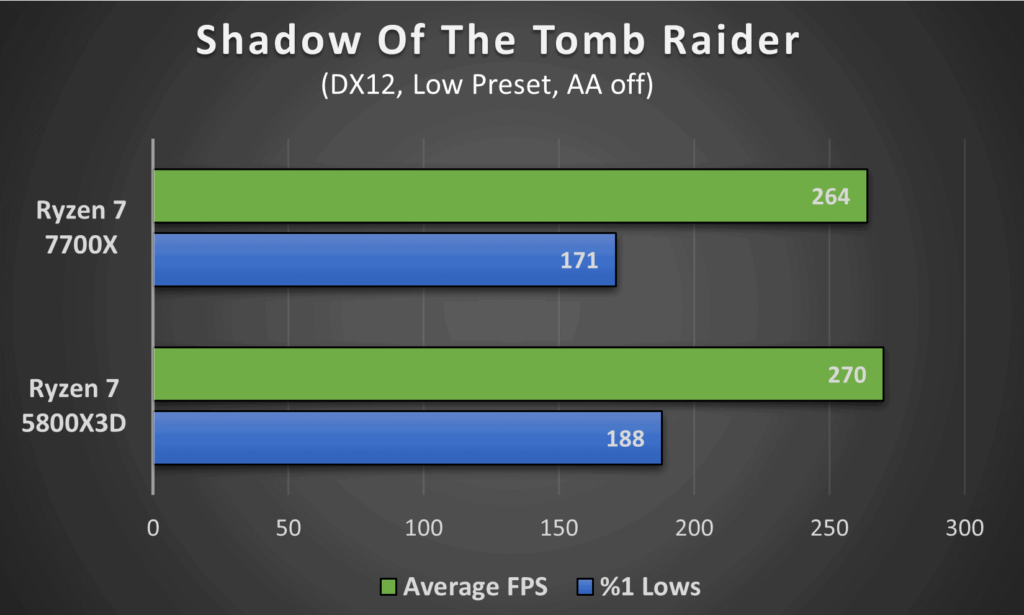 Shadow of the Tomb Raider provides another interesting result in the Ryzen 7 5800X3D vs Ryzen 7 7700X rivalry, with the Ryzen 7 5800X3D being the better CPU in this game.
Rainbow Six Siege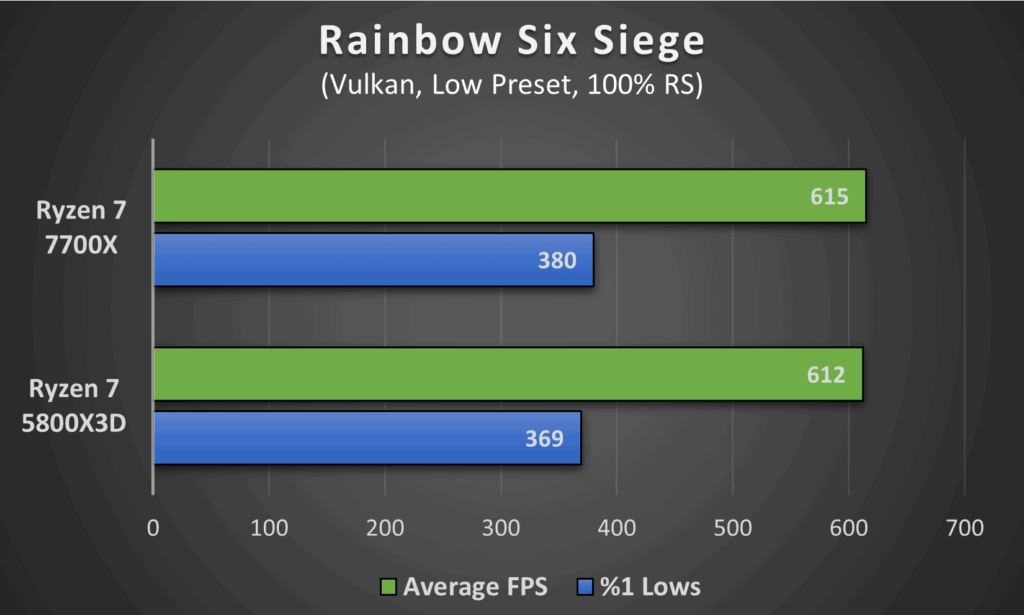 Not much to see here; both CPUs are very comparable in performance, as there is only a difference of 3 in average FPS.
DOTA 2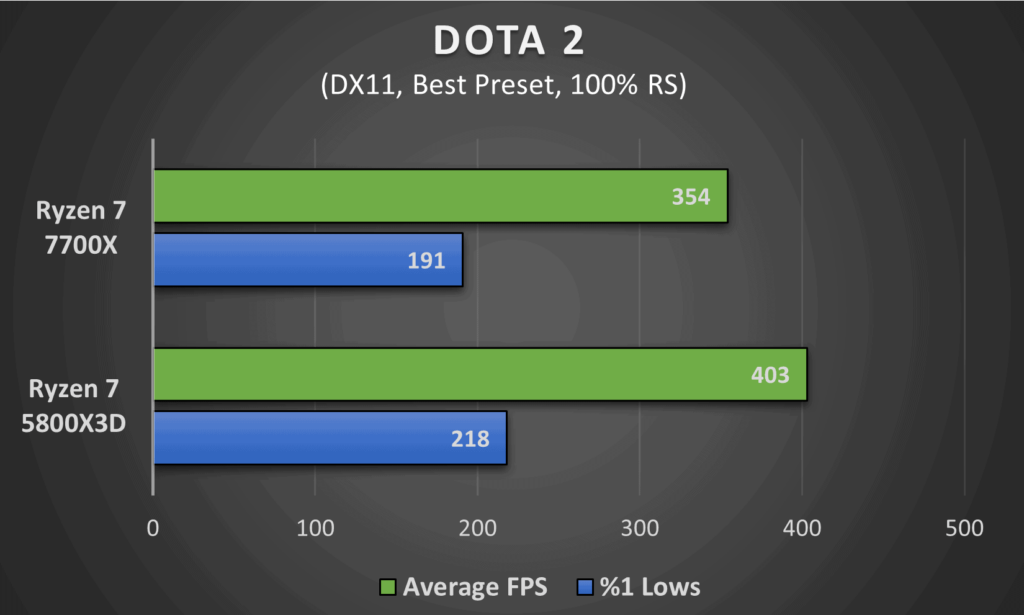 In Dota 2, the Ryzen Ryzen 7 5800X3D again beats the Ryzen 7 7700X, but the overall difference is, again, marginal.
CS:GO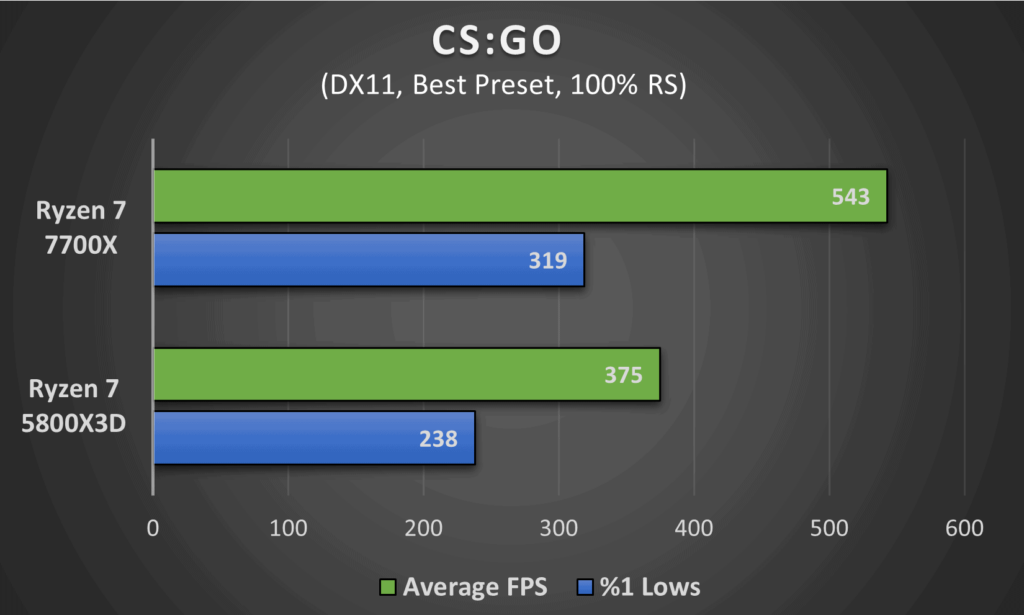 The Ryzen 7 7700X takes a huge lead in CS:GO over the Ryzen 7 5800X3D.
Mean FPS Across Tested Games (minus CS:GO) / Conclusion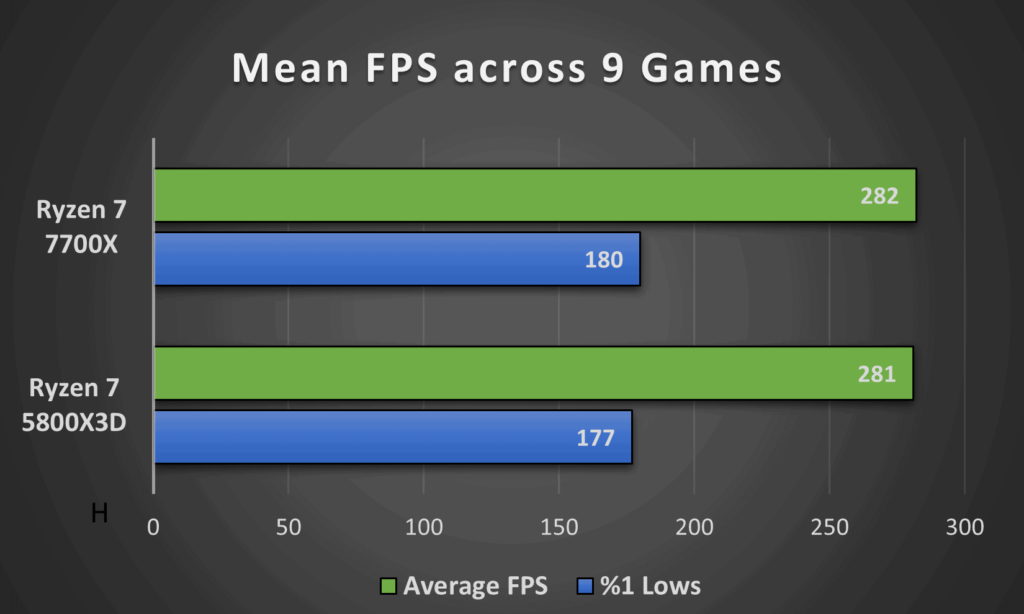 With CS:GO removed from the frame where AMD's Ryzen 7 7700X took a huge lead in average FPS, we are pretty much led to a dead end. The graph speaks for itself, and we conclude that there's little to no difference between the two CPUs in 1080P gaming.
Productivity
Now, let's move on to the productivity benchmarks.
Cinebench R23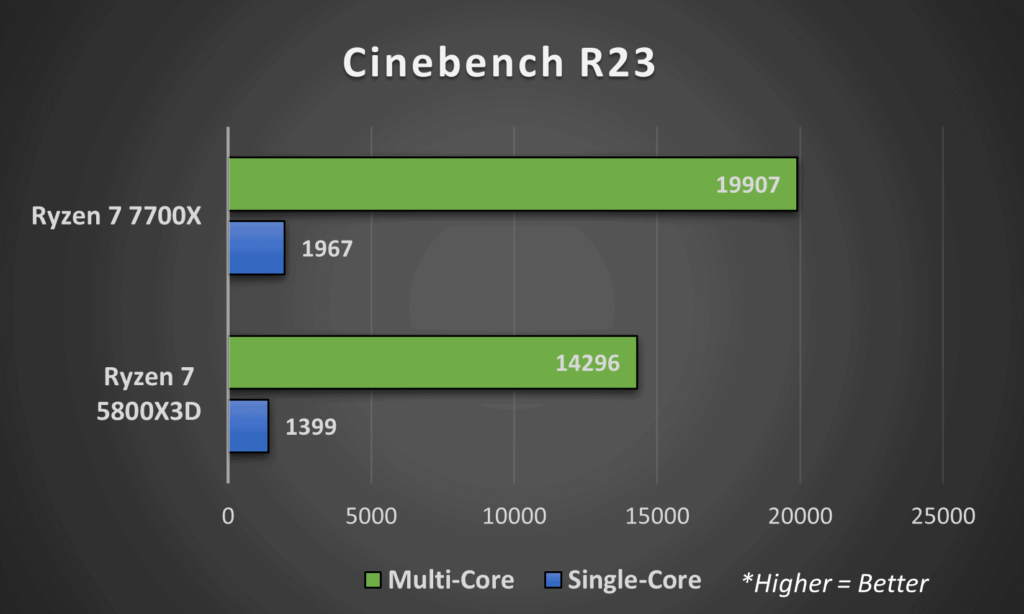 In the Cinebench single-core and multi-core tests, the Ryzen 7 7700X comes out on top by a big margin.
Blender Open Data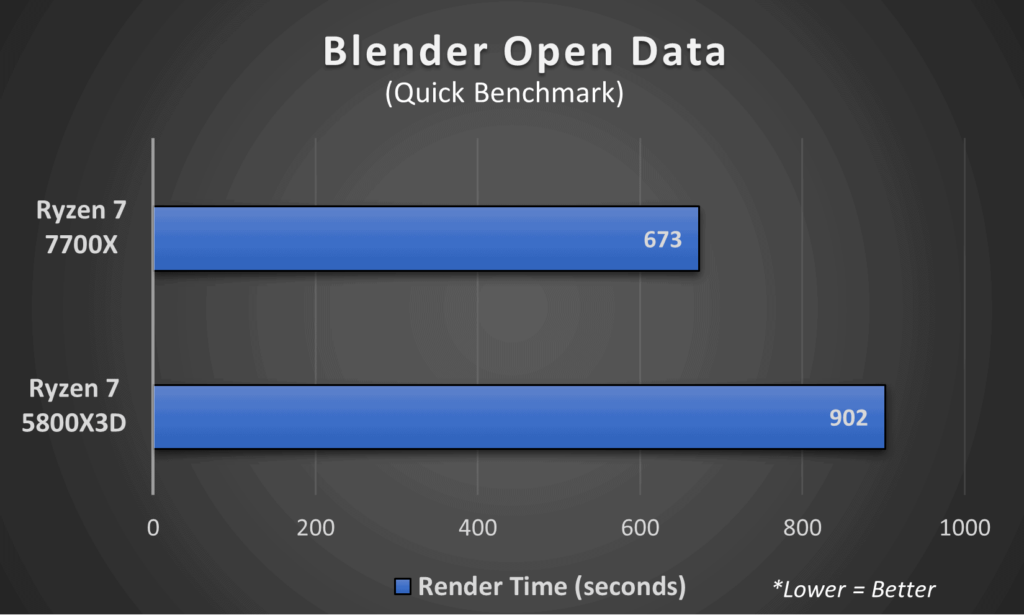 In our Blender render test, the Ryzen 7 7700X takes another huge lead, finishing the render almost 4 minutes earlier.
Corona 1.3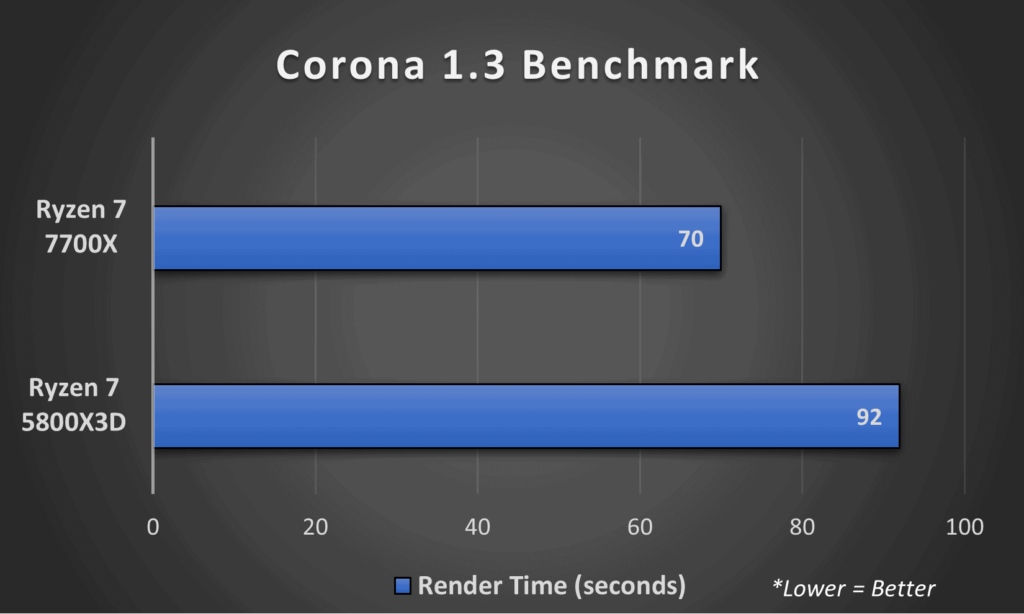 In Corona 1.3, the Ryzen 7 7700X betters the Ryzen 7 5800X3D by 22 seconds in render time.
Adobe Premiere 2022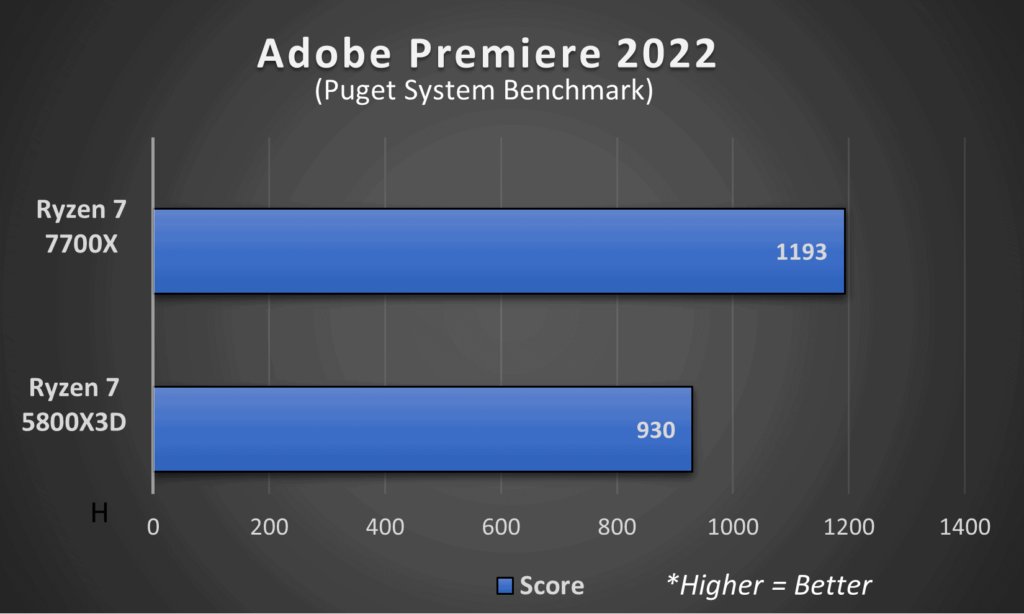 The Ryzen 7 7700X also beats out the Ryzen 7 5800X3D in our Adobe Premiere benchmark – by 28.2%, to be exact.
Adobe Photoshop 2022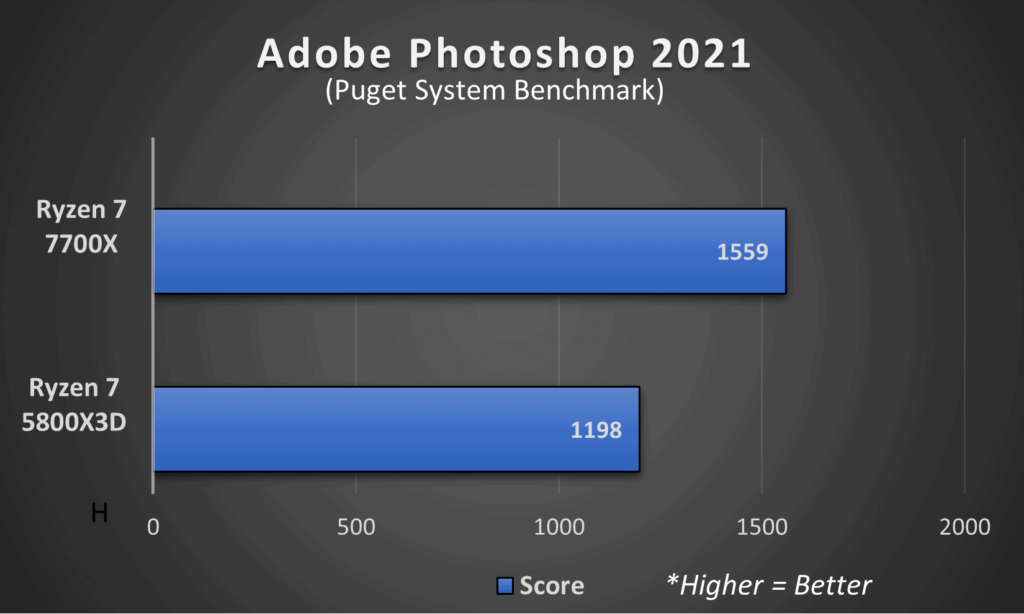 Adobe Photoshop shows the same case of the Ryzen 7 7700X dominating the chart.
V-Ray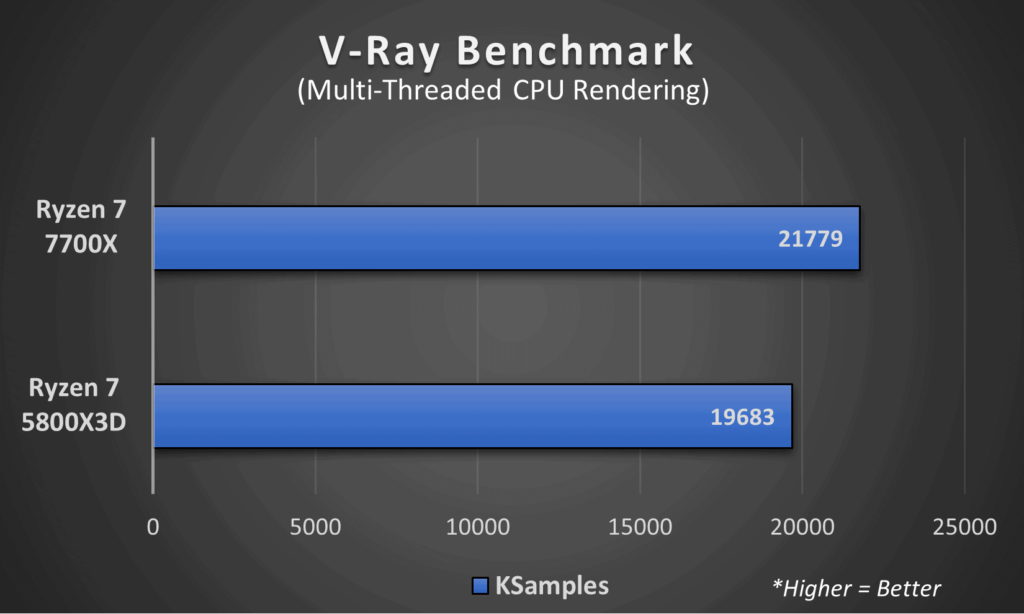 The Ryzen 7 7700X is again the better of the two CPUs, but by a comparatively smaller margin, in our V-Ray benchmark.
Chromium Code Compile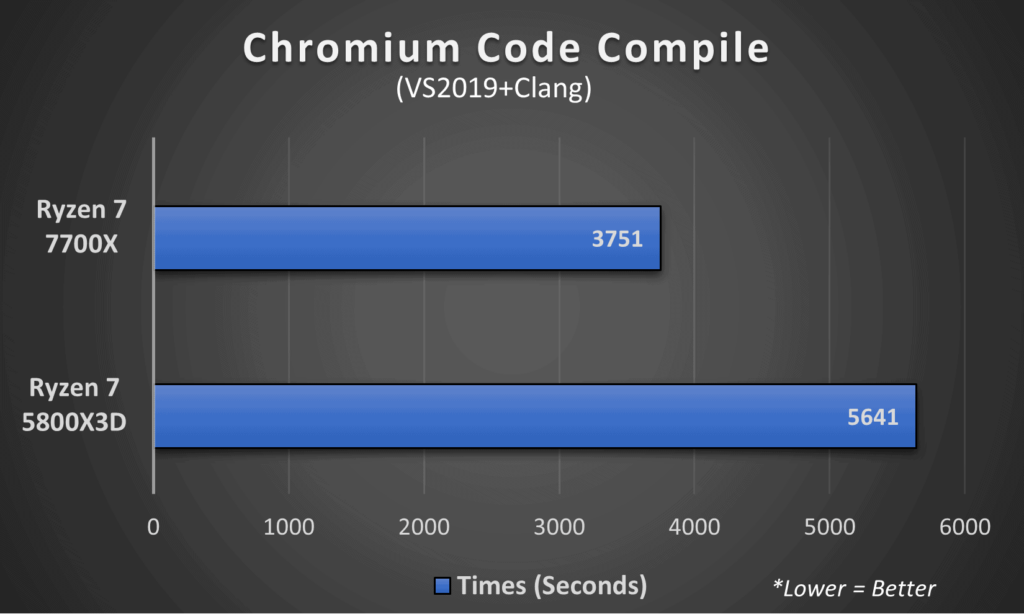 In our Chromium Code Compile test, the Ryzen 7 5800X3D falls significantly behind the 7700X, providing another success to the latter.
Geek Bench 5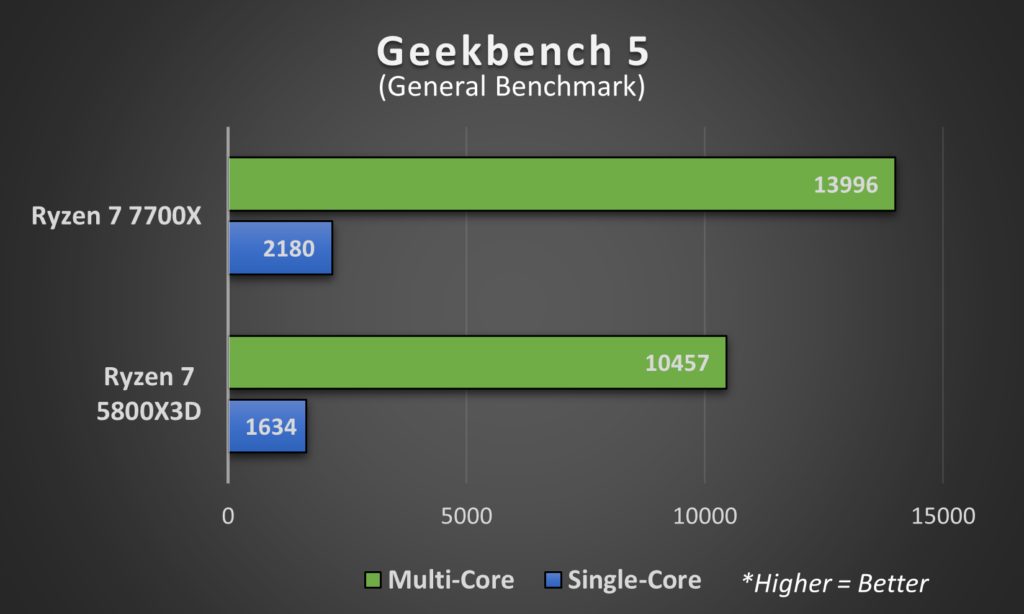 GeekBench 5 shows the same pattern as the other productivity benchmarks, with the Ryzen 7 7700X being the better CPU.
Handbrake 1.4.2 Benchmarks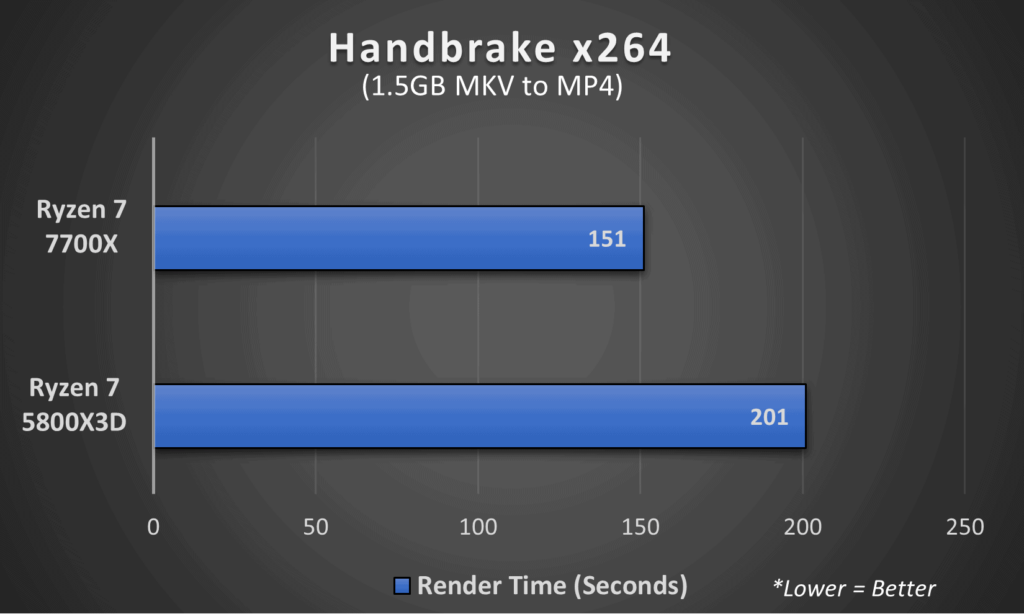 Finally, in our Handbrake conversion test of our Ryzen 7 5800X3D vs Ryzen 7 7700X guide, converting a 1.5 GB MKV video to MP4, the 7700X wins again, completing the render 50 seconds earlier.
Takeaways
Unlike the gaming benchmarks, the productivity benchmarks show that the Ryzen 7 7700X has a massive advantage. It's easy to conclude that the Ryzen 7 7700X is the superior CPU by a margin for productivity tasks.
Temperatures
Let's take a look at the temperature differences between the two CPUs, under load and idle. Note that the ambient temperature is kept at a constant 25 degrees Celsius.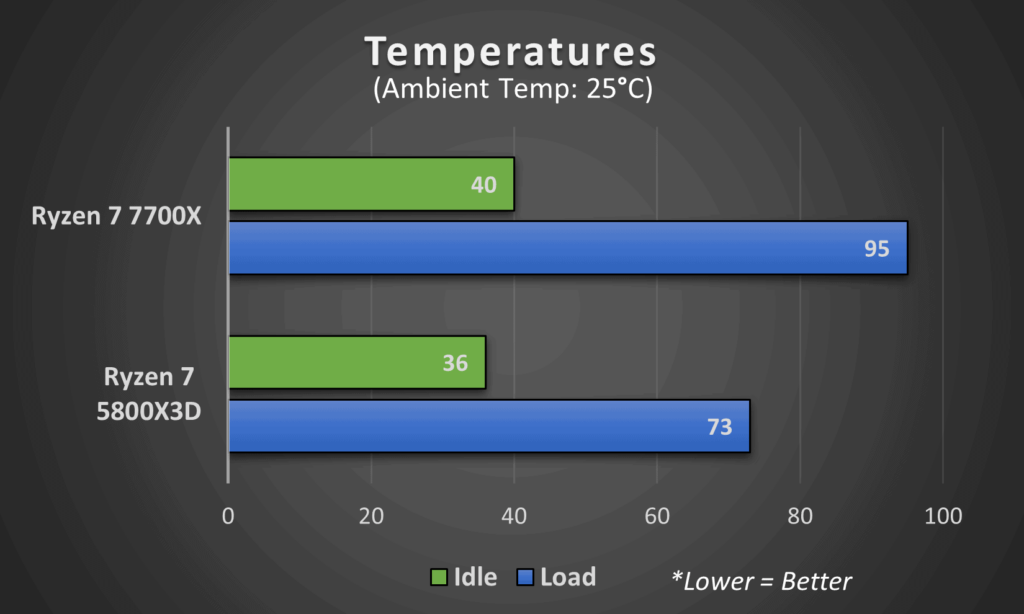 The idle temperatures provide similar results, which is not surprising. But a major concern for the 7700X appears when both the CPUs are put under load, the Ryzen 7 7700X sees the temperatures jumping to 95 degrees centigrade. The Ryzen 7 5800X3D is cooled just adequately by the Corsair iCue H115i, but there's clearly a problem here for the 7700X in the fact that the 280mm AIO isn't enough to keep it cool under load.
Power Draw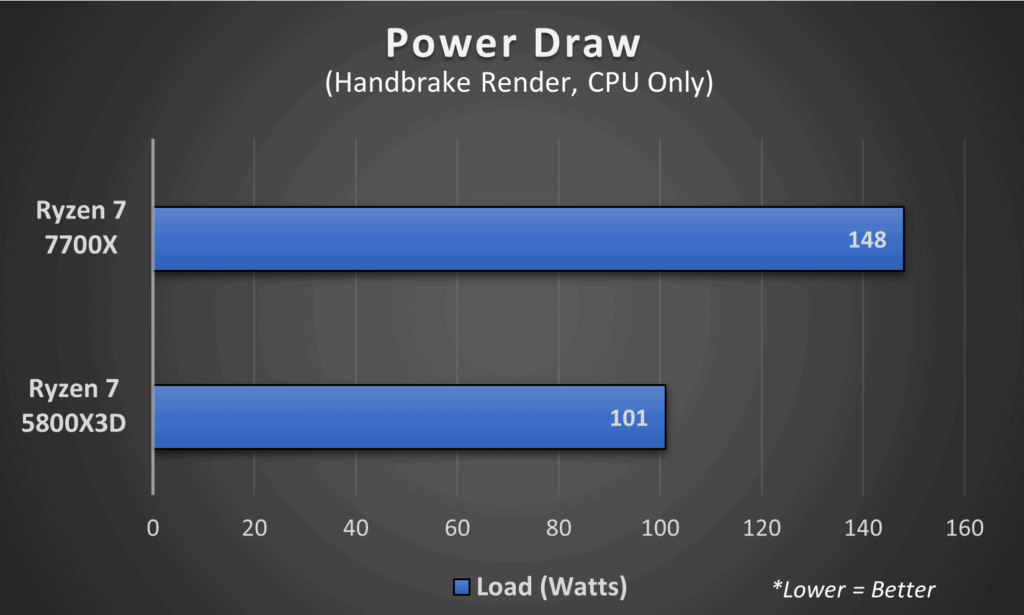 We take a look at the power draw for the two CPUs under load, with Handbrake being our tool to stress the CPU. Here, the 7700X shows cause for concern again, pushing 148 watts of TDP under load, which is very well above its 105 watts TDP rating. The Ryzen 7 5800X3D is the better CPU, maintaining the TDP at under 105 watts under load.
Pricing Difference
As discussed before, both the Ryzen 7 7700X and the Ryzen 7 5800X3D were launched $50 apart in price. Things have changed since then, however, and the impact was likely caused due to the very launch of the Ryzen 7000 series. The Ryzen 7 5800X3D has therefore seen a cut in price, coming down to $349. Most recently, it dropped to $329 on eBay. The 7700X still stands at $400.
Platform costs need to be considered as well. First off, AMD advertised 600 series chipset motherboards to have a starting price of $125, and there's no sign of such motherboards yet. There is also no news of an A620 chipset, and even if AMD was to release it, $125 is too high for the lowest-end chipset considering A520 motherboards are available for as low as $70.
DDR5 memory still costs significantly more than DDR4 memory. A good 2×8 kit of DDR4-3200 MHz can be found for around $50, while you'd need to spend at least $75 for a DDR4-4800 MHz kit from a good brand. So overall, the price of the CPU itself and the platform would set you back quite significantly if you opt for the new generation of AMD Ryzen.
Finally, you might need to switch out your CPU cooling unit for a better one to accommodate 7700X's thermals. At the same time, you'll be paying more on your electricity bills due to the significantly higher power draw on the 7700X. This might also lead you to buy a PSU of higher wattage.
Thus, there are a heap of things to be considered in terms of the pricing of both CPUs and their platform costs. The AMD Ryzen 7 5800X3D is far and away the better CPU in this regard.
Where Does AMD Stand With The Launch Of Raptor Lake?
Before providing a conclusion, it must be mentioned that while the Ryzen 7 5800X3D is still a solid option, both these CPUs have a lot to lose right now, with Intel's Raptor Lake CPUs out in the markets.
Among the improvements from Alder Lake are increased core counts for E cores and also a noticeable increase in L2 and L3 cache. The 13600K is a much more compelling option than the Ryzen 7 5800X3D, coming in at $329, and as we mentioned, the Ryzen 7 5800X3D recently dropped to $329 on eBay (we're seeing what you did there, AMD). The 13600K marginally beats out the 5800X3D in gaming and shows vastly better productivity performance. (Read: Ryzen 7 5800X3D vs Intel i5-13600K).
The platform costs are also on Intel's side as well, with the Raptor Lake CPUs being backward compatible with Intel's 600 series chipset, and thus, DDR4 is still an option. Finally, H610 motherboards can be found for as cheap as $80, and B660 for under $100 as well, while Ryzen 7000 series supporting motherboards can't be found for any cheaper than $150 as of yet.
So this is something to keep in mind before you decide to choose between the two AMD CPUs. With that out of the way, let's conclude the topic.
Which One To Get?
It's clear to see that the Ryzen 7 7700X is NOT the CPU to pick if you're going purely for gaming purposes.
If it's a mix of gaming and productivity workloads, then it comes down to the buyer whether they want to pay the extra sum for the 7700X for improvement in productivity while staying with the same gaming performance. In other words, it's a mixed bag.
If the purpose is only productivity tasks, then the 7700X is the way to go, and the extra costs are worth it. DDR5 also provides major boosts in a few workloads, and you might be benefitted from them depending on your particular tasks.
Lastly, as we discussed in our Ryzen 7 5800X3D vs Ryzen 7 7700X guide, in terms of that platform costs and the CPU itself, you'd be saving a significant amount of money going with the Ryzen 7 5800X3D.
FAQs
Is the AMD Ryzen 7 7700X better than the Ryzen 7 5800X3D?
It depends on your priorities. In productivity tasks, the 7700X is a far better CPU. But in all other departments, including gaming performance, costs, and thermals, the Ryzen 7 5800X3D is still the better CPU.
Do I need a new motherboard to support the AMD Ryzen 7 7700X?
Yes. The Ryzen 7000 series are based on a new LGA socket and also provides I/O advancements. This is only possible due to the new 600 series chipset, based on socket LGA1718.
Do I new a new cooler to support the AMD Ryzen 7 7700X?
You may or may not need a new cooler. While all AM4 coolers will be compatible with AM5, you might need to get a better cooler since the 7700X draws a lot more power on turbo and hence tends to run hotter.
Which Intel CPU does the Ryzen 7 7700X compete with?
The AMD Ryzen 7 7700X competes with Intel's i7-13700K, falling somewhat behind in performance with a price tag of $50 less.
Was our article helpful? 👨‍💻
Thank you! Please share your positive feedback. 🔋
How could we improve this post? Please Help us. 😔