A recent hack into Nvidia's database from hacker group "Lapsus$" has led to the leaking of potential information regarding Nvidia's upcoming GPU lineup. A few Twitter leakers, in particular, have allegedly discovered some information that gives us some idea of what we can expect from this lineup. (Read also: GeForce RTX 4070)
These leaks suggest that the flagship GeForce RTX 4090 is looking to be a power-hungry beast that will leave its predecessor GeForce RTX 3090 in the dust. Let's discuss the information that we have so far.
GeForce RTX 4090 Specifications
A few things are already official regarding Nvidia's upcoming GPU lineup. We know that the RTX 4000 series are code-named Ada Lovelace (named after an English mathematician known for her work on Charles Babbage's proposed mechanical general-purpose computer, the Analytical Engine). While earlier leaks pointed toward Nvidia using TMSC's 5nm process, more recent leaks tell us a different story.
Notice I didn't mention PCIe 5.0 in my Lovelace Slides: https://t.co/n7sdIL1Uku

Speaking of "4", #NVIDIA Lovelace is indeed 4nm!

🤠🎉😋 More to say on the next Broken Silicon… https://t.co/jjJ1GSod0j

— Moore's Law Is Dead (@mooreslawisdead) April 24, 2022
YouTuber and Nvidia leaker Moore's Law is Dead, on Twitter confirmed that the Lovelace cards will be using TMSC's 4nm processing node. But it's to be noted that the "4nm" likely refers to 4N, which is actually a 5nm node with some optimizations, specifically designed for Nvidia. And yes, it's the same node that is rumored to be used in Nvidia's Hopper graphics card.
It's hard to be entirely sure whether it refers to the actual 4nm node (or N4), but for now we have to assume it doesn't since, again, the Hopper GPUs are also using 4N. The 3000 series cards, on the other hand, were processed with Samsung's 8nm node. On the other hand, AMD's competing Navi 31 GPU will use TMSC's 5nm and 6nm nodes.
Another thing we've heard is that Nvidia is implementing AI and machine learning for the development of its future hardware, including Ada Lovelace GPUs. Nvidia's chief scientist Bill Dally in a recent GTC conference demonstrated how the use of AI can speed up different processes in designing hardware. This includes faster mapping of voltage drops as well as faster prediction of parasitics.
Most of the specifications of the RTX 4090 and the rest of the RTX 40- series come from a few prominent Twitter leakers, who allegedly discovered the information for the different dies that will likely be used in the RTX 4000 series.
Rumors tell us that the flagship Nvidia GeForce RTX 4090 will consist of the most powerful die of the RTX 4000 series, AD102. Therefore, our discussion will be based on the AD102 die with reference to the RTX 4090.
Earlier rumors suggested that the RTX 4080 might also use this die, but since then, kopite7kimi on Twitter has confirmed that the RTX 4080 will be based on the less powerful AD103 die.
A Twitter leaker named kopite7kimi leaked useful information about the AD102 die from their own personal source early in March of 2022.
I know these before,
AD102 12*6 384bit ~600mm²
NOT MY SOURCES,
AD103 7*6 256bit
AD104 5*6 192bit
AD106 3*6 128bit
AD107 3*4 128bit
Celebrate the leak!
You don't need me anymore. 🤣🤣🤣

— kopite7kimi (@kopite7kimi) March 2, 2022
This information tells us that the RTX 4090 will feature 12 GPCs (Graphics Processing Clusters), each with 6 TPCs (Texture Processing Clusters). The AD102 die will have the same 384-bit bus width as that of the Ampere 3090. The die size will be approximately 600mm².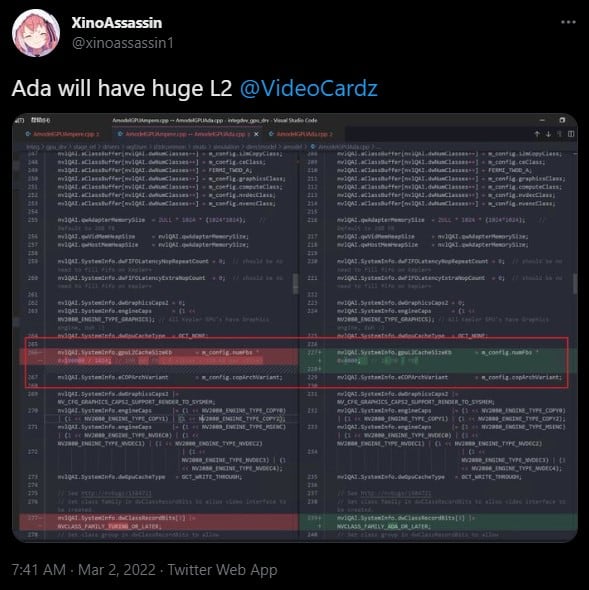 Another leaker named xinoassassin1 revealed from the leaks that the RTX 4000 cards will feature large amounts of L2 cache, mentioning 16 MB L2 per 64-bit memory controller, for a total of 96 MB L2 cache for AD102. For reference, the GA102 die (the most powerful Ampere die) had just 512 KB of L2 cache per 64-bit memory controller for just 6 MB of L2 cache in total.
This means that the Nvidia RTX 4090 will allegedly feature over 2.5 times more L2 cache than its direct predecessor, the RTX 3090.
So then, let's summarize about Lovelace and Hopper…@kopite7kimi @xinoassassin1 pic.twitter.com/hioRcvn8fb

— 포시포시 (@harukaze5719) March 2, 2022


Twitter leaker harukaze5719 then summarized the alleged specifications of the different RTX 40- series dies, comparing them to their direct Ampere predecessors. Talking about the AD102 die (Nvidia RTX 4090), the table tells us that it features 12 GPCs with 6 TPCs each, as leaked by kopite7kimi.
Furthermore, it contains 2 SMs (Streaming Multiprocessors) per TPC and 128 FP32 CUDA cores per SM, and a total of 144 SMs which equals a total of 18432 CUDA cores. At 2.0 GHz, we get a computing performance of 73.73 FP32 TFLOPs (Tera Flops).
**90 PG137/139-SKU330, AD102-300, 24G 21Gbps, 600W

— kopite7kimi (@kopite7kimi) April 11, 2022
kopite7kimi believes the AD102 will use 24 GB of 21 GBPs (GDDR6X) memory.
Nvidia GeForce RTX 4090 Power Consumption
Early rumors from credible leaker Greymon55 suggested the AD102 die featuring three different power consumption levels at 450 watts, 650 watts, and 850 watts.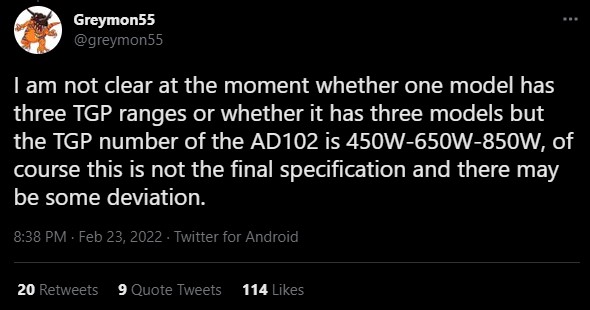 Later, the figure changed to 600 watts which Greymon55 suspected to be the power draw figure for the RTX 4090.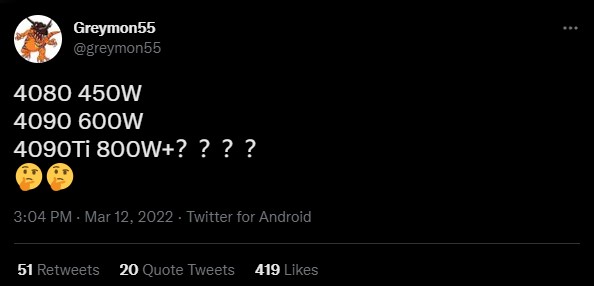 Leaks from Igor's Lab, showed the RTX 3090 Ti's leaked PCB which was supposed to be pin-compatible with AD102 and they also estimated a power draw of 600 watts for the RTX 4090. Since then, however, they have confirmed that the RTX 3090 Ti's PCB is NOT pin-compatible with AD102.
Nvidia RTX 4090 Price
We don't have any concrete information regarding the pricing of the RTX 40- cards, but a few factors could affect the possible pricing, dislodging the trend of the $1499 price tag for Nvidia's xx90 cards. The GPU prices are on a decline, hinting at fewer shortages in the future.
However, TMSC recently increased the cost for their 5nm node, which might lead to a price bump for the RTX 4090, as well as the rest of the RTX 40- series cards, compared to their direct predecessors. This is purely prediction, though, and we won't know for certain until there's a word from Nvidia themselves regarding the price.
It does seem evident, however, that Nvidia's goal will be to ensure that there are no shortages in the future, as they recently spent $10 billion to acquire TMSC's 5nm nodes for the RTX 40- series.
Nvidia RTX 4090 Release Date
Twitter leaker Greymon55 says that we can expect the launch of the RTX 4000 series in September.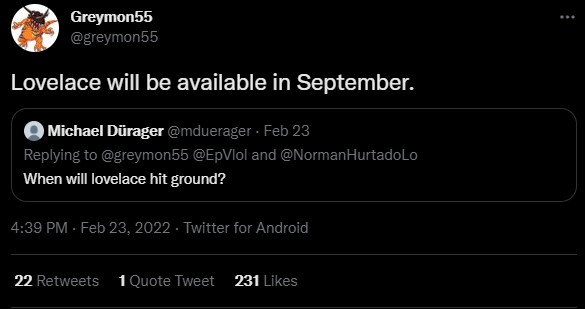 And to be fair, all fingers are pointing to the launch of the RTX 40- series somewhere in September of 2022, and we can fully expect the RTX 4090 to launch in this time-space if these predictions turn out to be true.
The RTX 3000 series launched in September of 2020 (specifically the 17th of September), and Nvidia typically launches new generations of consumer-grade GPUs about every two years. Consequently, the RTX 4090 should see its launch in September unless some outside factors impact the launch date.
Tape-out, test phase and release times for nVidia AD102, AD103, AD104 and AMD Navi 31, 32, 33 – according to latest leaks by @Kopite7kimi and @Greymon55

Note: Can not be 100% accurate, but give you the big picture.https://t.co/MhM4sbcWXQ pic.twitter.com/cfAtAz87tX

— 3DCenter.org (@3DCenter_org) April 29, 2022

@3DCenter_Org tweeted on April 29th, estimating the dates for the tape-out, beginning of the test phase, as well as the release of Nvidia's AD102 GPU, among other GPUs.
This ALSO predicts AD102 to be the first to launch of the RTX-40 series, with a date landing somewhere around September or October of 2022.
YouTuber Moore's Law is Dead thinks the RTX 4090 may actually be the first RTX 40- series card to launch. Consequently, if the RTX 4000 series does launch in September, well, so will the RTX 4090.
GeForce RTX 4090 Performance
Sadly, we also don't have any official or unofficial information regarding the performance of the RTX 4090, but keeping in mind the significant bump in the cache and the number of CUDA cores, we can expect a reasonably big performance improvement over the RTX 3000 series.
Also, the leaks predicting the massive 600 watts of power draw for the RTX 4090 indicate that Nvidia will do their best to ensure that these Ada cards are able to compete with AMD's RDNA3 (which is looking rather competitive at the moment). So again, it would be fair to expect some massive performance gains.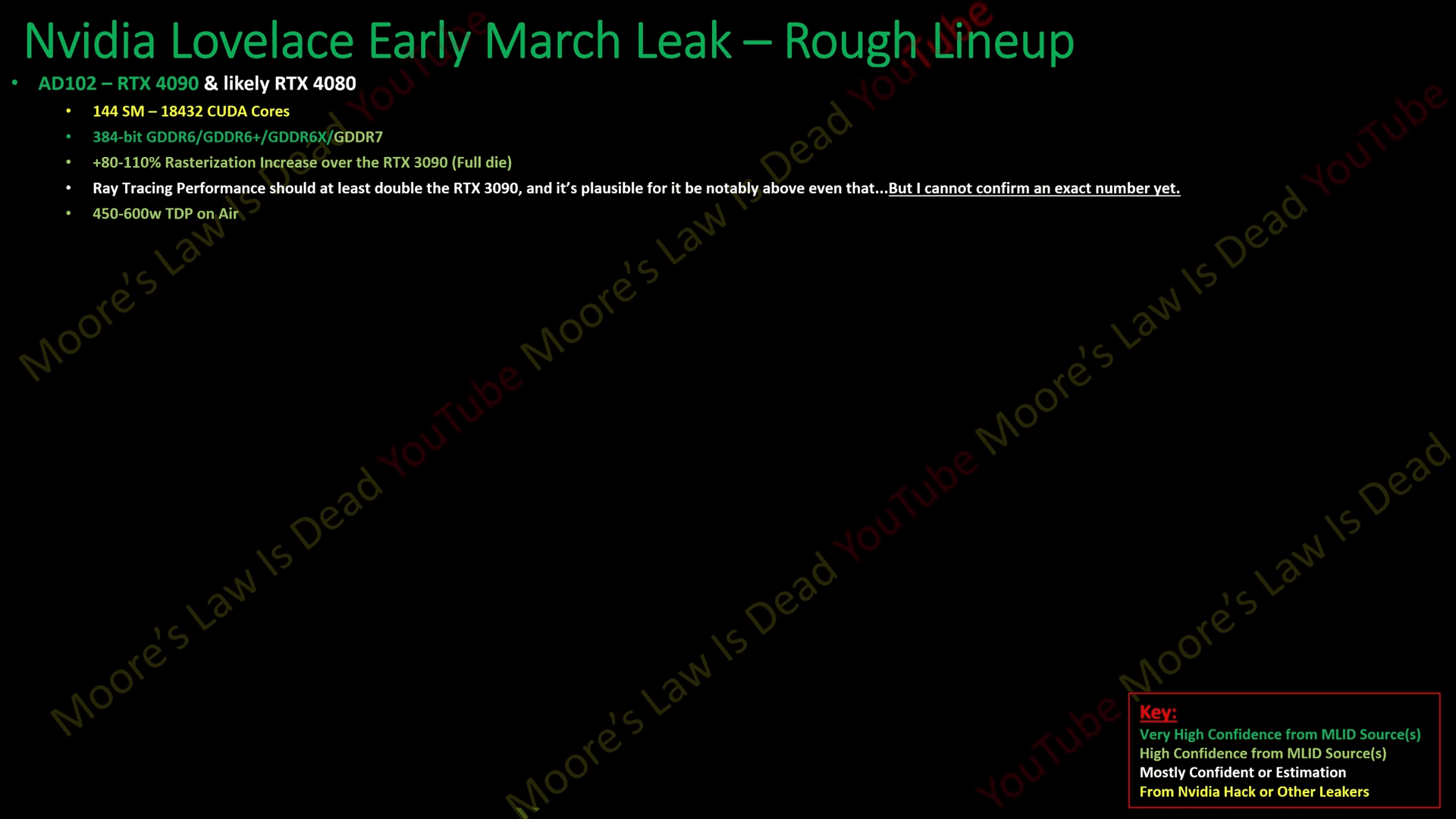 YouTuber Moore's Law is Dead predicts rasterization performance improvement of 80% to 110% over the most powerful Ampere die (GA102).
The Nvidia leaker also predicts double (or even more) improvement in ray tracing performance compared to Ampere's RTX 3090.
Update May 2022
On May 10, kopite7kimi teased us with a bit more information, following up his tweets from April.
RTX 4090, PG137/139-SKU330, AD102-300, 21Gbps 24G GDDR6X, 600W
RTX 4070, PG141-SKU341, AD104-400, 18Gbps 12G GDDR6, 300W

— kopite7kimi (@kopite7kimi) May 10, 2022
This, again, confirms that the RTX 4090 will be using the AD102 chip. He further alleges that it will have 24 GB of GDDR6X (21Gbps) and a power draw of 600 watts. All these claims are in line with the specifications that have been leaked earlier, which we have discussed.
Update as of May 16, 2022
The flagship GeForce RTX 4090 GPU Core will be AD102, which has already been shown. Interestingly, the top-of-the-line "Lovelace" GPU will have 24GB of GDDR6X memory running at 21Gb/s. The current-gen flagship GeForce RTX 3090 Ti has the exact same configuration.
It's worth noting that the previous-generation Turing-based RTX Titan has 24GB of GDDR6 RAM as well. This appears to be the limit of Nvidia's RAM allotment on its high-end SKUs for the time being.
Kopite7kimi has it listed at 600W once more, which seems reasonable considering Nvidia's desire to push this card to its absolute limits.
Update as of May 16, 2022
On May 16, reliable leaker kopite7kimi brought us yet another leak, providing us with an important update about the update specifications for the RTX 4090.
OK, let's do a new summary.
RTX 4090, AD102-300, 16128FP32, 21Gbps 24G GDDR6X, 450W, ~2×3090.
I am disappointed with RDNA3.
That's all.

— kopite7kimi (@kopite7kimi) May 16, 2022
So according to this tweet, it's reconfirmed that the RTX 4090 will contain the AD102 die, more specifically "AD102-300". We also get a revised number of SMs from the leaker at 128 active SMs out of 144 SMs which gives us a revised total of 16128 CUDA cores. The memory specifications remain the same, with 24 GB of GDDR6X (21 GB/s).
One of the major updates is that the RTX 4090 will actually draw 450 watts of power. This figure is still quite high compared to the current generation cards, but it does bring a slight relief as it contradicts earlier leaks that suggested a 600 watt power draw for the RTX 4090. Now, we expect that the alleged Nvidia RTX 4090 Ti would be the card drawing 600 watts.
The leaker further alleges twice the performance as compared to its predecessor, the RTX 3090. This likely refers to the FP32 compute performance.
Another major update comes from the same date where kopite7kimi clarifies on an earlier tweet;
Mid July.

— kopite7kimi (@kopite7kimi) May 16, 2022
Here, the leaker clarifies his leak, predicting a launch in "early Q3" for the RTX 4000 series, where the flagship RTX 4090 would likely be the first to launch. The leaker tells us that we can expect the launch of the Ada Lovelace cards in Mid July. We can't confirm whether this refers to the announcement of the 4000 series or the launch date for the flagship card.
Update as of May 17, 2022
An alleged photo of the heatsink of the Founder's Edition RTX 4090 (Ti) was leaked over at Chiphell Forums (discovered by Wccftech).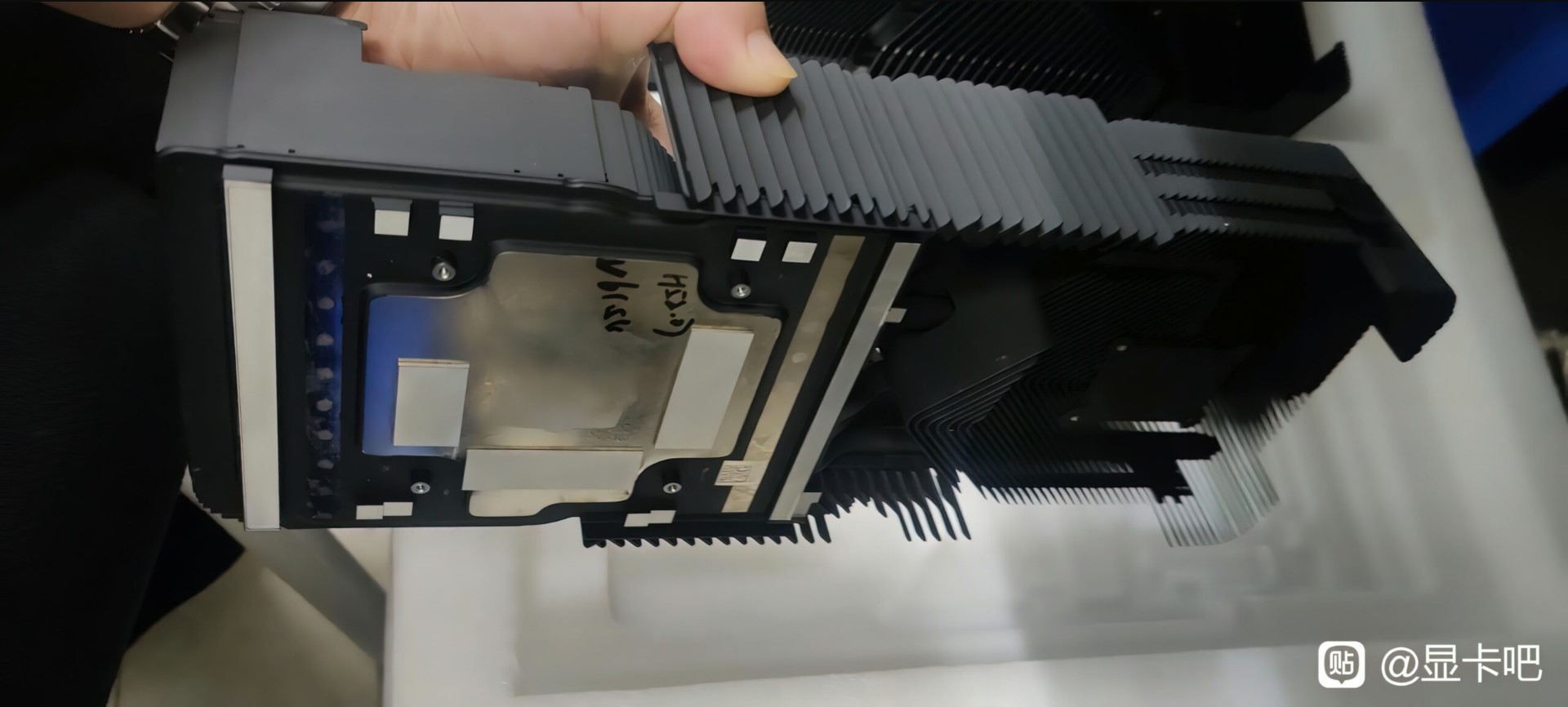 This heatsink is likely going to be used in the RTX 4090 in a slightly smaller size (same as the RTX 3090 Ti heatsink resembles that of the RTX 3090).
The picture reveals a massive heatsink with a bigger baseplate, and it looks like the baseplate will be cooling the memory as well this time around. The heatsink seems to follow the same dual-axial fan design of the RTX 3090 and the 3090 Ti. We also notice 24 fins for higher heat dissipation, compared to the 3090 Ti's 23.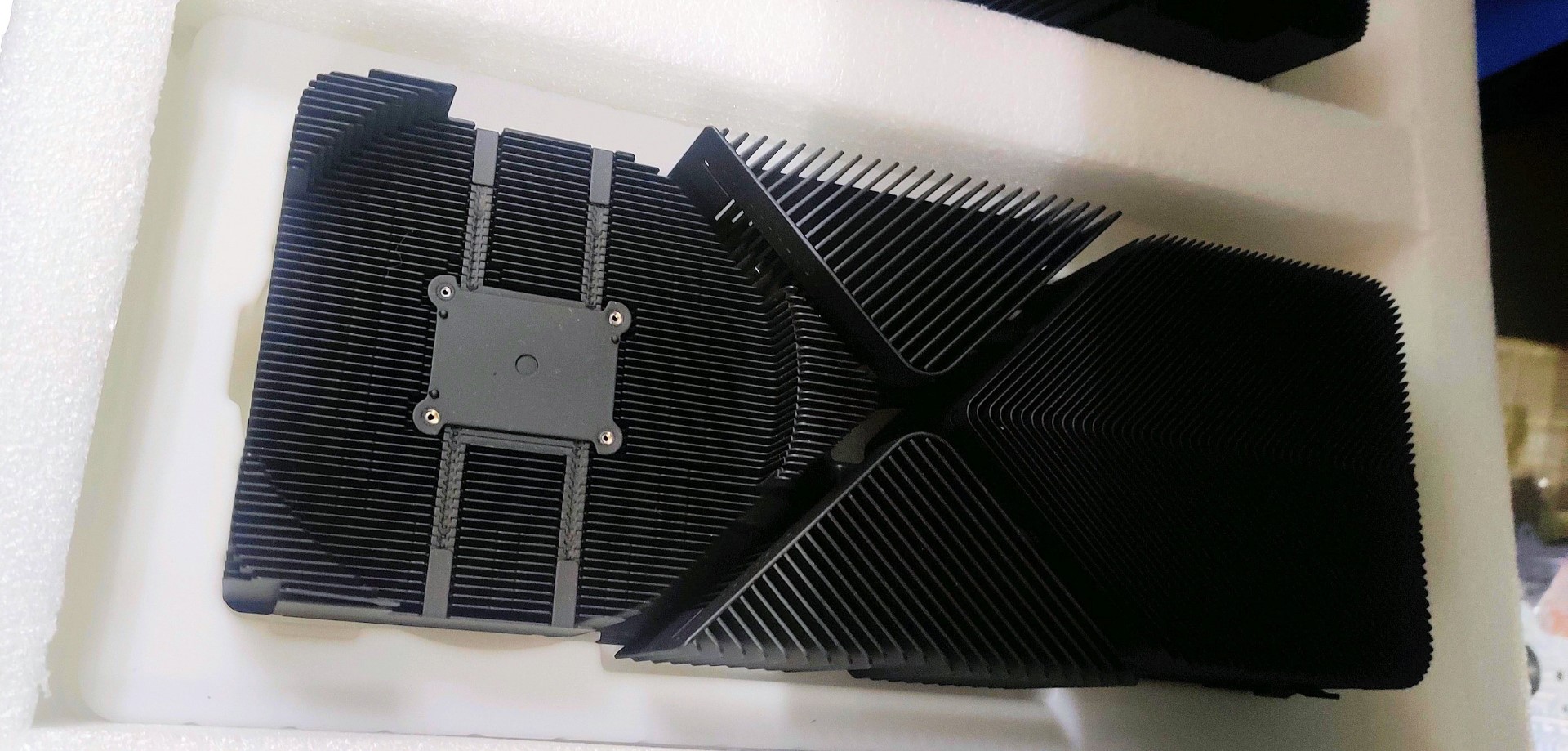 The next leaked image, again, shows us a massive cooler with a design very similar to RTX 3090 Ti.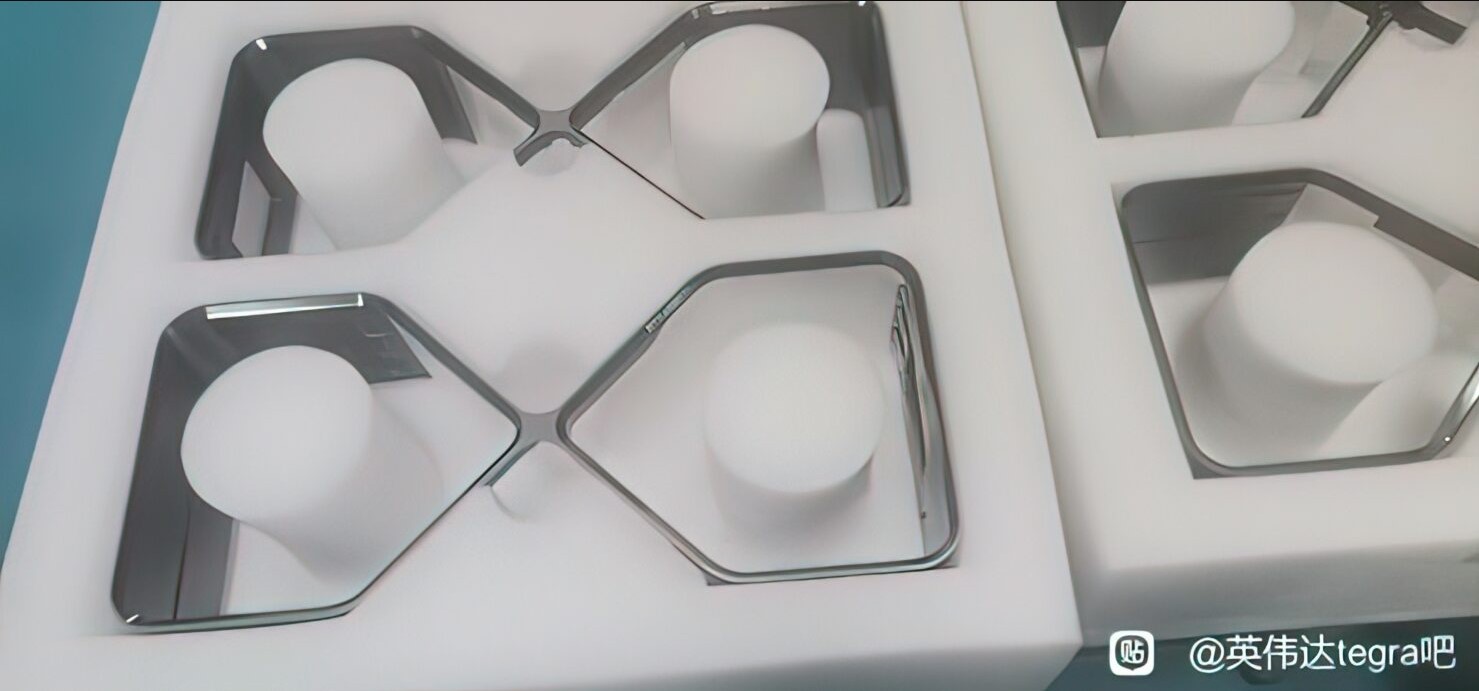 Finally, the last 2 alleged images show us the metal plates that would be installed on the graphics cards. On the metal plate, a logo says "RTX 4090 Ti", which tells us that this metal plate likely belongs on the RTX 4090 Ti.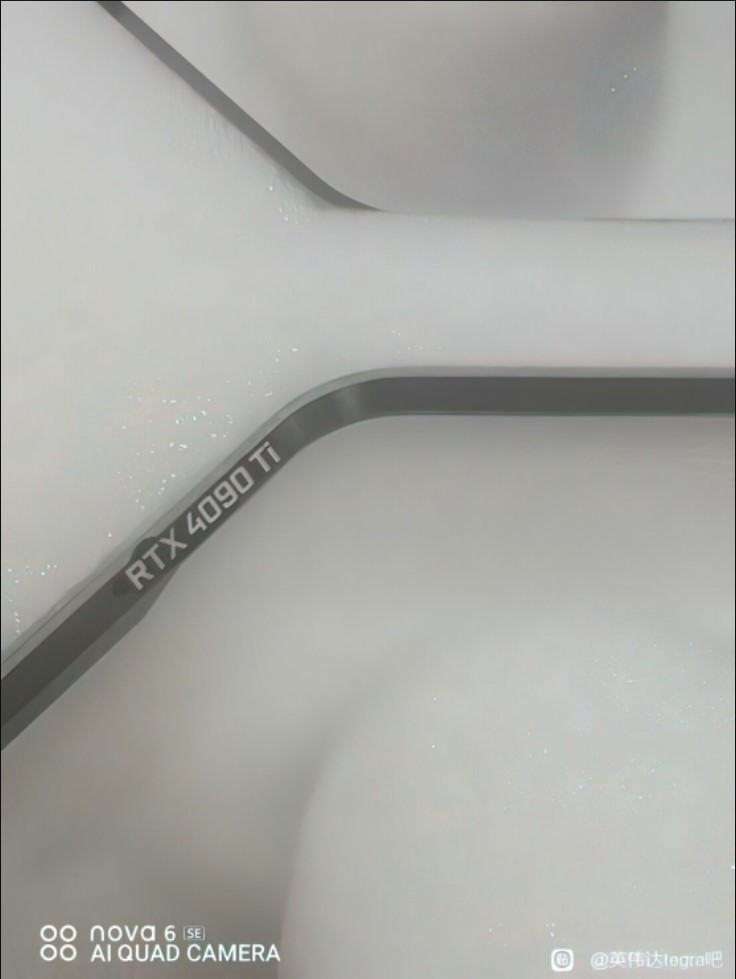 Final GeForce RTX 4090 Specs
Summing up the specifications we've discussed, here's what the specifications for the RTX 4090 roughly look like. As usual, keep in mind that all this information is based purely on leaks and unofficial information, so we advise that you take them with a grain of salt.
Here are GeForce RTX 4090 Specs:
Architecture: Ada Lovelace
Manufacturing Node: TMSC 4nm (or 4N)
No. of CUDA Cores: 18432
Bus Width: 384-Bit
Die Size: 600mm²
Total Memory (Memory Type): 24 GB (GDDR6X)
GPCs: 12
TPCs per GPC: 6
SM per GPC: 2
FP32 TFLOPs per SM: 128

Total SMs: 144
L2 Cache per 64-bit Memory Controller: 16 MB
Total L2 Cache: 96 MB
Total Board Power: 600 watts
Power Connector: PCIe 5.0
Launch Date (Approximate): September 2022
Launch Price (Approximate): $1499 to $1799