A recent hack into Nvidia's database from hacker group "Lapsus$" has led to the leaking of potential information regarding Nvidia's upcoming GPU lineup.
A few Twitter leakers, in particular, have allegedly discovered some information that gives us some idea of what we can expect from this lineup. (Read also: GeForce RTX 4070)
These leaks suggest that the flagship GeForce RTX 4090 is looking to be a power-hungry beast that will leave its predecessor GeForce RTX 3090 in the dust. Let's discuss the information that we have so far.
Also Read: RTX 4060
GeForce RTX 4090 Specifications
A few things are already official regarding Nvidia's upcoming GPU lineup. We know that the RTX 4000 series are code-named Ada Lovelace (named after an English mathematician known for her work on Charles Babbage's proposed mechanical general-purpose computer, the Analytical Engine).
While earlier leaks pointed toward Nvidia using TMSC's 5nm process, more recent leaks tell us a different story.
Notice I didn't mention PCIe 5.0 in my Lovelace Slides: https://t.co/n7sdIL1Uku

Speaking of "4", #NVIDIA Lovelace is indeed 4nm!

🤠🎉😋 More to say on the next Broken Silicon… https://t.co/jjJ1GSod0j

— Moore's Law Is Dead (@mooreslawisdead) April 24, 2022
YouTuber and Nvidia leaker Moore's Law is Dead, on Twitter confirmed that the Lovelace cards will be using TMSC's 4nm processing node. But it's to be noted that the "4nm" likely refers to 4N, which is actually a 5nm node with some optimizations, specifically designed for Nvidia. And yes, it's the same node that is rumored to be used in Nvidia's Hopper graphics card.
It's hard to be entirely sure whether it refers to the actual 4nm node (or N4), but for now we have to assume it doesn't since, again, the Hopper GPUs are also using 4N.
The 3000 series cards, on the other hand, were processed with Samsung's 8nm node. On the other hand, AMD's competing Navi 31 GPU will use TMSC's 5nm and 6nm nodes.
Another thing we've heard is that Nvidia is implementing AI and machine learning for the development of its future hardware, including Ada Lovelace GPUs. Nvidia's chief scientist Bill Dally in a recent GTC conference demonstrated how the use of AI can speed up different processes in designing hardware.
This includes faster mapping of voltage drops as well as faster prediction of parasitics.
Most of the specifications of the RTX 4090 and the rest of the RTX 40- series come from a few prominent Twitter leakers, who allegedly discovered the information for the different dies that will likely be used in the RTX 4000 series.
Rumors tell us that the flagship Nvidia GeForce RTX 4090 will consist of the most powerful die of the RTX 4000 series, AD102. Therefore, our discussion will be based on the AD102 die with reference to the RTX 4090.
Earlier rumors suggested that the RTX 4080 might also use this die, but since then, kopite7kimi on Twitter has confirmed that the RTX 4080 will be based on the less powerful AD103 die.
A Twitter leaker named kopite7kimi leaked useful information about the AD102 die from their own personal source early in March of 2022.
This information tells us that the RTX 4090 will feature 12 GPCs (Graphics Processing Clusters), each with 6 TPCs (Texture Processing Clusters). The AD102 die will have the same 384-bit bus width as that of the Ampere 3090. The die size will be approximately 600mm².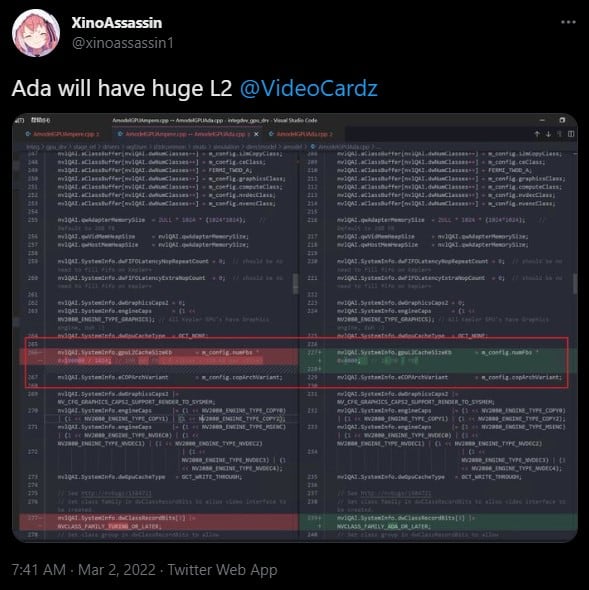 Another leaker named xinoassassin1 revealed from the leaks that the RTX 4000 cards will feature large amounts of L2 cache, mentioning 16 MB L2 per 64-bit memory controller, for a total of 96 MB L2 cache for AD102. For reference, the GA102 die (the most powerful Ampere die) had just 512 KB of L2 cache per 64-bit memory controller for just 6 MB of L2 cache in total.
This means that the Nvidia RTX 4090 will allegedly feature over 2.5 times more L2 cache than its direct predecessor, the RTX 3090.
So then, let's summarize about Lovelace and Hopper…@kopite7kimi @xinoassassin1 pic.twitter.com/hioRcvn8fb

— 포시포시 (@harukaze5719) March 2, 2022


Twitter leaker harukaze5719 then summarized the alleged specifications of the different RTX 40- series dies, comparing them to their direct Ampere predecessors. Talking about the AD102 die (Nvidia RTX 4090), the table tells us that it features 12 GPCs with 6 TPCs each, as leaked by kopite7kimi.
Furthermore, it contains 2 SMs (Streaming Multiprocessors) per TPC and 128 FP32 CUDA cores per SM, and a total of 144 SMs which equals a total of 18432 CUDA cores. At 2.0 GHz, we get a computing performance of 73.73 FP32 TFLOPs (Tera Flops).
**90 PG137/139-SKU330, AD102-300, 24G 21Gbps, 600W

— kopite7kimi (@kopite7kimi) April 11, 2022
kopite7kimi believes the AD102 will use 24 GB of 21 GBPs (GDDR6X) memory.
Nvidia GeForce RTX 4090 Power Consumption
Early rumors from credible leaker Greymon55 suggested the AD102 die featuring three different power consumption levels at 450 watts, 650 watts, and 850 watts.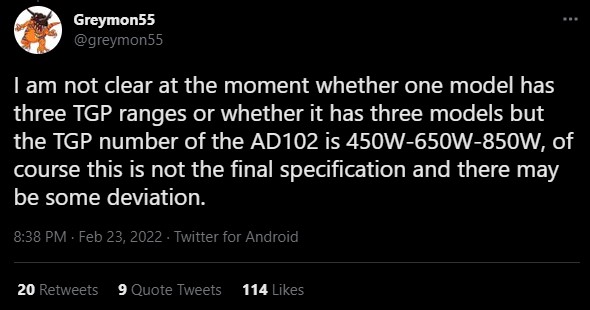 Later, the figure changed to 600 watts which Greymon55 suspected to be the power draw figure for the RTX 4090.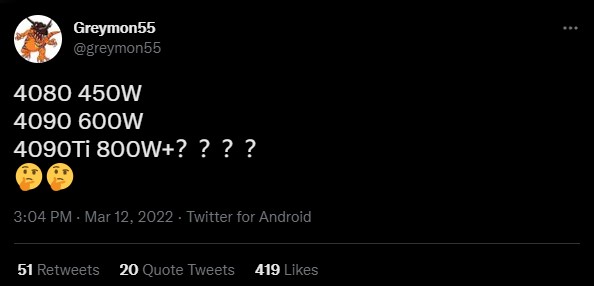 Leaks from Igor's Lab, showed the RTX 3090 Ti's leaked PCB which was supposed to be pin-compatible with AD102 and they also estimated a power draw of 600 watts for the RTX 4090. Since then, however, they have confirmed that the RTX 3090 Ti's PCB is NOT pin-compatible with AD102.
Nvidia RTX 4090 Price
We don't have any concrete information regarding the pricing of the RTX 40- cards, but a few factors could affect the possible pricing, dislodging the trend of the $1499 price tag for Nvidia's xx90 cards. The GPU prices are on a decline, hinting at fewer shortages in the future.
However, TMSC recently increased the cost for their 5nm node, which might lead to a price bump for the RTX 4090, as well as the rest of the RTX 40- series cards, compared to their direct predecessors.
This is purely prediction, though, and we won't know for certain until there's a word from Nvidia themselves regarding the price.
It does seem evident, however, that Nvidia's goal will be to ensure that there are no shortages in the future, as they recently spent $10 billion to acquire TMSC's 5nm nodes for the RTX 40- series.
Nvidia RTX 4090 Release Date
Twitter leaker Greymon55 says that we can expect the launch of the RTX 4000 series in September.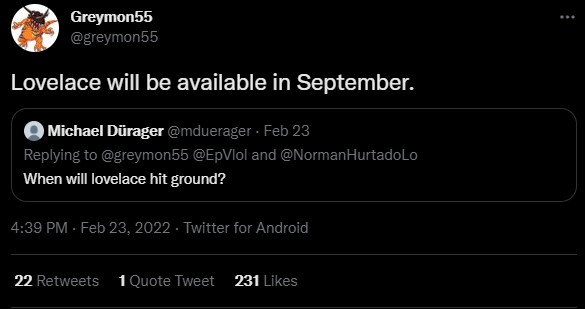 And to be fair, all fingers are pointing to the launch of the RTX 40- series somewhere in September of 2022, and we can fully expect the RTX 4090 to launch in this time-space if these predictions turn out to be true.
The RTX 3000 series launched in September of 2020 (specifically the 17th of September), and Nvidia typically launches new generations of consumer-grade GPUs about every two years.
Consequently, the RTX 4090 should see its launch in September unless some outside factors impact the launch date.
Tape-out, test phase and release times for nVidia AD102, AD103, AD104 and AMD Navi 31, 32, 33 – according to latest leaks by @Kopite7kimi and @Greymon55

Note: Can not be 100% accurate, but give you the big picture.https://t.co/MhM4sbcWXQ pic.twitter.com/cfAtAz87tX

— 3DCenter.org (@3DCenter_org) April 29, 2022

@3DCenter_Org tweeted on April 29th, estimating the dates for the tape-out, beginning of the test phase, as well as the release of Nvidia's AD102 GPU, among other GPUs.
This ALSO predicts AD102 to be the first to launch of the RTX-40 series, with a date landing somewhere around September or October of 2022.
YouTuber Moore's Law is Dead thinks the RTX 4090 may actually be the first RTX 40- series card to launch. Consequently, if the RTX 4000 series does launch in September, well, so will the RTX 4090.
GeForce RTX 4090 Performance
Sadly, we also don't have any official or unofficial information regarding the performance of the RTX 4090, but keeping in mind the significant bump in the cache and the number of CUDA cores, we can expect a reasonably big performance improvement over the RTX 3000 series.
Also, the leaks predicting the massive 600 watts of power draw for the RTX 4090 indicate that Nvidia will do their best to ensure that these Ada cards are able to compete with AMD's RDNA3 (which is looking rather competitive at the moment). So again, it would be fair to expect some massive performance gains.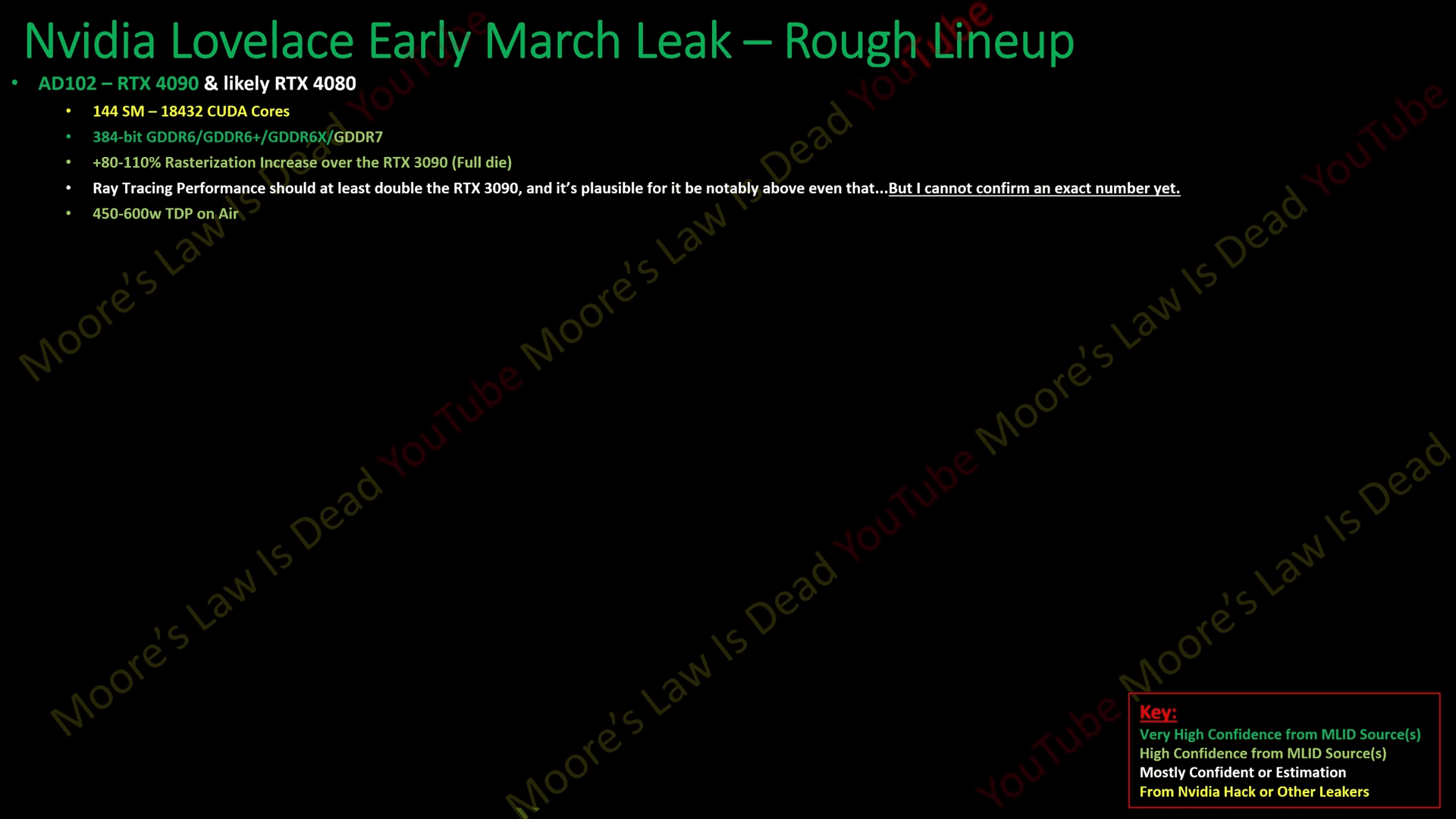 YouTuber Moore's Law is Dead predicts rasterization performance improvement of 80% to 110% over the most powerful Ampere die (GA102).
The Nvidia leaker also predicts double (or even more) improvement in ray tracing performance compared to Ampere's RTX 3090.
Update May 2022
On May 10, kopite7kimi teased us with a bit more information, following up his tweets from April.
RTX 4090, PG137/139-SKU330, AD102-300, 21Gbps 24G GDDR6X, 600W
RTX 4070, PG141-SKU341, AD104-400, 18Gbps 12G GDDR6, 300W

— kopite7kimi (@kopite7kimi) May 10, 2022
This, again, confirms that the RTX 4090 will be using the AD102 chip. He further alleges that it will have 24 GB of GDDR6X (21Gbps) and a power draw of 600 watts.
All these claims are in line with the specifications that have been leaked earlier, which we have discussed.
Update as of May 16, 2022
The flagship GeForce RTX 4090 GPU Core will be AD102, which has already been shown. Interestingly, the top-of-the-line "Lovelace" GPU will have 24GB of GDDR6X memory running at 21Gb/s. The current-gen flagship GeForce RTX 3090 Ti has the exact same configuration.
It's worth noting that the previous-generation Turing-based RTX Titan has 24GB of GDDR6 RAM as well. This appears to be the limit of Nvidia's RAM allotment on its high-end SKUs for the time being.
Kopite7kimi has it listed at 600W once more, which seems reasonable considering Nvidia's desire to push this card to its absolute limits.
Update as of May 16, 2022
On May 16, reliable leaker kopite7kimi brought us yet another leak, providing us with an important update about the update specifications for the RTX 4090.
OK, let's do a new summary.
RTX 4090, AD102-300, 16128FP32, 21Gbps 24G GDDR6X, 450W, ~2×3090.
I am disappointed with RDNA3.
That's all.

— kopite7kimi (@kopite7kimi) May 16, 2022
So according to this tweet, it's reconfirmed that the RTX 4090 will contain the AD102 die, more specifically "AD102-300". We also get a revised number of SMs from the leaker at 128 active SMs out of 144 SMs which gives us a revised total of 16128 CUDA cores. The memory specifications remain the same, with 24 GB of GDDR6X (21 GB/s).
One of the major updates is that the RTX 4090 will actually draw 450 watts of power. This figure is still quite high compared to the current generation cards, but it does bring a slight relief as it contradicts earlier leaks that suggested a 600 watt power draw for the RTX 4090. Now, we expect that the alleged Nvidia RTX 4090 Ti would be the card drawing 600 watts.
The leaker further alleges twice the performance as compared to its predecessor, the RTX 3090. This likely refers to the FP32 compute performance.
Another major update comes from the same date where kopite7kimi clarifies on an earlier tweet;
Mid July.

— kopite7kimi (@kopite7kimi) May 16, 2022
Here, the leaker clarifies his leak, predicting a launch in "early Q3" for the RTX 4000 series, where the flagship RTX 4090 would likely be the first to launch.
The leaker tells us that we can expect the launch of the Ada Lovelace cards in Mid July. We can't confirm whether this refers to the announcement of the 4000 series or the launch date for the flagship card.
Update as of May 17, 2022
An alleged photo of the heatsink of the Founder's Edition RTX 4090 (Ti) was leaked over at Chiphell Forums (discovered by Wccftech).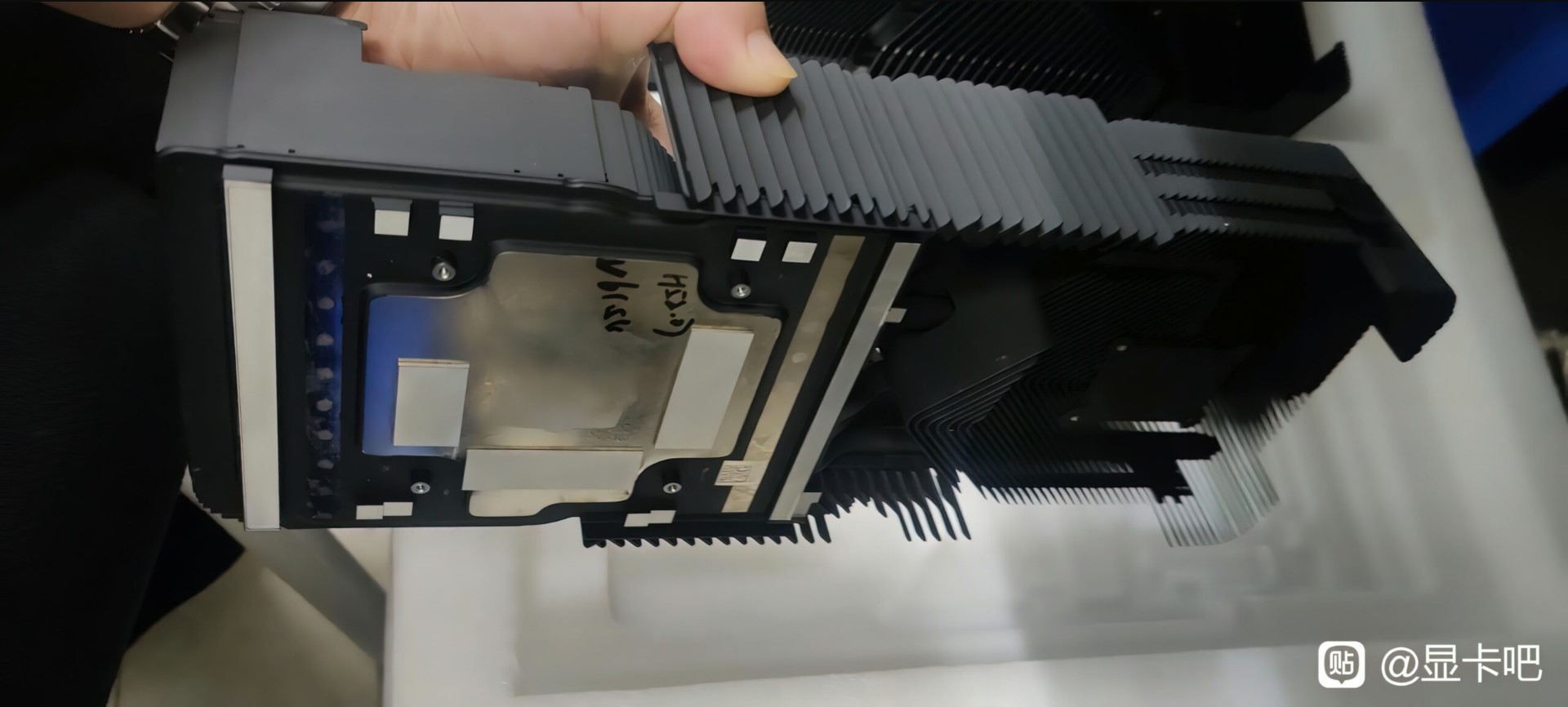 This heatsink is likely going to be used in the RTX 4090 in a slightly smaller size (same as the RTX 3090 Ti heatsink that resembles that of the RTX 3090).
The picture reveals a massive heatsink with a bigger baseplate, and it looks like the baseplate will be cooling the memory as well this time around.
The heatsink seems to follow the same dual-axial fan design of the RTX 3090 and the 3090 Ti. We also notice 24 fins for higher heat dissipation, compared to the 3090 Ti's 23.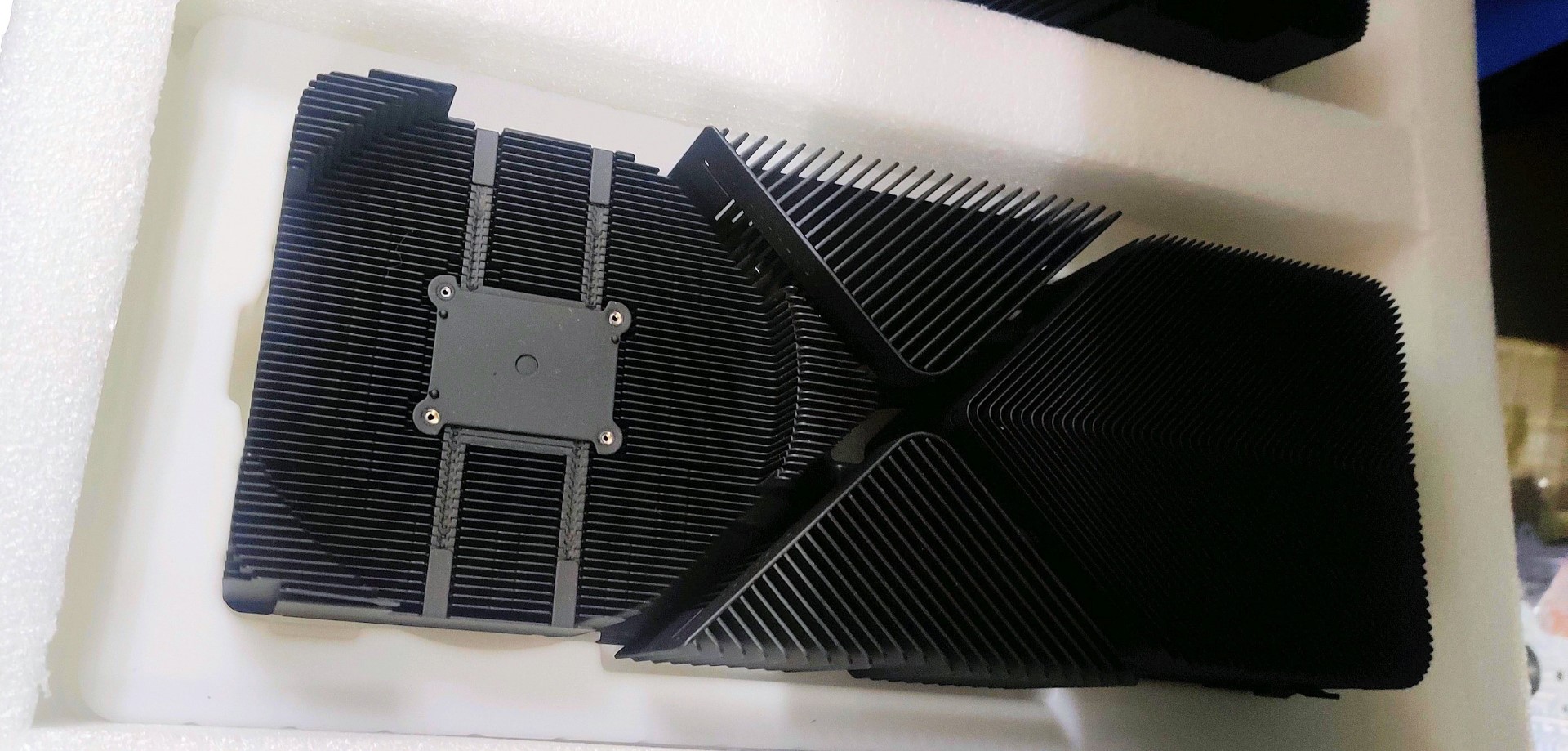 The next leaked image, again, shows us a massive cooler with a design very similar to RTX 3090 Ti.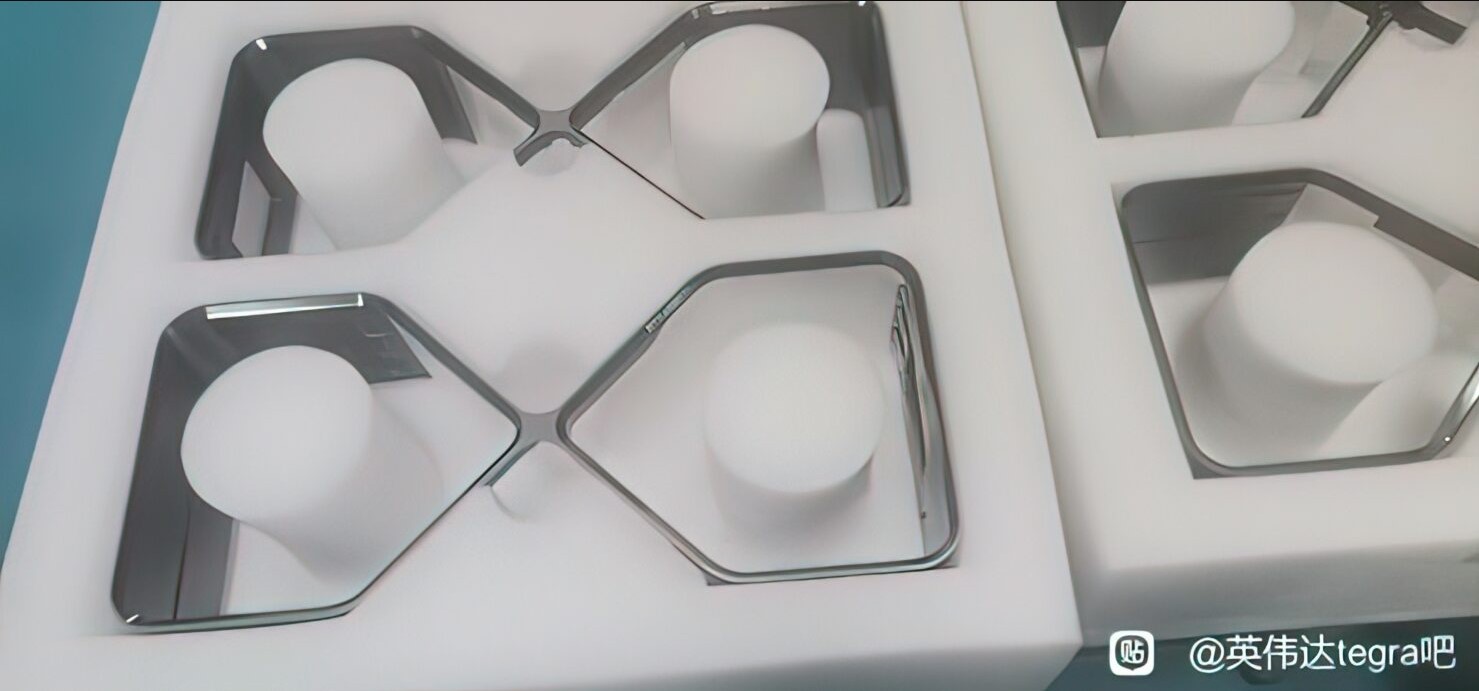 Finally, the last 2 alleged images show us the metal plates that would be installed on the graphics cards.
On the metal plate, a logo says "RTX 4090 Ti", which tells us that this metal plate likely belongs on the RTX 4090 Ti.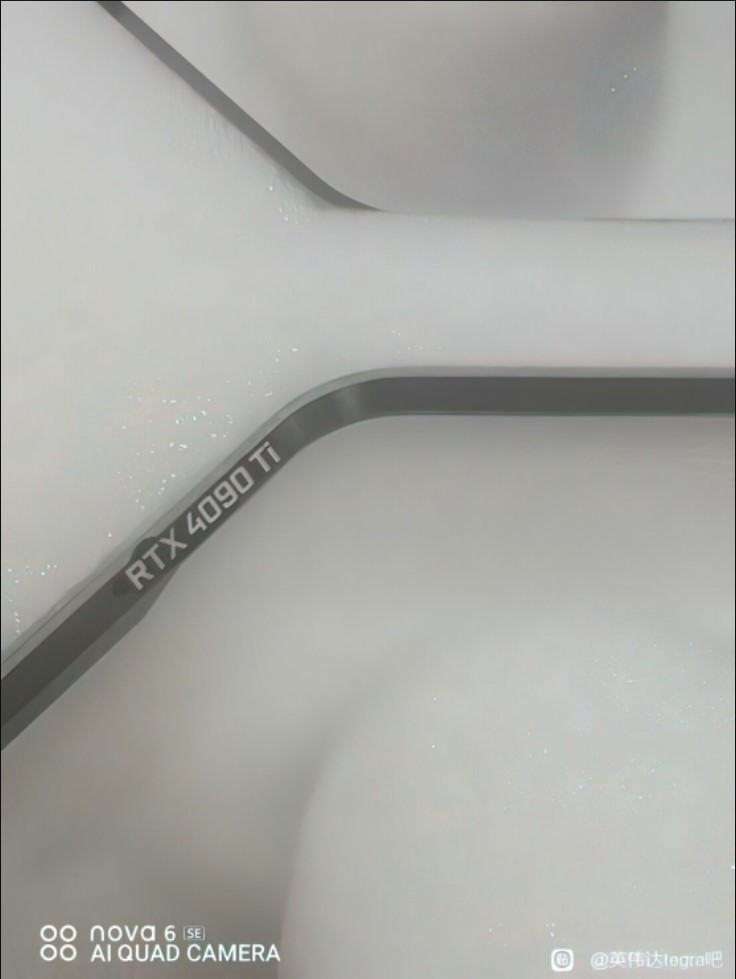 Update as of May 30th, 2022
OK, let's do a new summary.
RTX 4090, AD102-300, 16128FP32, 21Gbps 24G GDDR6X, 450W, ~2×3090.
I am disappointed with RDNA3.
That's all.

— kopite7kimi (@kopite7kimi) May 16, 2022
Twice as much as the performance of RTX 3090 and 126 Shader Cluster.
Nvidia's plans for the upcoming Ada generation were once again discussed on Twitter by 'Kopite7kimi': On the one hand, the previously specified date of "early third quarter" has now been changed to "mid-July," putting Nvidia ahead of all previously expected Release dates.
Of course, no direct market launch is required on this date, and the release order of the numerous RTX40 graphics cards is unknown, but it is a date on which the GeForce RTX 40 series should begin.
Moreover, there is fresh, more extensive information about the GeForce RTX 4090, which will be the first top model in the following new graphics card series: It's built around the AD102-300 graphics chip, which has 16,128 FP32 units.
This translates to 126 shader clusters unlocked and 24 GB of GDDR6 memory with a transfer rate of 21 Gbps. This is significantly below the AD102 chip's entire configuration, although it was partly expected.
Furthermore, the AD102 chip is physically quite "fat," with 144 shader clusters; additionally, the distance between it and the next more minor AD103 chip (84 shader clusters, +71 percent to the AD102) is quite large, and Nvidia ultimately secures enough reserves, so that a later "GeForce RTX 4090 Ti" can truly stand out.
Another benefit of this slimming down is that the GeForce RTX 4090's power consumption does not approach new record highs, instead of remaining at the 450 watts of the GeForce RTX 3090 Ti.
Final GeForce RTX 4090 Specs
Summing up the specifications we've discussed, here's what the specifications for the RTX 4090 roughly look like. As usual, keep in mind that all this information is based purely on leaks and unofficial information, so we advise that you take them with a grain of salt.
Here are GeForce RTX 4090 Specs:
Architecture: Ada Lovelace
Manufacturing Node: TMSC 4nm (or 4N)
No. of CUDA Cores: 16,384
Bus Width: 384-Bit
Die Size: 600mm²
Total Memory (Memory Type): 24 GB (GDDR6X)
GPCs: 12
TPCs per GPC: 6
SM per GPC: 2
FP32 TFLOPs per SM: 128

Total SMs: 144
L2 Cache per 64-bit Memory Controller: 16 MB
Total L2 Cache: 72 MB
Total Board Power: 450 watts
Power Connector: PCIE 5.0
Launch Date (Approximate): September 2022
Launch Price (Approximate): $1499 to $1799
New Titan Card
In fact, there is another full-fat AD102 SKU with 900W TGP, 48G 24Gbps GDDR6X, 2*16pin and higher frequency.
But no one knows whether it will become an actual product. Because the test board of AD102 has more than two 16pin connectors, so everything is possible.

— kopite7kimi (@kopite7kimi) April 27, 2022
Nvidia is also planning a new Titan graphics card, according to Twitter user Kopite7kimi.
This hasn't been clarified further as of right now, and it's safe to assume that Nvidia's plans aren't final either – after all, such a card isn't expected any time soon, so Nvidiamight change its mind at any time.
However, according to a recent tweet, an AD102 variant with the graphics chip fully enlarged with 48 GB of GDDR6X RAM and a TDP of 900 watts, at least one such map is being conceptually created.
Titan is also real?

— Liao (@CharlieLiao82) June 8, 2022
Of course, Nvidia may try to reduce power consumption in the final version, which might be more or less successful depending on how much the GeForce RTX 4090 consumes in the end.
Nvidia's titan plan should also be judged on whether it needs to reintroduce a "GeForce RTX 4090 Ti" in the consumer arena to beat Navi 31 – or if it can just save it.
However, this will very certainly be required, as the GeForce RTX 4090 is intentionally set low, with "only" 126 shader clusters, in order to provide plenty of opportunity for future solutions. So both the GeForce RTX 4090 Ti and the new Titan are sure to arrive.
The latter should only be sold in the "prosumer" market, which implies that Nvidia is no longer bound by particular power consumption and price constraints, and the card easily exceeds the competition.
FE = 2 Fan / 4-Slot
RF = 3 Fan / 4 Slot

Considering all 3090 Ti's have a triple-fan design (minus the AIO variants), that's pretty much expected. 💨💨💨💨

— Hassan Mujtaba (@hms1193) June 9, 2022
Hassan Mujtaba, a Tech Associate, confirms the recent remark that the AD102's reference board would be fitted with a TripleFan cooler.
Following that, this only affects the reference board that Nvidiasupplies to graphics card makers as a starting point for their own designs – not nVidia's own "Founders Edition," which should still be utilised with AD102 graphics cards that have the well-known DualFan cooler.
Nvidiaappears to always generate two card designs: one for the Founders Edition and another for graphics card manufacturers to use as a starting point.
In this context, the word "reference design" is a bit ambiguous because it normally refers to the manufacturer's own design, which Nvidiadoes not provide in the form of its "Founders Edition."
The zen3 and Navi2 are about 40 days apart in mass production, and the same is true for this generation.

— Greymon55 (@greymon55) June 9, 2022
Twitter user Greymon55 points out that the mass production gap between Zen 4 and RDNA3 will be the same as it was between Zen 3 and RDNA2 at the time: the commencement of the respective mass production was roughly 40 days apart at the time.
This time gap was a little shorter at the start of the market, but the idea was the same.
And from this, a hypothetical Zen 4 launch date can be calculated. If the first RDNA3 chip is expected to be released in October/November 2022, then a September/October 2022 launch date for the Ryzen 7000 may be predicted.
Take note that all of this is highly speculative and based on calculations from different sources.
RTX 4090 June Update
In September or October 2022, the GeForce RTX 4090 would go on sale. Since there would be a 3–4 month wait before the initial GeForce RTX 40 series release, as was noted previously, none of the sources should be held accountable for their statements.
A surplus of GeForce RTX 30 graphics cards on the market, according to Greymon55, will cause the GeForce RTX 40 series to be delayed. The same was suspected after the manufacturers increased card manufacturing at the end of the component shortage, but a noticeable reluctance to acquire has been visible since at least the second quarter.
Additionally, recent industry rumours indicate that the GeForce RTX 40 series will have a higher MSRP than the GeForce RTX 30 series.
The increase in wafer prices by TSMC may be a significant factor in the price increase. They are compelled to pay since AMD and Nvidia both rely on the Taiwanese semiconductor behemoth for their current and next-generation node technologies.
According to a DigiTimes article, TSMC has already raised wafer costs by between 10 and 20 per cent as a result of the ongoing chip shortage and supply chain congestion.
It appears that the report is not the only thing hinting towards the price hike of the upcoming RTX 40 series as reliable leaker and insider kopite7kimi seems to agree with it and states that we should not expect the new generation of GeForce RTX cards to have a lower MSRP.
RTX 4090 August Update
Twitter user Kopite7kimi details his analysis of the GeForce RTX 40 series' initial portfolio and updated information on the 4070, 4080, and 4090 models. The changes to the status from a week and a half ago are only indicated in the following tweet text and only pertain to a clarification of the GeForce RTX 4080's memory type and memory clock, as well as the GeForce RTX 4090's first exact clock rate specification. That is a 2235 base and 2520 MHz boost clock; at this time, 2750 MHz should be the maximum clock frequency. This information is reasonably accurate; it appears that Nvidia is now in the last stages of designing the GeForce RTX 4090, where "only" the final clock rates are then set.
It's easy to reach 2.8GHz, at least not very hard.

— kopite7kimi (@kopite7kimi) June 21, 2022
According to the Twitter user, earlier claims that you can expect much higher frequency hint towards the fact that it is possible to see more than 2.8 GHz. These are pretty high in comparison to the Ampere generation. But somewhat lower. However, this was to be expected, especially with the GeForce RTX 4090, as the card's (relatively) low TDP appears to have been done on purpose to slow it down.
This increases the manufacturing yield of the underlying AD102 chip, which can be fairly important, especially in the early days, and frees up more room for the GeForce RTX 4090 Ti that will be released later, which makes sense as if RTX 4090 could reach same heights as RTX 4090 Ti, why bother going for the much more expensive model? It will be fascinating to see if the GeForce RTX 4090 has any reasonable overclocking ability at this stage and at this clock speed.
While Nvidia might attempt to limit this by imposing upper and lower bounds on increased voltage and maximum TDP, there is actually always a substantial margin for overclocking with purposefully low-clocked graphics cards.
According to the most recent rumours and insights regarding performance being shared by kopite7kimi. Twitter user Greymon55 is now anticipating that AD102 would outperform Navi 31 in the following NextGen graphics processors, potentially even by a significant margin. The anticipated status up to the spring of 2022, as is well known, talked basically of a tie at AMD with a little larger performance boost compared to the previous generation, mainly because the latter was finally significantly weaker.
However, it was later cleared up when Leaker Kopite7kimi provided the first benchmark score for a graphics card of the upcoming generation: According to the Twitter user, a GeForce RTX 4090 achieved a value exceeding 19,000 visual points in 3DMark13 TimeSpy "Extreme."
This value was supposedly conservative and rounded down as the difference was minor. This is a huge improvement over the previous graphics cards; the GeForce RTX 3090 & 3090 Ti often scores between 10,000 and 11,000 graphics points in this test, meaning there is a difference of over 8000 graphics points in this test which is absolutely massive. Unfortunately, there aren't many comparing values because the TimeSpy Extreme test is infrequently conducted.
Since the makers of graphics cards supposedly haven't yet received any graphics card drivers that would allow for performance testing, Nvidia should provide the benchmark results for the GeForce RTX 4090. On the other hand, the factory overclocking of the Palit card, which has a +30 MHz boost clock and a +10W TDP, is fairly negligible and should only have an impact on the GeForce RTX 4090's advantage by little. And, especially in respect to nVidia, that is exceptionally full and supposedly the biggest performance boost of a new generation of graphics cards in many years. It really shows that technology has brought us forward a lot in terms of performance; these performance increases are not just to show off fancy numbers; it means that game developers can push the graphics of a game even further (even closer to realism) if we have the hardware capable of running it. This also supports earlier predictions of a significant improvement in performance due to the incoming new nVidia generation.
However, since there aren't enough actual data on the TimeSpy Extreme and, more importantly, because there are such significant performance increases, it is unclear whether there is an increase in performance of about 86 per cent in real games as it is not possible to test that as of yet. Additionally, the outcome of a single benchmark shouldn't be exaggerated, especially with such large numbers, as they will make the usual variations of other benchmarks even more visible. However, from all the information so far revealed/leaked, it does show promise.
The full version of the AD102 chip, which was already revealed multiple times appears to result in a new Titan card, i.e. "ADA Titan," says Kopite. That ought to support the AD102 processor design's maximum TDP of 800 watts, which includes 48 GB of GDDR6X memory.
It has ~800W TGP and 48G GDDR6X. Hope our dreams come true.

— kopite7kimi (@kopite7kimi) July 20, 2022
In addition to the GeForce RTX 4090, another gaming graphics card on the AD102 base is rumoured to be in development at Nvidia. However, it should not be released right away, so Nvidia is still free to change the technical specifications and even the purpose of this card at any time: ADA Titan may finally be replaced by a straightforward GeForce RTX 4090 Ti, depending on the market and revenue circumstances. Nvidia The GeForce RTX 4090 are "only" 450 watts (comparatively) energy efficient, according to the TDP standard for this card, which at least clarifies what the underlying AD102 processor is capable of.
Various Twitter reports provide more details on the NextGen graphics chip sizes. Greymon55's classification of the Navi-31-GCD as "350+mm²" is well-known and estimates a total chip area (including MCDs) of approximately 590-600² in this case. On the other hand, the AD103 chip is reportedly slightly larger than the Navi-31-GCD, meaning that 360–380mm² would be anticipated, according to Kopite7kimi.
If that is true. It's slightly smaller than AD103.

— kopite7kimi (@kopite7kimi) July 20, 2022
This is consistent with the chip area SemiAnalysis projected a while back (based on pure hardware data). However, Kopite7kimhas stepped up the ante and pegged the AD102 chip at (approximately) 600mm². Which nearly matches this earlier projection.
Only a few of the NextGen graphics chip sizes are comparable due to differing MCM/monolith techniques and partially distinct chip fabrication. Therefore the list of their measures is not yet complete.
Update As Of August 11, 2022
As mentioned earlier, a Titan class GPU has been rumored for the ADA Lovelace line-up. It remains unclear if this card will eventually be released as the RTX 4090 Ti, or if Nvidia will allocate this GPU to a different class of products. The leaker Kopite7Kimi has dubbed this GPU, "the beast".
"the beast"
PG137-SKU0
AD102-450-A1
18176FP32
48G 24Gbps GDDR6X
total board power ~800W

— kopite7kimi (@kopite7kimi) July 25, 2022
Kopite has now provided additional specification updates on the graphics card, supposedly based on the full fat AD102 GPU. "The beast" will be based on the PG137-SKU0 PCB design with an astounding 18176 CUDA cores. This is a nearly 10% increase over the rumored RTX 4090. The rest of the specifications remain the same as before, and the graphics card is rumored to come with a total of 800 watts TBP. Similarly, the leaker has also hinted at a reveal date for the card.
About RTX 4090, we will see her soon. Nothing to say.

— kopite7kimi (@kopite7kimi) July 25, 2022
Kopite hints that the RTX 4090 reveal is right around the corner. The leaker refused to elaborate further, but his tweet adds up with Nvidia's usual release schedule. Most sources have predicted that ADA Lovelace will be released around September, and this is in line with Kopite's recent tweet. Interestingly, Kopite has also hinted at what could be a possible RTX 4080 Ti.
I'm not sure whether another cutting method of AD102(weaker than AD102-300) can become an actual product.
So just focus on RTX 4090 right now.

— kopite7kimi (@kopite7kimi) July 25, 2022
Based on this tweet, Nvidia might be planning on utilizing AD102-300 for another product. This would make sense for a graphics card that sits between the AD103 RTX 4080 and AD102 RTX 4090. A 4080 Ti based on an even weaker version of RTX 4090's AD102-300 would not be too far-fetched to expect, based on this tweet. However, it seems like this is not among Nvidia's primary concerns for now.
The biggest new update to the RTX 4090 rumors comes in the form of the GPU's L2 Cache size.
If everything goes well, RTX 4090 will have 72M L2.

— kopite7kimi (@kopite7kimi) August 1, 2022
Earlier rumors predicted a 96MB L2 cache for the GeForce RTX 4090. But, Nvidia might have reduced that figure to just 72MB. This figure is also subject to change, but the leakers words imply that Nvidia expects to hit a target of 72MB for their flagship release.
While all of Nvidia's upcoming graphics cards are subject to change, the RTX 4090 might be the one closest to completion. Going by tradition, Nvidia's flagship product is expected to lead the ADA Lovelace launch. Therefore, it would make sense for the company to be nearing the end of their most powerful gaming graphics card.
September Update
The GeForce RTX 4090 has now been officially revealed, along with the rest of Nvidia's launch line-up. As expected, the RTX 4090 leads the Ada Lovelace launch line-up. Most of the earlier leaks were spot on, and the final list of GeForce RTX 4090 specifications is nearly identical to the previous leaks.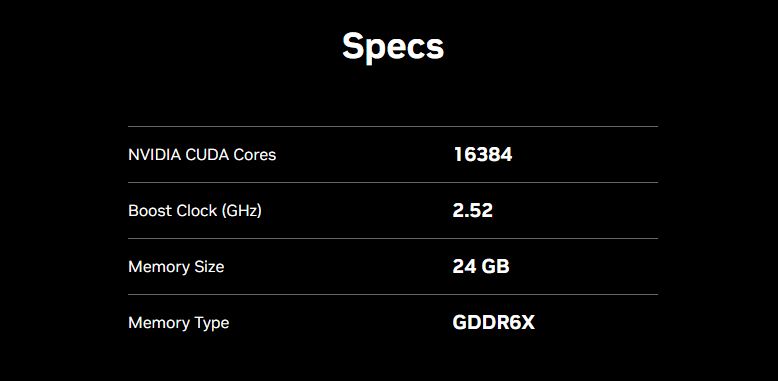 Nvidia has not provided a complete list of specifications, but a few major details have now been revealed. The GeForce RTX 4090 features 16,384 Cuda Cores with boost clocks up to 2.52GHz. Similar to the GeForce RTX 3090, the RTX 4090 will also feature 24GB of GDDR6X memory across a 384-bit bus interface.
The rumored 450 watt TBP has also been confirmed now. Nvidia recommends an 850 watt power supply at minimum for the GeForce RTX 4090. There has also been a small increase in price. While the GeForce RTX 3090 was already extremely expensive at $1500, the RTX 4090 starts at $1599.99.
Nvidia's Ada Lovelace line-up also boasts brand new generational features. All RTX 4000 graphics cards include 3rd generation RT cores and 4th generation Tensor cores.
Additionally, Nvidia has also improved DLSS. The newest iteration is called DLSS 3 and promises significantly higher frame rates. DLSS 3 utilizes Optical Flow Accelerators, found in the RTX 4000 graphics cards, to analyze sequential frames and motion data. This date is then used to generate entirely new frames, boosting performance by huge margins. Currently, 35 games are confirmed to support DLSS 3. PC enthusiasts can expect to see this number grow in the coming months.
Nvidia claims huge performance uplifts with the RTX 4090, largely thanks to DLSS 3. The benchmark's provided by Nvidia show anywhere from 2x to 4x performance gains over the RTX 3090 Ti. Though, it should be noted that the GeForce RTX 3090 Ti was tested with DLSS 2.0 vs DLSS 3 on the RTX 4090.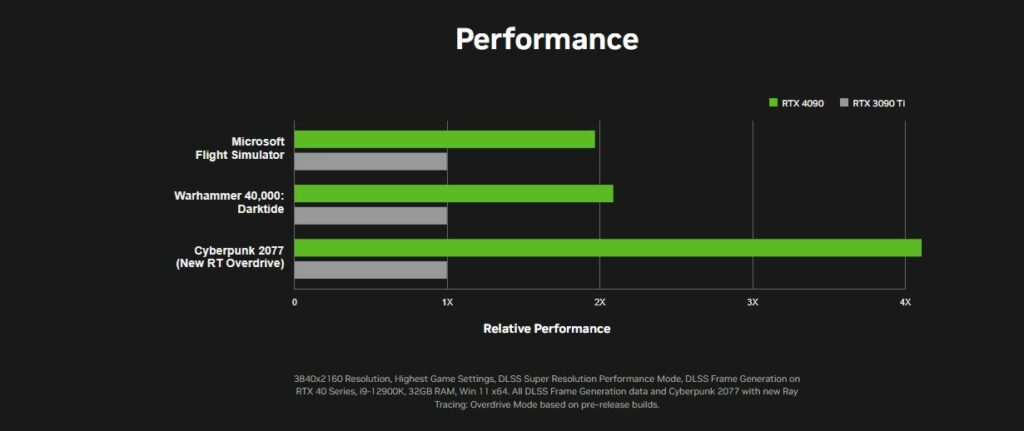 The GeForce RTX 4090 is set to be the first release in the Ada Lovelace line-up. Nvidia has confirmed that the RTX 4090 will hit stores on October 12, 2022. As such, even more information is expected to be revealed, as the launch date draws nearer.
Was our article helpful? 👨‍💻
Thank you! Please share your positive feedback. 🔋
How could we improve this post? Please Help us. 😔
[News Reporter]
Avinash is currently pursuing a Business degree in Australia. For more than three years, he has been working as a gaming journalist, utilizing his writing skills and love for gaming to report on the latest updates in the industry. Avinash loves to play action games like Devil May Cry and has also been mentioned on highly regarded websites, such as IGN, GamesRadar, GameRant, Dualshockers, CBR, and Gamespot.