Nvidia's next-gen GeForce graphics cards are in rumors these days with an expected launch later this year for high-end GPUs. Recently, a hack from the group "Lapsus$" leaked viable information regarding Nvidia's RTX 4000 series (possibly RTX 5000 series as Nvidia might skip the 4000 branding number, but for convenience, we will be referring to them as RTX 4000 series).
Since then, lots of potential information has surfaced around the internet, giving us a fair idea of what we can expect from Nvidia's RTX 4000 series. And, let us put it this way: we can expect a lot from RTX 4080.
A few things are already official, one being that these cards will be based on a new architecture, named "Lovelace" (named after Ada Lovelace), now being referred to as just Ada. We also know that the chips inside these cards will be based on TMSC's 5 nm process node and that different graphics cards will be based on GPU Core.
Our topic of discussion is Nvidia's GeForce RTX 4080, and we will be sharing with you all the information, and leaked details revealed so far.
Last week, we discussed the Nvidia GeForce RTX 4070, where we talk about the specifications, allegedly leaked by a few prominent leakers, who have also revealed potential information about other RTX 4000 Series GPUs.
Nvidia RTX 4080 Specifications
We discussed last week how different graphics cards would feature different dies, the same as previous Nvidia lineups. In the same way that the RTX 3000 series had GPU Cores named "GA10x", the 4000 lineup will have chips named as "AD10x", with the "AD" likely referring to "Ada."
It's rumored that the GeForce RTX 4080 will likely feature the AD102 chip, the same as the GeForce RTX 4090. On March 2nd, credible Twitter leaker kopite7kimi leaked potential information regarding the different dies.
According to the tweet, the GeForce RTX 4080 (AD102) will feature 12 GPCs (Graphics Processing Clusters), each with 6 TPCs (Texture Processing Clusters). It will have a bus width of 384-bit and a die size of 600mm².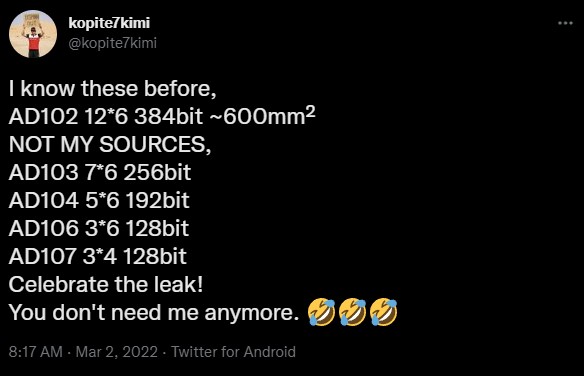 On the same day, kopite7kimi and two other Twitter leakers, harukaze5719 (click for tweet) and xinoassassin1 created three tables, summing up all the available leaked information regarding Ada and Hopper GPUs.
So then, let's summarize about Lovelace and Hopper…@kopite7kimi @xinoassassin1 pic.twitter.com/hioRcvn8fb

— 포시포시 (@harukaze5719) March 2, 2022

So, according to these leaked details, the GeForce RTX 4080 (AD102) will feature 12 GPCs with 6 TPCs per GPC. Furthermore, it contains 2 SMs (Streaming Multiprocessors) per TPC, for a total of 144 SMs across 18432 CUDA cores.
All the Ada graphics cards contain 128 FP32 CUDA Cores per SM, same as Ampere. Also, they predict 73.73 FP32 TFLOPS (Teraflops) at a frequency of 2.0 GHz.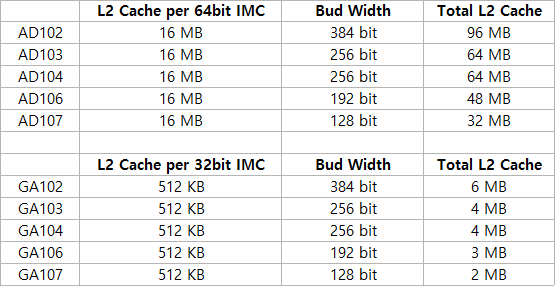 According to leaks, Nvidia's RTX 4000 series see a dramatic increase in the amount of L2 Cache. This is likely in response to AMD's improved Infinity Cache in its upcoming RDNA 3 based GPU lineup. The GeForce RTX 4080 features a whopping 96 MB of L2 cache.
The RTX 3080 featured just 5 MB of L2 Cache while even the most powerful Ampere GPU (the Nvidia RTX 3090 Ti) featured just 6 MB of cache.
In terms of the memory, initially, it was rumored that the RTX 4000 series might feature GDDR7 memory (recently announced by Samsung), but recent leaks from Igor's Lab confirm that GDDR7 won't make it to Nvidia's GPUs just yet.
One of the writers for Igor's Lab allegedly discovered the PCB for the AD102 die through a Chinese source, which confirmed that the chip would be running on GDDR6X memory.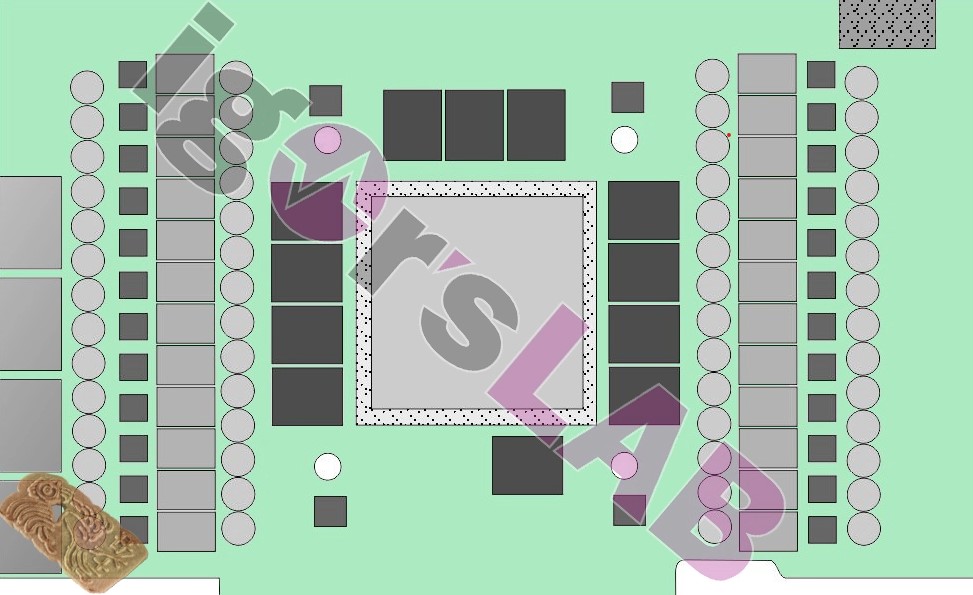 So, the Nvidia GeForce RTX 4080 and the rest of the lineup will feature GDDR6X, like their Ampere predecessors.
They also discovered 12 solder slots on the PCB, which will be running 1 GB or 2 GB modules, so we expect 12 GB of GDDR6X on the RTX 4080.
As of 8th May, 2022, we can confirm through Igor's Lab that the RTX 3090 Ti is NOT pin compatible with AD102, hence the recent leaks from Igor's Lab don't provide us any credible information regarding Nvidia's RTX 4000 series. We've also learned that AD102 will probably not be used in RTX 4080.
On the other side as of May 15, the GeForce RTX 4080 might use the AD103 silicon. It will have 16GB of GDDR6X RAM, according to the Kopite7imi That's a 60 percent increase over the standard GeForce RTX 3080 and a 33.3 percent improvement over the GeForce RTX 3080 12GB. We don't know how many CUDA cores the GeForce RTX 4080 has.
However, hardware leaker kopite7kimi believes AD103 has a similar TGP (total graphics power) to GA102. Nvidia may need to keep the GeForce RTX 4080's CUDA core count around 10,000 to stay inside GA102's TGP since GA102's maximum power restriction is 450W.
Nvidia RTX 4080 Launch Date
Nvidia typically launches new GPU lineups just about every 2 years, and all circumstances point toward the GeForce RTX 4000 series launch somewhere around September of 2022. Twitter leaker Gremon55 also says to expect the launch of Ada in September.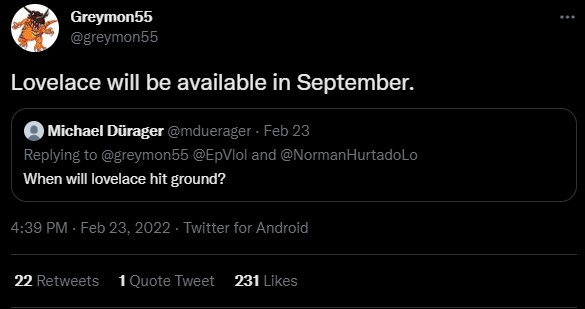 It's not yet confirmed whether the GeForce RTX 4080 will launch on the same date as the GeForce RTX 4090. But keeping in mind Nvidia's pattern in launching the RTX 3000 series, where the GeForce RTX 3080 was launched on September 17th, 2021, and the GeForce RTX 3090 launched the week after the 24th.
With the flagship, RTX 3000 series card being released on the 17th of September, 2020, this date is likely to turn out to be correct or at least close. However, this information should still be taken with a grain of salt since nothing has been made clear by Nvidia themselves when it comes to the launch date.
Nvidia GeForce RTX 4080 Power Draw
Twitter leaker Greymon55 tweeted, claiming that there might be three different power configurations for the AD102 die, which is divided between the RTX 4080, 4090, and possibly the 4090 Ti. With one card's TDP at 450w, the other at 600w, and the "mystery card" possibly drawing around 800 watts.
4080 450W
4090 600W
4090Ti 800W+????
🤔🤔

— Greymon55 (@greymon55) March 12, 2022
After that, earlier this month, a leak from Igor's Lab suggests that the AD102 will have a TBP (total board power) of 600 watts, and that the board partners will be required to include a PCIe 5.0 (12+4) to 4x 6+2 pin connector.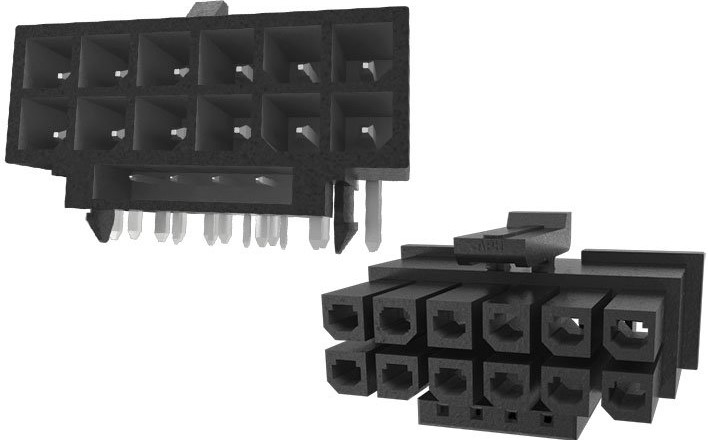 The PCIe 5.0 connector provides, you guessed it, 600 watts of power. And the interesting thing is that the PCIe 5.0 connector includes 4 data cables that establish communication between the power supply and the graphics card.
So the 12 pins at the top will provide 450w of power, and if the communication pins determine that more power is needed, an additional of up to 150 watts can be supplied. So the RTX 4090 and 4080 both might feature a PCIe 5.0 power connector slot.
We can't be sure whether the RTX 4080 will be drawing 450 watts or 600 watts, but expect the power draw to be around that mark.
On 24th of April, kopite7kimi hinted that RTX 4080 will actually NOT be using PCIe 5.0, and have already discussed that AD102 will likely not be used in RTX 4080.
We're not surprised that RTX 4080 will stick with PCIe 4.0 since it still easily provides enough power to run the RTX 4080 which is rumored to draw 450 watts.
Nvidia RTX 4080 Performance
Unfortunately, there is no solid information regarding the performance of the RTX 4080 or the rest of the 4000 series lineup.
And while the number of cores or the cache isn't something to rely on as a metric for performance, it's reasonable to expect a considerable performance boost over the RTX 3000 series, considering the alleged improvement in core specifications and the alleged power draw of AD102.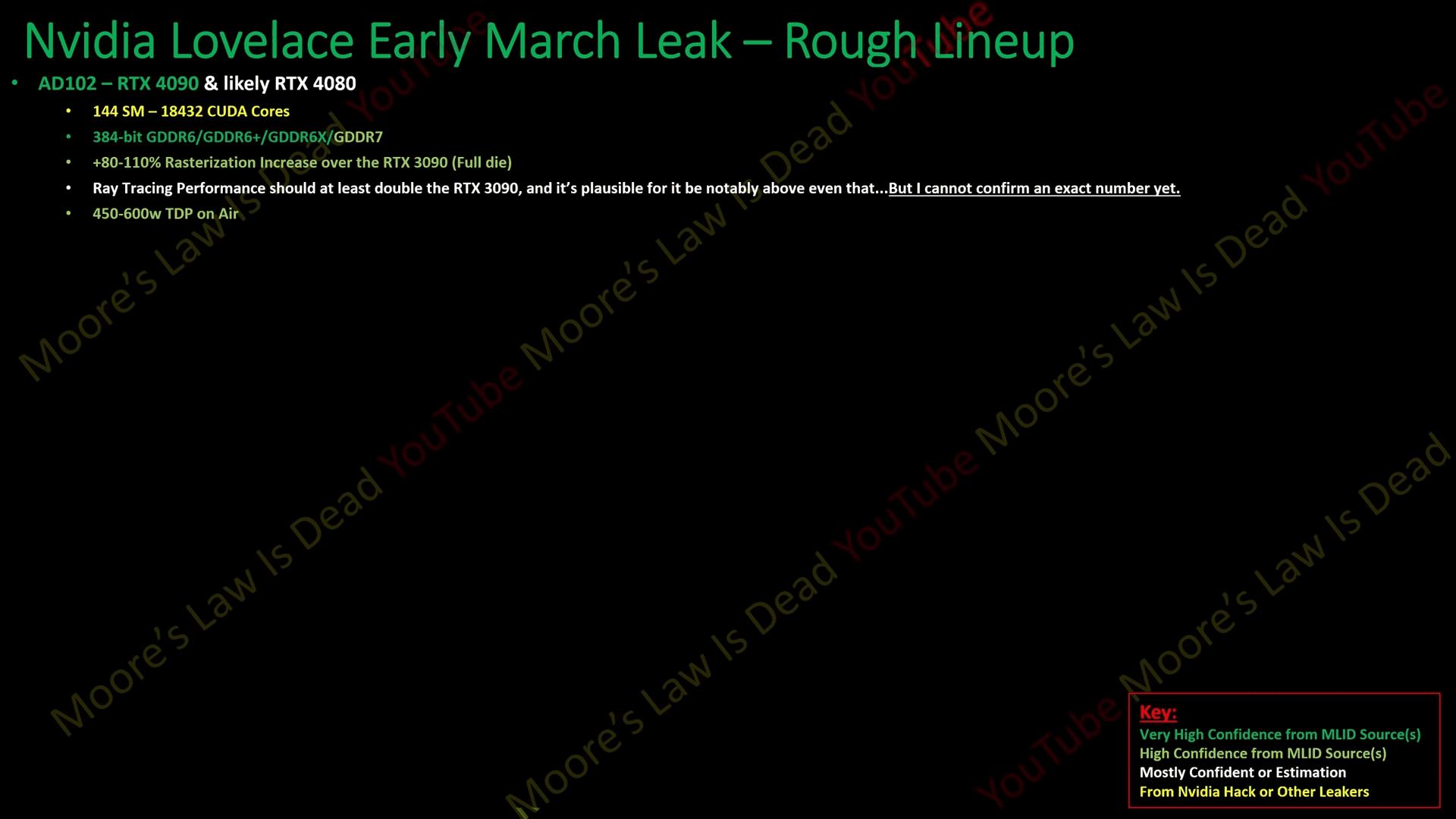 Talking about the AD102 die, YouTuber Moore's Law is Dead predicts a rasterization performance increase of around 80%-110% over the RTX 3090 and double, or even more, improvement in Ray Tracing performance. Again, this information is based on leaks and should be taken with a grain of salt. Furthermore, this information refers to the AD102, which will feature the RTX 4090 and likely the 4080.
Nvidia GeForce RTX 4080 Launch Price
Nvidia launched the RTX 2080 and the RTX 3080 at the same price tag of $699, and even the older Pascal GTX 1080 was launched at this price. We can't say much about the RTX 4080's price just yet, though. You'd expect the RTX 4080 to see the same MSRP of $699, but a few factors might prevent that.
TMSC, which Nvidia will be relying on for the 5nm node, recently announced that they would be raising the prices of their 5nm and 7nm nodes by 10-20%, which poses a threat to the already unstable (but gradually stabilizing) GPU prices.
The ongoing GPU shortages may also prove a hurdle. However, it was recently reported that Nvidia spent $10 billion to acquire TMSC's 5nm nodes in short supply, so it's clear that Nvidia will try to fight against further shortages and try to ensure that the RTX 4000 series' supply meets demand.
Considering the alleged performance improvement, it won't be surprising if the RTX 4080 sees a price bump compared to its predecessor(s).
Breakdown of Likely Specifications for Nvidia RTX 4080
From all that we've discussed so far, we can create a rough breakdown of the expected specifications of Nvidia's GeForce RTX 4080.
Again, these are all based on leaks, and we recommend taking these with a hearty grain of salt.
| | |
| --- | --- |
| CUDA Cores | 18432 |
| Total SMs | 144 |
| Total GPC | 12 |
| TPC per GPC | 6 |
| SM per TPC | 2 |
| FP32 CUDA Cores Per SM | 128 |
| TFlops at 2.0 GHz | 73.73 |
| Bus Width | 384-Bit |
| Total L2 Cache | 96 MB |
| Memory (Memory Type) | Likely 12 GB (GDDR6X) |
| Die Size | 600mm² |
| TDP | 450w-600w |
| Launch Date | ~September 2022 |
| Launch Price | ~$699 |
RTX 4080 (AD 102) Likely Specifications
Update as of 29 April 2022
While it was initially reported that the Nvidia GeForce RTX 4080 would feature the AD102 die, new rumors are pointing to the RTX 4080 being based on the AD103 GPU. This information comes from the reliable leaker Kopite7kimi.
Kopite has also given us updated information on the memory configuration of the graphics card. The RTX 4080 will feature 16GB GDDR6X which is a considerable step up from the 10GB GDDR6X used in the RTX 3080 last generation.
With the 4080 and better GPUs targeting 4K resolutions, this is a necessary move from Nvidia.
RTX 4080 will use AD103 chips, build with 16G GDDR6X, have a similar TGP to GA102.
RTX 4070 will use AD104 chips, build with 12G GDDR6, 300W.
Both of them haven't started testing yet, but soon do them.

— kopite7kimi (@kopite7kimi) April 27, 2022
The AD103 GPU also comes with a 256 Bit memory bus and is said to feature 64MB of L2 Cache. Kopite also stated that the power draw (TGP) for AD103 should be similar to the GA102 GPU.
This would put the RTX 4080 around 350-450 watts. The memory clocks could also be roughly 20Gbps.
Thanks. https://t.co/qtYz4iwtgR

— kopite7kimi (@kopite7kimi) April 29, 2022
kopite7kimi and Greymon55 have also further told us that the AD103 chip (RTX 4080) is likely to launch somewhere in the last quarter of 2022, meaning the RTX 4080 will likely be one of the second batch of RTX 40- cards to launch.
Nvidia RTX 4080 Process Node
The RTX 4080, much like the rest of the Lovelace line-up will also be on a slightly different process node than earlier rumors suggested. According to Moore's Law is Dead, Nvidia will be utilizing TSMC's 4N process node for the upcoming line-up.
This is a revised version of the 5nm node that is custom made for Nvidia and is also featured in the Hopper GPUs. However, TSMC's 4N is not the same as TSMC's 4nm which is a different process node.
The shift in node is likely to help Nvidia deal with Ada's power requirements. Moreover, Ada Lovelace GPUs will also not support PCIE 5.0 unlike AMD's RDNA3.
Notice I didn't mention PCIe 5.0 in my Lovelace Slides: https://t.co/n7sdIL1Uku

Speaking of "4", #NVIDIA Lovelace is indeed 4nm!

🤠🎉😋 More to say on the next Broken Silicon… https://t.co/jjJ1GSod0j

— Moore's Law Is Dead (@mooreslawisdead) April 24, 2022
Updated Specifications For Nvidia's RTX 4080
| Graphics Card | GPU | PCB Variant | SM Units / Cores | Memory / Bus | Memory Clock / Bandwidth | TGP | Power Connectors |
| --- | --- | --- | --- | --- | --- | --- | --- |
| NVIDIA GeForce RTX 4080 | AD103 | TBD | 82/ 10752 | 16 GB / 256-bit | 20 Gbps / 672 TB/s | 350-450W | 1x 16-pin |
Finally, another interesting bit of information comes from Kopite. The leaker states that his information on Nvidia's Lovelace GPUs is much different now than it was a few months ago.
While Ada Lovelace was simply a refresh for Nvidia's previous generation, this is no longer the case.
I must clarify that the current AD102 is NOT the original AD102. Ada Lovelace is no longer a simple Ampere refresh, although it was like this in the beginning.

— kopite7kimi (@kopite7kimi) April 29, 2022
Frequently Asked Questions
When will Nvidia GeForce RTX 4080 launch?
It is rumored that Nvidia's RTX 4000 series will launch around September of 2022, which would line them up to launch just around 2 years after their previous Ampere RTX 3000 lineup. The RTX 4080 will likely be one of the cards to launch in September.
Will RTX 4080 Be Better than RTX 3080?
Reports suggest a rasterization performance improvement of around 80-110% for AD102 (which will likely be the die used in RTX 4080). We can also expect double the ray tracing performance from leaks.
How much wattage will be ideal to support the Nvidia GeForce RTX 4080
Nvidia recommends 750 watt for a 3090 build. Since power draw is stated to be similar to a 4080, an 850 watt Gold PSU at minimum would be recommended.