Nvidia's next-gen GeForce graphics cards are in rumors these days with an expected launch later this year for high-end GPUs. Recently, a hack from the group "Lapsus$" leaked viable information regarding Nvidia's RTX 4000 series (possibly RTX 5000 series as Nvidia might skip the 4000 branding number, but for convenience, we will be referring to them as RTX 4000 series).
Since then, lots of potential information has surfaced around the internet, giving us a fair idea of what we can expect from Nvidia's RTX 4000 series. And, let us put it this way: we can expect a lot from RTX 4080.
A few things are already official, one being that these cards will be based on a new architecture, named "Lovelace" (named after Ada Lovelace), now being referred to as just Ada. We also know that the chips inside these cards will be based on TMSC's 5 nm process node and that different graphics cards will be based on GPU Core.
Our topic of discussion is Nvidia's GeForce RTX 4080, and we will be sharing with you all the information, and leaked details revealed so far.
Last week, we discussed the Nvidia GeForce RTX 4070, where we talk about the specifications, allegedly leaked by a few prominent leakers, who have also revealed potential information about other RTX 4000 Series GPUs.
You might want to read: RTX 4060
Nvidia RTX 4080 Specifications
We discussed last week how different graphics cards would feature different dies, the same as previous Nvidia lineups. In the same way that the RTX 3000 series had GPU Cores named "GA10x", the 4000 lineup will have chips named as "AD10x", with the "AD" likely referring to "Ada."
It's rumored that the GeForce RTX 4080 will likely feature the AD102 chip, the same as the GeForce RTX 4090. On March 2nd, credible Twitter leaker kopite7kimi leaked potential information regarding the different dies.
According to the tweet, the GeForce RTX 4080 (AD102) will feature 12 GPCs (Graphics Processing Clusters), each with 6 TPCs (Texture Processing Clusters). It will have a bus width of 384-bit and a die size of 600mm².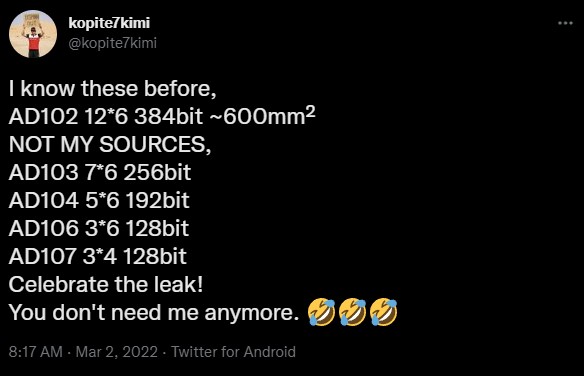 On the same day, kopite7kimi and two other Twitter leakers, harukaze5719 (click for tweet) and xinoassassin1 created three tables, summing up all the available leaked information regarding Ada and Hopper GPUs.
So then, let's summarize about Lovelace and Hopper…@kopite7kimi @xinoassassin1 pic.twitter.com/hioRcvn8fb

— 포시포시 (@harukaze5719) March 2, 2022

So, according to these leaked details, the GeForce RTX 4080 (AD102) will feature 12 GPCs with 6 TPCs per GPC. Furthermore, it contains 2 SMs (Streaming Multiprocessors) per TPC, for a total of 144 SMs across 18432 CUDA cores.
All the Ada graphics cards contain 128 FP32 CUDA Cores per SM, same as Ampere. Also, they predict 73.73 FP32 TFLOPS (Teraflops) at a frequency of 2.0 GHz.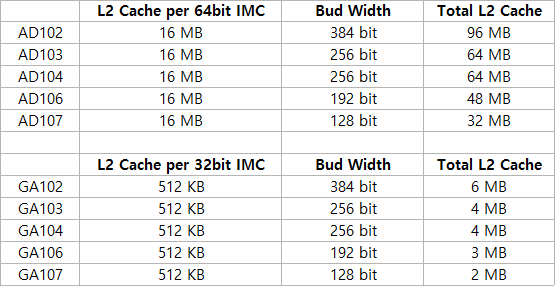 According to leaks, Nvidia's RTX 4000 series see a dramatic increase in the amount of L2 Cache. This is likely in response to AMD's improved Infinity Cache in its upcoming RDNA 3 based GPU lineup. The GeForce RTX 4080 features a whopping 96 MB of L2 cache.
The RTX 3080 featured just 5 MB of L2 Cache while even the most powerful Ampere GPU (the Nvidia RTX 3090 Ti) featured just 6 MB of cache.
In terms of the memory, initially, it was rumored that the RTX 4000 series might feature GDDR7 memory (recently announced by Samsung), but recent leaks from Igor's Lab confirm that GDDR7 won't make it to Nvidia's GPUs just yet.
One of the writers for Igor's Lab allegedly discovered the PCB for the AD102 die through a Chinese source, which confirmed that the chip would be running on GDDR6X memory.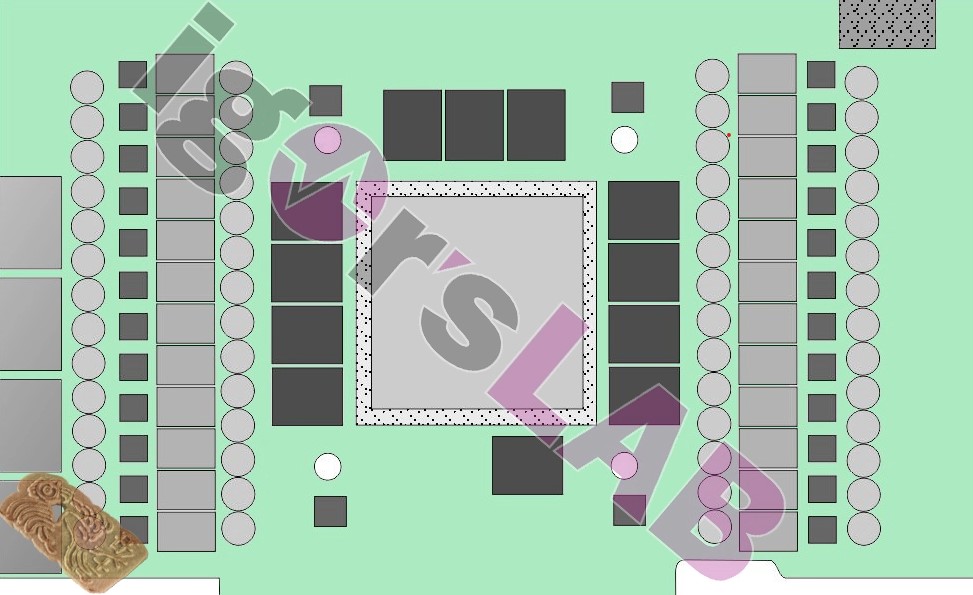 So, the Nvidia GeForce RTX 4080 and the rest of the lineup will feature GDDR6X, like their Ampere predecessors.
They also discovered 12 solder slots on the PCB, which will be running 1 GB or 2 GB modules, so we expect 12 GB of GDDR6X on the RTX 4080.
As of 8th May, 2022, we can confirm through Igor's Lab that the RTX 3090 Ti is NOT pin compatible with AD102, hence the recent leaks from Igor's Lab don't provide us any credible information regarding Nvidia's RTX 4000 series. We've also learned that AD102 will probably not be used in RTX 4080.
On the other side as of May 15, the GeForce RTX 4080 might use the AD103 silicon. It will have 16GB of GDDR6X RAM, according to the Kopite7imi That's a 60 percent increase over the standard GeForce RTX 3080 and a 33.3 percent improvement over the GeForce RTX 3080 12GB. We don't know how many CUDA cores the GeForce RTX 4080 has.
However, hardware leaker kopite7kimi believes AD103 has a similar TGP (total graphics power) to GA102. Nvidia may need to keep the GeForce RTX 4080's CUDA core count around 10,000 to stay inside GA102's TGP since GA102's maximum power restriction is 450W.
June 2022 Update
According to VideoCardz, Nvidia has allegedly put off the launch of the entry-level "Geforce GTX 1630" solution indefinitely.

Unrelated to the TU117 graphics chip, the card is apparently lacking a number of additional components. The new release date for the GeForce RTX 40 series, which VideoCardz claims to be one of the first to reveal, is much more intriguing.
As noted in the graph created by 3dcentre, there are a number of predictions for when the RTX series cards will be released, but they all presently agree on a range from September to December with just a few minor variations.
The possibility that the RTX series will be in action on one of those dates improves if even one of them is correct.
In addition to this, the MSRP of the GeForce RTX 40 series will also be higher compared to the previous generation, known as GeForce RTX 30 series, according to recent industry rumours.
The rise in wafer prices at TSMC could have a major impact on the price increase. Both AMD and Nvidia must pay since they depend on the Taiwanese semiconductor powerhouse for the development of their current and upcoming node technologies.
According to a DigiTimes article, TSMC has already raised wafer costs by between 10 and 20 per cent as a result of the present chip shortage and supply chain congestion.
We shouldn't anticipate a lower MSRP for the new generation of GeForce RTX cards, according to kopite7kimi, a trustworthy leaker and insider. It appears that, as of now, the Digitimes report is not the only thing claiming that MSRP will be higher this time around compared to RTXD 3000 series.
Nvidia RTX 4080 Launch Date
Nvidia typically launches new GPU lineups just about every 2 years, and all circumstances point toward the GeForce RTX 4000 series launch somewhere around September of 2022. Twitter leaker Gremon55 also says to expect the launch of Ada in September.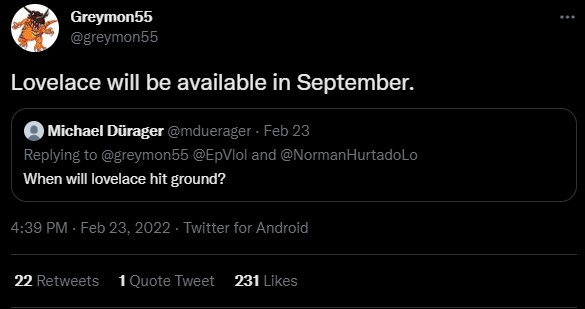 It's not yet confirmed whether the GeForce RTX 4080 will launch on the same date as the GeForce RTX 4090. But keeping in mind Nvidia's pattern in launching the RTX 3000 series, where the GeForce RTX 3080 was launched on September 17th, 2021, and the GeForce RTX 3090 launched the week after the 24th.
With the flagship, RTX 3000 series card being released on the 17th of September, 2020, this date is likely to turn out to be correct or at least close. However, this information should still be taken with a grain of salt since nothing has been made clear by Nvidia themselves when it comes to the launch date.
Nvidia GeForce RTX 4080 Power Draw
Twitter leaker Greymon55 tweeted, claiming that there might be three different power configurations for the AD102 die, which is divided between the RTX 4080, 4090, and possibly the 4090 Ti. With one card's TDP at 450w, the other at 600w, and the "mystery card" possibly drawing around 800 watts.
4080 450W
4090 600W
4090Ti 800W+????
🤔🤔

— Greymon55 (@greymon55) March 12, 2022
After that, earlier this month, a leak from Igor's Lab suggests that the AD102 will have a TBP (total board power) of 600 watts, and that the board partners will be required to include a PCIe 5.0 (12+4) to 4x 6+2 pin connector.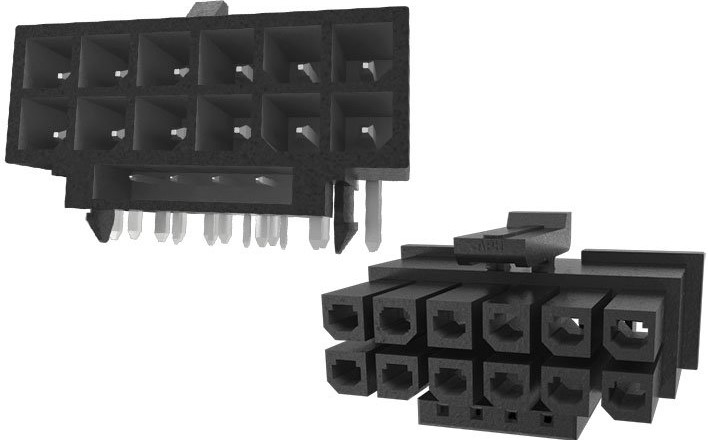 The PCIe 5.0 connector provides, you guessed it, 600 watts of power. And the interesting thing is that the PCIe 5.0 connector includes 4 data cables that establish communication between the power supply and the graphics card.
So the 12 pins at the top will provide 450w of power, and if the communication pins determine that more power is needed, an additional of up to 150 watts can be supplied. So the RTX 4090 and 4080 both might feature a PCIe 5.0 power connector slot.
We can't be sure whether the RTX 4080 will be drawing 450 watts or 600 watts, but expect the power draw to be around that mark.
On 24th of April, kopite7kimi hinted that RTX 4080 will actually NOT be using PCIe 5.0, and have already discussed that AD102 will likely not be used in RTX 4080.
We're not surprised that RTX 4080 will stick with PCIe 4.0 since it still easily provides enough power to run the RTX 4080 which is rumored to draw 450 watts.
Nvidia RTX 4080 Performance
Unfortunately, there is no solid information regarding the performance of the RTX 4080 or the rest of the 4000 series lineup.
And while the number of cores or the cache isn't something to rely on as a metric for performance, it's reasonable to expect a considerable performance boost over the RTX 3000 series, considering the alleged improvement in core specifications and the alleged power draw of AD102.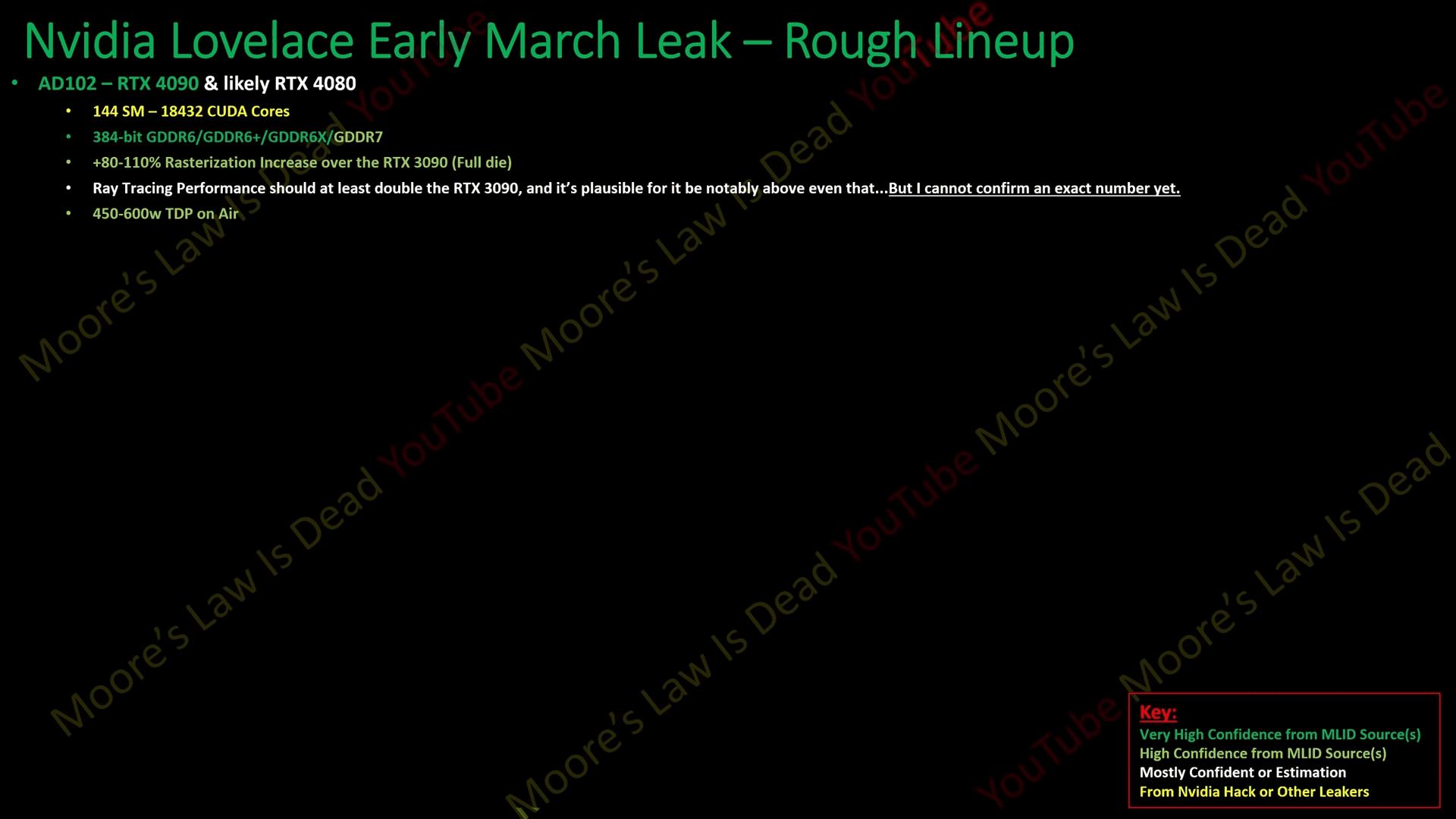 Talking about the AD102 die, YouTuber Moore's Law is Dead predicts a rasterization performance increase of around 80%-110% over the RTX 3090 and double, or even more, improvement in Ray Tracing performance. Again, this information is based on leaks and should be taken with a grain of salt. Furthermore, this information refers to the AD102, which will feature the RTX 4090 and likely the 4080.
Nvidia GeForce RTX 4080 Launch Price
Nvidia launched the RTX 2080 and the RTX 3080 at the same price tag of $699, and even the older Pascal GTX 1080 was launched at this price. We can't say much about the RTX 4080's price just yet, though. You'd expect the RTX 4080 to see the same MSRP of $699, but a few factors might prevent that.
TMSC, which Nvidia will be relying on for the 5nm node, recently announced that they would be raising the prices of their 5nm and 7nm nodes by 10-20%, which poses a threat to the already unstable (but gradually stabilizing) GPU prices.
The ongoing GPU shortages may also prove a hurdle. However, it was recently reported that Nvidia spent $10 billion to acquire TMSC's 5nm nodes in short supply, so it's clear that Nvidia will try to fight against further shortages and try to ensure that the RTX 4000 series' supply meets demand.
Considering the alleged performance improvement, it won't be surprising if the RTX 4080 sees a price bump compared to its predecessor(s).
Breakdown of Likely Specifications for Nvidia RTX 4080
From all that we've discussed so far, we can create a rough breakdown of the expected specifications of Nvidia's GeForce RTX 4080.
Again, these are all based on leaks, and we recommend taking these with a hearty grain of salt.
| | |
| --- | --- |
| CUDA Cores | 9728 |
| Total SMs | 76 |
| Total GPC | 12 |
| TPC per GPC | 6 |
| SM per TPC | 2 |
| FP32 CUDA Cores Per SM | 128 |
| TFlops at 2.0 GHz | 73.73 |
| Bus Width | 256-Bit |
| Total L2 Cache | 64 MB |
| Memory (Memory Type) | 16 GB (GDDR6X) |
| Die Size | 450mm² |
| TDP | 320W |
| Launch Date | ~September 2022 |
| Launch Price | ~$699 |
RTX 4080 (AD 102) Likely Specifications(Updated on August 11th)
Update as of 29 April 2022
While it was initially reported that the Nvidia GeForce RTX 4080 would feature the AD102 die, new rumors are pointing to the RTX 4080 being based on the AD103 GPU. This information comes from the reliable leaker Kopite7kimi.
Kopite has also given us updated information on the memory configuration of the graphics card. The RTX 4080 will feature 16GB GDDR6X which is a considerable step up from the 10GB GDDR6X used in the RTX 3080 last generation.
With the 4080 and better GPUs targeting 4K resolutions, this is a necessary move from Nvidia.
RTX 4080 will use AD103 chips, build with 16G GDDR6X, have a similar TGP to GA102.
RTX 4070 will use AD104 chips, build with 12G GDDR6, 300W.
Both of them haven't started testing yet, but soon do them.

— kopite7kimi (@kopite7kimi) April 27, 2022
The AD103 GPU also comes with a 256 Bit memory bus and is said to feature 64MB of L2 Cache. Kopite also stated that the power draw (TGP) for AD103 should be similar to the GA102 GPU.
This would put the RTX 4080 around 350-450 watts. The memory clocks could also be roughly 20Gbps.
Thanks. https://t.co/qtYz4iwtgR

— kopite7kimi (@kopite7kimi) April 29, 2022
kopite7kimi and Greymon55 have also further told us that the AD103 chip (RTX 4080) is likely to launch somewhere in the last quarter of 2022, meaning the RTX 4080 will likely be one of the second batch of RTX 40- cards to launch.
Nvidia RTX 4080 Process Node
The RTX 4080, much like the rest of the Lovelace line-up will also be on a slightly different process node than earlier rumors suggested. According to Moore's Law is Dead, Nvidia will be utilizing TSMC's 4N process node for the upcoming line-up.
This is a revised version of the 5nm node that is custom made for Nvidia and is also featured in the Hopper GPUs. However, TSMC's 4N is not the same as TSMC's 4nm which is a different process node.
The shift in node is likely to help Nvidia deal with Ada's power requirements. Moreover, Ada Lovelace GPUs will also not support PCIE 5.0 unlike AMD's RDNA3.
Notice I didn't mention PCIe 5.0 in my Lovelace Slides: https://t.co/n7sdIL1Uku

Speaking of "4", #NVIDIA Lovelace is indeed 4nm!

🤠🎉😋 More to say on the next Broken Silicon… https://t.co/jjJ1GSod0j

— Moore's Law Is Dead (@mooreslawisdead) April 24, 2022
Finally, another interesting bit of information comes from Kopite. The leaker states that his information on Nvidia's Lovelace GPUs is much different now than it was a few months ago.
While Ada Lovelace was simply a refresh for Nvidia's previous generation, this is no longer the case.
I must clarify that the current AD102 is NOT the original AD102. Ada Lovelace is no longer a simple Ampere refresh, although it was like this in the beginning.

— kopite7kimi (@kopite7kimi) April 29, 2022
New Release Date
(Mid-July Confirmation Launch Drop Tweet by Leaker)
Mid July.

— kopite7kimi (@kopite7kimi) May 16, 2022
(Mid-July Confirmation Launch Drop Tweet by Leaker)
According to trusted NVIDIA leaker 'kopite7kimi,' the company could release its new series as early as mid-July, as per the leaker's recent tweet
The "Ada Lovelace" graphics chips will now be expected a little earlier than originally anticipated, possibly as early as the first Mid July or 3rd Quarter this year. This could be July or the beginning of August; it is best not to make any firm commitments just yet.
Obviously, this date is just for the official presentation; the release of the first relevant products can follow 1-2 weeks later. This market debut, however, is not expected until the middle of the third quarter.
According to Twitter user Kopite7kimi, the AD104 chip is going to enter the test phase, indicating that the tape-out was successful. The first test chips are apparently now in packaging and should arrive at Nvidia shortly. The graphics chip is then put through its validation phase, during which it is tested for functionality and stability.
The product creation step follows, in which concrete graphics cards (based on previously established concepts) are developed. To accomplish so, you experiment with various hardware configurations (number of unlocked hardware pieces), investigate possible and appropriate clock rates, and simultaneously work on real graphics boards.
June Update
First and foremost, most specifications for the RTX 4080 have not changed so far. Secondly, most of the updated specifications aren't massive, either. Minimal changes here and there will, technically speaking, not improve or decrease performance by a lot.
Analyzing new information, there is a slight bump in the Streaming Multiprocessors (SMs) in the RTX 4080. However, these numbers have simply increased from 82 SMs to 84 SMs. Again, not a massive uplift, but an uplift indeed.
All of the aforementioned information comes from Twitter leaker @BullsLab who allegedly got the screenshots from a Chinese website, "Bilibili".
Chinese Rumors about RTX 40🤔 pic.twitter.com/0D1VY9VtBD

— BullsLab Jay (@BullsLab) May 26, 2022
According to one of the images found in the tweet, the RTX 4080 is 23% faster than the RTX 3080. Subsequently, if these numbers are accurate then Lovelace could very well be a complete game-changer for NVidia.
Lastly, just like the RTX 4070, the 4080 is being called to launch in mid-July. Twitter leaker @kopite7kimi gave away the possible launch in a conversation with VideoCardz.com.
Mid July.

— kopite7kimi (@kopite7kimi) May 16, 2022
Therefore, we won't need to wait for long until Lovelace is out in the markets. However, it would be better to be conservative and let performance charts show up before making a purchase decision.
August Update
Twitter user Kopite7kimi provides new details on the 4070, 4080, and 4090 models in addition to his analysis of the GeForce RTX 40 series' original product lineup. Only the clarification of the memory type and memory clock for the GeForce RTX 4080, as well as the first precise clock rate specification for the GeForce RTX 4090, are mentioned in the revisions to the status from a week and a half ago.
At this time, 2750 MHz should be the highest clock frequency; that is, 2235 base and 2520 MHz boost clock. This information looks to be quite correct; it seems that Nvidia is now finalising the GeForce RTX 4090 design, at which point "only" the final clock rates are determined.
Since Nvidia appears to be less advanced with these cards—the GeForce RTX 4070 and 4080—than it is with the GeForce RTX 4090, numerous hardware modifications may even be made. For instance, optimists still wish for the GeForce RTX 4070 to have a 192-bit interface, but Nvidia likely reduced that number on purpose in order to simply be able to save on graphics card memory.
But within the coming weeks, the GeForce RTX 4070 & 4080's fundamental specifications ought to be set, allowing Nvidia to focus on figuring out their clock rates.
Since the TDP of the GeForce RTX 4080 (420W) is now so close to that of the GeForce RTX 4090, the conscious 2.8 GHz (and more) may definitely be predicted at this point (450W).
The RTX40 specifications that are currently available have two drawbacks: On the one hand, it is evident that the GeForce RTX 4080, which has 80 shader clusters and a 420W TDP, and the GeForce RTX 4090, which has 128 shader clusters and "only" 450W TDP, are incompatible. On the other hand, despite the claim that it will have a boost frequency of "more than 2.8 GHz," the GeForce RTX 4090 presently has "just" a 2520 MHz boost clock.
However, these issues can be addressed jointly by employing a method that Nvidia reportedly used with the GeForce RTX 4090: In comparison to what the Ada Lovelace silicon will actually allow with TSMC's 5nm manufacture, the card is clocked quite moderately.
According to Twitter user AGF, who previously provided nVidia internals, the GeForce RTX 4090 could surely perform more, but due to the limiting TDP, it isn't permitted.
Moreover, recently GeForce RTX 4080 at 420W and a GeForce RTX 4090 at 450W, the hardware undervolting test also provides a solid picture of how this can operate: In this configuration, it appears that the GeForce RTX 4090 operates at a slower clock speed to get near to the GeForce RTX 4080 and maintain TDP.
Nevertheless, as the comparably constrained GeForce RTX 3080 demonstrates, there should be a large performance advantage: The card only loses 6% performance when using just 221 watts of power, which is a quarter less than the typical power limit.
Taken from 3Dcentre, Original Source: Hartware.de)

This yields an index value of 310 per cent when converted to the 4K performance index, which is at least +24 per cent higher than a GeForce RTX 3070 at nearly the same power loss.
The performance leap should be a little larger there despite a similar TDP because there is a somewhat higher hardware difference between GeForce RTX 4080 and 4090 (+60% shader cluster) than between GeForce RTX 3070 and 3080 (+48% shader cluster).
This design is only odd because the GeForce RTX 4090 appears to be mild in terms of clock speeds and TDP, making this card an unusually "efficient" one for Nvidia. The AD102 chip's true clock rate capability won't be realised until later in AD102 devices with TDPs of up to 600 watts.
More information on the dimensions of NextGen graphics chips can be found in several Twitter reports. The Navi-31-GCD is categorised by Greymon55 as "350+mm²" and is believed to have a total chip area (including MCDs) of roughly 590-600² in this particular case.
On the other hand, the Navi-31-GCD and AD103 chips are similar in size. Therefore 360-380mm² would be expected, according to Kopite7kimi.
If that is true. It's slightly smaller than AD103.

— kopite7kimi (@kopite7kimi) July 20, 2022
This is in line with what SemiAnalysis previously predicted for the chip area (based on pure hardware data). Kopite7kim, on the other hand, upped the ante and estimated the AD102 chip at (roughly) 600mm2, which is almost identical to this earlier prediction.
Due to different MCM/monolith processes and partially different chip fabrication, only a small number of NextGen graphics chip sizes are comparable, hence the list of their sizes is not provided.
RTX 4080 August Update
Significant changes have been made to the rumored specifications of the Nvidia GeForce RTX 4080, since the last update. Like previous rumors, kopite7kimi has once again provided new information.
I'm not a chatterbox, but I have to make some updates. I hope you don't mind.
a possible RTX 4080,
PG136/139-SKU360
AD103-300-A1
9728FP32
256bit 16G 21Gbps GDDR6X
total power ~420W
TSE ~15000
Now I have completed the latest update for 4090, 4080 and 4070.

— kopite7kimi (@kopite7kimi) August 5, 2022
Going by the tweet, the RTX 4080 could be based on the PG136-SKU360 or the PG139SKU360 PCB design. It seems like Nvidia is still making changes to the upcoming models, and Kopite is not certain in this regard. The previous rumor had predicted 10752 CUDA cores but the new estimate falls around 9728 CUDA cores. Nvidia's RTX 4080 will also feature a cut down AD 103-300 GPU, as mentioned earlier. This could also mean a lower SM count of 76, down from the rumored 80 SMs, but this remains to be confirmed.
Moreover, the leaker has also revised the 420 watts TBP figure for the RTX 4080. Power draw has been a controversial subject for Nvidia's upcoming line-up, and tech enthusiasts will be pleased to learn Kopite's newest update.
We can expect RTX 4080 with 320W and RTX 4070 with 285W.

— kopite7kimi (@kopite7kimi) August 9, 2022
Both the RTX 4080 and RTX 4070 have seen a reduction to their estimated TBP numbers. However, the more substantial reduction has been made to the GeForce RTX 4080. The previous rumor stated that the RTX 4080 would have a TBP rating of 420 watts. The 320 watts figure is a huge 100 watts reduction, and puts Nvidia's upcoming GPU at the exact same rating as the former, RTX 3080.
The memory configuration has remained the same as the previous reports. Nvidia's RTX 4080 will come with 16GB of GDDR6X memory, running at 21Gbps, across a 256-bit bus. Interestingly, Kopite has not provided an update on the clock speeds for the RTX 4080, unlike his update on the RTX 4070. All in all, the specifications coupled with an identical TBP to the RTX 3080 should allow the RTX 4080 to perform substantially better per watt, than its predecessor.
With the current specifications, the RTX 4080 will offer about 50 TFLOPS of computing power. This is a nearly 60-70% increase over the RTX 3080's 30 TFLOPS. This figure is even more impressive when considering the fact that both graphics cards are supposed to have the exact same TBP figures.
However, it should be noted that this 60-70% gain for the RTX 4080, might not necessarily carry over to gaming benchmarks. Anyhow, the RTX 4080 is shaping up to be an impressive upgrade over an already great release from Nvidia. If the rumors are anything to go by, Nvidia is rapidly changing things, likely in an attempt to finalize the retail specifications for Ada Lovelace.
August 25 Update
A small update has been provided by Kopite7kimi since the last changes. However, this update is less significant compared to the previous ones.
For the most part, the leaked specifications have stayed the same. Kopite claims that the memory speeds have been increased to 23Gbps. This could provide a potential bandwidth upto 736GB/s. Moreover, the power draw has seen a slight increase. According to the new information, the GeForce RTX 4080 will be rated at 340 watts TBP. This is 20 watts higher than the earlier leak, but nothing too concerning for consumers looking to upgrade from GeForce RTX 3080 GPUs.
As stated earlier, every other specification has stayed the same.Finally, Nvidia has revealed a bit more information in a recent earnings call. The company has confirmed its presence at GTC 2022. A keynote is scheduled for September 20.
Nvidia has stated that the key-note will focus on AI strategy for business leaders, but CEO Jensen Huang has also hinted at gaming products. The CEO has stated that he is looking to share new advances of RTX, reinventing 3D Graphics and Gaming.
Perhaps this is a hint at Nvidia's plans to finally reveal ADA Lovelace. The conference is scheduled for late September, so GeForce RTX 40xx cards will likely launch in October, at the earliest. However, an even later launch would not be surprising.
September Update
Nvidia has now officially revealed Ada Lovelace. A plethora of new details have been made available to the public, including information like specifications and pricing.
While three cards were initially expected to be revealed, Nvidia has decided to divide the GeForce RTX 4080 into two separate SKUs instead of releasing a GeForce RTX 4070 GPU at launch. While both RTX 4080 variants share the same name, they are vastly different in terms of the specifications.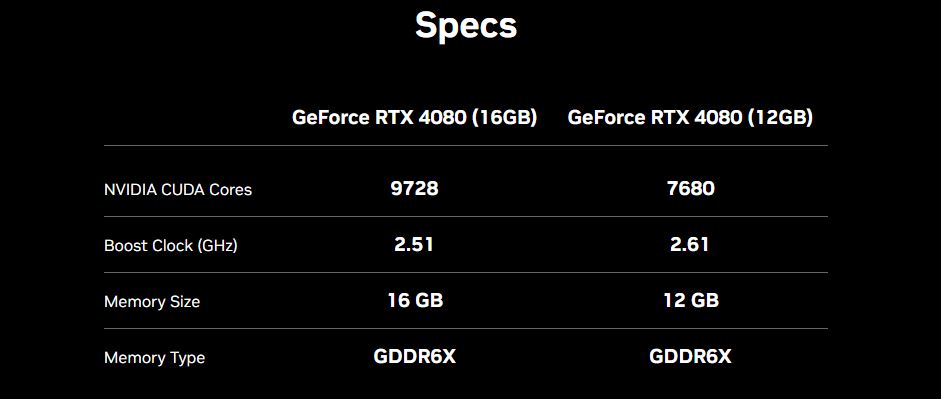 GeForce RTX 4080 16GB
This is the top tier GeForce RTX 4080. The RTX 4080 16GB sits comfortably between the strongest and weakest GPU in the Ada Lovelace launch line-up. Nvidia has not officially revealed the entire list of specifications for the upcoming Ada graphics cards, but some key details can be found on Nvidia's product page.
The GeForce RTX 4080 will feature 9728 CUDA Cores, and boost clocks upto 2.5GHz. It will also include 16GB of GDDR6X memory across a 256-bit bus interface. This seems to be in line with prior leaks. As such, it would not be far-fetched to assume that the rest of the leak is also reliable.
Nvidia has also confirmed the 320 watt TBP figure for the GeForce RTX 4080 16GB. While this graphics card is the successor to the GeForce RTX 3080, there has been a sharp increase in price for this SKU. The GeForce RTX 4080 16GB starts at a whopping $1199.
GeForce RTX 4080 12GB
The RTX 4080 12GB will be the cheapest offering for Nvidia's upcoming launch. This graphics card sees a significant reduction to the CUDA Cores, with a total of 7680 CUDA Cores compared to the 9728 in the superior RTX 4080. However, the biggest compromise comes in the form of a 192-bit bus interface. This should lead to a huge reduction in overall bandwidth.
However, the RTX 4080 12GB is able to boost higher than its bigger brother, at 2.6GHz. Despite the cut to specifications, the 12GB SKU does not have a huge difference in terms of TBP. Nvidia's RTX 4080 12GB has a TBP of 285 watts. Nvidia recommends a 700-750 watt power supply, depending on the RTX 4080 SKU.
Both RTX 4080 GPUs also feature 3rd gen RT Cores and 4th gen Tensor Cores. Nvidia claims that Ada Lovelace will bring some much needed improvements to Ray-Tracing performance. Additionally, DLSS has also received a brand new iteration.
Nvidia's AI based upscaling technology has received huge changes with DLSS 3. While DLSS 2.0 upscaled from a lower render resolution, DLSS 3 takes things one step further by utilizing AI calculations to generate entirely new frames. This can lead to huge gains in performance, as seen below.
A total of 35 games will support DLSS 3 at launch, and more will likely follow, as Ada Lovelace graphics cards are adopted by the general PC player-base. Additionally, Nvidia has also confirmed that DLSS 3 is exclusive to RTX 4000 GPUs. Although this is disappointing for existing Turing and Ampere users, Nvidia has admitted that it is technically possible to bring DLSS 3 to older graphics card generations.
Both RTX 4080 graphics cards are set to launch after the GeForce RTX 4090. Nvidia has not confirmed an exact release date for either SKU, but the graphics cards are set to launch some time in November, 2022.
Frequently Asked Questions
When will Nvidia GeForce RTX 4080 launch?
It is rumored that Nvidia's RTX 4000 series will launch around September of 2022, which would line them up to launch just around 2 years after their previous Ampere RTX 3000 lineup. The RTX 4080 will likely be one of the cards to launch in September.
Will RTX 4080 Be Better than RTX 3080?
Reports suggest a rasterization performance improvement of around 60-70% for AD103 (which will likely be the die used in RTX 4080). We can also expect double the ray tracing performance from leaks.
How much wattage will be ideal to support the Nvidia GeForce RTX 4080
Nvidia recommends 750 watt for a 3080 build. Since power draw is stated to be similar to a 4080, an 850 watt Gold PSU at minimum would be recommended.
Was our article helpful? 👨‍💻
Thank you! Please share your positive feedback. 🔋
How could we improve this post? Please Help us. 😔
[News Reporter]
Avinash is currently pursuing a Business degree in Australia. For more than three years, he has been working as a gaming journalist, utilizing his writing skills and love for gaming to report on the latest updates in the industry. Avinash loves to play action games like Devil May Cry and has also been mentioned on highly regarded websites, such as IGN, GamesRadar, GameRant, Dualshockers, CBR, and Gamespot.