In the past few months, GPU prices have finally started falling worldwide. In the status-quo, prices are still considerably higher than they were before the global shortages, however. In these times, PC gamers and Nvidia Fans anticipate the launch of Nvidia's RTX 4000 series, as Nvidia will try to ensure that its latest RTX lineup does not deal with shortages as its previous lineups.
Late in February 2021, Nvidia revealed that they were hacked by a group known as "Lapsus$", as a result of which, information regarding the upcoming RTX 4000 series (based on the Ada Lovelace Architecture) has started to leak.
These leaks have confirmed that we will indeed be seeing the launch of Nvidia's awaited RTX 4000 series later in 2022, with some of the specifications being leaked as well.
We covered the potential RTX 4070 Price information that was discovered, just last week. With more details coming out by the day, today, we will discuss all the details we have so far of Nvidia's RTX 4070.
The lineup will likely be similar to the RTX 3000 series, with an RTX 4090, 4080, 4070, 4060 and 4050. It's expected that the 4060 and 4050 will feature Ti variants.
There will likely be five different dies across the different GPUs (AD102, AD103, AD104, AD105, AD106 and AD107). Our focus today is on whatever potential information we have so far regarding the upcoming Nvidia GeForce RTX 4070.
Of what's officially known, the Nvidia RTX 4070 and the rest of the RTX 4000 lineup will be based on Nvidia's Ada Lovelace Architecture. Early leaks told us that the RTX 40- series will be processed on TMSC's 5nm node, but more recent news from YouTuber Moore's Law is Dead tells us that Lovelace will actually use the 4nm node.
It's hard to be sure whether this refers to the 4N node (an optimized 5nm node to be used in Hopper GPUs) or the actual 4nm node, but we believe it's the former.
We certainly wouldn't expect Lovelace to use a more advanced node than enthusiast-grade Hopper, and Nvidia will have an advantage over AMD's RDNA3, which will use TMSC's 5nm and 6nm nodes. This means that it will feature a more efficient design with more transistors compared to the previous generation.
The RTX 4090 and 4080 will be based on the most powerful AD102 die, while the RTX 4070 and RTX 4060 Ti will be based on AD103, which is not as powerful.
Twitter user kopite7kimi became one of the first to leak potential information regarding the upcoming RTX 4000 series. Here's what we have been able to gather so far of the RTX 4070.
I know these before,
AD102 12*6 384bit ~600mm²
NOT MY SOURCES,
AD103 7*6 256bit
AD104 5*6 192bit
AD106 3*6 128bit
AD107 3*4 128bit
Celebrate the leak!
You don't need me anymore. 🤣🤣🤣

— kopite7kimi (@kopite7kimi) March 2, 2022
RTX 4070 Specifications
According to MyDrivers, a Chinese news source, the specifications of the Nvidia RTX 4070 will be as follows;

So, the Nvidia GeForce RTX 4070 will feature the same GDDR6 memory, but the amount of video memory is doubled to an astonishing 16 GB.
Leaks have also confirmed that the Nvidia RTX 4070 will feature 64 MB of L2 cache, which is over ten times more than that of RTX 3070 or GA103 (4 MB). Consequently, you can expect a much higher hit rate and more bandwidth. This move from Nvidia seems to have been made keeping in mind AMD's upcoming RDNA 3 GPUs which promises much faster Infinity Cache.
RTX 4080 will use AD103 chips, build with 16G GDDR6X, have a similar TGP to GA102.
RTX 4070 will use AD104 chips, build with 12G GDDR6, 300W.
Both of them haven't started testing yet, but soon do them.

— kopite7kimi (@kopite7kimi) April 27, 2022
Following that, It was later revealed by same twitter user kopite7kimi that RTX 4070 is expected to come equipped with AD104 chip, built with 12G GDDR6 running at 300W.
The Nvidia GeForce RTX 4070 will also see a major increase in the number of CUDA cores, with 9728 CUDA cores (across 84 SMs), compared to RTX 3070's 5888.
In terms of RT or Ray Tracing Cores, the RTX 4070 features 76 cores, compared to 46 of the RTX 3070. Therefore, you can expect ray tracing performance to be much, much better. Finally, it features 304 Tensor AI cores, while its predecessor featured 184 cores.
Twitter user harukaze5719's claims suggest that AD103 (RTX 4070) will feature 43.01 FP32 TFLOPS at a target of 2.0 GHz, but the number of CUDA cores stands at 10752, against MyDriver's claim of 9728.
YouTuber Moore's Law is Dead also backs the claims suggesting 10752 CUDA cores for the Nvidia RTX 4070.
So then, let's summarize about Lovelace and Hopper…@kopite7kimi @xinoassassin1 pic.twitter.com/hioRcvn8fb

— 포시포시 (@harukaze5719) March 2, 2022
Lastly, and surprisingly, MyDriver's claims suggest that the RTX 4070 will be running across a 192-bit bus. The RTX 3070 has a bus width of 256 bits. Twitter user harukaze5719 also oppose these claims, predicting that the Nvidia GeForce RTX 4070 (AD103) will have a bus width of 256 bits, the same as its predecessor.
However, It appears to be a fairly broad portfolio, with the three most essential bigger graphics cards – 4070, 4080, and 4090 – all based on extra graphics chips: GeForce RTX 4090 logically on the AD102, GeForce RTX 4080 on the AD103, and GeForce RTX 4070 on the AD104, as described by kopite7kimi.
GeForce RTX 4070 based on the AD104 chip, which the 12 GB graphics card Memory, in this case, 300 watts is a relatively high power consumption value for a mid-range solution; the currently available GeForce RTX 3070 (based on the GA104 processor) manages to consume just 220 watts.
Although NVidia has increased the number of shader clusters from 48 to 60 (+25%) between the GA104 and AD104, given the considerable leap in production from 8nm Samsung to 5nm TSMC, one would hope that power consumption does not grow any further, at least for these smaller graphics processors.

n31 tape-out Q3 2021
n33 tape-out Q4 2021
n32 tape-out Q1 2022

— Greymon55 (@greymon55) April 27, 2022
However, it remains to be seen whether NVidia will stick to this design for the GeForce RTX 40 portfolio or make alterations.
This is possible because, according to 'Kopite7kimi,' the GeForce RTX 4080 & 4070's AD103 & AD104 graphics chips have not yet started their test phase, which should happen soon. AD103 & AD104, by the way, have already reached their tape-out due to this formulation.
Thank you for correction! pic.twitter.com/UOqdxqGxPa

— 포시포시 (@harukaze5719) March 2, 2022

This table from VideoCardz.com sumps up the differences between the RTX 3000 and RTX 4000 series. The information about the RTX 4000 cards is based on leaks from Twitter users harukaze5719, kopite7kimi, and xinoassassin1.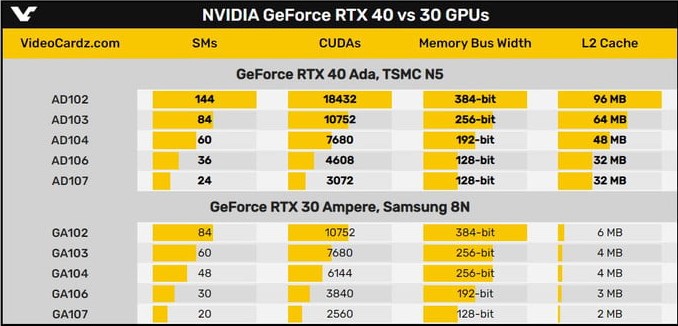 YouTuber Moore's Law is Dead also
confirms these specifications
.
RTX 4070 Performance and Power
According to leaks, the Nvidia GeForce RTX 4070 will likely be on par or even faster than the RTX 3090 in gaming performance. That's a massive hike in performance over its direct predecessor.
For reference, the RTX 3090 is the second most powerful Ampere card, and was launched at a price of a staggering $1500. We can also expect ray tracing performance to improve by leaps and bounds over the RTX 3090, considering the big spike in the number of ray tracing cores.
According to rumors from YouTuber Moore's Law is Dead, rasterization performance on the RTX 4070 might see a 10-30% increase from the most powerful Ampere card, the RTX 3090 Ti.
In any case, we can expect a significant performance improvement considering the improvements in the core specifications and the architecture, over the RTX 3000 series.
In terms of power consumption, you can expect much higher numbers as compared to the RTX 3070, but that's expected considering the improved performance. It is rumored that the RTX 4070 will have a TDP rating around or between 250 watts to 350 watts.
RTX 4070 Launch Date
Nvidia generally releases new lineups about every 2 years and with the RTX 3000 series being launched on 17 September, 2020, we can expect the RTX 4000 series to launch early in the next half of 2022. It's also expected that the RTX 4090, 4080 and (possibly) the 4070 will be the first to launch, altogether.
The less powerful RTX 4000 cards will then be released at a later date. If the Nvidia GeForce RTX 4070 is not one of the first batch of GPUs to launch, then expect a date late into 2022, or quite possibly, early 2023.
Twitter leaker Greymon55 suggests that the 4000 series GPUs will indeed be launching some time in September.
Tape-out, test phase and release times for nVidia AD102, AD103, AD104 and AMD Navi 31, 32, 33 – according to latest leaks by @Kopite7kimi and @Greymon55

Note: Can not be 100% accurate, but give you the big picture.https://t.co/MhM4sbcWXQ pic.twitter.com/cfAtAz87tX

— 3DCenter.org (@3DCenter_org) April 29, 2022
On April 29th, leaked information from kopite7kimi and Greymon55 seemingly confirmed that AD104 (RTX 4070) is likely to launch somewhere in the 4th quarter of 2022, with the testing phase starting around May/June of 2022.
Nvidia RTX 4070 Launch Price
It's expected that the RTX 4070 will be launched at the same MSRP as that of the RTX 3070, at $500. We also discussed the possible price for the Nvidia RTX 4070 earlier, and it surprised us considering the rising raw material prices. Also, earlier this year, TMSC increased the foundry prices for their 5nm and 7nm node by 10% to 20%.
So, considering the improved performance, it will be a blessing for mid-range enthusiast GPU seekers if the RTX 4070 is launched at the same price. This pricing information should be taken with a grain of salt because of the very reasons we've mentioned.
Even though the RTX 2070 and RTX 3070 both had MSRPs of $500, there's a possibility that the Nvidia RTX 4070 actually sees a price bump to $550.
Nvidia is likely to continue production of RTX 3000 cards at the same time so demand doesn't become a huge problem as it is likely to, and this may hint at reasonable prices for the RTX 4000 cards, but nothing is confirmed yet in this regard.
Update as of May 10, 2022
On 10th of May, Twitter user kopite7kimi gives us some more information, particularly concerning the RTX 4070 and the RTX 4090.
RTX 4090, PG137/139-SKU330, AD102-300, 21Gbps 24G GDDR6X, 600W
RTX 4070, PG141-SKU341, AD104-400, 18Gbps 12G GDDR6, 300W

— kopite7kimi (@kopite7kimi) May 10, 2022
The leaker confirms details from an earlier tweet, alleging that the Nvidia GeForce RTX 4070 would use the AD104 die, with 12 gigabytes of GDDR6 (18 GB/s) of memory. Furthermore, he backs up earlier claims that suggested a power draw of 300 watts for the RTX 4070.
It's worth noting that it'll be getting the AD104 die this generation, which is larger than what was previously allotted for this class. The 104 die was for the x80 GPU in Turing and prior generations, whereas the smaller 106 die was for the x70 cards.
In addition to a larger die, it will receive a significant memory boost. It'll likely have 12GB of GDDR6 running at 18Gb/s.
kopite7kimi tweeted some additional information later. This SKU, along with the RTX 4060, will be Lovelace's best-selling model. The 4070 is equipped with 12GB of 18Gbps GDDR6 memory. The shader count is estimated to be 7,680, with a TGP of 300W expected.
The RTX 3070 comes with 8GB of GDDR6 RAM and 5,888 shaders on a 256-bit bus.
Additionally, it is reported that Nvidia will hold a keynote speech conference at Computex (Computer Taipei) on May 24, in which Nvidia is going to announce the upcoming RTX 4000 Series.
Final Specifications
Keeping in mind all that's been discussed, we can sum up what the specifications for the Nvidia RTX 4070 are roughly looking like:
Architecture: Ada Lovelace
Manufacturing Node: TMSC 4nm (or 4N)
No. of CUDA Cores: 7682
Ray Tracing Cores: 76
Tensor AI Cores: 304
Bus Width: 256-Bit
Total Memory (Memory Type): 12 GB (GDDR6)
GPCs: 5
TPCs per GPC: 6
SM per GPC: 2
FP32 TFLOPs per SM: 128

Total SMs: 60
L2 Cache per 64-bit Memory Controller: 16 MB
Total L2 Cache: 64 MB
Total Board Power: 300 Watts
Power Connector: PCIe 4.0
Launch Date (Approximate): Q4, 2022
Launch Price (Approximate): $500 to $550
May 2022 Update
Twitter user Kopite7kimi has revealed some internals of Nvidia's "Ada" generation AD102 chip, based partly on known leaks and partly on his assumptions.
This indicates that, even if everything looks to be plausible, one cannot assume this data with certainty just yet. The one that was just shown is also included. The number of units per shader cluster (SM) has changed.
OK, I did some corrections. Is it really that simple? pic.twitter.com/j7QUIY98lG

— kopite7kimi (@kopite7kimi) May 13, 2022
In addition to the 128 FP32 units found in Gaming-Ampere, there are also 64 dedicated INT32 units, which provide the FP32 units in "Ada" with their floating-point.
The Twitter user assumes that the control and administration logic will be greatly increased in order for this unit to boost throughput and hence computing power in practice.
18th May Update
Forget it. Still up to 18432. 🤪🤪🤪🤪🤪 Confirmed.

— kopite7kimi (@kopite7kimi) May 18, 2022
There should now be a clear and verified explanation, at least for the number of FP32 units, as Twitter user 'Kopite7kimi' recently moved between alternative interpretations of the "Ada" shader clusters: There are a total of 18,432 slots available.
That number refers to the AD102 graphics chip as a whole, not to a specific graphics card. In other interpretations, the leaker has also experimented with increasing the number of FP32 units in each shader cluster (128 for Ada, as with Ampere), with 192 or 256 FP32 units per shader cluster – which can be as high as 27′ 648 or 36,864 FP32 units for the total chip.
Because of the high-performance forecasts for the GeForce RTX 4090, which are sometimes more than twice as good as the GeForce RTX 3090, it's been doubted whether the tech giant could actually compete with such a performance boost on a consistent basis.
However, consistency is not the case because the GeForce RTX 4070 & 4080 come with a substantially lower performance increase due to the currently known chip/card location inside the GeForce RTX 40 series.
The basis for this can be found in the graphics chips used in each case or the hardware differences between them and their predecessors: The hardware leap is quite minimal with the AD104 and AD103 chips, but it is quite large with the AD102 chip
May 27th Update
Firstly, as of now, there is still no concrete evidence regarding any of the leaks. Sadly, NVidia hasn't explicitly revealed anything so far. However, we are expecting NVidia to give us a big reveal during the Summer Games Fest. Secondly, according to Kopite7kimi, RTX 4000 series graphics cards could potentially be released by Mid-July.
Mid July.

— kopite7kimi (@kopite7kimi) May 16, 2022
All things considered, let's believe this shall be the case. What happens next? To sum it up, AMD will be forced to release their RX 7000 series graphics cards early. This is going to be a win-win situation for NVidia and they will easily be able to maintain their lead. Unless, of course, AMD has some form of monster packed for their own GPUs.
Lastly, so far, we have not heard from NVidia at all during Computex. Therefore, all previous speculations of an announcement during the event have been rendered useless now.
In terms of specifications and performance, no actual leaks have come out. It's the same as before. AD104; 12 GB of GDDR6 VRAM; TSMC 4nm node; 7682 CUDA Cores and 76 RT Cores. However, SM count has decreased by 2 from 128 to 126. Kopite7kimi leaked this not too long ago.
So 128 out of 144 SMs?

— VideoCardz.com (@VideoCardz) May 16, 2022
Ultimately, regarding pricing, expect anything from $450-$550. The RTX 4070 being any more expensive than this will lose its budget performance value.
RTX 4070 July Update
The introduction of the entry-level "Geforce GTX 1630" solution has reportedly been postponed by Nvidia indefinitely, according to VideoCardz. The card is allegedly missing a number of parts that are unrelated to the TU117 graphics chip. The updated GeForce RTX 40 series release date, which VideoCardz claims to be one of the first to announce, is much more exciting.
There are several forecasts for the release date of the RTX series cards, as can be seen in the graph that 3dcentre put together, but they all currently agree on a range from September to December with only minor deviations. Any one of them being accurate increases the likelihood that the RTX series will be in action on one of those dates.
Furthermore, according to recent industry rumours, the MSRP of the GeForce RTX 40 series will be more than that of the GeForce RTX 30 series.
The price increase may be significantly influenced by TSMC's increase in wafer prices. As both AMD and Nvidia rely on the Taiwanese semiconductor giant for their current and next-generation node technology, they are obligated to pay.
As a result of the current chip scarcity and supply chain congestion, TSMC has already increased wafer costs by between 10 and 20 per cent, according to a DigiTimes report.
Moreover, According to reliable leaker and insider kopite7kimi, we shouldn't anticipate a cheaper MSRP for the forthcoming generation of GeForce RTX cards. It seems that, as of right now, the DigiTimes story is not the only one asserting that this time around, the MSRP will be more than the RTXD 3000 series.
RTX 4070 August Update
There have been some interesting developments regarding the GeForce RTX 4070 leaks, in recent days. The leaker Kopite7kimi has a few new updates on the RTX 4070.
There is an update of RTX 4070.
PG141-SKU331
7680FP32
12G 21Gbps GDDR6X
300W
TSE >11000

— kopite7kimi (@kopite7kimi) August 4, 2022
As seen above, the graphics card will be based on the PG141-SKU331 PCB. The memory specifications are stated to be 12GB of 21Gbps GDDR6X. This means that the memory has seen an upgrade from 18Gbps GDDR6 memory, as stated by the previous rumors. Moreover, the shader count has remained the same at 7680FP32 with a total of 60 shader clusters. The new leaks also predict a 48 MB L2 Cache, as opposed to the earlier rumors of 64MB. Disappointingly, the GPU is said to feature a 192-bit bus, as suggested earlier.
However, more interesting is the updated power draw requirement for the GeForce RTX 4070. While the leaker had previously predicted 300 watts, that figure has now been reduced by a small margin.
We can expect RTX 4080 with 320W and RTX 4070 with 285W.

— kopite7kimi (@kopite7kimi) August 9, 2022
Among the most recent tweets from kopite7kimi, the RTX 4070 TBP has been listed at 285 watts. This is a small change from the previous figure but it helps push the new GPU closer to its predecessor, the RTX 3070. The last generation GPU came with a TBP of just 220 watts so the RTX 4070 seems to be quite a bit more power hungry, despite the newer numbers from the leaker.
Moreover, Kopite7kimi has also mentioned the clock speeds for Nvidia's upcoming graphics card.
base 2310
boost 2610
max >2800
TGP 285W

— kopite7kimi (@kopite7kimi) August 10, 2022
As expected, the new GPUs will boost considerably higher than their Ampere counterparts. A max clock of over 2.8Ghz seems to be achievable thanks to the shift to the new TSMC node. We expect this number to go even higher with custom AIB models, and overclocking enthusiasts will likely have a great time with the new GPUs.
The GeForce RTX 4070 is expected to follow the RTX 4090 and RTX 4080 in terms of launch dates. While no concrete dates have been announced so far, it would make sense for Nvidia to follow their traditional release schedule. Recent reports from Nvidia have announced huge dips in GPU sales. Therefore, we expect Team Green would want to try and get rid of current Ampere stock, before finally moving on to Ada Lovelace graphics cards.
Was our article helpful? 👨‍💻
Thank you! Please share your positive feedback. 🔋
How could we improve this post? Please Help us. 😔
[News Reporter]
Avinash is currently pursuing a Business degree in Australia. For more than three years, he has been working as a gaming journalist, utilizing his writing skills and love for gaming to report on the latest updates in the industry. Avinash loves to play action games like Devil May Cry and has also been mentioned on highly regarded websites, such as IGN, GamesRadar, GameRant, Dualshockers, CBR, and Gamespot.