Ever since the hack on Nvidia's database, there have been many leaks that have given us ideas on what to expect from their RTX 4000 (or possibly 5000) series lineup. The most recent leak suggests that the launch of these RTX 4000 cards is actually much closer than we expected. (Read also: RTX 4090)
Today, our topic of discussion is RTX 4060, which will be a mid-to-high-range RTX 40- series card. We will be discussing the specifications, launch information, performance, and all the other information available.
Nvidia RTX 4060 Specifications
The alleged specifications for the RTX 40- series have been going around since late 2021. With lots of speculation being involved as well, there have been many changes over the past few months.
Also Read: RTX 4080 – Everything We Know So Far
Some of the information is already official, like the architecture these graphics cards will be based on. The RTX 4000 cards will be based on the Ada Lovelace architecture (also called Lovelace, or simply Ada), which is Nvidia's step-up from Ampere, the architecture utilized in the RTX 3000 series cards.
Also, early leaks were suggesting that the cards would be fabricated on TMSC's 5nm processing node, but since then, Moore's Law is Dead has confirmed that the Lovelace cards will actually be based on TMSC's 4nm process.
Notice I didn't mention PCIe 5.0 in my Lovelace Slides: https://t.co/n7sdIL1Uku

Speaking of "4", #NVIDIA Lovelace is indeed 4nm!

🤠🎉😋 More to say on the next Broken Silicon… https://t.co/jjJ1GSod0j

— Moore's Law Is Dead (@mooreslawisdead) April 24, 2022
It would be normal to assume that the leaker is referring to 4N, which is a customized 5nm node specifically made for Nvidia. But the leaker seemingly reconfirmed that he's actually referring to N4 (the actual 4nm node).
He also contradicts earlier leaks that said that the RTX 4000 cards could be based on the PCIe 5.0 interface, which aligns with kopite7kimi's confirmation that these cards will indeed be based on PCIe 4.0.
PCIe Gen4

— kopite7kimi (@kopite7kimi) April 24, 2022
Talking about the RTX 4060, it will likely be based on the AD104 die and we will try to summarize all the leaks we have so far regarding this die (with focus on the RTX 4060). Reputed leaker kopite7kimi leaked the alleged die information of the RTX 4000 cards on 2nd of March.
I know these before,
AD102 12*6 384bit ~600mm²
NOT MY SOURCES,
AD103 7*6 256bit
AD104 5*6 192bit
AD106 3*6 128bit
AD107 3*4 128bit
Celebrate the leak!
You don't need me anymore. 🤣🤣🤣

— kopite7kimi (@kopite7kimi) March 2, 2022
According to this leak, the RTX 4060 will have a 192-bit bus, with 5 GPCs having 6 TPCs each.
On the same day, a table was presented on Twitter by credible leakers @harukaze5719, @kopite7kimi, and @xinoassassion1. This table from @harukaze5719 summed up the alleged information regarding the different Lovelace dies.
So then, let's summarize about Lovelace and Hopper…@kopite7kimi @xinoassassin1 pic.twitter.com/hioRcvn8fb

— 포시포시 (@harukaze5719) March 2, 2022
Regarding the RTX 4060 (AD104), the table tells us that the graphics card will feature a total of 5 GPCs (Graphics Processing Clusters) with 6 TPCs (Texture Processing Clusters) per GPC for a total of 18 GPCs.
Furthermore, it contains 2 SMs (Stream Multiprocessors) per TPC. This equals a total of 7680 CUDA Cores across 60 SMs.
At 2.0 GHz, it gives us an FP32 compute performance of an impressive 30.72 TFLOPs. The actual core clock speeds will likely be higher than this, though.
It will also feature 48 MB of L2 cache, with a 192-bit bus (corrected by @xinoassassin1). This is a major upgrade from RTX 3060 (4 MB), and Nvidia is likely keeping in mind AMD's improved infinity cache for RDNA 3. (Read: RX 7800 XT).
In terms of memory, YouTuber Moore's Law is Dead claims that the RTX 4060 will feature 12 GB of (GDDR6X?) memory.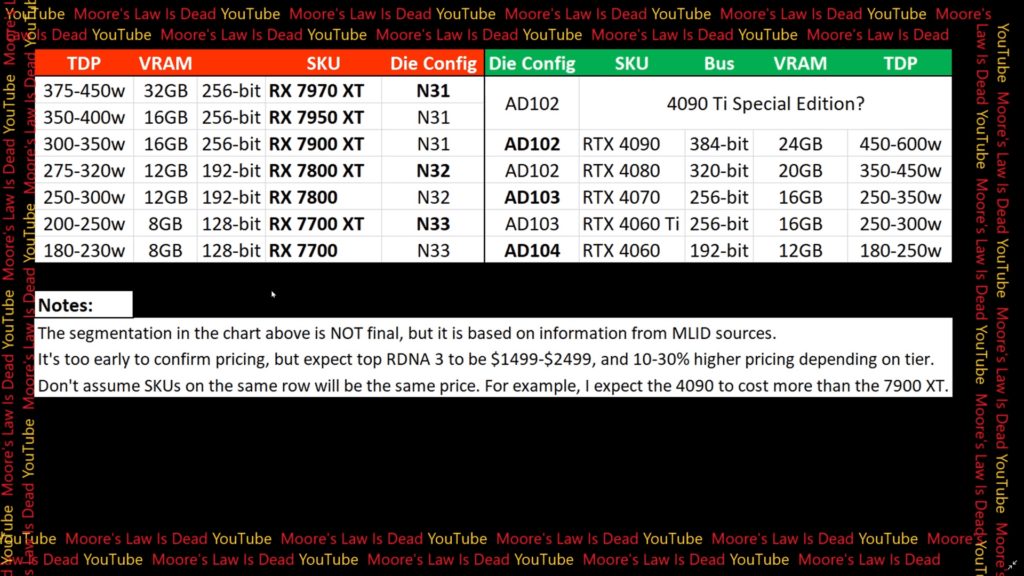 RTX 4060 Power Draw
There's no leak regarding the RTX 4060's power draw, but we can derive an estimate from other leaks. Leaker kopite7kimi tells us that the RTX 4070 will likely draw 300 watts of power.
RTX 4090, PG137/139-SKU330, AD102-300, 21Gbps 24G GDDR6X, 600W
RTX 4070, PG141-SKU341, AD104-400, 18Gbps 12G GDDR6, 300W

— kopite7kimi (@kopite7kimi) May 10, 2022
This tells us that Nvidia will probably be looking at a target of around 200 watts for the RTX 4060 and likely around 250 watts for a possible RTX 4060 Ti. From his sources, Leaker Moore's Law is Dead tells us that the RTX 4060 will likely draw around 180 watts to 250 watts of power, as seen in the above table.
Nvidia GeForce RTX 4060 Release Date
It has been long thought that Nvidia will be releasing the RTX 4000 series somewhere in 2022, which would mean that Nvidia would be following their usual schedule, releasing a new generation every two years.
With the previous generation flagship launching in September 2020, this would mean that the RTX 40- series would definitely be launching this year. And in fact, early leaks suggested a launch around September for the flagship AD102-based card.
Lovelace will be available in September. https://t.co/21gkJrmXLu

— Greymon55 (@greymon55) February 23, 2022
Tape-out, test phase and release times for nVidia AD102, AD103, AD104 and AMD Navi 31, 32, 33 – according to latest leaks by @Kopite7kimi and @Greymon55

Note: Can not be 100% accurate, but give you the big picture.https://t.co/MhM4sbcWXQ pic.twitter.com/cfAtAz87tX

— 3DCenter.org (@3DCenter_org) April 29, 2022
This table from @3DCenter_org, compiled according to leaks from leakers @Greymon55 and @kopite7kimi tells us that the tape-out for the RTX 4060 was possibly initiated in March of 2022 with the testing to start in May or June of 2022. Finally, it predicts a launch date in the fourth quarter of 2022.
Since then, the reliable leaker kopite7kimi has given us a major update regarding the launch dates of the RTX 4000 series, citing a launch in the "early Q3" of 2022.
Q3 early

— kopite7kimi (@kopite7kimi) May 15, 2022
The leaker has since then clarified that, likely the flagship RTX 4090 will allegedly be launching somewhere in mid-July, meaning the release date has been pulled around 3 months compared to what the early leaks suggested!
Mid July.

— kopite7kimi (@kopite7kimi) May 16, 2022
Again, this does not give us concrete information regarding the launch of RTX 4060, but we should be seeing its launch in late 2022 if Nvidia follows the same pattern as the RTX 3060.
Nvidia RTX 4060 Performance
There is no official information regarding the performance of the RTX 4060, and it's hard to estimate performance solely based on leaks.
YouTuber Moore's Law is Dead speculates a rasterization performance around the level of RTX 3080 and a ray-tracing performance around RTX 3090 Ti(!).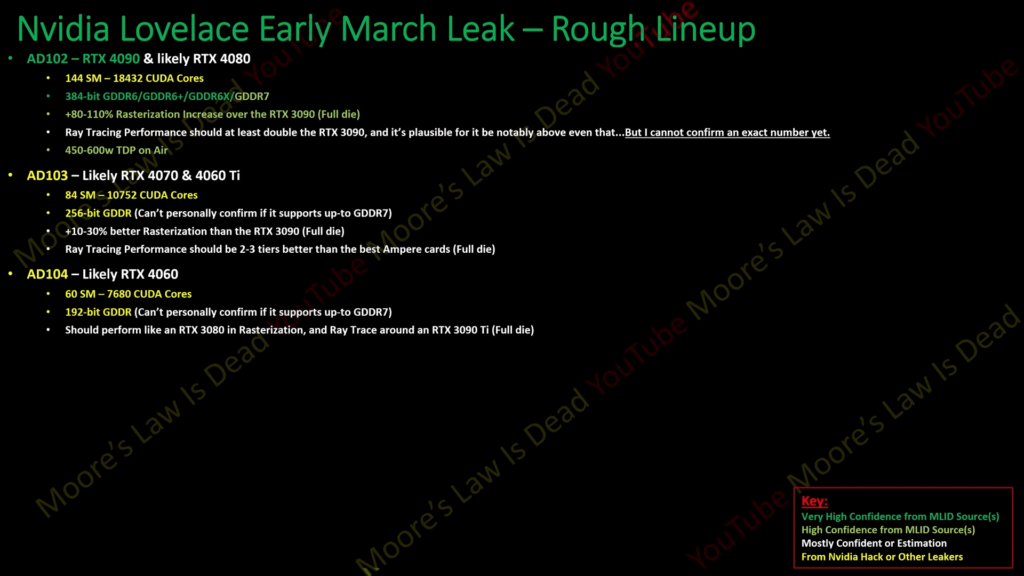 In any case, it's fair to expect a reasonably big performance leap over the RTX 3060, keeping in mind the alleged improvements in specifications and the increased power draw, as well as the improvement in FP32 compute performance.
RTX 4060 Price
It's hard to estimate the price of the RTX 4060, but if Nvidia prices it at the same MSRP as the previous generation, then it would cost $329.
GPU shortages have been dying down as of late, and graphics cards are coming closer to their original MSRPs, but things are still not completely stable in Nvidia's case.
TMSC's increased prices for their 5nm nodes may prove a hurdle for Nvidia to retain the same price tags as previous generations.
In terms of shortages, Nvidia reportedly spent $10 billion to acquire TMSC's 5nm nodes, so their plan is clearly to eliminate these shortages for good.
In conclusion, Nvidia may or may not bump up the price for the RTX 4060. Time will tell, and our fingers are crossed.
Breakdown of Likely Specifications for Nvidia RTX 4060
Based on the leaks we have discussed so far, let's sum up the alleged specifications for the RTX 4060.
Product Lineup: RTX 4000 (or 5000) Series
Architecture: Ada Lovelace
Processing Node: TMSC 4nm (or 4N)
GPU Die: AD104
No. of CUDA Cores: 7680
No. of GPCs: 5
TPCs per GPC: 6
SMs per TPC: 2
Total no. of SMs: 60
FP32 Performance (at 2.0 GHz): 30.72 GHz
L2 Cache per 64-Bit IMC: 16 MB
Total L2 Cache: 64 MB
Bus Width: 192-Bit
Memory (Memory Type): 12 GB (GDDR6X?)
Power Draw: ~200 Watts
Launch Date (Approximate): ~Q4 2022
Launch Price (Approximate): $329 to $379
June 2022 Update

According to VideoCardz, Nvidia has pushed out the release of the "Geforce GTX 1630" low-end solution indefinitely. Various components (not linked to the TU117 graphics chip) are claimed to be missing from the card. Much more intriguing is the revised release date for the GeForce RTX 40 series, which VideoCardz claims to be one of the first to announce.
As seen in the graph, which 3dcentre compiled, there are different predictions for the launch date for RTX series cards, but all of them agree now between September to December with little variations among them. It is highly likely that any one of them is correct, and we could see the RTX series in action on any of those dates.
They all agreed that the GeForce RTX 4090 would launch in September or October 2022. As previously noted, scheduling is a dynamic story, and with a 3-4 month wait for the first release of the GeForce RTX 40 series, none of the sources should be held to these claims.

Greymon55 also claims that the GeForce RTX 40 series will be delayed due to an overabundance of GeForce RTX 30 graphics cards on the market. After the manufacturers ramped up card production at the conclusion of the component scarcity, the same was suspected, but a distinct reluctance to acquire has been evident since at least the second quarter.
The final specification may be 16384 instead of 16128. A little difference.

— kopite7kimi (@kopite7kimi) June 12, 2022
Twitter user Kopite7kimi, on the other hand, makes a minor adjustment to the GeForce RTX 4090's specifications: There should now be 128 shader clusters instead of the previously reported 126.
Moreover, with this graphics card, there are a total of 24'576 (unlocked) processing units, including 16'384 FP32 units and 8192 INT32 units, assuming the information regarding extra INT32 units in the "Ada Lovelace" architecture is right. Nvidia is more likely to have designed succeeding AD102 cards with a greater hardware combination in mind in order to close the performance gap. However, it appears that this is sufficient to offer the GeForce RTX 4090 2 extra shader clusters.
In the case of the GeForce RTX 4090, Nvidia is most likely nearing the conclusion of the concept and design process; the "BOM" (bill of materials) will be created at some point, and the card will then be finalised in terms of hardware.
Changes to this could only affect the clock rates and the power limit, but only in extreme cases. Because the board developed using the BOM list can't be used for considerably higher clock rates and power constraints, a completely new design with partly different tiny parts is required.
Smaller adjustments to the clock rate and power restriction are still feasible, as is changing the graphics card's name at a later date, and, if required, the list price is finalised only minutes before the launch.
Both cards are still in the concept, and design stages – Nvidia understands where you want to go, but possible detailed configurations are being tested first. The exact blend of performance, the price point that can be accomplished in this sector, and long-term concerns – such as leaving reserves for a hypothetical refresh – are always relevant with these smaller cards. Unlike the GeForce RTX 4090, which has a lot of leeway from Nvidia, the GeForce RTX 4080 & 4070 should be near to the entire configuration of the corresponding graphics chip – AD103 or AD104.
July 2022 Update
According to recent industry rumours and news, current industry rumours claim that the MSRP of the GeForce RTX 40 series would be greater than that of the previous generation, known as the GeForce RTX 30 series.
The price increase may be significantly impacted by the increase in wafer costs at TSMC. Due to their reliance on the Taiwanese semiconductor giant for the advancement of its present and future node technologies, AMD and Nvidia must share the cost. As a result of the current chip shortfall and supply chain congestion, TSMC has already increased wafer costs by between 10 and 20 per cent, according to a DigiTimes story.
The reliable leaker and insider kopite7kimi seems to concur with the report and says that we shouldn't expect the new generation of GeForce RTX cards to have a reduced MSRP. It looks like the report is not the only thing that points to a price increase for the upcoming RTX 40 series.
Frequently Asked Questions
How much will the RTX 4060 cost?
While there's no way to be sure of the RTX 4060's MSRP, if Nvidia decides to continue the trend of the $329 price tag for their XX60 cards, then it will cost the same as its predecessor. However, increasing prices from TMSC might prevent this, and we could see a possible price hike.
How much power will the RTX 4060 draw?
The RTX 4060 will likely draw around 200 watts of power, in which case a power supply of 450 watts to 500 watts would be ideal for a mid-range system.
When will the RTX 4060 launch?
The RTX 4060 will likely launch somewhere in Q4 2022, with the flagship RTX 4090 allegedly launching in mid-July.
What kind of performance will the RTX 4060 offer?
There's no official information regarding the RTX 4060's performance. Still, leaker Moore's Law is Dead predicts a rasterization performance around the RTX 3080 and a ray-tracing performance approximately equal to the RTX 3090 Ti.
Was our article helpful? 👨‍💻
Thank you! Please share your positive feedback. 🔋
How could we improve this post? Please Help us. 😔