Best Gaming Mousepad?
Review Summary
If you are searching for a premium mousepad to take your gaming to the next level, the Fnatic Jet is a great choice. Notably, this mousepad prioritizes speed and has a fascinating color-changing surface that effectively repels liquids. Your mouse will glide quickly and reliably on this ultra-smooth surface. Its surface qualities make it excellent at preventing the penetration of liquids and oils. The Jet mousepad will blow you away with its speed and accuracy, whether you are a professional player or simply a casual gamer.
Glide -

8/10

Speed -

10/10

Control -

7/10

Rubber Base -

8/10

Repellency -

9/10
Pros
Superb Repellency
Aesthetic Surface
Anti-Slip Grip
Micro-Knit Stitch
Rollable & Portable
Cons
Less Control
Need High Maintenance
Are you a focused gamer looking for a competitive advantage, yearning for pixel-perfect accuracy and lightning-fast reaction times? Say goodbye to typical mousing and welcome unprecedented levels of cursor control as we are going to explore Fnatic Jet mousepad M. Welcome to the exciting realm of mousepads, where functionality meets elegance, and accuracy is a must. A smooth mousepad is a game changer that is sometimes underestimated and even overlooked as superfluous.
The mousepad is the unsung hero of your desk, whether it is a high-octane gaming arena demanding pixel-perfect accuracy or a packed operations desk seeking seamless, uninterrupted productivity. Whatever your requirements and preferences are, the Fnatic Jet Mousepad is the ideal mousepad for you. With its low friction substance and holographic gradient surface, it is one to add to your wishlist.
While the gaming industry continues to expand at a breakneck pace, one essential element stays constant: your hand's relationship with the mouse. It is an intimate bond that requires comfort, consistency, and accuracy. That is where a high-quality mousepad comes in. Fnatic was nice enough to lend me the Jet mousepad to evaluate, with its surface particularly built for maximum mouse movement and accuracy.
However, this has no impact on my review thoughts. Subsequently, this review was finished a while ago, but I am sharing it now that the mouse has been released officially. I will look at everything from the material and texture to the size and thickness to the design and aesthetic appeal of this mousepad. I will also go into the science behind it, explaining how it improves tracking, reduces friction, and provides the ideal combination of control and speed. It is time to give your mouse the companionship it deserves and enhance your gaming experience. Notably, the ideal mousepad is just a few clicks away.
---
Key Takeaways
The Fnatic Jet Mousepad is a high-performance gaming mousepad that will improve your gaming experience. Consequently, this mousepad is not only aesthetically pleasing but also advantageous, thanks to its modern and sleek design. Whether you are playing fast-paced action or performing precise movements, this mousepad provides the accuracy and comfort you need to succeed.
There are several reasons why you should consider getting the Fnatic Jet Mousepad, which includes superb repellency, aesthetic surface, anti-slip grip, micro-knit stitch, and rollable & portable packaging.
There are several reasons why you should not consider getting the Fnatic Jet Mousepad, which includes less control, exhibits oil marks, and need high maintenance.
The Fnatic Jet Mousepad is ideal for gamers of all skill levels who want to improve their gaming performance. FPS gamers need rapid and accurate aiming for competitive gaming, which the Jet Mousepad essentially provides. Its textured surface guarantees smooth glide and sensitive tracking, allowing you to line up shots and react quickly to in-game scenarios correctly.
---
Related: GLORIOUS Model D Minus Mouse Review
Packaging and Unboxing – Rollable and Portable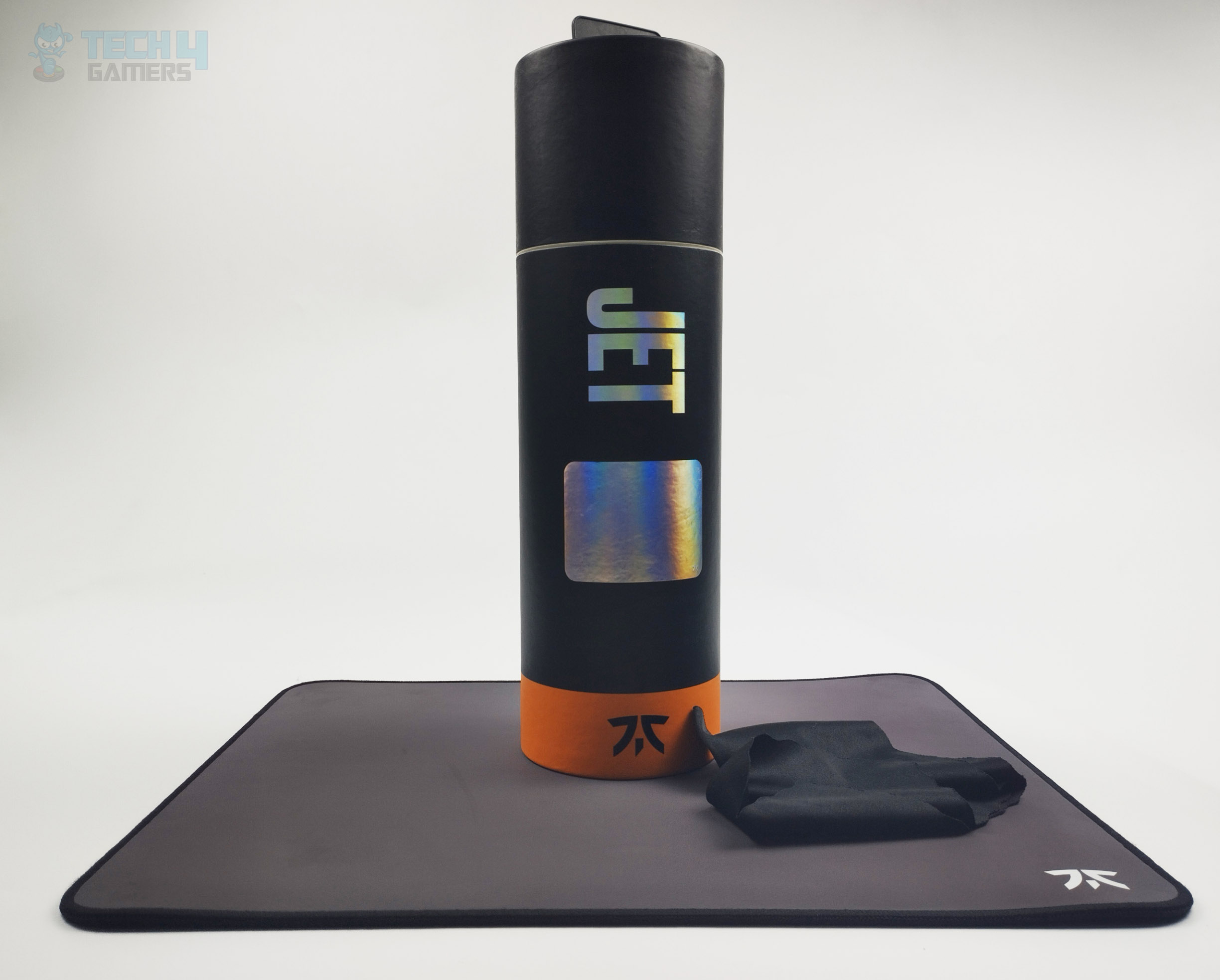 The Jet arrives in the same sleek and beautiful tube packaging as the Fnatic Dash and Focus 3, plus the addition of a microfiber cloth. Jet will lie flat almost immediately out of the tube, allowing you to get straight to gaming without fussing about uneven surfaces. This is a great addition for gamers who do not want to waste time smoothing out their mousepad or adjusting to uneven surfaces. Moreover, it has distinctive micro-knit stitching, which is thin and feels extremely smooth on the skin. It is somewhat elevated from the surface, but I do not believe it matters, considering the material difference and how pleasant it is to have on your arm.
Because of their unique, developed heat-adhesive technology, which allows this surface to attach to the rubber's natural base, you can effortlessly roll up the Jet and carry it with you. It will be a useful companion while attending LAN events or other gaming events, and you will have peace of mind knowing that it will be secure and prepared wherever you are. You should avoid making any abrupt folds or wrinkles since doing so might cause irreversible harm to the surface. Their paper tube packaging is strong and sturdy enough to survive multiple uses. The paper tubes used for packing are FSC-certified to ensure responsible forest management. The rights of those who live and work in forests are safeguarded.
Specifications
| | |
| --- | --- |
| Size | 360 x 280 x 3 mm (M) |
| Packaging | Cardboard Tube |
| Color | Vibrant; Color-shifting |
| Surface Type | Holographic Laminate, Speed |
| Surface Speed | 9.5/10 |
| Base/Core | Natural Rubber |
| Rollable | YES |
| Stitch | YES, Soft micro-knit |
| Water Repellency | 10/10 |
| Thickness | 3mm |
Overview – First Impressions
Fnatic is without a question one of the most well-known esports organizations in the world, yet it first struggled to get its peripherals to the levels that its professional gaming teams consistently achieve. Their early products may be best defined as 'they are acceptable but not fantastic,' and although there is nothing wrong with that, it is doubtful that an ambitious brand like Fnatic would be pleased with that. Fnatic appears to have really embraced the skill and expertise that they've acquired in their pro teams over the last couple of years and utilized that knowledge to develop some outstanding products geared toward professional gamers.
So I was fairly curious when they revealed their Jet mousepad. Fnatic is dedicated to in-depth R&D, designing and delivering goods that assist die-hard, even casual fans, content creators, and pro gamers in improving their performance. They strive for the best quality standards in the business, which occasionally necessitates spending additional time on particular goods to ensure they are perfect. Fnatic began working on the Jet pad at the end of 2020, collaborating with textile specialists to produce the distinctive surface that can be seen on the mousepad today. They guarantee the Jet is unique, with extensive testing, while also providing the best price, sizes, and availability to all of its fans.
| | | |
| --- | --- | --- |
| Size | Dimensions | Price |
| M | 360 x 280 x 3mm | USD 24.99 / EUR 27.99 |
| L | 465 x 372 x 3mm | USD 39.99 / EUR 44.99 |
| XL | 465 x 465 x 3mm | USD 44.99 / EUR 49.99 |
| XD | 900 x 500 x 3mm | USD 59.99 / EUR 64.99 |
Holographic Gradient Color Shift Surface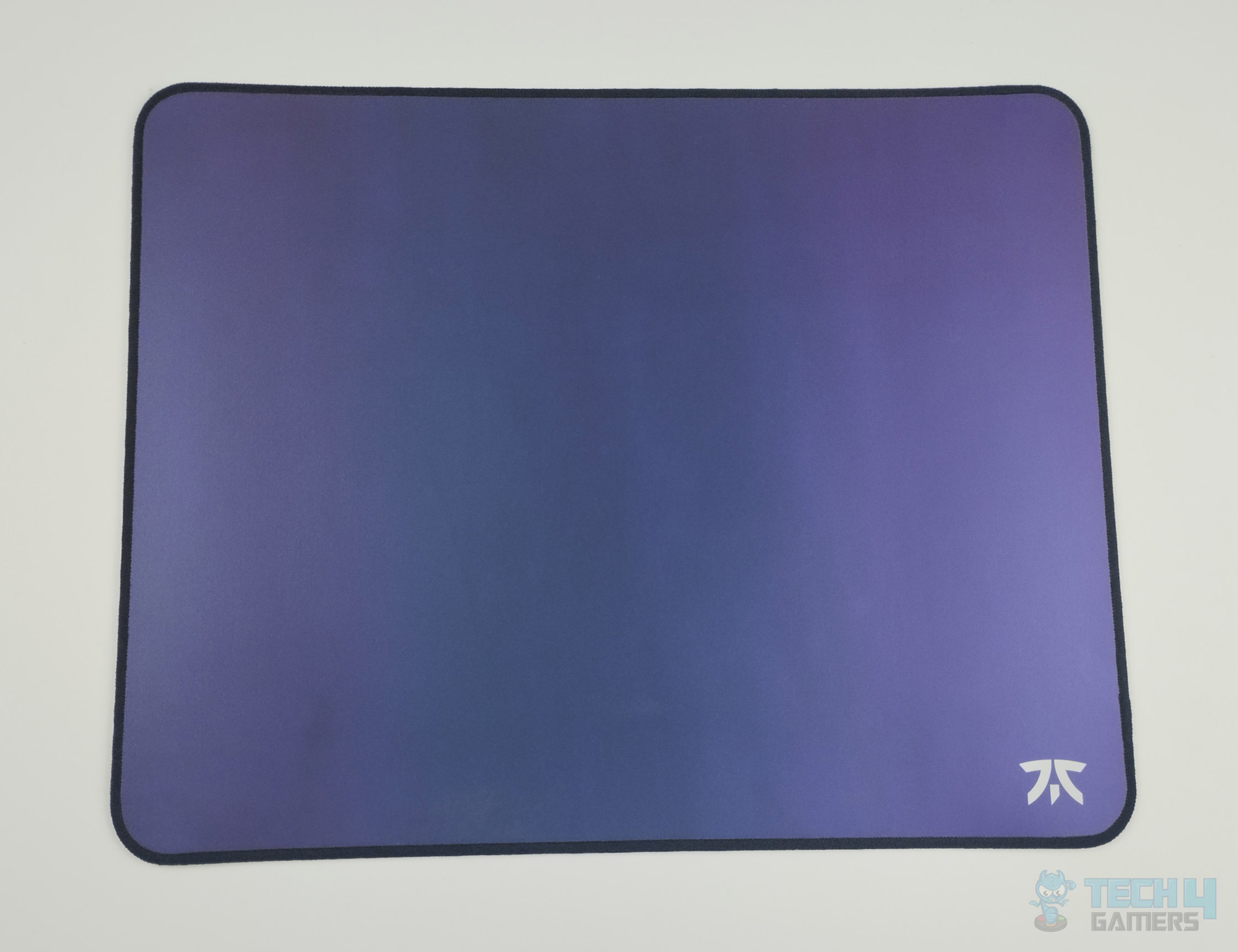 The Jet is a sight to see in terms of design. Fnatic's Jet mousepad features an incredible holographic gradient surface that changes color and intensity based on how light strikes it. It is a fantastic way to jazz up your gaming rig, and it will certainly leave an impression on everyone who lays eyes on it. The surface exhibits an iridescent purple color that is difficult to photograph. Under normal lighting, it resembles a gleaming grape.
The purple holographic gradient surface flashes blue when lighted, making it an excellent choice for blue-loving gamers. Because there is no light bouncing back, it seems muted gray from a distance. The gorgeous pattern will remain clean because of the non-coated surface. With the provided microfiber cloth, you can quickly clean your pad. Consequently, the quick cleanups it provides will have you back in the game in no time.
Honorable Mention: Logitech G305 Review
Cleaning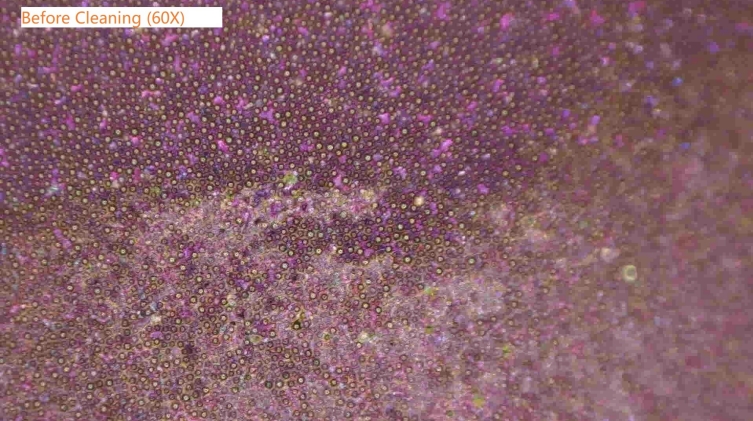 On the flip side, the surface exhibits oil stains. It gets dirty, and oil and other liquids are more noticeable if not cleaned. Notably, this is due to a combination of contexts. First, the top layer is laminated, so oils are considerably more visible than on cloth mousepads. Furthermore, the iridescent appearance makes it more visible when seen from specific lighting angles.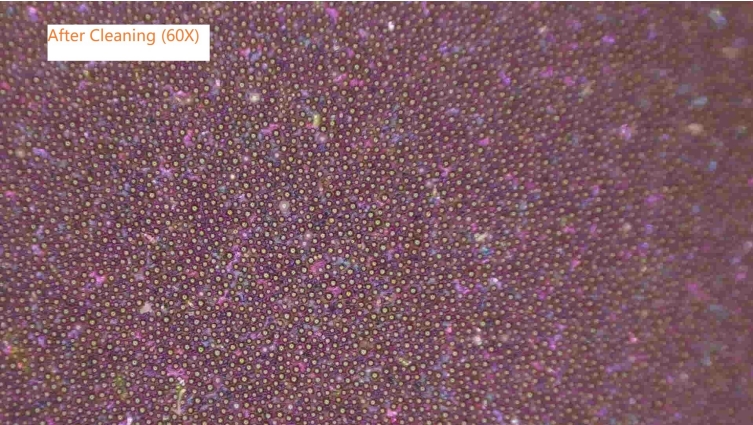 Despite the fact that the surface oils are more visible, both static and dynamic friction remains constant. However, the supplied cleaning cloth does a better job of removing liquid filth, like oil stains, than I had anticipated, which is great since it will help your mousepad stay clean much longer. Thankfully, after some thorough cleaning, the mousepad will keep working as well as it did when it was unpacked.
The reason behind this is that Jet has a different laminated surface than other pads. Because the top layer pores are shallower, micro-debris and oils do not settle and hide as easily in the material. This is also the reason why these mousepads have a smoother feel and why liquids like water can be easily wiped away. On the other hand, a black, porous cotton-based surface gets covered with dirt on a table. The dirt is not easily apparent since it fades in and cannot be wiped away.
To tackle this, a thorough cleaning is necessary. Whereas waterproof, less porous surface gets covered with dirt on a table. The dirt is visible on the outer layer and has not been absorbed into the material. Therefore it can be wiped away. Comparable pads could have deeper pores that can better hide certain factors. However, owing to undetected dirt accumulation, this might result in inconsistent resistance and X/Y axis consistency over time.
You Might be Interested: Corsair Dark Core RGB Pro Review
Liquid Repellent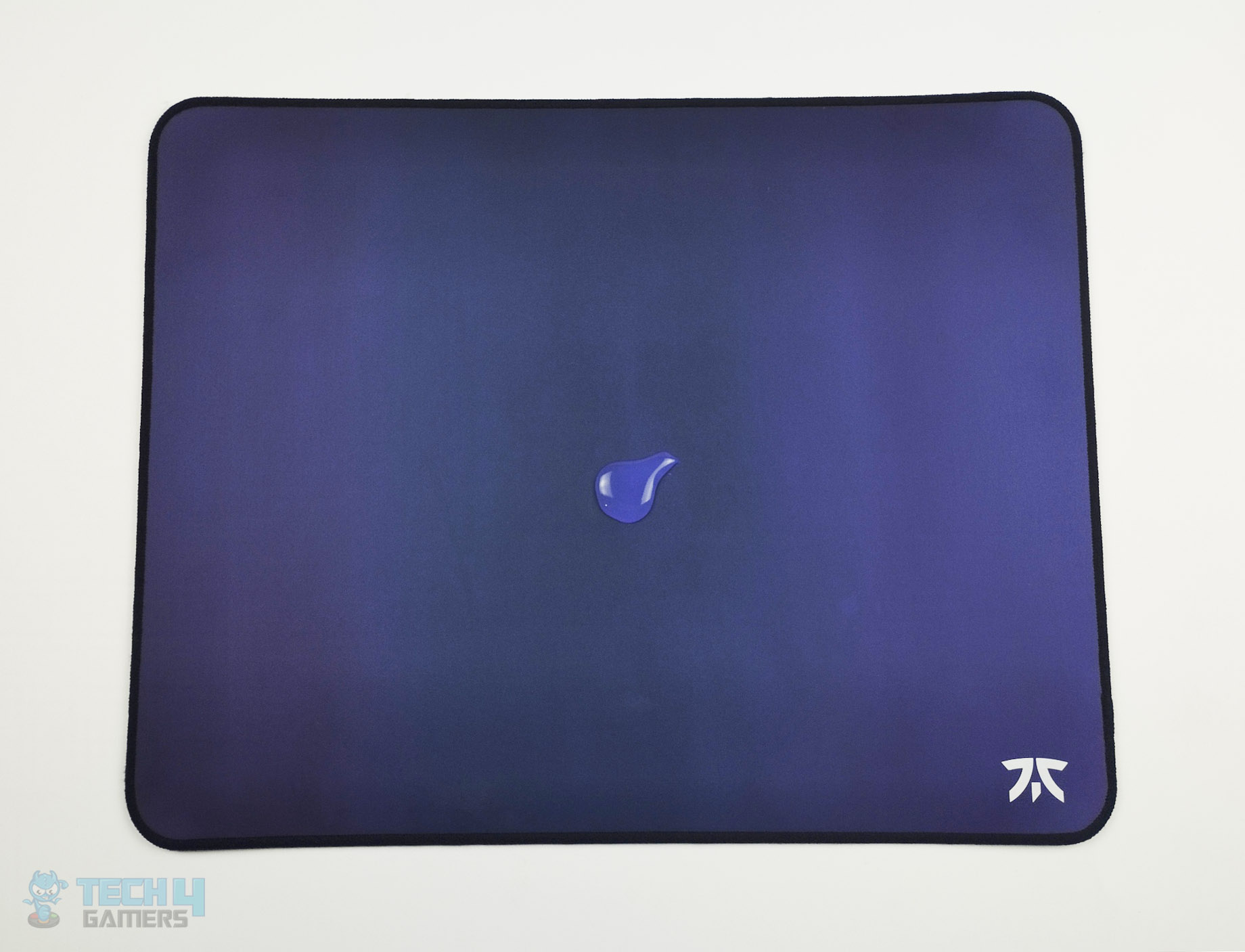 Additionally, the surface is entirely liquid-repellent. When it comes to liquids, the uncoated surface holds up quite well. Cleaning it is a breeze since it has been coated to repel oil. Those who like to snack and hydrate while playing could find this especially helpful. The Jet is spill-resistant, so accidental drips and splashes will not ruin your mousepad anymore.
Notably, the Jet mouse pad includes a very durable laminate top layer material and a rubber base for great elasticity. It swings back to its original form with just a little bit of pressure. The top layer can be abraded by medium-high pressure or sharp items, although it can be fresh as new with washing. In addition to this, Fnatic has also modified it to ensure that human fingernails will not cause harm.
Moreover, Fnatic's Internal testing has shown that the top layer can withstand a Mohs Hardness Scale grade of up to 6H without experiencing permanent damage or markings on it. It has a quick, low-friction surface that increases speed while maintaining a consistent and accurate X/Y axis. The nimble, low friction, consistent X/Y glide, and strong laminate surface give outstanding speed for rapid reflexes. As a result, it enables a smooth, rapid, and constant gliding of the mouse, making quick, reactive swipes in-game simpler.
Jet is simple to clean with the provided microfiber cloth. A few wipes should be enough to remove most oils, dust, and liquids. You can also clean the surface with a wet cloth or rag. In addition, for more tenacious problems like food greases or stains, you can use a 50/50 mixture of alcohol and water. The frequency with which you should clean the mousepad varies on the user and their surroundings, but Fnatic suggests washing it down with a microfiber towel at least twice a week to maintain the surface pristine.
Similar: FIFINE AmpliGame AM8 Microphone Review
Anti-Slip Natural Rubber Base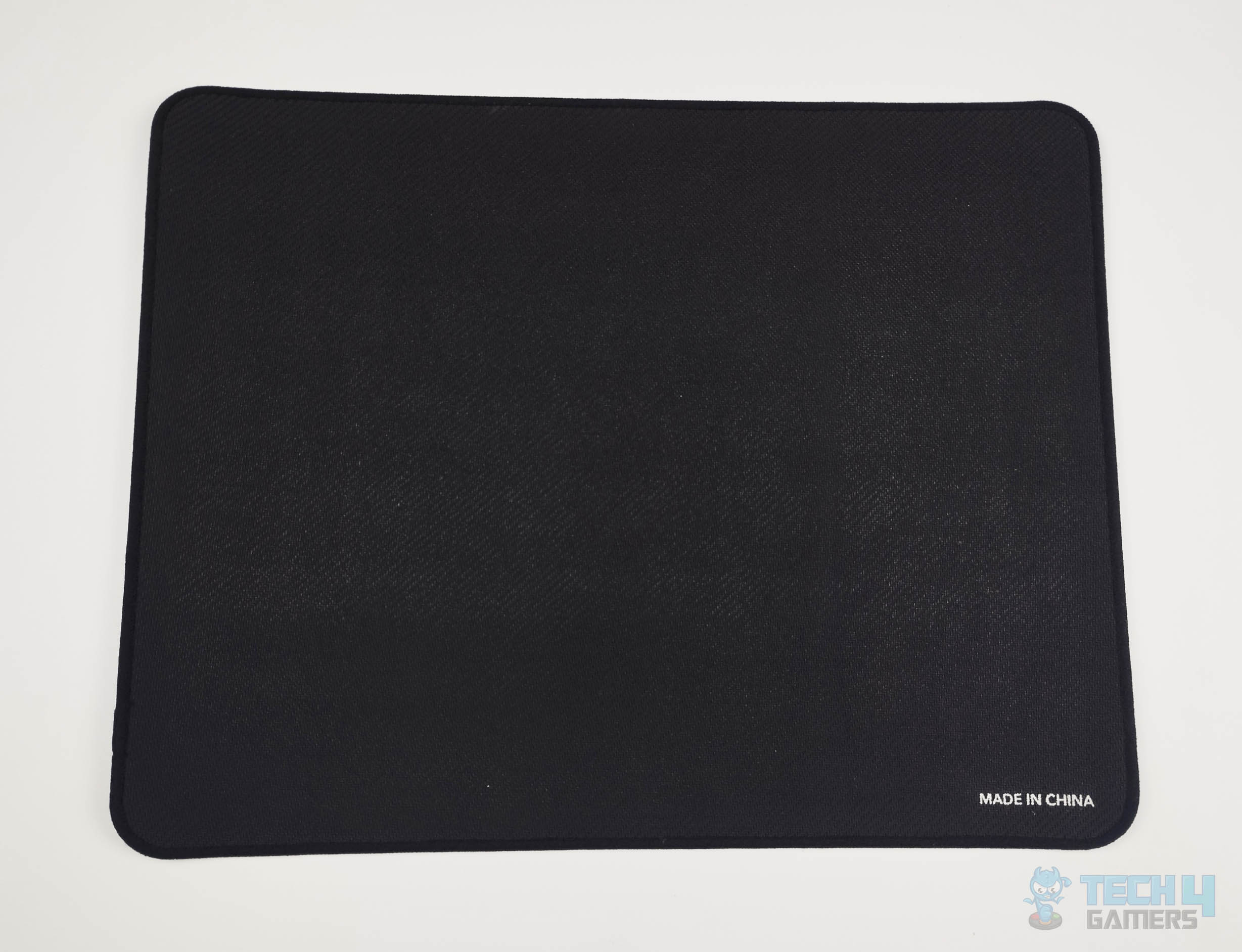 The Jet mousepad's non-slip surface is another strong point. Natural rubber that is 3mm thick is dense and offers a solid gaming base. High-performance mousepads benefit from a textured, firm natural rubber base for increased grip. The tough, firm natural rubber base of the Fnatic Jet gives the optimum grip. Moreover, natural rubber with a high density offers good comfort.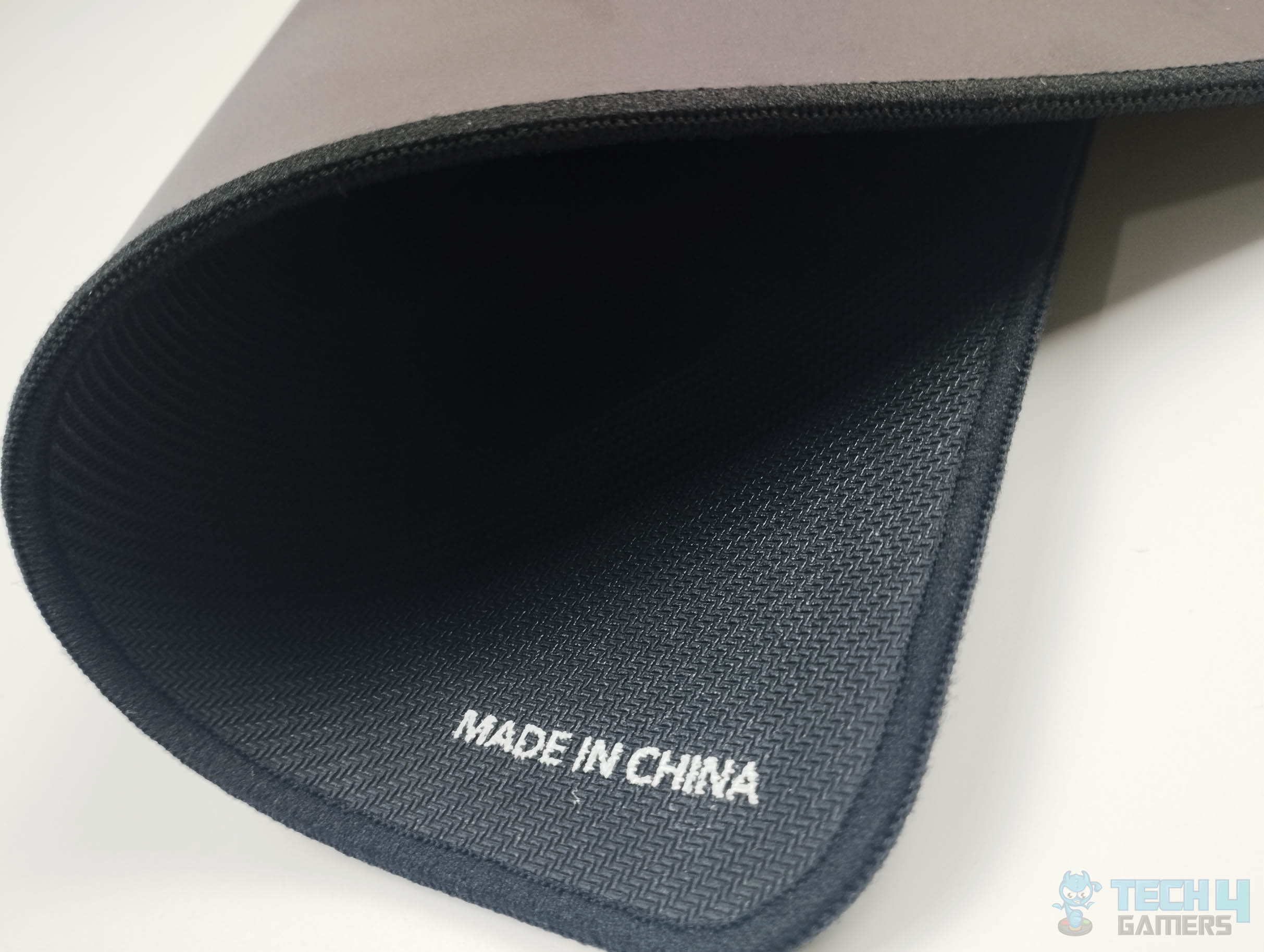 Notably, it maintains flatness without any bumps and serves as a stable base for reliable mouse tracking. Furthermore, it is slip-resistant on the majority of surfaces. The mousepad's backing allows the hand and wrist to rest comfortably on it. The base seems to be outstanding rubber. Although, in actual usage, it did move a few millimeters on my desk when playing. But it is so tiny that I just have to tweak it every hour or so. Still, no movement is preferable.
A Good Read: CORSAIR HS60 Pro Surround Gaming Headset
Micro-Knit Anti-Fray Stitch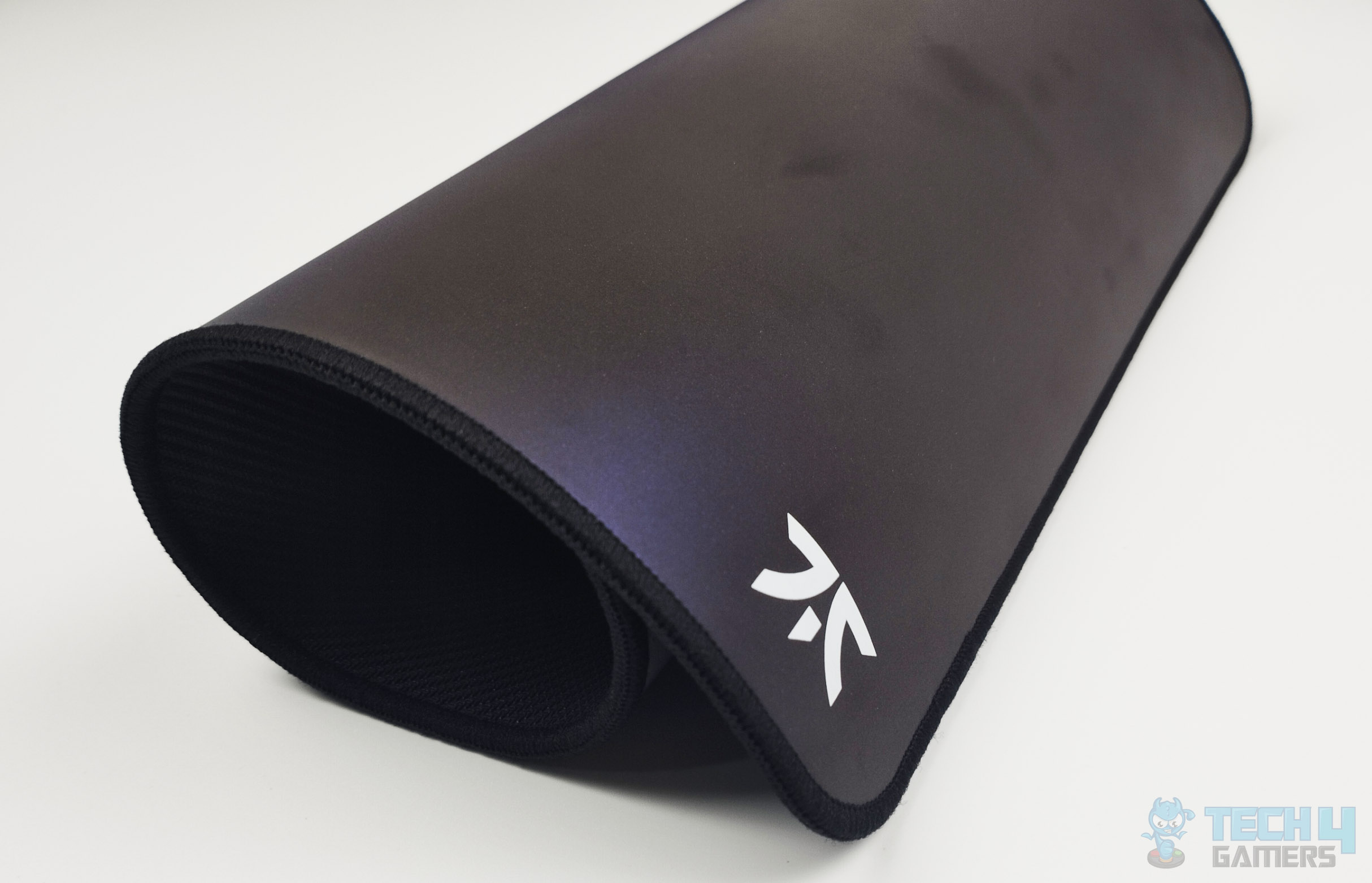 The Jet mousepad's micro-knit stitch is another standout design element. The thick natural rubber base's precisely knit stitch is one of the most refined. Notably, this invisible thread gives the Jet mousepad a polished appearance. Slimmer and more tightly linked to the rubber than the majority of competitors. When performing swift flick shots and immense mouse movements, the low-profile stitch eliminates interference to the wrists or mouse feet.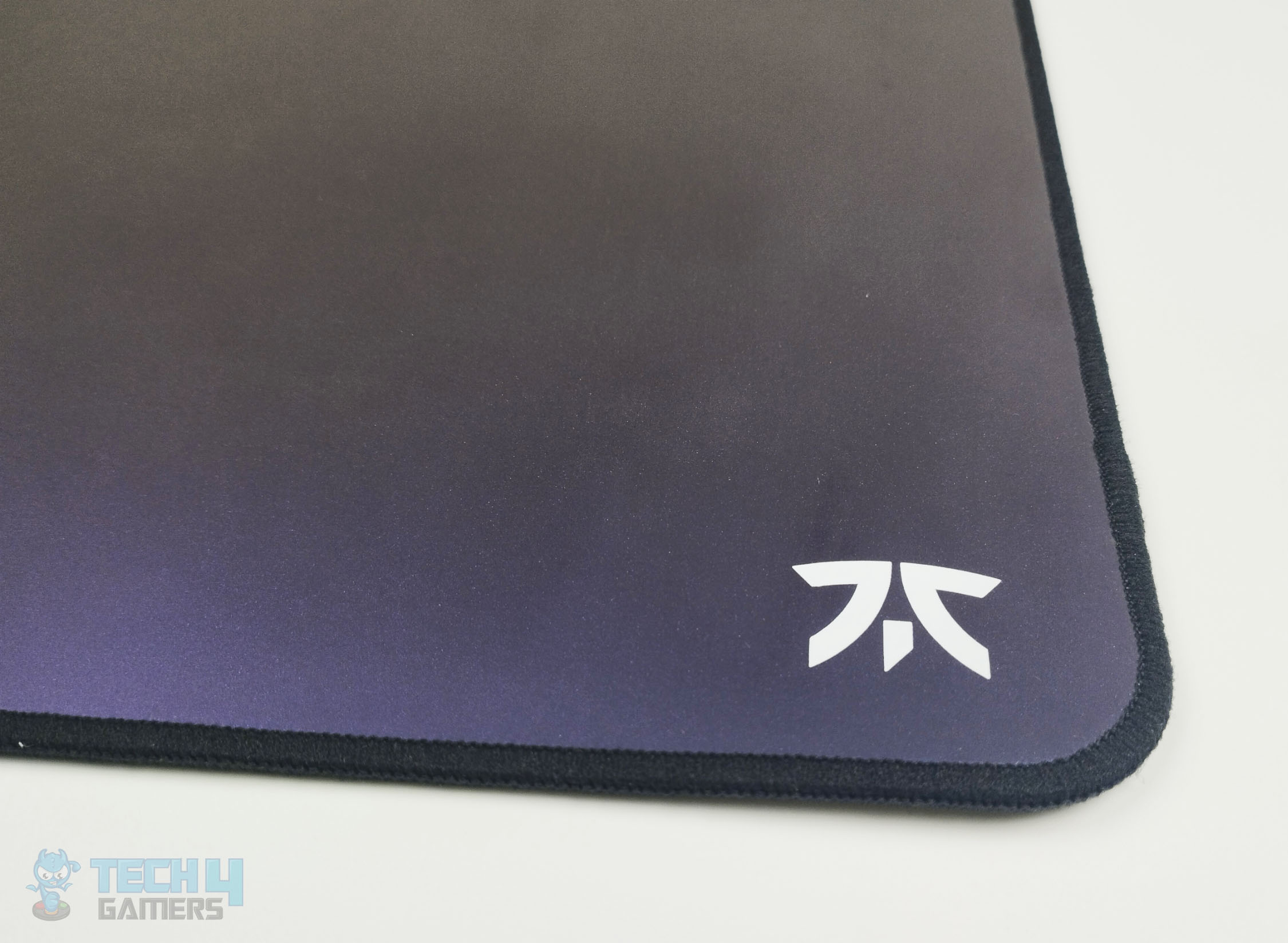 Fnatic's anti-fray stitch is considered one of the most reliable of any mousepad, preventing the mousepad's edges from lifting and ensuring the mousepad's durability. The stitching is soft, durable, distraction-free, and of excellent quality, ensuring a smooth surface and fray-resistant border. This is Fnatic's unique micro-knit stitch, which stands out from the crowd.
Similar: RAZER Huntsman Tournament Edition Gaming Keyboard Review
Ultra Fast Surface Glide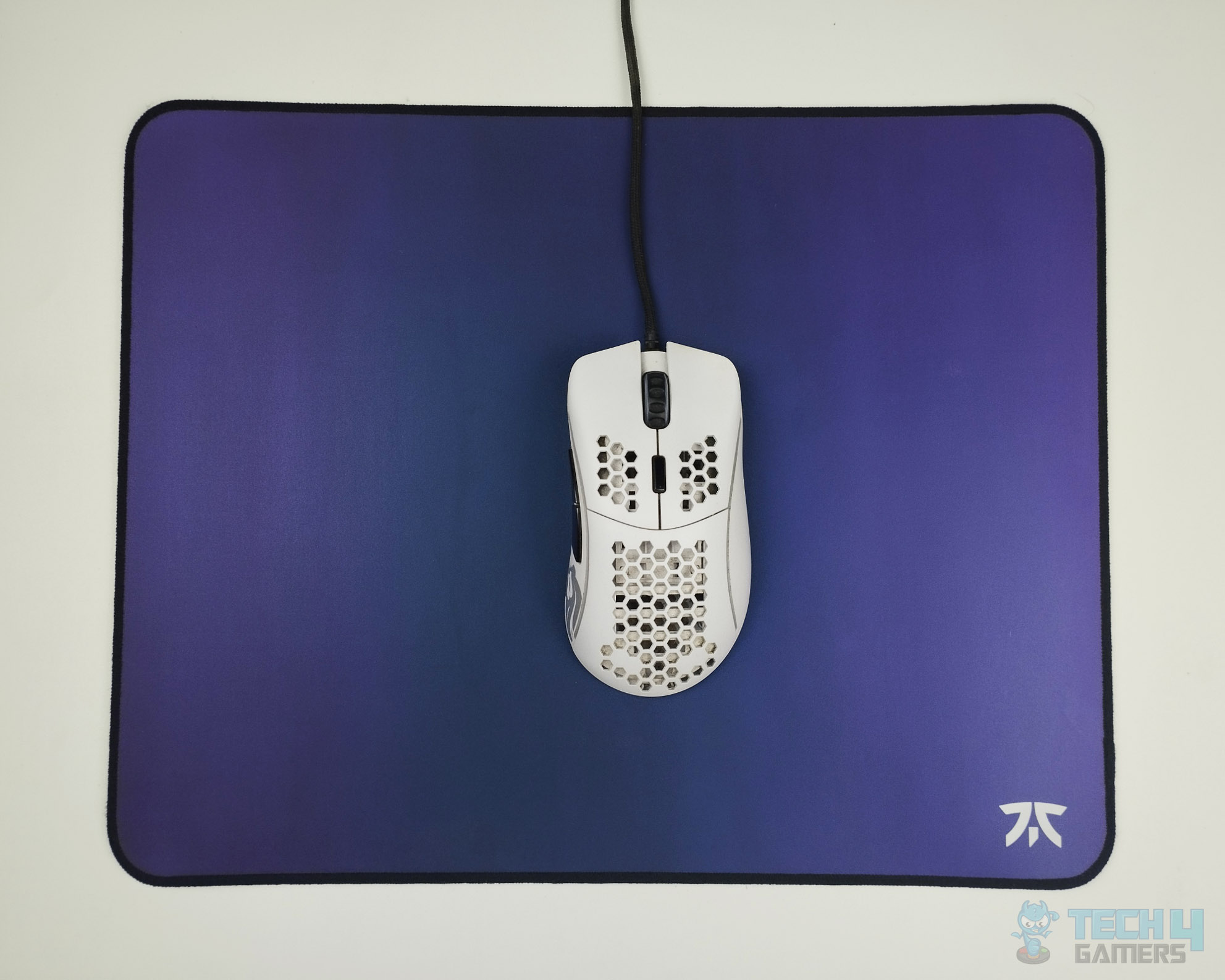 Jet is an accelerator pad. If you move a mouse over a speed surface, it will experience very little resistance. In-game, speed pads provide instantaneous reactions and swift swipes. It outperforms typical cotton mousepads in terms of performance and durability because of its distinctive laminated and non-coated surface. Fast-paced players who like Call of Duty, Apex, Valorant, and OSU will be benefited from Jet to improve their response speed.
In my own testing, the Jet is head and shoulders above the competition, which consists mostly of standard mousepads. I have never used this style of mousepad before, but this laminate one seems really robust. The reduced friction compared to a standard mousepad makes it ideal for FPS players who want to improve their accuracy while flicking and moving their mouse in rapid situations. Notably, dirt, oils, and specks of dust are not going to hinder your game performance. Furthermore, with only a few scrubs with the provided microfiber cloth, you can keep your mousepad appearing and working like new.
Also Read: Razer Viper V2 Pro Review
Competitors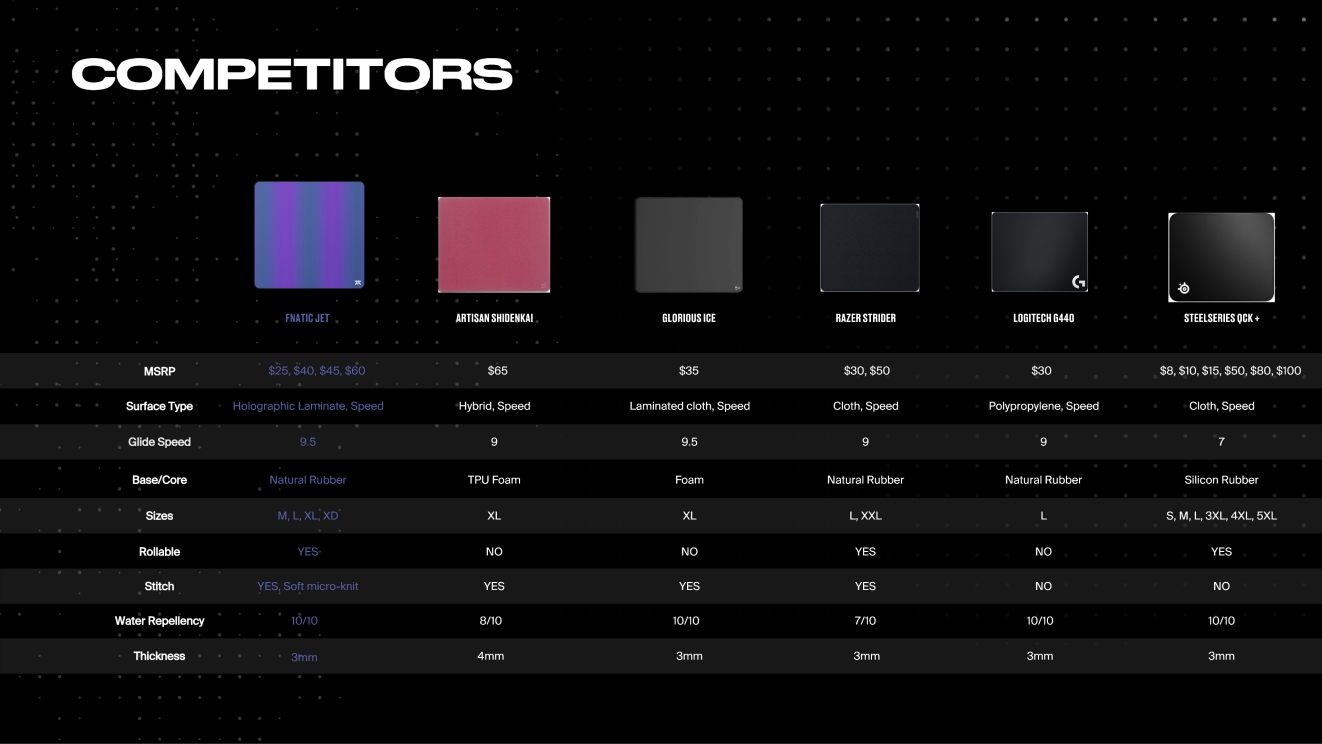 I can not evaluate how the speed relates to other pads on the market since most of the ones I have seen are more balanced and control-oriented. Fnatic claims in the summary document they provided reviewers that it is quicker than the shidenkai and on par with the glorious ice, but you can take that with a grain of salt. Skating on the Jet's hardish surface with PTFE skates provides a floaty/hovering-feeling glide with little feedback and friction, which may be preferable to some.
Because the surface is not skated dependant, you can put on any style of skates and experience the same smooth, easy glide. The Jet also has a highly consistent glide in both the X/Y axes. Due to the smooth, frictionless surface, the stopping force will depend mostly on the strength of your hand. There is also a tiny bit of flexibility in the 3mm base enabling you to push your fingers in to sit on top of the mouse quickly, but not by much.
Fnatic refers to the surface of the Jet as a holographic lamination. The sensation of gliding about is similar to glass in some ways but more air-hockey-like owing to the lack of roughness. If I were to explain how the surface genuinely feels, I would say it is like pressing into hard, sticky plastic or gelatin. It is quite pleasant to play on, and since the surface maintains a reasonable temperature across the day, it is almost comparable to playing on a cooling gel, as I have tested it in hot weather. I have had no problems with my hand clinging to the surface.
It encourages you to be smooth on the surface. Therefore, I find myself instinctively concentrating on it when playing and making minimum motions with my hand. The Jet seems more tolerant when it comes to flicks since I can utilize the small flex in the base to generate some stopping force. Because I can press down to catch myself, I can play a bit sloppier without my hand slipping up from the pace.
I believe some people will appreciate the Jet's floaty style of glide since it seems unrestricted in certain ways, and it is something that distinguishes it from other pads in this speed range. Moreover, I didn't notice any aspect of my skates wearing away after 1-2 weeks of usage, but I imagine it will wear out skates quicker in the long run than standard cloth and hybrid pads.
Of course, the surface's durability will be inferior to glass. Notably, Fnatic has been developing the material since the last quarter of 2020. Therefore I am certain they have tested it for long-term durability. In hot temperatures, the Jet is acceptable. Finally, the Jet can be folded up for simpler preservation, comes in a desk size, and is more portable due to its smaller weight. Overall, the Jet is an intriguing option that offers around 80% of the same amenities for nearly half the price, and it lacks the notorious flaws that might be a turnoff on glass.
A Good Read: Corsair Harpoon RGB Wireless Review
Conclusion
The Jet is an intriguing new mousepad addition to Fnatic's variety. It is exciting to have them taking chances and introducing something new to the market. I believe that individuals who are hesitant to totally commit to glass because of the drawbacks of continuously needing to wash off dust and change skates might want to give this a try. Although it does not provide an experience identical to that of a glass pad, it is far more affordable to try out. You get a sense of the speed and feel of one, and I am sure some will grow to like its floaty-feeling glide.
While the surface does not fit me, I found it to be a fun experience and a welcome change from all of the hybrid and cotton pads. If you are a gamer wanting to step up your game, the Fnatic Jet mousepad is a must-have. The JET's quick and smooth top layer, micro-knit stitch, anti-slip grip, rollable and portable design, and dazzling holographic gradient surface make it the best choice for accuracy, comfort, and portability. It is a safe bet that no player will come to regret making. Therefore, there is no need to accept anything less. If you are serious about your gaming, you need the Fnatic Jet mousepad.
Coming Next: Corsair Ironclaw RGB Wireless Review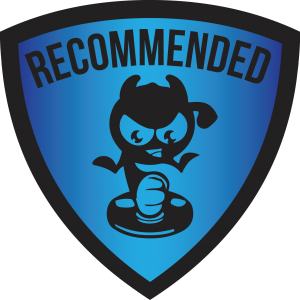 Was our article helpful? 👨‍💻
Thank you! Please share your positive feedback. 🔋
How could we improve this post? Please Help us. 😔
[Hardware Reviewer]
After many years of exploiting various pieces of hardware, Abdul Hannan now serves as an editor at Tech4Gamers. He's been in the PC hardware reviewing industry for almost a decade, and his staff of passionate geeks and reviewers is second to none.
Abdul Hannan is constantly seeking new methods to improve the performance of his computer components since he is an ardent overclocker. He is well-known for providing the most extensive and unbiased analysis of the newest and greatest hardware for PC gaming, including everything from GPUs to PSUs.