Best Under $100 Gaming Mouse?
Review Summary
When it comes to wireless gaming mice, the Corsair Dark Core RGB PRO stands out as a clear frontrunner. It has a fantastic sensor with a maximum resolution of 18,000 DPI. The click latency is very minimal, and the highest polling rate is 2000 hertz. It is not great for ultra-light gaming as it is cumbersome and does not provide weight optimization. Thankfully, it is ergonomically sound, made for righties with palm grips, and adaptable enough for use by those with bigger hands with either a fingertip or claw grip. Ultimately, it is an excellent wireless gaming mouse due to its high performance, lack of discernible latency, and flexibility, but its unusual design may put off some users.
Build Quality -

8/10

Performance -

8/10

Value -

7/10

Design -

9/10
Pros
Less cluttered design than the original versions
Enduring Battery Life
Sophisticated 8-Button Layout
The software has a lot to offer for customization
Comfortable to grip
Cons
A little more opted towards palm grip users
Wireless connectivity has some issues
A little bit expensive
It is not pleasant to use with wire
The best gaming mouse is one that excels in both functionality and performance. Many people have accepted that they might never be able to accomplish what the experts do. So they may as well acquire a mouse that has a few nice tricks. You can thank Twitch for this or the increasing coverage of eSports. Surely, those people will enjoy the $89 Corsair Dark Core RGB Pro. Notably, this mouse features both connectivity options, wireless and wired, much like the original Dark Core RGB and the Dark Core RGB SE. In addition to this, it also includes wireless Qi charging.
Consequently, you may use it with a USB Type-C cable, a USB Type-A dongle with Corsair's Slipstream wireless technology, or Bluetooth to set up a connection. Moreover, the new Dark Core RGB Pro not only looks different but also has a more powerful sensor that increases the DPI from 16,000 to 18,000 and the polling rate from 1,000 to 2,000 hertz. I will be honest and say that I am a bit behind the times when it comes to wireless gaming mice. Having said that, I have always been a supporter of wired mice.
There is no malice intended, but remember that the first batch of wireless gaming mice was terrible. They nearly always made it such that you had a latency spike at an inopportune time or lost connection entirely in the middle of a match. In recent times, one of my friends convinced me to give wireless gaming mice another go. To that end, I contacted The Revive Tech, and they graciously offered me a sample of the Dark Core RGB Pro wireless gaming mouse to test out. Now that we have gotten beyond the superficial talk of wireless connectivity let us get down to the nitty-gritty to determine whether this wireless mouse truly is up to the mark for gamers.
Related: GLORIOUS Model D Minus Mouse Review
---
Key Takeaways
The Corsair Dark Core RGB Pro is a high-quality wireless gaming mouse that provides an extensive range of functions and personalization choices. For first-person shooters, it is highly recommendable. Moreover, it has several useful gaming features, including a high CPI range, minimal click latency, and a polling rate of up to 2000Hz. Consequently, this mouse is great for people of different hand sizes with a palm grip.
There are several reasons why you should consider getting the Corsair Dark Core RGB Pro wireless gaming mouse that includes a high-performance sensor, low-latency wireless performance, customizable design, multiple connectivity options, and extensive options in iCUE.
There are a few reasons why you might not want to get the Corsair Dark Core RGB Pro; that include high price, heavyweight, slippery surface, uncomfortable for small hands, and limited button customization.
Those gamers who place a premium on flexibility and customization may find the Corsair Dark Core RGB Pro to be the perfect option. You can configure this mouse to your liking with its eight programmable buttons and fully adjustable RGB lighting. Henceforth, larger hands may find comfort in the palm grip and the overall size of the mouse.
---
Specifications
Programmable Buttons
8
DPI
18,000 DPI
Sensor
PAW3392
Sensor Type
Optical
Mouse Backlighting
9 Zone RGB
On Board Memory
Yes
On-board Memory Profiles
3
Mouse button Type
Omron
Mouse Button Durability
50M L/R Click
Connectivity
Wireless, Wired
Grip Type
Palm
Weight Tuning
No
Hand Size
Medium, Large
Game Genre
MOBA, Action, RPG, Survival
Weight
133g (w/out cable and accessories)
Cable
1.8m Braided Fiber
Report Rate
2000Hz
Battery Life
2.4GHz SLIPSTREAM: Up to 16hrs with standard lighting or 36hrs with lighting off

BLUETOOTH: Up to 18hrs with standard lighting or 50hrs with lighting off

Battery Type
Rechargeable Lithium-Polymer
Box Contents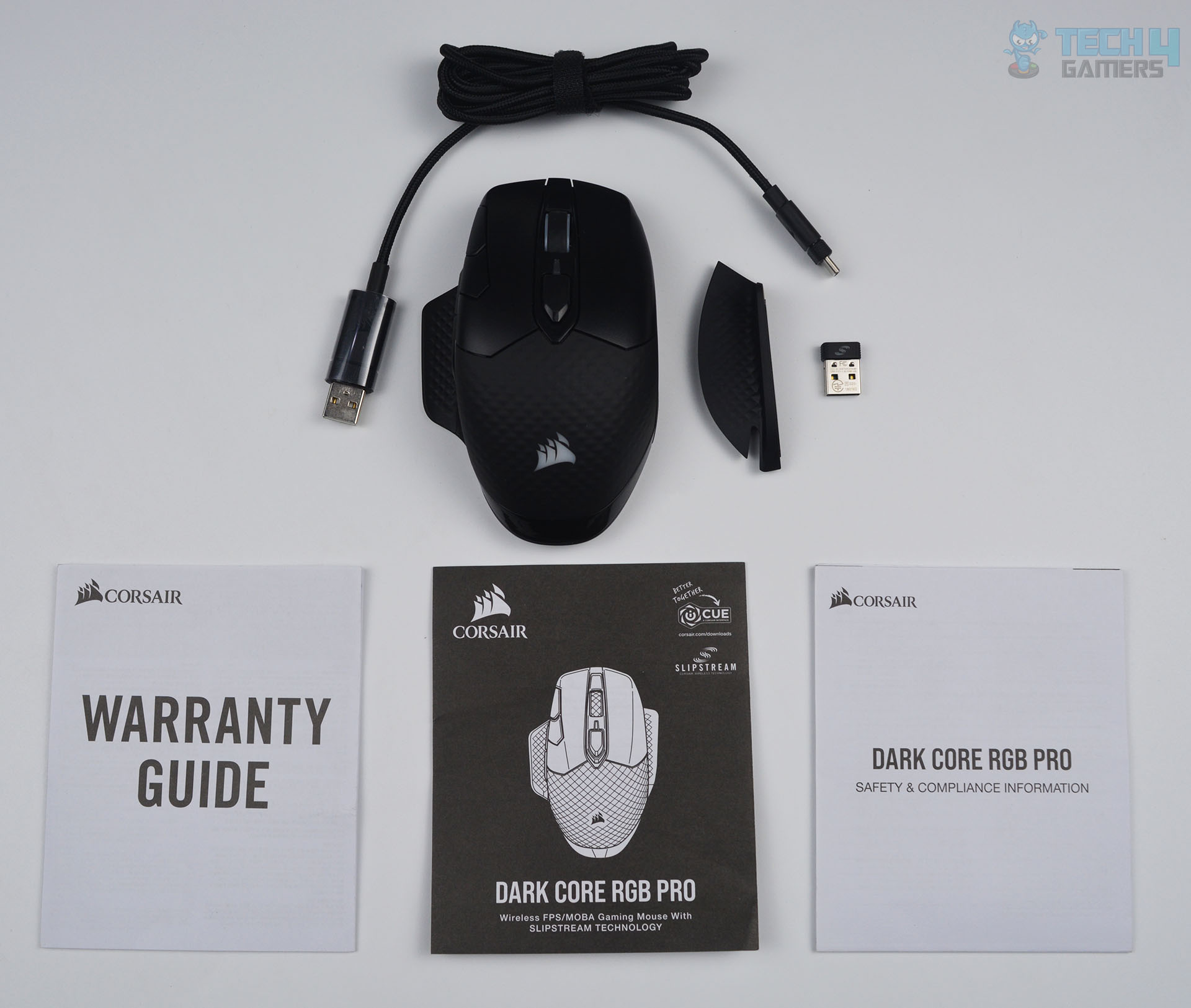 Dark Core RGB PRO Gaming Mouse
USB Charging and Data Cable
Wireless USB transceiver (dongle)
One Additional Side Grip
Quick Start Guide
Safety Leaflet
Warranty Card
Design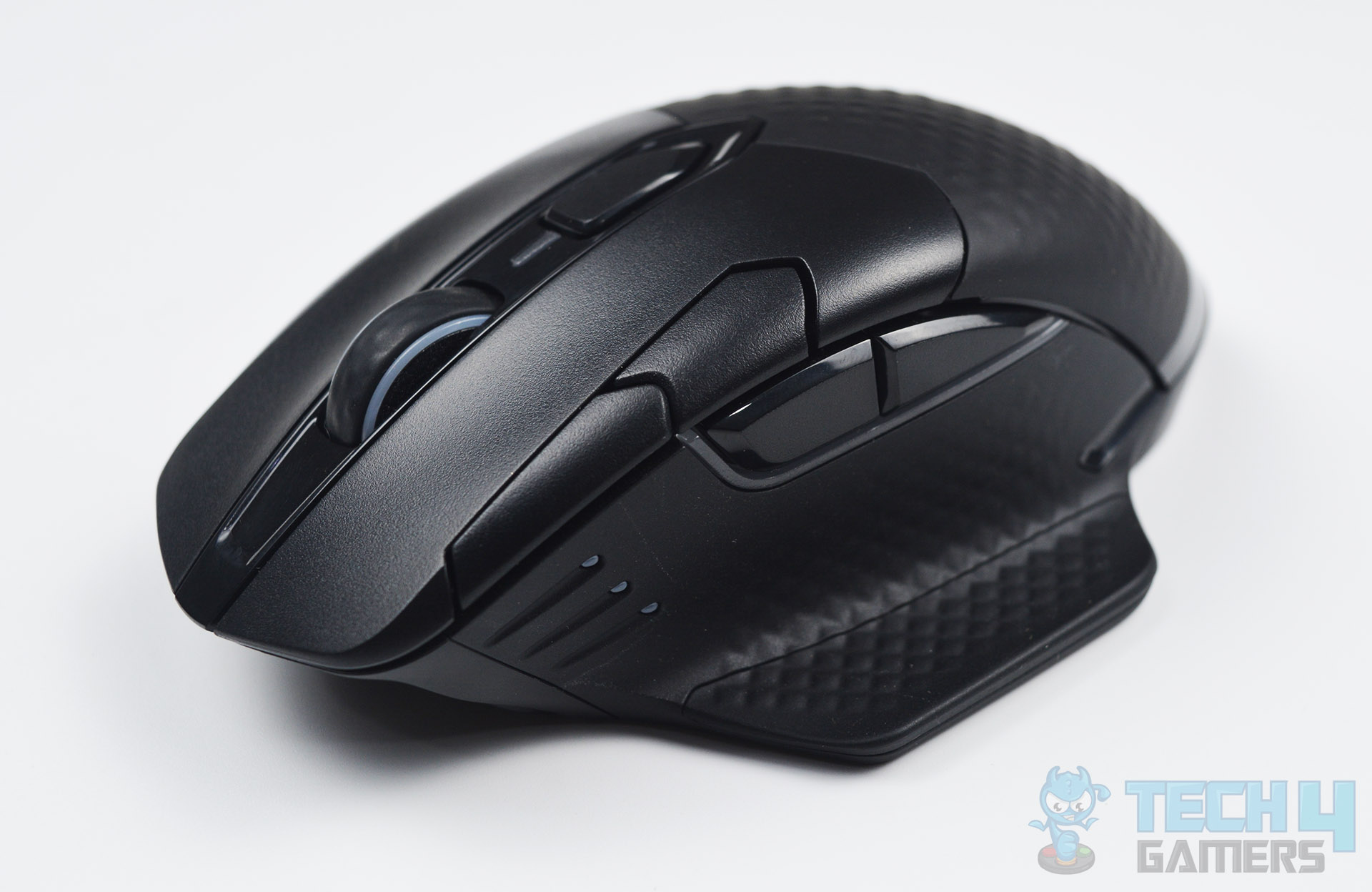 The Corsair Dark Core RGB Pro is an improved version of the popular Dark Core RGB and a member of Corsair's ergonomic gaming mouse lineup. Notably, the standard Dark Core RGB mouse has won several awards for its design and ergonomics. While some gaming mice go for a more understated design, others go all out to please gamers' eyes. In the middle of it is where you will find the Corsair Dark Core RGB Pro.
The Corsair Dark Core RGB PRO is stylish and suitable for gamers. It has a rubberized back and scroll wheel and a matte plastic body for comfort. The side grips are textured like the back, although they are made of hard plastic rather than rubber. The back and the area around the scroll wheel also have glossy aspects. With its 9-zone RGB lighting and plenty of buttons, this mouse has all the elements of a high-end gaming peripheral without going over the top.
Moreover, the quality of the build is superb. The plastic construction is sturdy; there is no flex or squeak when you squeeze it. Shaking it makes a noise, but when you press the left and right buttons, the noise stops, suggesting that the buttons could be a little loose. The mouse's textured rubber back and scroll wheel make it feel good in the hand, and it moves smoothly. That is to say, the Dark Core RGB Pro might easily be mistaken for an ordinary mouse if its RGB zones were not lighted.
Having said that, the design of the Dark Core RGB Pro is unique, and it is sure to inspire heated discussion. With its convenient setup of 8 customizable buttons, the design is ideal for FPS players who want to simplify their setup yet retain the option to play wired when the stakes are highest. However, the integrated pinky-finger rest/wing from the original Dark Core RGB is included in the new Pro model, which should please previous owners. For instance, that means fewer places for dust to accumulate. Moreover, the back and left side panels feature a textured rubber surface.
Even in this context, the Dark Core RGB Pro's button placement makes perfect sense. However, this was not the case with the standard model. Now, you will not mistakenly click the mouse primary buttons with two DPI adjust buttons, which allow you to make fine adjustments to the mouse's sensitivity. Your fingers will have no trouble finding those buttons when you need them. In addition, the DPI adjusting buttons come with a helpful trio of light indicators so you can see at a look whatever DPI you are using.
A Good Read: CORSAIR HS60 Pro Surround Gaming Headset
Comfort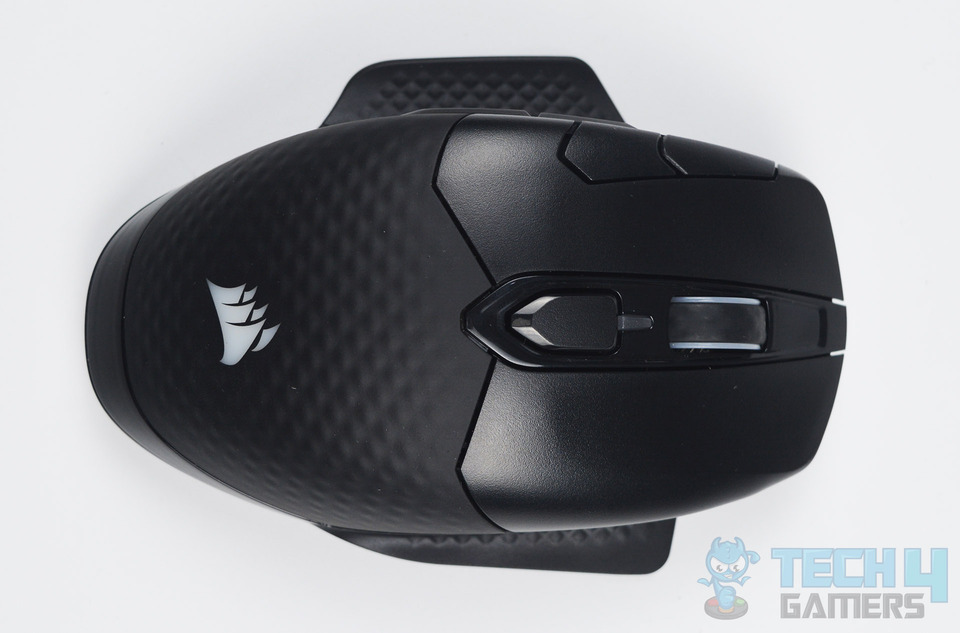 The Dark Core RGB Pro stands at 1.7 inches (43.2mm) in height, making it somewhat higher than other mice. For reference, the Model D Minus measures 1.29 inches (33mm) in height. However, it was still a slim fit. The Dark Core RGB Pro, in comparison to the Corsair Nightsword RGB (5.1 x 3.4 x 1.7 inches), is significantly less comfortable in a claw grip due to the elevated location of your palm. The Dark Core RGB PRO from Corsair is rather hefty. You may make it a little heavier by attaching the additional panel, which is an additional side panel that weighs three grams.
On the other hand, the Corsair Dark Core RGB PRO SE is a version that is marketed as being around 10 grams heavier. This mouse is a dream to use. Its comfortable thumb rest and right-handed ergonomic design make it a great choice. There is an extra panel on one side of the packaging you may use as a pinky rest. Having said that, the mouse's added features add to its flexibility and will appeal to those who like these kinds of extras.
The magnetic modular grip on the Dark Core RGB Pro's right side. You may choose between a standard smooth side grip and a textured one with a ring and pinky finger rest by removing the right panel of the mouse. During my testing, the mouse's rubberized sections felt nice and secure in my hand, even when my hands were sweaty from playing a stressful game like Counter-Strike: Global Offensive. With this in mind, beneath this detachable panel is a place to stash the USB wireless receiver, so you can forget all about it and take it wherever without a second thought.
It is hard to put a number on how much better the Dark Core RGB Pro is than any other top-tier gaming mouse, but I can measure how much less tired I am after using it. As a writer and editor, I spend a lot of time in front of a computer, and I would estimate that the vast majority of that period is spent with the mouse in my right hand. Conversely, smaller mice are uncomfortable to use for long periods of time. Moreover, if the mouse's arch is too steep, I have significant discomfort in the joints of my fingers and wrists.
This is why my personal preference is for the bigger mice that produce a more subdued hum over their backs. For me, these are all requirements, and the Dark Core RGB Pro exceeds them. Its large footprint and ergonomic finger rest/wings allowed me to work on the computer for several hours without experiencing any noticeable hand fatigue. In contrast, my previous mouse could only allow me to work for an hour before a break was necessary when using a mouse-intensive program like Blender.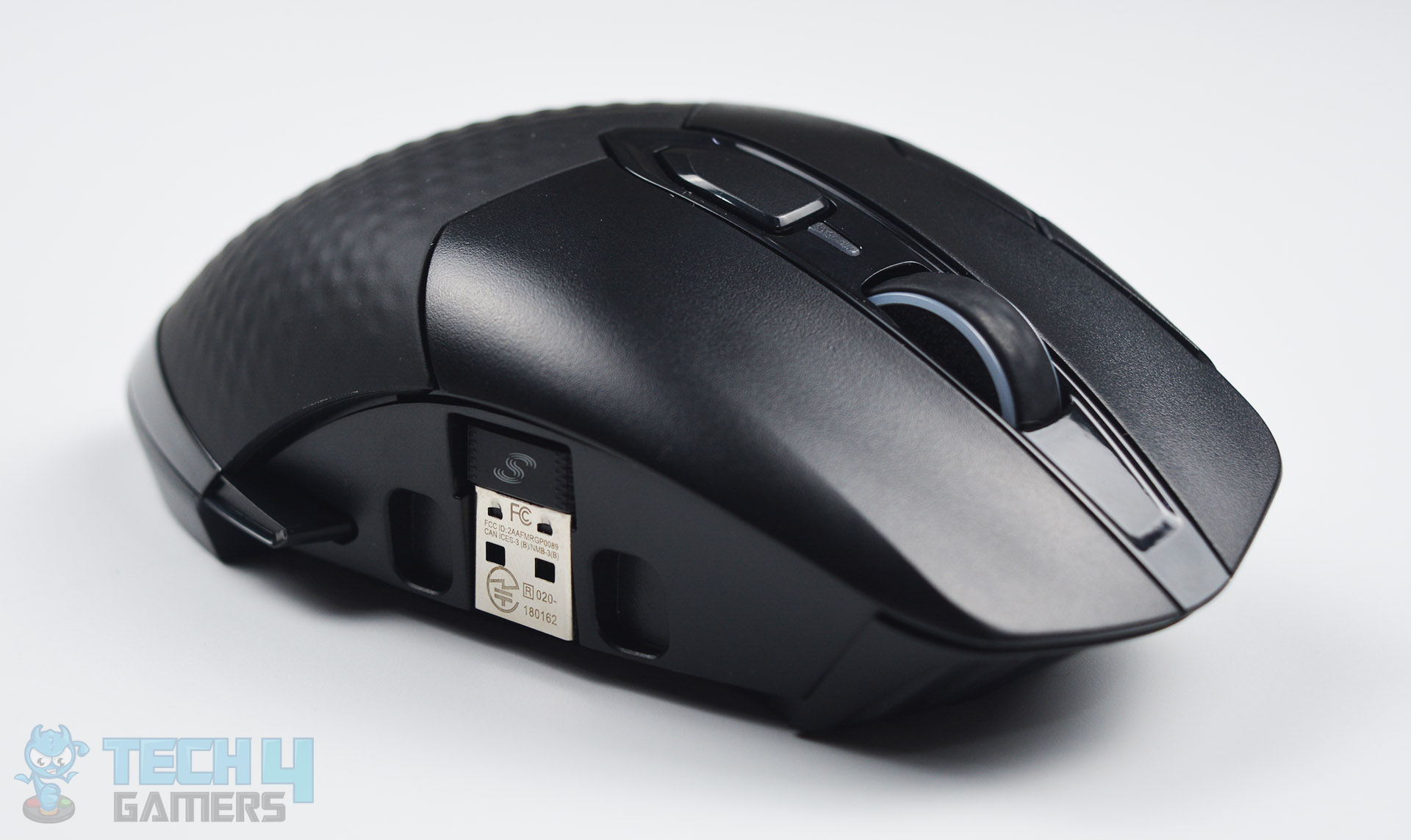 The ergonomic shape of this mouse also allowed me to focus intently on my job when editing several hardware reviews or writing on them. My only gripe is that it took me a few days to train my muscles to avoid accidentally knocking the big wings of this mouse into my laptop or anything else on my desk. This only became a problem during marathon gaming sessions or when using the mouse to comb over sequences in video editing software. Fortunately, this problem went away after a few days. Therefore, I am hesitant to bring it up.
Similar: RAZER Huntsman Tournament Edition Gaming Keyboard Review
Get a Grip
It may be cumbersome in size, but portability is good. Moreover, as a fusion/claw grip player with relatively average hands, I found this shape to be ideal. Out of the box, the mouse felt excellent in my hand, but after attaching the bigger thumb rest, it was perfect. The mouse's raised diamond pattern on the grip pad across the palm region and the mouse's wings on the side both contributed to a firm grip.
The Corsair Dark Core RGB Pro is a good size for my hands, while the additional space between the palm rest and my hand is noticeable if you have a claw grip like me. It is not inconvenient for gaming, but it may take some time to get used to if you have been using your mouse with an elevated palm rest. Moreover, the textured rubber coating on the palm and thumb rests is great for palm grippers since it prevents the mouse from slipping out of their hands.
Also Read: Types of Mouse Grips
Get Connected With Three Different Modes
The three different types of connectivity—Slipstream, Bluetooth, and USB wired—give the Corsair Dark Core RGB Pro a distinct advantage over its competitors. Corsair's Slipstream USB wireless receiver, the company's proprietary wireless solution, is a strong contender for best of show. The Dark Core RGB Pro's most notable feature is its compatibility with Corsair's Slipstream wireless dongle technology, which allows users to switch between a wired and wireless connection. Because of how well Slipstream works, I completely forgot that the Dark Core RGB Pro was running on a wireless connection for the great majority of the time I used it.
Everyone is familiar with wireless technologies like Bluetooth or wired connections, so let us spend some time exploring Corsair's Slipstream Wireless Technology. When combining existing 2.4GHz hardware with a proprietary protocol layer, Slipstream Wireless allows the mouse to deliver twice as many packets as previous technologies, thereby reducing the latency of Corsair's wireless gaming peripherals. In addition to transferring twice as many packets as previous-generation wireless devices, Slipstream Wireless uses Intelligent Frequency Shift to keep your signal solid even when there is a lot of wireless traffic.
Having said that, the default DPI settings were not ideal but did not seem too restrictive. The mouse arrived approximately halfway charged and synced immediately and easily with my laptop's Bluetooth. Similarly, after I put in the Slipstream Wireless dongle and toggled the switch to Slipstream Wireless mode, the mouse automatically connected. I gave the mouse a brief test "drive" in both wireless modes, and it performed similarly to any other wireless mouse I have used with a laptop. However, the real test would come later that night while gaming, as I had anticipated.
Corsair claims a latency of under 1 millisecond with the usage of their Slipstream technology, which uses a custom protocol over 2.4 GHz wireless to send twice as many wireless packets. Notably, you may use the mouse up to 60 feet away from your computer when using the Slipstream wireless receiver. Henceforth, you may use it to play games on a larger screen while relaxing on the sofa or to give a presentation in front of a larger audience. We tried it out at distances of up to 25 feet, and it worked well.
The USB-wired approach is the least preferred one we have tried. The cable is solid and well-made. However, its stiffness hinders its use. With its wireless capabilities, you will not even notice that you are using a wireless mouse since the Bluetooth and Slipstream modes are so outstanding. Having said that, both the wired and wireless USB connections of this mouse provide very low click latency. When using Bluetooth, there is a slight increase in click latency and a lack of consistency. This is to be anticipated, and a Bluetooth connection is not advised for games that rely on quick thinking.
Related: HYPERX Cloud 2 Wireless Review
Connectivity Issues
It was not always smooth sailing, unfortunately. Our test sample experienced significant periods of stuttering and freezing around once per hour while utilizing the wireless dongle on a PC alongside an additional dongle for a headphone and a Wi-Fi receiver. This was annoying whether I was just surfing the web or in the middle of writing this article, but it resolved itself after a couple of seconds without me having to remove the USB dongle and reinsert it.
It would be more of a problem if I were in the midst of a game at the time. My worries regarding wireless dropout while using any device date back 10 years to the dark ages when reliable wireless technology didn't exist. Subsequently, this includes headphones, keyboards, mice, and gaming controllers. Notably, this kind of visible lag is quite unusual in modern gaming mice, and it completely destroys the Dark Core RGB's potential as a competitive FPS mouse.
We approached Corsair about the problem, and although the company said it had never seen anything like it, it did point out that extra dongles might cause interference with wireless devices. A direct line of sight between the mouse and the dongle is also preferred, according to the representative.
So, I made a direct line of sight between the mouse and the Slipstream dongle. In my testing, I realized that a direct line of sight between the mouse and the Slipstream dongle offered a stable connection. Before doing this, I first assumed the mouse's battery was dying when I attempted to use the dongle in the rear of my computer since the connection would drop often. After connecting the dongle to the front of the computer, all connection problems disappeared.
Keep in mind that if we had been able to link up using Bluetooth 4.0, we might not have run across this problem. Unfortunately, our testing platform is not Bluetooth 4.0-enabled like many desktop computers. However, we could still use the mouse through its USB Type-A port if we so desired.
Similar Read: Razer Viper V2 Pro Review
Dynamic RGB Lighting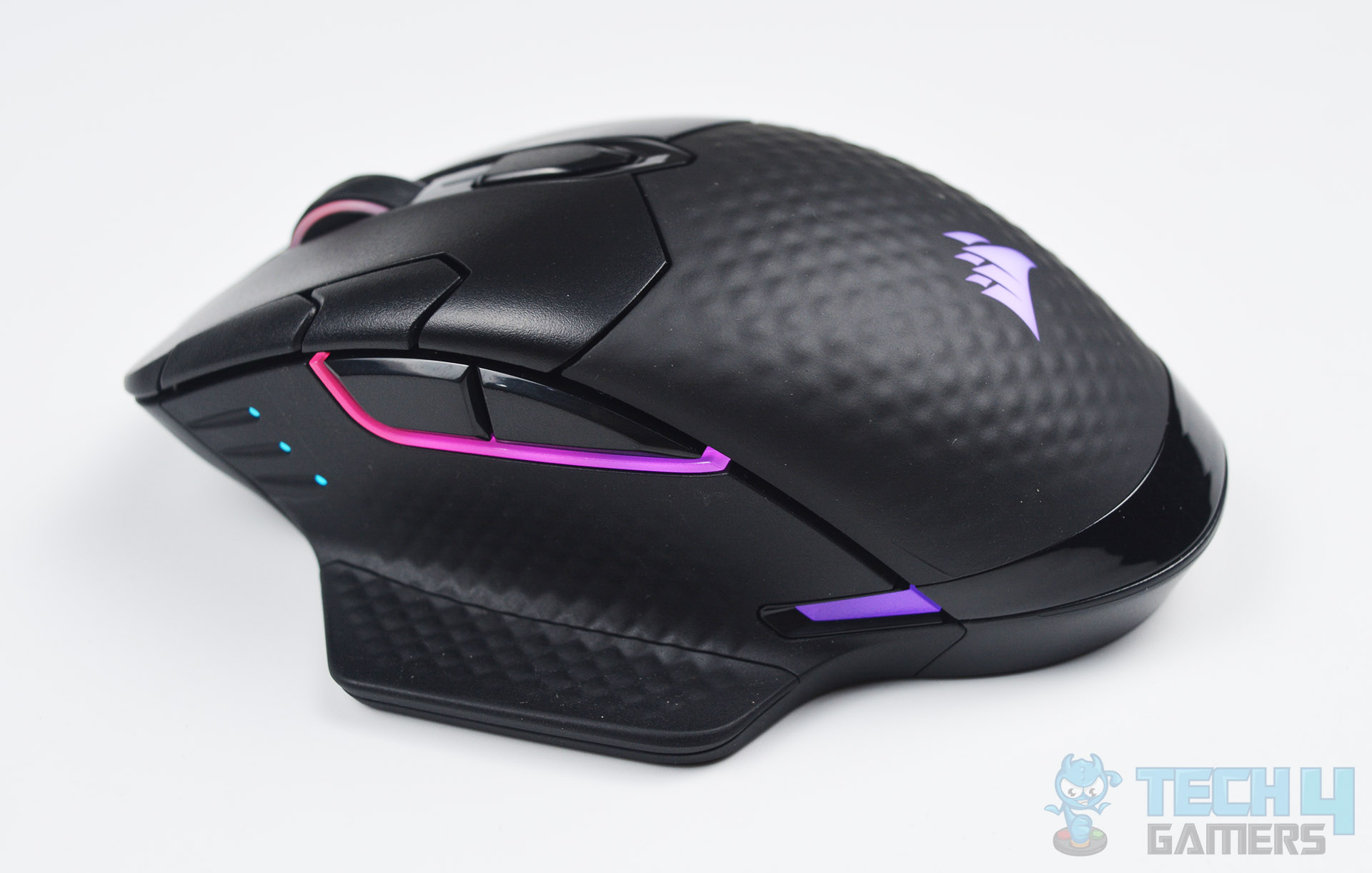 Nowadays, it is, of course, illegal to sell a gaming peripheral that lacks RGB lighting. The Dark Core RGB Pro has 9 separate RGB zones that may be set to anything you choose. The most ever seen in a Corsair mouse, including a number of features like an addressable light bar with four LEDs. Restrained RGB is not a bad thing, and it is fairly simple to build unique lighting patterns in Corsair's iCue software. The program allows for individual adjustment of each of the nine RGB zones. Even if that is standard for most gaming mice, it is worth pointing out that you can accomplish a lot with them.
You may choose from the complete color spectrum and use any of the many available special effects. Consequently, the zones have incredible brightness and color. You will love what Corsair accomplished here if you like dramatic RGB lights. However, the overall appearance is less flashy than that of mice like the Glorious Model D, a honeycomb-style FPS mouse with rainbow bands. Corsair avoided flashing light panels in favor of subtler designs with thin lines, little dots, and a subtly placed logo. When the mouse's RGB lighting is off, it appears like any other standard mouse.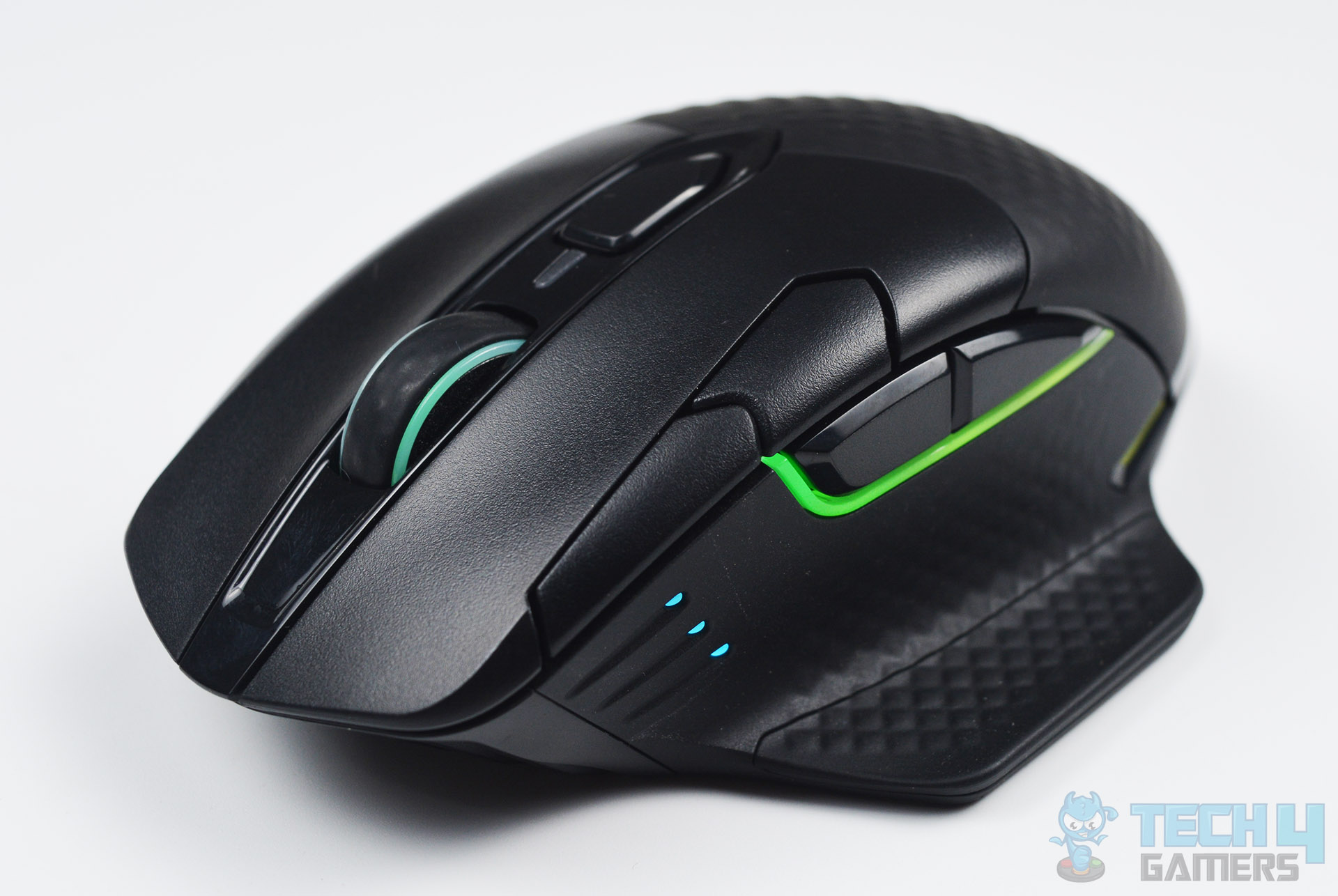 It is not immediately apparent that it offers RGB. Except for a row of three dots on the mouse's front left side that serves as a DPI indicator. You may make them whatever color you choose, but unlike the rest of the space, they will not blend together when the lighting changes. My years of customizing PCs and sharing them with the world have shown that I like attractive PCs. Despite this, I appreciate how subdued the RGB is on this mouse, serving instead as a subtle accent and notification lighting rather than trying to outshine the sun.
Call the Shots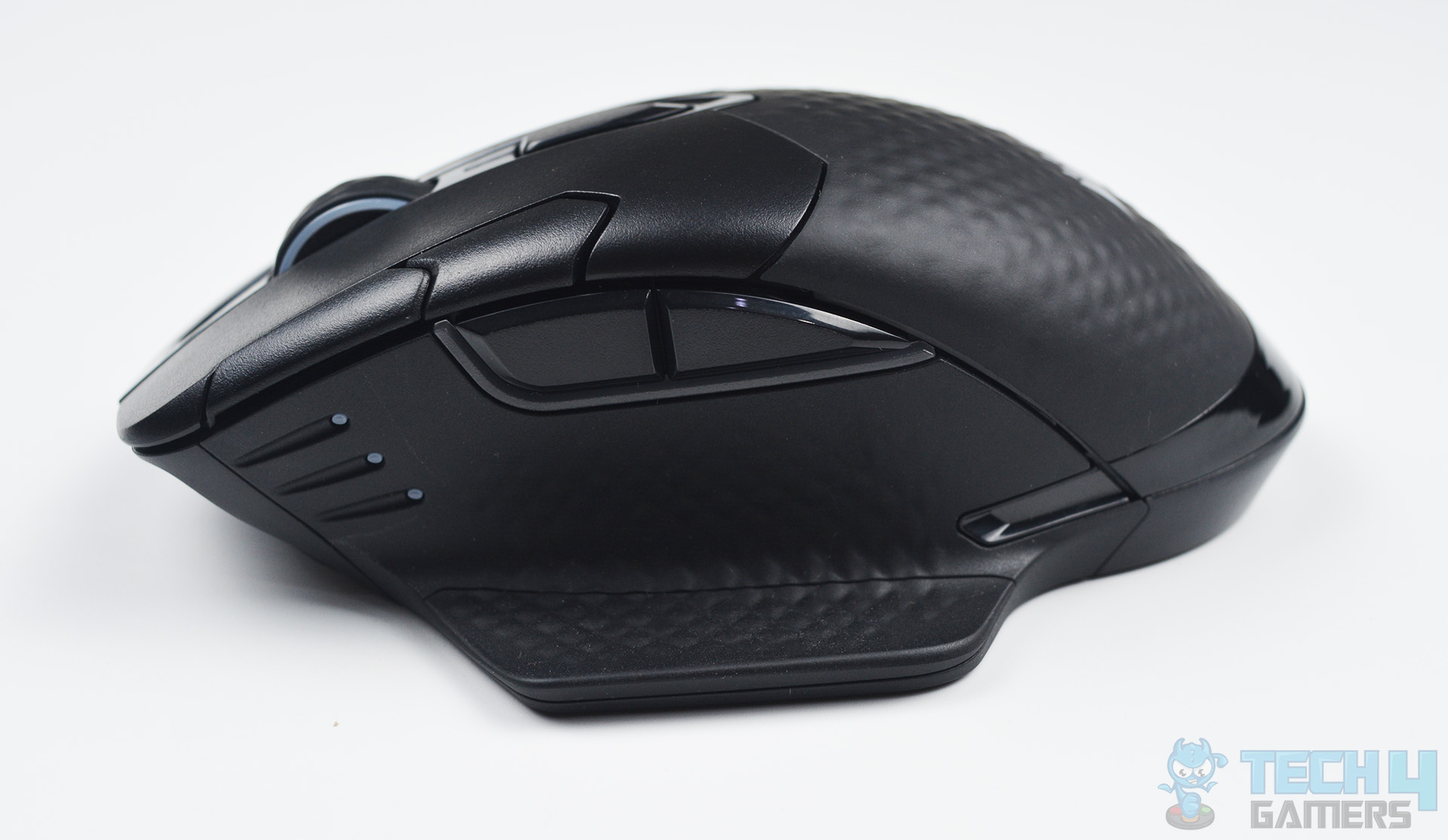 Furthermore, the buttons are a subdued matte black, and the only reflective surfaces are a narrow strip between the left and right mouse buttons and a high-gloss band at the far back. Again, you can set up macros or remap the buttons to your liking with the use of Corsair's iCUE software. You may find that the mouse lacks the buttons you need if you require a large number of macros for gaming, particularly because you can only utilize the DPI upward and downward buttons for their intended purpose.
Having said that, the mouse side buttons are both larger and quicker to respond than their Nightsword RGB counterparts. Meanwhile, there is a satisfying click when you press the mouse wheel in, and the profile switch button works as expected just below it. The forward and back buttons should also be moved to the rear for better reach. But that is merely a matter of taste, and testing has shown that their location makes only a minor difference to our gaming.
Considering the mouse's obvious intended audience, FPS gamers may be surprised to see no low DPI "sniper mode" option in this design; nonetheless, this writer, like many far more talented professional players, never uses them. I thought I would mention it. Furthermore, lightly rolling the scroll wheel causes a distinct and hard detent due to the use of the same design and grip material. A distinct click can be felt as the scroll wheel is depressed and another when it is moved to the right. Similarly, when you push any of the conventional buttons, you will feel a satisfying click. Unfortunately, if you need to scroll through lengthy documents, you can not unlock the incremented scroll wheel to make it infinite.
Pinpoint Accuracy & Precision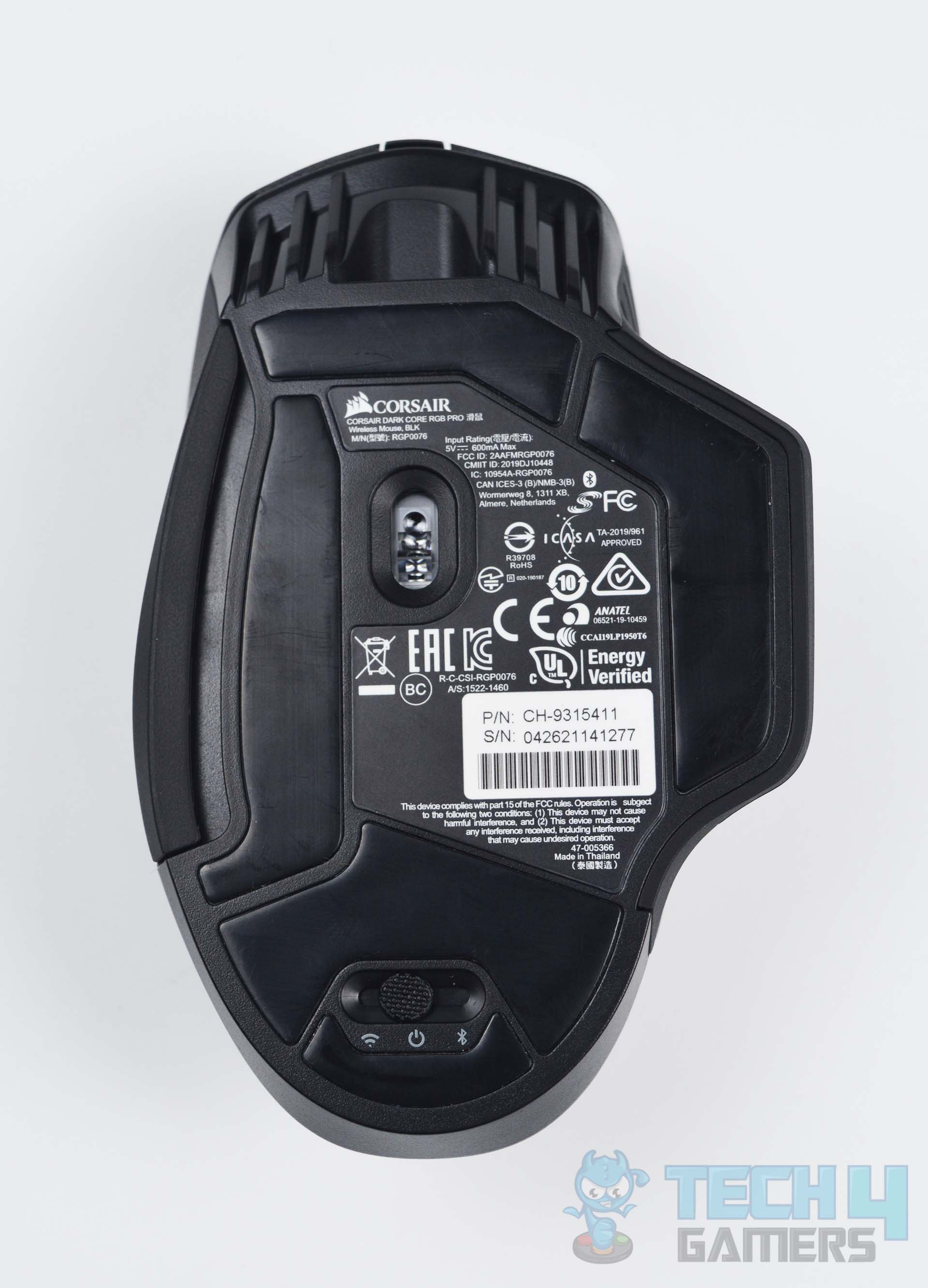 The Corsair Dark Core RGB Pro offers almost flawless performance and blazing-fast speeds. You will forget you are using a wireless mouse because of the power it provides. Its sub-1ms speed meant that latency was completely imperceptible. With a maximum of 2,000Hz super polling rate and 18,000 DPI, you will have a significant edge in whatever game you play. The optical sensor is now a custom-built, wireless-optimized PixArt PAW3392, which has 18,000 DPI at the base and is adjustable in 1 DPI increments. While the sensor's placement may have an effect on gaming, it should not be an issue in a general environment.
In addition to its gaming merits, the mouse's inclusion of additional sliding padding on the feet for extra smooth operation makes it suitable for use without a mouse pad on a little uneven surface. That held true in practice. Particularly at lower DPIs (I went as low as 400 DPI), the mouse performed as well as a good wired model. Furthermore, at 800 DPI, performance was buttery smooth, and despite the fact that it took me a few CS: GO matches to get used to the Dark Core RGB Pro's design, I saw no lag or slowdown in my gameplay.
Having said that, the Dark Core RGB Pro's ergonomics and button arrangement were ideal for marathon gaming sessions. Sniping-focused battle royales, like PUBG, benefit from having a convenient DPI toggle since the tempo of play often allows players to get themselves set up, stare down their sights, and then shift to a lower DPI. It is much more convenient than fumbling with a separate sniper mode button. On the other hand, for more frantic games like Valorant, the large PTFE pads on the bottom were a huge help with flick aiming.
The Dark Core RGB Pro's non-adjustable weight of 4.2 ounces proved optimal for fast-paced games. There was a noticeable shift in weight and form when switching from the Glorious Model D Minus (2.1ounces), but which mouse is preferable will come down to individual preferences. Moreover, we put this mouse through its paces across a variety of AAA titles, including Assassin's Creed Odyssey, Doom Eternal, Sekiro: Shadows Die Twice, and A Plague Tale: Innocence.
It works so well that we can almost imagine it as an extra finger on our hand. We found the mouse to be at its finest in Doom Eternal. There are enemies attacking you from every direction at all times throughout the game. So, not only do you have to run while shooting, but you also have to frequently check the surrounding area by quickly rotating your head 180 degrees. Fortunately, the Corsair Dark Core RGB Pro can properly track such rapid motions. The sniper button may take a while to understand, but it will be useful in at least a few Doom Eternal encounters.
For example, the sniper function, which is simply the profile switch button pushed down, works really effectively when used to blast off the tail of a spider-cum-scorpion hybrid that appears in the game. Notably, playing Sekiro: Shadows Die Twice with both Bluetooth and Slipstream connections revealed some discernible differences. However, when trying to fend off a katana onslaught, the button responses on both have been consistently fast and accurate. To demonstrate the functionality of the remapping feature, we have remapped the forward and back buttons in Assassin's Creed Odyssey to activate unique skills. And that has made getting to them somewhat quicker for us.
iCUE – Unite Your Setup
You can do even more fine-tuning with your Corsair peripherals using the iCUE software, which comes free with each product from Corsair. The eight buttons of the Dark Core RGB Pro may be remapped, and complex macros can be programmed with the help of Corsair's iCUE software, maximizing both the mouse's functionality and its personalization options.
Furthermore, Corsair's surface calibration tool is very helpful; it is only available when you pair your mouse with the USB-C connection, and its influence on smoothness is immediately apparent when doing a basic test that involves sketching spirals at a certain rate. Moreover, Angle snapping is also enabled through a checkbox. Do not knock it until you have tried it. This effect is far more subtle than it first seems.
It helps you "draw" straight lines with your mouse by anticipating your movements and guiding you in the right direction. While it may be a useless intermediate step between the player and the game's raw input for most, it may help some players shoot more headshots. Although it is less useful in games, iCUE's pointer speed precision enhancer is a welcome addition for anyone who spends a lot of time in audio or video editing software. In addition to this, you may customize the settings for your three most played games by creating separate DPI profiles with different sensitivity levels and quickly switching between them with a button located beneath the mouse wheel.
It is unclear why iCUE does not provide a way to adjust the polling rate. The feature was included in earlier releases (back when it was simply called CUE), but it is currently unknown why it was removed or when, if ever, it would be reintroduced. However, improving the dependability of the 2.4 GHz wireless connection is currently the top priority. Whether or whether Corsair can do it with firmware/iCUE is an unanswered issue.
Battery Life
The Dark Core RGB Pro has longer battery life than the standard version. Our tests confirmed that the Dark Core RGB's claimed runtime of 50 hours is accurate, making it far longer than the 24 hours claimed by its predecessor. The Pro model also has a different charging port than the standard version does: USB-C. Fortunately, Corsair provides the required cable. Those that have a Qi wireless charger may wish to look into the Dark Core RGB Pro SE. It is Qi compatible, so you can charge it while you game by placing it on a Qi charging mouse pad.
Should You Buy It or Not?
The Corsair Dark Core RGB Pro eliminates the latency and connectivity issues that affect most wireless gaming mice. Not when it really matters to gamers, anyhow. You probably will not even realize that it is wireless until after you have used it for a while. This gaming mouse caters primarily to palm grippers, yet it is pleasant for anybody to use. If you use a "claw" grip, you will appreciate how swiftly the palm rest slopes downward at the very end.
The Corsair Dark Core RGB Pro offers completely programmable RGB lighting and buttons, as well as a detachable side grip, a dedicated storage space for a USB wireless receiver, and three different connection modes. In our experience, this mouse ranks up there among the most flexible ones. Having said that, the Corsair Dark Core RGB Pro, at $89, is not exactly cheap but is still beyond the price range of most people. There are a handful of options available that will not cost you quite as much.
Although it has eight programmable buttons, you can not use the DPI buttons for anything else, so you are really only left with two or three macro buttons. With this in mind, this mouse is not great if you are a heavy macro user in games. Despite its amazing connection, this mouse's performance suffers when used with a cable. It is only a minor inconvenience because the included cable is quite stiff. Notably, the Corsair Dark Core RGB Pro is obviously designed for use with a wireless connection.
Bottom Line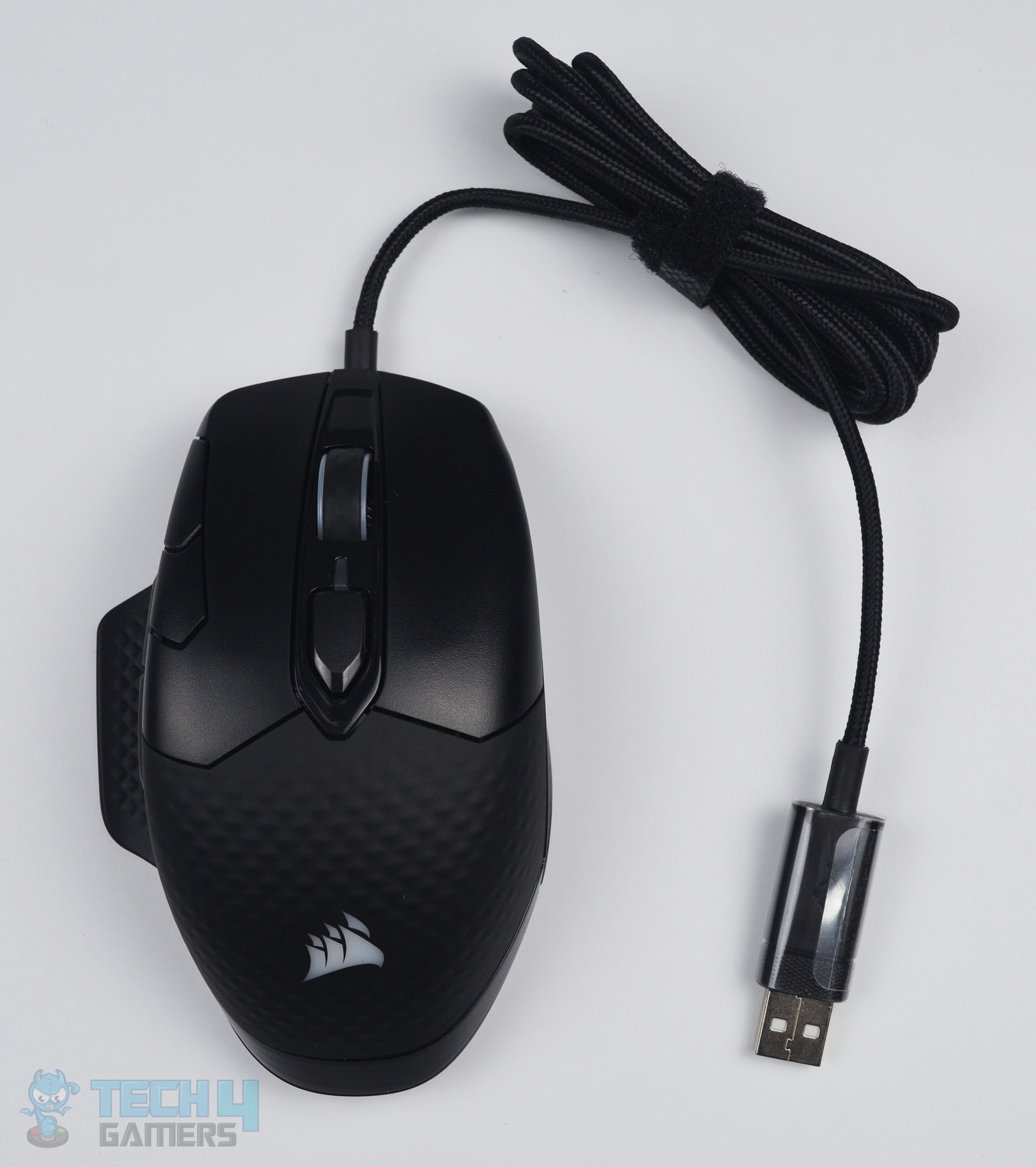 The Corsair Dark Core RGB Pro's advertised objective is to "win without wires," and it does this with ease. The Corsair Dark Core RGB Pro is not just a great wireless gaming mouse; it is among the very finest mice available overall. Despite a few drawbacks that have surfaced during our testing, the Corsair Dark Core RGB Pro has certainly earned its "Pro" moniker, especially when compared to other gaming mice on the market, wireless or otherwise, which have you stumbling about in your game.
For gamers, Corsair delivers with the Dark Core Pro RGB. The new $89 Dark Core RGB Pro is a premium option, but it is still less expensive than the Logitech G PRO or the Logitech G502 Lightspeed. One of the mouse's important aspects is that its pricing is in the middle of the spectrum for a wireless gaming mouse, making it accessible to a wide audience. The newest offering from Corsair benefits from a well-thought-out 8-button configuration that excels in FPS games. Its enhanced sensor allowed it to keep pace with me in battle.
The Dark Core RGB Pro performs well; it is quick, precise, and very responsive. With its textured rubber palm rest and dynamic RGB lighting, this mouse is a designer's dream. Moreover, the Corsair Dark Core RGB Pro is a high-performance gaming mouse that will keep you comfortable even during the fiercest battles. However, the 2.4 GHz wireless connection would often stutter when we had several other wireless dongles linked to our system, making this mouse somewhat inconvenient for online gaming.
A few issues prevent it from being an ideal gaming mouse, but they will not have much of an impact on your gaming experience as a whole. These issues include a stiff charging cord that makes wired gaming more difficult and complicated customizing software. Things worsen if you do not have Bluetooth 4.0. The wired connection is just as dependable, but you are paying for the convenience of not having to worry about cables. If you do not already have a large collection of wireless dongles that you rely on, the Dark Core RGB Pro is a good option due to its dependable sensor and simple button customization.
In the end, I would like to give a huge shoutout to The Revive Tech for sending me this sample unit to review and share my experience with the world. Thank you for letting me put it through its paces. The Corsair Dark Core RGB PRO gaming mouse earns the Tech4gamers recommended Award because of its palm-favored design, extensive features, impressive performance, and dynamic RGB lighting.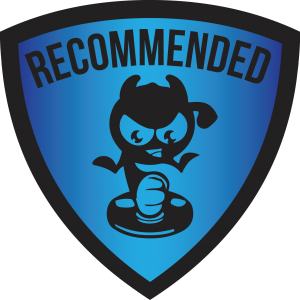 Was our article helpful? 👨‍💻
Thank you! Please share your positive feedback. 🔋
How could we improve this post? Please Help us. 😔