This article will compare two CPUs: the beginning of the next generation of Apple's silicon design and the last processor lineup from Intel to use monolithic silicon, namely the Core i7 13700K vs Apple M2. We will put the two CPUs in opposition to comprehend which processor outshines the other with their performance.
Key Takeaways
Clearly, the Core i7 13700K outperforms the Apple M2 by 18% in terms of single-core performance.
As for multi-core performance, the Core i7 13700K dominates the Apple M2 by a staggering 196% better efficiency.
The Core i7 13700K has 110W more TDP than the Apple M2.
The Apple M2 is more than twice as expensive as compared to the Core i5 13700K.
Core i7 13700K Vs Apple M2: Comparison Table
| | | |
| --- | --- | --- |
| Processor | Core i7 13700K | Apple M2 |
| Architecture | Raptor Lake S | Silicon |
| Codename | Raptor Lake | M2 |
| Processing Node | 10nm | 5nm |
| Cores | 16 | 8 |
| Threads | 24 | 8 |
| Hybrid Cores | 8 P-cores + 8 E-cores | 4 P-cores + 4 E-cores |
| Frequency | 3400 MHz | 3490 MHz |
| Turbo Clock | 5400 MHz | |
| TDP | 125W | 15W |
| Max. Operating Temperature | 100°C | 35°C |
| L1 Cache | 80KB (per core) | 192 KB (per core) |
| L2 Cache | 24 MB (per core) | 16 MB (shared) |
| L3 Cache | 30 MB (shared) | |
| Integrated Graphics | Sep 27th, 2022 | June 24th, 2022 |
| Processor | Intel UHD 770 Graphics | Apple M2 GPU |
Architectural Differences
Process Node: The Core i5 13700K operates on a 10nm process size, whereas the 5nm is the process size of the Apple M2.
Frequency: Having a base and boost clock of 3400 MHz and 5400 MHz, respectively, the Core i7 13700K competes with the Apple M2, which can have a base clock of 3490 MHz.
Cores And Threads: While the Apple M2 has 8 cores and threads, the Core i7 13700K possesses 16 cores and 24 threads.
TDP: The Core i7 13700K comes with as high as 125W as compared to the Apple M2's 20W.
Supported Technologies The Core i7 13700K features Intel's UHD 770 Graphics, while the Apple M2 is integrated with the Apple M2 SoC technology.
Apple M2 Vs Core i7 13700K: Productivity Benchmark Test
It is time to test the computational capabilities of both the CPUs under single and multi-cores. Let's see which processor manages to gain more scores.
Also Read: Intel i7-13700K Vs i7-12700K
Geekbench 5 Single-Core Score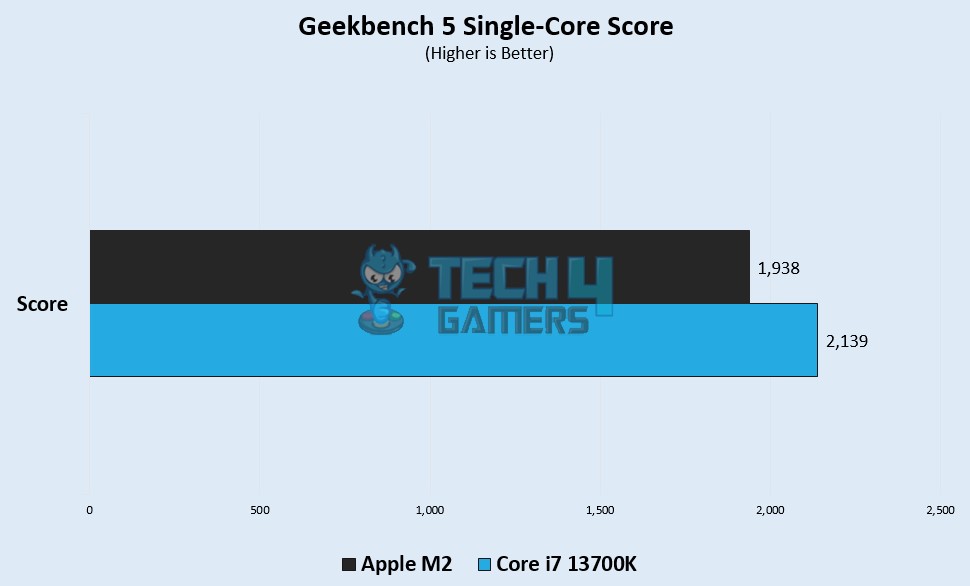 Starting with the Geekbench 5 (Single-Core), the Core i7 13700K scored 2,139 as opposed to the Apple M2's 1,938.
Hence the Core i7 13700K is 10% better than the Apple M2 in this benchmark.
Also Read: Intel i7-13700k Vs Ryzen 7 7700X
Geekbench 5 Multi-Core Score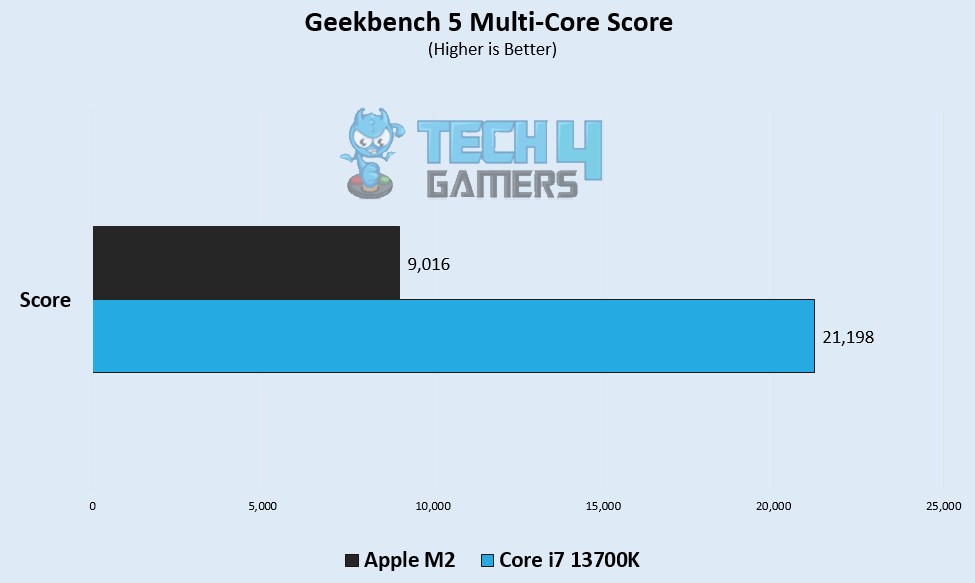 As for Multi-Core, the Core i7 13700 takes a huge lead with a score of 21,198 over the Apple M2, which managed 9,016.
Therefore making the Core i7 13700K 135% more efficient than the Apple M2.
Also Read: Core i7-1360P Vs Apple M2
Cinebench R23 Single Core Score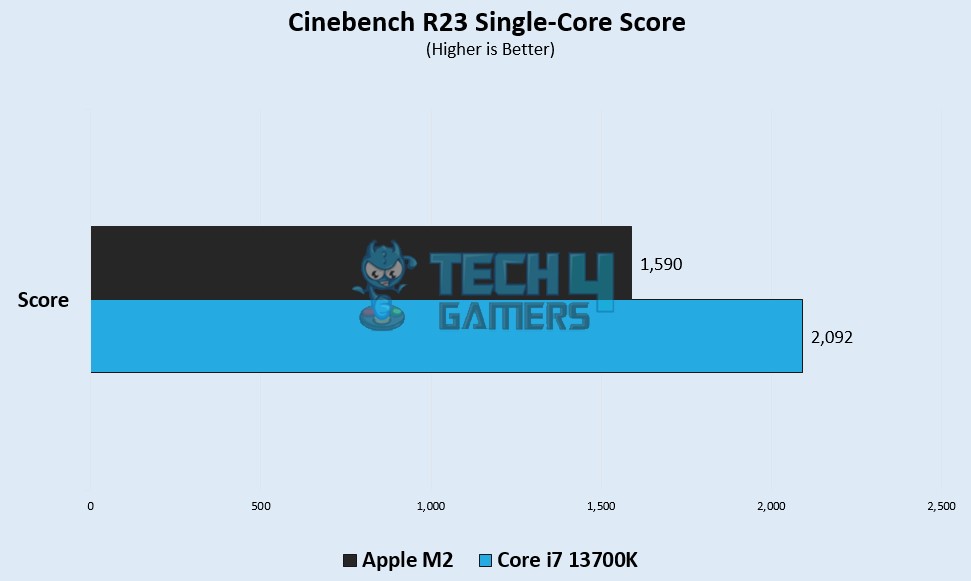 While the Core i7 13700K clocked a score of 2,092, the Apple M2 climbed up to 1,590.
As a result, an increase of 32% better performance can be observed in the Core i7 13700K as opposed to its competitor.
Also Check: i9-13900K Vs i7-13700K
Cinebench R23 Multi Core Score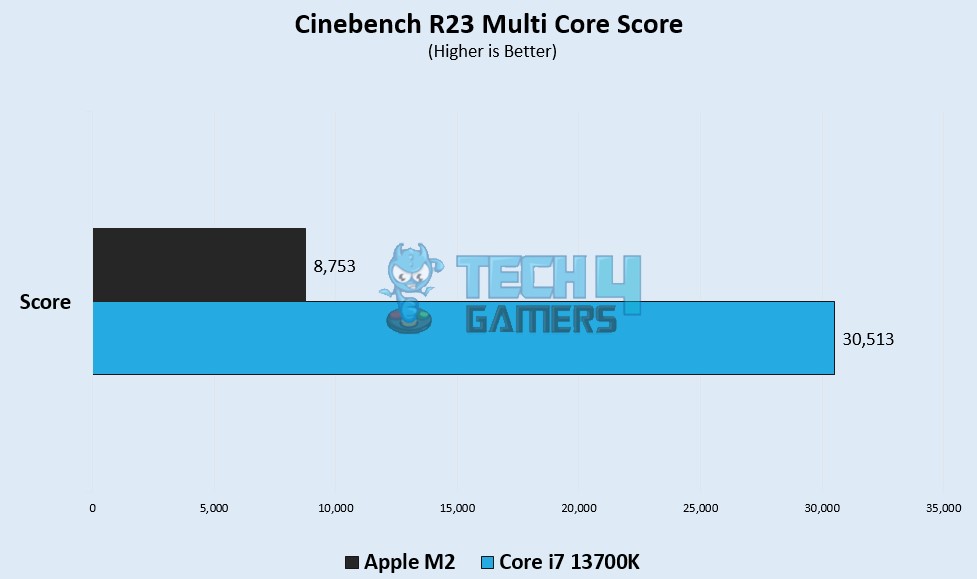 Moving on to the Cinebench R23 (multi-core), the Core i7 13700K came with an impressive 30,513, contrary to the Apple M2's 8,753.
With a 249% better result, the Core i7 13700K has emerged victorious once again.
Also Read: Apple M2 Pro Vs Apple M2
Passmark CPU Single-Core Score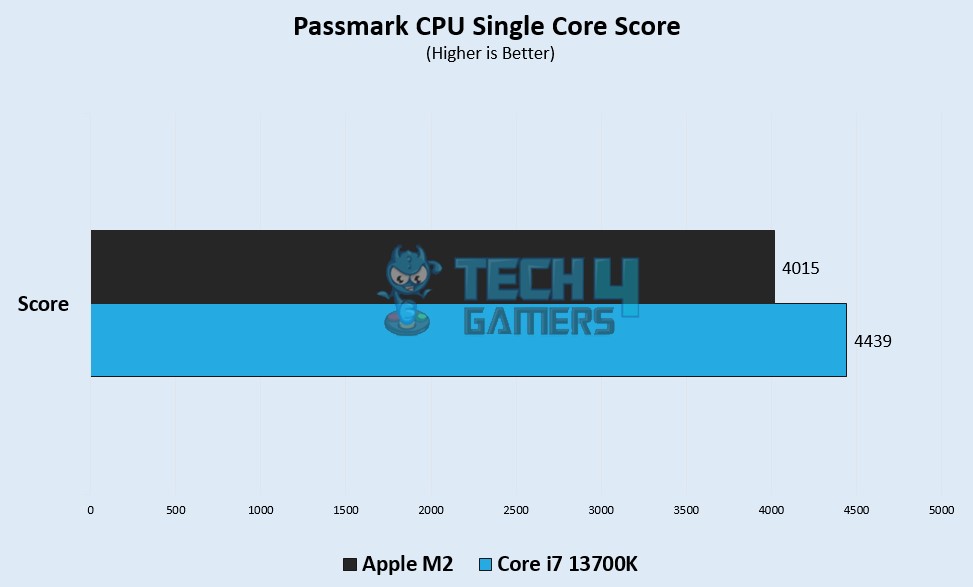 The last platform we have is Passmark; as for single-core, the Apple M2 scored 4,015 points, while the Core i7 13700K once more outperforms its rival with a 4,439 score.
The victory thus belongs to the Core i7 13700K, being 11% better.
Learn More: i7-13700K Vs i5-13600K
Passmark CPU Multi-Core Score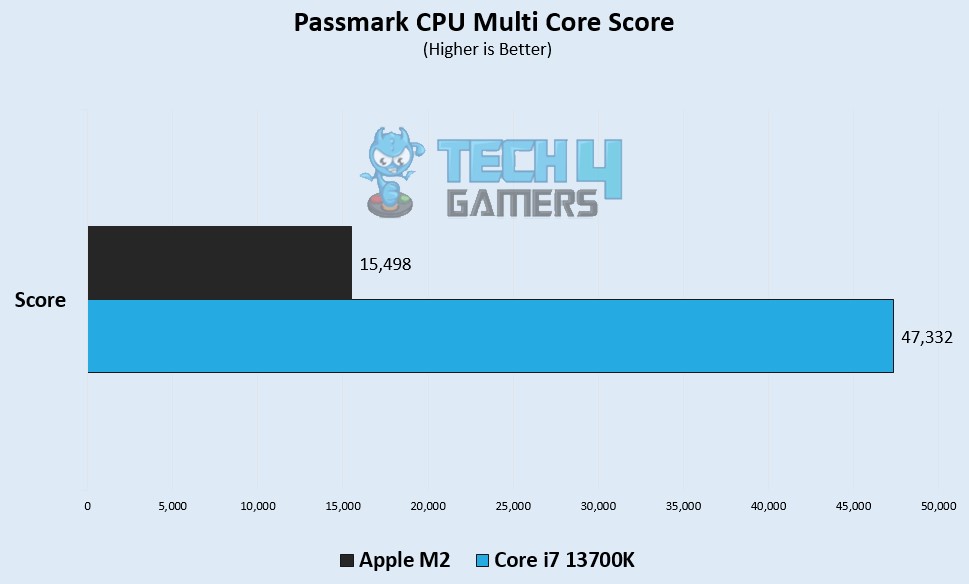 With a huge score of 47,332 in multi-core, the Core i7 13700K finishes the clean sweep over the Apple M2, which had a score of 15,498 this time.
The Core i7 13700K prevails once more by outperforming its rival by a factor of 205%.
Also Check: Apple M2 Max Vs Apple M1 Ultra
Core i7 13700K Vs Apple M2: Which One Is Suitable For You?
Even though Apple creates powerful chips and processors, the core i7 13700K was able to easily defeat the Apple M2 on every platform they were tested on. The Core i7 13700K is significantly more affordable than the Apple M2 and provides astounding support for your device.
Therefore, the Core i7 13700K should be the preferred option, but the Apple M2 isn't that bad either as far as brand value is concerned.
Also Read: Core i9-12900KS vs i7-13700K
Pros And Cons
CPU
Pros
Cons
Core i7 13700K

Supports up to 128 GB DDR5-5600 RAM
Newer PCI Express version – 5.0

Draws a lot of power
AMD is faster only in some cases

Apple M2

Faster and better than the previous version
New SoC technology comes with increased cores

Comparatively very expensive
Heating issues
Frequently Asked Questions
Is Core i7 13700K good for gaming?
The Core i7 13700K is the best CPU for gaming at its price, as it excels with impressive performance at productive benchmarks against market-competitive CPUs.
Is Apple M2 good for development?
Its portability, power, and reliability combination make it an excellent choice for developers who need to work on the go.
Is it worth investing in the Apple M2 for faster rust compilation times?
The Apple M2 is overpriced, but still, if you are a fan of Apple, you can go for Apple M2 Pro or Max.
Was our article helpful? 👨‍💻
Thank you! Please share your positive feedback. 🔋
How could we improve this post? Please Help us. 😔