Apple's revolutionary Silicon architecture upped its game as it stopped relying on Intel to provide its chips. Meanwhile, their M2 chip promises even better performance on the same 5nm manufacturing process. Today, we're comparing Intel vs Apple in the form of Core i7-1360P vs Apple M2 to find the better mobile CPU.
Key Takeaways
Firstly, the Apple M2 uses the Apple Silicon architecture and utilizes TSMC's optimized 5nm node called N5P. The Core i7-1360P uses Intel's Willow Cove architecture and the 10nm Intel 7 node.
The Core i7-1360P proved 33.8% faster in multi-core applications, while both CPUs are on-par in single-core performance.
Regarding prices, the Core i7-1360P laptops range from $1099 to $2199. Apple M2 laptops, on the other hand, can cost between $1099 to $2499.
The Core i7-1360P provides better overall value, providing better specifications at matching prices, and better multi-core performance.
Comparison Table
Let's compare the specifications of the two CPUs.
Mobile CPU
Core i7-1360P
Apple M2
Architecture
Willow Cove
Apple Silicon
Codename
Raptor Lake
M2
Instruction Set
x86-64
ARMv8
Processing Node
Intel 7 (10nm)
TSMC 5nm (N5P)
Socket
BGA-1744
Apple-M
No. of Cores
12 (4P + 8E)
8 (4P + 4E)
No. of Threads
16 (8 + 8)
8 (4 + 4)
Base Clock

2.2GHz (P-cores)
1.6GHz (E-cores)

3.5GHz (P-cores)
2.4GHz (E-cores)

Boost Clock

5GHz (P-cores)
3.7GHz (E-cores)

–
L1 Cache
80KB per core
192KB per core
L2 Cache
2MB per core
16MB (shared)
L3 Cache
18MB (shared)
–
Memory Support

DDR5 up to 5200 MT/s
LPDDR5 up to 6400 MT/s
LPDDR5x up to 6400 MT/s
DDR4 up to 3200 MT/s
LPDDR4 up to 4267 MT/s

LPDDR5 6400 MT/s
Memory Size
Up to 64GB
Up to 24GB (Unified)
PCIe Revision
4.0
4.0
Overclocking Support
No
No
Integrated Graphics
Intel Iris Xe Graphics
Apple M2 GPU
GPU Base Clock
300MHz
500MHz
GPU Boost Clock
1500MHz
1398MHz
Shaders
768
1024
TMUs
48
64
ROPs
24
32
Execution Units
96
128
iGPU Theoretical
Performance
1.69 TFLOPs
3 TFLOPs
Total Graphics Power
15W
15W
CPU Max Operating Temperature
100°C
–
CPU Base Power
20-28W (configurable)
15W
CPU Boost Power
64W
–
Price Range (July 2023)
$1099 to $2199
$1099-$2499
Launch Date
January 3, 2023
June 6, 2022
Core i7-1360P vs Apple M2
So there are no apparent similarities between the CPUs. Although the Core i7-1360P supports, LPDDR5 speeds up to 6400 MT/s while the Apple M2 laptops have LPDDR5 with speed fixed at 6400 MT/s.
Architectural Differences
Here's a look at the key differences.
Performance: Apple M2 Vs Core i7-1360P
With the architectural differences out of the way, let's see how these differences apply to performance. We'll look at their single-core and multi-core performance in three different applications.
Cinebench R23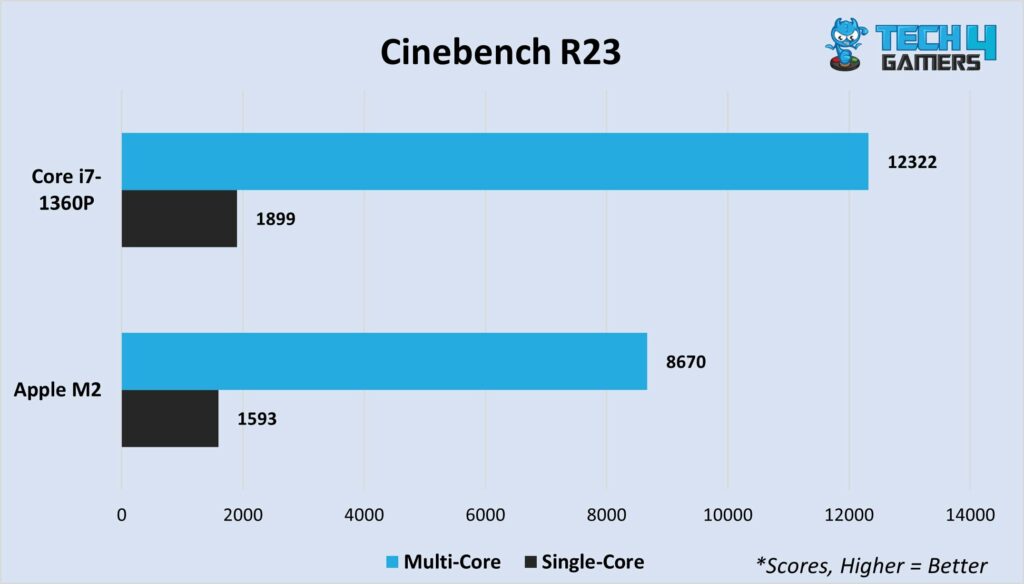 The Core i7-1360P starts with 12322 points in the Cinebench R23 multi-core test. In reply, the Apple M2 CPU scored 8670 points – 42.1% less.
As for the multi-core test, the Core i7-1360P accumulated 1899 points over 1593 points of the Apple M2. Here, the difference is 19.2%.
Geekbench 5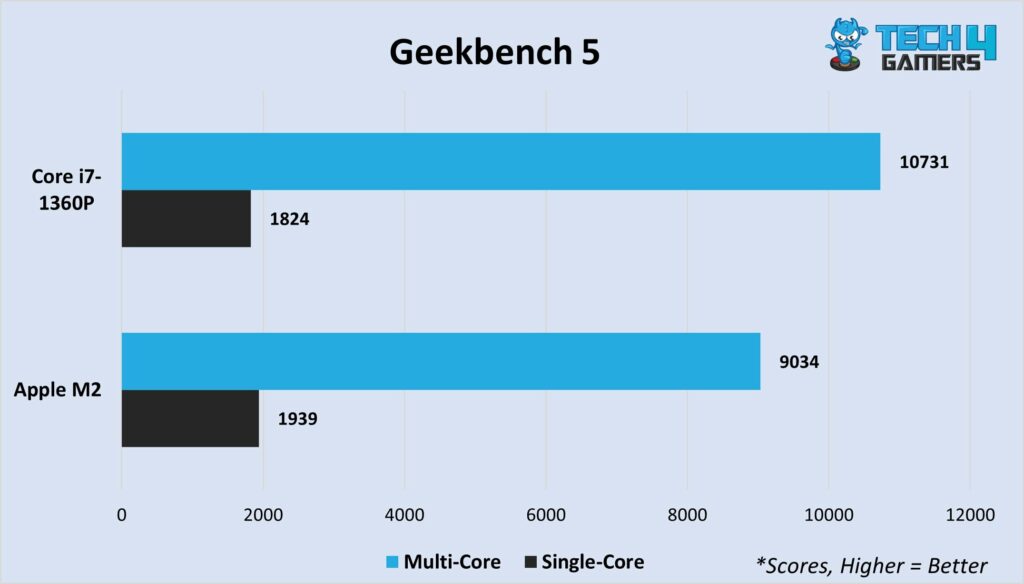 The Core i7-1360P scores 10731 points in the multi-core test of Geekbench 5. Meanwhile, the Apple M2 managed 9034 points – trailing by 18.7%.
In the single-core test, the Apple M2 turned things in its favor with 1939 points. The Core i7-1360P managed 1824 points, 6.3% less.
Passmark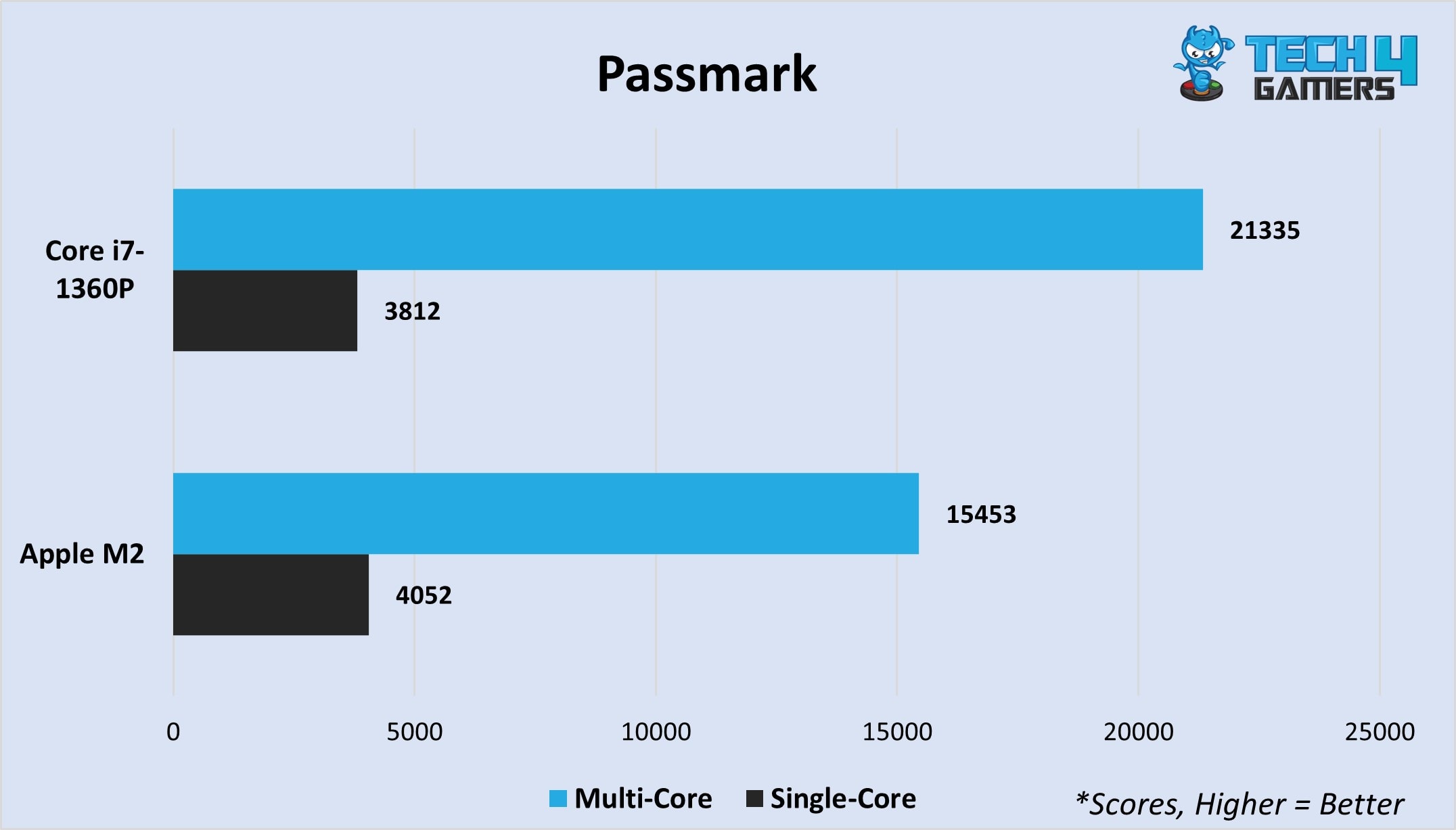 The last benchmark is Passmark, in which the Core i7-1360P racked up 21335 multi-core points. As for the Apple M2, the score is 15453 points – a 38.3% difference.
Lastly, for the single-core scores, the Apple M2 (4052 points) bettered the Core i7-1360P (3812 points). Here, the difference is 6.2%.
Overall Performance
Here's a look at the average scores across the three applications.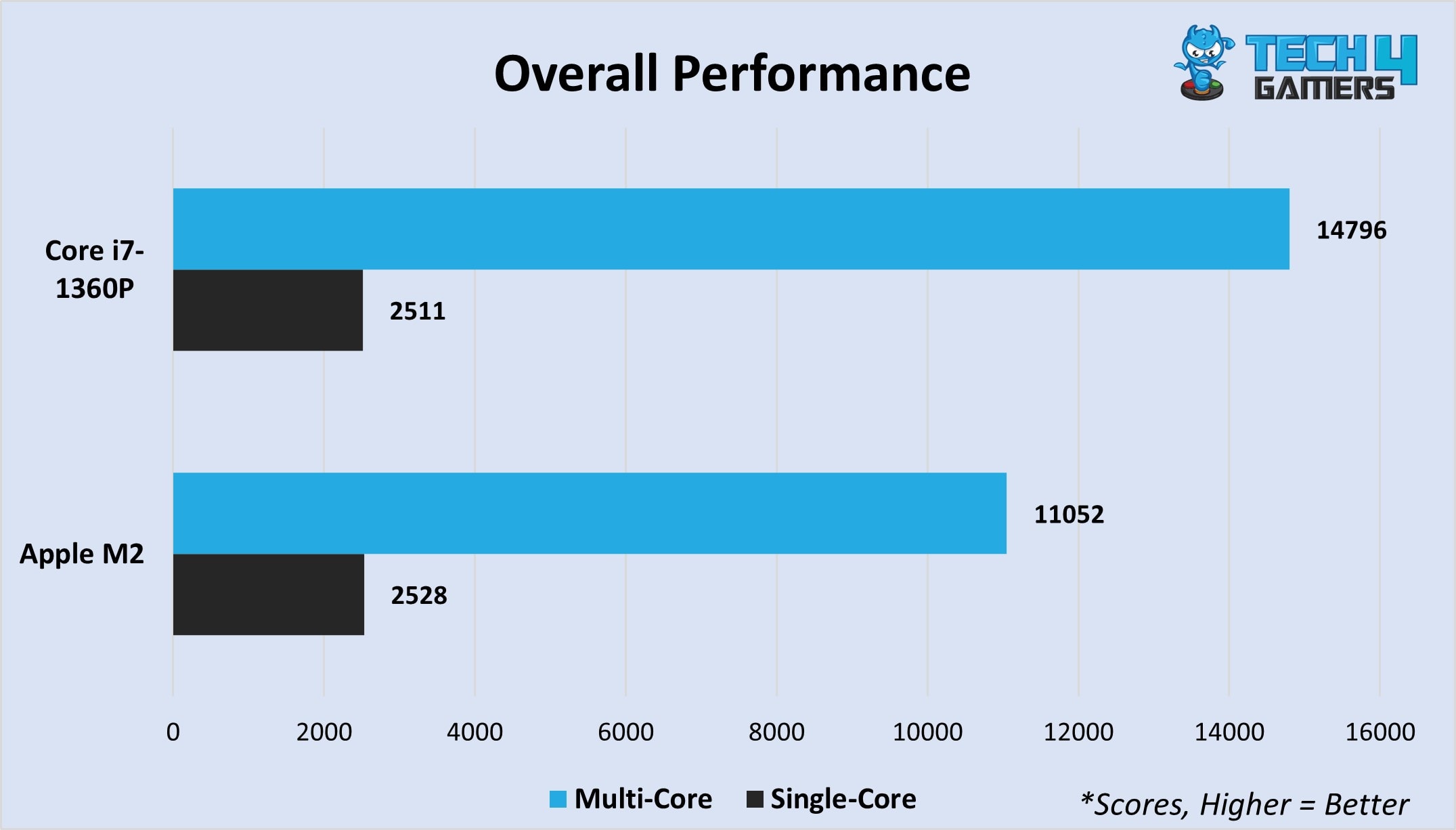 Multi-core Performance: The Core i7-1360P amassed 14796 points and the Apple M2 followed with 11052 points. In exact, this means the Core i7-1360P is about 33.8% faster than the Apple M2 in multi-core applications.
Single-core Performance: The Apple M2 took the win ever-so-slightly with 2528 points over 2511 of the Core i7-1360P. Thus, the Apple M2 is only 0.6% faster in single-core applications on average.
Learn: How To Benchmark Gaming PC
Laptop Prices
Next, let's go over the prices of the two laptops. The prices for the Core i7-1360P have been estimated from Amazon US, while Apple M2 prices have been taken from Apple's website. These prices are valid as of July 2023.
Core i7-1360P: The cheapest Core i7-1360P laptop comes in at $1099. Meanwhile, the best-sellers are in the $1248-$1799 range, and the most expensive laptop will set you back by $2199.
Apple M2: The M2 chip is used in Apple's MacBook Air 13″ (starting $1099) and 15″ (starting $1299). The Apple M2 CPU is also used in the MacBook Pro 13″ (starting at $1099). The starting price gives you 8GB of unified memory and 256GB of SSD storage. From there, each additional 8GB upgrade and 256GB costs an extra $200 each. All-in-all, an Apple M2 laptop can cost you anywhere from $1099 to $2499.
Which CPU Offers Better Value?
Having discussed the price and performance allows us to determine which CPU offers more value. The Core-i7-1360P shows much better multi-core performance and nearly provides the same single-core performance as the Apple M2.
The Core i7-1360P laptops start at $1099, just like the Apple M2 ones, but offer better specifications at the same price. Additionally, the most expensive Core i7-1360P laptop costs $2199, whereas Apple M2 laptops go up to $2499.
Hence, it's safe to say that the Core i7-1360P provides a much better value than the Apple M2 CPU.
Core i7-1360P Vs Apple M2: Which One To Go For?
This brings an end to our Core i7-1360P vs Apple M2 comparison. With both CPUs using entirely different architectures, they have numerous differences. For instance, the manufacturing process, instruction set, and memory design all differ vastly. In the end, though, the Core i7-1360P impressed more with its performance and value.
The Mac M2 has its wins in the comparison, like power efficiency, better iGPU, and potentially faster memory bandwidth. There's also a difference in operating systems. So, make sure to consider all factors before making a purchase.
CPU
Pros
Cons
Core i7-1360P

Faster multi-core performance
Better value
Better memory support

Not as power-efficient
Weaker iGPU

Apple M2

Single-core performance on-par
with Core i7-1360P
Impressive power-efficiency
Powerful iGPU

33.8% slower in multi-core
tests
Unimpressive value
No upgradability options
Frequently Asked Questions
What are the main architectural differences between Core i7-1360P and Apple M2?
The Apple M2 uses a System on Chip (SoC) design, while Core i7-1360P uses a traditional "CPU on motherboard" design. Furthermore, the Core i7-1360P uses the x86-64 instruction set, while Apple's M2 uses the ARMv8 set.
What is the difference in memory support between Core i7-1360P and Apple M2 CPUs?
The Core i7-1360P supports traditional RAM that the CPU uses to store data for short-term usage. In contrast, the Apple M2 uses unified memory, which is part of the System on chip. This memory provides a unified pool that both CPU and GPU can access.
Is the Core i7-1360P faster than the Apple M2 CPU?
The Core i7-1360P is much faster than the Apple M2 in multi-core applications and on par with its single-core performance.
Was our article helpful? 👨‍💻
Thank you! Please share your positive feedback. 🔋
How could we improve this post? Please Help us. 😔