Xbox One and later models allow players to link various social accounts, like
Steam
,
Discord
, and
Facebook
, to their Xbox profiles. Therefore, find the easiest steps to link Xbox to Steam for an enhanced gaming experience.
Key Takeaways
There are multiple methods to link Xbox and Steam accounts together, for example, through console settings or the in-game menu.
You can use Xbox Game Bar to connect the Steam and Xbox account via your computer.
To unlink the accounts, hit the "Unlink" option in Xbox settings.
Prerequisites
Before connecting the two accounts, you need to have the following;
Important: It will be wise to use a wired connection for this, as it is more stable and fast than a WiFi connection.
Also Read: How To Update Xbox?
How To Link Xbox To Steam?
We came across many methods players can use to connect Link and Steam accounts. Additionally, if you cannot use the feature on your Xbox console for some reason, use a computer or a smartphone to do so.
Through Settings
Use these steps to access the option on console settings:
Press the "Guide" button on the Xbox controller to open a side menu.
Go to the last icon on the top panel of this menu, which should be "Profile And System."
Navigate to the "Settings."

Xbox Settings (Image By Tech4Gamers)

Highlight the "Account" tab on the left and select "Linked Social Accounts."

Linked Social Accounts (Image By Tech4Gamers)

Find the "Steam" tile and press the "Link" button.

Link Steam (Image By Tech4Gamers)

It will take you to the Steam login page. Enter the username and password for your Steam account.
Press the green "Sign In" button.
Also Read: How To Clean Xbox & Controller
Through A Steam Game
The Steam game should be compatible with an Xbox Live account for this method to work:
Launch the "Steam" app on your Xbox.
The game will show a pop-up prompting you to connect to your Xbox Live account.

Sign In (Image By Tech4Gamers)

Click on it and enter the Xbox account credentials.
Next, head to the "Account Linking" option within the particular game.
Press "Yes, Continue" when you are asked to connect Steam with your Xbox account.
Through Xbox Mobile App
Connect Steam with Xbox easily through the Xbox app using the instructions below:
Open the "Xbox" app on your phone.
Tap the "Settings" gear on the screen's top right edge.

Settings (Image By Tech4Gamers)

Go to "Linked Accounts."

Linked Accounts (Image By Tech4Gamers)

Find "Steam" and tap on it.

Link Steam (Image By Tech4Gamers)

Scroll down on this page and log in to your existing Steam account.

Enter Credentials (Image By Tech4Gamers)
Also Read: How To Clear Cache On Xbox?
Through Game Bar
This is how you can use Xbox Game Bar to link your accounts through a computer:
Simultaneously, press the "Windows+G" buttons on your keyboard to open the "Xbox Game Bar" interface.
Open "Settings."
Go to "Accounts."
Link your Steam account by clicking on the logo.
How To Unlink Steam Account On Xbox?
If, at any point, you decide to unlink the two accounts, go to the "Linked Social Accounts" page on your "Xbox Settings." Notice the "Unlink" option within the "Steam" tab. Click on it, and your accounts will be disconnected.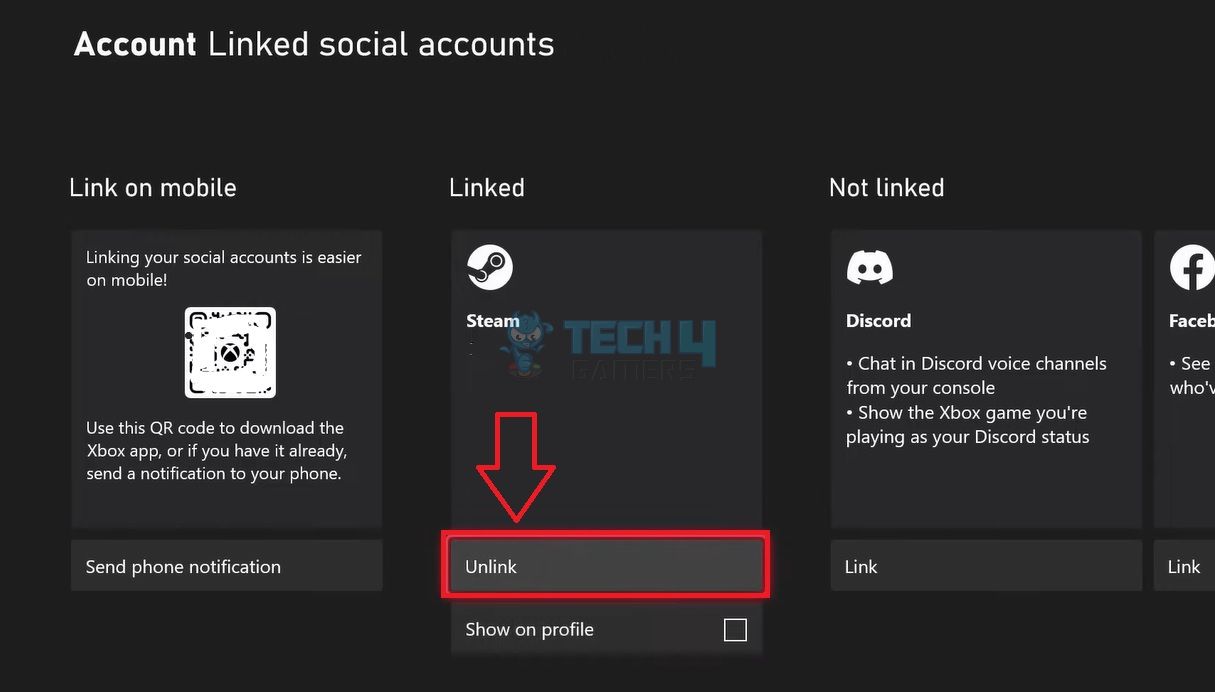 Also Read: How To Turn Off Xbox Controller On PC?
FAQs
How Do I Link My Xbox Account To Steam?
You can use the console settings, Steam's in-game menu, and Xbox mobile app to link the Xbox and Steam accounts.
What Are The Benefits Of Connecting Xbox To Steam Account?
It will let you access the games in your Steam Library on your Xbox and share your achievements and progress on both platforms.
Can I Link Multiple Xbox Accounts To One Steam Account?
As of 2023, you can only link one Xbox account to a Steam account at a time.
Was our article helpful? 👨‍💻
Thank you! Please share your positive feedback. 🔋
How could we improve this post? Please Help us. 😔