Sades Keyboard is an excellent RGB keyboard offering several color modes, like RGB Floating Illumination and Column Changing Illumination. For a Sades Keyboard color change, press the right key combination as mentioned in this guide.
Key Takeaways
The Sades Keyboard has several color modes, such as RGB Floating Illumination, Static Backlight, and Pulsing Rhythm Illumination.
By pressing the FN+Tab keys, you can modify the color of your keyboard's backlight.
Run the keyboard troubleshooter or update keyboard drivers to resolve backlight issues.
Don't hesitate to contact Sades Support if the color fails to change.
Color Modes In Sades Keyboard
Sades Keyboard has impressive lightning effects and has several color modes that we will elaborate on in this section. Fruthermore, you can also read the extensive instructions for changing color on Alienware Keyboard, MageGee Keyboard, and Razer Keyboard.
RGB Lighting
An advanced form of LED backlight keyboard known as an "RGB Keyboard" creates a combination of three colors, Red, Green, and Blue, which projects underneath the keyboard and makes all of the buttons on the keyboard visible in low light or dark.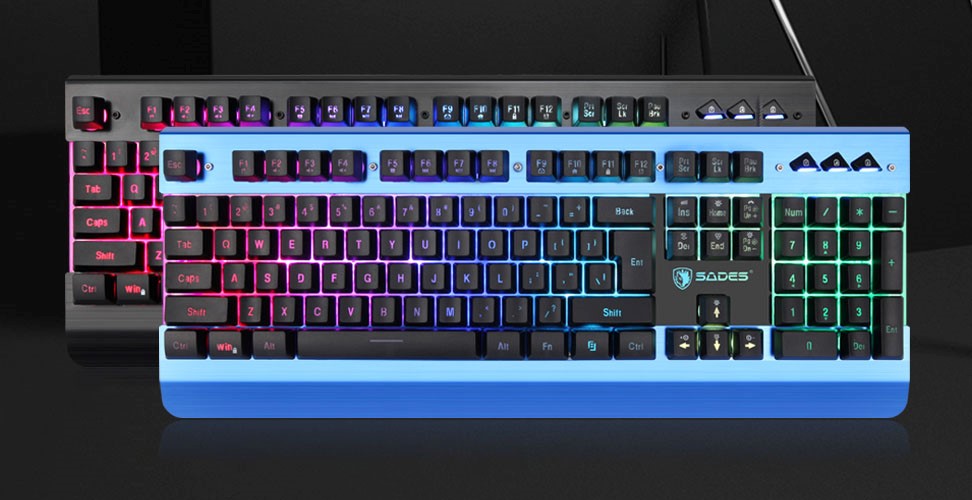 Static Backlight Illumination
There are seven available colors; Red, Yellow, Green, Cyan, Blue, Purple, and Indigo. Pick a color from the color wheel to customize your Sades Keyboard's backlight. This option is ideal for people who wish to match the color of their keyboard to the decor in their space or want to keep a single color.
Related: How To Change Color On SteelSeries Keyboard
Pulsing Rhythm Illumination
In this mode, a "Rhythmic Pattern" is created when a lighting movement in the form of a pulse is repeated at regular intervals.
RGB Floating Illumination
In this mode, RGB colors float from one end of the keyboard to the other in a "Wave-Like Pattern." Using this mode, you may create a dynamic look that matches your mood or style.
Column Changing Illumination
This color mode enables you to change the colors of your keyboard columns. It helps differentiate the keyboard's typing columns and lets you type in the dark or low light to avoid interruptions in work time or the middle of an online match.
Similar Read: How To Change Color On Atrix Keyboard
How To Change The Color Of The Sades Keyboard?
The colors and the patterns of LED lights illuminating your keys can be changed easily. Plus, you can even automatically cycle among colors as per your model.
Important: If the color of your keyboard is not changing, there might be something wrong with its wire.
Backlight Color
By default, the colors White, Red, Green, and Blue are on. Pressing the FN+C keys will cycle through the different backlight colors.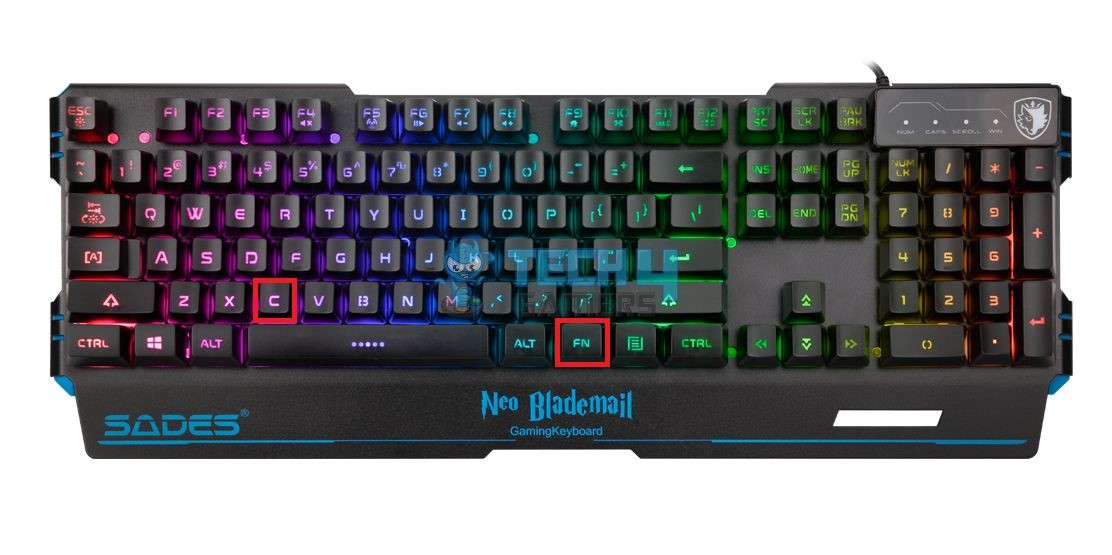 Changing The Speed And Brightness Of Floating RGB
By pressing FN+Tab, you can switch between 5 different RGB Backlight modes. You can adjust up to 4 brightness and speed levels by pressing FN+Esc, FN+↑ or FN+↓, and FN+← or FN+→.
For Static Backlight and Pulsing Rhythm Illumination
There are seven colors; Red, Yellow, Green, Cyan, Blue, Purple, and Indigo, available for pulsing rhythm and static backlight illumination. You can change the colors by holding the FN Key and any Number Key (1–7) in the typing area.
Also Read: How To Change Corsair Keyboard Color
Additional Backlight Colors
Four additional colors are available for "Blademail" or "Tiffiny Blue." To choose a backlight color, press FN+Tab and FN+ESC for a backlight pattern. Keep 50% brightness for a breathy rhythm.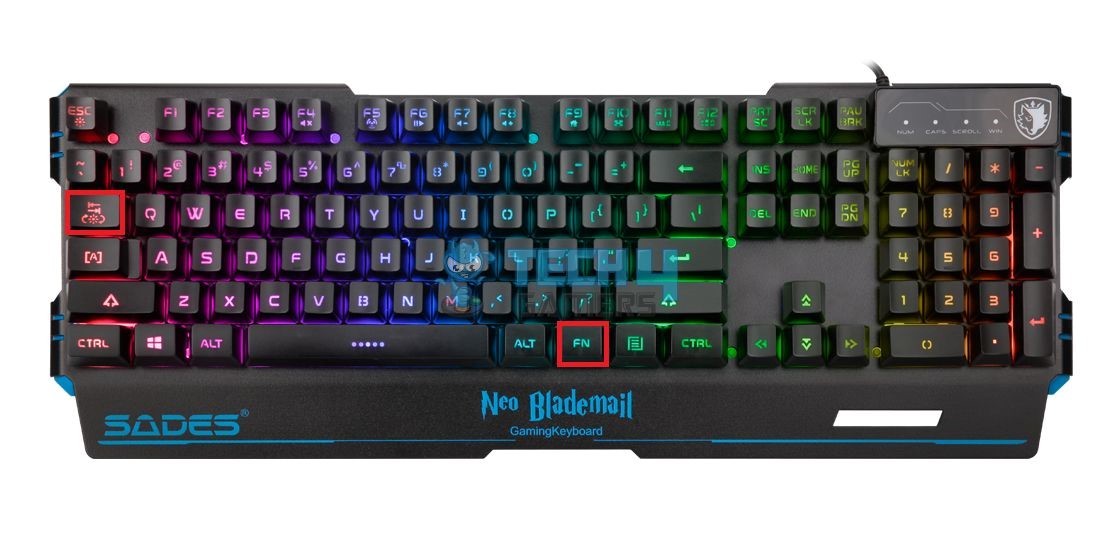 Color Cycle
For an efficient Sades Keyboard color change, use FN+Right Alt+Up/Down arrow. You can make a color cycle by pressing the arrow key repeatedly while holding the FN+Right Alt+Down keys.
Related: How To Change HyperX Keyboard Color
For Customized RGB Backlight
If you want to create a customized RGB lighting pattern, pressing FN and Insert/Home/Page Up/Del/End/↑/↓/←/→ will give you six stunning RGB effects. You can select up to 5 brightness levels and the backlight's cycle speed.
Also, the keyboard has six color zones available, and you can select custom colors to make it more enticing. Additionally, read this article on changing Havit Keyboard Color.
Troubleshooting
Your backlight keyboard may not function due to conflicting programs, software updates, or hardware problems. As for basic troubleshooting, try restarting your computer or checking all the USB ports in case any port is not functioning. If these did not solve your problem, move on to technical fixes.
Increase the Brightness Level
You can increase the brightness level through your keyboard by finding the Backlight key on the keyboard and repeatedly pressing the key several times. If it is not effective, press the FN key before hitting Backlight.
WARNING: If the brightness level of a new keyboard is not changing, then it is most likely faulty. In such a case, take it back to the shop and ask them to replace it.
Also Read: How To Change Color On RedThunder Keyboard
Update Keyboard Drivers
Your keyboard's driver may need an update, or it may be corrupted if your keyboard's backlight has stopped working.
Upgrade your keyboard driver to solve this issue:
Open "Device Manager" and go to the "Keyboard" menu.

Device Manager (Image By Tech4Gamers)

Right-clicking the "Keyboard Driver" brings up a menu.
Select "Update Driver" from there.

Update Driver (Image By Tech4Gamers)
Important: You might need to manually install an the drivers if the auto feature is not working.
Run The Keyboard Troubleshooter
If the driver update did not resolve the issue, you could use a built-in troubleshooting tool with Windows. Before proceeding, check out the process for modifying colors on Redragon Keyboard.
Windows 10
Run the troubleshooter with the instructions below:
To access "Windows Settings" from the "Start" menu.

Settings Gear (Image By Tech4Gamers)

Open "Update & Security."

Update And Security (Image By Tech4Gamers)

Jump to "Troubleshoot" and select "Additional Troubleshooters."

Additional Troubleshooters (Image By Tech4Gamers)

Go to "Find And Fix Other Problems" and expand "Keyboard."
Then click "Run The Troubleshooter."

Run The Keyboard Troubleshooter (Image By Tech4Gamers)
Also Read: How To Change CyberpowerPC Keyboard Color
Windows 11
The process differs slightly on Windows 11:
Open "Settings" and then go to "System."
You'll find a section named "Troubleshoot," then move to "Other Troubleshooters."
After Windows has done troubleshooting, try turning the keyboard brightness on or adjusting it. If this troubleshooter doesn't solve the problem, try the one mentioned in the next section.
Run Hardware And Devices Troubleshooter
This particular troubleshooter detects and fixes ongoing problems within the connected peripherals, such as your Sades Keyboard.
Here is how to start the Hardware and Devices troubleshooter.
Open "Command Prompt" with the administrator account.

Run Command Prompt as Administrator (Image By Tech4Gamers)

After typing "msdt.exe -id DeviceDiagnostic," hit "Enter."

Device Diagnostic Code (Image By Tech4Gamers)

Click on "Advanced" under "Hardware and Devices."

Advanced Tab (Image By Tech4Gamers)

Select "Apply Repairs Automatically," then click "Next" to start the troubleshooting.

Apply Repairs (Image By Tech4Gamers)

You will see a "Detecting Problems" window shortly.

Detecting Troubleshoot (Image By Tech4Gamers)
Perform A Clean Boot
Try performing a clean boot on your computer if none of the troubleshooting methods has worked. Your system will start after this without running any third-party applications that might affect the functions of the backlight keyboard.
If the keyboard lights up, go to the "Control Panel" and look through the recently installed apps to find out which might cause your problem.
Frequently Asked Questions
What Does The Keyboard's Function (FN) Key Do?
"FN" key (Function key) is a keyboard modifier key that activates a second function on a key with two functions, similar to the "Shift" key. It controls the hardware features, including speaker volume and screen brightness.
How To Enhance Keyboard Colors?
To turn on the backlights, press "FN+Right Alt" and press it again to increase brightness. For changing colors, use "FN+Right Alt+Up (or Down) Arrow." "FN+Tab" and "FN+Esc" are the keys to changing the backlight pattern.
How To Change The Backlight Colors Of Sades Keyboard?
By default, all four main colors, White, Red, Green, and Blue, are on. Pressing the "FN+C" keys will change the keyboard's backlight color.
Was our article helpful? 👨‍💻
Thank you! Please share your positive feedback. 🔋
How could we improve this post? Please Help us. 😔